Live Chat
Handling Live Chat With Canned Responses For Customer Service Like a Pro
With a live chat, you can handle a few conversations at a time and send immediate responses… hardly typing anything! How? Use canned responses.
With canned responses, two clicks are enough to answer a customer.
Such a quick reaction has a great effect on your customer support and reputation.
Just think of those customer reviews calling your customer service "super fast," "exceptional," and "much better than XYZ"
A live chat app is your best bet to make it happen. Canned responses are included as one of many useful service features there. They speed up the work of customer service teams and shorten the response time to seconds!
Want to turn your website visitors into delighted customers? Set up the Tidio live chat app in 5 minutes and watch your sales grow by 300%! Talk to users in real-time and deliver exceptional customer service.
Try Free Live Chat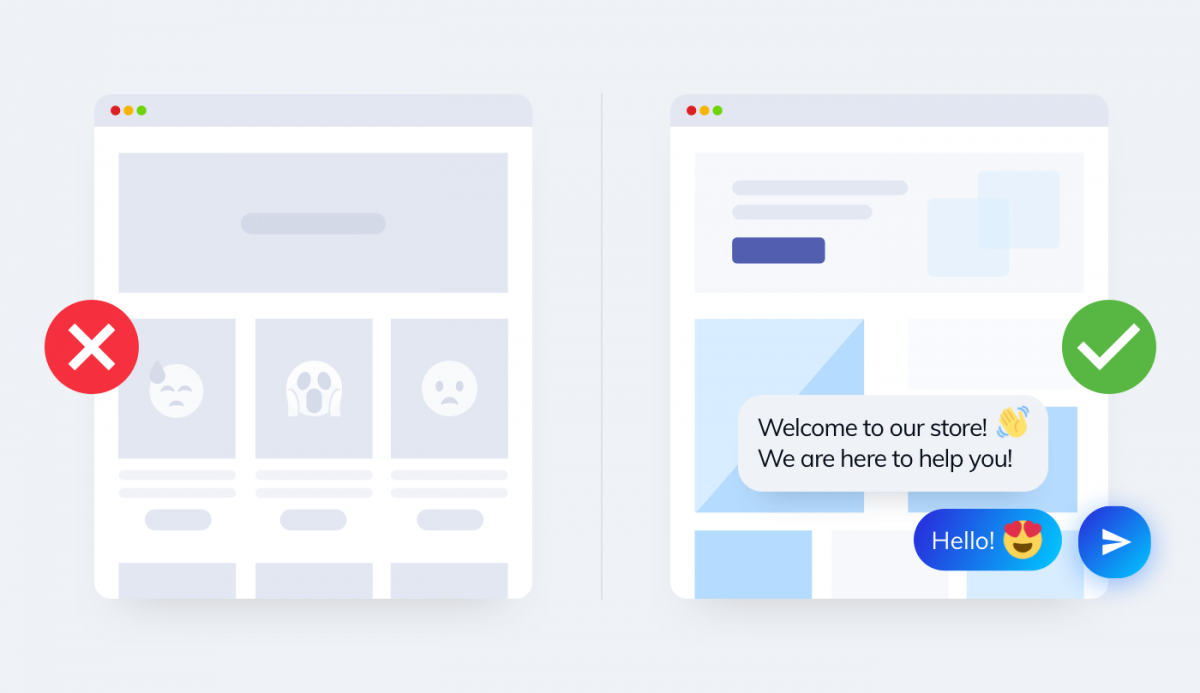 Sample use cases—See how people use live chat on their websites here.
One of our users, Vivian, had this to say:
One of the best business decisions I have made. Many customers complete purchases right after we answer their inquiries via live chat.
Table of Contents
What Does Canned Response Mean?
Canned responses are predefined responses that can be called during the chat. To use it in Tidio, you type "/" (forward slash) and follow it with a word or the first few letters of any word that is included in the response.
Canned Response Example:
"Sorry to keep you waiting" can be called with, for instance:
"/sorry" or "/wait".

As you type, Tidio will start looking for a matching word within saved Quick Responses and return a list of responses that contain the string of letters (or a whole word) you typed.
Quick Responses can be short, long, include links or references.
What is left is to select the response you want to use and send it.
Try Quick Responses
How Do You Use Canned Responses?
Below you will find a list of the situations when canned responses can be used. This list is not exhaustive and, based on your customers and experience, you will surely find some other situations you could use this type of response.
Canned Response Tip #1
Each canned response can be edited on the go shortly before it is sent. If the response requires only slight adjustments to fit the customer's case, you can quickly edit the message content and then send it.
Since the quick response message content is prepared beforehand, you can think about the response more thoroughly – check overall spelling, grammar, and/ or vocabulary. This way you are able to maintain a professional chat easier!
In some situations, you don't need one canned response but a whole set that will work as a meaningful conversation. If that is the case, consider using chatbot templates.
If you're looking for the best solution for your WordPress website, have a look at what functionalities the best chat plugin for WordPress has to offer.
1. Greetings & Introduction
When you enter the shop, you are normally greeted by the staff. There is absolutely no reason why e-customers wouldn't experience that in a virtual setting. The only problem is that it is much easier and faster to speak than type – and typing the same shop introduction and welcome message over a dozen times can be tiresome.
Greetings Example:
Hello there! My name is Nathaniel. How can I help you today?
Prepare different versions of canned responses to fit customers' different profiles (e.g. visitors, new customers, repeat customers, foreign customers) and to personalize their experience. In Tidio live chat, you can find what language the visitors use in the Visitors List (feature available on the Communicator Plan).
Introduction Example:
"Buenos Dias! Welcome to Toys Land. What can I help you with today?"
2. Ending The Chat
If you can save time on greetings, then why not when finishing the chat? When you are clear that you managed to resolve the customer's issue, send them a goodbye message to conclude the chat and move on to another customer.
Ending The Chat Example:
"Glad I could help 🙂 Wish you a good day!"
3. Asking For More Details
Depending on your business profile, customers might be asking common questions concerning, for instance, their order status, or whether you deliver to certain locations. To be able to answer the question you may need to ask for more details.
Asking For More Details Example:
"I can certainly help you with that. I will need some details from you first. What is your…?"
Canned Response Tip #2
Address customers with their first name to make the chatting interaction more personal.
4. Verifying Your Understanding
Avoid any confusion (and unnecessarily long chat) by clarifying your understanding of the customer's issue before you give them any instructions or potential solutions.
Response Examples:
"Let me see if I have this correct. You would like to…"
"If I understood you correctly…"
5. Admitting You Do Not Know
If you are unable to help the customer on the spot, then be honest about it. Carrying on with the insufficient information will only prolong the chat.
How Do You Politely Say I Don't Know?
"That's a very good question! To be honest, I'm not sure about it myself, but let me find it out for you"
"I'm sorry, I don't have any information on that. Could you please leave me your email or phone number? I will talk to my manager and get back to you shortly"
6. Admitting A Mistake
We all make mistakes sometimes. Regardless of whether it is you or the company to be blamed, do inform the customer about the mistake.
Admitting You Made a Mistake
"(customer name), I just realized I gave you the wrong price for the item we talked about earlier. My apologies. The correct price is…"
"There was a miscommunication at the (department name) and we sent your invoice to your old email address. Sorry for the trouble. We will add 5 extra days to your subscription period for the next month to make up for this unfortunate situation."
7. Transferring To Another Live Chat Operator
A lot of us hate being transferred, waiting for the support agent to be available, only to repeat the whole story again. Transfer only when it is necessary and when you are unable to acquire the information yourself.
Do not forget to inform the customers that they are about to be transferred to another operator.

20 Best Practices For Live Chat Etiquette
Luckily, with live chat, the transfer is not as painful as in the case of phone calls. Operators can freely join and leave any conversation that is listed under the chat list. What's more, even if another operator joins in the middle of the chat, he or she will see all the messages that were exchanged so far so the customer does not need to explain their issue all over again.
Transferring To Another Live Chat Operator Examples
"I am going to connect you with my colleague who is more familiar with the problem you have just described"
"I will ask (name) to join this conversation. He works in (department name) so he is the best person to talk with about your invoice"
8. Putting On Hold
When you need some extra time to look into the matter, ask the customer for their permission. If the investigation takes a bit longer than you anticipated, then let the customer know about it.
Putting On Hold Examples:
"Can I put you on hold for a moment, please?"
"Would you mind holding on for a few minutes while I am checking this with (person or department name)?"
How To Ask the Customer to Leave Their Contact Details
Alternatively, you may ask the customer to leave their contact details so you can contact them later.
Response example:
"(customer name), the hold will take a bit longer than I initially thought. Would you mind continuing holding or prefer leaving your email or phone number so I can get back to you later?"
When you gather all the information you need and are ready to present the solution to the customer, apologize for the hold and thank for their patience.
Response examples:
"I'm sorry to keep you waiting. I spoke with our (department name) and it looks like…"
"I'm sorry for the hold. I managed to run through all the records we have on our file and it seems that…"

9. Missing A Chat Request
If you happened to miss a chat request and noticed it only after a while, apologize and offer your assistance.
Response example:
"Hello! I'm very sorry we missed your chat. How can I help you?"
10. Talking About The Competition
It is only natural that the customers look for the best (and cheapest) solutions and products so be ready to talk about your competitor(s).
Response examples:
"You are right. However, please take a look at our…"
"I see where you are coming from but I can assure you that this is a common misconception. (Company name), unlike us, does not offer…"
11. Sending Links To External Resources
Keep the links to the most popular resources to avoid wasting time on browsing. You can include the link into a common response or have the bare link as a quick response.
Sending Links Examples:
"Please take a look at this webpage: www.example.com/destinations/. You will find a full overview of our destinations and connection hubs"
12. Talking About Special Offers
If you run frequent promotions, you can prepare a few quick responses for each offer. This will not only save you time but also the confusion stemming from having different conditions and prices for each offer.
Examples of Sales Promotions
"We have a 25% sale on all Star Wars merchandise until the end of this week"
"You can get free shipping if your order is $50 or more"
13. Talking About Prices
Similarly to the case of the special offers, canned responses can spare you remembering different prices of your products, plans or services.
Response examples:
"The features you are interested in are included in the Premium Plan which comes at the price of $65 per month or $700 per year. Annual payment saves you $80"
"Yes, we ship to Australia. The shipment cost starts at $30 and the final price depends on the total physical or volumetric weight of the order"
14. Talking About The Features
If you work in a company that sells complex services or products, and perhaps rolls out frequent updates, then it can be quite a challenge to keep up with all the details and recent changes. Spare yourself a headache and prepare some quick reply "cheat notes."
Response examples:
"The Premium Plan includes the following features: …"
"Features that are not included in the Basic Plan, are as follows: …"
Canned Response Tip #3
Keep the responses up-to-date to avoid providing outdated information. Also, try to avoid technical jargon as this may potentially lead to misunderstanding.
15. Guiding Step-By-Step
Customer service is not only about troubleshooting issues but also helping the customers to complete certain tasks related to your product or service. Save common procedures (such as account registration, account upgrade, password retrieval, etc.) as canned responses. Remember, that you can include links to graphic or video tutorials to help the customer understand their task better.
Guiding Step-By-Step Examples:
"To reset the password to your account, you will need to…"
"Sure, I'm happy to help you with that! First, please go to… and… Then, …"
Canned Response Tip #4
Don't copy-paste instructions from the website, otherwise the customers will realize that they received a dry 'automatic' message. Incorporate some human touch in the messages to make them more genuine. If you want to use chatbots, make sure that you base your messages only on good chatbot conversation examples.
16. Handling Complaints And Upset Customers
Show sincere sympathy and acknowledge the customer's feelings. Express your understanding and commitment towards finding the solution to the situation that took place. It will help you with building long-term customer relationships.
"I'm extremely sorry to hear about that. Could you please tell me more about how it happened?"
"I'm very sorry about the situation. I understand that it caused you a lot of trouble. Let me see what I can do about it"
"I'm sorry that your order was not delivered on time. Apparently, despite the information we received from the supplier, the item was dispatched one day later than scheduled. Let's see what we can do to make things right"
17. Dealing With Confused Customers And Trolls
"I'm afraid you reached the wrong company. We are not (company name) and we are not affiliated with them"
Strive to treat each person on the opposite side of the chat with respect. Some visitors are genuinely confused and they might not realize they contacted the wrong company until somebody tells them about it.
When the customers realize their mistake and apologize, reassure them that nothing bad had happened and end the chat in a polite way.
Response example:
"No worries! Glad we managed to sort it out. Have a good day!"
On the other hand, some visitors can play childish games with you and pretend to be confused. They will only end up taking your time.
Response example:
"I'm sorry, we are not the right company to help you with your inquiry. We don't sell…We appreciate your contact. Have a good day"
If they continue the chat regardless of your efforts put into clarification, you can use the ban option.
18. Wrapping Up The Chat
When you are about to finish the chat, sum up what was agreed upon so far and check with the customer whether there is anything they need help with. If the answer is negative, finish the chat and offer your assistance in the future.
"(Customer name), is there anything else I could assist you with today?"
"Should you have any further questions, please feel free to contact us at any time. Thank you for chatting with us and have a great day. Goodbye!"
Thanks for making it to the bottom of the list 🙂
Do you have your favorite quick responses? In what situations do you use them the most? Let us know.
(Psst…if you want to automate your responses, you can consider getting chatbots instead)
If you want to try quick responses yourself, sign up today and start using Tidio for free.
Try Live Chat For Free