Business Growth
39+ Best Welcome Messages for Customers & New Employees
A welcome message for customers or employees can win them over or make them yawn. And it's entirely up to you which it's going to be.
"Welcome to Jurassic Park" has a slightly different ring to it than "Welcome to IKEA Family", doesn't it?
Still, you need to work with what you got. And you can send a great welcome message that will get your customers thrilled. Or get your new employees pumped up and ready for new challenges.
Read on to learn how to make your onboarding emails and messages actionable.
In this article, you'll find:
What's a welcome message and why it matters
Best welcome message examples from real companies
How to onboard new employees and welcome website visitors
Tips on writing "Welcome to My Website" messages
Plus:
Beautiful welcome email templates you can use right away
By the end of this article, you will know how to write welcome messages that get responses and drive sales.
Not exactly interested in these types of welcome messages? Check out these articles:
What is a Welcome Message?
A welcome message is the first message that you send to new users, customers, or employees. It can onboard, present an offer, or explain the value you provide. Many online businesses send welcome messages to activate their customers.
Here are some popular types of welcome messages:
Onboarding emails
Website welcome pages and banner
Welcome messages on Facebook pages
Chatbot messages
Private/direct messages (PM/DM) on platforms
Physical welcome notes and cards
Welcome signs
Some of them are general announcements and slogans. Others are more direct and personal. Welcome messages vary in their degree of personalization and purpose.
On the Importance of Welcome Messages
You never get a second chance to make a first impression. It is crucial that you make a good one. The way you welcome somebody determines the future of your business and personal relationship.
Let's look at a classic example:
Welcome to my house. Come freely. Go safely. And leave something of the happiness you bring.

—Count Dracula
Who could resist a welcome message like that?
A nice way to welcome a visitor that you intend to suck dry! Count Dracula probably knows his Shakespeare too—"great welcome makes a merry feast."
Joking aside, effective welcome messages are essential for both employee and customer onboarding. You need to establish a strong customer relationship to increase sales. And you want teammates who respect and enjoy working with you.
Remember! Saying "Hello" is not a matter of courtesy alone. Your customers will read the first message they receive with extra attention. It is a great opportunity to guide them and leave some tips, instructions, or information.
If you still aren't convinced, you may want to consider one thing. Welcome email messages are the most important emails in professional email marketing campaigns. They have 2-3 times higher open rates than other messages.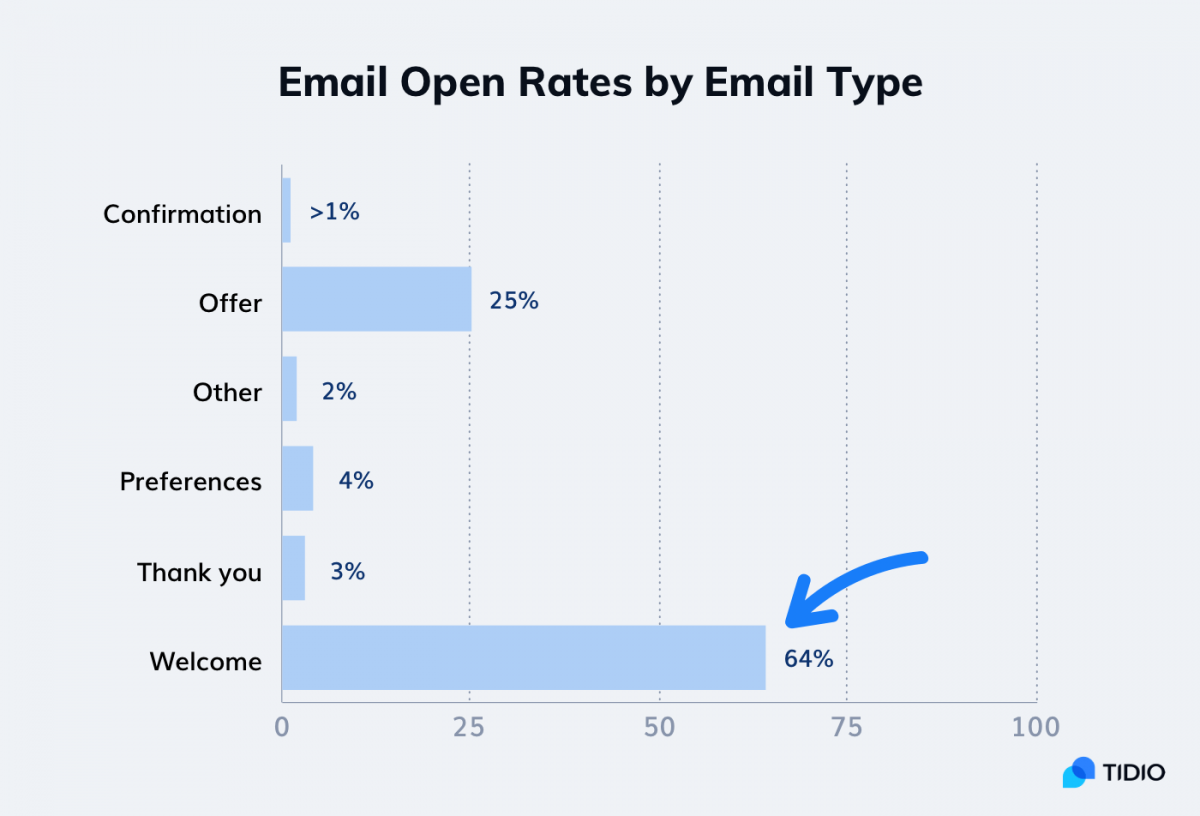 When you are not trying to make the most of your welcome messages, you are missing out on what may be your very last chance to strike a real connection. This is especially true for new customers and potential leads.
Let's take a look at the best onboarding welcome messages and other effective greetings.
Best Welcome Message Examples
Effective welcome messages usually accomplish one or several of the tasks listed below. You can choose any of the purposes to see sample welcome messages from real companies.
Offer value proposition
Give a free gift or a discount
Have a clear call-to-action
Collect customer details
Ask for feedback
Comply to legal restrictions
Use humor for higher engagement
Make recipients feel part of the team
Help to navigate your website
Suggest the official communication channel
Draw attention
Use personalized body and subject lines
Have great visuals
Onboard and show around
Offer a deal or encourage to browse products
Don't have to be sent only once
Explain the rules
Are multichannel
Set expectations
Go through the welcome message examples one by one. Or skip to the section with the welcome message templates that you can use on your website.
1. Welcome Message That Shows the Benefits of Choosing Your Business a.k.a. Value Proposition
What is the most important thing to communicate when somebody joins you? First of all, make sure that your customers (or employees) won't run away. The ultimate goal of all welcome messages is to convince them they made the best choice.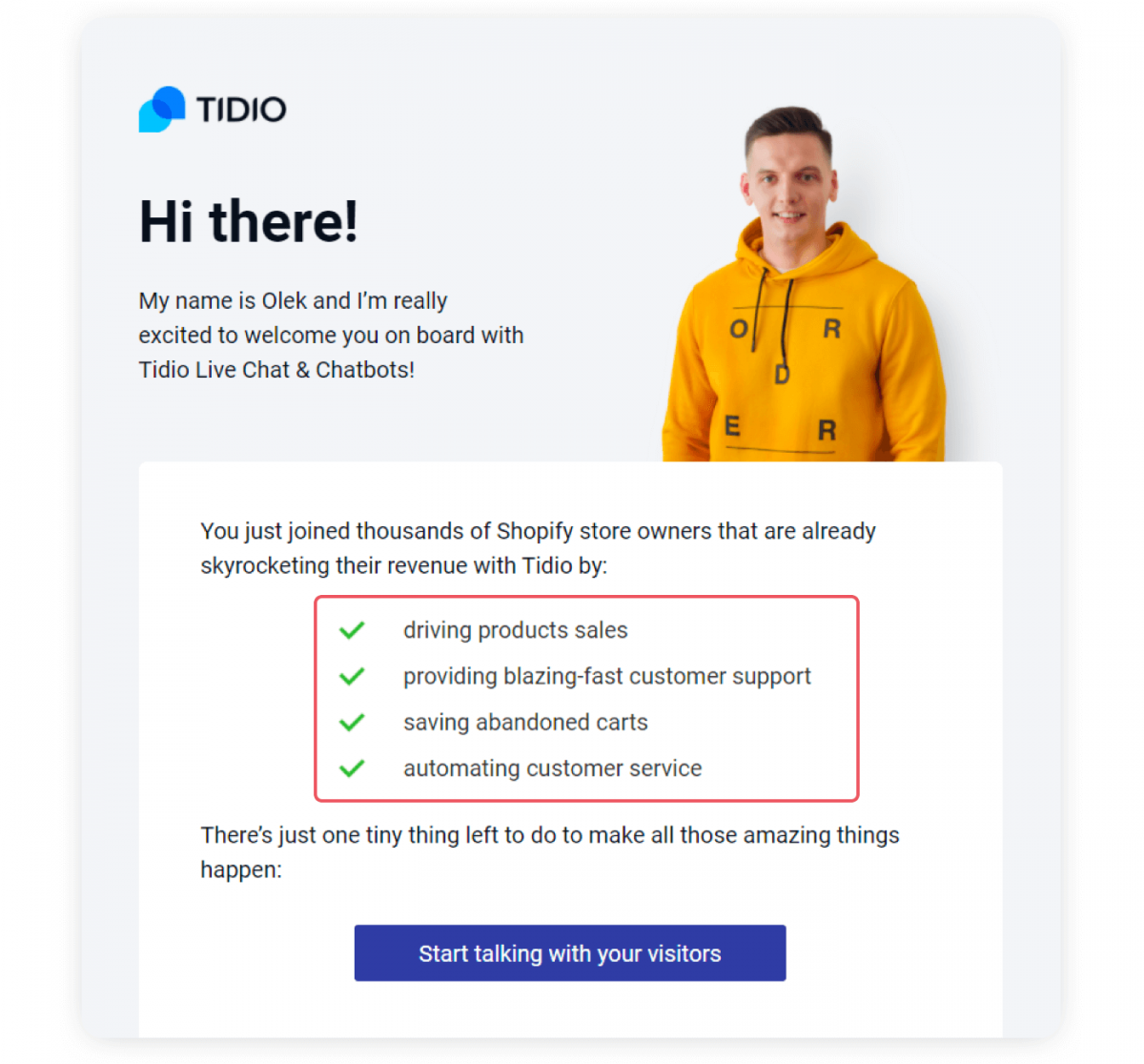 Here is an onboarding welcome email from Tidio. It highlights some of the most important things that the app can do. But notice how this greeting lists the benefits rather than features.
Want to make your welcome messages effective?
Show the most important features and benefits of using your product. Or joining your company.
Remind your users why they decided to sign up and how you can help them achieve their goals.
2. Business Welcome Message With a Surprise Welcome Gift
To paraphrase a song by Madonna: Some brands romance, some brands slow dance—that's alright with me. But if they can't raise my interest, then I have to let them be.
Madonna is a material girl and so are most of your customers. What they'd like your company to show them is some tangible love.
Or at least something valuable they can get for free.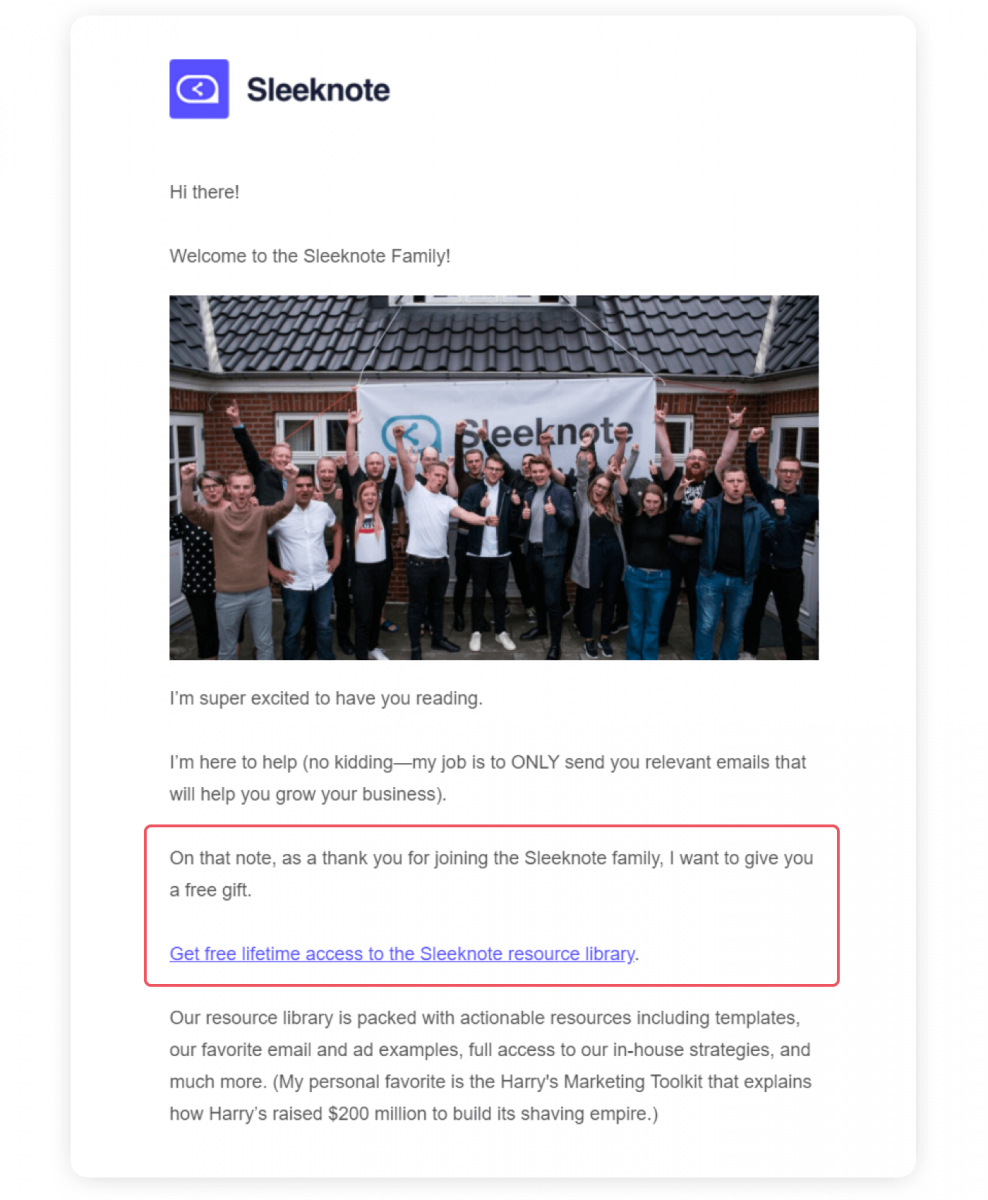 The welcome message from Sleeknote informs about a surprise gift. You get free access to their resources. It does make a difference.
Why do welcome gifts work?
When somebody says that they are happy to have you onboard it is fine. But when somebody gives you a welcome gift, you know that they care.
3. Single CTA Welcome Message That Directs Your Recipients Towards the Next Step
Best welcome messages take care of several things all at once. You can handle some of the goals just by expressing them in the email. For example, showing gratitude that somebody joined you. It doesn't need any action from the recipients. The message itself does the trick.
However, most of the time you also need to activate your customers, users, or new employees. At the time of onboarding, there is probably that one specific action that you want them to take.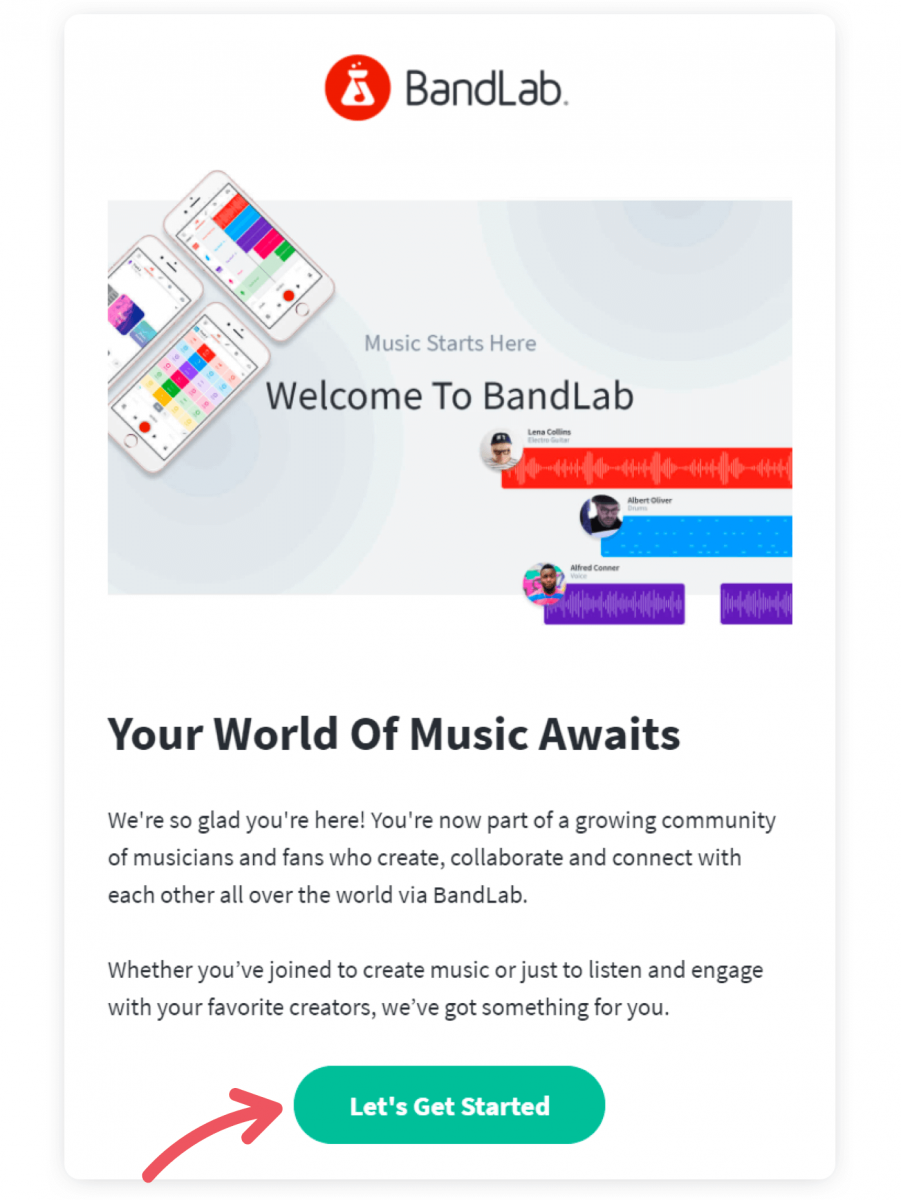 The welcome message example above (from BandLab) has only one button. It prompts the recipients to do a single thing—start using the app. It makes perfect sense. Since welcome messages have a 4x higher click-through rate, why not try to make that click matter?
How to encourage email recipients to do anything instantly?
If you want your welcome message to act in a specific way, prompt them to do so with a simple call to action, such as a button.
Pro-Tip: The more call-to-actions you have, the weaker they become. If you really need somebody to perform something complex, create a chatbot instead. Multiple-choice options work better with conversational interfaces.
4. Chatbot Welcome Message for Lead Generation
You don't need to wait for your customers to subscribe to say "hi." One of the best ways to engage your website visitors is to use a chatbot that sends a welcome message.
Chatbots are very effective for lead generation and driving sales. Here is an example of a chatbot that greets newcomers and offers a free sample of a product.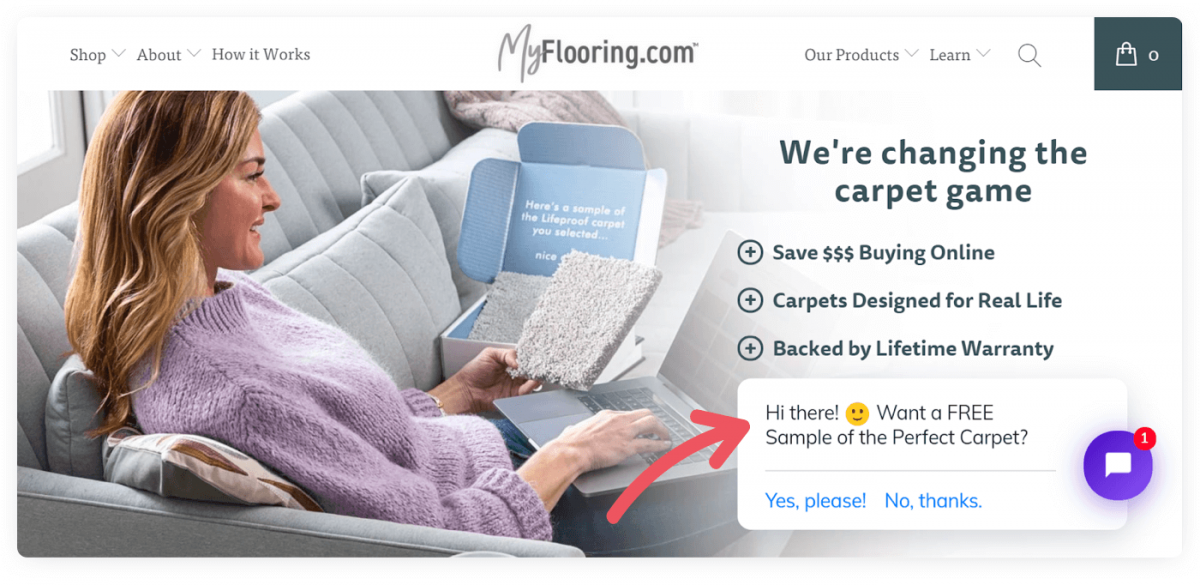 You can think about it as a virtual assistant that would normally offer free samples in a regular store. Or say "Hi, how can I help you?" to customers.
Both of these techniques are very useful in eCommerce. But you need to customize welcome messages to get better results. Almost 62% of the most effective lead generation chatbots had unique messages.
How to welcome visitors on autopilot and collect emails?
Set up a chatbot that sends an automatic welcome message on your website. Many people will reply and leave their emails—you can weaponize them in your email campaigns.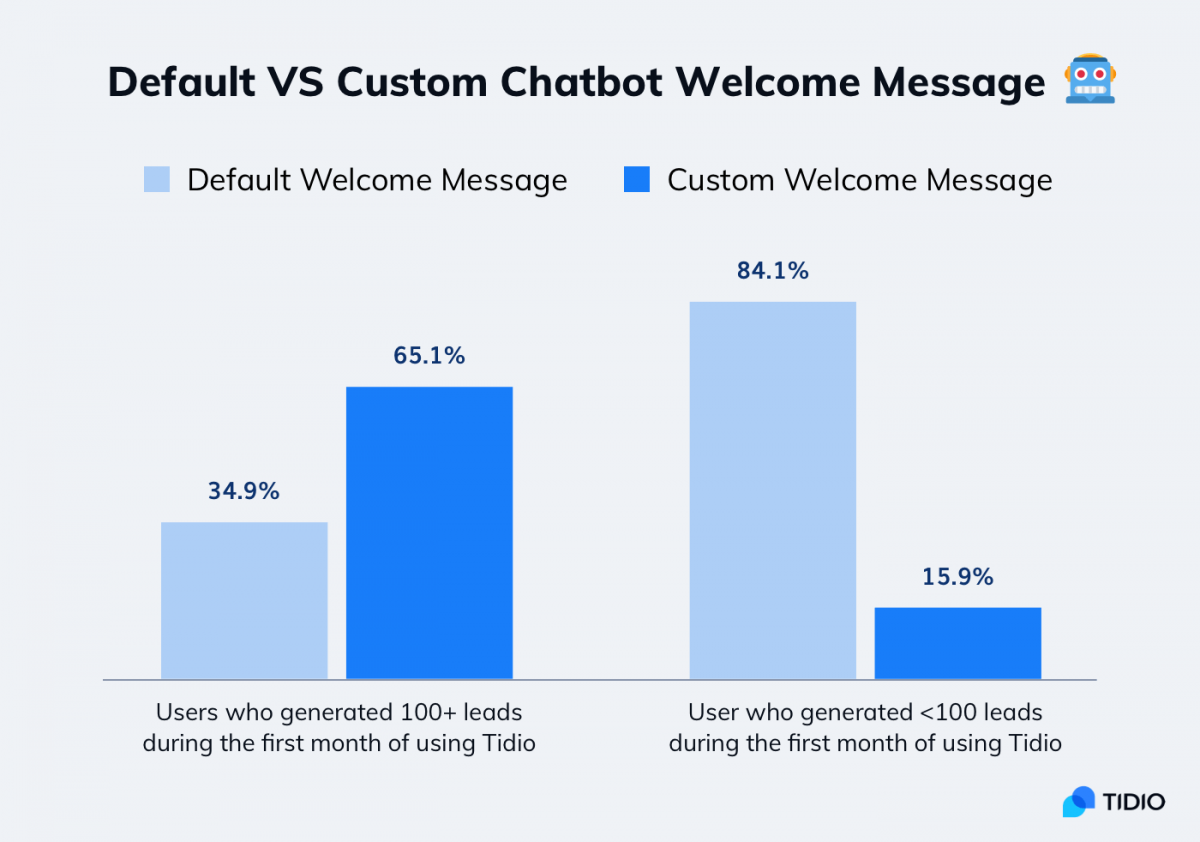 Read more: Chatbot Statistics and Trends You Need to Know in 2021
5. Feedback Loop Welcome Message
Signing up or clicking a button is not a real connection. Not yet. Your customers interact with your website or app but not with any person in particular. Unless you reach out.
Take a look at this welcome message from Dreamdata: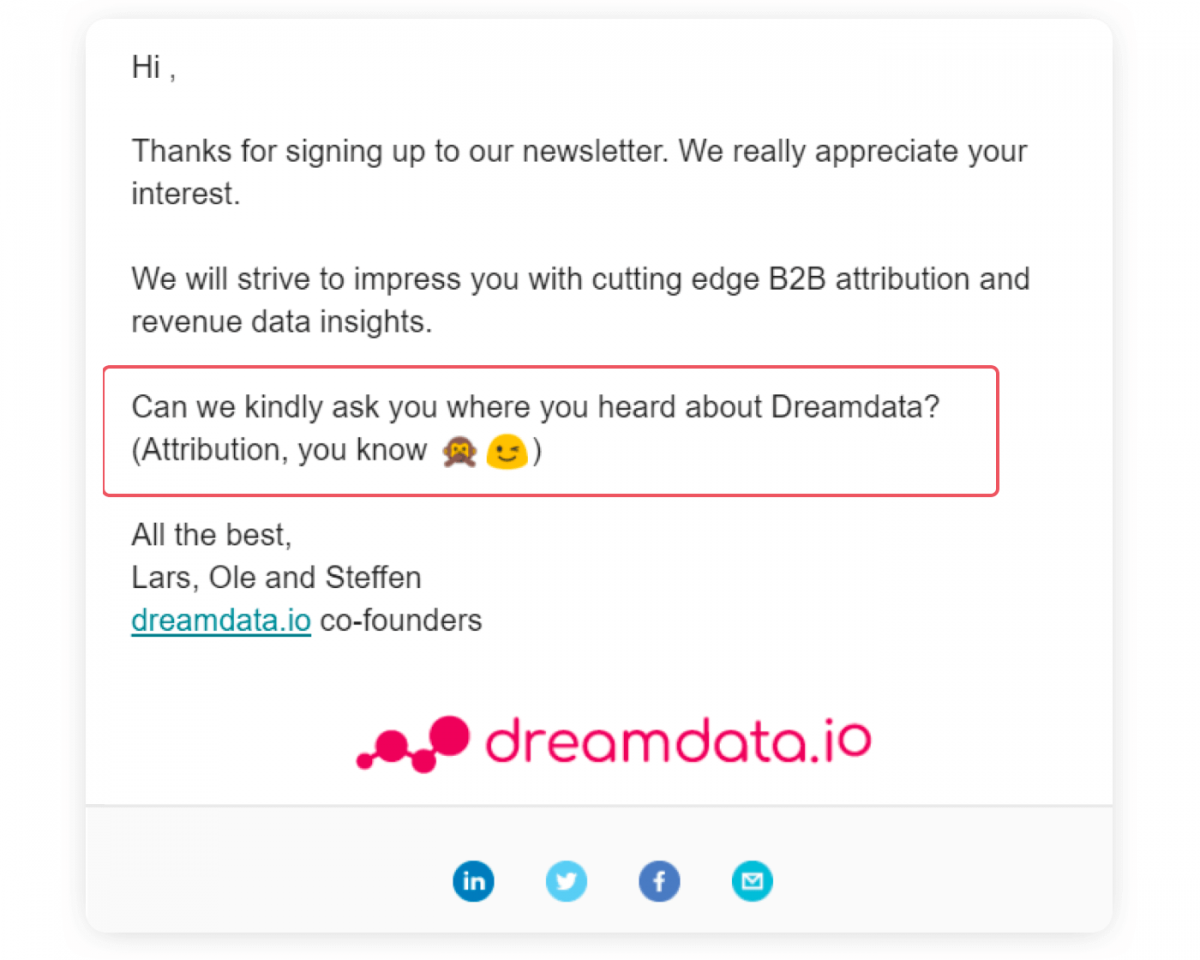 One of the best ways to onboard and activate users is to ask them direct questions. It sends a very good message—that you are interested in what they have to say. When they realize that they can connect with you directly, it opens up new opportunities. It becomes a conversation and helps to build a relationship. This is how customer feedback loops work.
Why do marketers care so much about customer feedback?
Connecting with customers and listening to their requests is essential for modern businesses. Show that you care right from the very first welcome email to boost customer retention.
6. Goody Two Shoes Welcome Message
In some cases, you can't be too careful. If you struggle with fake users and subscribers, your welcome message should have an email confirmation option. It is also a good practice if you don't want to risk landing in the spam folder.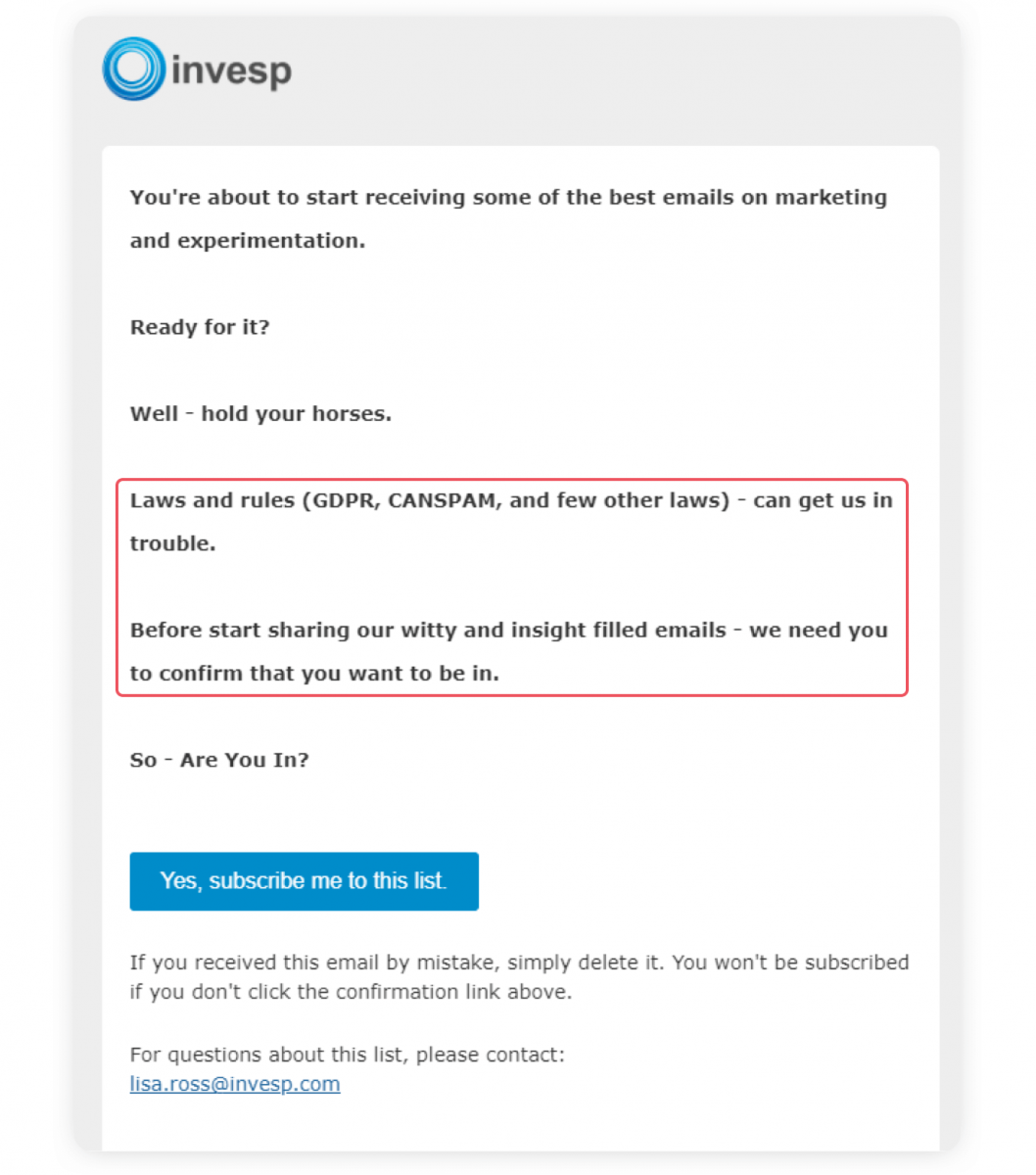 This welcome email is focused on being user friendly but compliant with regulations. It explains what types of messages the user can expect to receive. It also lists some of the laws and rules.
Why asking for confirmation is important?
You need to make sure that your email list is legit. Privacy and data protection regulations are becoming very strict. You should take them seriously.
Read more: How to Avoid Spam Filters And Improve Email Deliverability Rates
7. Funny Welcome Message
Laughter is a powerful weapon. It can show that your company is a friendly place with a positive attitude. Humor is also an excellent way to grab the attention of website visitors. With chatbots, you can send funny welcome messages like this to encourage communication.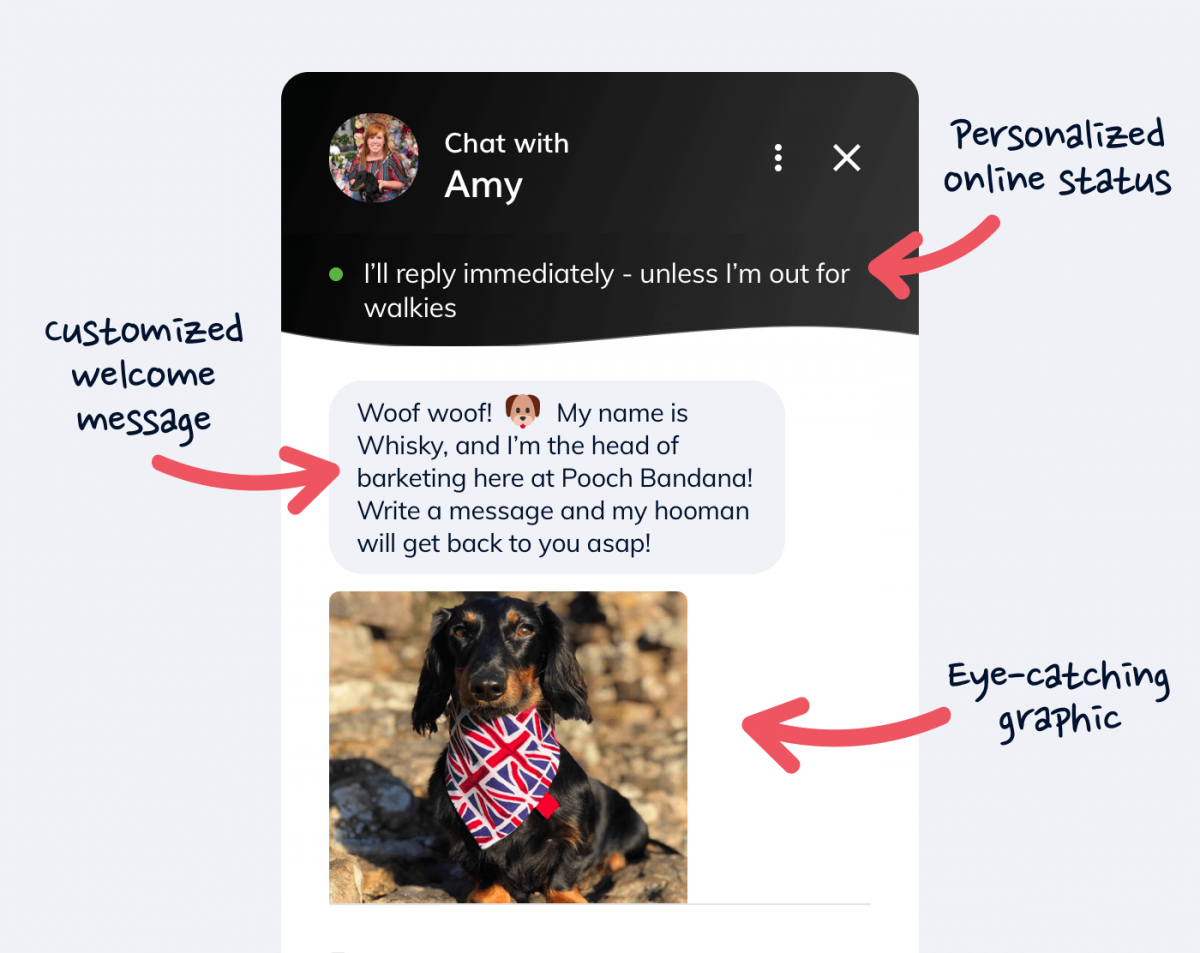 A bit of such humor can give your business more personality and entertain customers. For example, Pooch Bandana has a welcome message bot that is funny and relevant to their products.
Is using funny welcome messages alright?
In most cases, it can ease the onboarding process. But humor can be tricky—make sure not to offend anyone.
8. Welcome to the Family Message
When you are becoming a new employee, it is a bit like marrying into a new family, isn't it? In a way, businesses are like big families. Or second families. It is no surprise that "Welcome to the X family" is one of the most popular welcome messages. Being treated like a family member implies and evokes positive feelings.
Here is an onboarding email from SEMrush that uses this formula for greeting new customers: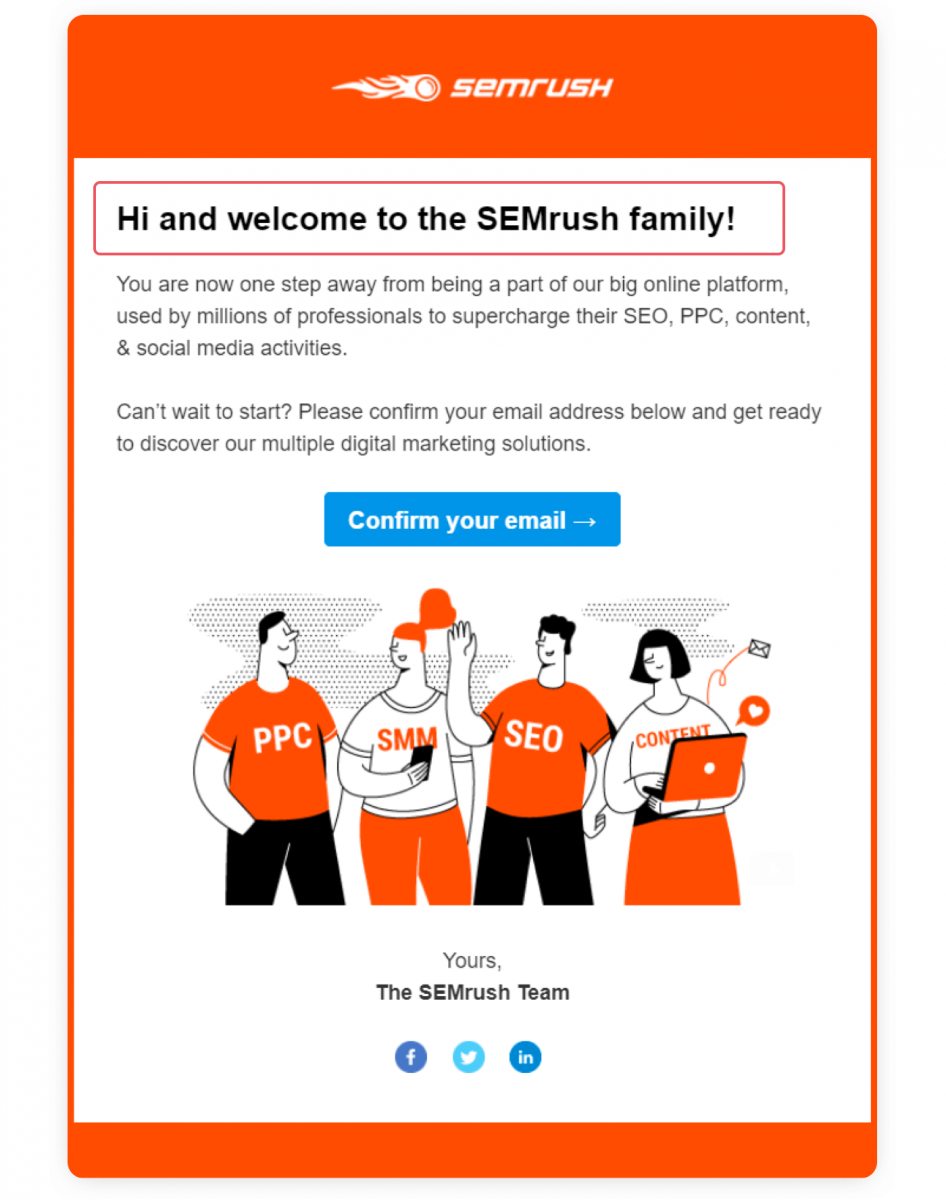 It still asks you to confirm your email address. The part about joining the family is meant to soften the blow. And it suggests that you already joined. Even if there is one little step remaining. This welcome message example feels very different from the previous one from Invesp.
Why do these welcome emails work?
Treating new team members and new customers like "family" helps to break the ice. Even if it is just a figure of speech.
9. Welcome Message for Online Stores
Imagine you are browsing smartphones in a store with electronics. There are no other customers. You have been doing it for 10 minutes at least. And you can't decide. Then, a store employee walks up to you and says:
Welcome to our store…
And immediately walks away.
There is something wrong with that picture, right? Well, the most natural thing for a store assistant to say would be: "Can I help you with anything?"
There is no point in saying "welcome to our store" or "welcome to my page" without telling anything more about it. Or better yet, offering to help. This applies to online stores too! Take a look at this message from an eCommerce chatbot:

This online store welcome message is the most universal one. It covers frequent questions from customers and builds trust. Nowadays, almost 70% of shoppers aged 18-24 prefer using a chat widget to other forms of contact.
Should every online store have a welcome message?
There is no reason not to give it a try. A warm welcome always improves the user experience on your website. Top it with a discount code coupon and you'll always get your user's attention.
Check out more short welcome messages for customers.
10. Direct Welcome Message That Sets the Primary Communication Channel
The way you start the conversation often determines the official communication channel. If you send someone an email, you'll exchange emails. If you start writing on LinkedIn, you'll keep sending messages on LinkedIn. And so on. That's why some platforms start with a direct message (a.k.a. private message).
Here is an example of a direct welcome message from Genius: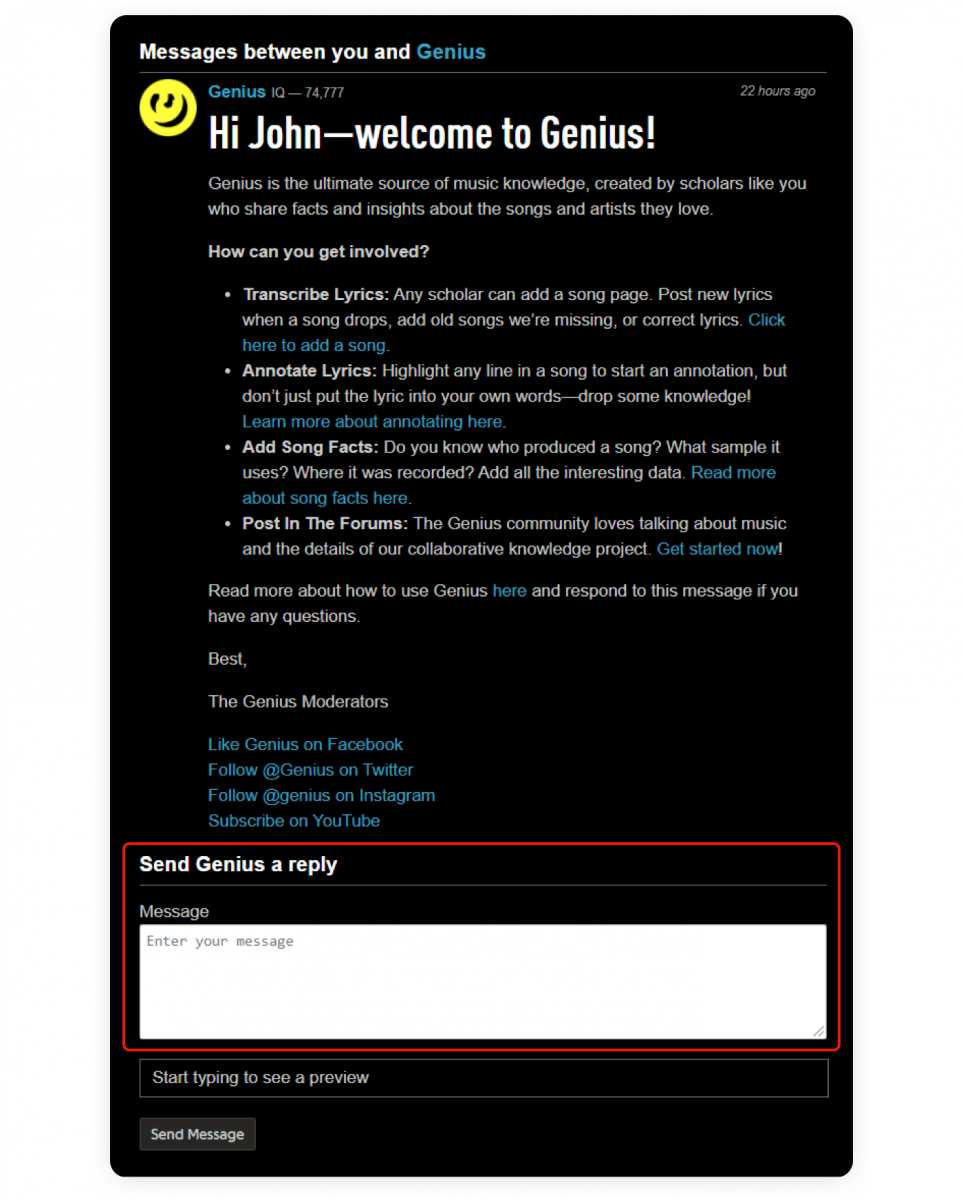 The notification about this message is also available in your email inbox. However, it is made clear that if you want to message the company, you should use the direct messaging option. Sending a private welcome message has one big benefit—it will be easier to find.
Can this type of message help with keeping communication channels organized?
People use whichever channel is most convenient for them at any particular moment. But you can give them some directions, for example, if you don't want them to PM you on social media.
11. Short Welcome Message for a Website
A welcome email should be short. But a welcome message on your website should be shorter. In fact, in most cases, you can skip the welcome altogether. However, simple words like hi, hello, and welcome tend to draw attention. So it may be a good idea to add them somewhere and combine them with short info about you or your business.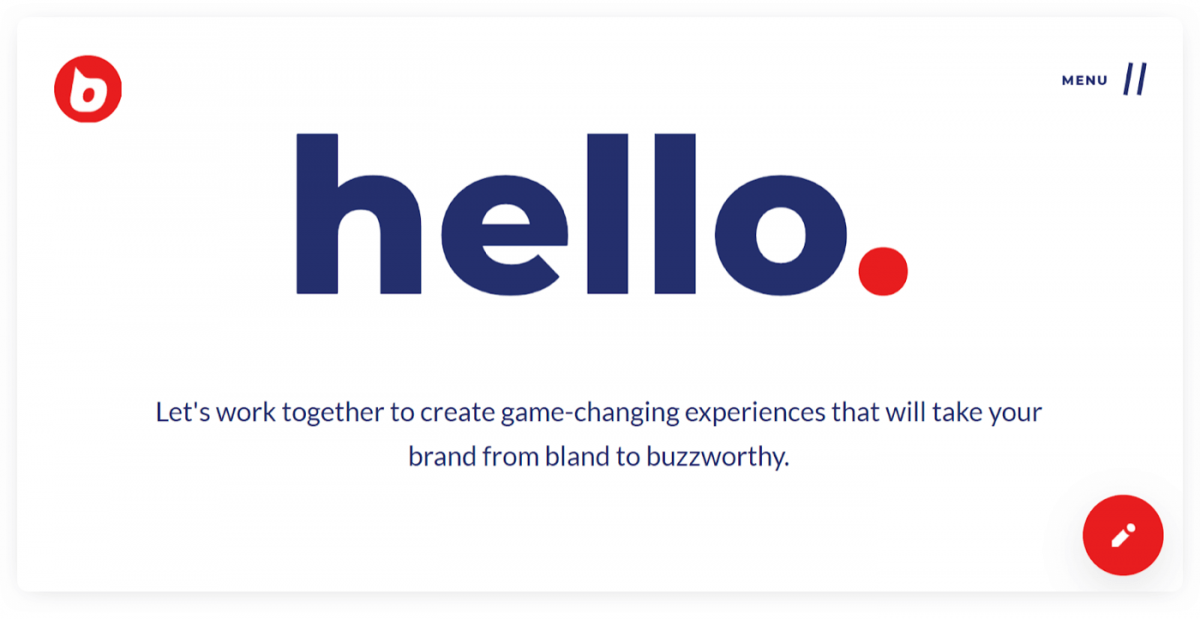 Buzzworthy is a company that does it right. Brevity is the soul of wit. It is simple and gets the message across. A strategically placed hello may be all you need.
Notice that in spite of this minimalistic approach, the live chat widget is still there. It is tempting to say that a live chat widget should be just like a punctuation mark after hello on your website.
Does a welcome message on a website increase engagement?
Short words like hi and hello directly address your visitors, which is a great way of making a connection. And using a live chat widget is even better.
Read more: Compare the Best WordPress Chat Plugins
12. Personalized Welcome Message That Uses the Recipient's First Name
People enjoy seeing their names. Unless it is on a request for payment. Or a grave—which can be quite an eerie experience. Most of the time, it draws our attention or strokes our ego. It may be a good idea to use them in personalized welcome messages. All the more so as 80% of customers are more likely to make a purchase after receiving personalized emails.
This email from Zendesk uses data from the registration process. It is a nice icing on the cake. The welcome email has some nice visuals, a straightforward CTA, and it calls me by my name. What's more to ask from an onboarding message?
Do personalized messages have a better click and open rate?
Yes. It is a simple psychological trick that works. If you have the opportunity to include your recipient's name in your email subject lines or email body, do it.
Tip: Incidentally, you don't need Zendesk to send personalized welcome message emails. You can use Tidio to build complete lead generation and onboarding flows. And send beautiful welcome emails with Tidio Email Marketing.
13. Welcome Message With Images and Animations
An image is worth a thousand… credits on your stock photography portal. But there are other solutions. You can design emails and use free libraries of images with email marketing tools.
It should be obvious that emails need good visuals. But chatbots also can become more effective with pictures. Take a look: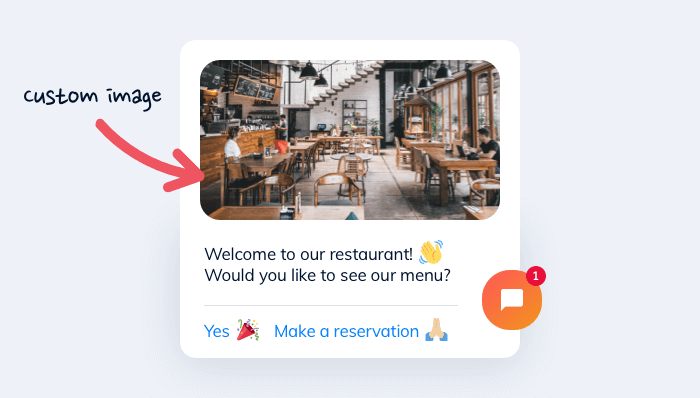 Many chatbot builders forget they can include images and animations as bot messages. This business welcome message for a restaurant shows what the place looks like. It can also send messages with photos of some dishes. How awesome is that?
Want to make your messages more attractive?
Combine words and images. Make sure that they complete each other.
An image can just pique curiosity or suggest what is the subject of a message.
14. Welcome Message That Shows Where to Find All Necessary Information
In some cases, your product or service may be difficult to use. It may be a good idea for the welcome message to offer manuals and suggest resources. It may not be hip or exciting, but it sure is helpful. And good assistance is all your new users may need.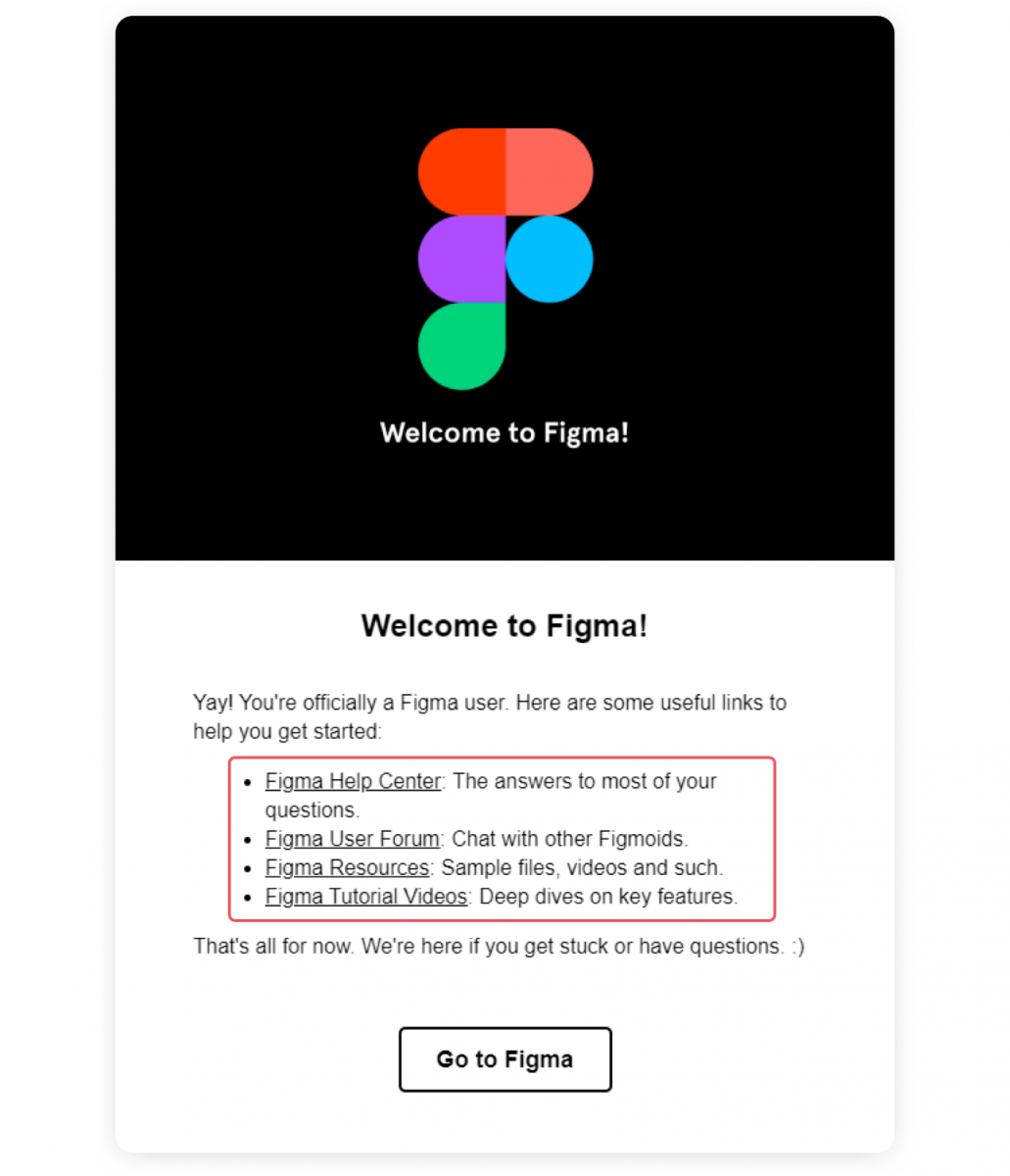 This onboarding email message from Figma is well-balanced. It mentions the places of interest and allows you to start exploring wherever you like. If you are a B2B company, it is always better to provide some guidance before trying to make a sale.
Should I tell customers to start using the tool or read the resources first?
Practice is more important than theory. But if your tool is not very intuitive, make sure to at least mention some of the resources.
15. Welcome Message That Encourages to Browse and Buy Products
B2C companies can be a little bit less subtle when it comes to pitching a sale. Some businesses don't need to beat around the bush. If you sell things like clothing, accessories, or cosmetics, your emails can be direct.
Here is an example of a welcome email message from Madewell.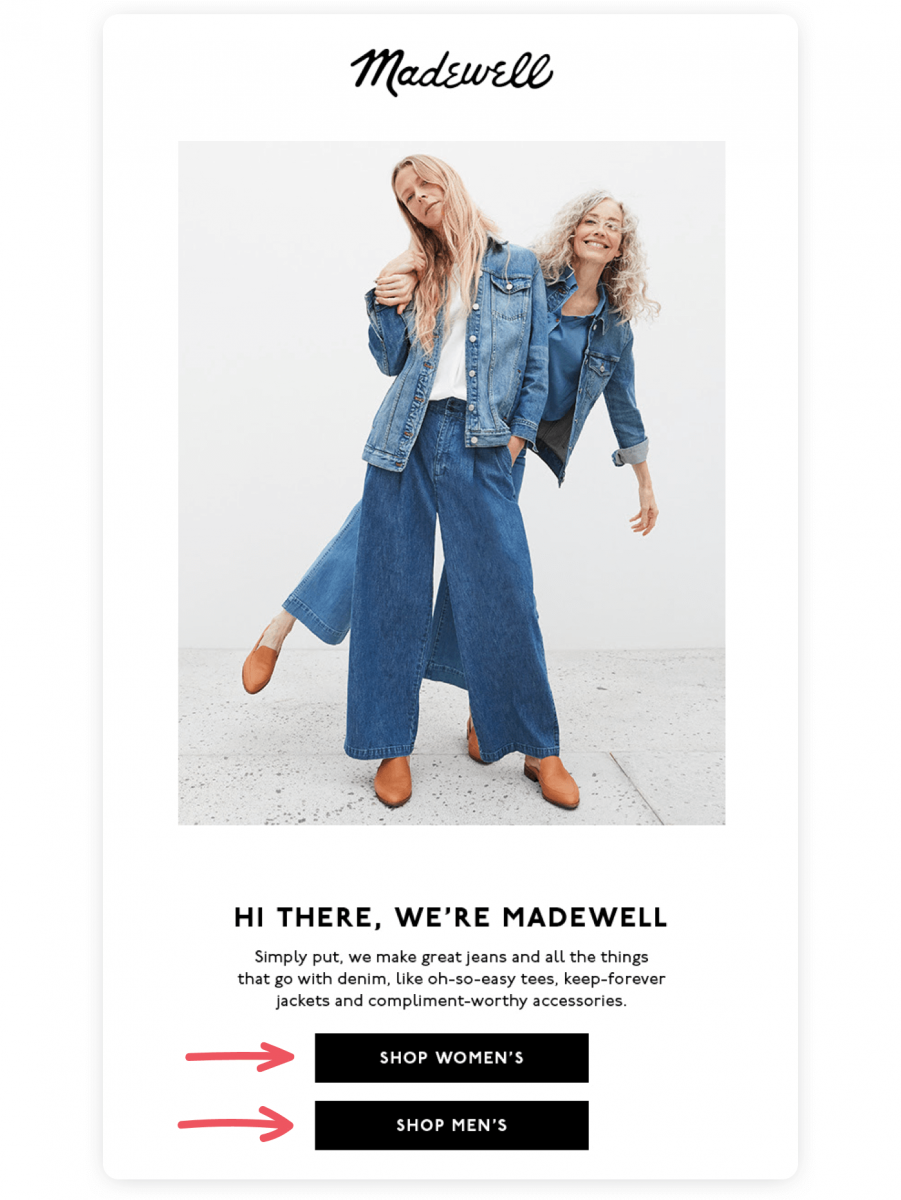 There are two CTA buttons for separate categories but there is only one core message—shop. And there is nothing wrong with that. There is no need to onboard your online store customers. You can shift your focus on providing great customer support instead.
Can I try to pitch a sale in my welcome message?
It is OK for online stores to send welcome emails that encourage users to browse products. You can also feature some special deals.
16. Welcome Back Message for Returning Customers
If someone comes back to your website, it is a great sign. They know your products or services and are considering a repeat purchase. All they need is a little push. Send a welcome back message that offers a discount to close a sale.
Here's an example of a unique welcome back message for customers (courtesy of Midi Bridal):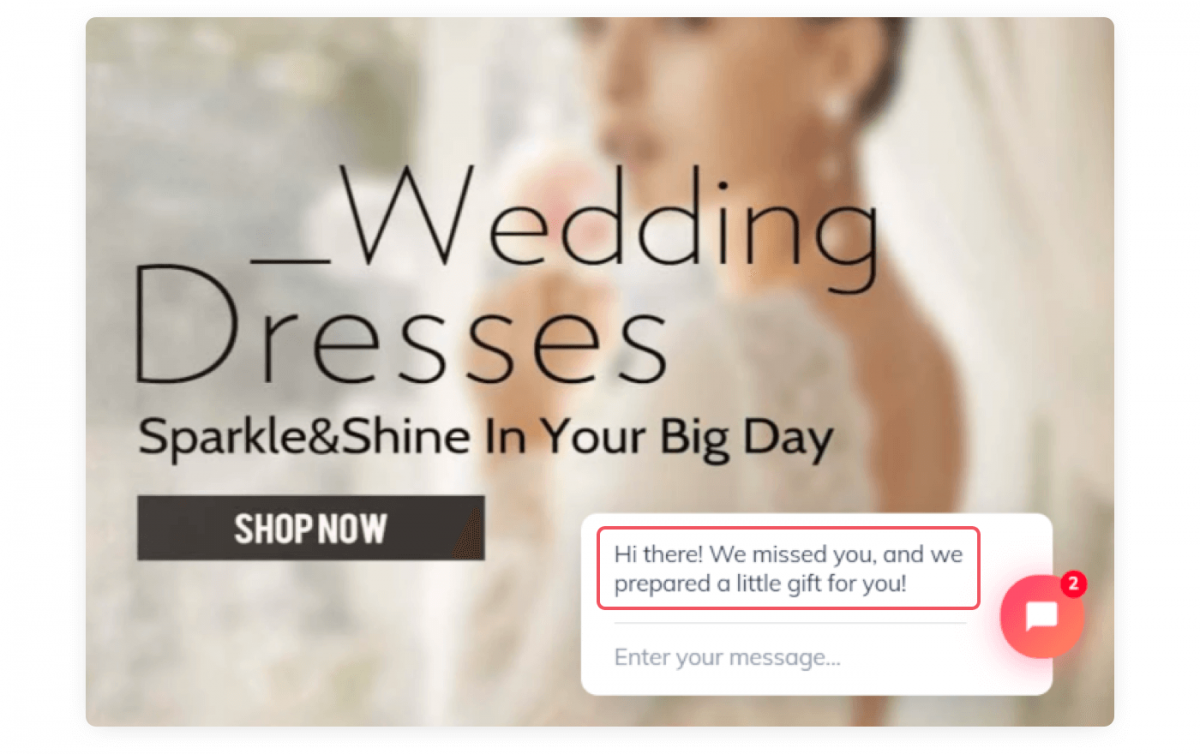 Changing your welcome messages for returning customers gives you one more advantage. It is yet another way of personalizing customer communication, which is always good.
How to set up an automatic message for returning visitors?
Setting a welcome back message on your website is very easy. All it takes is connecting two nodes. And actually, you don't even have to do that, since you can use a template.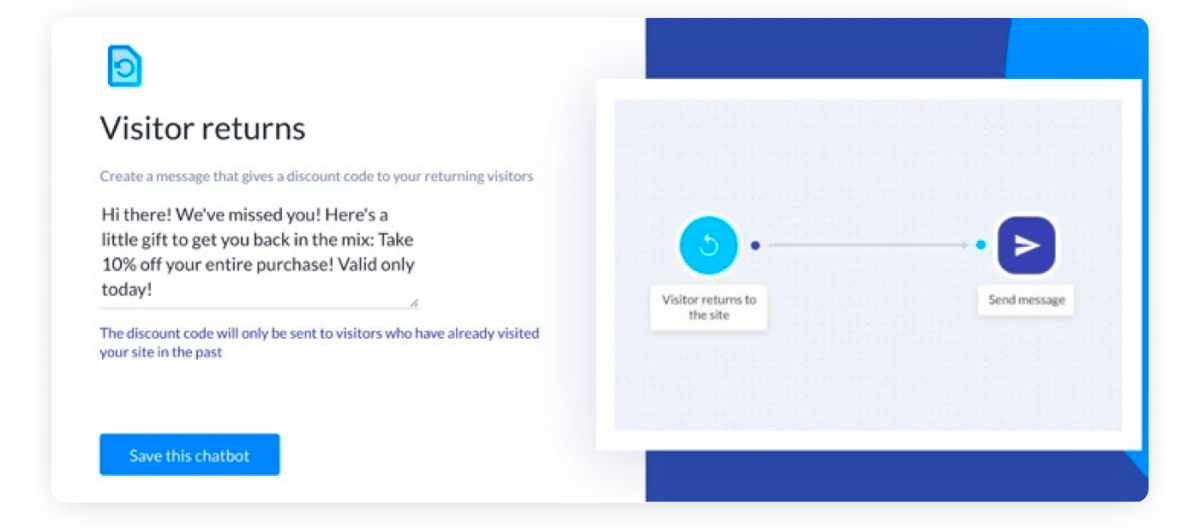 17. Welcome Message That Explains What You Can (or Can't) Do
Explaining the rules is an important part of the employee, user, or customer onboarding. Your welcome messages can clarify what the recipients are entitled to. And under what conditions.
This welcome message example from LEGO explains the difference between different services: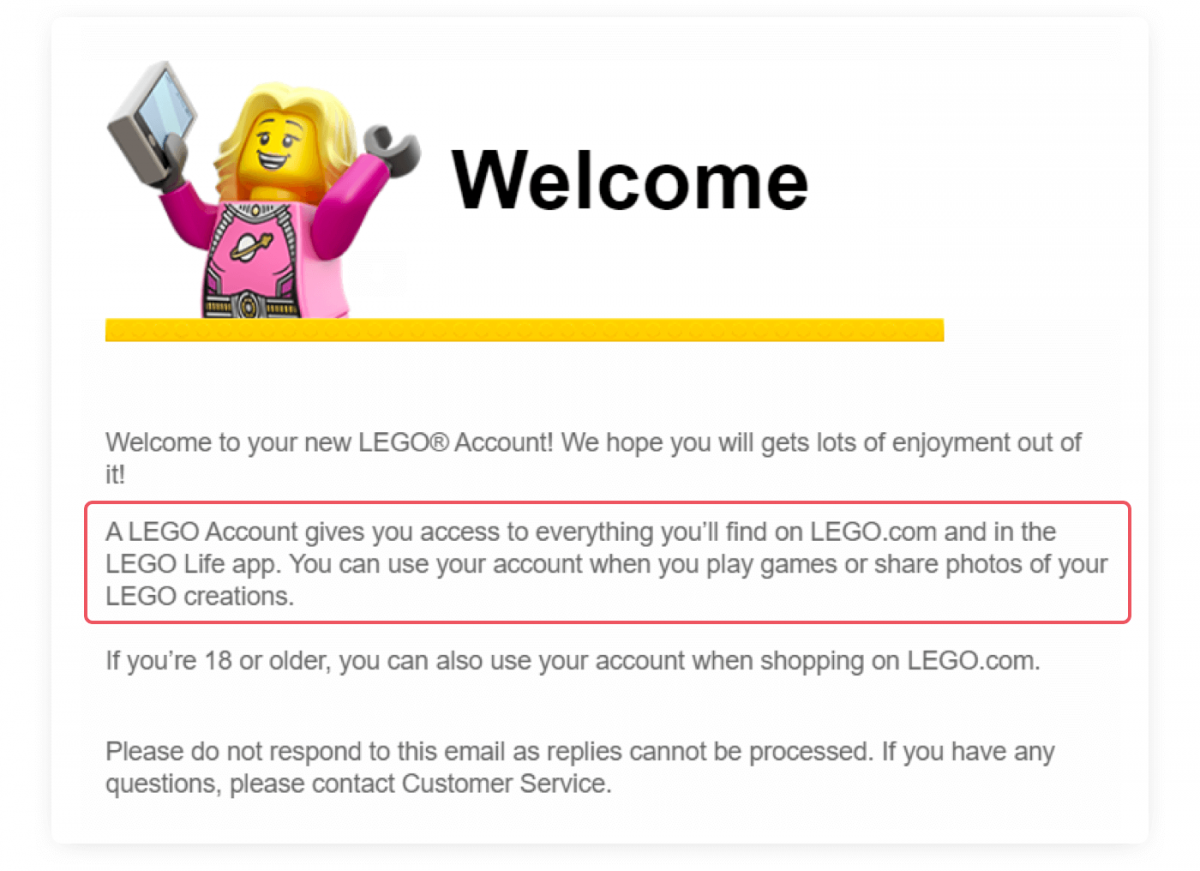 It also tells you shouldn't reply to the email and contact customer service if you have any questions. If your automated emails get lots of replies that you don't want to handle, you should also consider adding a similar disclaimer.
Won't this scare new members off?
Today, making things transparent and clear from the start is a good business approach. If something makes your new subscribers less confused, it is a valuable asset. It will pay off in the long run.
18. Welcome Message for Facebook/WhatsApp
To cover all grounds, it is a good idea to send welcome messages in multiple places. For example, you can turn on messages that appear both on your website and Facebook pages with one click.

You can integrate your live chat widget with many platforms and tools. Messenger is only one of them. Managing your multichannel welcome messages from one app helps to keep things organized.
How to handle Facebook Messenger and website live chat in one place?
19. Welcome Message That Sets Expectations
Best welcome messages tell you upfront what sort of communication you can expect. Make sure that what you send is the same thing people signed up for. Otherwise, your email messages will be reported as spam and people will unsubscribe.
Here is a "welcome to our newsletter" message example: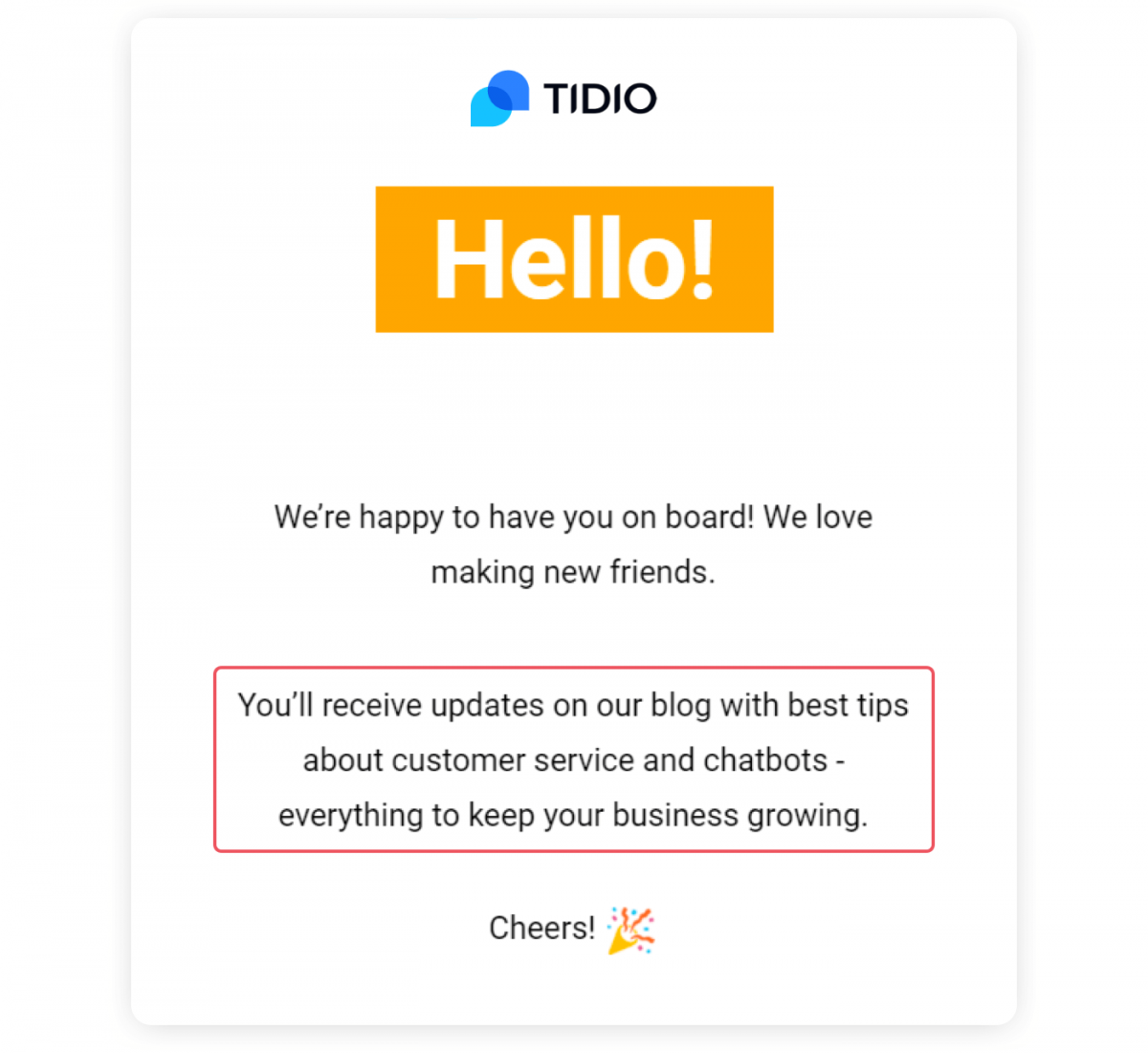 Subscribers will receive regular emails about updates on Tidio Blog. It does exactly what it says on the tin. This strategy, in the long run, is always more effective than trying to trick your users.
Should all onboarding messages be this straightforward?
Receiving something you didn't sign up for can be very frustrating. The more explicit you are from the beginning, the better chance that no one gets irritated by your emails.
Onboarding Welcome Messages for New Employees
The welcome message examples above are useful for customer onboarding and marketing. But what about welcome messages for new employees?
The rules remain similar. You'll be tempted to explain every little detail. But your email will not be effective if it is too complicated.
Ask yourself one question:
Do people really enjoy reading long emails?
From time to time, everybody feels tempted to write a Moby Dick of an email that covers every single subject comprehensively. But let's be honest—no one likes reading them.
Stick to a short welcome message. And direct your new employee to the right resources instead of writing a manual.
Here are some sweet and short welcome messages for new employees:
Thank you for joining our team! We hope you'll feel at home at [Company] and we can't wait to see your unique talents in action.
Welcome! We are proud to have you with us. Feel free to share your insights and ask about anything. We are here for you.
Congratulations on being part of our team! We hope that together we can take the company to completely new heights and reach our true potential.
Welcome aboard! We're honored to have you with us and it's great to have such a talented new person on our team.
Welcome to the team! We are thrilled to have you among us and we can't wait to accomplish great things together.
Warmest welcome! We are happy that you decided to join us and very excited about your contribution to this company.
Hello [Name]. Congratulations on joining one of the greatest [industry] companies in [Country]. We hope that you'll find your work both interesting and challenging—in the right proportion. All good wishes to you.
Welcome to our family! We've heard a lot of good things about you and your skills. It is great to have you on board. Let's do amazing things together!
Hi [Name]. We can't express how happy we are that you've decided to join our team. Hopefully, you'll feel right at home. If you have any questions, please—let us know. We'll be happy to show you the ropes.
Welcome to your new team! It's so nice to have you with us. I've attached some resources that you can browse through. Make yourself comfortable and let us know if you have any special requests. Can't wait to see your famous [field of expertise] skills in action.
Short Welcome Messages Templates for Welcoming Customers
Short welcome messages displayed on your website or as a live chat/chatbot message improve your chances of closing more sales.
Here is the ultimate list of welcome messages for all kinds of industries and businesses:
Hi there! Welcome to our website. Ask us anything.
Hi there! Welcome to [Company]. If you need any assistance, I'm always here.
Welcome to [Company]. If you need any assistance, reply to this message. We are online and ready to help!
Hello there! I am your [shopping assistant/consultant] today and am here to help you. Ask me anything!
Hi there! Nice to see you. We have a 15% promo code for new customers! Would you like to get yours now?
Welcome to [Company]. We offer the best [product]. Would you like a one-time 20% discount?
Hey! Glad to see you! We have a 10% promo code for new customers! Would you like to get it now?
Hey there, Welcome to [Company]! My name is [First Name]. Is there anything I can help you with?
Welcome to [Company]! It's time to get your perfect [product].
Welcome to our website. How can we help you today? If you have any questions about our promotions, we're here to chat.
Changing your welcome message is one of the biggest conversion drivers. You should experiment with different variants and see which one is the best for you.
Tip: If you want to learn how to write a new customer welcome letter, check out our guide to writing professional emails.
Welcome to My Page: How to Create a Welcome Message for Your Website
It may come as a surprise but "welcome to my page" pages are a relic of the past. Unless it is an announcement or a blog post, they are rarely available on modern business websites.
Here is an example of a quite elegant welcome to our store message: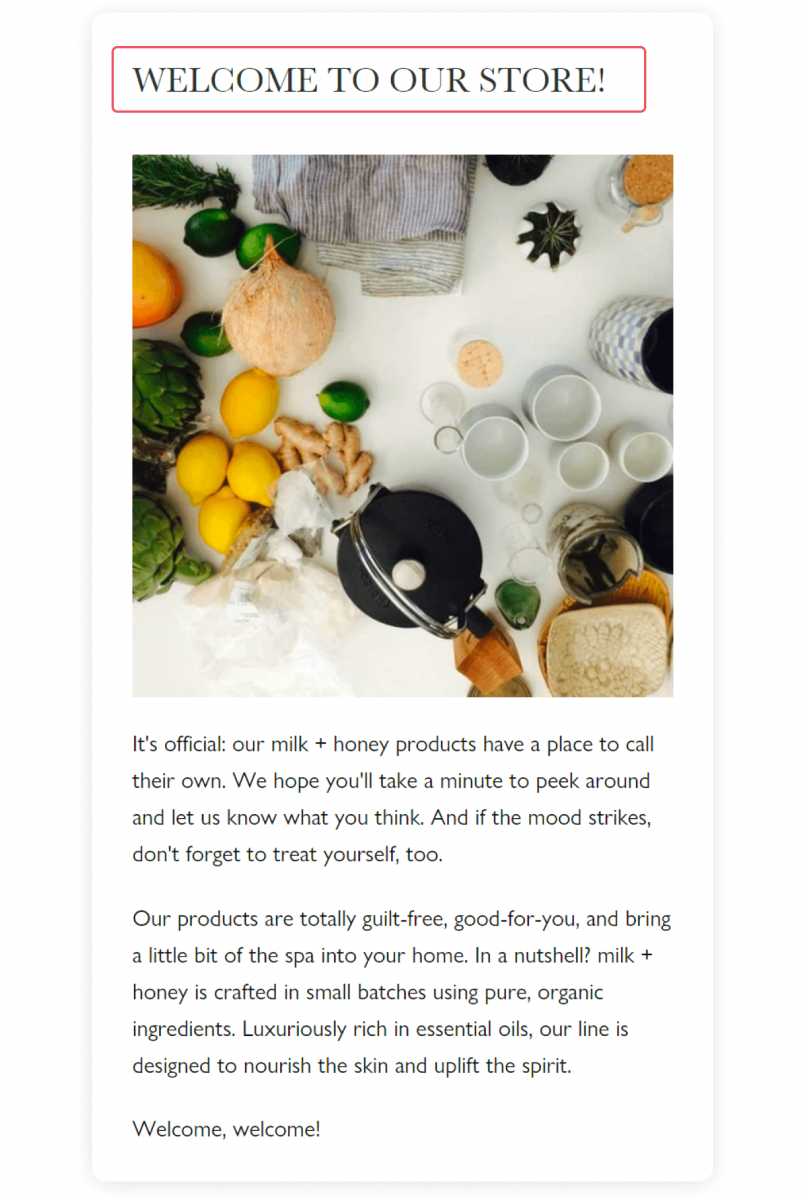 Still, it is not a dedicated landing page. It is just one of the updates available in the news section of the website.
Most of the time, the About Us pages take care of providing information about a business.
Allowing customers to learn more about your company is OK but it shouldn't be your top priority. Instead, try to link welcoming new customers with a specific CTA.
This online store combines a welcome message with a sign-up form: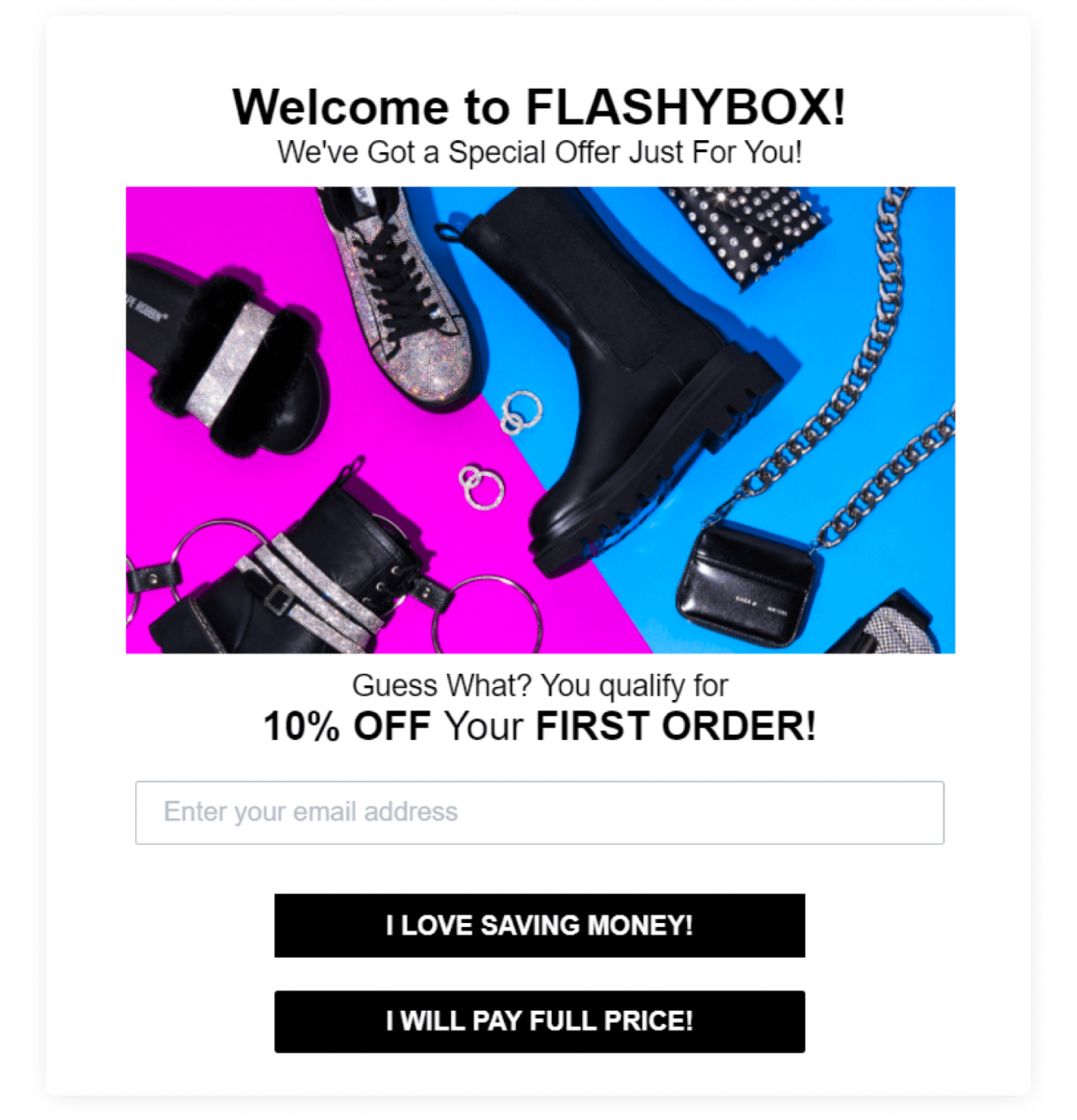 This strategy is much more effective and your website visitors are less likely to miss it. If you find it too intrusive, you can use a chatbot, which is more user-friendly than a traditional pop-up.
If you want to add a welcome message on your website, create a Tidio account and install the widget. It is easy and takes only several minutes. Just follow the instructions.
Welcome Email Template for New Customer
You don't need to write an elaborate email every time somebody joins. Welcoming your new customers should be an automated process. Set up some triggered emails and track the results.
How do you write a welcome message?
The checklist here is very short. Your triggered welcome message email should: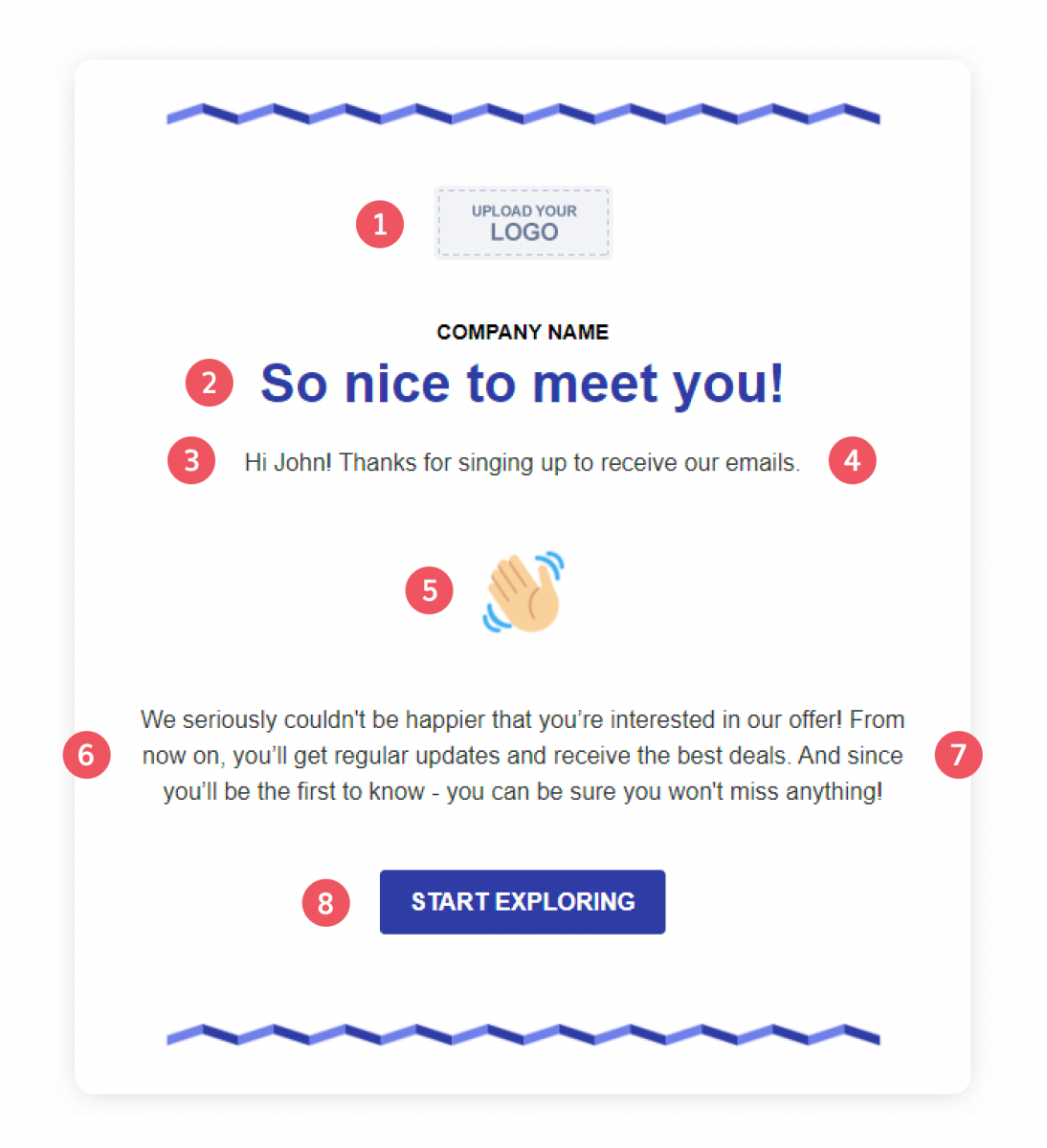 Show your company's logo and name
Greet your new customer
Use personalization (e.g. first name)
Express your gratitude for signing up
Have a visual accent
Confirm benefits
Set expectations
Have a clear CTA that directs customers towards the next step
The example above comes from Tidio Email Marketing. You can copy/paste and edit the welcome email template. Or simply use the one available in the tool.
As you can see, the formula for effective welcome messages is pretty straightforward. Play around with the following building blocks:
[Greeting phrase]!

Hi [Name]! Thank you for joining.

It's great to have you with us. From now on, you'll [get something]. And [because of that thing], you can be sure you [benefit]!

[Next Step]
You can copy/paste and edit the welcome email template above. Or simply use the one available in the tool.
Key Takeaway
Writing memorable welcome messages that make customers and employees feel right at home is an art form. But you can improve the quality of your emails and other messages right now by following some easy rules:
Express gratitude and happiness that you can welcome someone
Personalize the message by including some details and information about your recipients
Show the benefits of joining your organization or choosing your brand
Introduce them to the most important resources and tools
Be concise and straightforward
Offer your help and ask for feedback
Explain what will happen and what's the next step
Use a clear call to action (for instance, in the form of a button)
Remember to make your messages visually attractive
Do you want to access some beautiful onboarding email templates or add welcome message chatbots on your website? There is an easy free tool that you can use for that.
Try Tidio For Free