Business Growth
The Best Welcome Message Examples to Onboard and Welcome New Users
A short welcome message for customers can make their shopping experience a little bit nicer. However, it is one of the key factors when it comes to increasing your sales.
Did you know that a simple welcome message could decide whether someone buys from you or walks away? Learning to build a relationship with your prospects from the first-touch interaction might determine the future success of your business.
"People buy from those they like and trust" is the universal business truth. Starting the relationship off on the right foot is the way to make this happen.
How?
Well, we happen to have the winning formula you can use.
Want to generate leads and provide 24/7 customer service even when you sleep? Create unlimited chatbots for your website without coding to engage more visitors or recover abandoned carts.
Try Chatbots Here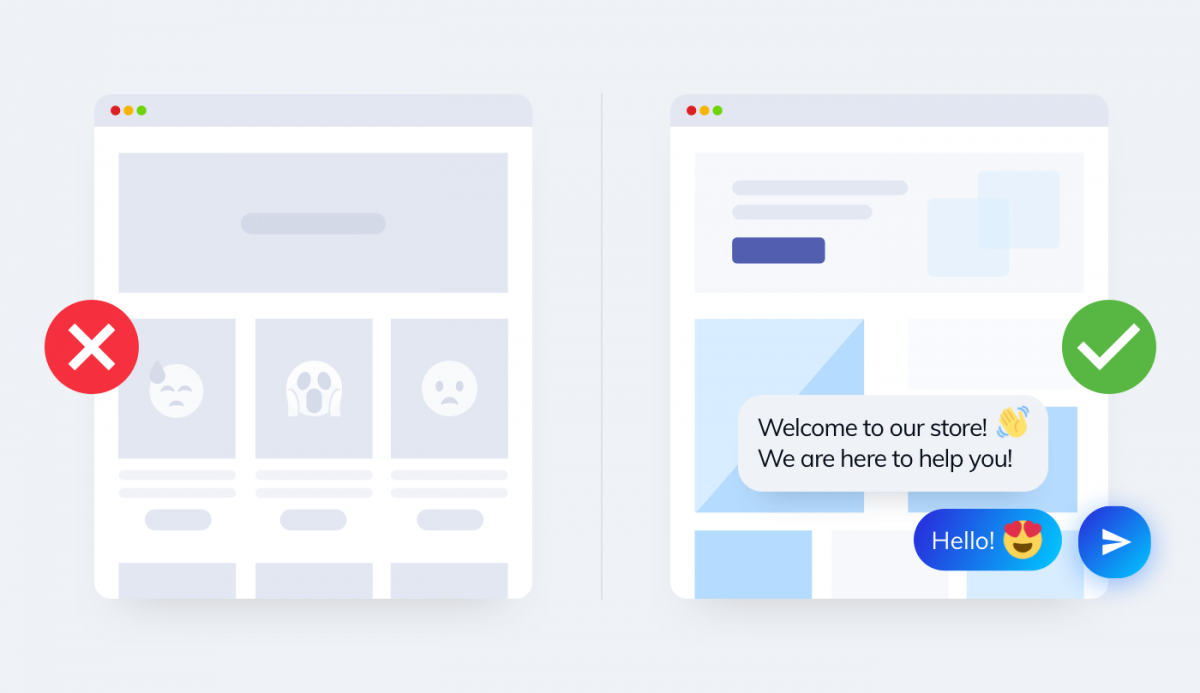 Explore chatbots now—Test the easiest visual chatbot builder for free.
One of our users, Michael, had this to say:
We could set up a simple chatbot in minutes because the drag-and-drop bot builder was really easy to use. Also, the support team was very helpful and answered all our questions
You must welcome your website visitors and new leads, make them feel valued, and build trust in you. It's also your job to convince them to keep engaging with your company more and more.
There are many ways in which you can greet your customers. For instance, a chatbot welcome message can help you engage the visitors to your online store. But email welcome messages are better for user activation.

This is how you lay a solid foundation for developing a long-term relationship and more sales.
And do you want to hear the good news? You can actually take care of your whole customer lifecycle with one app.
But I guess that you may have no idea how to do it, right? You wonder how to create a welcome message for your website or to onboard new customers.
Well, that's going to change by the time you reach the end of this guide. I promise.
What you're going to learn:
What is a Welcome Message?
A welcome message is a short communication you send to a new user, email list subscriber or website visitor that aims to greet, onboard, and connect them with you.
For the most part, you use such messages in three situations:
The onboarding process.
Engaging website visitors with live chat and chatbots.
Email marketing.
💡 Pro tip
You can connect your live chat, chatbots, and email marketing. There are many all-in-one customer service solutions. For example, you can add chat to website and use chatbot templates with Tidio.
What Makes Welcome Messages Such an Important Element of Your Onboarding Flow or Email Marketing Strategy?
There are three reasons:
Welcome messages have a much higher click-through rate
According to the data collected by Marketing Land, welcome emails achieve the highest open rate and engagement.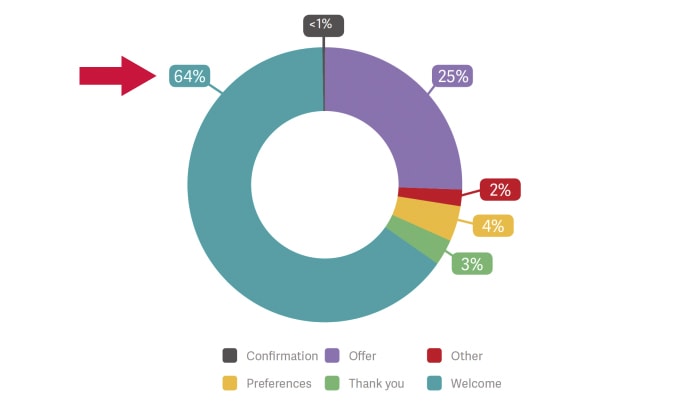 Smart Insights also reports that triggered and autoresponder emails (the two categories that include welcome emails as well) have much higher open rates.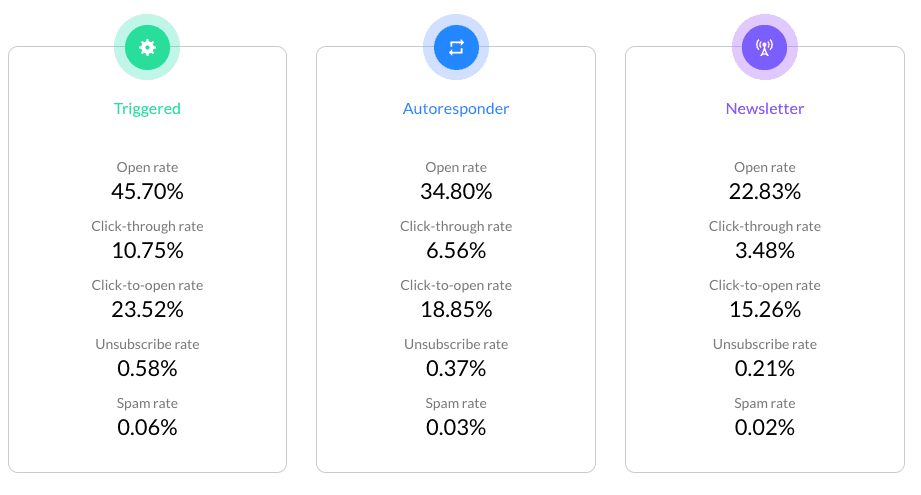 A welcome email can tell a user more about the personality of the brand than any other communication. Such a message can also reassure customers about the impression they've made about the business too. Plus, it can help you stop your future emails from going to spam folder.
However, its influence manifests itself, even more, when you use chatbots. Here's why.
A chatbot welcome message might be the very first interaction a person's received from the brand. With email, at least they've had a chance to explore the company's website, and have made a conscious decision to sign up, based on the results of such research.
With a chatbot, they might see the message almost right after landing on the site. Whatever you say, will make the first impression about you and your brand's personality. As a result, it will also, communicate whether who you match what the customer expects from a brand.
Note, this doesn't mean that you should pretend to be someone else to fit into those expectations. As you'll see shortly, you should do quite the opposite.
Finally, it lets you segment customers and collect feedback from them easily
You can do it by including a strategy known as feedback loops. In the simplest terms, the strategy focuses on collecting user feedback to improve its product or service further.
Here's an example of a welcome email with a feedback loop built into it.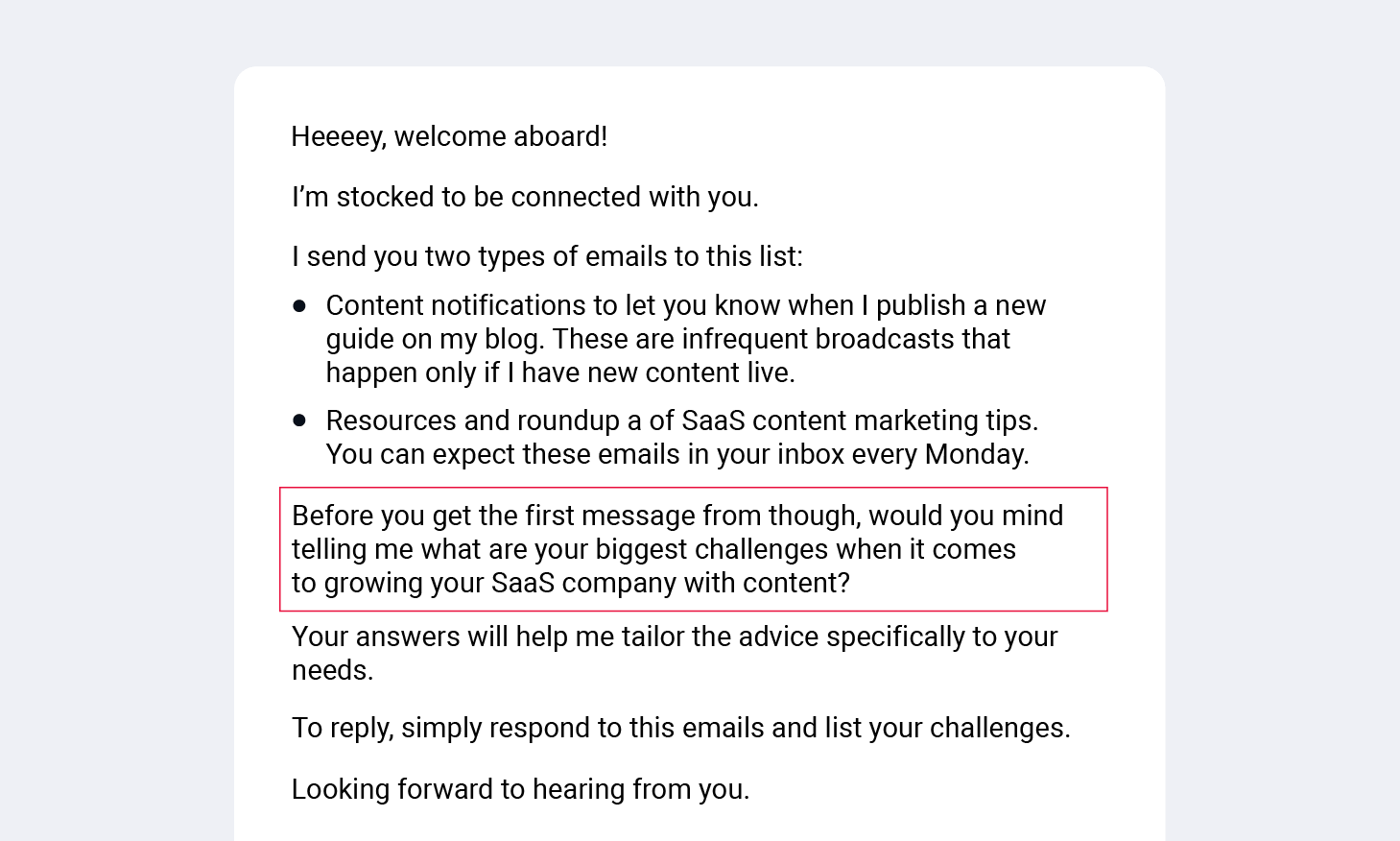 Chatbots are even more suited for the task. You can set them to initiate the conversation by asking a pre-qualifying question, for example. Or construct them to include a feedback loop somewhere during the conversation.
Needless to say, such feedback will beat any assumptions you could have made about the new connection.
Note: If you're still on the lookout for the best chatting solution for your WordPress website, have a look at our WordPress chat plugin functionality comparison, and choose the best one for your needs.
How to Set up a Chatbot Welcome Message
A chatbot welcome message is an excellent way to attract attention and engage with website visitors. Not only can a chatbot greet them and ask questions, but also gather valuable feedback.
Not ready to develop your chatbot yet?
You don't have to code your welcome message bots from scratch. There are many options and solutions that will do all the heavy lifting for you. Check what is the best chatbot platform.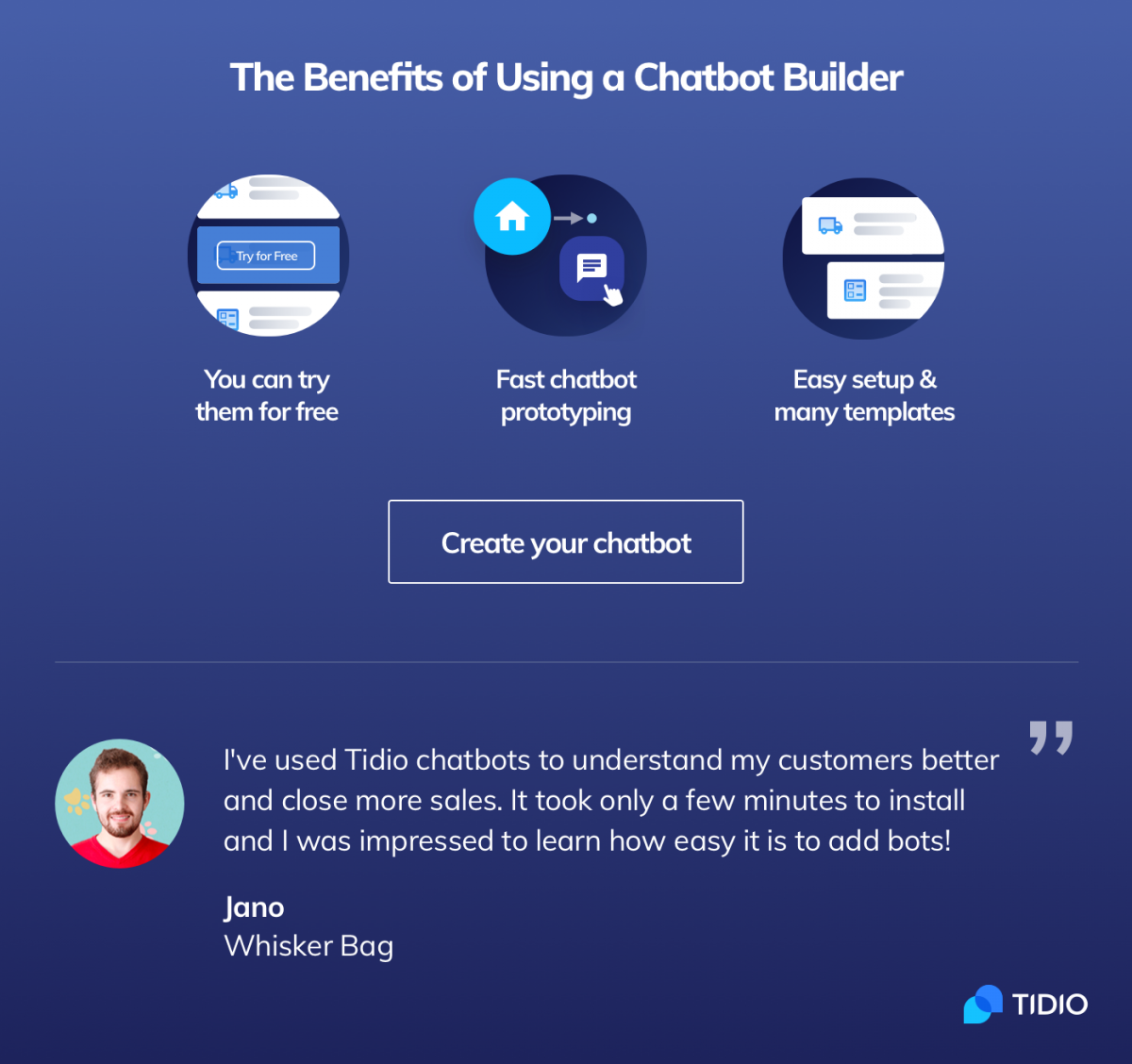 Businesses can use the collected information and data to segment visitors and personalize their b2c communication.
Setting up a chatbot welcome message in Tidio is easy:
Log into the Dashboard, click on the Chatbots tab in the main menu on the left. Then, navigate to the Bots Launcher section.
There, you'll see the Welcome Message tab, as shown below.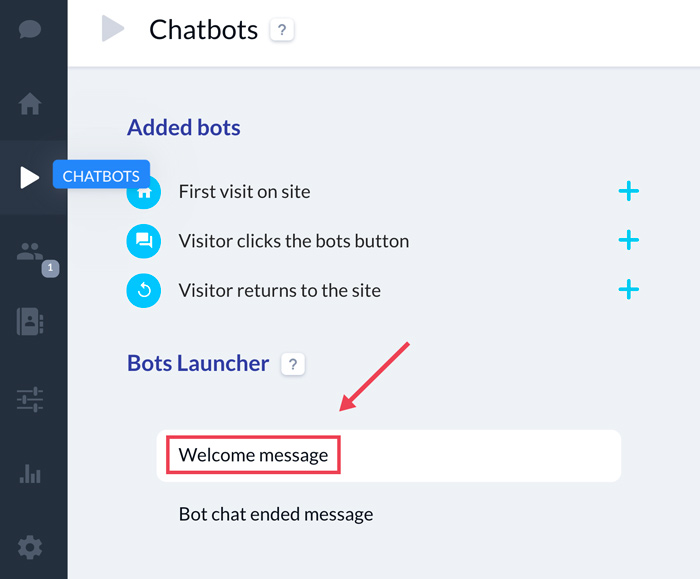 Clicking on the tab takes you to the editor of the chatbot welcome message.
By default, Tidio provides a message that greets the visitor and invites them to interact with the chatbot or contact support.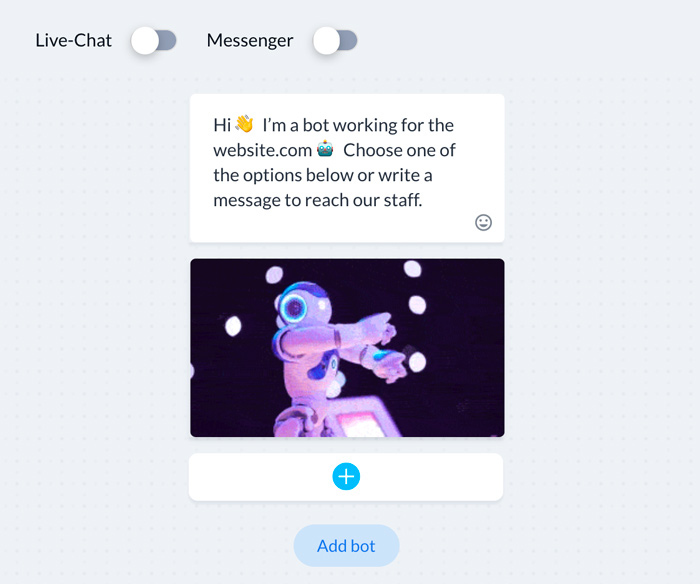 This default welcome bot message sets a positive tone for future communications.
Why is this important?
The first interaction between a potential customer and a business should be positive.
The customers will recognize that the brand appreciates them and is ready to help, so they'll be more likely to buy.
By using a message that sets you apart from the competition, you'll make them realize they've reached the right business for them.
Default vs Custom Welcome Messages
You can, of course, change the default message for welcoming website visitors in Tidio.
In fact, there are a few excellent reasons why you should.
Reason #1: Consistency With Your Brand Communication Style
If your branding guidelines suggest a specific tone and voice for communications you can apply them. These can be a positive personality, conversational language style, etc.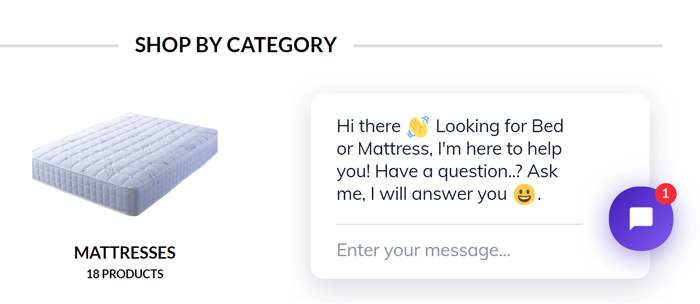 Reason #2: Personalization
You can base the characteristics of your chatbot on your customer research.
Here are two chatbot welcome message examples showing the difference between using a default one and a custom one.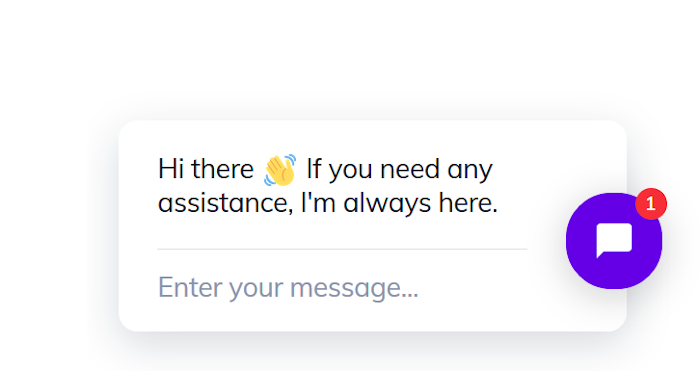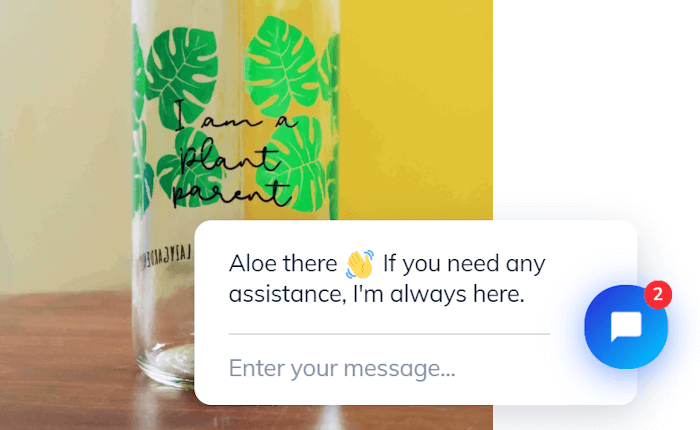 The custom message makes the chatbot more memorable and reflects the brand personality.
Reason #3: Improved Lead Generation and Customer Communication
According to Tidio data, changing a chatbot welcome message improves your odds. It increases the number of generated leads and conversations with visitors.
See the data below.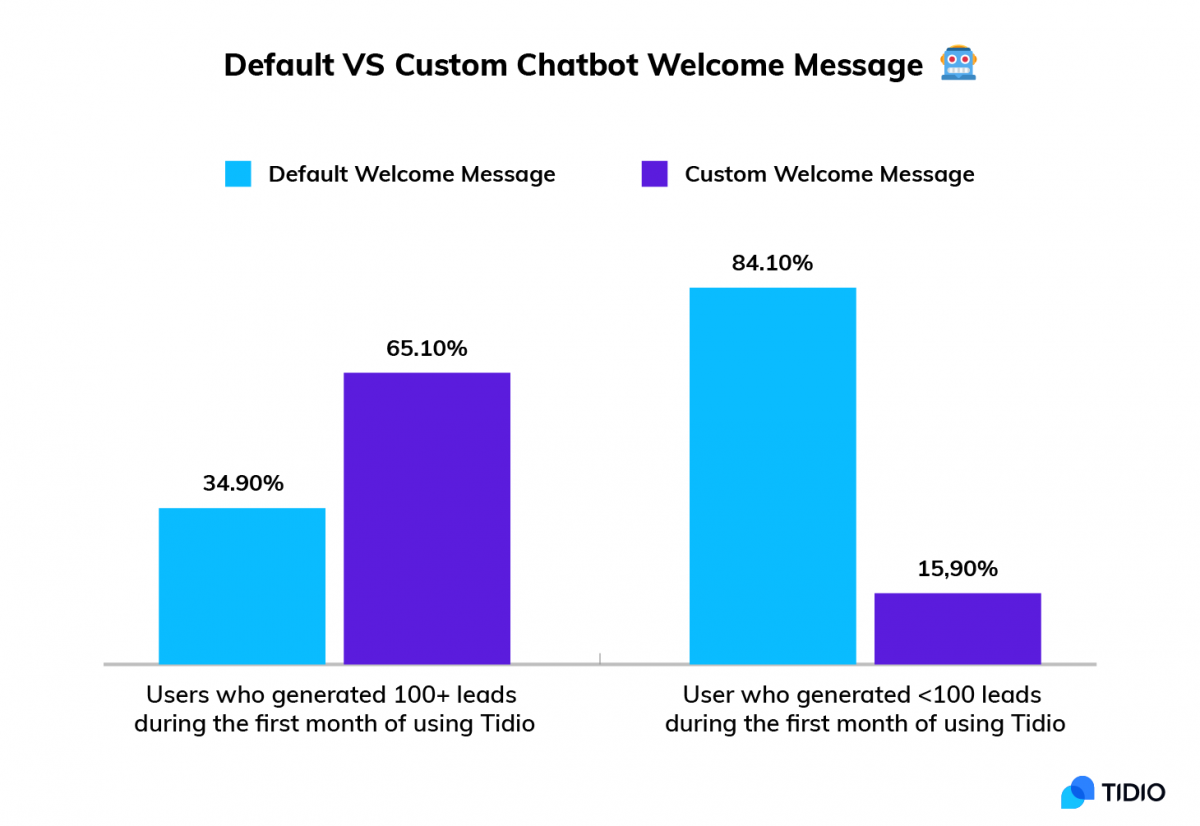 As you can see, the visitors who customized their welcome message were more likely to collect 100 visitor emails (within the first 30 days of using Tidio). Doing as little as writing your own chatbot welcome message can give you more leads and customers.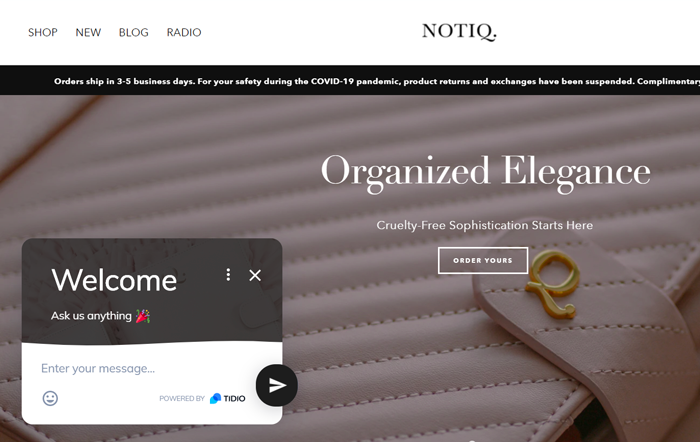 In some situations, the default welcome messages can also do the trick. One of our favourite online stores, NOTIQ, uses the standard "Ask us anything 🎉" message – a bulletproof customer service classic that is universal and friendly.
If you'd like to build a website chatbot and give it a try, you can do it right now:
Create Free Welcome Bot
In the age of personalized customer communications, having a chatbot would give your business a huge advantage. It is a whole new channel for offering a one-on-one experience for each of your website visitors.
This might be one of the reasons why 34% of shoppers prefer chatbots for communicating with business when buying online.
Welcome Message for Facebook Messenger Bot [and Why They're Not The Best Option]
Facebook Messenger bots are another way to greet website visitors for online businesses.
You've probably seen them a few times before. They are the ones with the Messenger logo on them, inviting you to continue with your Facebook name.
They, however, have a few significant disadvantages.
❌ A Lack of User-Friendly Configuration
The first major problem is the difficult configuration. To set up the bot properly, the user needs to perform operations like code insertion and sending requests to Messenger Profile API.
If you look at Facebook's guidelines on configuring the Messenger bot welcome message, you'll see images showing how to place strings in the code.
The user needs to configure the chatbot welcome message manually by performing these commands. This is not a user-friendly way.
❌ Manual Chatbot Start by User
Another disadvantage is that the users of Messenger bots will have to start them manually. Why?
Well, because Facebook has removed them from the app's view.
Josh Constine, a tech journalist from TechCrunch, recently wrote that Facebook is remaking the Messenger in a hurry. More users are switching to other messaging apps.
According to Constine, Facebook decided to remove the Discover tab. That was the most important channel for promoting chatbots for businesses.
Without promotion via Discover, businesses will have to rely on their owned or paid marketing channels to gain traction for their chat bots. That could discourage them from building on the Messenger platform.

Josh Constine, TechCrunch
With both people and businesses switching to other tools, using Facebook Messenger bots for welcoming website visitors would make lead generation and customer communication more complicated.
❌ You Can't Initiate a Conversation with Website Visitors
Facebook Messenger bot sends the welcome message only after the website visitors hit "Get Started."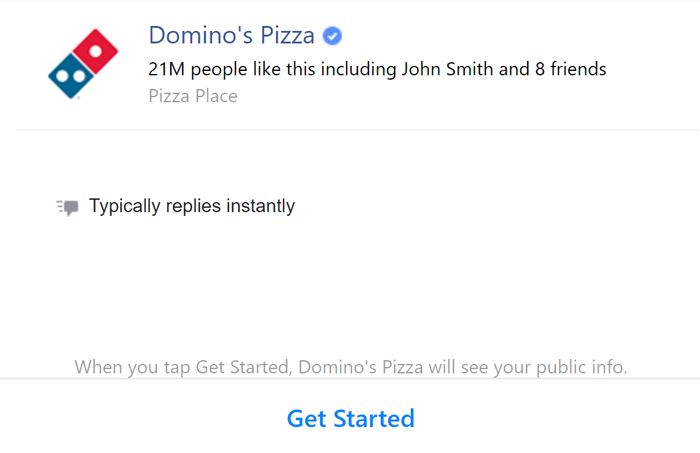 This is an automatic button that Facebook made mandatory for all bots. Thanks to this requirement, businesses are limiting their opportunities to communicate with visitors.
✅ How to Send Chatbot Welcome Messages Whenever You Want
These shortcomings limit communication with visitors and make the process complicated and time-consuming.
As a business, you need to be able to send welcome messages whenever you want.
And you can.
For that, you need a website chatbot.
Tidio chatbots are very versatile. You can connect bot triggers to any visitor-related event on your website. For example, you can send chatbot welcome messages to your website visitors when:
they visit you for the first time
they return to your website
they click on the chatbots button
a visitor reaches 25%, 50%, 75%, and 100% page scroll depth points
By the way, our chatbot sent you a welcome message when you reached the 25% page depth on this page.
Now, let's discuss the advantages and disadvantages of welcoming customers with a website chatbot or a Facebook chatbot.
Website

Chatbot Pros & Cons

| | |
| --- | --- |
| Sends personalized welcome messages to reflect a brand's communication style | Chabots are still relatively new (some customers might not be familiar with them) |
| Allows initiating conversations | |
| Easy to set up and configure the welcome message | |
Facebook Messenger

Chatbot Pros & Cons

| | |
| --- | --- |
| Facebook's popularity | Difficult to configure |
| | Has to be started manually |
| | Visitors need to have a Facebook account to start the conversation |
Clearly, a website chatbot is a better way (especially for eCommerce businesses) to communicate with potential customers.
Bonus Tip: It's still possible to integrate Facebook with Tidio Live Chat thanks to Messenger Integration. However, if your customers from Facebook initiate contact first, you may be better off with using a live chat.
Dive deeper:
The Best Chatbot Welcome Message Examples
Before writing welcome messages for your chatbot, you need to define their goals.
The goals can be to collect feedback and emails or entertain with a funny chatbot message.
In this section, let's give you these chatbot welcome messages for the most common goals.
Now, let's talk about each of these messages.
The Best Chatbot Welcome Message for Lead Generation
Lead generation is one of the most important use cases for website chatbots. For example, a chatbot can send a welcome message offering a discount to a visitor in exchange for an email.
Unsurprisingly, giving discounts through chatbots is a common technique.
Here are chatbot welcome message examples for lead generation.
These chatbots greet the visitor and let them know that there's a discount available for new customers.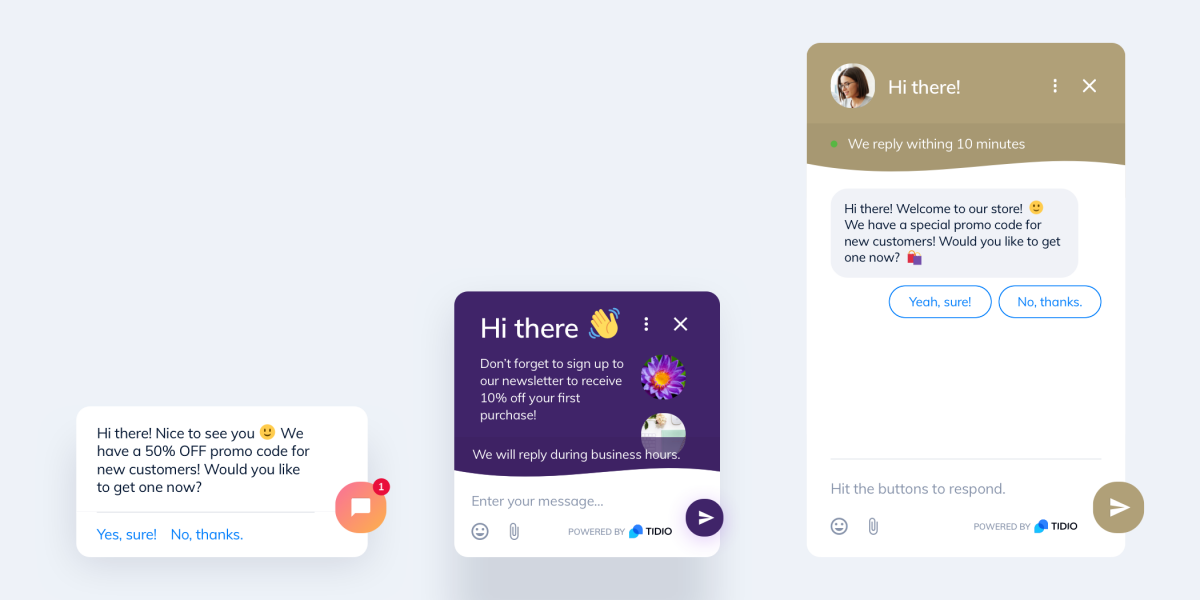 The visitor needs to sign up for a newsletter to receive the discount code.
The Best Chatbot Welcome Message for Increasing Sales
In this example welcome message below, the chatbot helps to shop online.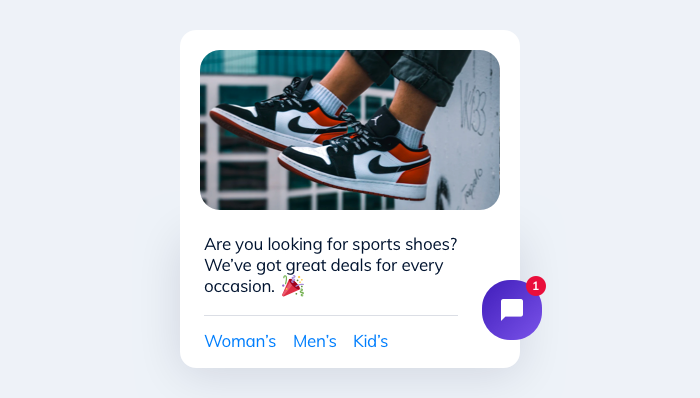 The Best Chatbot Welcome Message for Greeting Returning Visitors
Returning visitors are important because they are interested in your product, service, or content.
Since they're familiar with your business, you should treat them as a separate customer segment. Also, they need to be greeted differently than new visitors.
In Tidio, you can set up a unique chatbot welcome message for returning visitors in the following way:
Go to Chatbots tab in the main menu
Click on Add Another Bot button to browse chatbot templates
Navigate to Visitor Returns bot template in the Enhance Communication category
Add the bot to your store and write a welcome message (a pre-written message is available, see below)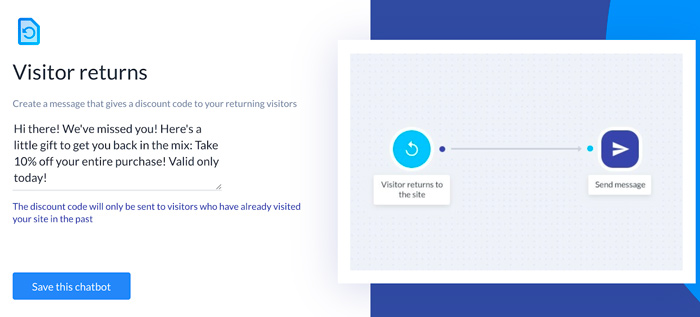 This simple setup allows having a chatbot for greeting returning visitors.
Changing a welcome message is also a good opportunity to add some personality to customer communication.
Here's an example of a unique welcome back message for customers (courtesy of Midi Bridal):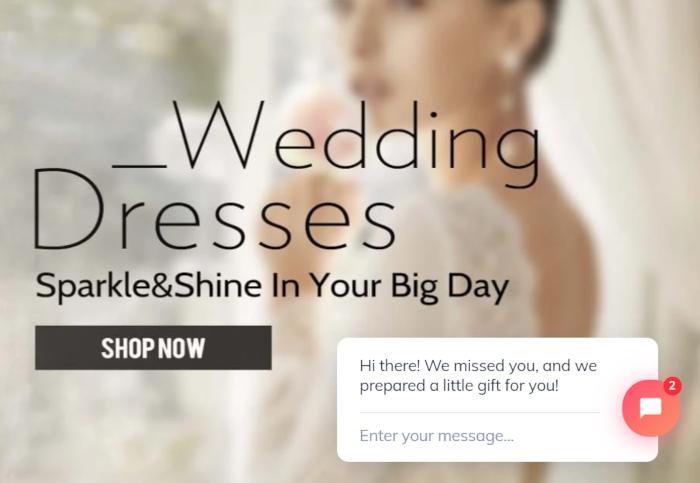 The Best Chatbot Welcome Message for Sharing Event-Related and Seasonal Notifications & Promotions
A website chatbot is useful for sharing information about news and events that affect both the business and the customers.
For example, this welcome message says the visitors might have to wait longer for replies.
By "unprecedented times," the message implies the Coronavirus outbreak.
Also, you can use the chatbot for a holiday marketing campaign to share messages about special time-limited offers, discounts, etc.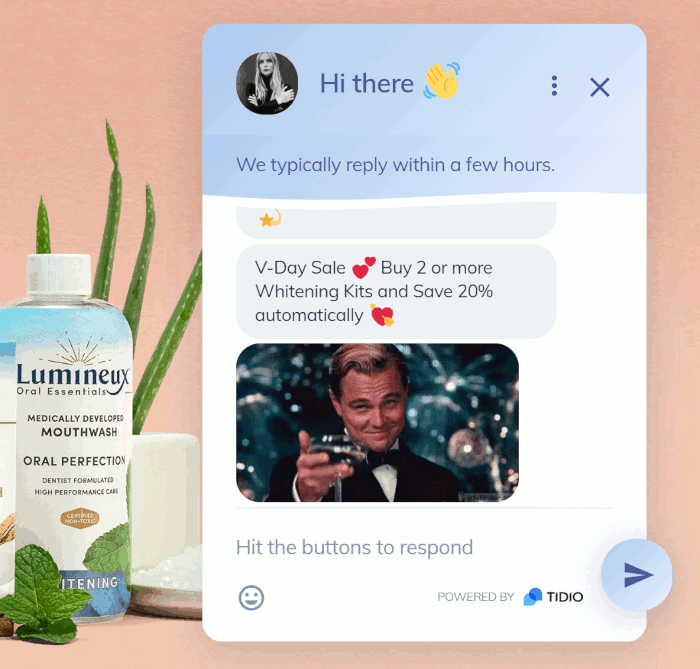 Dive deeper:
The Best Chatbot Welcome Message for Encouraging Visitors to ask Questions
You can send a welcome message that invites website visitors to ask questions. They might be related to your store, products, and customer assistance.
Here's a simple example containing the most frequently asked questions.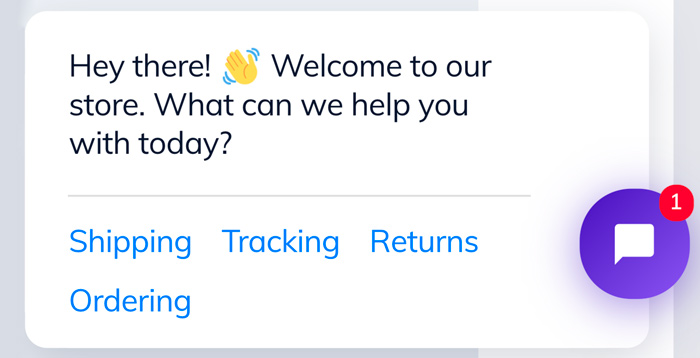 The Best Chatbot Welcome Message for Buying Time for Support Agents
A chatbot can take on customer conversations before live chat operators and buy them some extra time.
If a website visitor asks a question but there's no operator to reply within 30 seconds, a chatbot can send an automated welcome message.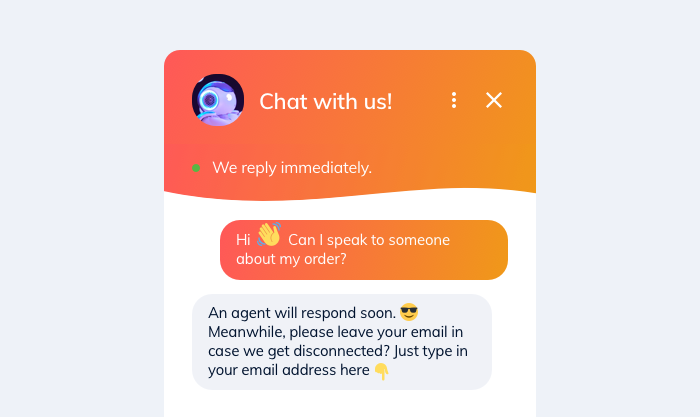 The Best Funny Chatbot Welcome Message
Humor is an excellent way to grab the attention of website visitors. With chatbots, you can send funny welcome messages like this to encourage communication.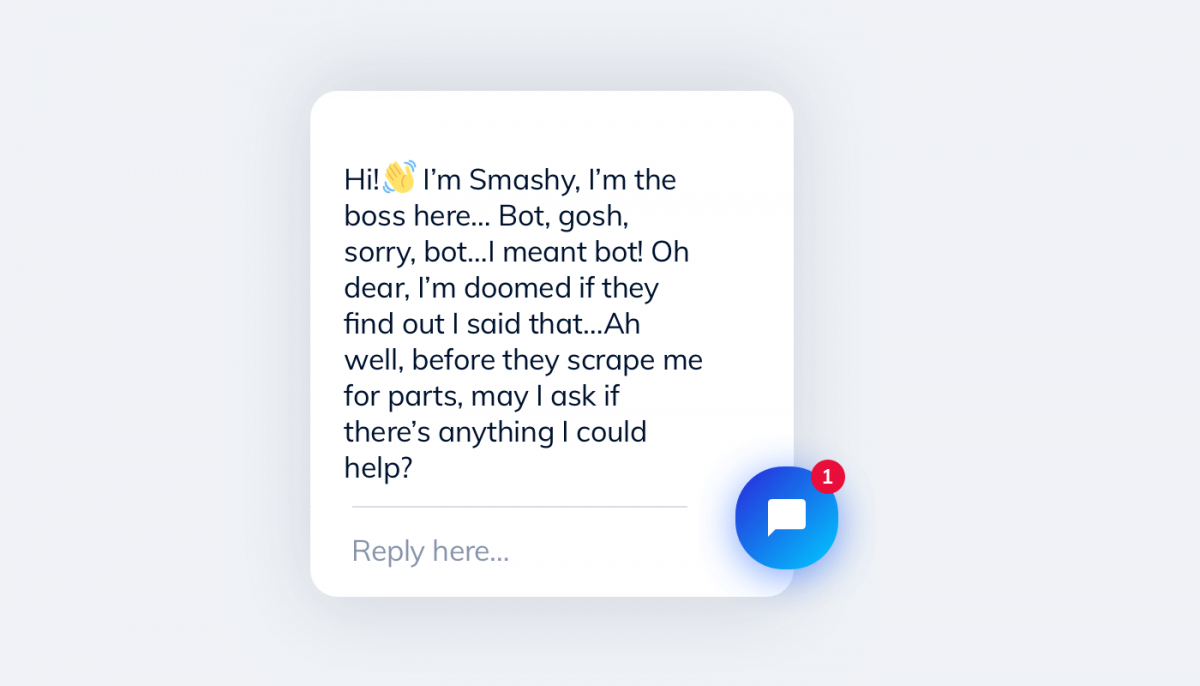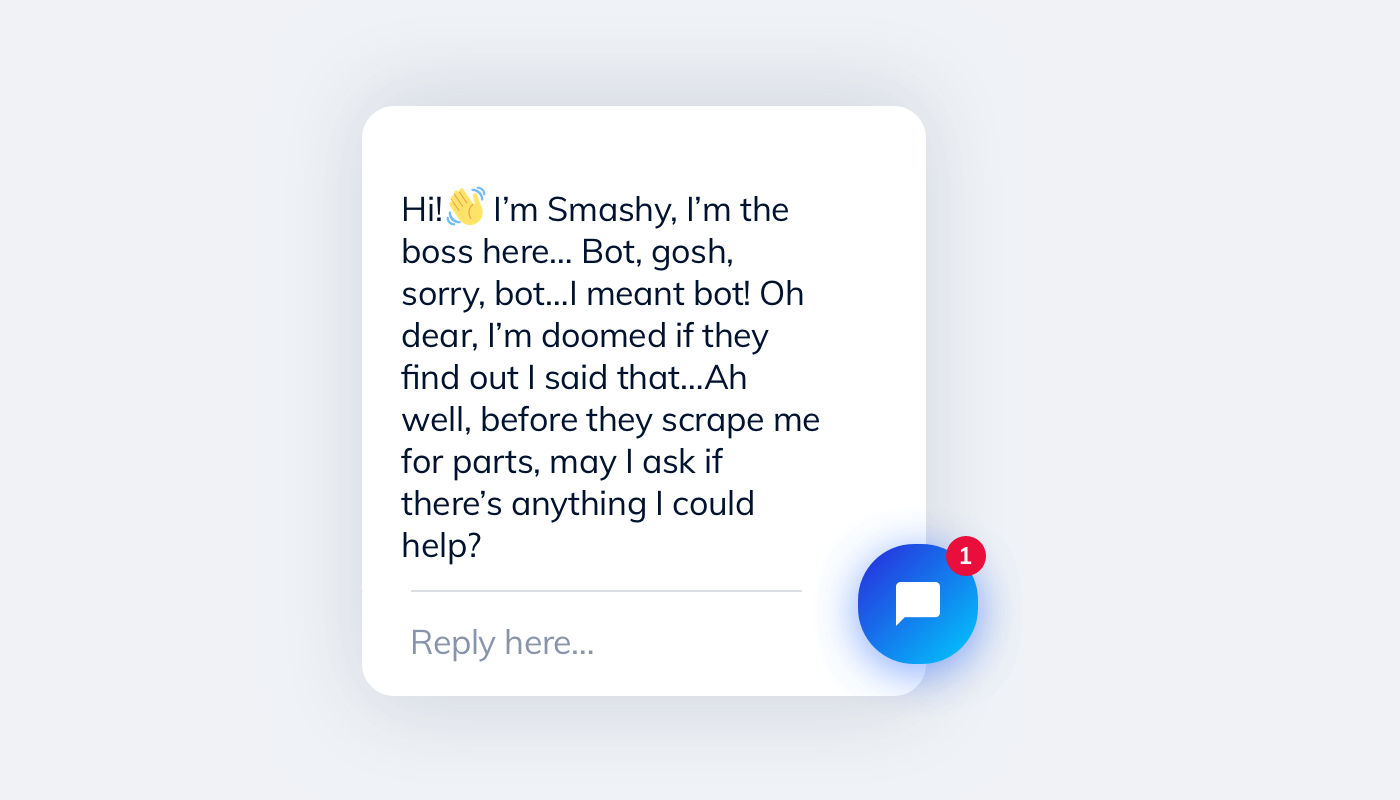 A bit of such humor can really give your business some more personality and entertain visitors. For example, Pooch Bandana uses a welcome message that is funny and related to the products that they sell.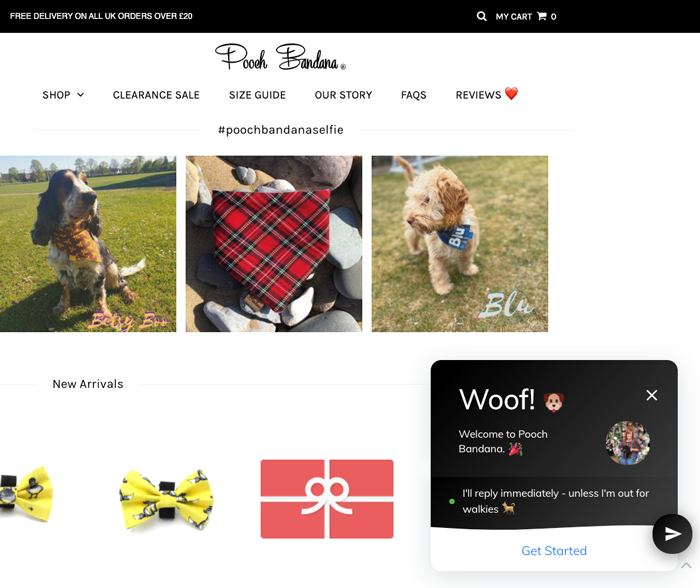 The Best Chatbot Welcome Message for Feedback Collection
A chatbot can turn traditional feedback collection into conversational, fun surveys.
Instead of asking static questions, a chatbot invites visitors to engage in a conversational exchange.
Tidio blog chatbot, for example, collects feedback by asking about the reading experience.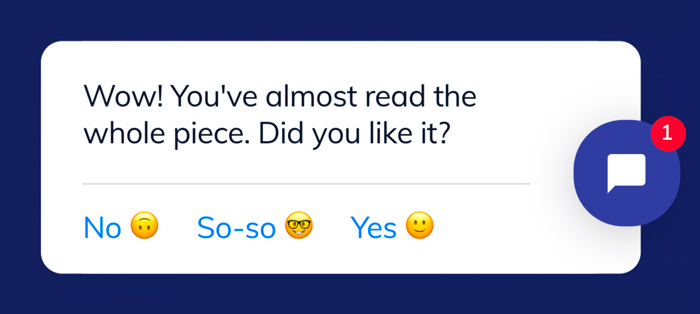 To make giving feedback easier for website visitors, you can also add a scale or answer options to choose from. Avoid using forms where they need to write comments on their own.
The Best Chatbot Welcome Message to Respond to Visitors' Messages
If a website visitor begins a conversation with the chatbot, you need to teach it to respond.
For example, your chatbot should recognize the following common greetings from visitors.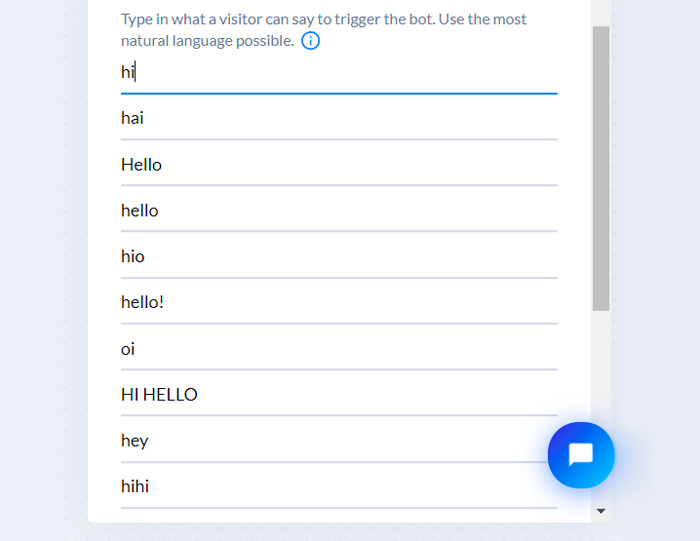 Sending an automatic response to a message from a visitor is an excellent way to demonstrate the capability of the chatbot.
Take a look at this conversation between a Tidio blog visitor and a lead generation chatbot.
Thanks to automated messages, the chatbot is able to recognize the goal of the visitor. So, it can help him with finding useful information and resources.
What Are the Best Practices for Chatbot Welcome Messages?
The best chatbot welcome messages are clear, to-the-point, and focused on the benefit for the visitor.
✅ Chatbot Welcome Message Should Explain its Purpose
To avoid answering questions "What can you do?", the chatbot needs to let the visitor know about its purpose in the welcome message.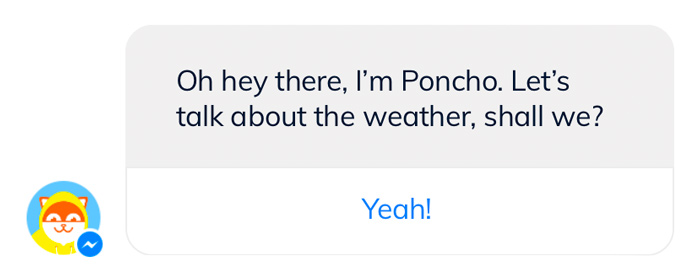 Poncho bot, for example, defines its purpose – providing weather updates – right away.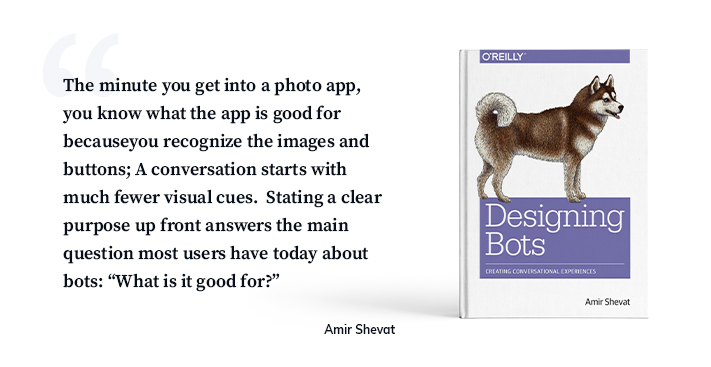 ✅ Chatbot Welcome Message Shouldn't be Textual Only
Many chatbot users often forget they can also include images and animations in their chatbot's answers.
For example, a restaurant chatbot can use the images of the exterior, interior, and meals to make the conversation more engaging.
✅ Personalize Chatbot Welcome Messages
There are many ways in which one can personalize chatbot communications.
For example, by communicating with a visitor in their native language, you can increase visitor engagement.
Multilingual chatbots are created for this purpose. You can choose a different language to use or edit the welcome message yourself.
Users of Tidio chatbots can also personalize the welcome message by changing the language. This setting is available in the Multilanguage tab under the Channels menu item.
What to Avoid When Designing and Using a Welcome Bot
Businesses should be aware of the following mistakes when using chatbot welcome messages:
❌ Showing a Message That Is Inappropriate in a Specific Context
Showing a fun and positive message on a page with sad news is quite common and irritating.
❌ Placing a Chatbot Where the Welcome Message Covers Important Content Like CTAs
Here, for example, it covers an important lead generation message.
Besides, if you read the message carefully, you also get a feeling that the chatbot suggests that the apps are difficult to use.
❌ Making a Chatbot That Pretends to Be a Human
To avoid this mistake, businesses come up with unique personalities for the chatbots.
For example, they give them names and provide other details suggesting that the conversation is handled by a chatbot.
Dive deeper:
Best Practices and Onboarding Welcome Message Examples to Follow
Four elements help boost engagement when you onboard new users or email subscribers:
#1. Personalization
In onboarding, personalization should go much further than using someone's name in the subject line.
Your language should match how the audience speaks, for one. Sound too casual, and you're bound to scare them away. Send a dry and formal email instead, and unless you're speaking to the people who'd appreciate it, the effect will be the same.
The travel brand, Away, uses an incredible, informal voice in their welcome email. Would a similar approach work for a non-profit organization? Most likely, no. But for Away, it aligns them with customers perfectly.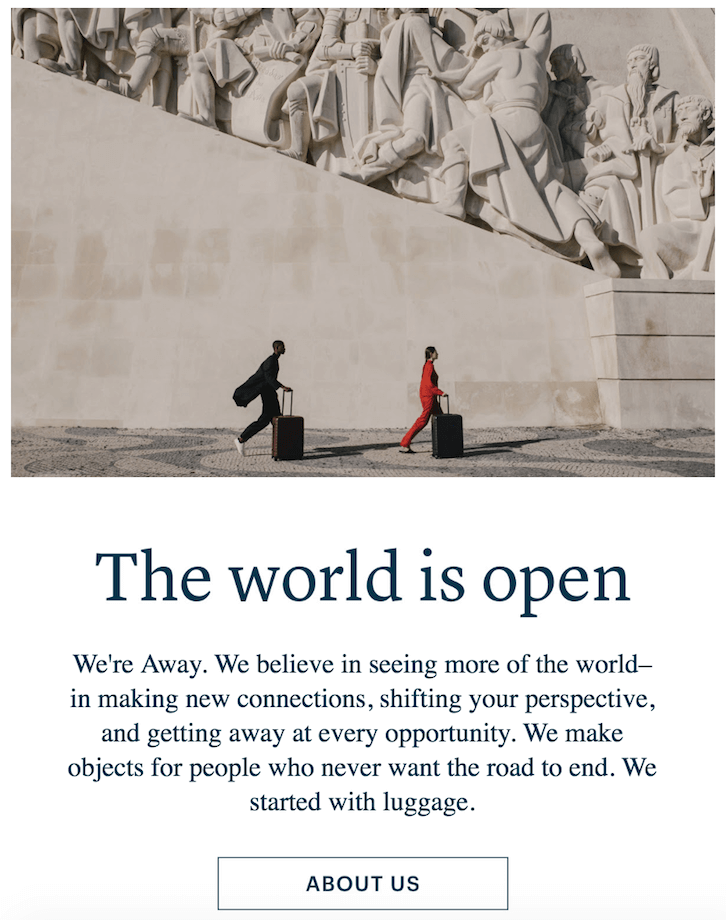 Segmentation will help you personalize messages too. With behavioral and demographic data – product usage, products of interest, and more – you can send more relevant messages and make the welcome email seem highly personal.
Finally, set expectations – Confirm what the new connection will get from engaging with you.
List what's going to happen, after they've joined. Tell them what future emails you're going to send. Include information on their type and frequency too.
Zapier makes it clear what messages a new subscriber will receive and how often.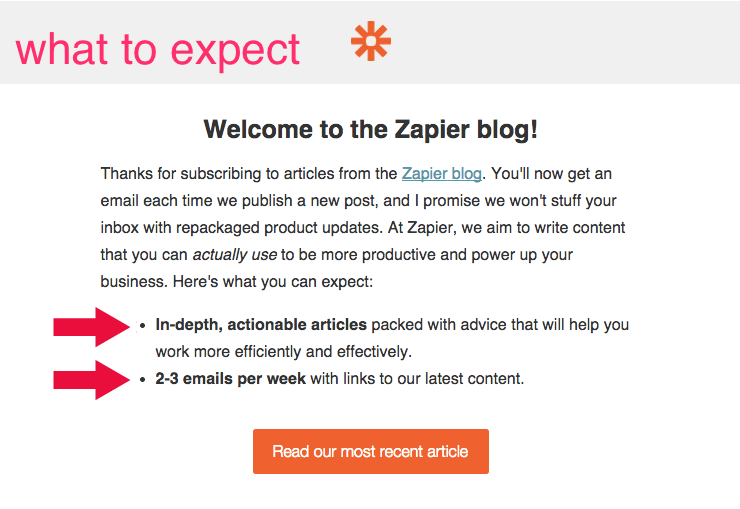 #2. Simplicity
Now, this should go without saying. Your welcome message must be short. Super short, in fact.
Your recipients are busy, after all. It's hard to imagine them going through any lengthy copy. And that's regardless of the value it might provide.
However, if you must include more than a couple of paragraphs of text, style it for faster reading.
Use lists, for example. They will help shorten the amount of information, even if only visually.
Alternatively, break the message into separate sections. Brennan Dunn's welcome email, for example, includes what he refers to as "housekeeping" up top. The actual material, however, starts further down.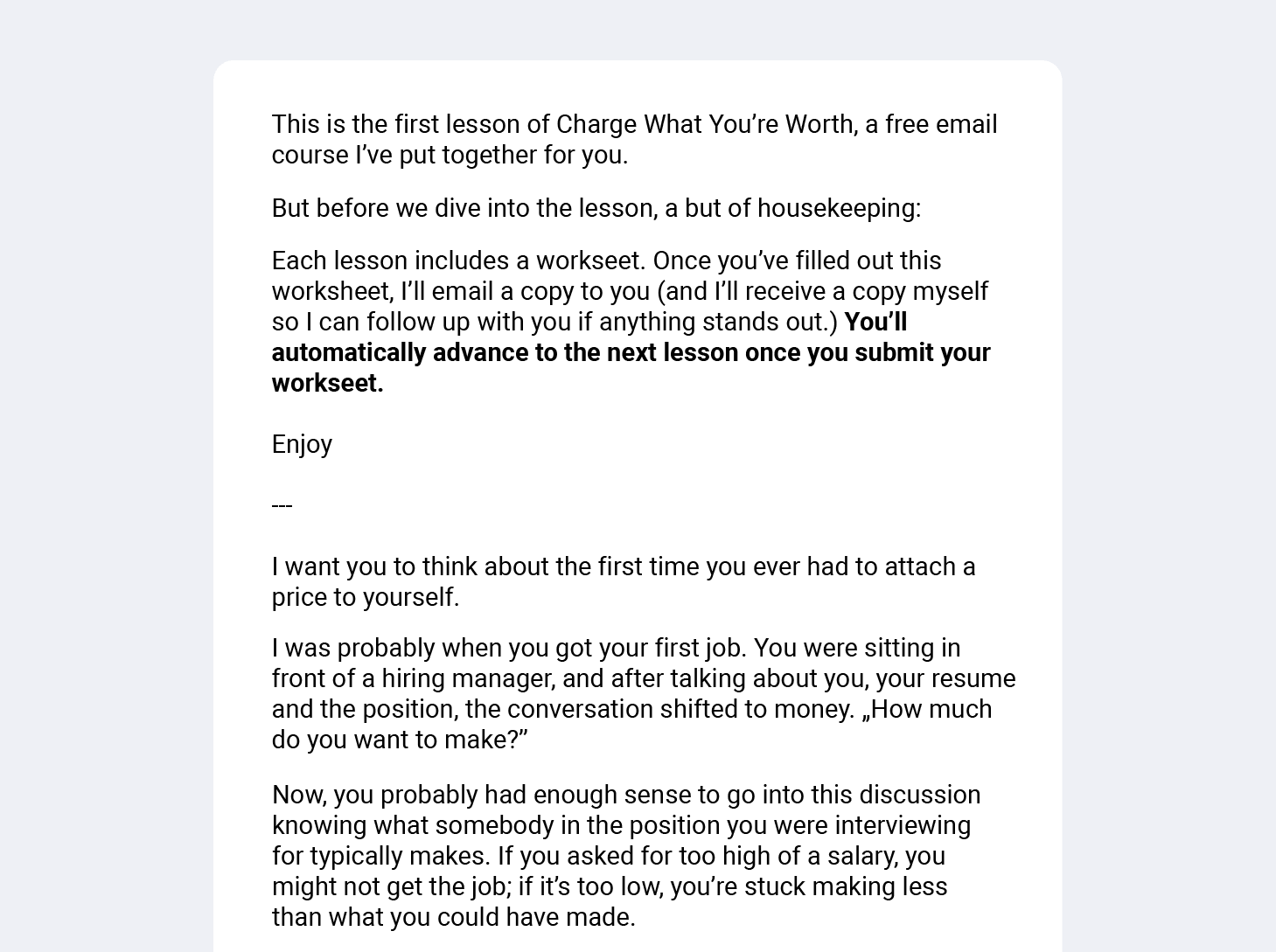 #3. Connection
Let's face it; the recipient has signed up for your product, service, email list, or anything else you've offered for a reason. And, most likely, they'd welcome additional resources about it (no pun intended.)
Include those in the initial message you send them. You'll start building a connection with them and develop trust right away.
Optimizely includes resources helping a person become a better conversion specialist (and succeed with their product!)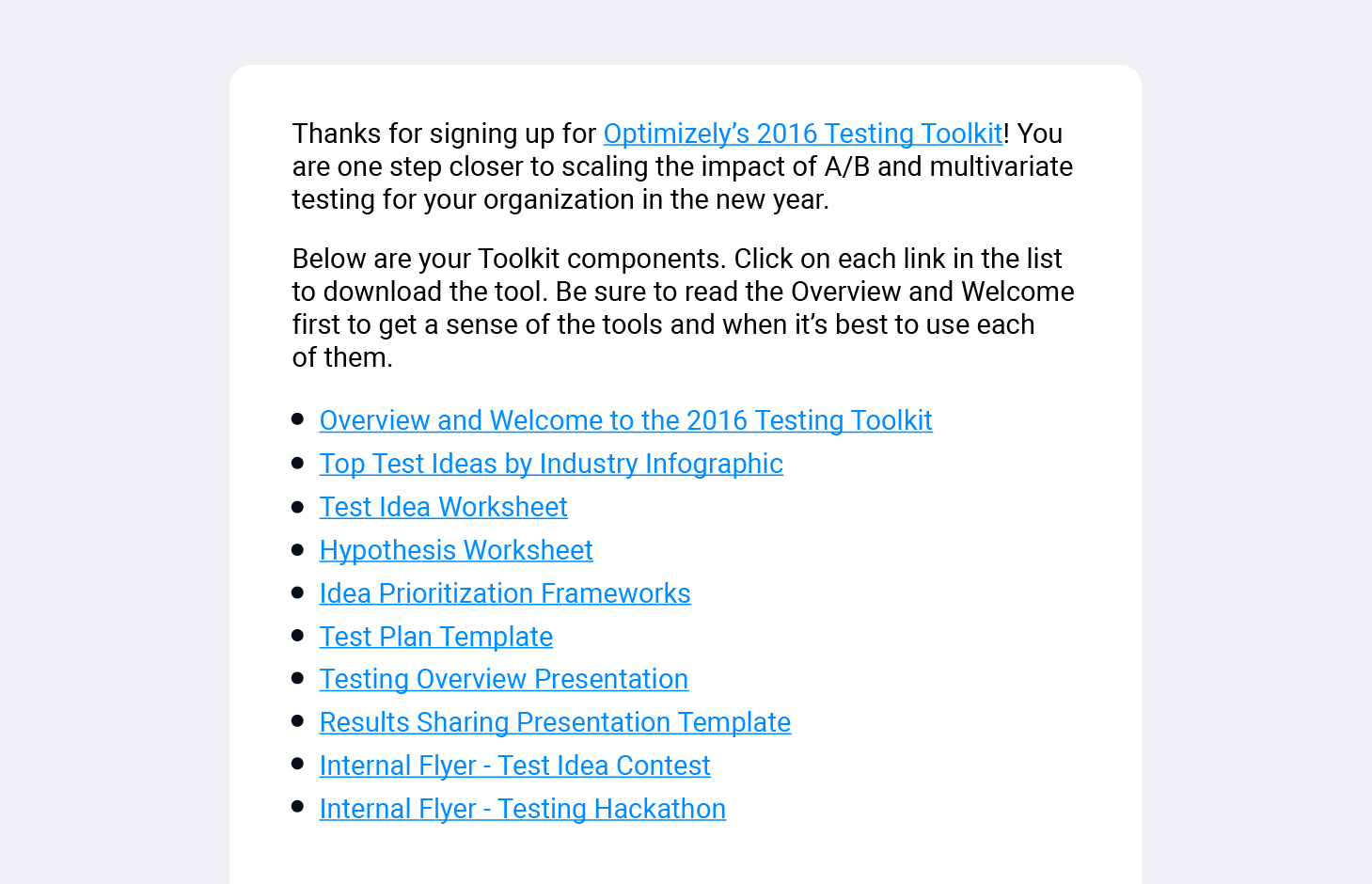 #4. Delivering on the promise
This final element is relevant when you've converted someone through an offer. If you've promised them a discount code, a lead magnet or anything else, really, deliver it. It's that simple.
Here's an old welcome email I received from AdEspresso. It includes the download link to an eBook I signed up for. But then, it suggests other information that would help me get better at the topic of the book!
Key Takeaways
Welcome messages achieve the highest open and engagement rates across the majority of industries.
One reason for such a phenomenal performance is relevance. Most welcome emails or live chat prompts would include information relevant to the recipient.
To increase their effectiveness, however, use personalization simplicity, humor, and other strategies we outlined above.
Want to Provide More Engaging Welcome Messages in Live Chat? Check out Tidio – a live chat that's boosted with bots to increase your sales and customer engagement even further.
Try Chatbots For Free