Business Growth
The Best Welcome Message Examples to Onboard and Welcome New Users
A short welcome message for customers can make their shopping experience a little bit nicer. However, it is one of the key factors when it comes to increasing your sales.
Did you know that a welcome message can affect your business success too? Sales, marketing, or customer service play the most critical part in your growth, of course. But how you start the relationship with a new lead or customer will affect their likelihood of buying from you too. And it's your role to ensure that it happens.
You must welcome new leads, make them feel valued, and build trust in you. It's also your job to convince them to keep engaging with your company more and more.
There are many ways in which you can engage your customers with welcome messages. For instance, they can be sent by a chatbot to greet the visitors of your online store. You can set up a chatbot that sends a custom welcome message to every visitor in a matter of minutes.
Tip: Don't want to build chatbots from scratch? No problem! Tidio has a collection of 16+ FREE chatbot templates available (including "Welcome new visitor" template).
This is how you lay a solid foundation for developing a long-term relationship and more sales, after all.
But I guess that you may have no idea how to do it, right? You wonder how to create a welcome message for your website or to onboard new customers.
Well, that's going to change by the time you reach the end of this guide. I promise.
What you're going to learn:
👈🏻 Did you test our chatbot already? It's alive!
⚡🤖⚡
Choose one of the answers
What is a Welcome Message?
A welcome message is a short communication you send to a new user, email list subscriber or website visitor that aims to greet, onboard, and connect them with you.
For the most part, you use such messages in three situations:
The onboarding process.
Engaging website visitors with live chat and chatbots.
Email marketing.
What Makes Welcome Messages Such an Important Element of Your Onboarding Flow or Email Marketing Strategy?
There are three reasons:
Welcome messages have a much higher click-through rate
According to the data collected by Marketing Land, welcome emails achieve the highest open rate and engagement.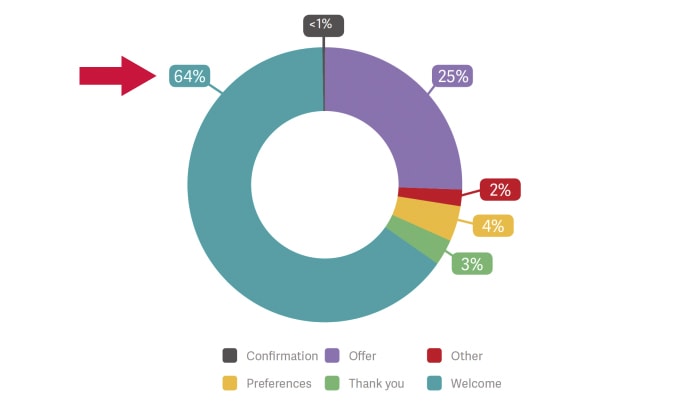 Smart Insights also reports that triggered and autoresponder emails (the two categories that include welcome emails as well) have much higher open rates.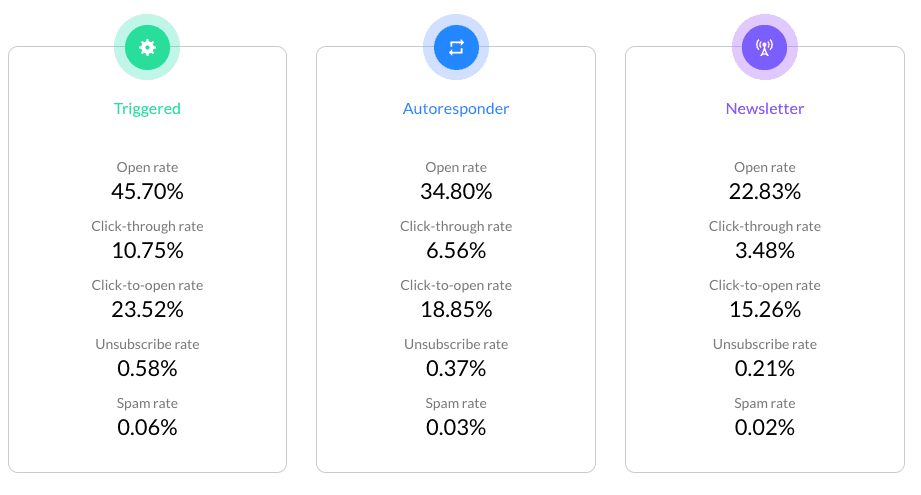 A welcome email can tell a user more about the personality of the brand than any other communication. Such a message can also reassure customers about the impression they've made about the business too. Plus, it can help you stop your future emails from going to spam folder.
However, its influence manifests itself, even more, when you use chatbots. Here's why.
A chatbot welcome message might be the very first interaction a person's received from the brand. With email, at least they've had a chance to explore the company's website, and have made a conscious decision to sign up, based on the results of such research.
With a chatbot, they might see the message almost right after landing on the site. Whatever you say, will make the first impression about you and your brand's personality. As a result, it will also, communicate whether who you match what the customer expects from a brand.
(Note, this doesn't mean that you should pretend to be someone else to fit into those expectations. As you'll see shortly, you should do quite the opposite.)
Finally, it lets you segment customers and collect feedback from them easily
You can do it by including a strategy known as feedback loops. In the simplest terms, the strategy focuses on collecting user feedback to improve its product or service further.
Here's an example of a welcome email with a feedback loop built into it.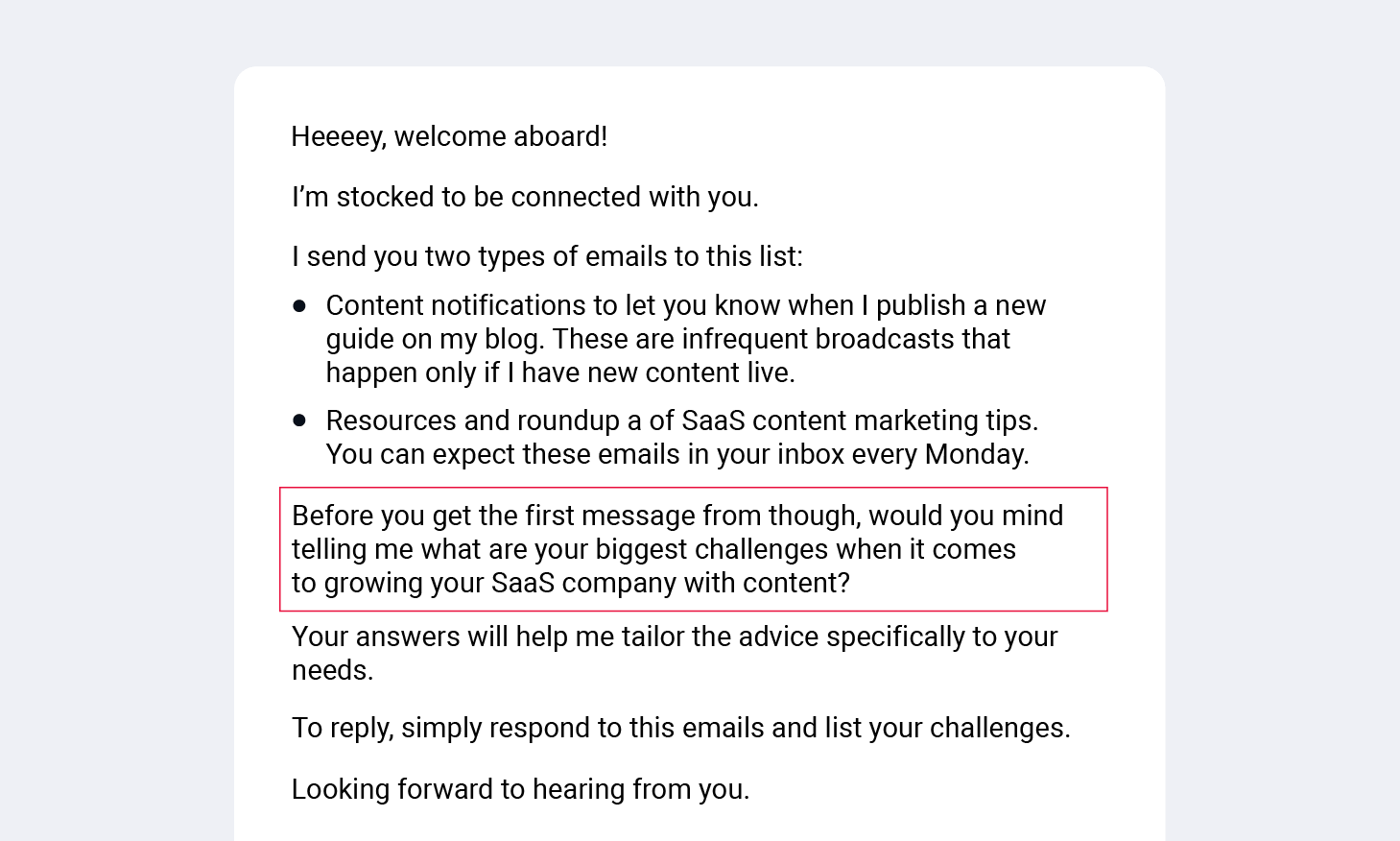 Chatbots are even more suited for the task. You can set them to initiate the conversation by asking a pre-qualifying question, for example. Or construct them to include a feedback loop somewhere during the conversation.
Needless to say, such feedback will beat any assumptions you could have made about the new connection.
Best Practices and Welcome Message Examples to Follow
So far, we've been discussing using welcome messages in broader terms. Much of what we've discussed is applicable to both, the website and an email campaign.
However, there is a stark difference between engaging website visitors and email subscribers. So, let's now review specific examples and best practices in the context of each of those channels.
Part I. Engaging Website Visitors
When engaging website visitors, you are the one initiating the connection. More often than not, this happens through a live chat. It is a very popular tool used every day by millions. For instance, it is possible to add a WordPress live chat plugin to any WordPress website in less than a minute (and 1/3 of the internet runs on WP).
(Note that the above statement is true even if you use live chat as one of the types of customer service you provide. Because even then, you may want to set up a prompt to initiate the conversation.)

7 Types of Customer Service
So, here are some ways that will help you do it.
#1. Introduce the Chatbot
It can be tempting to pretend that the chatbot is, in fact, a real person. I can understand the reasoning companies have for doing so. Not every customer might feel comfortable talking to a machine, after all. Letting them assume they talk to a human seems like the easiest way to overcome the problem.
But it isn't. Sooner or later, most customers will realize that they chat with a bot, and might have even more negative attitude towards it, then.
To avoid it, introduce the chatbot right away. Then, use humor to build a strong brand personality this way.
#2. Use Humor
Humor goes a long way in chat welcome messages. Customers will see through the automated system you use, after all. They will know that it's a machine engaging them. So, give it some personality. Use humor, emojis, and videos to capture visitor attention and engage them further.
This way, you'll connect with them quicker. And you might even overcome the skepticism some customers have towards using chatbots.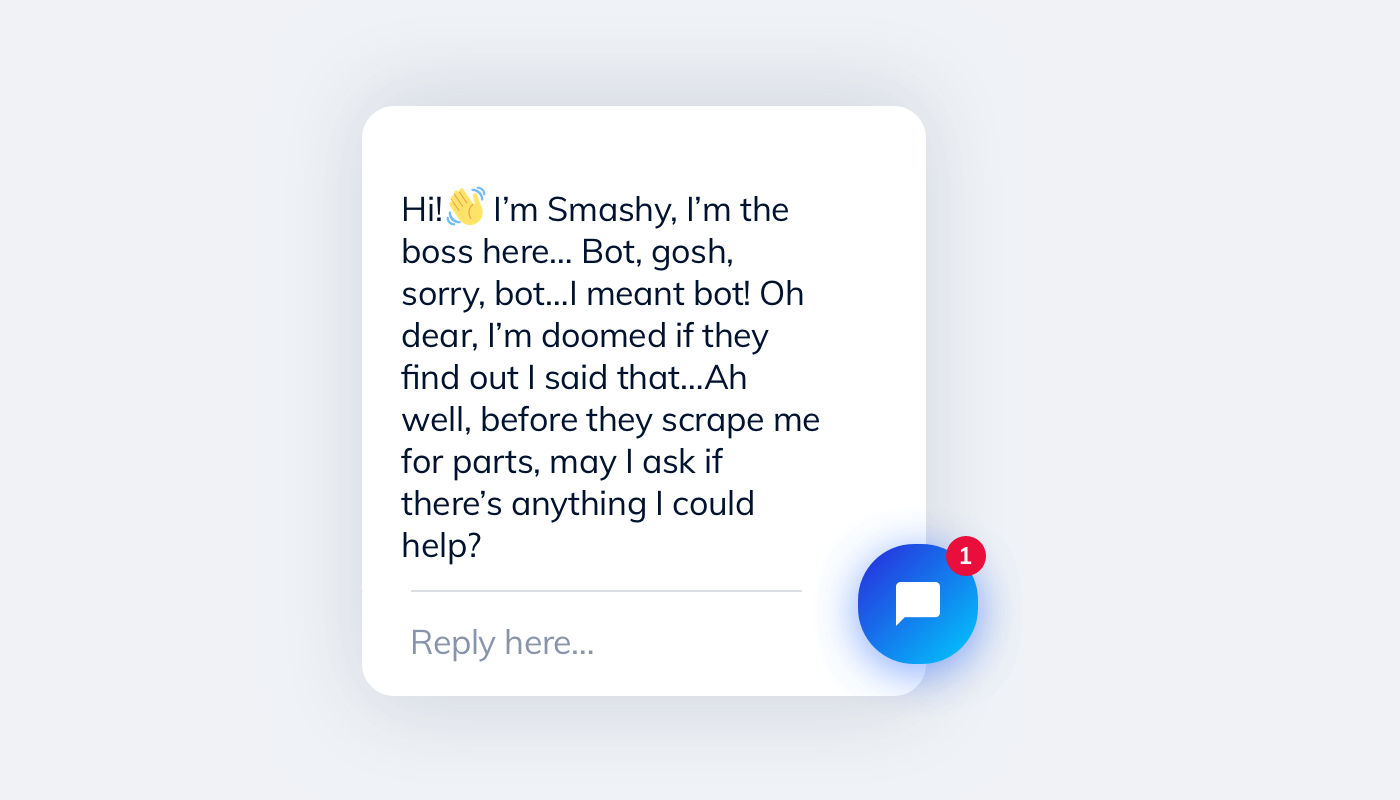 #3. Set Expectations
The chatbot's welcome message can also help you explain what the system can and cannot do for the customer. What's more, you can also define what outcome they should anticipate from the interaction.
Setting clear expectations will reduce the potential disappointment someone might feel, expecting the chatbot to do everything a human agent would. But there is another aspect to it, it will also prepare the visitor to how to use your chatbot to succeed.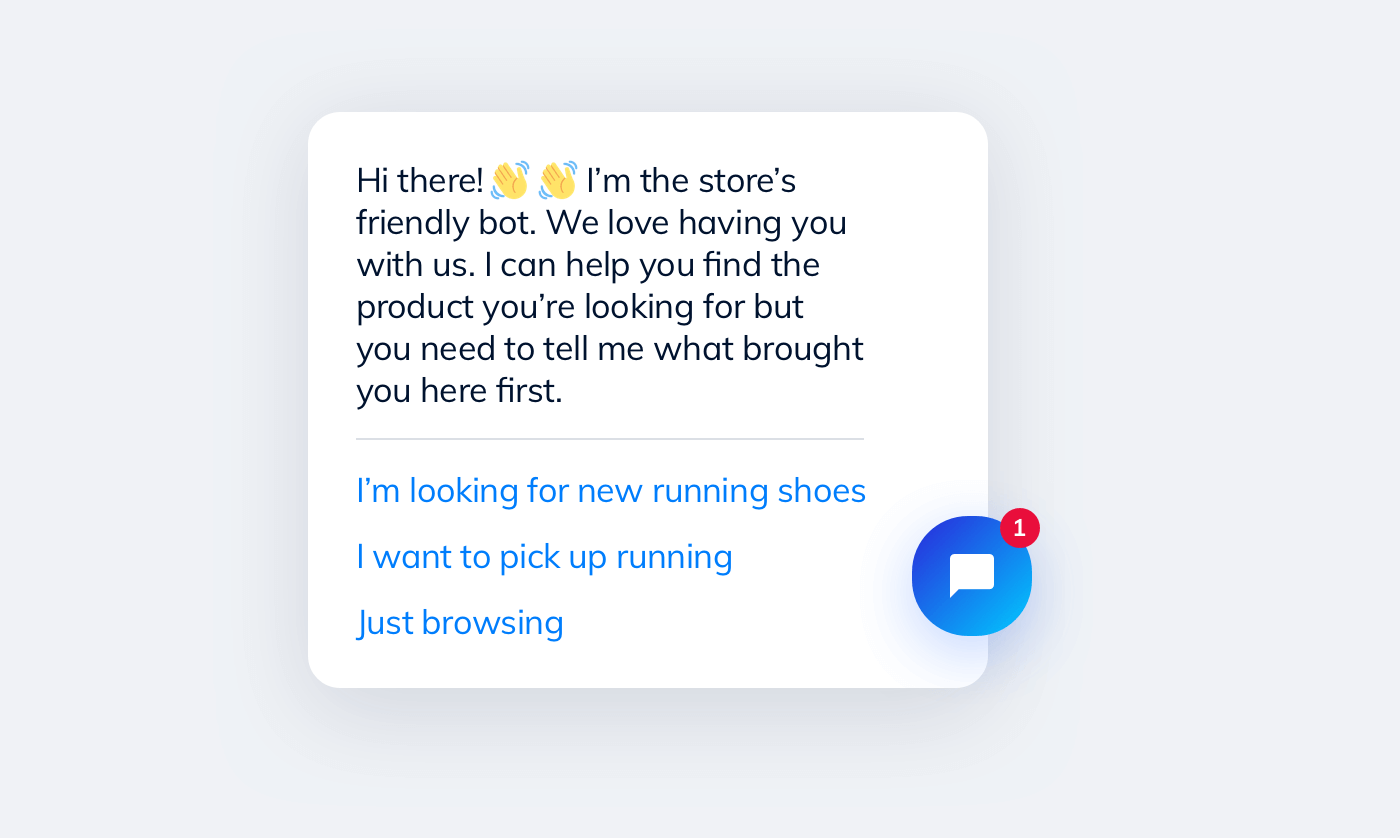 #4. Personalization and Context
The problem with personalizing chatbot messages is that you, most likely, don't know much about the visitor. You may be engaging a person who's landed on your site for the very first time, after all.
Personalizing such welcome message will require a unique approach. A one relying on factors you can predict about the person:
The type of visitor they are – first-time or returning. You can personalize the welcome message to target such a factor.
When do they visit and their location? Is this a holiday in their region? If so, reference that in the welcome message too.
Website behavior. You can trigger the live chat based on their intended action, such as the exit intent. Or display a different message based on a page or blog post the person's viewing.
The technology they use, their operating system, and language settings.
Finally, you can welcome visitors based on where they came from – A search engine, a specific referral channel like Twitter or other social media sites, and so on.
Here are some suggestions on how to use the data above to personalize a chatbot's welcome message.
Include a reference to the person's location. The bot below welcomes Irish visitors in their native tongue, for example.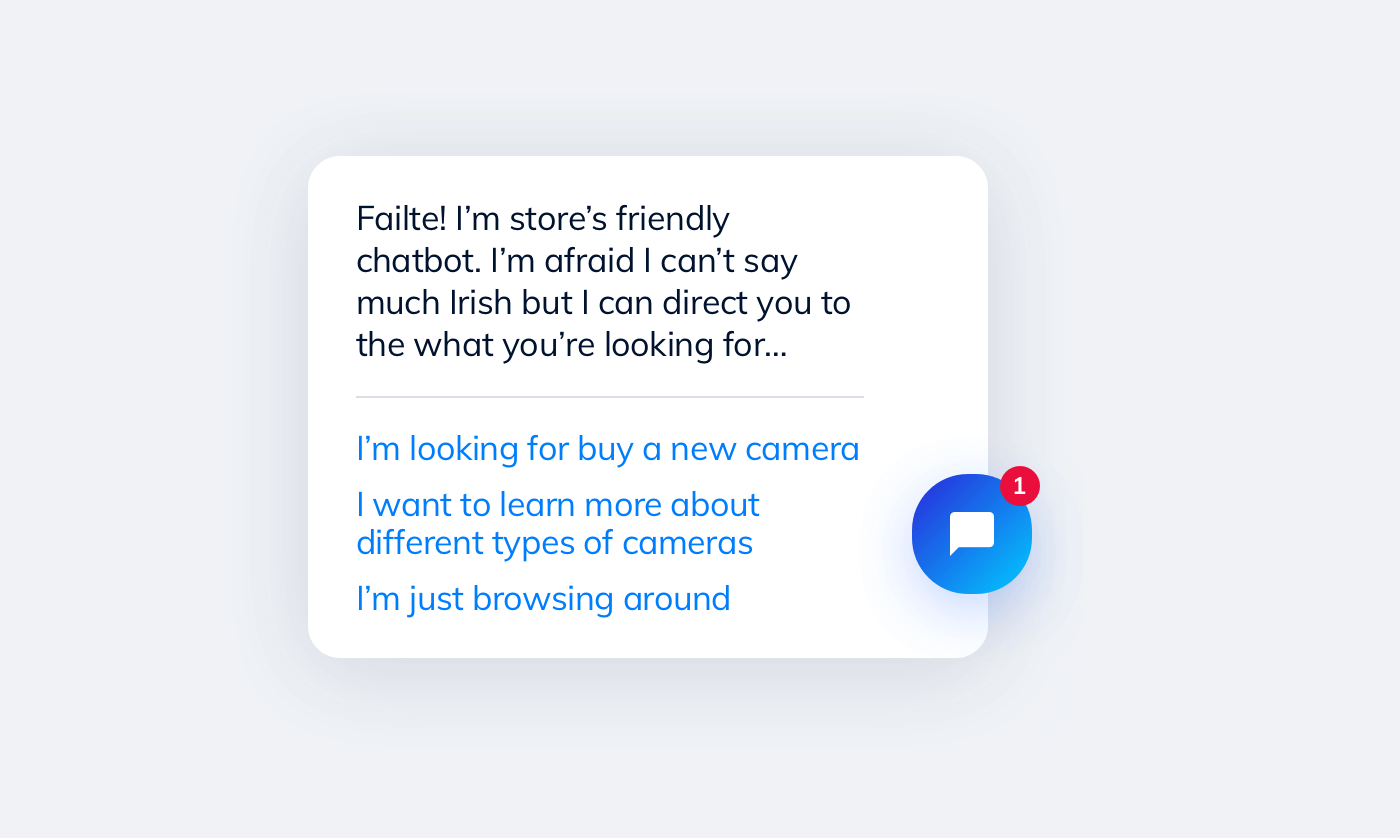 Tell first-time visitors what to do on the site. List the most important pages they should visit, for example.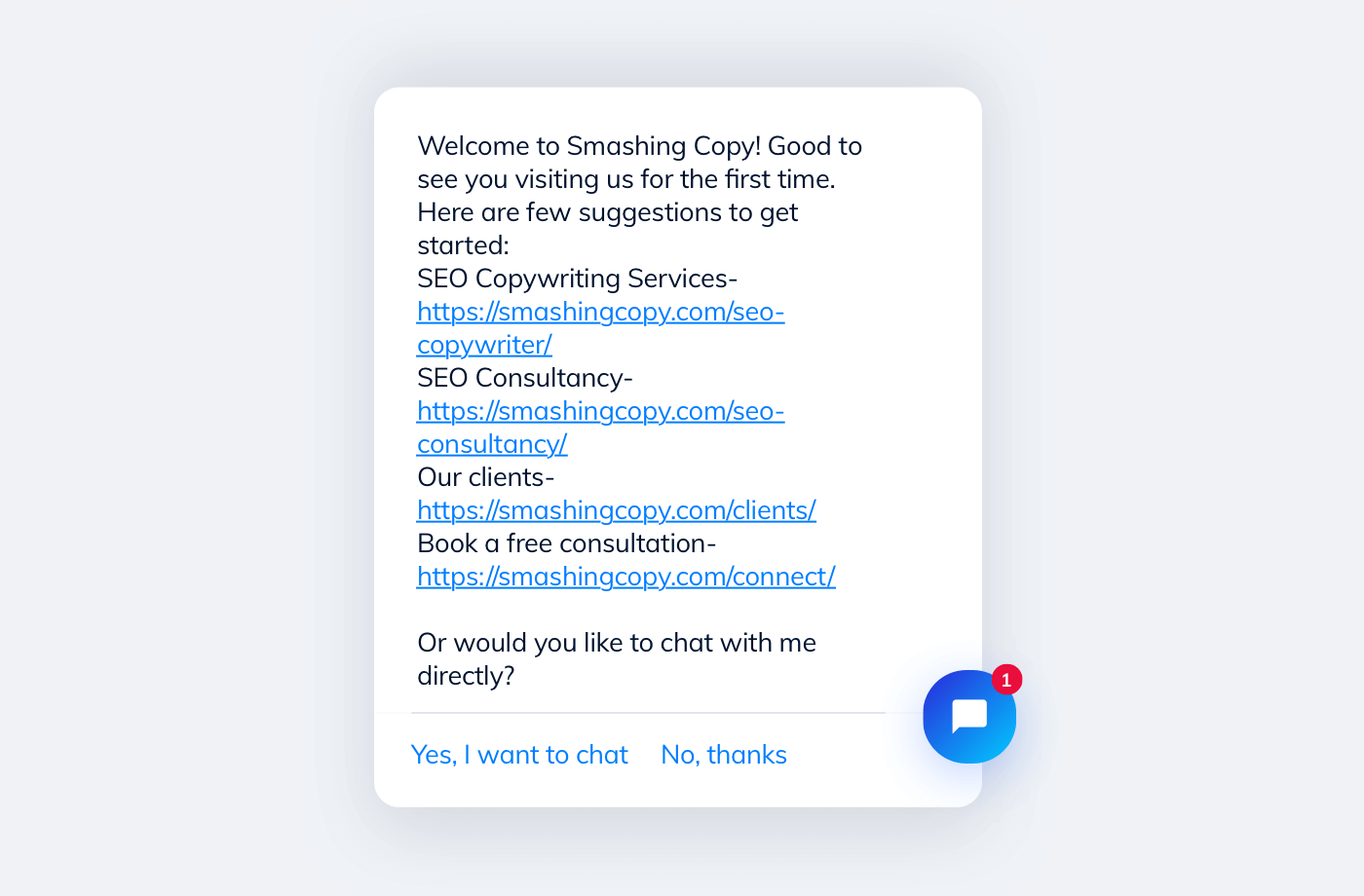 Welcome returning users back to the site. You could also point them to the new additions or products you've added since the last visit. But even having the chatbot to say "welcome back," will make the message relevant.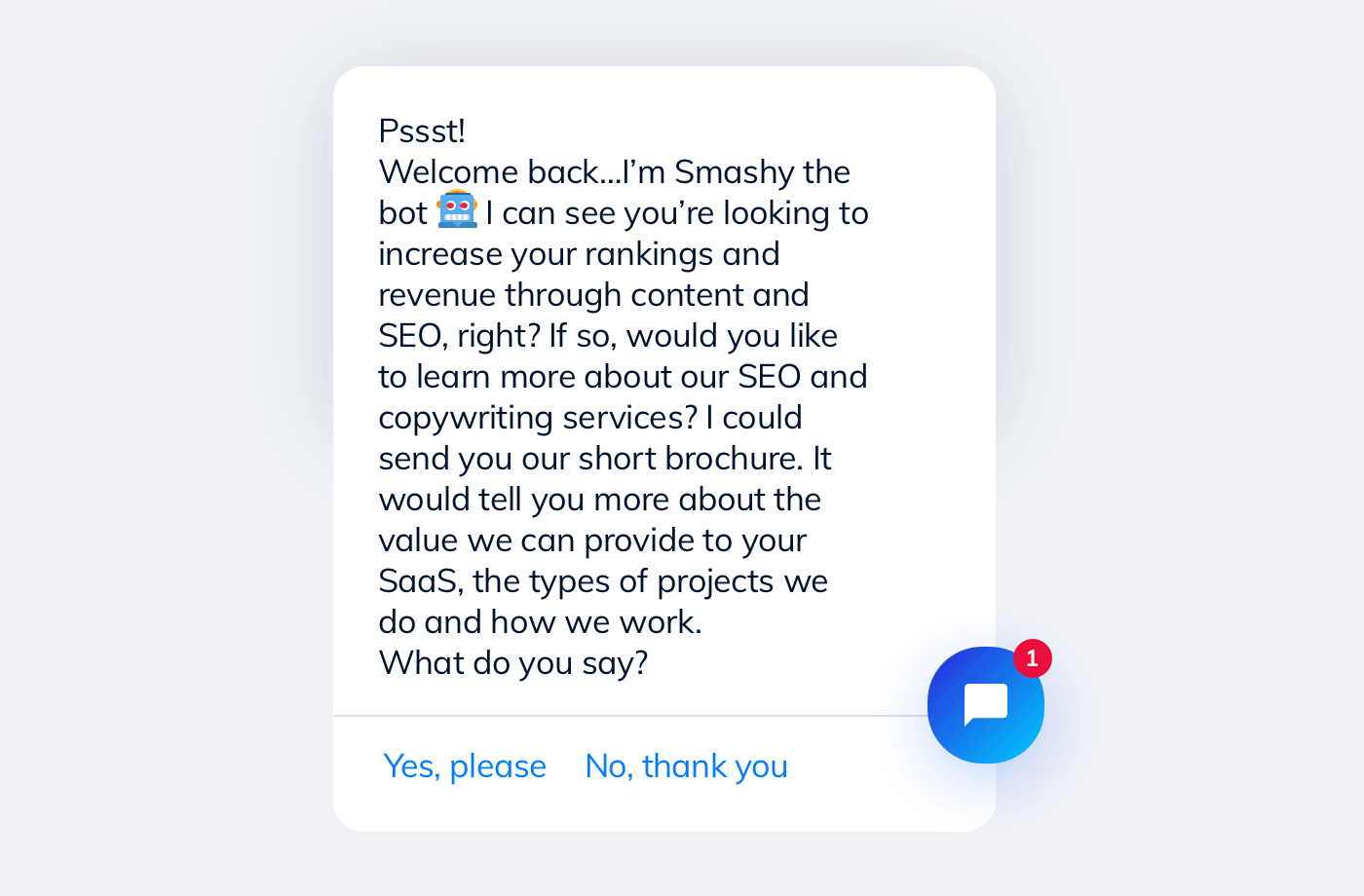 Part II. The Onboarding Welcome Message
Four elements help boost engagement when you onboard new users or email subscribers:
#1. Personalization
In onboarding, personalization should go much further than using someone's name in the subject line.
Your language should match how the audience speaks, for one. Sound too casual, and you're bound to scare them away. Send a dry and formal email instead, and unless you're speaking to the people who'd appreciate it, the effect will be the same.
The travel brand, Away, uses an incredible, informal voice in their welcome email. Would a similar approach work for a non-profit organization? Most likely, no. But for Away, it aligns them with customers perfectly.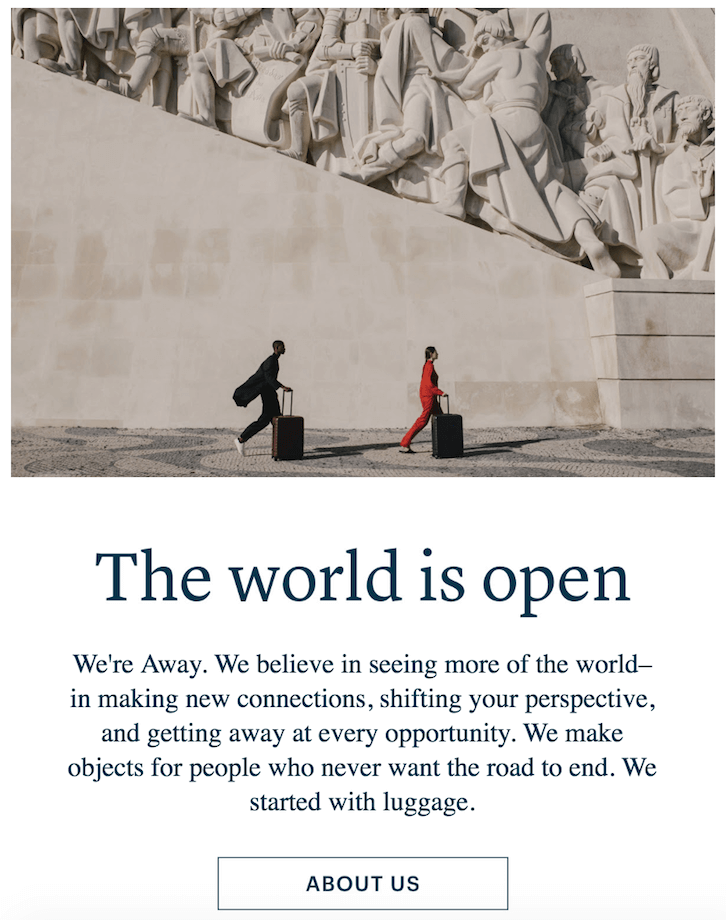 Segmentation will help you personalize messages too. With behavioral and demographic data – product usage, products of interest, and more – you can send more relevant messages and make the welcome email seem highly personal.
Finally, set expectations – Confirm what the new connection will get from engaging with you.
List what's going to happen, after they've joined. Tell them what future emails you're going to send. Include information on their type and frequency too.
Zapier makes it clear what messages a new subscriber will receive and how often.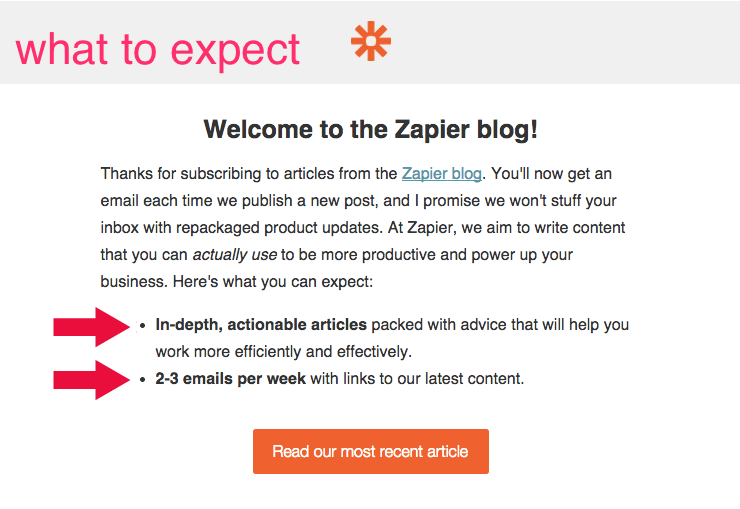 #2. Simplicity
Now, this should go without saying. Your welcome message must be short. Super short, in fact.
Your recipients are busy, after all. It's hard to imagine them going through any lengthy copy. And that's regardless of the value it might provide.
However, if you must include more than a couple of paragraphs of text, style it for faster reading.
Use lists, for example. They will help shorten the amount of information, even if only visually.
Alternatively, break the message into separate sections. Brennan Dunn's welcome email, for example, includes what he refers to as "housekeeping" up top. The actual material, however, starts further down.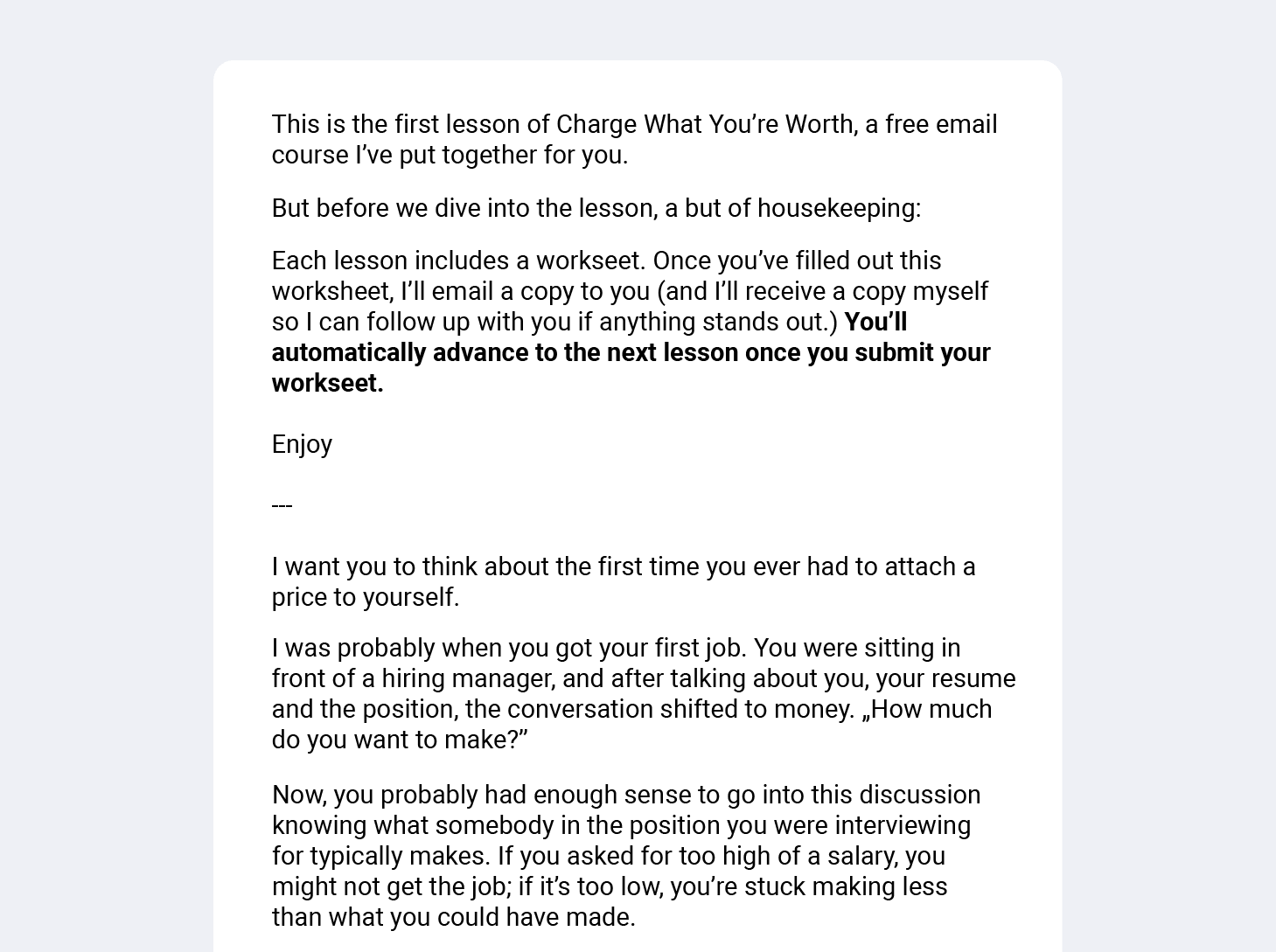 #3. Connection
Let's face it; the recipient has signed up for your product, service, email list, or anything else you've offered for a reason. And, most likely, they'd welcome additional resources about it (no pun intended.)
Include those in the initial message you send them. You'll start building a connection with them and develop trust right away.
Optimizely includes resources helping a person become a better conversion specialist (and succeed with their product!)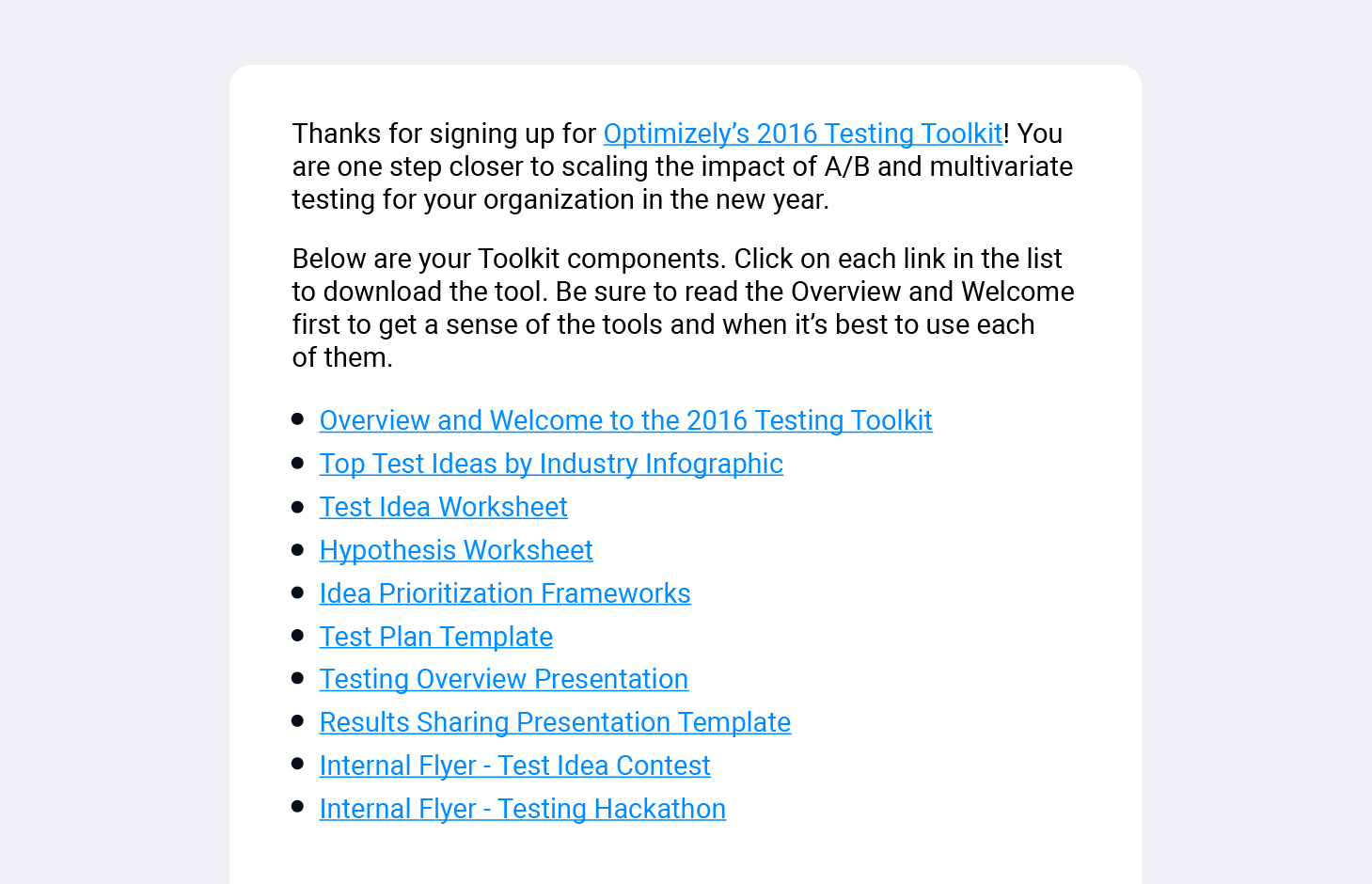 #4. Delivering on the promise
This final element is relevant when you've converted someone through an offer. If you've promised them a discount code, a lead magnet or anything else, really, deliver it. It's that simple.
Here's an old welcome email I received from AdEspresso. It includes the download link to an eBook I signed up for. But then, it suggests other information that would help me get better at the topic of the book!
Key Takeaways
Welcome messages achieve the highest open and engagement rates across the majority of industries.
One reason for such a phenomenal performance is relevance. Most welcome emails or live chat prompts would include information relevant to the recipient.
To increase their effectiveness, however, use personalization simplicity, humor, and other strategies we outlined above.
Want to Provide More Engaging Welcome Messages in Live Chat? Check out Tidio – a live chat that's boosted with bots to increase your sales and customer engagement even further.
Try Live Chat For Free