Many business owners think that customer experience (CX) is something too self-explanatory to even bother. You need to make your customers happy, right? It isn't complicated.
Actually, it is.
It is a whole set of processes that are deeply linked with very specific expectations of digital customers. And it isn't as simple as "moving things online."
For many companies, the COVID-19 pandemic was like an unexpected CX exam. And the results were mostly F or D+.
Businesses failed to recognize the difference between regular digitalization and creating great online customer experiences.
In this article:
You may also be interested in:
Now—
Let's start with the basics.
Customer experience definition
Customer experience (CX) is the sum of impressions associated with a brand for a particular customer. It is built over different stages of the customer journey and encompasses all interactions. It may include both positive and negative feelings, incidents, and expectations.
Customer experience is strongly linked with such aspects as:
Convenience
Responsiveness
Speed
Quality
Aesthetics
Pleasure
What is a good customer experience?
Think of buying a quality product via a well-designed and easy-to-navigate website. And, on top of that, receiving it in a timely manner. You are very satisfied with the product. After a while, you write a positive review and the company sends you a thank you for your order message that sounds genuine. You feel that you'll buy from them again.
How is customer experience different from customer journey?
Customer journey—all the touchpoints with a brand—are actions that customers take. But how customers feel about these actions is their subjective customer experience. While the impressions are subjective, their delivery and management can be organized. CX is recognized as one of the key brand differentiators of the future and many companies devote tons of attention to their customer experience strategy.
Customer Service vs Customer Experience
Customer service is one of the elements that make up a positive customer experience. You can think of customer service as one of the types of interaction with customers and CX as the sum of all interactions.
Customer experience: example
It all still sounds a bit abstract, doesn't it? You might want to look at a real-life example of what customer experience actually can be.
Let's say that you want to watch "The Lord of the Rings."
You can go to a store, pick your favorite edition, buy it, go home, and pop the DVDs or Blu-ray discs into your player. Now, you can enjoy the movie.
But you can also watch it on Netflix. This way you can skip the hassle and dive straight into experiencing the movie itself.
The product and its quality are basically the same. But Netflix offers a customer experience that is more convenient and offers more self-reliance.
You do not have to search for a store that will have a copy. At the checkout, you don't have to talk to a sales clerk trying to get you to buy a Taylor Swift CD at a discount. And, with Netflix, you can watch the movie without paying—if you are on a trial account.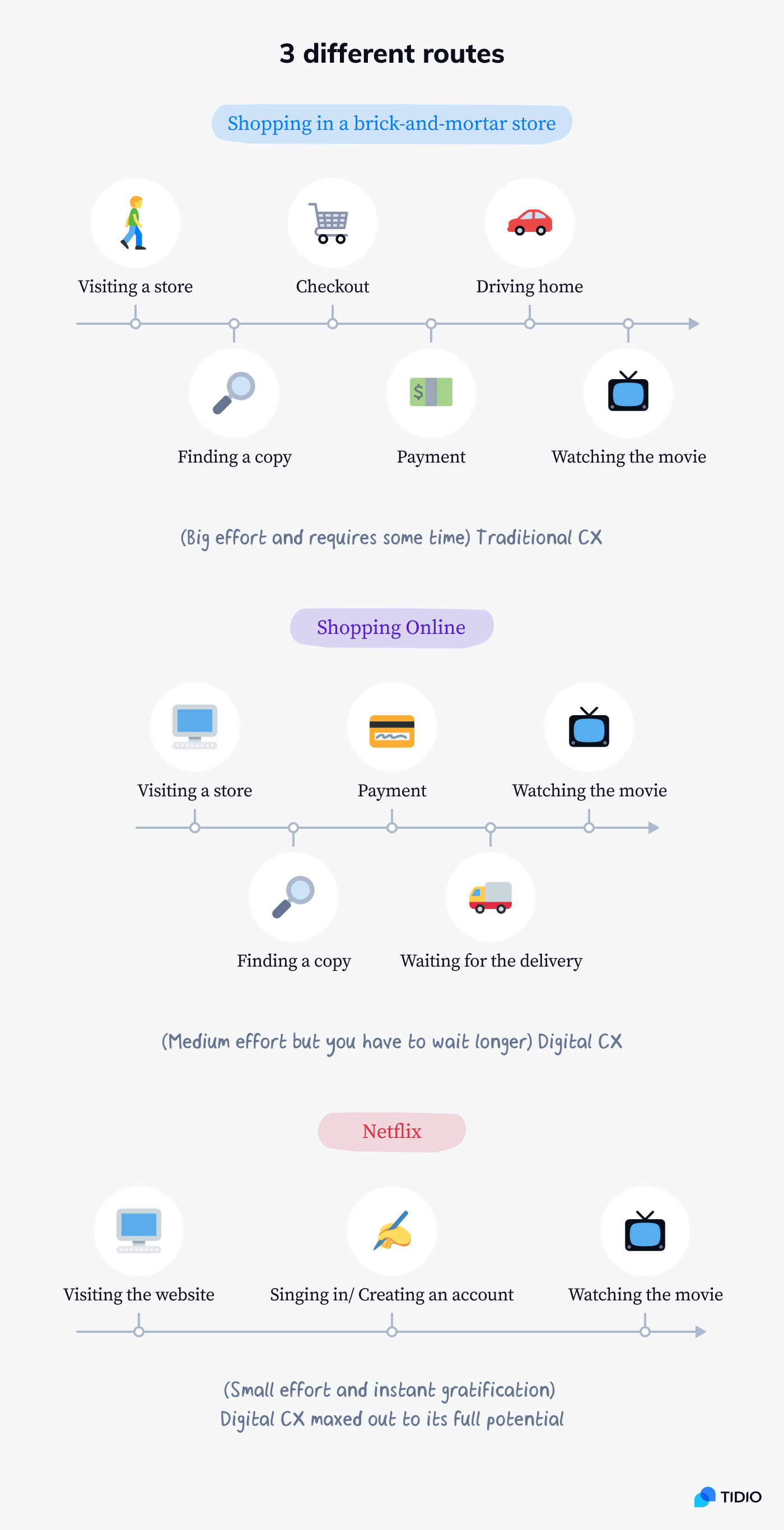 Their business model is based not on providing better product quality (if anything, the "straight to Netflix" production flow is usually a bad sign). But they do deliver convenient experiences that match the way people consume movies today.
In the past companies competed with each other by focusing their efforts and resources on product quality. Now it's more about the quality of total experience that you can provide.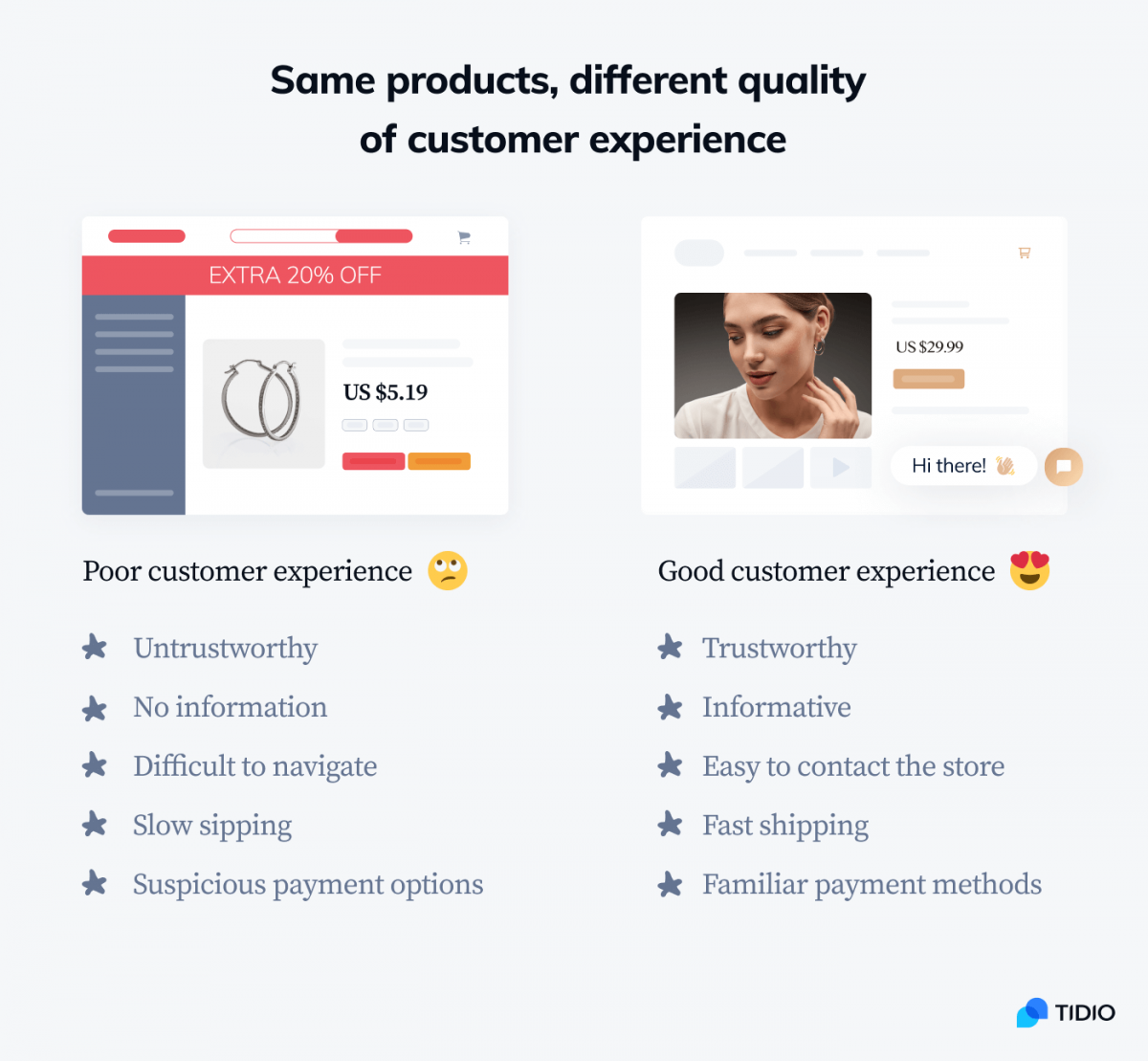 Importance of customer experience
Did you know that 32% of people will walk away from a brand after a single bad customer experience?
The number doesn't look very intimidating. The majority of customers will give you a second chance.
But you know what?
That single bad experience can be like a flat tire when you don't have a spare. It doesn't matter that the remaining wheels are perfectly fine. Your journey ends here and now.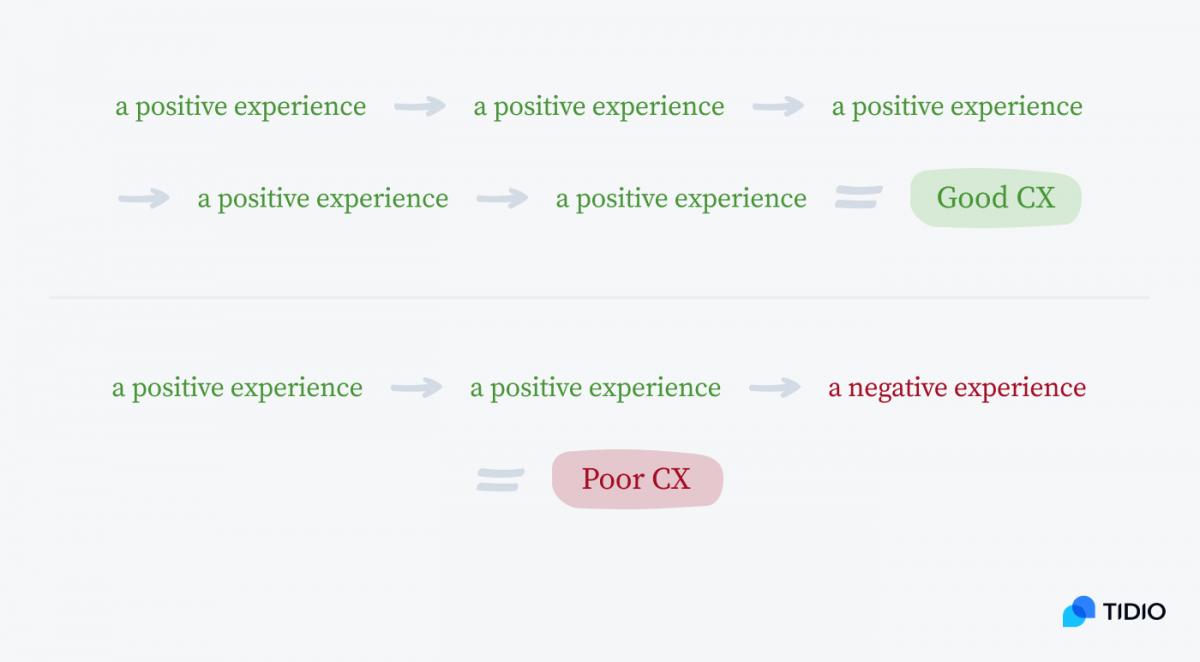 In the world of digital businesses, positive interactions bring even more positive interactions (and sales!). It's like a money-making machine set in motion and powered by good customer experiences.
According to our customer experience survey, over 71% of Gen Z shoppers and Millennials are willing to pay a higher price for better overall shopping experiences. Even when they would have to overpay for the same products!
Creating excellent customer experiences can be your company's biggest asset.
The benefits of delivering good CX include:
Thinking about customer experience as an entire framework for approaching customers is difficult.
But it boils down to one thing—designing a smooth and pleasant customer journey.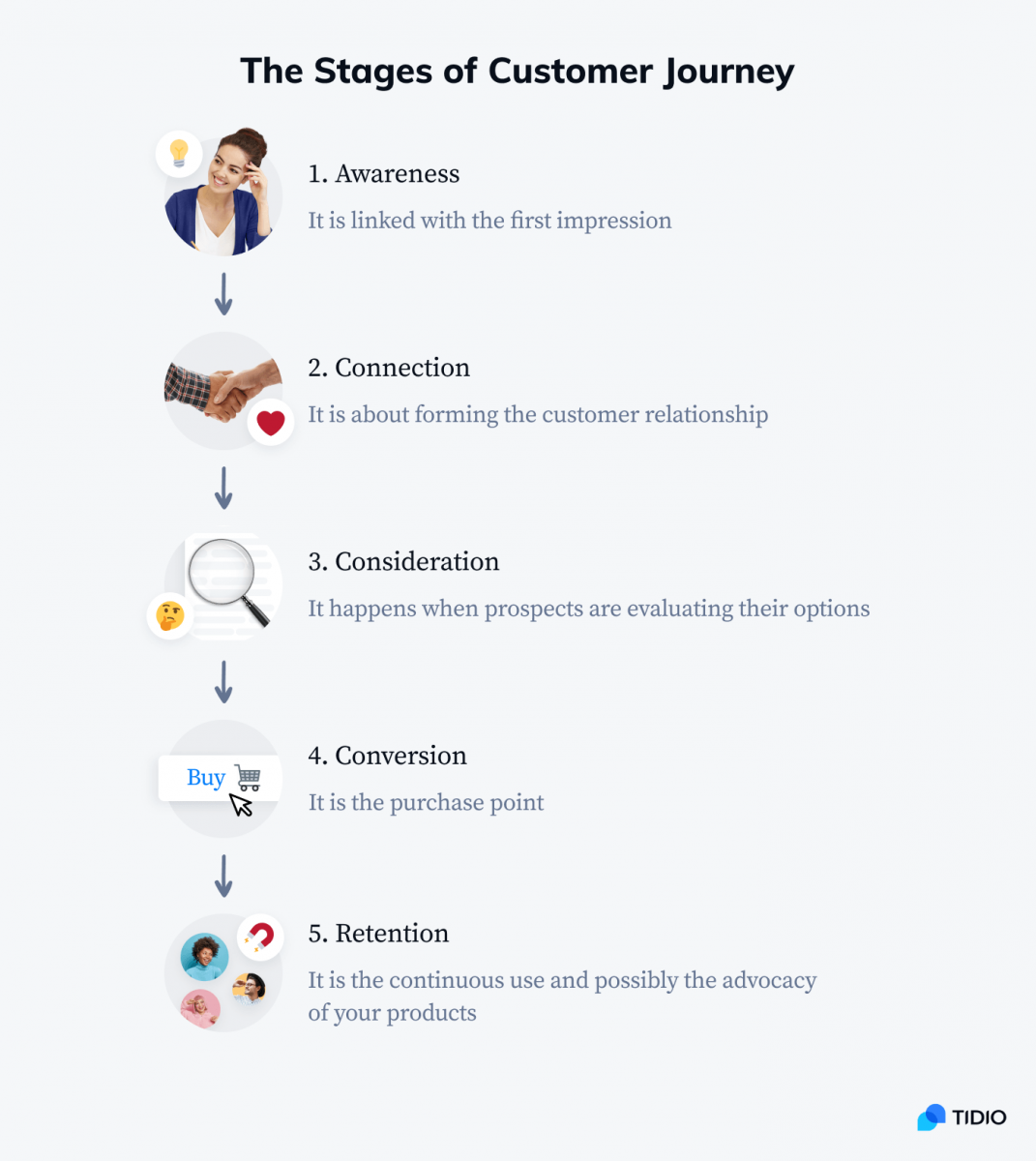 The 5 stages of the customer journey are:
Awareness Connection Consideration Conversion Retention
And you should map it out not only for your best customers. For ALL customers.
Why should you care about average customers and not the most profitable ones?
Well—
Here is a perfect quote from the resources of the Wharton School of the University of Pennsylvania:
In today's world, your company's reputation is only as good as the experience delivered to your average customers—because they are your biggest population and hold the social media megaphone. When your average customers are unhappy, they post that news on Facebook, Twitter, Yelp, and a host of specialty forums.
The importance of CX in the post-pandemic era
Keeping your customers happy has always been a critical aspect of running a successful business. But the pandemic, the lockdown, and the subsequent transition of so many shopping experiences online have made it more important than ever.
Traditional retail is gone. As Tim Calkins points out:
For many retailers, that retail experience was always so important. It was fun and exciting, with lines of people and cool music, and that helped define the brand experience. Now, if you even go into the store, it's more of a solitary experience and it's very different for brand building.
But, just like with our Netflix example, going digital is not enough. The digital experience has its own set of expectations. Now, customer experience is strongly linked with the convenience of quick-fulfillment online solutions:
Brands [like Uber Eats or Amazon] are helping to ensure a safe virus-free environment because of their emphasis on online ordering—which removes the need for human interaction. They have developed their value proposition of ordering and fulfillment convenience.
This is a great example of what customer experience actually is. It's not just selling a certain product. It's providing shopping experiences that meet customers' needs in circumstances that can change overnight.
How to improve customer experience?
We know that customer experience is extremely important. Companies like Apple have succeeded not because of superior technology. They changed the rules of the game and the way the tech industry works. By switching the focus on customers and their perspectives.
Every business wants to improve it, but what does that mean specifically?
Should every customer get a drink with an umbrella?
Nope.
You shouldn't confuse a good customer experience with special treatment for your most important customers. They are entirely different things!
Customer experience is in the process of being redefined. It's not software that automates engagement or predicts which customer an employee should or should not pay attention to. Customer experience is about all-inclusive strategic alignment between the customer's engagement expectations, brand promise, and the company culture behind the brand.
A perfect customer experience is:
Available to all customers. Good customer experience should be consistent for all stages of the customer journey. Companies must focus on all potential customers, even before making any profits.
Intuitive. Your product, website navigation, and interface should be easy to use and understand. The principles of UI/UX design have a direct impact on customer experience.
Digital. The customer experience framework is used mainly in digital and online contexts. Online solutions are more convenient for customers. And digital customer interactions are easier to track, measure, and improve by businesses.
Self-sufficient. Self-service is one of the critical aspects of CX. Customers should always have an option to solve their problems on their own. It is always better to be autonomous than to be tossed around by five customer service agents.
For example, using a self-service chatbot to solve a problem is an example of how modern businesses create good customer experiences. It is digital, intuitive (based on a conversational user interface), and does not require involving additional agents.
But making a chatbot is just one of many ways to enhance customer experience.
Here are some of the things to consider if you want to improve your CX.
Customer experience best practices:
Listen to your customers
Update your website design and UX
Enhance digital communication
Collect customer feedback
Anyone will tell you that to improve the customer experience you need to really listen to your customers.
It seems pretty straightforward, right? But there is a catch that companies won't tell you about!
If you start literally "listening" you will only catch feedback from those customers who "shout" the loudest and write customer complaints. The ones who are most dissatisfied. Or those who are demanding something in the most assertive manner. And they may as well be isolated incidents that prove nothing.
You must be able to put yourself in the shoes of the average customer. Not necessarily the angry customer.
If you don't actively collect customer feedback from the majority of yours, you will miss the critical insights that can improve your business. Customers will simply stop buying your product or using your services and you'll have no idea why.
Try to identify essential customer touchpoints and ask how they feel after completing them. For example, you can use a chatbot that asks a question when they complete their order.
When to Collect Customer Feedback?
Some of the best moments to collect feedback from customers are:
When they visit your website for the first time
During the signup process (ask about their expectations)
When you send your welcome message email
When customer consult your knowledge base or FAQ page
After the first order has been completed
In your post-purchase follow-up email
When customers cancel their subscription or abandon shopping carts
After the end of trial (if you are a SaaS company)
After every interaction with your customer support team
How to collect it?
To collect more insights from your customers you can use tools such as:
Collecting feedback after interactions with your customer support is the most common option. It blends into the conversation and offers a very seamless experience.
To set up a customer satisfaction survey chatbot just add a trigger at the end of regular chats.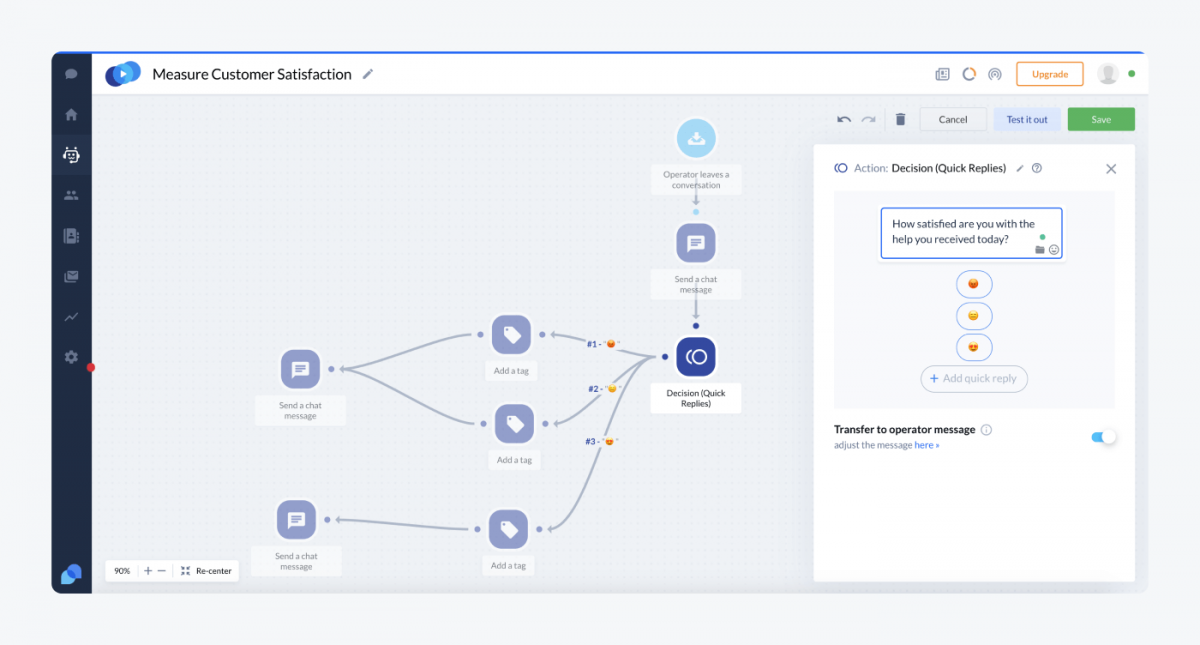 You can read more about setting up a customer feedback chatbot in Tidio here.
Customers are used to this type of question popping up after talking with support teams and don't mind it. They will simply ignore it if there was nothing extraordinary about their experience. But the customers who are very happy or very unhappy do reply—and their feedback is exactly what you are after.
If you want to build a perfect customer satisfaction survey to collect feedback, here is an additional guide:
Update your website design and interface
First impressions of a business website are 94% design-related. Poor website design and bad UX are to a large extent synonyms.
You should make sure that your website is easy to navigate and looks up to date. This includes:
Providing all necessary product information
Including fast signup option (e.g. via Google)
Using high quality images
Making your website mobile-friendly
Transparent privacy and shopping policies
Creating a frictionless checkout process
Avoiding advertisements and popups
The principles of good UX design are not secret knowledge but their implementation is a different matter entirely. If you want to collect insights about your interface from real audiences fast, try tools like Wynter. Alternatively, you can try to predict what is wrong with your website by analyzing heatmaps.
In some cases, however, there is no need to reinvent the wheel. We've carried out our original studies about things that improve customer experience and inspire trust. You can visit the following resources:
Provide faster, omnichannel customer service
If you're not where your customers are then you're out of business. And, unfortunately (or fortunately), they are virtually everywhere. They use social media, phones, website live chats, messaging apps, or emails for communication.
All of these types of customer service channels have their advantages and disadvantages. But, from the perspective of a business owner, you should make sure that you have them all covered. It may be a good idea to use an all-in-one solution that simplifies your communication with customers.
There are many tools that allow you to send emails, reply to Facebook messages, or even set up a WhatsApp chatbot—all from one conversation panel that can be manned by one agent.
Some of the best apps to improve your customer communication and CX are:
Tidio
Tawk.to
Drift
Zendesk
HubSpot
Intercom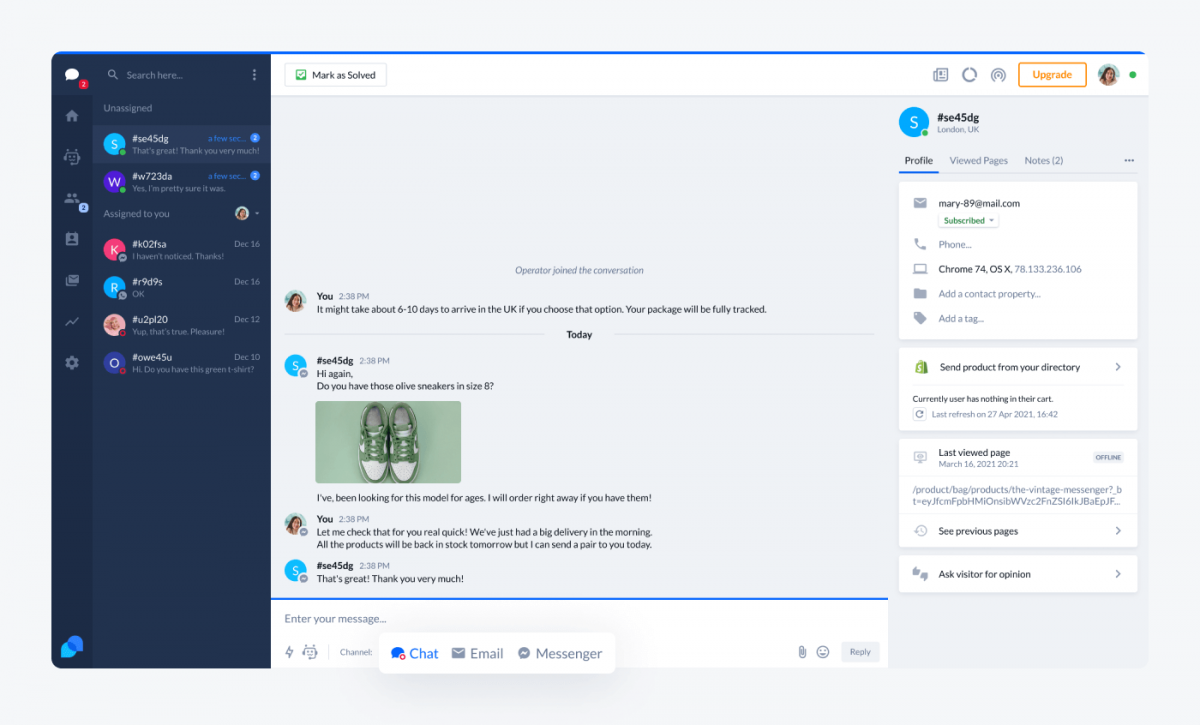 You can find a detailed comparison of the best customer service live chat software here.
You can take care of many customer experience enhancements simply by avoiding common mistakes. You can find some examples of spectacular customer experience failures in this article.
How to measure customer experience
You can't improve anything if you don't measure it. Customer experience customer analysis can be difficult because there are no dedicated CX metrics. Still, traditional metrics associated with customer satisfaction, effort, or speed of resolution are commonly used.
The most popular customer experience metrics are:
Customer Satisfaction Score (CSAT). How happy you are with…
Customer Effort Score (CES). How would you rate the difficulty of…
Net Promoter Score (NPS). How likely are you to recommend our…
Time To Resolution (TTR). How long did it take to…
When you choose any of the metrics above, you should align them with your priorities.
If your products are intuitive and easy to use, there is no point in using CES. But customers may, for instance, get angry at your slow email replies. In that case, if you want to work on it, TTR would give you more insights.
Some business models need great word-of-mouth marketing and advocates for exponential growth. For them, NPS would be more important than CSAT which focuses on the individual client.
To find out more about different customer experience metrics, read our guide to measuring customer satisfaction.
You can also create your own customer experience surveys. You can ask about specific aspects that you find important and use the Likert scale or yes/no. For example, some common customer experience survey questions may include:
Did you find the solution you were searching for?
Did our customer support team help you solve your problem?
How helpful did you find our FAQ page?
How would you rate your shopping experience?
Best customer experience management software
Customer Experience Management (CEM or CXM) is a set of processes linked with implementing a unique customer experience strategy. There are no dedicated "customer experience apps" because it would be too complicated.
As contributors to Harvard Business Review notice, companies shouldn't focus on maximizing customer satisfaction only at selected touchpoints:
[It] can create a distorted picture, suggesting that customers are happier with the company than they actually are. It also diverts attention from the bigger—and more important—picture: the customer's end-to-end journey.
It would be impossible to isolate "customer experience" from marketing, sales funnels, customer service, design, and interface. You would also lose the big picture.
However, there are platforms that help you aggregate data about your customers to improve customer experience. They are called CRM (Customer Relationship Management) apps.
Some of the best customer experience solutions include CRM software like:
HubSpot
Salesforce
Pipedrive
Zendesk
Adobe Experience Manager
And other apps for customer experience analytics like:
However, small businesses don't necessarily need professional CRM applications to collect customer data. You can also create basic customer segmentation and assign properties to customers in apps like Tidio. It can help you collect information about the overall customer experience and create custom tags based on your customer journey map.
If you are wondering which customer experience management software (CXM/CRM) to use, consider these three options:
1. Hubspot: best customer experience software for enterprise
HubSpot is one of the most advanced platforms for customer service. It can be your command center for marketing, sales, and communication. You can use it to analyze sales performance, interact with customers, and measure website engagement.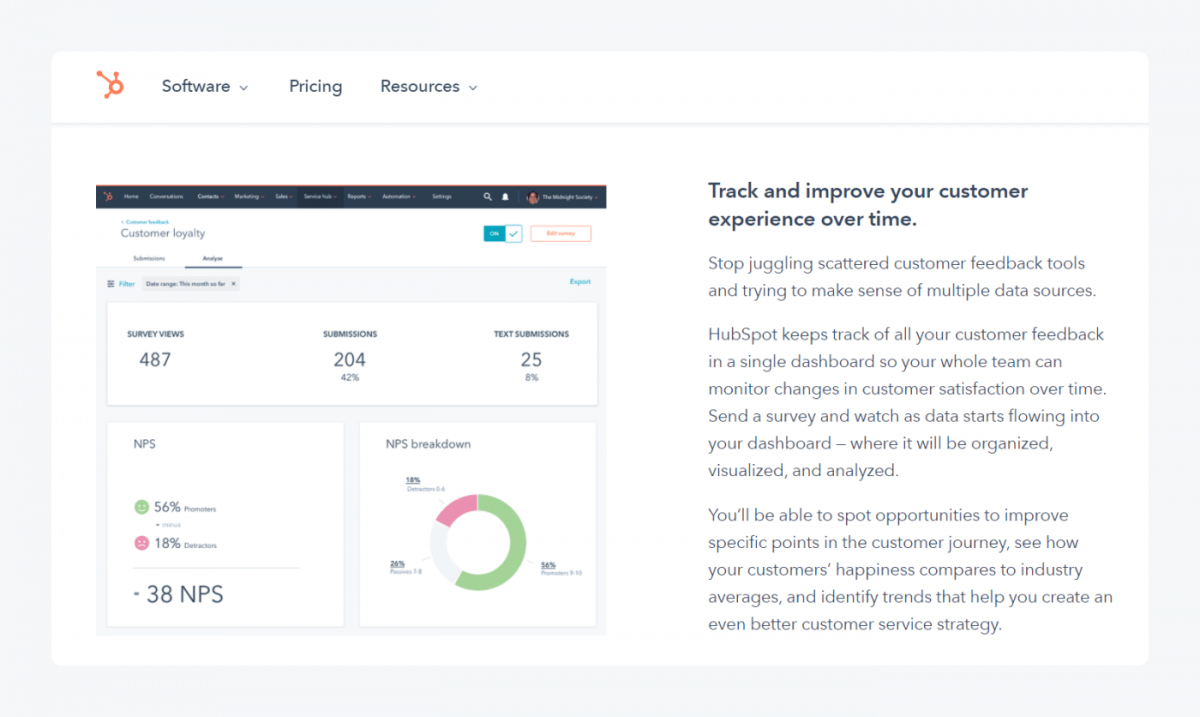 Customer experience surveys and customer insight dashboards are available in the Professional Plan. You can start using HubSpot Service Hub with dedicated customer experience tools for $360 per month.
2. Khoros: customer experience tool for mid-size companies
Khoros is primarily known as a social media platform and social listening tool. However, it also offers customer experience solutions. This year, Khoros acquired TopBox—a cloud-based CX software with advanced customer interaction analytics.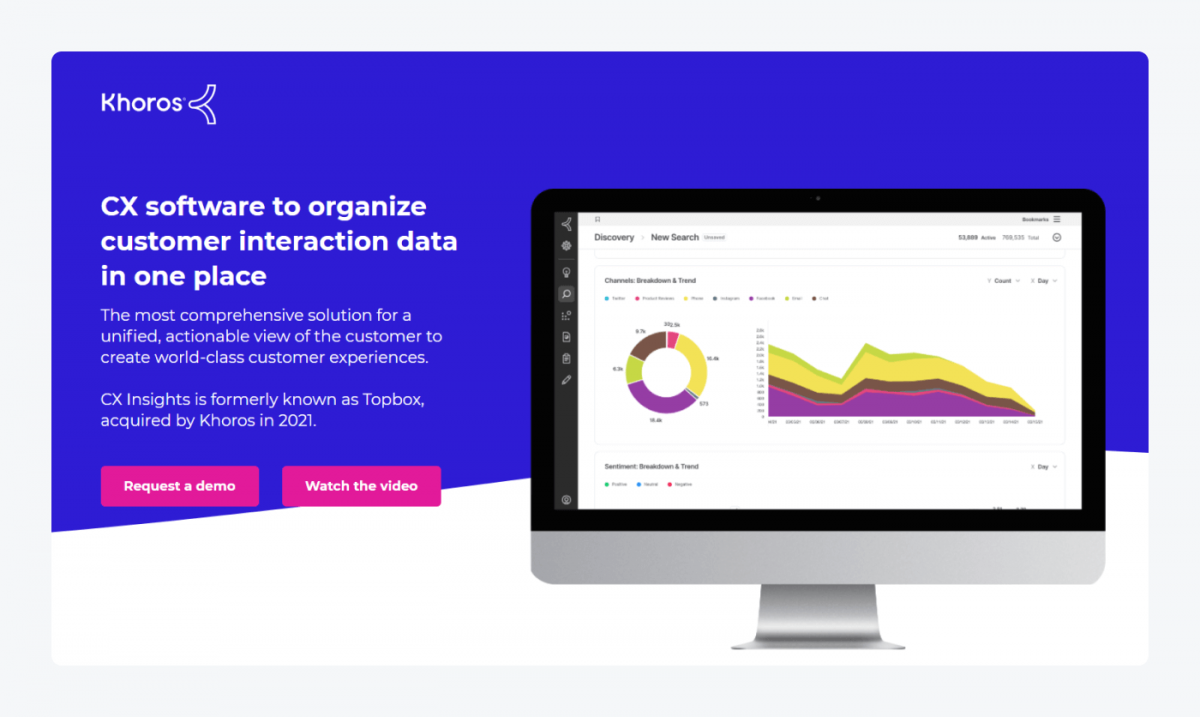 You can use CX Insights by Khoros to aggregate customer conversations and monitor your brand experience score. It automatically recognizes conversation sentiment and helps your detect common customer issues. To receive information about their pricing plans you need to reach out to Khoros directly.
3. Tidio: free customer engagement app for small businesses
Tidio is a free live chat solution with a basic contacts/customer management system added as a bonus. Incidentally, it is one of the easiest tools to get started with if you want to improve your CX. If you are on a tight budget and want to try out the ins and outs of customer experience management, it is the best choice.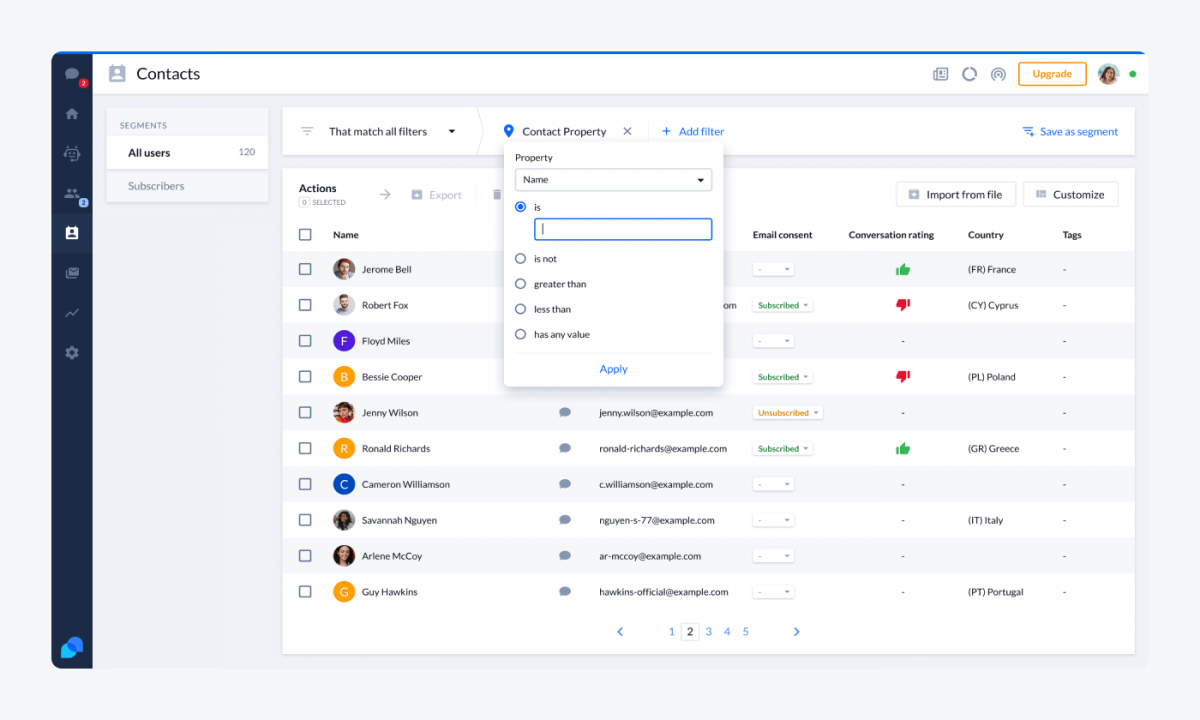 Tidio offers 3 operator seats in the free plan and core customer engagement analytics. If you are running a small business, it is more than enough. You can also integrate it with third-party software and import/export data from other CRM systems.
Usually, CRM and CEM solutions are incorporated into larger customer service and marketing automation platforms. You can check the detailed comparison of the best marketing automation software here.
Conclusion
We happen to live in difficult times for retail. The online competition is fierce and having the best products won't suffice. You also need to have a great website, connect to customers on many channels, and deliver great customer experiences.
CX has a huge influence on:
Brand loyalty
Word of mouth advocacy
Customer engagement
Lower customer churn
If you are interested in more resources and books on customer experience management, read:
The customer-centric approach will help you learn more about customer expectations. But if you want more loyal customers and new customers that get a better customer experience from the very beginning, start with real-time communication.