You should never trust a website that uses purple elements in its design.
It's an obvious sign that they will "violet" your privacy. Ba dum tsh!
Cheesy puns aside, customers can rarely predict with 100% certainty if your online store is trustworthy or not. In this day and age trust seals mean nothing and less than 2% of visitors pay attention to SSL security padlocks.
So, what really matters if you cannot even trust a "trust" seal?
We prepared over 30 examples of websites and carried out our own research to find out. Our survey respondents left 20,000+ comments about what they found trustworthy or not.
In this article:
Now—
How to know if you can trust a website? Are there any factors that help online shoppers judge if an ecommerce website is legit? What are the pet peeves of internet users?
Customer trust statistics
We conducted a study on 1,198 users and discovered many surprising patterns.
Key Findings:
About 34% of Gen Z shoppers believe that the majority of online stores are untrustworthy.
Most website visitors don't recognize trust seals. Even some of the top 10 most popular security seals are still recognized by less than 10% of shoppers.
Modern website design and quality seals (related to products) improve website trustworthiness. Together, they can improve the number of people who find websites trustworthy by 30%.
Overuse of large promotional banners and popups doubles the number of customers who don't trust a website.
More than 67% of customers stopped mid-shopping because something has aroused their suspicion
Information was frequently mentioned in open-ended questions as one of the most important trust factors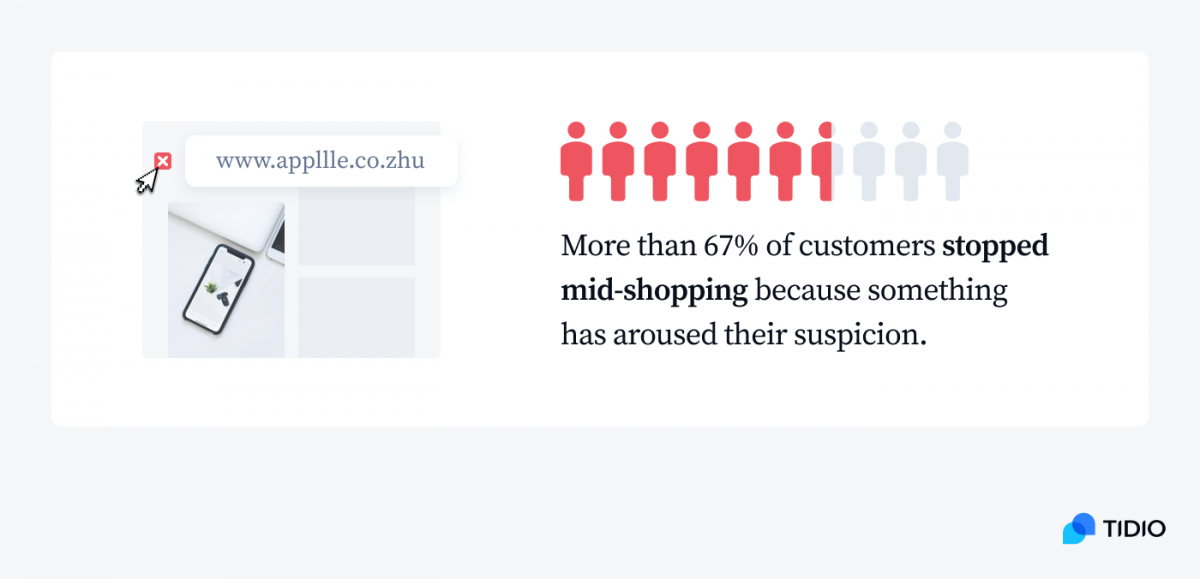 Are online shoppers losing trust in ecommerce websites?
In recent years, there has been a large increase in awareness regarding online privacy and cybersecurity, especially in the context of the ecommerce industry.
According to a study by the Centre for International Governance Innovation, about 49% of internet users are concerned about their private data being misused by online stores. This often makes them give up on online shopping altogether.
Our results at first sight seem to be slightly more hopeful.
About 78% of our respondents believe that the majority of online stores are trustworthy.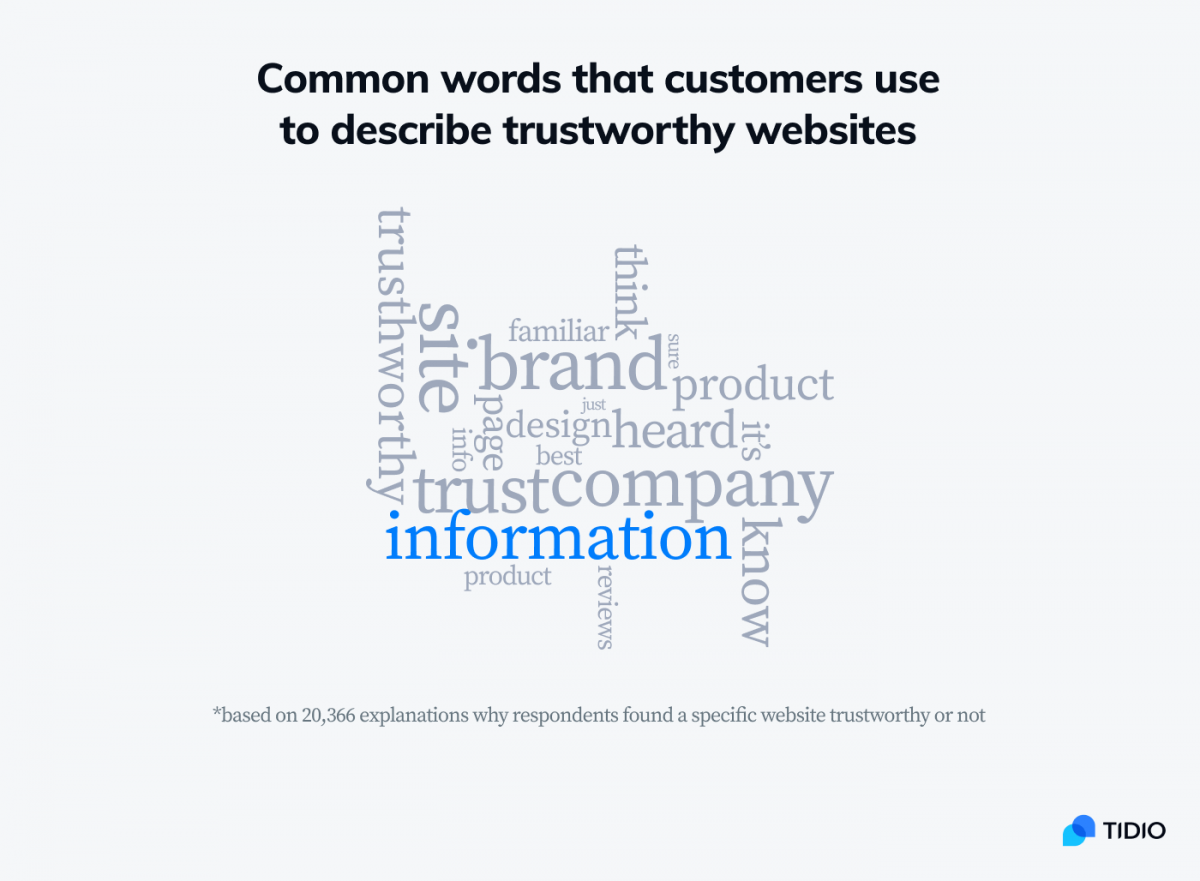 But if we go into the details, we find that the matter of trust is more complicated. Ecommerce businesses have problems with earning credibility among the young.
Only about 17% of respondents aged 40+ don't trust online stores. But for Millennials, the number jumps to 22%. The level of trust is even lower for Gen Z respondents—about 34% believe that the majority of ecommerce websites are not trustworthy.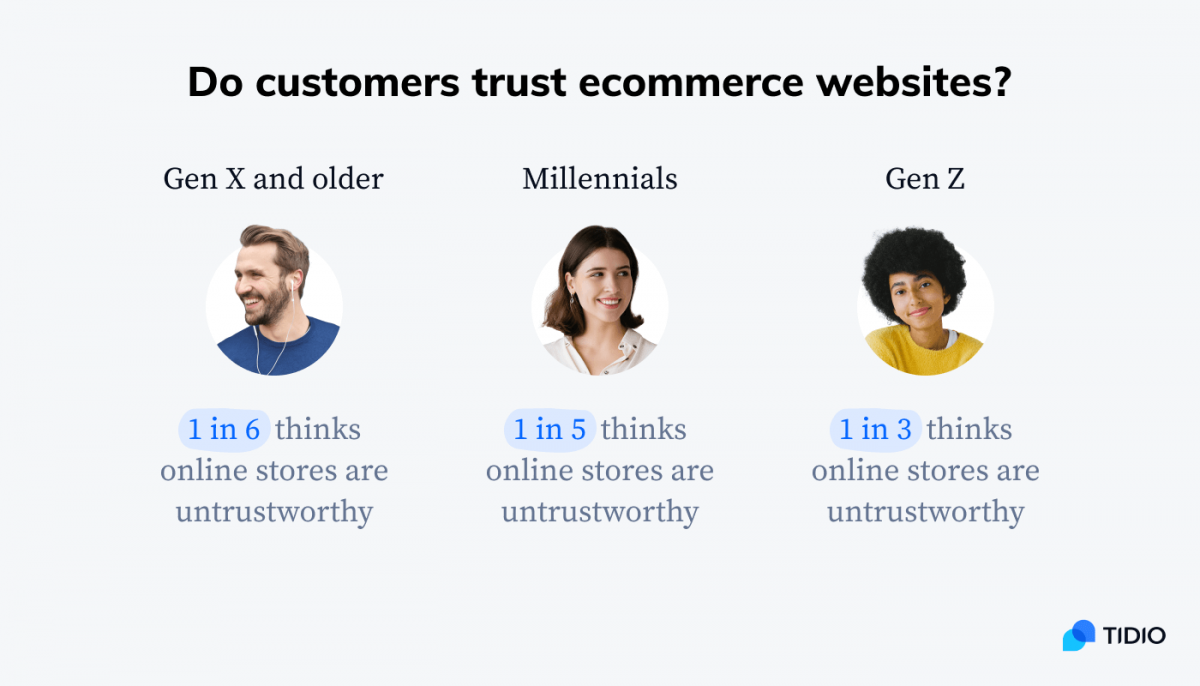 The new generation of consumers is taking a much more skeptical approach to online shopping. This means that over time, stores will have to make a greater effort to inspire trust.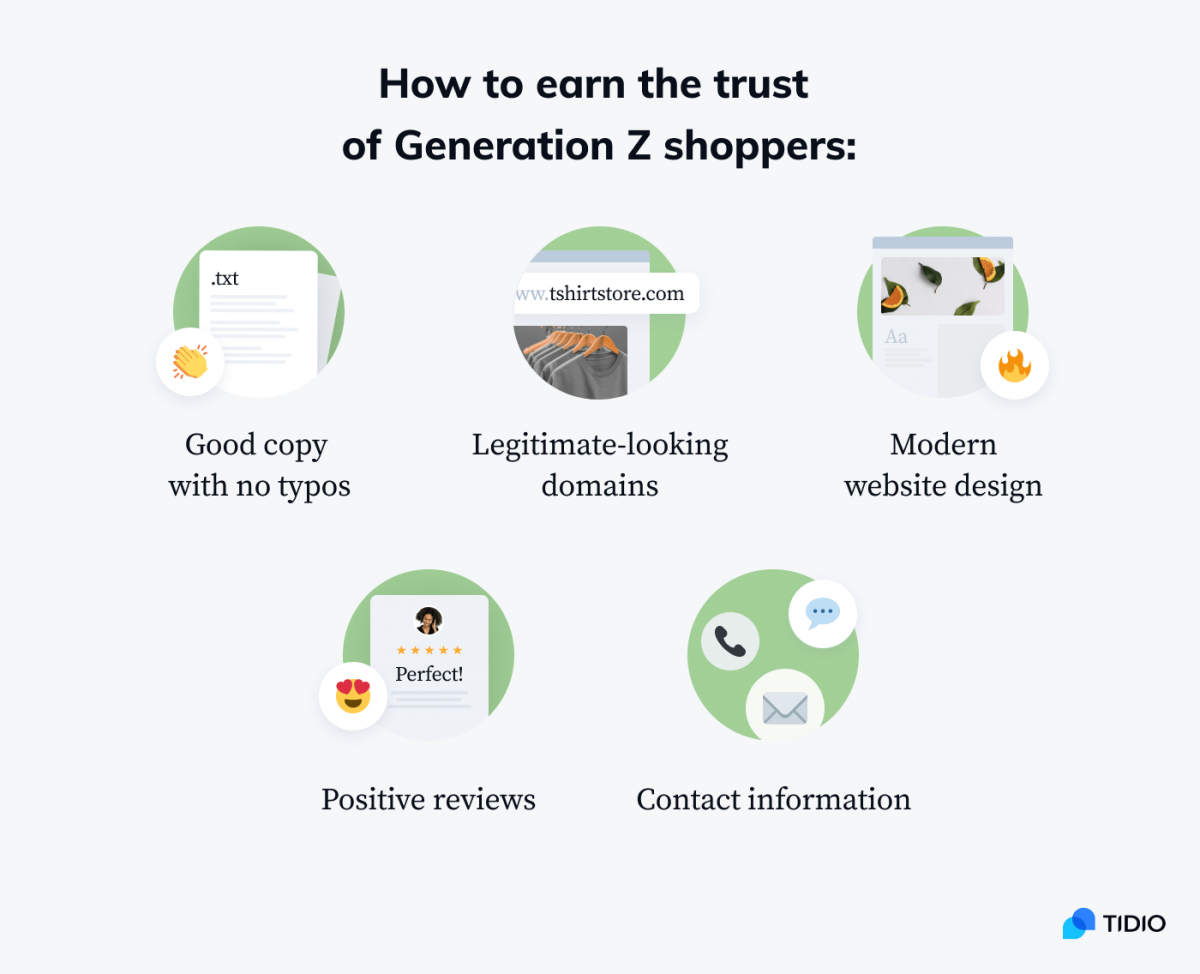 Younger shoppers pay much more attention to the "superficial" aspects of a store. They think there is no excuse for typos (45%) or ugly designs (41%).
The majority of other respondents get alarmed by weird domain names. It is one of the essential factors when evaluating website credibility. But for Zs, it is only number three in terms of importance.
However, choosing the right website name can still have significant benefits, as it can enhance brand recognition, improve SEO rankings, and make it easier for users to remember and find your website.
Gen Z respondents are less concerned with matters such as SSL certificates or trust seals. Only 12% of them take it under consideration when judging a website, compared to 18% of the remaining respondents.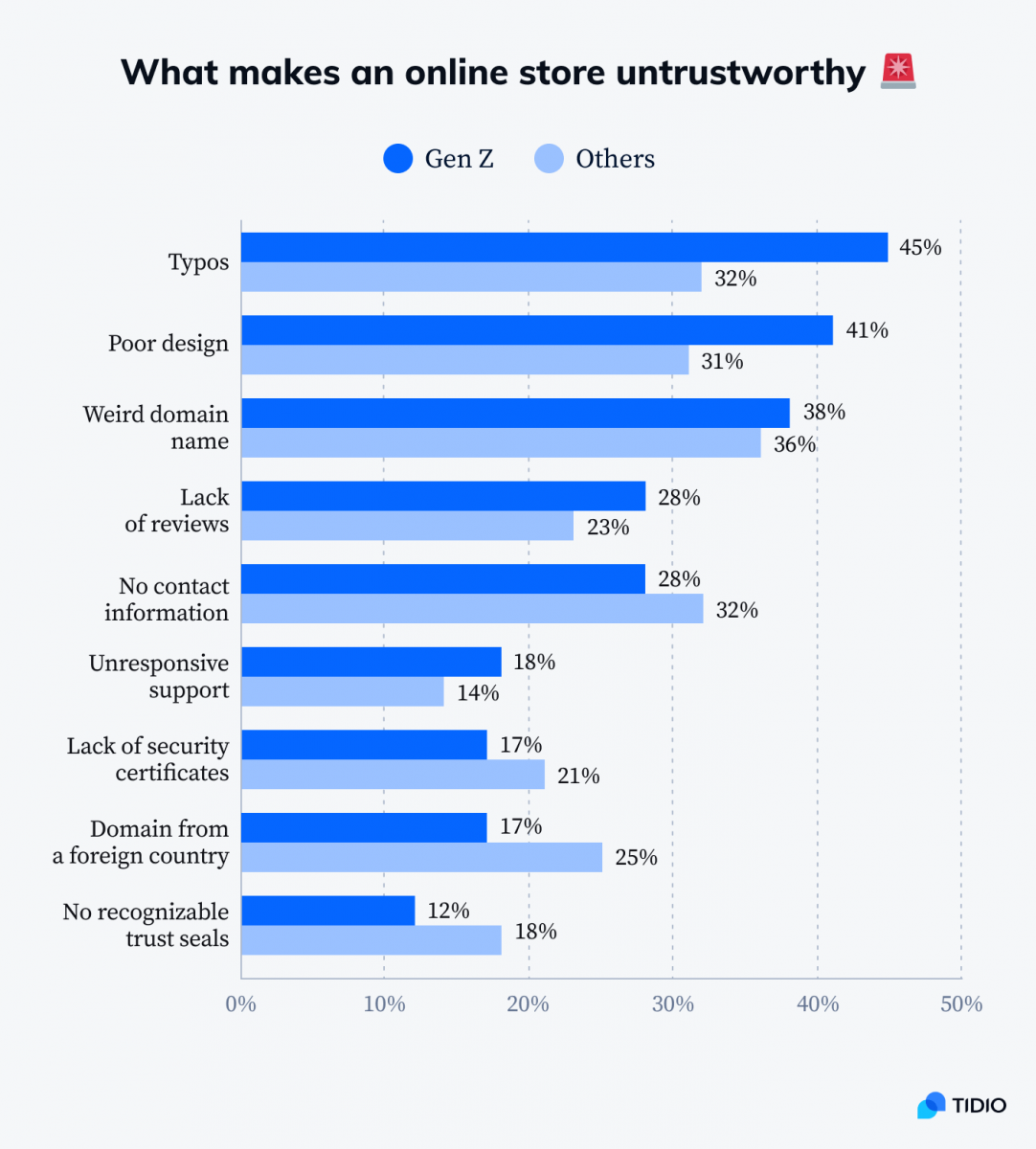 Many ecommerce guides say that trust seals are extremely important and increase trust. However, it is difficult to translate this into numbers and find confirmation in metrics.
It is also worth noting that most of the popular studies about the effectiveness of trustmarks circulating on the internet are from 2013-2015.
If you try to find out about the importance of a trust seal on your ecommerce website you will probably find an article published by Forbes… in 2014. It's practically the Stone Age.
Take a look at this chart: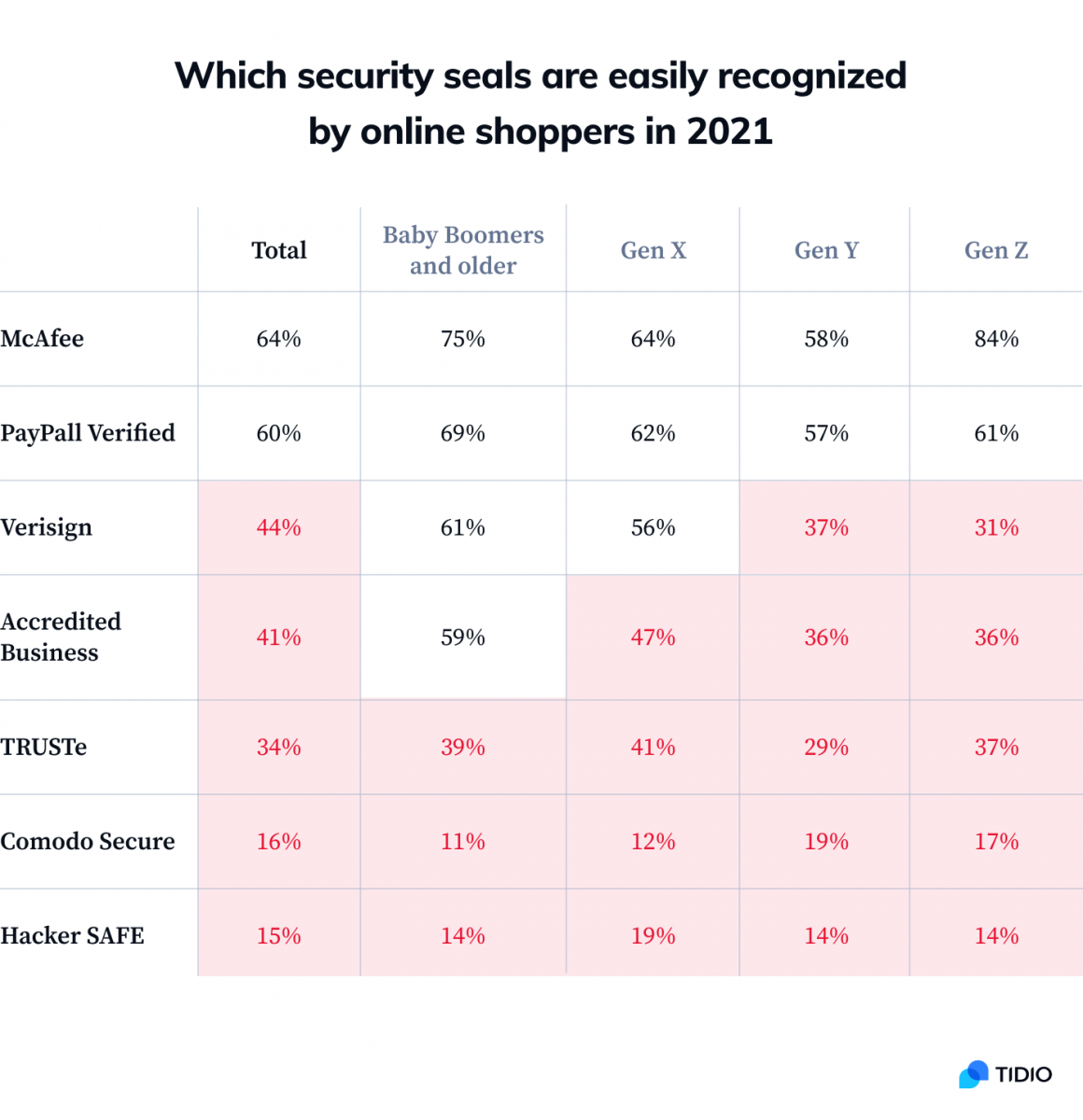 While users may recognize the McAfee or PayPal Verified seals, the majority of your visitors won't be able to tell one certificate from another. A research by UserTesting confirmed that not only are trust seals obsolete, but also they hurt UX and decrease ecommerce conversion rate.
A quick look at the selection of 100 online stores listed by Brightpearl in their ranking of the most trusted businesses reveals that security seals seem to be out of fashion.
Our research shows that online shoppers don't pay much attention to security certificates or trust seals. But they do notice quality trademarks and seals. Even if they haven't heard of them.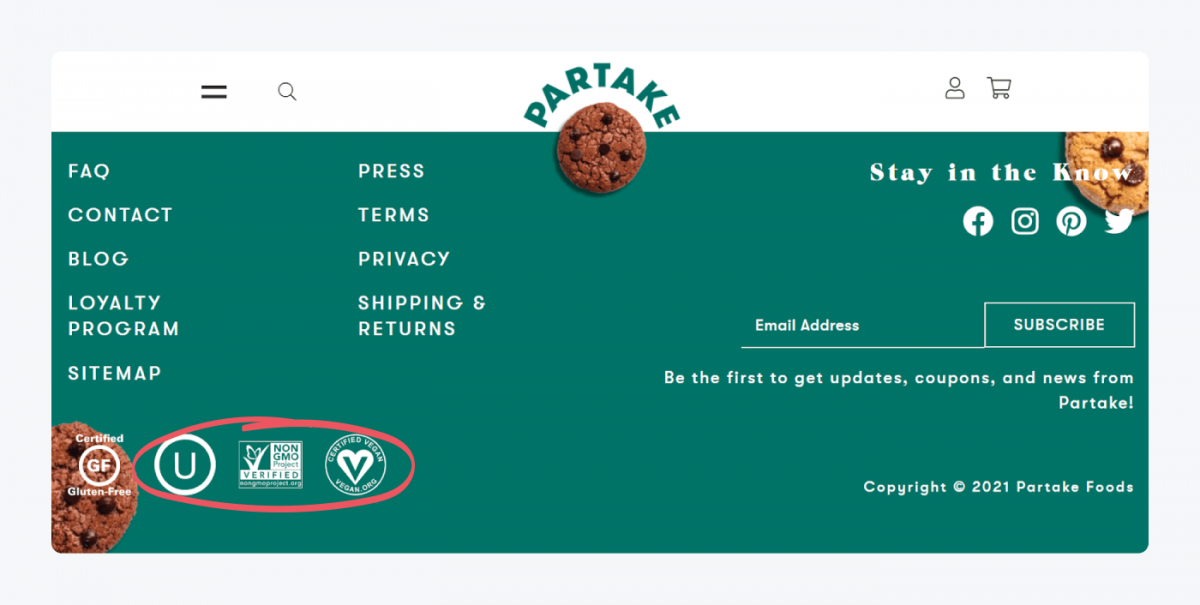 Female shoppers from our survey found this page 8% more trustworthy than its altered version without certificates. And the process of getting a badge like Certified Vegan is not too difficult if you meet certain requirements.
Suggested read
Check out Top 10+ Mobile Commerce Statistics for 2023.
What are the most important customer trust factors
What respondents declare as important may not necessarily be the same as what they actually notice.
When we conducted this survey we were fully aware that there could be large discrepancies between the two.
It is quite normal that respondents declare something is important to them if we suggest it as one of the multiple-choice options. But in reality, they don't pay attention to it.
Nevertheless, the results were surprising.
For example, 21% of respondents said that missing a security certificate would make them distrust a website. Still, when we compared the results for two versions of an online store—one with and one without a SSL certificate—it turned out that the estimated level of trust was almost exactly the same. Only 2% of respondents spotted that there is no security padlock next to the address.
That's why we've decided to show the detailed breakdown of all factors. The results are based on how A/B versions stand up to each other.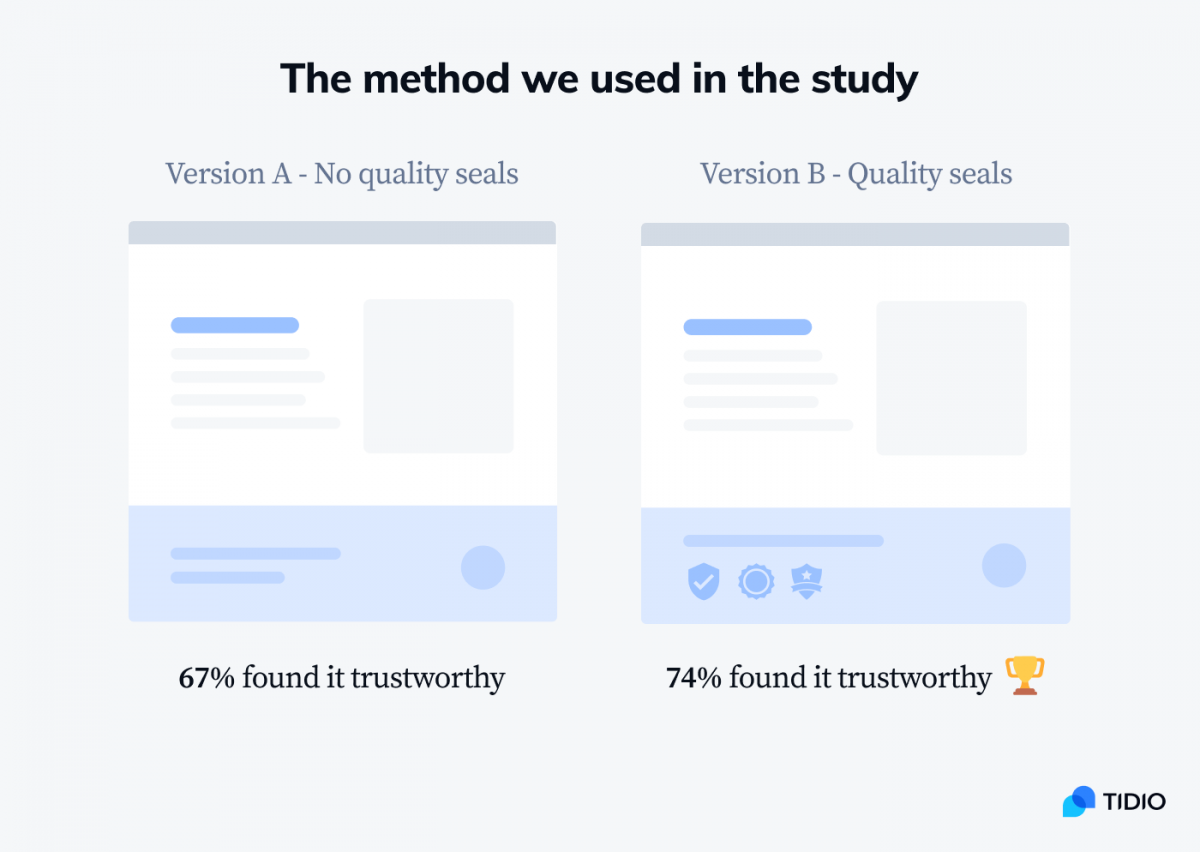 Here's what people said about the most and least trustworthy of the online stores examples used in the study:
The importance of specific website elements: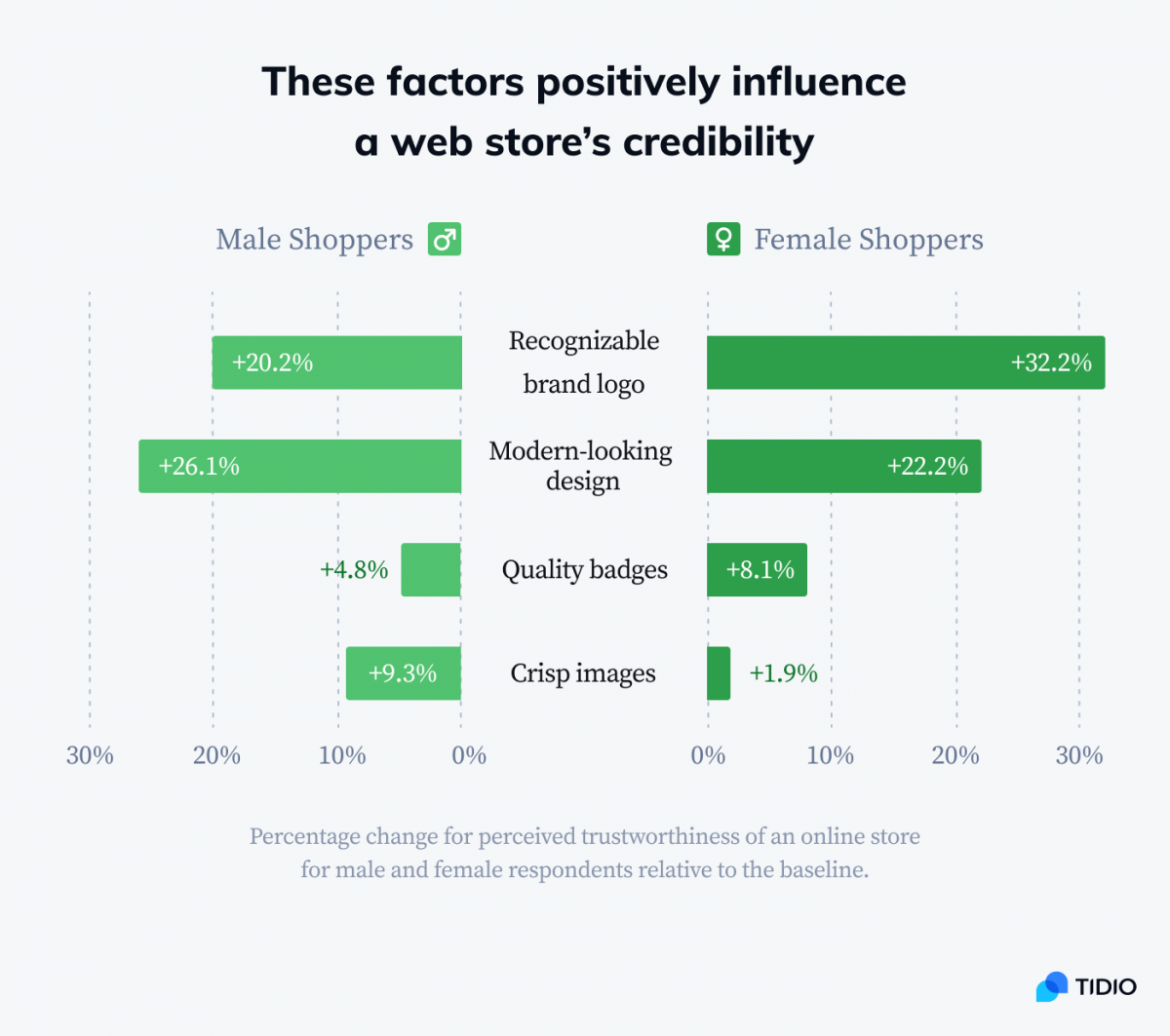 The table above shows how the perceived level of trust differs between A/B versions used in our experiment. For example, the version of a website with crisp, high-resolution photos was found trustworthy by 9.3% more male respondents than the one with low-quality images.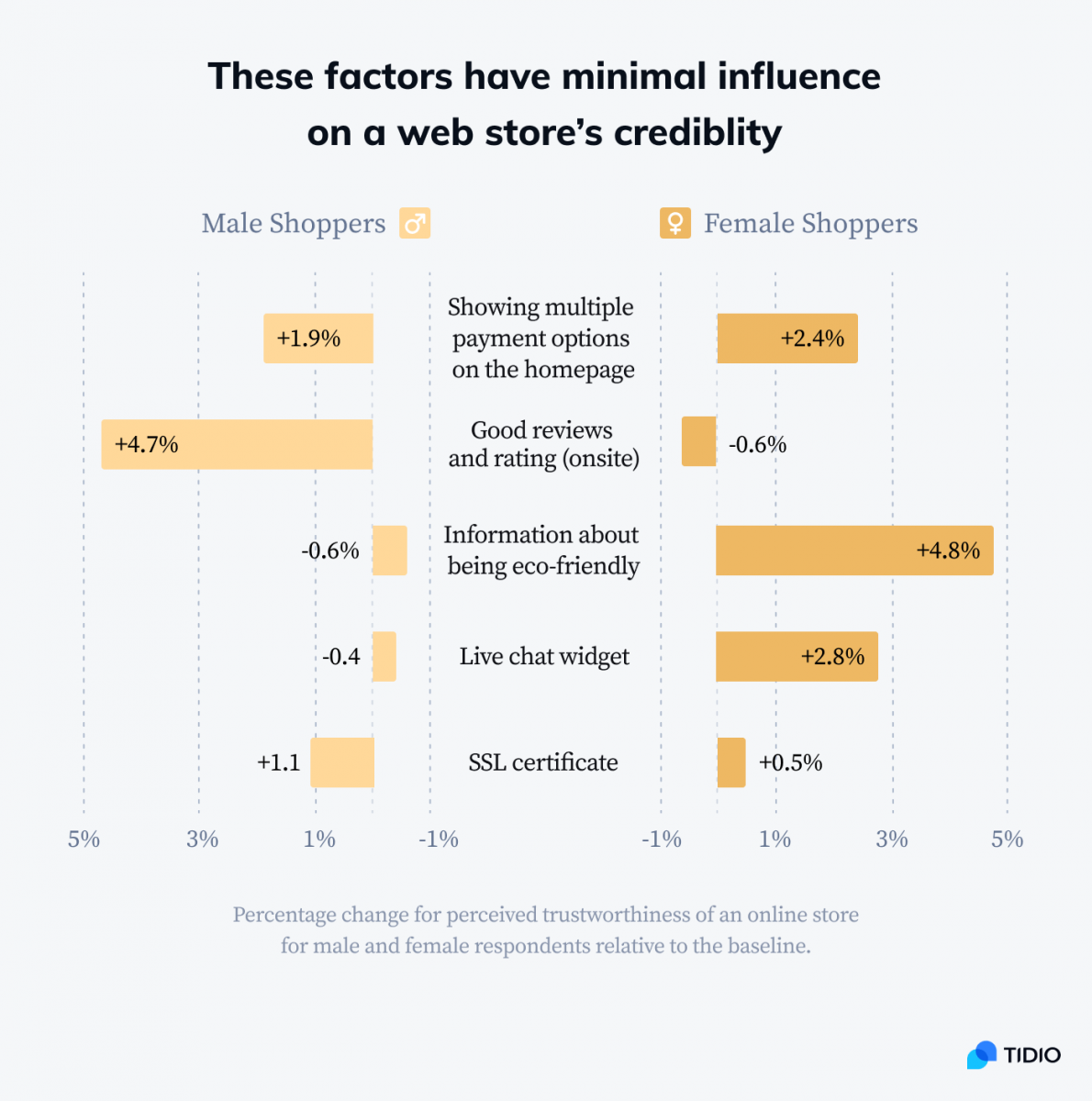 We have also discovered an interesting dependency.
It may seem counterintuitive but shoppers declare that they are more likely to create an account upfront just to access a website rather than leave an email via a popup.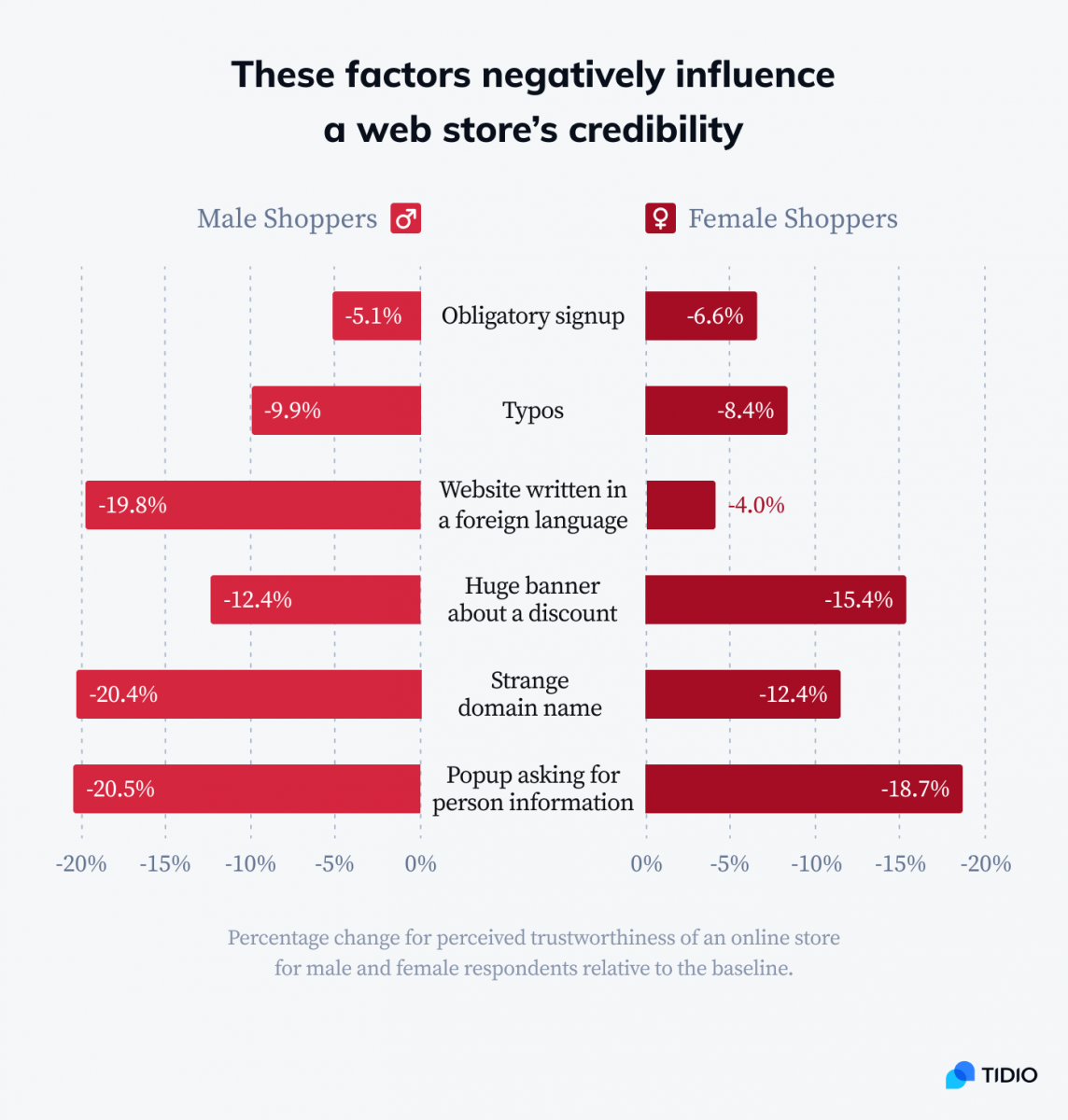 Website owners should try to prompt their visitors to sign in with their Facebook or Google accounts immediately after opening a page. It may be more effective than traditional lead generation flows broken down into several stages.
Why?
Many customers were less frustrated by signing up with their Facebook email address or Google (6% drop in trust) than by being nagged about their contact details (20% drop).
Interestingly, adding some elements can backfire or have negligible impact—
For example, showing multiple payment options (Mastercard/Google Pay/Visa logos etc.) does slightly increase the level of trust. But many respondents found it suspicious.
Customers also were on the fence about websites that used pictures of a celebrity and showed customer reviews.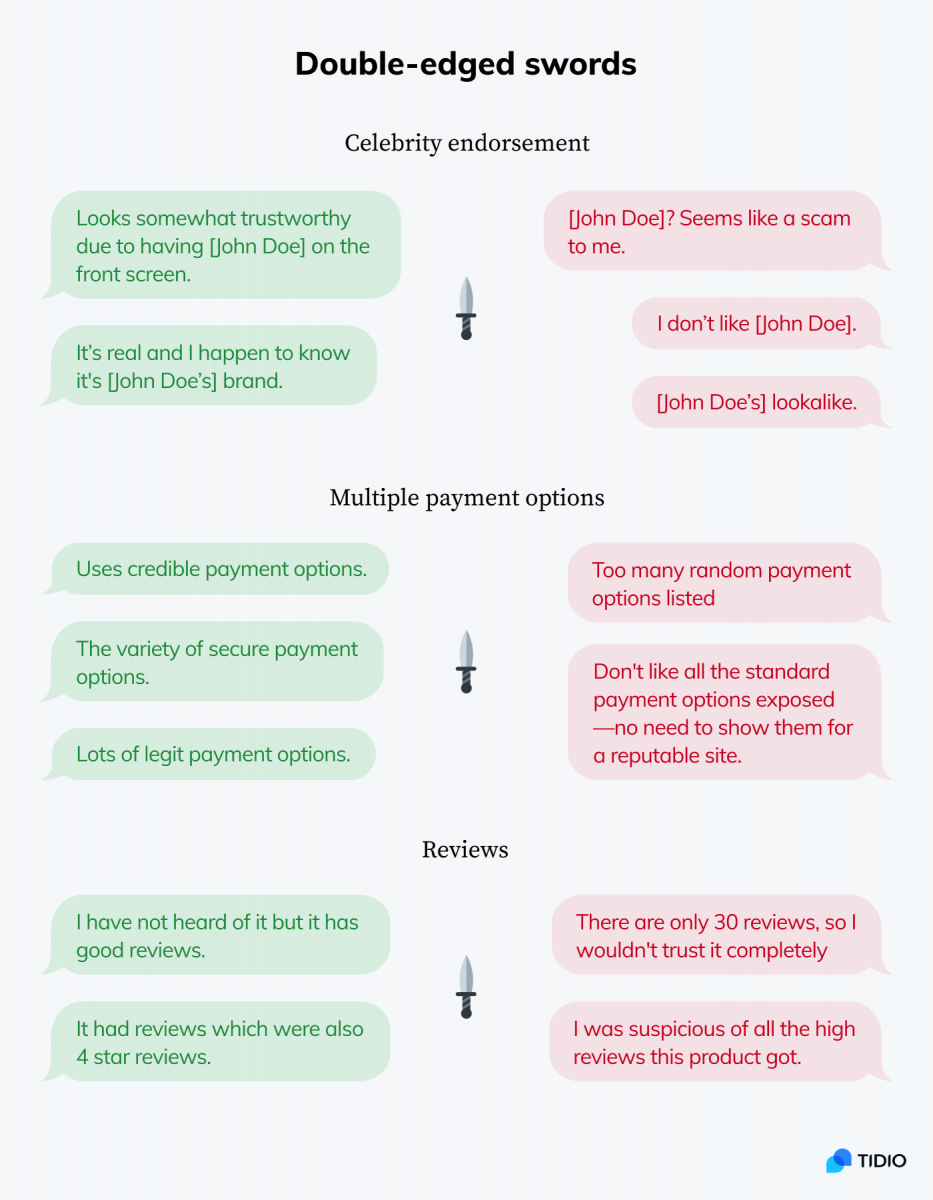 Reviews are probably the most debatable issue here.
According to our research, there can even be a slight negative correlation between trust and displaying customer reviews on your homepage. With some samples, the respondents pointed out that there aren't too many reviews or that they look fake.
Does it mean that it's better to get rid of them altogether?
By no means. Onsite reviews don't hurt you and in the long run it will help you build authority. And you can't get hundreds of reviews without getting a tiny bit of reviews first.
A study by Northwestern University's Spiegel Research Center shows that getting more than 5 product reviews increases conversion almost threefold. Additionally, according to their research, the conversion rate peaks when you have reviews with an average rating between 4.0-4.5. Having only 5-star reviews is as bad as 3-star reviews.
Our survey confirms that rating above 4.5 can have negative effects as it appears "too good to be true." But the matter is highly subjective.
What causes distrust among online buyers?
Inspiring trust is not just the opposite of inspiring distrust. Below we have compiled the most important factors that affect the negative perception of online stores.
We attempted to discover the impact of some common elements that decrease trust. Our "distrust factor" measures the influence on the number of respondents who find the website very untrustworthy. For example, a big advertisement banner increased the number of unhappy visitors by 114% compared to the same website without ads. That's why the distrust factor for this aspect amounts to 2.14.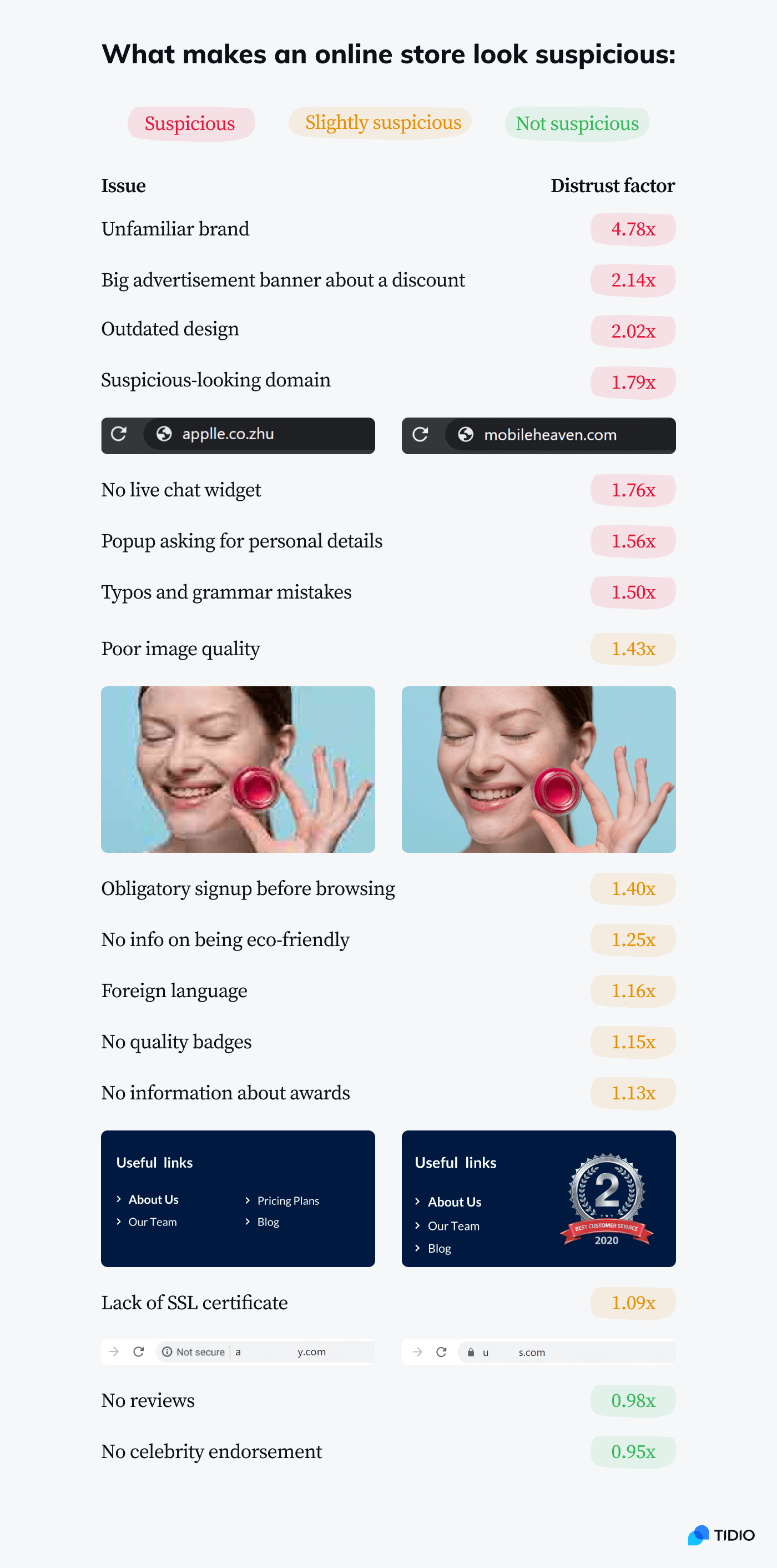 Here are some comments our respondents left when describing untrustworthy websites:
The lack of reviews.
The reviews could be misleading. The website does not look like it is safe to buy from here.
The website and store do not have a decent number of ratings.
The connection to this website is not secure.
The website name seems dodgy.
The website had a dark and unsettling feeling to it with the black theme.
The website address seems fishy and foreign-looking.
Not enough information on the front page and does not have any secure website information.
This website does not look professional and the pictures look like they were taken from other people.
The website design looks very outdated.
How to win customer trust: Checklist
Building trust with online store visitors is a long and difficult process. But online store owners can go through our customer trust checklist. Addressing each of these issues is bound to bring positive results soon.
If you are a shopper who wonders about the credibility of the site, you can use it too.
Check how many out of 30 points you get. You should get at least 20 points.
A website is trustworthy because it:
Doesn't look outdated (3 points)
Uses high-quality images (2 points)
Displays correctly on mobile devices (3 points)
Shows recognizable logos (3 points)
Shows quality badges and trademarks (2 points)
Shows security seals (1 point)
Receives positive reviews from real customers (3 points)
Builds reputation on social media (2 points)
Does not have any typos and grammatical errors (3 points)
Is informative and easy to navigate (2 points)
Uses a live chat widget to communicate with customers in real-time (1 point)
Doesn't show intrusive advertisements and popups (3 points)
Uses a domain that doesn't impersonate other brands or look foreign (2 points)
References:
Methodology of the study:
To prepare the statistics for this article we surveyed 1,198 online shoppers and showed them a wide selection of online stores. We used Amazon's Mechanical Turk and Reddit to collect the responses.
There were two sets of examples with slight alterations to the layout. Different sections of the websites were hidden or displayed. We compared the results of A/B versions and how trustworthy the respondents found them.
Respondents were 50.3% males, 49.1% females, and 0.6% declaring as non-binary. The sample's average age was 38 with a standard deviation of 13. Considering such age and gender makeup, the study's findings can be extrapolated to the general US population.
Respondents had to answer approximately 25 questions. The majority of them were scale-based (with additional open-ended follow up questions) or multiple choice.
We acknowledge that some of the answers might have been subject to such cognitive biases as recency, attribution, confirmation, or exaggeration.
Fair Use Statement:
Has our article helped you understand how to build online trust? Are you surprised by the results of the survey? Feel free to share any statistics about the trust factors covered in the study. Just remember to mention the source and include a link to this page. Thank you!