This is crazy—
Chatbot transactions for ecommerce shops are projected to amount to $112 billion by 2023.
It's no surprise that store owners who want to drive more sales and improve customer experience invest in ecommerce chatbots.
If you are one of them, we have good news!
We will explain why your online store needs a chatbot, provide you with a handful of solutions to choose from, and show you the best examples on the market.
In this article:
If it's not what you're looking for, try these to find out more about chatbots:
Why does your business need an ecommerce chatbot?
An ecommerce chatbot is software that simulates a human assistant. It's used in ecommerce stores to answer multiple customer queries in real time, improve user experience and drive sales.
AI chatbot adoption has drastically accelerated in recent years. Consumers value them for spot-on product recommendations, improved customer experience, and a self-service option.
But what are the main business benefits of chatbots for ecommerce companies? There are quite a few of them.
They increase conversion rates
According to AI Multiple, chatbots can increase the conversion rate by up to 67%. It's because ecommerce bots can assist your clients in online shopping by providing relevant information and helping them at checkout. This reduces possible doubts and speeds up the customer journey.
They boost lead generation
An inconspicuous chatbot widget is often more powerful than you think. It can ask your online visitors a set of qualifying questions and automatically collect contact information for your future retargeting campaigns. In fact, Drift reports that 55% of businesses using chatbots have generated a greater volume of high-quality leads.
They increase sales
A virtual assistant that automatically cross-sells and upsells? A chatbot that saves abandoned carts? No problem! Modern ecommerce chatbots can do that by suggesting the right products at the right time, to the right group of customers. It's no surprise that, according to research, chatbots will account for $112 billion in retail sales by 2023.
They provide instant customer support
Nearly 60% of customers feel that long holds and wait times are the most frustrating parts of a customer service experience. Chatbots erase these inconveniences altogether—they answer dozens or even hundreds of repetitive questions automatically. On top of that, you can offer support even outside your working hours, when you are offline. This can also significantly improve customer retention and might inspire customer loyalty.
They integrate with multiple platforms, social media included
Conversational commerce happens more and more often on social media such as Instagram, Facebook, or even WhatsApp, where small business owners connect with their customers. Luckily, modern ecommerce chatbots easily integrate with the majority of social media platforms, as well as the most popular ecommerce platforms.
They can improve your advertising efforts
If you use Instagram or Facebook ads, you know that creating clickable ads is simple, but creating ads that actually convert can be a bit tricky. You can add bots to the mix and create an ad that doesn't redirect your prospects to your website—instead, it sends them directly to your Messenger bot that engages them with the right offer.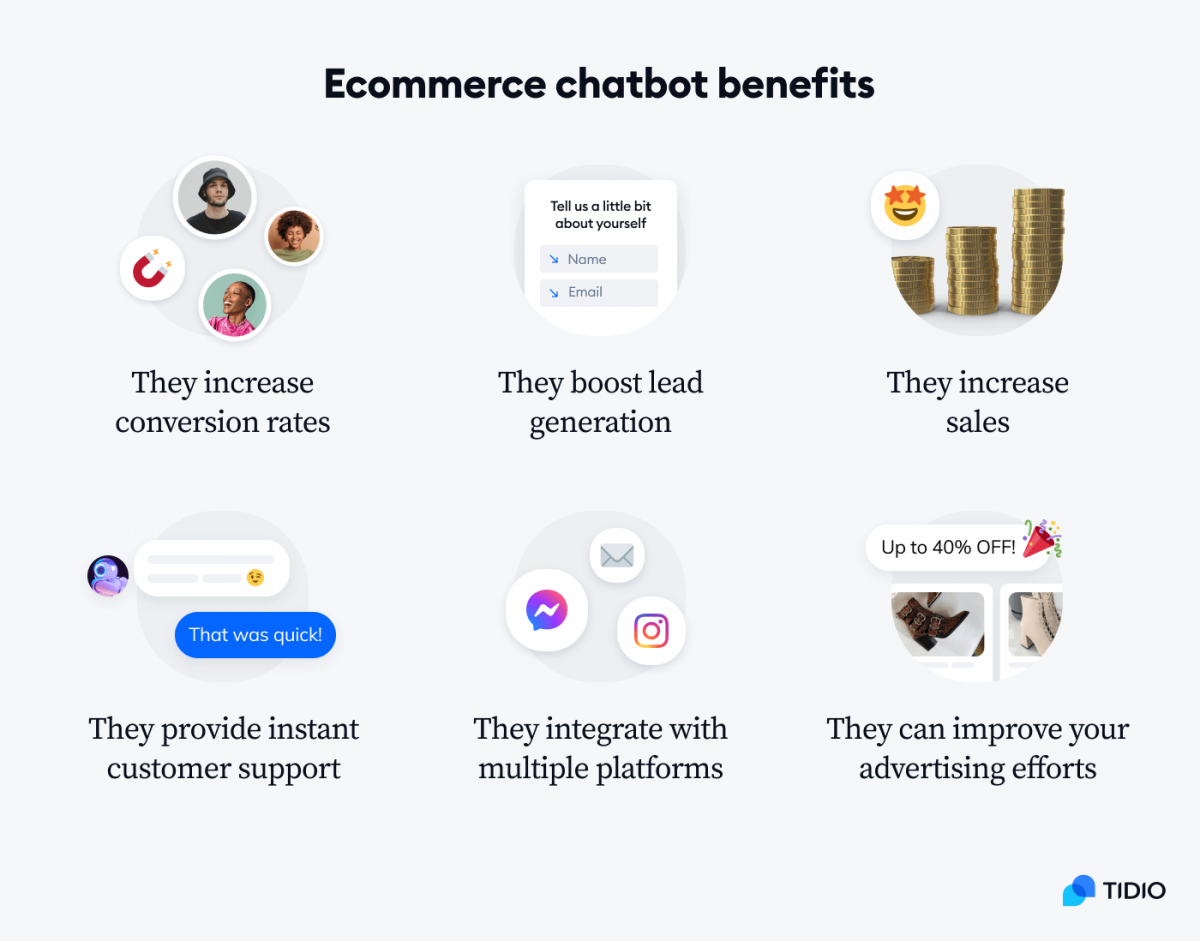 5 best solutions offering ecommerce chatbots
If you like the examples or have just been inspired to create your own ecommerce chatbot, here are some of the most popular solutions. With their help, you will improve lead generation, help customers faster and make your online store more accessible in no time.
Here's a cheat sheet you can use to weed through your options.
Let's look at their ratings, pros, cons, and pricing.
Top five best solutions offering ecommerce chatbots are: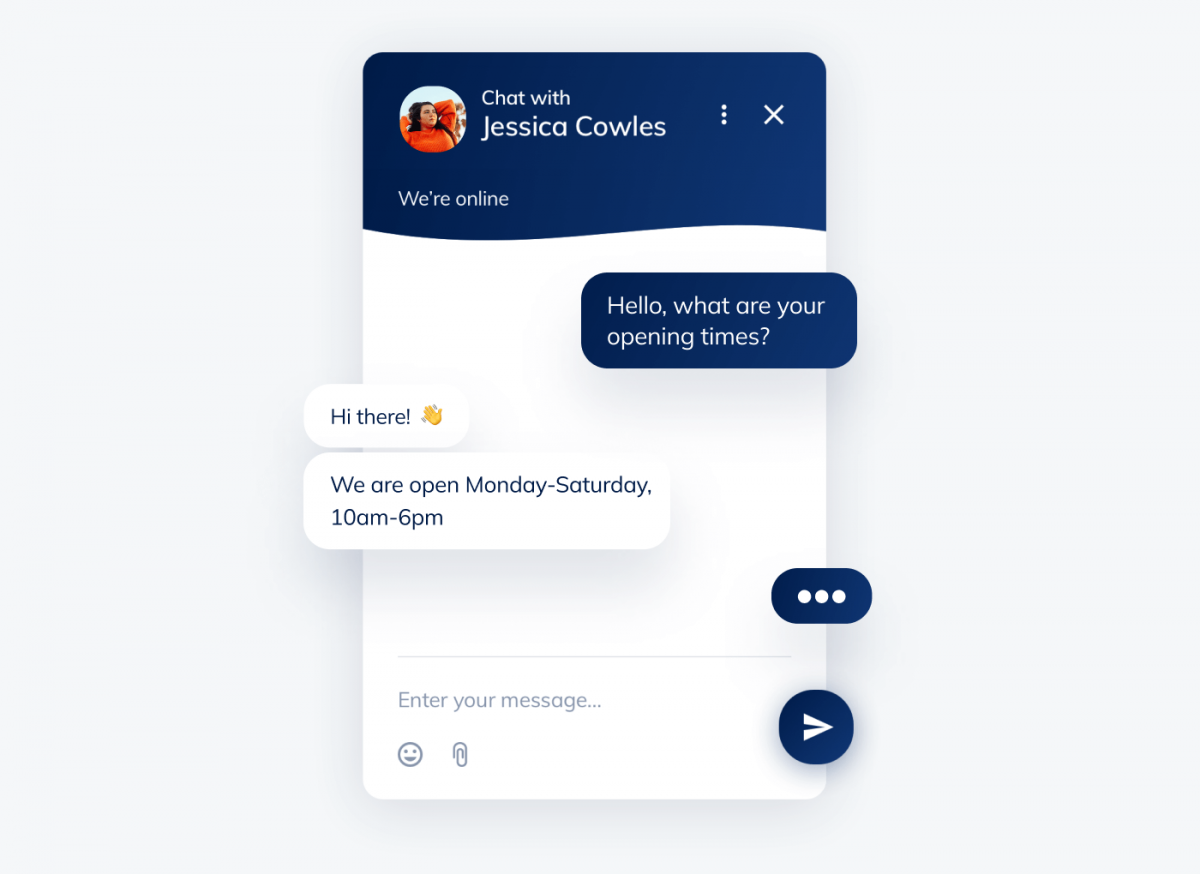 Tidio's chatbots for ecommerce can automate customer support and provide proactive customer service. They works thanks to artificial intelligence and the Natural Language Processing (NLP) message recognition engine. It has an easy-to-use visual builder interface and Tidio ecommerce chatbot templates to generate leads, boost sales, and more. It means you won't have to build your bot from scratch.
Before you install it on your website, you can check out Tidio reviews to see what its users say.
User rating: 4.8/5 ⭐️ on G2
Main features:
Quick installation (via plugin or snippet)
Visual builder interface
16 triggers for Tidio bots to create workflows
Integrations with CRM, ecommerce platforms (Wix, Shopify, WooCommerce), and social media (FB and IG)
Transfer messages to live chat operator
Mobile and desktop apps
Pricing:
Free. Up to 3 support agents and a limited number of automations
Communicator ($19). Advanced live chat functionalities and permissions
Chatbots ($49). Unlimited chatbots and message triggers
Suggested read
See how a dog accessories store doubled its sales with the help of an ecommerce bot or how an educational platform transformed into a 100% online business.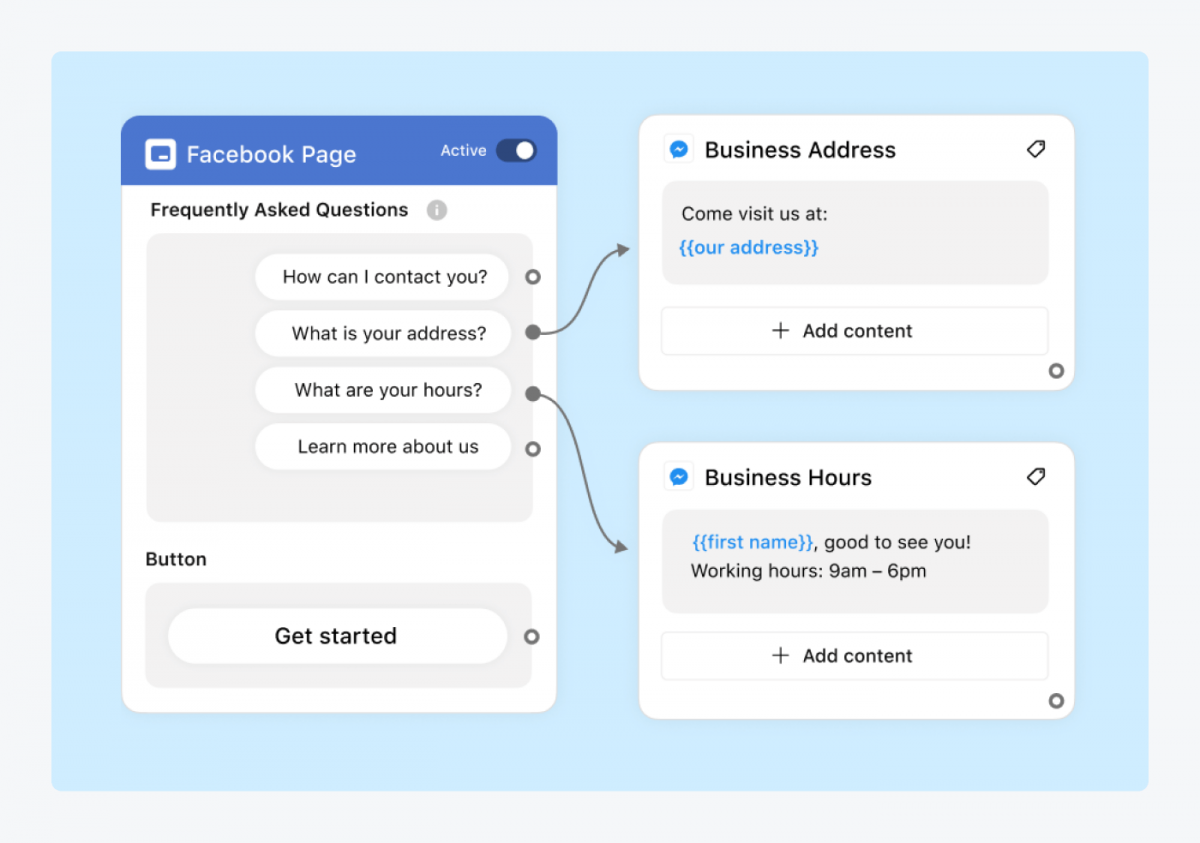 This is a user-friendly chatbot for ecommerce on social media. If you want to provide Facebook Messenger and Instagram customer support, this may be for you. It has an intuitive interface, which makes it easy to build a Facebook chatbot. You just have to drag-and-drop content blocks to easily build the flow for the desired functionality.
User rating: 4.6/5 ⭐️ on G2
Pros:
Analytics reports
Easy customer onboarding
Third-party integrations (Zapier, Shopify store, etc.)
Cons:
Optimized mainly for Instagram and Facebook Messenger chatbots
No AI chatbots available
Pricing:
Free plan available
Pro: $15/mo
Premium and Agency pricing upon request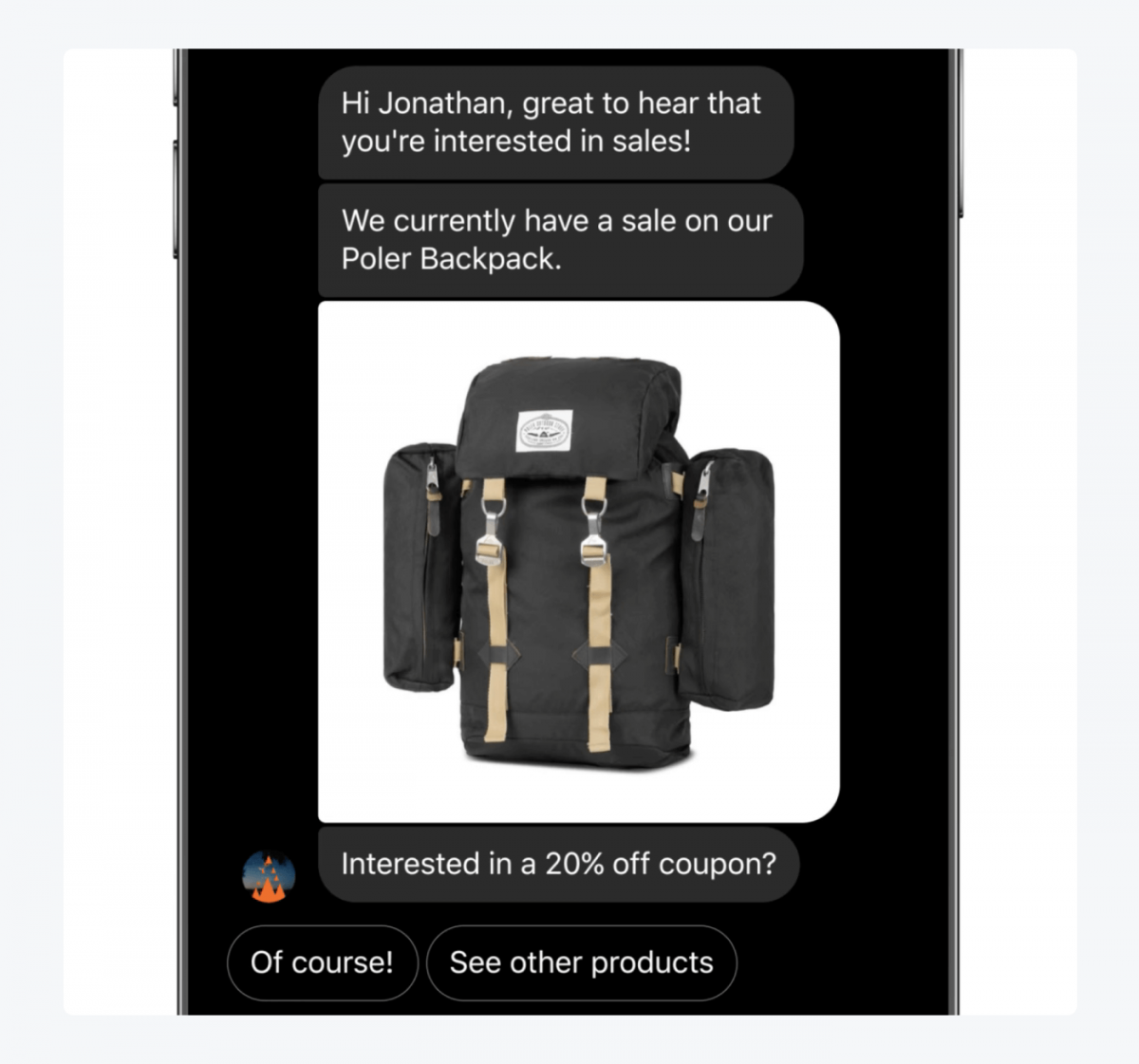 This is one of the rule-based ecommerce chatbots with ready-made templates to speed up the setup. It offers a variety of rich features, like reaching customers via texting or using a QR code. Moreover, you can redirect people who click on your ads straight to the Messenger bot and automate replying to FB comments. But it doesn't end there! Apart from Messenger and Instagram bots, the platform integrated with Shopify, you can also recover abandoned carts.
User rating: 4.6/5 ⭐️on G2
Pros:
Multiple integrations (Facebook, Instagram, Shopify)
Customer segmentation for better campaigns
Useful tutorials for new users
Send order confirmation and fulfillment updates
Cons:
Only basic analytics reports
Limited integrations (no Slack, WhatsApp)
Pricing:
Free plan available
Pro plan $15/mo
Check out some of the best ManyChat competitors out there.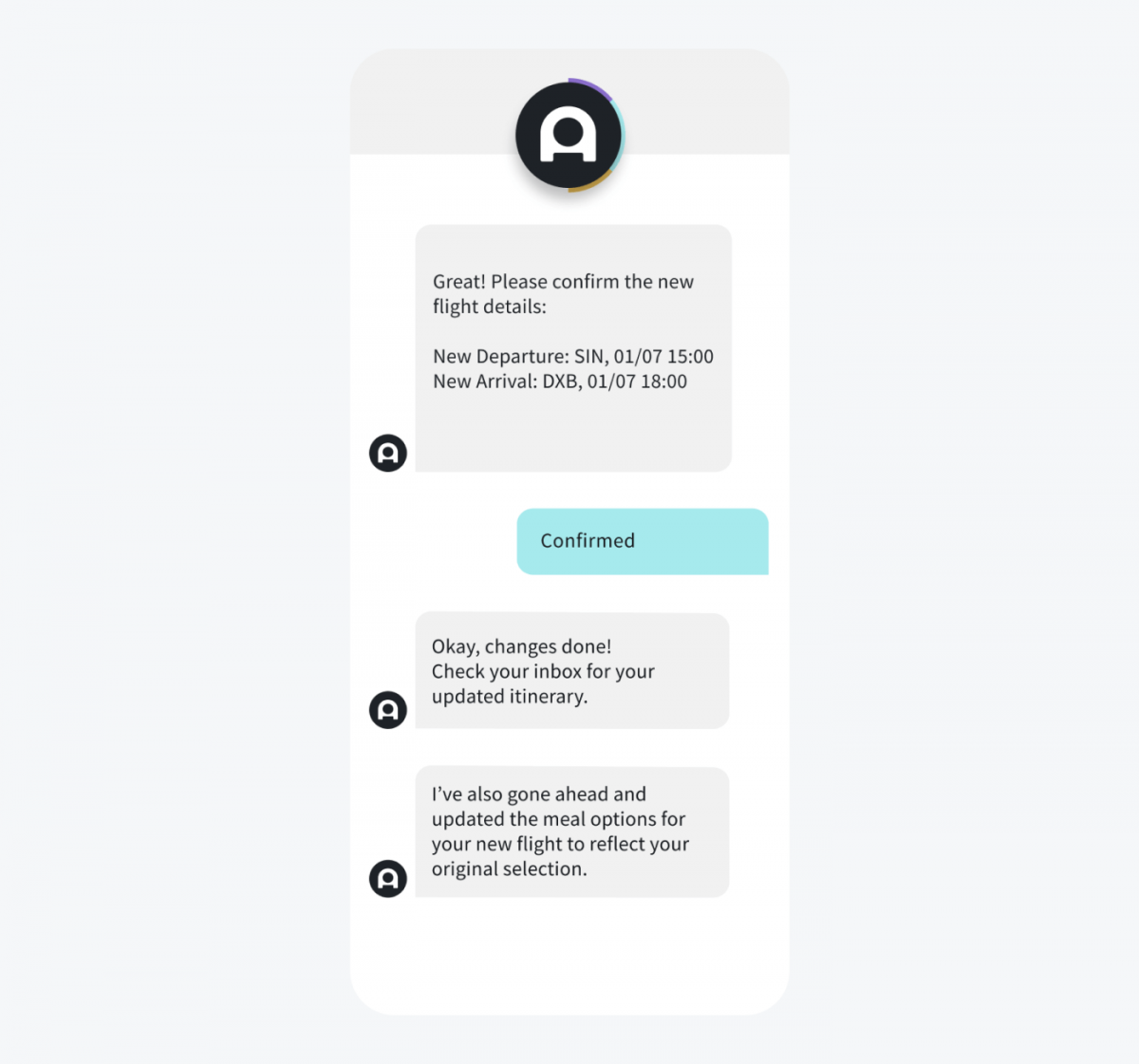 Ada is one of the best ecommerce chatbots for online retailers. It easily integrates with social channels, APIs, and customer support tools. You can easily build complex conversation flows without the need for coding. Customers can also easily connect to human agents when needed.
User rating: 4.6/5 ⭐️on G2
Pros:
A/B testing to check responses efficiency
Varied access to chatbot and admin settings depending on the user type
Collects and stores information about customers
Cons:
Staging and testing environment can be tricky to set up
Analytics reports can't be customized
Pricing: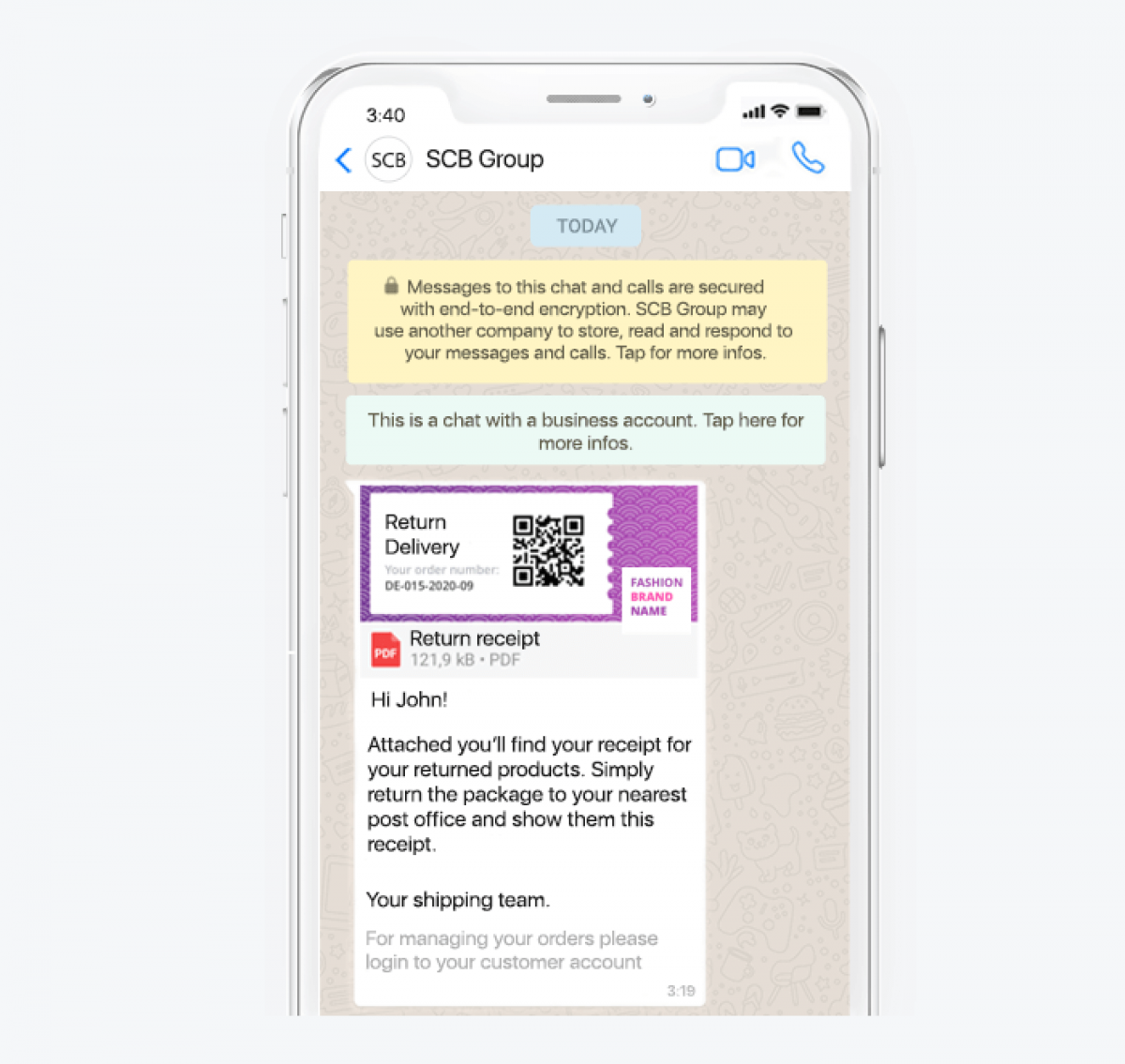 This is a platform for creating ecommerce chatbots based on Natural Language Processing, Machine Learning, and voice recognition. It also offers a wide variety of chatbot templates, from data importing bot to fitness and nutrition calculation bot. This enables you to build a bot without much technical know-how.
User rating: 4.7/5 ⭐️on G2
Pros:
Visual workflow automation system
Omni-channel platform (Messenger, Line, Telegram, Skype, SMS)
Voice assistants (text to speech technology)
Cons:
No A/B testing functionality
Misses some useful chatbot elements (e.g., vertical lists to display products)
No user segmentation or tags
Pricing:
Free plan available
Eight Pro plans at $30 to $999/mo
Enterprise pricing upon request
Suggested read
Want more? Here's a full list of the best chatbot platforms on the market.
Best ecommerce chatbot examples on the market
Now that you know which companies offer the best chatbot solutions for ecommerce, you might wonder what the bots look like in action.
No worries—
We've compiled a handy list of the best ecommerce chatbot examples on the market. See the chatbots doing their magic with your own eyes and get inspired!
1. Sephora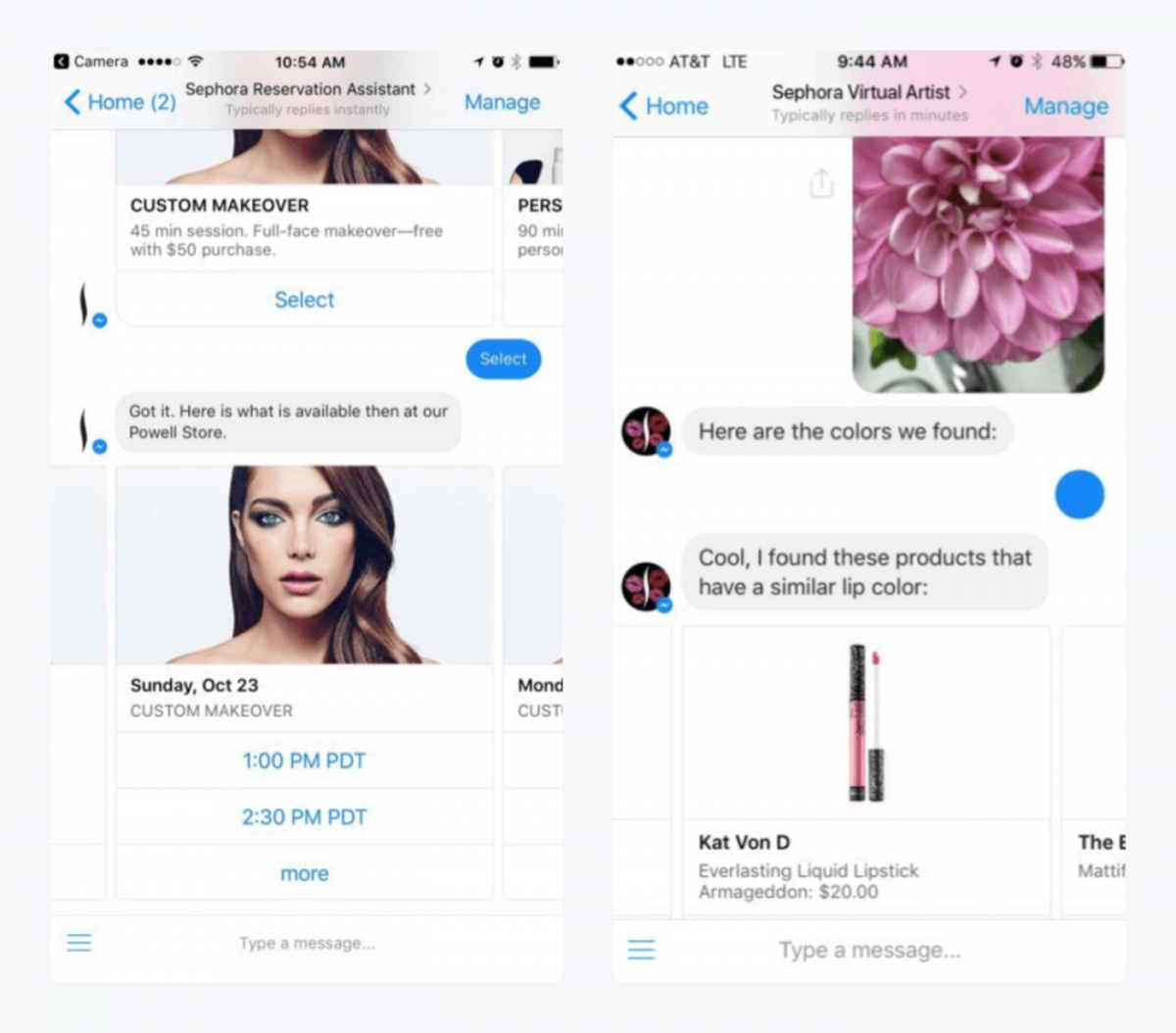 Sephora was the first beauty brand and one of the first big retailers to build an ecommerce chatbot. It has two Facebook bots:
Reservation assistant: a chatbot that makes it easy to book in-store makeovers
Virtual artist: a chatbot that scans the make-up image of choice and shows the color matches for products (such as foundations, lipsticks, and eyeshadows).
Sephora also launched a chatbot on Kik, the messaging app targeted at teens. It offers quizzes that gather information, and then makes suggestions about potential makeup brand preferences. It also redirects the users to the Sephora app to make purchases.
Digital marketing specialists at Sephora often praise the chatbots, pointing out their ability to easily engage the users, and provide them with 24/7 personalized conversations.
2. H&M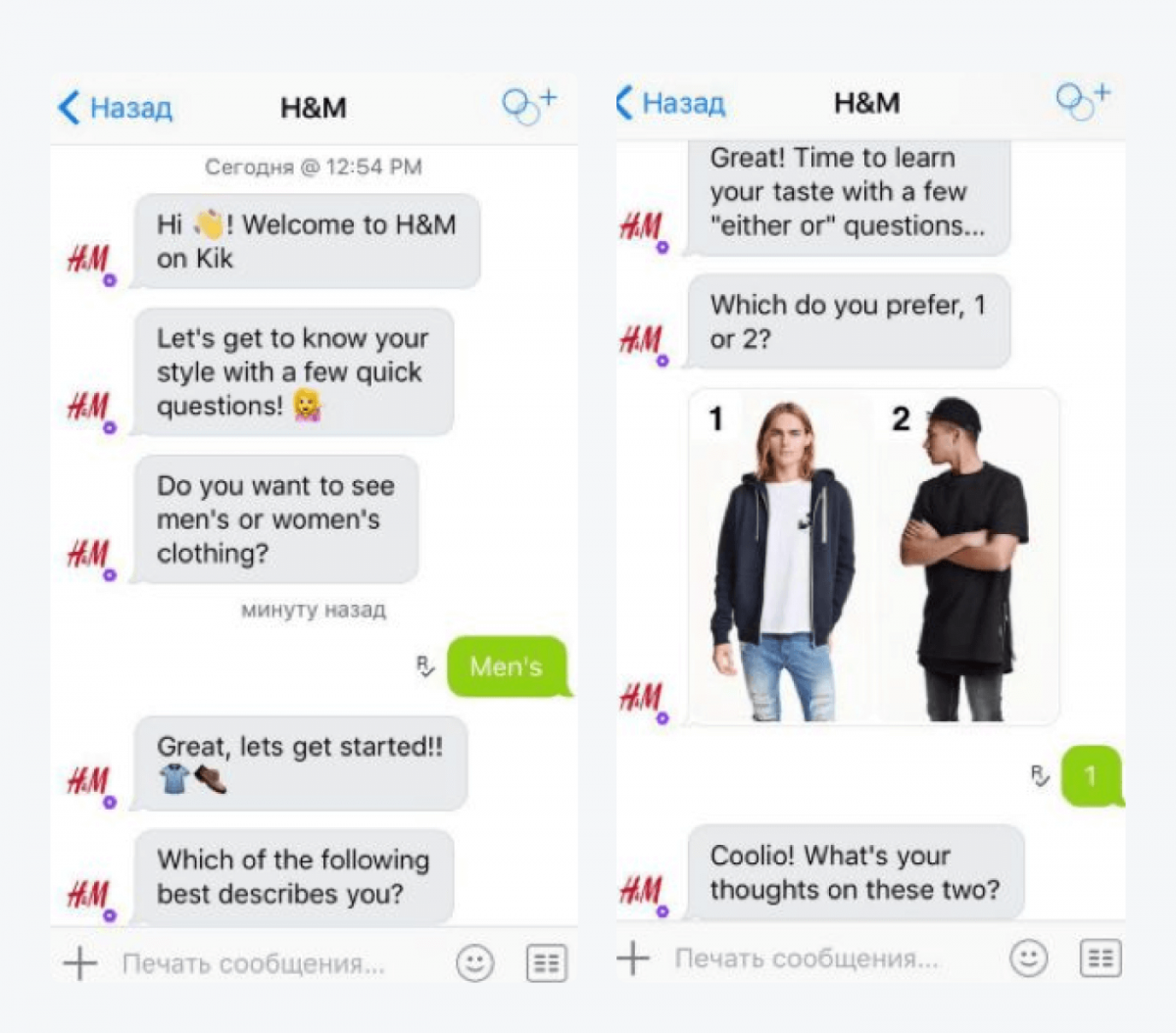 Like Sephora, this clothing giant launched an ecommerce chatbot on Kik. H&M's chatbot sends pictures of outfits and asks users to choose a better match for them.
It can also save, share and search for potential matching products. This way, the chatbot takes a role of a virtual stylist and helps customers avoid endless browsing hundreds of products.
3. Kiehl's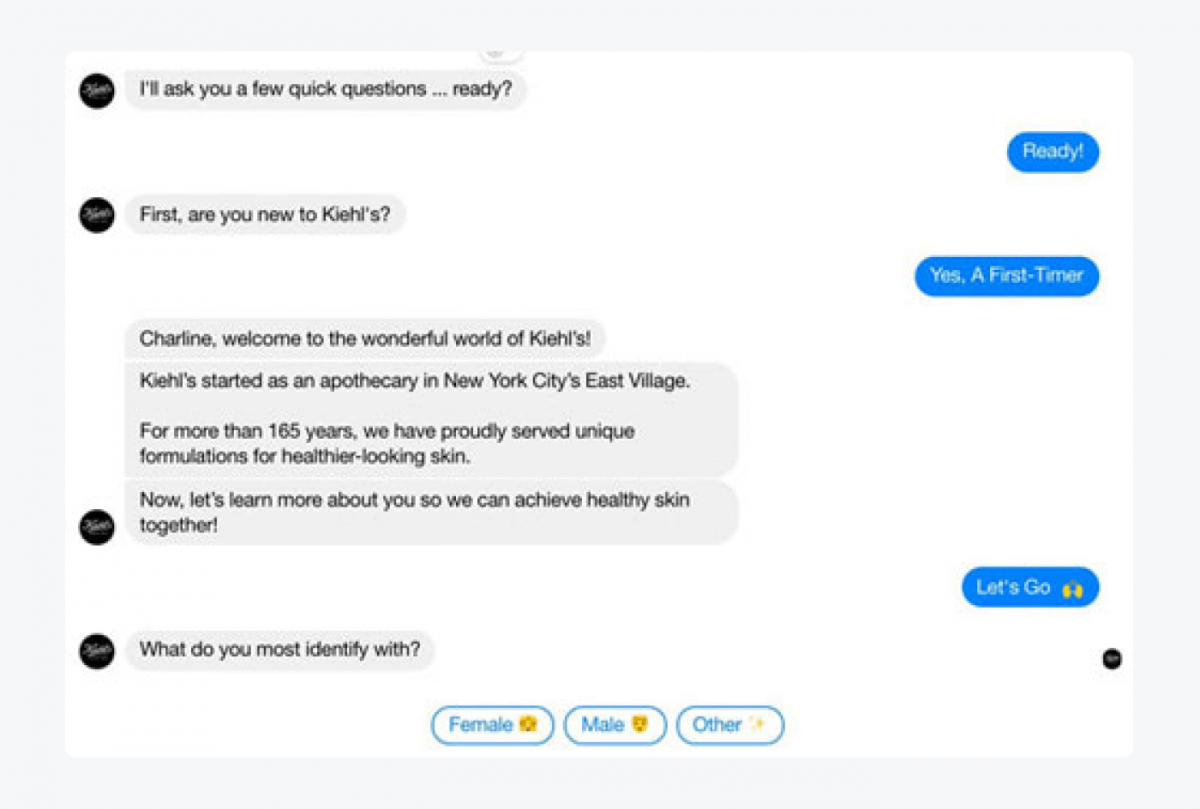 Kiehl's Facebook Messenger bot offers beauty consultation and skincare matching for individual skin types. Just like a human consultant!
In addition, this ecommerce chatbot gives tips regarding skin concerns, offers the right products, and explains its ingredients to the user. On top of that, it can take orders and send the product package tracking info. To us, sounds like a dream chatbot for all the skincare junkies out there!
4. Louis Vuitton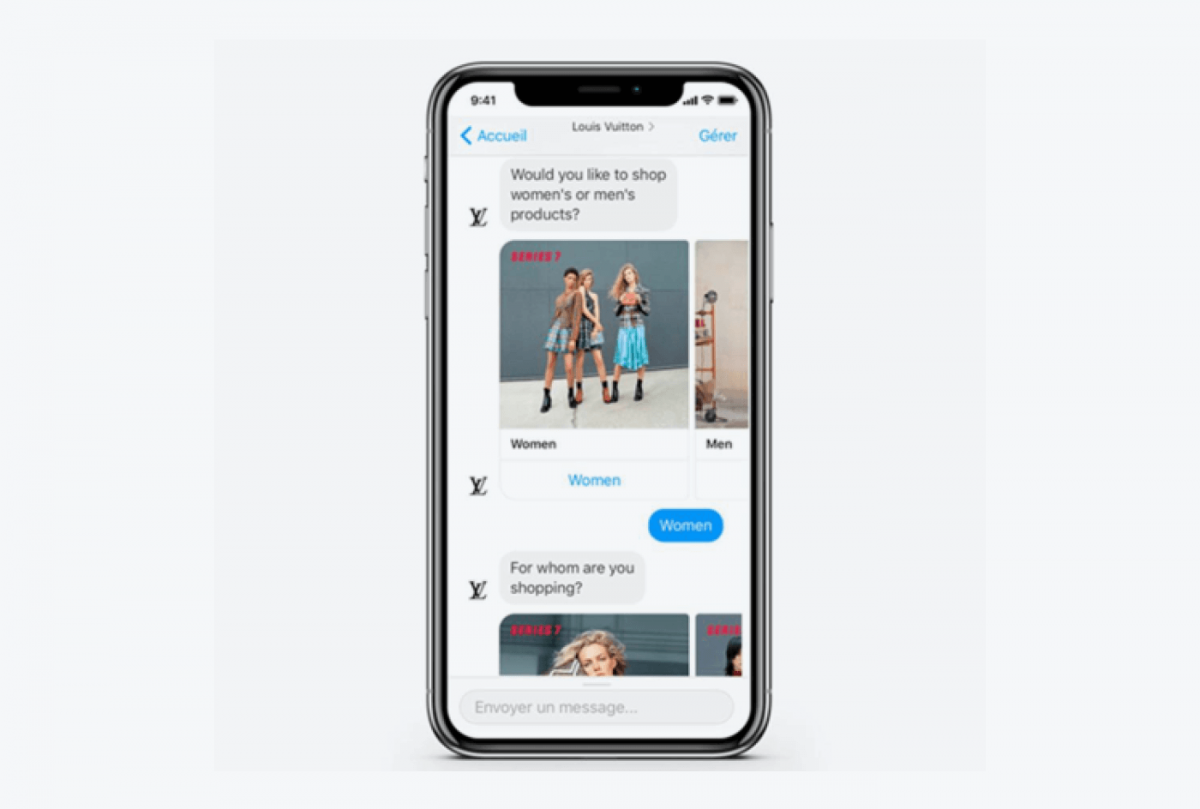 This luxury brand launched an advanced, NLP-based ecommerce chatbot that mimics the top-level customer service its customers receive in real-life shops. LV's chatbot can search products based on chosen criteria (type, color, size, pattern, and others), locate the shop in your area, and even give advice on product care of your items.
On top of that, you can share your finds with friends and get votes on which products to buy. And if you are curious about the history of the second-oldest luxury brand in the world, the chatbot will provide you with some interesting insights. Naturally, the bot also provides the handoff to the Client Advisor option. It's a real treat for all luxury online shoppers and fashionistas.
5. Regal Rose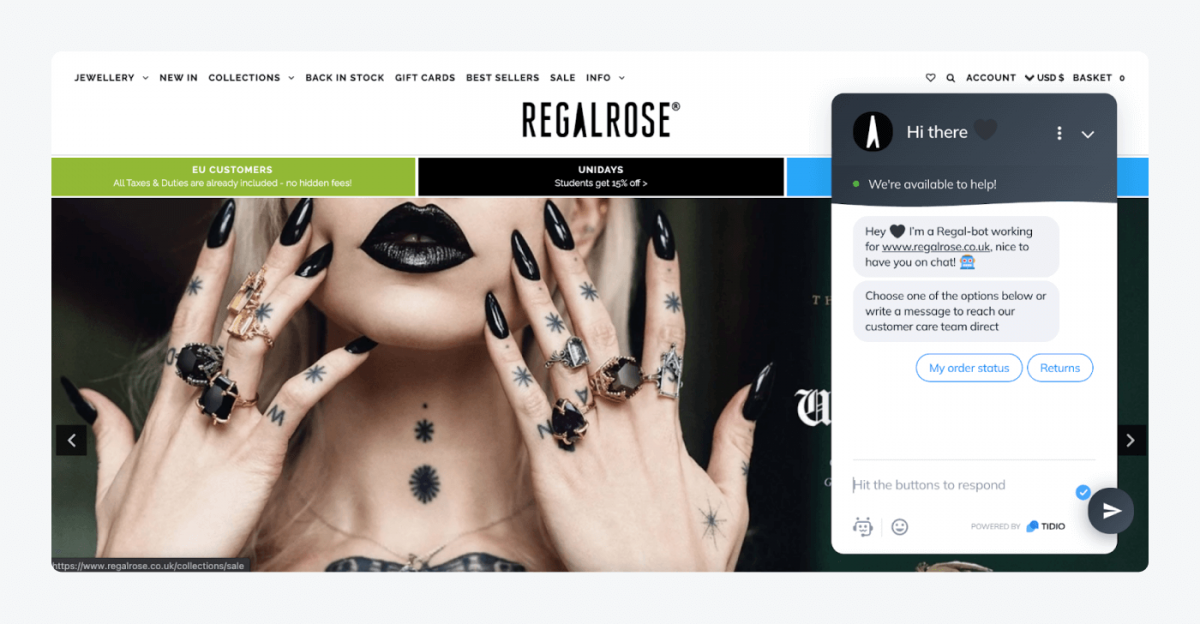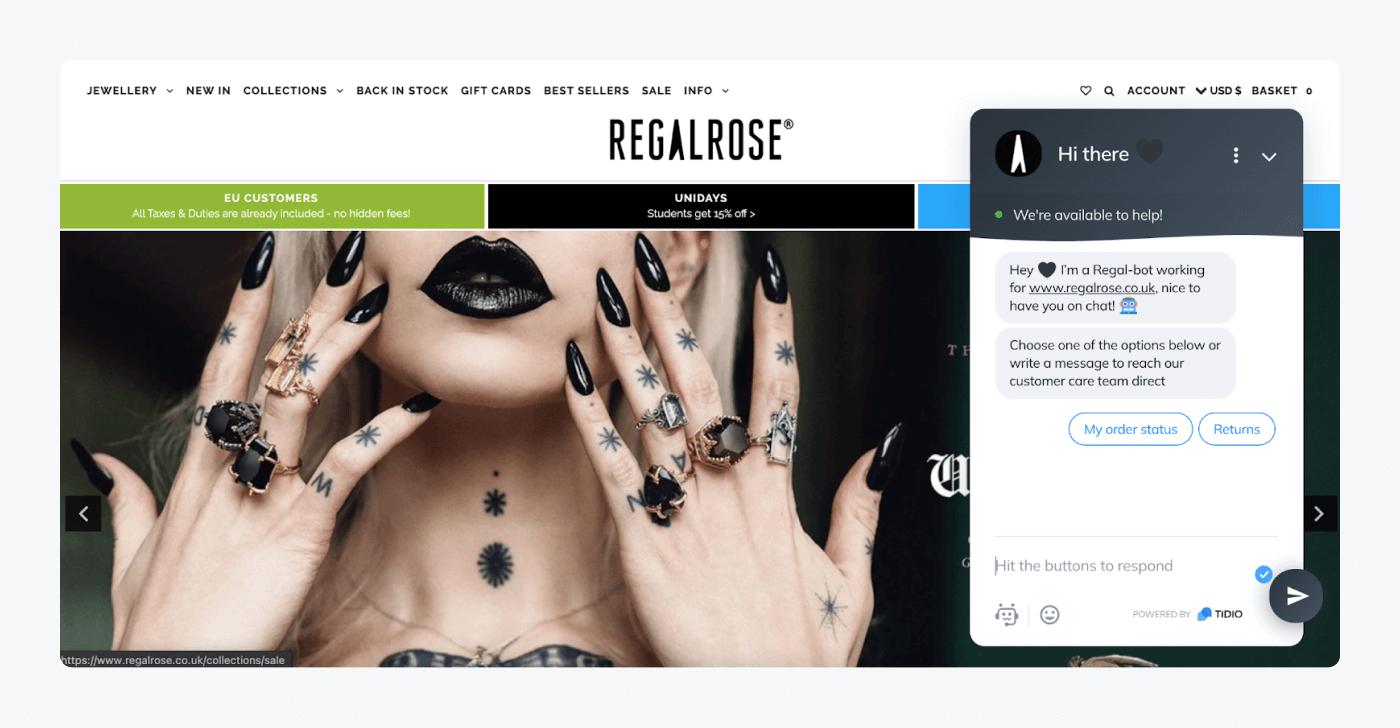 Regal Rose is a fashion jewelry and accessories boutique. It uses Tidio chatbot for ecommerce to provide shoppers with instant customer support when all their live agents are busy, or outside their working hours.
Customers can track their order status, submit the return form for their products and find out about the shop's policy with just a few clicks! Regal Rose also provided their online customers with an option to contact the live agent if their query is too complex for the chatbot. Shopping in style just got a whole lot easier!
Suggested read
Get inspired by browsing even more chatbot examples and discover the best ecommerce live chat software to implement to your website
How to get a chatbot for ecommerce sites?
Now you know how the biggest brands use bots to their advantage.
It's time for the last part—how to create your own chatbot for ecommerce. Good news? With Tidio, it's super simple, and it takes around 10 minutes.
Just have a look!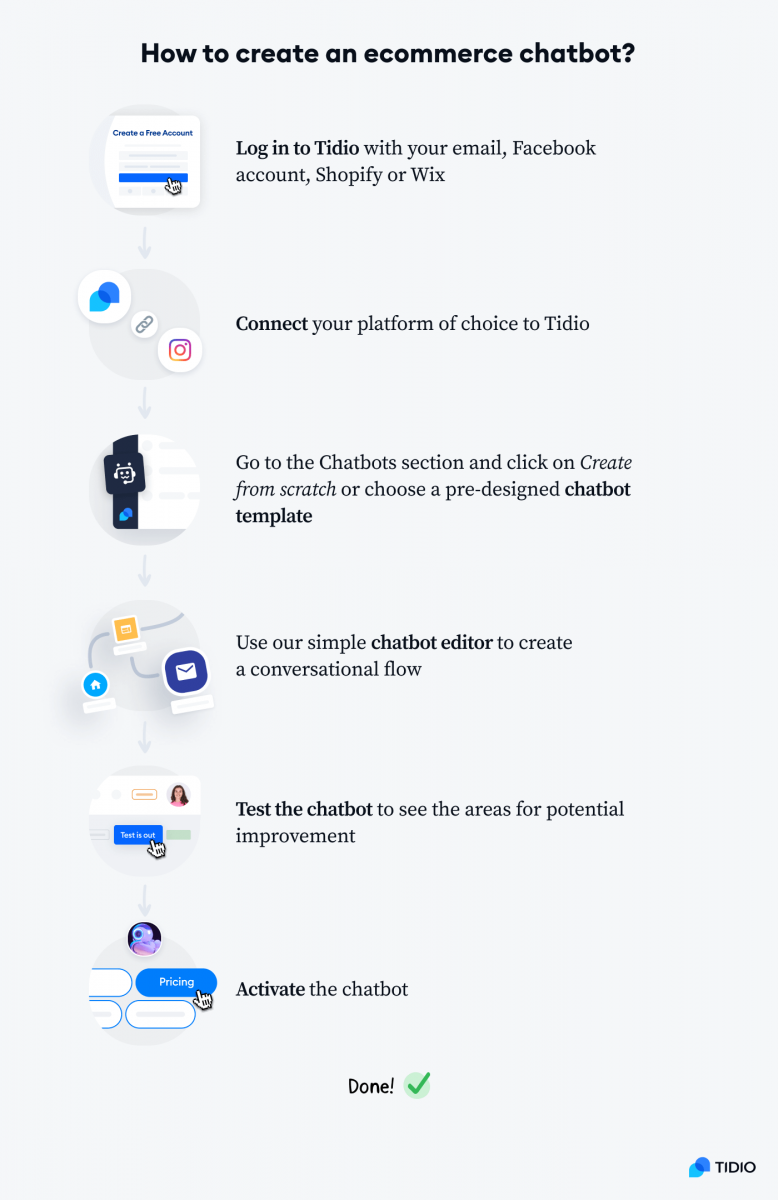 Suggested read
Read our in-depth article that covers all aspects of how to create a chatbot.
Ecommerce chatbot: summary
Now you know everything about ecommerce chatbots! Here's what you need to remember:
AI bots gain popularity in online commerce because they bring benefits for both online shoppers and online store owners.
Increased sales, better experience, and versatility are the most crucial benefits of using a chatbot. Ecommerce owners will also appreciate personalized product recommendations as a tactic for up-selling.
Brands such as Sephora, H&M, Kiehl's, Louis Vuitton, and Regal Rose use chatbots to their advantage.
Tidio, Chatfuel, Manychat, Ada, and Snatchbot are among the providers that offer the best chatbots for ecommerce stores.
You can easily create an ecommerce AI chatbot with Tidio editor.
That's all! Did you get inspired to integrate a chatbot into your online store? If you need assistance, don't hesitate to reach out to us—we will gladly help!