The most valuable feedback about your business comes from your clients. By regularly asking them for opinions about your products or services, you get insights on what's good and what should be improved.
And based on that knowledge, you'll be able to create solutions that your customers will love.
But how to gather this feedback without taking up too much of their time and being pushy?
The answer is simple—
Implement chat surveys.
Read on to learn what chat surveys are, what benefits they bring to your business, and how to prepare them properly.
In this article:
If you're looking for more knowledge about improving customer service and gathering customer feedback, be sure to check the following articles:
Let's answer the fundamental question—
What are chat surveys?
A chat survey (also known as conversational survey) is a way of collecting customer feedback focused on gathering the overall experience with your brand and your support team.
It's one of the features live chat and chatbot software comes with. You can customize the surveys according to your requirements: greeting message, feedback options, etc.
What's worth noting is that chat surveys are divided into two main groups: pre-chat and post-chat surveys.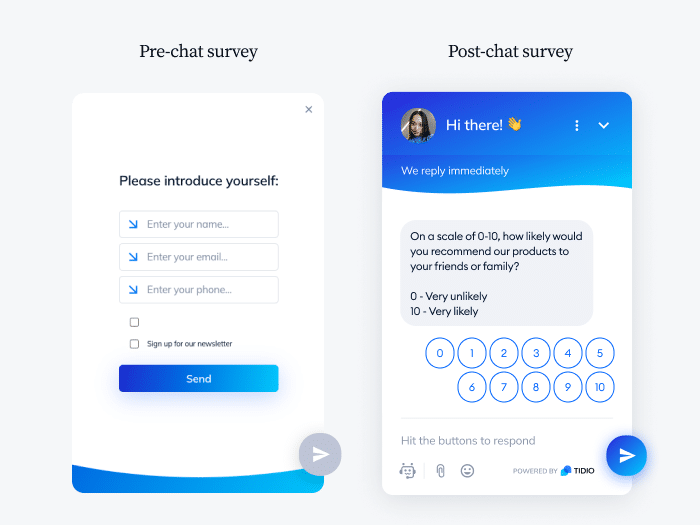 As pre-chat surveys are less complex, let's start there.
What is a pre-chat survey?
Pre-chat survey is a form of conversational survey that provides customer service agents with information about their page visitors before they start a conversation. Thanks to that, agents can better understand the needs and problems of the visitors and prepare the best possible solutions.
But pre-chat surveys are also beneficial for new and returning customers. By fulfilling the basic information about their requests, they can get the right answers for their queries faster and get connected with the right customer support reps. That makes the whole process more effective and time-efficient.
Pre-chat surveys can be a part of the customer service automation strategy as they are mostly operated by the bots.
Pre-chat surveys: information to request
Pre-chat surveys can be extremely useful in improving the customer experience and the quality of the support team. That's because the information you gather with the help of pre-chat surveys allow your company to prepare personalized solutions for clients' problems and get insight into their profiles.
In consequence, it leads to better understanding of the customer's needs and expectations. And all of this happens before the client even starts a conversation with the support agent.
The list of information you can get from pre-chat surveys includes:
Basic data information
Client ID, order ID, account number
Country, postcode
Inquiry type and issue description
GDPR acceptance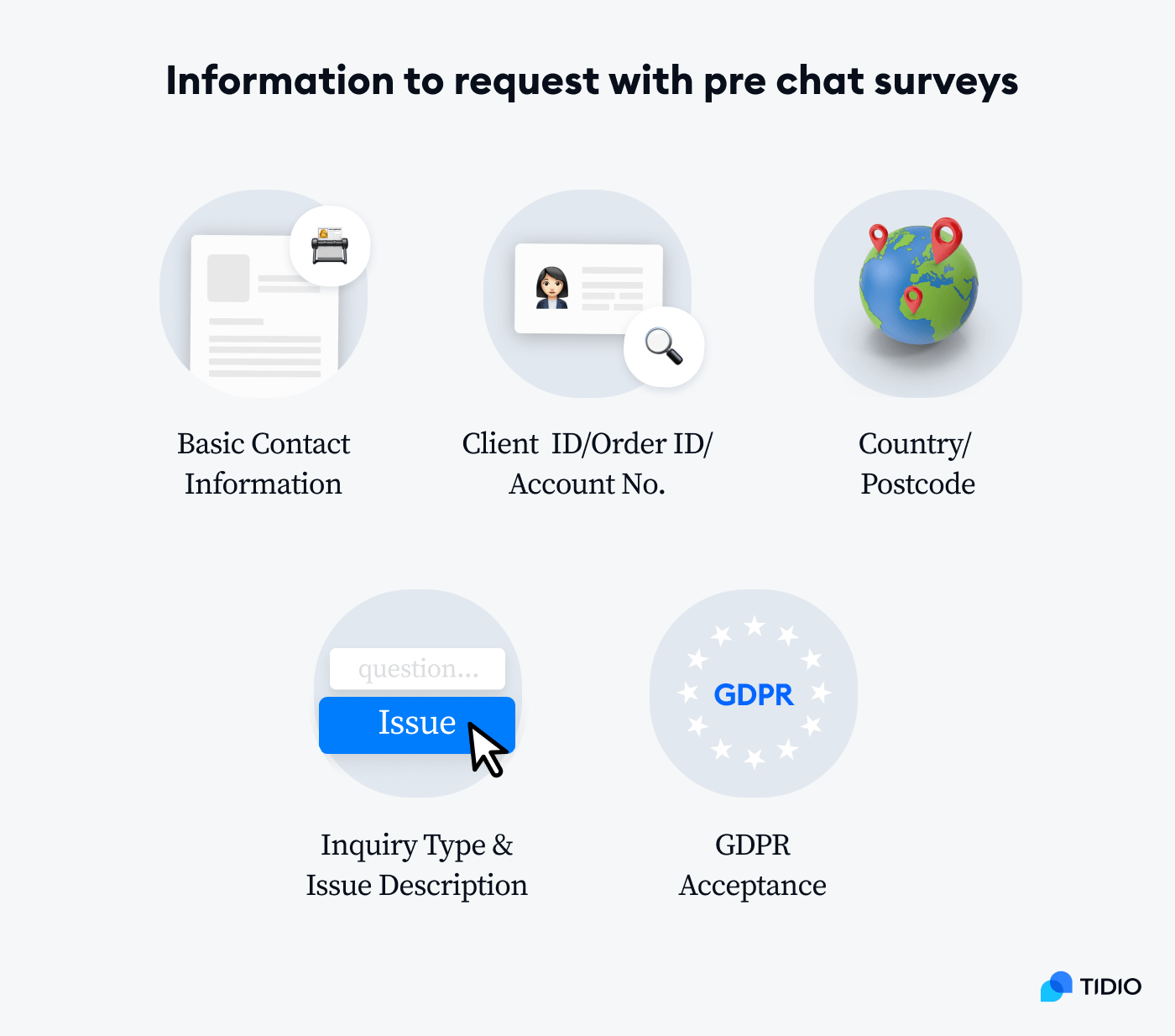 Let's go through these one-by-one.
Basic contact information
One of the secrets of successful customer support is to focus on personalized messaging, without the unnatural small talk. Just like you'd talk to a friend.
Simply knowing your contact's name can make a big difference here. This way, you'll be able to greet your visitors by name, show respect, and start building a positive relationship with them.
When it comes to other basic info such as email address or phone number, surveys are helpful in verifying contacts' identities. They also give your agents a way to follow up with people who asked for help but, for some reason, left the conversation window before getting a reply.
Account ID, client number, and order ID
This point refers mostly to ecommerce websites and companies that identify their clients by specific IDs or numbers. It's a commonly used practice for tracking the whole shipment process.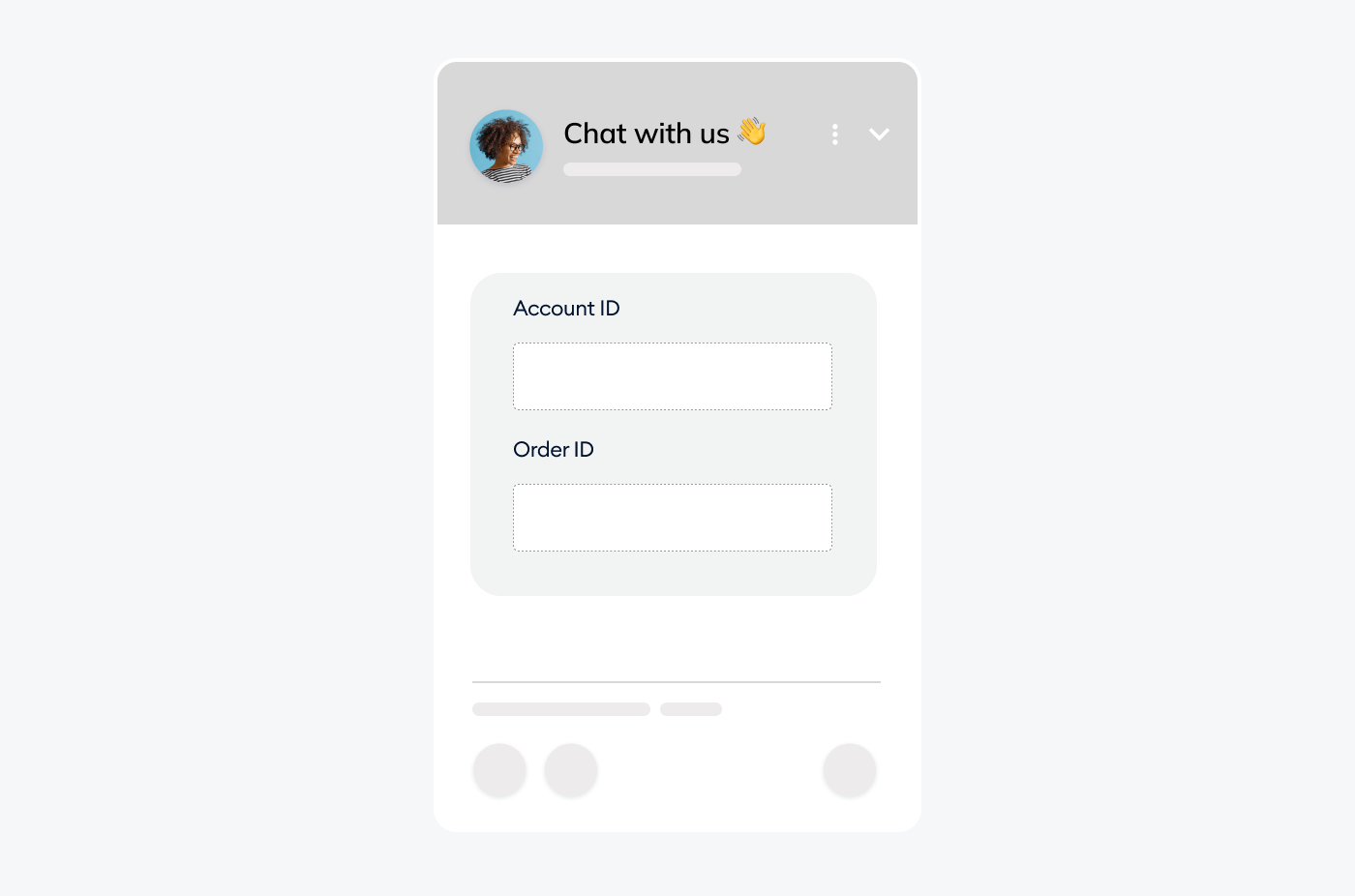 In this case, the shopper's ID or order number may be even more important than personal data. That's because it allows support agents to quickly identify the issue and answer the query efficiently.
Inquiry type and description
Pre-chat survey is focused on the best possible assignment of a user's issue to the right support agent. That's why defining inquiry type description is crucial here and makes the whole process more efficient.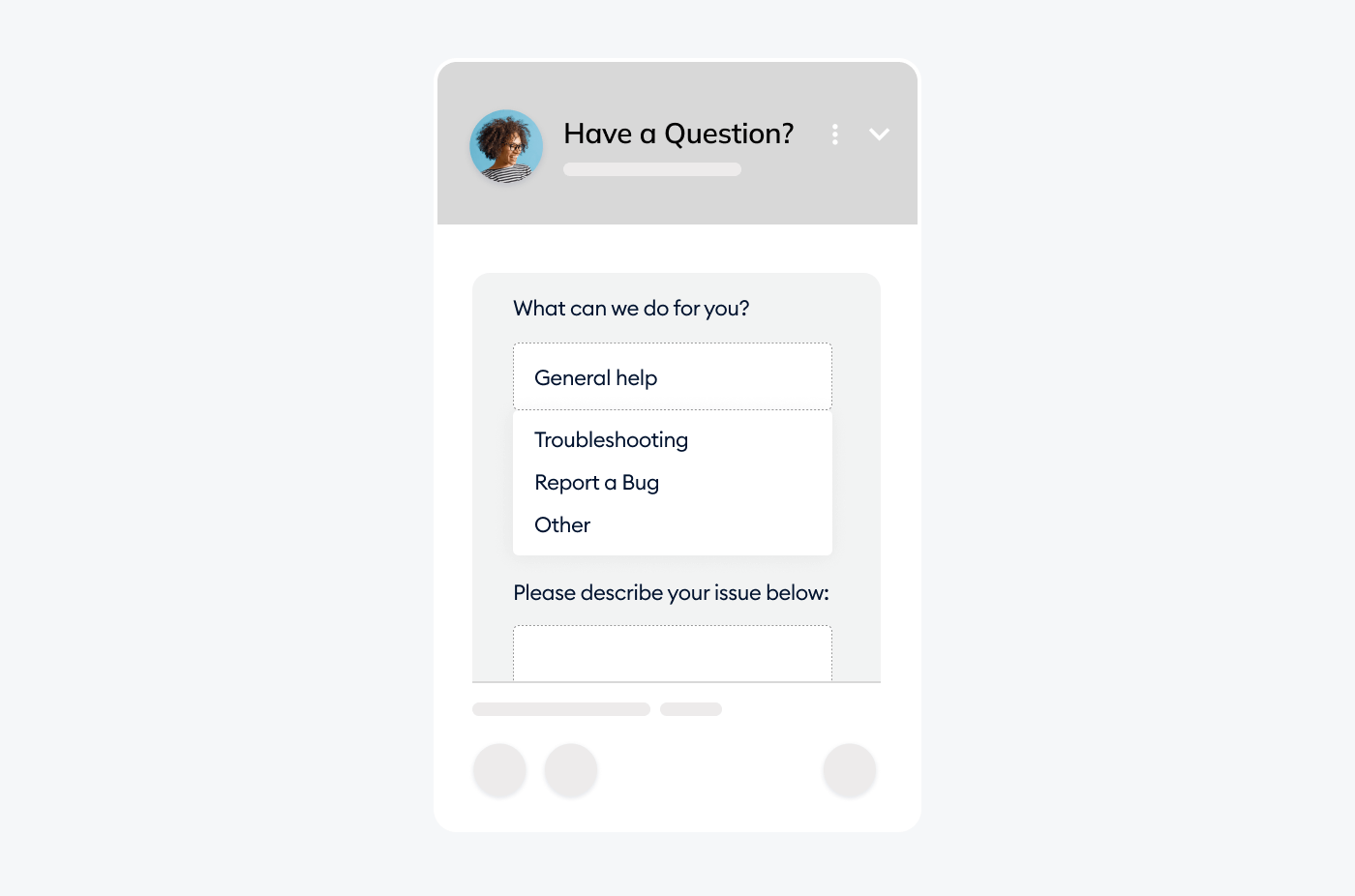 It simply helps both sides—support agents know what kind of problem they have to solve and clients get a faster, more efficient solution to their issue.
Country and postcode
In the case of large enterprises with clients from all around the world, identifying queries by names or customer's ID may not be enough.
Country and postal code allow these companies to identify where the inquiry came from, which department should take care of it, and in which language the problem should be solved to provide the best possible experience.
[graphic for Natalia: let's put here a graphic with chat window with COuntry and Postcode boxes, screenshot for inspiration]
GDPR acceptance
Companies that collect and process personal data of European Union residents are obliged to include General Data Protection Regulation (GDPR) acceptance form in the pre-chat surveys and other forms of communication.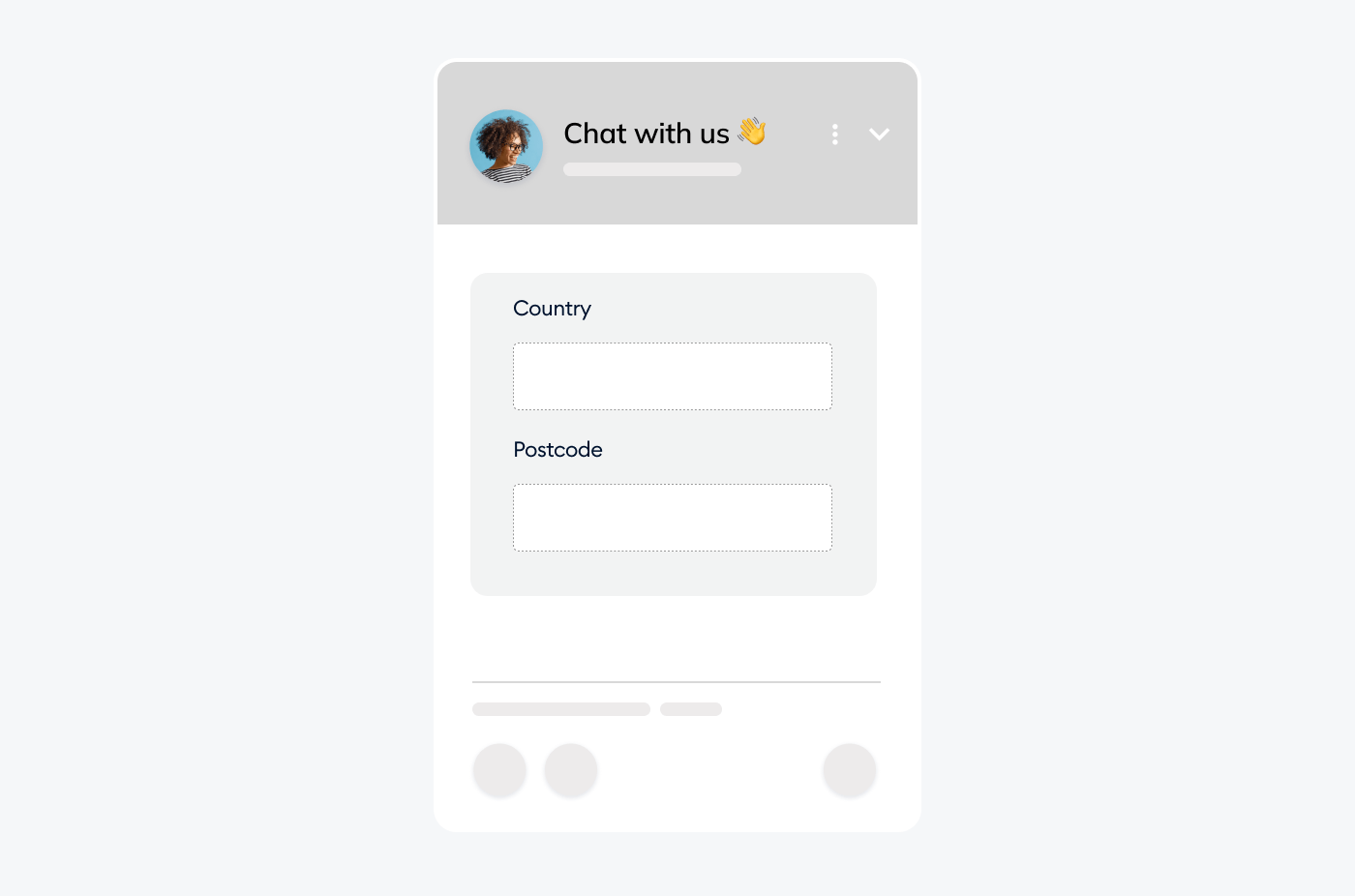 Thanks to this acceptance form, your shoppers can be sure that your company follows the data protection policy, their personal data is safe and will be used responsibly.
Benefits of pre-chat survey
Despite the fact that pre-chat surveys are quite limited and aimed to gather basic information before a live chat session with customer support agents, they can bring a lot of value to your business.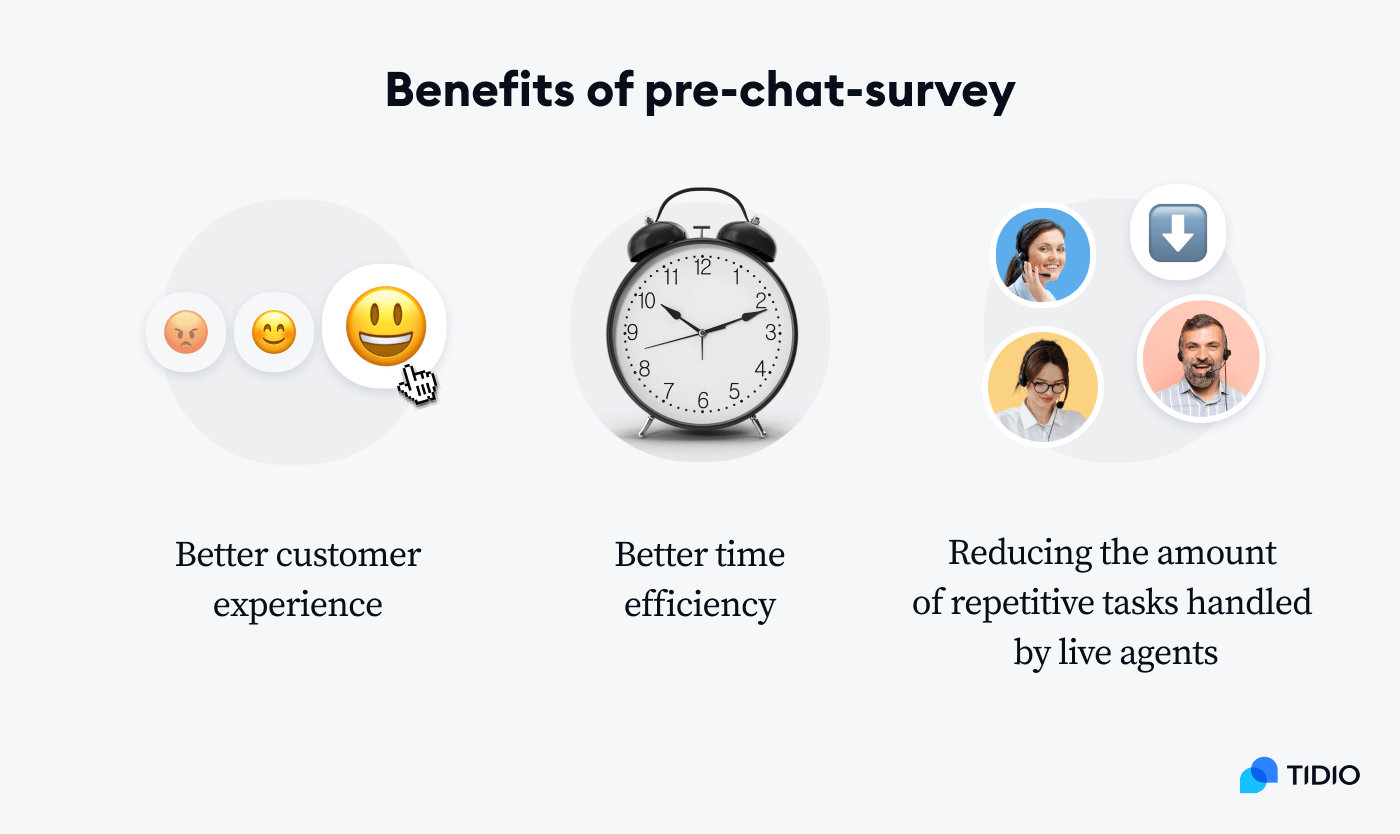 The benefits of using pre-chat surveys include:
Better customer experience
Pre-chat surveys help to identify customers' needs before they even start a chat session. This allows customer service representatives to provide a more personalized and efficient service, leading to a better customer experience.
And it also impacts sales—according to PwC research, 73% of consumers say that customer experience is a deciding factor when making purchase decisions.
Better time efficiency
By gathering information about the customers' needs and questions before the chat session, the support agents can prepare for the chat ahead of time and use the time with clients more efficiently, reducing wait times.
The ability to solve your clients' problems fast is crucial, especially when 90% of customers rate an immediate response as essential or very important when they have a customer service question.
Reducing the amount of repetitive tasks handled by live agents
Pre-chat surveys simply make your customer support reps job easier. Thanks to these surveys, they don't have to focus on repetitive questions and consume their energy on tasks that can be automated.
By doing this, your employees won't be overloaded with tasks, and you show them that you care about their well-being at work. And, According to Forbes, 96% of employees believe that showing empathy is an important way to advance employee retention.
Read more: If you want to know more about measuring performance of your customer service team, be sure to read our in-depth article about customer service metrics.
Now, let's find out how to create a pre-chat survey.
How to create a pre-chat form
Having all the knowledge about pre-chat surveys, let's learn how to create them. Fortunately, it's quite simple, especially when using a chatbot platform.
To describe the whole process, we will use the Tidio chatbot builder. So, first of all you need to set up an account (no credit card required!) and install the Tidio chat widget on your website. Then, go to the Settings tab and choose Pre-chat survey from the list.
The rest is quite simple to configure.
In the Message field, type in your initial message for users. Then, choose the Survey Fields you want your survey to include.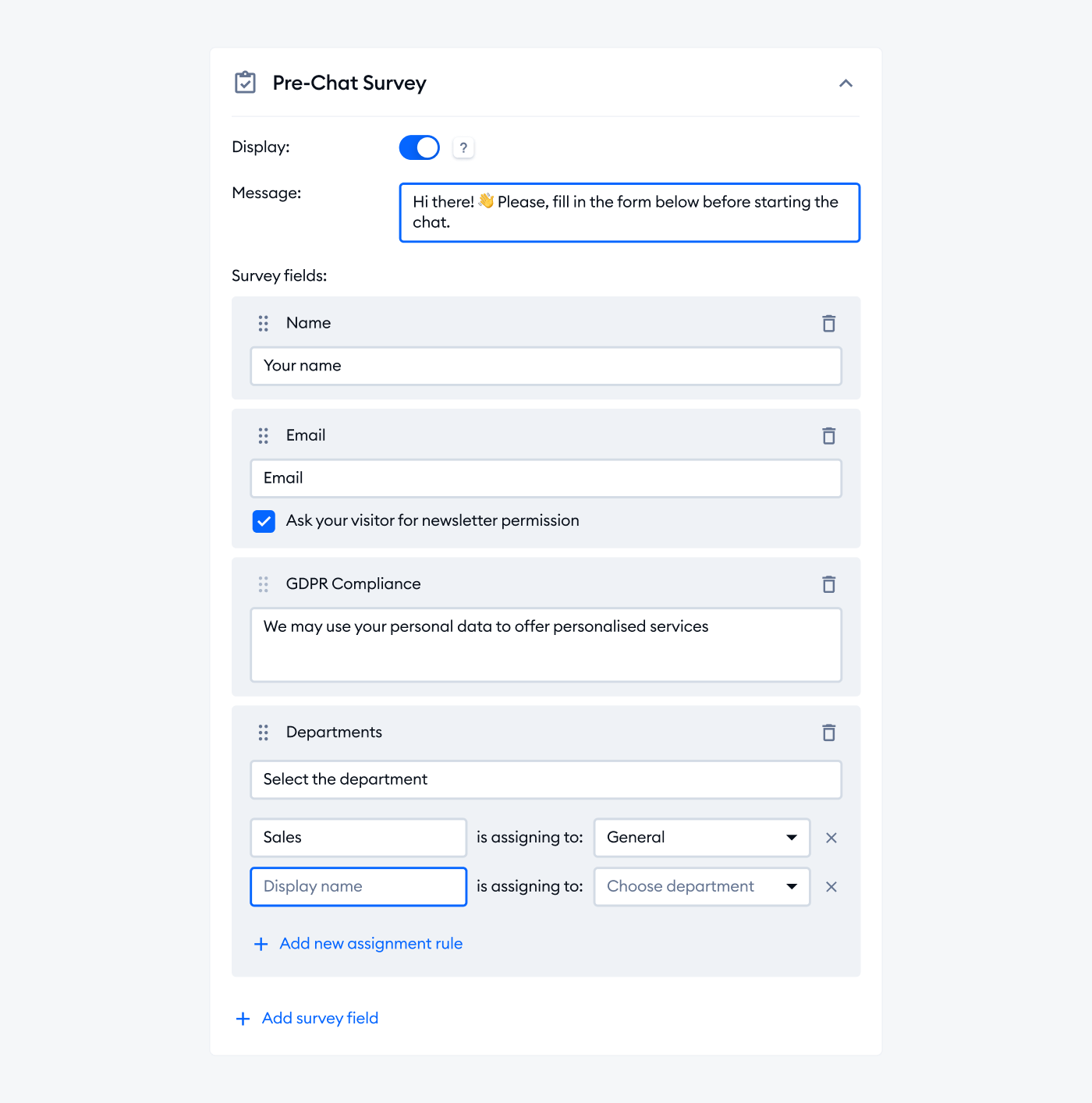 And ta-da! That's all. This is what the survey would look like to the end user.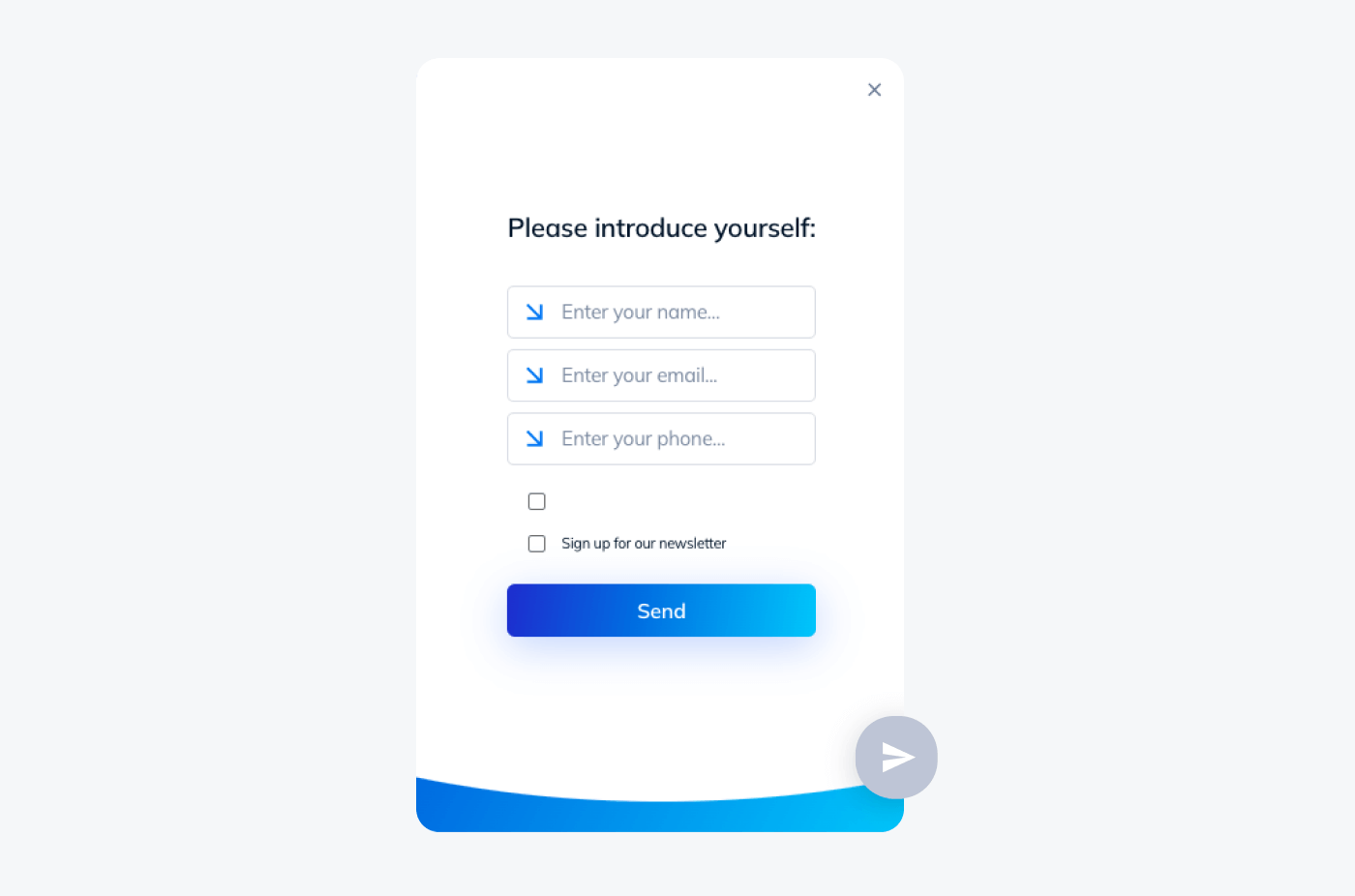 Now, let's move to the second group—post-chat surveys.
What is a post-chat survey?
Post-chat surveys give companies the opportunity to gather feedback about the quality of their products, services, and customer support. These surveys ask users about their experiences after the live agent closes the conversation window.
Simply put, post-chat surveys are a great source of knowledge about what your customers think about your brand. The results from these surveys allow you to understand your shoppers' pain points and provide a better experience in the future.
Now, let's learn about different types of post-chat survey questions.
Types of post-chat survey questions
To ensure your survey brings valuable insights about clients, you need to ask proper questions.
In general, we can distinguish two main question types:
These questions can be answered only by one word or with a short, specific information like, for example, "Yes" or "No" or limited set of possibilities (eg. A, B, C, All above). Thanks to their simple structure, the answer rate in such queries is usually high, but they gather limited data.
These queries require more than one-word answers. The answers can come from predefined lists, a few sentences to type in, or even longer written forms. These questions can bring more detailed information but, having in mind their complexity, can have a lower response rate compared to close-ended questions.
Going deeper, we can choose between three most common types of questionnaires:
Yes/No questions
Net Promoter Score (NPS) questions
And multiple-choice questions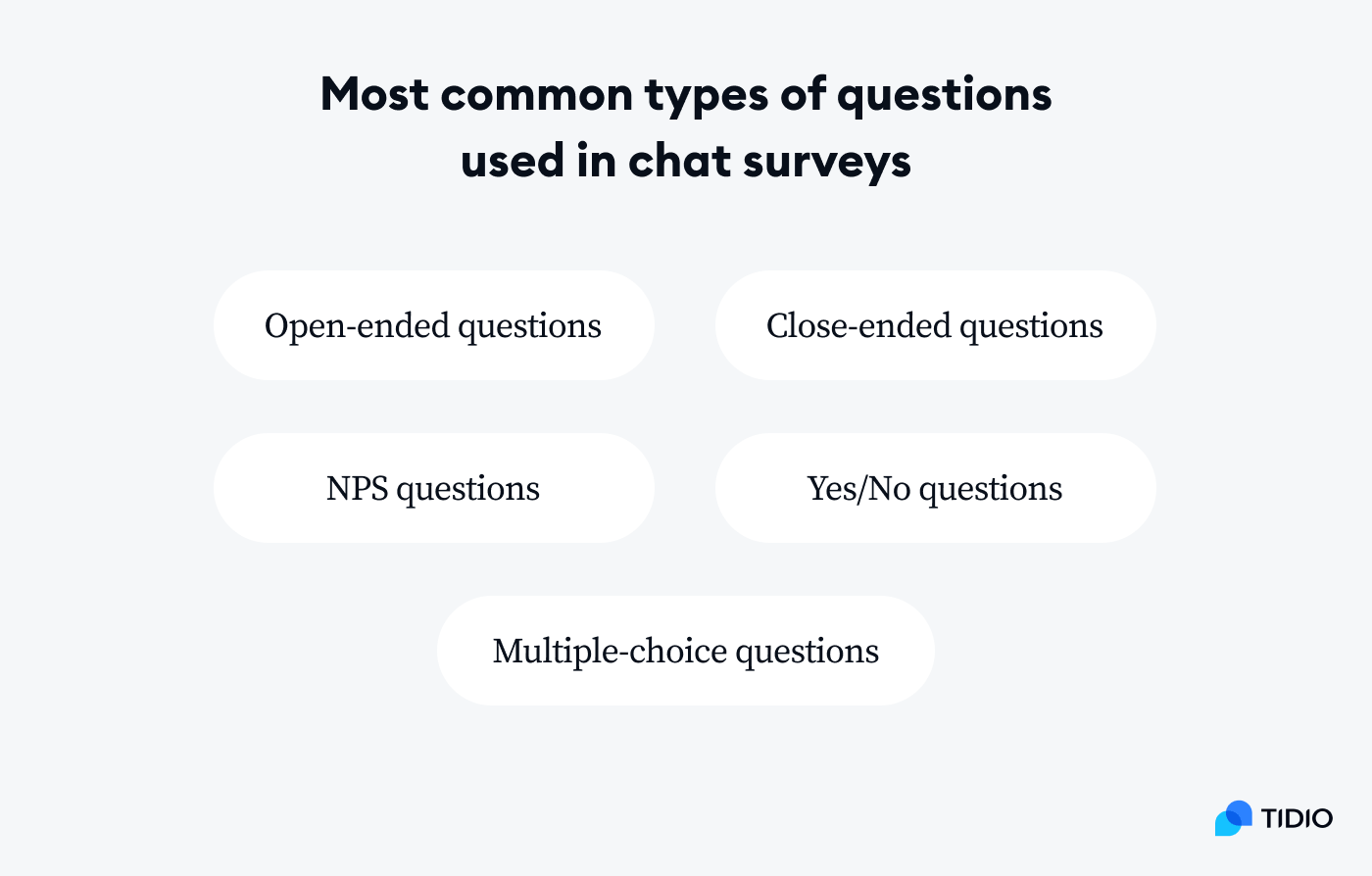 Let's go through them in more detail and try to figure out in which use cases each of the types fits best.
Yes/No questions
The simplest questionnaire that probably everyone has seen before. It consists of closed questions where users can only reply with yes or no, without any additional clarification of their answers. Although these surveys may look very simple, this is their greatest superpower when it comes to response rate.
Thanks to its simplicity, the response frequency of chat surveys based on Yes/No questions is usually very high and, on top of that, the responses are easy to understand and measure.
But, from the other side, you won't find any explanations behind your responders' choices. In consequence, you won't get much data and insights to explore.
So, when to use Yes/No questions?
They will work best for simple surveys, especially when you don't need deep data to explore but just want to achieve a high number of responses for some simple query.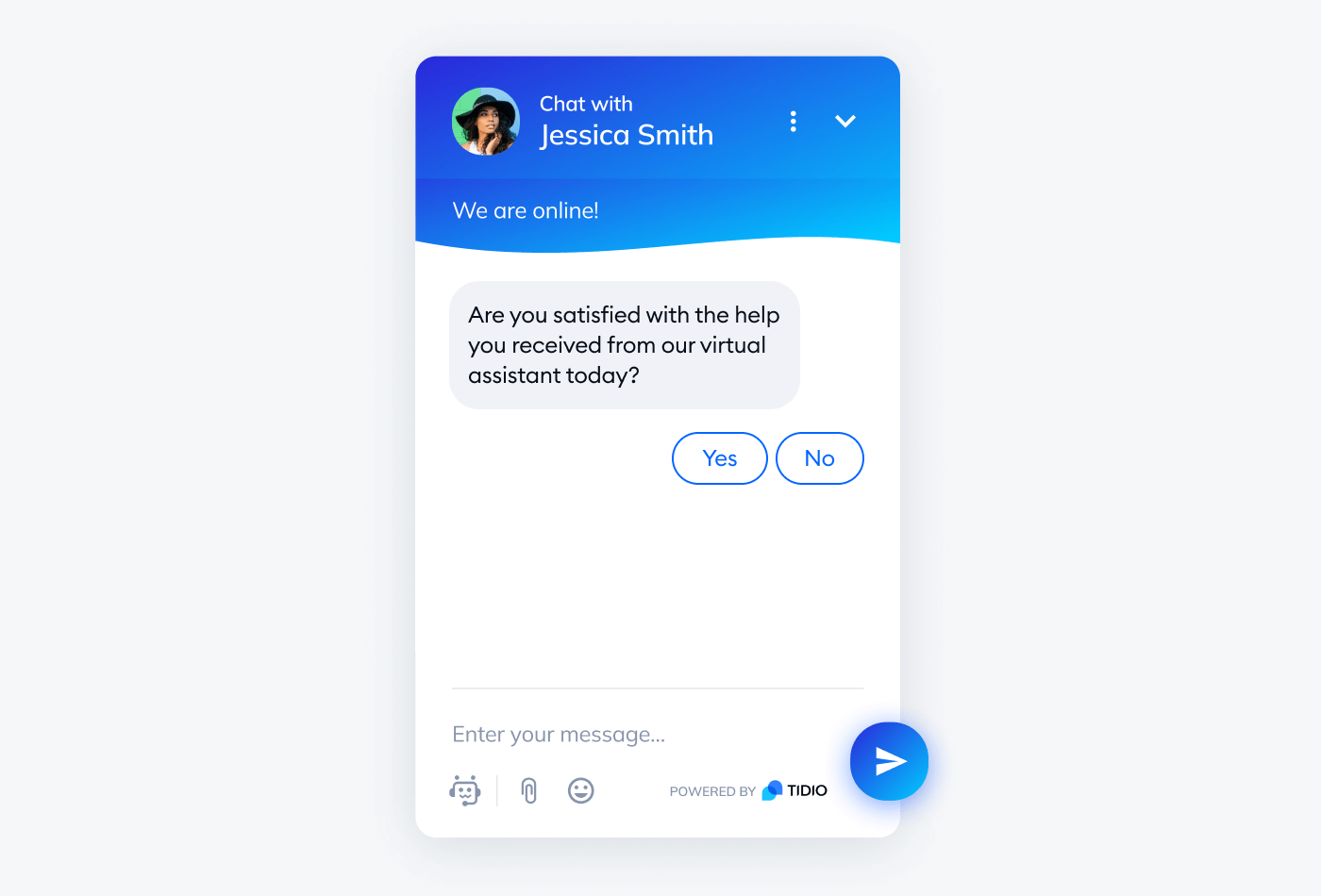 NPS questions
If you're working on customer satisfaction, you must have heard this abbreviation. But let's explain it for those who don't know it yet.
So, NPS stands for Net Promoter Score, which is one of the most important standards for evaluating customer experience and loyalty to your brand. This survey asks people for the likelihood of them recommending a product/service/brand based on particular experience. Responders provide their answers using a rating system from 0-10.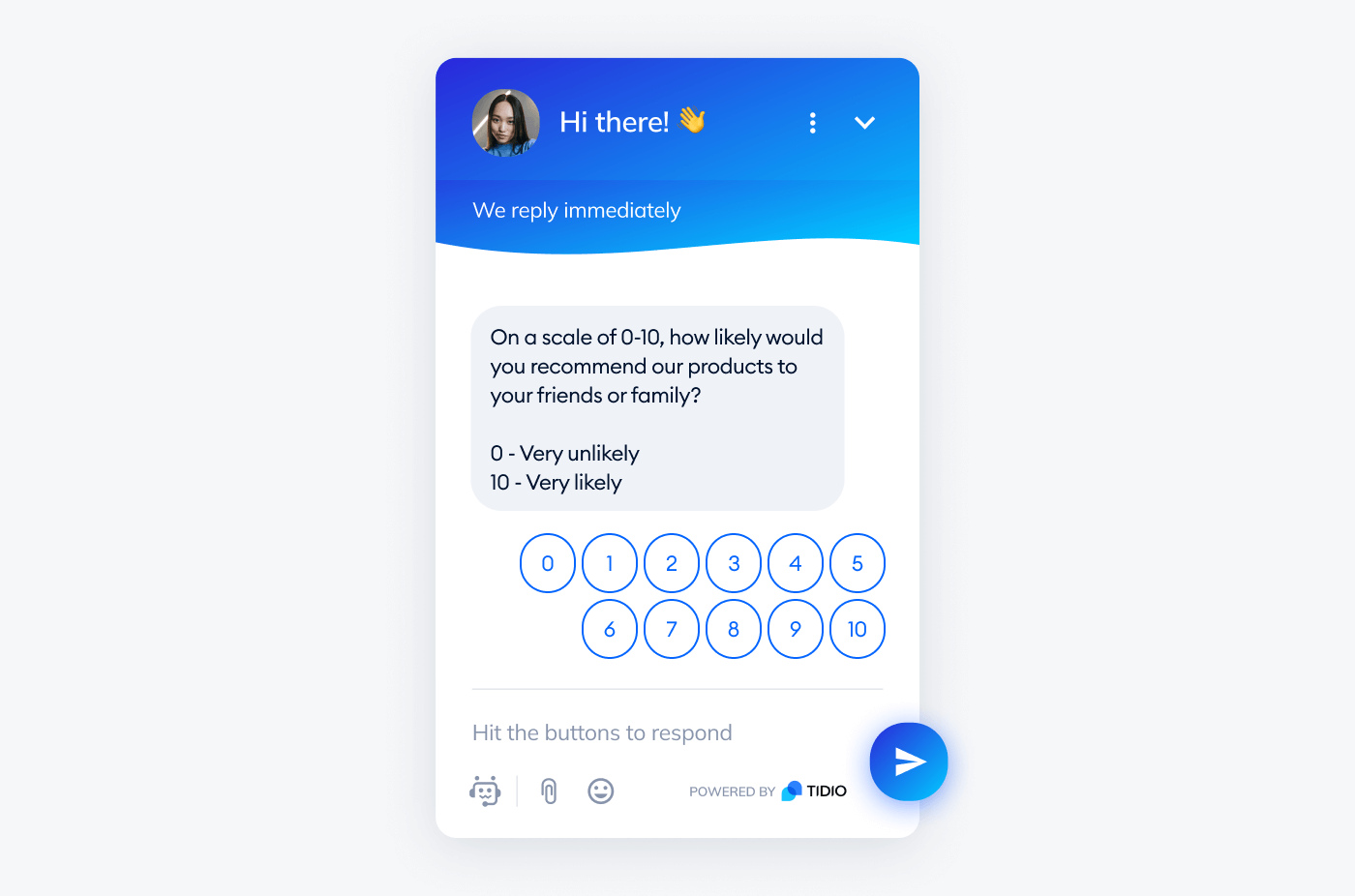 Thanks to these 10 points rate, you can divide your responders into three groups, based on their ratings:
People who rated your brand between 9-10. They are your most loyal customers with the highest satisfaction score. Also, these people are most likely to recommend your brand to other people.
People who rated you between 7-8. These customers are happy with your products or services, but are less likely to recommend you.
Responders with score 6 and below. Detractors represent your unhappy customers who, at some point, felt disappointed with your brand. The lower their score is, the more likely they are to leave you and never come back.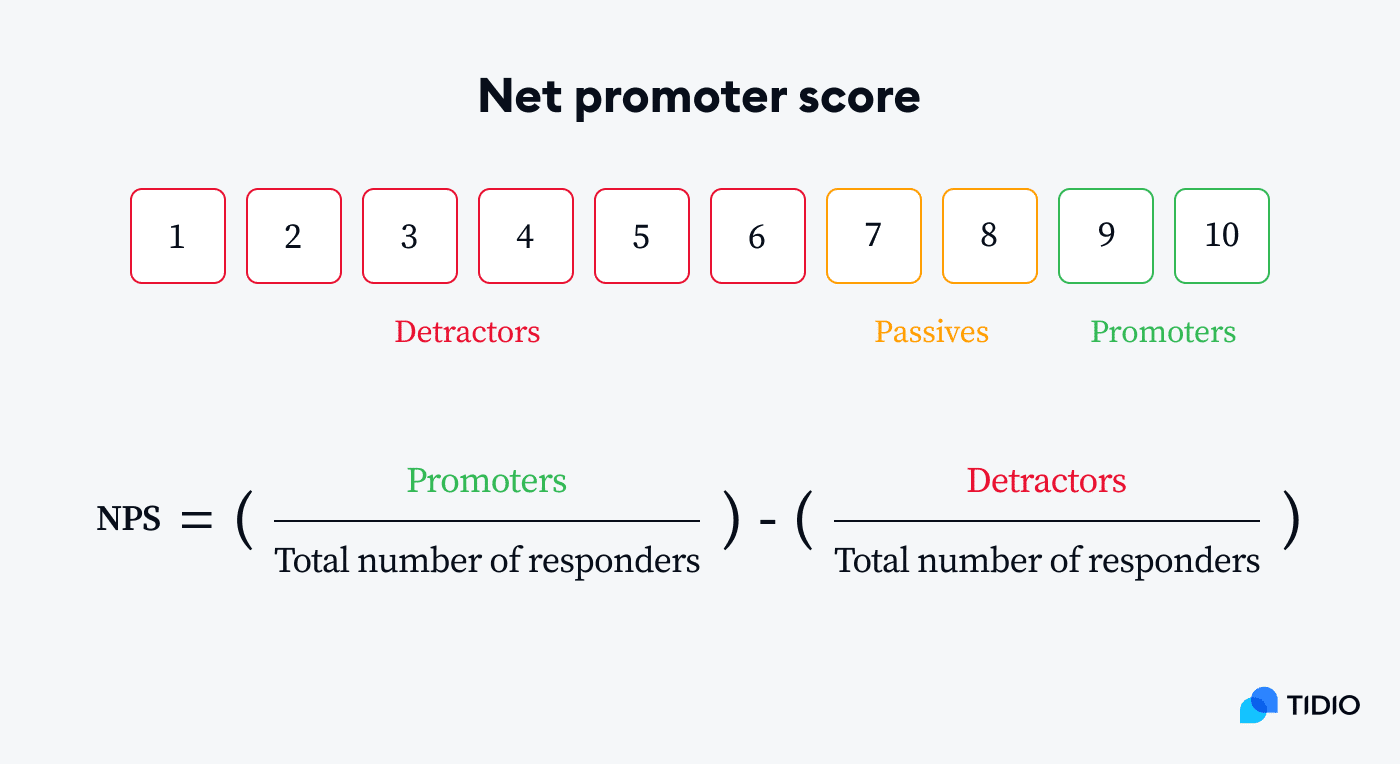 Ok, but in which use case NPS question will fit best?
Chat surveys based on NPS questions can be used to learn about your customers' chat experience with the support agents. These questionnaires are quite simple to fill in. Of course, there won't be any complex and detailed data, but you'll be able to see how people rate your specific service/product, or support agents, which can be a great first step to improving your weak points.
Multiple-choice questions
The multiple-choice questions allow you to gather more detailed information without forcing your responders to write answers by themselves. Instead, they choose the most relevant answers from the predefined options appearing in the chat window.
Although this option will give you more detailed feedback and can be a source of many important insights about how your customers perceive your brand, products and services, it has one drawback. You put previously prepared answers into your responders' mouth, which, in consequence, may lead to incorrect feedback.
Why?
Your customers might select answers closest to their actual feelings and opinions but, having in mind that these answers were prepared by you, may not express their thoughts in 100%.
But there is a simple solution to avoid this. Just add an option "Other" and allow clients to write their own responses if they feel like it.
Benefits of post-chat surveys
When it comes to the benefits of post chat surveys, you're probably thinking about the insights that help to improve your products and services. And that's accurate.
But, besides these insights, post-chat surveys can:
Track your live agents' performance
Collect real-time customer feedback
Analyze your client's behavior
Help to improve the quality of products & services
Now, let's get into details.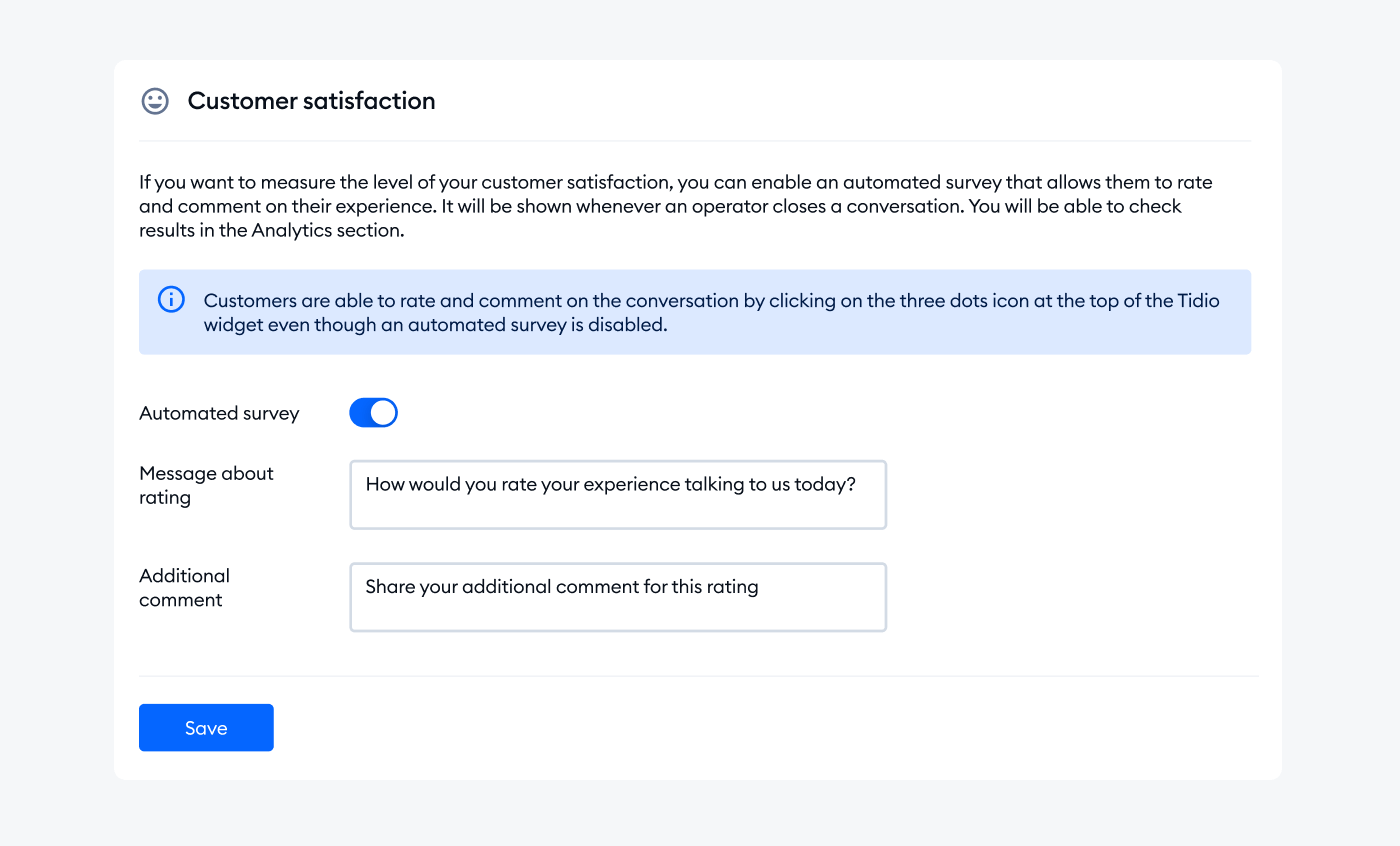 Understand and track your live agent's performance
The best way to ensure that your agents are doing a good job (or not) is to ask your customers for feedback. And thanks to chat surveys, you can collect this feedback after every conversation between a client and a customer service agent.
Just ask your clients how satisfied they were interacting with the agent on a scale of 1 to 5, 1 to 10, up to you. The higher the score is, the more satisfied your clients were.
Thanks to that, you'll be able to track your support agents performance and, if needed, spot the mistakes and fix them. This will help you avoid unpleasant consequences of continuously bad customer service.
Collect real-time customer feedback
One of the great advantages of chat surveys is the fact that they can collect real-time feedback from a company's clients. It's a win-win for both you, and your shoppers. You get the evaluation of your products/services with clear information on what to improve. Your customers can feel important to you.
Secondly, if you listen to them carefully and implement the suggested improvements, you'll be able to deliver better quality of your products or services that have a positive impact on your customers' experience.
Analyze your client's behavior
One of the key aspects of a successful marketing strategy is to know your customers' behaviors. With such insights, you're able to adjust your marketing and sales strategy to the target group in order to achieve better results. And chat surveys are a great source of such information.
By gathering your customers' feedback, you can segment clients into various categories, better identify their buying behaviors and, based on that knowledge, prepare sales projections.
Improve the quality of products & services
Last, but not least. Chat surveys can be your great ally in improving the overall quality of your products or services, spotting their missing links, and much more.
They're also easy to use. All you have to do is prepare a list of questions related to your products or services, spread them around your customers, and then analyze the results.
Finally, having all the data gathered in one place, you can start drawing some improvement plans.
Ok, as we know what a post-chat survey is and what benefits it can bring to your business. Let's discover the best practices of creating them.
How to create post-chat survey with Tidio
As our tool is offering live chat and chatbot solutions, you can use Tidio to create a post-chat survey as well. Tidio's survey allows you to collect your visitors' feedback in a 5-option scale rating. And whenever your support agent will end the conversation, the customer will be asked for a rating and optional comment on their experience.
The results of these surveys will be collected and available to check in the Analytics section.
But, let's start from scratch.
Post-chat survey through live chat
When you have your live chat widget installed on your website, go to the Settings tab and choose Customer satisfaction functionality from the list.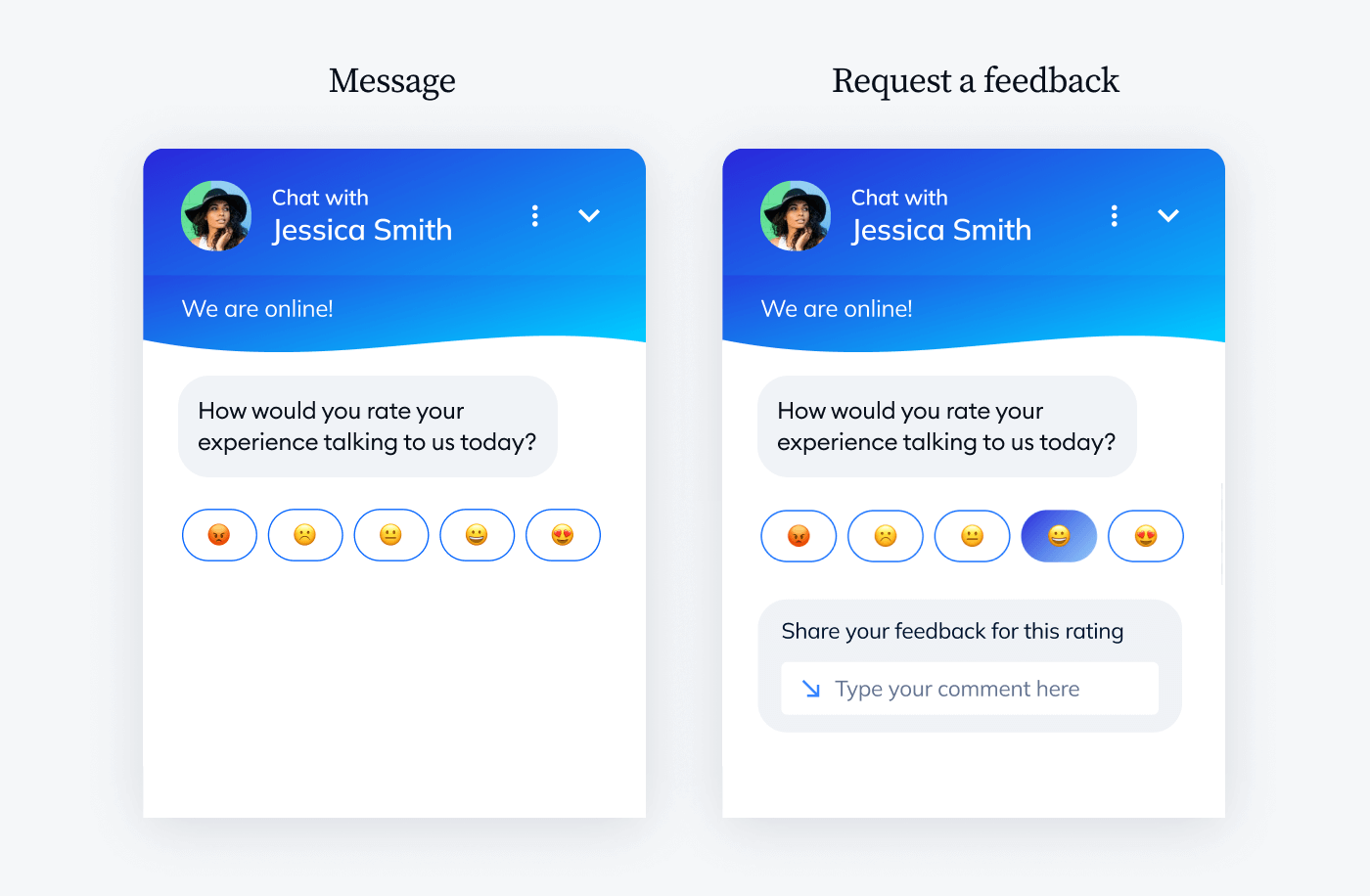 In this tab, you'll be able to customize the message that will be displayed right above the rating options and your request for customer feedback.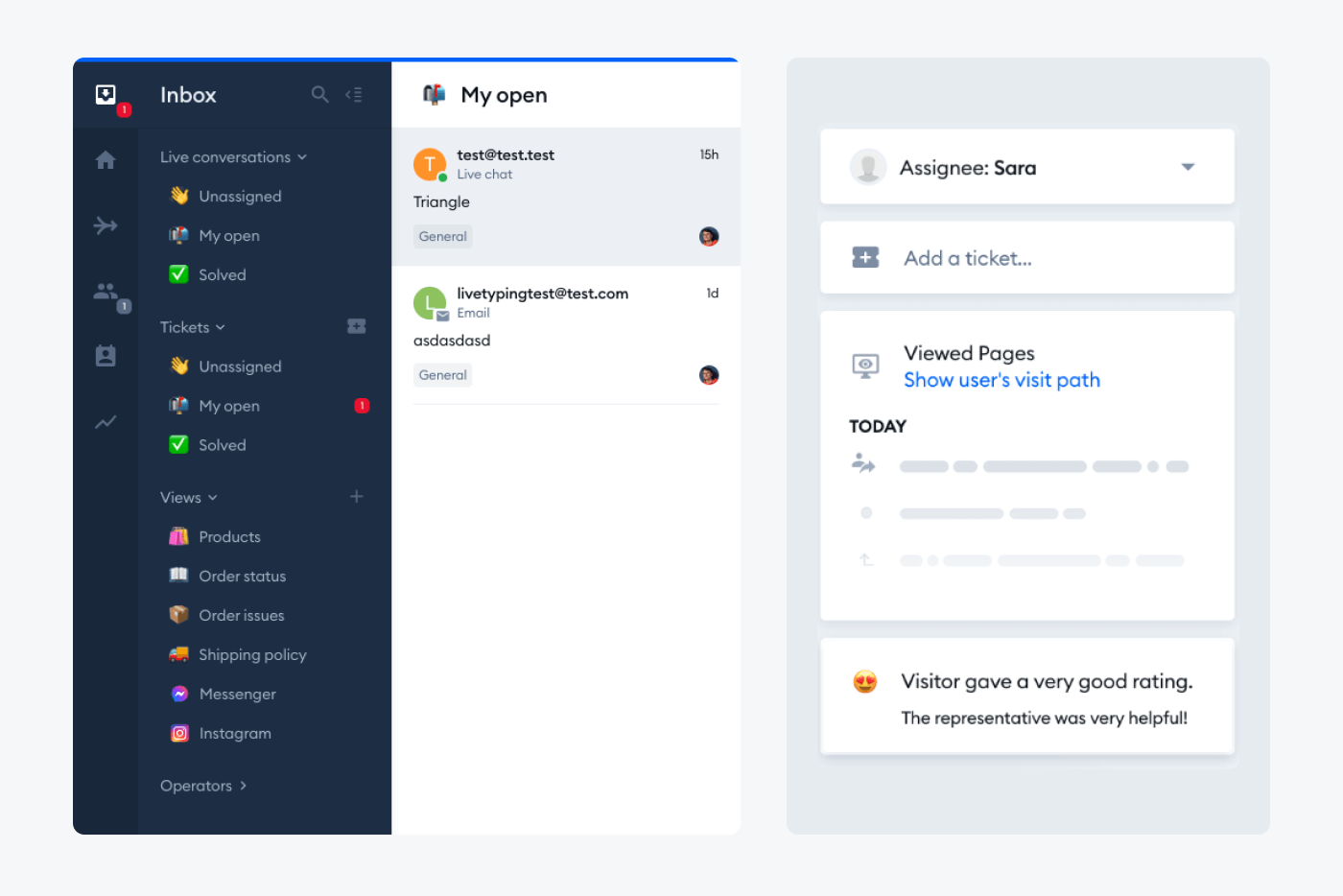 If you would like to analyze your customers' satisfaction after a live chat session with your support agents, it's super easy to find. The results from the survey can be viewed inside the chat conversation, on the right-side visitor's details menu in the Inbox tab, or in the analytics section.
[graphic for Natalia: screenshot: let's put these screenshots side by side: on the left – screenshot with the inbox tab, on the right – screenshot with the customer rating emoji]]
On top of that, in the analytics tab, you will see a chart with an average rating (per days or per month) with a possibility to see all rated conversations' results.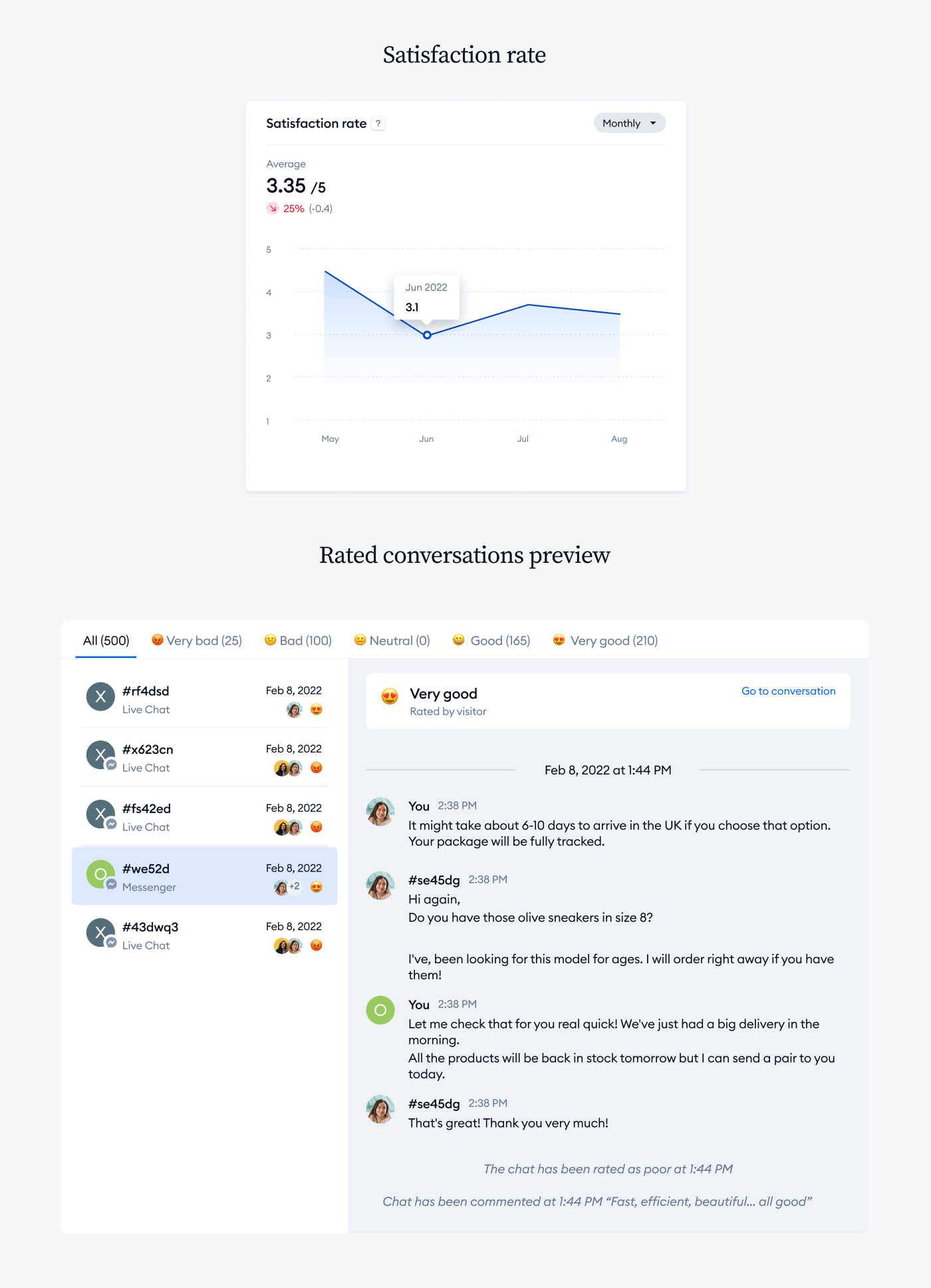 But, there's not the only way to collect your customers' feedback through Tidio's tools. You can also design your own one, with the help of the Tidio chatbot builder.
Post-chat survey through chatbots
If you want to write the whole post-chat survey on your own and maybe add something more than just a standard question about your customers' feedback, you can use the chatbot builder.
As the first thing in building chatbots is to choose the right trigger, we suggest you using the Operator leaves a conversation one. Simply put, this trigger makes the chatbot send a chat message to your customer right after the live chat session with your support agent.
When you choose the Operator leaves a conversation trigger, you'll see its limitations. Click on the limitation box to see all the possible options and decide how often you want your post-survey chatbot to activate—once per 24 hours, once per user, or without limitations.
Then you can connect the trigger to any action or condition during the live chat session with your customer that you believe will bring the best results. Like on the example below: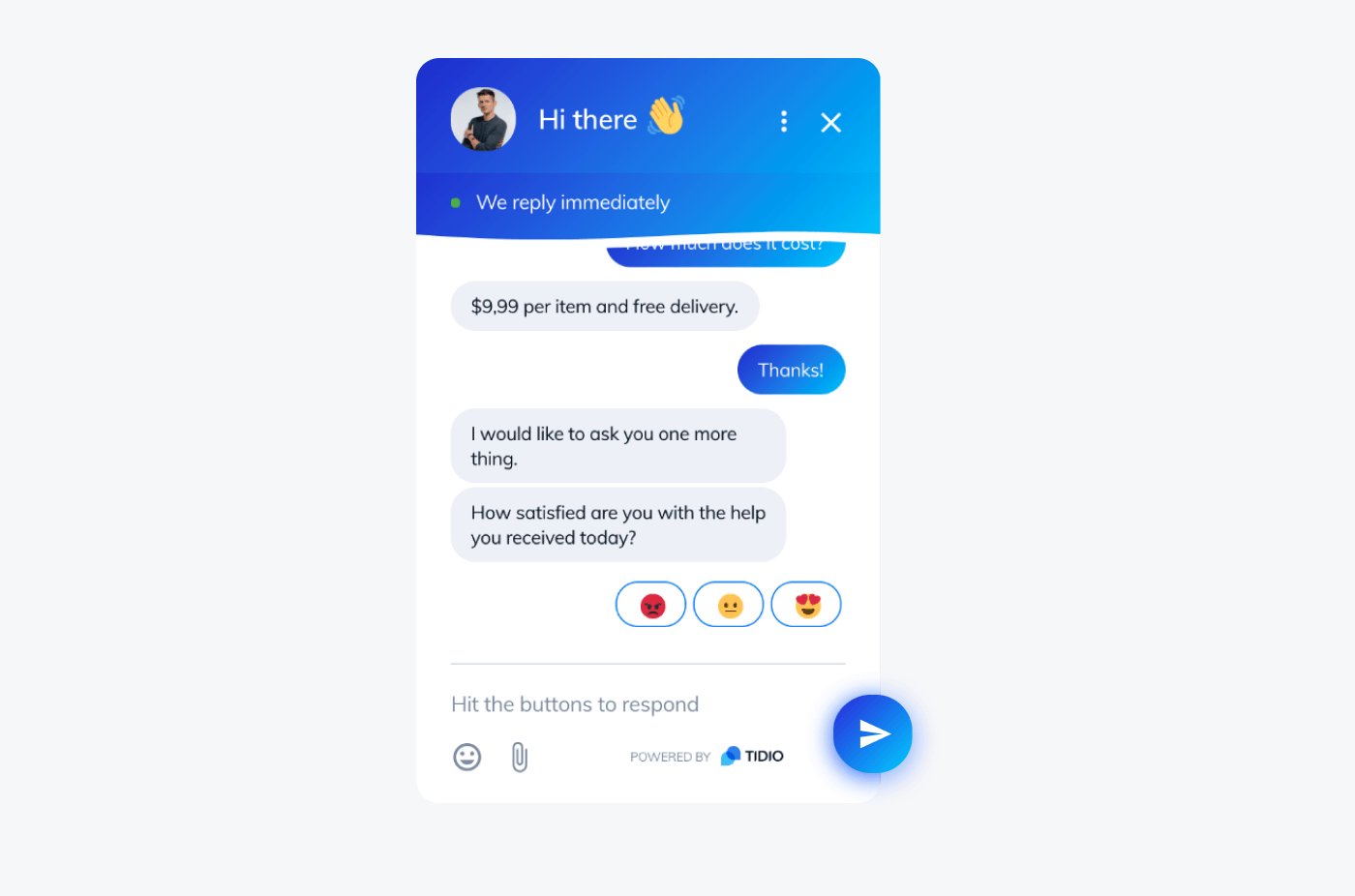 And voila! Your post-chat survey chatbot is now active and can gather feedback from your customers.
Later on, you can send the collected insights via the Zapier tool to, for example, Google Sheets, to organize and analyze the feedback you get.
Now, let's find out what are the best practices of creating post-chat surveys.
Post-chat surveys: best practices
There is no doubt that real-time feedback can bring a lot to your business. It helps to keep your clients satisfied, which leads to more sales and recommendations. In fact, about 81% of marketers say that customer satisfaction is the main competition area in their industry.
But to be able to get valuable results from chat surveys, you need to design them properly.
So let's start from the beginning—
Set up clear goals of your survey
Setting up clear goals and objectives is the essential first step when preparing your post-chat surveys. You have to know what you want to find out. The clear goal will help you choose the form of questionnaire, ask proper questions and hit the right target group.
The most common objectives are:
Measuring your support agents' performance
Monitoring customer satisfaction
Measuring the overall customer experience
Finding the missing links in your products/services
Pick the right time to ask the survey
Even the best survey won't give you satisfying results if you send it at the wrong time. Your target audience will just oversee it or won't have time to complete it. Your job is to spot the time when your clients are most likely to complete the survey.
For example, if you're running an ecommerce business, the right time can be after every successful purchase, so you'll get the most out of your clients' feelings about the buying experience and why they decided to choose your brand.
In the case of SaaS business, you can try to send your survey while people are actually using your product, so it won't be disturbing.
Keep your surveys brief
The main survey beneficiary is you. Of course, you will improve your customers' experience and the overall quality of your products and services. But, at the end of the day, it's your company that gets the most benefits from this solution. So keep in mind that people are doing you a favor by completing your surveys.
Going further, don't overwhelm them with your questionnaires. Make them simple and easy to complete. Limit the questions to five and form them in a way that will show your customers that you're doing it to make the shopping experience better.
Ask your clients for additional feedback
Asking your audience for additional feedback, so they can express their feelings in their own words is a great way to make them feel valued. So, make sure that their feedback is important for you.
How to do it?
Let's say that at the end of your survey you've asked a simple question "How would you rate your overall support experience?" and gave three simple emoji responses to choose from. It's fine but add an additional box where your clients could leave a comment or add something more to their feedback. Like in the screenshot below.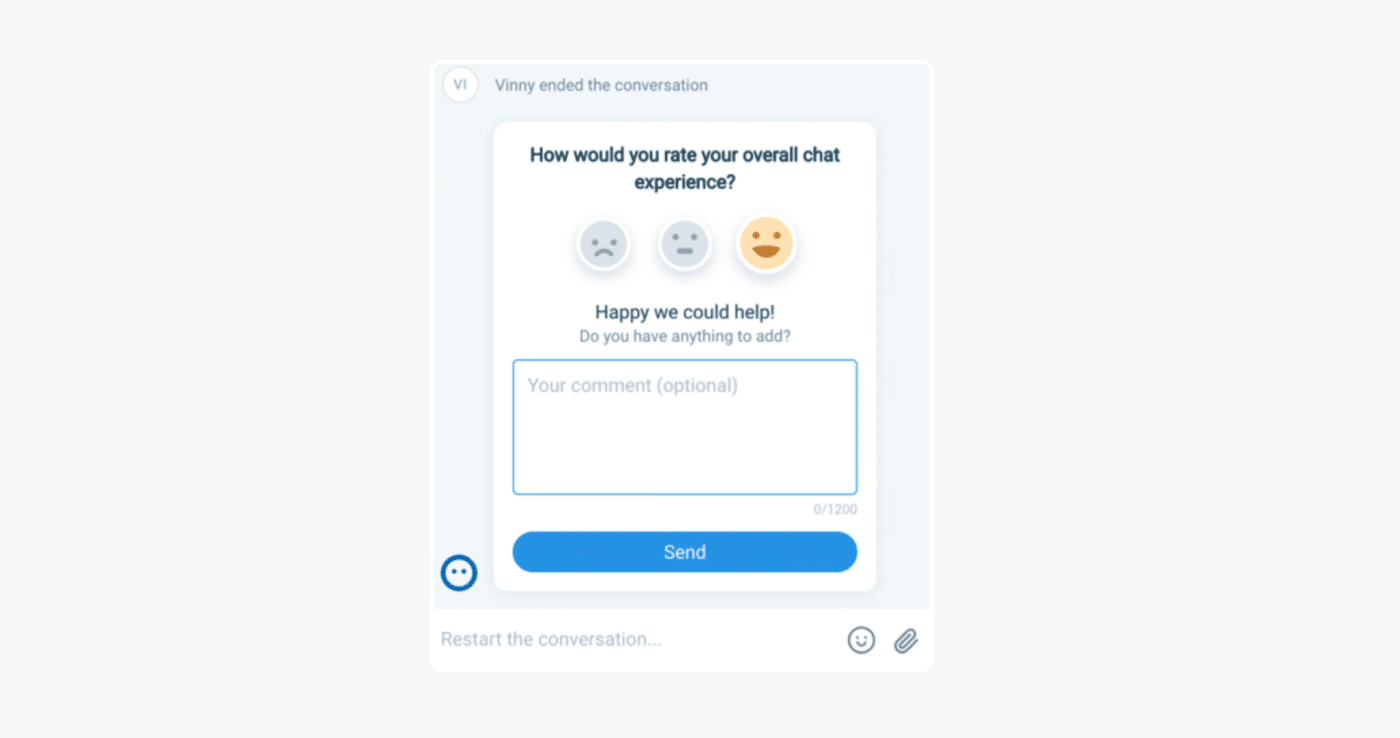 But remember to keep it optional, don't force people to complete this box. Otherwise, you might get the opposite effect.
Measure your post-chat survey results
There is no point to create chat surveys if you won't measure and analyze the results. The gathered information can enrich your customer database in your CRM. Based on them, you'll be able to create better brand experience and provide better products or services that your clients will love. And recommend them to their friends.
To measure your survey results, you should stick to these two metrics—Net Promoter Score (NPS) and Customer Satisfaction Score (CSAT).
It's based on using the NPS questions we've mentioned above. By asking these questions, you'll get measurable data that will help you to categorize your customers and spot which areas of your business need improvements.
Customer Satisfaction Score (CSAT)
It's a customer satisfaction metric that shows companies how satisfied people are with the particular product or service. It's measured on a 1 to 5 scale:
1—Very unsatisfied
2—Unsatisfied
3—Neutral
4—Satisfied
5—Very satisfied
Read more: Learn more about metrics and KPIs to use for measuring your customer success.
Make sure to include summarizing question in your survey (most commonly they are placed at the end) to get measurable insights about your company's products, services and overall customer experience.
Chat survey: summary
Wrapping up—
Both pre and post-chat surveys are essential for successful customer service strategy. Pre-chat surveys will help your support agents in solving client's queries faster and more efficiently. Whereas post-chat surveys will help you to gather feedback about your products, services and overall customers' experience.
Chat surveys can help you make improvements in many other aspects of your business. The knowledge they gather can be a great source of tips on how to improve your products or services to make them more attractive for potential customers.
Also, chat surveys can help you better understand your current clients, their feelings about your brand, or even complaints. Thanks to that, you'll be able to spot customers' pain points in your customer service, support, or overall experience and make significant improvements. And this is something that you should be focused on to stay on top of your industry.