Let me guess—
You've been trying to run your company with a customer database in an Excel file.
At this point, you must have realized that it feels like trying to run a space program with a notepad and an abacus.
That's where customer management software comes in handy.
Here's our list of the best customer database solutions available today. Click on the software on the list to get straight to the review or scroll down to get more background information on customer data management and increasing customer satisfaction.
All of the apps listed here come with a freemium plan or offer a free trial.
| Tool | What for |
| --- | --- |
| Tidio | The best free all-rounder for small businesses |
| Salesforce | The most popular option and industry standard |
| Zendesk | CRM with a powerful customer service suite |
| Pipedrive | User-friendly and minimalistic customer database solution |
| Freshworks | Offers email marketing and chatbots |
| SAP CRM | For old-school, enterprise-level customer management |
| HubSpot CRM | For connecting your customer database with marketing automation |
| Airtable | The best choice for creating dashboards and customer flows from scratch |
| Zoho CRM | Free customer database software extremely popular in India and Brazil |
| Monday | Best for additional project management tools |
Best Customer Database Software Tools
In this article:
If you are looking for something else, you can also check out:
What is a customer database?
Let's start with the basics—
Customer database definition
A customer database is an organized collection of information about customers. It usually has data gathered through direct interactions or behavioral data tracked automatically. Some core customer properties can include contact details, sales information, or CSAT score.
To build and manage this sort of database, businesses use customer database software.
While it is possible to create a client database from scratch, it usually requires coding. If you aren't a big company with a dedicated data team, it may not be worth the effort.
Thankfully, there are many solutions and online tools on the market. They make customer database management easy and available to everyone. You can set up a project and start importing your contacts in minutes. And some providers offer freemium plans for small businesses.
Customer database, contact management software, and customer relationship management software (CRM) are closely related. Sometimes the terms are interchangeable. Most of the apps from this article can be described as all of them. Top customer service software allows for contact management and adding custom customer data.
Why should you collect customer data and use CRM?
Today's business is no longer based only on product quality and good price. The main battle over customers is being carried out somewhere else—through the quality of customer service efforts.
And which companies are winning?
The ones that have the best understanding of their customers' needs.
You cannot compete with your advertising, product, and customer experience if you don't know your customers.
You have to learn who they are, what they want, and how they behave. And this is exactly what customer database software comes into play. It will help you:
Track the behavior patterns of your customers
Find positive and negative correlations between their actions and your profits
Measure the effectiveness of your customer service
Monitor the performance of your marketing campaigns
Segment your customers into different groups and offer personalized experiences
Optimize your business processes and work organization
See the entire history of individual customer interactions
Aggregate data and use analytics to improve your business metrics and sales
Some of your competitors are using a customer management platform already. The customer database software market size is growing extremely fast. According to current projections, it is expected to increase to $82 billion by 2025. The annual growth rate is more than 10%.
Now—
Despite the usefulness of customer database apps, their adoption rate remains relatively low. It's been estimated at less than 25% recently.
The good news?
It is your opportunity to profit from joining early on.
Here is our ranking of the best free customer database software for small businesses.
10 best customer database software solutions
Some of the tools on this list are complete customer service platforms. We took into account factors such as their price, popularity, and ease of use. Ultimately, your choice should depend on the features offered by each solution. If they match your needs or seem useful, give them a try.
In case you don't have any customers yet, here is a free customer database. You can download the CSV file and play around with it to try out the features.
Just import it to a tool of your choice using a CSV importer. Mind that all the emails and names are fake. The contact information is auto-generated.
Now—
The top 10 customer information and CRM software solutions are: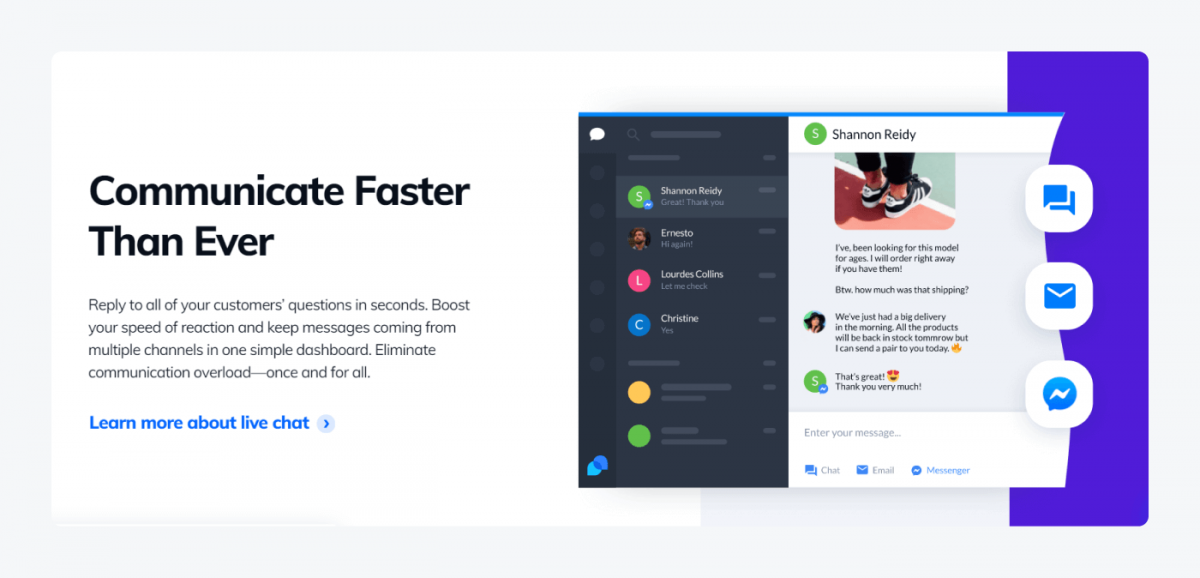 Anything we're going to write about our own tools will sound like bragging. So, let's give the microphone to our customers instead:
I absolutely love Tidio. The automated chatbot has saved me a ton of times, helped me capture sales that I may not have otherwise, and my customers love that it can answer most of the questions they have! I run it on all 3 stores and 2 WordPress blogs! HIGHLY RECOMMEND
Tidio is an all-in-one customer service platform with 150,000+ active users. It allows you to add a live chat widget to your website and have real-time conversations with visitors. You can also use it for automated lead generation.
Businesses use Tidio to collect data and assign custom properties to contacts. It also works very well as customer tracking software. You can use built-in triggers or send any sort of events through Tidio API.
Some of the best features are:
Unlimited contacts and customer interactions
Easy integration with external apps and data imports/exports
Canned responses and automated messages
Custom properties and tags assigned manually or automatically
Analytics and customer support performance reports
Integrated email marketing campaigns and email templates
Easy installation with WordPress or Shopify plugins
Contact management with Tidio is intuitive and it doesn't generate extra costs. You can use it for free as long as you want! That's why it is the favorite CRM software alternative for small businesses and online stores.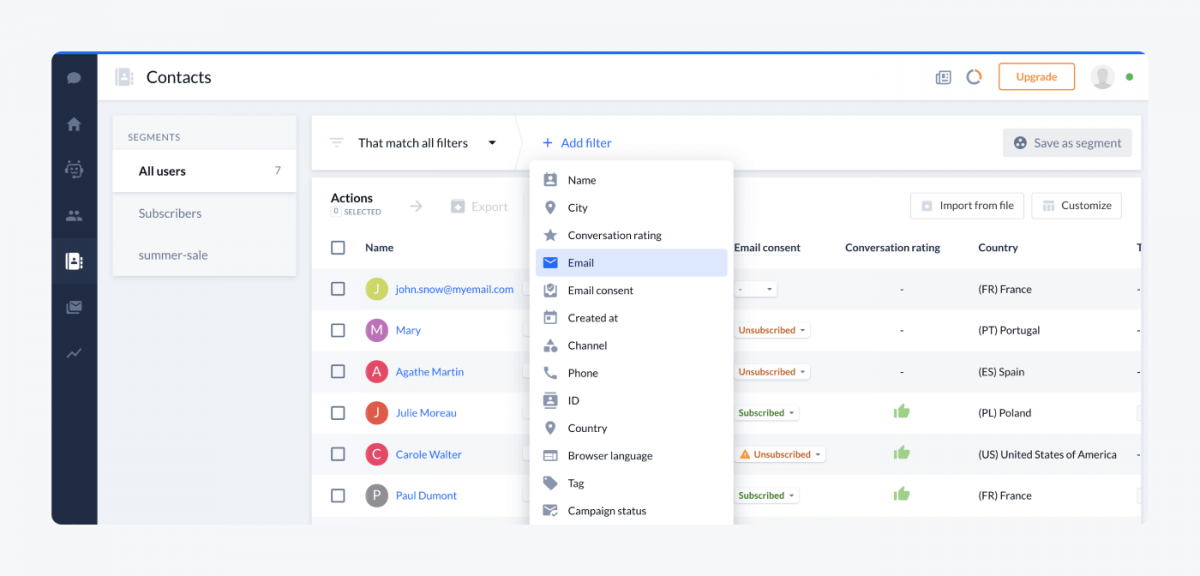 Price: Tidio has a forever-free plan. Bigger companies can upgrade monthly chatbot limits or unlock additional live chat features from $19. But it is completely optional.
Pros: Advanced features in the freemium plan and responsive customer support.
Cons: The full CRM panel is available only in the desktop and browser versions. The mobile app is good for chatting but you should stick to the desktop app for customer management.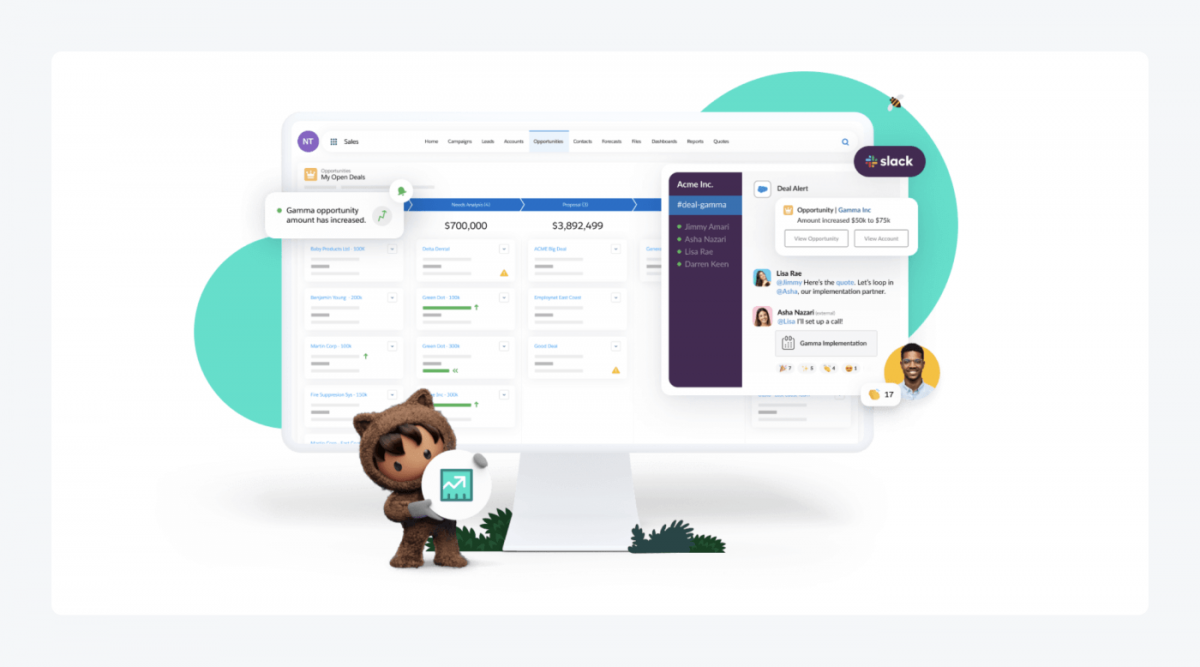 Salesforce is one of the best contact management software solutions available today. If you don't mind the price tag, it can work for your company too.
It is a cloud-based CRM software that allows you to keep track of your customer data in one place. The tool enables good communication between sales, customer service, and marketing teams.
Salesforce features include:
Multichannel case management
Custom service console apps
Pipeline management
Knowledge base tools
Integration with telephony systems
Some of the features are designed with enterprise businesses in mind. If you need to organize processes between multiple departments, you will find them very useful.
Price: The cheapest Service Cloud plan starts at $25/month for CRM essentials. Complete CRM costs at least $75/mo.
Pros: There are countless pricing combinations and various apps that can expand core features.
Cons: No official Shopify or WordPress plugins.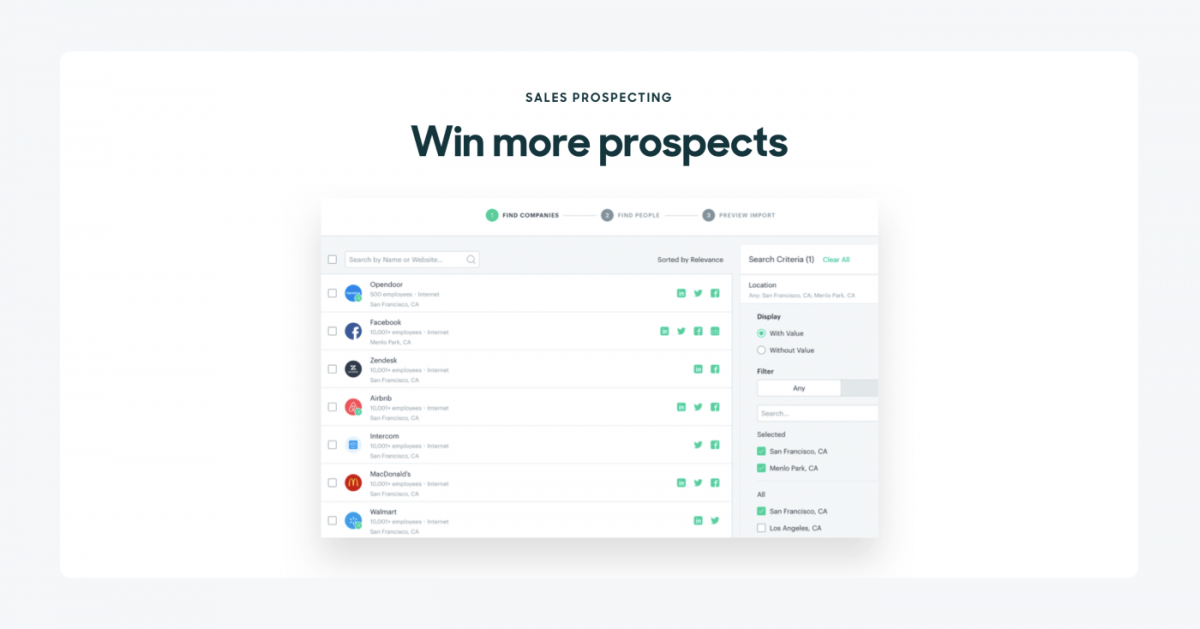 Zendesk is a powerful platform for sales and customer service. It offers several different products and tools that can be connected together. In point of fact, customer service and CRM are parts of different products—Zendesk Service and Zendesk Sell.
Zendesk Sell comes with a mobile CRM tool. It even has its iOS and Android app. The tool, which as the name suggests is designed for sales teams, is very sales-focused.
Some of the most useful features are:
Smart Lists that help segment and filter leads and deals
Custom data dashboards, visualizations, and forecasting
Tools for managing customer pipeline and lead prioritization
Recording calls, transcribing conversations, and sending SMS messages
Zendesk works best as a complete framework. That's why it is popular among enterprise-level businesses that use the whole Zendesk Suite.
Price: The basic version for small teams starts from $19 per month. There is no free option but you can try out the 14-day trial.
Pros: Zendesk has its own base of add-ons and extra tools for almost everything. You can test most of them for free.
Cons: According to some of the reviews available online, the interface can be hard to get used to.

Pipedrive is a sales customer relationship tool for both small and big businesses. It has all the necessary features that allow you to drive leads through the sales funnel.
The tool, with its drag-n-drop dashboards, is very intuitive and user-friendly. It has:
Deal management system
Data imports and exports
Customizable email marketing templates
Email open and click-through rate tracking
If you want additional lead generation tools you can buy them separately. There are chatbots and a Web Visitors panel with page visitor information. Both expansions are very similar to Chatbots and Visitors panels available in Tidio.
Price: The basic plan without expansions costs $12.50/month.
Pros: Great user interface and moderate pricing for small teams.
Cons: Recurring revenue reports are available only in the advanced plan (starting from $24.90 per month).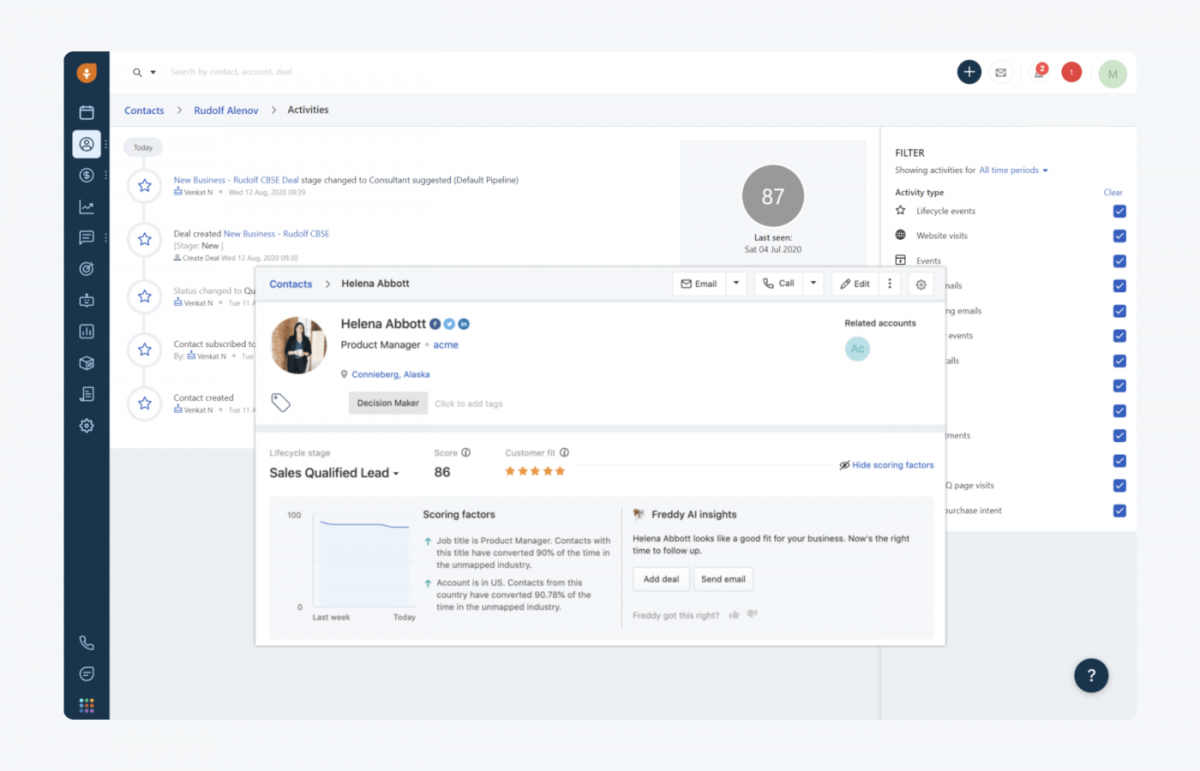 Freshworks is much more than a CRM database. It is a complete marketing and sales solution that allows you to engage customers. You can use it to manage your whole sales pipeline.
This marketing automation and client database software allow you to:
Design landing pages
Track page visits and other actions
Chat in with website visitors using chatbots
Create email campaigns
Generate leads for sales
Freshworks has a 21-day free trial so you can test all of the features at your own pace.
Price: The Growth plan for small teams starts at $29/mo.
Pros: You can integrate Freshworks with Slack to synchronize your conversations.
Cons: Email marketing features can be challenging to use. Email deliverability rate has also been questioned by some reviewers of the platform.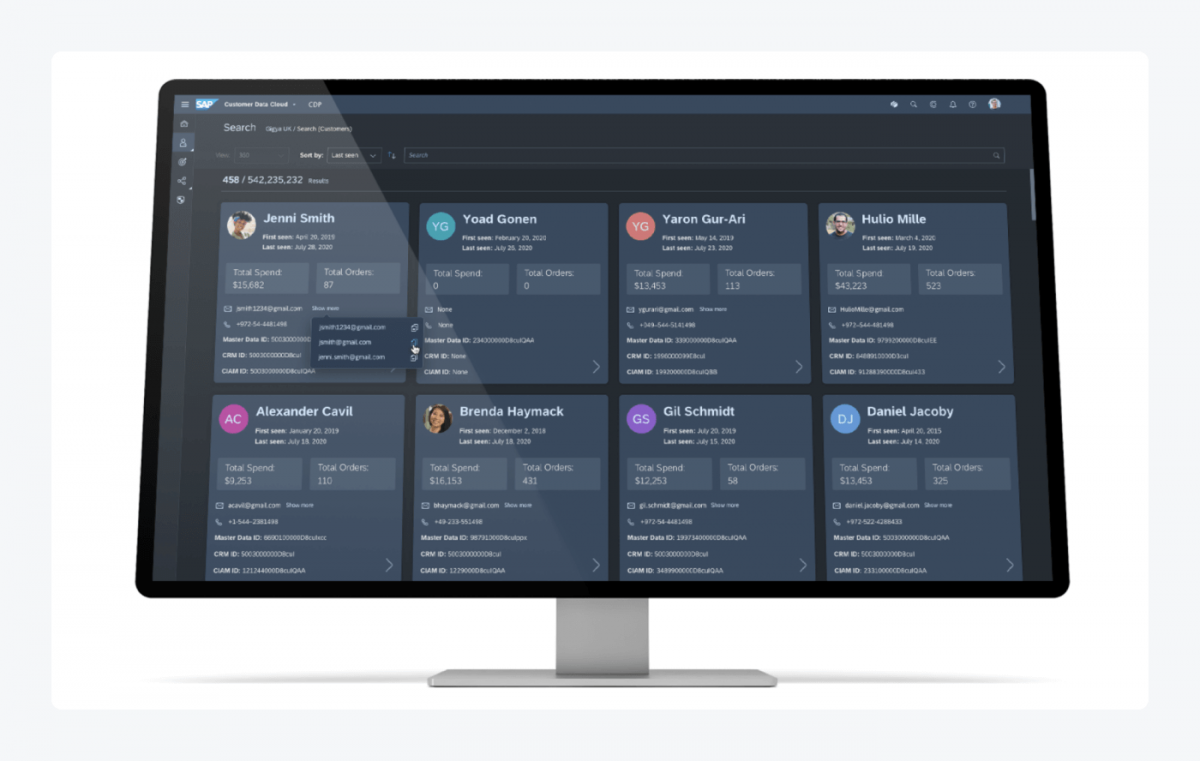 SAP is an old-school established player in the business software niche. This German company has been around for decades. They used to create enterprise resource planning software. Now SAP offers modern customer experience and CRM tools too.
SAP Customer Data Management has:
Customer access and lifecycle management
Personalized engagements across touchpoints
Centralized consent and preference systems
Social media tools
SAP Master Data Integration service
This product is aimed at midsize companies and enterprises. Especially the ones that had been using other products from SAP before.
Price: There is no free plan available. The pricing starts at $58 per month per user.
Pros: It is one of the most complete platforms on the market (if a little bit dated).
Cons: Configuring the backend can be a little bit more complex with this provider.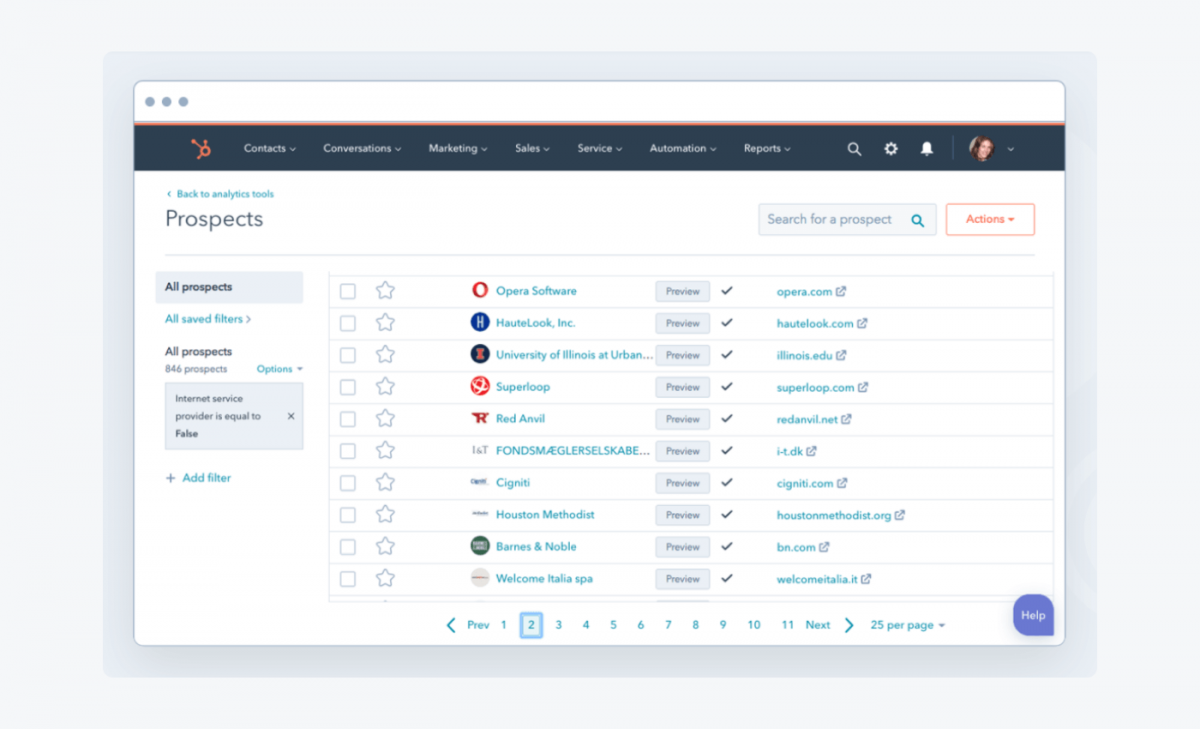 HubSpot offers a wide selection of customer service, sales, and marketing automation software. It has one of the most advanced and best customer database software.
As the name suggests, HubSpot provides "hubs" for marketing, service, or content creation. Their CRM is a feature included in Sales Hub, which offers:
Sales management playbooks
Appointment and meeting scheduler
Email templates and tracking
Contact management and customer profiling
AI-powered conversation and call analysis
Lead management
HubSpot can become quite pricey if you are interested in its advanced features. But the basic version can get the job done too and it is free.
Price: Core CRM and deal management tools are free. But they don't have automation options or performance analytics. The Starter plan starts at $45 per month.
Pros: Great resources and free online courses on the official website.
Cons: HubSpot for email marketing can become costly as your customer database grows.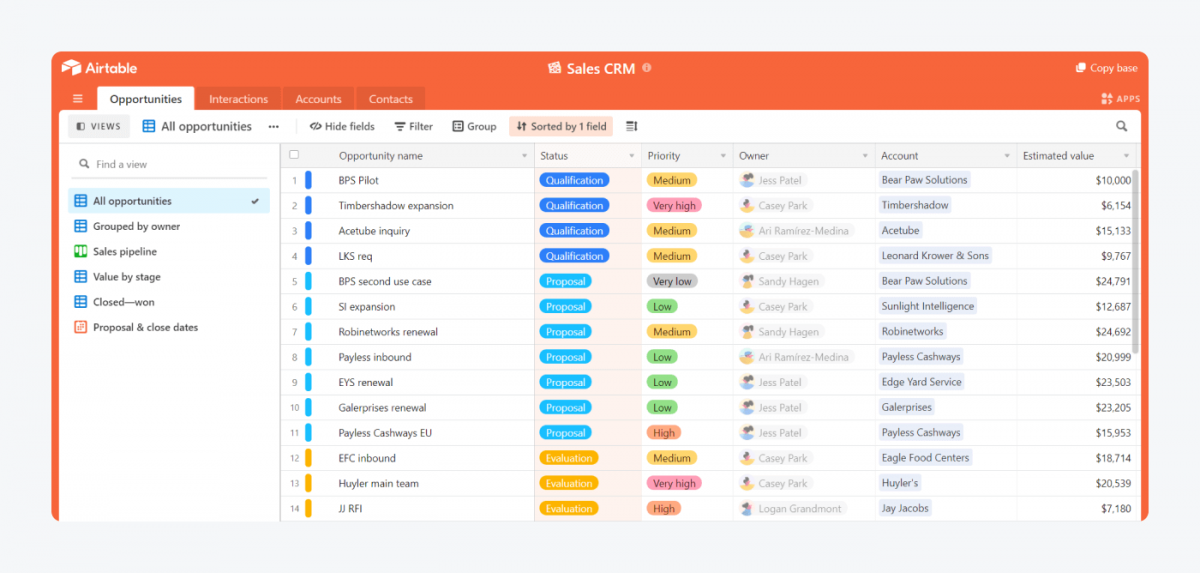 Airtable is not a CRM platform per se. It is a powerful editor for creating interconnected dashboards and management boards. While not a dedicated customer management tool in itself, Airtable has some awesome sales CRM templates.
Airtable is a good choice if you want to control every aspect of your dashboards. But you must enjoy tinkering—it is a prerequisite. You'll most likely have to fine-tune every detail personally.
Airtable has:
Grid view, kanban boards, or galleries
Gantt charts and schedule designers
Data synchronization across dashboards and documents
Notifications and automated tasks
If your previous customer database was a spreadsheet in Google Sheets, Airtable is definitely an upgrade. You should be happy with it and you will get used to the interface right away.
Price: There is a free version for users who want to test it out. But its synced tables have to be updated manually and access to internal apps is very limited. The Plus plan starts at $10 a month per user.
Pros: Unlimited customization options.
Cons: It is not an out-of-the-box solution. You have to know what you are doing to make it work for you.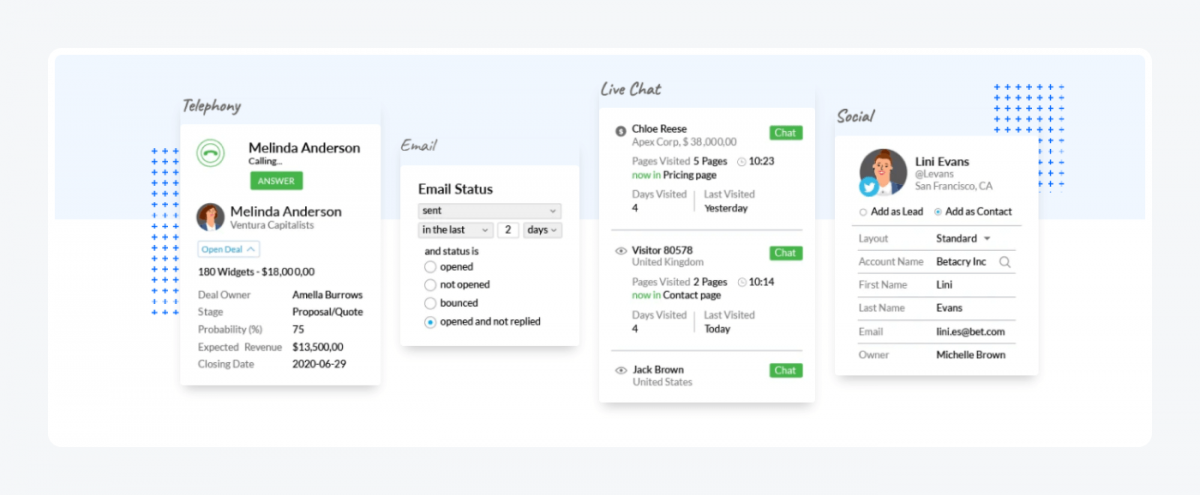 Zoho is an India-based web app that primarily offers a popular online office suite. It is an alternative to tools offered by Google or Microsoft. But it also has some very advanced tools for enterprise resource planning, CRM, email marketing, or even web design.
Zoho's popular features include:
Lead management
Inventory planning
Workflow automation and analytics
Conversational AI insights
Email integration and mass emails
Customizable dashboards
The tool is quite similar to SAP—a little bit less user-friendly, but highly customizable. Compared to other options, you get an enterprise-level solution at a fraction of the cost. It is great for big and mid-sized companies on a budget.
Price: The Standard plan starts at $14. You also get a 15-day free trial to test the app.
Pros: It will satisfy even very demanding customers who need advanced CRM features.
Cons: There are many integrations available but they can be quirky at times. Some users encountered problems while trying to connect Zoho and other platforms.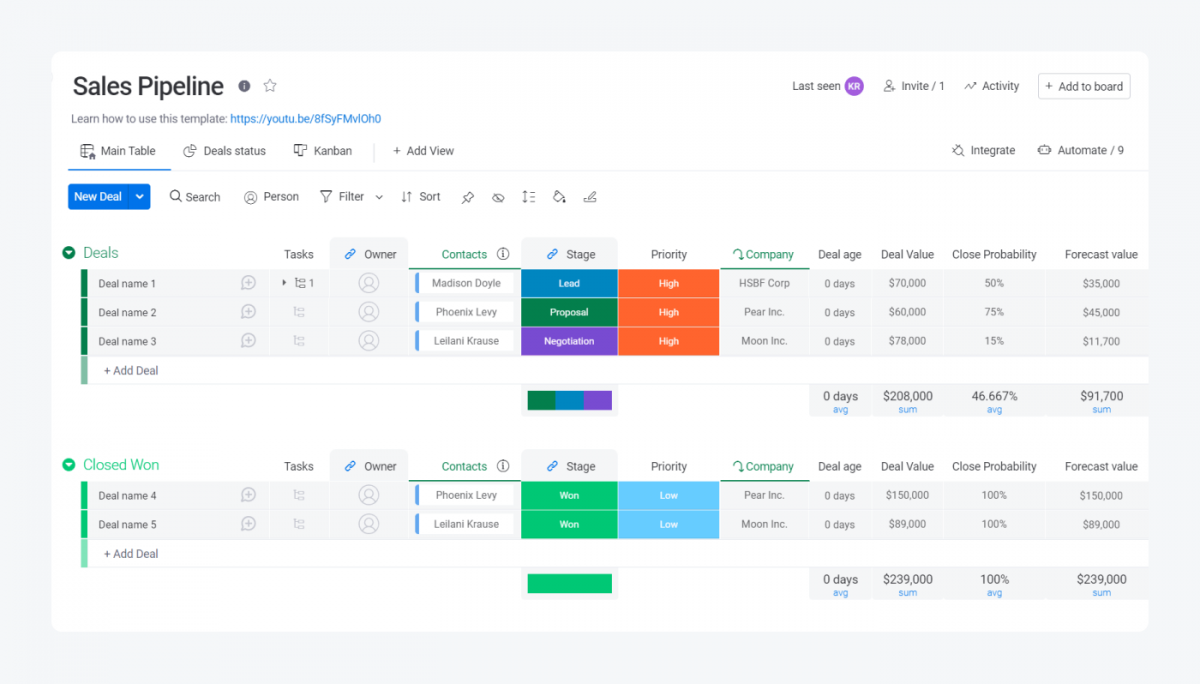 If you need something between Airtable and Pipedrive, Monday is just the thing. It is both dashboard-oriented and extremely well-designed.
The tool is more of a work organization and project management software for teams. Some companies use it as an advanced Kanban board. But it is also a great customer management system.
Some of the top features of Monday are:
Lead capturing and sales pipeline dashboards
Customer onboarding templates
Calendars and scheduling
CRM learning center and resources
Monday is very intuitive and you can set up your basic CRM just by answering some questions. Afterward, you can select templates that you want to use. It is a great solution for SaaS companies—your software development project boards and sales pipeline can be right next to each other.
Price: There is a forever free plan with basic features and 2 team members. The basic plan starts at $24/mo.
Pros: You can set it up in 5 minutes and explore all sorts of dashboards for sales, marketing, and work management.
Cons: It is mainly a work operating system (Work OS), so don't expect enterprise-level functionalities.
Key Takeaway
There are no one-size-fits-all solutions when it comes to customer database software. Some of them offer features linked with marketing, acquisition, AI, or project management.
If you need software that you can use for free, go with:
Big businesses that want to have advanced features should choose:
If you need to customize dashboards or create them from scratch, pick:
Always remember, that tools won't do your work for you. Unless, of course, we're talking about chatbots, which literally do just that.