Your lead generation strategy is not as effective as you'd like it to be.
It's missing something.
And you're thinking about using lead generation tools to increase the number of prospects and potential customers.
But which ones to choose for the best results?
Going through the internet and reviewing all the possible options would take you many hours, if not days. Believe me, I know—I did that for you!
So, let's go through the top lead generation software available on the market and make the best choice for your business.
In this article:
Do you want to find out more about how to improve your retention rates and increase sales from your leads? Check out these articles:
It's tempting to jump straight into the best lead generation software tools, but let's first learn what they actually do.
Shall we?
What are lead generation tools?
Lead generation tools assist you with capturing and qualifying leads. They can do this on your website or different social media platforms. Lead generation software automates the process of generating prospects, so you can focus on growing your business instead of manually looking for potential customers.
Some of the tools work on set triggers. One of the trigger examples would be detecting an exit intent and asking your website visitors for an email address upon it.
Others, like email finders, scan networking sites and business websites for professional email addresses, so you can contact the decision-makers in your B2B marketing campaigns.
Three examples of lead generation tools are pop-ups, chatbots, and email finders.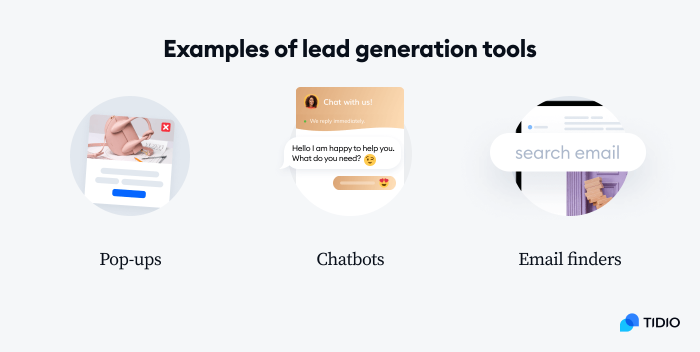 Here's why lead generation software is worth your while—
Read more: Discover the best strategies to make your B2B lead generation successful.
Why you should use lead generation tools
Firstly, it lets you focus on tasks related to business growth by taking the worries of gathering prospects off your hands. This way, you'll also save time and money because the manual workload of your teams will be lower.
And considering that about 61% of marketers think of lead generation as their biggest challenge, the software can help you get ahead of your competitors. Lead management system can make prospect generation easier, and provide the data to keep improving on your processes.
Secondly, lead capture tools not only gather prospects for your campaigns. These systems also perform lead scoring of the potential customers for you. And the more qualified leads, the more sales you can close.
So, in the long run, lead generators help you boost sales while increasing your email list. Sounds great, doesn't it?
What's more, Marketo's study shows that an effective lead generation strategy can bring over 133% more revenue to the company using it. This means that you can boost your revenue from $100 to $233 by implementing tools and creating an effective strategy for your lead capture.
Types of lead generation tools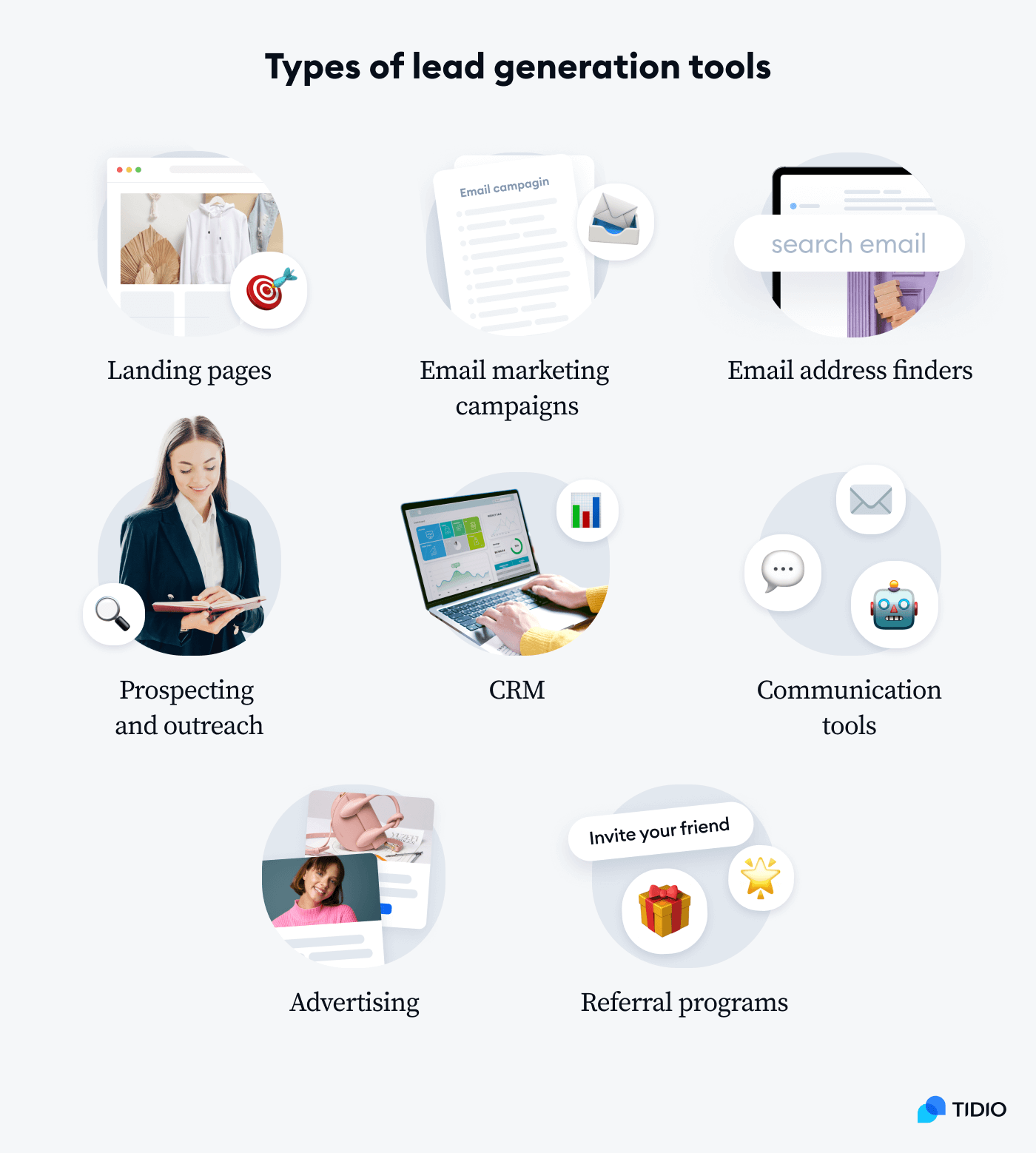 The main types of lead generation systems include:
Landing pages—drive leads and subscribers straight from your product-specific landing pages
Email marketing campaigns—nurture and gain leads through personalized email campaigns
Email address finders—get to people who haven't opted-in to your email list yet
Prospecting and outreach— reach out to potential customers visiting your website
Customer Relationship Management (CRM)—use automations to target leads throughout the sales funnel
Communication tools—chat with people to build customer relationships straight from the first interaction
Advertising—drive traffic and collect prospects from social media, paid ads, etc.
Referral programs—system that provide customers with incentives to recommend your company to friends and family
You can mix and match these types of tools to get the best results. Try a number of them to see which ones fit your business and stick with them while improving your processes continuously. Also, remember that some of the lead generation tools belong to more than one type of system, so you can use them for a number of different tasks involved in lead capture.
It's time to answer the question you came here for.
So, what are the best lead gen tools?
Best lead generation tools: comparison
There are over 280 tools for lead capture listed on G2 alone. Going through them all would take hours that you should spend on building your business. We did the digging for you and picked the top 36 software for lead generation available on the market today.
Here's a comparison table for a quick look at the best lead generation software:
Let's have an in-depth look at each of the top lead generation platform with their main features and pricing comparison.
On-page lead generation systems
On-page software includes chat tools, pop-over forms, ticketing systems, etc. These tools allow you to start a conversation with a website visitor and turn them into a lead.
It's worth noting that conversational tools are one of the best systems to gather high-quality, warm leads as they collect potential customers who are already interested in the products you're selling.
Here are the best options to do the job—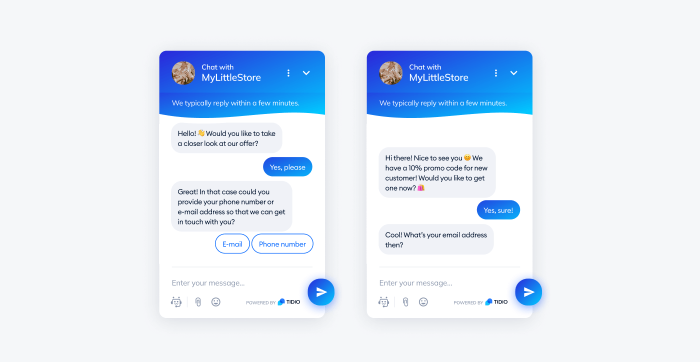 You're right—this is our tool. But promise, we won't toot our own horn here.
So let's keep it short.
Tidio is an all-in-one customer service and marketing solution. It offers a live chat feature powered by chatbots to improve your customer communication, generate leads, and increase sales. This lead generation tool also allows you to use the concept of conversational marketing to its maximum advantage. Moreover, it lets your visitors and customers easily ask their questions about your product or services. This way, you have a chance to support and turn your visitors into customers in one go.
Main features:
AI chatbots with NLP technology
Various integrations including Shopify, Zapier, HubSpot, and MailChimp
Live visitor list
Over 16 different triggers
More than 37 ready-to-use chatbot templates
Easy installation in under 5 minutes
Free version available
Communicator ($19/month/operator)
Chatbots ($39/month)
Tidio+ ($289/month)
Read more: Learn how to start collecting leads using Tidio live chat and chatbots.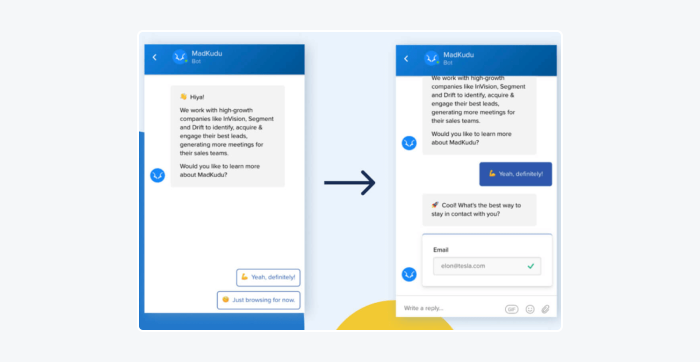 This is one of the best lead management software that focuses on building relationships with customers through real-time messaging. You can turn your website visitors into leads with live chat and chatbot features. How? For example, bots can ask your website visitors for contact information before engaging in a conversation with the user. What's more, Intercom also provides a help center, ticketing, and automatically sorts visitors into categories based on set criteria.
Main features:
Chatbot templates for marketing
Reporting dashboards available
Collision detection for queries
Starter ($74/month)
Support → contact sales team for pricing
Engage → contact sales team for pricing
Convert → contact sales team for pricing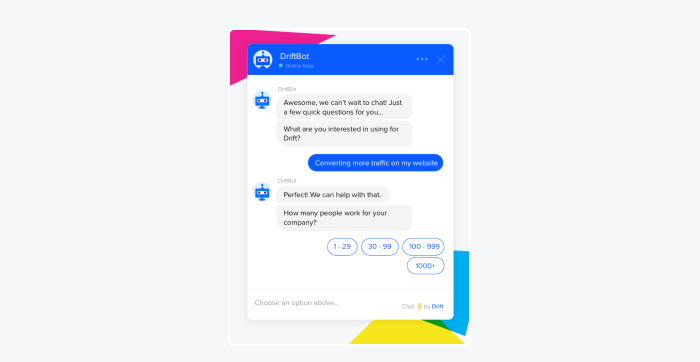 Drift helps you accelerate lead generation and personalize the visitor's experience on your site. It provides conversational AI that you can add to your website, messaging platforms, and social media. This lead generation software was designed to help you grow revenue, gather leads, and shorten the sales cycle. Drift focuses on the customer's lifecycle by offering conversational marketing and sales automation.
Main features:
Booking meetings
Marketing conversion tracking
iOS and Android app
Premium → contact sales team for pricing
Advanced → contact sales team for pricing
Enterprise → contact sales team for pricing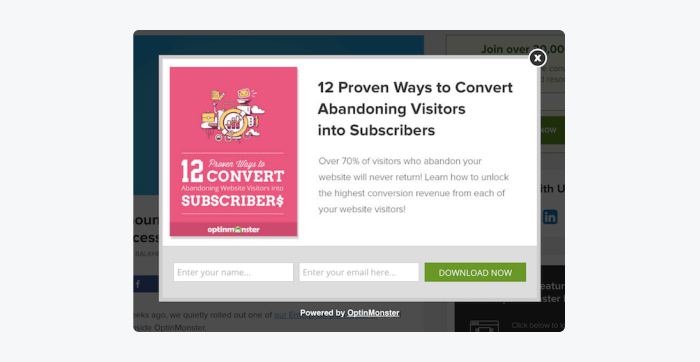 This online lead generator helps to grow your email list and improves conversion rates on your website. It's a powerful tool for marketing agents, ecommerce businesses, bloggers, and small to medium companies. Optinmonster provides lead generation forms, pop-ups, scroll-boxes with personalized messages, and targeting on page-level or geolocation bases. 
Main features:
Visitor and lead segmentation
Conversion analytics
Geolocation targeting
Basic ($16/month)
Plus ($32/month)
Pro ($49/month)
Growth ($82/month)
Email leads generators
Do you want to focus your efforts on email marketing campaigns?
No problem! There are many tools out there that can help you improve your email marketing. And the five best ones are—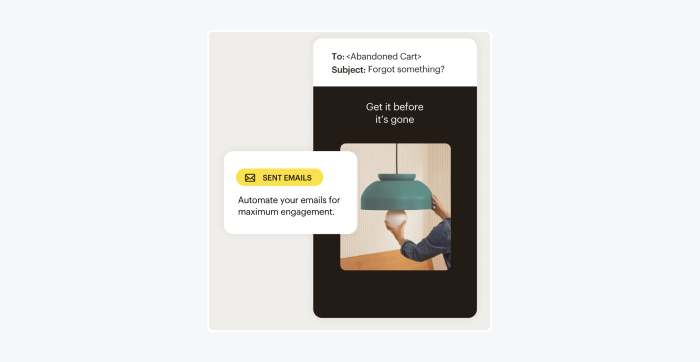 Mailchimp is an email marketing and customer relationship management (CRM) tool, as well as lead generation software. It helps businesses to build an audience, send emails, and create social media campaigns. This CRM platform offers a drag-and-drop email and form builder to speed up some of the processes. It also helps your existing and new leads to create target audiences for specific marketing campaigns.
Main features:
Pre-build email and landing page templates
Analytics for monitoring trends and tracking your performance
Variety of integrations including Zapier, Square, and WooCommerce
Premium ($299/month)
Standard ($17/month)
Essentials ($11/month)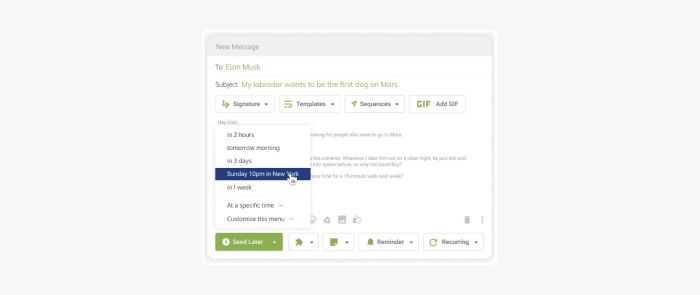 This leads generation system schedules emails and follow-ups according to the set trigger events. You can add contextual notes to each conversation that aren't shared with the other conversation partners to keep track of important details. Right Inbox offers reminders about important emails, so you can remember to get back to the conversation after a specific time has passed. It also lets you embed GIFs, add smart link previews, and track emails.
Main features:
Multiple signatures in Gmail
Custom reminders
Contextual private notes to the emails
Free version available
Yearly ($5.95/month)
Monthly ($7.95/month)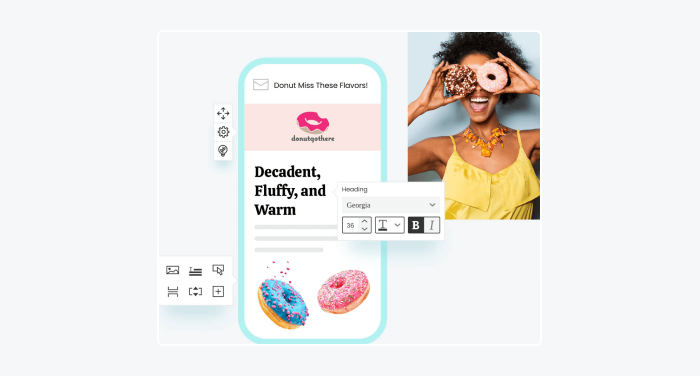 This software focuses on generating leads via email marketing, social ads, and campaigns. Constant Contact, as the name suggests, ensures you keep continuous contact with your potential clients. It lets you connect with people in their inboxes by creating effective email campaigns and driving sales faster. In broad terms, this tool helps you get the results you want, whether it's to drive sales, engage the audience, or track your performance.
Main features:
Social ads and campaigns
Audience insights
Hundreds of branded templates
Core ($9.99/month)
Plus ($45/month)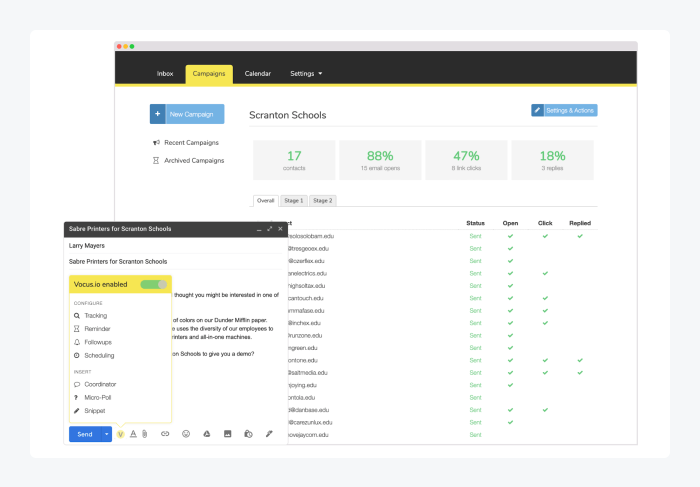 Vocus.io is a Chrome extension to enhance your Gmail's capabilities. This lead generation platform offers email prospecting and validation to add the best-qualified leads to your mailing list. It also tracks emails and links for your lead generation campaigns, so you know who opened your emails, when, and where. On top of that, it provides Slack and mobile notifications, so you can stay up to date with your marketing efforts.
Main features:
Email and link tracking
Variety of integrations, including Zapier, Salesforce, and Pipedrive
Custom email snippets available
Basic ($5/month)
Starter ($10/month)
Professional ($20/month)
CRM systems for lead management
Customer relationship management (CRM) tools for lead capture help you manage all of your customer relationships and interactions with potential clients.
So, if you need a helping hand with improving your business relationships, this software is for you!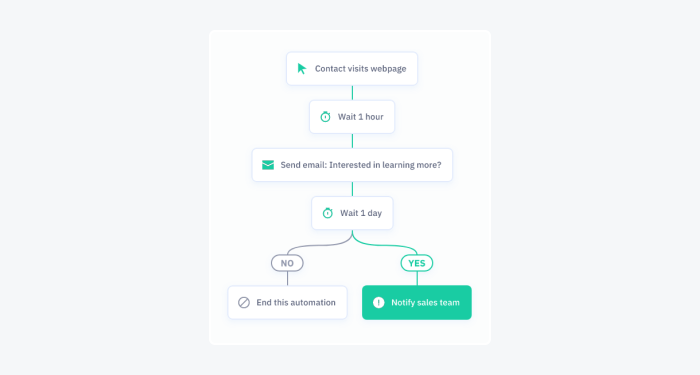 Activecampaign is a CRM platform with email and sales automation that keeps your customer data organized and improves your interactions. It offers precise targeting for prospects, personalized email marketing, and a live chat feature. You can connect with your website visitors in a meaningful conversation, send them personalized welcome emails, and track the engagement with your brand. All of which can help you boost your sales in the long run.
Main features:
Website tracking
Advanced reporting
Lite ($39/month)
Plus ($70/month)
Professional ($187/month)
Enterprise → contact sales team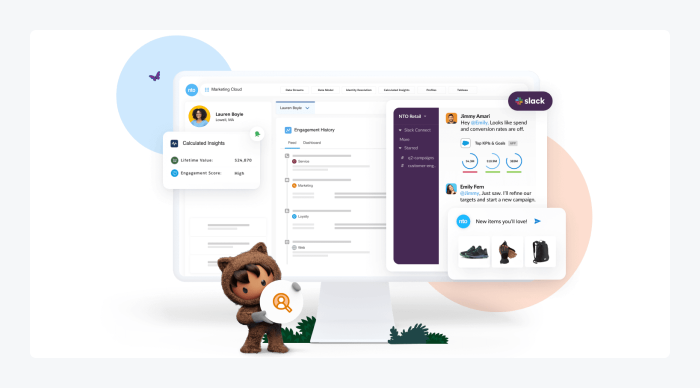 Salesforce is one of the best cloud-based CRM lead management tools available on the market. It keeps track of all of your lead data in a single platform. This customer relationship management tool enables better communication between sales, marketing, and customer service teams, as well as improved interactions with shoppers. It can also automate some of the email marketing processes and pipeline management to boost your team's efficiency.
Main features:
Automatic lead and data capturing
Visitor tracking with real-time sales alerts
Multichannel contact management
Essentials ($25/user/month)
Professional ($75/user/month)
Enterprise ($150/user/month)
Unlimited ($300/user/month)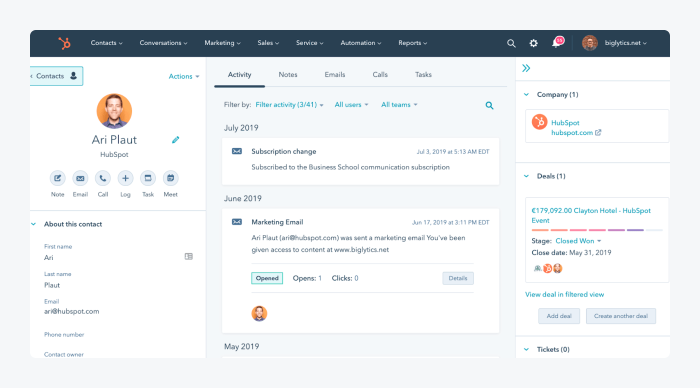 This lead generation CRM offers free live chat software for your customer communication. HubSpot provides useful reporting tools to review the number of conversions, customer satisfaction ratings, and more. You can synchronize your customer data across HubSpot modules for a smoother process. Another handy feature is the contact information displayed straight on the live chat app. This lead gen tool integrates with Slack to keep track of your contacts and follow-up messages.
Main features:
Responsive calendar booking
Advanced marketing analytics
Live chat and chatbots
Free plan available
Starter ($45/month)
Professional ($800/month)
Enterprise ($3,600/month)
Read more: Check out this case study to learn how a dog accessories business doubled its sales in a week using chatbots.
Zendesk is a multichannel customer service management software that includes a ticketing system, a live chat tool, and a knowledge base. The good news is that businesses of all sizes find this CRM tool useful. It can help you with your support, sales, customer engagement, and marketing. You can also create custom forms, workflows, and auto-responders for a personalized feel of your site.
Main features:
Over 1,000 apps and integrations, including MailChimp and Shopify
Built-in issue tracking system
Satisfaction score functionality
Team ($19/user/month)
Growth ($49/user/month)
Professional ($99/user/month)
Lead generation-focused landing pages
You most likely already have some landing pages for your products. But landing page lead qualification tools can help you improve these pages, so they bring you better results. Some of these tools assist you in building effective pages. Others are additions to your landing pages that help you increase your site's trustworthiness and bring in new customers to your business.
Let's have a look at them.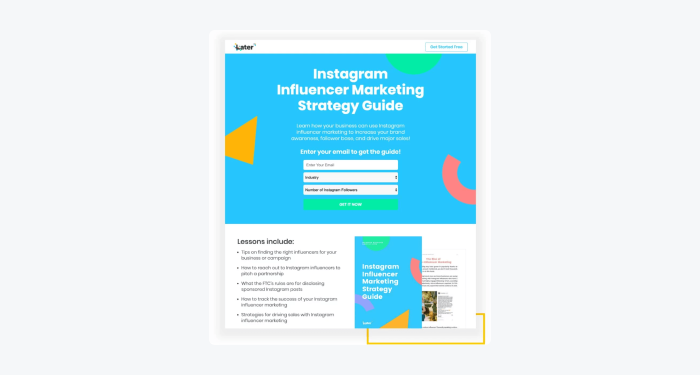 Unbounce uses AI-powered landing page builder to help you create high-performing, SEO-friendly pages faster and turn more of your website visitors into leads. It can also pair your Google Ads and email campaigns with dedicated landing pages to increase your quality scores and improve the inbound marketing. On top of that, this software helps you obtain a high opening and conversion rates even from your cold emails.
Main features:
Easy-to-use page builder for landing pages
Optimized for mobile
AI copywriting tools available
Launch ($90/month)
Optimize ($135/month)
Accelerate ($225/month)
Concierge ($575/month)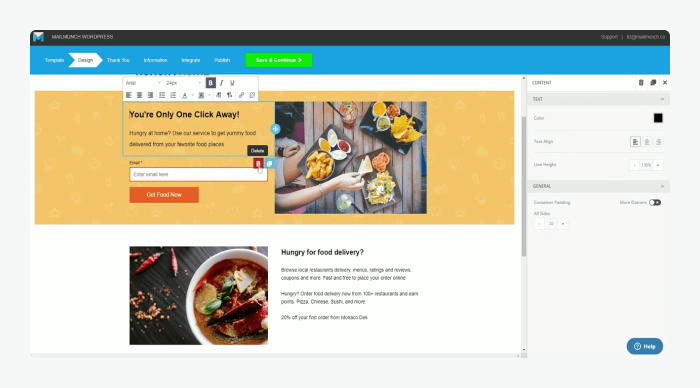 This is a lead generation and marketing platform that helps you build landing pages that convert. It also enables you to create forms, such as pop-overs, emails, covers, and more. Mailmunch offers multiple form types, a variety of triggers, and automated welcome emails. This digital marketing toolkit offers a number of landing page templates with an eye-catching design to help you increase leads and conversions.
Main features:
Drag-and-drop landing page and email builder
Variety of templates
Multiple form types including covers, scroll boxes, pop-overs, embedded forms, etc.
Premium (starts at $13.99/month)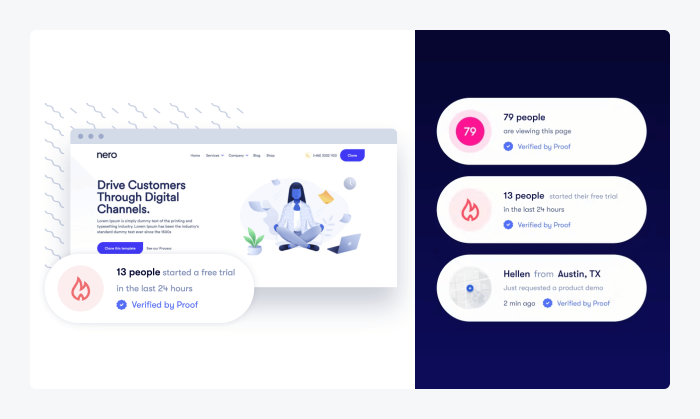 Proof helps you build credibility amongst your website visitors and push them to convert into leads straight from your landing pages. It offers Hot Streaks functionality that shows the number of people who have taken action on your website and a Live Visitor count to show how many people are currently viewing your site. You can use it for limited offers as it creates scarcity and a FOMO effect. This is one of the best tools for lead generation to add to your landing pages to increase conversion rates and reduce acquisition costs.
Main features:
Easy to set up
Custom settings for timing, display rules, and position
Recent activity log to show a live feed of user activity on your pages
Basic ($29/month)
Pro ($79/month)
Business ($129/month)
Premium ($199/month)
Platinum ($299/month)
Enterprise (custom pricing)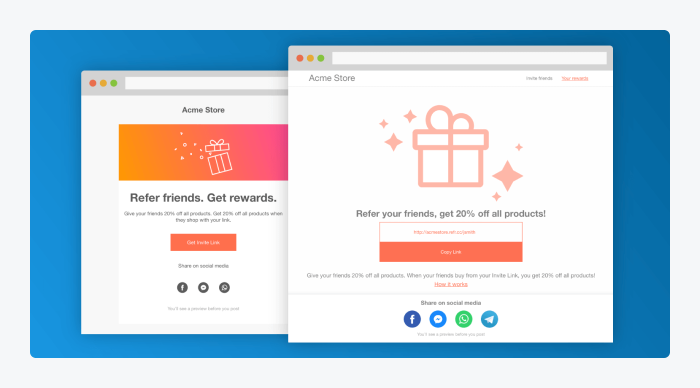 ReferralCandy, as its name suggests, is an automated referral program for collecting leads and increasing sales opportunities. It provides automated post-purchase emails that include customized invitations to join your referral program. This is one of the best lead-generating systems to use for your referrals. It also offers post-purchase pop-ups, landing pages, and referral widgets. You can customize all the rewards and choose between cash, discounts, and custom gifts to match what works best for your brand.
Main features:
Custom rewards to choose from
Automatic emails with referral program invitations
Fraud prevention to identify and ban suspicious transactions
Premium ($49/month)
Plus ($299/ month)
Enterprise → contact sales team for custom pricing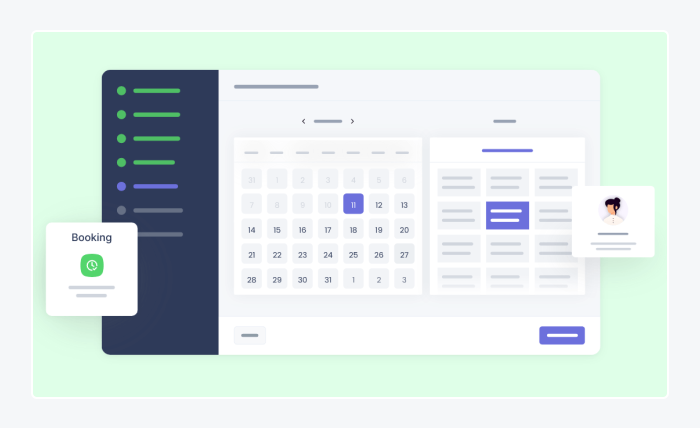 Another powerful lead generation tool is Booknetic. It adds a scheduling system to your website so users can directly book a call without leaving your site. You can create custom forums to get more detailed information from customers. It's a great tool for businesses that want to convert users into customers effectively.
Main features:
Online scheduling
Custom forms
Automated workflow
B2B lead generation tools
Business-to-business type of companies have different requirements, needs, and challenges than a business to customer type of brands. B2Bs need to reach the decision-makers and gain high-quality leads to make a sale.
How to do that?
Lead generation software for B2B includes more complex systems to find contact details on LinkedIn and professional sites. Here are the best tools for the job—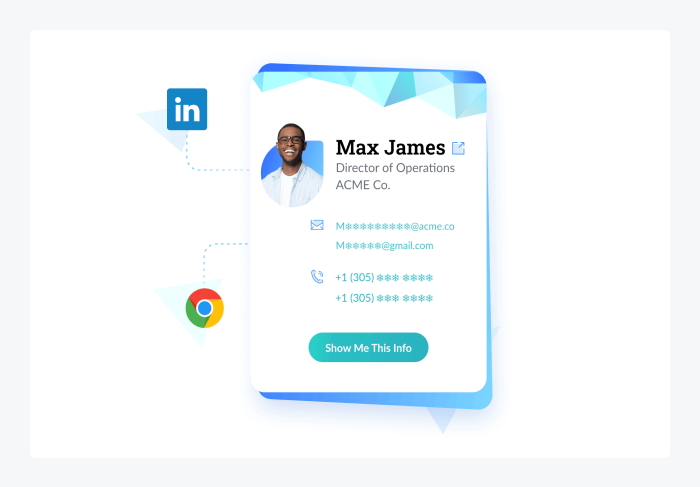 This outbound lead generation tool helps you find prospects, reach decision-makers, and include them in your sales funnel. You can find prospects in real time on social media and access contact data directly from the company's LinkedIn profile. Datanyze also provides icebreakers to help you start a meaningful conversation during your cold call or email outreach. It also lets you tag contacts and automatically segment them into custom lists.
Main features:
Contact segmentation
Contact information finder
Icebreakers available
Nyze Lite for free
Nyze Pro 1 ($29/month)
Nyze Pro 2 ($55/month)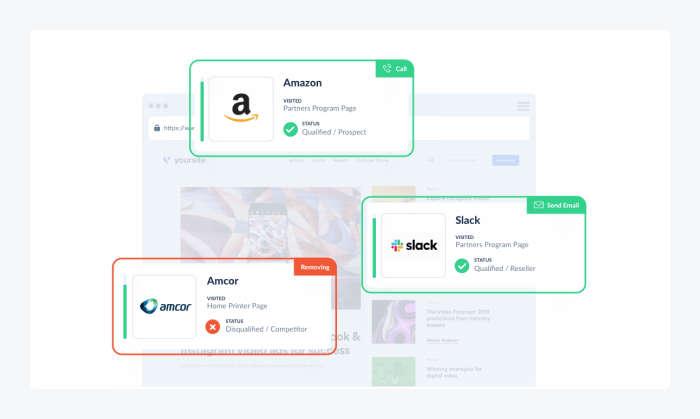 This is one of the best software for lead generation straight from your website. Leadfeeder offers a robust database of IPs you can filter and choose from to add to your contacts list. You can use it to identify the names of companies visiting your website, turn anonymous traffic into leads, and qualify them. It also lets you segment prospects based on their job role, location, seniority, or behavior.
Main features:
Variety of filters, including behavioral, demographic, job role, and seniority
Website visitors identifier
Database of static and dynamic IPs
Free Lite plan available
Premium ($79/month)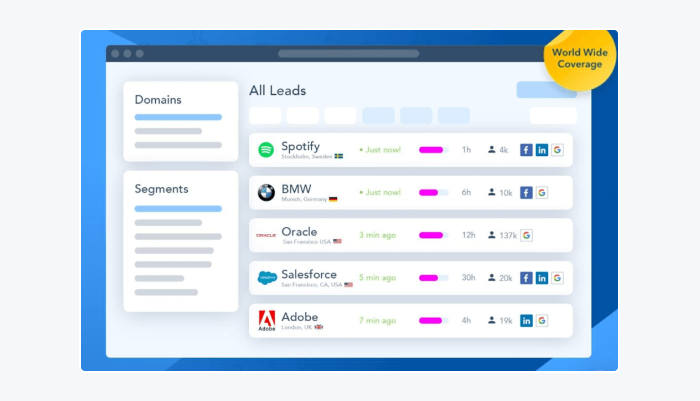 This is one of the lead generation automation tools that help your customer success team retain customers and upsell your products. You can identify your B2B website visitors and group them into various segments. It automatically refreshes on a weekly basis for the latest onsite activity and contact data. Albacross offers intent signals to track and capture buying signals from your visitors. This way, you can prioritize and contact the visitors with a high buying intent.
Main features:
Real-time intent signals for website visitors
Over 100 data points
Website visitors identifier
Pricing available upon request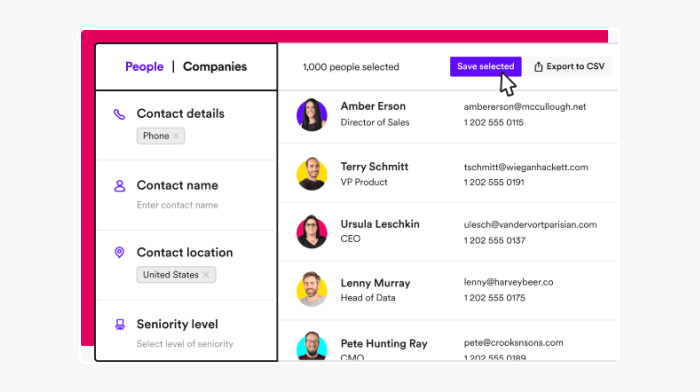 Lusha helps to put your workflows on autopilot and export lists of prospects to your CRM in one click. It provides accurate contact and company data on the people and businesses you want to target. This B2B lead generation software provides total data verification that follows a seven-step system. You can save a lot of time by exporting up to 1,000 relevant prospects in one go.
Main features:
Variety of filters available
Seven-step data verification system
Easy onboarding with a self-service platform
Free version available
Pro ($29/month/user)
Premium ($51/month/user)
Scale → contact sales team for pricing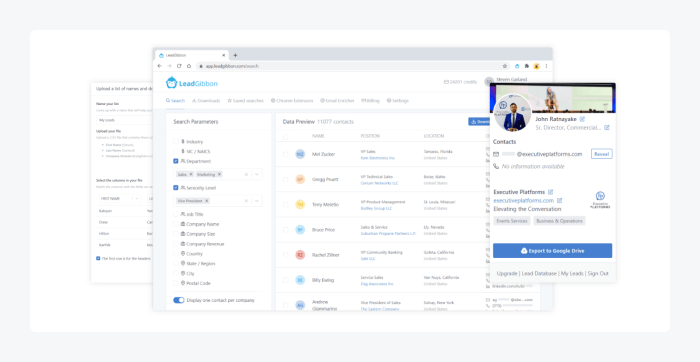 This lead finder tool enables sales reps, marketers, and business owners to find and buy leads. You can base your selection on many different criteria, including position, location, and industry. LeadGibbon helps you find leads based in the US, Canada, UK, France, and other countries.
You can also easily access email address, telephone numbers, revenue estimates, and firmographic data of your leads.
Main features:
Filters for leads including position, industry, and the type of company
Export data as a CSV file
Multinational reach
Free trial available
Basic ($49/month)
Pro ($99/month)
Business ($199/month)
Email capture tools
You can capture emails straight from your site with pop-ups, surveys, welcome messages, and more. Or you can focus on collecting contact information through an email finder tool.
Both of these have their advantages, so you might want to consider mixing them for the best results. Or use one type over the other if that works best for your business.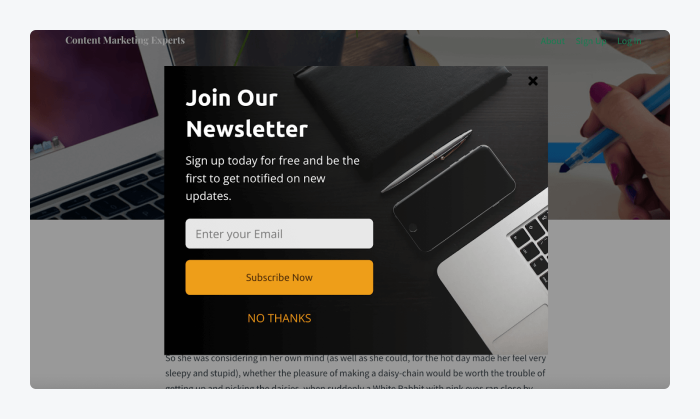 Sumo is a tool that was built for capturing visitors' emails on your site. It offers various pop-ups, triggers, scroll boxes, welcome mats, share buttons, and smart bars to help you turn website visitors into leads and clients. You can also find out where visitors are clicking on your site with heat-maps and track your success with built-in analytics and dashboards. This lead generator integrates with WordPress, Magento, Shopify, BigCommerce, and Google Tag Manager.
Main features:
On-page lead capture tools including pop-ups, triggers, scroll boxes, etc.
Heat-map for where visitors are clicking
Built-in analytics and dashboards
Free version available
Pro ($39/month)
Qualaroo helps you survey your customers straight on your website or app. This lead generation system offers a variety of surveys you can use to gather customer feedback, as well as product and user experience insights. It can help you discover any issues before they become big problems. It also provides analytics and reports on who your shoppers are, which pages they visit, their order history, and more.
Main features:
AI-powered analytics and reporting
Variety of survey types and triggers, such as pop-over upon exit intent
Fully customizable
Essentials ($100/month)
Premium ($200/month)
Enterprise (custom pricing)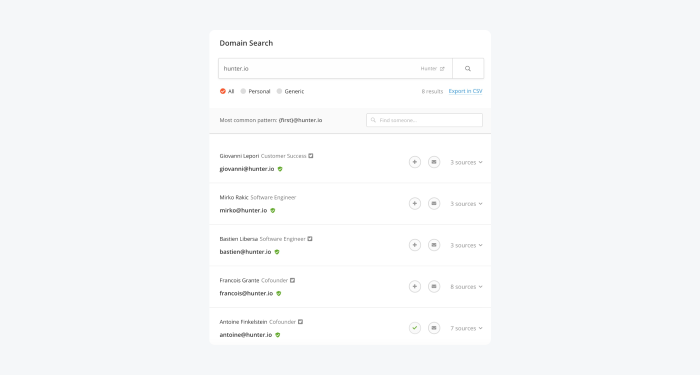 This is one of the best lead generating software for finding the email addresses of professionals in any field. You can use it to gather emails from any domain and connect with the right people to expand your business. Hunter offers filters to find personal or role-based email addresses. This lead gen system also does a complete check of the addresses, so you can focus on crafting personalized emails to send to your leads.
Main features:
Over 100 million indexed email addresses
Filters for personal and role-based emails
Find emails through a domain search
Free plan available
Starter ($49/month)
Growth ($99/month)
Pro ($199/month)
Business ($399/month)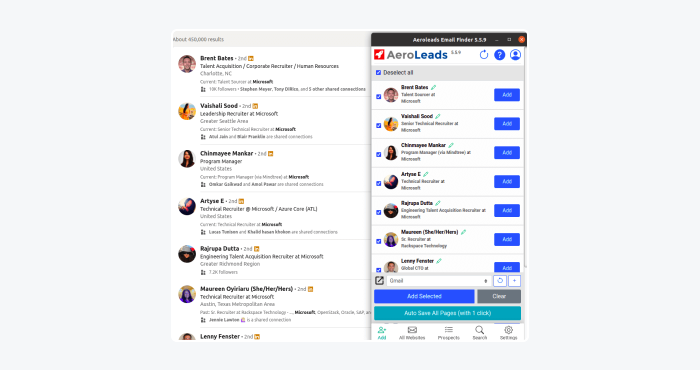 Aeroleads can act as your personal LinkedIn sales navigator. It helps you find emails and convert your LinkedIn prospects into leads. This is one of the best lead generation software that is available as a Chrome extension. You can search the database of over 650 million prospects, verify email addresses, and upload your own data to find more emails. In addition, all the email addresses are validated in real-time, so you never have to worry about outdated data.
Main features:
Database of over 650 million prospects
24/7 customer support
Various filters for company, education, department, etc.
Take off ($49/month)
Climb ($149/month)
Cruise ($499/month)
Enterprise (custom quotes)
Outbound lead generation tools
Outbound lead generation includes sending SMS messages and emails to a target audience that is not on your email list.
And the tricky part is—these potential customers don't know about your existence yet.
So, you need to make them interested in your products and services through various channels—these tools will help you do that.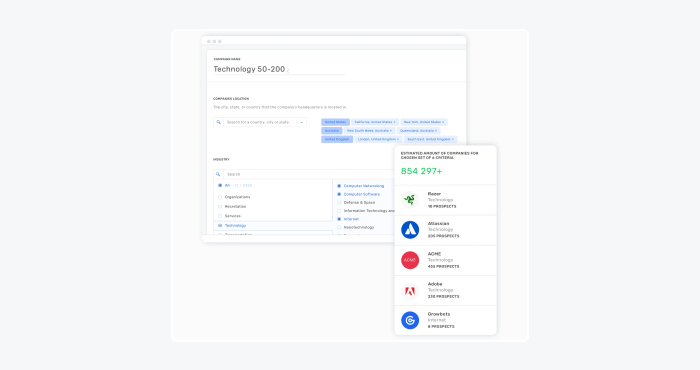 With Growbots you can get tailored prospect lists with emails and phone numbers, cherry-pick the best matches for your business, and streamline your email marketing campaigns. This email leads generator offers access to over 100 million potential customers that you can filter to only pay for the right fits. You can also set up personalized campaigns, schedule automatic follow-ups with your prospects, and automatically reschedule mails upon out-of-office replies.
Main features:
Prospect status monitored
Variety of integrations, such as Zapier, Salesforce, and HubSpot
Syncs data automatically
Outreach ($49/month)
All-in-One ($199/month)
Pro → contact sales team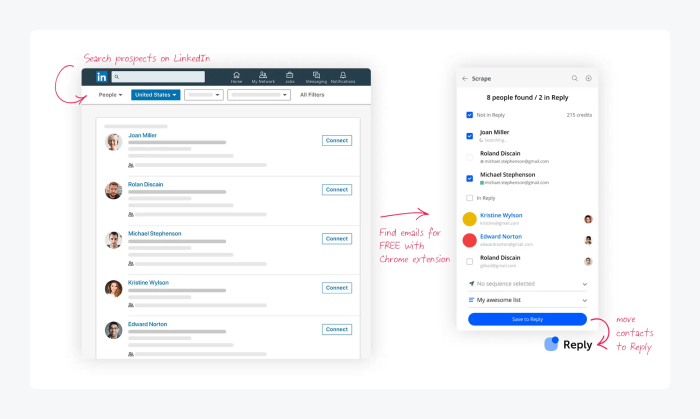 This lead capture tool automates your cold outreach across different channels such as Messenger, phone calls, and LinkedIn. It offers an email finder, deliverability suite, and AI virtual assistants in the full cycle sales engagement platform. You can use it to encourage visitors to opt in, engage your prospects, and book meetings. It also includes tools to raise the domain and IP reputation of your emails. This can help you boost your email delivery rates.
Main features:
Multichannel sequences including calls, social media, and website
Detailed reporting
Booking meetings available
Starter ($60/user/month)
Professional ($90/user/month)
Custom plan on request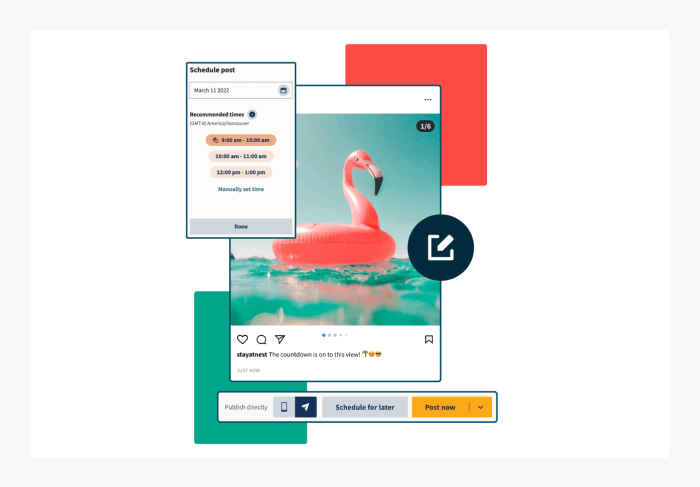 Hootsuite is one of the top social media lead generation tools that help you acquire prospects from social media channels. It also lets you easily manage all your social media accounts in one place and helps you be active on social media channels at all times. This lead gen tool ensures you engage with followers and stay updated on your social presence with customizable reports.
Main features:
Schedule posts in advance
Find out what people are saying about your company
Manage and curate your social content
Professional ($49/month)
Team ($129/month)
Business ($599/month)
Enterprise (Custom pricing)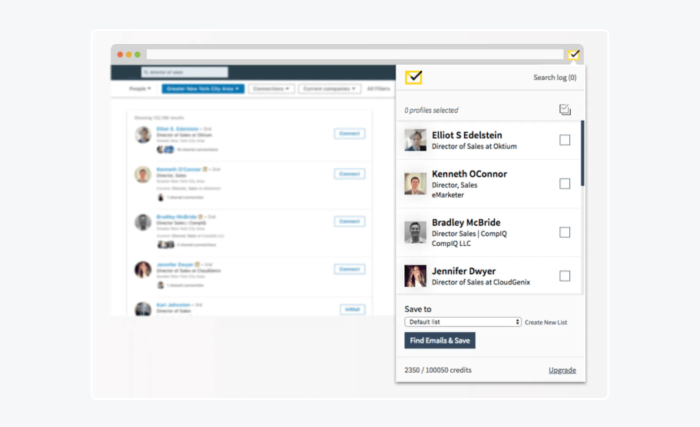 Find That calls itself The Yellow Pages of Email. Why is that? With this Chrome extension, you can look up the email addresses of many professionals from all over the world. And the software appears in primarily yellow color. All you need to do is type in the name of the person and their company in the search box. Then, this lead generator will give you an email, or a list of emails, associated with your prospect.
Main features:
Bulk email finder on social networking sites and corporate domains
Email verifier
Confidence score for every email address
Free plan available
Starter ($29/month)
Pro ($79/month)
Teams ($149/month)
Custom ($249/month)
Pop-up lead generation software
Putting a strong call to action on a pop-up can help you gather high-quality leads, decrease your abandoned cart rates, and boost sales. Just remember not to overdo it, as too many pop-ups will do you more harm than good.
Used wisely, pop-up lead generation software can help you get great results. Here are the best choices just for that.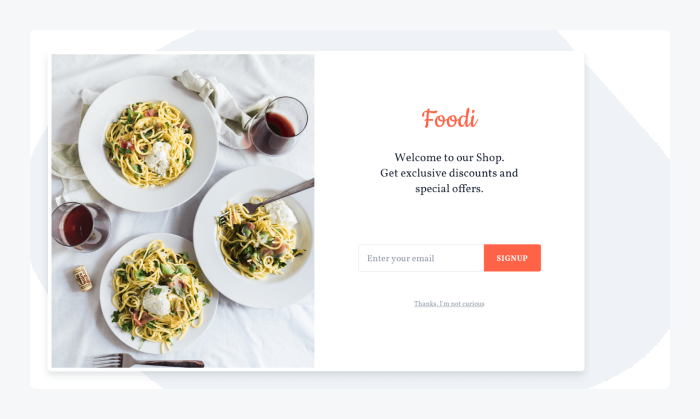 Wisepops helps you create contextual pop-ups, slide-in banners, and top bars for your business site. It can increase your opt-in rates and decrease your bounce rate by showing a discount upon an exit intent. This lead generation system offers a drag-and-drop builder to speed up the process of creating your pop-ups. It also provides over 30 targeting and segmentation options, so you can better reach your desired audience.
Main features:
Over 30 targeting and segmentation options
Optimized for mobile
Coupons and offers available
100,000 pageviews ($49/month)
250,000 pageviews ($99/month)
500,000 pageviews ($149/month)
1,000,000 pageviews ($249/month)
Enterprise ($250/month)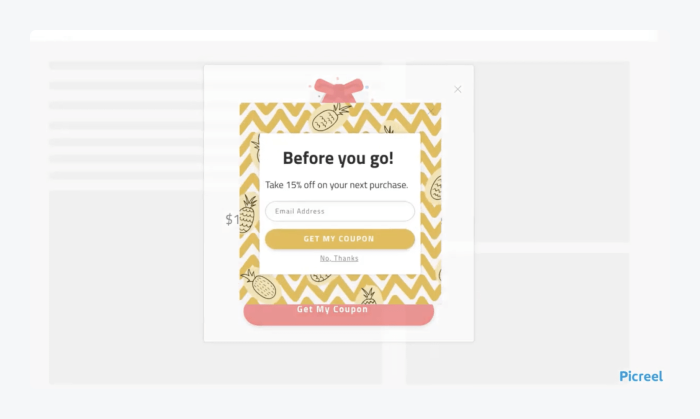 This sales lead generation tool helps you grow the number of prospects, increase conversions and sales. You can use exit pop-ups, targeted offers, and personalized coupons to reduce cart abandonment rates and recommend additional products to increase the average order size. Picreel also offers over 100 templates to speed up the process of building pop-ups for your website.
Main features:
Integrates with content management systems (CMS) such as WordPress, Shopify, BigCommerce, and Magento
A/B testing available
Extensive analytics
Starter ($19/month)
Basic ($69/month)
Plus ($149/month)
Pro ($399/month)
Enterprise → contact sales team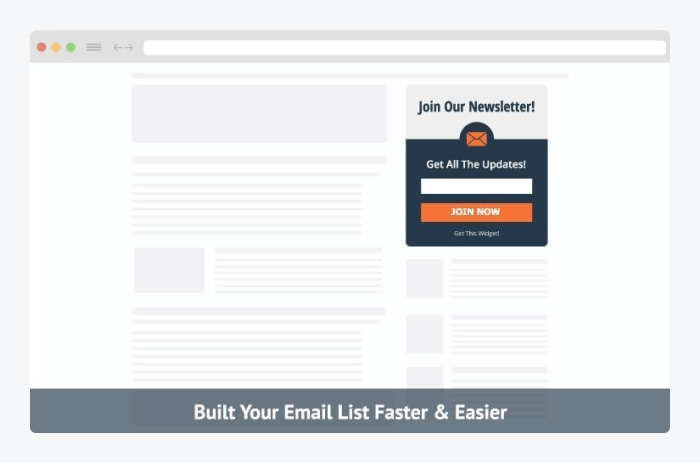 ConvertPlus is a lead capture software available as a plugin to WordPress users only. It helps WordPress-based businesses generate leads and covert them into customers with various pop-ups, top bars, forms, social buttons, and sidebar widgets. This leads tracking software also offers analysis of the number of clicks, unique views, and conversions in a real-time visual overview.
Main features:
Over 100 ready-to-use templates
Various integrations including Zapier, Mailster, HubSpot, MailChimp, etc.
Real-time overview of your performance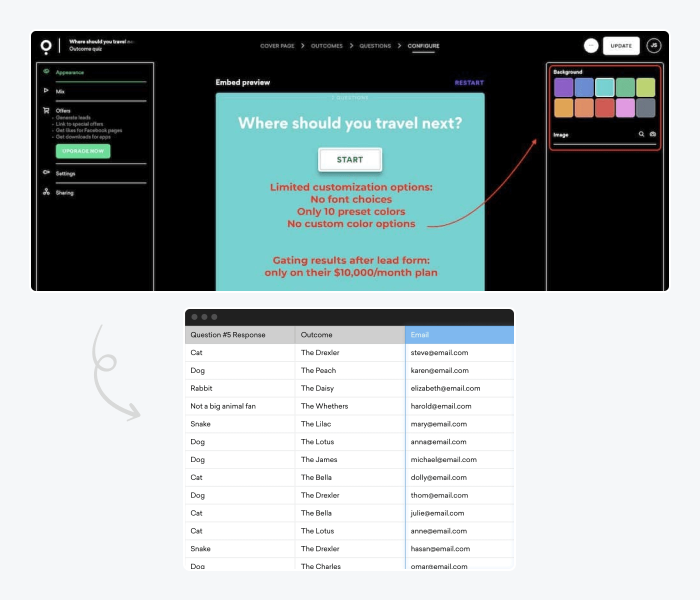 The quizzes are a perfect lead magnet for your business. And Qzzr lets you ask the right questions to learn more about your prospects. The more you know about them, the smarter you can be in your marketing efforts. It also makes your visitors more engaged. The quizzes are interactive and, what's also very important, customizable. It's a win-win: visitors receive personalized advice on their shopping needs, while you get their email.
Main features:
Fully customizable quizzes
Images, GIFs, and videos available
Export leads
Basic ($24.99/month)
Pro → contact sales
Enterprise (starts at $10,000/month)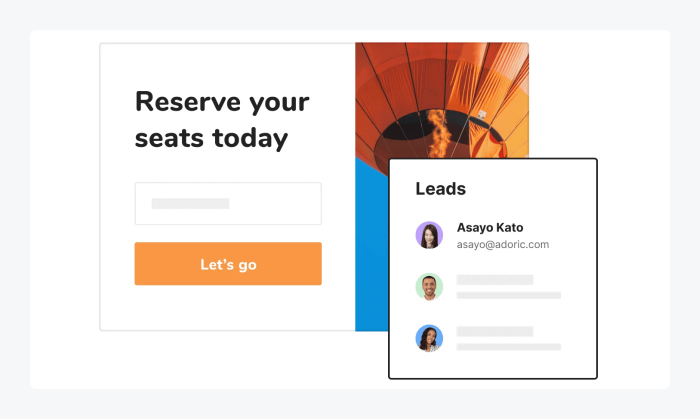 This lead-generating system helps you grow your leads and improve customer experience with your marketing campaigns. Adoric offers animation effects, tooltips, and countdowns to urge users towards engagements. It also provides a variety of pop–up layouts from boxes, sliders, and sidebars, so you can create the lead generation automations that match your site.
Main features:
Audience targeting by location, email, website, PPC, and more
Google Analytics integration
Video embedding available
Free version available
Basic ($9/month)
Essentials ($29month)
Standard ($79/month)
Bonus tool
One last tool that helps to keep all of your other software connected and working together. It's not lead generation software per se, but it helps you zap all the tools to get the most out of them.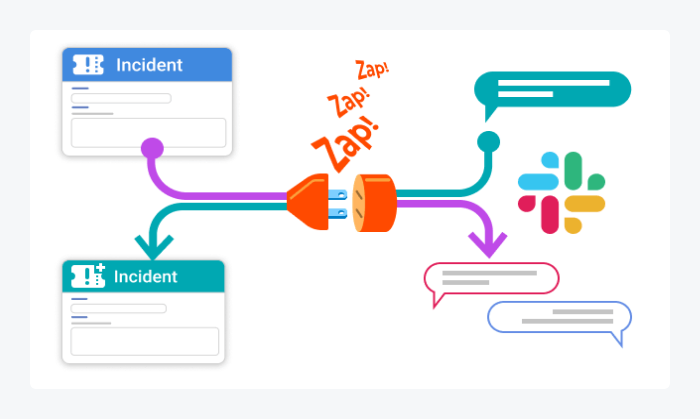 Zapier helps you create custom automations with a variety of other tools.
Wait, what?
Let's explain. This lead software acts as a glue in your marketing toolset. You can connect Zapier with all of your relevant software to integrate your tools together and let them "talk" to each other. It also includes security features with stringent internal security controls and annual SOC 2 audits.
Main features:
Custom connections to any web app enabled with an API
Webhooks for receiving data
Bulk data movement on demand
Free plan available
Starter ($29.99/month)
Professional ($73.50/month)
Team ($448.50/month)
Company ($898.50/month)
How to find the best lead generation tool for your business?
Lead generation software can bring you great results including growing your email list, boosting your sales, and increasing traffic to your ecommerce store. But you need to choose the tool that matches your business best to gain these results. Here are a few tips on how to do it.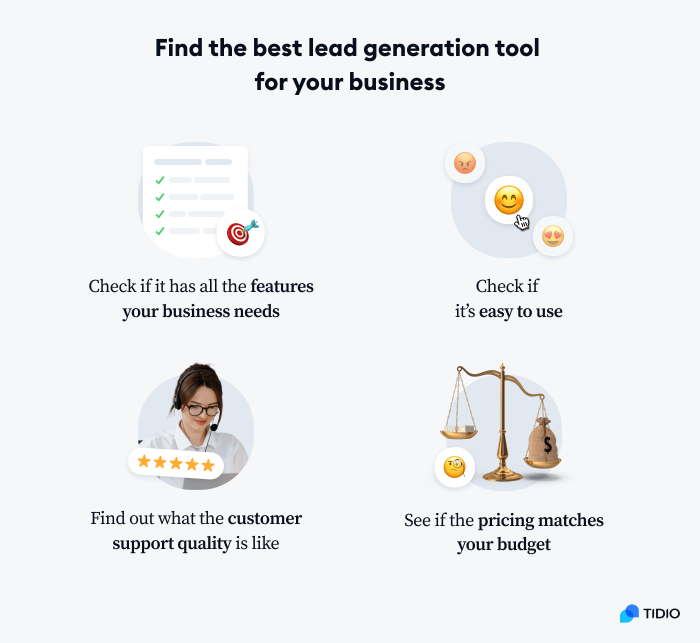 First, make a list of all the features you need in the lead generation tool. Then, look through the different platforms and see if they offer the functionality you require.
You will probably not be the only one using this software. So, ensure that the system is easy to use for your marketing, sales, and customer service teams. This way they can be swiftly onboarded and start to take advantage of the tool as quickly as possible.
If you come across any trouble (and you probably will), you need the platform's support to be responsive and knowledgeable. The best way to check if the tool has good customer support is to check user reviews prior to installing the software.
Make sure you know what your budget for this lead generation tool is and try to not go over it. There are many options on the market and some offer very similar features for much lower price tag than others. Do your research and make sure you get the best value for your money.
Lead generation software: summary
You can use lead generation tools to capture, qualify, and nurture prospects. These systems can help you increase your email list, boost sales, and improve customer satisfaction with your brand.
There are many options out there and the best ones include:
Tidio
Mailchimp
Hootsuite
Referralcandy
Activecampaign
Conversation is one of the best ways to gain leads, so you should consider adding a chat to your site and social media. This can help you improve current customers' communication and new clients' engagement.
FAQs
What are lead generation tools?
Lead generation software help businesses capture contact information from people interested in your products and services. They target potential customers and add them to your email list without any manual work from your sales and marketing teams. These tools automate the tasks involved in a lead generation so you and your teams can focus on other processes related to business growth.
What are the best lead generation tools?
Some of the best lead generation software are Tidio, ActiveCampaign, Mailchimp, Hootsuite, and Constant Contact.
Which are the 4 steps of the lead generation process?
The four steps of the lead generation process include target market identification, offer creation, lead capture, and lead nurturing. You need to start by identifying your ideal customer to know who to target for the best results. Then, you should make an appealing offer to attract these potential customers. Only when you've done these steps, should you focus on gathering leads. And remember to never forget about nurturing them to ensure you don't lose them.
What is CRM lead generation?
CRM lead generation is the process of capturing and nurturing leads with the use of your customer relationship management system.
What is B2B lead generation?
B2B lead generation is the process of collecting contact information of decision makers and professional leads that companies can use to start doing business with other companies. This involves a number of inbound and outbound marketing activities that build brand awareness, trustworthiness, and interest within the target audience.
How do you generate quality leads?
To generate qualified leads, you should target a specific audience, collect data on your efforts, and continuously improve your lead generation processes.