Acquiring sales leads is the goal of most online marketing activities. There is a range of methods and technologies that aim to achieve that goal.
There are also lead generation tools that can automate the tasks you would normally do by hand, thereby saving your time and sparing your effort.
Although effective lead generation is more than using specific tools (or a tool), they can make one's life easier and help to generate more leads at scale (and save time!).
In this article, we compiled a list of lead generation tools worth taking a look at. Some of them are free to use so there is no excuse for not giving them a try!
Lead Generation in 3 Steps (and the Tools Needed)
Before the lead conversion even takes place or the consumer expresses their interest in your products or services, that consumer must first hear about you.
They must find your business and land on your website.
So at this stage, you will need:
Tools that will help you find the prospects
Tools that will help your prospects discover your company
In the next step, you focus on capturing contact details of those visitors who did not have any contact with you previously because they came from the organic traffic (Google, Bing, etc).
So the lead generation tools you will need at this point must specialize in lead capture. You will need tools that can engage your visitors and make your company website more attractive.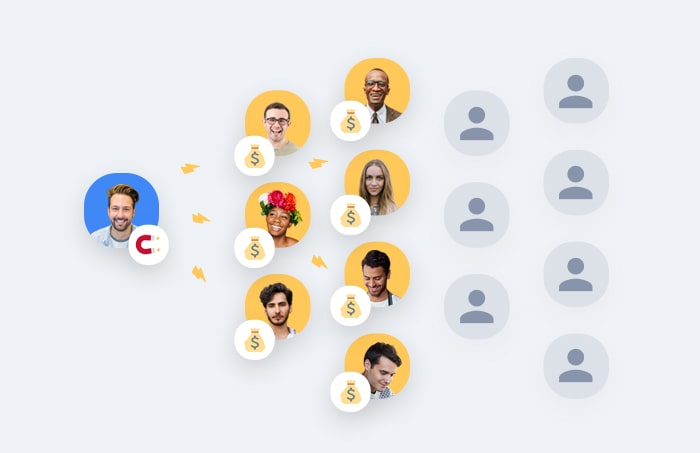 And finally, the leads you manage to generate must be eventually converted into paying customers.
Thus, the final group of tools presented in this article specializes in outreach automation, specifically, emailing.
Lead Generation Tools To Boost Your Results for 2021
Lead Generation Tools for finding leads:
Find That
LeadGibbon
Vocus.io
AnswerThePublic
Google Analytics
YoastSEO
Lead Generation Tools for engaging visitors:
Tidio
Sumo
OptinMonster
ConvertPlus
Qzzr
Hootsuite
Landbot.io
Google Forms
FreeOnlineSurveys
Lead Generation Tools for lead conversion:
YAMM
MailChimp
HubSpot
Wix ShoutOut
Tools to Find and Attract Prospects to Your Website
In this section, we will list a few tools that will help B2B companies generate email contact details of prospects, and help any type of business to drive traffic from organic sources to their websites.
Email Lookup Tools
Finding someone's email is a crucial part of cold emailing.
Contact information of some business prospects is listed publicly on their fan pages or website, while reaching others may require a little effort.
And this is what email lookup tools can help you with.
They will find the contact information for the business individuals you want to get in touch with so you can send them a personalized business email.
Find That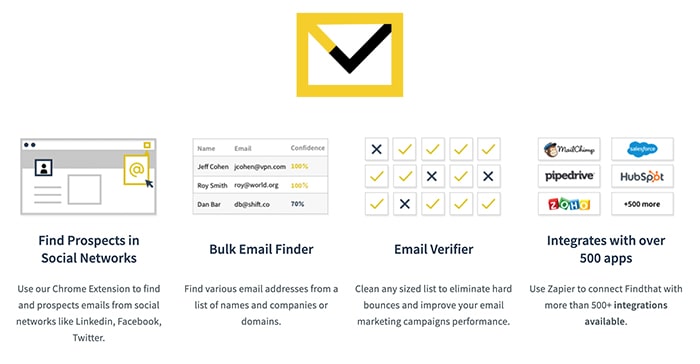 Price: Paid plans start at $29 (per month). Trial and a free plan available.
Where to get it?
https://findthat.email/
Find That calls themselves "The Yellow Pages of Email." Why is that? With this extension made for Chrome, you can lookup email addresses of many professionals from all over the world.
You simply type in the name of the person and their company name in the search box and Find That will return an email (or a list of emails) associated with your prospect.
What can you do with Find That?
Find email addresses on social networking sites (Facebook, LinkedIn) and on corporate domains
Verify the correctness of an email address you already have to reduce the bounce rate
Integrate it with 500+ apps via Zapier
LeadGibbon (B2B)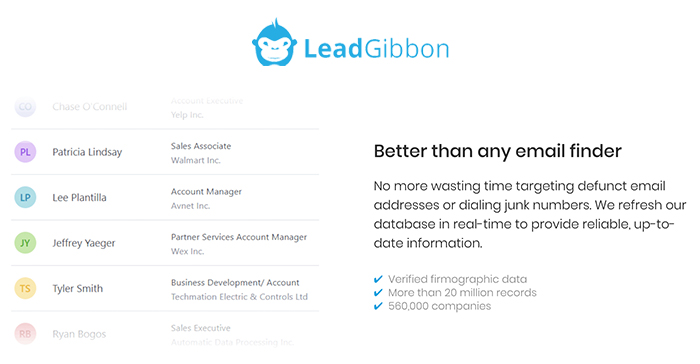 Price: Paid plans start at $15 (per month). Trial available.
Where to get it?
https://www.leadgibbon.com/
This lead finder tool enables sales reps, marketers, and business owners to find and buy leads. You can base your selection on many different criteria.
What can you do with LeadGibbon?
Find leads according to their position, industry, or type of a company they work for
Find leads who are based in the US, Canada, UK, France (and other)
Export data as a .csv file
Access email address, telephone numbers, revenue estimates, and firmographic data of your leads
Vocus.io (B2B)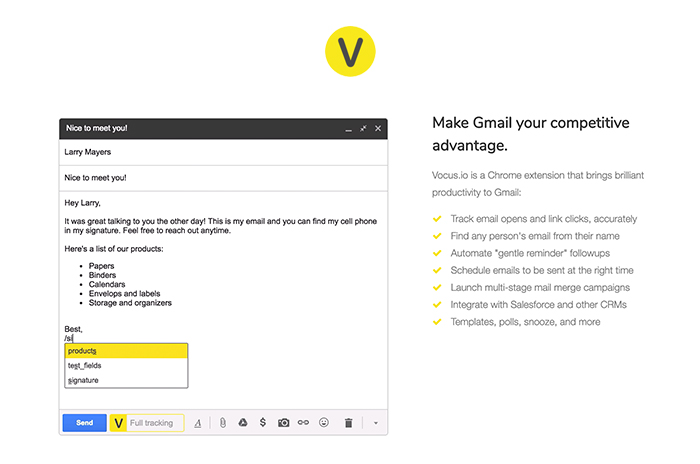 Price: Paid plans start at $5 (per month). Trial available.
Where to get it?
https://vocus.io/
Similarly to Find That, Vocus is a Chrome extension that greatly enhances Gmail's possibilities. Some of the many features it offers are email prospecting and validation.
This tool takes in a first and last name and a domain address. Afterward, it compiles a list of possible email addresses which are run through the email validator.
What can you do with Vocus?
Track emails and links. Find out who, when, where, and how your email was opened
Stay up-to-date with Slack and mobile notifications
Create email snippets to make email composing even faster
Schedule automated follow-ups
Merge your emails
Integrate it with Salesforce, Zapier, Auto BCC, and Pipedrive
Best Tools for SEO, Content, and Analytics
Another (but indirect) method for attracting new visitors is inbound lead generation.
Inbound lead generation is largely all about SEO techniques (Search Engine Optimization) and blogging (you can run your own blog or produce content as a guest writer).
Tools included in this section is something you may want to consider if you want to optimize your website for search engines and write more findable content.
AnswerThePublic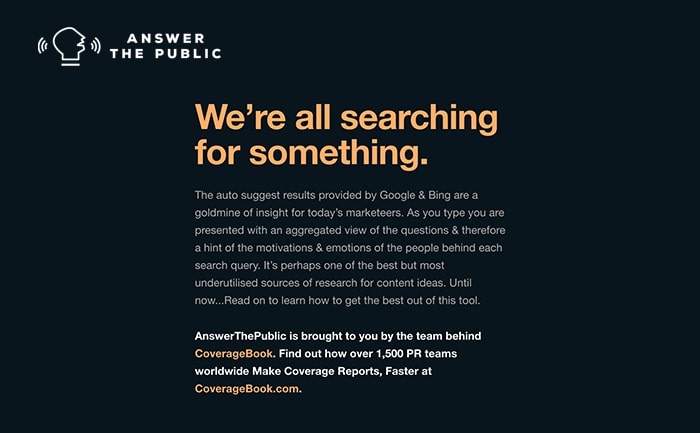 Price: The paid plan costs $99 (per month). Free plan available.
Where to get it?
https://answerthepublic.com/
AnswerThePublic is a search insight tool that helps to find out what and how your potential customers look for certain products or services.
Knowing this, you can write sought-for articles and descriptions for your products or services.
To use it, just type in the keyword you want to find questions and phrases for.
What can you do with AnswerThePublic?
Search for keywords and long-tail phrases according to language and location
Compare data
Save your insights
Work with an unlimited number of colleagues and co-workers
Hide individual sections or suggestions
Google Analytics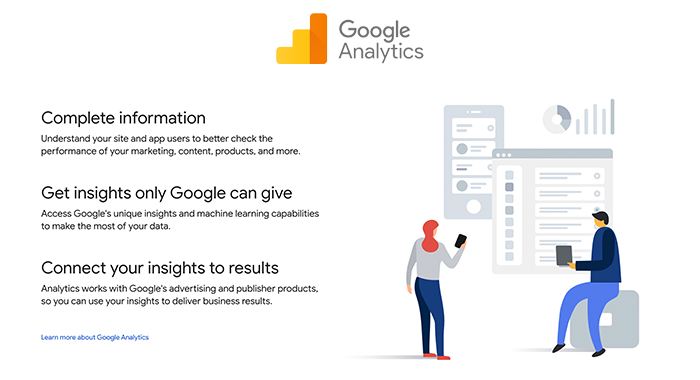 Price: Free
Where to get it?
https://analytics.google.com/
Google Analytics is a powerful web analytics application used for, among many others, tracking and comparing the website's traffic, analysis of user interaction with the website or conversion rate of campaigns.
Statistical reports and analytical tools included in this app are crucial for SEO and marketing purposes.
Apart from tracking pretty much every bit of your website's traffic, Google Analytics can also show you what keywords people have used to find your webpages.
What can you do with Google Analytics?
Collect data across websites, apps, and internet-connected devices
Access data via mobile app, API, email notifications, and more
Draw valuable insights from the advanced site and app reporting
Analyze segmentation reports
And more.
YoastSEO (WordPress Plug-In)
Price: Premium version costs $89 for 1 year. Free version available.
Where to get it?
https://wordpress.org/plugins/wordpress-seo/
Yoast is a WordPress SEO plugin that helps to drive more traffic from Google and Bing, as well as from social networking sites (Facebook, Twitter, etc).
With Yoast, you can also optimize your content (text) for keywords, keyphrases and synonyms, related keywords and all word forms.
What can you do with YoastSEO?
Optimize for keywords and keyphrases, synonyms, and related keywords
Add schema.org data to your website to tell Google (and other platforms) what your website is about
Receive notifications if any of your pages hasn't been updated for 6 months
Preview your webpage with Google, Facebook, and Twitter previews
Analyze readability of your website content
Determine the taxonomy for each page on your website
Write in a classic and block WordPress editors
And more.
Tools to Engage Your Website Visitors and Win Their Contact Details
Now that you have traffic flowing to your website, it's time to keep your visitors hooked and persuade them to take any action that would result in leaving their email address (or any other contact details of your choice).
Email Capture
These lead generation tools help you with collecting emails from visitors who are browsing your website.
Sumo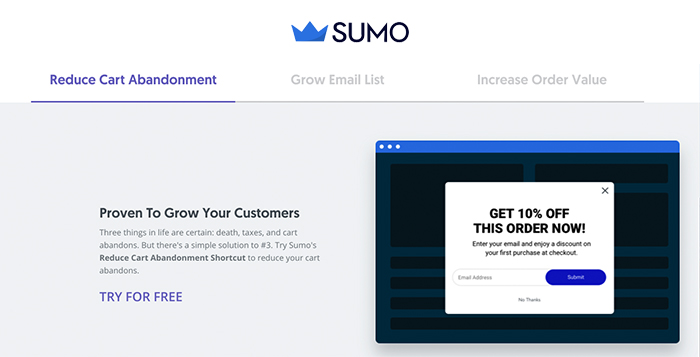 Price: Paid plan costs $39 (per month). Trial and a free plan available.
Where to get it?
https://sumo.com/
Sumo is a tool that was built for capturing visitors' emails on your site. It offers many features that will help you turn your visitors into leads, and consequently, your leads into clients.
What can you do with Sumo?
Win your visitors' emails with various pop-ups, triggers, scroll boxes, welcome mats, share buttons, and smart bars
Find out where visitors are clicking on your site
Track your success with built-in analytics and dashboard
Integrate it with WordPress, Magento, Shopify, BigCommerce, and Google Tag Manager
OptinMonster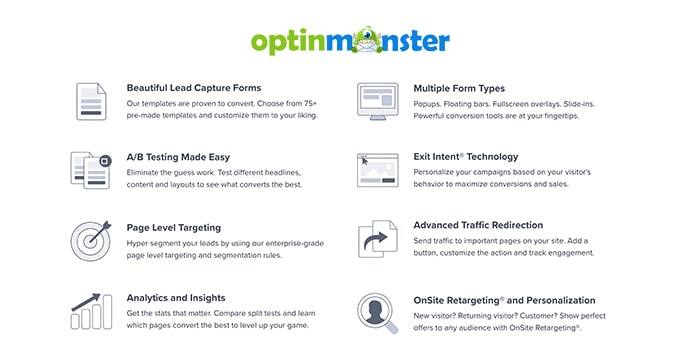 Price: Paid plans start at $9 per month (all new plans are billed annually by default). Monthly plans are available.
Where to get it?
https://optinmonster.com/
OptinMonster is another powerful lead generation software for marketing agencies, bloggers, eCommerce websites, and all small and medium companies.
This tool can help you grow your email list and improve your website conversions.
What can you do with OptinMonster?
Win your visitors' emails with lead generation forms, personalized messages, pop-ups, welcome mats, bars, scroll-boxes, page-level or geolocation targeting, and more
Segment your visitors and leads
Track your lead generation efforts with built-in conversion analytics
Run A/B tests
And more.
ConvertPlus (WordPress Plug-In)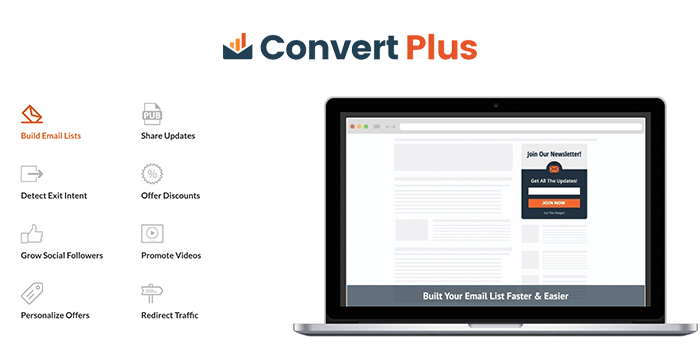 Price: $24 (one-time fee).
Where to get it?
https://www.convertplug.com/
ConvertPlus delivers similar features to Sumo and OptinMonster.
However, unlike these two lead capture tools, ConvertPlus is available to WordPress users only (as a plug-in). Moreover, the payment for this tool is not based on subscription. So if you want to start using it, you need to pay for it once.
This lead generator is a good alternative for companies using WordPress that cannot commit to monthly SaaS payments.
What can you do with ConvertPlus?
Generate leads (subscribers) and sales conversions with various pop-ups, bars, forms, sidebar widgets, and social buttons
Choose from 100+ templates
Integrate it with apps, CRM software, and email marketing platforms (Zapier, Mailster, HubSpot, MailChimp, MailGun, and more)
Track your lead generation efforts with a real-time graphical overview, firm analysis of the number of clicks, unique views, and conversions
Qzzr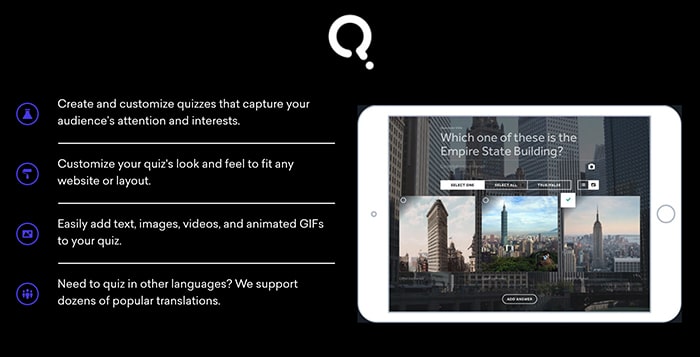 Price: Paid plans start at $24.99 (per month). Free trial available.
Where to get it?
https://www.qzzr.com/
The quizzes are a perfect lead magnet for your business. Their conversion rate stands at 50 percent!
Quizz can not only capture an email of the prospect but, if it's interesting enough, it can go viral and drive more traffic to your website.
And this what Qzzr does. Qzzr lets you ask the right questions to learn more about your prospects. And the more you know about them, the smarter you can be with your marketing and conversion.
It also makes your visitors more engaged. The quizzes are interactive and, what's also very important, personalized.
After all, it's the visitors who chose the answers. In return, they receive personalized advice on their shopping needs while you get their email.
What can you do with Qzzr?
Create customized quizzes that suit your brand and capture your audience's attention
Enrich the quizzes with images, gifs, and videos
Prepare quizzes in different languages
Analyze responses
Review statistics
Export leads
Hootsuite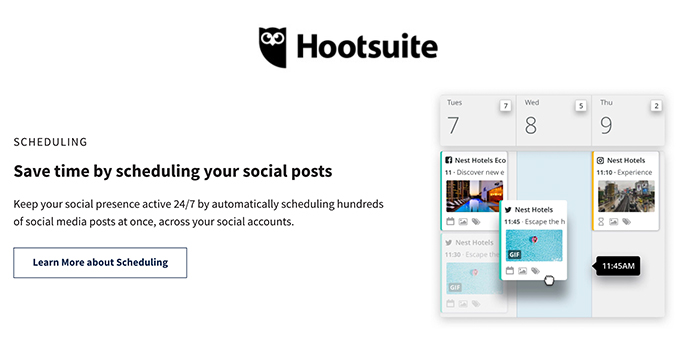 Price: Paid plans start at $19 (per month). Trial and a free plan available.
Where to get it?
https://hootsuite.com/
Hootsuite is a smart lead generation tool that helps you to acquire leads from social media channels. It also lets you easily manage all your social media accounts in one place.
What can you do with Hootsuite?
Schedule posts in advance
Find out what people are saying about your company
Manage and curate your social content
Create customizable reports
Live Chat Software and Chatbots
Live chat and chatbot tools allow you to grab the attention of your visitors by engaging them in a live conversation.
With chatbots, you can build conversational landing pages with no coding skills, while with live chat you can initiate the conversation with any individual visitor.
The tools introduced in this section are out-of-the-box solutions – no coding or IT expertise is required.
To build a chatbot, you use a drag & drop visual editor, so even if you are not a very tech-savvy person, you will be able to bring your own chatbot to life.
Tidio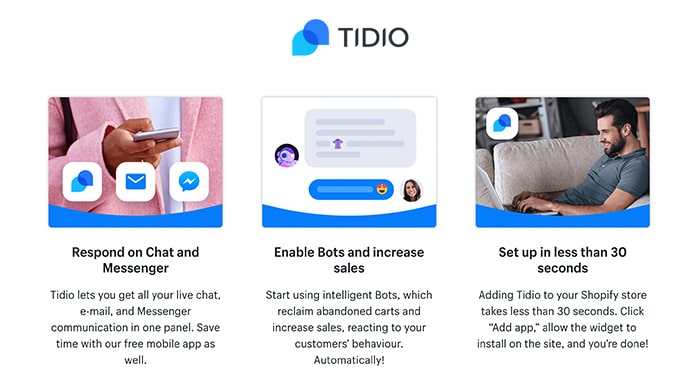 Price: Paid plans start at $19 (per month). Trial and free plan available.
Where to get it?
https://www.tidio.com/
Tidio is a live chat solution powered by chatbots. This tool allows you to use the concept of conversational marketing to maximum advantage.
Live chat with chatbots is a solution that is seamlessly added directly to your website.
It enables your visitors and customers to easily ask their questions about your product or services. This way you have a chance to support and turn your visitors into customers in one go.
The installation process is quick and intuitive. Tidio can be easily installed via a dedicated plug-in (WordPress, Shopify) or a code snippet.
What can you do with Tidio?
Handle customers and prospects through live chat. If you are busy or away, let the chatbots answer your visitors' queries
Keep in touch with your customers even when you are on the go with a mobile app (desktop apps for Windows and macOS are also available)
Create your own chatbot from scratch or use a template
Customize the widget's colors and content to suit your brand
Take advantage of 183 languages (including 21 pre-translated language packs) to deliver a more personalized shopping experience to your international customers
Integrate Tidio with various apps, CRM, and email marketing tool (Zapier, HubSpot, MailChimp, Salesforce, Zendesk, Magento, etc)
And more.
Landbot.io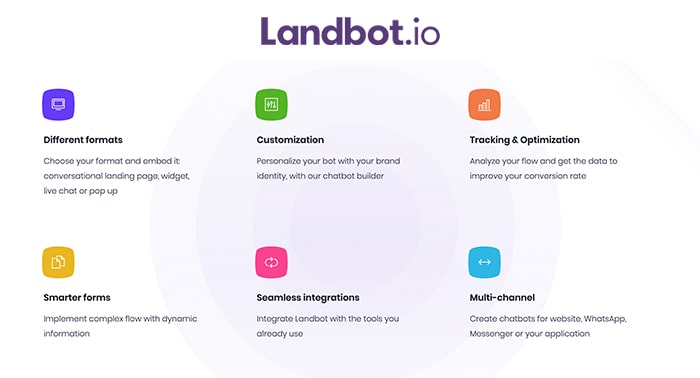 Price: Paid plans start at $30 (per month). Free plan available.
Where to get it?
https://landbot.io/
Landing pages are an effective method for introducing and promoting new products and services on websites. But to make it even more effective, you need to engage your visitors.
Landbot.io was specifically made to turn "classic" landing pages into conversational ones. Using this lead capture tool is easy and you can build even complex conversational flows with mindmaps and a visual builder.
What can you do with Landbot?
Create your own landing page chatbot from scratch or use a template
Use visual builder and mindmaps to create your chatbot
Integrate it WhatsApp, Messenger, website, Slack, Google Sheets, and more
Choose between different formats (conversational landing page, widget, live chat, or pop-up)
Customize your chatbot to match your brand's identity
Analyze the customer's journey
Send information your chatbot collects straight to the CRM
Note: If your website runs on WordPress, we've prepared in-depth reviews of the best chat plugins for WordPress.
Customer Research (Surveys and Polls)
Using different forms of customer research, you can gain valuable insights about your target audience.
All the information you manage to collect can be used to improve your website and sales process to better serve potential customers.
What else you can do with surveys is to ask your visitors to leave their email address if they would like to be notified about the survey outcome (or the improvements you have implemented based on their feedback).
Google Forms

Price: Free
Where to get it?
https://www.google.com/forms/about/
Unlike many other customer research or surveying apps available on the market, Google Forms does not offer a high level of integration or analytics.
But even despite these shortcomings, this is still a very good tool for creating surveys or polls.
What's also important, surveys created with Google Forms are responsive so you do not need to worry about mobile optimization.
What can you do with Google Forms?
Create surveys and polls
Choose a template from a set of curated themes to set the tone
Show questions based on answers
Choose from several question options (from multiple choice to dropdowns to a linear scale)
Add images and YouTube videos
View and analyze the responses to your surveys
Work on your surveys together with your colleagues or co-workers
FreeOnlineSurveys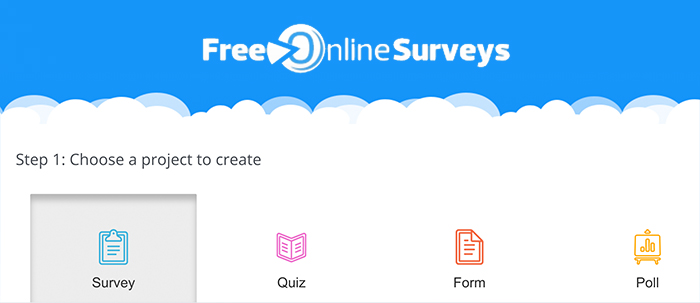 Price: Free
Where to get it?
https://freeonlinesurveys.com/
Another tool worth mentioning that can be used for customer research.
If you are looking at something bit more versatile but still affordable, FreeOnlineSurveys is definitely a good choice.
What can you do with FreeOnlineSurveys?
Create surveys, polls, quizzes, and embeddable forms
Send your surveys through their system
Observe the responses in real-time
Turn thousands of rows of online survey data into a colorful chart with the push of a button
Add images, videos, fill-in-the-blank, or multiple choice options to your online survey
Rebrand that survey with your own logo
Choose from thousands of survey designs
Tools to Convert Your Visitors into Customers
In this final stage of the lead generation process, your goal is to make use of the contact details you have collected in the previous step, that is, reach your leads and turn them into customers.
Email Marketing
One of the conversion methods is emailing. But sending emails can be a time-consuming task. Fortunately, there are great tools out there that can automate a lot of emailing work for you.
MailChimp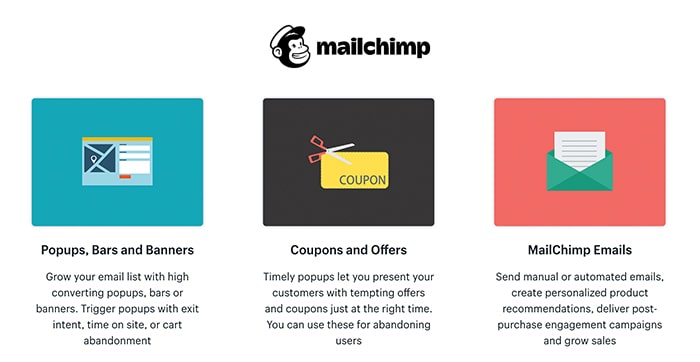 Price: Paid plans start at $9.99 (per month). Free plan available.
Where to get it?
https://mailchimp.com/
MailChimp is an all-in-one marketing platform. It is an email marketing and CRM solution, as well as a lead generation tool.
This platform helps you build an audience, create campaigns in social media, and send emails (or even printed postcards!).
What can you do with MailChimp?
Automate email campaigns
Create emails with a drag-and-drop builder
Segment your contacts
Run tests
Access pre-built templates for emails and landing pages and customize them to match your brand
Monitor trends and track your website's performance
Integrate it with 200+ apps (Zapier, WooCommerce, Bookeo, Square, etc)
And more.
HubSpot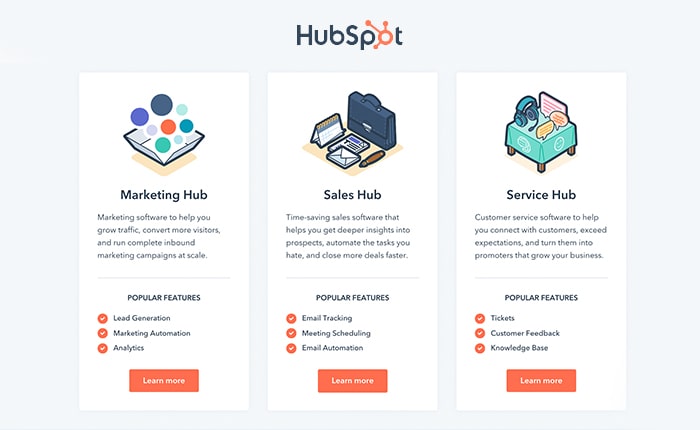 Price: Paid plans start at $50 (per month). Free plan available.
Where to get it?
https://www.hubspot.com/
Another powerful all-in-one inbound marketing and CRM solution.
It's a full-stack software that offers many useful tools dedicated to marketing (Marketing Hub), sales (Sales Hub), and customer service (Service Hub), with a completely free CRM at its core.
You can subscribe to each Hub individually or combine them all for a seamless workflow.
On top of all Hubs, there is a CRM that is completely free. Each Hub offers a free plan as well.
What can you do with HubSpot?
Automate your outreach (queue up a sequence of personalized follow-up emails and reminders)
Turn repetitive emails into templates
Receive a notification when your prospect opens an email, clicks a link, or opens an attachment
Automate tasks like lead rotation, task creation, etc.
Track behavior and touchpoints across email, social networking sites, your website, landing pages, and CTAs (Call To Action)
And more.
YAMM (Yet Another Mail Merge)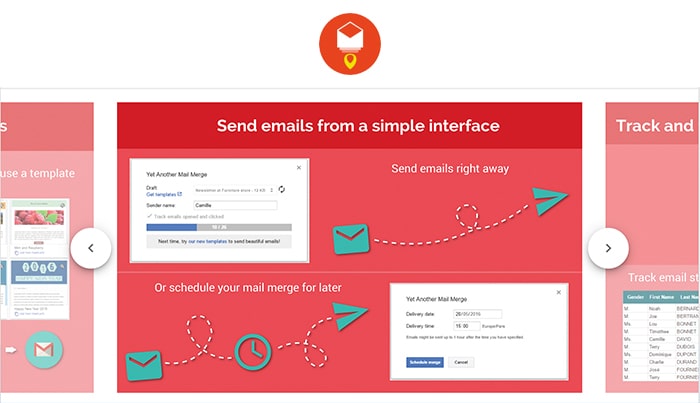 Price: $20 for Gmail accounts, $40 for GSuite accounts, or 50 emails per day for free.
Where to get it?
G-Suite Marketplace
YAMM is a Chrome extension for Gmail and Google Sheets.
To automatically send personalized emails, just select your draft in Gmail and replace template values with the information stored in your spreadsheet.
What can you do with YAMM?
Merge and send emails in bulk
Personalize email message body and subject line
Create a simple Gmail draft and reuse it as a template for your emailing campaigns
Schedule campaigns
Track which emails were clicked, answered, bounced, and unsubscribed
Use the "Follow Up" feature to send follow-up emails
Send emails from different addresses set up as aliases in Gmail
And more.
Wix ShoutOut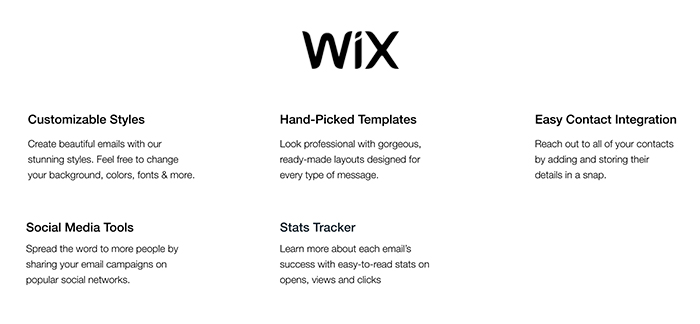 Price: Paid plans start at $4.90 (per month). Free plan available.
Where to get it?
https://www.wix.com/
Wix ShoutOut is a simple newsletter tool without all the bells and whistles. It lets you create, send and share email marketing campaigns with your prospects and customers.
Although you do not need to be a Wix user to start using ShoutOut, having a Wix-based website makes sending your campaigns easier.
All the contacts collected via the Wix website are automatically transferred to ShoutOut.
In other words, you do not need to import anything and you can run email campaigns with just a few clicks.
Furthermore, if you are a Wix user, you can set ShoutOut to automatically insert store items (or blog posts from your Wix site) into your newsletters.
What can you do with Wix ShoutOut?
Send customized emails
Use pre-designed templates for your emails
Quickly add contacts and store contacts you want to reach out to
Share your campaigns on social media platforms
Track your campaign success (opens, views, clicks, unsubscribes)
Lead Generation Tools: Conclusion
The tools you need during your lead generation efforts depend on your specific goals.
Some are made to attract and engage customers, while others to automate email campaigns or to optimize your website.
Different goals call for different tools but the most important factor is to recognize the one that will suit your business needs best.
There are many excellent tools that could aid you in your lead generation journey, but the sad truth is that their monthly subscription can be really pricey.
Fortunately, there are plenty of affordable tool choices made for entrepreneurs running small and medium-sized businesses.
We listed a few of the best lead generators that can be used on different stages of your lead generation efforts.
Whichever you choose, I hope this list will help you in your searches for the most suitable tool for generating new clients for your website
If you're aware of any other good lead generation tools (or you are already using one) that you would like us to add to the list, let us know!