You have established a B2B company. But in order to grow your business, you need to find the right leads for your marketing and sales communication.
And this is where the struggle appears.
Where to start, and what are the right tactics to use?
Well—
First of all, you should get to know your audience to have a clear picture of who you're trying to reach.
Then, use effective B2B lead generation strategies and increase the number of collected prospects. So, let's go through these tactics, top tools to use, and best practices to follow.
In this article:
If you want to discover more marketing methods, give these articles a read:
Let's get straight into it.
What is B2B lead generation?
B2B lead generation is a method of collecting contact information of potential customers and then qualifying them. This process is essential for marketing and sales teams as they can use this data to target shoppers with personalized campaigns and push them down the sales funnel.
It's worth noting that B2B lead gen is different from B2C generation. These two approaches address different needs, target different prospects, and focus on different areas. Where business-to-consumer centers around finding end-users and customers for your products, business-to-business focuses on getting to the company's decision-makers.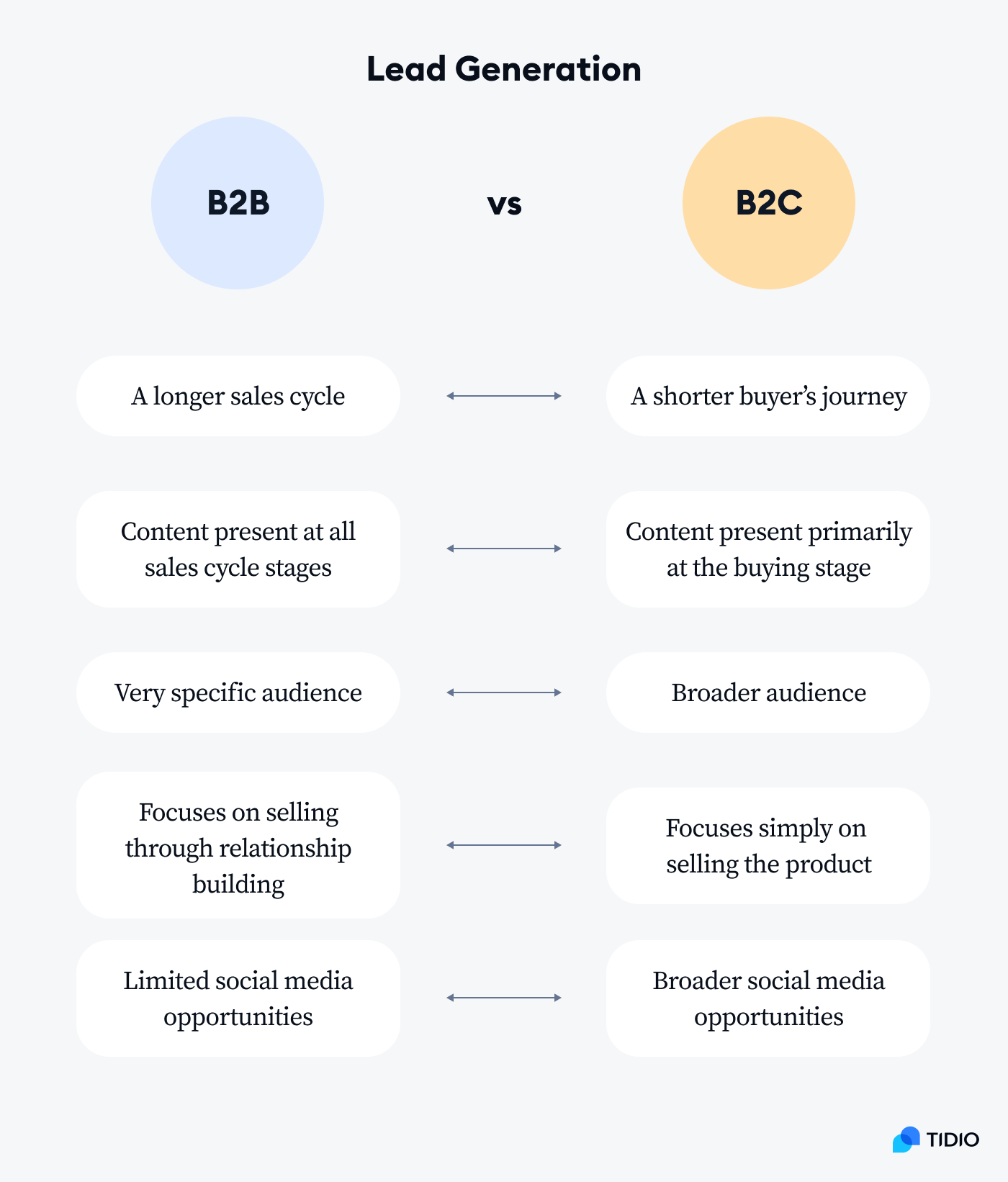 So, who conducts business-to-business lead generation?
This process is usually in the hands of marketing and sales teams. The marketing team focuses on attracting people to the company, building interest, and nurturing prospects to create relationships. On the other hand, sales handle hot leads, and their goal is to push the prospects to purchase from your business.
Okay, but are all leads the same?
Let's check out what business leads are.
What is a business lead?
A B2B lead is a business or decision-maker at a brand that has been identified as a potential customer for services and products provided by another company.
There are two types of B2B leads:
Marketing Qualified Leads (MQL)—prospects that are interested in the product or service that a company offers and previously engaged with the business
Sales Qualified Leads (SQL)—these people are ready to purchase the product or service that a brand provides and show interest in speaking to the sales team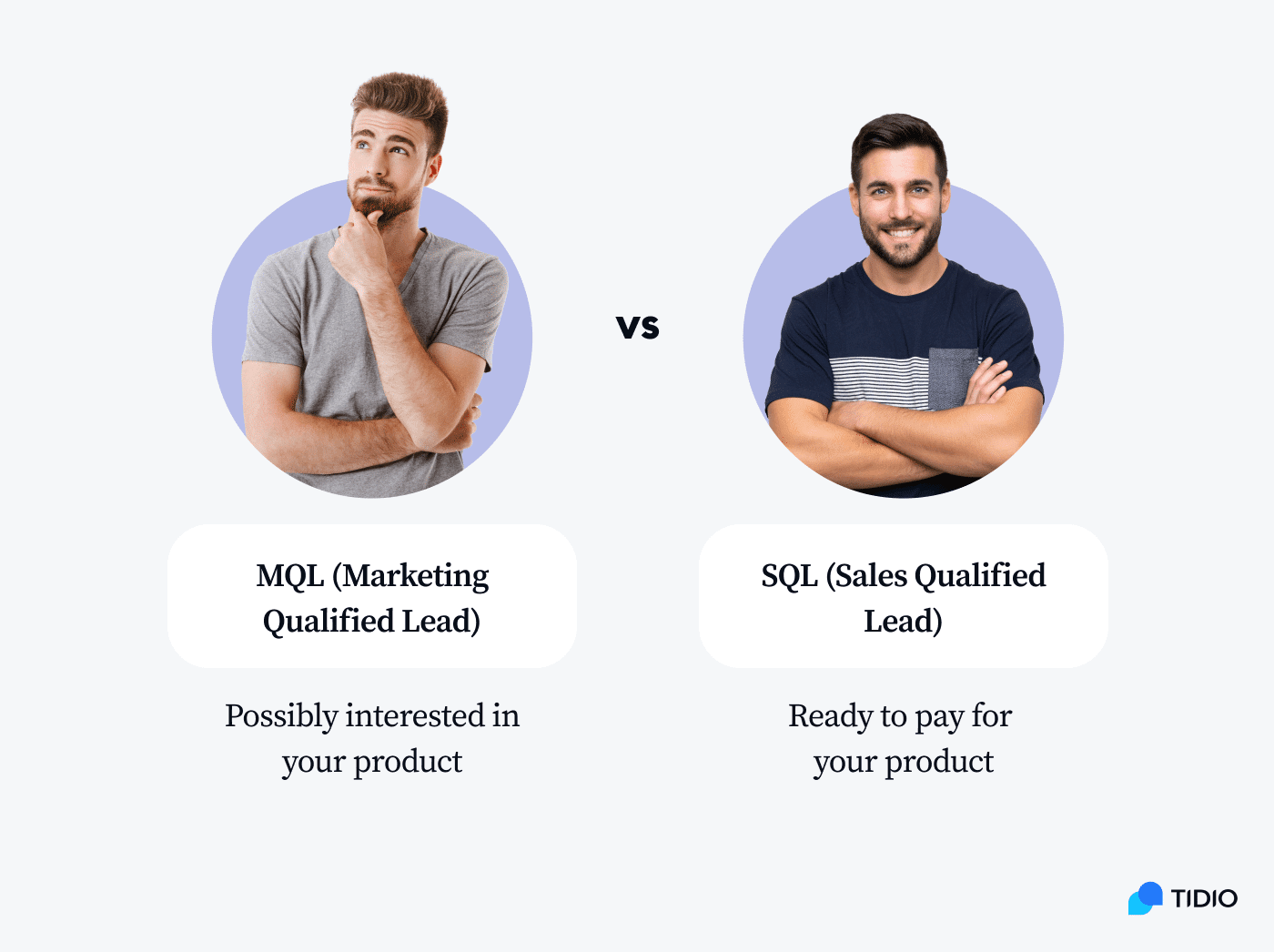 But why are prospects so important for B2B companies?
Why is lead generation important for B2B companies?
The primary goal of lead generation is to create a sales pipeline by capturing and stimulating the interest of buyers in a certain product or service. It can be done online, offline, or a combination of both.
Moreover, high quality leads also help to analyze your results and forecast future outcomes. These prospects let your business stay on top of your data and your audience. You can also use them for making decisions that will be centered around your clients.
And your competitors are already doing it, so don't stay behind!
In fact, lead generation is the most important goal for over 91% of marketers. Yet, about 61% of them also say that it's their number one challenge. 
Read more: Check out how Endeksa achieved 138% increase in leads generation using Tidio.
Let's look at the funnel of your B2B lead generation tactics will have to follow.
B2B lead generation funnel
Your prospect collection follows a few stages from when you search for them to your sales team closing the deal. Four most important steps in that funnel include finding leads, reaching out to them, qualifying prospects, and closing the sales.
Let's look at them more in depth.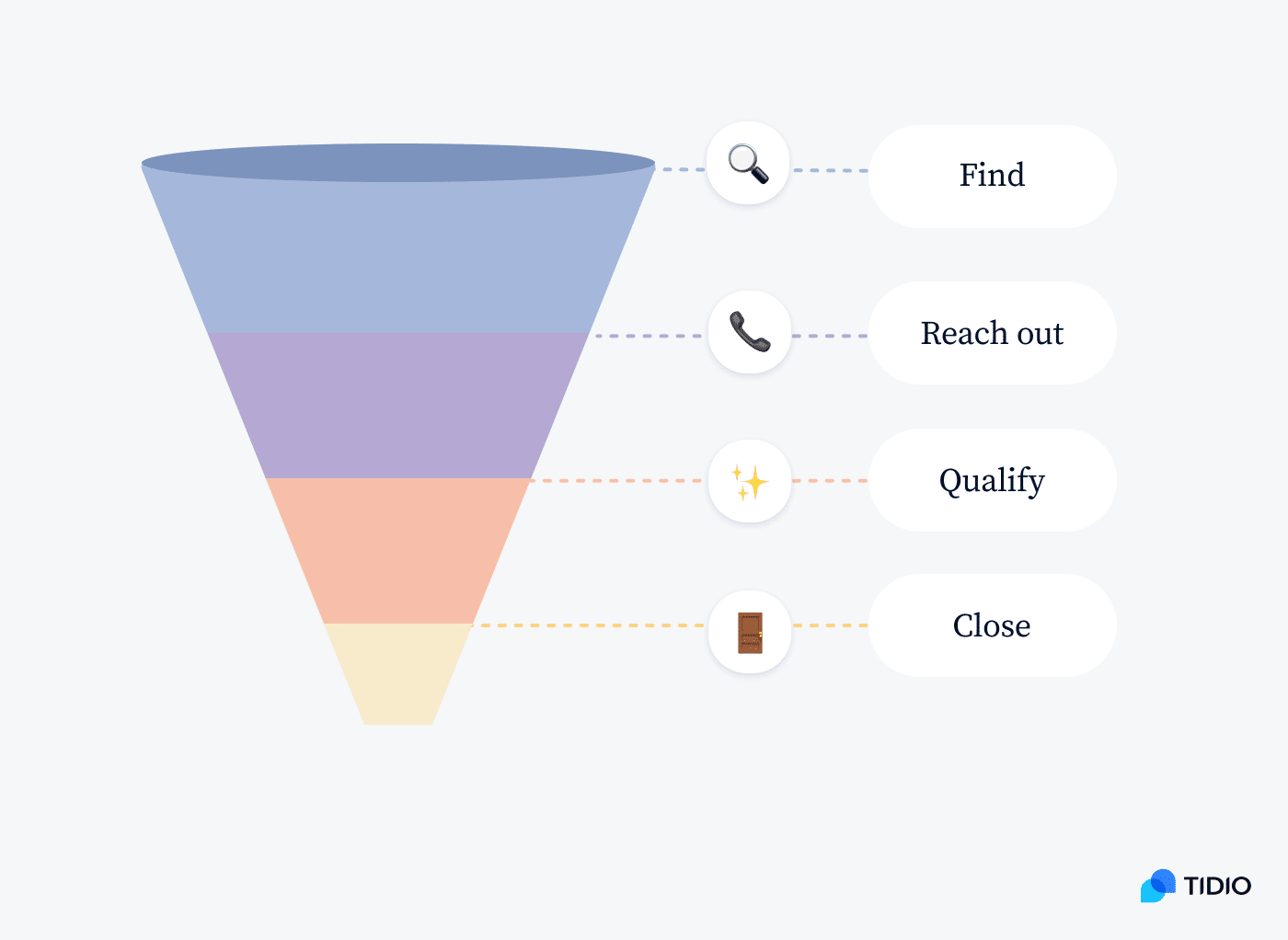 Find
The first step of the lead generation funnel is to find contacts or collect information on a variety of platforms, such as your website, social media, etc. You can search for potential leads on companies' websites, LinkedIn, and other professional platforms. The data can be sourced in-house, bought from a database, or generated by a third party.
Reach out
Send cold outreach, message contacts on social media, and reply to any inquiries you get from your visitors. This is important to check the quality of the prospects and start establishing a relationship with them.
Qualify
During the interactions, your agents can measure the quality of the leads. In other words, check how likely the person is to buy from you. They can determine the buyer's journey stage that the prospect is at and categorize them accordingly.
Close
After lead qualification, your sales team will know how to nurture and get the prospects to book a call with them. And then, your sales reps can have as many interactions with the potential client as needed to convince them that your brand is the best choice for their business.
To the main part—
Here are some strategies for a successful B2B marketing strategy and lead generation processes.
12 B2B lead gen strategies
Gathering sales qualified leads for SaaS and small businesses can be challenging. Especially when cold emails, retargeting campaigns, and ad campaigns are not as effective as they used to be.
According to research, cold emails have an average click-through rate of less than 4%. And a blog is one of the new lead generation hits with brands that use content marketing seeing over 126% more leads than those that don't.
But don't worry.
With the right formats, using referrals, account-based marketing, and email marketing you can gain high-quality prospects to pass to salespeople and boost conversions. You can also use influencers if your marketing platforms include social media like Instagram and TikTok or YouTube.
Moreover, HubSpot found that the best lead generation sources are SEO (search engine optimization), email marketing, and social media.
Let's have a look at how to generate leads for B2B effectively.
1. Start B2B email lead generation
Get creative!
You're trying to get the attention of a person that gets hundreds of emails every day, so make sure your email stands out.
Some marketers go the extra mile by mailing physical samples to their prospects, creating a story, or even singing in their emails. It might sound silly, but it really works! In fact, Ash Ambirge got a 100% response rate by sending customized roofing shingles to her prospects in the home-building industry.
So, give it a go and come up with some ideas that will get your audience's attention. These can include interactive emails, videos, free samples, and more.
You can even include a pop quiz like HubSpot did here: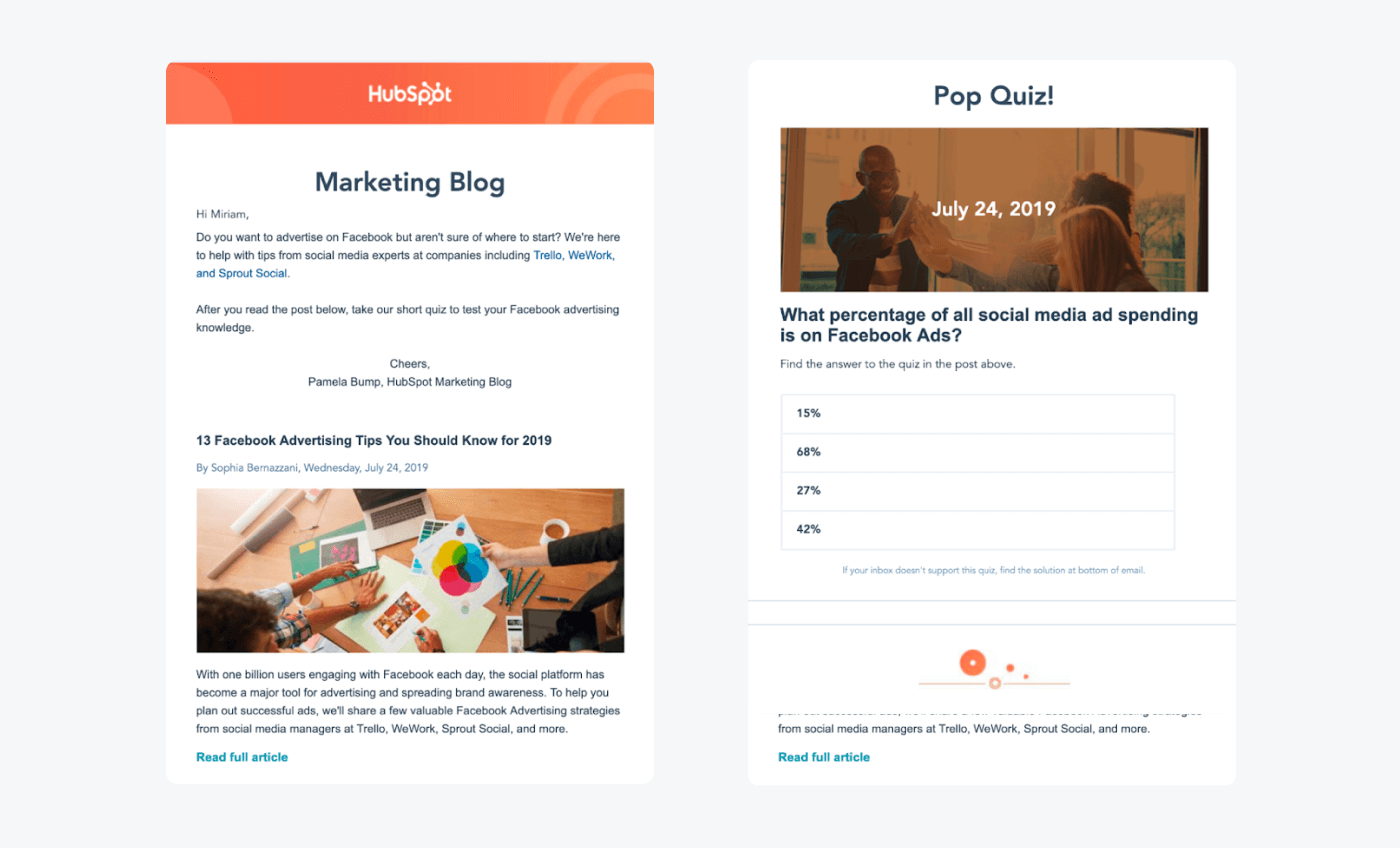 2. Use B2B inbound lead generation
Inbound B2B lead generation occurs when a company releases targeted content to attract decision-makers to the brand. It has to include a call to action, and it's usually a starting point for a relationship with clients.
What's the difference between inbound and outbound B2B lead gen strategy?
Inbound
Outbound
✅ Prospect "searches" your out
✅ You set up systems and then wait for the prospects to come trickling in
✅ You have no control over who gets "attracted"
✅ For example: SEO, content marketing
✅You target the prospect and ask them first
✅ You are in complete control here
✅ You create your ideal customer profile and actively target this audience
✅ For example: cold email outreach, targeted ads
But there's more to that—
To perform B2B inbound lead generation effectively, you should have bullet-proof landing pages. These are the pages you'll link your CTAs to and, therefore, where your prospects will get to after receiving your message. So, ensure the potential clients are impressed with your site and products, not disappointed.
Moreover, good landing pages also collect leads on their own. So, how to do B2B lead generation on your pages? Here are a few ideas:
Show ratings and reviews
Use a live chat tool with automated chatbots
Write catchy headlines
Ensure the CTAs are relevant
Engage visitors with multimedia
You can also use dynamic pages and adapt content to the location that your potential customers are searching from. Tools like Geo Content can help you with that. And it's worth your while as it will add to the personalization of your visitors' experience which is appealing to over 90% of customers.
Read more: Check out some of the best practices and tips for lead generation landing pages.
3. Make the most out of LinkedIn B2B lead generation
A study shows that LinkedIn is the most effective social media platform when it comes to B2B lead generation.
Why is it so effective?
Well—that's the channel the business leaders and decision makers are most present at. And to be seen, you have to be at the right place.
Advertising on LinkedIn might be a bit more expensive than on other platforms, and most professionals only allow messages if you're already connected. But, once you get to the right people, you'll have high-quality leads and high chances of them starting business with you.
So, how to use LinkedIn for B2B lead generation?
Some best practices for generating prospects from LinkedIn include being active on the platform and providing valuable content, like slide shares or articles. You can also run digital marketing campaigns, just like BigCommerce did when advertising their original research.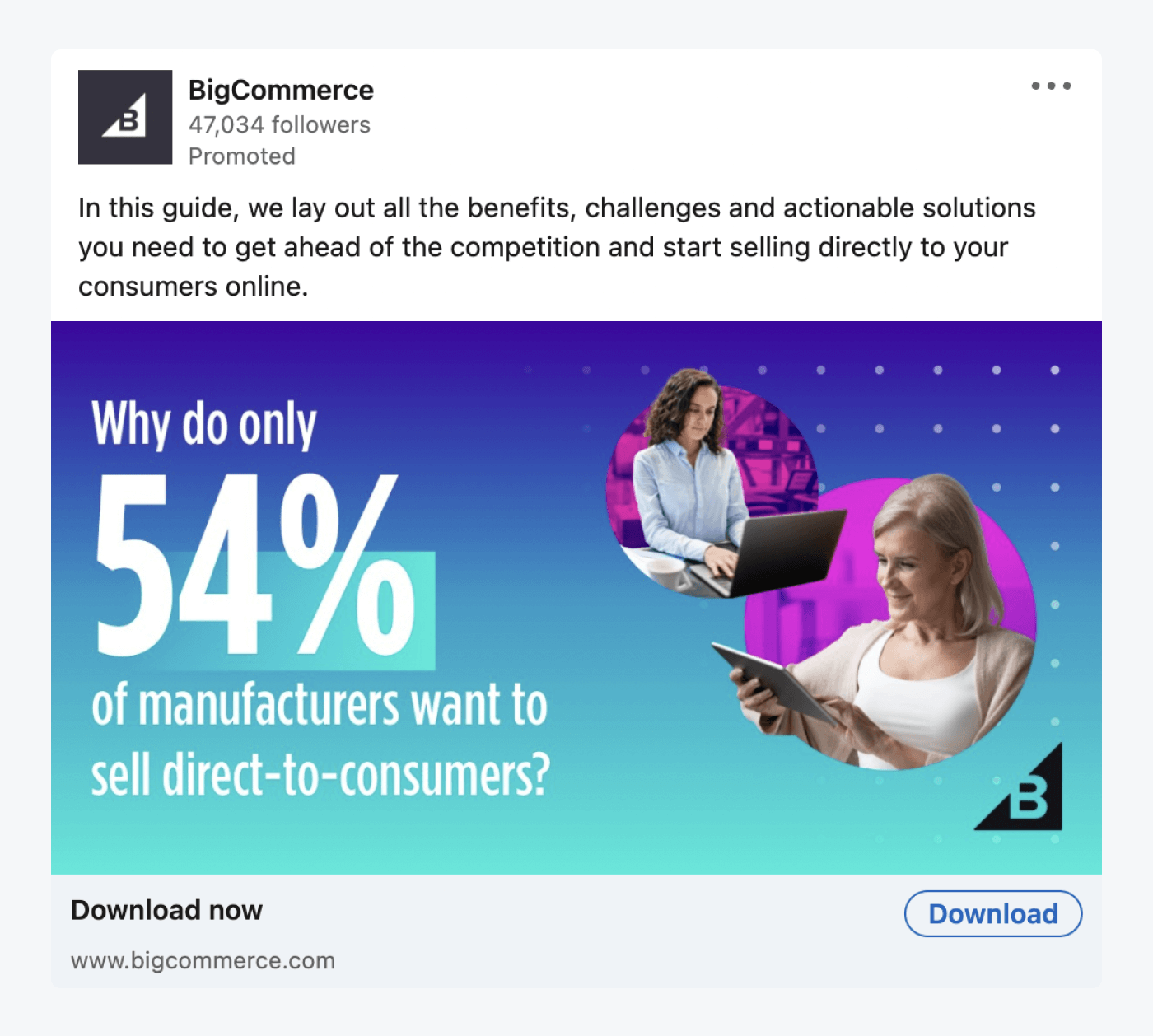 Remember that the people you reach are career minded, and they want to scale their business, so show the value you can bring them straight away.
4. Perform A/B testing
WorkZone boosted their leads collection by 34% because of changes in the testimonials page. This company performed A/B testing and discovered that the variation outperformed the original design.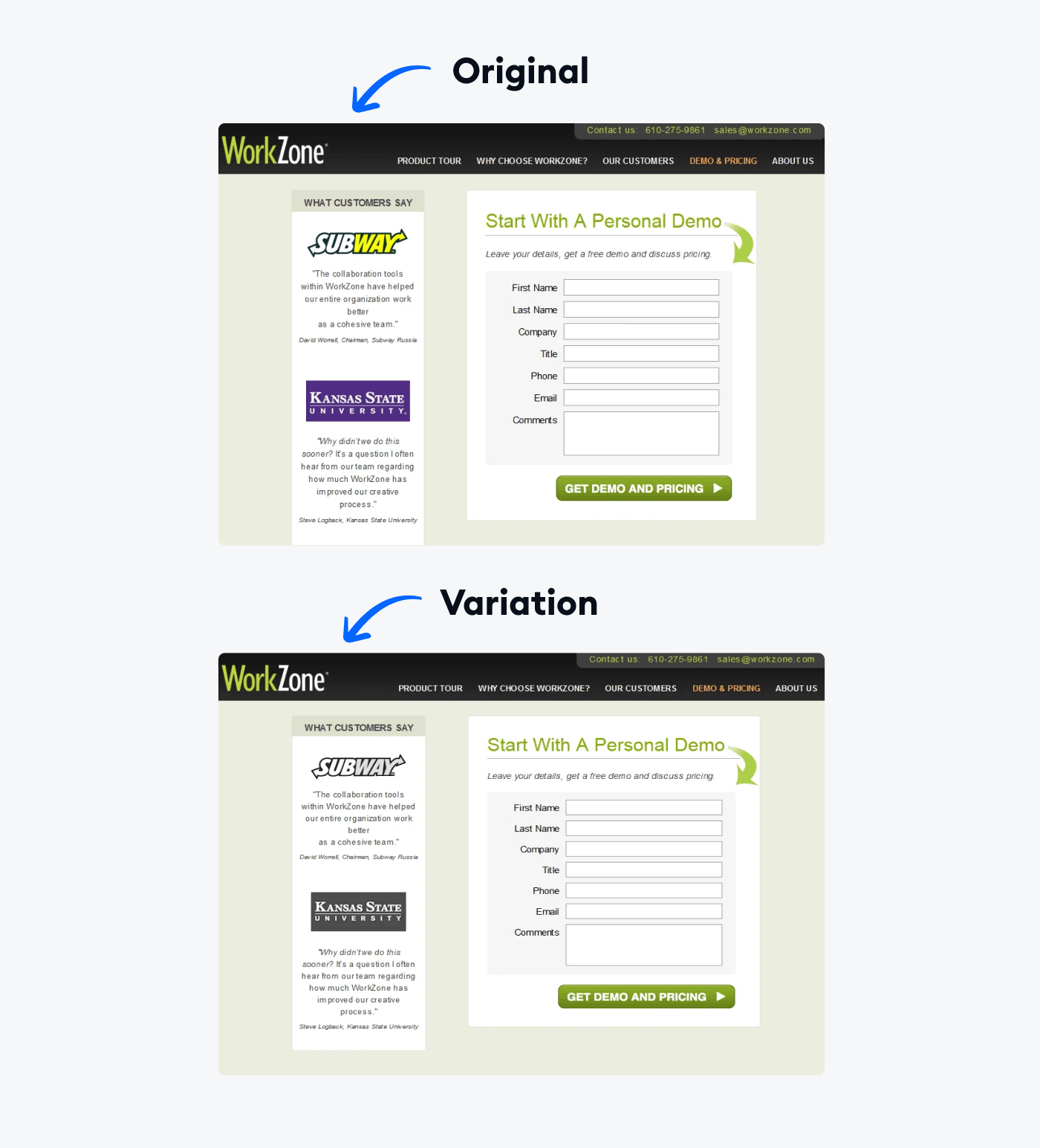 It's important to test big chances you want to make to your site and campaigns. Or even if you're not sure which B2B lead generation tactic will work best, try them both for about three weeks and compare results. Then, stick to the version that performed better.
Keep in mind that any small detail can be the deciding factor when it comes to the results from your A/B testing. So ensure the two versions have one variable different and not the whole design.
5. Promote content campaigns (e-books, case studies, checklists etc.)
First and foremost, ensure you offer something unique.
Downloadable content needs to be more in-depth and magnetic than blog articles. So, ensure your assets are worth it for the person to give their information away.
Also, ensure that your content is better than what your competitors are publishing. This means that it's more educational, explains the topic better, and has more original quotes or data.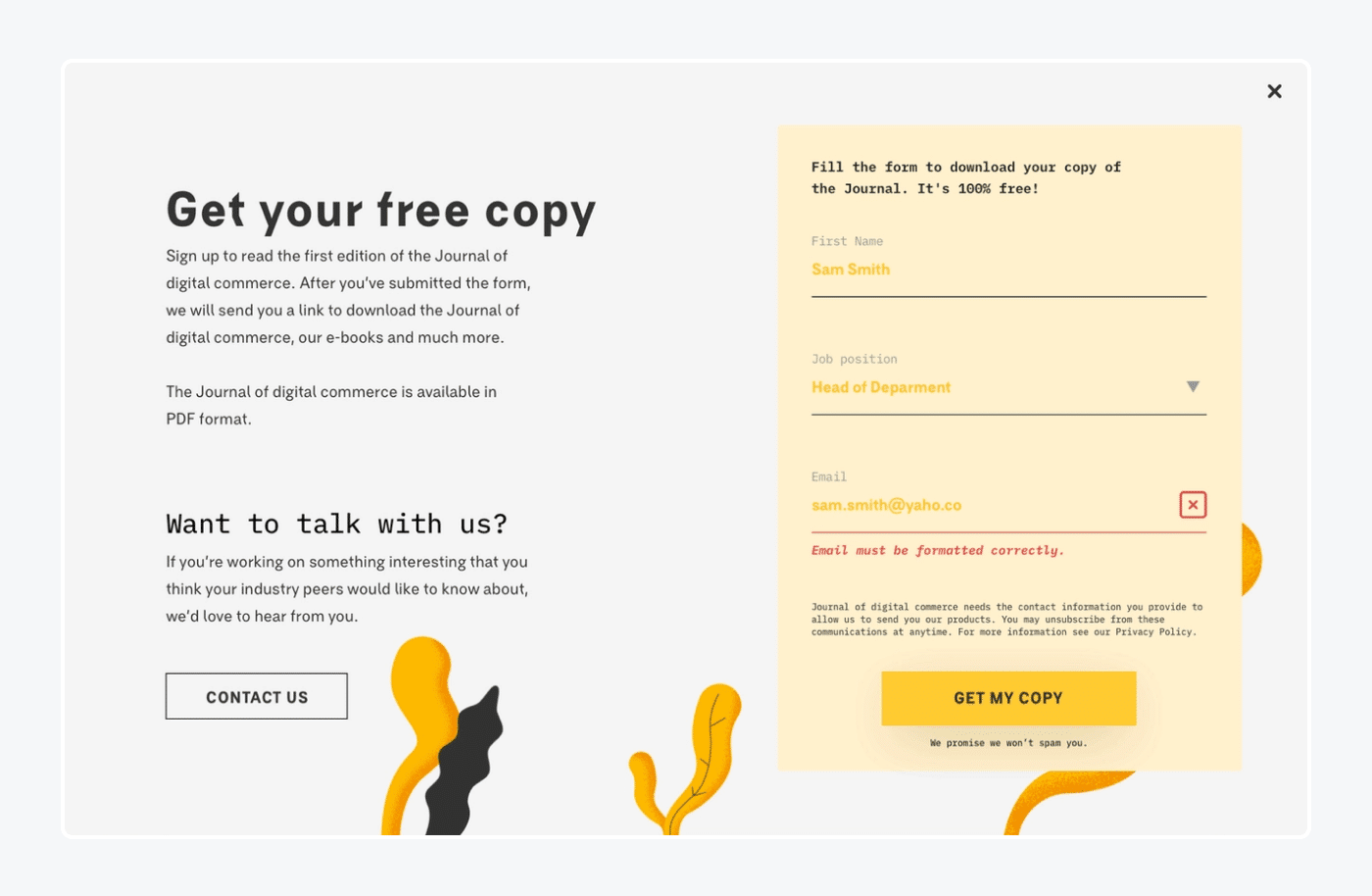 Some of the lead magnets you can use are:
E-books
In-depth guides
Workbooks
Templates
Checklists
Webinars
Search what your competitors are writing about, speak to your customer success team about clients' pain points, and check the latest trends for some inspiration. All these actions will help you choose the right topic for your content campaigns and win more high-value B2B leads.
Read more: Check out our latest e-book on how to recreate in-store experiences online using chatbots.
6. Gain social trust
If people don't trust your brand, they won't buy from you, and they won't give you their data. That's just a fact. Our study found that over 67% of clients have stopped mid-shopping due to something suspicious.
And that's even more crucial when we're speaking about B2B companies.
That's because it's not their money, it's the company's money that they would be risking. And to check the quality of your products and services, decision-makers will look for social proof before even speaking to your brand.
So, ensure you gather reviews, customer feedback, and testimonials for your business. Then, put them front, right, and center on your website. The easier it is to find them, the better.
A few places that it's important to add social proof are:
Product pages
Homepage
Sign-up page
This is how Infermedica show their clients' testimonials—and it's brilliant: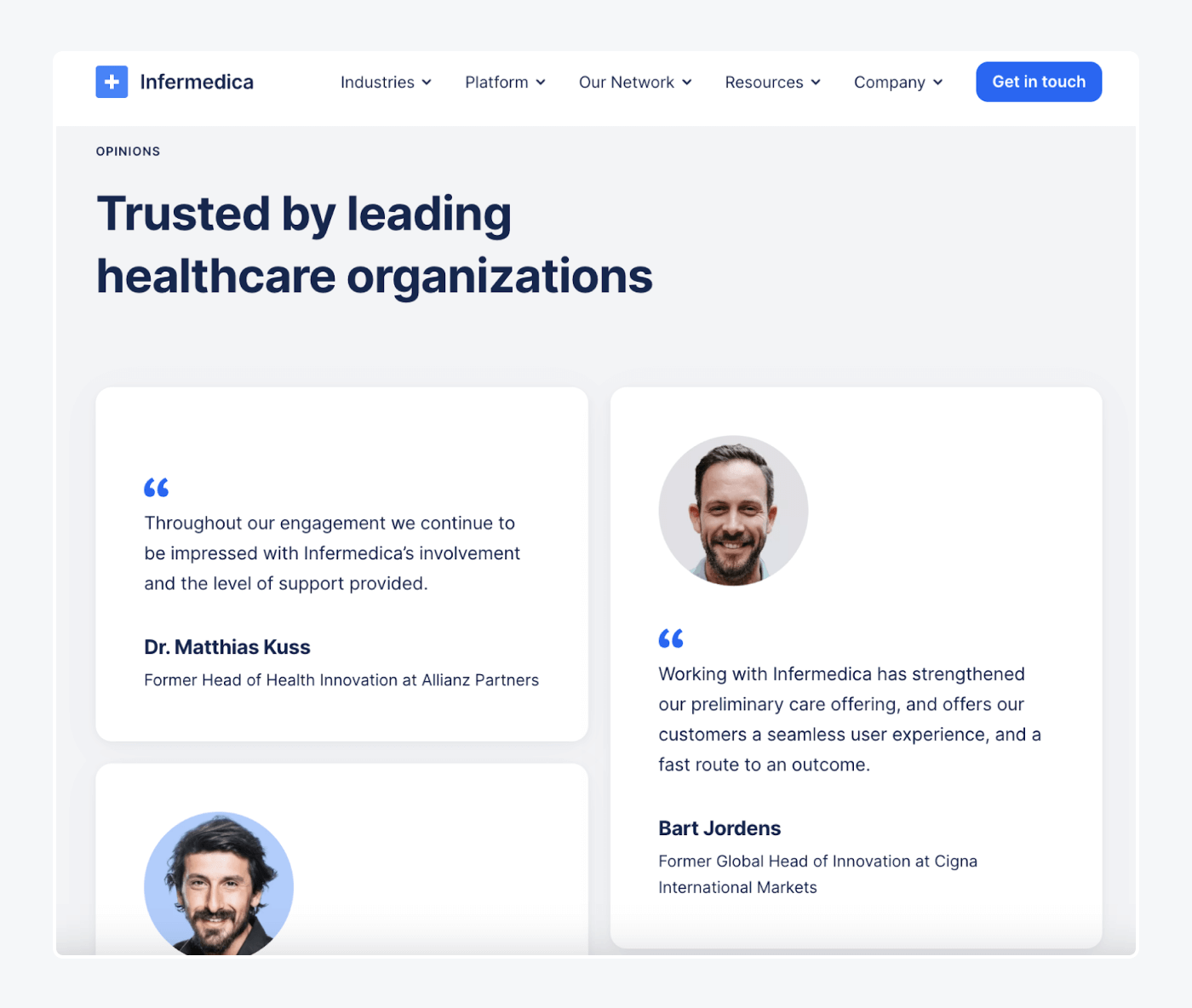 You can also share them on social media and encourage your current customers to leave you a review on third-party sites like G2, Capterra, or Trustpilot.
7. Write case studies
Speaking of proof that your company provides high-quality products and services, there's no better way to present the full story than case studies.
Business people want to see numbers and analysis of results that they can get from your products or services. They need to show proof that you will bring a high ROI before recommending you to their bosses.
Case studies can show that and more. This type of content presents hard results that your client got since using your products.
So, ask your loyal clients if they would be interested in participating in a case study, do interviews with them, and write a results-informed piece. And don't forget to promote it on your social media and other channels so that potential shoppers can easily find it.
Or you can use video for your case study like Room214 did:
Read more: Check out our case study on how Ad Hoc Atelier boosted its conversion rate using Tidio.
8. Do original research
First of all—what do we mean by original research?
Original research is the study you and your team undertake to look into a specific area or a problem. It results in original results that you can use throughout your website and share with other reputable site that could benefit from your findings.
The area you're in will determine the topic of the research you could go into. Let's say you provide training services for the company's employees. You want to undertake a study on how training can improve employees' performance, or how many employees want more training opportunities from their employer.
But that's not exactly the research you'll go into if you're selling wholesale products for the local stores.
You get the point.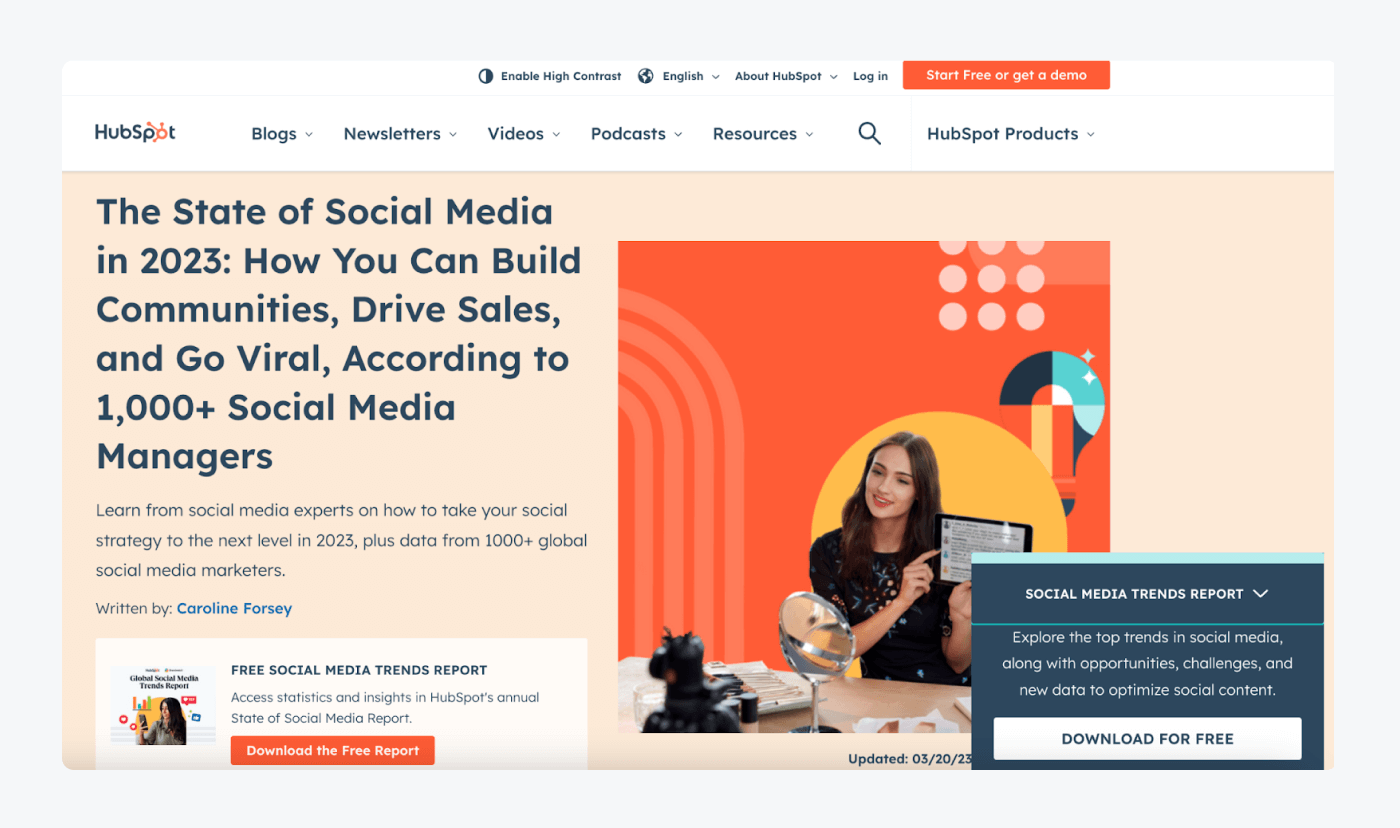 And by providing original research, you'll start establishing yourself as an expert in your field. In return, this will help you gain more B2B prospects that are already interested in your products.
Doing original research provides valuable information for your audience and helps you gain backlinks to improve your SEO score. So, do it right, and you'll be able to collect many fruits of your work.
Read more: Check out our original research on how smart AI actually is to gain inspiration on how to write a study article.
9. Provide valuable content
Now—let's talk about your website content.
To gain traction on your site and boost content marketing, you need to ensure that you're using the right keywords for the search engines, both short and long-tail.
You should also try to establish your online presence with the use of a blog. It can help you rank on more keywords related to your business, as well as show your expertise in the industry.
Once you have an established blog and all of the pages on your site are optimized for the right keywords, you should consider using guest posting. This strategy is one of the best link-building tactics out there because it exposes your brand to a wider audience.
To find guest post opportunities, look for websites with guest articles published, they might be open for collaboration. Also, try to contact outreach specialists in other companies for those opportunities as guest posting might be a valuable activity for them.
On top of guest posting, you should also look for original quotes to add to your blog posts.
If you manage to find experts in the area you're writing about and get a quote from them, they might share your content on their social media. And that's sure to bring some valuable traffic to your site that you can turn into leads.
Read more: Learn useful tips and tricks on how to find guest post opportunities.
10. Utilize marketing automations
Marketing automation is a tactic of using tools to streamline some of your workflows. These include lead generation from multiple sources and nurturing your prospects, as well as analyzing your current processes.
There are many automations that can make your B2B sales lead generation faster and easier. And if you don't have the budget to spend on software yet, you can explore some free options. Some of them are HubSpot's free CRM, Crazy Egg's Heatmap tool, and Tidio's lead generation chatbots.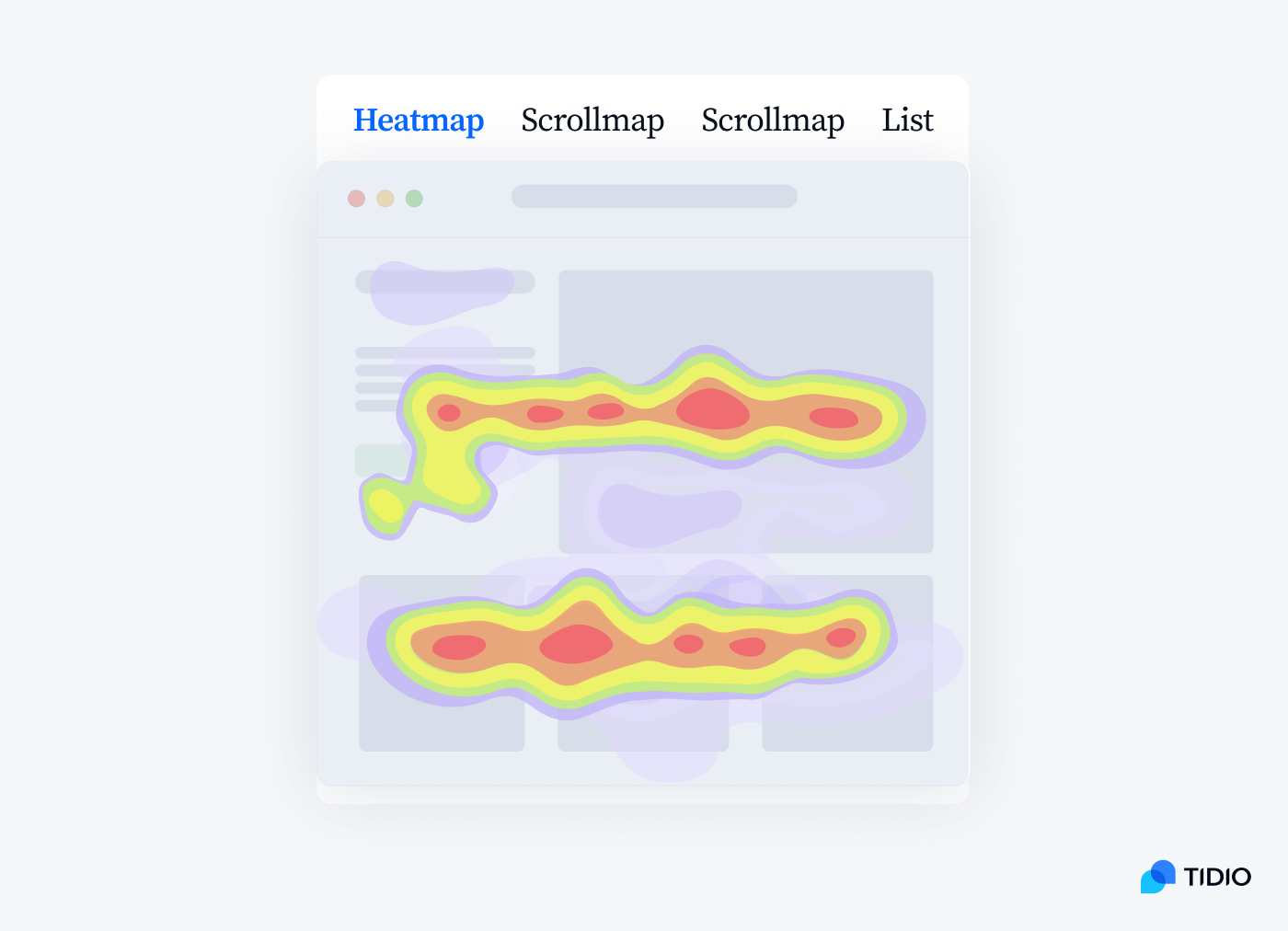 And if you use the automations for your B2B company, you can save time on collecting leads, stay organized, and track your prospects easier.
Jump to our section about lead generation tools to find software that will help you in your daily marketing activities.
11. Ensure a good mobile experience
More than 60% of people search for products and services on their phones nowadays. What they find decides whether they continue the communication, convert, or go back to searching.
Therefore, optimizing for mobile is essential for your lead generation B2B strategy to be a success. Good experience on mobile increases the trustworthiness of your site, which can encourage the visitors to give you their contact details.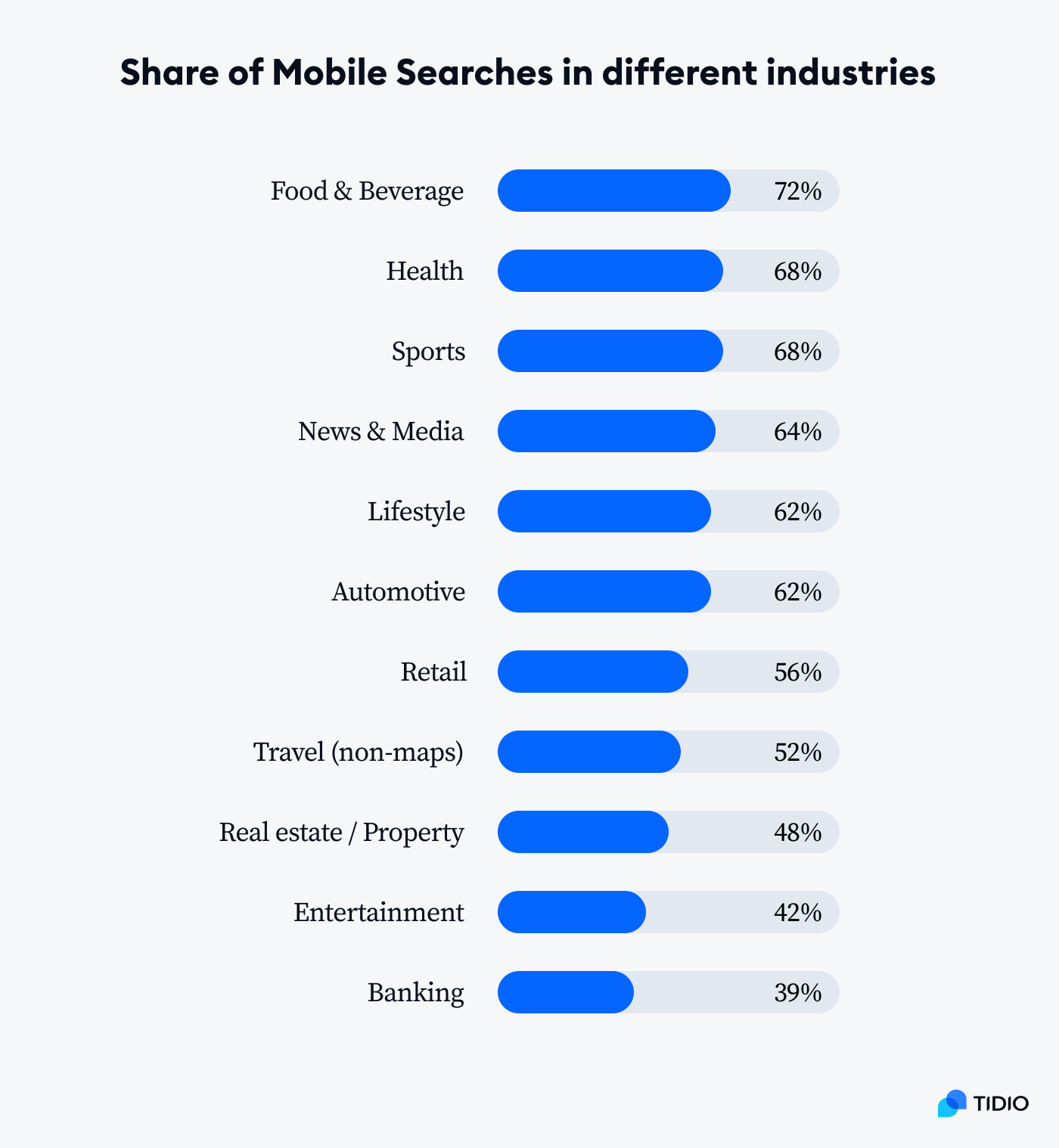 So, to make the most out of the traffic to your site coming from mobile phones, you should check your site's compatibility with mobile devices. Also, look through your reports and see if there's a bigger dropout from different types of devices.
If you see issues with the mobile version of your site, ensure your team's on it and fixes the problems quickly. In today's world, you can't have a successful website without being mobile-friendly.
In fact, about 57% of internet users won't recommend a business that has a poorly designed mobile version of the website. Moreover, around 85% of them say that companies should ensure that their mobile version has the same quality as their desktop version.
Read more: Learn the essential mobile commerce statistics to maximize your sales from mobile devices.
12. Try outsourced B2B lead generation
Outsourcing business-to-business lead generation is all about using an external company to collect and qualify prospects for your business. This is a good way to speed up your processes without hiring more employees.
When your brand has a well-developed strategy, you'll be using multiple channels and methods to gather prospects. This will help your brand be bulletproof (or at least resilient) to different situations that you can't control.
But remember to not solemnly rely on outside resources. Have a strong marketing strategy first. Then, outsource help for your sales and marketing team.
Read more: Learn how to generate leads for every business with useful techniques.
Okay—
Let's have a look at the best B2B lead generation tools.
B2B lead generation software
Considering that about 80% of marketers say that automation collects more leads than manual processes, you should look into getting one for your business.
So, in short, what are the top options out there that you should consider?
Here's a comparison table of the best three:
Let's look at them and their functionalities in more detail.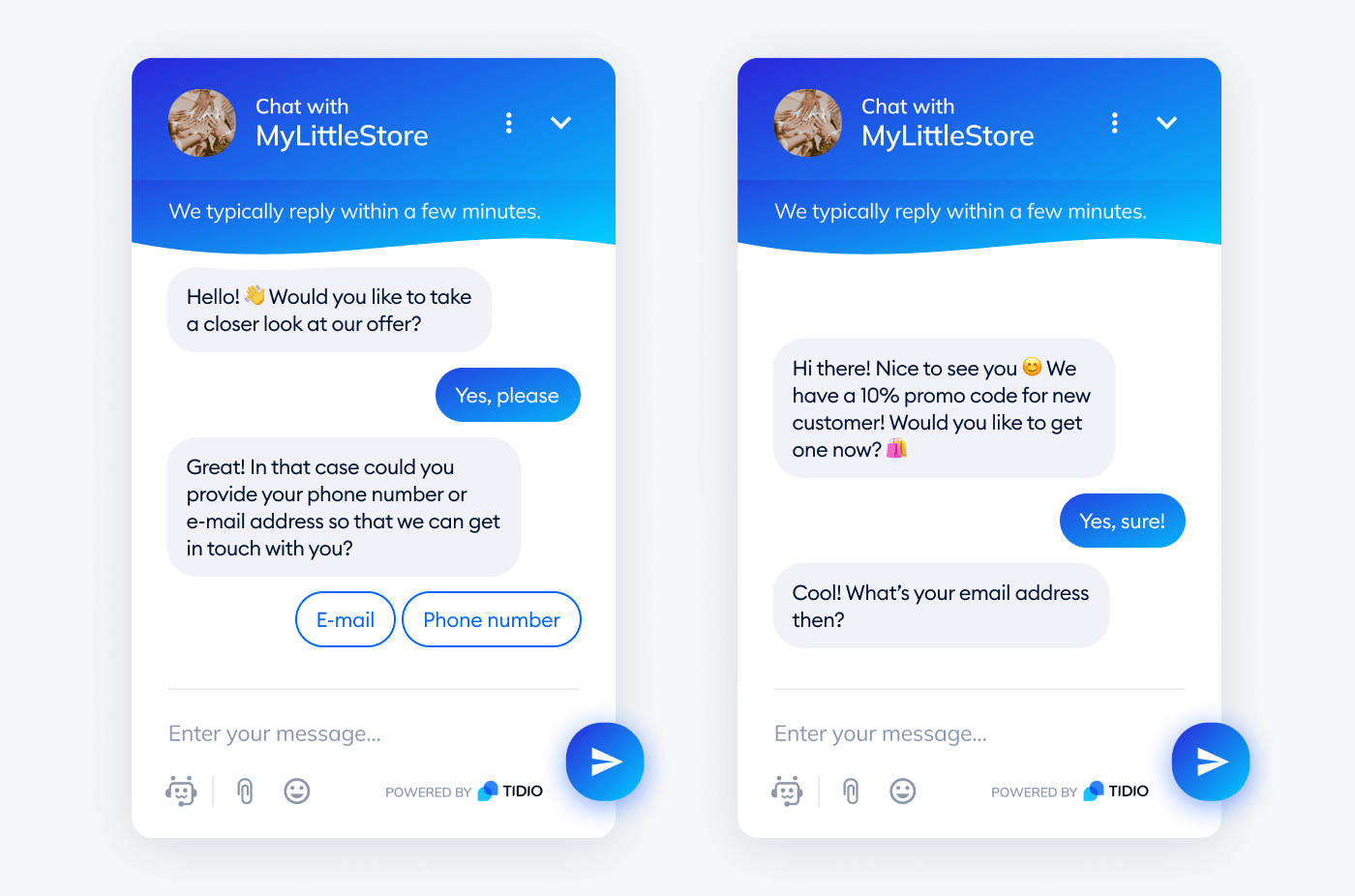 Rating: 4.7 ⭐️ (1,370+ reviews)
Tidio is an all-in-one customer experience solution. It includes AI chatbots and live chat software to generate leads straight from your pages, improve shoppers' experience, and increase engagement with your site. This provider offers tools to enable conversational marketing on your landing pages, social media, and other communication platforms. Moreover, it allows your visitors to ask questions and get answers in real time.
Main features:
AI chatbots
Live visitors list
Over 37 ready-to-use templates
More than 16 triggers
Pre- and post-chat surveys
Free forever plan
Starter ($20/mo)
Communicator ($19/mo/seat)
Chatbots ($19/mo)
Chatbots & Communicator ($38+/mo)
Tidio+ (starting at $329/mo)
Read more: Learn how to start collecting leads using Tidio.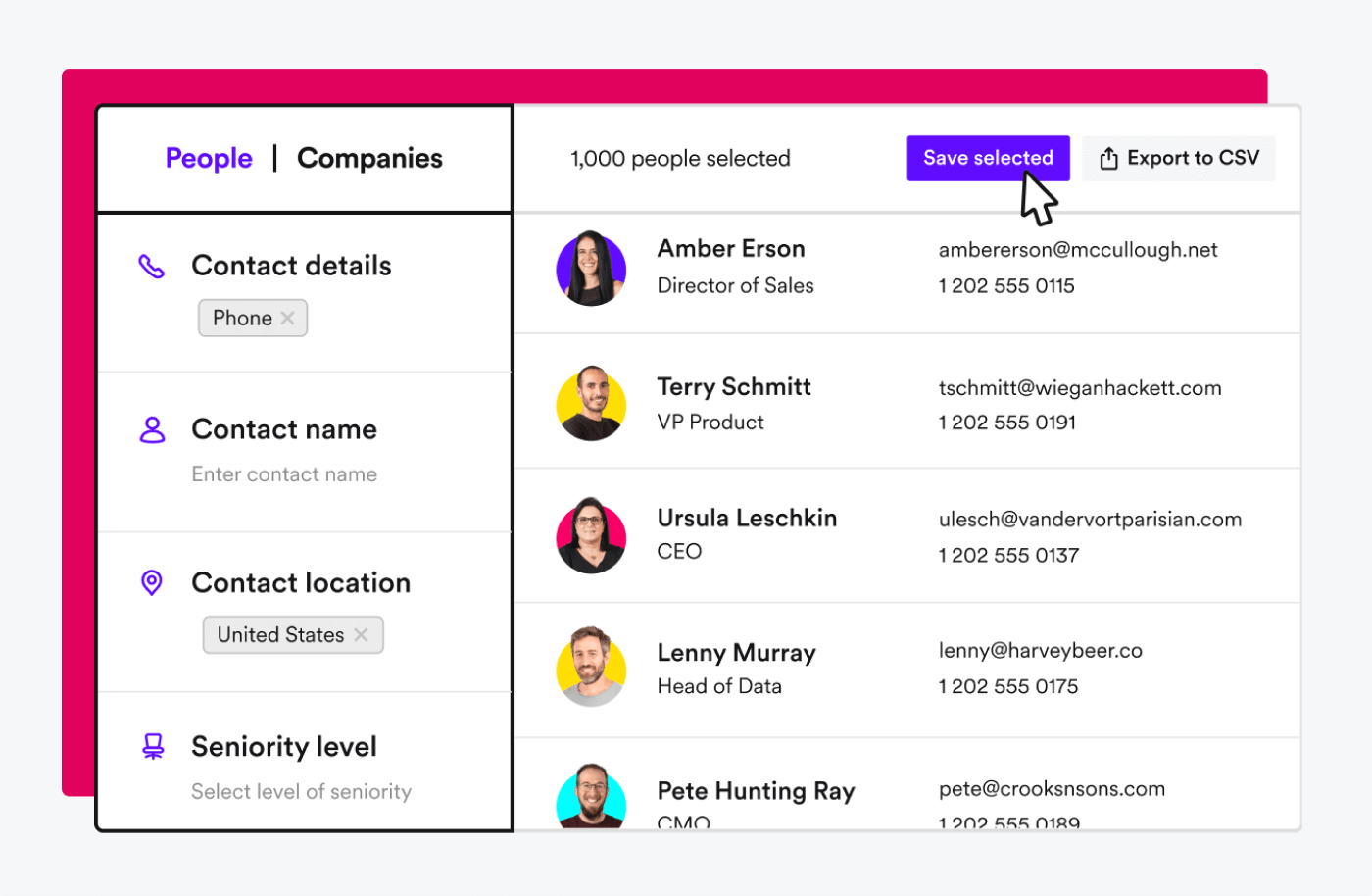 Rating: 4.3 ⭐️ (1,330+ reviews)
This is one of the B2B lead generation tools that help you collect leads automatically and export them easily to your customer relationship management (CRM) system. Lusha offers contact information and company details on prospects you choose to target. And you can export up to 1,000 relevant leads at a time. This software also provides a seven-step data verification process.
Main features:
Browser extension available
Variety of filters for intents, job change, and more
Data verification system
Free plan available
Pro ($29/month/user)
Premium ($51/month/user)
Scale → contact sales team for pricing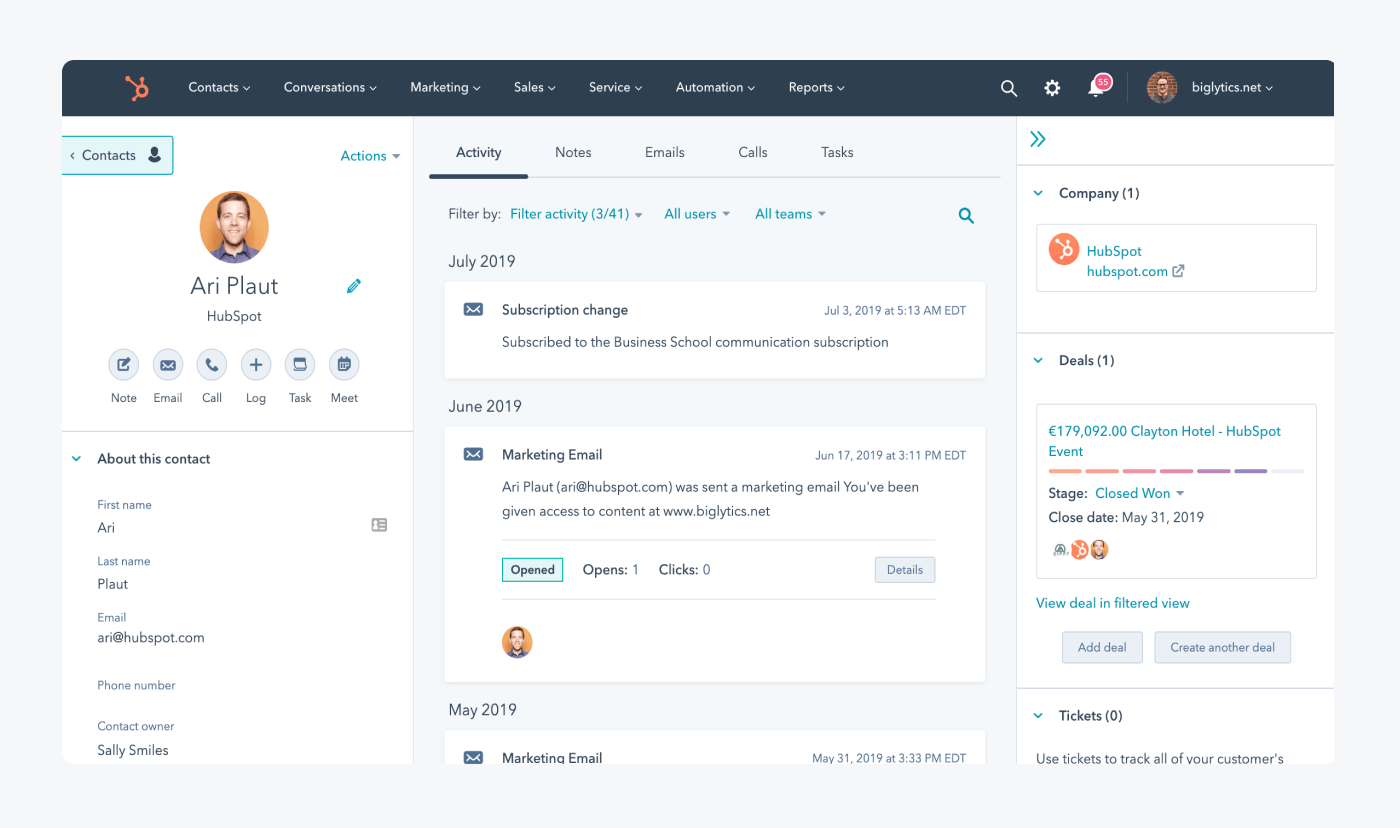 Rating: 4.4 ⭐️ (9,450+ reviews)
This B2B lead generation service helps you keep your leads organized and track their number. It also offers reports and analytics to keep an eye on your conversions, metrics, KPIs, click-through rates, and more. HubSpot easily integrates with Slack, so you can keep track of your prospects and send follow-up messages.
Main features:
Advanced analytics
Lead tracker
Email automation available
Free plan available
Starter ($20/month)
Professional ($880/month)
Enterprise (Starting at $3,300/month)
Read more: Discover the best lead generation software on the market and how to choose the best one for your business.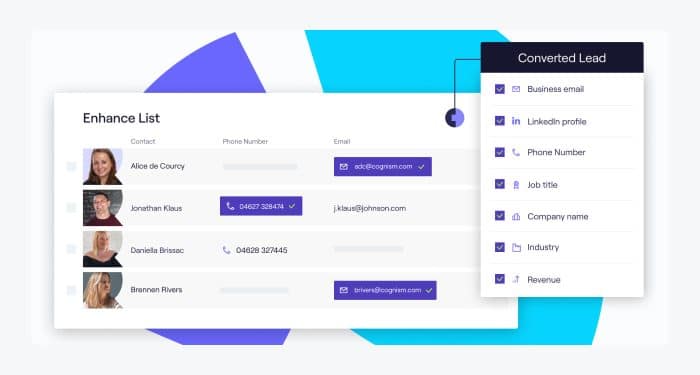 Rating: 4.7 ⭐️ (420+ reviews)
Cognism is one of the best B2B lead generation platforms that help you find quality leads for your CRM. You can filter the provided B2B contact database to find prospects and companies you want to target. It also offers accurate email addresses and a database of cell phone numbers that you can use for your next campaign. Keep in mind that this system has coverage in the US and EMEA for international reach.
Main features:
Manually-verified cell phone numbers
Intent data with sales triggers
Seamless integrations, including Salesforce and Outreach
25 free leads when booking a demo
Custom pricing based on your workflow
B2B lead generation tips & best practices
How to ensure your B2B lead generation techniques work effectively?
Well—
You can follow best practices and use some tips to gain the best results from your strategy.
Here are the top three ones you should follow: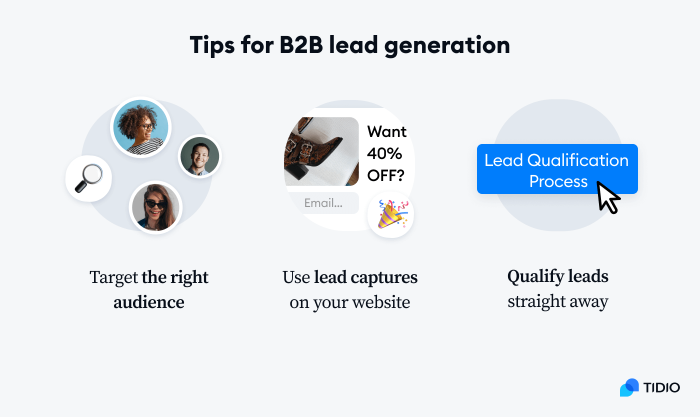 Target the right audience
First, and foremost, focus on who your buyer persona and ideal customers are. Then, search specifically for those people to ensure that your communication reaches your target audience. Think about it—if you gather 100 high-quality leads interested in a gardening service, they will be useless if your company provides office furniture.
Use lead captures on your website
Even if some visitors find pop-ups annoying, there's still a conversion rate of over 11% coming from them. You can also use chatbots as an advanced and interactive way to collect leads from your site and other channels.
Qualify leads straight away
As a B2B company, you want to get to the decision-makers and those don't have time for the wrong communication with your business. So, ensure you qualify the prospects early on to send them relevant materials depending on where in the funnel they stand.
What better way to find out about B2B lead generation campaigns than from the experts doing it successfully on a daily basis?
Let's have a look at what they say.
Expert insights on B2B lead generation
Who do we mean by "experts"?
Founders, managers, senior marketers, and CEOs who've been successfully running online businesses long enough to experiment with various ways of generating leads.
And the strategies they agreed to reveal to you are no rocket science. So whether you're a budding entrepreneur, someone who's been in business for a while or has just started thinking about setting up their own company—all of you can get some interesting ideas on proven ways to generate leads.
So, without any further ado, let's get down to the gist.
1. Free resources: offer a solution your audience needs
We've released many dozens of resources to generate leads, and it's worked really well for us. Usually, we launch on ProductHunt because they've got a great community there, and if what you offer resonates, things can really gain momentum.
One of the resources Close provided was a free spreadsheet CRM template. This idea originated from their potential customers who are just starting up and don't have the right sales process nor the resources to pay for a full-fledged CRM software solution.
The spreadsheet helped people get started on planning their sales processes. It resulted in generating 207 upvotes and 2637 signups.
This company also launched the Sales Success Kit, which was a collection of templates and checklists for sales teams. They gathered 322 upvotes and 5452 signups from that B2B lead gen strategy.
2. E-books: regularly deliver help and value to your audience
Our marketing team tries to launch one e-book every quarter to help provide value to our cliens and followers
Autoklose released an e-book called "The Ultimate Sales Outreach Playbook" that generated over 2,000 leads in less than a week. This e-book also got #4 Product of the Day on Product Hunt, attracted 29 new customers, and 54 people booked demos thanks to it.
3. Client-bait SEO: target the right keywords
Your potential customers search Google every day for solutions to business-related problems they're having. If you can find the specific, long-tail keywords they search and create truly outstanding content that solves those problems, you'll find that cold prospects come to your site.
This strategy involves a lot of research into keywords, intents, and trends. Hunter Branch did an in-depth keyword research for long-tail phrases that were specific enough to represent the target B2B buyers. He targeted lower search volume keywords that were easier to rank for and represented the interests of their audience.
And within a few months, Rank Tree started getting a stream of qualified leads. This foundation helped a brand-new business generate over 429 qualified leads within a year.
4. Landing pages: Pages built around high-intent keywords
In an organic B2B lead generation tactic, you don't need a big budget. But you do need time and patience for these pages to index and rank, as well as some link building to get them higher in the SERP
This company created numerous landing pages, specifically based on high-intent keywords. In order to drive more traffic interested in their type of product, Pointerpro decided to build a whole set of landing pages, one per specific keyword.
About one year since the company started this campaign, it saw a growing amount of traffic and leads come in from these pages. A nice bonus is that these pages have double (+98%) the conversion rate compared to other pages.
Summary: lead generation tactics B2B
Lead generation efforts are worth making to ensure the growth of your B2B company. Some of the best tactics include using email marketing, promoting different types of content, and being active across a variety of channels.
You should also use automation tools to ease your marketing efforts and get the most out of your prospect generation. Some of the software that can help your sales, customer experience, and product marketing are Tidio, Lusha, and HubSpot.
Turning new leads into paying customers can be challenging, but by qualifying them straight away you can increase conversion rates and sales for your business. That's because you'll know which stage of the sales funnel they're at, and you'll be able to personalize the communication accordingly.
Keep in mind that everything could affect your prospects' purchasing decision so ensure to frequently communicate with them. This way, you can catch any doubts and work on improvements on time to still win the deal.