So you want a chatbot app for your business?
Or maybe you're looking for one that can do health checks? Or perhaps you just want a virtual AI friend to talk to?
We've covered all bases!
Here's the full list of chatbot apps we reviewed:
Check out these articles to find out more about chatbots:
Before we move on, let's quickly answer some basic questions—
What is a chatbot app?
A chatbot app is a computer program that uses text or voice commands to simulate a human conversation. It does it by sending automated messages, offering decision buttons, and synthesizing voice. Some chatbot apps use artificial intelligence (AI) to recognize the user's intent and offer appropriate replies.
What chatbot apps can do for your business?
Chatbots are effective in resolving customer service issues about 87% of the time. So, your representatives can focus on more complex problems while chatbots take care of the simpler or repeating questions. This way, your business can improve its customer interactions and client satisfaction.
What other uses do chatbot apps have?
Chatbot apps have many different uses. For example, they can become your AI friends if you have no one to talk to, or they can help you keep an eye on your health. In fact, research shows that using a chatbot for healthcare purposes can have multiple benefits, like anonymity or real-time interactions. Chatbots can help people with some health issues but they can't be treated as a replacement for a real doctor.
In our article, we focus mostly on business-oriented chatbot apps but we also cover AI-friend apps and medical chatbots.
Here's a handy table with the best chatbot apps:
| Name | App Store ratings | Free plan | Best for |
| --- | --- | --- | --- |
| Tidio | 4.8/5 (4,800 ratings) | ✅ | Small to medium businesses |
| Zendesk | 4.6/5 (589 ratings) | ❌ | International companies |
| Wati | no ratings available | ❌ | WhatsApp communication |
| Drift | 4.7/5 (1,000 ratings) | ✅ | Enterprise companies |
| Chatfuel | No ratings available | ✅ | Customer service via Facebook Messenger |
| ManyChat | 4.6/5 (189 ratings) | ✅ | Social media marketing |
| Cleverbot | 3.3/5 (434 ratings) | ❌ | Talking about anything |
| Replika | 4.6/5 (178,700 ratings) | ✅ | Creating an AI friend |
| Babylon Health | 4.8/5 (3,500 ratings) | ✅ | Instant access to health care |
| Florence | no ratings available | ✅ | Pill reminders and general health tracking |
Let's jump into it and find out which chatbot app is the best for your needs.
Check out some interesting research-based customer service statistics, from customer expectations to business strategies.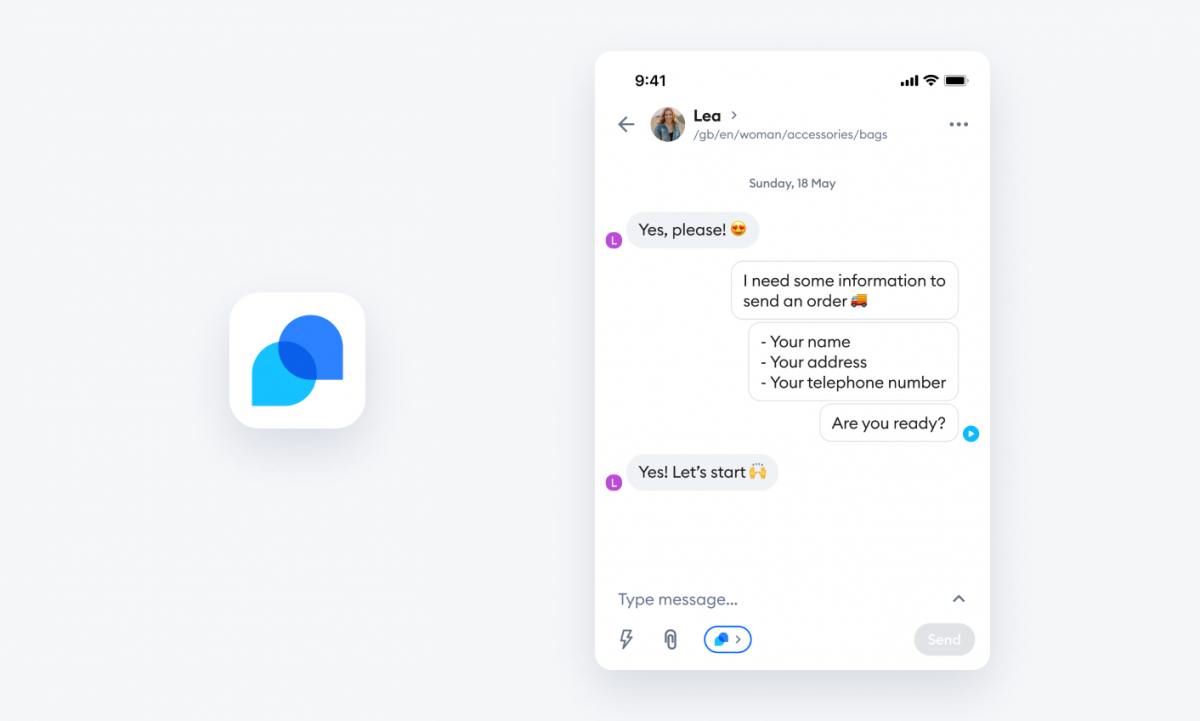 Ratings: 4.8/5 (4,800 ratings)
Yes, it's us, and we know you're not here to listen to us praising ourselves for the great job we've done on our chatbot app. So let's make it quick—
Tidio is a no-code and free live chat software with integrated chatbots. You can customize your bot to your business needs with a visual chatbot builder that lets you see any changes you make in real-time. You can also add a custom pre-chat survey to obtain visitors' information and use it for lead generation.
Your ecommerce business can make use of the great Shopify integration and extra features for Shopify users. These include tracking abandoned carts using Tidio on Shopify and sending products to customers directly from Tidio.
If you want to judge for yourself, you can look at our reviews and try the Tidio bot for free.
Main features:
Live visitor list
Push notifications
Quick responses
Visual chatbot builder with a drag-and-drop editor
16 different triggers
37 ready-to-use templates for a variety of purposes (Instagram bots, boost sales, etc.)
NLP (natural language processing) chatbots
Price:
Free plan available
Communicator $19/mo
Chatbots $49/mo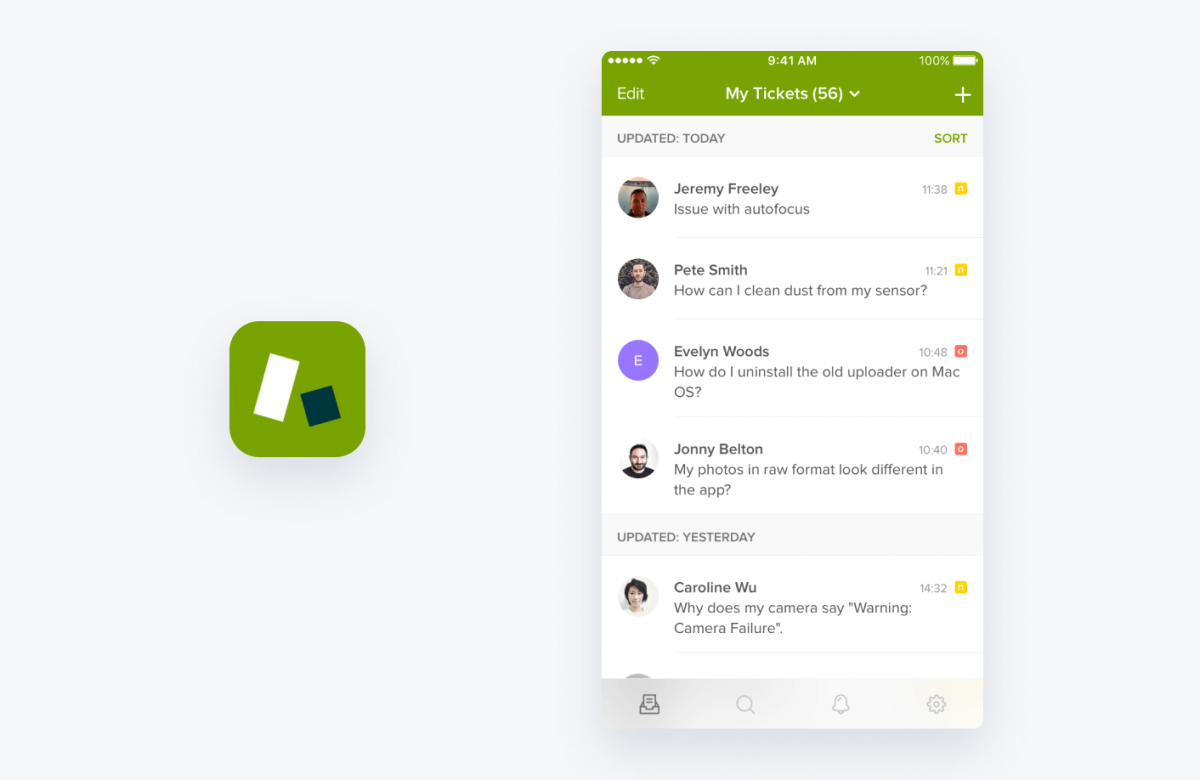 Rating: 4.6/5 (589 ratings)
This is a mobile chatbot app to monitor, manage, and reply to visitors of your website even on the go.
You can use it to encourage better teamwork and agent collaboration with agent-to-agent chats. This bot app can also help retailers decrease the response time with the shortcuts feature that can improve customer support and marketing efforts.
Zendesk can support you in engaging with customers at just the right time with the real-time view of who is on your website and what they're browsing. This can also aid you to personalize the experience for your customers.
Pros:
Agent to agent chat available
20+ ready-to-use reports and dashboards for analytics
Over 700 integrations, such as Salesforce, Atlassian, Freshbooks, etc.
Cons:
Hard to use
Reviewers say there are issues with the ticketing system
Price:
Foundational support $29/per agent/mo
Suite team $49/per agent/mo
Suite growth $79/per agent/mo
Suite professional $99/per agent/mo
Suite enterprise $150/per agent/mo
Additional enterprise plans → talk to the sales team
Read more: Get familiar with the top mobile commerce statistics and get inspired to optimize your online store for mobile.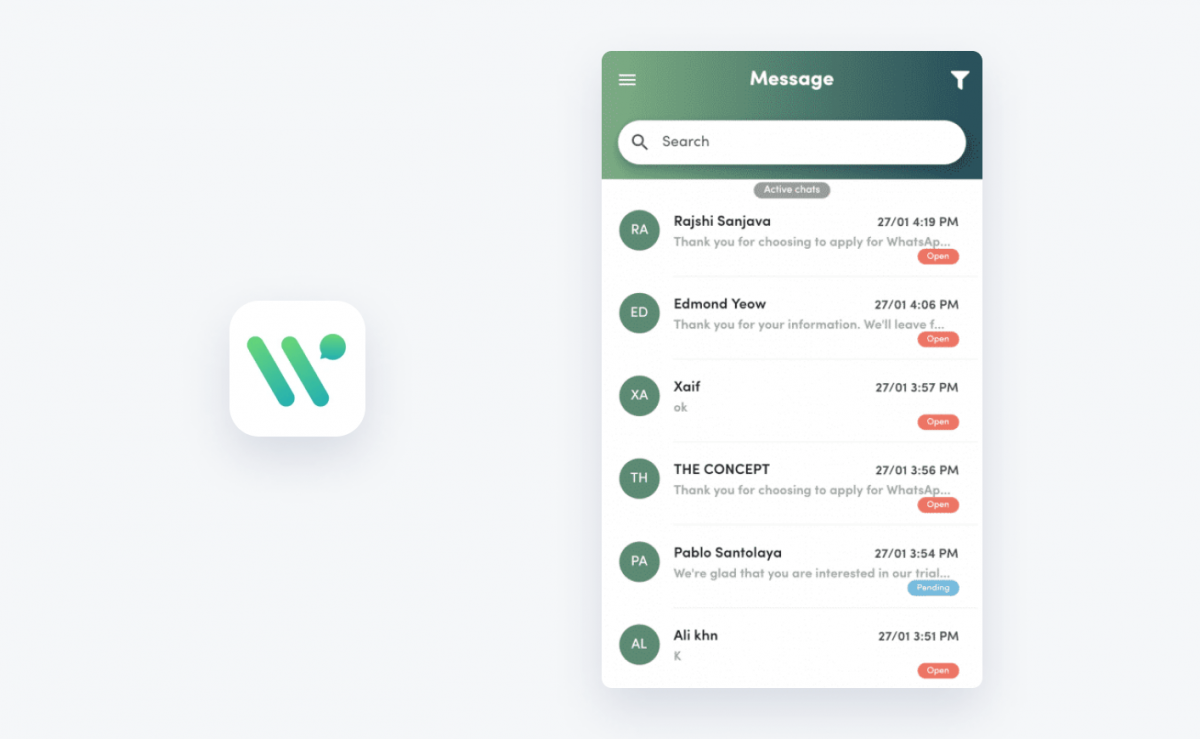 Ratings: no ratings available
This android chatbot app is an official business partner of WhatsApp Business APIs. This ensures that the integration between Wati and WhatsApp is seamless for all users.
You can let your reps answer clients on the go from a single platform to improve the customer experience. You can also monitor performance and get data-driven insights to help you make better business decisions.
Wati is a messaging app with a simple interface for a better user experience and quicker onboarding of human agents. Users can also set the schedule and availability hours on this chatbot platform and build their own bot just the way the brand needs it.
Pros:
Links with the official WhatsApp Business API
Notification preferences for every agent
Performance monitoring available
Cons:
Only available for WhatsApp
No AI technology
Price:
Standard $49/mo
Professional $98/mo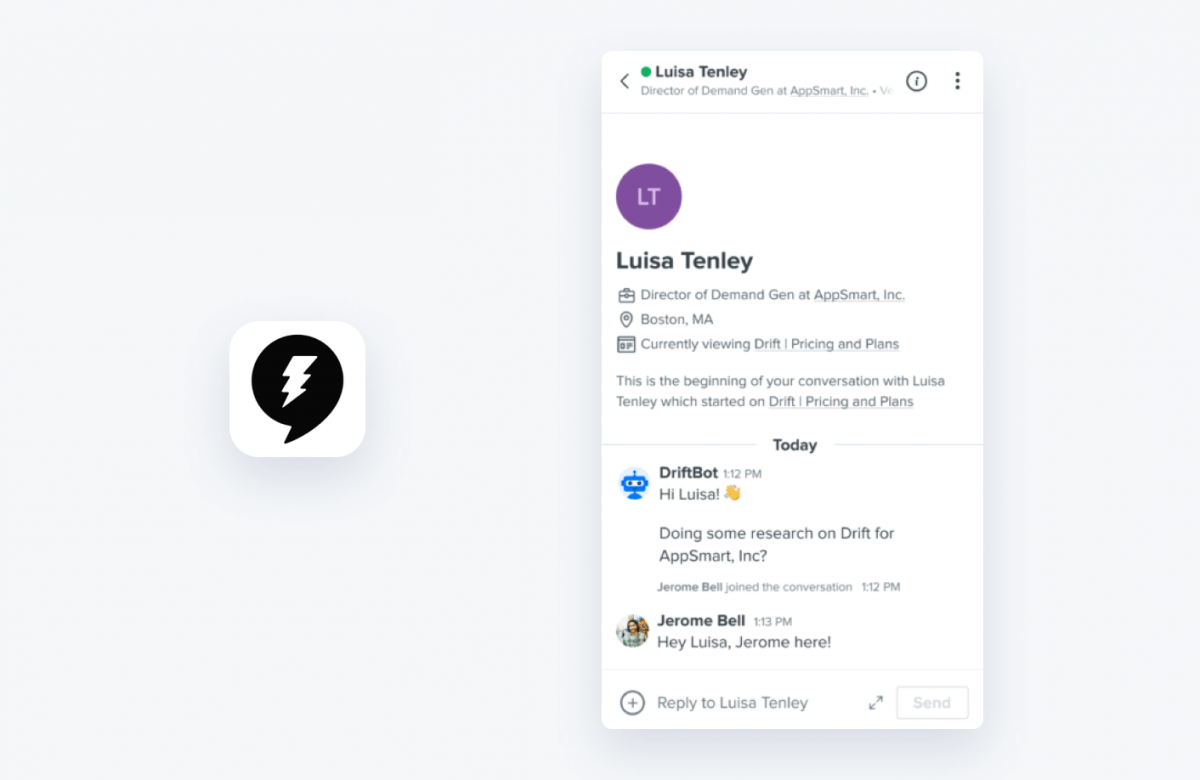 Ratings: 4.7/5 (1,000 ratings)
Drift is one of the best chatbot applications to assist your sales and customer success teams. You can create automated email campaigns with a number of triggers, such as for customer onboarding or churn prevention.
It lets users record and share personalized videos, automatically schedule meetings with prospects, and see all your contact details and conversation history. Users can also add custom tags to chats and filter conversations based on their status.
This chatbot mobile app tracks views and conversations to notify you when a key account visits your site or when an important prospect views your video. It also helps you measure your NPS (Net Promoter Score) with surveys sent in-app or by email.
Pros:
Track views and conversations
Live view of visitor's activities on the website
Record and share videos
Cons:
No galleries, images, or attachments
Only available for websites
Price:
Free plan available
Premium, Advanced, Enterprise plans → contact sales team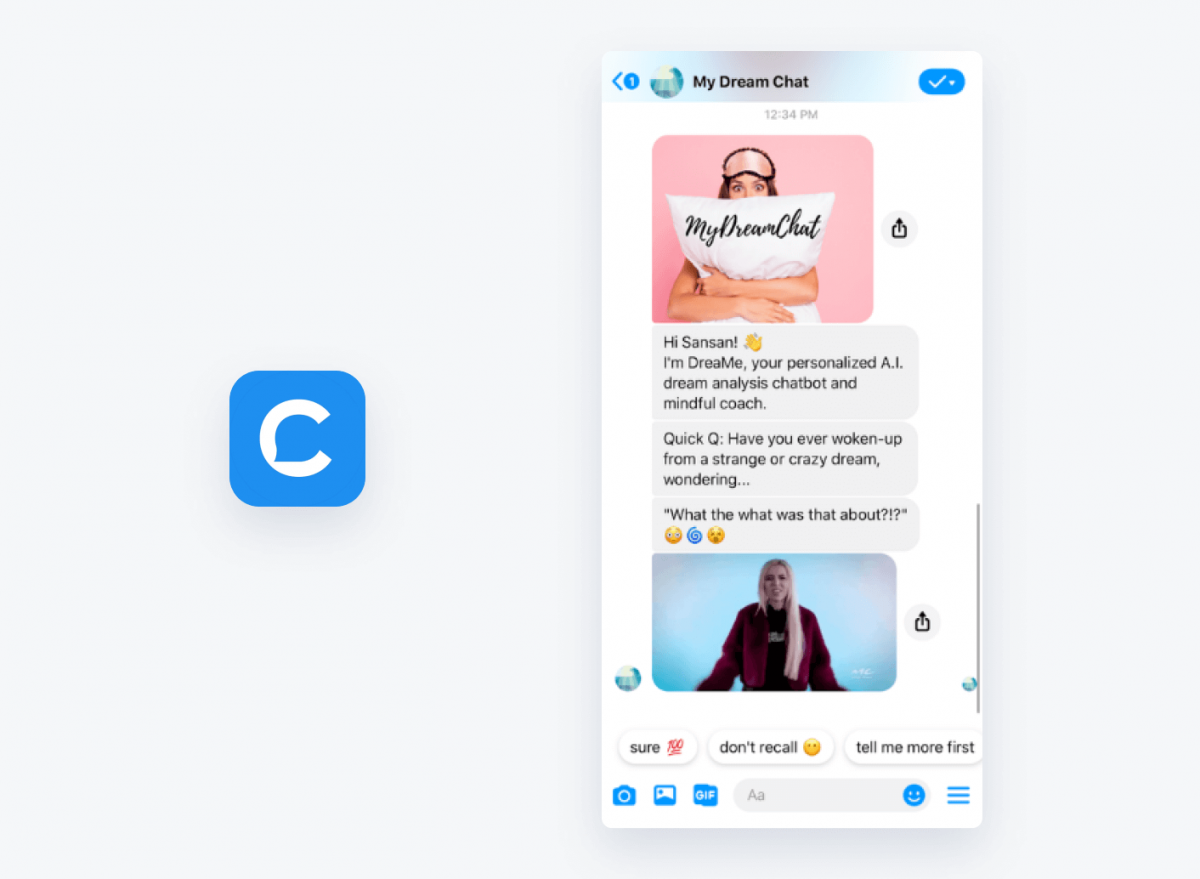 Rating: no ratings available
Chatfuel is a bot-building software to create AI chatbots for your Facebook Messenger and Instagram.
It has a structured and easy-to-use interface that can help you build your Facebook chatbot app easily and quickly. You can customize the bot to match your brand and get it to generate leads and answer FAQ questions.
You can also improve your marketing efforts and customer satisfaction with this bot by personalizing the sales experience for your clients. And for extra features, Chatfuel integrates with useful tools like Google Sheets, Calendly, Zapier, and it also offers an API for custom integrations.
Pros:
Analytics available
User-friendly interface
Cons:
Only available for Facebook Messenger and Instagram
Not as advanced as competitors
Price:
Free plan available
Entrepreneur $9.99
Startup $39.99
Small business $124.99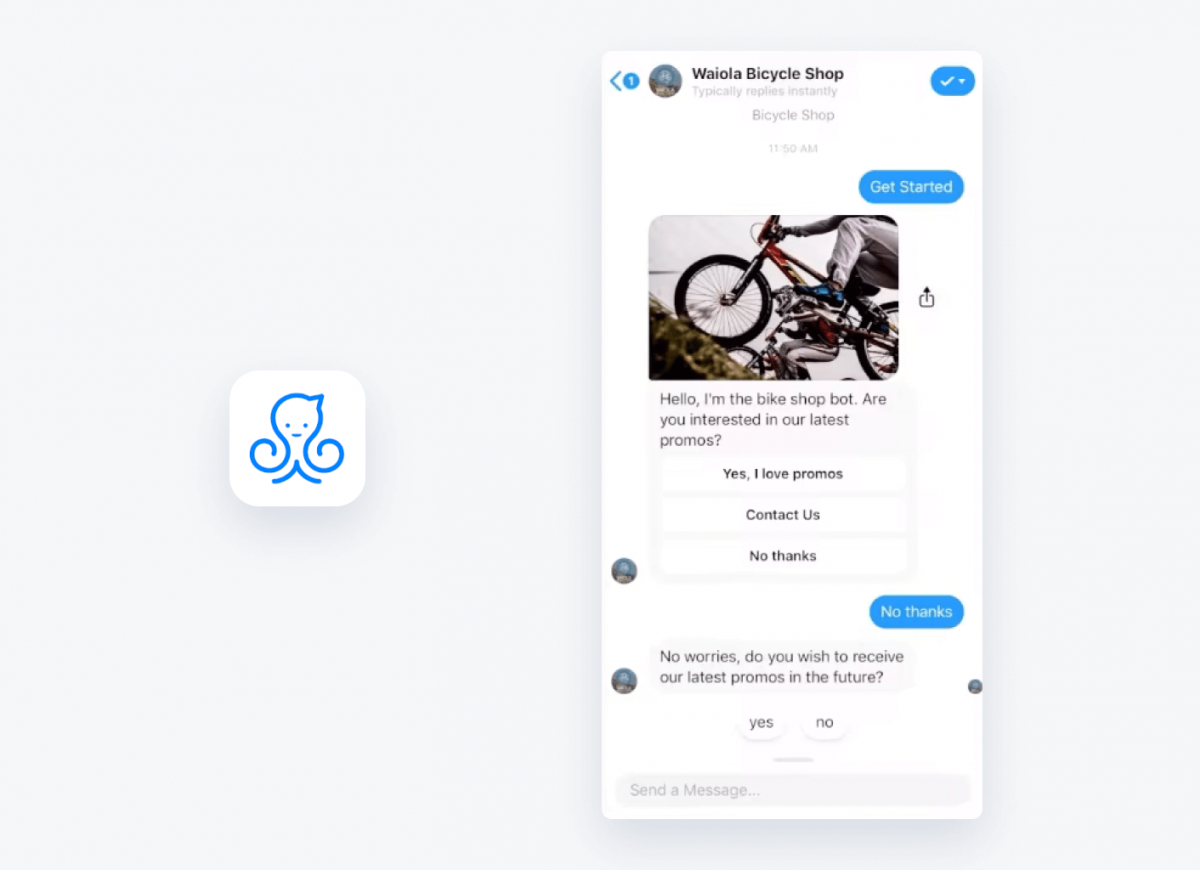 Ratings: 4.6/5 (189 ratings)
This free chatbot app for iOS is ideal for chat marketing and deploying messenger bots. It can help small businesses drive chat marketing campaigns through social media and text messaging.
You can automate the communication channels, such as Instagram and Facebook Messenger, send SMS and emails directly through the app and reach your customers across multiple platforms. You can also use it to book appointments, generate leads, and build relationships with clients.
This is one of the best chatbot applications to visually build bots with a drag-and-drop interface. It can also support you in selling more products by giving customers the ability to make purchases within Facebook Messenger and advertising your services to new leads.
Pros:
Audience segmentation
Message broadcasting
Appointment booking
Cons:
Limited integrations
Only basic analytics available
Price:
Free plan available
Pro plan starting at $15/mo and is dependent on the number of contacts
Check out more chatbot platforms and discover the best one for your business.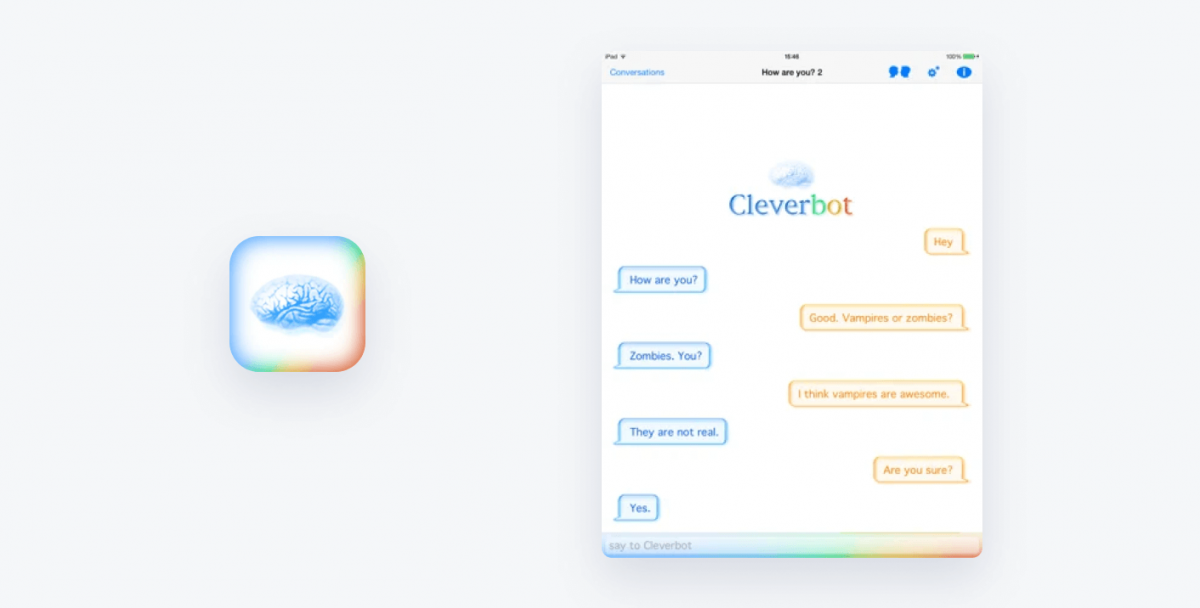 Ratings: 3.3/5 (434 ratings)
Cleverbot, in contrast to the apps reviewed so far, isn't a business-oriented bot but rather a conversational app for everyday use. It is a chatbot app for iOS that is specifically designed for Apple devices and uses machine learning. You can change the shade of the chat bubbles to suit your mood and message anything you like to the bot.
But be careful– It learns with every interaction with humans.
This means that when you message the bot, its algorithm selects a previously entered phrase from its database as a response. So, you might find Cleverbot's responses strange and sometimes even inappropriate. The bot doesn't understand emotions and will often misinterpret what you're saying or what you mean.
Pros:
Responses based on previous conversations
Share fun conversations by email or on social media
Stop and start conversations whenever you like
Cons:
Only available on iOS
18+ and can be inappropriate
Only available when you're online
Price:
Rating: 4.6/5 (178,700 ratings)
This is the best chatbot app to speak to daily and about anything. It was created to support people who feel lonely. It is a companion that is available 24/7 when other humans are not free to chat.
You can create your own Replika on a mobile app, decide how it looks, help it develop its personality, and learn about the world. You can also play games with it, write stories, role-play, and much more.
Replika can aid you to track your mood and understand your thoughts and feelings with a daily conversation. By learning something about yourself through discussions and general talks, you will also help Replika grow.
Pros:
Artificial Intelligence chatbot
Virtual friend available 24/7
Customizable
Cons:
Can give inappropriate answers
The mode can change from friendship to relationship
Needs time to develop
Price:
Free version available
Pro version $4.99/mo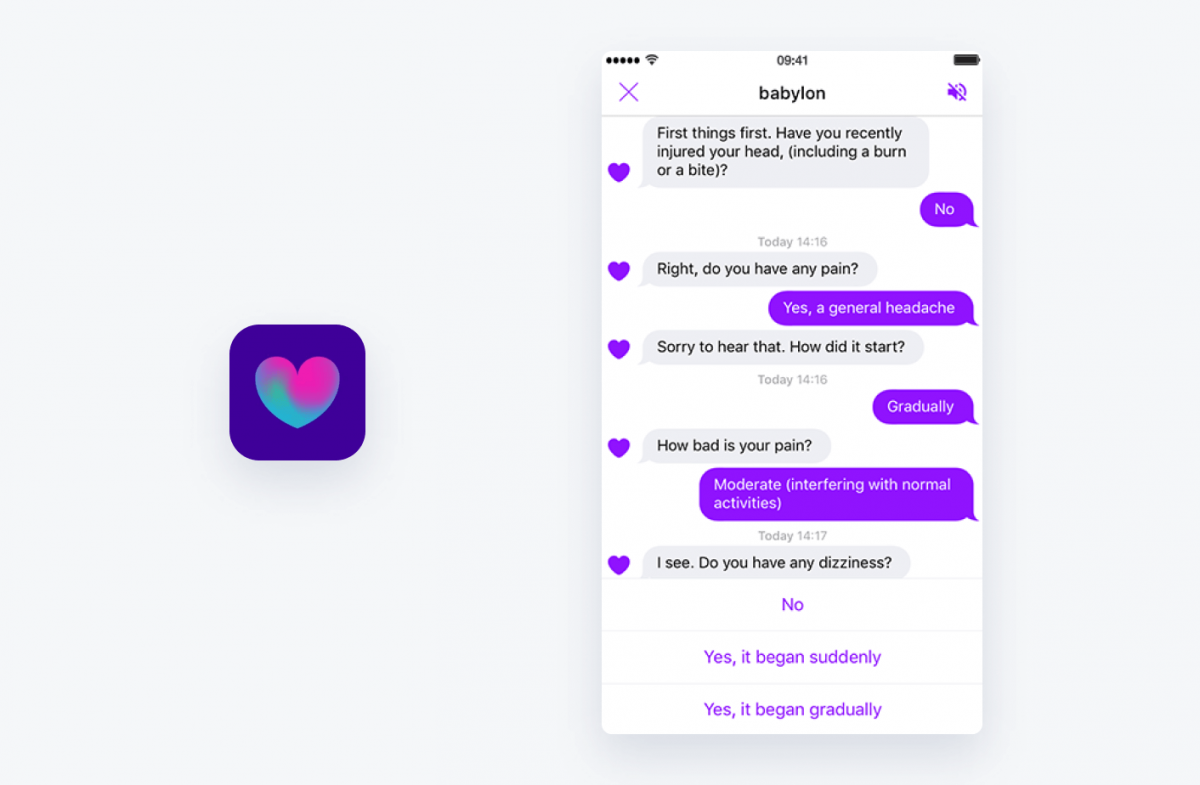 Rating: 4.8/5 (3,500 ratings)
This health chatbot app was created by doctors and scientists to assist you to understand your current and future health needs.
Babylon provides support for allergies, congestion, cough, fever, flu, mental health, pain, rashes, upset stomach & more. You can also use it to get access to a doctor and book an appointment with a healthcare provider.
It first asks you to describe your symptoms and questions relating to your health. You will then get a wellness report and practical recommendations for staying healthy. You can also get help with prescriptions, specialist referrals, labs, and behavioral health.
Pros:
Video appointment with a healthcare provider available
Symptom checker & health check
Insights about current health and risk factors for future conditions
Cons:
Not as accurate and reliable as a real doctor
Only suitable for typical symptoms
Price:
Free features available
Insurance plans accepted
You only have to pay for appointments, prescriptions, and health kits:
$149/year, $49/consultation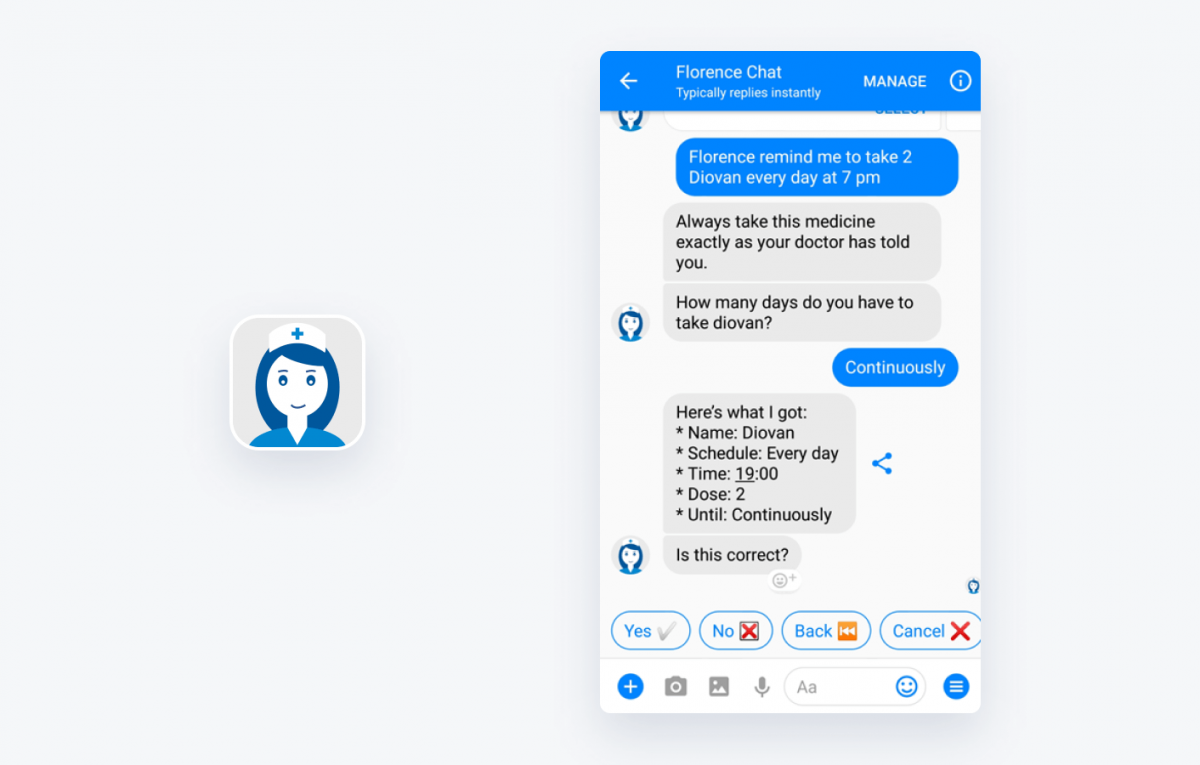 Rating: no ratings available
This is one of the medical chatbot apps that you can use as your personal health assistant. It is also a completely free chatbot app so anyone can use it for their needs.
It can support you in tracking your health and remind you to take your medication. It can also provide some additional information about your medication, diseases, and conditions.
You can use this mobile chatbot on Facebook Messenger, Skype, and Kik. You can get to know what happens when you miss a pill and what you should do in that situation. But, Florence does not provide medical advice and it should not be used in medical emergencies.
Pros:
Reminder to take medication
Additional information about the medication available
Available on popular messaging platforms such as Facebook Messenger, Skype, and Kik
Cons:
Only available in English
Risk of using the bot for medical emergencies
Price:
How to make a chatbot app with a chatbot builder?
Okay, so you saw the greatest of the great chatbot apps out there. But how can you make one after you choose the provider?
It's quite simple—
To make a chatbot app for your website, social media, or messaging platform:
Log in to a chatbot platform, like Tidio
Personalize the chat widget and name your chatbot
Choose a chatbot template you want to customize
Edit your messages
Activate your chatbot app
Key takeaway
Once more, here's a full list of the best chatbot apps:
Each of them is best for a different purpose, and you should decide what is important for you before you decide to commit to any of them.