Many articles claim to have "bullet-proof customer service statistics" but don't provide any research reference to back it up.
We do.
We've looked at dozens of websites, reports, surveys, and research papers to compile a comprehensive list of stats on all aspects of customer service.
Plus, to save your time, we've grouped them into easy-to-navigate categories so you can quickly find exactly what you need.
Without further ado—
Explore statistics on:

Customers' expectations
When customers choose to do business with a brand, it's only just the beginning. To retain the customer, a company needs to know their expectations and make sure to fulfill them. Check out these customer retention statistics: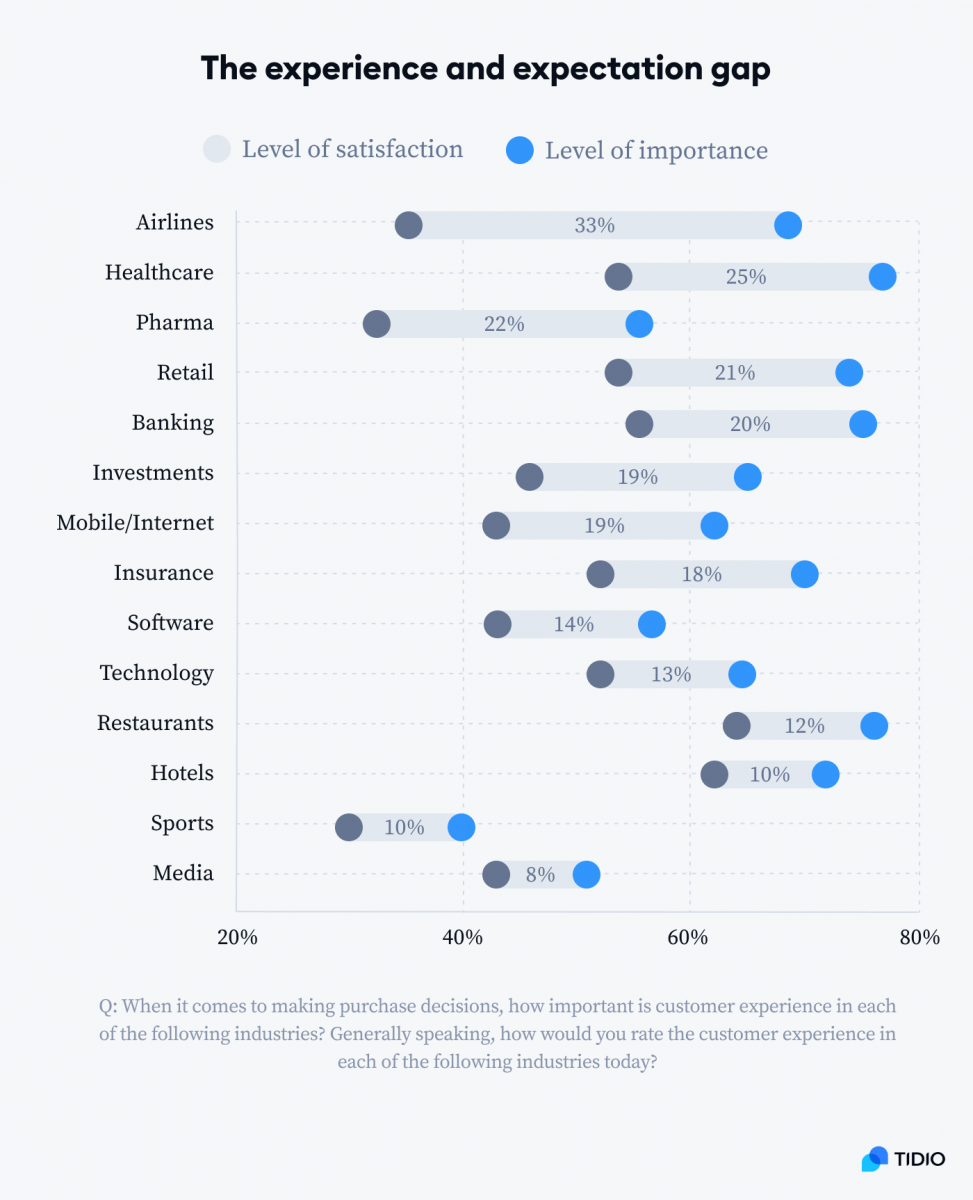 What's important to customers?
Customers are essential for a business to stay afloat and grow. But what is important to the customers? Find out from these statistics on customer service essentials:

Suggested reading:
We conducted our own customer service study to find out what makes a good customer experience.
Improve the customer experience with chatbots
Provide quick and easy support, and delight your customers.
Try Tidio Chatbots
What do customers pay more for?
Customer service and convenience are the top picks for what customers are willing to pay more for. Here are the numbers: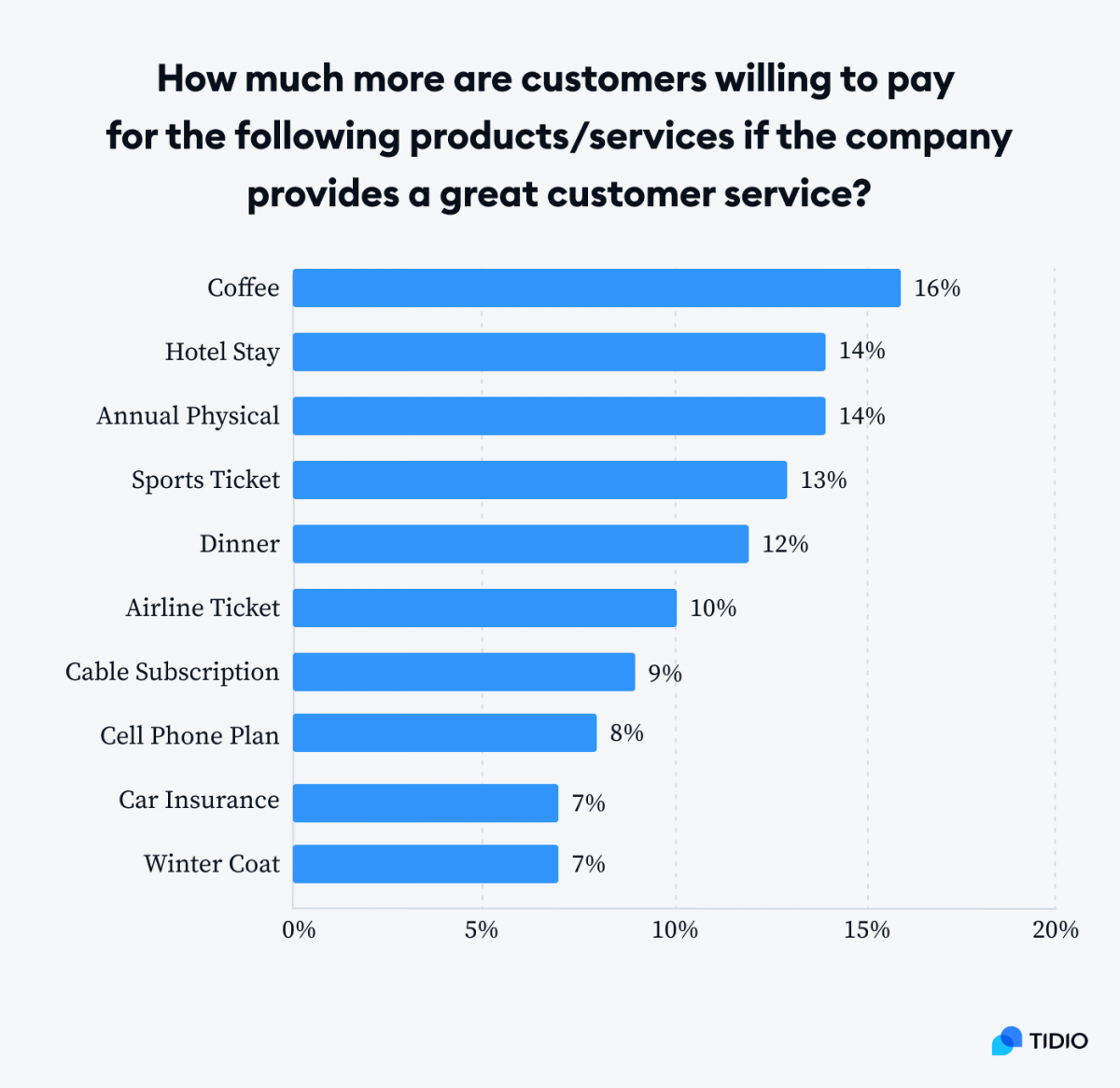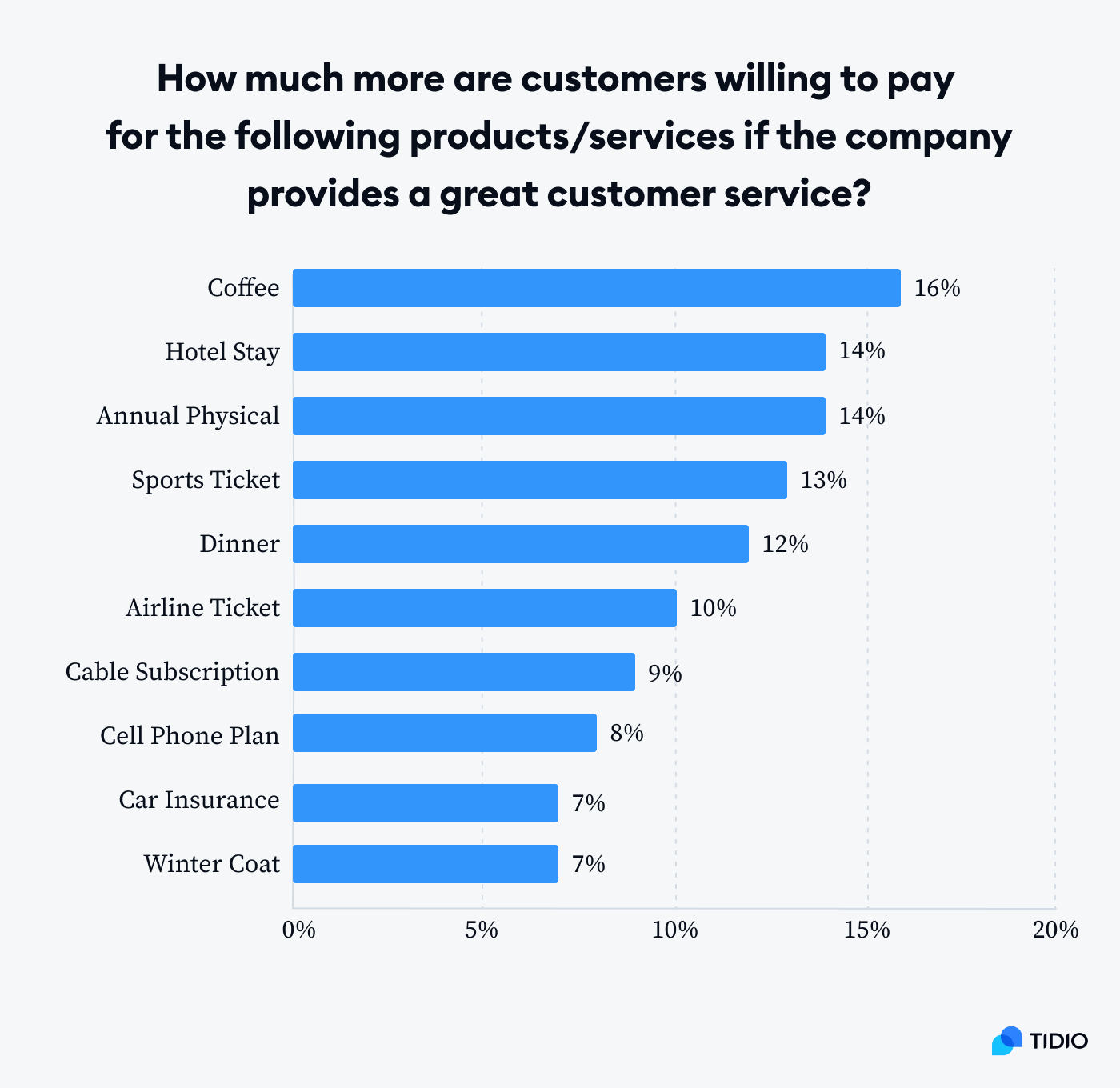 Customer success
The success of a company depends on customer success. For more information on the customer success program and how to improve it, we have these customer satisfaction statistics: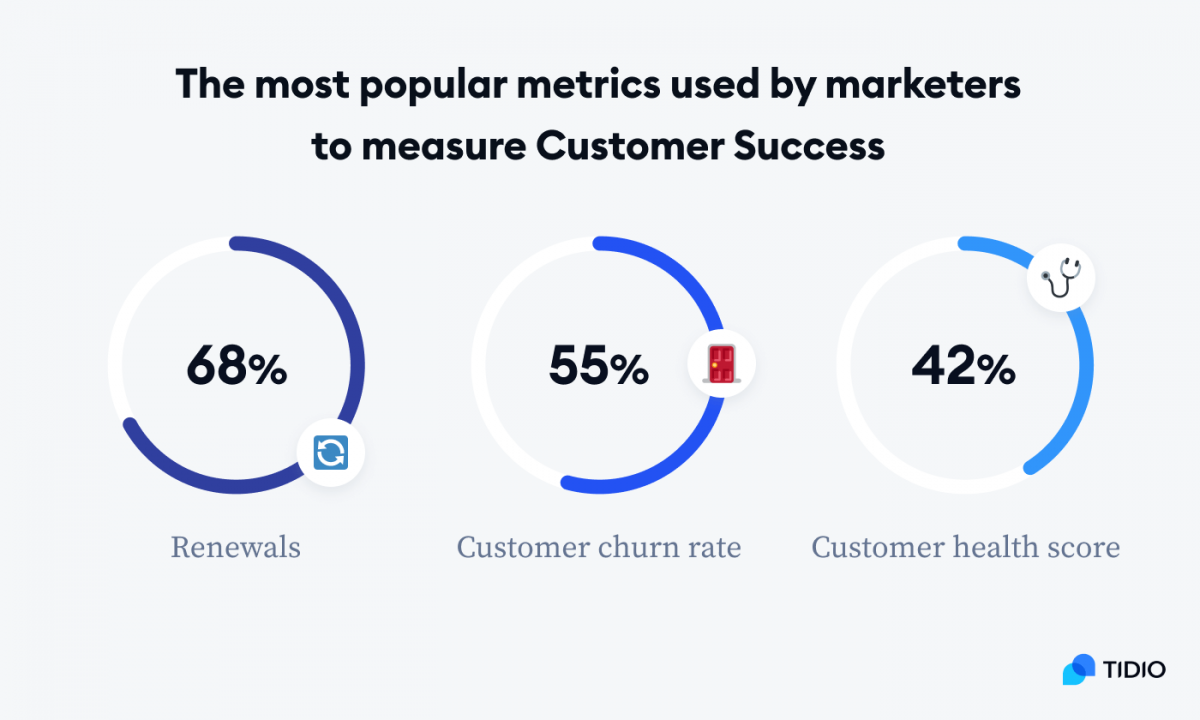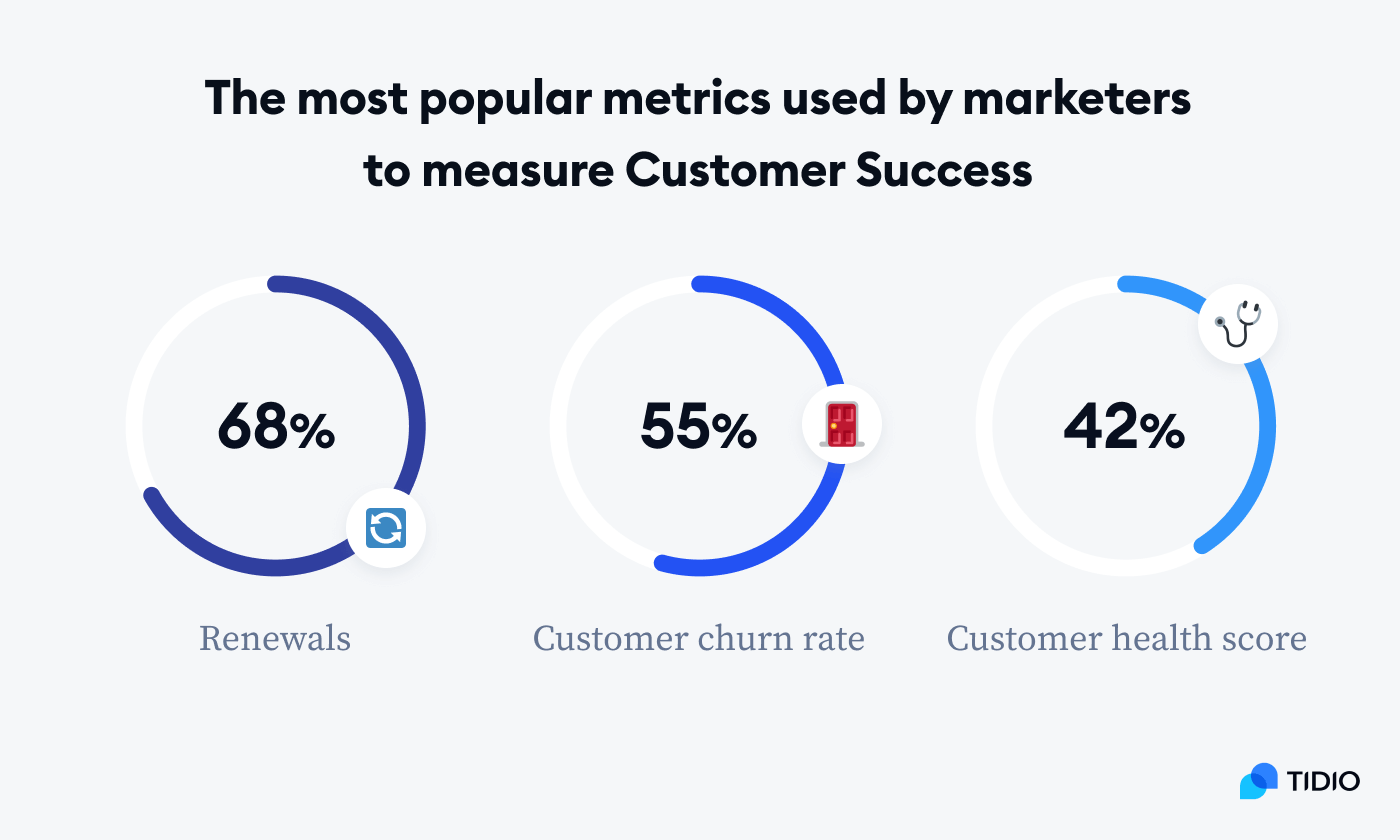 Good customer service
What makes good customer service? These customer experience statistics show what goals to implement into your strategy and what to focus on: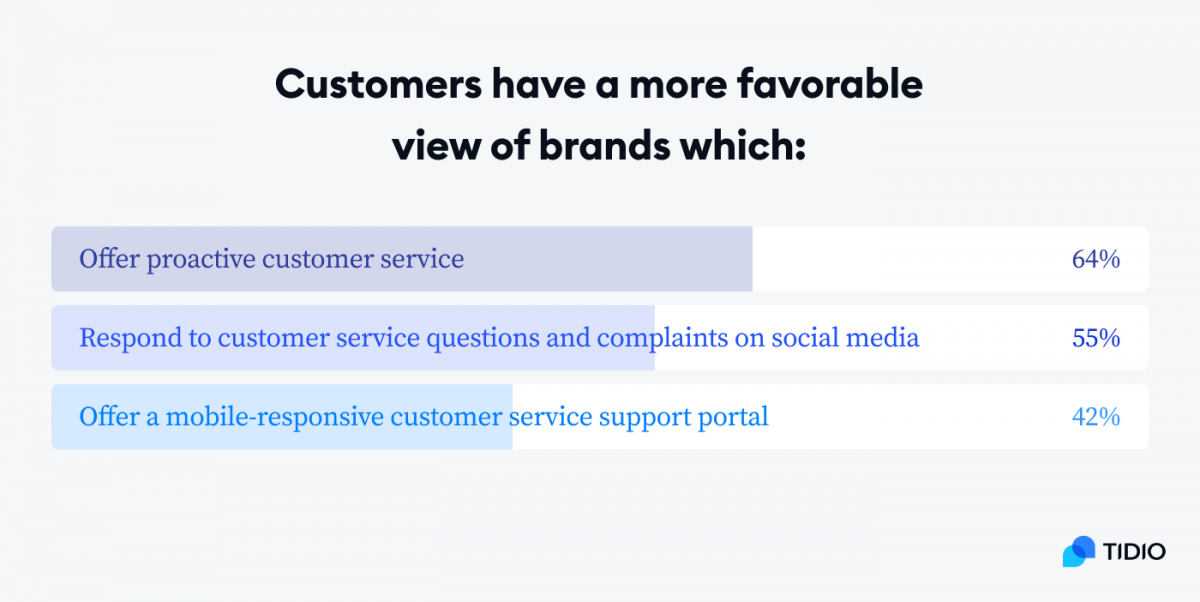 Customer onboarding
Welcome and teach the customers about your product to integrate it into their daily lives and stay with you. Seems pretty obvious, doesn't it? Find out how many companies do it right from these onboarding statistics: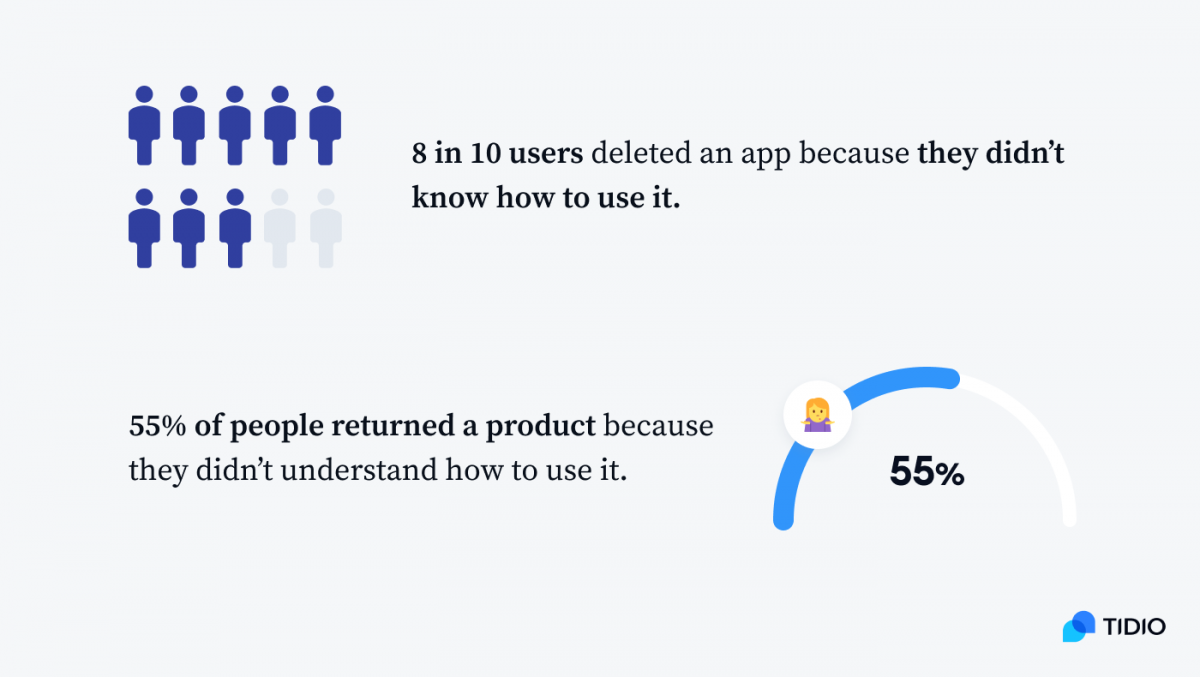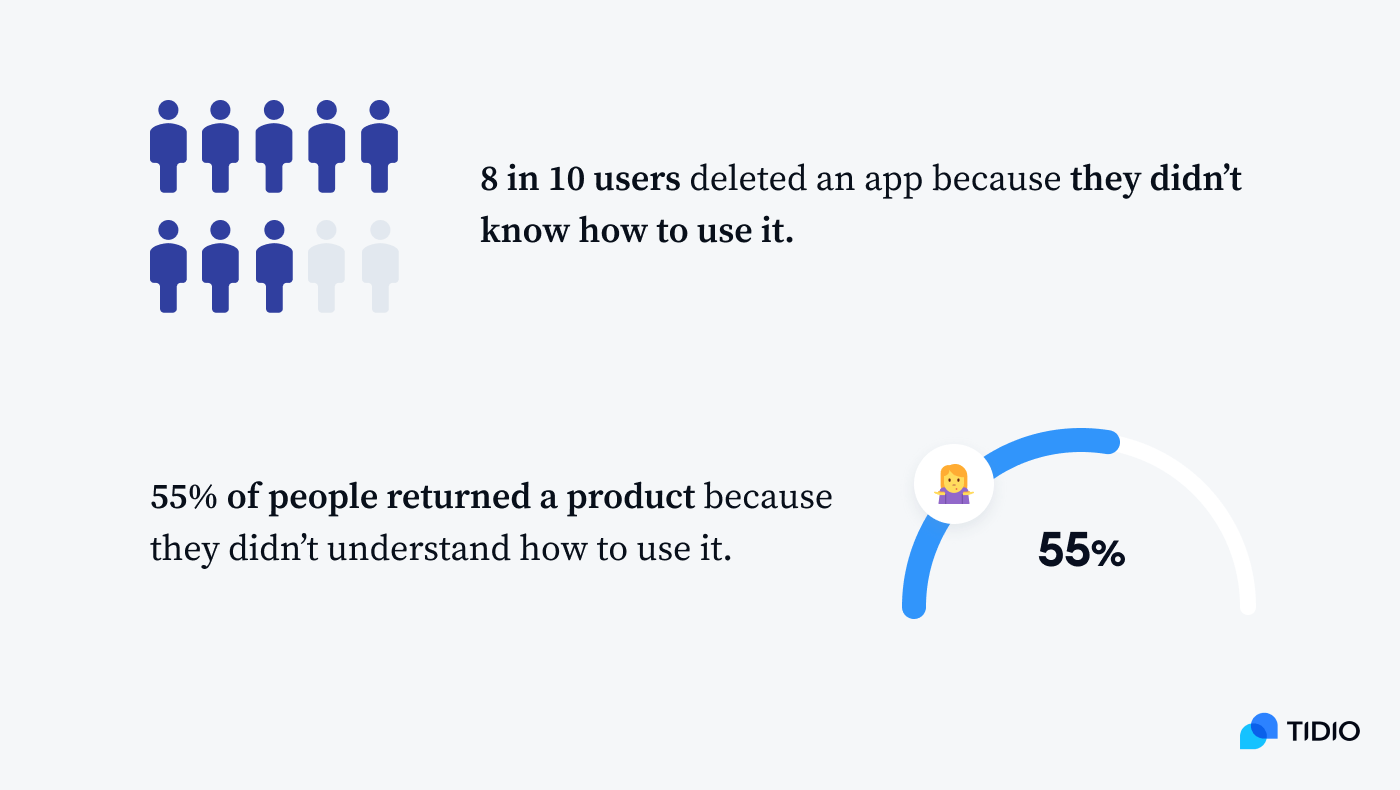 Bad customer service
Avoid bad customer service at all costs. It will cost you money, reputation, and, most importantly, customers. Discover what companies should avoid doing by looking through these customer statistics: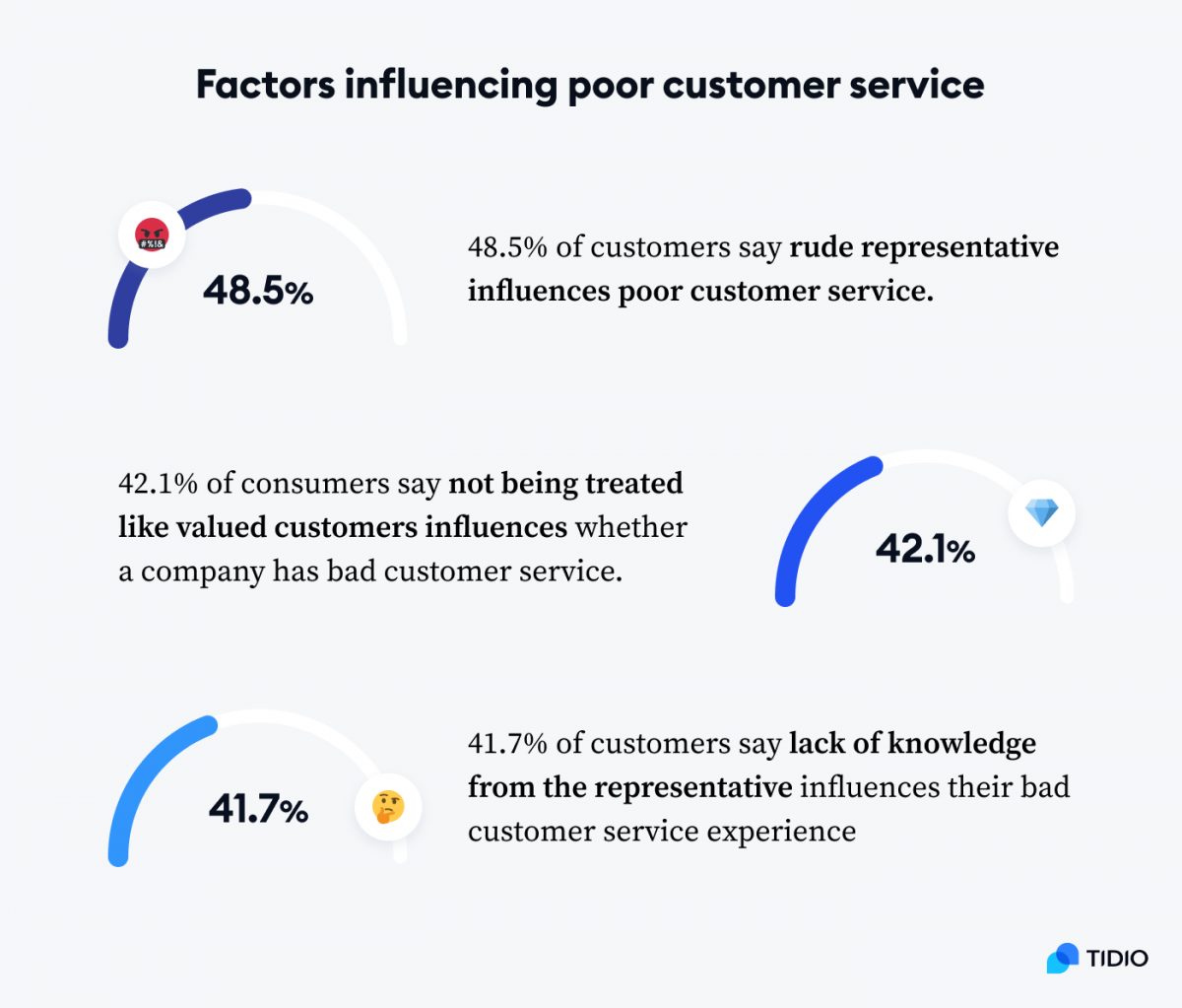 Customers' frustrations
What do the customers get most annoyed by? These consumer statistics present what customer frustrations are: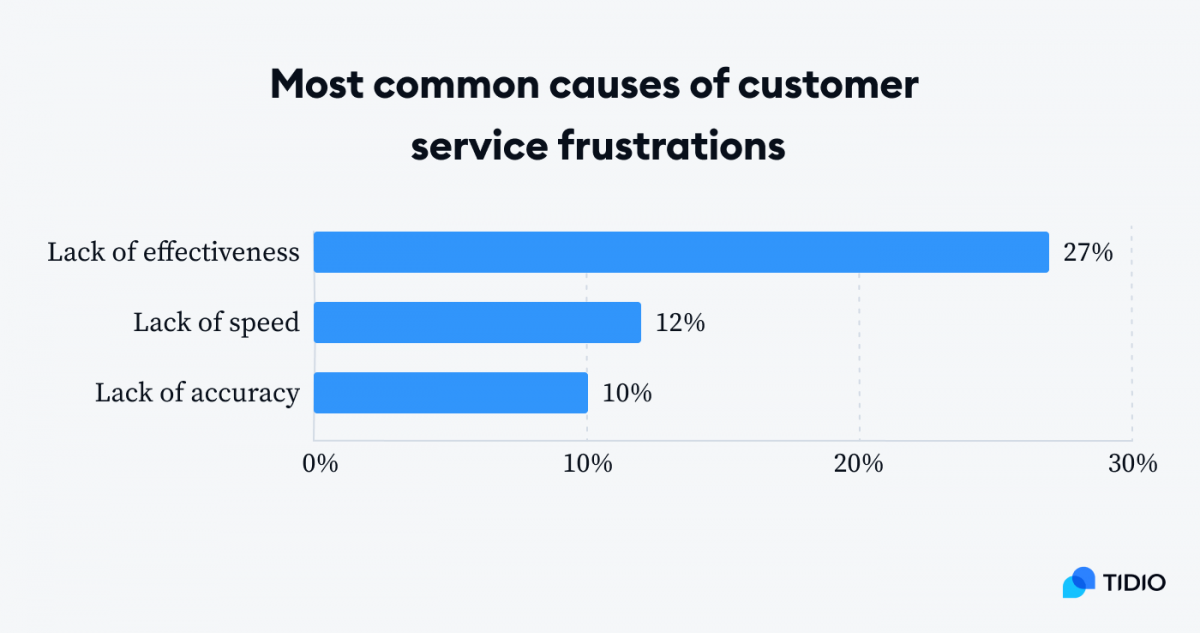 Communication with customers
Companies need to communicate with customers through the right channels and at the right frequency. What else is important to know about brand communication? Find out with these customer service statistics: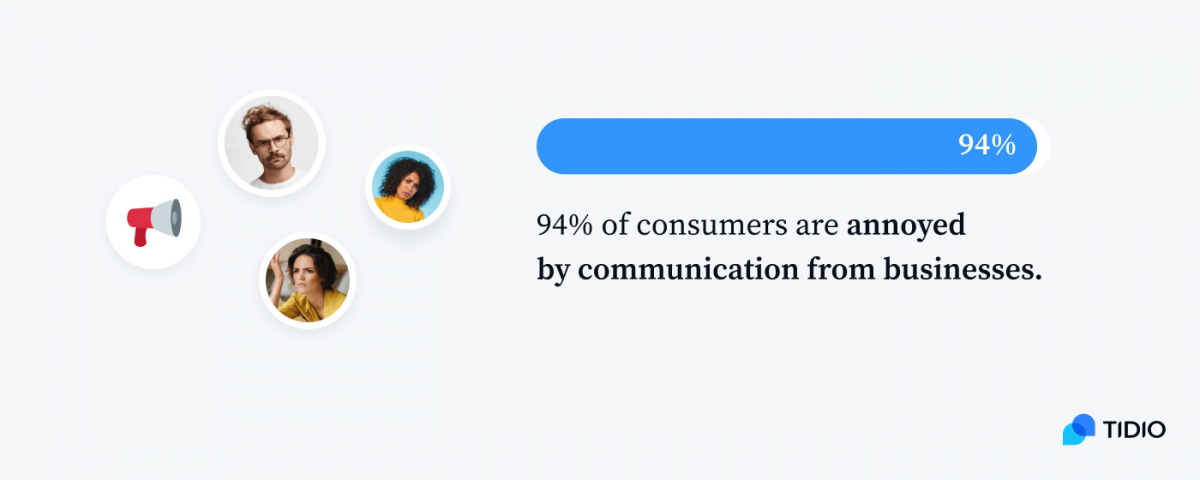 Interactions with customers
Most consumers don't feel that customer service reps understand their needs. More on interactions between a company and a customer with these statistics on customer service: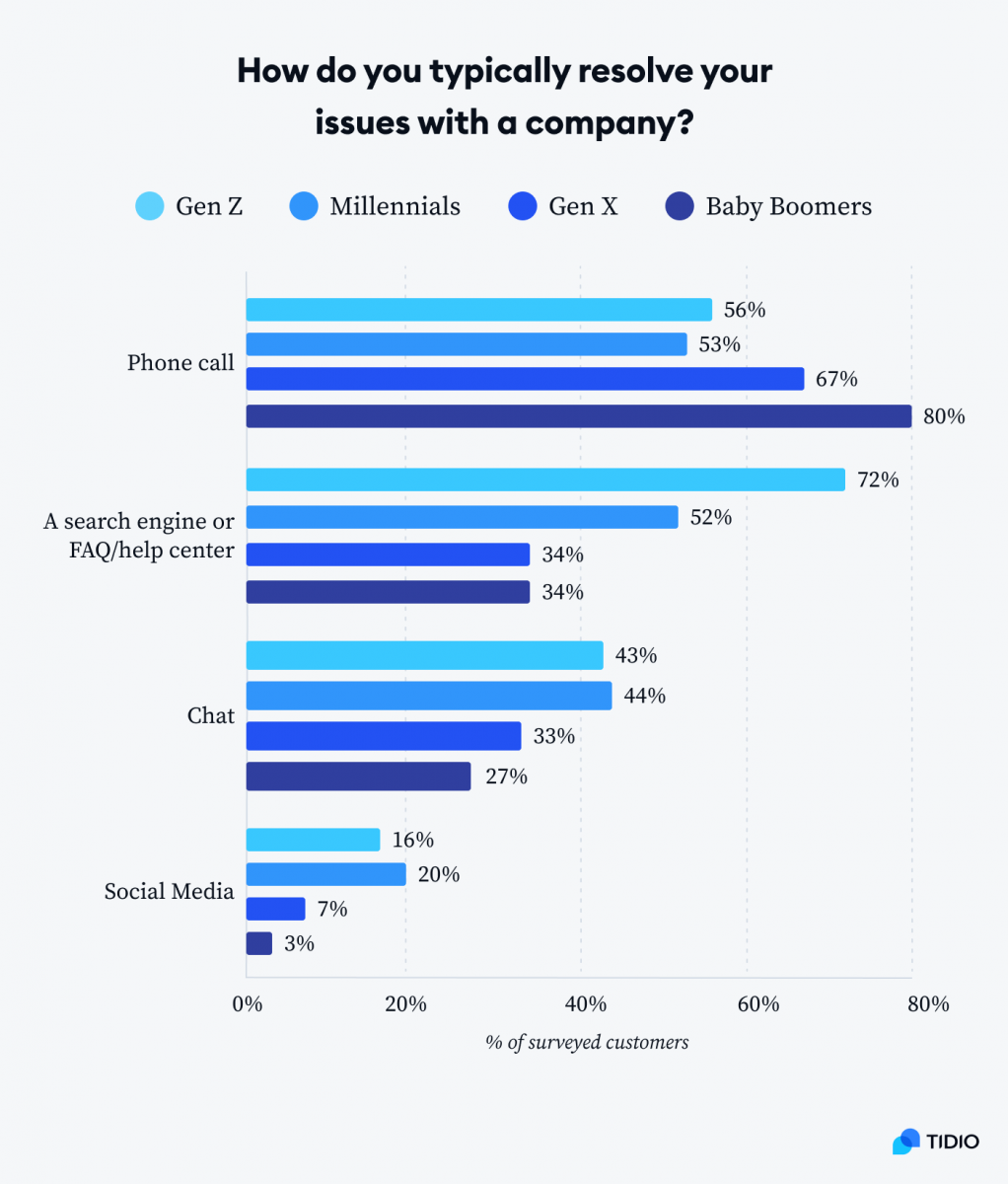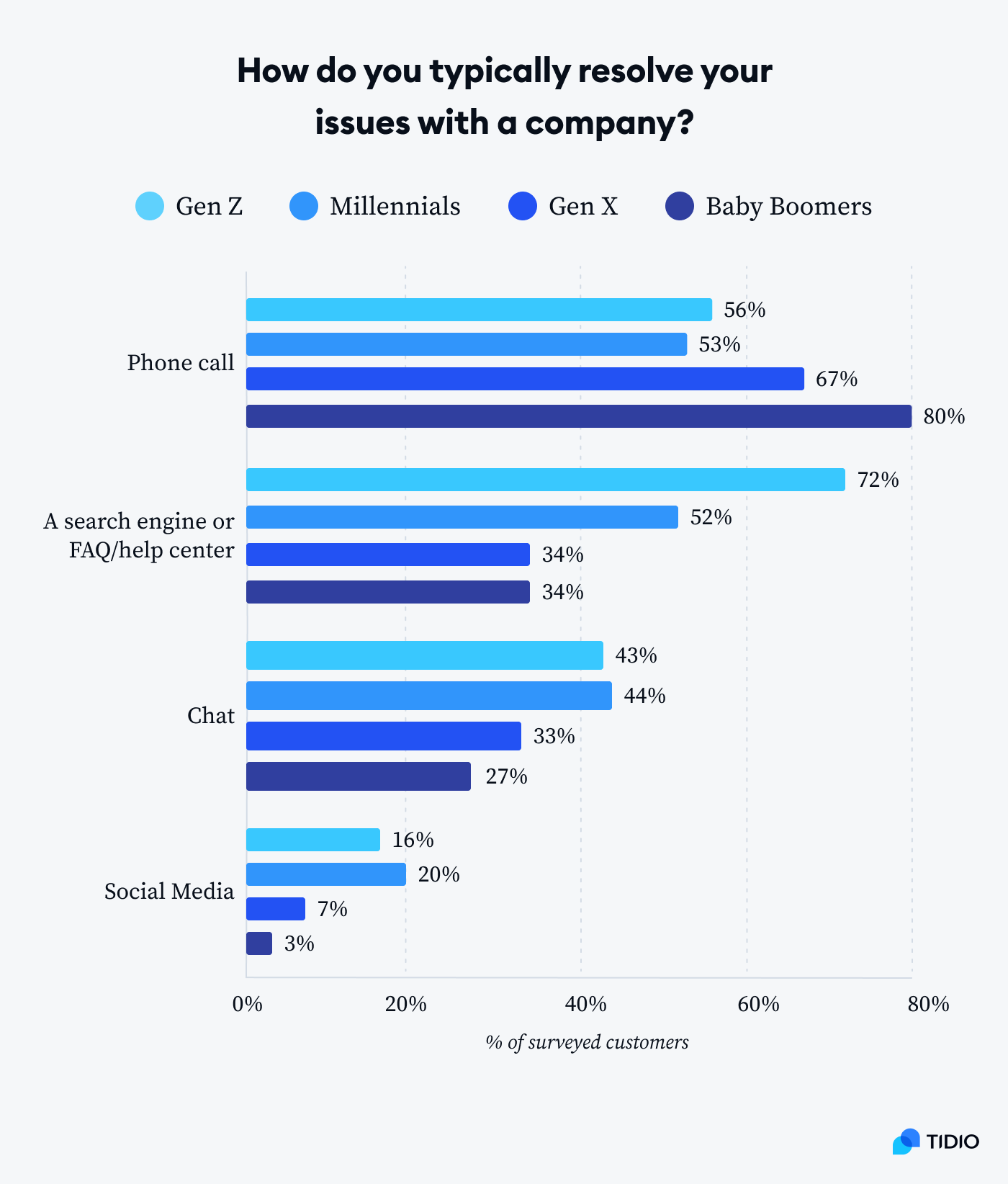 Automation of the communication with customers
What activities do companies automate? And what do customers think about automated experiences? These automation and live chat statistics will give you a better understanding of increasingly automated customer service: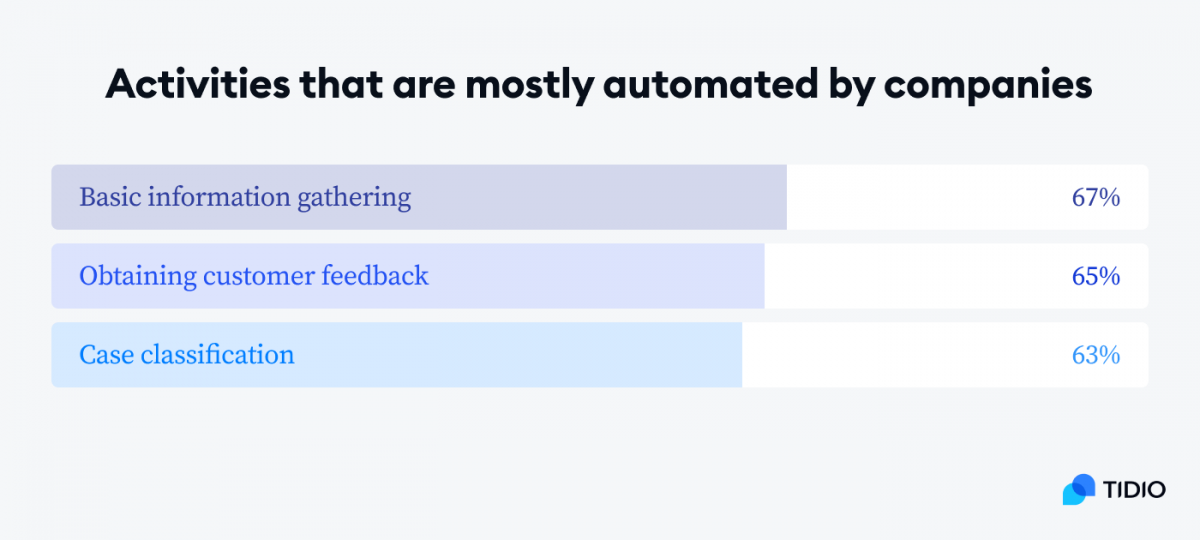 Service channels
Customers use a variety of channels when looking for assistance. Hardly anyone will use less than three channels in their search for answers. Find out more on it from these customer service statistics:

Self-service
Most consumers expect a brand to have an online self-service portal. The statistics below illustrate all you need to know about self-service: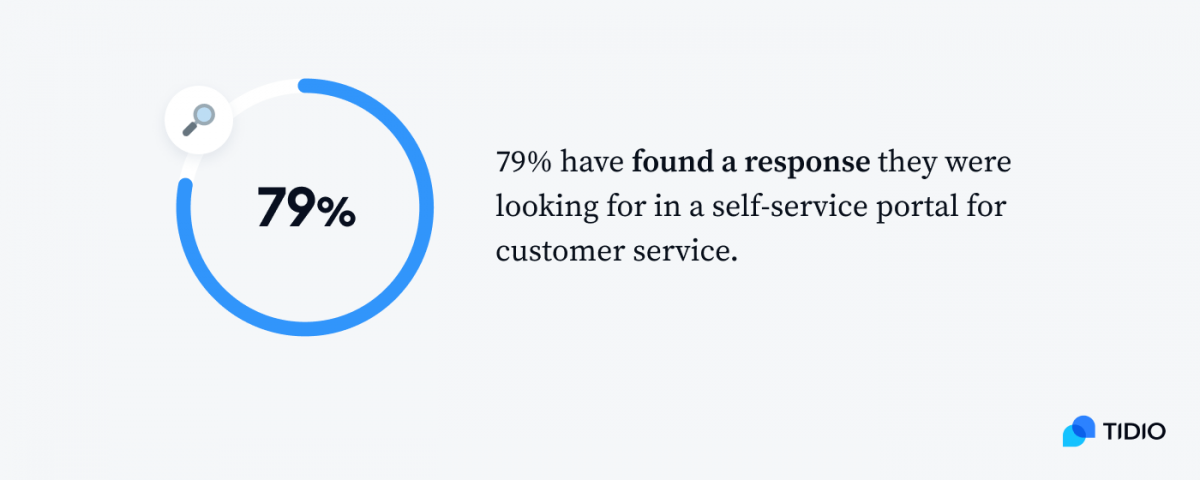 Social media customer service statistics
Social media is growing in size every year. These social media customer service statistics unveil customer behavior online: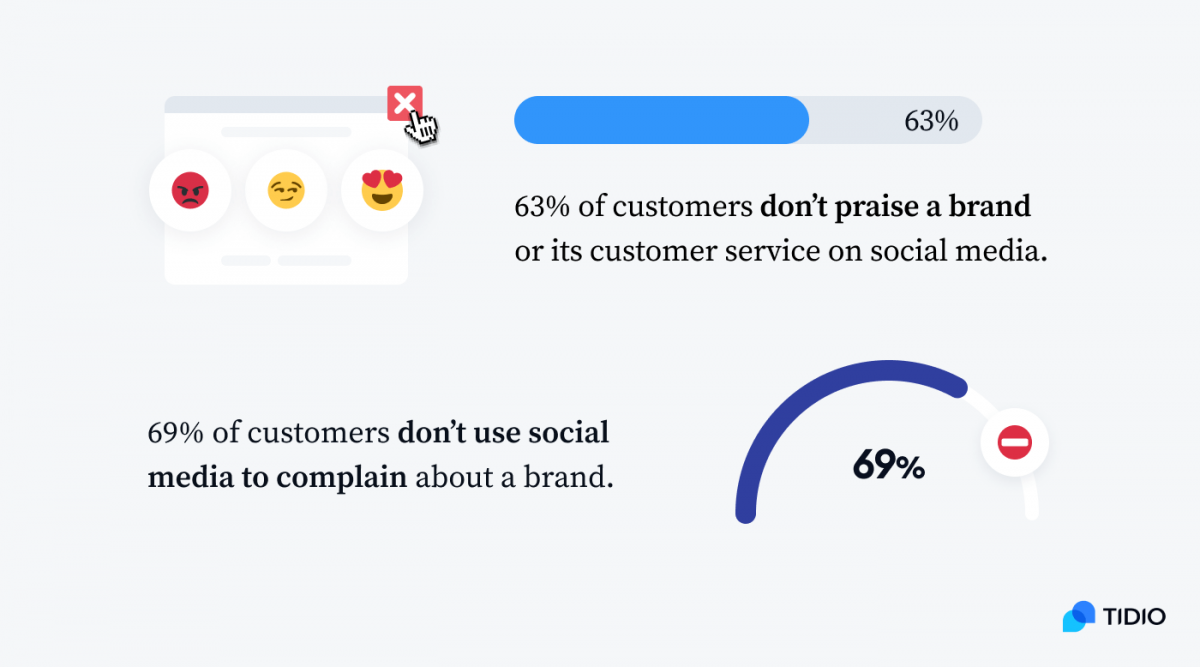 Where else do people search for information?
If you don't give your customers all the information they need, they'll search somewhere else for them. Look at these customer statistics to discover where do consumers search for answers outside the brand's website: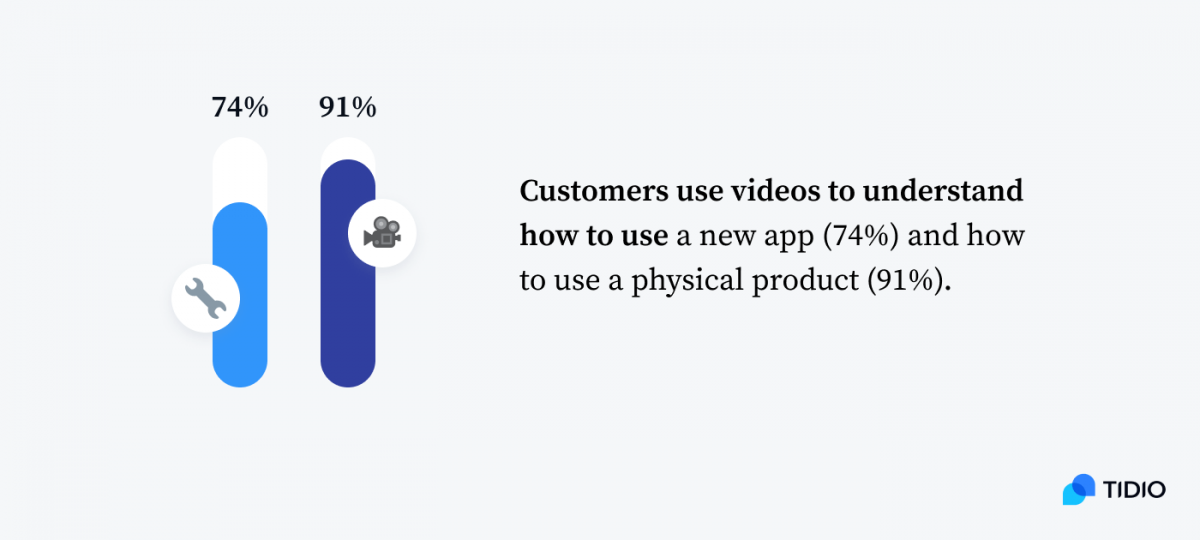 Consumer behavior
What are the most important facts you need to know about the customers? Find out by going through these consumer statistics:

Check out these articles to find out how to increase customer loyalty and what customer retention is.
Personalization
Everyone is unique and wants to be treated that way. No wonder personalization is appealing to the majority of customers. Discover everything you need to know about personalization with these customer satisfaction statistics:
Impulse buyers
Who is more likely to buy products on an impulse? These customer statistics will give you a glimpse of impulse buyers:

Personal information
Most customers don't want to share their personal data with a company unless they trust it or value its service greatly. Consumer statistics on personal information below show you more on that:

Feedback
Customers want to give feedback to companies after interacting with them. Find out more about customer feedback with these customer experience statistics:

Online reviews
To decide what brand to go with, most consumers first go online and check out the reviews. We also like to share with others the good and bad experiences we had with a company. Check out these customer experience statistics to find out more:
Companies' strategies
What are the top business objectives? What investments in customer service do companies make? Answers to these questions and more are below with these customer service stats: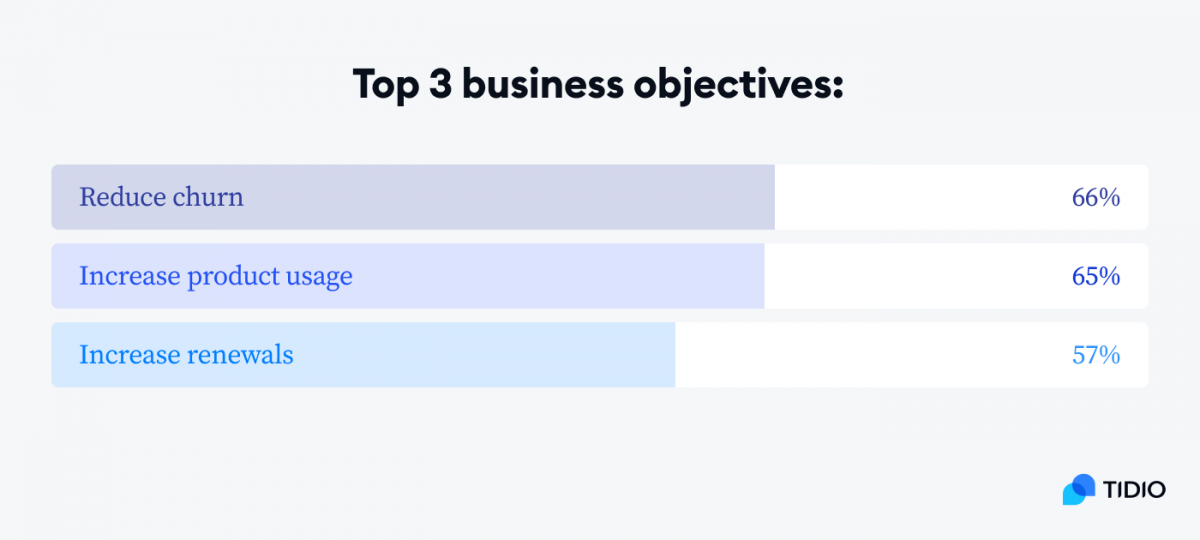 Customer-centric approach
95% of companies claim to be customer-focused, but how many of them tailor their services to customer's needs? These customer service stats show what companies do to stay focused on their clients: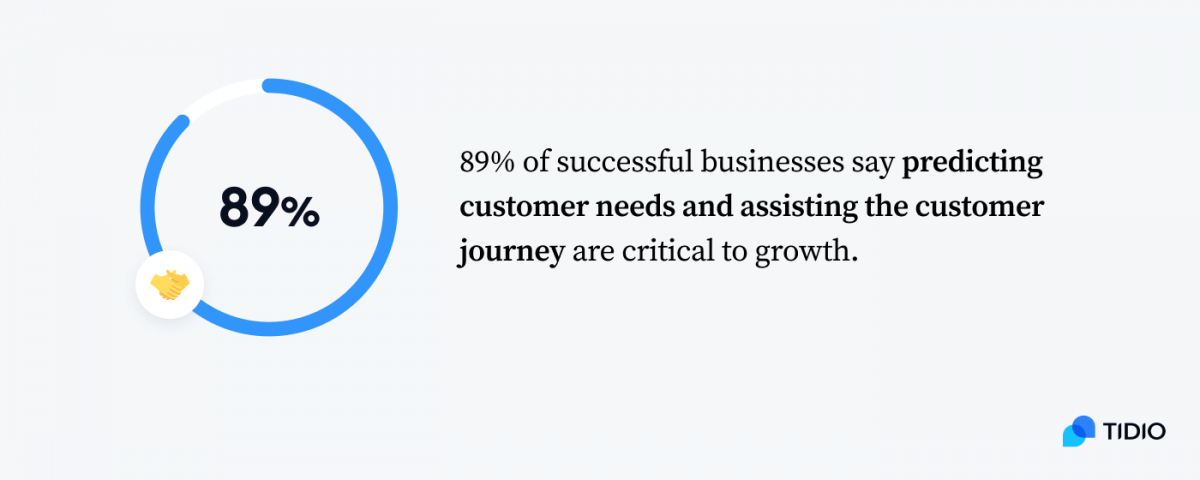 Local businesses
Most consumers search for local businesses online and leave reviews after their visit. Consumer statistics on local businesses below will tell you more:

Tracking & measuring of customer service
Tracking your results enables you to catch errors and quickly react to improve. But do companies use their customer service metrics or go with the flow? Check out these customer service stats: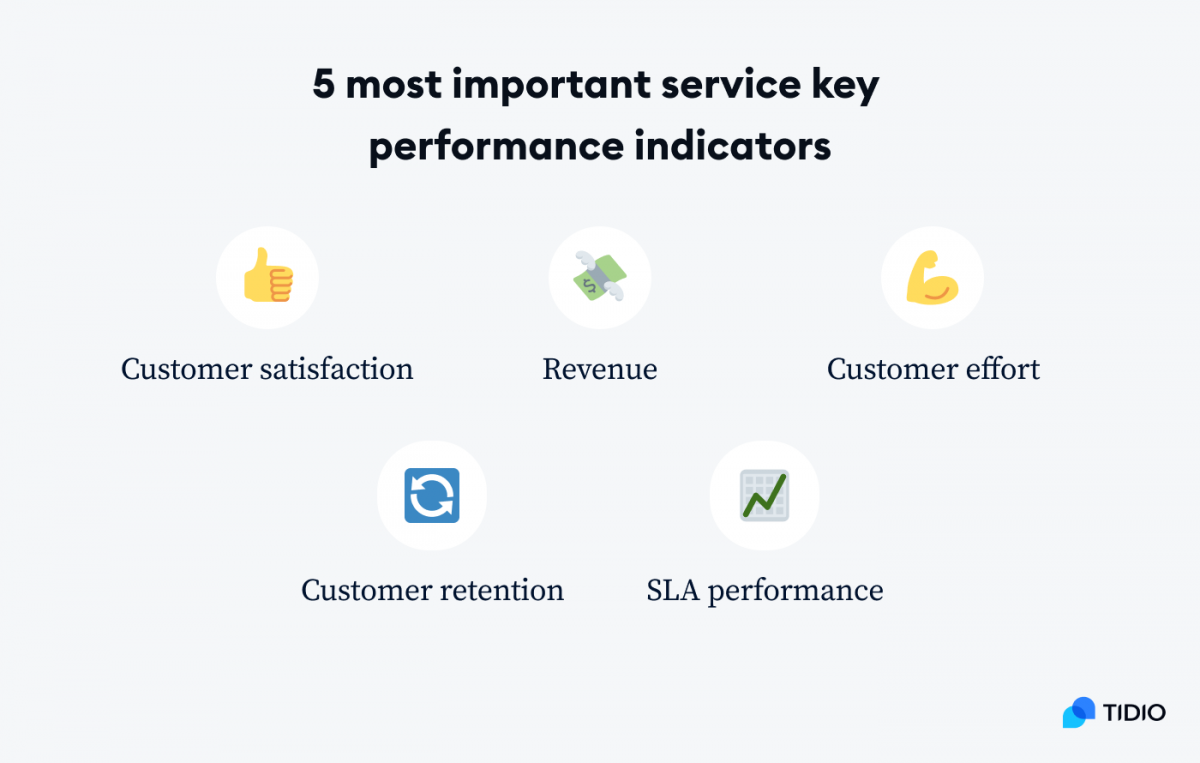 Customer service representatives
What do customer service representatives value, and what are their priorities? What's important to know about service representatives is presented with these customer service stats: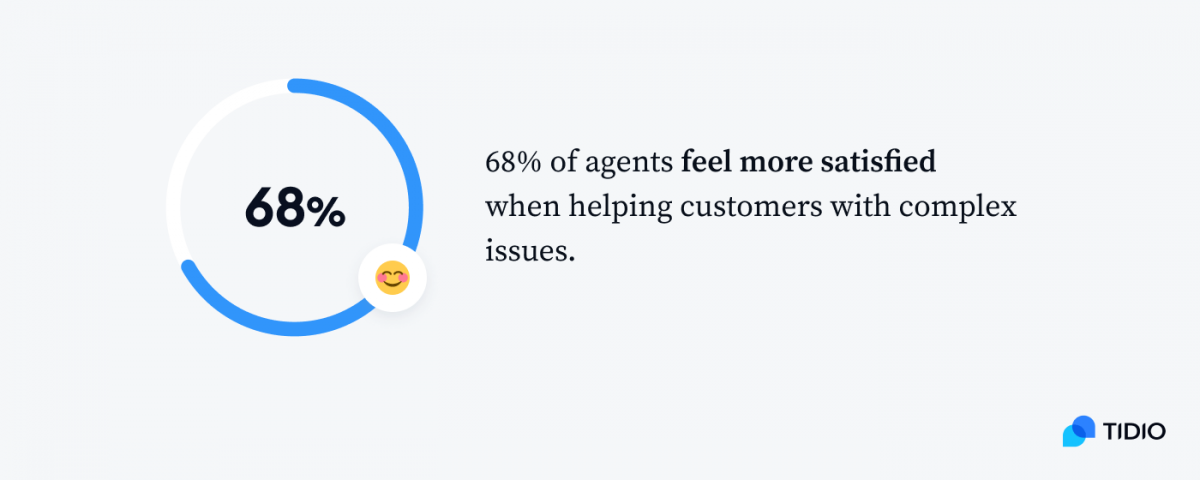 Happy vs. unhappy employees
Happy employees often mean happy customers. When your employees are happy at work, they put in extra effort and work harder. This has a positive effect on how consumers look at your brand and the service they receive. These statistics show why employee happiness is important for a business: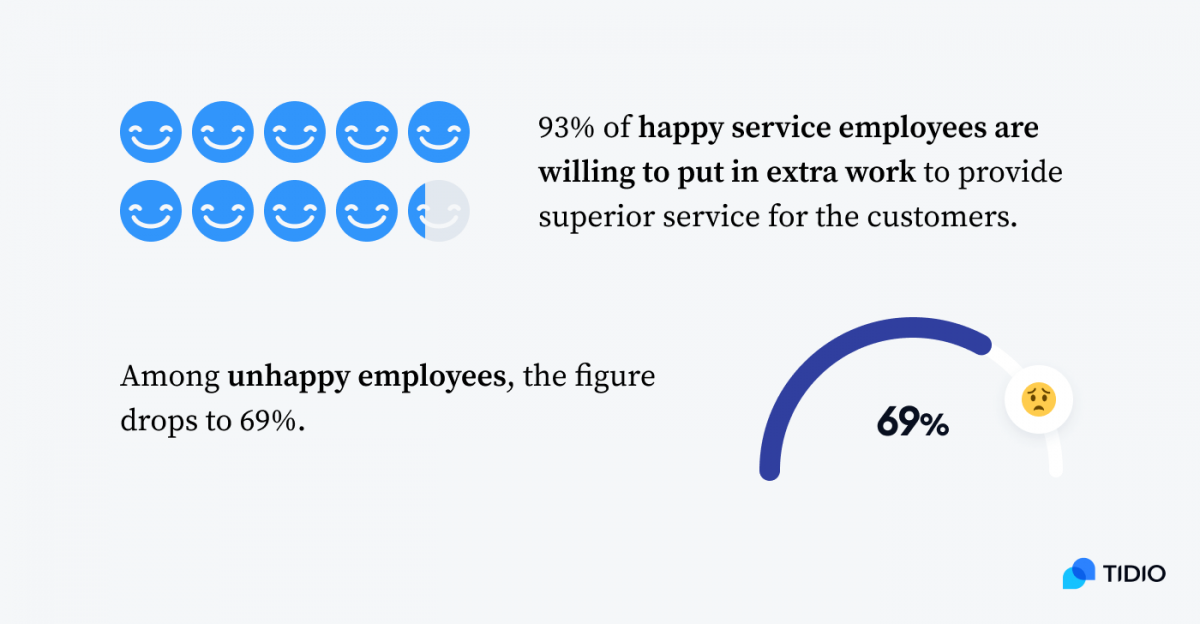 Employee performance
The performance of customer service employees depends on several factors. Find out more about employee performance with these statistics on customer service: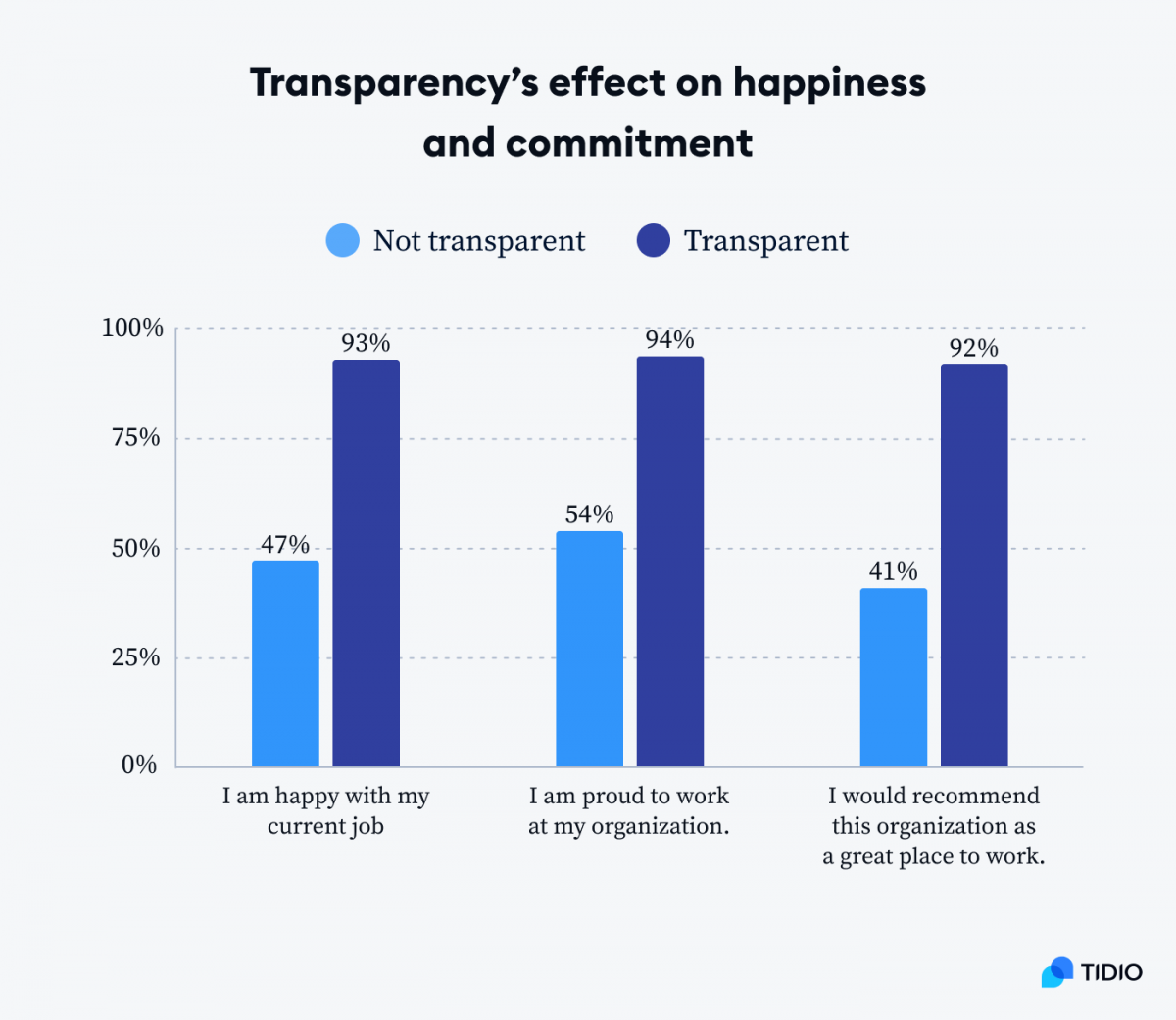 Other
From proactive customer service to customer retention rates, and other important data. Discover it all with these customer service statistics:

Pandemic changed customer service
The pandemic changed the lives and realities of millions of people. It also changed customer service in more than a few ways. These consumer statistics will tell you more on that subject: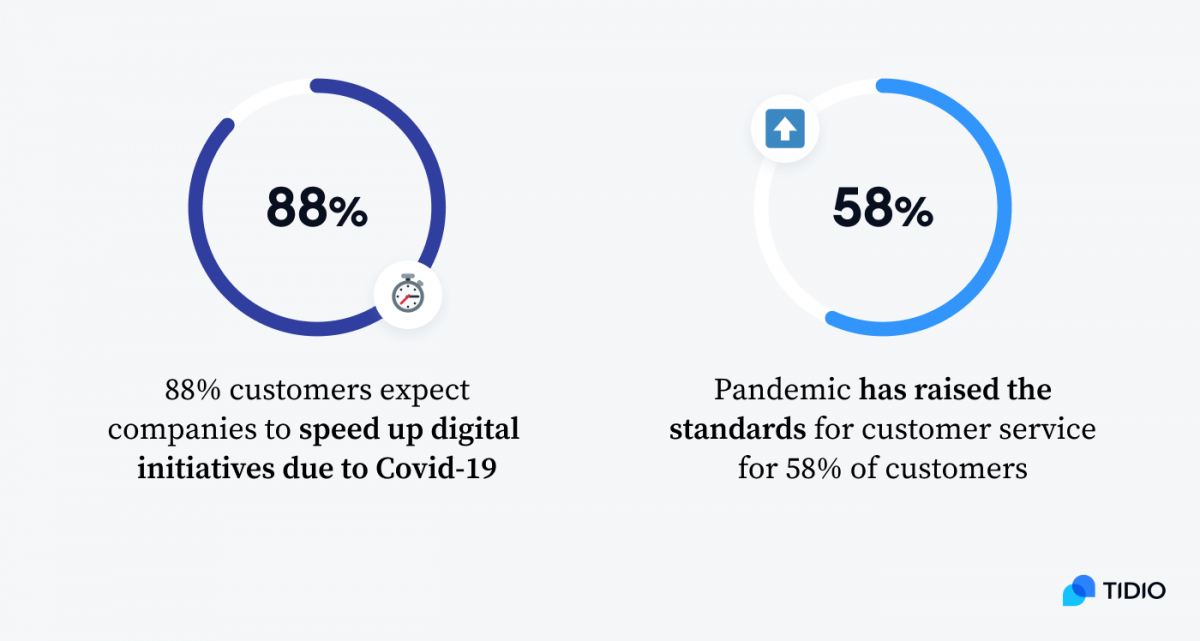 This is it! We hope the statistics we've compiled here will come in handy. Keep visiting us regularly as we'll be updating them to keep up with the trends.