In the olden days, when computers were made of sticks and stones and the network consisted of hemp ropes, people who shopped online were left completely on their own.
It was the ice age of online customer service.
On a caveman's prehistoric computer screen, there were some rock paintings of mammoth chops and wooden spears, but poor cavemen couldn't make heads nor tails of how to place their order, what the shipping costs are, and which products they should choose.
If only there was a working live chat feature available… – the caveman sighed.
But, proactive customer service was yet to be invented.
As you might have guessed, that image probably was not 100% historically accurate.
However, there is no denying that the landscape of eCommerce has been rapidly changing and we are entering a new era of customer service. If you don't want your online business to die out like the Neanderthals, you should evolve and adopt some new strategies.
Provide proactive customer service with Live chat feature
Engage customers in proactive chats and take your business to the next level
Try Tidio Live Chat
A live chat widget on your website is a must – you probably know that already.
If you have one, pat yourself on the back! If you don't, get one as soon as possible to grab the attention of your visitors and customers and to drive more sales with proactive chat and 20+ bot templates.
Today, it is hard to find a brand that does not use it in one way or another to provide great customer support. But adding a little chat bubble in the corner of your landing page is not enough.
It will open up a whole new world of possibilities, that's for sure. But, what distinguishes successful businesses from mediocre ones is how they actively use their live chat to engage customers.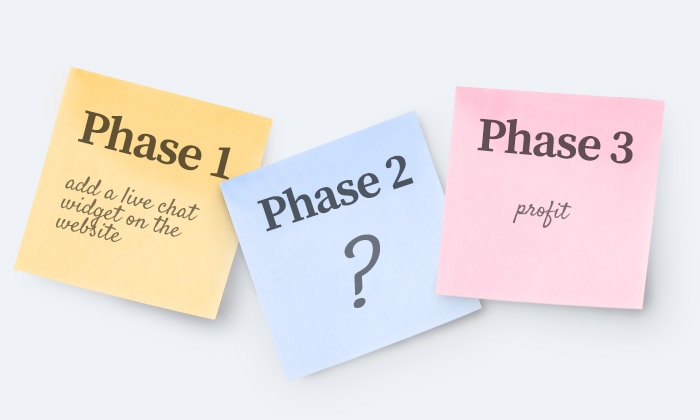 What is your strategy for using a live chat solution?
Is it something like this?
Phase 1: Add a live chat widget on the website
Phase 2: ?
Phase 3: Profit
Does that look familiar?
You can actually fill in the question mark spot with a solid solution – proactive live chat customer service.
Do you have trouble with deciding which live chat solution is the best for your business? You can compare different live chat features and tools offered by customer service platforms by looking at this ranking of 10 best live chat software solutions to use in 2020.
What Is Proactive Customer Service?
Proactive customer service is all about taking matters into your own hands. Instead of waiting for customers to reach out, engage them directly through live chat. This way you can instantly offer assistance and support. It immediately adds value to a customer's experience.

Your store can get tons of traffic but only several customers decide to buy something every once in a while. You can try to attract even more visitors – surely some of them will buy your product eventually, but the conversion rate won't improve. There may however be a better solution. Use proactive customer service techniques with your live chat!
When it comes to your customer engagement strategy, there are two basic types of customer service – proactive and reactive. When you allow visitors to browse a website uninterrupted and only react to their queries it is reactive customer service. Consequently, if you send them a message first and initiate conversations it is called proactive customer service.
Let's imagine a situation – a country dance event! On one end of the dancefloor, there is a lonely guy who sits on a bench and drinks his beer. He wears a T-shirt saying "I'm available" and just waits for things to happen. On the other end, there is an energetic man who enjoys the company and just asks people to join him on the dancefloor with a big smile on his face.
Can you guess which one of them is proactive and reactive?
Well done!
Online live chat works in a similar fashion. Proactive chat reduces the distance between the customer and the brand which is a good thing. Statistically speaking, customers who engage in chat are almost four times more likely to buy your product.
However, be careful! If we were to come back to our country dance metaphor, the proactive guy could appear intrusive or irritating.
If you visit a store and are immediately surrounded by assistants, you can always politely refuse. Even when it is a little intimidating to some customers, store owners know that it is better to be on the safe site.
It is far worse to neglect a customer or miss a sales opportunity than to offer help and be ignored.
Note: Want to strike up conversations with your website visitors? Choose a WordPress chat plugin that comes up to your expectations.
Proactive vs Reactive Customer Service
Let's take a closer look at the pros and cons of reactive and proactive customer service.
Proactive Customer Service
Proactive customer service – live chat operators approach customers.
| | |
| --- | --- |
| Live chat operators gain more control | It requires active effort |
| Operators can plan messages in advance | Some customers don't want to talk |
| Higher visitor engagement | Operators can bother visitors at the wrong time |
| Positively affects conversion | |
| More conversations | |
| A better understanding of the client base | |
Reactive Customer Service – Pros
Reactive customer service – customers approach live chat operators.
| | |
| --- | --- |
| Customers get assistance only when they need it | Fewer customer interactions |
| Requires less effort than proactive support | Your messaging skills can get rusty |
| The shy will be able to browse your website in peace | Customers' questions can sometimes throw you off the track |
While both strategies can work to your advantage, it is worth trying to lean towards the proactive approach.
It does seem to take a lot of effort, but don't worry! It is impossible to offer proactive customer service 24/7 and engage with every single visitor. You can be proactive when you have more time and resources on your hands and be more passive and reactive when you don't – you will find the natural balance for your business.
Proactive Live Chat Winning Strategy & Tips
Have you ever played tic-tac-toe (or noughts and crosses)? The game is sort of broken – the second player can't really win, even if they had been mastering their tic-tac-toe for decades in a Shaolin temple. The player who starts is in a far better position to quickly gain an advantage. The same goes for live chat customer service – the one who strikes up a conversation gets the upper hand.
Obviously, your customers are not your opponents. But you can try to employ some strategies to update and optimize your proactive and reactive customer service conversation flows.
#1 It's All About the Timing
Don't charge at your website visitors at the very moment it loads in their browsers! Give them some time to look around. You don't want to put too much on their plate.
How do you know which moment is right?
Check average time spent on a given page in Google Analytics or another tool of similar type and try to find that sweet spot when the customers get acquainted with the content already but are probably about to leave.
In Tidio live chat, you can monitor who's online in the Visitors tab of the panel. Observe your potential customers and pounce at the right moment. You can easily set up a notification bot to inform you about incoming visitors.
This simple three-node chatbot can send you a message that someone visited a particular page. It can send the next notification after, let's say, half a minute, informing you that is the right time to send a live chat message and reveal yourself.
#2 Show Them Who You Are
The visitors enter your awesome website. They are on your turf now – guests to your kingdom! After all, your website core address is called a domain for a reason. Don't impose yourself on them as a "business" through live chat on top of that. Let the visitors quickly get acquainted with your brand through your home page, but connect with them on a peer level.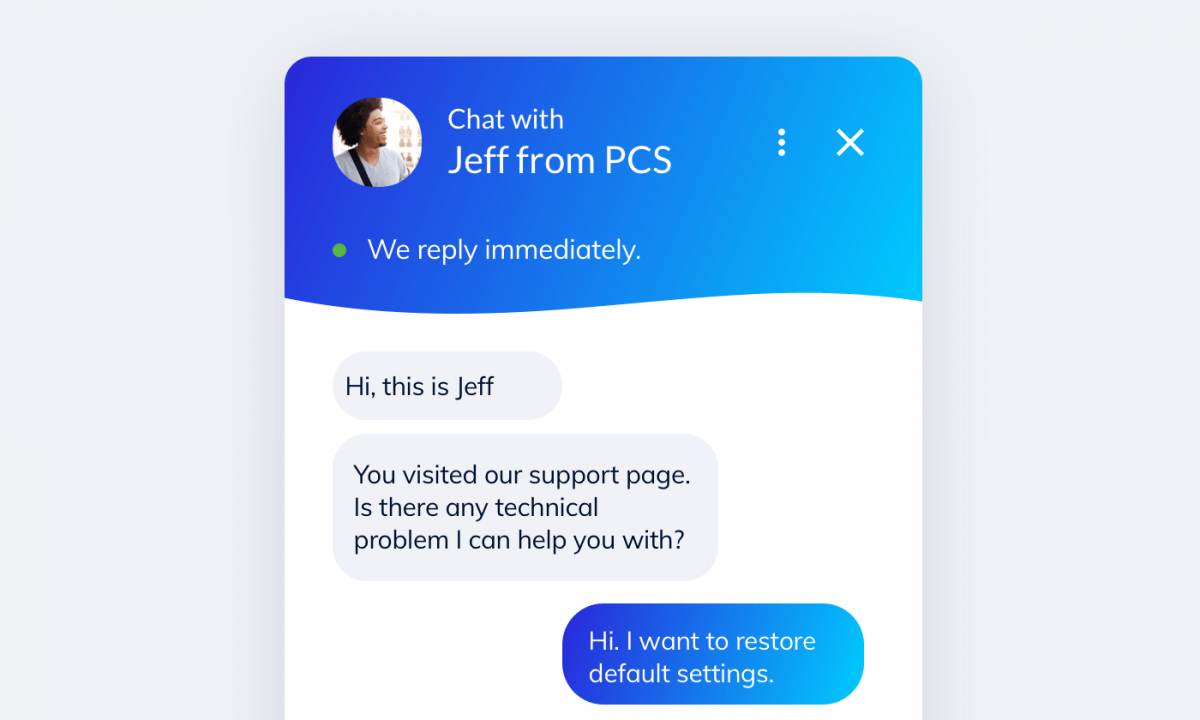 With proactive chat you don't want to hide behind the mask of your brand identity – you approach the customers as a human being with a face and a name. Introduce yourself! When customers know that they are speaking with a real person they immediately connect. This type of instinctive emotional response is crucial and improves your chances of creating a great customer experience.
#3: Keep Your Conversations Targeted, Focused and Relevant
Match your conversation angle with the specific landing page focus. You should take a different approach when you engage with customers who are visiting your pricing page or technical support page. Don't try to start the sales pitch when the customer clearly has encountered a technical problem and is looking for a solution, not another product recommendation.
You are here to provide service, so prioritize your customer's needs. Offer a product only if it addresses their problems. Identify what they are struggling with and use proactive live chat to suggest a solution. Reserve more aggressive sales pitch tactics for your premium and high-margin products.
Don't ask general questions such as "Can I help you in any way?". Instead, use the Visitors tab to monitor what pages they visit. If they are clearly looking for a specific type of product, you can address that. Let's assume that they look for a pair of hiking shoes. You can ask if they are going on vacation or what type of terrain they will explore.
Be proactive, but let them tell their story.
#4 Use Analytics to Your Advantage
Traffic analysis tools are great for identifying weak spots of your website. It is much easier to introduce some bottom-up improvements and focus on the pages which are leaking traffic.
Check your Google Analytics to see which pages have the highest bounce and exit rate. Use proactive live chat messages to stop visitors from leaving your website. You can ask for feedback and try to make these pages more engaging.

Conversely, pages with a high average viewing time (the Avg. Time on Page column in Google Analytics) can also be good places to start a live chat conversation. By talking with your customers proactively you can get to the bottom of why they are spending so much time on that particular page.
#5 Test Your Messages and Monitor Their Effectiveness
You will start hundreds of conversations. When you'll get tired of addressing each and every customer individually you'll switch more and more to the Quick Responses feature. Your chat log history will grow and you'll discover which messages work best, get more answers, and help to convert more customers. Recycle these messages and play around with them, to make them even better.

The most important of them all is the welcome message. It is also the easiest to test and measure. Try different variants and observe how many customers join the chat and reply. You can read more about welcome messages on Tidio blog and in one of our ebooks:

#6 Be Proactive but Know When to Automate
Proactive customer support is very dynamic. Live chat is fast but in some cases not fast enough. How many times have you wrote something to the support team of an online store who supposedly were online, but haven't got any response for 15 minutes?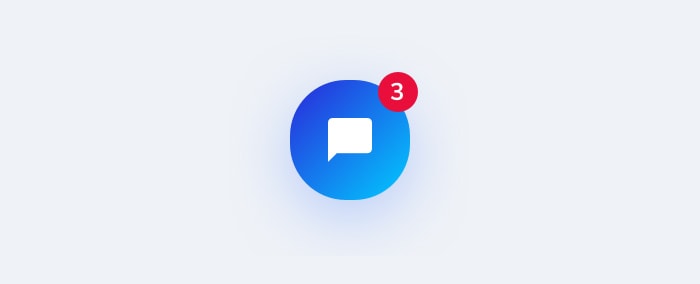 Don't let your business make that mistake. It may be a good idea to use automatic messages and chatbots for 24/7 reactive customer support (things like FAQ) and use your live chat to proactively address the selected customers you want to handle personally at specific hours.
Proactive Customer Support in a Nutshell
Here are the hints you should take away from this article:
Today, providing great customer service is more important than ever
You should take initiative and engage customers via live chat
Proactive customer service is more effective than reactive customer service
Be aware and control why, when, and with whom you start proactive live chat conversations
Be yourself and try to make a connection with your customers on a peer level
Test, track, and monitor the effectiveness of your messages
Pay your tribute to the hardships of the caveman's life and use Tidio to honor their memory.
Create and send your email campaign in minutes.
Try our free email marketing software to design emails, segment contacts, and track email analytics.
Design & Send Emails Now