A customer service strategy is a set of steps a company takes to offer help to its clients. This includes anything from answering the initial questions to resolving issues with your product. As such, it's a crucial aspect of increasing customer satisfaction and building a positive reputation for your brand.
In short, for any business to succeed, having top-notch customer service is a must.
So, you must be wondering—
How to develop a successful customer service strategy that will not only help you gain new customers, but maintain the loyalty of old ones?
Read on to find out.
In this article, you will find eight best practices to improve your customer service strategy:
Check out these articles to learn more about how to improve the experience of your clients:
So, we've established that the main goal of a good customer service strategy is to offer top-level support to its customers. In turn, it can help you increase customer satisfaction, improve loyalty, and ultimately, boost sales.
But, let's be realistic—
Even the most reputable brands tend to run into horrible customer experiences from time to time. And this can result in some dissatisfied customers on your hands.
Sometimes, you just can't help it. After all, we're human and bad customer service can happen even to the most dedicated agents.
Still, having a strategy that works can help you learn from bad scenarios to not repeat the same mistakes in the future. Moreover, it can help you figure out how to handle difficult customer interactions, learn how to have challenging situations work to your advantage, and keep the damage to a minimum.
Having said all that, let's analyze the importance of having a well-optimized customer service strategy in more detail.
The importance of an effective customer service strategy
Now you know that customer service is important as it can help you gain a loyal customer base and boost client satisfaction.
Here are some research-based customer service strategy statistics that show its significance: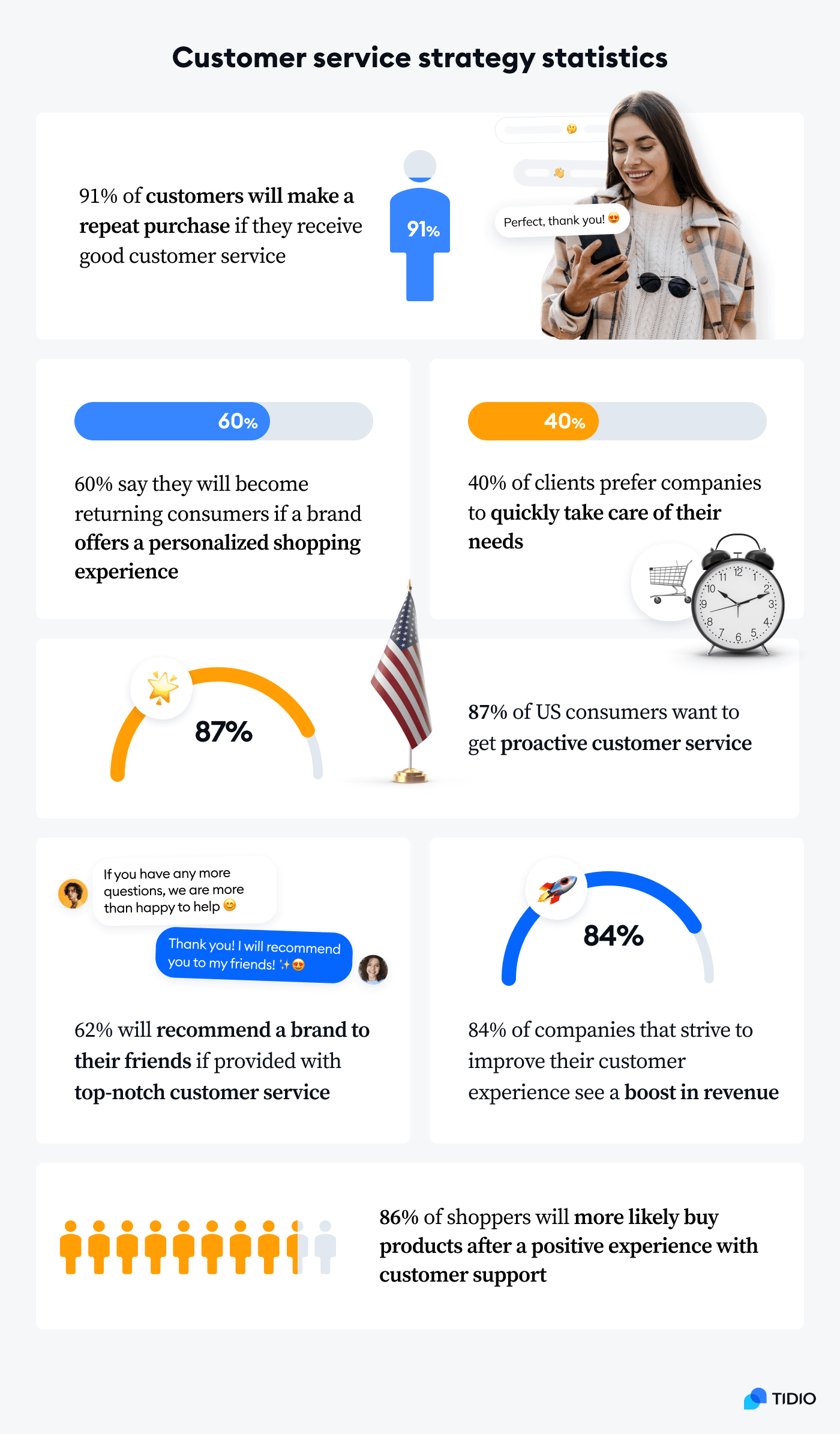 It's easy to see from all these statistics that creating a strategy meant to take care of your clients in an efficient, proactive, and personalized manner is a must.
Read more: Check out more insightful customer service statistics and stay up to date on the latest trends.
Now—straight to the part you came here for.
How to build your own customer support strategy?
Creating a customer service strategy in eight steps
Okay, here's what's clear so far—customers want a fast, proactive, and personalized customer service experience.
And to achieve all that, you need to implement a solid service strategy. Nothing more, nothing less.
So—
Here are eight steps to improve customer service.
1. Identify a customer journey
To build a customer service management strategy that works, you have to learn how a shopper interacts with your brand first. This means analyzing all the touchpoints of their entire journey from the moment they stumble across your site all the way through their repeated purchases.
Let's say that a customer enters your website and asks about the pricing information. And after the interaction with your customer service team, they flee instead of checking out.
Not a good scenario, right?
This is an example of a negative customer journey. By analyzing it using a customer journey map, you can identify the specific bumps along the way that influenced the customer's decision not to buy a particular product.
Inspecting the problems shoppers ran into can help you learn how to address their issues better and predict customer needs.
By doing that, you'll be one step closer to improving your services and motivating visitors to buy your products. This will help you reduce churn and boost customer loyalty in the process.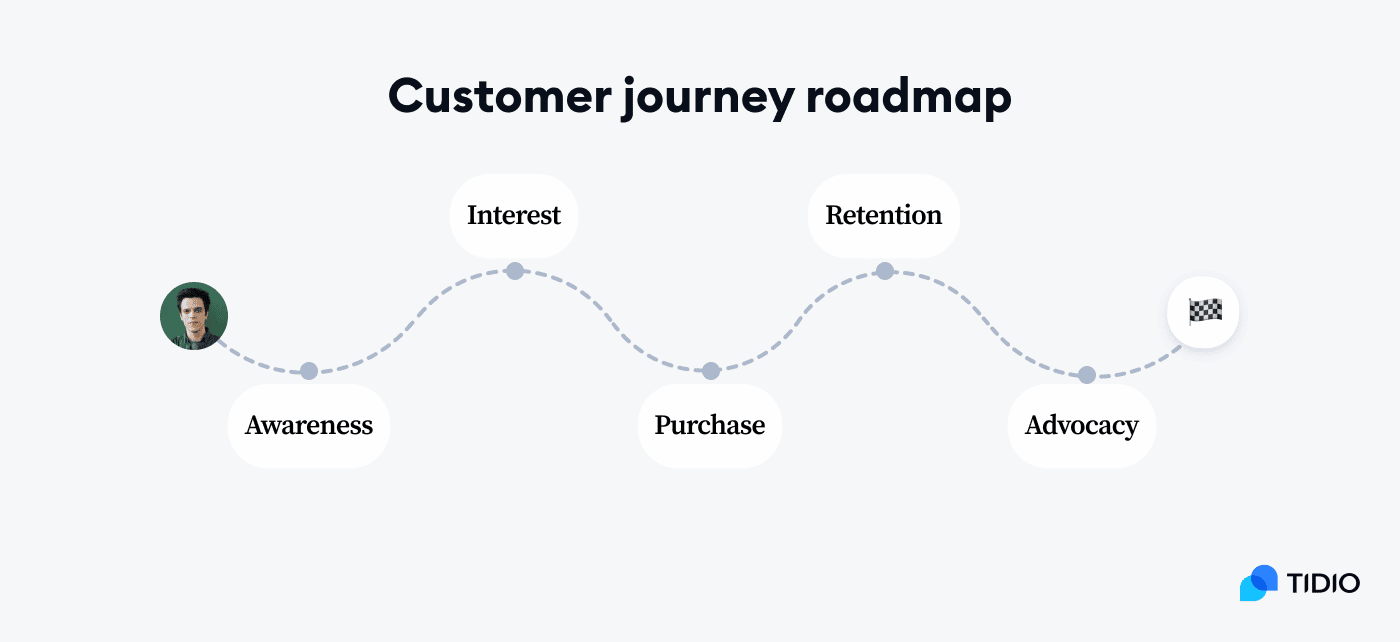 To be able to create a customer journey map, you should also investigate the following:
How often do your customers contact you?
Which channels do they use?
Do customers who most often abandon their cart contact you beforehand, or do they not contact you at all?
What are some of the questions your customers ask most often?
Does the speed at which you reply (i.e. in real-time or with delay) to them seem to affect their buying/cart abandonment decision?
By analyzing these questions, you will provide additional context to your customer service team and be able to better define customer touchpoints. In the end, you'll be that much closer to creating a strategy for strong customer service that works.
Read more: Check how fast your team is at replying to customers by taking this speed typing test.
2. Focus on building a dedicated team of employees
Let's begin by saying that having quality people on your team with a customer-centric mindset is crucial.
What does this mean?
First and foremost, you need to have people that possess key customer service skills. These include the ability to focus on shoppers' happiness and address their needs with patience and care.
Moreover, your support team members should be able to put themselves in their clients' shoes. Having empathy and really understanding customer complaints, questions, and concerns can go a long way when it comes to winning over their trust and forming a lasting relationship with customers.
Imagine the scenario of having a frustrated or angry customer because something went wrong with their shipping. They write to your customer support about it, but your support agent doesn't have the patience or empathy needed to handle such a customer. So, they're either responding to their messages in a cold or unprofessional manner, or they're taking too much time to respond.
The end result—the customer ends up being completely dissatisfied and never attempts to buy from your brand again.
Not a good scenario, right?
Believe us—your clients will know when the customer service reps care. And they will appreciate you and your brand all the more for it.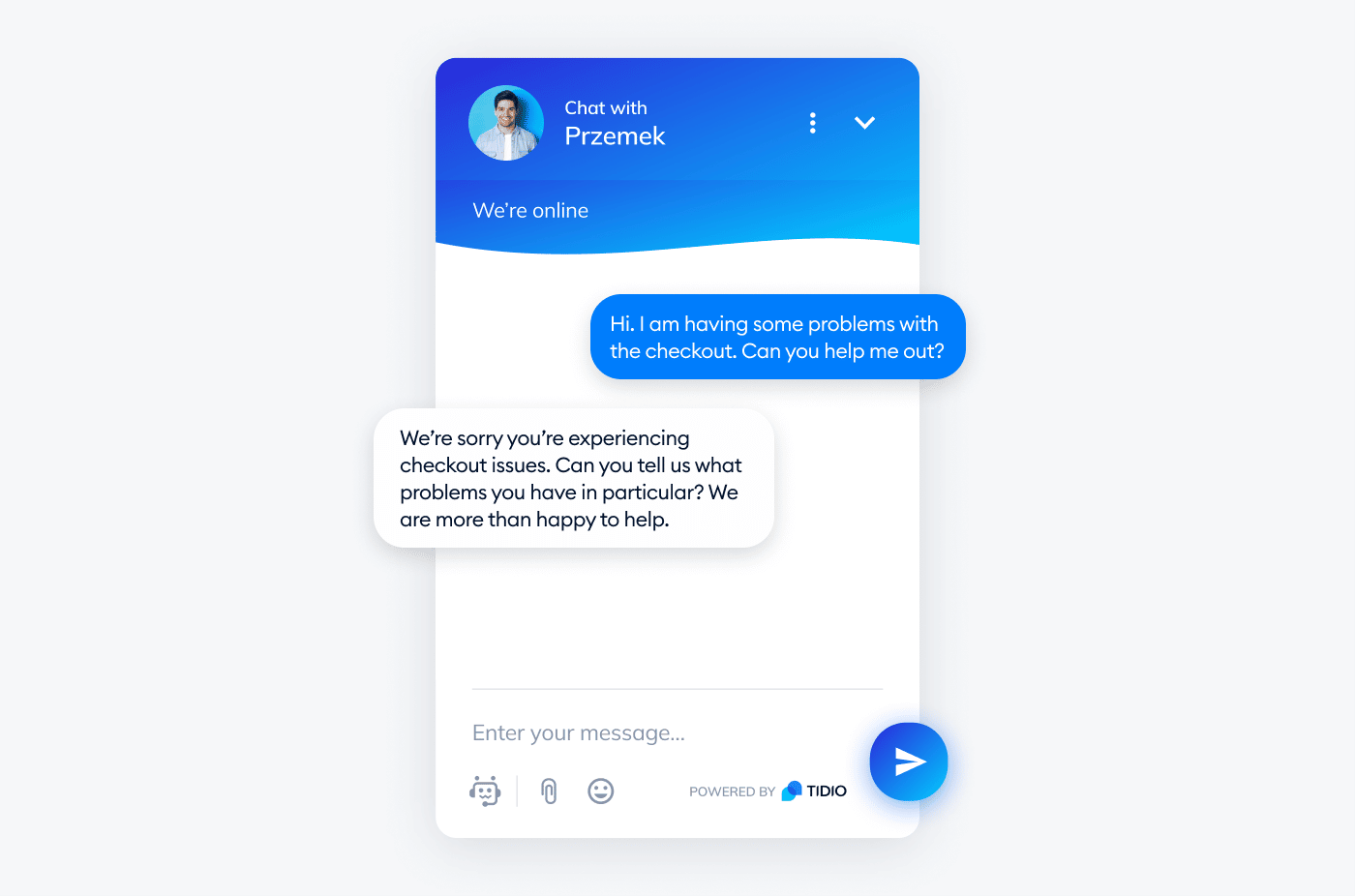 Here are some of the things you should consider when it comes to building a team of individuals with a customer-first approach:
Make sure that your employees correspond with your working culture and values
If they do, they are more likely to enjoy working for you. In turn, they will be more willing to put up with even the most dissatisfied customers. Plus, they will understand and represent your company's vision better. This can result in gaining more clients that resonate with your brand and with what you offer.
Make sure that people on your team have empathy
We've already mentioned empathy earlier, and we can't stress its importance enough. If your customer support agents don't have compassion for your customers' concerns, they won't be able to understand how they feel. This creates a risk of clients becoming dissatisfied with your brand because they didn't receive the needed support.
It's important to be genuine and sincere when responding to customers. If they have anything negative to say, let the customer know that you're sorry for their experience and that you want to help make things right. Try assisting them without being defensive. Be willing to listen to their concerns and then take action to address them.
Make sure your team members truly want to help people out
Having employees who are natural people-helpers can be crucial for maintaining customer satisfaction. If they genuinely want to go the extra mile while assisting people in trouble and guiding them along the way, customers will only feel more valued and appreciated in the process.
Read more: Learn all about customer care and how it can contribute to retaining more clients.
3. Install live chat software
To get the most out of your customer support strategy, you should also look into adding live chat button to your site.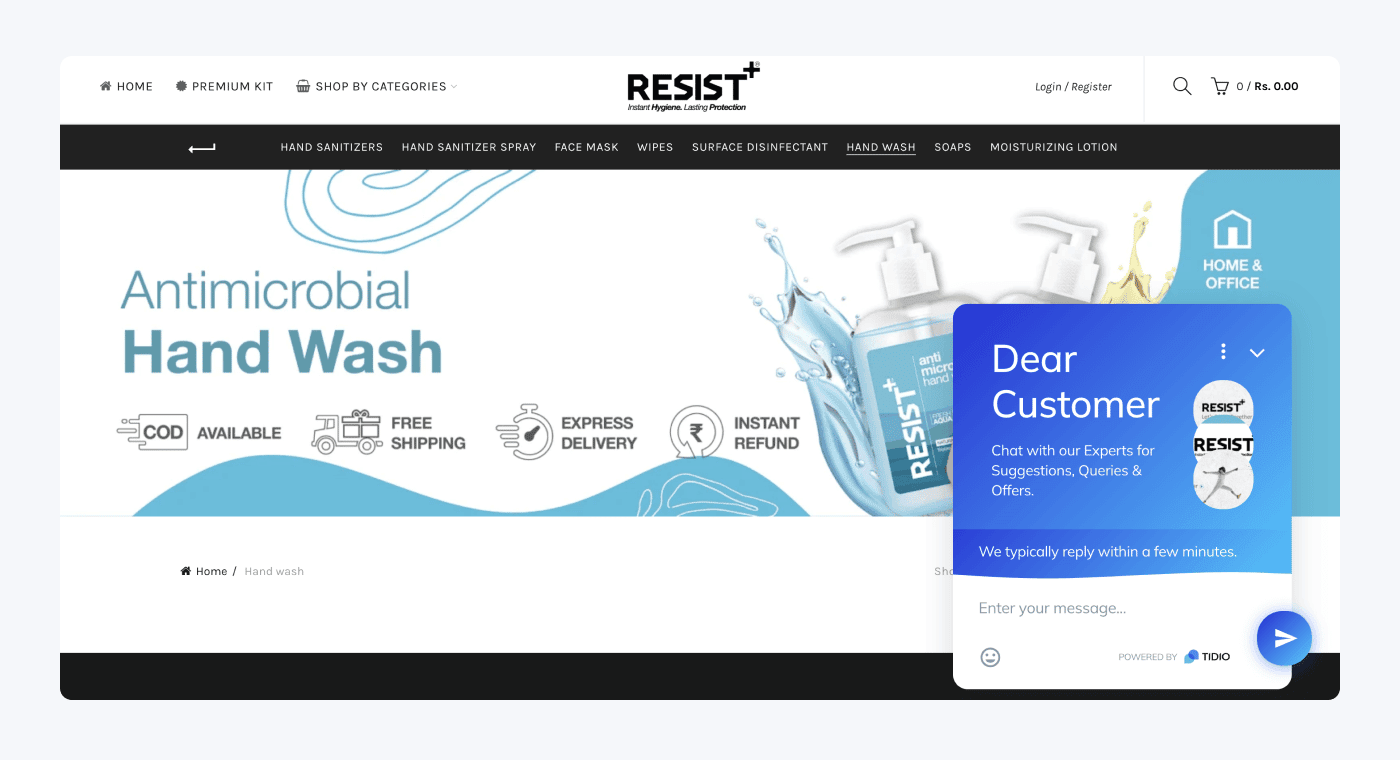 But, you may wonder—is installing live chat on your site really worth it?
Say that you have a product that includes different pricing plans. There may be various features and plan combinations available. So, a customer might need some assistance to figure it all out. Plus, they may appreciate receiving some additional info while deciding the option that works the best for them.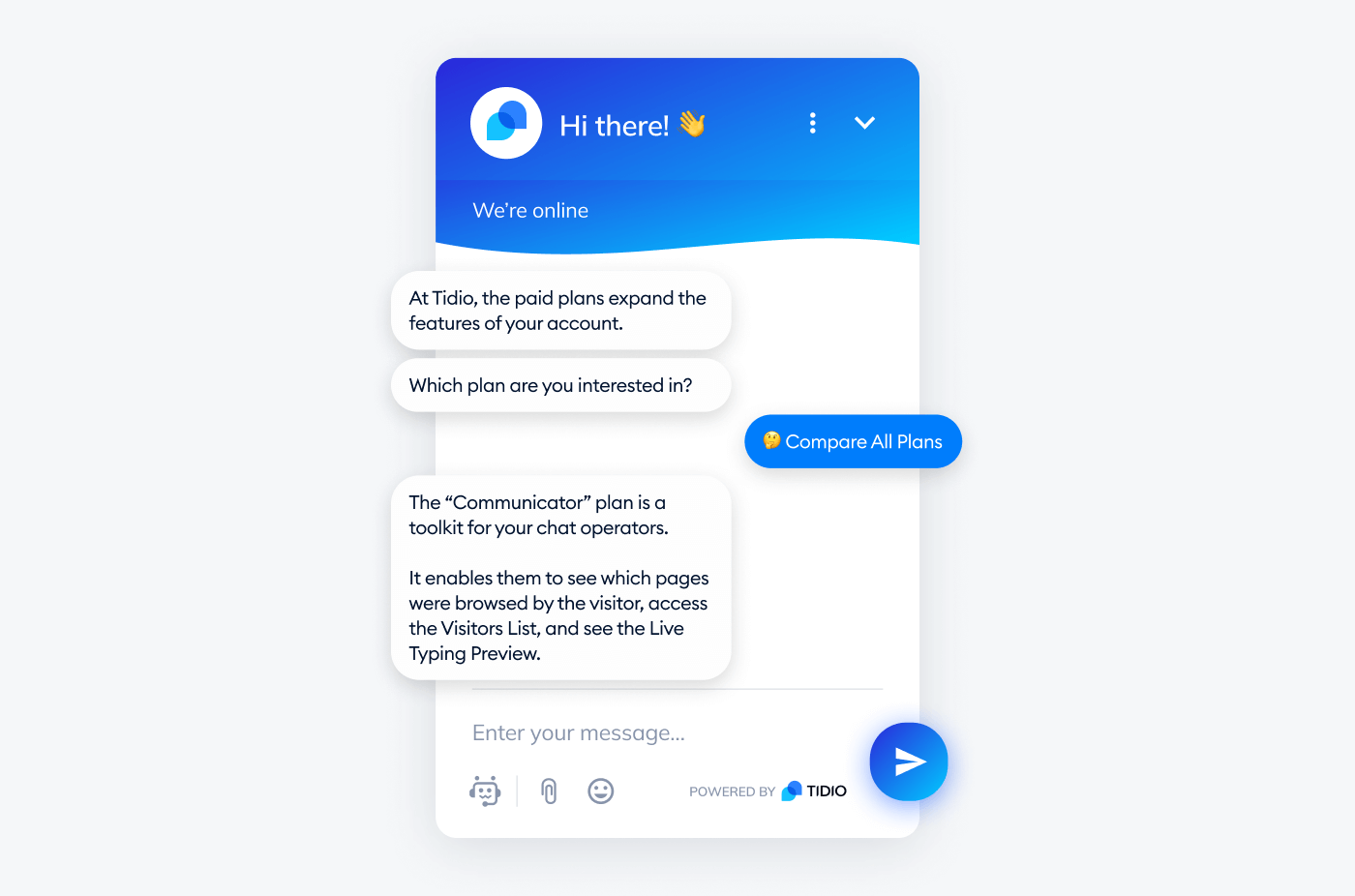 This is where having a live chat widget installed on your site could come quite in handy. By contacting your customer support directly via live chat, your clients will be able to find out the right information quickly and easily.
Not only is live chat one of the most popular types of customer service software out there, but it's also the most efficient one of all. In fact, our own live chat statistics show that 87% of customers see their live chat conversations as positive. Plus, 41% of consumers prefer live chat support over any other channel.
This shows that the use of live chat is one of the best customer service strategy examples.
Also, most live chat software solutions available on the market are relatively easy to install. By using this type of software to communicate with customers, you will help both your front line agents and your shoppers. That's because your reps will handle all conversations from a single panel, and your clients will receive support quicker than through any other channel.
For example, some live chat solutions come with practical features like a live visitors list. With this type of functionality, you can keep track of all new and returning visitors currently browsing your site. Then, you can use this data to send them tailored messages at the right time.
Read more: Learn all you need to know about what live chat is and find out how to add live chat to your website quickly and easily.
4. Use chatbots
When it comes to building a great customer service strategy, it only makes sense to mention chatbots as well.
Simply put, chatbots are programs that can recognize user intent and simulate conversations with clients. By adding a chatbot to your site, you will be able to automatically answer people's questions, assist them while they make an order, ask them to sign up for a mailing list, offer them discounts, and much more.
Chatbots are great as they can help take some significant load off your agents' shoulders and allow them to focus on more complex queries. In turn, you will be able to increase customer satisfaction, generate more leads, reduce cart abandonment, and ultimately, boost sales.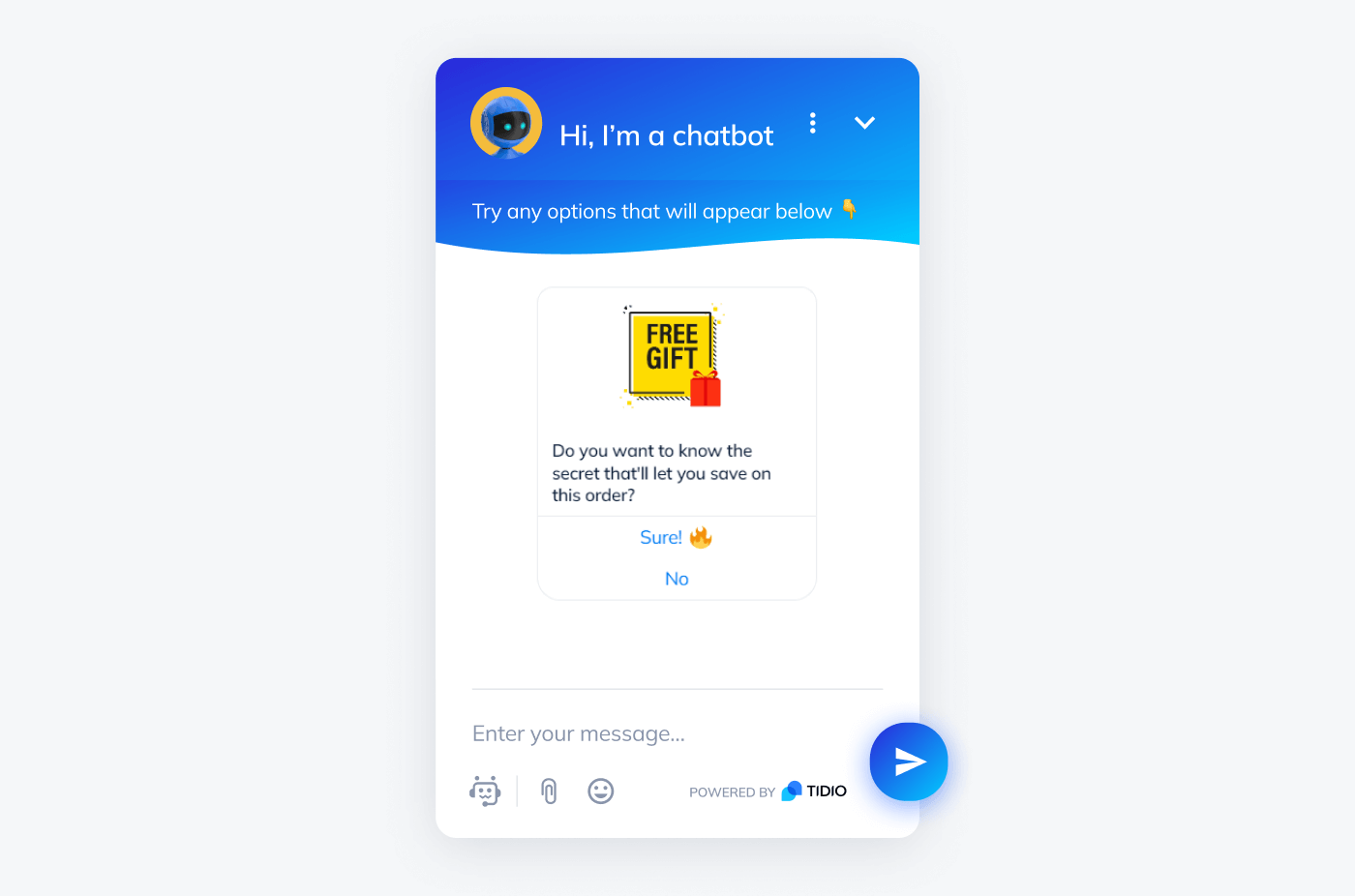 There are many providers on the market that can help you create your first bots with extensive features built in. For example, Tidio offers chat triggers, actions, and conditions you can easily set to reach the right customers at the right moment.
Say that a first-time visitor is browsing through your product page. You can set a trigger that sends an automated welcome message after five seconds.
The message can go something like this:
Hi there and welcome to our site! Do you need any help or more info about our products or the pricing?
If a visitor wants to learn more about what you have to offer, they will surely appreciate the proactive chat approach. Even if the visitor doesn't need assistance, bots can help to enhance their shopping experience and improve customer engagement.
You can also employ chatbots to automate your customer service when your operators are too busy or unavailable.
We could sit here all day and talk about the benefits chatbots can bring to your customer service strategy. But maybe you should look into one of the best chatbot software solutions yourself and see if this strategy works for your business.
Read more: Find out more about the core differences between chatbot and live chat and the ways each solution can benefit your business. Also, check out our knowledge base to learn more about the Tidio chatbot trigger technology.
5. Ask your customers for feedback
One of the best ways you can improve your customer strategy is to ask the customers for feedback. By doing so, not only will you get all the necessary insights for improving the way you handle customer service and do business in general, but you will also show your shoppers that you value their opinion. And this is a proven recipe for improving their loyalty in the long run.
There are many valuable things you can learn by asking your customers for feedback from time to time.
For example, you can find out that your customers are confused about the way your shipping works, or that they are struggling with the pricing info. Then, you can work on improving all the information you have presented on your dedicated website page, or simply add a FAQ page that covers their questions.
Or, your customers may share that they prefer to receive support through some other means, like via a phone call or by chatting through WhatsApp, for example.
But how to ask for feedback to get the best results?
According to research by Survey Monkey, 85% of customers are willing to give their feedback to companies whose products they buy. Around 75% of consumers are most likely to respond to post-purchase surveys, while 58% are willing to give feedback using chat support tools.
There are multiple ways in which you can ask for customer feedback. But, the best time to do it is right after providing customer service. You can easily automate the process with the help of the above-mentioned chatbots, for example.
You can also use your live chat software to insert surveys and feedback forms, or even ask for a simple rating of your services.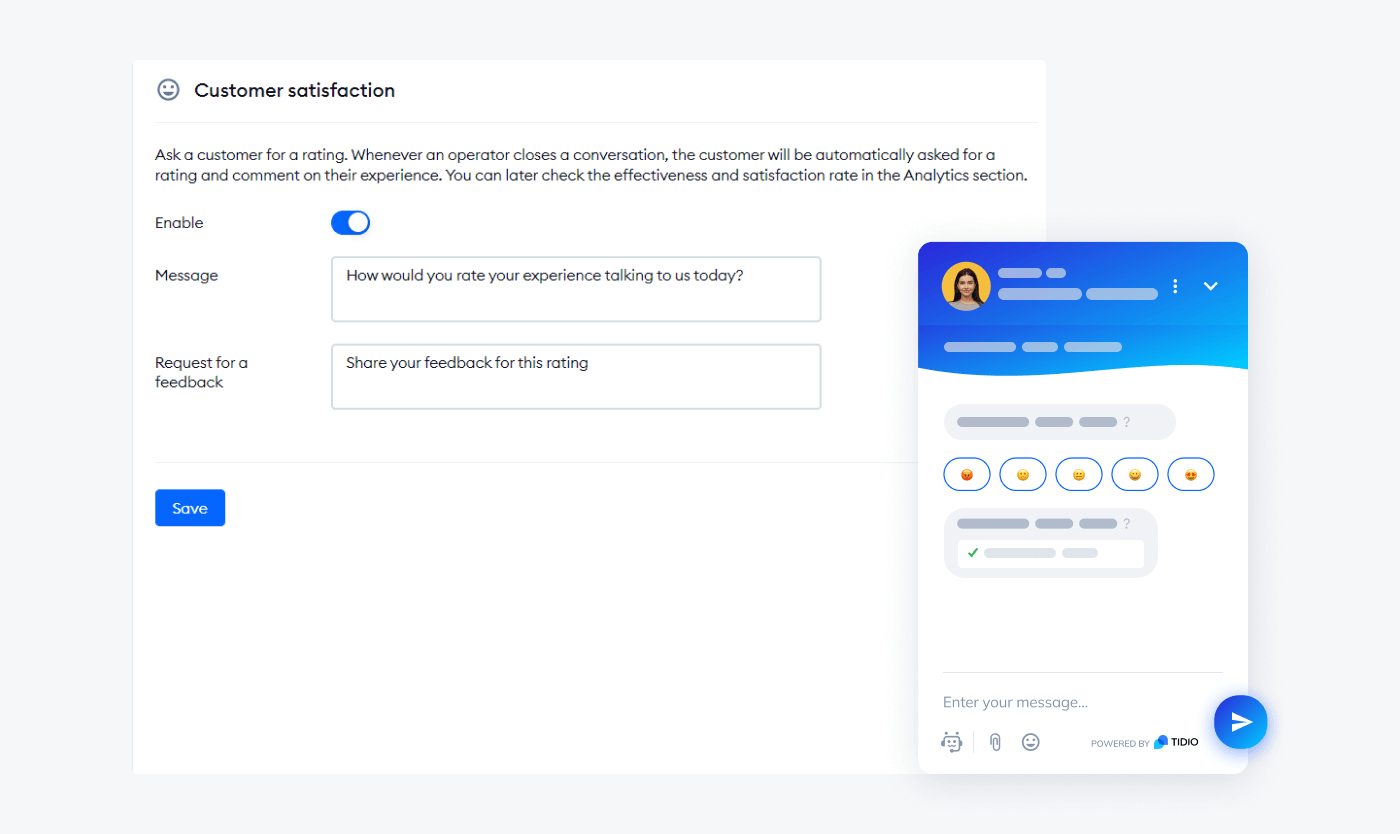 Alternatively, you can also send feedback emails or use the power of social media by creating a dedicated post where users can vote, comment, and share their ideas.
Remember— feedback is the foundation you can use to improve each segment of your business. So, don't forget to implement it into your customer support strategy and then be ready to make those data-driven decisions.
Read more: Learn all about customer satisfaction surveys and their importance. Also, discover how you can automatically collect feedback with Tidio chatbots.
6. Know your key performance indicators (KPIs)
Speaking of data-driven decisions—you need to know which data to investigate to get the most out of your customer service strategy.
But how to decide which data matters and which doesn't?
Figuring this out depends on the type of customer service you're offering. For example, some customer service metrics you can use may vary depending on whether your clients can reach you via phone, social media, or your website.
So, to help you decide which data is important for your own customer service strategy, we're going to list some core key performance indicators (KPIs) you should investigate. Take a look at each one and go for those that seem relevant for your field:
Customer satisfaction score (CSAT)
CSAT is great for figuring out the so-called pain points of your client's journey and measuring general customer happiness. Using the above-mentioned survey or sending a simple message with a rating option after the customer interaction can help you collect this type of data. If you ask us, any type of customer service could benefit from this type of metric.
You can use NPS to measure customer loyalty by asking a simple question—
"Would you recommend our product/service to a friend?"
Measuring this metric can help you get a better understanding of how much your customers value your products and your brand to be willing to recommend them by word-of-mouth.
Customer effort score (CES)
This kind of metric can help you figure out the experience your customers have with your products or services. You can simply put up a survey asking customers how difficult it was to use your product or service.
This metric will help you calculate the time your customers are on hold.
According to Klipfolio, most users expect to receive a response in less than 24hrs when it comes to a ticketing system. The time for live chat is less than 1.5 minutes, while 3 minutes is regarded as acceptable for phone interactions.
This metric is pretty self-explanatory— it represents the average time needed to resolve a customer issue. To calculate the average resolution time, just take the total time needed for all resolutions. Then, divide the number you got by the total amount of requests that were resolved.
First call/contact resolution rate (FCR)
FCR helps you measure the number of times customers have to reach out to you to get their problem solved. It can be calculated by taking the number of cases resolved on first contact and dividing it by the total amount of cases. Then, multiply it by 100.
The customer service standards for a good FCR are considered to be around 70%.
Here is a visualized example of a good contact resolution rate: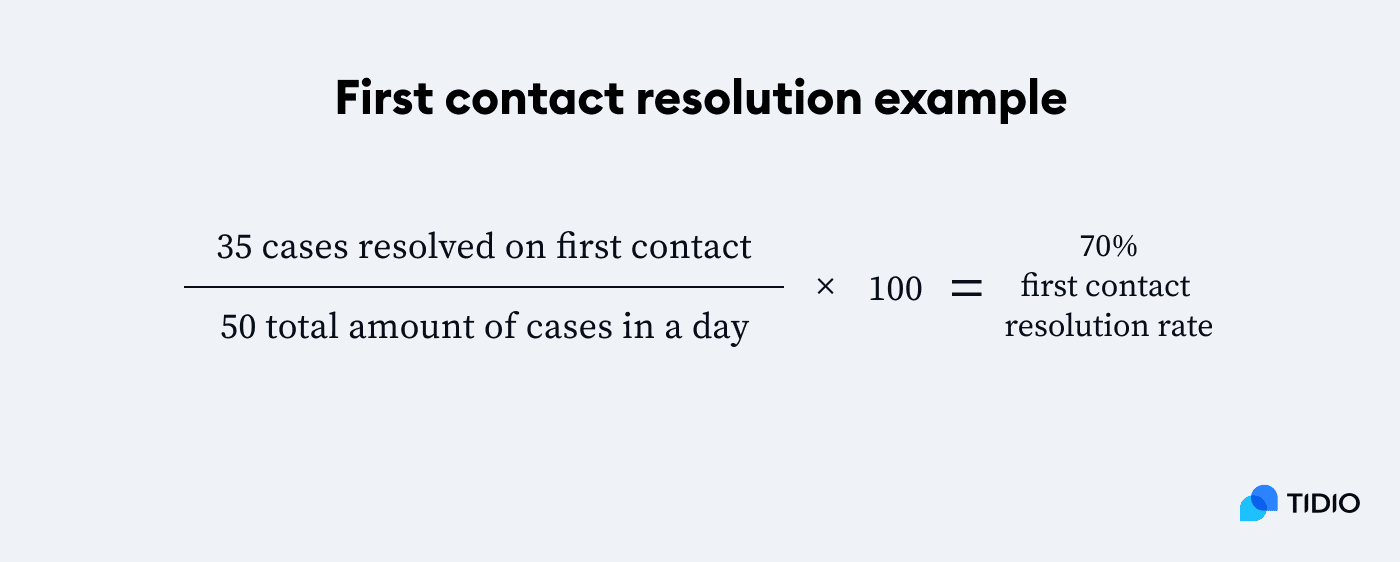 In no particular order, here are a few other useful KPIs you could look into:
Before trying out any of these metrics, you first need to figure out which ones you can benefit from the most. Then, try measuring them each month or each quarter.
By doing so, you could find many valuable insights. For example, you may discover that your average resolution time is good, but that your customer satisfaction score is still lower than you'd like it to be.
If you continue to actively track these or any other metrics that seem to be most vital for your business, you will become more aware of what you can improve on.
Then, you will be much closer to pinpointing the solutions and creating a better customer service strategy in the long run.
Read more: Learn all you need to know about building an excellent customer experience strategy.
7. Personalize customer experience
The purpose of customer service doesn't stop at helping your clients in need. This is also an excellent opportunity to build and maintain customer relationships.
To truly create an outstanding experience your customers will appreciate, it's important to make that experience as personalized as possible.
Did you know…
Over 54% of consumers say they expect all their experiences with customer service to be personalized.
In other words, people are more inclined to trust a brand that uses a personalized touch when interacting with customers.
This can be as simple as mentioning their name if they're on your list of loyal, returning consumers. But you can also give them special discounts and limited-time offers, recommend products according to their shopping history, etc.

Luckily, most customer service software solutions give you access to complete customer interaction history. You can use that knowledge to your advantage when interacting with a returning customer. This can help you make their entire experience as tailored and genuine as possible.
Read more: Learn easy steps to measure your customer satisfaction score.
8. Offer top-notch customer service across all online channels
One of the most important aspects of a good customer service strategy is the ability to be readily available to your customers. Basically, this entails being able to assist clients across every channel related to your brand.
If they need support, your customers will want to get in touch with you as soon as possible. And your mission should be to make this process easy for them.
First and foremost, make sure you have customer service available on your website via popular customer service tools, like live chat. We also recommend providing omnichannel customer service on multiple platforms, like social media, phone, and your website, and integrating them all together.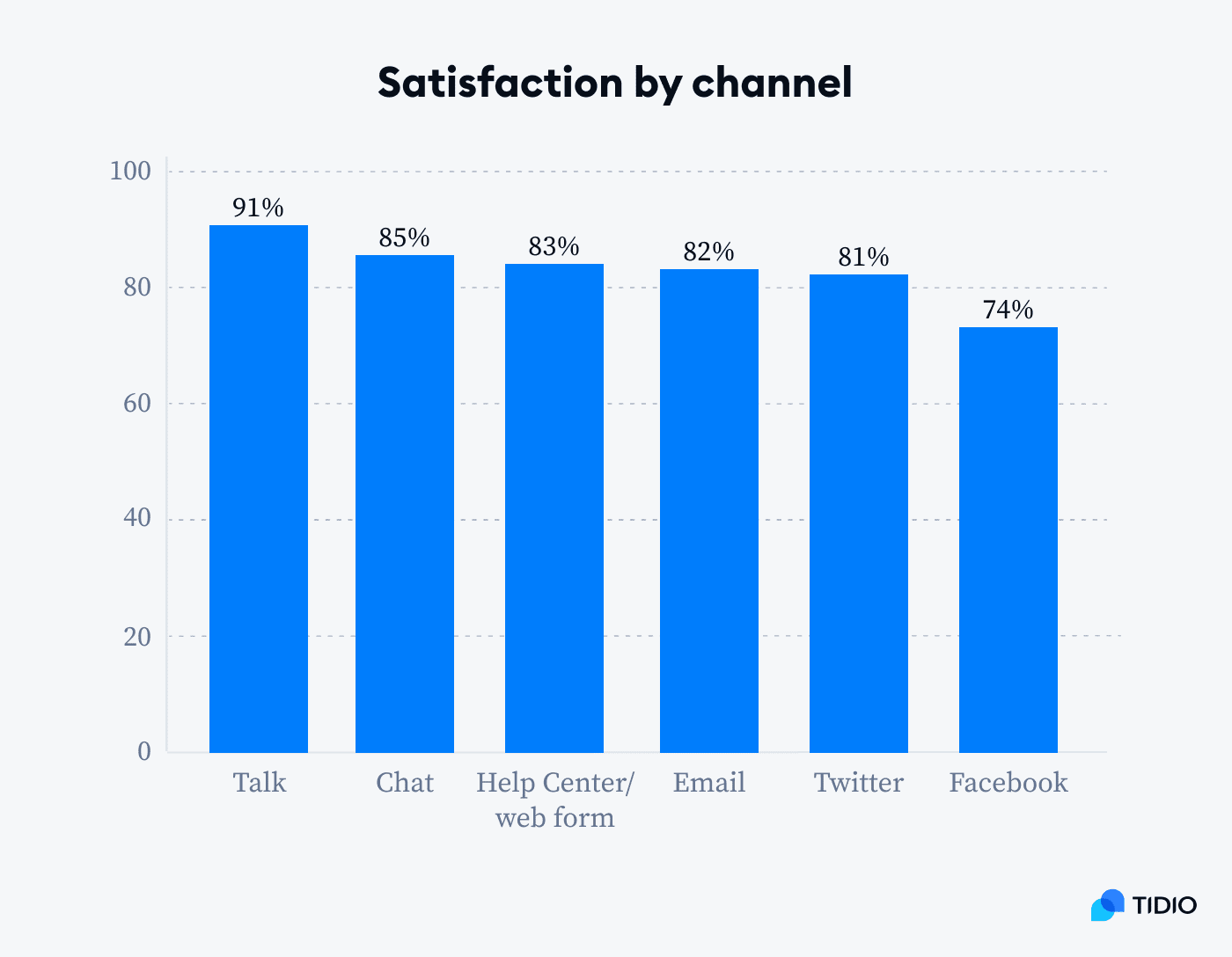 That being said, if most of your customers seem to prefer communicating on one specific channel, then you should focus your resources and agents on that channel.
Say that your clients prefer to use a customer phone service to communicate with you. Then you should make sure your call center agents are available to your customers 24/7. You can also include a pre-recorded message in case your phone operators are too busy or unavailable, letting them know that the first available operator will be able to assist them.
In short, it's important to always be easily accessible to consumers in some way across all your channels. This is bound to make them appreciate your efforts and your brand as a whole.
Customer service strategy: bottom line
Having a well-built customer service strategy can only increase your customer satisfaction and bring loyal, returning clients your way. These types of clients are more likely to offer your products to their friends and loved ones. Therefore, you can expect to see an increase in sales and a boost in brand recognition, too.
So, let's do a quick recap—
These are the initiatives you should take to make the most out of your customer strategies:
Map out your customer journey
Hire a dedicated and caring customer support team
Install a live chat on your site
Make good use of chatbots, too
Determine your KPIs
Personalize customer experiences
Have customer service available across all platforms
Try implementing a few of these strategic customer service tips, and your efforts are bound to pay off.