In the past, companies competed against each other with price and product quality. Today, according to research by Gartner, 89% of businesses compete through the quality of customer service.
Customer service happens to be essential in delivering great customer experiences and increasing sales. It is the cheese on the pizza.
But what is it? What is the meaning of customer service?
In this article:
If you also want to learn about more advanced concepts related to customer service check out:
Let's start from the beginning—
What exactly does customer service mean?
Customer service definition
Customer service is a very broad topic. People may interpret the meaning of the term differently.
When asked about it, customers may associate customer service with fast support. But, during a customer service job interview, if you were to ask your candidate a question like:
What does customer service mean to you?
—you can expect a different answer altogether.
Let's take a look at several ways and attempts to define customer service.
How to define customer service?
Customer service is a set of actions a company takes to help customers. Usually, it involves talking or writing with customers. Customer service representatives assist customers over the phone, email, or in person. The aim of customer service is to increase customer satisfaction and loyalty.
Some customer service definitions can be broader. Customer service is not only about what you do, but also your attitude. Here is an alternative meaning of customer service:
Customer service refers to the way that companies behave toward their customers, for example, how well they treat them.
Sometimes customer service is synonymous with customer support and customer care. Here is an entry that also works as a good definition of customer service.
Customer care is the activity of taking care of customers, and helping them with any complaints or problems
The term customer services, especially in the UK, means customer service departments within companies.
To sum up, customer service is:
The act of interacting with customers to assist them
A team or department that deals with customers within a company
The philosophy of customer-centric approach that became the most important aspect of modern business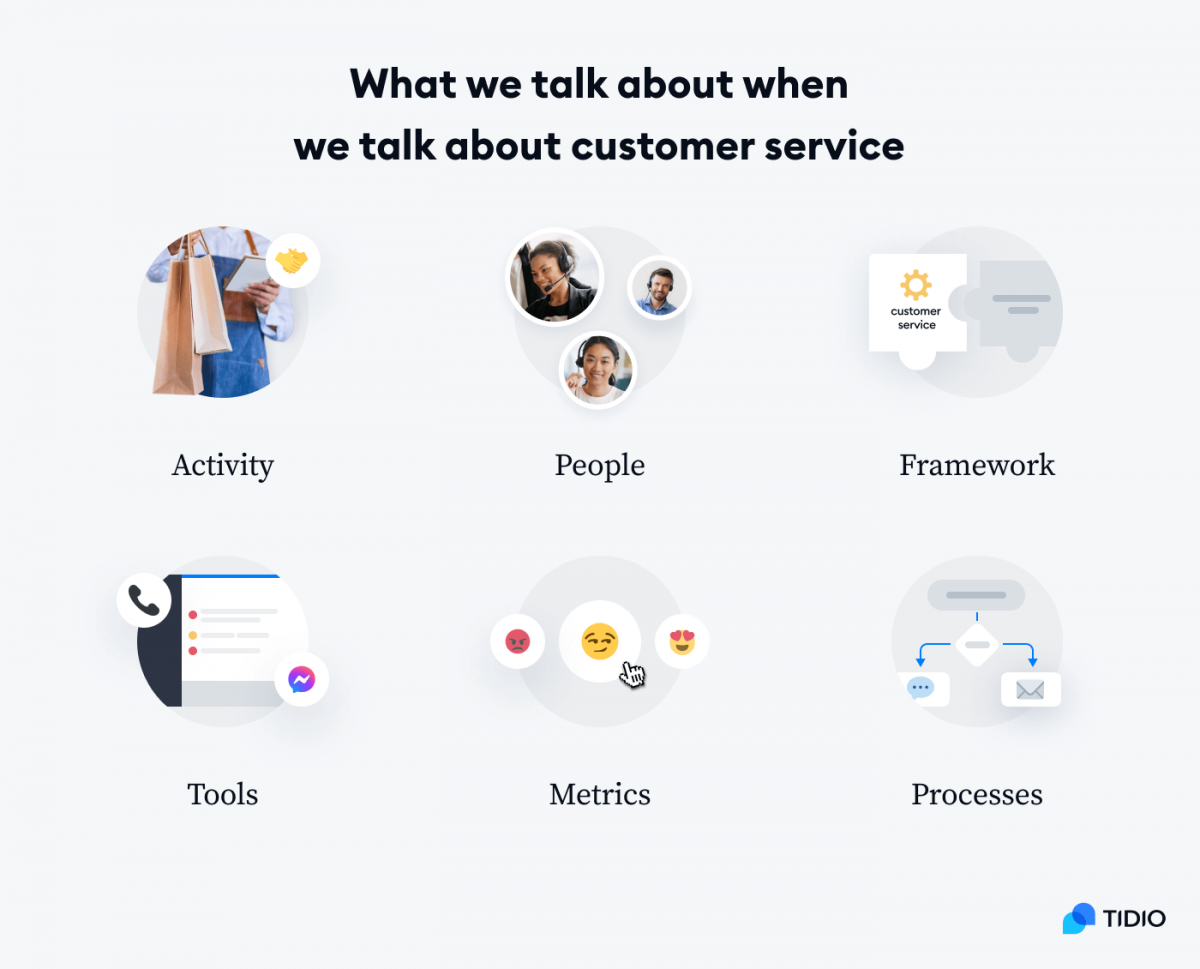 Customer service examples
Do you remember that time when you ordered food and it arrived cold?
Did the restaurant apologize? Did they allow you to have anything on their menu up to $80 for free if you visit the place in person? If something along these lines happened, it was a 5-star example of customer service.
But—
Maybe they started making excuses instead? And they didn't even offer you a discount. Well, if that was the case, it is clearly a company that doesn't understand the value of customer service. They would hardly be the first company ever to provide bad customer service.
Every bad customer service may cost you dearly. According to our report about customer experience trends in 2021, about 45% of customers won't buy from you again after just one bad experience.
There are many good ways of dealing with angry customers. And great companies can recite all of them backward with their eyes closed in the middle of the night. The ones that don't know how to resolve customer complaints have no chance in the modern, competitive market.
The majority of customer interactions, however, are more commonplace. A typical example of customer service would be an agent who helps you figure out how to use a product. Or a shop clerk who handles a complaint. Customer service comes in all shapes and sizes. You can read more about different types of customer service in our guide.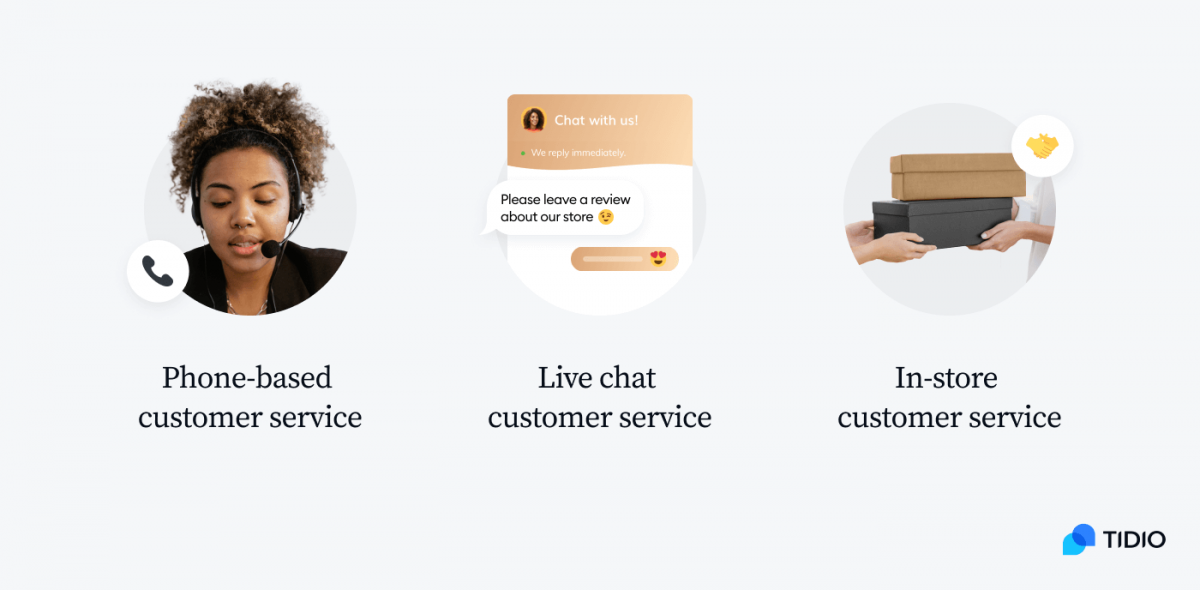 Typical customer support problems
Here are some typical customer support problems and things that customers ask about:
Technical issues
My X doesn't work!
Where do I change the settings?
It keeps making that awful noise—should I be worried?
Asking for a refund
I want my money back!
I opened the box but I don't need the product anymore—can I get a refund?
I think you shouldn't charge me for that!
Returning a product
I was expecting something else…
Can I exchange it for another model?
Unfortunately, these shoes are too small for me. How can I return them?
Questions about shipping and delivery options
Can you send it via DHL Express?
Do you ship overseas?
What are the shipping costs?
Asking about the status of their order
Has my order been processed yet?
What is the tracking number of my order?
When will my package arrive?
Inquiries about product availability
Hi, do you have X?
Is the product physically available in your inventory?
When will this product be released?
Products recommendations
I need a new X. Which one should I buy?
Which one would you buy if you only had $300?
Is X better than Y?
Sizes and different variants of a product
Is this product available in another size?
What is the difference between X and X+?
The black X is more expensive than the blue X. Do they have different features?
Business hours
Do you open before 10 AM?
Are you open on weekends?
If I arrive 15 minutes before closing will I be served?
Location
Where can I visit you?
What is the easiest way to get to your store from X?
Do you have a drop-off point where I can pick up my order in person?
Learn more about specific situations and good customer service examples.
In some situations, self-service is also a viable solution. A good knowledge base or chatbots can be better than a team of agents. And, for many customers, it beats using a call center.
Does customer service matter?
Customer service agents are on the front lines of your business. They are in direct contact with your audience and customers. They understand what your clients want, how they behave, and what their pain points are.
But there is more.
Key goals of customer service include:
And, obviously, never leaving a customer without an answer. That's when customer service chatbots come in handy.
Customer service increases profits
About 84% of online shoppers claim that ecommerce customer service is one of the key factors in deciding to make a purchase. A study by Zendesk revealed that customers value it higher than convenience or brand reputation.
It makes a lot of sense when you consider how many things customer service actually means. The main customer service objectives are linked with very specific business results. Your goal is to keep high levels of customer satisfaction. But, ultimately, it all indirectly translates into reducing potential costs and increasing profits.
Better relationships with customers
Customer service is a buffer zone between your business and your customers. A great customer service team is both first to help customers when they need assistance and defend your business when it's under attack. They try to keep everyone happy and de-escalate conflicts.
Building a good customer relationship is one of the best ways to get long-term engagement and better business results.
If you're still not convinced, read more about 10 reasons why customer service is important.
What are the 3 most important skills?
Customer service jobs require an appropriate temperament and specific personality traits. While you may need a dash of natural talent to become an exceptional customer service agent, almost anyone can become a perfectly adequate one. If you find dealing with customers difficult, there is nothing a good customer service training can't fix.
The 3 most key things in customer service are:
Good empathy. A good customer service representative should be able to understand the customer's point of view. They also must be able to tune into their emotions and show that they care.
Effective communication. Most customer interactions are done remotely. It is very important to deliver information in a logical, organized, and cohesive manner.
Problem-solving skills. Often you have to come up with a solution to a customer's problem on the fly and improvise. Being flexible and efficient while solving problems is an important skill.
To find out more, read our guide to skills that are necessary for customer service:
What are some of the best customer service jobs?
Customer service jobs can have many names but usually mean similar things. Specific industries and business models may favor one framework or terminology over another.
In the most general sense, customer service jobs include:
Retail salespersons
Cashiers
Office clerks
Waiters
Receptionists
Online customer service reps
According to the Bureau of Labor Statistics, almost 8% of the US population works in customer service.
In the context of ecommerce, technology, and new digital platforms, customer service means remote work in tech businesses. Most customer service job opportunities are now connected with online real-time support and messaging. You can check some fresh customer service jobs on LinkedIn.
What counts as customer service?
There are four main categories of digital customer service jobs. Sometimes their responsibilities overlap, and sometimes they complete each other.
A company may have a separate customer support and customer experience team. But, usually, you can expect one department to handle everything customer service-related.
The main categories are:
All of them come with roles such as:
Representatives. They communicate with customers and provide direct assistance.
Specialists. They help customers but may also deal with more general responsibilities like preparing additional reports or collecting feedback.
Supervisors. They onboard and organize the work of their junior colleagues.
Managers. They organize the processes, coordinate work, and monitor the results.
Engineers. They are developers who take care of implementing software, tools, and customer service automation.
Directors. They prepare the general customer care strategy and align in with the goals of a given company.
Usually, you start as a junior representative, and you climb up the ladder as you gain customer service experience. Higher job positions involve taking on more managerial responsibilities related to processes, planning, strategies, and communicating with other departments.
How much do customer service reps make?
Entry-level customer service jobs start with representatives and average base pay of $33,000-$37,000 per year. Specialists and supervisors will earn slightly more, with salaries averaging around $40,000-$50,000. Managerial roles mean salaries of $50,000-$70,000. Heads and directors of customer service departments earn $90,000-$110,000 on average.
Here is a breakdown of customer service salaries in the US based on data from Glassdoor reports.
Different companies and industries use alternative names for customer service jobs. Customer service representatives in one company and customer success specialists in another may very well perform the same duties. That's why it is hard to create a comprehensive list of positions and seniority levels.
Still, if you work as a rep in a call center, you'll probably get less money than a customer success manager, who works with CRM and ticketing systems. It requires a different set of skills to master.
If you are interested in becoming a customer service professional, you should take a look at 12 Top Customer Success Interview Questions [+Best Answers].
Key takeaway
Excellent customer service is much more than simply answering customer questions. The primary objective of every customer support team is to recognize customers' needs and address them.
The bottom line?
The best definition of customer service is offering fast, reliable, and friendly support to your clients or guests.
It doesn't matter if your customer service happens over the phone, live chat, or social media. To get a competitive advantage, you need to exceed customer expectations. Effective customer service means short response times, personalized service experiences, and building customer relationships.
Happy customers make repeat purchases and promote your business. Good customer service means better customer loyalty. And increasing customer retention is one of the biggest challenges for small businesses and large companies alike.
If you want to deliver high-quality customer service, try one of the best customer messaging platforms. You can use it to help your customers and website visitors instantly!