Customer service is the "to be or not to be" for a company. It's one of the most important (if not the most important) departments in the whole corporate structure that guards and ensures company's well-being through processes like lead conversion, customer retention, brand loyalty, and customer satisfaction.
When customers come across obstacles, it's the support team that takes good care of them and tries to build stronger relationships. Not the product developers, not the marketers – the customer service representatives.
But, let's start from the beginning.
Table Of Contents
Turn your website visitors into delighted customers.
Set up the Tidio live chat app in 5 minutes and watch your sales grow.
Learn About Live Chat
Customer Service Definition
Customer service (or customer support) is the assistance provided by store's representatives to its clientele during the consumer buying processes. In this sense, support teams represent companies, speak on their behalf and handle the following issues:
provide additional information about the product/service,
handle customer complaints,
handle refunds and returns,
process and cancel orders,
record account details,
collect and analyze data.
The ultimate goal of customer service is to meet customers' expectations and make sure company's clientele is satisfied from the purchased goods and received services. Because if they are, the value to the company is added and a strong customer relationship created.
Definition Of Excellent Customer Service
In order to understand better what it means to provide excellent customer service, we'll need to look at the four customer satisfaction levels:
Level 1: Meet customer expectations
Level 2: Exceed customer expectations
Level 3: Delight your customer
Level 4: Amaze your customer
As you might have guessed, all four layers are critical to achieve customer satisfaction and deliver good customer service. However, for the assistance to be called "excellent," you'll want to focus on the "amaze your customer" part.
If you want customers to stand behind your store and be loyal to your brand, it's crucial you go the extra mile and show a genuine interest in their lives. A simple gesture of caring, like sending a letter or a thank you card, is worth more than a thousand words. And Sainsbury's clients know something about it.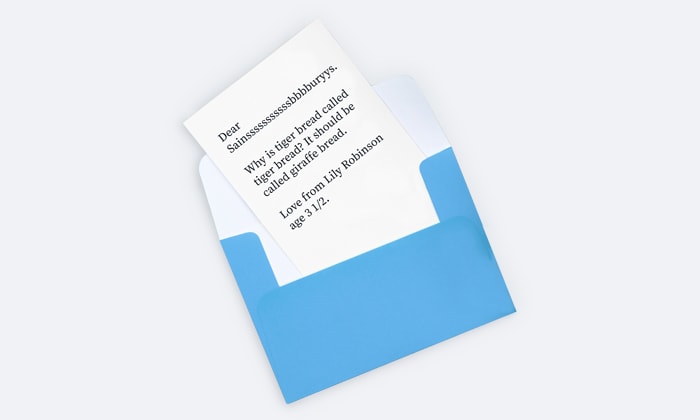 A few years back, Sainsbury changed the product name at the request of a three-year-old client who suggested that the pattern on her favourite Tiger Bread bears a closer resemblance to giraffe spots rather than tiger stripes, and thus should be renamed.
Not long after, little Rose received a heartwarming letter from the Sainsbury's customer service, in which she was informed about the product rebranding process. As a result, the bread name was changed to Giraffe Bread.
So, do you understand now what exceptional customer service means? One word: Amazement.
3 Quick Tips To Deliver Good Customer Service
Now, let's move from theory to practice. Here are some quick tips to deliver good customer service that will help to distribute a positive word-of-mouth in the consumer society.
#1 Listen And Engage In A Conversation
As a customer service representative, you won't always be able to meet customers' needs if they set unrealistic demands or when you simply lack resources.
But, in these moments you shouldn't give up so easily. A study has shown that conversation participants feel much better when they see their recipients' true interest in the subject matter. What you could do, then, is to actively engage in a conversation by devoting your whole attention to customers and their problems.
A good practice showing that you actually do care about your customers is gathering crucial information about them – name, email address, personal preferences. It's true that it can be tiresome and time-consuming at times, but now you can automate the process with chatbots.
With chatbots being deployed on your site, they can ask for customers' names and email addresses in a pre-chat survey. Then, with this information you can create a customer profile and customize next messages that are to be sent (be it by email, live chat or a chatbot).
Start sending pre-chat surveys with Tidio chatbots to learn more about your clients and build rock-solid relationships for a lifetime.
#2 Know The Product Inside Out
Knowing the features and benefits of a product is a crucial component of delivering quality customer service. Usually, buyers treat customer service as a last resort to which they reach out when all other methods fail.
Since they are looking for professional assistance, you can't provide them with vague answers or, even worse, put off with fine words. Instead, optimize your service by preparing canned responses for the most asked queries and build a knowledge base for future reference.
#3 Ask For Feedback
Customer's opinion is an invaluable resource to know their thoughts on product launches and system upgrades that can be used in further stages of product development processes.
In this sense, collecting and analyzing feedback is of great importance if you want to improve customer shopping journey and the overall user experience. The best practice to do it, is by sending a brief customer satisfaction metric survey that takes only a minute to fill in.
Great Customer Service Quotes
Here are a few of the best customer service quotes to read on a rainy day that will put you in a better mood.
No.1 Tips For Employers
Have you been wondering lately how to provide excellent customer service?
First, you need to realize that…
It's not the employer who pays the wages. Employers only handle the money. It is the customer who pays the wages.

Henry Ford
President of Ford Motor Company
And later do this…
Get closer than ever to your customers. So close that you tell them what they need well before they realize themselves.

Steve Jobs
Co-founder and CEO of Apple
No.2 Customer Experience And Expectations
Offering top-notch products is not enough. The user experience is.
You've got to start with the customer experience and work back towards the technology – not the other way around.

Steve Jobs
Co-founder and CEO of Apple
And later, you need to do something special.
The key is to set realistic customer expectations, and then not to just meet them, but to exceed them – preferably in unexpected and helpful ways.

Sir Richard Branson
Founder of Virgin Group
No.3 The Consumer Power
Taking care of customer service to deliver the best user experience will pay off because…
A brand is no longer what we tell the consumer it is – it is what consumers tell each other it is.

Scott Cook
Co-founder of Inuit
Importance Of Good Customer Service
High-quality products at fair prices won't contribute higher customer satisfaction if your client-facing employees stay indifferent to their needs. Research has shown that 89% of consumers have switched to competition after having experienced poor customer service and in fact, it's the user experience that will become key brand differentiator by 2020 (Walker).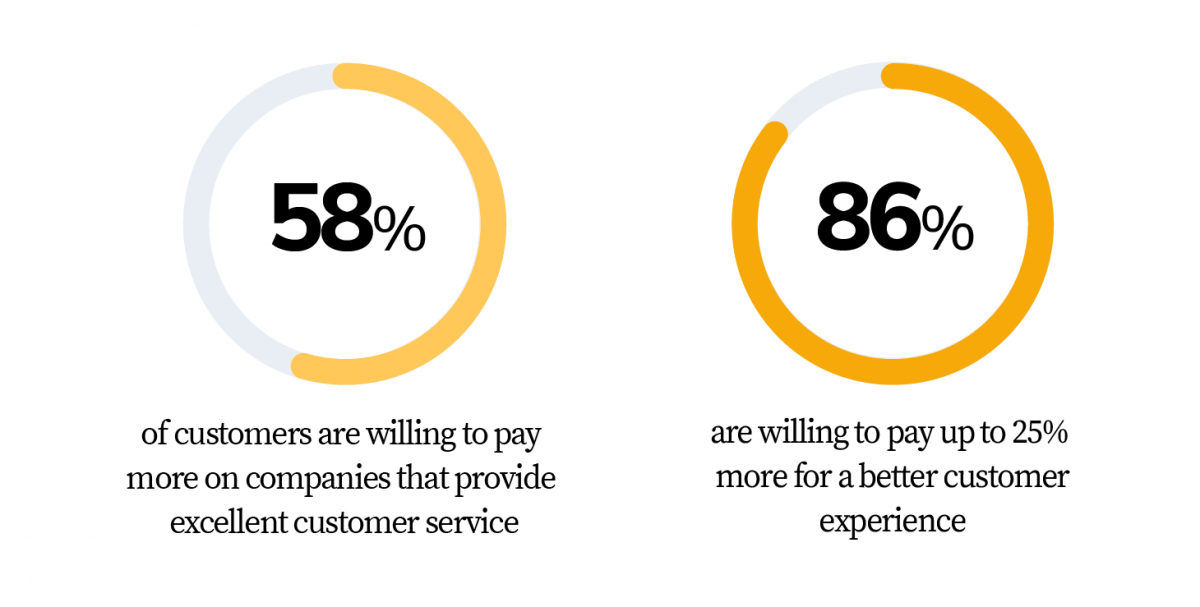 As you can see, customers are no longer product-oriented, but rather they're looking for unforgettable experiences for which they will pay extra:
58% of customers are willing to pay more on companies that provide excellent customer service,
86% are willing to pay up to 25% more for a better customer experience.
Customer Service Skills
When employers interview prospective employees, there are always certain skills and personal qualities that the candidates should represent. In customer service, a strong emphasis is put on soft and interpersonal skills, in which one's ability to communicate and interact with people with ease is considered a great advantage.
Some of the key customer service skills include :
| | |
| --- | --- |
| Customer Service Skill | Description |
| Active listening | To get to the root of customers' problems, you need to devote your full attention to what they're saying. |
| Problem-solving | Customers will contact customer support with a wide range of issues that you'll need to find sufficient solutions for. |
| Clear communication | When talking with customers, avoid using technical jargon and try to speak their language. |
| Friendly attitude | You need to stay positive throughout the whole conversation and create a friendly atmosphere for customers and yourself. |
| Empathy | Sometimes, you'll need to put yourself into clients' shoes to understand and handle their dissatisfaction well. |
| Product knowledge | When customers call the support, they expect professional and knowledgeable assistance. |
| Time management | You need to manage your time well to serve as many customers as possible. |
| Patience | You need to have nerves of steel when dealing with angry customers. |
Customer Service Interview Questions And Answers
Wondering about the most common customer service interview questions? Here is a little preview.
What is customer service?
Answer: Customer service is about helping people, hearing their concerns and solving their issues. The ultimate goal is to provide them with high-quality assistance that would encourage repeat purchases.
What does great customer service mean to you?
Answer: Great customer service is the service I'd like to receive myself. An individual approach (to a client) is a good start. It's crucial that the support team pays attention to small details (like addressing clients by name) but also makes sure the whole inquiry handling process isn't disrupted by slow or incomprehensive responses.
Why do you want to work in customer service?
Answer: I like interacting with people and helping them out. I'm a goal-oriented individual and solving problems gives me a great sense of fulfillment and gratification. Besides, it's incredibly rewarding to see customers revisiting the store for more purchases.
Examples Of Good Customer Service
Here are some examples of places that have mastered the art of customer service.
The Ritz-Carlton
The Ritz-Carlton is a hotel and resort chain that is renowned for its five-star guest service in over a hundred countries, which aims at providing genuine care and comfort to guests. In fact, the Ritz-Carlton has ranked highest in the J.D. Power North America Hotel Guest Satisfaction Index Study (a study selecting companies with high customer satisfaction) for 10 consecutive years.

Since the company's launch in 1983, the employees have been cultivating the same practices, which might seem standard at first glance, but they gain more and more value when performed painstakingly. These include:
greetings, warm welcomes and small talks with customers,
responding to customers' unspoken wishes,
being at customers' disposal 24/7,
addressing customers by name,
offering loyalty programs.
Zappos
Zappos is an apparel and footwear retailer that has been famous for its customer service that helped the company reach $1 billion in sales in less than 10 years. So, what's the secret?

Zappos' CEO, Tony Hsieh, believes that building strong customer service must be preceded by the creation of a strong company culture – a healthy workplace environment where employees and business thrive. Is it really important? Well, yes! Only happy employees make customers happy!
At Zappos, customer service agents aren't limited to short phone call interactions, made to read from scripts or upsell. Instead, they're encouraged to go the extra mile and offer customers' best assistance, like talking for 10 hours or sending care packages to soldiers in Afghanistan. Unconventional but effective.
What Does Customer Service Mean To You?
Customer service is a broad term that varies in definition depending on a point of view. For a customer X, it might be a quick query response and for a customer Y – operator's conversational skill. But, whatever it is, you need to always make sure that the service is provided on the highest possible level.
There is no universal truth that could be applied to customer service, but there are standards that all companies should aspire to achieve. It's the user experience that counts the most after all.
Try Tidio Live Chat and talk to our support team. See the kind of customer service that makes clients keep coming back!
Try Live Chat For Free