According to a Microsoft study, about 58% of consumers in the US start using a different company after a poor customer service experience.
But how to make sure that your customers are always satisfied?
Good customer service is a little bit like flirting. You need to experiment and work out what's best for you and your customers. The good news is that there are some great hacks that will help you get on the top of your game way faster.
In this article, you are going to find:
If you want to dive deeper into the topic, you can also read the following guides:
What is good customer service?
Good customer service happens when businesses proactively listen to customers, make them feel welcome, help them clear up their doubts, and make sure that their issues have been resolved. Ultimately, understanding the needs of customers and being able to offer personalized assistance is essential.
What are the seven qualities of good customer service?
Good customer service representatives must:
Understand their business goals
Be friendly and attentive
Demonstrate empathy
Use clear communication
Know their products
Be well-organized
Solve customer problems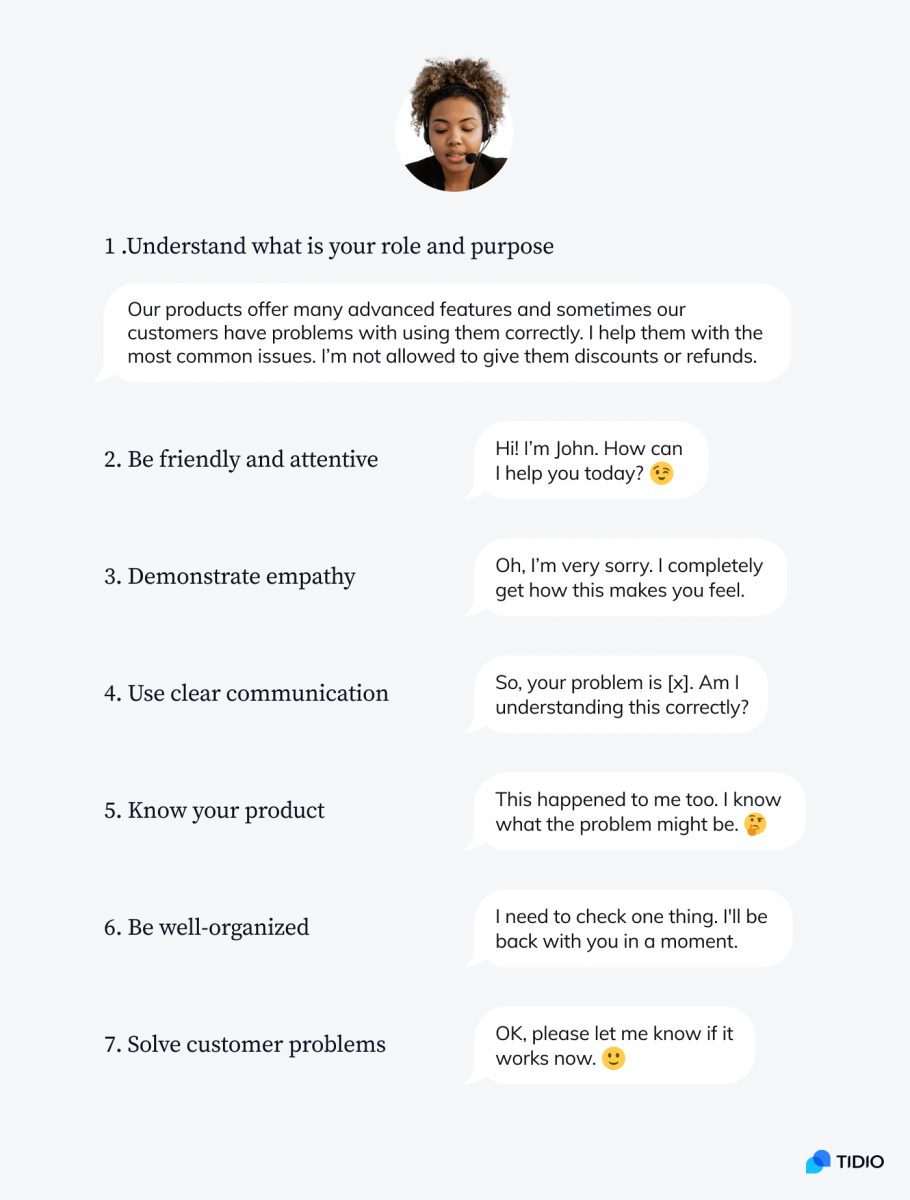 Find out more about important skills for customer service reps:
Why does great customer service matter?
Exceptional customer service often makes the difference between an ordinary customer and a loyal brand advocate. It is one of the key factors that can determine your business success—and one that is notoriously overlooked too. About one-third of American consumers have felt neglected by online retailers.
Businesses don't pay much attention to improving customer service because the positive outcomes are often delayed.
However, the high quality of service translates into many long-term benefits. This has been repeatedly confirmed by numerous studies. Today, businesses win more sales not by marketing but by improving customer experience.
K. Sudhir, Professor of Marketing at Yale School of Management, carried out extensive research on the importance of customer service. More than 42,000 customers of a bank were assigned to different groups of customer service agents.
Initially, the short-term results of the study and CSAT measurements weren't drastically different.
But it turned out that customers who interacted with skilled customer service representatives were twice less likely to cancel their credit card within 18 months.
Good customer service has a huge influence on brand loyalty and customer retention. Happy customers make loyal customers and bad customer service destroys your business reputation. It's a no-brainer.
Check out some of the customer service interview questions you should ask candidates to find the best ones to join your team.
7 ways to deliver amazing customer service
There are many strategies that businesses employ to take their customer service quality to the next level. Customer interactions can vary but a well-trained and experienced customer service team will do everything to address customers' needs.
Here are some of the most effective tricks to go from good customer service to great customer service. Companies with the best customer service teams in the world use exactly these techniques.
1. Listen to customer feedback and be proactive
The cardinal sin of many businesses is that they focus on the product and not the customer. And there is really no excuse for not asking your customers for their opinion. A quick customer satisfaction survey is something that takes seconds.
You can add a customer satisfaction chatbot on your website or send automated email campaigns. Choose one of the chatbot templates for feedback collection. You can set up custom events and specify when a chatbot will ask a question. The engagement rate for chatbots is very high. You shouldn't have any problems with getting amazing insights almost right away.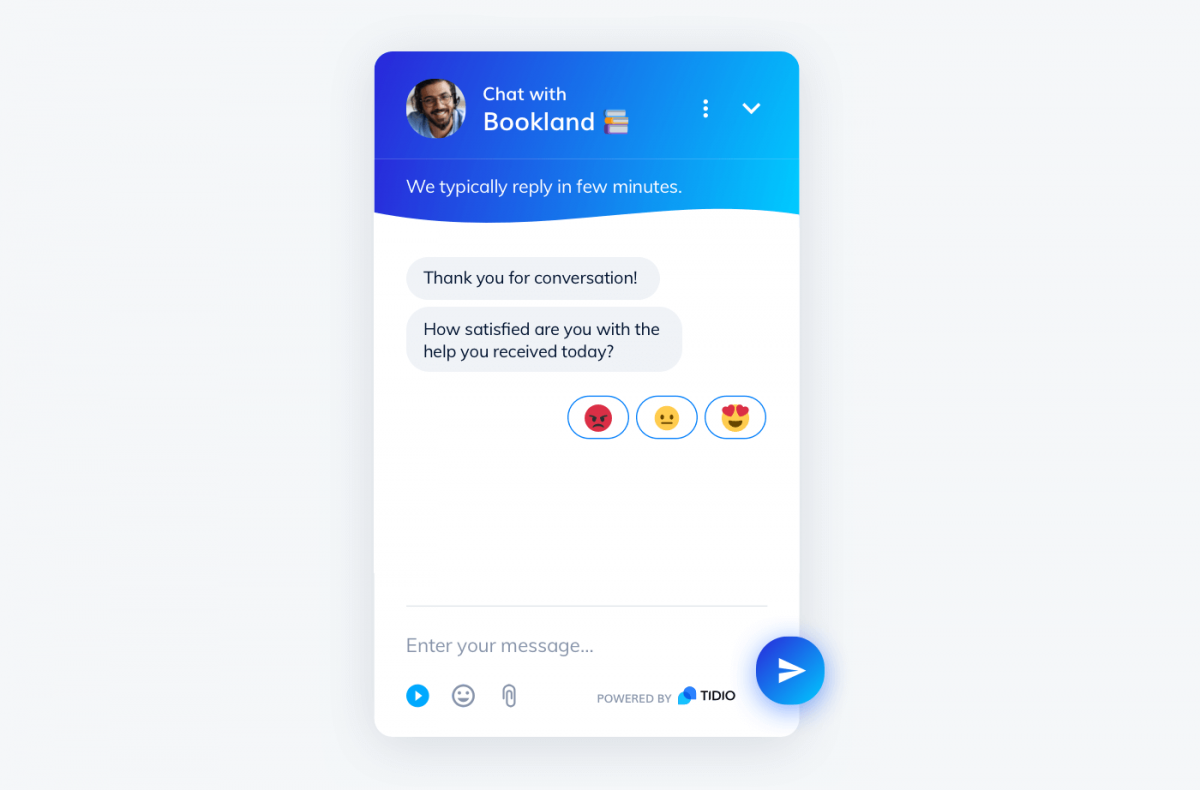 Some businesses just let sleeping dogs lie, but in the long run, it's not worth it. If you pretend that your business is perfect, you miss opportunities for improvement. Before you notice, customers will start disappearing. And you won't even know why.
Takeaway:
The customer isn't always right. But they are right most of the time. You should treat their feedback seriously and thank them for it, even if it hurts. Regular customer feedback can become the driving force behind your business growth.
2. Always keep your promises
If you want to inspire someone's trust, you make a promise to them. And then you keep it. About 72% of customers believe that keeping promises should be the biggest priority for modern businesses.
Most marketing is based on promises too—you will be beautiful, healthy, happy. Alternatively, "we" will take care of you, solve your problems, and grant your wishes. But will it really happen?
For example, it's pretty obvious to assume that if you buy a plane ticket, you can get a seat on a plane. The ticket is a kind of promise from an airline company that they will get you from point A to point B.
United Airlines massively damaged its reputation when it failed to live up to that promise.
Flight 3411 from Chicago to Louisville was overbooked. After our team looked for volunteers, one customer refused to leave the aircraft voluntarily and law enforcement was asked to come to the gate. We apologize for the overbook situation.
It was a PR disaster. United Airlines stock prices dropped so much that it would be better for them if they hired a private jet for each and every passenger on that flight.
So, with this kind of situation, what should a company do to make things right?
It is surprisingly easy. Customers are more likely to forgive a broken promise if they will benefit from it. For example, when a similar overbooking incident happened to Delta Air Lines, they asked who is willing to give up their $180 seat for $1,100. They found volunteers in no time.
Some business practices do take risks into account. It is highly unlikely that the worst will come to worst. But once it does, your customer support agents need to have a contingency plan not to ruin your reputation.
Takeaway:
A broken promise causes massive damage. Going the extra mile for your customers to deliver on your promises (even in extraordinary circumstances) will earn their undying customer loyalty.
3. Respond fast and be available
Good customer service equals fast customer service. It doesn't matter if you have the most knowledgeable customer support team in the world if your clients are long gone before they can reach them.
We conducted a survey about perfect customer experiences and discovered that customers are far more impatient than most businesses think. As many as 44% of American consumers believe the average customer service response time should be kept below 5 minutes.
With traditional email communication, it is next to impossible to reply so fast.
But there are other types of customer service, right? What about phones? They have to be faster than email.
Nope.
An average American spends about 13 hours per year on hold while using phone-based customer service.
In point of fact, instant messaging apps and live chat are probably the only options that provide real-time, top-quality customer service.
Quite recently, we analyzed the average response time of live chat operators using the Tidio live chat app. And we were happy to discover that it is slightly below the 5-minute benchmark.
Takeaway:
Don't keep your customers hanging for too long. The first 5 minutes are critical.
4. Keep your customers in the loop
Be transparent. It is one of the golden rules of world-class customer service.
When you inform customers about something, you can control the situation. When customers learn something on their own and discover that you withheld it from them, you can't. And it won't make them happy either.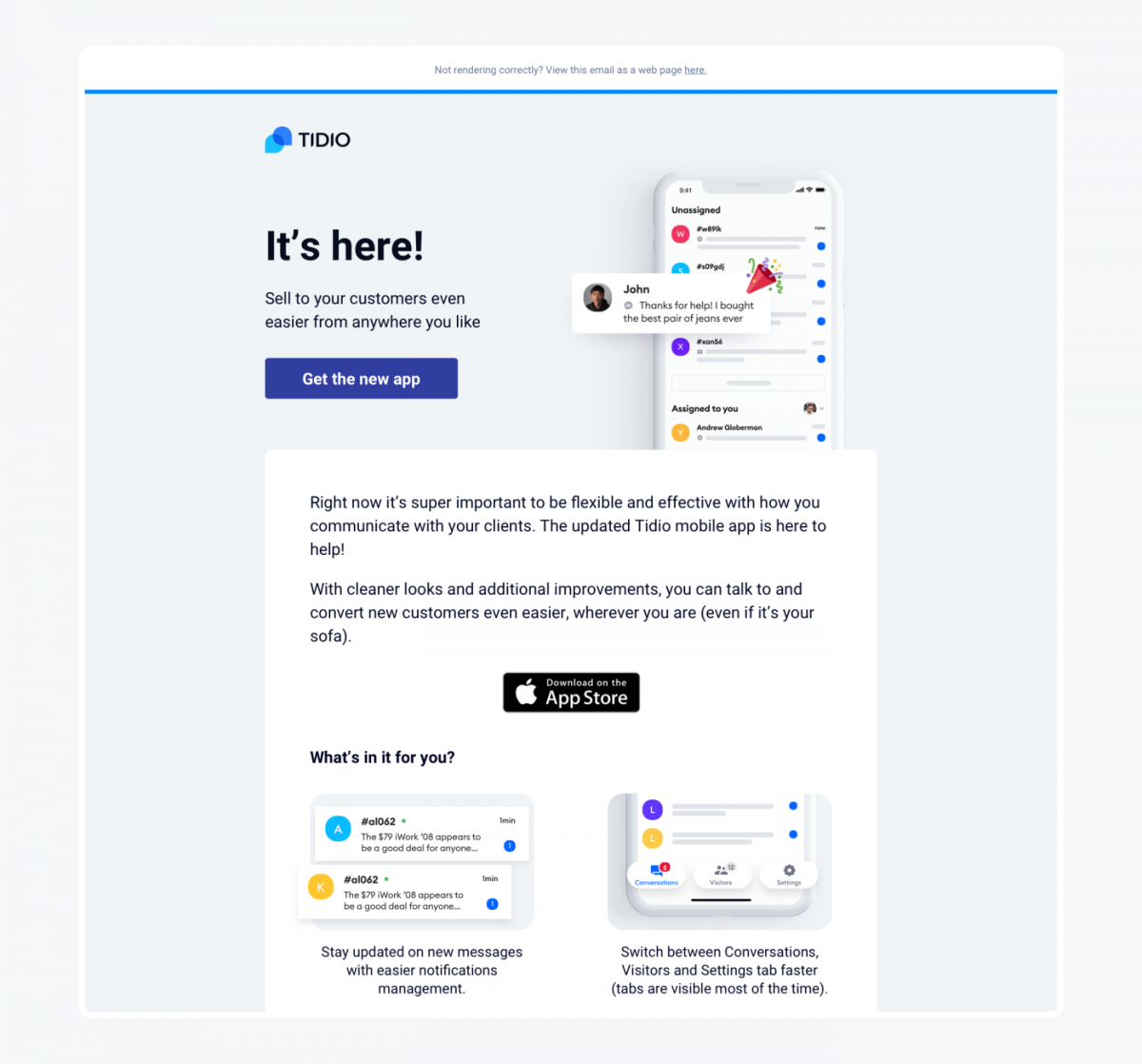 Not too long ago, Apple deliberately reduced the performance of some iPhones. It was supposed to save the battery lifespan but customers were not informed about it. Owners of older devices felt betrayed and it even led to several lawsuits.
The information was not publicly disclosed and customers believed that it was a deliberate scheme. The "greedy" corporation wanted to force customers to buy new devices. That's what the customers believed in. But the story could be different.
Modern businesses diversify communication channels to ensure that customers stay informed 24/7. You don't have to prepare well-crafted press releases. Your customers will appreciate something shorter or more direct, like an email or a social media post.
Takeaway:
If anything happens—good or bad—your customers should know. It shows that you treat them seriously. They will appreciate it.
5. Remember that all customers are equal
Your top 20% best customers generate 80% of your revenue. It means that your sales are as good as your best customers.
Does this work with customer service too? Should you focus on delivering outstanding customer service to your most profitable clients?
Not really. Your reviews will be only as good as your customer service at its worst. Anyone can publish a bad review on your social media. Being obsessed with attending only to the needs of your top customers won't work.
It is better to offer good-enough customer service to all your customers than excellent customer service to a selected few.
This problem is difficult to address. Sometimes, even customer service agents are biased without realizing it.
For example, there is a bias towards female customers. It is harder for them to get a refund or reach the right person. This corresponds also to their level of frustration.
About 50% of female customers felt that the agent is not sorry about not being able to solve a problem. That number was significantly lower for male customers who felt that customer service agents are more cooperative.
Takeaway:
6. Personalize your customer service
Some customers need a buddy, some like to keep their distance, and some like to be treated like royalty. A good customer service agent should be empathetic enough to recognize customer needs correctly.
If a customer is a professional who uses your products for work, they expect a different tone and type of advice than an amateur. A customer who is angry requires a different approach than someone who is confused.
A good way to address individual needs is to create a separate flow for different situations. Just steer your customers through the right automatic messages. You can take a look at some of the most useful canned responses here.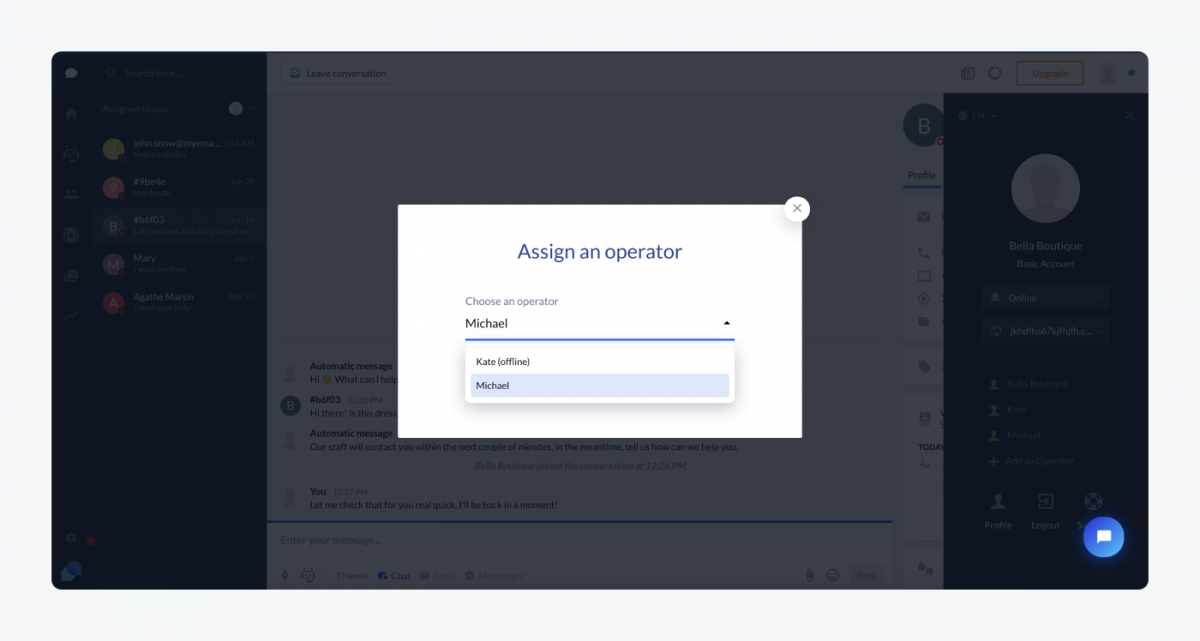 For example, you can assign a certain type of customer to suitable agents. One of your live chat operators may be a product specialist. Another may do an excellent job of calming difficult customers down.
The more aspects and situations you consider, the easier it will be to solve a particular case. Consider things like:
Their stage in the customer journey. Are they leads, new clients, or returning customers? Use this to push them further in your sales funnel.
Their level of digital literacy. Do they know how to navigate your website or use your tools? Help them in person or give them access to self-service tools and resources.
Their communication skills. Do they send short messages or write detailed descriptions of their problems or requests? Your messages should mirror their tone (or counter it if you need to de-escalate).
The most important thing is to assure customers that they are in the right hands. And that you are going to address their individual needs.
Try using phrases like:
I'm hearing that you are experiencing [something]. Is that correct?
Let's go through that again. [Step A], [step B], [step C]. Is that correct?
Did I understand correctly that [you feel a certain way]?
I'm going to [do something]. Is that OK with you? Or do you want me to [do something else]
These are valid concerns. Would [doing something] make you feel better?
Sometimes even the simplest pleasantries, like asking someone's name and then using it again can improve customer satisfaction. It makes them feel more than another, anonymous customer.
Takeaway:
Use empathy and deduction to guess what the customer needs and who they are. Adjust your tone and assistance to their unique needs.
7. Give your customers the fishing rod, not the fish
Or, as I like to call it, help customers help themselves. It may be a good idea to allow your customers to solve problems on their own.
Red Lion Hotels and Marriott, independently, have discovered that the majority of requests from their guests are related to ironing.
The solution? They made ironing boards available in every room as part of the standard equipment.
While the initial costs of equipping rooms were thousands of dollars, it turned out that it helped to save housekeeping costs and increase customer satisfaction.
In the long run, it was one of the best business decisions. After Holiday Inn decided to also include ironing boards in their rooms, it became a hotel industry standard.
OK—
But how does it translate into digital customer service?
Great customer service can sometimes incorporate self-service tools. Your customers can use chatbots, your knowledge base, or tutorials. Once you give them tools for solving their issues, you won't have to hold them by their hand all the time.
This is very important for SaaS businesses too. Instead of allowing your support team to work on customers' projects, it is better to encourage users to solve problems on their own under your limited supervision. It is empowering and helps them to learn how to use your products. Additionally, it gives them more satisfaction when they overcome their challenges.
Takeaway:
Sometimes self-service is the best service. Instead of solving problems for your customers, teach them how to take care of themselves. It shows respect and your trust in their competence. FAQs, knowledge bases, and chatbots save customers' time and improve customer satisfaction metrics.
Good Customer Service Examples
There are many companies that devote tons of attention to perfecting their service skills and training their staff. Here are some examples of effective customer service.
Verifying that customer needs have been met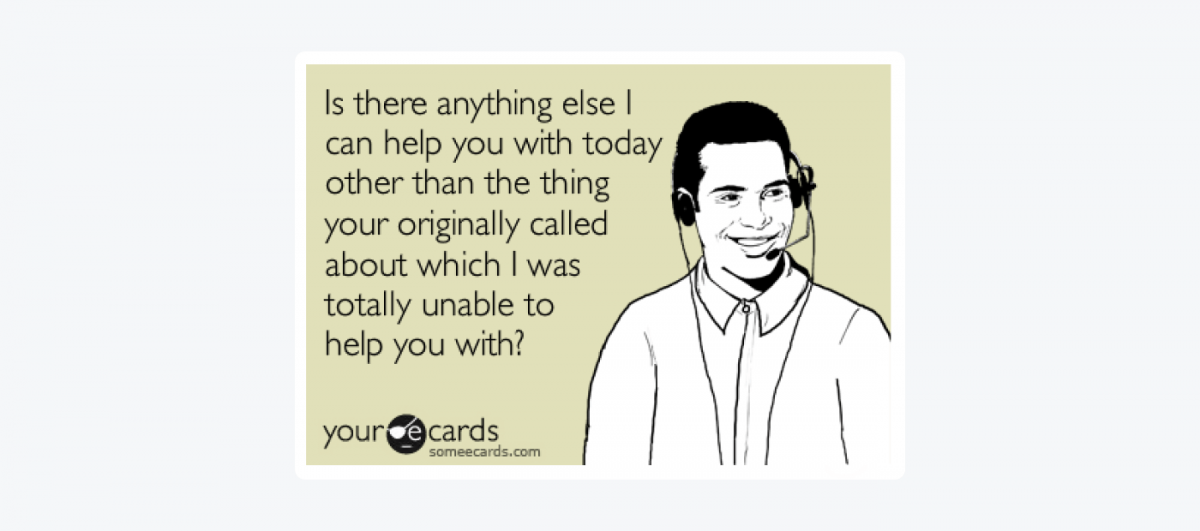 Sometimes customer service agents can be insensitive and just follow the script. Customers become discouraged and they just want the conversation to end. The real problem has not been sorted out and they don't want anything to do with your business. They won't waste their breath on the customer service guy. They'll just walk away.
Instead of writing:
Let me know if you have any other questions
Is there anything else that I can help you with?
Is that all?
Try something along the lines of:
Did it work? I want to make sure your problem has been solved.
Are we on the same page? I'd be happy to help if anything remains unclear.
Will you be able to take over from here? Or do you need additional assistance?
If you want to learn how to confirm understanding, here is a short video with some good examples:
Making sure that customers are happy with your service is more important than throwing in empty cliches that don't mean anything.
You can find other customer service messages and canned responses here.
Appreciating regular customers
It's good to be a regular customer. You can count on special benefits and build a personal bond with the brand. However, the line between a normal customer and a regular customer is quite blurry.
You can show your appreciation by:
Giving them a discount
Offering perks or special treatment
Allowing them to access new products before others
Inviting them to a referral program
Personalizing communication
Calling them by their name
It is actually quite easy to reinforce the feeling that someone is our loyal client.
The best part is that you don't even have to remember all your regular customers. Frankly, who does if you are running an online store with hundreds of visitors? The process can be fully automated with modern software.
For example, you can use a chatbot that will send automatic personalized messages to returning visitors.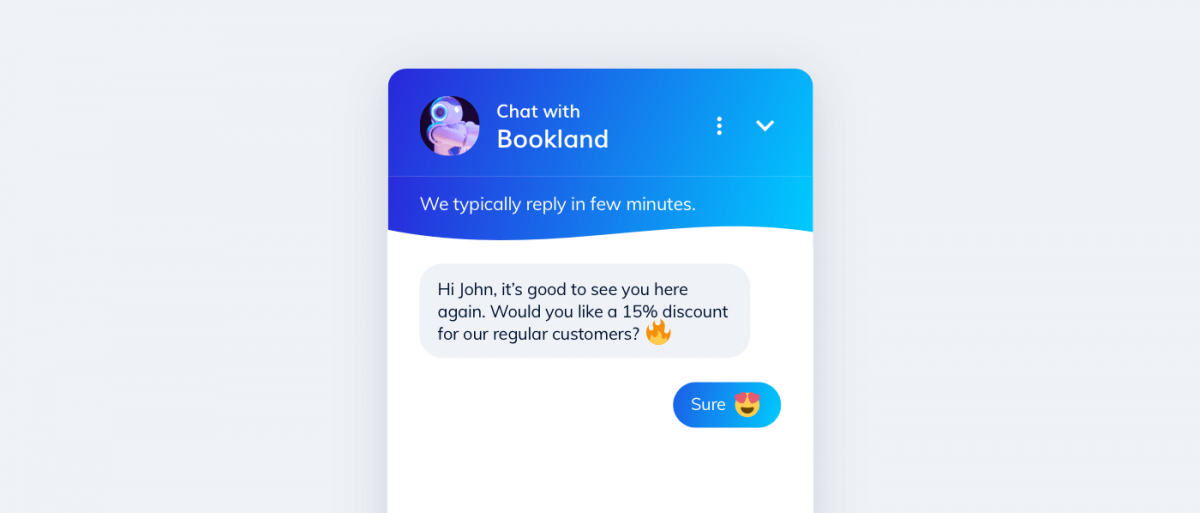 If customers start replying to chatbot messages, all the better for you. You can take over and try to build even stronger customer relations. It's called relationship marketing.
Creating best customer service guidelines and rules
It is a good idea to have a place where all rules and regulations regarding your customer service are explained and described. It is especially useful for new customer service agents. For example, you can specify your discount or refund policy and describe circumstances when customer support agents can grant them or not.
Illinois University Library has its own guidelines. It is a set of customer service best practices and it even has its own name—GREAT which stands for:
Greet
Respect
Evaluate
Address
Thank
You can check out GREAT: Customer Service Guidelines here.
It is quite common to create guidelines that are easy to remember. Here is an example of customer service guidelines from Disney, based on the seven dwarfs:
7 Guest Service Guidelines by Disney
1. Be Happy. Make eye contact and smile!
2. Be like Sneezy. Greet and welcome each and every guest. Spread the spirit of Hospitality. It's contagious!
3. Don't be Bashful. Seek out Guest contact!
4. Be like Doc. Provide immediate Service recovery!
5. Don't be Grumpy. Always display appropriate body language at all times!
6. Be like Sleepy. Create DREAMS and preserve the "MAGICAL" Guest experience!
7. Don't be Dopey. Thank each and every Guest!
Conclusion
Nobody's perfect and mistakes happen. But when things get messy, great customer service always works in your favor and helps to reduce the blow.
Bottom line—
You can think of providing good customer service as collecting Get Out of Jail Free cards. About 80% of customers declare that they forgive a bad experience if you provided excellent customer service up to that point.
Customer loyalty is one of the hardest things to earn. But providing excellent service is the best way to earn it, so make sure that:
Customer service issues are one of your business priorities
You approach customer complaints with attention and care
You are able to admit that you made a mistake and take responsibility
You are able to set up the right customer's expectations
You use empathy to detect how the customer feels