As an online entrepreneur, you know that the customers are the backbone of your business. You want to keep them happy and engaged so they continue doing business with you.
To do that, you need to stay connected with them. And of the best ways are still emails.
But this time we're not talking about blast campaigns. You know, those campaigns which you send usually only once. And you do it manually. Every-darn-single-time…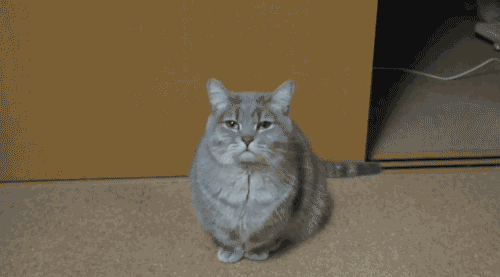 *Yaawn…*
You're a smart person. You prefer to avoid doing a job that can be automated.
And guess what? You can automate emailing. You can send timely, relevant and personalized emails hands-free. All you have to do is plan and set different emails. Just once—and they'll continue to go out on their own.
Embrace the power of email automation and get ready for giving your customers exactly what they want: timed and relevant email communication on different stages of the customer lifecycle.
And because the automated emails feel personal and include the content your customers want…Get ready for more conversions!
Want to send beautiful newsletters, email marketing campaigns, and abandoned cart emails? Try our free email marketing software to design your emails, segment your contacts, and track email analytics.
Design & Send Emails Now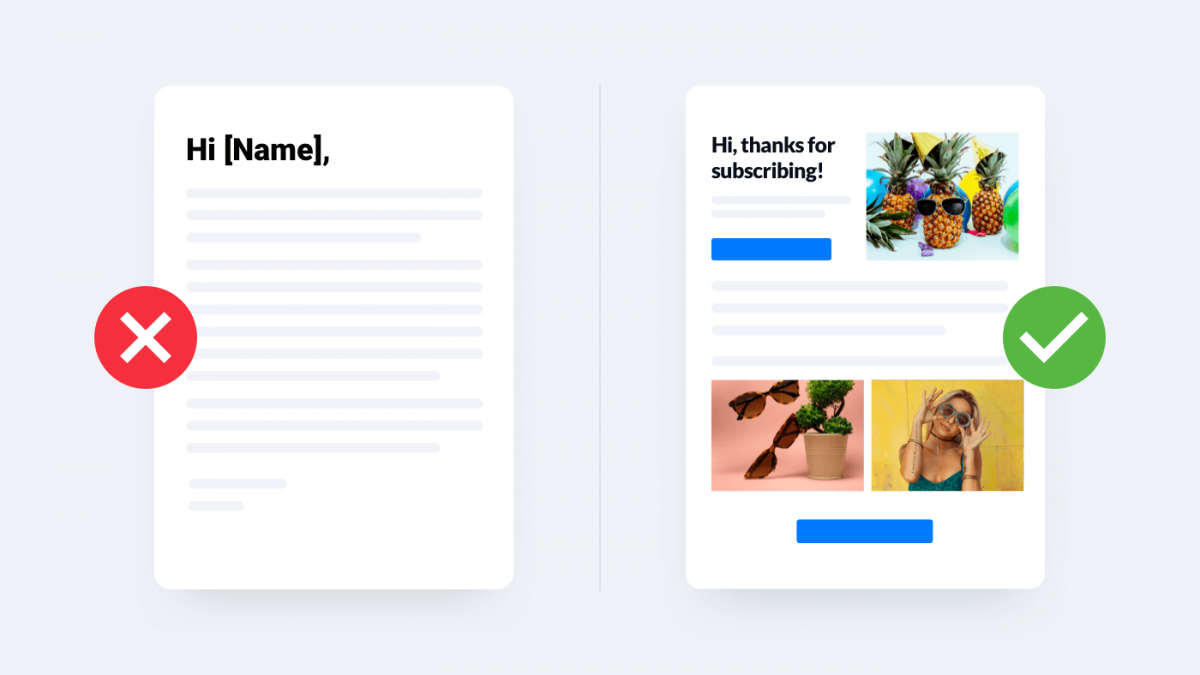 Discover 250+ templates—Design and automate your email campaigns.
One of our users, Kate, had this to say:
I'm not a technical person but I could use my contacts and send a bulk email campaign in no time.
So here's what we're going to cover:
What Is Email Automation
Email automation (email marketing automation) is a process of sending emails that reach the right contacts with the right message at the right moment, based on certain conditions. The condition could be a schedule, trigger, or a rule defined in your email automation workflows.
In other words, email automation allows you to put the process of sending email marketing campaigns, as well as email notifications, on autopilot. It's the opposite of the so-called "email blasts" or "one-off emails" that you send manually to your subscribers (e.g. promo campaigns).
Plus, since the automated message is sent at the right time, it is more relevant to the recipients' needs.
You can send various types of messages using an automated mailer.
Take an order confirmation email, for example. This email is based on some trigger (a buyer placed an order) and aims to inform (or confirm) that the order was successfully placed.
Another type of automated email is a marketing message. Such emails aim to market your business and engage your customers and prospects.
We will show you more email automation examples later. First, let's dive a bit deeper into how auto-sending emails work exactly.
How Does Email Marketing Automation Work?
As you already know, auto-emailing is based on triggers. Those triggers could be a(n):
schedule (e.g., you've got some regular marketing campaign that goes out every other Monday at 8 AM),
action (e.g., your potential buyer abandoned their cart; lead downloaded an eBook),
rule in your automatic email workflow (e.g., a drip campaign).
For example, let's assume you're a blogger and you want to send an email to each reader who signs up for your newsletter. A new person signs up, and a few moments later they receive an automatic email to their inbox.
This auto-email will thank them for joining and welcome them to your community. It may also recommend some articles or your digital products tailored to your new subscriber's preferences.
You can decide to send only this one email or schedule a follow-up sequence of auto emails to nurture your new lead. It will depend on your email automation workflow and your marketing (and sales) goals.
The basic idea of email automation is to set emails once to reach your target audience every time the conditions are met.
Each email automation follows the same basic flow: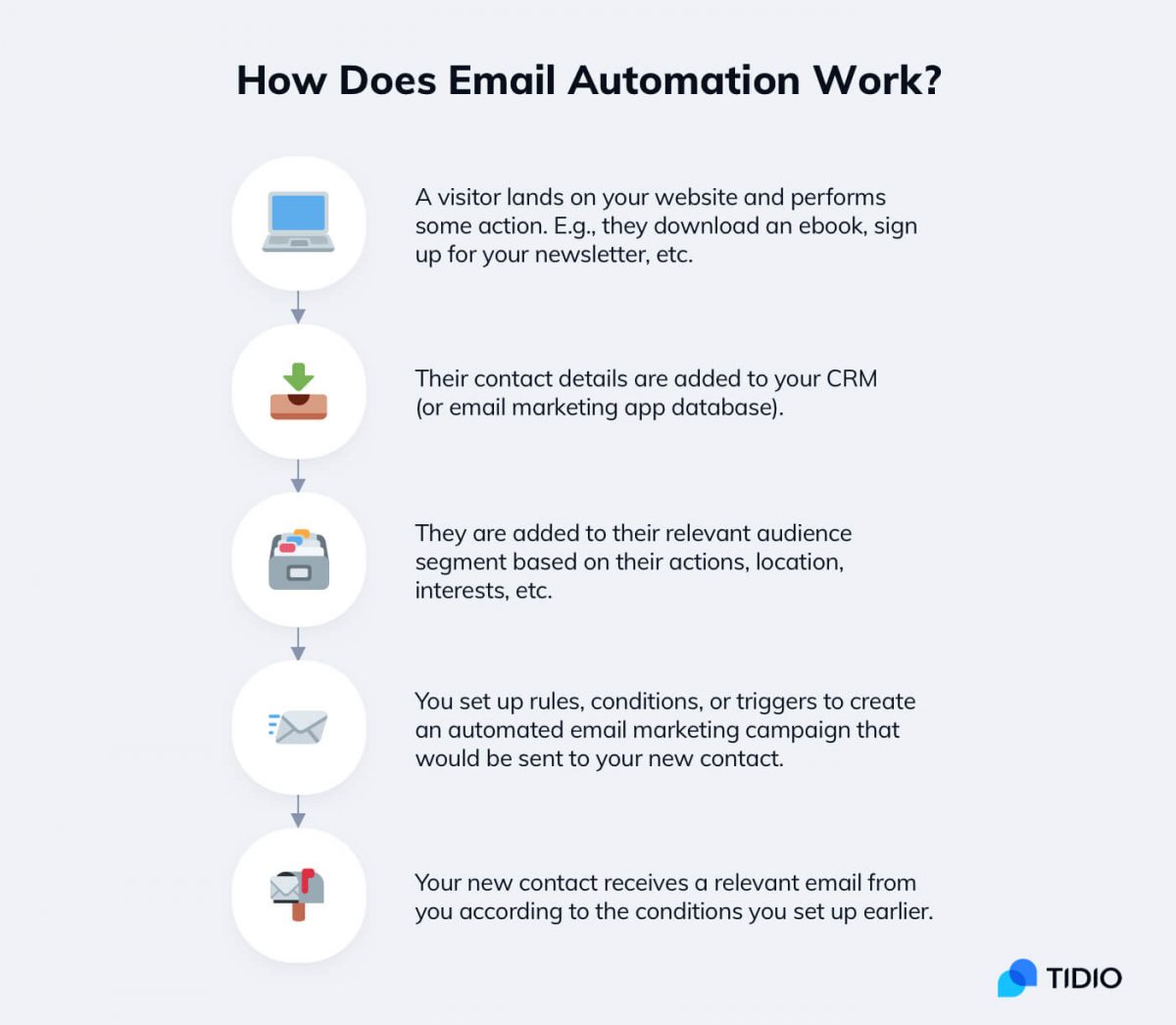 How to Set Up Email Automation
Essentially, email automation is centered around workflows. Workflows are like diagrams or flowcharts – one action triggers after another if certain conditions are met.
You need to consider various repeatable scenarios for interactions between your visitor and your business (i.e., the flows). However, there are other things you need to think about before you sit down and start drafting your workflows.
Identify Your Target Audience
They say that content is king, and context is queen. And in this particular case, it is the queen who will decide about spending royal money on your businesses.
What does it mean?
Even if your content is brilliant, it will have minimal effect if it hits the wrong target. Think about your customers along the "four R's" lines:
Right person—Who's the right audience for my email?
Right message—What message would be most beneficial for my audience?
Right time—What is the right time to send my audience that message?
Right context—Why do I want to send this message to this audience at this particular time?
By context, you consider your audience as the sum of the first three R's.

Simple contextual factors that you can react to are, e.g., geolocation, atmospheric conditions, a device they are using, etc. However, there are also bigger contextual factors. Those can be based on life events that influence purchase decisions (getting married, having a baby, buying a house, etc.)
🚀 Those big contextual factors are strongly related to consumer behavior. Do check our article on this topic if you want to understand your customers better.
In terms of email automation triggers, the context also applies.
For example, you may set up a cross-sell campaign to existing customers based on their past purchase history.
For another campaign, you might want to promote specific products to prospects who will find them most useful (according to simple and/or big contextual factors).
Specify Your Goals
If you managed to answer the first three R's and got some specific group (segment) of recipients in your mind, then here comes another question:
Why do I want to send that message?
You need to know why you're contacting your subscribers. Do you want them to buy something? Educate them? So, in essence—
What's the goal of this automated campaign for you, and what's in it for your recipients?
Once you figure this out, you can start working on the right messages to take them from where they are now to where you want them to go.
Formulate Your Email Workflow
If you're new to email automation, start small. Begin your journey with a simple automated email strategy that will not require you to coordinate dozens of different emails.
Simply, pick one or two triggers and the messages that will be a response to them. You may begin with a welcome email for your customers, which is a typical example of an automated email.
Try, test, analyze the results, identify potential shortcomings, and refine your workflow. After a while, you'll be ready to launch more campaigns—and avoid repeating the same mistakes.
Different Types of Automated Emails [Auto Emails Examples]
Triggered emails and email marketing automation help you reach more people with relevant content. And there are many suitable occasions to do that.
So let's go through a few examples of automated emails and see how you can utilize email automation to connect better with your prospects and drive more revenue.
Welcome Emails
Welcome emails have four times higher open rates and five times higher click-through rates than other promotional emails. Not to mention that they are super-targeted—they reach only those subscribers who have willingly given you their email address.
A welcome email is the first communication situation between your business and a new subscriber. It sets the tone for all your future communications and encourages new contacts to engage with your business.
What about the benefits of this example of an automated email? There are quite a few.
Welcome emails are your first step in building relationships with your new audience.
They help you pique your audience's interest.
They give you a chance for making a sale.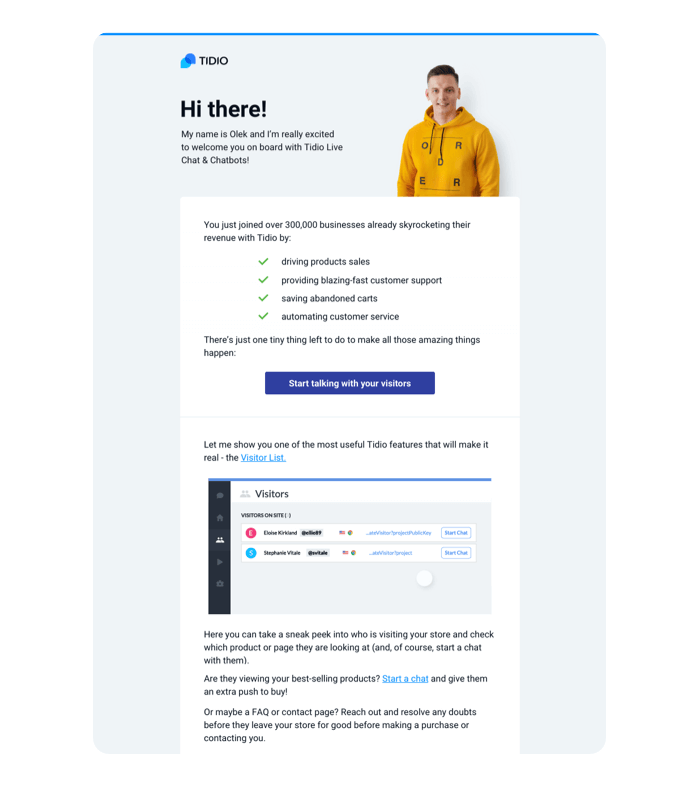 Reminder Emails
Sending a reminder email is an excellent opportunity to deliver a timely message to your customer and keep them buying your products and services.
A gentle reminder will show your customers that you care about them and the business they bring you. It will also give you opportunities to collect more feedback and engagement from your email campaigns.
The main goals of reminder emails are to:
Remind about important milestones.
Ask for feedback, and encourage action.
Keep your subscribers up-to-date.
Open opportunities to upsell your products or services.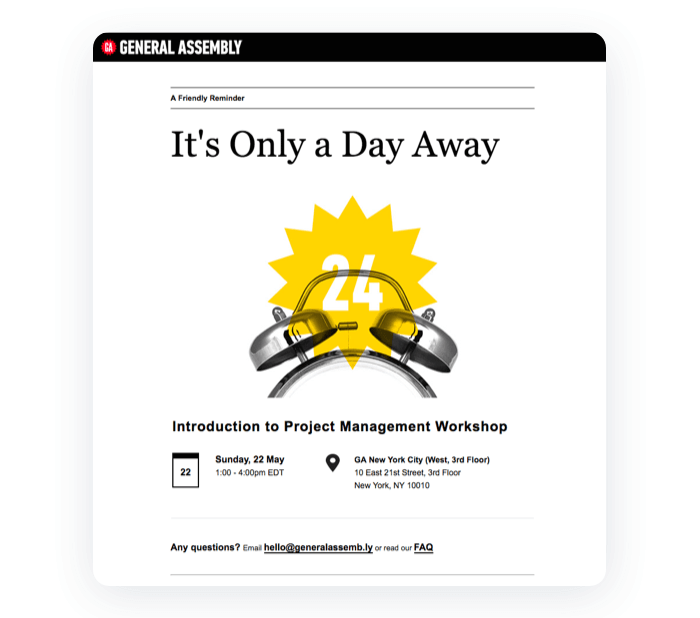 Celebration and Thank You Emails
Celebration emails are one of the most common types of automated emails you can send. They are triggered by the schedule (i.e., the exact date of some event). You can send this type of auto email to wish your contact a happy birthday or thank them for being a loyal customer for another year.
You can also use celebration emails to bring the recipients back to your store with a discount they received from you as a present. These emails will not only drive you more revenue but also increase your customer happiness.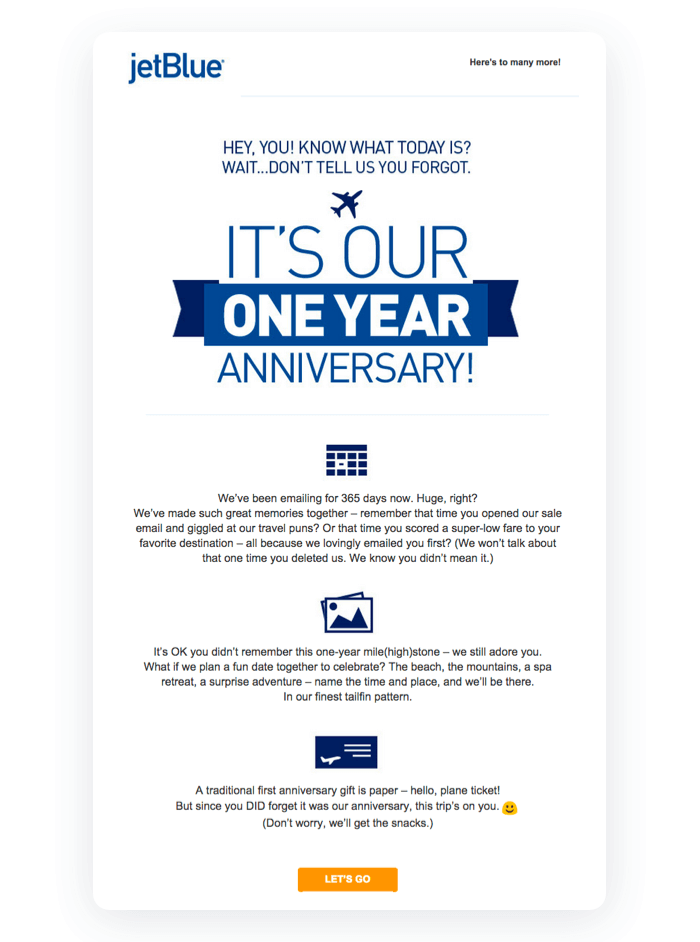 Motivational Emails
The purpose of this automated email is to provide positive feedback to your subscribers. Emails full of encouragement phrases like "Great job!", "Keep Going!" will keep them motivated and on task. You can award your customers with virtual badges, words of praise, or a discount.
This kind of email works for customers who, for instance, exercise regularly or have reached some milestones in their lives. But motivational emails are not restricted to just SaaS companies who make fitness or productivity apps.
If you run an eCommerce business and sell physical products, you can also acknowledge and motivate your customers. For instance, think about those who regularly order healthy food from you, use water purifiers, buy products to support charity, choose plastic-free packaging, etc.
Motivational auto emails will help you:
Develop relationships
Keep your audience engaged
Give you an opportunity to upsell products
Give you an opportunity to increase brand awareness (via share buttons)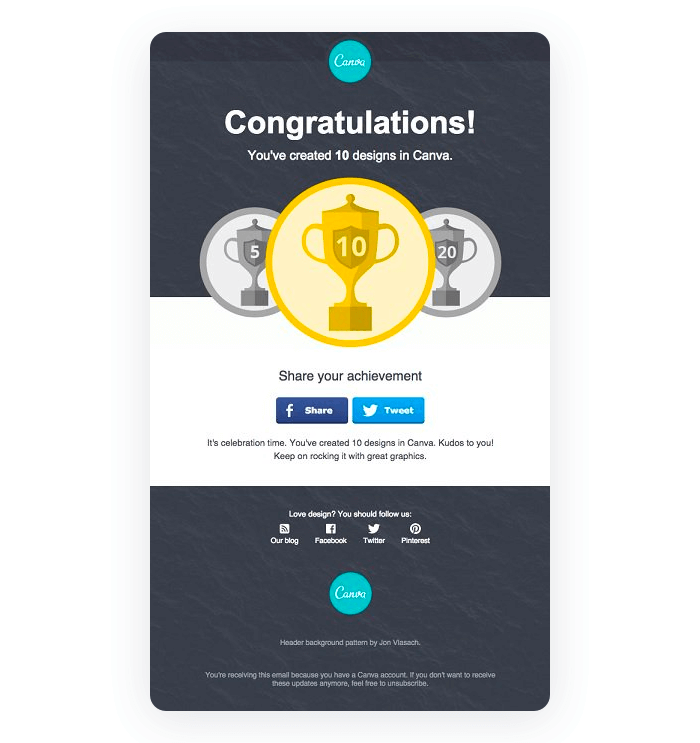 Post-Sale Support Emails
Your customers may need a little bit of help using your product, especially if they have never used it before.
Your post-sale auto emails can include tips, infographics, video tutorials, etc. It will depend on the product. But the most important thing is to help your buyers see the value in their purchase and show them how to use it to their maximum benefit.
To make the most of your post-sale email automation, segment your buyers to make sure they receive help for the right type of product.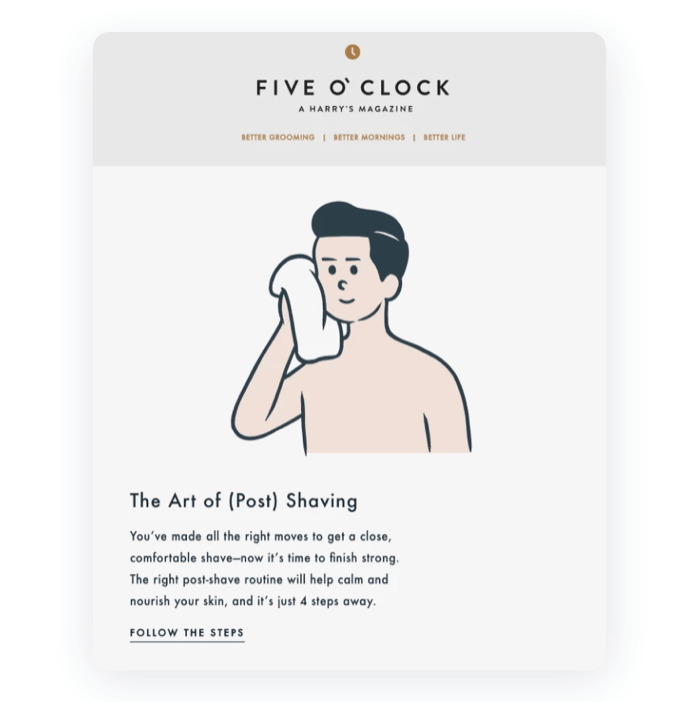 Abandoned Cart Email
An abandoned cart email (or a cart recovery email) is a follow-up message sent to shoppers who have added items to their cart but didn't complete the checkout process and left the site.
The abandoned email automated campaign reminds customers about items they have left in the cart. It also aims to persuade customers to come back to the store and finish the buying process.
🚀 Read more: Abandoned Cart Email Strategy: 5 Steps to Successful Cart Recovery.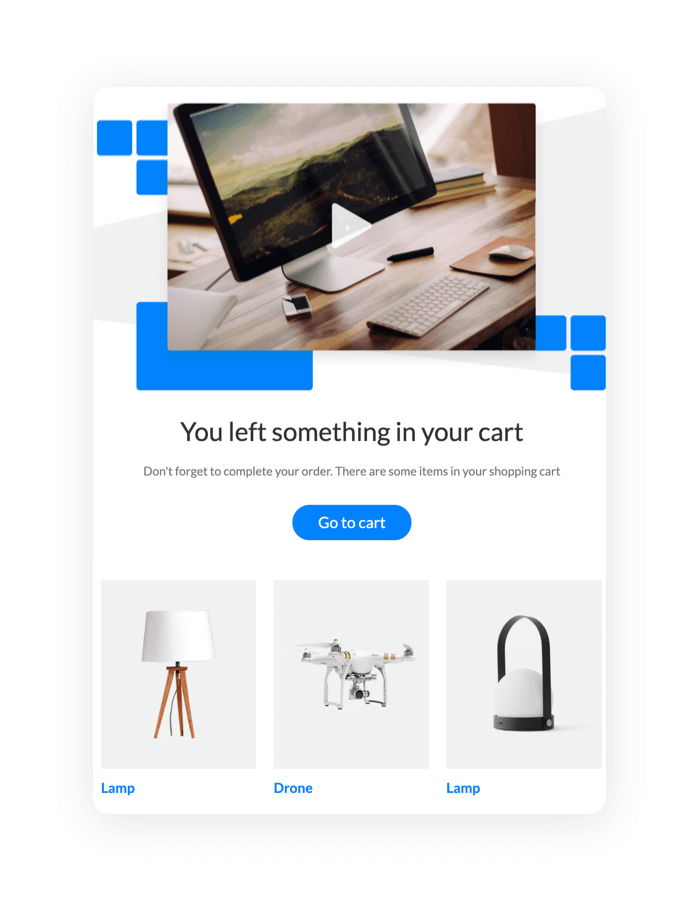 The list of email automation examples could go on and on. But the key takeaway is—automatic emails that you send must be relevant to your recipients' interests, right on time, and focused on the buyers.
Automated emails, be it to notify the recipient or promote your offer, can build up confidence in your audience, strengthen relationships, boost revenue, and reach new audiences.
Are there other benefits of email automation?
Absolutely! Read on.
What Are the Benefits of Email Automation?
You already know that email automation is about automating the job that you otherwise would need to do manually every single time. So by automating mail, you save a LOT of time and effort. But that's pretty obvious.
Let's take a look at what other benefits you can expect when you switch to automated campaigns.
Triggered Emails Have High Open and Click-Through Rates
Epsilon Email Institute has found that automatic emails have a 76 percent higher open rate and a 152 percent higher click-through rate than regular emails.
That's impressive. But why is that?
Email marketing helps you maintain brand awareness and drive traffic to your site. But after a while, regular emails (e.g., newsletters, promo emails) can become routine. Recipients get used to them, and, contrary to automated emails, they are not so surprised to receive them.
Automatic emails (or triggered emails), on the other hand, are highly relevant. After all, it is the user who starts them. Whatever their intent or goal was, automatic emails are more likely to serve it.
Personalized Email Campaigns Get More Qualified Leads
You'll need to do some proper customer segmentation and find out what type of automated email campaign will suit your customer segments.
Personalization plays a crucial role in getting qualified leads and better conversion. Customers who receive relevant offers are more likely to move down the sales funnel.
Email Automation Boosts Your Revenue
Triggered emails usually include some basic information the recipient expects to get (e.g., order confirmation or a link to download a free eBook). But they don't have to stop there.
Since recipients interact with auto-emails at a much higher rate than they do with promotional emails, you can use such messages to encourage customers to take another step.
So it's an excellent opportunity to sneak in some promo content subtly. For example, you could add the "Recommended Products" section to cross-sell more goods, or a discount coupon to encourage the recipient to revisit your website.
How Do You Make Effective Email Campaigns?
Just like any other emails you send, automated emails need to be optimized for conversion to be effective.
We've listed a few tips to help you create high-converting automated email campaigns.
Write Content That's Easy to Scan
People hardly ever read every single line or word of an email they get. So avoid writing essays—no matter how witty you think they might be. Your reader must be able to pick up the gist of your message after scanning it for a few seconds.
If you manage to pick up their interest, they might devote some of their precious time to actually read your email.
Here's a mini guide on how to write a scannable email:
Break your email into short chunks. Each chunk should talk about one single point. To make it even clearer, you may add headlines to each piece and play around with a font (bold it, make it bigger, change its color, etc.)
Make it visual. Images and videos are the most viewed pieces in an email, so be sure to add some graphic elements to draw attention and guide your reader's focus.
Don't overwhelm your audience with content. Less is more. So, after you break your text into chunks, see whether this text is not too long. If there is more text than whitespace, delete what is not necessary and shorten sentences.
Prioritize your messages. The core of your automated email should not go unnoticed. So put it in the top spot of your design.
Send Your Emails Right on Time (Zones)
Look at your contacts' time zones and analytics data to identify the best time to send your auto emails.
Google Analytics will tell you where your audience comes from, and what time they open your emails. If you use a dedicated email marketing software tool, it might have these features built-in.
Segment Your Contacts
Contact segments allow you to approach your customers and prospects almost individually.
Segmentation will help you personalize your messages in terms of content and delivery times. In turn, you'll improve open rates, click-through rates (CTR), and your subscribers' overall engagement.
You can segment your customer base according to different attributes, e.g., by location, behavior, interests, purchase history, lifecycle stage, and many others.
For example, sending an email promoting winter clothing to contacts who live in cold regions will be more effective than sending it to every contact in your database.
Avoid Pushing for Sale All the Time
Marketing does not have to be all about selling. It's also about engagement and forming bonds.
Besides, if you keep regularly asking for the sale, your customers might lose their trust in you as they'll realize that all you care about are their wallets, not their problems.
So make sure that your emails have some real value. Focus more on educating your audiences than on asking to buy or download something all the time.
When your customer succeeds, you also succeed.
Speak Through Your Emails Naturally and Focus on the Recipient
Imagine your brand as a person who wants to help others to become successful.
How would such a person sound? Or, in other words, what would be your brand voice? Surely natural, maybe empathetic, and would always speak to "You" rather than "Me/Us/Our company."
That person would address the recipient, not some group of people who happened to be part of the recipients' batch.
After all, nobody wants to read yet another generic email that was automated and written with every possible person in mind.
Test Again and Again
You should always test the success of your email automation workflow. Play around with different design elements, content pieces, and subject lines to find the best set up for your readers.
Secondly, make sure you A/B test your emails. Tests like this will help you understand which of your email elements are more attractive to your recipients.
You can test email pieces like:
CTA buttons or links
Subject lines
Testimonials (included or not included)
Email design (e.g., number of columns, text length, text placement, spacing, whitespace)
Personalization (e.g., using the first name or last name)
Headlines
Graphic elements
Each of those things may affect your conversion rates. Focus on one element at the time to be sure which of them performs better.
Most email campaign software has built-in tools for A/B testing, so you can build, set up, and test your emails with just one tool.
Review Triggers Once in a While
Your automated emails go out according to some conditions. To keep the workflow smooth and running, it's wise to review those conditions regularly. Reviews will help you ensure that your triggers are still relevant and allow you to make changes if necessary.
Email Marketing Automation: Tools You're Going to Need
Email automation tools allow you to build and bring to life your workflows, craft emails, and analyze the results of your efforts.
They help you keep up with all the time-consuming things you should be measuring (or targeting) and make your job more painless.
Let's go through some of the best automation emailing software currently available on the market so you can choose something and start sending your auto emails (almost) immediately.
Build Your Contact List with Tidio

Whether you've got a drip campaign or want to make a newsletter, you need subscribers. 
With Tidio, you can engage your website visitors and collect their contact details (generate leads) with live chat and chatbots. All the contacts you get are safely stored in the built-in CRM. You can later sort, filter, and segment them the way you want.
If you happen to already have some contacts, you can easily import them to Tidio with a .txt or .csv file.
Tidio is a 3-in-1 platform. Apart from live chat and chatbots, you also get email marketing software in a package to send your email campaigns.
Read these case studies to see how other businesses managed to become successful with help of Tidio Live Chat and Chatbots.
Build Email Automation Workflows with HubSpot

HubSpot is one of the top marketing automation tools across a wide spectrum of tasks (marketing, sales, CMS, and customer service). HubSpot will enable you to streamline your email marketing services through automated workflows.
Get Valuable Insights with MailChimp

With Mailchimp, you can create and schedule emails. This email marketing tool will also provide you with valuable audience insights to optimize your marketing efforts.
Mailchimp lets you automate your emails at crucial steps of the buyer journey, so you can send out welcome emails, order confirmations, or abandoned cart reminders.
Optimize Your Customer Lifecycle with Keap

Keap is an email marketing and sales platform for small businesses. It offers products that help to manage and optimize customer lifecycle, customer relationship management, marketing automation, lead capture, and eCommerce.
Send Basic Campaigns with ConvertKit

ConvertKit is a relatively simple email marketing tool.
This email automation platform encourages its users to send plain-text emails, for this reason it's best for creators who need a simple tool to serve their audience with regular content.
Email Automation: Final Thoughts
Email automation helps you engage your prospects and customers. Unlike manual campaigns, you set automations only once and they run whenever somebody on your website triggers them. All hands-free, so you can focus on other tasks.
But even though email marketing automation is very convenient, it doesn't mean that you don't need to put any effort in it. You will have to design the workflows and auto emails that will go with them, build and segment your contacts, test your results, and refine the process.
It takes time and work, but with the right email automation tool, you can do it fast and painlessly.