In our previous post about abandoned cart emails, we introduced the wide-spread phenomenon plaguing online retailers called "cart abandonment" and discussed possible solutions to remedy this issue.
The specific solution we talked about was an abandoned cart email (an email sent to customers who did not finalize their purchase) and how it should be written in terms of structure.
But there's much more to abandoned cart emails than just building blocks they consist of.
Want to send beautiful newsletters, email marketing campaigns, and abandoned cart emails? Try our free email marketing software to design your emails, segment your contacts, and track email analytics.
Design & Send Emails Now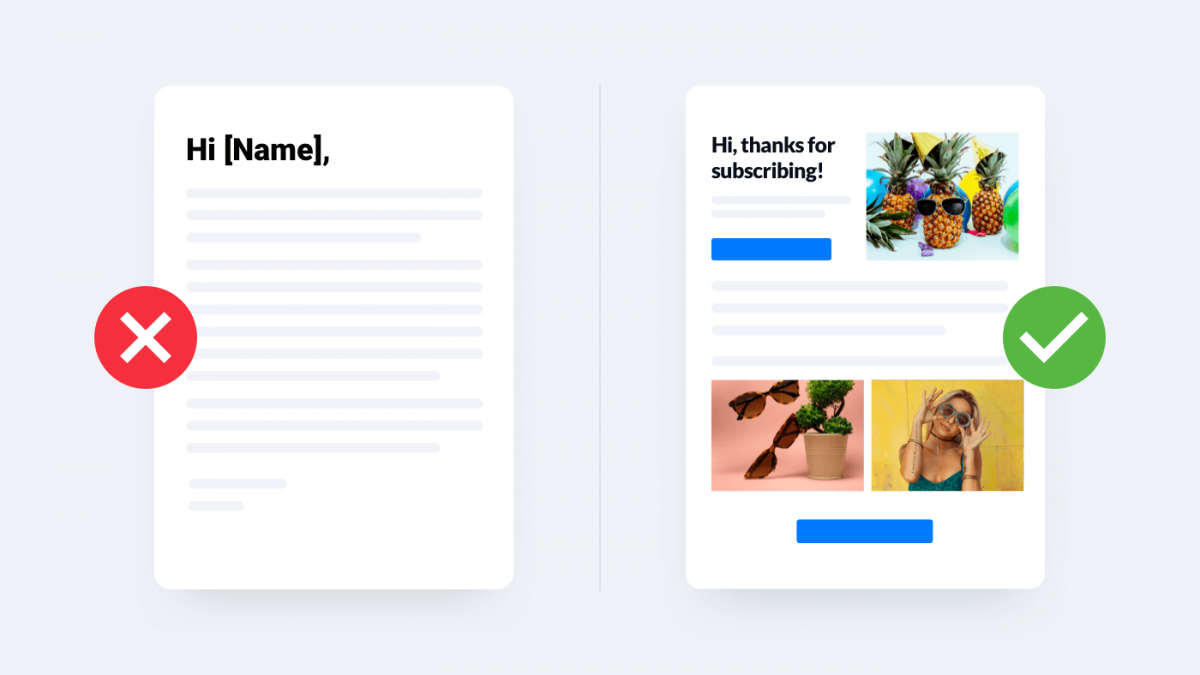 Discover 250+ templates—Design and automate your email campaigns.
One of our users, Kate, had this to say:
I'm not a technical person but I could use my contacts and send a bulk email campaign in no time.
That is why, today, we will further elaborate on cart recovery through emails but this time we will focus on strategies, i.e what factors influence cart recovery email sequence and how you can make the most of it.
What you're going to learn:
5 Steps Toward Successful Abandoned Cart Email Sequence
We will approach this topic in two ways.
We will present the strategies that are closely related to the customers themselves.
What we will understand here is that writing an abandoned cart email is all about consumer psychology – how they think and what ticks or puts them off, their habits, and their purchasing lifecycle.
In other words, some abandonment cart email strategies are about the consumers themselves.
And secondly, successful email sequences must also take into consideration technical aspects as well, such as mobile optimization.
Step 1: Capture an Email Early
This strategy begins before the customer lands on the website and abandons the checkout.
What you need to think about is the journey the customer takes from the moment they put an item in their cart to the moment they end up clicking the "Place order" button.
Why is it so important?
For two reasons. First, if the checkout process is too complicated or overwhelming the customers will abandon their cart and never look back.
And secondly, you will fail to collect their email so you will have no address to send abandonment cart recovery emails to.
Online Checkout Examples
Compare the examples of checkout structure from Asos and Netatmo (the print screens show the next page the customer sees after clicking the "Checkout" button).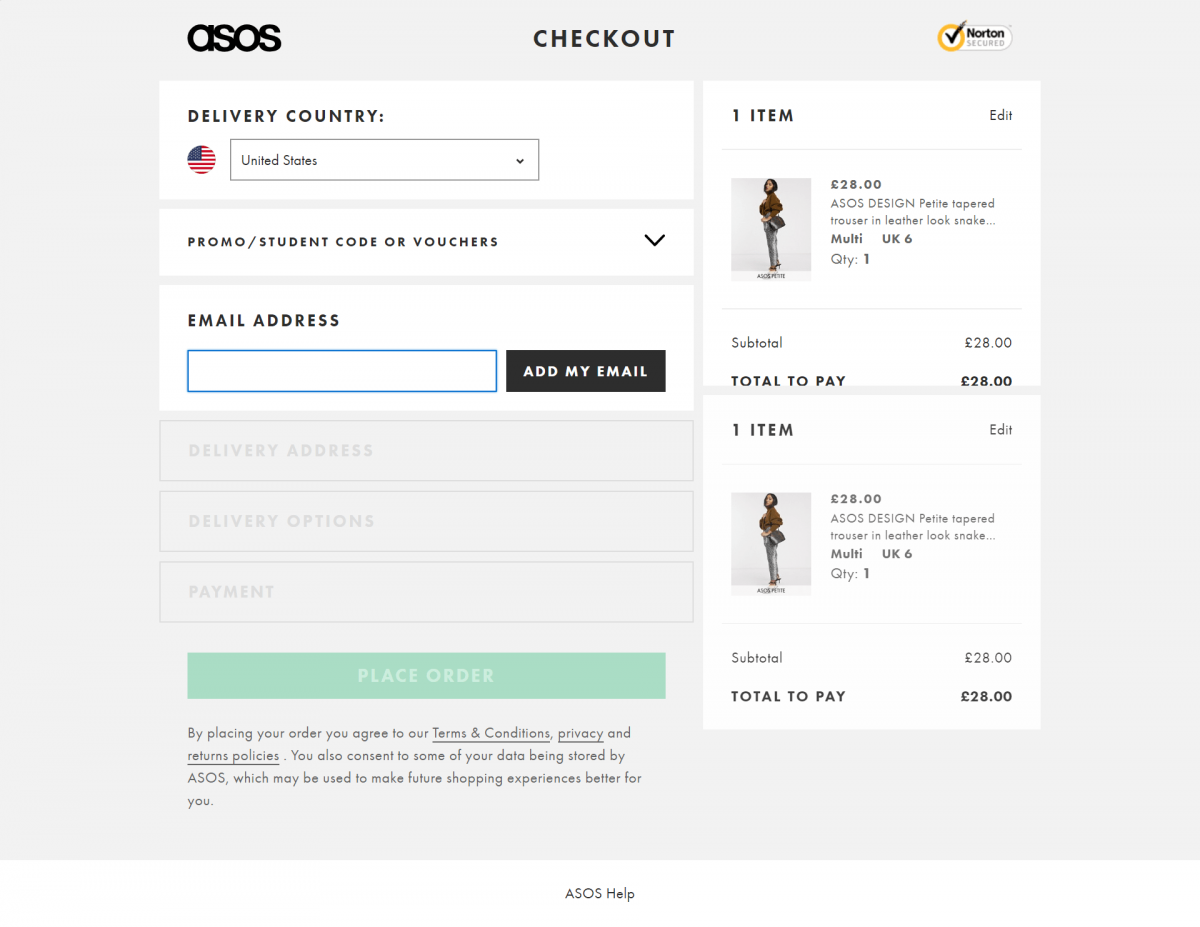 Hats off to Asos for designing such an excellent checkout form.
Why we love this checkout solution?
The email field is the very first one the customer is expected to fill in.
To unlock the step with the delivery address, the customer must add their email address first.
The consecutive steps are gradually revealed one after another.
Promo code section is located above the order main part and collapsed by default so it doesn't take away the customer's attention from the email.
Results?
An email is immediately captured even before the customer gets to the main part of the order form
The customers are not overwhelmed with a lot of details on a single page because they unlock the consecutive order form parts one-by-one
Now, let's take a look at Netamo order form.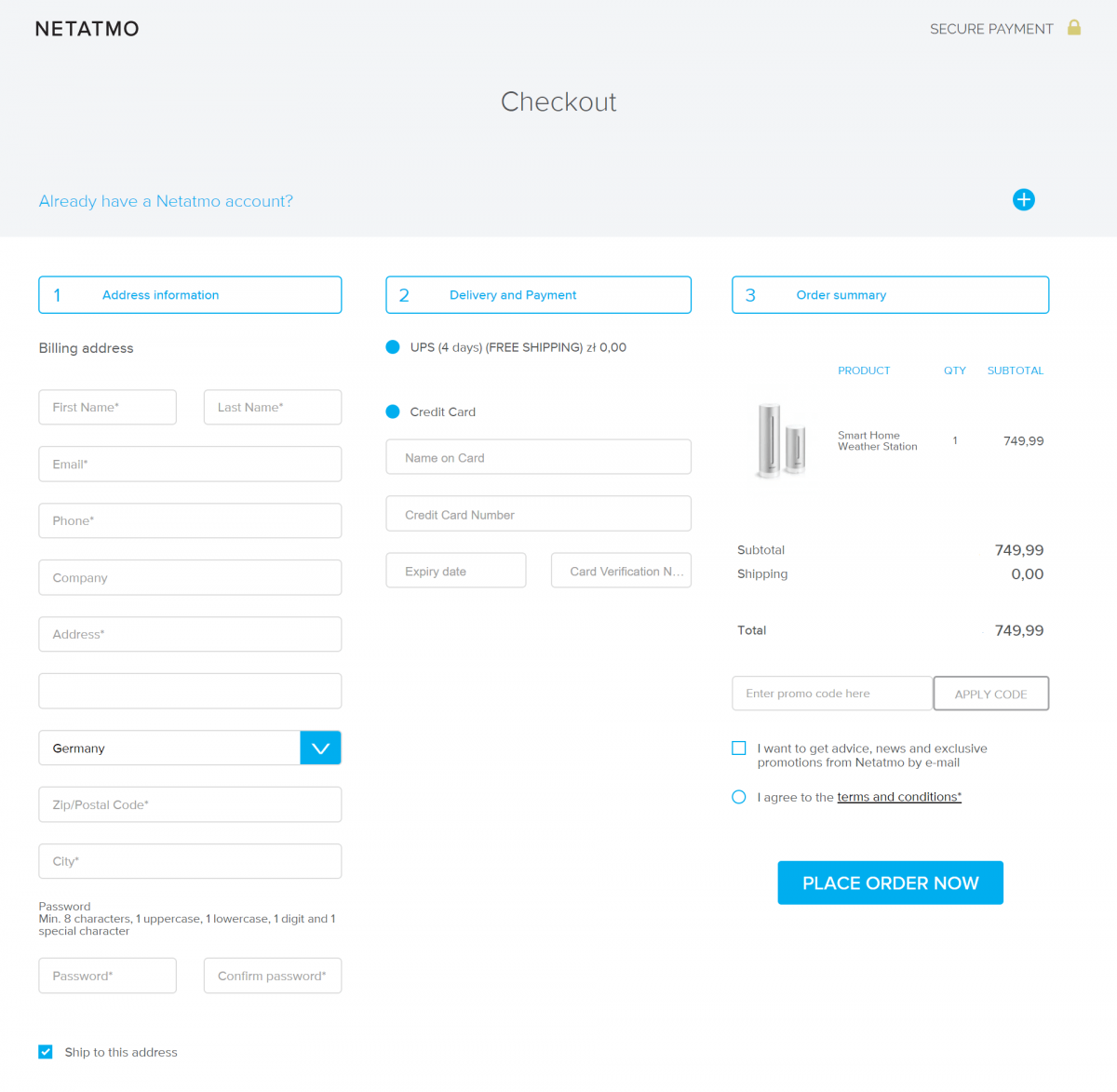 Netamo's checkout, as you can see, is quite different.
The whole order form is visible on a single page so the customer may decide which details they wish to fill in first (and it does not necessarily guarantee that they will start with the billing details)
Consequently, the customer may leave the shop before they type in their email address
Result?
No email captured on the early stage of the checkout process → a customer cannot be emailed
The checkout structure determines whether you manage to capture the email before the customer leaves or not.
Step 2: Send a Sequence of Emails Within a Short Time Frame
Abandoned cart emails are time-sensitive. It means that there is a specific time window a whole sequence of emails should fit into.
The main reason behind the urgency is to act while the customer's memory and the desire to purchase their goods are still fresh.
If you wait too long, the customer may either change their mind or find a better deal elsewhere.
Email statistics #1

Sending three abandoned cart emails results in 69% more orders than a single email.

Ecommerce Email Marketing Statistics
In terms of a number of emails in a single sequence, it is recommended to send 3 cart recovery emails in total.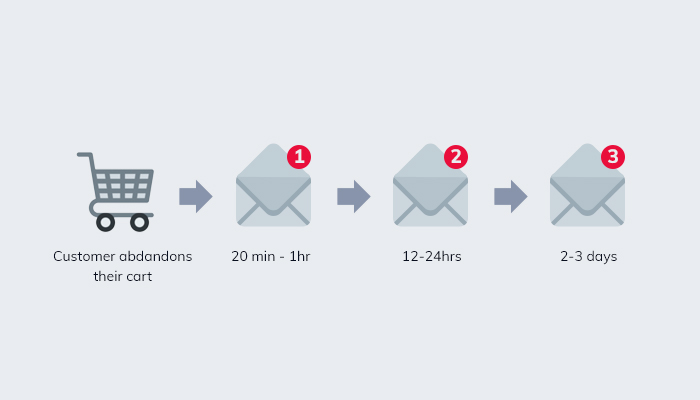 When Is the Best Time to Send Your First Abandoned Cart Email?
It should be sent shortly after the cart abandonment occurs – from 20mins – 1hr after the customer leaves.
In this email, you mainly want to inform the customer that you have reserved their order and they can return to the checkout to finalize the shopping.
You simply check in with them if everything is ok – perhaps their Wi-Fi refused to cooperate, or there was a technical issue with the discount code, or they simply were interrupted for some reason?
Your first email should sound like a genuine outreach – skip the sales pitch and do not press the customer to hurry up if there is no real need to do that.
Offer a helping hand – do include a link to the customer support and a button that will take them back to their cart directly so they do not need to look for the items from scratch.
The Second Abandoned Cart Email (the first follow-up)
It should follow-up the first email after 12hrs – 24hrs.
In this first follow-up email, you want to remind the customer that their items are still waiting for them in the cart, and ask them to complete their order.
Here, you may also remind your "abandoners" what kind of seller or brand you are. Refer to your brand values and try to connect with them on a personal level.
The Third Abandoned Cart Email (the second follow-up)
This is the final email of the abandoned cart email sequence. It should be sent after 2 – 3 days after you sent the first follow-up email.
In this email, you want to evoke a sense of scarcity and urgency. Inform the customer that the items will no longer be held for them and/or they may be soon out of stock.
Moreover, you may include customer reviews (to show how well-rated the product of their choice is) or a blog post describing the benefits or highlighting the features of the product/service.
And finally, this is the moment when you might consider good old bribery 😉 – if you are sure that you can afford to give a discount or free shipping, then do it, but do not try this trick with all of your customer segments (see next paragraph).
If your products indeed sell fast, you are low on stock, or they are limited-edition, you may start nudging the customer to hurry up in the first cart recovery email.
Pro Tip:

You do not need to wait until the last email to communicate scarcity and urgency.
Step 3: Segment Your Customers
Abandoned cart emails, apart from being properly timed and structured, need to be relevant.
What we mean by that is that not all the customers display the same shopping habits or shopping lifecycle.
The key is to personalize the emails by adjusting their content to a certain group of customers (a segment).
You can segment "abandoning" customers according to many variables – to the location, shopping history, price of the items put in the cart, whether they are new or returning customers, etc.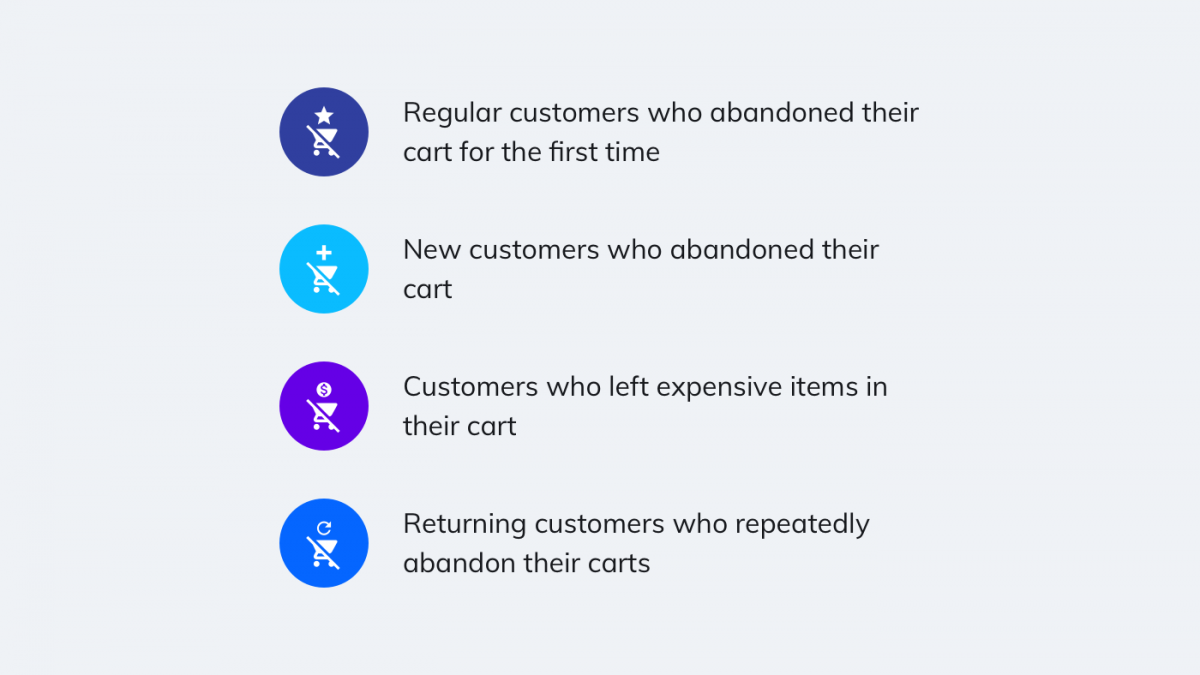 Email personalization is not just addressing the customer by their name, but also trying to address the reasons for which they decided not to complete their order.
Different Ideas for Customer Segmentation
Look at the examples above. These are 4 sample segments you can put your customers in.
The reason a new customer decided to abandon their cart can be different from the reason for a regular customer who did it for the first time.
Perhaps the regular customers faced some technical issues while the new customers found a better deal somewhere else or are simply skeptical to try a new brand.
Or perhaps a certain segment of your customers would be eager to complete their order if they are offered a discount but it would make less sense if you offer the same privilege to each and every customer every time they abandon their carts (not to mention unnecessary profit loss).

Explore the ways for addressing their issues – try different content, test what works the best, or ask for feedback.
The same logic applies if you compare customers who notoriously abandon their carts (and rarely buy) to those who abandoned only one item but a very expensive one.
You may want to approach the latter ones (high-end customers) differently than a customer who left behind a pair of cheap flip-flops.
Identify your customers' habits (or pain points) and think about how you can craft a personalized email to overcome the reasons for cart abandonment in each given segment.
Step 4: Optimize Your Emails for Mobile Devices
You can design a beautiful email and write compelling personalized content but it will miss an opportunity for higher conversion if it does not display properly on mobile devices.
Email statistics #2
59% of respondents check their personal email on the go (on mobile devices), while 65% check their email at home.

The ultimate mobile email statistics overview
Half of the world population (!) checks their emails on mobile devices so responsiveness is undoubtedly crucial to providing seamless customer experience.
Key takeaway: if you design your email to be read on a desktop (laptop/computer) be warned – it might look just horrible on a mobile device.
If you neglect email optimization for mobile, your recipients will hit Delete before reading your amazing email and all your effort will go down the drain.
Step 5: Optimizing Your Emails for Mobile
Remember, your customers will view your emails on 4-8" screens (on average) and likely use mobile internet so spare them too many details and do not drain their internet bandwidth.
So How to Optimize Your Emails for Mobile?
Be careful with rich media
Make your emails responsive
Pay attention to the length of your text lines
Mind the "fat fingers"
Keep your content light and simple. The lighter the images are the better but do not overdo it – overcompressed files will not look appealing. This rule applies to animated content as well.
Make Your Emails Responsive
Emails that are responsive display well on any deviсe, whether it's a desktop or mobile device (phone, tablet).
They automatically adapt to all screen resolutions, allowing mobile users to conveniently read their emails on the go.
If you do not know how to code, then the easiest way is to use a responsive email template (if you are using a mailing automation system, then most likely you do not need to worry about that).
Pay Attention to the Length of Your Text Lines
Remember, we are talking about mobile screens here so you do not have much real estate to use for the subject line or preheader.
Every character counts in the battle for the readers' attention!
When it comes to the email main body, avoid blocks of text – they are hard to scan or read, even on larger screens.
Also, include what's most important at the beginning as you are not guaranteed that all of the readers will scroll to the bottom of the email.
Mind the "Fat Fingers"
Use CTA buttons instead of links. Why?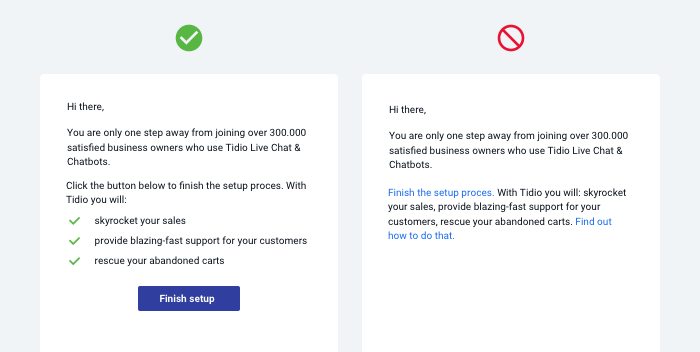 Buttons are easier to spot and click on when using a touchscreen. Help your readers to avoid "fat finger" misclick and leave plenty of space around the buttons.
Oh, and one more thing: if you manage to create properly rendering emails (good job!), then don't forget about making your website responsive as well.
It would be a huge waste if you succeeded in bringing the customer back to the website only to turn them away again because the website they landed on is not responsive.
Step 5: A/B(/C): Test, Test, (Test)!
Now that you know a little bit more about abandoned cart email strategies, the final thing to keep in mind is testing. Split testing precisely.
Split testing (or A/B testing), is about comparing two different versions of an email (or website).
Usually, version A is a control (the original) one, and B is the variation.
In other words, you split a batch of emails in two and send them to different recipients to find out which one performs better in terms of open and click rates.
What can you test in emails? For example:
Subject lines
Preheader
Images

image-heavy email vs text-only email
specific images or animations used

CTA

colors
button texts
Written content inside the main body
Remember that any A/B test requires enough data, and it is the data that help you to make informed decisions.
Tests are very useful but it doesn't mean you should test everything that could possibly be tested. Start with subject lines for each email until you have an obvious winner.
If the data from one test is inconclusive, move on to testing other email components.
There is one more option: A/B/C testing where you send an extra variation of abandoned cart emails.
It can be helpful if you have a database of contacts large enough to make it reasonable and enough time on your hands to design and write one more version of an email.
Abandoned Cart Emails: Strategies Summary
Abandoned cart emails remind people about something they wanted badly enough that they decided to put it into a shopping cart.
Not only that, your online customers may even expect to receive a reminder from you so they can easily get back to their shopping – even on the go.
The key points of creating a successful abandoned cart email strategy to think about are as follows:
Checkout experience – how can you make the order form as least complicated as possible for your customer so they do not leave your website? And if they decide to do so anyway – how can you can make them give you their email address before they leave?
The number of emails – how many emails do you want to send to your customers and what will you want to tell them in each?
Customer segmentation – how do your customers vary in terms of their habits and how can you use that knowledge to send them personalized abandoned cart emails to increase the possibility of conversion?
Mobile optimization – how can you make your emails mobile-friendly?
Split testing – what email components can you test and how?
Try Chatbots For Free