No doubt you've come across the Shopify cart abandonment issue.
You know that four in every five customers might leave your store without finishing the purchase.
Frustrating, yes. But you shouldn't panic just yet.
There are many tools and strategies that you can use to rescue abandoned carts and improve your sales.
Abandoned cart chatbots connected with automated emails are one of the most effective ways for saving abandoned carts. Plus, they can be integrated with all Shopify stores.
Chatbots can be used as Shopify abandoned cart rescue apps 👇
1: The visitor wants to exit the online store.
2: An exit-intent chatbot message appears.
3: This time the visitor didn't complete the purchase but decided to save the cart and left the email address.
4: Now we can send abandoned cart emails and try rescue the sale.
Try it out
Do you want to learn more about abandoned carts and the different types of abandoned cart apps for Shopify?
Cart abandonment is something that happens even to the best eCommerce players. Up to 77 percent of customers on Shopify leave their shopping carts. But that's just the way things are, so it's okay.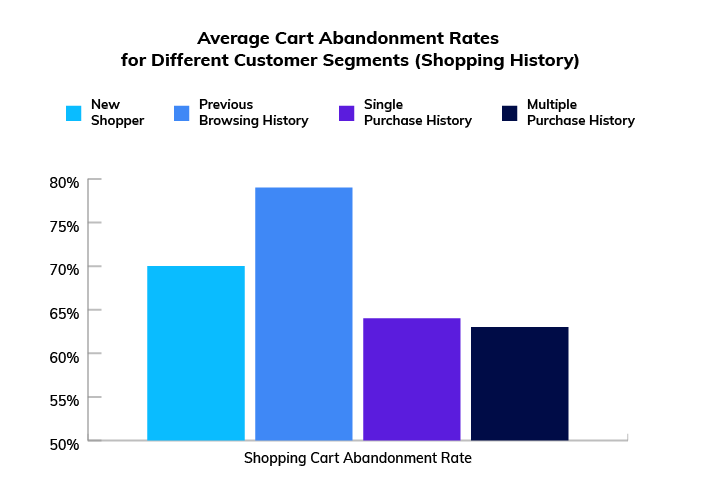 What's not okay, though, is a cart rescue rate of zero.
So, how many abandoned carts did you rescue last month? Are you using any abandoned cart app right now?
The fact that someone has added a product to the cart reflects an intention to buy. That gives you some leverage to reignite that interest.
Below, you'll find 5 best Shopify abandoned cart apps to recover more sales and get that rescue rate up.
Table of contents
Did you know that a chatbot notification is a good way to remind customers about the purchase? Add the free Shopify live chat app to your online store and engage more customers with chatbots.
What Is Abandoned Checkout in Shopify?
Abandoned checkout in Shopify occurs when a customer leaves a product in the shopping cart before completing the purchase. The item left in the cart is considered "abandoned" and typically removed from there shortly.
Reducing abandoned carts in Shopify is a major goal of online sellers because, naturally, it leads to more revenue.
Why do people abandon shopping carts?
they find unexpected costs (taxes, shipping, etc.)
they can't buy without creating an account
the checkout process is complicated
the delivery of the product is slow.
If you want to learn more about the reasons why people abandon their carts and what methods can be used to rescue them see this infographic.
Shopify Abandoned Cart Recovery
How do you recover an abandoned cart?
The most popular methods are push notifications, retargeting ads, exit-intent chatbots, and emails.
Each uses a different approach to reminding the customers about the purchase. But all of them try to do so as fast as possible while the customers' memory is fresh.
Here's how these methods reduce Shopify cart abandonment:
Push notifications. These are personalized notifications containing product visuals and a call-to-action. You can send them to registered customers as a part of a trigger campaign
Retargeted ads. These contain dynamic ads showing the product in the shopping cart after the customer leaves. Can be used on websites and social media
Exit-intent chatbots. Appear when the customer tries to leave the website. They can be configured to remind them about the cart or give a discount
Emails. Abandoned cart emails contain information about the product and use different techniques to convince customers to return. They can serve as reminders, include discounts on products in the cart, and create a sense of urgency.
Surely you're seen cart recovery emails, notifications, and ads.
Shopify stores have been using these for quite a while now, so customers are familiar – and often a bit annoyed – with them.
An exit-intent chatbot is a more recent method, though.
Step 1: Add a chat plugin to your website to connect with your visitors.
Step 2: Create custom chatbots that handle specific situations.
Step 3: Rescue abandoned carts and close more sales.
Connect With Shopify
It's been gaining popularity because of its ability to attract customers' attention quickly. Also, it's customizable and it doesn't interfere with the store browsing experience.
Here's how an exit-intent chatbot works.
The customer moves the pointer towards the top of the browser window. At this moment, the chatbot message appears, letting them know about the unfinished purchase.
An exit-intent bot is easily configurable. It gives one more chance to convert a sale without interrupting customer experience like pop-ups.
Best Shopify Abandoned Cart Apps
Emails, chatbots, push notifications, retargeting ads – these are the most popular solutions used for saving abandoned carts. Now, it's time to look closer which applications go well with them.
All the tools that have been listed below are top-rated apps on Shopify dedicated to store owners who are in need of finding practical solutions to overcome the shopping cart abandonment problem and start making sales.
The best five options for abandoned cart recovery available to Shopify stores are:
Let's find out how they can help with recovering more sales.
Tidio Live Chat

Category: Email/Push Notifications/Exit-intent Pop-Up
Tidio is a live chat, email, and chatbot app designed for small and medium-sized Shopify stores.
You can use Tidio chatbots to send automatic abandoned cart notifications in your store. The notifications are customizable, so you can experiment with different calls to action and messages to recover more sales.
Features:
send a notification of an abandoned cart to customers who are about to leave the store with a chatbot
show a custom message to returning visitors that you can use to welcome them or share news about a sale etc.
build custom chatbots for cart abandonment
use pre-made shopping cart abandonment chatbot template to create a chatbot within minutes

How does it work?
A chatbot sends a message notifying your customers about the product in the shopping cart. You can customize this message to serve as a notification or offer them a discount code to convince them to complete the purchase. Deciding which messages to use depends on your abandoned recovery cart strategies.
The message appears very quickly and can be positioned on different pages on your website.
Note: Remember, to minimize the chance of your customers abandoning their carts, help them make the right choice in the first place. Install a Shopify live chat app and offer them all the support they need.
---
PushOwl

Category: Push Notifications
PushOwl is a simple Shopify push notification app. It can help with automating Shopify abandoned cart recovery messages, "back in stock" notifications, and product review notifications. The cart abandonment app is really easy to use and doesn't require any personal information about customers to send messages to them.
Features:
custom abandoned cart notifications for Shopify stores
click rate and other customer interaction analytics to see which notification campaigns are working effectively
automatic image generation of the product's that was added to the cart for the notification
custom time intervals for abandoned cart notifications
notifications of product availability and shipment status
cross-platform support to send push notifications to any device

How does it work?
With PushOwl, you can create a custom sequence of push notifications to send to your customers. It allows you to customize every notification's title, message, button copy, and even add your brand's logo. PushOwl shows the results of the campaign, so you can experiment and see which push notification recovers more sales.

---
Omnisend

Category: Email notifications/Pop-ups
Omnisend is a Shopify abandoned cart app that uses emails to recover sales. You can choose emails to use from a nice collection of templates. The app also has customer segmentation functionality to divide customers into groups based on their interests and purchases. Custom pop-up notifications are available to help with growing the list of subscribers.
Features:
pre-built email marketing automation workflows that require minimum input from the user
custom abandoned cart emails with a link to the checkout page
automatic product import to emails to save time with email creation
SMS notifications as a part of the abandoned cart Shopify sequence

How does it work?
You can use templates or create your own emails with a dedicated builder. Each cart recovery email element is customizable to be consistent with your brand design and style. Having different ready-made automation workflows also saves a lot of time with creating custom campaigns for shopping cart recovery.
---
Campaign Monitor

Category: Email/ Pop-Up
Campaign Monitor is a good Shopify abandoned cart app to use for recovering sales with email marketing. It uses your Shopify customer data to create segments for more targeted campaigns. No coding is needed to create the campaigns, as the tool comes with dozens of mobile-ready templates and an intuitive email builder.
Features:
automatic creation of custom Shopify customer segments such as first-time customers, repeat customers, and high spenders
automated emails to share with customers
email templates to create new campaigns quickly and efficiently
automated receipts for Shopify orders
Integration of customer reviews in emails to build trust and reputation
pop-up forms for Shopify stores to get more subscribers

How does it work?
There are three automatic Shopify cart abandonment sequences available: a one-email, a three-email offering a discount, and a three-email that targets different customer segments. You can modify each sequence by adding and changing the emails, as well as the time delays between them.
---
Recart

Category: Push Notifications/Pop-up/Social Media Marketing
Recart is a cart abandonment Shopify app designed to help you recover more sales through Facebook Messenger. It offers a nice selection of automated Messenger campaigns to remind customers about the purchases. Recart is a good choice for Shopify stores that would like to recover more sales via Messenger.
Features:
messenger reminders with direct links to Shopify abandoned checkout
order-related messages: shipping notifications, receipts, review requests, and upcoming sale announcements
pre-written messages to engage customers

How does it work?
Recart sends messages on Messenger to let customers know about Shopify cart abandonment. You can create automatic cart recovery campaigns or use the default 3-message sequence. Time settings are also available to send the notifications at specific times after the cart abandonment.
Best Abandoned Cart Apps Comparison
Now that you how these five Shopify abandoned cart apps work to recover more sales, let's compare their prices and customer reviews. We'll also take a look at what features you can use in free and premium plans.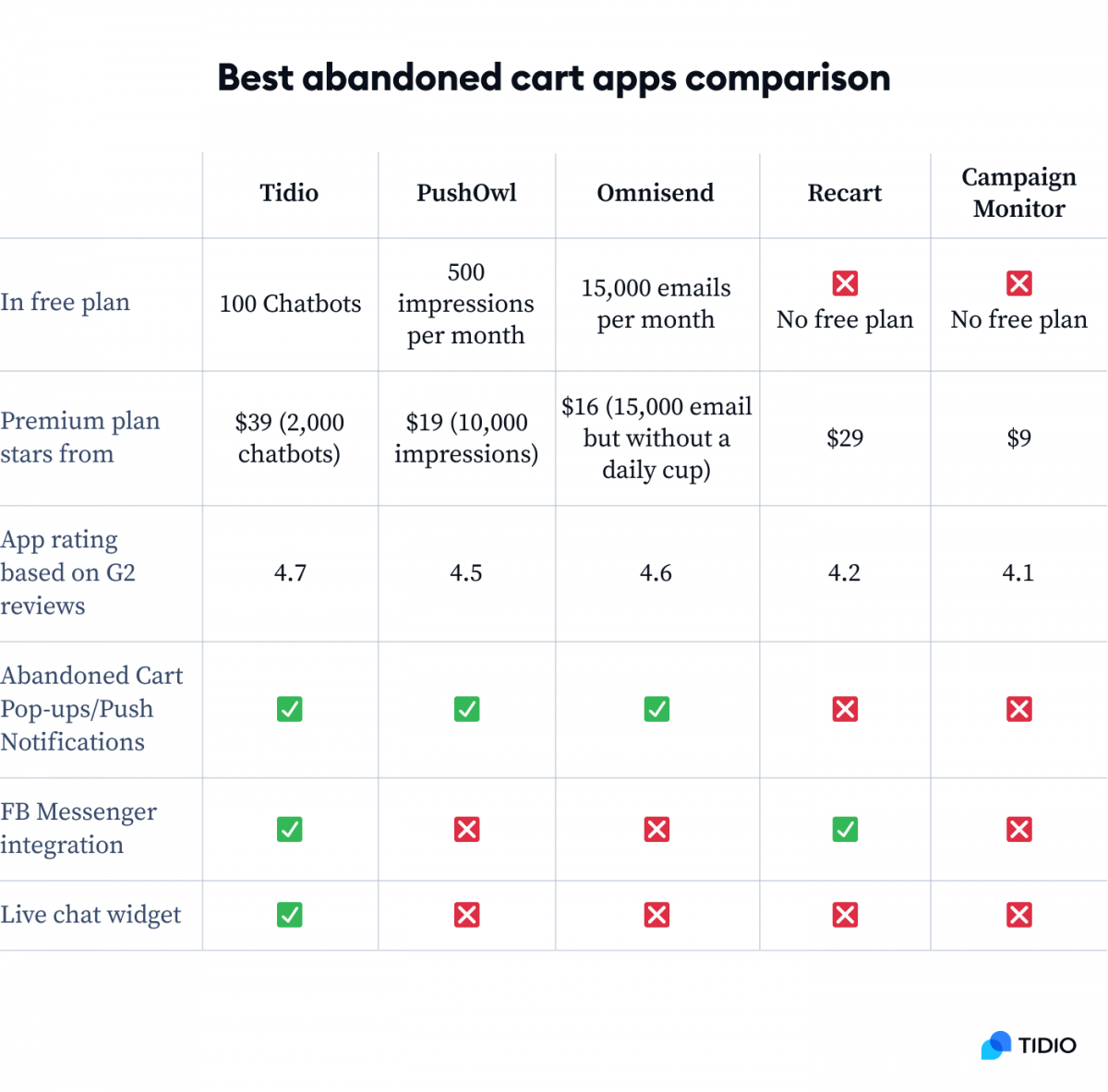 Tidio app comes with the most tools to recover Shopify sales: emails, pop-ups, notifications, and chatbots. Its free plan offers a feature-rich package for small and mid-sized businesses. Tools like PushOwl and OmniSend are great if you'd like to try push notifications and pop-ups.
To recover an abandoned cart from customers that prefer Facebook, Recart is a good choice. But keep in mind that it lacks pop-ups, emails, and push notifications. Campaign Monitor and OmniSend offer nice email automation options. But they come without social media functionality.
Tidio is the most complete and versatile Shopify abandoned cart app from the pack. It gives you more customer communication channels to recover more sales and is easy to use. Plus, it has a forever-free plan.