You're not happy with the number of abandoned carts on your online store.
No wonder—
Especially since every single one of them means lost sales for your business. So, how can you recover more of your Shopify abandoned carts?
You can use plugins and optimize your store to ensure more customers go through with their purchases.
That's easier said than done, though…
Let's go through all you need to know to convert more visitors into paying customers. Also, discover which Shopify abandoned cart apps you can use to help you bring back shoppers to your store.
In this article:
If you want to find out more about increasing sales on Shopify, check out these articles:
Cart abandonment is something that happens even to the best ecommerce players. Up to 77% of customers on Shopify leave their shopping carts. But that's just the way things are, so it's okay.
What's not okay, though, is a cart rescue rate of zero.
So, how many abandoned carts did you rescue last month? Are you using any abandoned cart app right now?
But let's start from the beginning.
What is an abandoned cart on Shopify?
Abandoned checkout in Shopify occurs when a customer leaves a product in the shopping cart before completing the purchase. The item left in the cart is considered "abandoned" and typically removed from there shortly.
Reducing abandoned carts in Shopify is a major goal of online sellers. This is because, naturally, it leads to more revenue and an increase in the number of returning customers.
Okay—
But how to see abandoned carts in Shopify to know how your store performs?
It's easier than you might think. To see abandoned carts on your Shopify store:
Open your Shopify admin page
Go to Orders
Click Abandoned Checkouts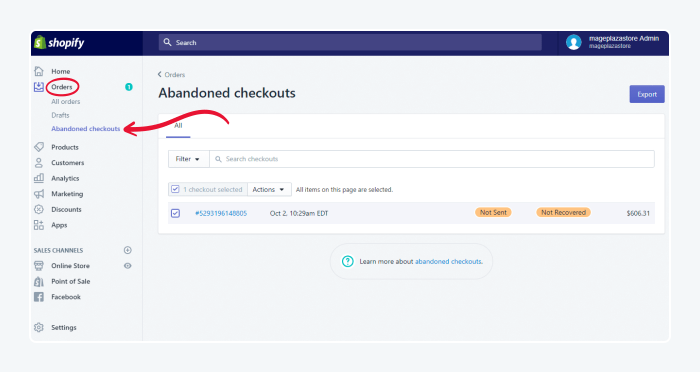 From this page, you can see Shopify abandoned cart analytics that can help you understand why customers abandon their carts. It will show you if the cart dropout was because of a failed payment method, or if there was a different reason for it. You can also send personalized cart recovery emails to customers who left without completing the purchase.
Check out this video on how to send cart recovery emails straight from your Shopify panel:
What is the common abandoned cart rate Shopify stores face?
A study found that about 70% of shopping carts get abandoned during online shopping. This number is even higher, and reaches 81% for shoppers that browse your site on their mobile devices.
And only less than 30% of clients return to buy the products from the abandoned carts. On top of that, about 25% of them go to a competitor for the same product instead.
So, is your abandoned cart rate lower or higher than these numbers?
You can calculate it by taking the number of customers who added products to their baskets and subtracting the number of successful checkouts. Then, divide that amount by the number of visitors who added items to their cart.

To be able to save more shopping carts and encourage people to convert, you need to first know why your website visitors could be dropping off before completing the purchase. So, here are some of the major reasons people abandon carts in Shopify stores.
Why do people abandon carts on Shopify?
One thing is sure, your products are not at blame here. The fact that people add your products to their shopping carts reflects their intention to buy. So, you already have some leverage to reignite their interest.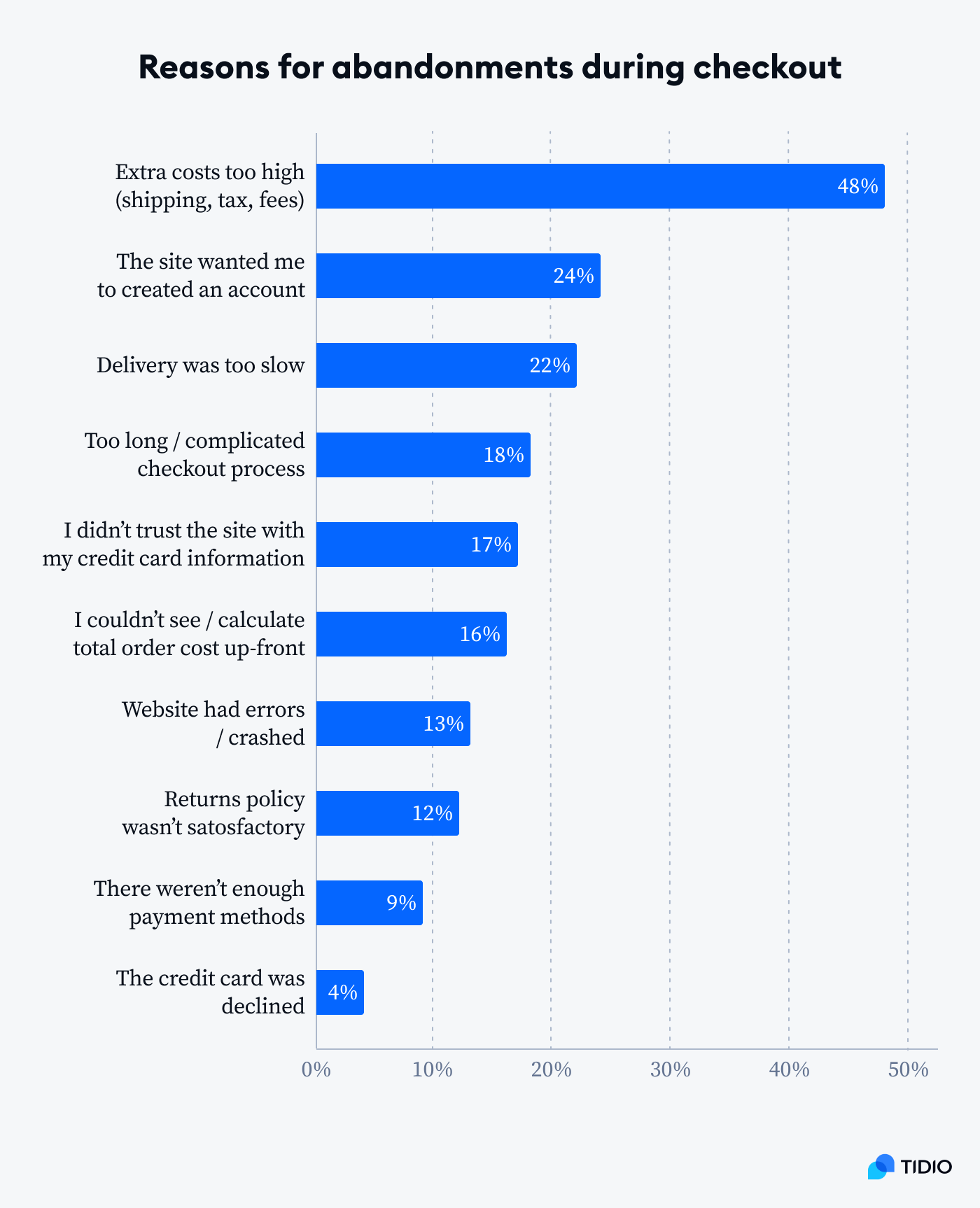 So, the most common reasons for people to abandon carts are:
These include tax, shipping costs, and other fees that are not mentioned on the product page. When a shopper sees that their shopping cart went from $9.99 to $19.99, they are more than likely going to leave your store without checking out. But this shouldn't be a surprise, as over 48% of people do this.
The need to create an account
Some of your customers just want to purchase your products, and you should let them do just that. And if they're required to sign up for an account that they don't want, you just lost yourself a client.
If the delivery of your products to the customers is estimated to take up to 30 days, don't expect all of your interested store visitors to complete their purchase. Most people want the items to be in their hands within a few days, but in some cases, customers really need their delivery to be quick. Imagine ordering a gift for your best friend's birthday, but the estimated delivery being 15 days after their birthday party. You'd probably look somewhere else for the gift.
Untrustworthy ecommerce website
Our study about the trustworthiness of ecommerce websites found that over 67% of customers stop mid-shopping because of something suspicious on the online store. Some of the aspects that make a website untrustworthy include typos, poor design, and a weird domain name. And if someone is suspicious of the business site, they won't put in their credit card details to finish the checkout.
Complicated checkout process
Checkout process shouldn't take long or be complicated to complete. People don't have the patience or the willingness to go through numerous steps just to purchase a product. If you don't make it easy for them, your competitor definitely will.
These were the issues that cause customers to abandon their shopping carts. But how to fix them and get more sales for your online store?
How do you fix abandoned carts on Shopify?
Just imagine how much more revenue your online store could produce if the abandoned carts turned into purchases. The shoppers are already in your store, you just need to find a way to encourage them to press that checkout button. So, how to push more of your abandoned carts to become purchases instead?
Here are a few ways to start fixing the issue:
Research where the problem is
It could be in the checkout process, extra costs, your images being blurry or your descriptions not detailed enough. And you won't know until you do your research. So, communicate with your customers and gather information about what needs to be fixed. Customer feedback is the most important part of fixing your abandoned cart rates on Shopify.
About 63% of shoppers online abandon their carts because of high shipping costs. So, offer free shipping incentives whenever possible, even if it means increasing your products' pricing to equalize your business's expenses. You can also give out free shipping coupon codes to customers who are about to leave their carts behind.
Offer discounts to save carts
Sometimes, all it takes is a small discount code to push the visitors to complete their purchase. So, use pop-ups or a chatbot to provide the shopper with coupons to your store. You can even make it more engaging by letting them spin a wheel and test their luck on the reward.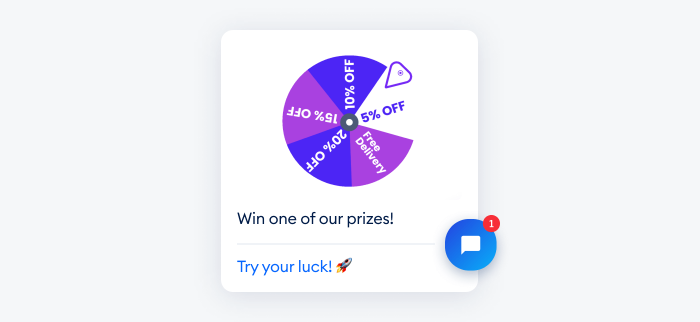 Read more: Check out this case study on how an online business slashed its abandoned carts by 25% using virtual customer service.
Okay—
But even if you perform all these actions and make your products easy to purchase, you'll still have some abandoned carts left. How to recover the Shopify abandoned checkout, and what should you use for it?
You can use these methods to lower your cart abandonment rates: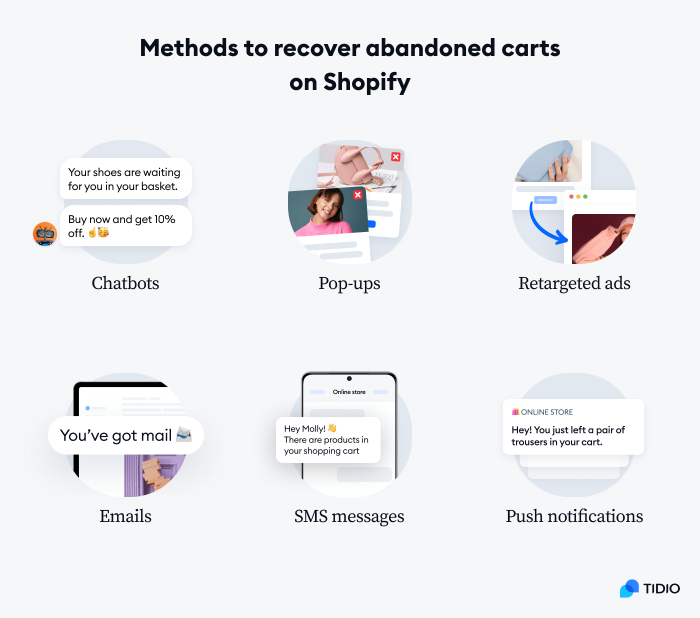 Exit-intent chatbots appear when the customer tries to leave the website. They can be configured to remind the shopper about the cart or give a discount. Lately, chatbots have been gaining popularity because of their ability to attract customers' attention quickly. Also, you can customize them, and they don't interfere with the store browsing experience.
Here's how an exit-intent chatbot works:
Add a chatbot plugin to your store/website to connect with your visitiors.
Answer question and talk to your customers in real time
Close more sales and track how live chat helps your business.
Don't let customers abandon their shopping carts in your online store!
Use Chatbots 🛍
The customer moves the pointer towards the top of the browser window. At this moment, the chatbot message appears, letting them know about the unfinished purchase. An exit-intent bot is easily configurable. It gives one more chance to convert an otherwise lost sale without interrupting customer experience like pop-ups.
Read more: Check out this case study to discover how an Italian fashion ecommerce reduced the cart abandonment rates using chatbots
These are the windows that appear on a website, usually covering the whole screen. You can use pop-ups to remind the visitor of the items that are in their shopping cart. You can also offer a discount or present your offers through pop-up windows.
Usually, they are dynamic ads showing the product in the shopping cart after the customer leaves. Retargeted ads can be used on websites other than your own and social media channels.
Abandoned cart emails contain information about the product and use different techniques to convince customers to return. They can serve as reminders, include discounts on products in the cart, and create a sense of urgency.
Here's a real-life example of a Shopify abandoned cart email from Boom by Cindy Joseph: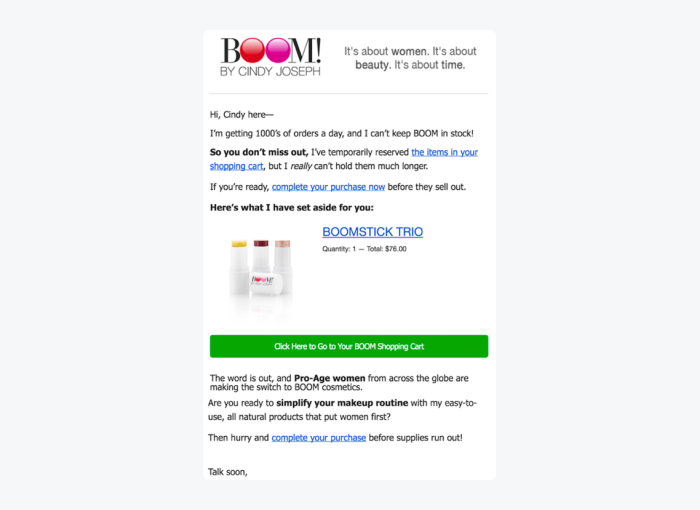 If you have the customers' phone number, you can send them text messages to encourage them to finish the checkout process. These are probably the most direct way of contacting customers as emails are much easier to get lost in the crowd, but the majority of text messages get opened.
These are personalized notifications containing product visuals and a call-to-action. You can send them to registered customers as a part of a trigger campaign.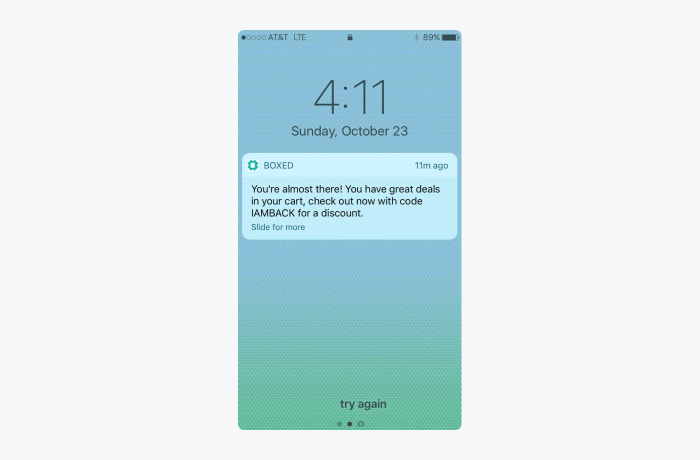 In short—
The most popular methods are push notifications, retargeting ads, exit-intent chatbots, and emails. Each uses a different approach to reminding the customers about the purchase. But all of them try to do so as fast as possible while the customers' memory is fresh.
Some of these methods are a little outdated while others, such as exit-intent chatbots, can be more successful as they are more recent.
Here are the top tools you can use to convert more of your shopping carts.
Best Shopify abandoned cart apps
Now you know the most popular solutions used for saving abandoned carts. It's time to look closer at which applications go well with them.
All the tools that have been listed below are top-rated apps on Shopify. They are dedicated to store owners who are in need of finding practical solutions to overcome the shopping cart abandonment problem and start making sales.
The seven best apps for abandoned shopping cart recovery available to Shopify stores are: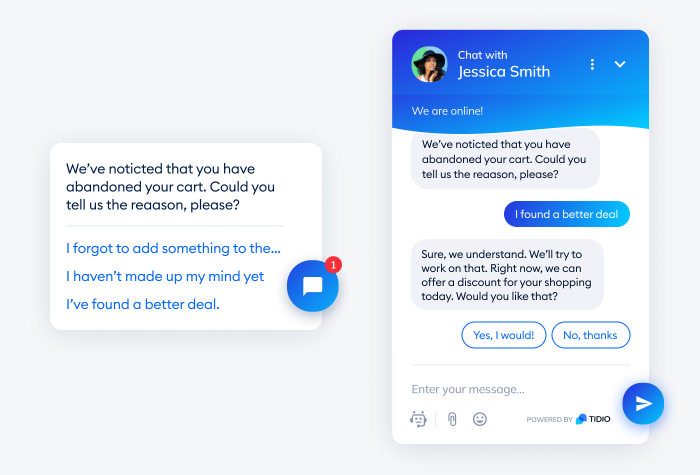 Ratings: 4.8/5 ⭐️ (1,490+ reviews)
Tidio is an all-in-one customer service software that combines live chat with AI chatbots to help Shopify stores increase sales and improve customer support.
This is one of the best Shopify apps for abandoned carts that you can use to send automatic notifications straight from inside your store via bots. The chatbot messages are customizable, so you can experiment with different calls to action to recover more sales. You can add a Shopify abandoned cart discount and personalize the chatbot's messages to achieve the best results.
Main features:
16+ different triggers
Live view of the website visitors
AI chatbots with NLP (Natural Language Processing) technology
Variety of integrations (MailChimp, Instagram, Facebook Messenger, Zapier, etc.)
Add a chatbot plugin to your store/website to connect with your visitiors.
Answer question and talk to your customers in real time.
Close more sales and track how live chat helps your business.
Try Chatbots
Free plan available
Communicator ($19/mo/agent)
Chatbots ($49/mo)
Remember, to minimize the chance of your customers abandoning their carts, help them make the right choice in the first place. Install a Shopify live chat app and offer them all the support they need.
Read more: Learn how to install Tidio on your Shopify store.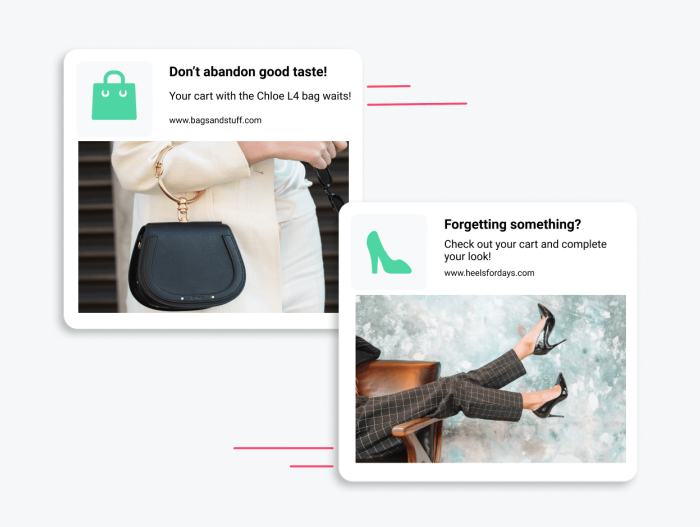 Ratings: 5/5 ⭐️ (2,300+ reviews)
PushOwl is a simple Shopify push notification app. It can help you automate Shopify abandoned cart recovery messages, "back in stock" alerts, and product review notifications to increase social proof. The cart abandonment app is really easy to use and doesn't require any personal information about customers to send messages to them.
You can create a custom sequence of push notifications to send to your customers. This is one of the Shopify cart abandonment apps that gives you reports on the campaign, so you stay on top of your results and can experiment to see which push notification recovers more sales.
Pros:
Custom abandoned cart notifications
Extensive customer interaction analytics
Custom time intervals for abandoned cart notifications
Cons:
Branding removal only available with the enterprise plan
Statistics and conversions are not transparent enough
Pricing:
Free basic plan available
Business ($19/month)
Enterprise → contact sales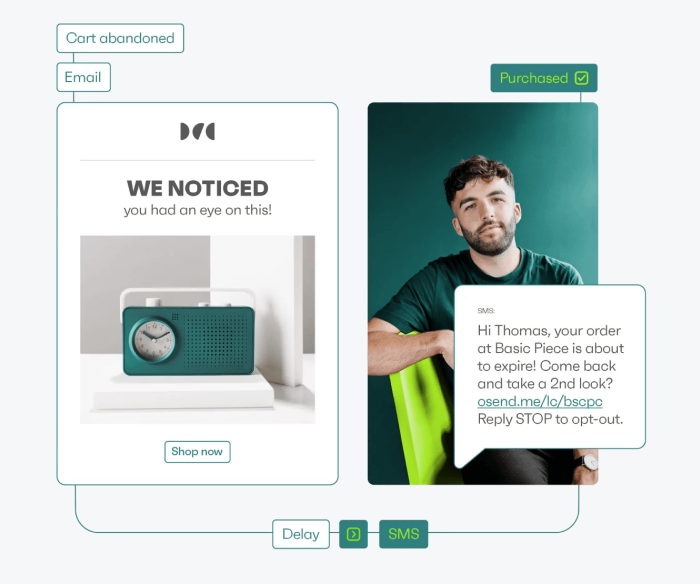 Ratings: 4.7/5 ⭐️ (4,355+ reviews)
Omnisend is a Shopify cart recovery app that uses emails to recover sales. You can use custom pop-up notifications to help with growing the list of subscribers. This Shopify abandoned cart pop-up also offers customer segmentation functionality to divide shoppers into groups based on their interests and purchases.
There is a collection of templates from which you can choose the best email design for your business. This Shopify cart abandonment app lets you customize each of the elements of your follow-up emails to be consistent with your brand design and style. You can also save a lot of time by using the ready-made automation workflows.
Pros:
Pre-built email marketing automation workflows
Custom abandoned cart emails linked to the checkout page
SMS notifications available
Cons:
Sometimes analytics and reporting of form views don't work correctly
Some users state that customer service keeps sending them from one person to another without providing the necessary support
Free version available
Standard ($16/mo)
Pro ($59/mo)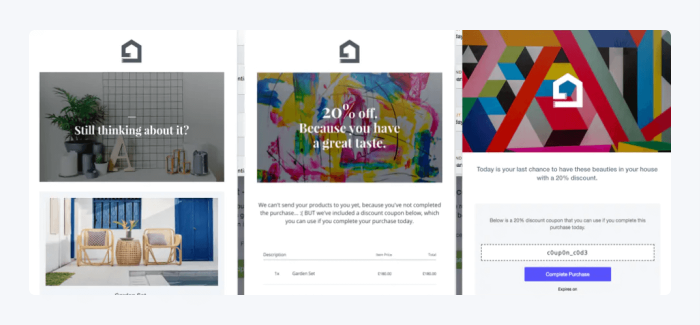 Ratings: 4.7/5 ⭐️ (1,105+ reviews)
Campaign Monitor is one of the best Shopify abandoned cart app to use for recovering sales with email marketing. It uses your Shopify customer data to create segments for more targeted campaigns. The tool comes with dozens of mobile-ready templates and an intuitive email builder, so you can easily create your mailing campaigns.
You can set up pop-up forms on your website to generate more leads and grow your email list. This app for recovering abandoned carts in Shopify offers integration of customer reviews to build trust and reputation for your online store. This can help you secure more sales now and bring more shoppers in the future.
Pros:
Automatic customer segmentation
Variety of email templates
Integration of customer reviews in emails
Cons:
Only one store can be linked
Dated user interface
Starter ($9/month)
Growth ($29/month)
Professional ($49/month)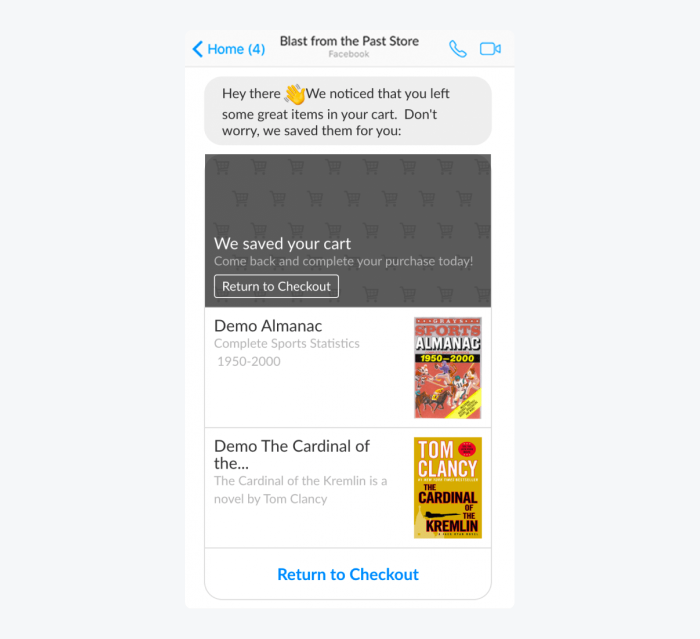 Ratings: 4.8/5 ⭐️(5,500+ reviews)
Recart is a cart abandonment Shopify app designed to help you recover more sales through Facebook Messenger. It offers a selection of automated Messenger campaigns to sent cart reminders to your customers straight from their social media.
Recart sends messages on Messenger to let customers know about Shopify cart abandonment. You can create automatic cart recovery campaigns or use the default 3-message sequence. Time settings are also available to send the notifications at specific times after the Shopify abandoned checkout.
Pros:
Seamless integration with Facebook Messenger
Customizable messages
Pre-made message templates available
Cons:
Users report frequent glitches
Some issues with Facebook Ads that include extra costs and limits on sponsored messages
Starter ($345/month)
Pro ($565/month)
Growth ($1,149/month)
Enterprise → contact sales
Read more: Discover all you need to know about Facebook Messenger chatbots and how to make your own.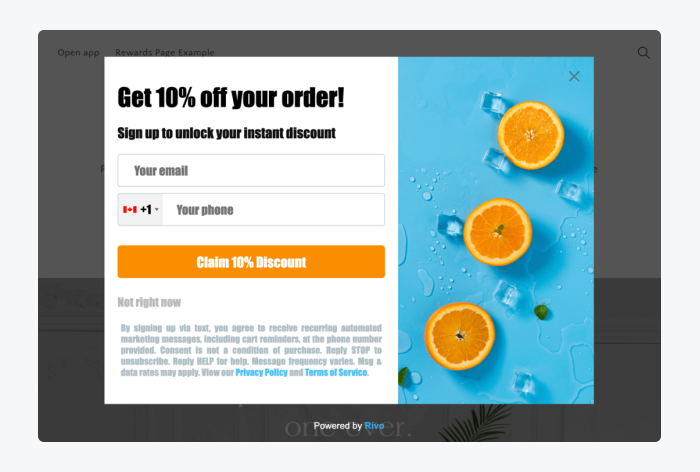 Ratings: 4.9/5 ⭐️ (2,320+ reviews)
This is one of the best abandoned cart plugins Shopify users can utilize to send emails, SMS messages, and push notifications to their customers who left without checking out. This can help you increase your conversion rates and optimize your store for what works.
Rivo can help you send the right message at the right time to your shoppers. And it's easy to set up, so you can start using it within minutes. This abandoned cart Shopify app also gives you analytics and reporting, so you can track your progress and make better business decisions in the future.
Pros:
Email, SMS, and push notifications available
Easy-to-use interface
Analytics and reports
Cons:
Some users say the app adds customers' emails to the mailing list without their approval which can cause reports of spam
Only shows carts with under three items
Free version available
Starter ($15/month)
Pro ($49/month)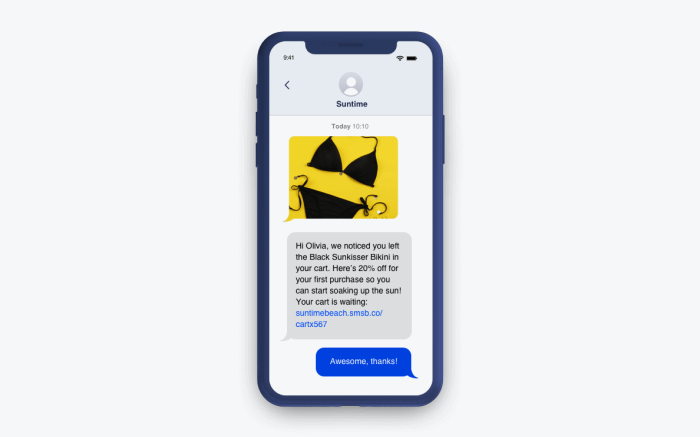 Ratings: 4.8/5 ⭐️ (2,360+ reviews)
SMS Bump focuses on text marketing, but also makes Shopify abandoned cart email marketing available for you. This platform offers a large library of templates with a drag-and-drop editor, so you can launch your campaign in a few clicks. There's also an integration with Canva that helps you create beautiful designs.
This is also one of the best Shopify cart abandonment apps that provide AI product recommendations based on a shopper's data, so you can encourage buyers to stay with your brand. The exit intent pop-ups and floating buttons are mobile-optimized and branded, so the visitors using their phones will also have a great experience on your site.
Pros:
Photos, GIFs, and emojis in chats
A/B testing available
Variety of integrations including Canva, Zendesk, and Recharge
Cons:
Realtively slow customer support
Some users report being charged for failed campaigns that did not send
Free plan available
Growth ($19/month)
Prime ($59/month)
Powerhouse ($199/month)
Ratings: 4.1/5 ⭐️ (6+ reviews)
Retainful helps you recover lost sales with automated abandoned cart recovery emails. You can use the drag-and-drop editor as well as the email templates to launch your campaign easily and quickly. This Shopify abandoned cart tool also offers a variety of trigger rules and conditions to split customers into groups in order to better personalize communication with them.
You can track cart abandonment and send a series of email reminders on autopilot to convince shoppers to return to your page and finish their checkout. Also, you can capture emails using popups on your website and prevent cart abandonment with an exit intent popup offering a discount. On top of that, you can connect Retainful to a variety of apps, including Sendinblue, MailChimp, and HubSpot.
Pros:
Referral schemes and custom discounts available
Abandoned cart tracking and analytics
Good customer service
Cons:
Poor display on Yahoo emails
Sometimes sent images can be oversized
Free plan available
Starter ($19/month)
Growth ($49/month)
Professional ($199/month)
Read more: Maximize your chances of recovering abandoned carts using Tidio integration with Sendinblue.
Shopify abandoned checkouts: Summary
Abandoned carts happen when a visitor to your ecommerce site puts your products into the shopping basket but never goes through with the checkout. This is a common issue for online store owners and costs them thousands of dollars in lost revenue.
What are the best methods for abandoned cart recovery Shopify retailers can use?
The two most common ways you can use straight from your site are chatbots and pop-ups. And if the visitor has already left your ecommerce store, you can send them Shopify abandoned cart emails, SMS messages, and push notifications. You can also show retargeting ads on third-party sites and social media channels.
Plugins are helpful when it comes to converting more clients. Some of the best abandoned cart apps Shopify users can implement are:
Tidio
PushOwl
Omnisend
Recart
Rivo
SMS Bump
Retainful
You know what to do now and what you can use to help you recover more of the left-out shopping baskets. So, time to experiment and discover what works best for your business and increase your sales.