"Please, wait on hold"
Ever got annoyed hearing this?
Welcome to the club.
Over the years, telephone customer service has acquired a lot of bad rep for being slow, expensive, and often ineffective in solving customers' issues.
Luckily, a growing number of companies move away from the phone and email service towards better, faster solutions—live chat and chatbots.
Wondering why?
In today's case study we will show you how replacing phones and emails in your business can boost your sales and customer satisfaction.
Here's what we'll cover in detail:
First, take a quick look at the timeline to get a better picture of Mometrix's story.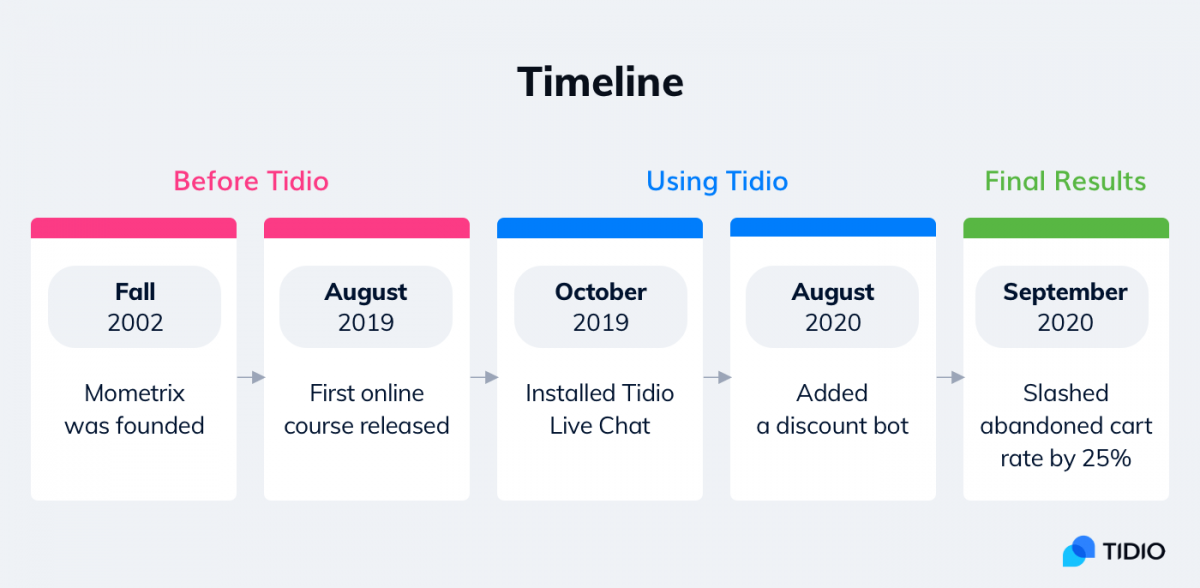 How Mometrix Evolved From a Bookstore Into a 100% Online Platform
Let me introduce you to Matt, the marketing director at Mometrix—a company based in the US offering courses and test preparation materials.
Mometrix was initially launched in 2002 as a business selling books, and was eventually transformed—in the fall of 2019—into an online platform. They offer resources for over 1,000 standardized tests.
You can visit their website and say Hi! via a chatbot in the corner 👇
I asked Matt about Mometrix's target audience and he said it boils down to the following group of people.
Target market: Students preparing for entry university exams or in need of additional certifications.
Was it challenging to move online?
You bet!
So, to make their online platform launch successful, the team invested in bringing traffic through these three channels:
Google ads
SEO
Affiliate marketing
Fast forward a few days, and phone calls and emails started coming in. The Mometrix team could hardly keep up with all the requests!
Truth is, it was great to see such rapid growth, but Matt knew that it could easily backfire if not handled properly.
Challenges in Creating a Virtual Customer Service System
Apart from challenges in creating a fully virtual experience, moving online brought a lot of changes—especially on the user adoption side.
Matt knew that at the core of their newly launched platform's success was users' satisfaction—which could only be achieved by designing an outstanding customer experience.
He said:
So, the Mometrix team was determined to ensure that new platform users don't run into issues that could make them leave.
Challenge: How to provide technical support to users, educate them about the product, and answer FAQ in the most efficient way?
Telephone and email support could work but the truth is—they have plenty of limitations.
With a new online platform, it was hard to fully explain its functionality or guide users through a technical problem.
Plus, Matt wanted Mometrix to not only operate online, but actually pioneer their niche in doing so.
That's also when the thought of adding a live chat and training customer service staff in using it occurred to Matt as a possible solution.
Want to understand better how you can use live chat for your website? Check out: What Is Live Chat? Benefits for Businesses.
He set the following objective for Mometrix' future.
Goal: Be on the forefront when it comes to technology and customer experience by replacing phone and email service with a chat.
Now, let's see how Matt managed to achieve this with Tidio.
How We Replaced Telephone and Email Service With Tidio Chat
I couldn't help but ask Matt why he chose to stick with Tidio (after trying other solutions), and he said: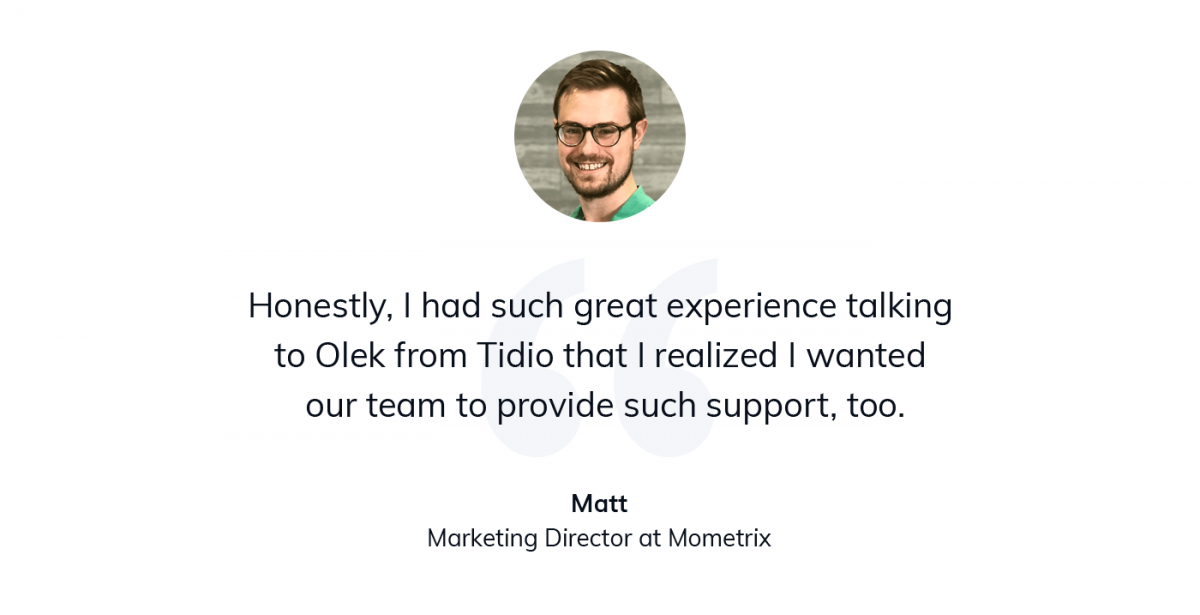 Bang!
Was it one of the proudest moments of my career? Quite possibly 😉
Matt tested other chat solutions on the market and eventually settled for Tidio because of its customization options and additional features such as free chatbots.
Mometrix created their first project in April 2019 and decided to go for full automation—choosing the chatbots plan.
In the beginning, Mometrix added 3 different bots:
Auto reply for missed conversation
Operator doesn't respond
Cart abandonment

Initially, they set up bots only on 2 URLs:
Mometrix University page
The "Auto-reply for missed conversation" bot which triggers for a visitor whose request was not assigned to any of the support agents.
Here's the automated welcome message encouraging visitors to get in touch with the team.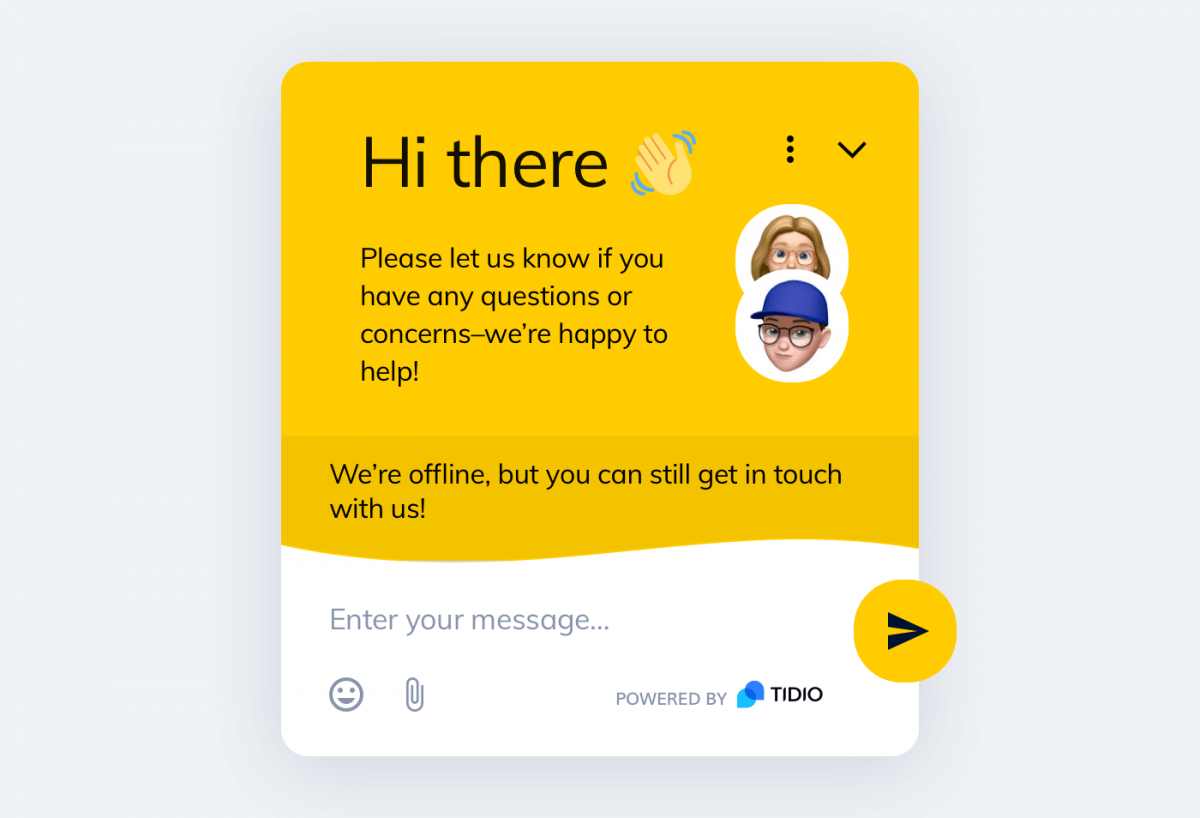 And here's a pre-chat survey triggered after typing the message.
This is a clever way to collect visitors' data (such as an email address) to be able to reach out to them later.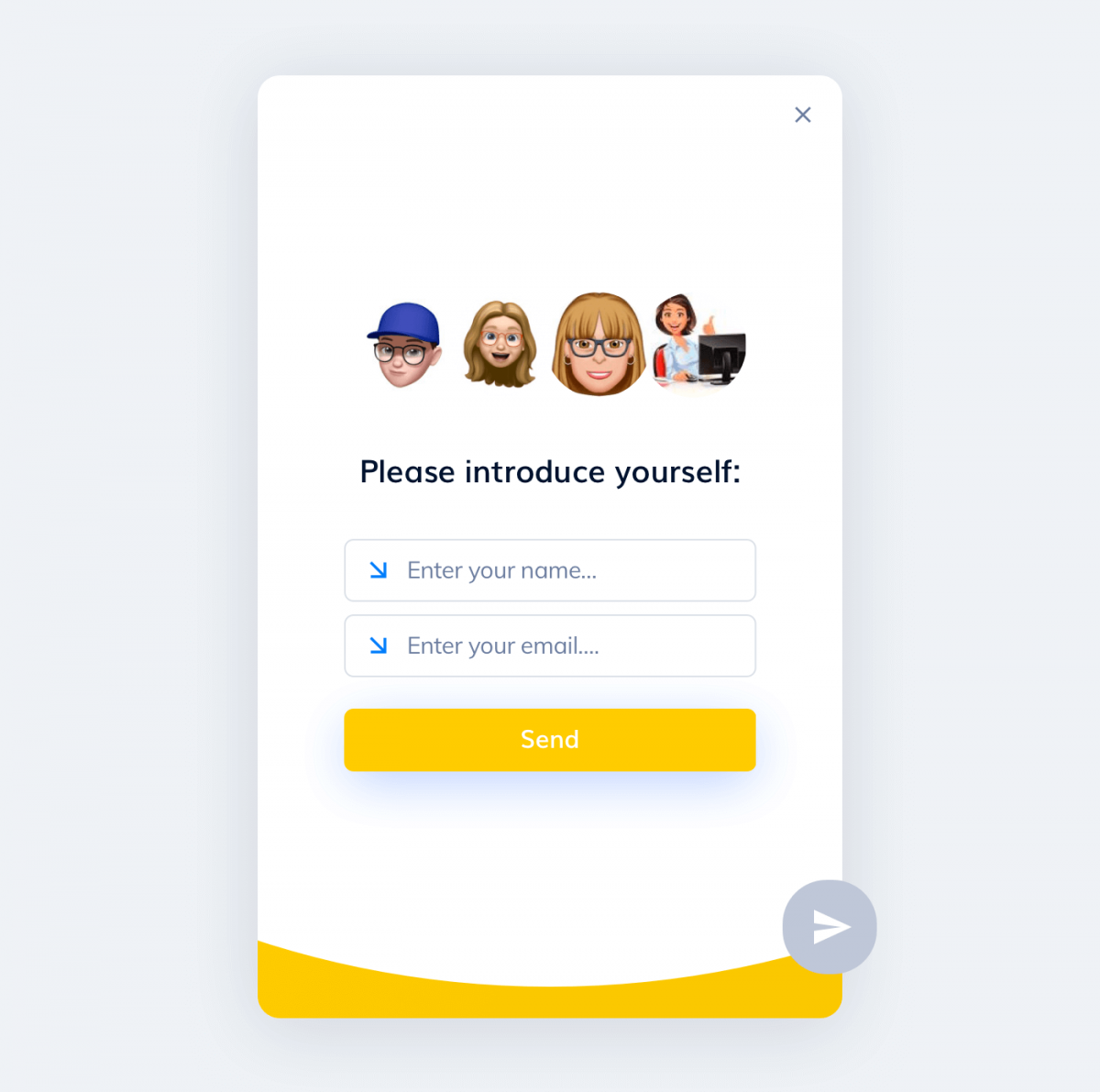 2. The "Operator doesn't respond" bot which triggers during a conversation to reassure the visitor that a customer support agent is away but will be back shortly.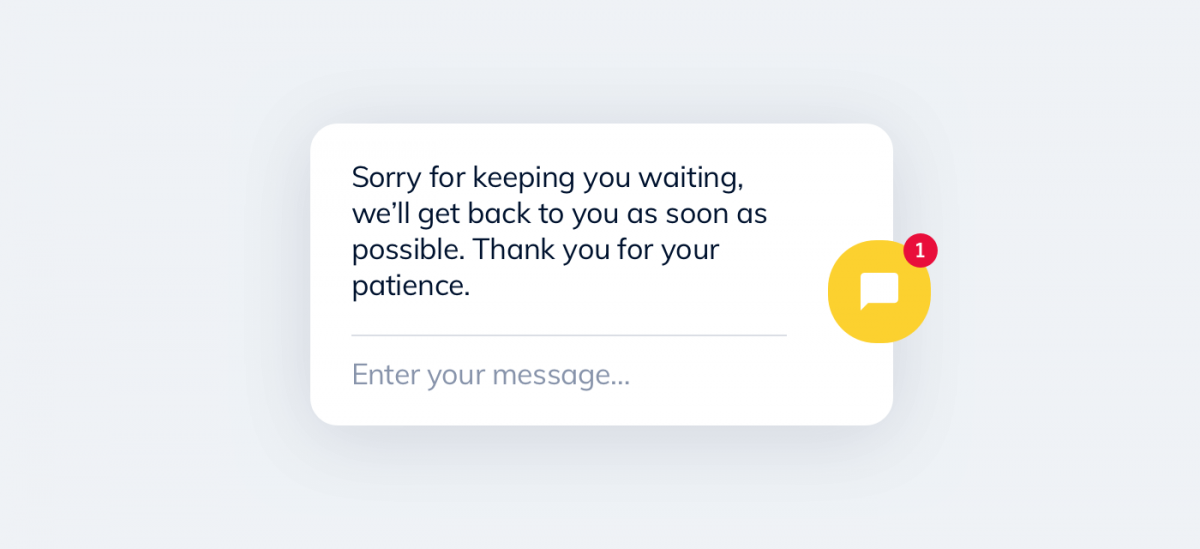 Checkout page
The "Cart abandonment" bot which fires after 10 seconds offering a 25% discount on the products in the shopping cart.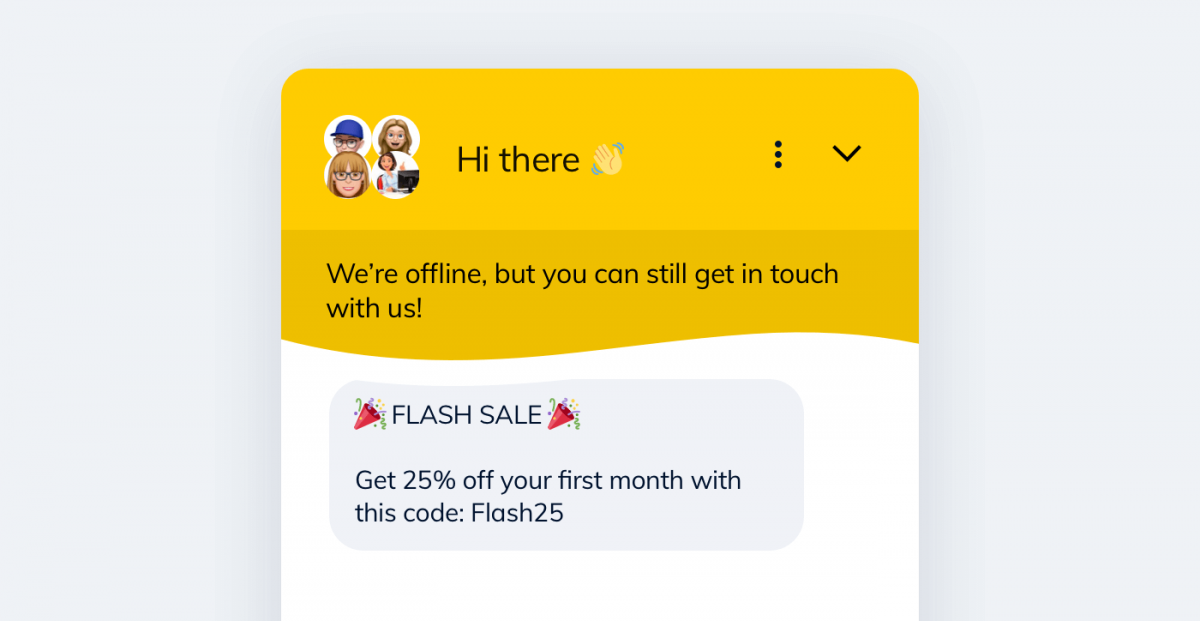 This last bot helped slash cart abandonment by 25%, increasing conversions at the same time.
Matt really appreciates chatbots' functionality but also strongly highlights Mometrix' focus on having actual 1:1 chats (in real-time) with their visitors and customers.
He says: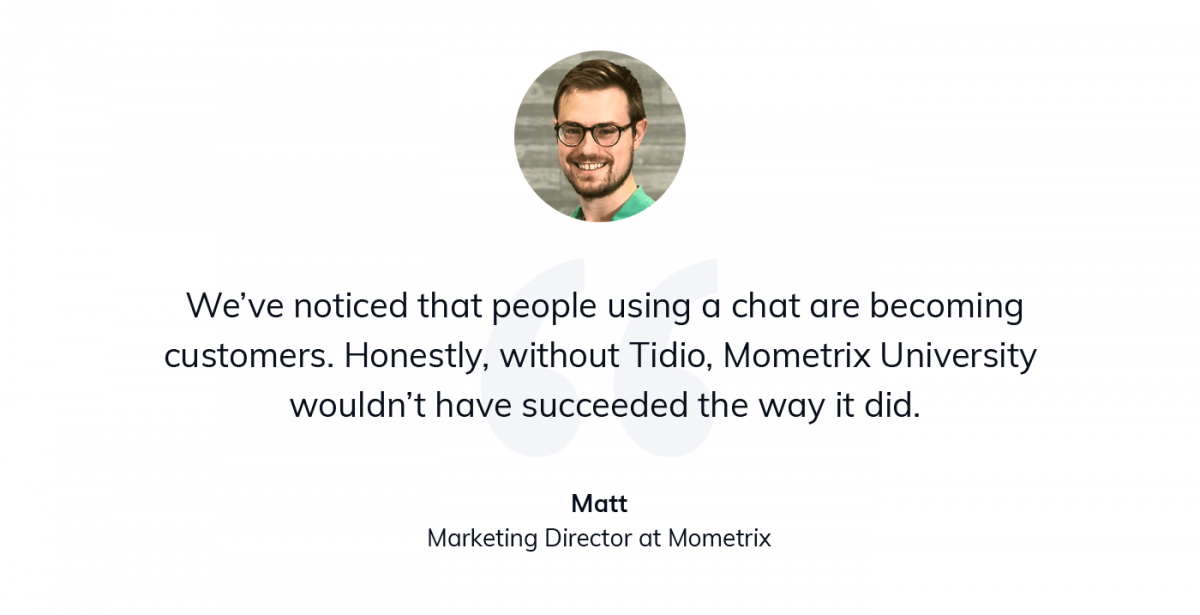 To improve their results further, Mometrix could experiment with integrated email marketing campaigns using Tidio's free email software
Finally, let's look into data!
Results: Reducing Cart Abandonment by 25% and Generating Leads
"Our platform flourished and Tidio was such a big part of it."
Said Mometrix' Marketing Director when I asked about their platform's growth.
But let's not just take Matt's word for it. 😉
Here are the actual Mometrix' results observed in the last few months, after the team mastered using Tidio for their virtual customer service.
Number of conversations and messages via live chat has been consistently growing.
2. Leads generated using Tidio bots implemented on several Mometrix pages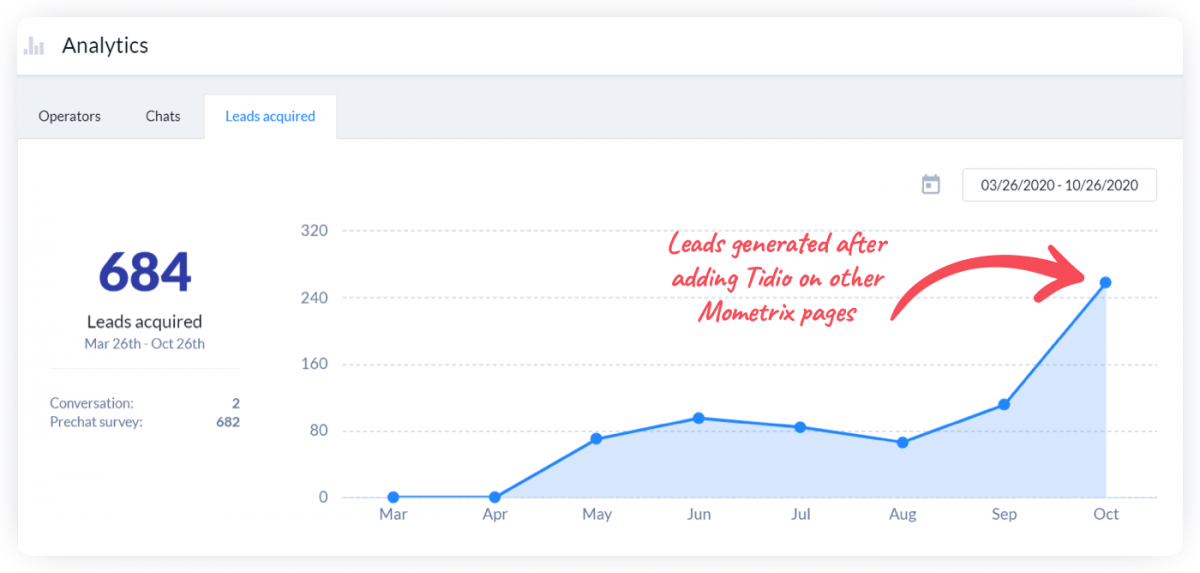 That's not all!
You see, here, at Tidio, we believe that when our customers win, we win, too!
It's emails such as this one that really show how Mometrix benefited from using Tidio over the last few months.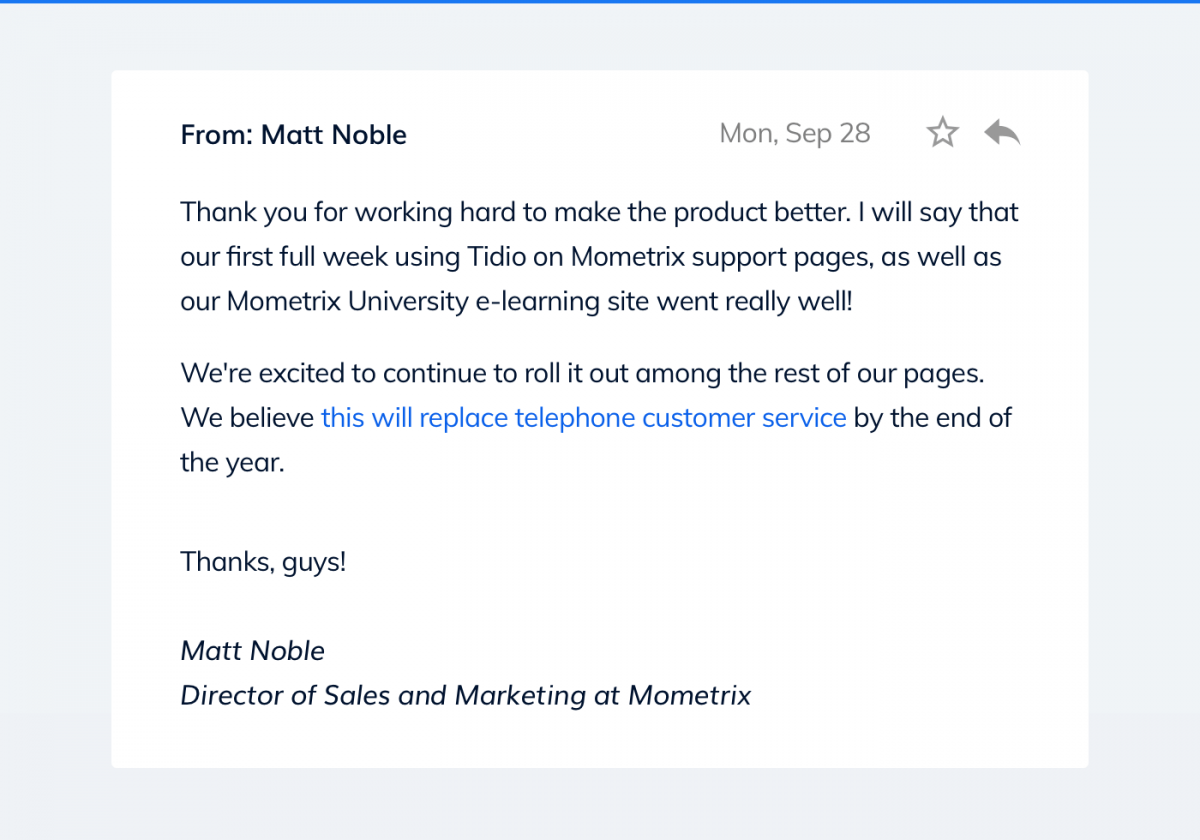 Key Takeaways
Finally, here is the condensed version of the most important lessons from Mometrix' success:
Invest in multiple customer acquisition channels when moving a business online
Focus on outstanding customer experience to win customer loyalty
Use live chat instead of phone for solving users' technical problems
Automate incoming conversations with chatbots.
Reduce cart abandonment rate using smart discount bots
Chat to your visitors in real time to close more sales!
And time for the fun part—building a quick (but powerful) chatbot that can help you slash your cart abandonment rate and increase sales.
Bonus Tutorial
This time we are going to learn how to create a chatbot that you can trigger manually as an operator.
Mometrix uses this type of chatbot to send instructions about resetting passwords.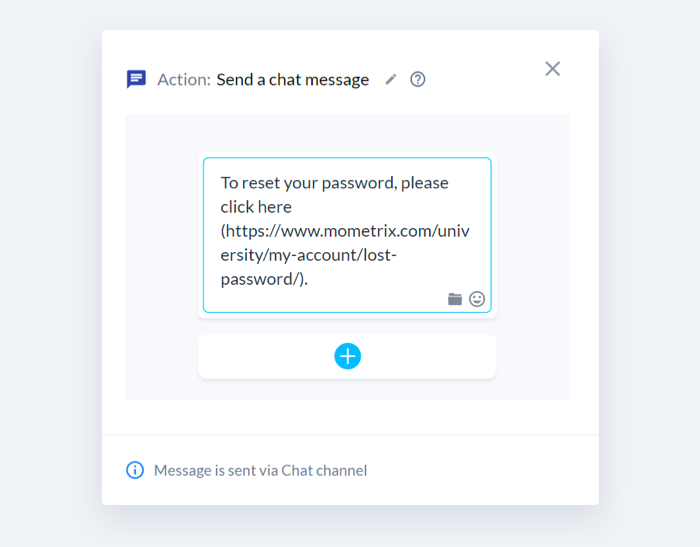 Customers keep forgetting their passwords all the time. And they constantly contact customer service teams about it.
Ok, but what's the point of creating a chatbot that you need to start by yourself?
There are two good reasons:
A chatbot can send a sequence of messages, which is more powerful than a regular canned response
You still have full control—if there are any follow up questions, you don't need to worry that your bot won't be able to answer them
To create this chatbot you need to go to the Chatbots section of your Tidio panel. Click the Add from scratch button.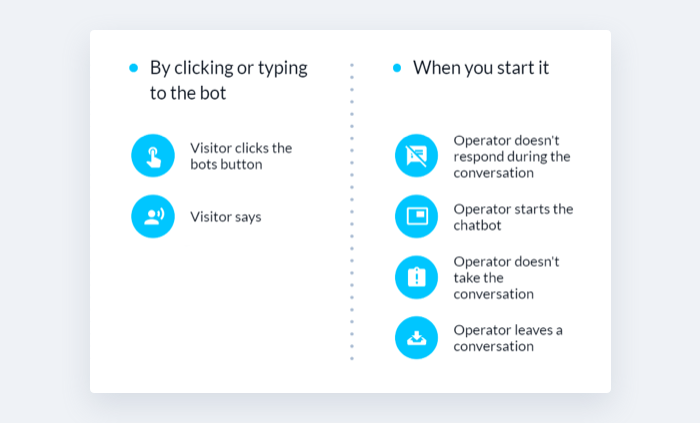 Choose Operator starts the chatbot as the initial trigger.
You can create a complex or simple chatbot conversation flow. Mometrix sends a simple sequence of two messages with a 5-second delay between them.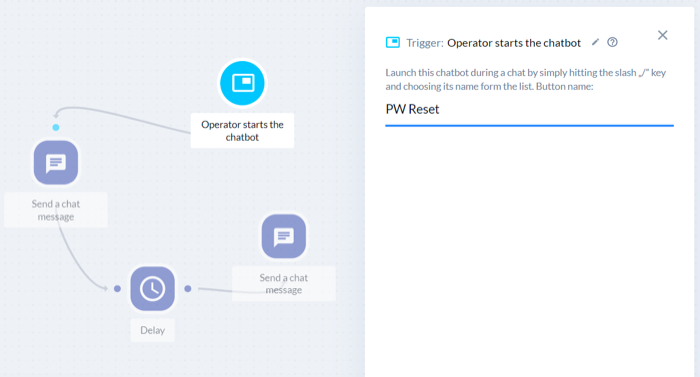 Once you save and activate your bot you'll be able to trigger it during your conversations. Click "/" to open your Canned Responses in Conversations. The chatbot will be listed there.
If you don't want to always trigger it by yourself, you can also add a second trigger.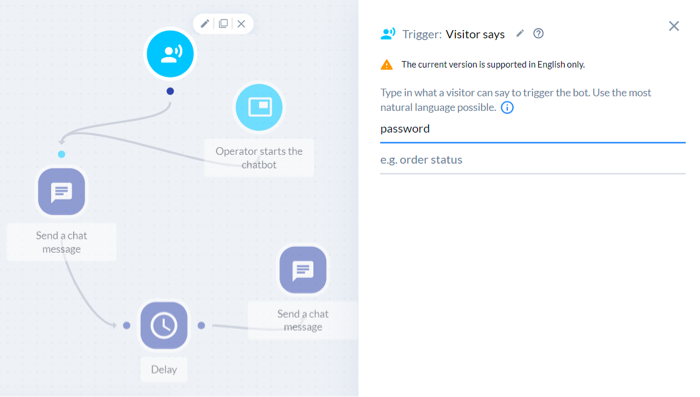 Now, the chatbot can be triggered by the operator or when customers write "password" in their message.
Try adding multiple triggers to your chatbots! In many cases, it will be more efficient than creating several bots that are very similar.