Just two years ago, the chatbot market was $2.6 billion. By 2025 it is expected to quadruple in size. Business chatbots, artificial intelligence, and conversational technologies are making a splash!
Everyone wants to hop on the bandwagon. But AI is a scary beast. At times you might feel like a babe in the woods. And so many questions arise if you are new to chatbots.
How do you use chatbots in business? Is chatbot technology profitable? Does your business need a chatbot in the first place?
Can you build marketing bots using a platform or do you need a bot development business to help you?
This article will answer all these questions and more.
Try Chatbots For Free
If you need a more general introduction you may also be interested in:
Here's how this works—
The best way to decide whether or not your business would benefit from a chatbot is to learn what a chatbot can help you with.
So, here are the most important chatbot benefits for businesses:
24×7 support on autopilot
Huge savings on customer service and marketing
Improved engagement and lower bounce rates
Getting new leads without effort
Ease of scaling up
Reducing the number of human errors
Improving customer satisfaction
Easy setup and maintenance
Seamless integration with your existing software
Automation of repetitive tasks
Let's take a closer look at each one of them and explore a couple of business chatbot hacks along the way.
1. 24×7 Customer Support
Answering messages from your customers doesn't seem like a complicated job. But it can be a nuisance. Sometimes they write so rarely that your guard is down—and you don't write back for hours.
The second scenario? You get bombarded with inquiries all the time and you are unable to keep up. The average customer service response time is 12 hours.
Wait, what? 12 HOURS? This can't possibly be right. By the time someone replies, the customers will take their business elsewhere.
Exactly.
There is a limited number of customer interactions that a traditional customer support team can manage.
This is when business chatbots come in handy. You can reduce your chatbot response time to 0 seconds. Actually, it is better to set up at least a 3-second delay, just to make it feel like a natural chat.

You don't miss questions or waste time and your customers get replies instantly. It's a win-win arrangement.
Most customers expect an answer to their questions within a few minutes at most. They want to solve the problem quickly and decide whether they will spend their money with your business or not. If you don't respond on the spot, there is a high risk that they will go away and choose your competition.

Customer service chatbots can be on alert day and night and answer your customers' questions right away. And if for some reason it can't solve their problems, it can send you a notification on your mobile. This way, you can always take care of the matter in person if the need arises.
Tip: If your users don't contact you via Facebook Messenger you can try a different channel. You can add a chatbot directly to your website without any knowledge of web development. There are many chatbot services that offer live chat buttons powered by bots.
2. Time and Money Savings
Customer service can be a pain. Chatting with people and solving their problems is sometimes rewarding but let's face it—usually, it isn't.
Agents feel like gouging their eyes out when they see the same problem for the hundredth time. It's hard to keep your motivation high when you have to explain how to do something step by step again and again.
In 2021, the median salary of a customer service representative is almost $37,000. Let's assume that your business needs three of them. It generates way over $100,000 in expenses per year. That's quite a bit of money, right?
Now—
What if one agent could do the same amount of work?
Impossible? Not if you automate your live chat with chatbots. You can use NLP chatbots that recognize common questions and send replies automatically. They use machine learning technology to detect different user intents. The human agent has to intervene only in the most unusual cases that require an individual approach.
3. Increased Engagement
It is normal that most of your visitors leave without taking any action. A bounce rate above 70% is not uncommon in many situations. But there are some easy hacks you can use to activate your visitors and make them do exactly what you want. You can embed videos, improve your website UX, and—you probably guessed it—add a chatbot.
Some companies managed to decrease their bounce rate from 80% to 40% with the right business chatbot.
How come?
Today, surfing the web is rarely exciting. The internet is too ubiquitous and the old charm for most users is long gone. But getting a message from a friend through a messaging app can still make your heart beat faster. With chatbots, you can now capture and replicate the exact same feeling on your business website.
Your visitors and customers are more likely to interact with your chatbot than to meticulously click through menus and pages to find what interests them.
Facebook users love bots but there are other platforms and services that use them. Messenger is just one of many types of customer service.
4. Lead Generation Tools
Do you remember the times when people visited websites and made purchases instantly? They are a distant past. Younger generations of internet users do thorough research and visit multiple websites before making a purchase decision. About 45% of Gen Z shoppers always visit several online stores before buying.
Alright—
But what exactly does this mean?
Well, it means one thing—it is critical that you create a sales pipeline that includes lead generation. It's unlikely you'll score a sale on your first try. But if you convert your visitors into leads with chatbots, you'll get unlimited opportunities to approach them again.
There are many lead generation chatbot templates that you can try out for free. Some aim at arranging phone calls and scheduling demos, others use lead magnets and get newsletter subscribers.
Chatbots are far more effective than pop-ups and can generate leads on autopilot. You set them up once, forget about them, and come back to discover that they collected 3,000 high-quality email addresses.
That's exactly what happened to us when we tested chatbots on our blog.
Tip: A marketing bot is less intrusive than pop-ups or other forms of advertising. It can help you generate leads during "casual" chats with your website users. And you can integrate it with the Facebook Messenger app.
5. Better Productivity and Scalability
It's hard to find a more rewarding feeling than when your business is thriving and growing. However, there is no denying that some aspects of growth are extremely difficult to manage.
For example, you have more customers, so you need more customer service agents. Your old agents need to teach everything to the new ones. In the meantime, they have to deal with increased traffic. New agents need constant help. It's a total mess.
Let's look at an alternative version—one that uses chatbots.
You have more customers, so you buy more chatbot triggers for $18. And we're done. You can grab a beer.
It looks a lot easier, right?
Even if you don't want full customer service automation, chatbots can make your team more productive.
Your chatbot can send a welcome message and offer help. If a customer starts a conversation, the chatbot can stall for time until an operator takes over. After that, the operator can manually fire another chatbot that sends a predefined sequence of messages.
One agent—supported by a little army of "minion" chatbots—can attend to several customers at once. And they won't even be able to tell the difference!
6. Fewer Mistakes and Human Errors
Have you ever sent a message to the wrong person while chatting? It can happen to the best of us. People make mistakes. Some of them are amusing mishaps, but sometimes they can result in losing a deal.
Confusing customers who are inquiring about an order can be deeply frustrating to them. Grammatical errors and typos can seem unprofessional. There are countless things that can go wrong. Especially if you reply to messages in a hurry.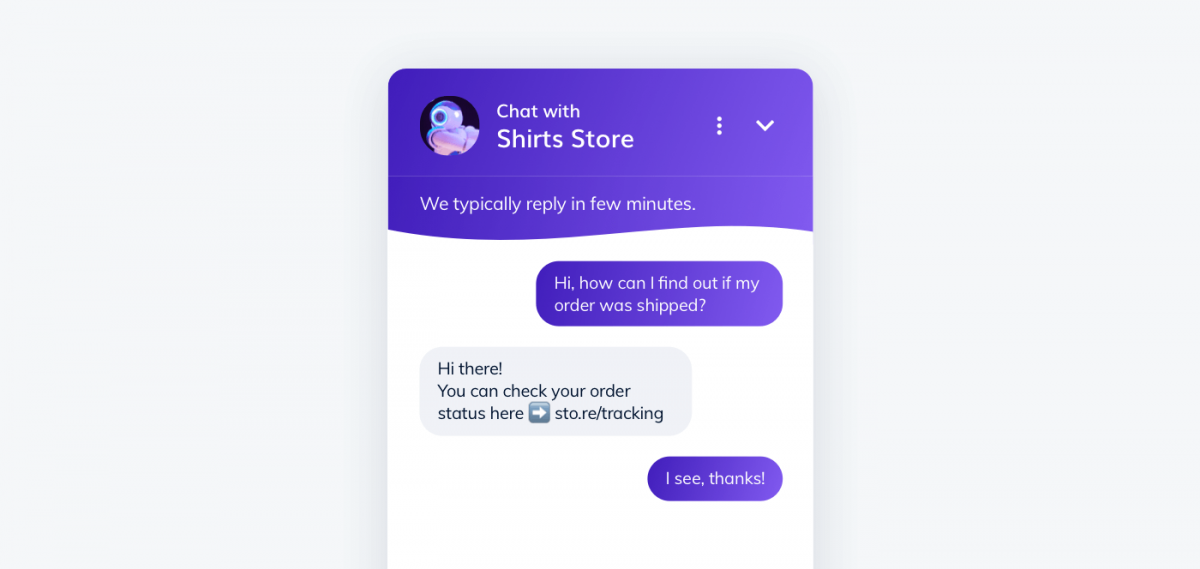 Mistakes are far less likely to occur if the conversation follows a well-defined script. Chatbots are ideal workers in this regard. They may not be as spontaneous as human agents—but they are disciplined and do not make unnecessary mistakes. They don't get upset and they never lose motivation.
7. Better Experiences for Your Customers
It may seem that nothing can replace interaction with another human being. However, some customers don't want this at all. About 37% of customers wouldn't mind if customer service representative jobs were fully automated.
There is no one-size-fits-all solution. Customers have their own preferences when it comes to contacting businesses and it is important that everyone can use their favorite method.
Human operators are more flexible and empathetic, but they need more time to respond. Chatbots may have trouble catching subtleties of language. But they excel at solving the vast majority of problems on the fly.
For most customers, time is of the essence. Unresponsive customer support creates a negative customer experience and would prevent almost 80% of customers from completing their online purchases. Ultimately, a faster response message from a bot almost always beats a long conversation with a human. If the result is the same, customers don't care all that much whether the reply was painstakingly crafted from scratch or not.
8. Low Maintenance Cost and Effort
Hiring support agents, training them, and keeping their morale high is very difficult. It requires a lot of time and money. The results and effectiveness of your team are not something that you can predict.
But—
What if you could have an infinite number of automated agents for your live chat support? And it would cost you less than the minimum wage of a single operator?
Chatbots are so easy to use that you really have no excuses not to try them out.
You can create as many chatbots as you want. And you don't even need to know the first thing about coding. Today, anyone can build amazing bots with an easy, visual editor and save thousands of dollars.
Want to update your messages? There is no need to call a developer. Click a node and customize it.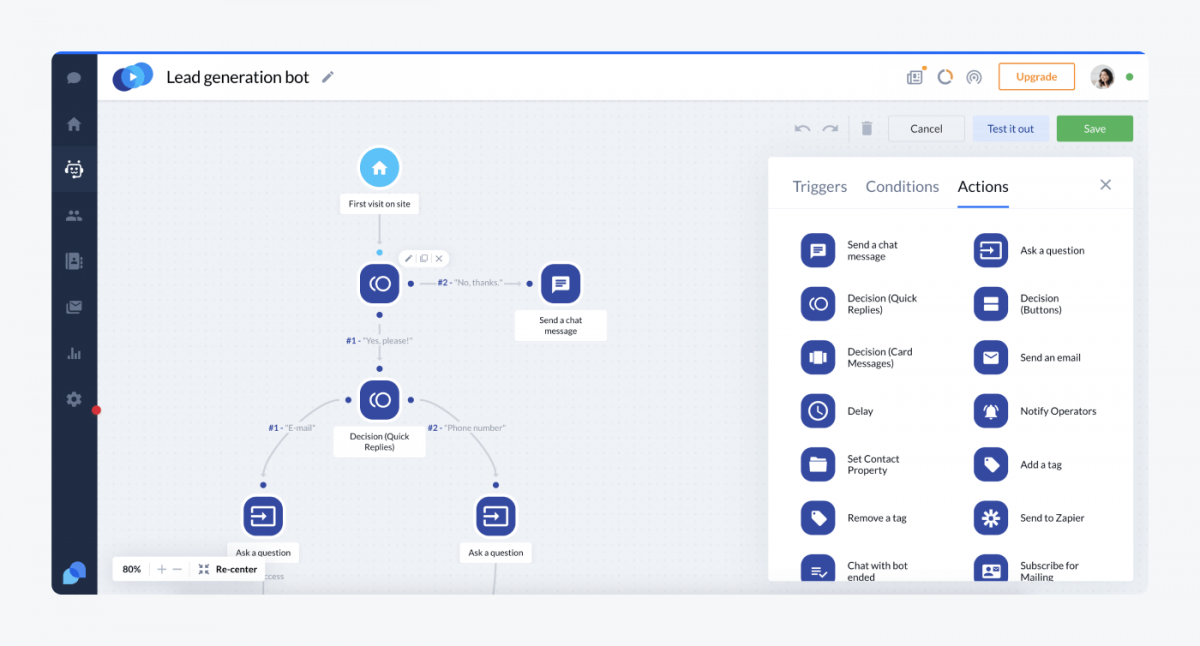 Want to see which chatbots work and which don't? Open the analytics dashboard, track the results, and deactivate chatbots that underperform with two clicks. You will find the right set of chatbots for your business website in no time.
Tip: Are you still struggling with choosing the right marketing platform? Some bots can be integrated with email marketing and live chat instantly. An all-in-one solution is best if you want to avoid the high development costs of custom systems.
9. Integration With Existing Tools and Solutions
This whole chatbot business sounds pretty cool so far, doesn't it?
But I already have a whole set of tools and software for CRM, automation, and marketing. I don't want to stop using them.
Did anyone say anything about giving them up? You can seamlessly integrate chatbots into your existing customer service and marketing workflows.
You can integrate chatbots with all kinds of services. And you don't need to know anything about web or software development to connect them together.
Check out our bot integration guides for specific platforms and other useful articles:
Chatbots can be connected with CRM, email marketing tools, social media platforms, WhatsApp—you name it. And if you need advanced control of every tiny thing, you can use the JavaScript API. The possibilities are endless.
You shouldn't think of chatbots as an alternative to the existing technological pipeline of your business. Instead, they are like an additional—and extremely versatile—accessory in your toolbox.
10. Staying Ahead of the Competition and Leveraging the Power of AI
AI technology is revolutionizing the world of online business. Not long ago, chatbots using NLP seemed out of reach, especially for small businesses.
Today, these types of solutions are becoming more common and it gets quite difficult to distinguish between AI and humans. Still, if customers are able to get things done faster, cheaper, and easier with AI, they welcome the change.
And why shouldn't they?
If something is repetitive then there is no excuse—you should automate it! Why burden your customer service agents with monotonous and thankless work? It is better to spend some time and set up a chatbot for your business website once and for good.
Companies such as Amazon and Apple use conversational AI and chatbots like Alexa and Siri. But you don't have to be Jeff Bezos or a software development expert to join the "chatbot business." Modern chatbot solutions don't require coding skills or advanced backend frameworks. Online stores and startups can create conversational chatbots with bot builders. Their functionality is very impressive.
Business Case for Chatbots
Here's a quick rundown for you to decide whether or not your business may need a chatbot.
Benefits:
Chatbots deliver great customer experiences
They connect customers with your business fast
They improve your business metrics and conversions
Options:
There are 200+ chatbot plugins for WordPress alone. But only a handful gets good reviews, regular updates, and ongoing support. To get more information about the best chatbot providers check out our guide: 7 Best Chatbot Platforms for Companies
Costs:
The costs of developing your own chatbot from scratch can be very prohibitive. But if you decide to choose one of the ready-made solutions, chatbots happen to be cheap as chips. Some of the best options allow you to build and use a monthly quota of chatbots for free.
What do small businesses pay for chatbots? In some cases you can keep all your chatbot expenses under $20 per month.
You can find out more here: Chatbot Cost Calculator
Risks:
Chatbots are not a particularly risky venture. You can set them up on your website in one evening and try them out free of charge. At worst, you will find that your customers are not using them. If that should be the case, you can turn them off and there will be no trace.
How to Use Business Chatbots in Practice
Now, let's have a quick look at a couple of chatbot templates in action.
1. FAQ Chatbot for Online Stores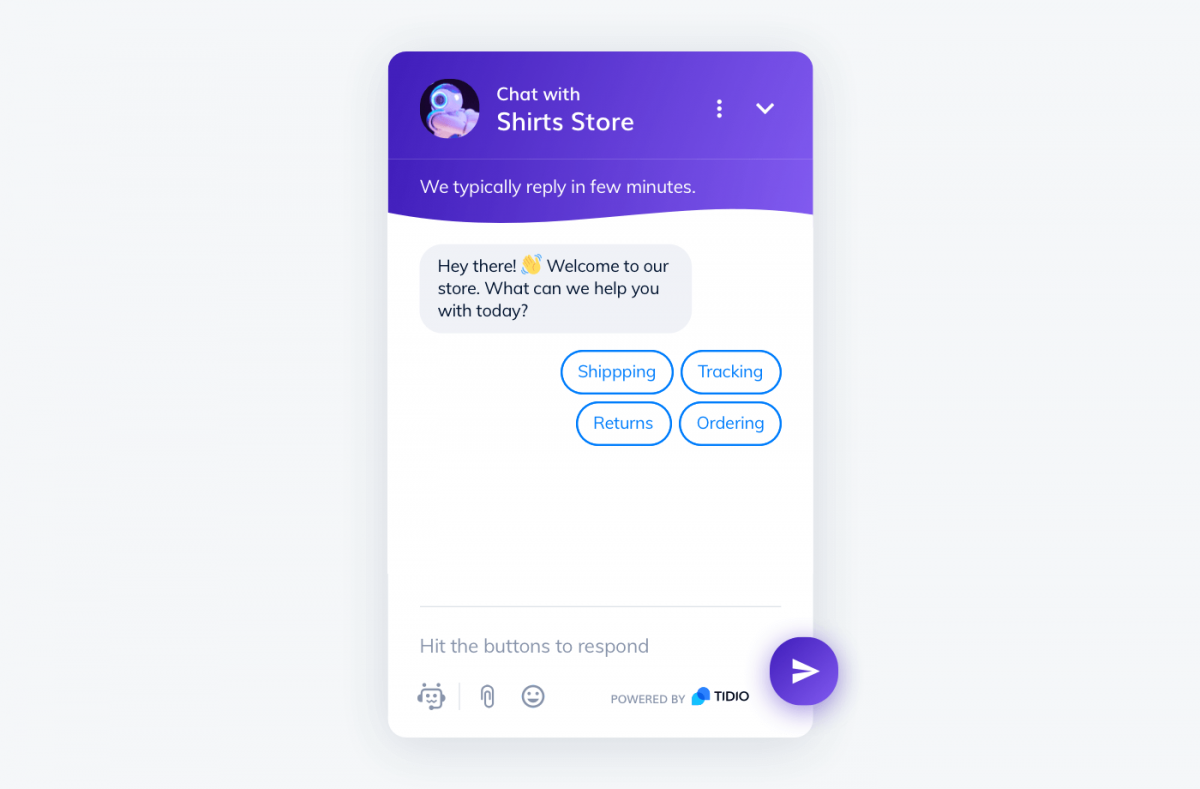 This chatbot helps customers of online stores with their shopping. It can be used to track orders or get information about returns. If you need to expand it, you can add more questions. Go to the chatbot editor and append a new dialogue tree option.
You can upload a list of common questions and the built-in AI chatbot functionality will use natural language processing to match them with an answer.
2. Real-Estate Bot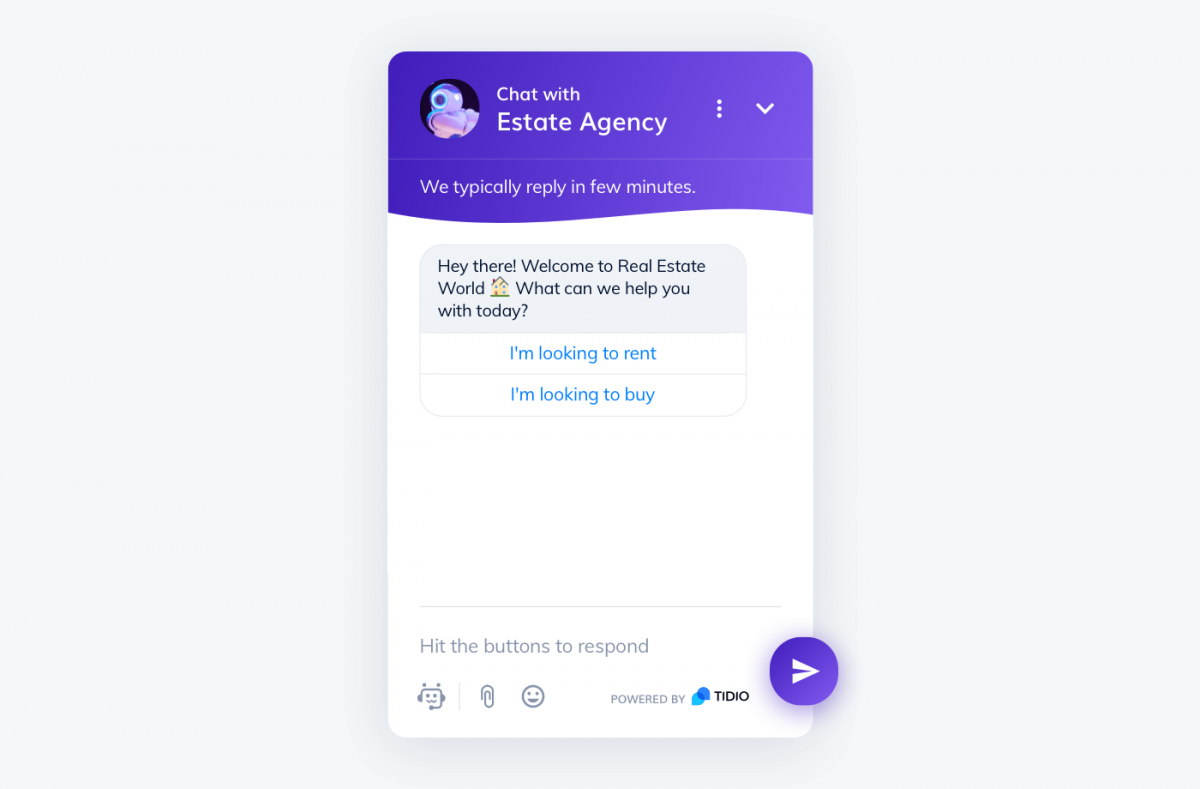 Business chatbots work very well in the real estate sector. Agencies can use them to qualify leads and find new opportunities. You can configure advanced chatbot logic linked with specific locations or properties.
3. Restaurant Chatbot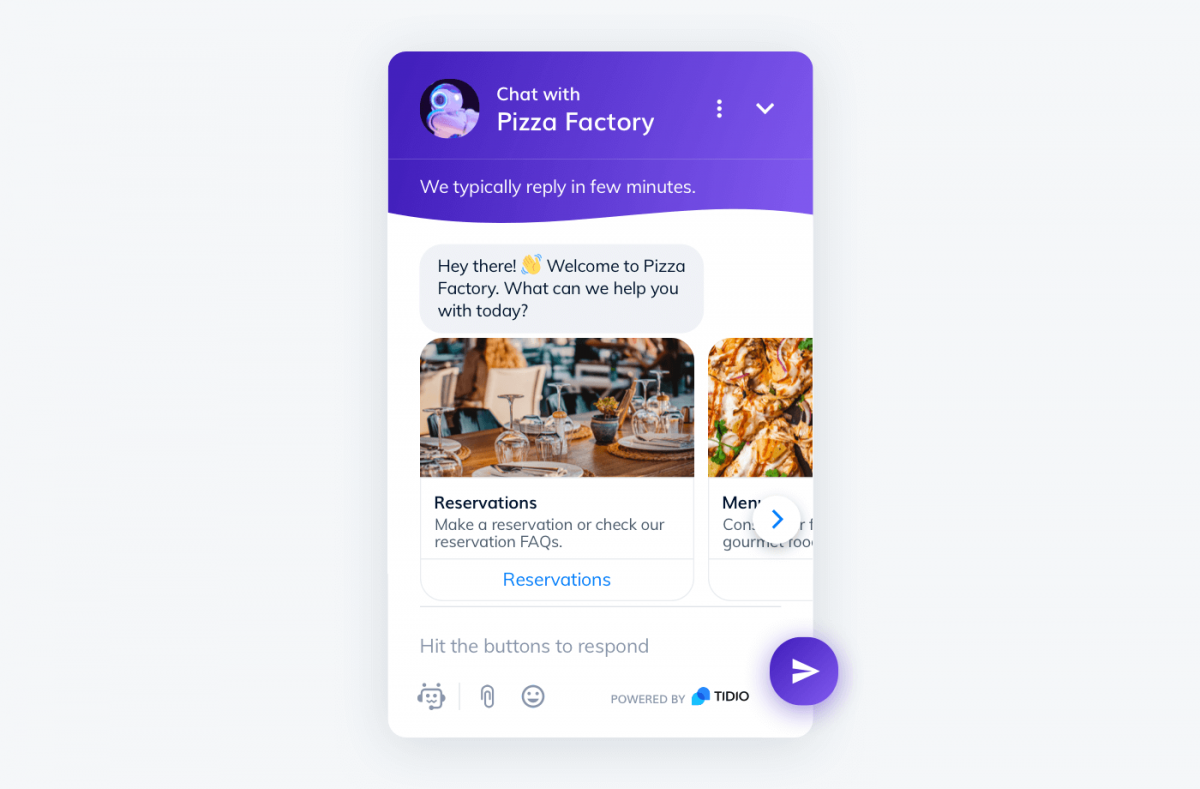 Restaurants are another kind of business that uses chatbots to automate reservations and orders. Customers can order pizza or burgers from their favorite food joint using an instant messaging app. As a restaurant owner, you can integrate chatbots with your WhatsApp Business API or Facebook Messenger.
Tip: Facebook bots can send automatic messages to your users and customers. You can create them yourself without hiring a bot development company. There are many bot services and platforms that you can try out for free.
If you are interested in more examples of companies that use chatbots, you can read our article 19 Best Chatbot Examples in a Wide Variety of Industries
Key Takeaways
It wasn't until 2017 that companies started to discover the benefits of using chatbots. They have been on the rise ever since. If you still hesitate, here are some of the most important things to remember:
Chatbots are extremely helpful in online retail—they rescue abandoned carts, generate leads, and increase sales
The costs of implementing chatbot technology on your business website are negligible
Businesses can try our chatbot platforms for free and use ready-made chatbot templates
Chatbots can automate your customer service and marketing—they save you time and money
Companies that use chatbots increase customer engagement and satisfaction
Chatbot development is possible without any coding skills
Want to give it a shot and see how chatbots become a game-changer for your business?
Try Chatbots For Free