Chatbots
Chatbot for Business – How They Work & What They Do
Are you looking for the right chatbot for your business? Become an eCommerce chatbot expert and start using chatbots on your website to increase sales.
Chatbot use is going through the roof. The adoption rate of chatbots grows by 29.7% per year – from a $2.6 billion market in 2019 to a staggering $9.4 billion by 2024. Their technology is improving exponentially, and they save massive operating costs for businesses. That's all great, but –
Confusion runs rampant. As hundreds of new chatbots for business flood the market and AI tech changes rapidly, it's hard to get a handle on this moving target.
Don't worry. We're about to answer all your chatbot for business questions, including:
Ready?
By the way, you can also get a first-hand chatbot experience right now.
Want to generate leads and provide 24/7 customer service even when you sleep? Create unlimited chatbots for your website without coding to engage more visitors or recover abandoned carts.
Try Chatbots Here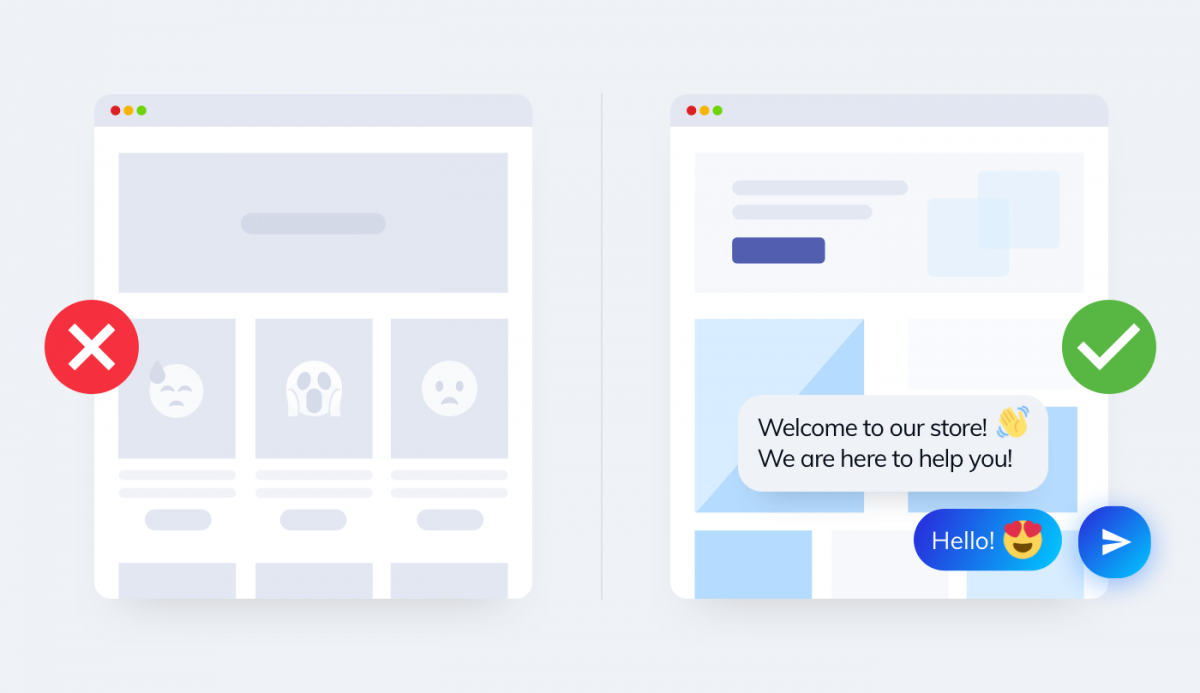 Explore chatbots now—Test the easiest visual chatbot builder for free.
One of our users, Michael, had this to say:
We could set up a simple chatbot in minutes because the drag-and-drop bot builder was really easy to use. Also, the support team was very helpful and answered all our questions
1. Chatbots for business make money and they're skyrocketing
Are chatbots really in demand? You'd better believe it. Chatbots hatched out of the egg in 2014 with a $39 million market share. Fast-forward three years, and they'd already grown five times that size to $190 million. By 2020, whammo. Suddenly they've grown another 13 times to $2.6 billion.
And the eCommerce chatbot bullet train isn't slowing down. By 2024 the market will top $9 billion for the first time.
Why the fuss? Simply put – money. Businesses spent $1.3 trillion in 2017 on 265 billion customer service calls. When chatbots take care of customer issues, they can make 30% of that cost vanish by slashing per-query prices from $15 to $1.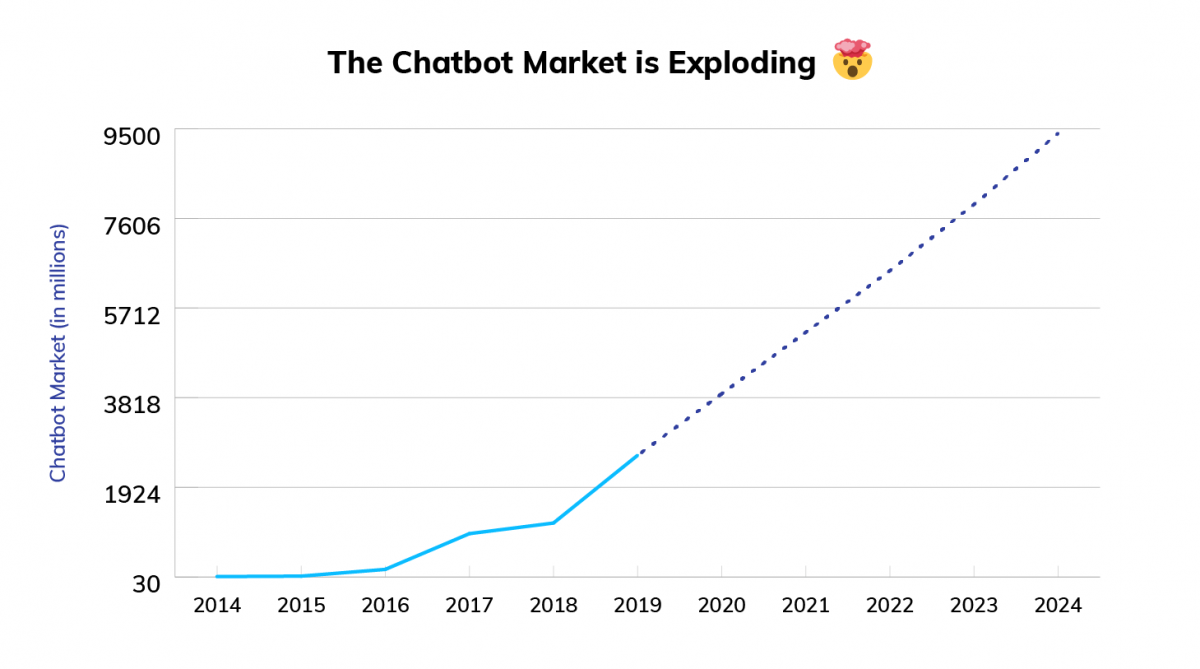 2. What to look for in a chatbot for business
Let's pump the brakes on the gold-rush grab because all chatbot for business options aren't cut from the same mold. The truth? There are a metric ton of different platforms out there, and they're like the early days of the horseless carriage – there's no standard yet between offerings for how they work.
So – let's dive into the vital chatbot features, with a pit stop first to look at what a chatbot builder is.
What's a chatbot builder for business?
An eCommerce chatbot builder is a pre-made chatbot kit. It's got all the coding taken care of so you get what you want fast. That is – to make custom chatbots that fit your business needs.
When you choose a chatbot for business builder, keep these eight vital criteria in mind:
Affordable
How much does a chatbot for business cost? We surveyed the top 10 eCommerce chatbots and found a range from $19 to $240 a month. Most business chatbot builders have a plan for around $20, plus a more robust option for 10x that from certain vendors.
The bottom line on chatbot pricing? Since it's new tech, start small and scale up. In other words, don't spend money to save money. Choose one of the rare plans like Tidio that starts with a surprisingly feature-rich free forever plan. Then grow to $18 per month if needed as you build ROI.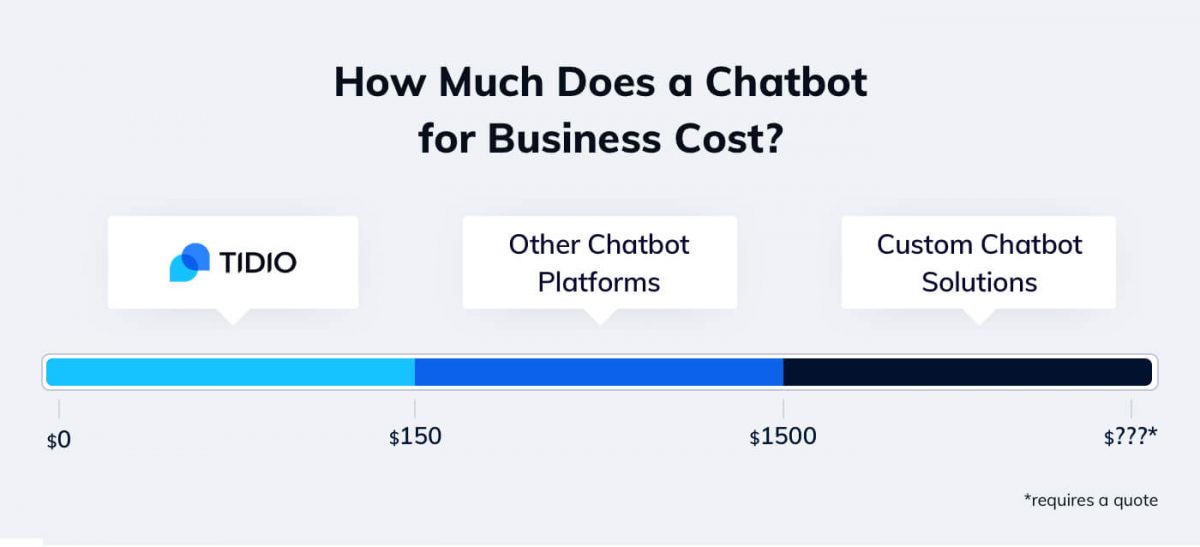 🚀 Read: How much your chatbot should cost.
Pro-tip:

Don't make the mistake of thinking a higher price means "better chatbot." As with any new tech, the market isn't settled. Many chatbot platforms are still figuring out the price.
Feature rich
Before you lay your money down, look under the hood. The best chatbots for business integrate with emails, offer unlimited chats, and come with desktop and mobile apps. They're also fully customizable, so you can fit their look and interaction to your website and other platforms.
Look for an eCommerce chatbot builder with an API, so you can fully integrate it with your applications.
Look for multi-channel communication to make sure you can help customers no matter where they are. Some apps even support multi-language usage and robust reporting and stats dashboards.
🚀 See more: What is a chatbot?
Easy to learn
The last thing you want in an eCommerce chatbot is a time suck. The idea is to save time, not spend more of it. Look for a chatbot for business that's easy to install on your website. Are you using OpenCart, Prestashop, Wix, Shopify, WooCommerce, or WordPress? Look for a chatbot that plugs into those like butter.
Look also for a chatbot builder with a simple knowledge base to get you up and running fast. Setting up a business chatbot shouldn't take more than 15 minutes. It should be as quick as adding a plugin to your website, choosing a template, and then tweaking custom Q&A.
🚀 See more: How to Make a Chatbot Without Coding in Less Than 15 Minutes (Free)
Robust support
"This is the most frustrating day ever!" That's not a fun experience. The best way to start is with 24/7, free, live chat with a flesh-and-blood human. With live chat, there's no hold time and support is instantaneous, with quick file-sharing.
Make sure your eCommerce chatbot builder has free support for every tier or pricing plan. Can they accept screenshots in case of issues? What about backups of your interactions so you don't have to repeat yourself? Know what you're getting into to avoid a headache later.
Integrations
A chatbot for business that doesn't flex with the business is a frustrating toy. On the other hand, one that bends everywhere you do is a lifesaver. At the very least, an eCommerce chatbot should integrate with email and social media. And play well with CRMs and support ticket systems.
What about eCommerce platforms? Most online businesses use one. Some of the common shop and payment platforms are Prestashop, OpenCart, Shopify, Wix, WordPress, Bigcommerce, Squarespace, Weebly, 3dcart, and Site123. Your chatbot should integrate with those you use, or those you might.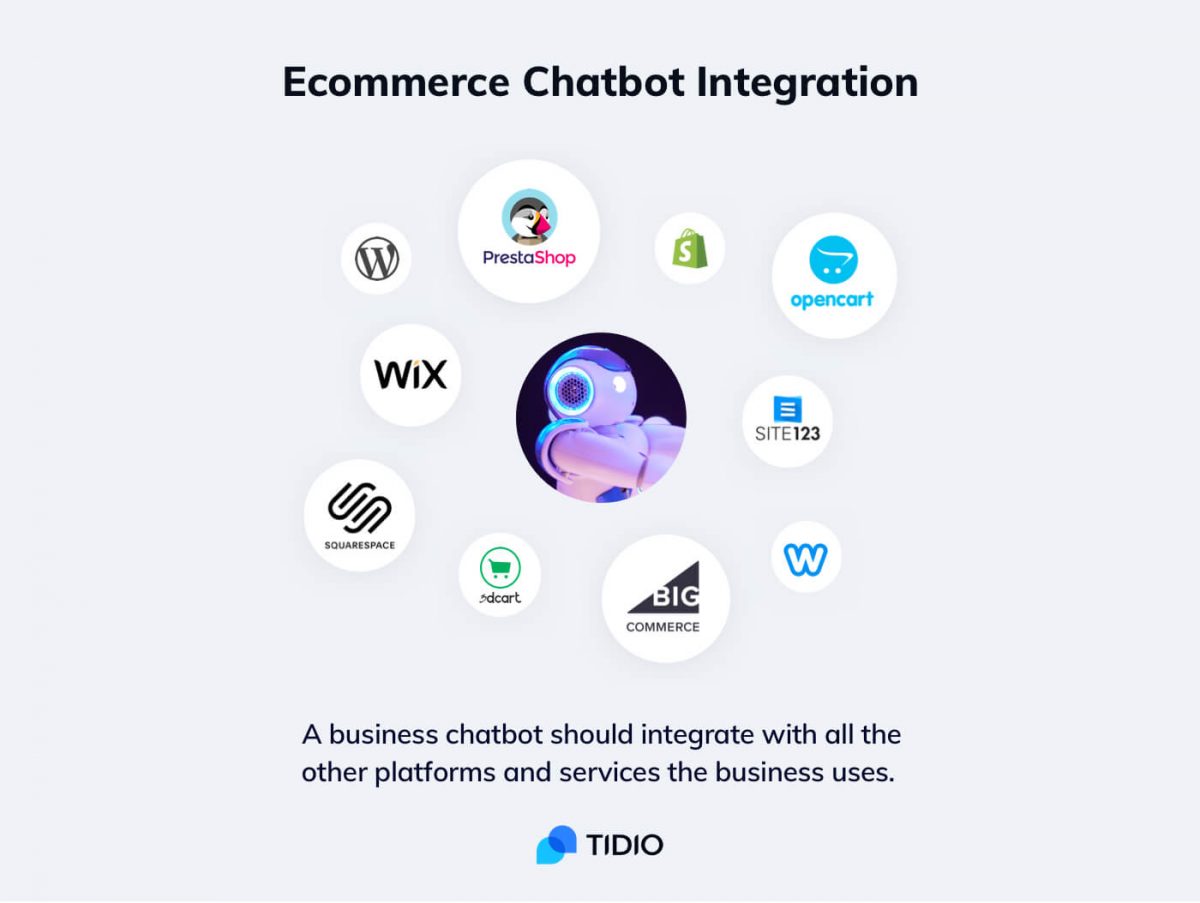 Your developers may also want to integrate with Joomla, Magento, Drupal, and MailChimp. What about HubSpot, Zendesk, and Google Analytics?
We could go on for weeks. The point is, a business website is not an island, so a chatbot can't be, either. If your business chatbot can't play nice with other apps, it's a brick with a subscription fee.
Lots of bots & automations
"Wait, what do you mean lots of bots?" Well – a good chatbot builder gives you lots of different bots to work with. The best chatbot for business will come with different templated bots for order status, cart abandonment, shipping, product availability, and dozens more.
You might want different bots for lead generation, welcoming new visitors, or returning customers too. Each one should have the power to tap into natural language processing to understand common questions asked in different ways.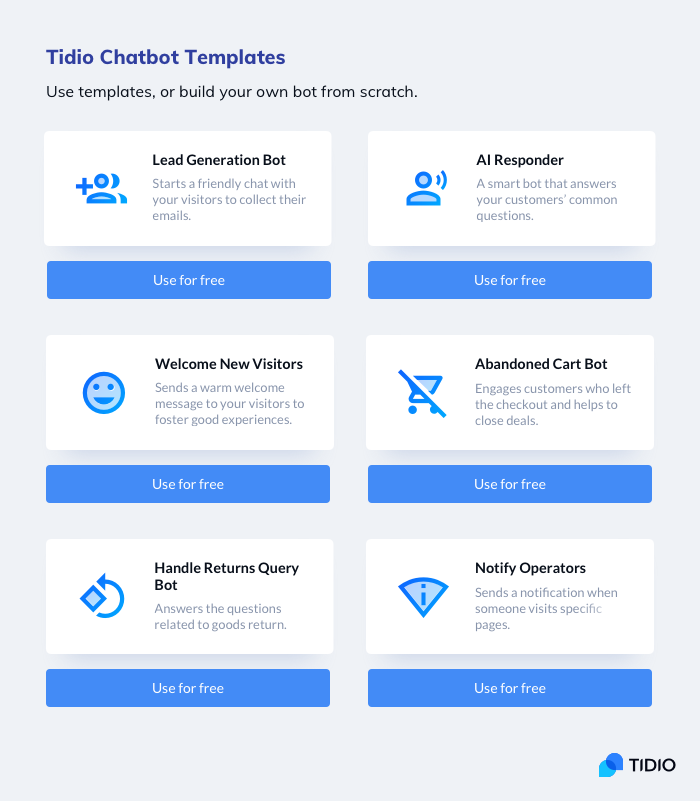 Finally, you should be able to create custom bots for special situations without a lot of hassle – and no coding.
Mobile app
Most internet users today (75% or 3.8 billion of us) use smartphones first and foremost. A business chatbot that doesn't work on Android or iOS is like those monkeys with their hands over their eyes and ears.
Make sure your chatbot has a mobile app that keeps you going while you're on the go. It should give access to dashboards with lists of visitors, current and archived chats, what pages were viewed by who, and other vital facts. Why?
Because then you won't have to sit down and log in to see what's cooking on your site. If a big event happens and you're out-of-pocket, you won't be out of touch.
High-rated
Eight billion internet users can't be wrong. The best way to find the right chatbot for business is to follow the digital footprints. Look at online ratings on G2, Capterra, Getapp, Shopify, SoftwareAdvice, and other respected review sites. Which bots do most other business owners love?
A good eCommerce chatbot app will have at least a 4.5 star rating, while some make it up to 4.7 or 4.8 stars. Tidio's chatbot for Shopify, for example, is rated at 4.8 stars based on 1,000+ opinions.
3. What can a chatbot for business do?
Nobody wants to be that kid on the block with the new toy she doesn't understand. Or the guy who can't ski but has $6,745 worth of all the latest gear for doing pizza-wedge. Understanding what chatbots do is central to judging whether you should spend the $18 a month or so to get one.
Chatbots in a nutshell. A chatbot for business takes the pressure off the live customer support team. Did the customer ask a FAQ question? Boom. The chatbot answers 10x faster than the customer could by poking around your website. With harder questions, the chatbot connects the customer with a human.
The right person. For B2C companies with different levels of support, chatbots find the right person. Nothing's more frustrating to online shoppers than having to explain a problem three times to different people. Ecommerce chatbots ask once, then pass the info and customer to the right agent.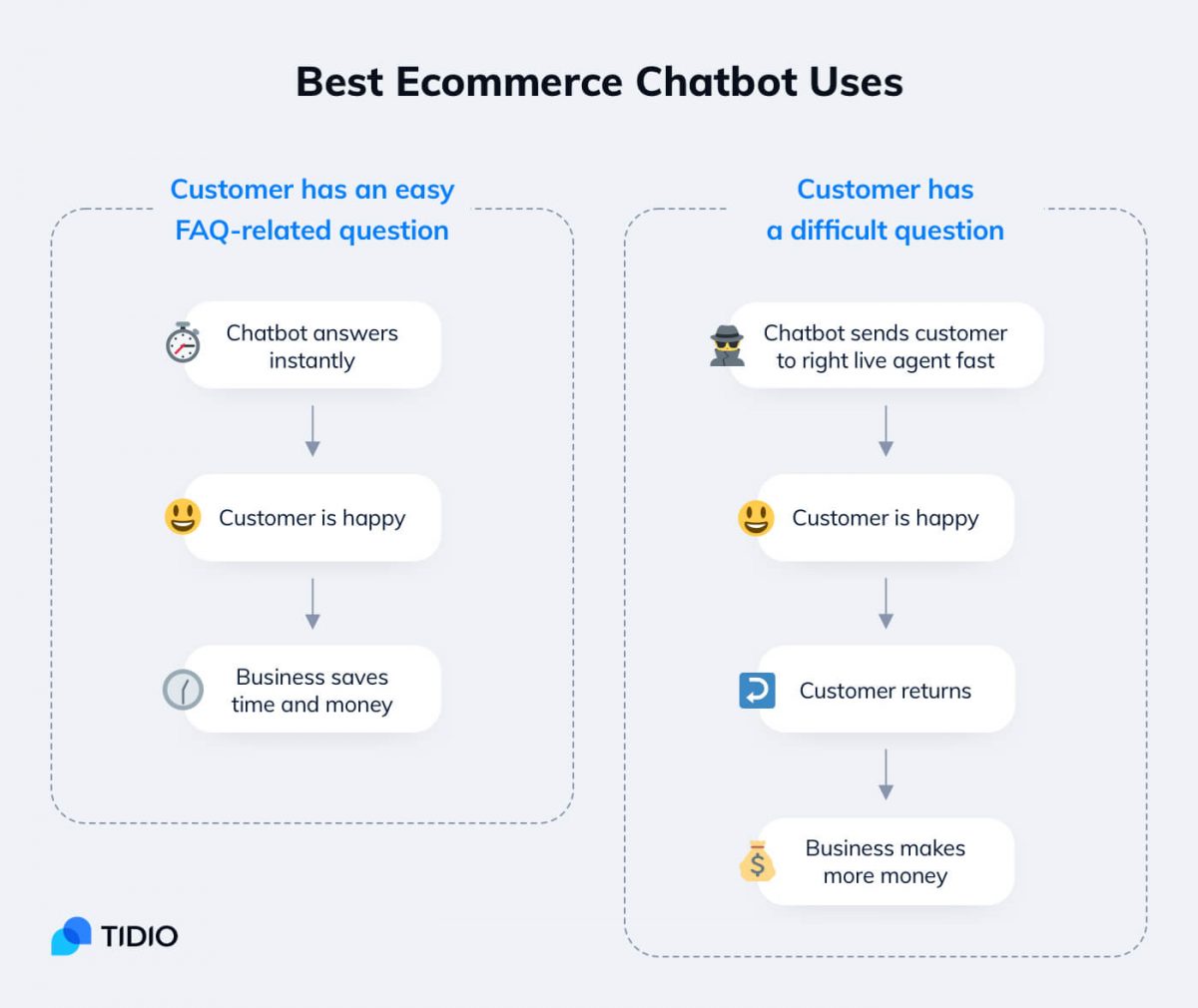 That's how they save money. Fast FAQ answers and quick connections to the right support agent are the bare bones of why chatbots save that magic $14 per support call.
4. How to use a chatbot for business
The best eCommerce chatbot builders let you add a plugin to your website or online store. You'll typically see a dashboard with a range of different chatbot templates you can use for different pages on your site. Each one comes preloaded with AI and natural language processing oomph.
For instance, you might pick a chatbot template that offers a discount to returning customers. You click the template, then set up specifics like amount and how to phrase the offer.
Chatbot for business example:
Chatbot: Hi Steve! You're back, Would you like a 20% discount today?
Steve: (Was only browsing, but now wants to buy) Yes!
Chatbot: Okay, great! Use this discount code at checkout to get 20% off! CRL9ALBRT
Steve: (Just stopped price-shopping and will definitely buy now) Thanks!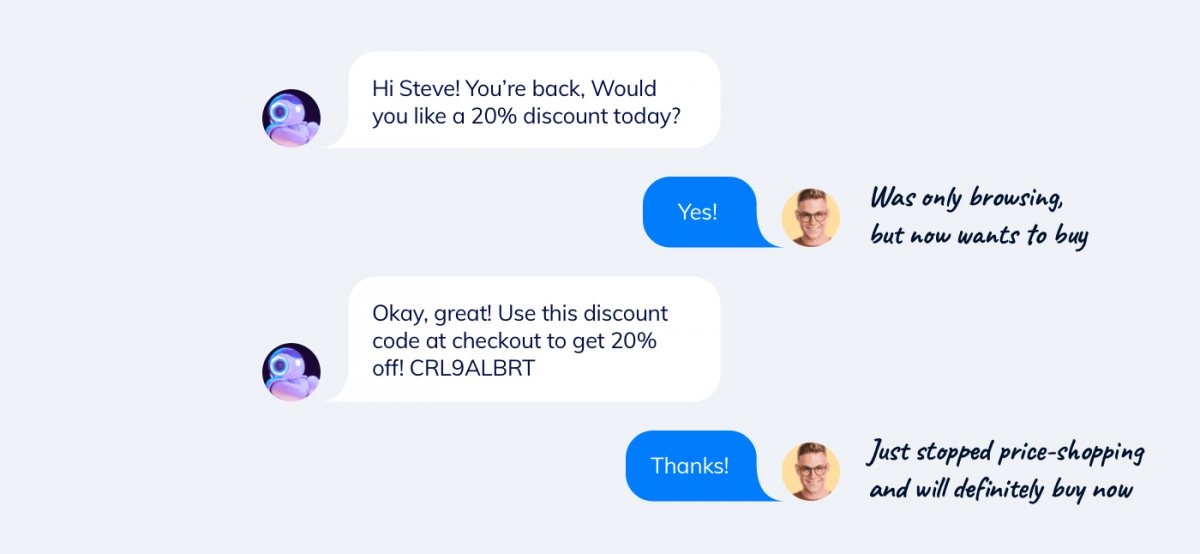 Best eCommerce chatbot uses
Hands down, flat out, the most bang for the dollar from business chatbots goes like this:
You'll set up chatbots to handle your FAQ. When a customer pops up on your site and has a question, she can ask the chatbot. The bot will answer instantly. Result? A happy customer who's 10x more likely to buy.
If the chatbot doesn't recognize a question, you'll set it up to shunt the customer to the right live support agent via chat or phone. Same result again.
You'll also set up chats to wait in common places in your sales funnel and pave the way for sales. You'll use templated bots for abandoned carts, placing an order, offering discounts, and more.
Make sure you're ready with responses that take into account "what if the customer doesn't answer in the way you want?"
Last, you'll go off-template and make custom bots using the builder for more complex jobs.
Finally, you'll sit back and reap the benefits in less cost from calls and emails and more revenue.
🚀 Read: Find more chatbot use cases and chatbot conversation examples.
5. What eCommerce chatbots can't do
Don't fall afoul of thinking chatbots can 100% replace live sales and customer support. They can't. While they're the future of sales, they get tangled up in complex queries. That's why they work best when intertwined with live support.
Their tech is getting better every day. Witness Google's natural language chatbot that made a splash when it fooled humans a couple years ago.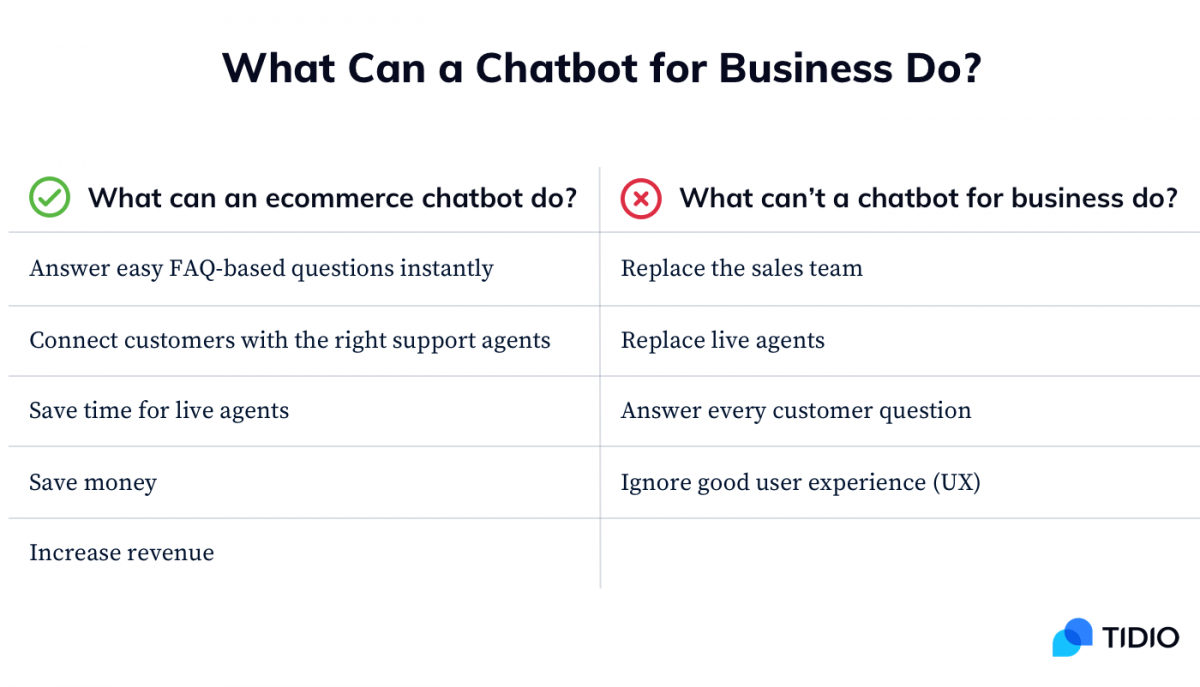 Chatbots are great for answering easy, FAQ-based questions faster than a website – without tying up live agents. They also shine at getting customers to the right person. And they can really help a business funnel in the right kinds of customers.
But – don't try to brute-force your customers into a complex qualifying conversation that's off-topic from their needs. In short, a chatbot for business is a tool, just like a website. There are things it can do and things it can't.
It can't replace live agents, and it won't replace your sales team.
The best advice? When setting up a chatbot, follow two golden rules: 1) Don't waste your customer's precious time, and 2) Follow Steve Krug's excellent web design advice and Don't Make Me Think!
6. The best chatbot for business builders
What's the best eCommerce chatbot platform or business chatbot builder? We've got a list for that:
Tidio. Okay, we're biased, but how could we not be? With a free forever plan and the full "premium plan" at $18 a month, plus integration with zillions of apps and platforms and a 5-star rating, we'd be lying if we said we weren't the best.
Chatfuel. Best chatbot for business for Facebook Messenger. It's fast and easy to build your own bots, and there's a live chat plugin to dovetail with your live team.
MobileMonkey. For Facebook Messenger. It integrates well with lots of different apps, platforms, and mobile apps, though it can't do live chat.
ManyChat. This is a great sales and marketing eCommerce chatbot that works great with SMS and Messenger. Requires a Facebook page to get started.
Snatchbot. Good for online stores and medium-sized businesses. It can send bulk messages and comes with free chatbot templates for different industries.
Intercom. One of the best chatbot and marketing automation apps available. But it is pricey. Check out cheap intercom alternatives here.
🚀 Read more: 7 Best Chatbot Platforms for SMBs You Can Try for Free
7. Ecommerce chatbot examples
We couldn't let you go without showing you a few chatbots for business in action. Let's take it one by one:
Tidio chatbot. This business chatbot has a free forever plan, integrates with live chat, comes with tons of pre-made templates to choose from, and is fully customizable. A great solution for small to large sized businesses.
Sephora chatbot. Sephora actually has different chatbots. One lets you choose from multiple-choice questions, and another lets you color-match to hunt for products.
Levi's chatbot. Their multiple chatbots can help you look for jeans, get help instantly from a live agent, or find outfits that fit your lifestyle.
🚀 See more: The Best Innovative Chatbot Examples by Industry (30 Examples)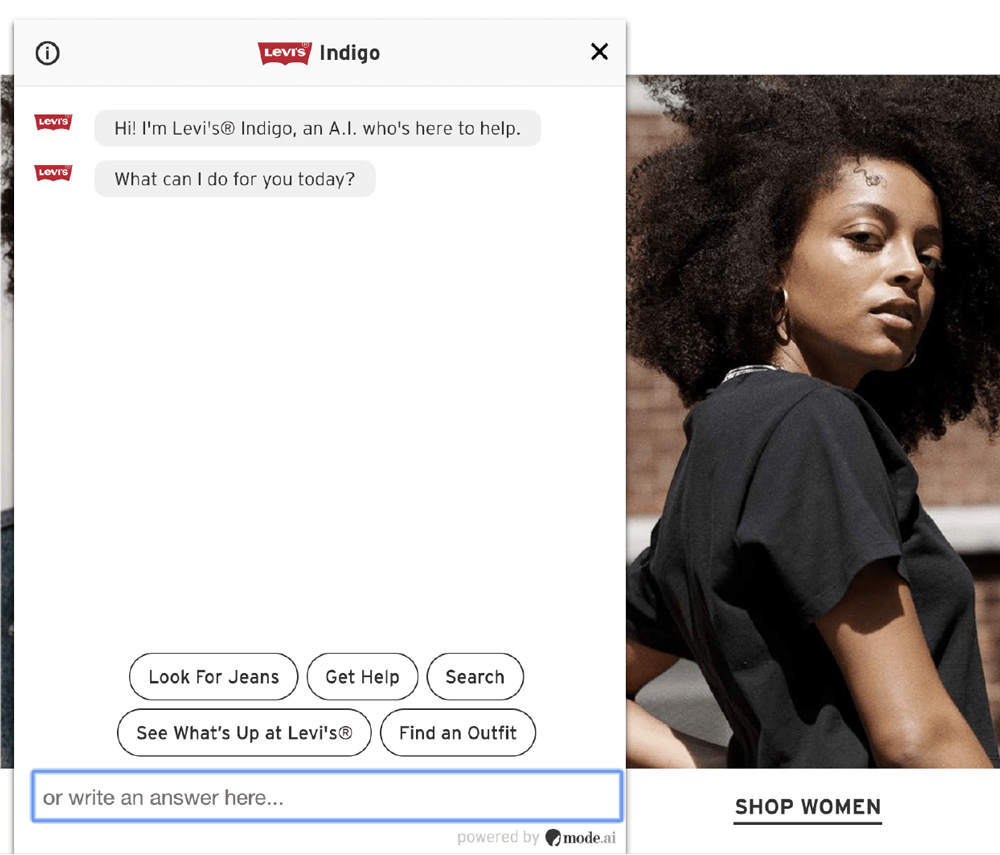 How to get started with a chatbot for business
If you made it this far, you might have fun taking a business chatbot for a spin. The good news? It's easy to take a test drive. Tidio has a free business chatbot that's surprisingly feature-rich. If you must have the fully-fledged premium option, that'll cost you an easy $18 a month (less than a paid Zoom plan).
All you need to do is create a free account, then walk through the easy steps to set it up. If you run into a snag, let Tidio's unmatched support team walk you through to your first chatbot success.
Try Chatbots For Free