Laziness drives innovation.
Some of the greatest inventions were born out of people being sick and tired of doing things the old way.
And sometimes online customer service can be very tedious and repetitive.
But—
Artificial intelligence never gets bored. It has no problems answering the same question asked by customers for the 100th or 1000th time.
Unsurprisingly, chatbots for business have been gaining popularity these days. They are a better, faster, and cheaper solution. At the very least, they make the lives of call center agents a little bit less miserable.
In this article:
If you want to explore chatbots first-hand, here are some additional resources you may find useful:
Now—
Are you ready to examine how chatbot technology can be used for business purposes?
Let's plunge right into the wonderful world of AI bots.
Why chatbots are effective in business
Artificial intelligence (AI) technology continues to evolve. So the question arises—what jobs are most likely to be replaced by AI?
As AI becomes more advanced, an increasing number of companies keep exploring the potential benefits of chatbots in business. And it is no coincidence that customer service representatives are high on the list of jobs that can be taken over by AI chatbots.
What are they exactly?
Chatbots are computer programs that can simulate human conversations. They have already shown themselves to be valuable tools for customer service and marketing.
The biggest benefits of chatbots for business are:
Businesses use chatbots because they translate into measurable gains. According to a recent report about chatbots from Business Insider, consumer retail spending via chatbots will reach $142 billion by 2024.
A virtual assistant can automate repetitive tasks and save time and money you'd otherwise spend on your human agents. Additionally, natural language processing (NLP) and artificial intelligence contribute to a better user experience and higher customer satisfaction. Last but not least, your own chatbots will bring more qualified leads and increase conversion rates.
But what are some practical applications of website and Facebook Messenger chatbots?
Let's take a closer look at different ways of implementing chatbot technology and some business chatbot use cases.
How to use chatbots for business
If you want to use chatbots for business, you first need to add a live chat to your website and social media. Then, create a conversational AI bot and activate it in your live chat widget. You can make your own bots for your business by using a chatbot builder. Popular chatbot providers offer many chatbot designs and templates to choose from.
If you're comfortable designing your own dialog trees and chatbot workflows, making a chatbot from scratch may be the best choice for you. However, if you're looking for a more simple and straightforward solution, then choosing one of the ready-to-use chatbot templates may be a better option.
Now—
Here are a few chatbot business strategies and examples of how chatbots have proven to be successful for companies.
1. Use a "call center" chatbot to resolve FAQs
Chatbots work 24/7 without complaining or lengthy customer service training sessions. The tech is here. We are way past the "Hello. IT. Have you tried turning it off and on again?" routine. There is really no excuse for making your customer wait and your agents answer repetitive questions over and over again.
Here is an example of a customer service chatbot used by Microsoft: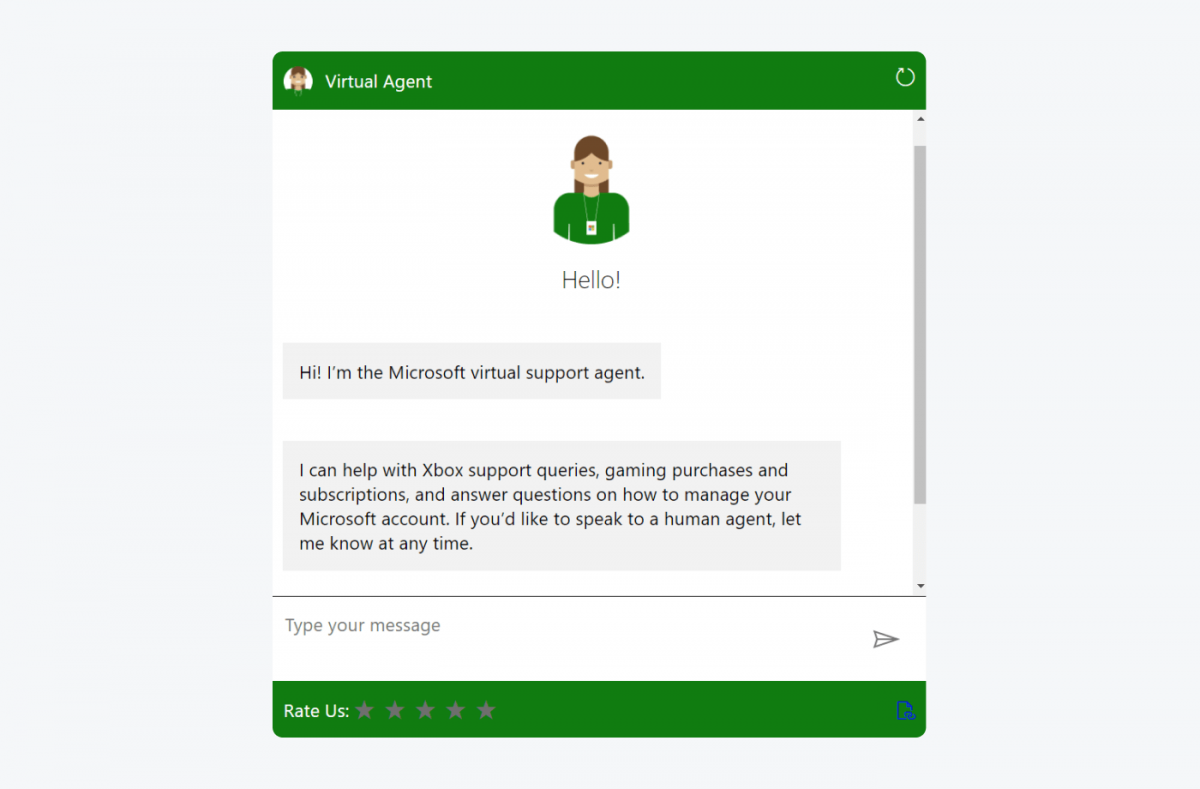 After sending the message, the virtual assistant will ask some follow-up questions and offer a solution to the problem. Typically, this will be a link to a specific troubleshooting article in their knowledge base.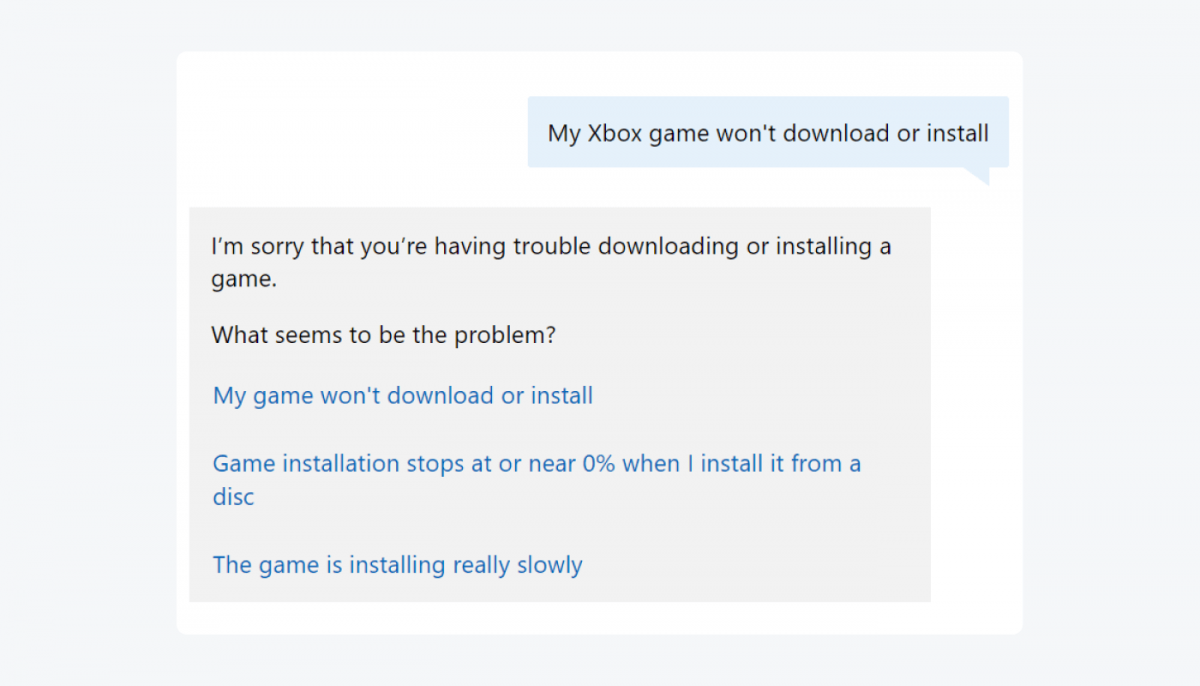 Originally, Microsoft offered help from real agents via live chat. Over time, an increasing portion of recurring queries could be resolved by a chatbot. Now, the virtual assistant is the primary support option for some Microsoft products and services.
Read more: How to Train and Build an AI Chatbot That Answers FAQs
2. Collect customer data and user feedback
Chatbots can either collect customer feedback passively through conversations or actively through surveys. The passive method can be very discreet—for example, a chatbot can tag customers who use specific phrases or product names. The second approach, chatbot surveys, is more explicit.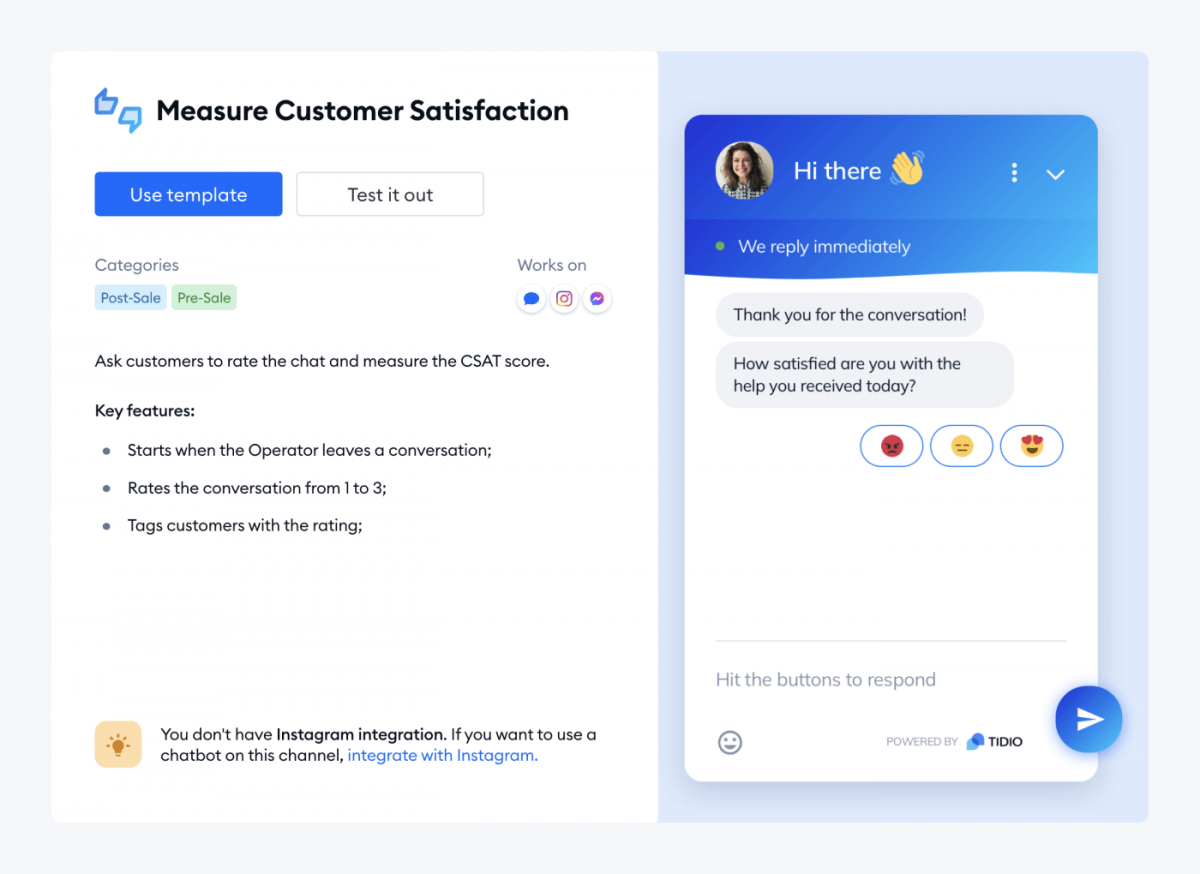 Both types of bots can be extremely useful for understanding what your customers want and how they feel about your company. But it's important to design your chatbot surveys carefully, so you can get the most accurate information possible.
Read more: What Are the Best Customer Satisfaction Survey Questions?
3. Give personalized product recommendations
One of the most successful examples of using chatbots for business is providing personalized recommendations. Chatbots can analyze customer preferences and offer products or services that are tailored to them. This provides a more personal shopping experience for the customer and can increase conversions and sales.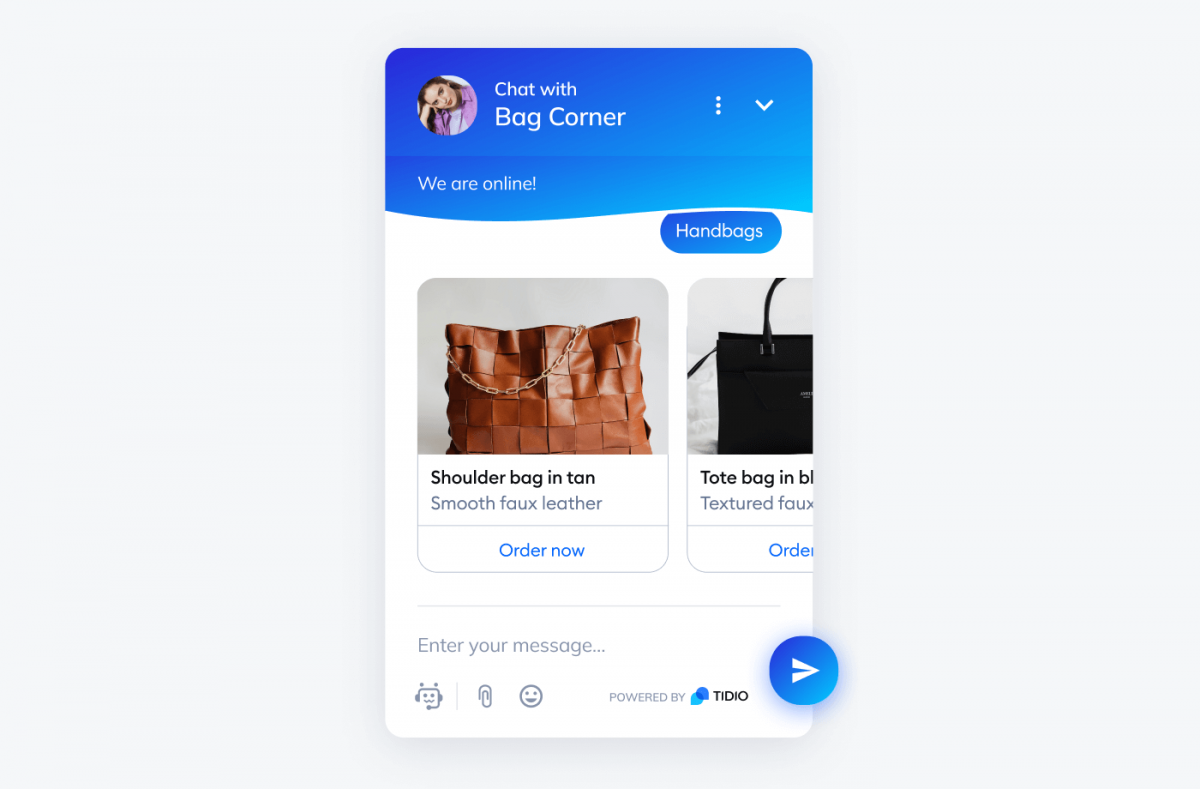 But how does this type of chatbot work in practice? Well, you can configure your chatbot to keep track of the products your customers have viewed or bought in the past. Then, bots will make future recommendations based on that data. You can also go through conversations and your customer database to create several client profiles. For example, new and returning customers may receive two very different welcome messages.
Read more: How My Dog Accessories Store Doubled Sales with Chatbots
4. Qualify leads with lead generation chatbots
One of the best features of chatbots, business-wise, is their ability to generate and qualify leads. The easiest way to encourage visitors to leave an email or phone number is by offering something in return. Chatbots can provide discount codes or other lead magnets.
If you're feeling extra lazy, you can even try to convince visitors into leaving their contact information, so they can start a conversation with the bot in the first place. For example, you can collect data with Tidio pre-chat surveys.
But bots can also help you with customer segmentation and qualify leads. Ask some questions about your visitor's needs to discover who is your potential customer and who isn't.
The example above shows a chatbot powered by Drift. It asks potential customers about their business goals and assigns them to specific customer service or sales agents. People are much more likely to talk about their needs and goals when asked by a cute bot than by a random popup.
Read more: The Best Drift & Intercom Alternatives
5. Weaponize social media for conversational sales
When it comes to online marketing, you need to have a strategy for acquiring customers. One of the most effective ways to do this is through social media and paid advertising. However, you can't just put up an ad and expect people to buy from you. You need to know where you want to redirect their focus to.
Our suggestion? Try conversational sales with Facebook Messenger bots for business.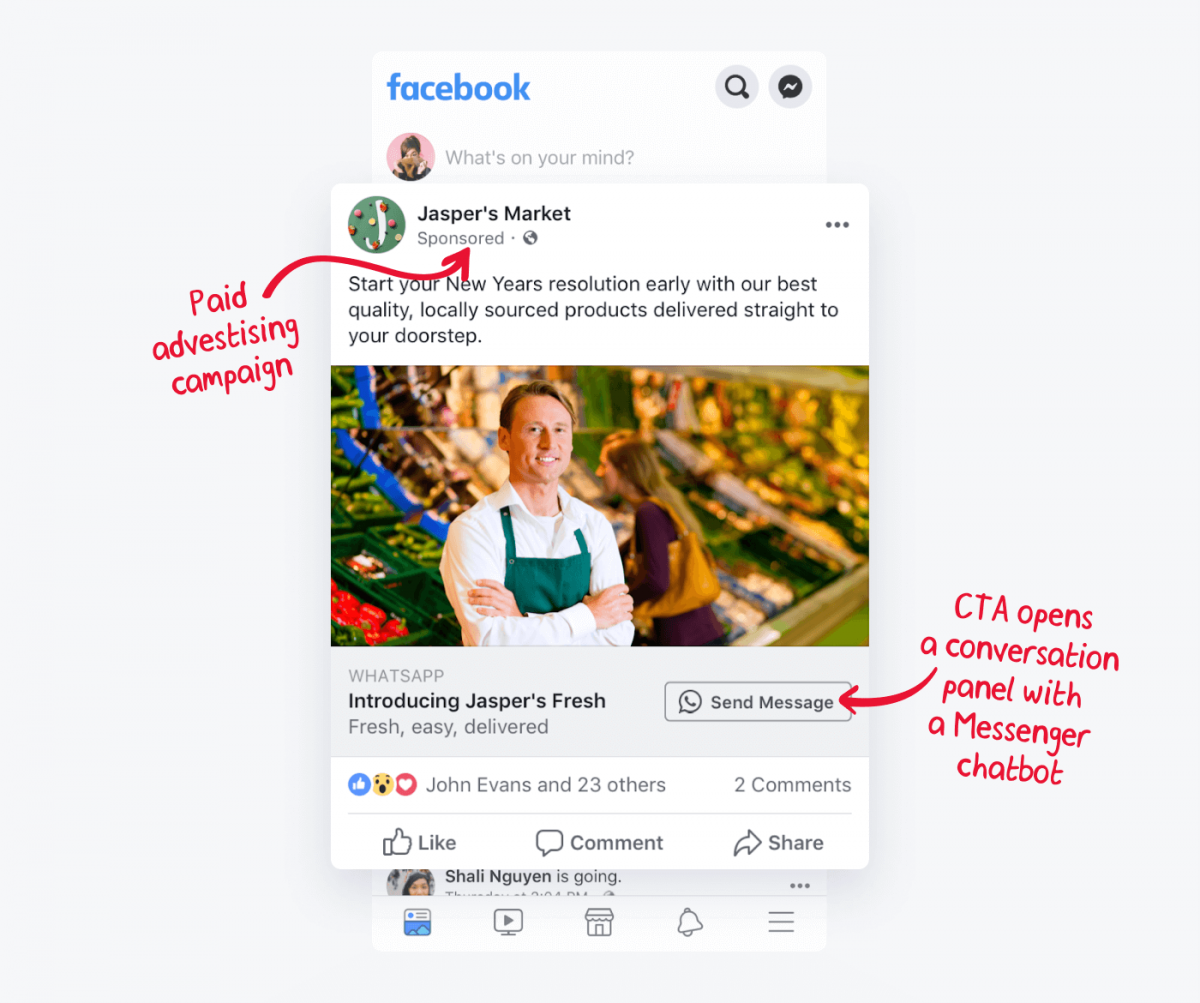 Traditionally, custom landing pages used to be the best way to make the most of your paid traffic. But chatbots and conversational landing pages convert 20% better than static landing pages.
With PPC, it is especially important to maximize the potential of your traffic. Using ads that send customers straight to your Messenger or WhatsApp chatbots is a fool-proof marketing strategy.
Read more: Discover the best chatbots for sales and increase your revenue.
6. Reduce the number of abandoned shopping carts
Many businesses have a hard time understanding why anyone would abandon their cart. The answer is that people get overwhelmed easily. And they bounce when they are bombarded with too many steps or when they come across complications in the checkout process.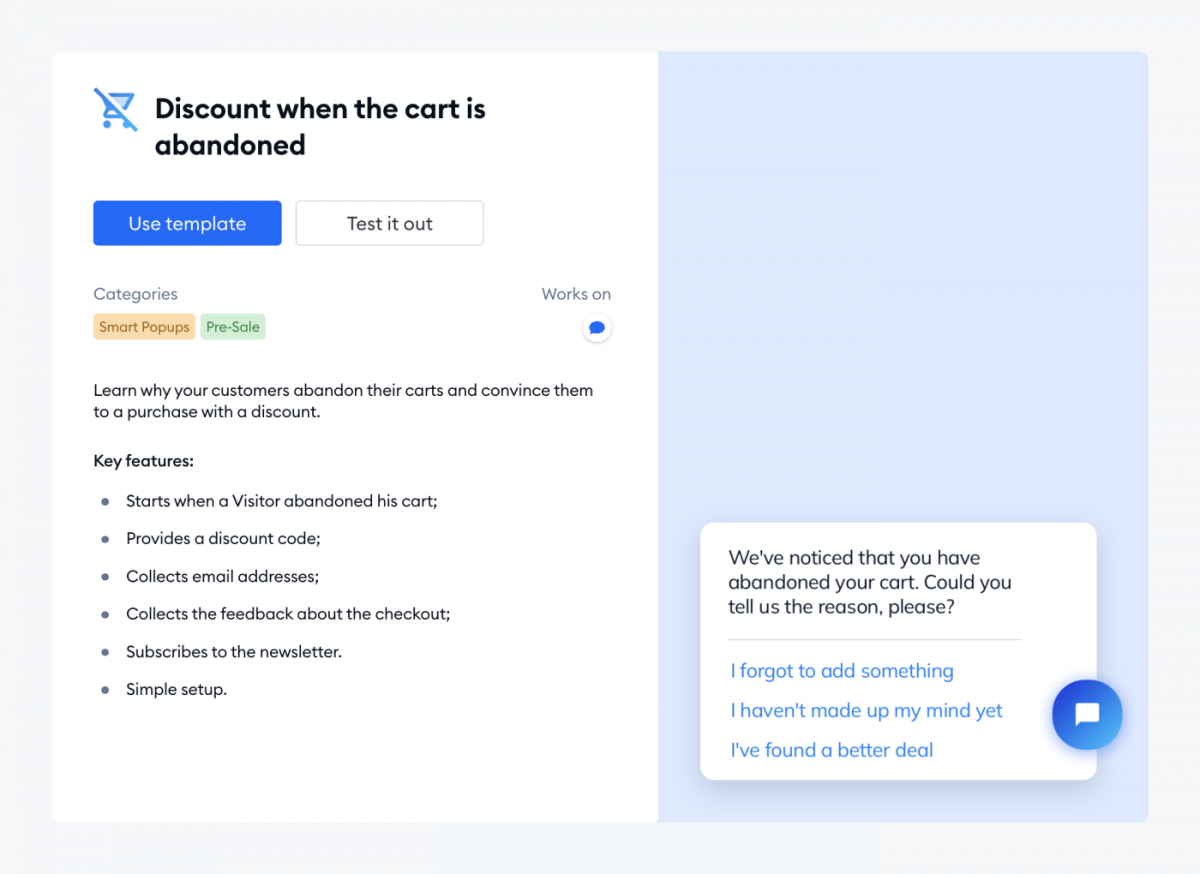 Chatbots can help reduce shopping cart abandonment rates by giving customers personalized assistance throughout the purchase process. For example, if a customer needs more information before making their decision, a chatbot can offer assistance and guidance to help them complete their purchase.
7. Integrate bots for omnichannel communication
In the past, customer service usually happened over the phone. But now, there are several popular messaging apps, social networks, email, SMS texting—more types of customer service than a single person can handle.
Chatbots can interact with customers on multiple channels simultaneously. You can create one version of the bot for a website and then duplicate it for Messenger or Instagram with the click of a button. This allows businesses to provide a more uniform customer experience across different customer journey touchpoints.
What is the best business chatbot for websites and online stores?
Chatbot development costs can be prohibitive, and you may not have the resources or expertise to do it yourself. That's why so many small and medium-sized businesses are turning to plugin-based chatbot platforms and services.
These solutions allow you to create and manage your chatbot without any programming knowledge. They often come with a wide range of features and integrations. Some of them also have JavaScript APIs that give you full control over your bot messages and widget behavior.
Here are some of the best providers of chatbots for small businesses:
Tidio: chatbot for business
Tidio is a free live chat and chatbot solution that helps you keep in touch with your customers. It integrates with your website and allows you to send out messages to your customers. You can also use it to track the results of your marketing campaigns.
Great for Shopify and WooCommerce stores
Drag-n-drop visual chatbot builder and templates
Machine learning and intent recognition functionalities
Many customization options and chatbot API
Pricing: Basic chatbots are free. Premium chatbot features are available from $49/mo.
Chatfuel: business bot builder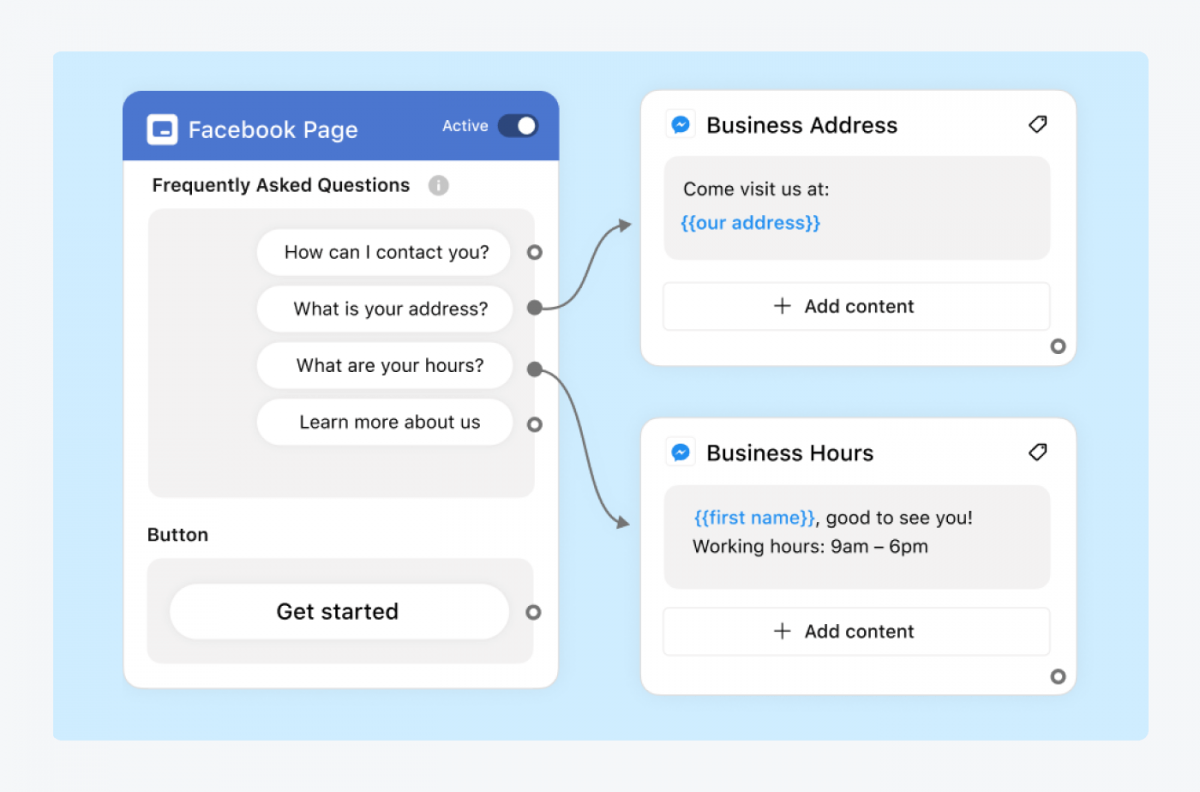 Chatfuel is one of the leading business chatbot tools. It enables you to create bots for Messenger, Telegram, and Viber without any programming knowledge. With Chatfuel, you can quickly and easily create engaging chatbots that provide a great user experience.
Pricing: Based on the number of users. The first 50 conversations are free, but you pay $15 for additional 500 bot conversations.
Botsify: multichannel chatbots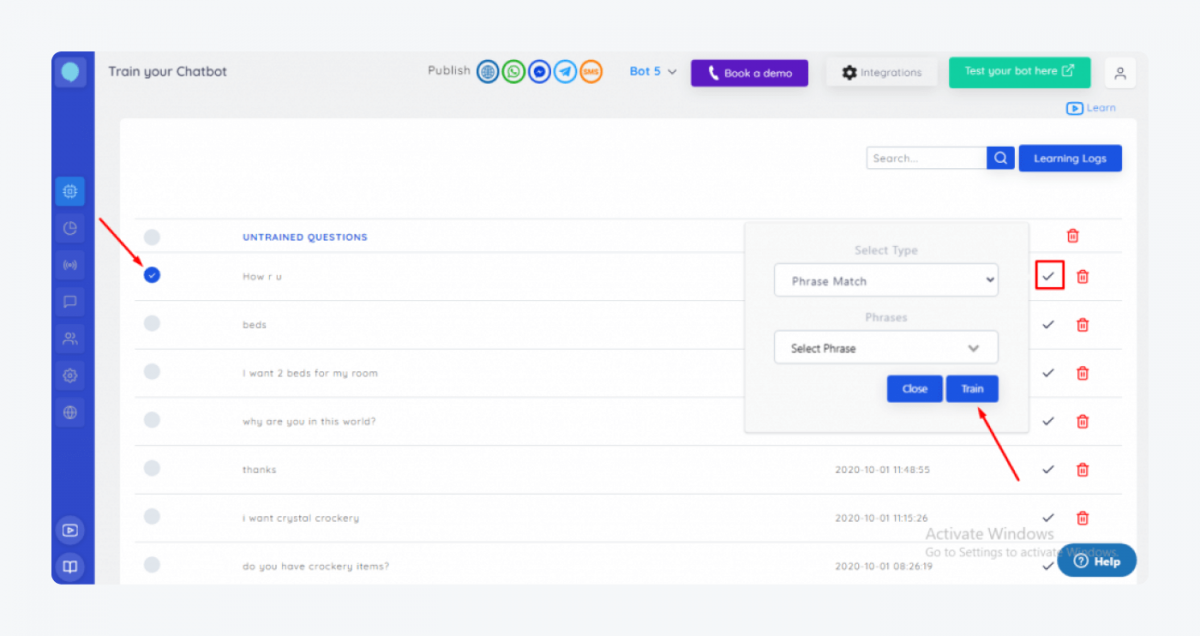 Botsify allows you to create chatbots for customer support, sales, and marketing. You can also use the platform to integrate your chatbot with your website or Facebook page. The user interface is easy to navigate, and the pricing plans are quite reasonable.
Pricing: No free option. The Personal plan starts at $49/mo.
Drift: conversational marketing bots
This conversational marketing platform allows you to create, manage, and monitor your chatbot campaigns from a single interface. You can design and deploy your chatbots in minutes, and track their performance, so you can optimize them for better results.
Pricing: Determined on a customer-to-customer basis
Each of the four solutions presented above has a loyal user base. The main consideration will likely be your budget. Here's a quick summary of the most popular chatbots for business and their pricing.
Best Chatbots for Business
Conclusion
Chatbots are great for handling simple customer inquiries and automating business processes. They can answer common questions and provide basic information about your product or service. This can free up your customer service team to handle more complex inquiries.
Whether you're looking to reduce shopping cart abandonment rates, provide better customer service, or simply want to increase sales, chatbots are a great way to achieve your goals. And the best part is that some of the chatbot companies allow you to add bots to your website and social media for free.
Now that you know all the amazing benefits of using chatbots for your business, it's time to get started!