Support teams face numerous challenges like a constantly growing number of customer queries or the need for personalized messaging.
All of that combined with the focus on maintaining high quality of service looks like a mission impossible. And even if possible, then extremely expensive because of hiring costs.
That's why our team of developers came up with the idea of building a fully conversational AI. The goal was to make it capable of handling conversations with customers using artificial intelligence, natural language processing (NLP), and machine learning (ML).
Please welcome—
Lyro, a milestone in customer service automation.
In this article:
If you want to know more about AI-powered chatbots and their impact on business growth, be sure to check out the following pieces:
Now, coming back to the main topic, let's answer the fundamental question—
What is Lyro?
Starting from scratch, Lyro is the first conversational AI chatbot designed for automating customer service and support in small and medium businesses. It's one of the Tidio AI features that provides the latest solutions for your customer support optimization.
The power of Lyro lies in the Claude LLM (large language model which empowers the bot) and Tidio's in-house AI mechanism that makes customers' queries understandable for the bot.
Claude has been created by an AI research company—Anthropic. The main purpose of this model is to provide helpful conversational assistance for the users. The model is capable of a wide variety of conversational and text processing tasks while maintaining a high degree of reliability and predictability at the same time.
Thanks to this technically advanced tech stack, Lyro is able to deliver personalized support to customers, like a human service agent would. On top of that, the bot leads the conversations in a natural way and doesn't require any training from your support team.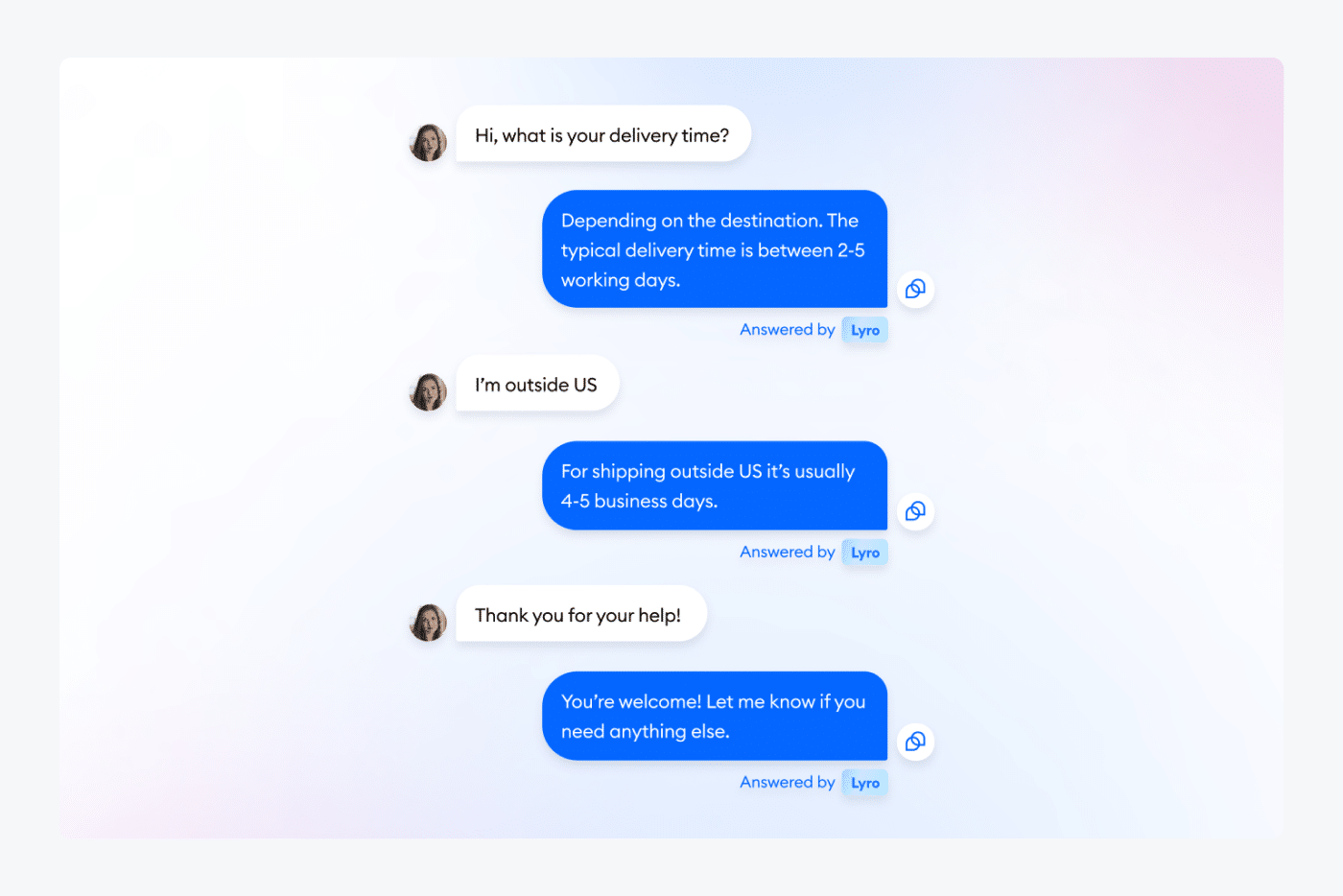 Basic information about Lyro:
Languages supported: English (with a limited capacity for other languages)
Technologies used: artificial intelligence (AI), natural language processing (NLP), machine learning (ML)
Most suited for: customer support automation in ecommerce and services companies
Available for: all industries with exceptions of medical, finance-related, politics, news, and adult content
Data source: Lyro is built to work within the limits of your knowledge base which reduces the risk of hallucination or incorrect answers
Data protection: Lyro uses best industry standards for data handling and retention. You have full control of your entered data, so there is no risk of leak or reveal of your data to other Lyro users
Implementation process: the implementation process is smooth and intuitive, plus Lyro doesn't require training. Activate it with one click to answer customer questions with conversations 24/7
Lyro is available in Tidio+ plan as well as an add-on to any Tidio plan. And everyone can test it for free! You can have Lyro answer up to 50 unique conversations on your website at no extra charge. It makes Lyro the first conversational AI on the market that is free to test. 
Here's a full tutorial on how to easily set up Lyro:
Regular chatbots vs. Lyro
First of all, is Lyro a typical chatbot?
The short answer is No.
It's something more.
Regular chatbots rely on pre-designed conversational paths while talking with users. Lyro uses artificial intelligence and natural language processing to understand questions and have human-like conversations with customers. It can also ask additional questions to provide more details and make sure customers are satisfied.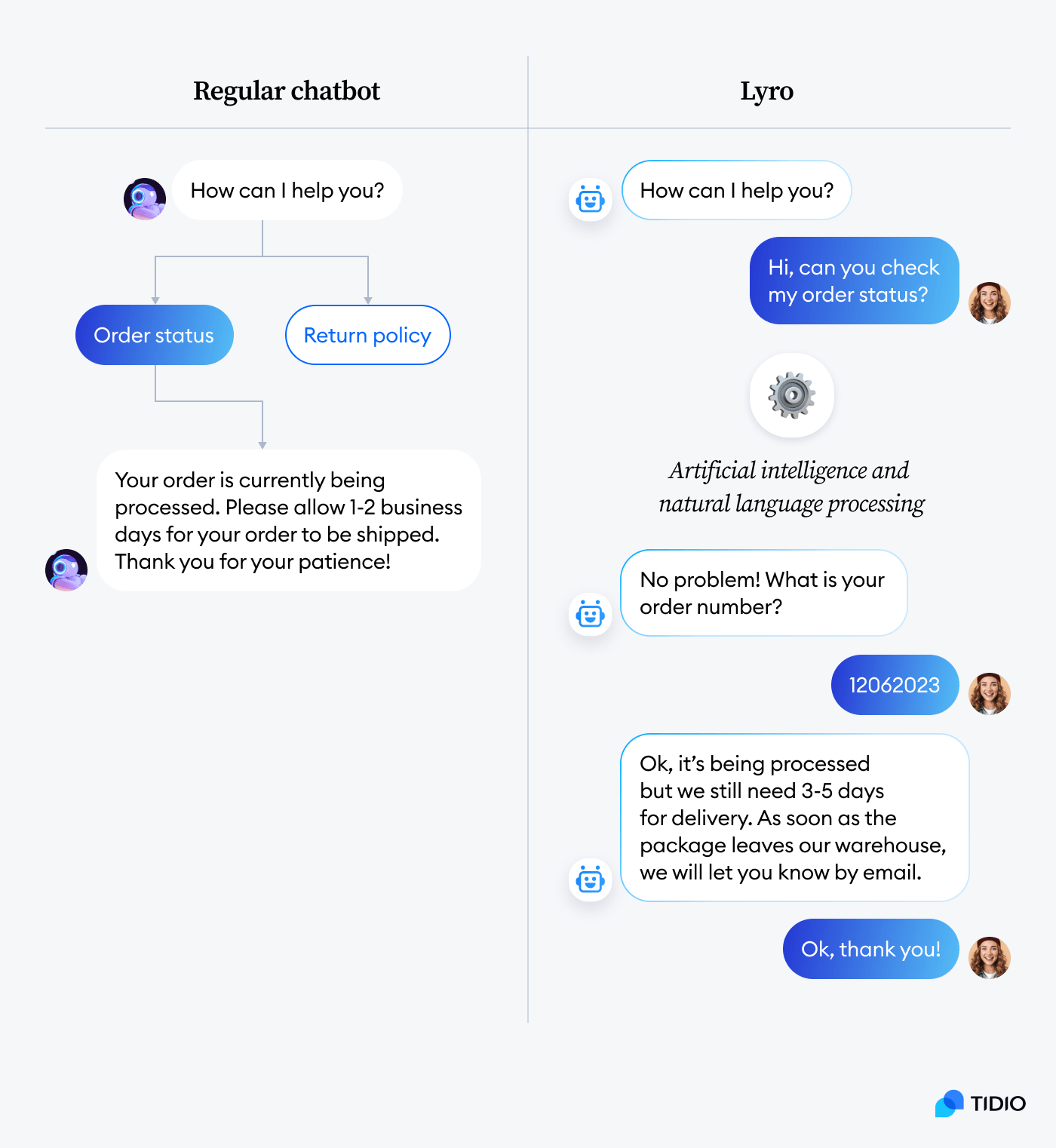 Unlike the regular chatbot, Lyro doesn't require any training from your support agents. All you need to do is to activate this bot on your website, and it will start answering your customers' questions right away, being a 24/7 support for your clients.
Read more: If you're hungry for more details about bots powered by artificial intelligence, be sure to read our article describing the differences between chatbots and conversational AI.
How can your company benefit from using Lyro?
Now—
You may be wondering how your company can benefit from using Lyro.
Briefly speaking, Lyro brings automation to your support process which is a straight way to increase customer satisfaction, your team's efficiency, or clients' engagement. Now, let's discover how Lyro can help you increase these vital metrics.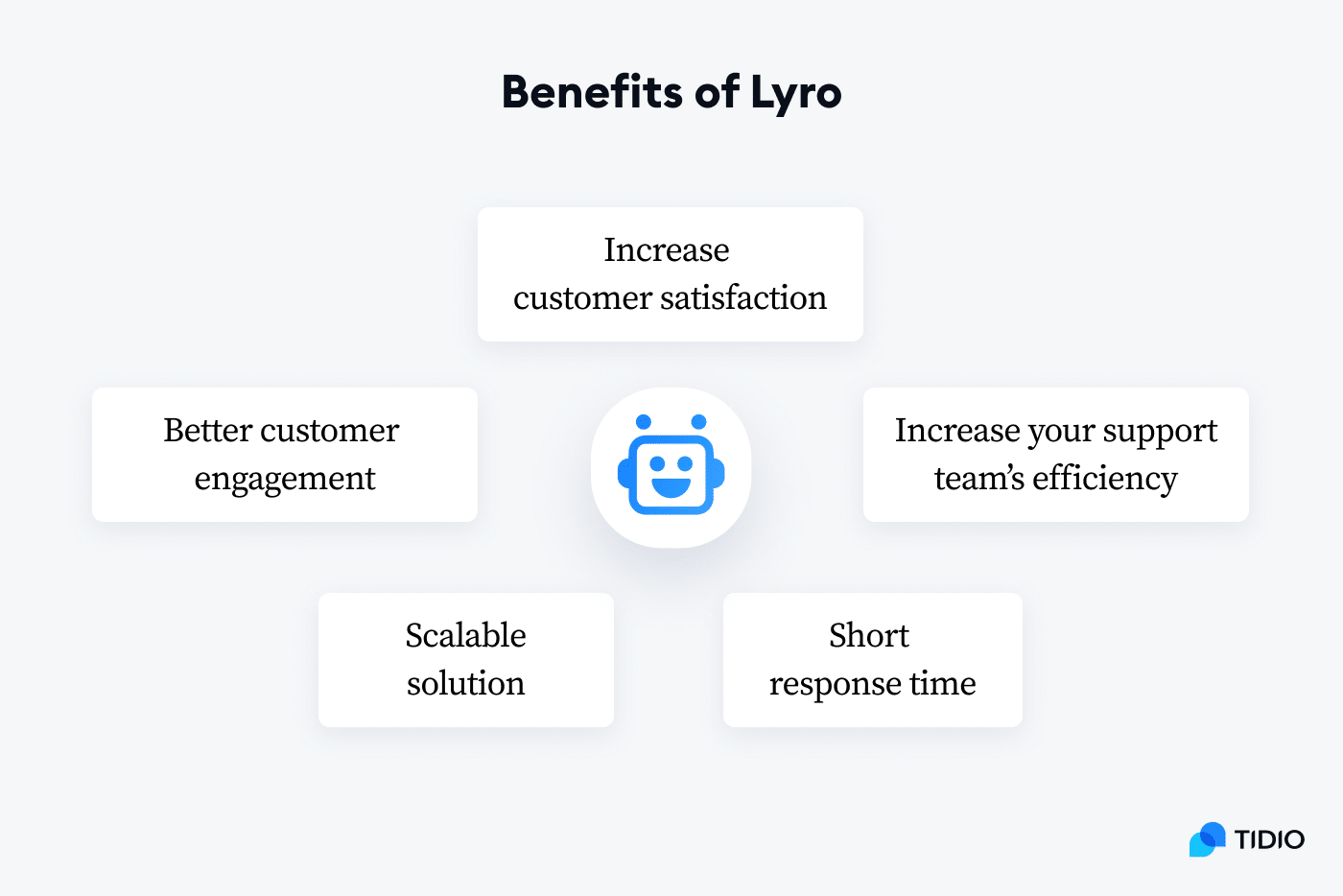 Increased customer satisfaction
At the end of the day, your customers are the ones who pay your bills.
So, ensuring their experiences with your brand should be your priority. And we made sure to help you with that task.
Lyro uses NLP and machine learning to analyze customer questions and deliver human-like answers in seconds. This enables your clients to receive the information they need 24/7, increasing their satisfaction.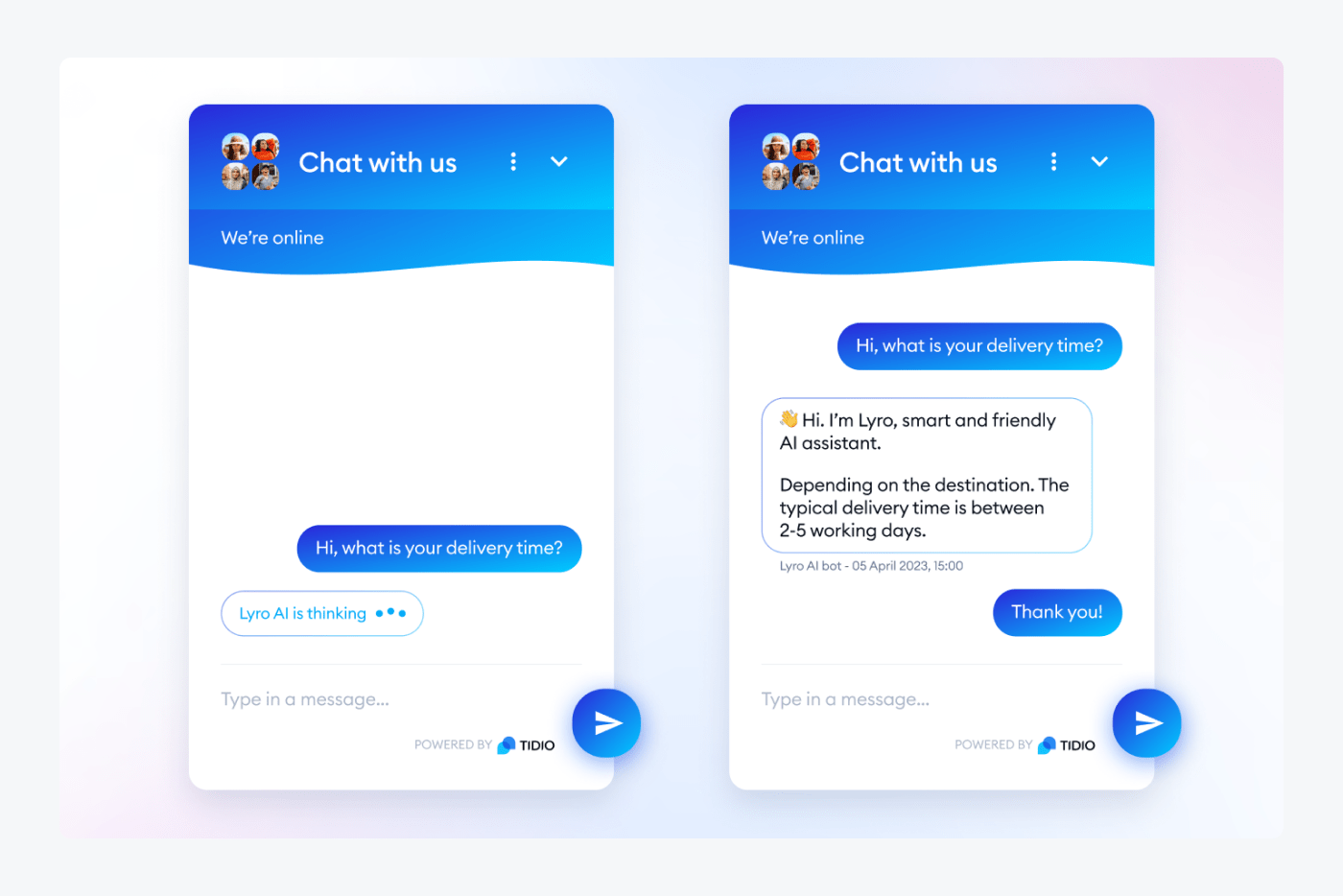 Read more: As this metric is crucial for every business, take a closer look at our guide to customer satisfaction, its good and bad examples, and some smart strategies on how to improve it.
Enhanced team's efficiency
Lyro is able to detect and answer questions about order status, shipping policies, product availability, and more. Consequently, you can free your team and resources from repetitive tasks by leaving them to the bot. In the meantime, you and your team can focus on your business growth.
In fact, we tested it ourselves! Our customer support team carried out an extensive testing round and the results are more than satisfying. It turned out that Lyro is able to solve up to 70% of customer problems automatically with human-like AI conversations, which significantly maximizes your support capacity.
Read more: Discover more interesting details about Lyro's capabilities in our case study.
Also, leaving part of the support tasks to AI will help you save money you'd spend on expanding your existing team. Simply put, Lyro allows for better customer support without the hiring costs.
Shorter response time
Lyro, as an AI-powered chatbot, simply slashes the first response time (FRT) for your queries. After our customer service team started using Lyro, they reported that the FRT dropped by 75%, from 1 minute to less than 15 seconds!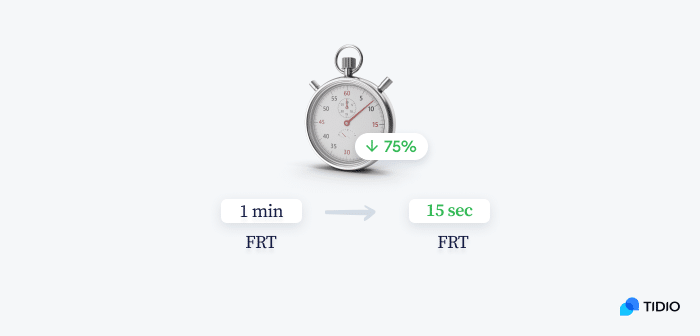 Read more: Short response time is a crucial element of your business growth. But not the only one. Read the article about how to build an excellent customer service strategy and leave your competitors far behind you.
Scalable solution
Lyro learns new answers as your business grows and your needs change. The bot can also absorb information and acquire data as you expand your knowledge base. And as Lyro is built within the limits of your database, it doesn't hallucinate or create answers that sound off or are based on unverified sources.
On top of that, Lyro is easy to implement and doesn't require training. You can activate it with one click and start automatically solving your customers' queries in real time, 24/7.
Sign up for the frictionless customer service tool
At Tidio, we aim for democratization of AI for customer service and want to make it widely accessible. In fact, this is the first and only conversational AI with a free version on the market!
By using the leading technologies— AI, NLP, and machine learning, Lyro can give your clients a frictionless user experience that they have never had before.
We believe that the launch of Lyro marks a new chapter in the field of customer service. The future is happening right now. And it's better to be a part of it rather than stay apart.