You started an ecommerce store on Magento.
Now you want to provide great customer service and personalize support for your website visitors. Magento live chat extension is a great way to do this!
But how to choose the right method and provider when there are so many options out there?
Good news!
We have collected the best Magento live chat extensions you can use on your website. These will help you personalize the experience for your customers and improve the overall shopping experience.
So, let's review the best platforms with pros, cons, and pricing.
In this article:
While you're looking for the best Magento live chat solution, it can be helpful to understand the most important aspects of the live chat ecosystem. Check out these articles to find out more about the live chat software:
First things first—
Let's have a look at the quick Magento live chat itself.
Magento live chat: an overview
You have a variety of options when it comes to live chat for your Magento website. In fact, there are over 400 different systems listed on G2 under the query "live chat." So, it's not like you don't have choices.
You might even have too many options to be able to choose the right one. That's why we've compiled only the high-quality live chat services for this list and shortened the list from hundreds down to 10 top ones.
So, let's begin with our list, shall we?
Here is a comparison table of the best Magento live chat apps:
| Chatbot provider | Free plan | Rating ⭐️ | Best for |
| --- | --- | --- | --- |
| Tidio | ✅ | 4.7/5 ⭐️ (1,070+ ratings) | Visitors list live preview |
| LiveChat | ❌ | 4.5/5⭐️ (730+ ratings) | Message sneak peek |
| Zendesk Chat | ✅ | 4.3/5 ⭐️ (4,320+ ratings) | Centralized workspace |
| Live Chat by Webkul | ❌ | 2.8/5 ⭐️ (2+ ratings) | Log in/Register from LiveChat window |
| Olark | ✅ | 4.3/5 ⭐️ (200+ ratings) | Chatbox customization |
| Smartsupp Chat | ✅ | 4.3/5 ⭐️ (10+ ratings) | Multichannel chats |
| LiveHelp by Sostanza | ❌ | N/A | Custom projects |
| Gorgias | ❌ | 4.6/5 ⭐️ (300+ ratings) | Product promotion |
| LiveAgent | ✅ | 4.5/5 ⭐️ (1,300+ reviews) | Website monitoring |
| Intercom | ❌ | 4.4/5 ⭐️ (2,200+ ratings) | In-product chat |
That was a general overview of the Magento live chat extensions.
Now it's time to dive deeper and learn about each of them more in-depth—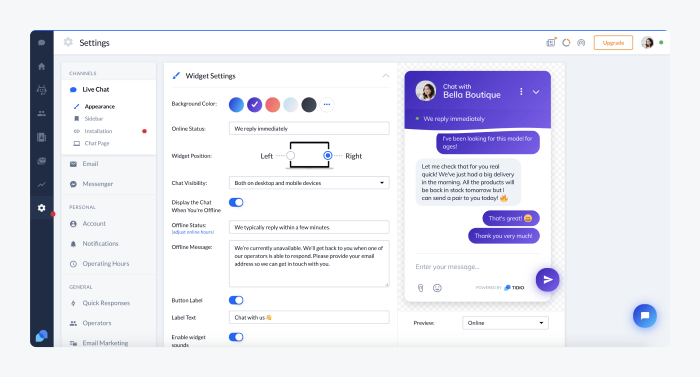 Ratings: 4.7/5 ⭐️ (based on 1,070+ ratings)
Tidio is an all-in-one customer service platform. Its central feature is a live chat widget that ensures your customers get real-time support when browsing your website.
Tidio is now used by over 300,000 websites, many of which are Magento stores. It can operate on a large number of website-building platforms, including Magento, Shopify, and BigCommerce making it easier to set it up on your online store. A bonus is that the installation is super easy and doesn't require any coding skills.
But—this article is not the right place to talk about how great we are. Instead, just check out the positive reviews our users left us on third-party review platforms and take our system for a ride free of charge.
Key Features:
Seamless integration with Magento (and many other platforms)
Customizable chat widgets to fit in with your brand and Magento themes
Email, Instagram, and Facebook Messenger integrations
Intuitive AI chatbots built to perform
Mobile app for on-the-go service
Live Visitors List for the potential customers browsing your website
Live Typing to see what your customer's query is before they send the message
Tidio analytics that ensure you always know how your chats are performing
Free plan available
Communicator ($19/month/agent)
Chatbots ($49/month)
Read more
Learn how to easily install Tidio on your Magento store in less than 5 minutes.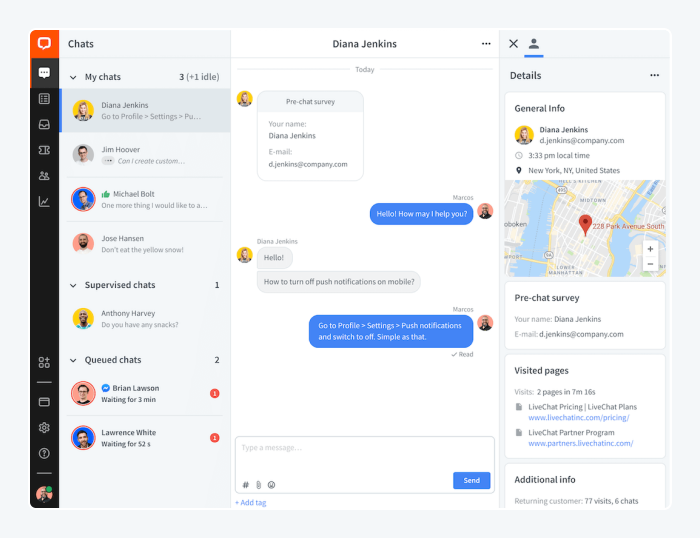 Ratings: 4.5/5 ⭐️ (based on 730+ ratings)
LiveChat is a helpdesk platform centered around its live chat service. This Magento live chat extension offers a ticketing system, canned responses, and a customizable chat widget. These chat features can help your support team improve customer communication and increase your conversion rates in the long run.
Keep in mind that LiveChat's functionality is slightly different for Magento. Analytics, such as what customers are showing interest in, are provided directly through the chat tool itself. It focuses on using engaging greetings to get the attention of your store's visitors. LiveChat provides customers the ability to rate their chat experience that lets you better understand your team's performance and customer satisfaction.
Pros:
Live chat widget that greets website visitors
Chat supervision allows for real-time monitoring of your team's interactions with customers
Reports and analytics for a better understanding of your customers' needs and expectations
Cons:
Some reviewers report a lack of built-in advanced features
Sometimes there are technical difficulties with the mobile app
Starter ($16/month/agent)
Team ($33/month/agent)
Business ($50/month/agent)
Enterprise→contact sales for a custom quote
Did you know…
As many as 60% of customers are more likely to return to a website that offers live chat. On top of that, over 63% of shoppers are more likely to purchase from websites with a chat widget in comparison to those without one.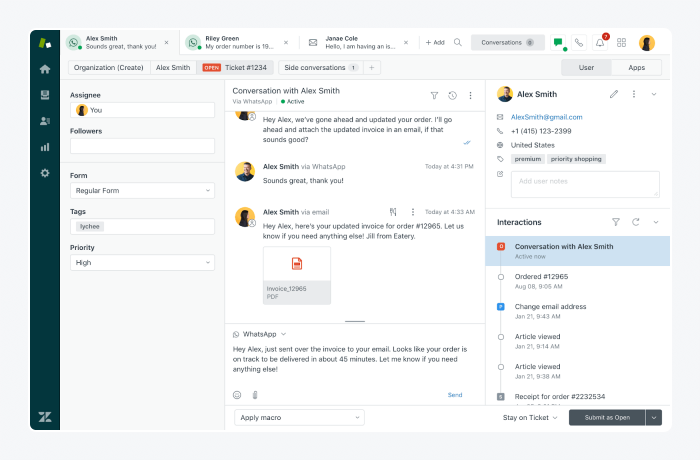 Ratings: 4.3/5 ⭐️ (based on 4,320+ ratings)
Zendesk is a customer service platform that provides conversational support via the means of a live chat software and an array of other methods. Their services are touted as being either a service solution, or a sales solution, depending on which is more applicable to your store. Its backend is easy to use for your agents. It also offers an intuitive chat window for your website visitors to improve the customer experience on your site.
Zendesk Chat (now Zendesk Messaging) is the company's live chat software that empowers your customer support team with better customer information to solve any shoppers' concerns. It's also very easy to use Zendesk Messaging with Magento. You just need to install Magento 2 Connector for Chat.
Pros:
Includes customer data migration from Magento for support team use
Multichannel communication allows seamless conversations between customers and team members wherever they visit your store from
Personalization via the means of smart customer gathering allows for meaningful and interactive conversations
Cons
Integration with Magento requires a full Zendesk Suite plan
Some customers complain of crashes when multiple chats are open
Suite Team ($49/month/agent)
Suite Growth ($79/month/agent)
Suite Professional ($99/month/agent)
Suite Enterprise ($150/month/agent)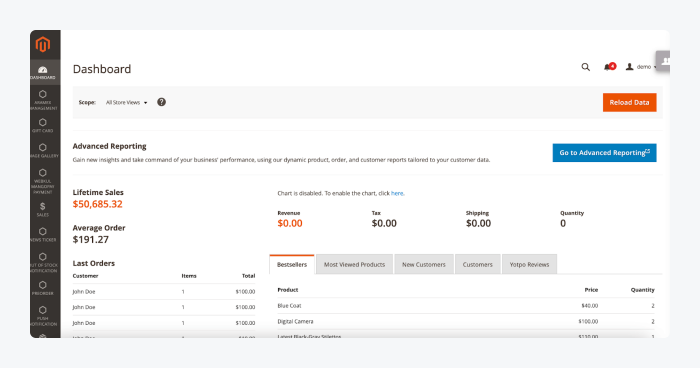 Ratings: 2.8/5 ⭐️ (based on 2+ ratings)
This platform offers a live chat solution specifically for Magento. It's a simple and intuitive online chat system that includes role management, chat histories, query management, custom chat names, color schemes, and more.
Keep this in mind that Webkul is, in some ways, more technical to use than its competitors. This is because it requires Node.js to be installed on your server in order to use their Chat System for Magento 2.
Pros:
Includes user login and registration options from the chat window
Designed specifically for Magento
Built-in language translator available
Cons:
Lacks advanced analytics and ticketing
Complicated installation process
Magento Chat System ($99 one-time payment)
Magento Enterprise Edition ($198 one-time payment)
Magento Enterprise Cloud Edition ($198 one-time payment)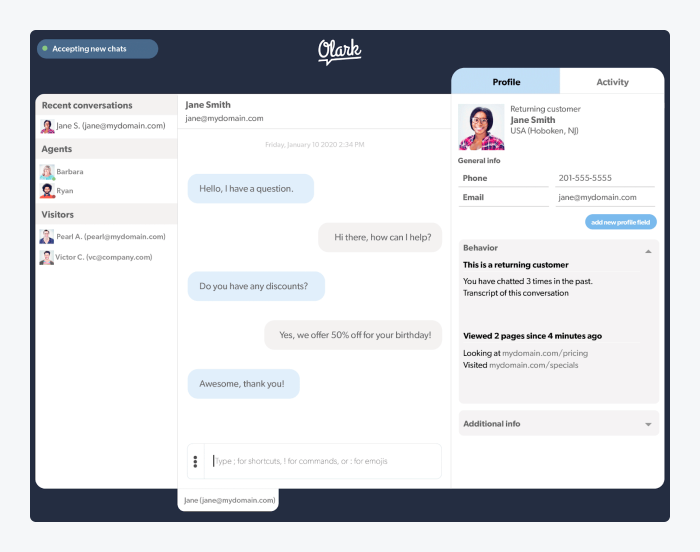 Ratings: 4.3/5 ⭐️ (based on 200+ ratings)
Olark is a sales-based chat system that offers an array of customization options. This Magento live chat offers a ticketing system with many small attention-grabbing touches focused on the marketing aspect to increase sales.
It should be no surprise then that Olark is meant in large part for selling products. This Magento live chat offers a complete guide for a step-by-step simple chat integration with your Magento website. You don't need any coding experience, just copy and paste HTML code to complete the integration.
Pros:
Supports more languages than most alternatives
Great customization of the chat's appearance
Easily shareable (among your support teams) analytics
Cons:
Some users report having difficulty messaging/collaborating with their colleagues
Several users complain of broader workflow challenges
Free plan available
Full-featured Live Chat ($29/month/seat)
Did you know…
Shoppers between 18 and 49 choose live chat as their number one customer service choice.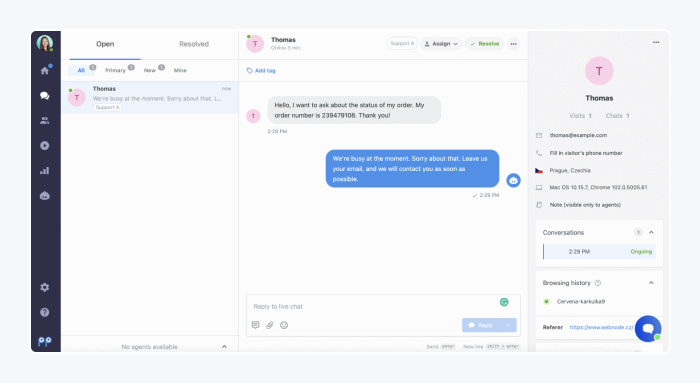 Ratings: 4.3/5 ⭐️ (based on 10+ ratings)
Smartsupp chat is an ecommerce sales-based live chat tool. The company's self-described goal is to personalize shopping experiences and drive sales through a combination of live chat, chatbots, and video recordings. This powerful combination builds a more visual, interactive, and genuine connection with online shoppers.
You can also connect your email and integrate Facebook to your Smartsupp account for multichannel customer support. This Magento chat offers contact forms for lead generation and to ensure you don't miss any conversations. And if you're out and about but still want to provide chat support to your shoppers, you can use an app to contact them.
Pros:
Video recording that allows you to see the movement of each visitor to your website
Collects customers feedback
User-friendly, crisp interface
Cons:
Complaints of poor offline mode functionality
Limited customization
Forever Free plan
Standard ($19.50/month)
Pro ($48/month)
Ultimate→contact sales team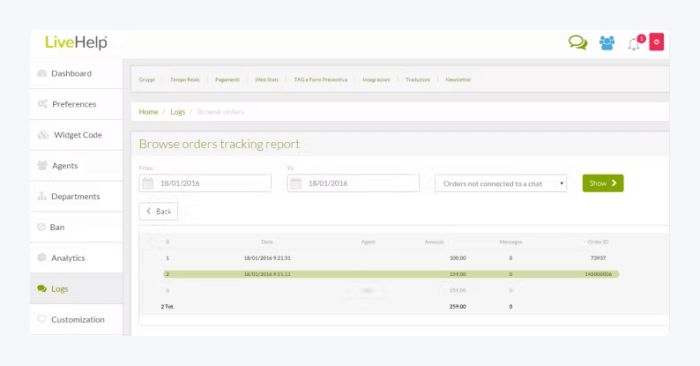 Ratings: N/A
LiveHelp is a web chat tool meant to help website visitors get real-time answers from support agents. The tool also includes LiveBot, a virtual assistant that you can use to speak to multiple visitors at the same time.
The LiveHelp solution was designed to enhance the ecommerce buyer's journey by providing real-time information for the shoppers and sharing documents with them. This live chat for Magento comes with useful features for collaboration with colleagues, such as instant forwarding of chats to different agents.
Pros:
Sales enablement tools to increase conversions from your storefront
Simple team collaboration features, such as instant chat forwarding
Easy integration with Magento
Cons:
No premium consulting or service packages
Pop-up chat window can feel cumbersome and awkward to use
Multichannel ($153/month/agent)
Omnichannel ($206/month/agent)
Omnichannel Pro ($258/month/agent)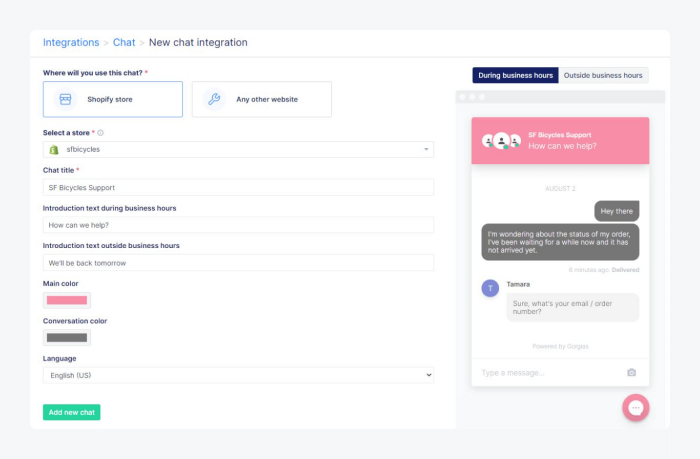 Ratings: 4.6/5 ⭐️(based on 300+ ratings)
Gorgias is a customer service management platform designed purely for the needs of ecommerce businesses. To that end, their solution only applies to users of Shopify, BigCommerce, and Magento. Gorgias comes with a live chat widget and many ecommerce-specific features.
One of the more significant functionalities Gorgias offers is analytics for ecommerce websites. For example, their social media sentiment analysis keeps you up to date with how social media users are referring to your business. This and all the other analytics are presented to you through one centralized dashboard.
Pros:
Designed for use with Magento and other ecommerce platforms
Advanced analytics including social media sentiment analysis
In-chat product promotion to improve marketing
Cons:
More expensive than the alternatives
Steeper learning curve for first-time users
Basic ($50/month)
Pro ($300/month)
Advanced ($750/month)
Enterprise→contact sales for a custom quote
Did you know…
Buyers who use live chat during their shopping spend up to 60% more on checkout than those who didn't use the chat.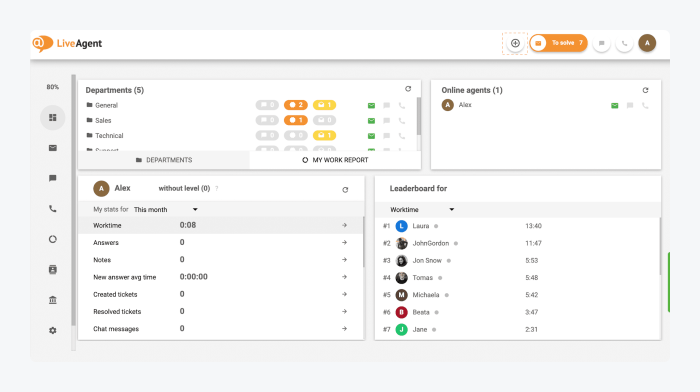 Ratings: 4.5/5 ⭐️(based on 1,300+ reviews)
LiveAgent is an open source helpdesk that can be integrated with Magento as a live chat plugin. This is one of the more popular choices for live chat among online store owners. This is because of its reasonable pricing, many integrations, and features that the software comes with. LiveAgent users receive email piping, email templates, role permissions/settings, voice integration, and much more.
The positivity surrounding LiveAgent isn't just based on its plethora of useful features, but its usability and UX as a whole. The team at LiveAgent went the extra mile to ensure their service is easy to integrate, use, and troubleshoot by providing excellent customer service, a fast live chat widget, and legitimate real-time support. It's a responsive, well-rounded option that can be applied to businesses, including Magento stores, of any size.
Pros:
Easy integrations with Magento, Slack, and more
Extremely fast widget improves the user experience
Role permissions and setting for better account management
Cons:
Reviewers state that there are too many features making Live Agent hard to become truly proficient with
Small complaints of UI and technical issues
Free plan
Ticket plan ($15/agent/month)
Ticket + chat ($29/agent/month)
All-inclusive plan ($49/agent/month)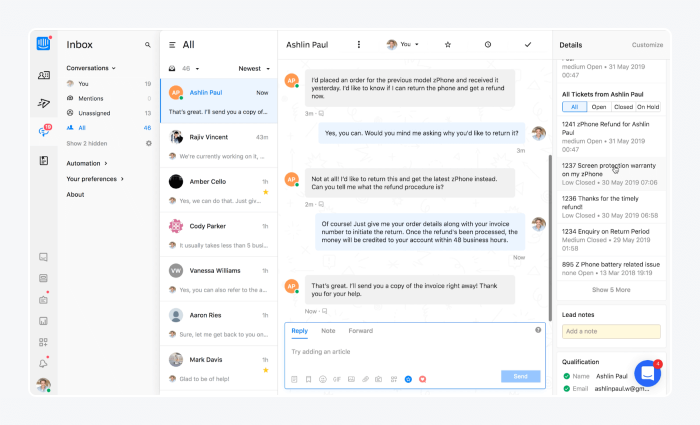 Ratings: 4.4/5 ⭐️(based on 2,200+ ratings)
Intercom is a great customer relationship management platform. However, it's the only one on this list that doesn't integrate with Magento directly. To go around this, you can simply use a 3rd party solution like Zapier to use Intercom as your Magento chat extension.
So, why go through the trouble?
Intercom is a live chat tool meant for sales enablement and an increased number of checkouts. That means it's built for the needs of busy sales teams at large businesses. It comes with lead qualification tools and full customization. It's expensive and harder to set up for a Magento store than the other entries, but tens of thousands of customers are happy with their choice.
Pros:
Sales enablement tools to increase the number of checkouts
Lead qualification features
Shared inbox for your team for better organization of tasks
Cons:
No direct Magento integration
Relatively high-cost
Contact sales for a personalized quote based on your businesses' needs.
How to add Magento live chat to your Magento store?
Of course, this may vary across live chat providers, but most will require you to follow a familiar process. As a good general example, let's go over a step-by-step installation of Tidio to your Magento store.
Step 1: Go to Tidio.com and set up a free account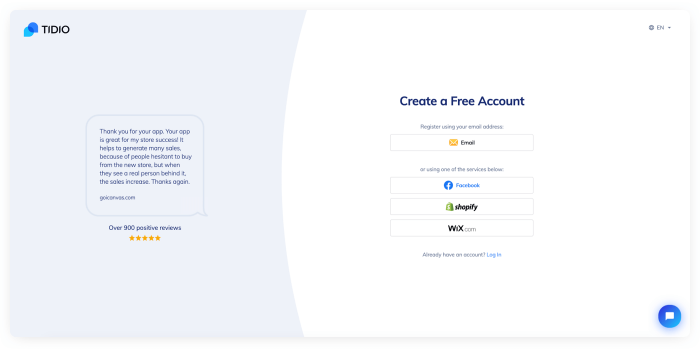 Step 2: Personalize your chat widget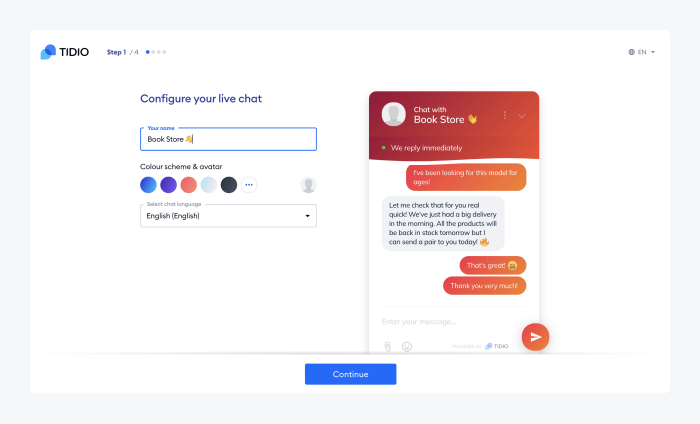 Step 3: Go to Settings > Channels > LiveChat > Installation to find the installation code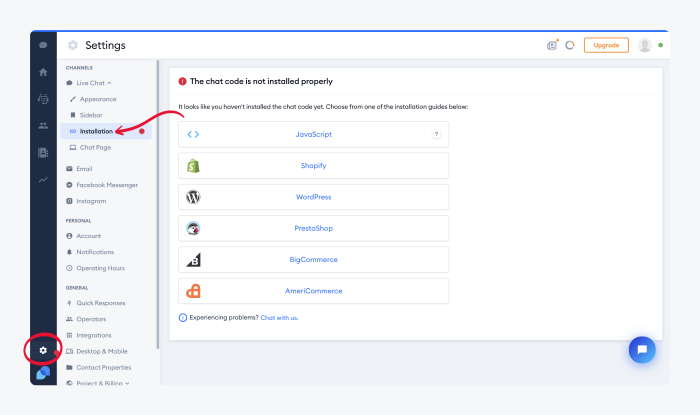 Step 4: Go to the Magento Admin page and select Content > Configuration > Design and choose the store you want to add Tidio live chat to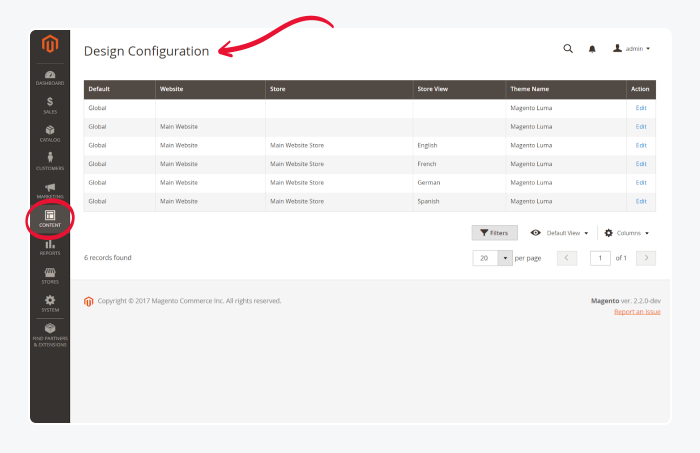 Step 5: Go to Other Settings, expand the HTML Head section, and paste the chat code into the Scripts and Style Sheets box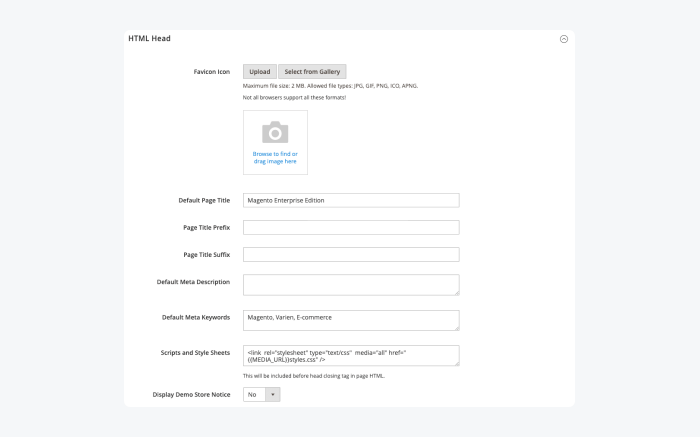 Step 6: Click Save and the chat widget will appear on your site
And there you have it! You can start using your Magento live chat right away.
Key Takeaways: Magento live chat
Setting up a Magento live chat solution is very simple. With very few exceptions, you simply need to go through one installation process and paste a code snippet to complete the integration. The key is to pick the best chat extension for your Magento store.
So, as a recap, the top live chat for Magento stores include:
Tidio
LiveChat
Zendesk Messaging
Live Chat by Webkul
Olark
Smartsupp Chat
LiveHelp
Gorgias
LiveAgent
Intercom
We recommend Tidio because it checks off all the boxes you need for a Magento live chat service:
Easy integration with Magento
Reasonable price
Wide selection of easy-to-use features
Analytics that let you know how your agents are performing
Just remember to check if the live chat software that you're choosing has all the features that your business needs. Also, go ahead and try as many options as you want on the free trial or the free plan provided. This is the best way to check if the system is the right choice for you.