Help Scout is a great and affordable help desk software.
But it might not be powerful enough or not have enough integrations for your business.
Or maybe you came up with other issues and looking for an alternative now—
Let's save you hours of research and discover what the 10 best Help Scout alternatives are available online.
We'll go through the pros, cons, pricing, and user ratings of each of the options, so you can make an informed decision for your business.
Help Scout competitors:
If you want to see more comparisons of help desk software, check out these articles:
Let's start from introducing Help Scout so that you have good background knowledge of what the listed systems compete with—
What is Help Scout?
Help Scout is a help desk software provider businesses use for their customer support and better organization of queries. Help Scout is used by over 36,170 live websites at the time of writing this article, and its main features include:
Shared inbox
Customer management system
Automated workflows
Live chat
Reporting
Help Scout is suitable for many types of businesses because of its affordable pricing:
Standard ($20/month)
Plus ($35/month)
Company ($60/month)
What criteria have we used for this list?
To fish out the top Help Scout alternatives for you, we used:
G2 ratings and reviews: user reviews help to find the real pros and cons of a platform
Help desk features: the systems must offer customer service features, such as ticketing, knowledge base, and multichannel support
User recommendations: the system must have a minimum of 8 out of 10 likelihood of being recommended from users on Capterra
So, let's have a quick look at all the systems in a comparison table before jumping into the in-depth reviews.
Here are the best help scout competitors
So, let's jump straight into it and discover the help scout alternatives complete reviews—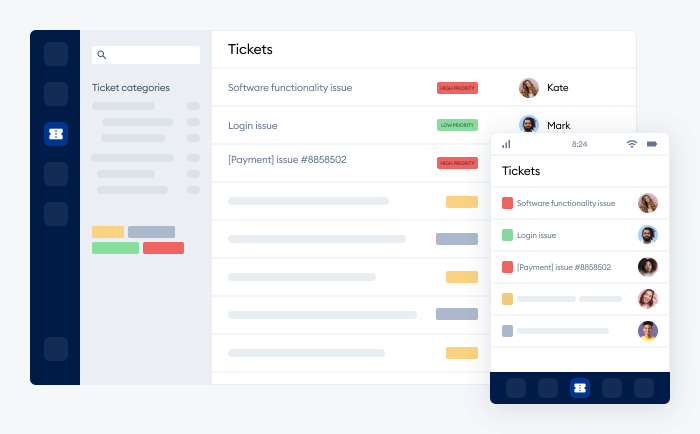 Ratings: 4.7/5 ⭐️ (1,070+ reviews)
We would love to tell you how great our system is, but we won't toot our own horn or self-promote here. This is not the place for it.
So, let's keep it short.
Tidio is an all-in-one customer service platform for growing businesses. It offers omnichannel support with a shared inbox for all your customer communications. It also helps you segment your website visitors and record all chat conversations, so you can refer back to them. This Help Scout alternative provides automated self-service tools and canned responses to take some of the workloads off your representatives' plates.
Try us free of charge and decide for yourself if we deserve this spot on the list! Also, leave us your honest review on G2, we will be very happy to see what you think. Without further ado—
Main features
Custom notifications
AI-powered chatbots
Live typing
Easy installation
Customer profiling
Canned responses and message templates available
Mobile app for Android and iOS
Comprehensive knowledge base
Multiple integrations (e.g. Shopify, Zapier, Pipedrive, Messenger, WhatsApp Instagram, Google Analytics, Slack)
Multichannel support (live chat, email, Instagram, Facebook)
User segmentation
Shared inbox
Free version available
Communicator ($19/mo/operator)
Chatbots ($49/mo)
Learn how to easily install Tidio on your website in less than 2 minutes.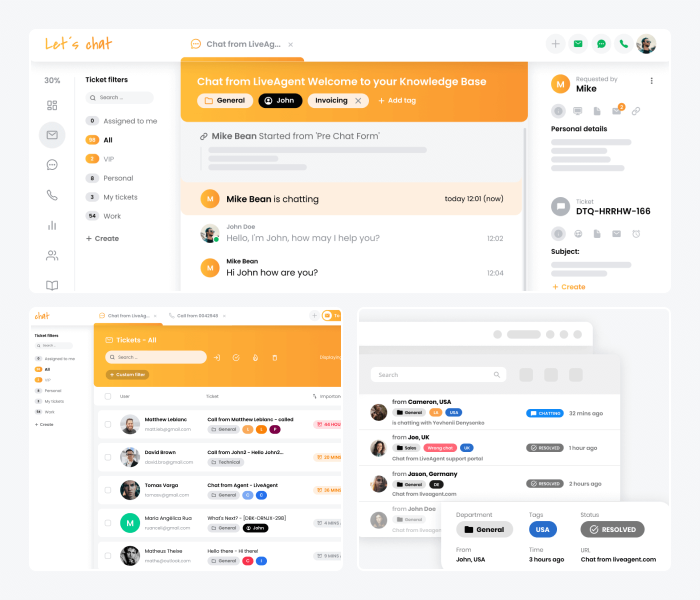 Ratings: 4.5/5 ⭐️ (1,370+ reviews)
This Help Scout alternative provides user-friendly ticket management to prioritize customer conversations. This help desk solution is perfect for small businesses that need help with support ticket organization. It offers a shared inbox for different customer service channels so that no ticket will get "lost" ever again.
LiveAgent also provides chatbots to automate some of the customer service tasks and enable 24/7 client support. And if your business has a strong social media presence, you can make great use of their multichannel service desk features.
Pros
Automatic customer callback enabled from the built-in call center that records call details
Spam filter for your company inbox
Social media integration with Facebook, Twitter, Instagram, and Viber
Cons
The app sometimes logs users out because of inactivity
Reviewers report that it is easy for the user to accidentally reset the chat history without seeing previous messages
Free version available
Ticket ($15/agent/month)
Ticket+Chat ($29/agent/month)
All-inclusive ($49/agent/month)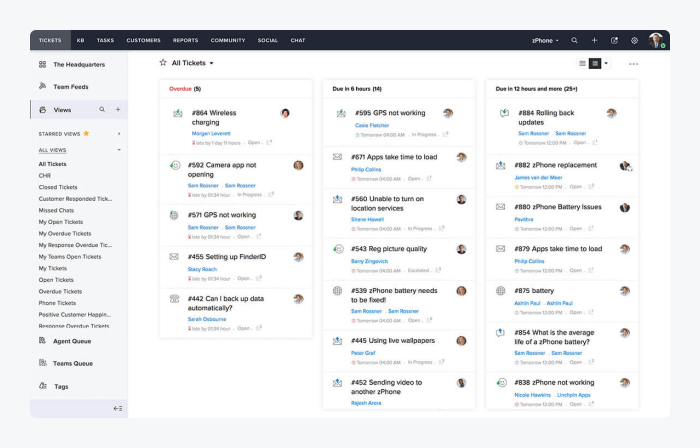 Ratings: 4.4/5 ⭐️ (3,750+ reviews)
Zoho Desk offers a CRM system with ticketing system functionality that makes ticket management easier for your customer service representatives. It offers auto-tagging, canned responses, and a time tracker to make customer communication more efficient.
This Help Scout alternative has a freemium plan. It is perfect for mid-sized businesses that are looking for contact management and omnichannel customer interactions. It provides features such as forecasting, metrics, and analytics to help you stay on track with your results.
Pros
Many integrations, for example, with Slack, Salesforce, and Jira
Workflow automation
Time tracker available
Cons
Some reviewers report UI failures
Slow customer support
Free plan available
Standard ($14/agent/month billed annually)
Professional ($23/agent/month billed annually)
Enterprise ($40/agent/month billed annually)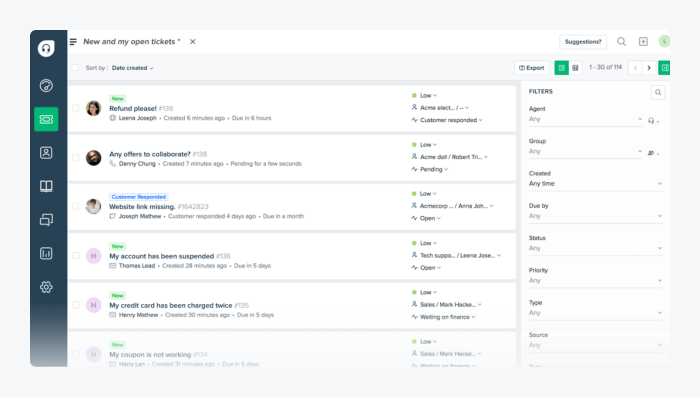 Ratings: 4.4/5 ⭐️ (2,640+ reviews)
This is one of the cloud-based Help Scout alternatives with diverse tools that help businesses increase customer engagement and manage relationships. This customer service software also offers a Service Level Agreements (SLAs) management that sets the expectations between the customer and the service provider.
Freshworks offers custom ticket views for better organization of your customer communication and rich marketing tools to increase conversations. With the Freshworks Omnichannel Suite, you can provide customer support through mobile chat, live chat, and your contact center.
Pros
Ticket assignment and merging
Activity log available
Advanced forecasting, insights, and analytics
Cons
Some reviewers report data synchronization issues
Limited third-party integrations
Free plan available
Growth ($18/agent/month)
Pro ($59/agent/month)
Enterprise ($95/agent/month)
Today, around 84% of customers are willing to spend more in order to get better customer service. This can translate into additional thousands of dollars in your revenue if you ensure great customer support.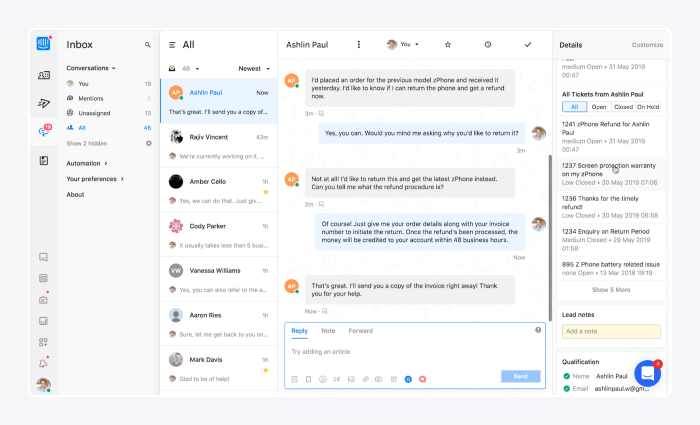 Ratings: 4.4/5 ⭐️ (2,200+ reviews)
Intercom is one of the best Help Scout alternatives out there. It helps businesses support customers by providing features for adding rules to your funnel that contribute to efficient workflow automation. You can also automatically sort visitors into categories that will streamline the interactions in the long run.
This Help Scout competitor offers full customization and flexibility for its users. You can use it for real-time customer communication, tracking customer interactions, and collecting customer feedback. All these functionalities can help you grow your business by improving customer satisfaction and increasing their lifetime value.
Pros
Workflow monitoring and reporting dashboard available
Available in many languages
Collision detection for support requests
Cons
Relatively expensive in comparison to competitors
Steep learning curve
Pricing is calculated individually for every company—contact sales for demo and price
Based on the information above—
Who wins the Help Scout vs Intercom battle in your opinion?
Read more: 11 Intercom Alternatives You Can Try for Free in 2023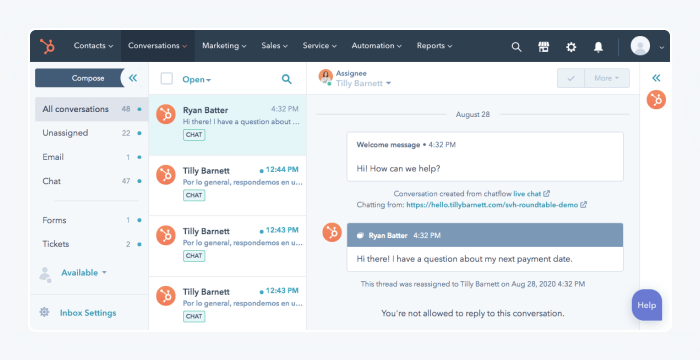 Ratings: 4.4/5 ⭐️ (1,130+ reviews)
HubSpot is an advanced CRM with a ticketing system functionality that you can use to easily categorize customer issues to build customer databases. It helps you boost your support team members' performance and easily integrates with other HubSpot subscriptions.
This Help Scout alternative helps your online business attack website visitors and convert them into paying customers. It also offers a neatly organized and easy-to-navigate user interface.
Pros
Cons
Lacks efficient customer support on the free plan
Reviewers say it's tricky to set up your own knowledge base with HubSpot
Free plan available
Starter ($45/mo)
Professional ($450/mo)
Enterprise ($1,200/mo)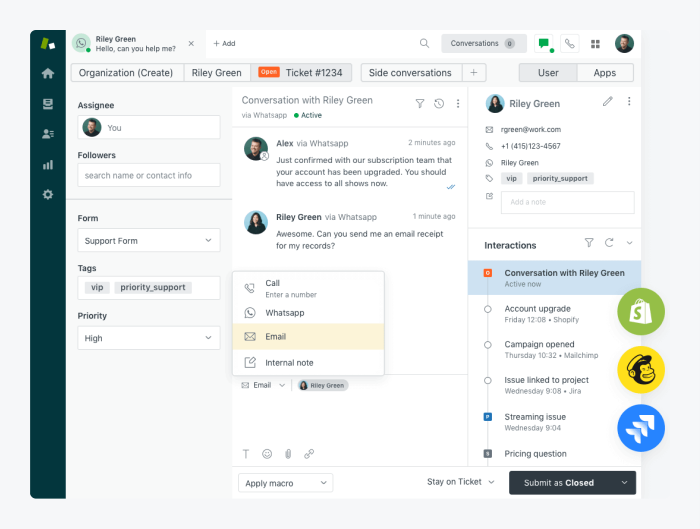 Ratings: 4.3/5 ⭐️ (4,070+ reviews)
Let's start this Help Scout vs Zendesk comparison by saying that the latter is a SaaS platform that offers support and sales packages. Some of the key features Zendesk provides include pre-chat surveys, canned replies, and team collaboration.
This Help Scout competitor also comes with chatbots and an AI assistant named Freddy that can automate tasks like ticket routing and assignment. Some of the other customer service tools that this system offers include a help desk and omnichannel support to improve customer engagement.
Pros:
Agent and chat reporting
Quick view of new and pending requests
Self-service options including chatbots, knowledge base articles, and FAQs
Cons:
Data transfer issues occur sometimes
Some reviewers report technical challenges with data migration
Suite Team ($49/per agent/month billed annually)
Suite Growth ($79/per agent/month billed annually)
Suite Professional ($99/per agent/month billed annually)
Suite Enterprise ($150/per agent/month billed annually)
Did you know that customer service agents working with AI experience around a 69% improvement in their satisfaction, and customer satisfaction raises by 61% at the same time?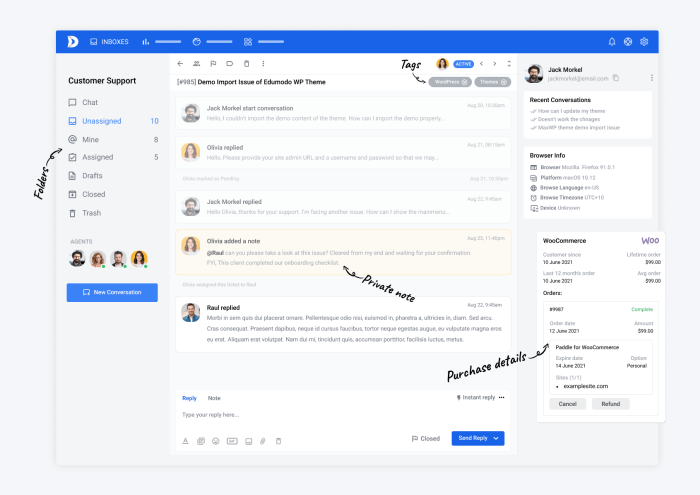 Ratings: 5/5 ⭐️ (10+ reviews)
ThriveDesk is the best customer service solution for SaaS startups. This Help Scout competitor helps you easily track conversations with clients and improve the responsiveness of your customer service with functionalities like shared inbox, knowledge base, and live chat.
This help desk system also offers an email signature generator to create custom signatures for your team. The provided contact form allows you to get in touch with potential customers quickly and easily. And you can keep track of customer files with a ticket file attachment size feature.
Pros
Shared Inbox
Customer relationship management (CRM) available
Ticket file attachment
Cons
Basic user interface
Some reviewers state that it needs more integrations
Free 14-day trial
Starter ($25/month)
Pro ($99/month)
Read more: Collect leads with Tidio pre-chat surveys.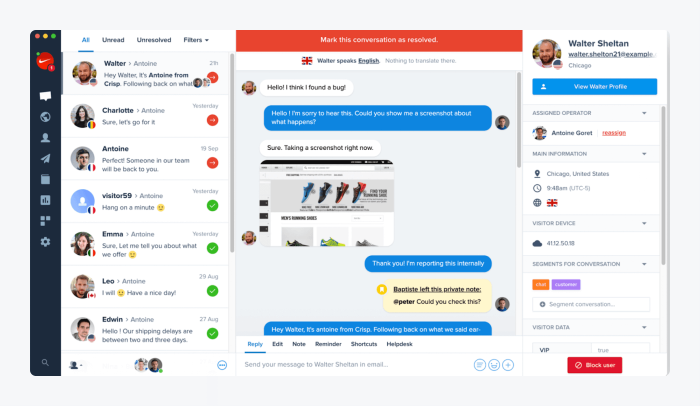 Ratings: 4.4/5 ⭐️ (75+ reviews)
This Help Scout alternative offers crisp look and many features that you can test during the 14-day free trial or their free plan. The only downside of the freemium plan is that most of the essential features are only available in the premium versions.
Most features in Crisp come as separate plugins from their marketplace, so you're in control of what stays and what gets removed. And there are over 40 options to choose from. This is also one of the Help Scout competitors that offer all-in-one consumer support, sales, and marketing tools for building and maintaining customer relationships.
Pros
Video chat
Live translation
Search feature for users and conversations
Cons
Some reviewers report limited widget customization, like pop-ups
Limited features for improving conversions
Free plan available
Pro ($25/month/inbox)
Unlimited ($95/month/inbox)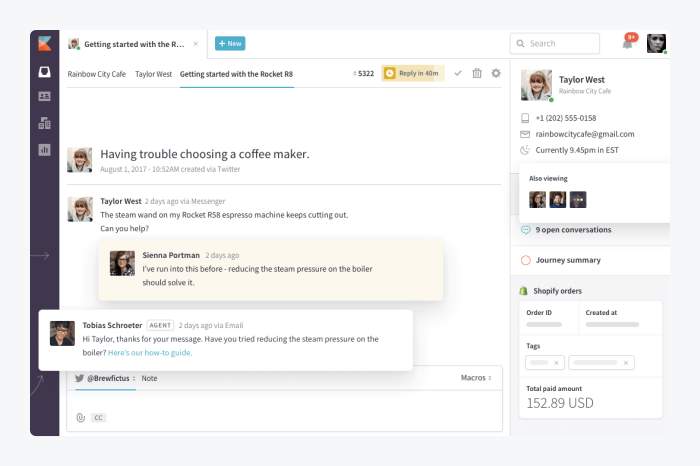 Ratings: 4/5 ⭐️ (200+ reviews)
Kayako is a simple-to-use, multichannel ticketing system. It offers a single view customer journey feature. It collects information about the shopper during their time with your business. This can help your agents to map the context of customer queries based on the collected data.
This Help Scout competitor also offers a live chat feature and a shared inbox for your support agents. This support tool helps you provide faster and more efficient customer support that improves your customer experience and increases sales.
Pros
Expert collaborators features
Single view for the customer journey
Moving tickets between departments is simple
Cons
It lacks extensive reporting
Infrequent updates
Growth $30/agent/month
Scale $60/agent/month
Keep in mind that one in three customers will walk away from doing business with your company after just one back customer service experience. So, make sure your help desk software is reliable, and your customer service representatives receive good training.
Key takeaway
There are over 380 help desk software registered on G2 as of today, so you have plenty of choices out there. Maybe even too many choices—
Our list only offers 10 because we know how difficult it is to decide on one option when you have too many to look at. Also, these are the best choices you should consider for your company.
So, let's list them one more time. The best Help Scout alternatives include:
Tidio
LiveAgent
ZohoDesk
FreshDesk
Intercom
HubSpot
Zendesk
ThriveDesk
Crisp
Kayako
Do you already have your favorite?
Great!
But if you don't, go through our list, pick a few options, and look at their websites and G2 reviews. One of them will definitely be a perfect match for your business.