What do you do to turn customers into loyal fans?
Issue paper loyalty cards? You can throw them out of the window. There are better customer engagement ideas—
Think hashtag campaigns, memes, giveaways on Instagram, or polls on Twitter. This is what creates a real buzz around your brand.
It's because customers now want two things from brands they buy from: to be delighted and to connect on an emotional level.
Not sure how to do this?
Luckily, in this article you'll find:
Nothing new to you so far? Try these articles:
Customer engagement: definition
Customer engagement occurs when customers connect emotionally with a brand. You can engage with customers by improving their experience with your business. High customer engagement results in more sales, higher customer loyalty, and word-of-mouth praise.
But here's a question—
Should you be bothered with this when you already offer high-quality products, excellent customer service, and support?
You should. And here's why:
Customer engagement is a piece of the puzzle that improves customer experience with the brand, customer retention, and reduces churn rate.
Highly engaged customers benefit your business in many different ways. They tend to increase your revenue, promote the brand, and generally display loyal behavior.
But hold your horses.
Avoid the trap of building customer relationships based on their transactional value to your business. Show your commitment to satisfying their needs, instead. That's the reason to come up with a meaningful long-term customer engagement strategy for your business.
It sounds a bit complicated but, trust me, you can pull this off. Just listen—
Brands engage with customers through various channels where they consume content. Typically via social media, email, websites, or forums—that's probably where you spend most of your screen time, anyway.
But one of the best ways to engage customers is to do something less conventional, like Coca-Cola's #ShareaCoke campaign. They substituted their logo on the bottles with popular names. Sky's the limit.
The trick is to offer your clients timely, relevant, and personalized content that creates extra value to them.
What customer engagement stages are there?
Each customer has a different journey when interacting with a brand. But each of them expects relevant experience. So to make it easier to cater to all of them, we can limit the stages of customer engagement to five.
In literature, the stages are called differently but all of them follow the same model:
1. Share
This is when customers research products and services online and talk to friends about their experiences. Make content that attracts as many unaware customers as possible. Shine as an expert in your field.
It's a good idea to find out who your brand's best advocates are. Then, target them with the latest information about your offer.
2. Attract
Analyze where your customers come from. Is there a specific channel that attracts most of them? If so, definitely focus your investment there.
At this stage, you can use CRM software to store their information. But don't forget about offline sources.
3. Convert
What makes people convert into customers? Are there any roadblocks that make them abandon the cart or leave the shop without buying? Find out the issues and fix them.
At this stage, people can still evaluate their choices. Make sure you provide expert content that helps them decide. It's a good idea to invest in automated messaging software and a good customer support team.
4. Retain
Many companies with a great product or service lose their customers, anyway. It's because the competition is fierce and they didn't build an emotional connection with their customer base.
If you understand your customers and their needs, you have a chance to meet their expectations. It builds strong customer relationships and prolongs customer lifetime value.
5. Grow
No, your job's not done.
You can monitor the market and look for new opportunities to engage with customers. You can think of an outreach plan and deliver new value to them. Think of birthday discounts, subscription reminders.
Once the customers' complete the full cycle, the chances are high that they will become loyal advocates for your business.
How to build a good customer engagement strategy?
Engaging with new and existing customers takes a bit of strategic thinking. But you don't need a million-dollar budget to do so.
Here's a list of awesome, multichannel, and actionable techniques for an effective customer engagement strategy. They involve creating different types of content that naturally catch customers' attention, draw them in, and appeal to their emotions.
The goal is always the same—create a great customer experience and increase customer lifetime value.
1. Stay true to your brand values and persona
You can communicate with your target audience in any style, be it playful or adventurous, as long as it reflects your brand's voice. It helps consumers identify with your brand and relate to the content you create.
Be consistent, though. According to HBR, 64% of consumers say that sharing the same values with a brand is the primary reason they have a relationship in the first place.
2. Create personalized user experiences
Established brands can afford to collect and analyze enormous amounts of data and make individual programs based on the insights they find.
Suppose you're a medium or small business owner and want to engage with customers. You can start with getting to know your target audience's habits and preferences in general. Think of your best-selling products or best engagement channels to prepare personalized content. It can reduce marketing and sales costs by around 10 to 20 percent.
For example, most users on Pinterest are women. That's why GoPro tailors their Pinterest content for them by featuring hashtags, like #GoProGirl.

3. Poll and survey your customers
Most people enjoy expressing their opinions and interacting on social media. You can turn online surveys, polls, and quizzes into great customer engagement tools.
An integral part of polling is seeing how others responded as this may further increase client engagement in the comments section.

4. Use gaming techniques (gamification)
People have a natural inclination to socializing, competing, and achieving. You can embed game mechanics into your customer engagement strategy to motivate customers to take part. But keep it relatively simple.
For example, when M&M's launched a pretzel-flavored candy, they created a simple "I spy" game that was liked by 25,000 people on Facebook.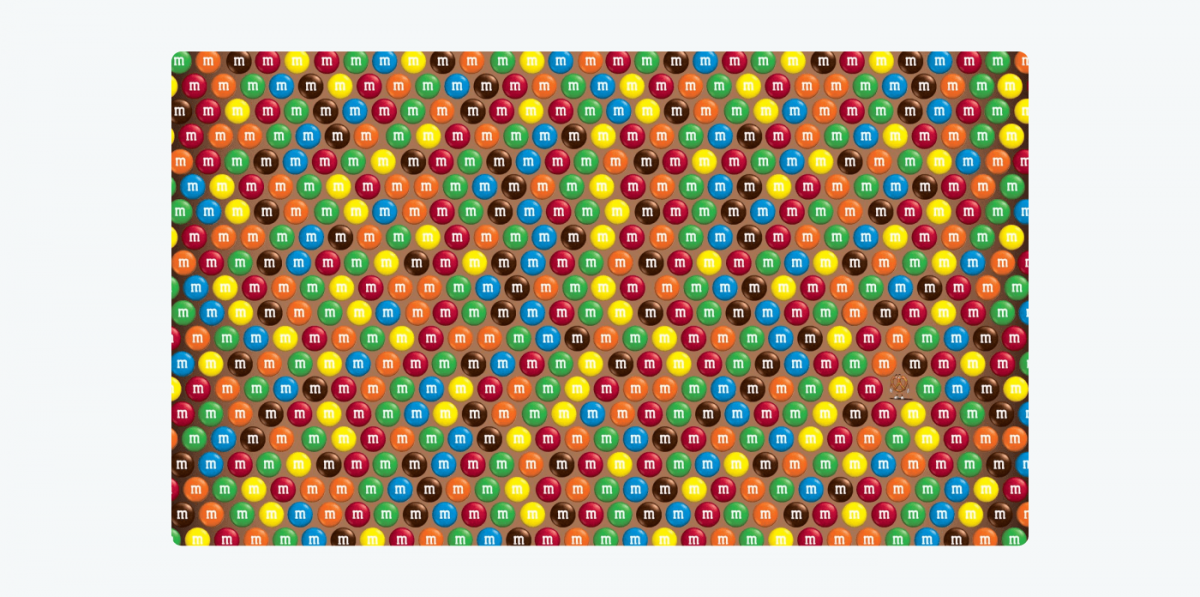 5. Install a live chat and a chatbot
Since a 9 to 5 store concept isn't relevant anymore, customers want to engage with brands whenever it suits them. HBR study found that if you reply to potential customers within one hour, you have seven times more chances to close a sale than if you reply within two hours.
It's hard to be available 24/7 to help customers who are reaching out to you, though. Instead, you can use automation tools, like chatbots, as part of your omnichannel engagement strategy.
If you want to learn more about chatbots, head straight to our dedicated guide: What Is a Chatbot and What Are Chatbots Used For?
Chatbots are easy to make and customize. According to our study on chatbot personalization, they even have the potential to become brand mascots.
Here's an example of Rosa, the chatbot concierge designed for a Las Vegas luxurious resort. Rosa has a distinct personality and a unique flirty sense of humor.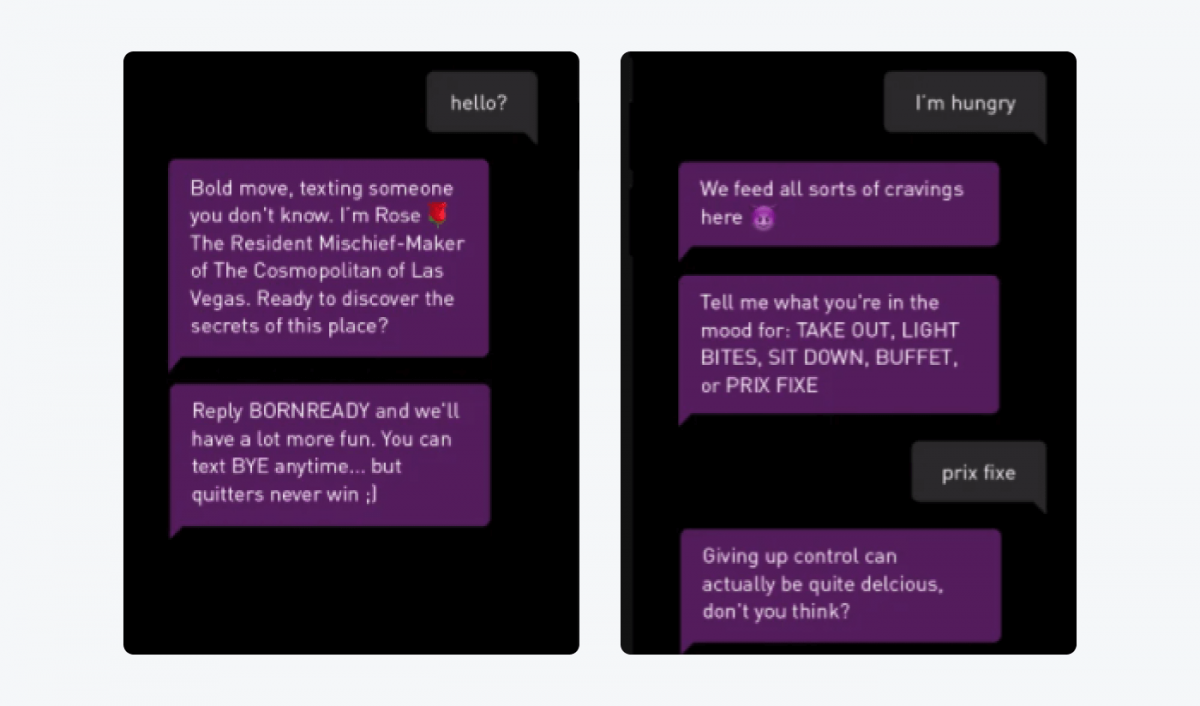 6. Organize contests and giveaways
You can get the highest consumer engagement rates when you create meaningful rewarding programs for your customer base. For example, the number of Starbucks Reward Loyalty Program users has increased by 15% between 2018 and 2019.
Online customer engagement programs can go beyond discounts or loyalty programs. You can incentivize certain behavior that generates buzz around your brand, such as leaving a review of your product, referring a friend, or tagging a friend and liking posts on social media.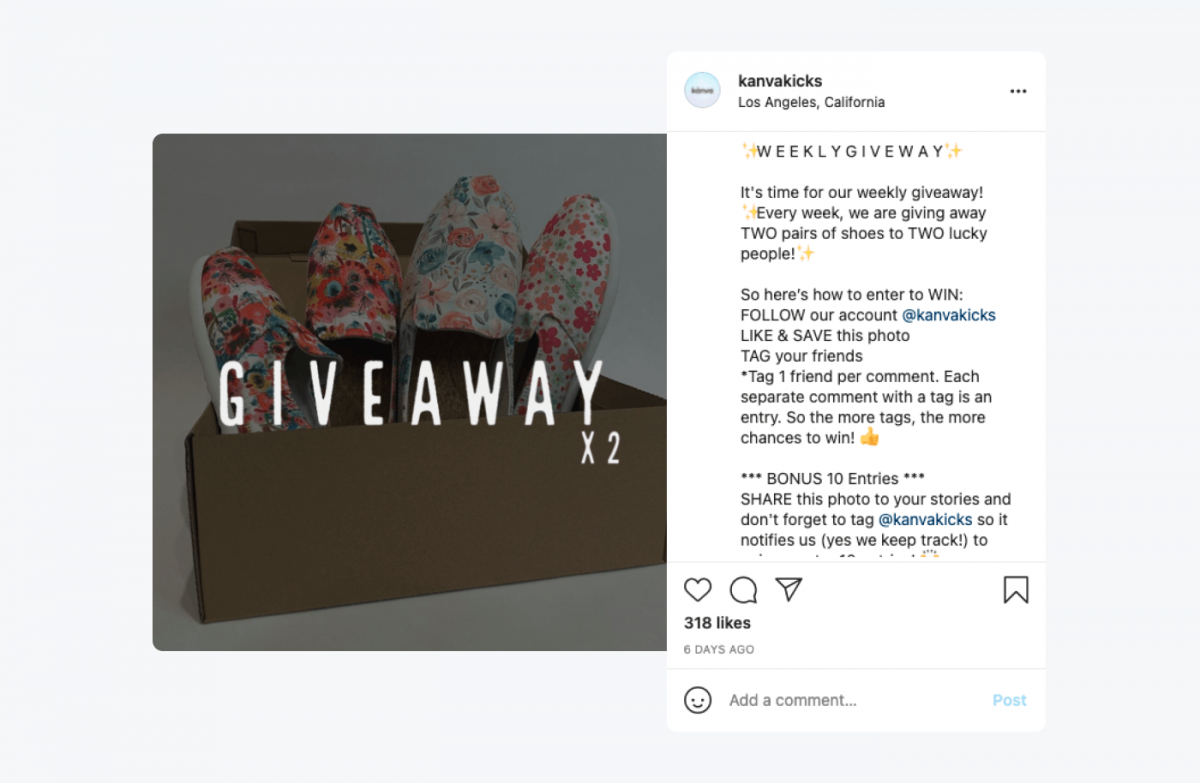 7. Stimulate user-generated content
There's research evidence that user contributions to your content marketing strategy bring more engagement than clever sales messages.
So, when planning a user-generated campaign, remember to choose the right platform. For example, Facebook's great for videos and games, Instagram for high-res photos, and LinkedIn is best for professional content.
Coordinate customers' contributions to driving purchase behavior. How? For example, create one dedicated hashtag for a campaign to increase customer engagement: #ShareACoke hashtag engaged over 645,000 customers on Instagram.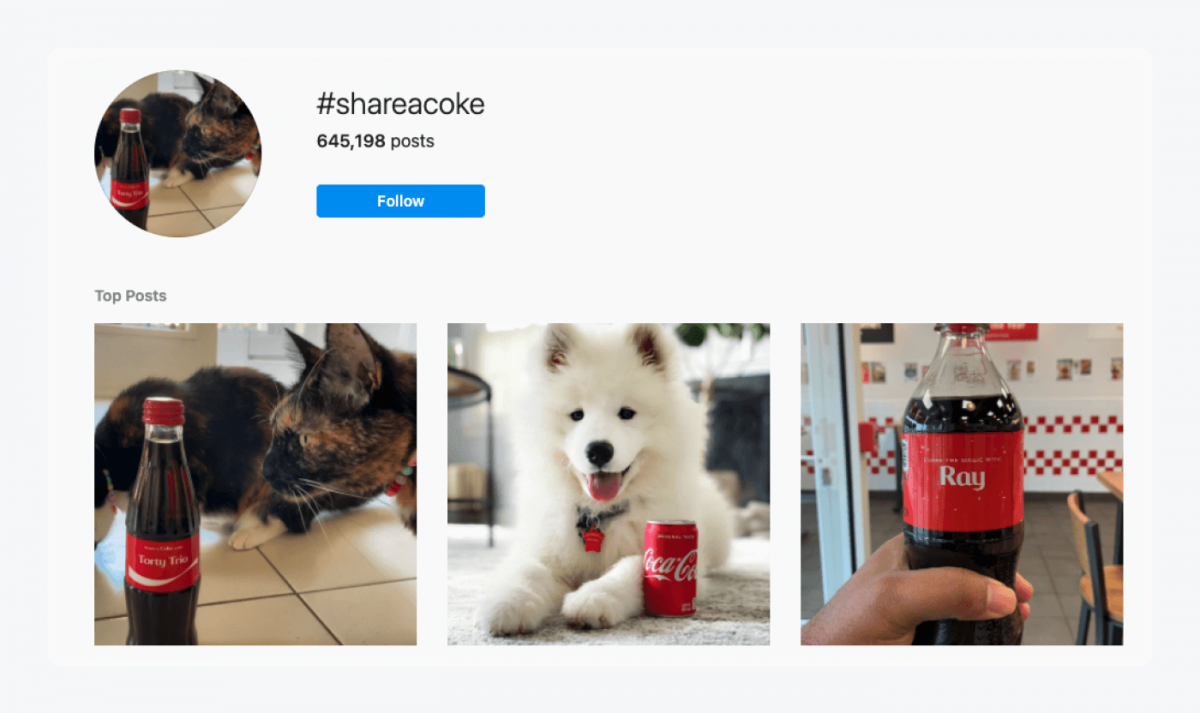 8. Provide entertainment value
Entertaining your customers is a huge opportunity for engagement marketing.
Memes and infographics are relatively cheap to produce, so marketers across all industries include them in their engagement strategy. Memes lighten the mood—which is why people enjoy them so much.
You can use them to improve the experience of users using premium and everyday products.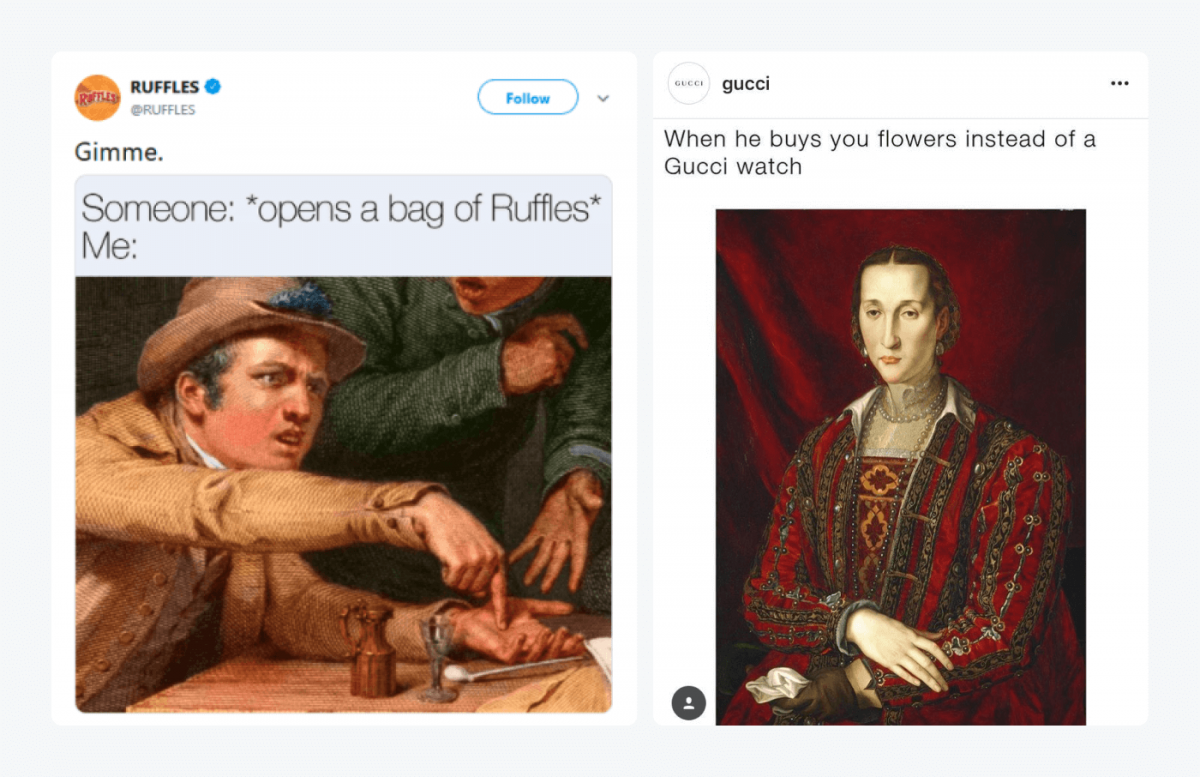 9. Create interactive and visual content
Engaging visuals are a must in a modern marketing world. Posts with visuals receive 94% more page visits and engagements. You can use design tools to make your own graphic files (e.g., charts, presentations) for sharing on social media or through email campaigns.
Other types of content, like flipbooks, interactive maps, or webinars require an investment but prove to be very effective in engaging customers, too. Virtual reality and augmented reality engages customers eager to try something new.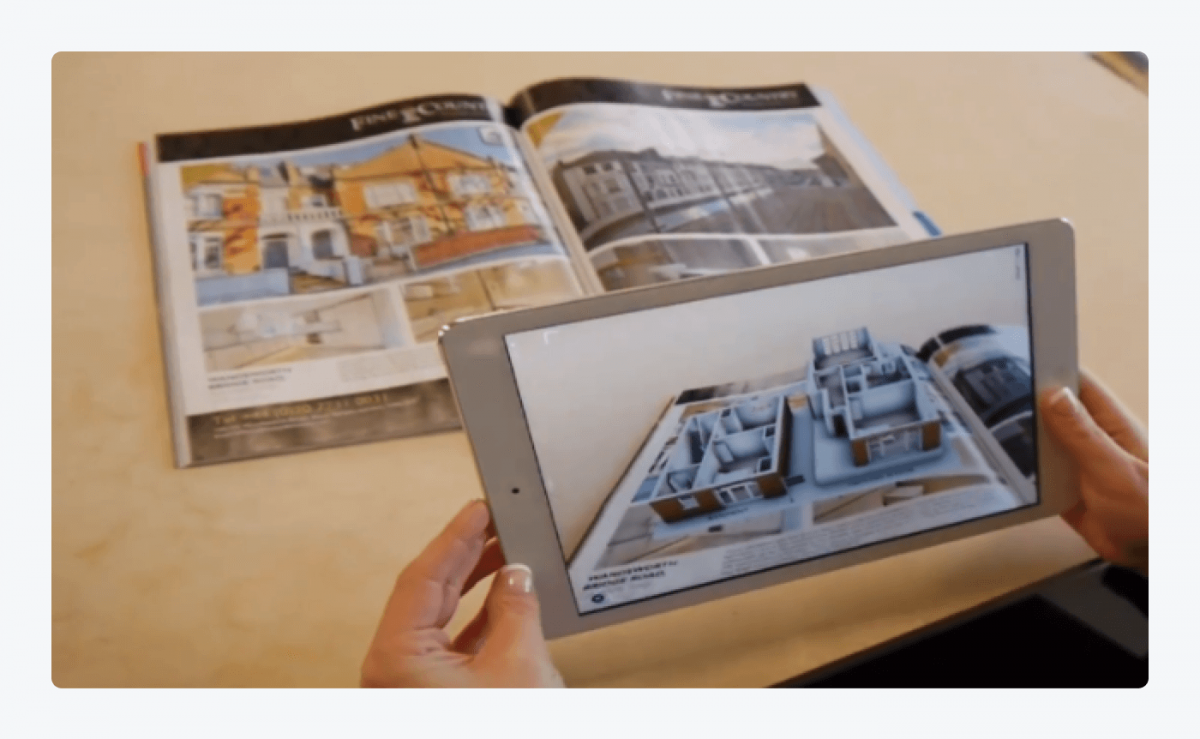 10. Respond to customer interactions in real-time
When a customer posts about your business on social media (whether it's a complaint or a compliment), make sure you respond asap.
A research study from Applied Marketing Service revealed that a company's response to customers' Tweets makes them spend 3 to 20% more from that business.
Here's how responsive is Fitbit's customer support team on Twitter—responding within less than 30 minutes to a crying emoji. Yes—a single emoji.

11. Reach out to your customers via email campaigns
There are multiple ways in which you can drive customer engagement via email campaigns. Before you press the send button, remember to segment recipients to personalize your messaging.
For example, you can engage consumers who were inactive for a while. Check if they have any concerns about your service or send your most loyal customers a "thank you" note. And don't miss the best time to send out an email campaign.
Here's an example of an email sent at the end of a user's trial period. The business offers help to increase its chances of turning the customer into a paid subscriber.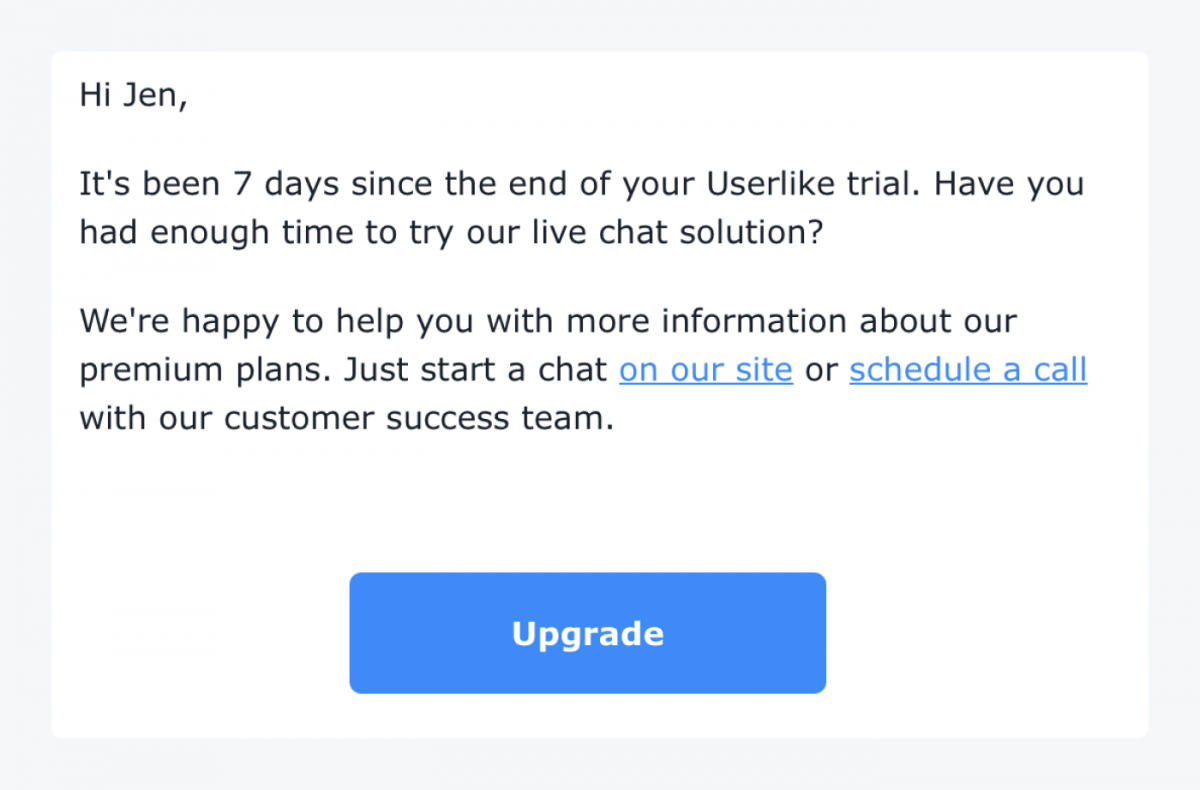 12. Engage customers with social causes
People like to feel good about the way they spend money and share the experience with others. If you include social responsibility into your customer engagement plan, you can easily excite people about your company.
A 2002 Cone Corporate Citizenship Study reported that 84% of Americans agreed that they "would be likely to switch brands to one associated with a good cause if price and quality are similar."
As a small business, you can invest in a local community by organizing workshops, clubs, or events. For example, this hardware company in the UK creates educational content and programs to help children learn to code.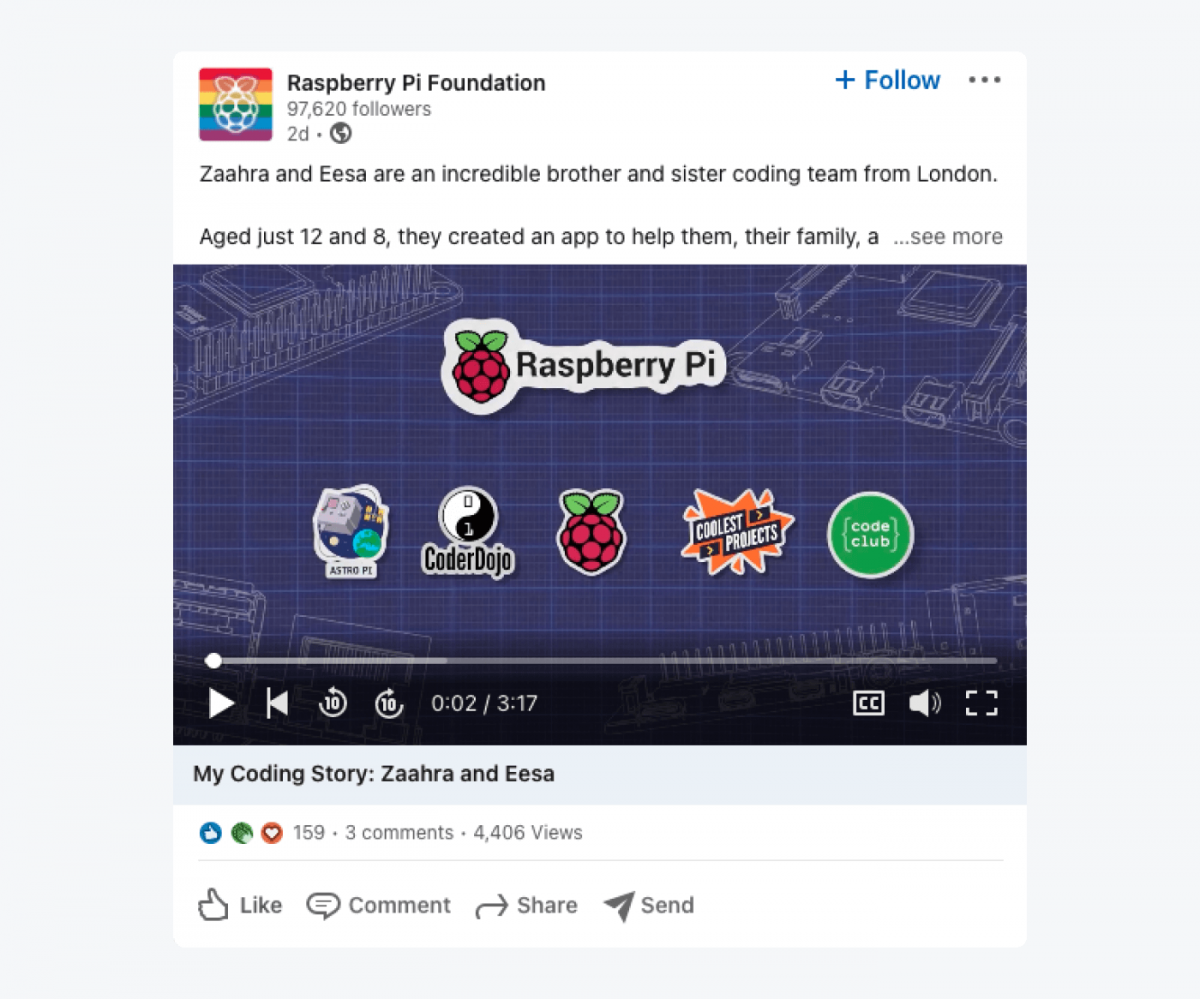 How to measure customer engagement?
Let's address the elephant in the room—
How to measure this?
There isn't one definitive way of measuring customer engagement. You can check a few indicators that together will give you an idea of the customers' involvement.
Here's a list of customer engagement metrics you can track:
Average Time on Site/Page—Is your content interesting enough?
Open and Click-Through Rates—Does your CTA text grab attention?
Social media stats, like shares, mentions, or likes—Is your content likable?
A number of downloads or form fills—Are people interested in the topic?
Customer referrals—Do customers love your product/service?
Repeat Purchase/Renewal Rate—How are people satisfied?
Repeat visits—Are you seen as an expert?
Online reviews—What do people really think?
NPS/CSAT Scores—Are clients willing to recommend you to a friend?
Once you collect data, analyze customer behavior throughout their lifetime—where they engage most and where they drop out. Optimize for the best product ranges, sales channels, and campaigns that bring you the best results.
Better still, start analyzing the voice of the customer to get more insights into customer needs and expectations.
What about customer engagement tools?
If you'd like to go deeper and understand customer behavior, you can use a variety of tools. From everyday social media apps to analytics and user feedback tools.
Here's a list of essential tools you'll need:
Customer engagement examples from real brands
Here are three good examples of customer engagement campaigns that increased brand awareness, customer loyalty, and improved brand experience.
Let's see how established brands invite existing and new customers to participate in the engagement process and what we can take away from them.
Patagonia—Builds a community around their product
Patagonia, the outdoor apparel company, prides itself on impressive, sector-leading green initiatives that lower their industry's impact. It turns out their environmental actions blend with their customer engagement marketing.
Patagonia engages with customers on sustainability issues and includes their feedback into their future environmental programs. By paying attention to the voice of the customer, they built a community of people. Their "sense of belonging" is one of the emotional motivators that drive consumer behavior. They are willing to pay for expensive, quality products that last a long time rather than fast fashion.
Patagonia used a timely advertising campaign to engage with consumers about their products. They made headlines with their full-page Don't buy this jacket ad in the New York Times. They called on customers to reflect on consumerism and buy only things they really need.
The attention the company received afterward helped to strengthen the brand's relationship with customers in the long run and bump Patagonia's sales.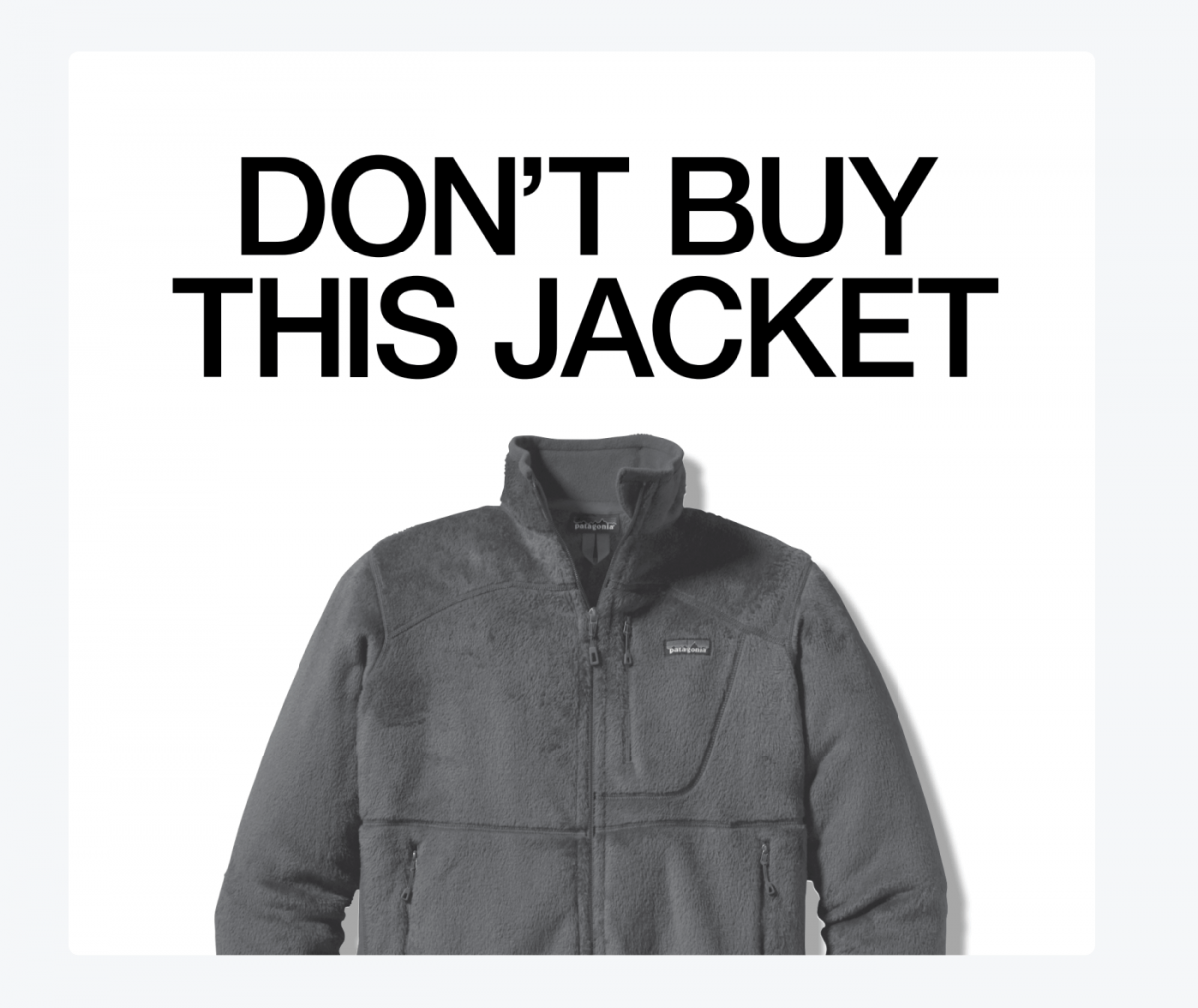 Spotify—Creates personalized experiences
We're all familiar with Spotify's annual review, called Wrapped, right?
Spotify marketers make use of machine learning to analyze users' streaming data. Then, they send users custom playlists and cool stats on the songs, artists, and podcasts every listener discovered each year.
It's something people look forward to all year long. Once it's released, it becomes a hot topic at many schools and offices around the world. No exaggeration here.

This genius idea creates space for people to discuss their favorite songs and artists. Most importantly, it engages them to share their streaming stats on social media.
It's free marketing in its pure form. It's no wonder then that Spotify continually expands its investment in personalization features, like a recently launched new feature that combines two users' music.
I can't wait to try it out. Can you?
GoPro—Includes and rewards their customers
Engaging customers in video challenges is the backbone of GoPro's online brand awareness, consumer engagement, and retention strategies.
Whenever the newest flagship GoPro camera is released, GoPro launches the Million Dollar Challenge. It leaves creators only 80 days to capture and share their outstanding videos. The only guideline is that the clip needs to be shot on the new GoPro camera.
In the 2020 Million Dollar Challenge, GoPro logged over 29,000 submissions from 125 countries. Then, 56 creators were awarded $17,857 each—an equal share of the $1 million prizes.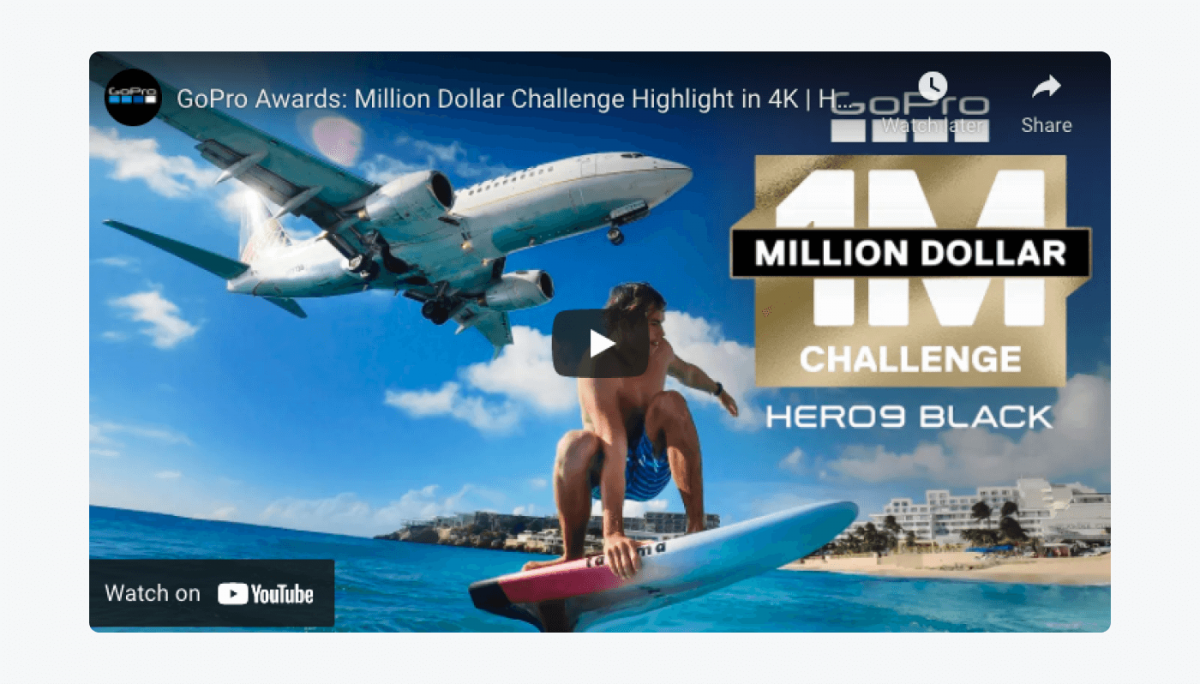 It's a win-win situation.
The Million Dollar Challenge is a chance to give back to the GoPro fans who power the business in a big way. Cash prizes help to engage customers and let them further pursue their passions.
What's more, the GoPro social media team interacts with the users. You can see them directly engage with customers in genuine dialogue.
Customer engagement: wrap-up
Brands need to actively connect and interact with their customers. That's why they need a consistent customer engagement strategy.
Customer engagement is a marketing strategy that encourages customers to interact with businesses throughout their customer lifecycle.
It's closely interlinked with customer satisfaction, retention, and loyalty and aims to give customers a great experience.
You can mix and match customer engagement strategies for an extra boost, e.g., turn a social cause into a contest on social media and assign it a dedicated hashtag.
If you get stuck, you can look up to your favorite companies for inspiration on how to engage with customers.