A happy customer is a loyal customer. A loyal customer is a buying customer. Simple as that. And to know how happy your customer is, you have to measure it.
This step-by-step guide will show you how to measure customer satisfaction with the use of three different types of metrics.
Thanks to that, you'll know how strong your relationship with a customer is, and which areas need to be improved.
Everything in the name of making your customers love you. Because all you need is love… and more sales.
Table of contents:
If customer satisfaction metrics aren't what you're interested in, check out these articles instead:
What Is Customer Satisfaction?
To put it simply, customer satisfaction is the measurement of your customers' happiness with your product, service, or specific experience.
Why Is It Important To Measure Customer Satisfaction?
A happy customer stays with your business longer. And you want to keep them as long as possible because acquiring new customers is 5-25 times more expensive than keeping the current ones.
It's not just about the costs, it's about income as well. Increasing customer retention by 5% can boost your profits by up to 95% and the cheapest and more effective way to do so is by deploying chatbots on your website.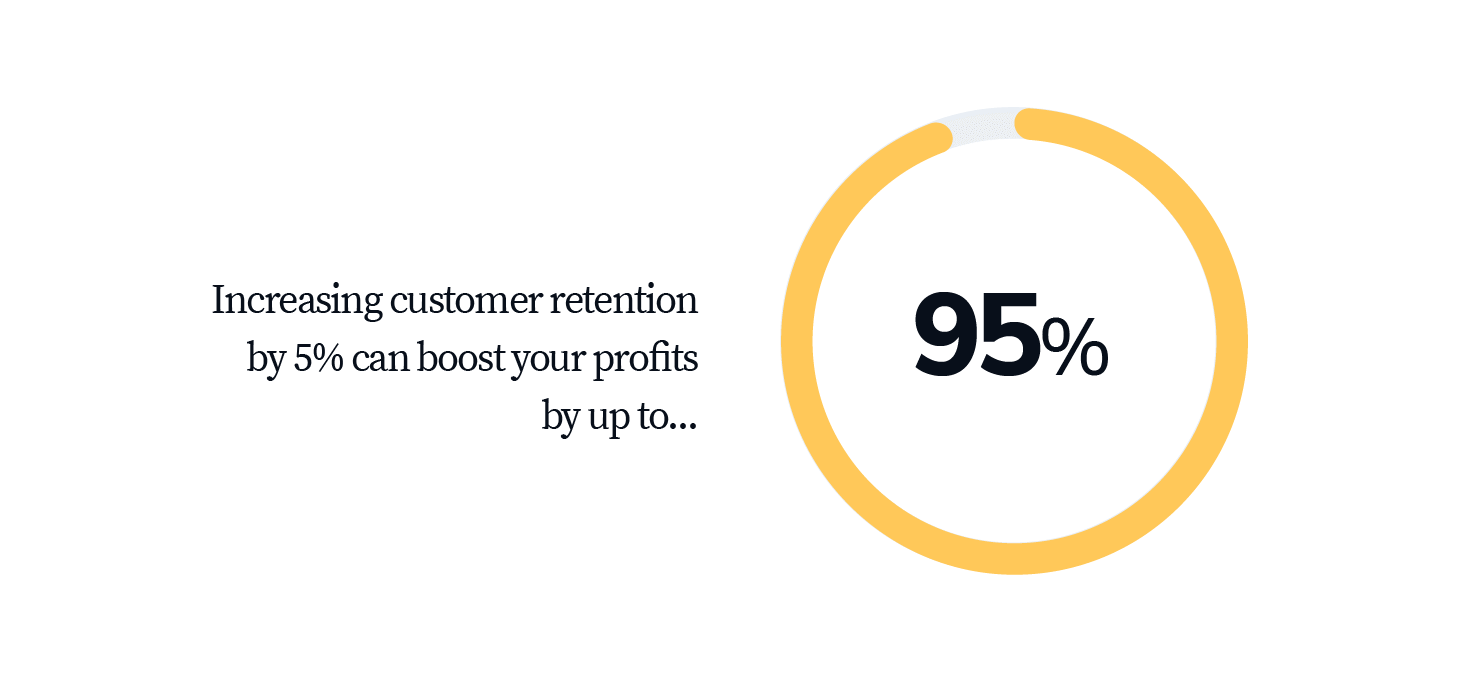 You can now use Tidio conversational bots as an effective solution to increase your income and make your business finances stable by making sure your customers are satisfied.
If your customers are not happy, you should quickly learn why and look for solutions.
This is where customer satisfaction metrics can help you.
What Is A Customer Satisfaction Metric?
Let's start with the customer metric definition. What is it? How does it work?
A customer satisfaction metric is a measurement tool that helps to determine customer satisfaction level with a product, service or interaction by rating company's strategic points like:
product performance,
customer service quality,
shopping experience,
website navigation,
brand perception,
brand loyalty.
The Benefits Of Customer Satisfaction Surveys
Every company's greatest assets are its customers, because without customers there is no company.

Micheal LeBoeuf
Author and motivational speaker
Let's say you run a store with beautifully decorated interiors, world-class service and competitive prices. The business seems to be working fine, but… customers don't come back. Is it because dressing rooms are too small? Or because the clothes fade after having been washed?
There will be a lot of unknowns unless you ask for buyers' honest opinions by sending a brief metric survey. They're a fast and effective method for collecting customer feedback for three reasons:
high response rate,
user-friendly design,
easy progress analysis process.
With online stores and other websites, it is also really easy to automate the process and prompt your visitors to complete surveys while using your live chat support. Read our reviews of the best WordPress chat plugins for your business.
How To Measure Customer Satisfaction In 6 Steps
There are six steps that must be included in the customer satisfaction measurement process to yield satisfactory results.
1. Create A Plan
What's the point of measuring customer satisfaction without a plan? None. You have to create a plan and set up clear goals.
Collecting the data takes time and effort (both yours and your customers'). If you're doing it, make sure you have a purpose – there's no reason to bother yourself (and your customers) pointlessly.
The main goals you can specify are:
improving the quality of your product or service,
improving customer service quality,
improving any other customer touchpoint (e.g. website navigation).
And voilà! The first step in measuring customer satisfaction is completed. Now, we will continue with the measurement tool selection process.
2. Choose A Metric
A well-chosen measurement tool is half the battle. We've compiled a list of the best metrics that will help you to understand clients' opinions better and gauge their overall satisfaction.
What Types of Metrics Measure Customer Satisfaction?
NPS (Net Promoter Score)
Net Promoter Score is one of the most popular metrics that asks your customers how likely they are to recommend your company to someone else.
With just one question, the NPS metric examines consumers' emotional attachment to a brand and shows whether their loyalty is strong enough to become regular clients at your store.
How to calculate NPS?
First, ask users to rate your business with a standard NPS question:
On a scale of 0 to 10, how likely are you to recommend [company name] to a friend or colleague?
Second, categorize respondents into three groups based on their score:
Promoters (9-10 answers) are considered loyal customers who are very likely to recommend your products or services,
Neutrals (7-8 answers) are considered uncertain clients who can either become your promoters or move to your competitors,
Detractors (0-6 answers) are unhappy and dissatisfied customers that are very likely to turn their backs on your business and share their bad experience with others.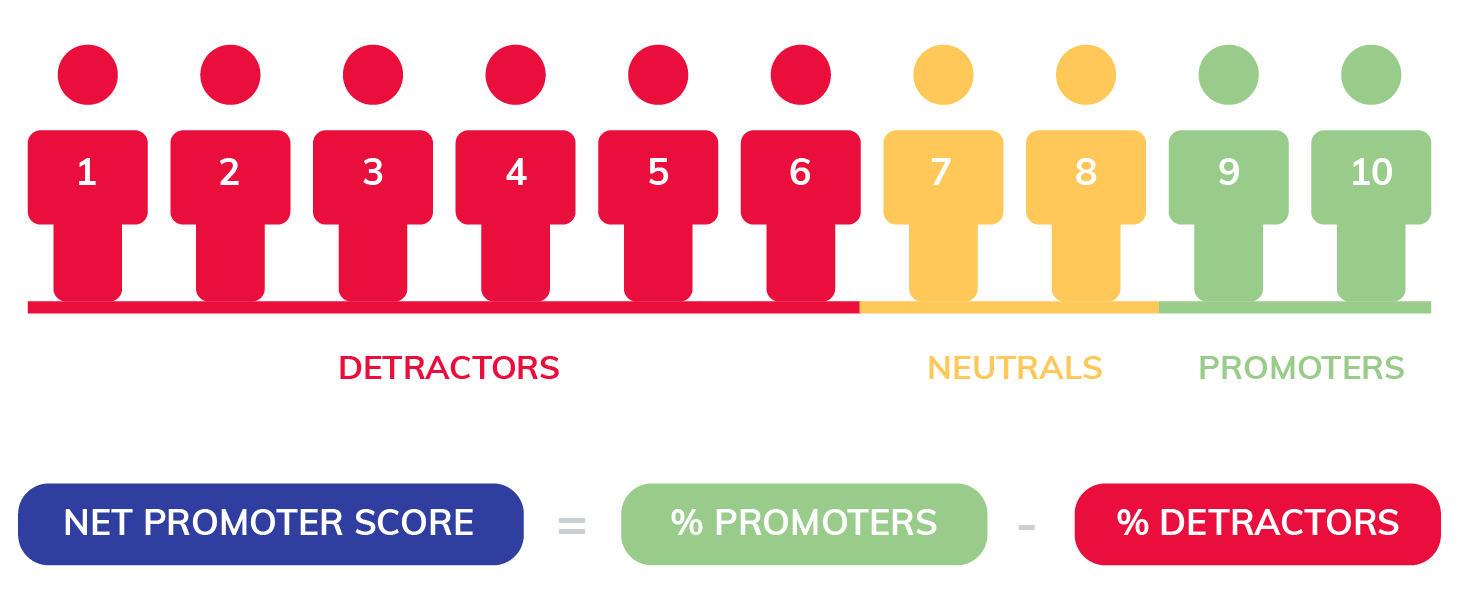 Third, subtract the percentage of detractors (0-6 answers) from the percentage of promoters (10-9 answers).
The score you receive will vary from -100 to 100. The higher the score is, the more likely you'll get a recommendation. A low NPS score (below 0) means that you should start working on your customer satisfaction level.
Pros And Cons Of The Net Promoter Score Metric
| | |
| --- | --- |
| Pros | Cons |
| focuses on customer sentiment to a brand and not a single interaction | a single score doesn't define the problem |
| allows for a rapid situation assessment when tracking customer satisfaction rating | offers a general survey response scale (divides customers into three groups only) |
| offers follow-up questions to gather more detailed feedback | |
| it's quick to use, easy to understand and inexpensive to implement | |
CES (Customer Effort Score)
Customer Effort Score is another great customer satisfaction metric that allows you to measure how easy it was for a customer to complete an individual action (e.g. ordering a product online or solving a problem using your product or service).
By analyzing the last interaction, CES helps company owners to identify and overcome shopping obstacles, that discourage further interactions, and predict customers' future behavior.
According to an HBR study (which boosted this metric's popularity back in 2010), CES provides a strong prediction of the future purchase behavior. The study suggested that 94% of customers who responded with low effort, said that they would make a purchase again. 81% of clients responded that high effort in interaction with a company would make them share their negative experience with others.
How To Calculate CES?
CES survey usually consists of a simple statement, that a customer can answer on a standard scale (1-7), indicating whether they disagree (1) or agree (7) with that statement:
[Company name] made it easy for me to handle [the issue].
After the data has been collected, you can calculate the average score by dividing the total number of responses by the total number of respondents.
The higher the final score is, the easier it was to complete a certain task for the customer. A lower score, however, indicates there's an issue regarding a specific process – and you should address it.
Besides the scale, it's worth to give your customer an opportunity to leave additional comments (where they can explain their score). It's a valuable piece of information, that'll help you understand your customer's rating and implement solutions later on.
Pros And Cons Of The CES Metric
| | |
| --- | --- |
| Pros | Cons |
| strong predictor of the future purchase behavior | focuses only on an individual action ignoring other aspects |
| allows customers to leave additional comments | doesn't categorize customers into groups (like NPS does) |
| it's quick to use, easy to understand and inexpensive to implement | |
CSAT (Customer Satisfaction Score)
Customer Satisfaction Score is yet another type of survey that measures customer satisfaction with a product, service or a recent interaction with a particular brand. With CSAT, respondents are asked to rate their experience on a standard 1-5 metric scale:
very unsatisfied,
unsatisfied,
neutral,
satisfied,
very satisfied.
80% of organizations choose CSAT as their primary customer experience metric. CSAT's real-time responses allow to investigate to what extent businesses meet customers' expectations and if they don't, what measures should be undertaken. In this sense, CSAT focuses on customer retention.
How To Calculate CSAT?
First, ask respondents to rate the question with a 1-5 survey scale:
How would you rate your overall satisfaction with [service/product]?
Second, calculate the CSAT score by following the steps listed below:
divide the total number of satisfied responses by the total number of survey responses,
multiply the given value by 100.
CSAT score is the average score of satisfied responses (the metric focuses on the two highest values) that indicates the number of clients willing to continue doing business with a particular store. A high final score translates into high satisfaction level.
Pros And Cons Of The CES Metric
| | |
| --- | --- |
| Pros | Cons |
| offers three-, five- or ten-point survey scale | focuses on one-off experience |
| can be enhanced with additional questions | the "satisfied" response can be perceived ambiguously (either as "it was a great experience" or "it was okay") |
| allows to ask a broad range of questions | unsatisfied clients rarely complete the survey |
| can be used as a benchmark thanks to the American Customer Satisfaction Index that stores online statistic data | |
| it's quick to use, easy to understand and inexpensive to implement | |
3. Build A Survey
How to build a survey? With the most simple tool out there – Google Forms. It's totally free, easy to use and allows you to create a good looking survey in 5 minutes.
Thanks to Google Form, you can set up forms with:
open questions,
questions of singular choice,
checkboxes,
linear scales,
multiple choice grid.
You can easily drag & drop various elements and set up answers as required. After creating a form, you can share it with your customers using a direct link (or send it via email).
You can use one of our Tidio chatbots to send your customer satisfaction surveys automatically after specific actions were performed by customers!
Here's what the example form looks like: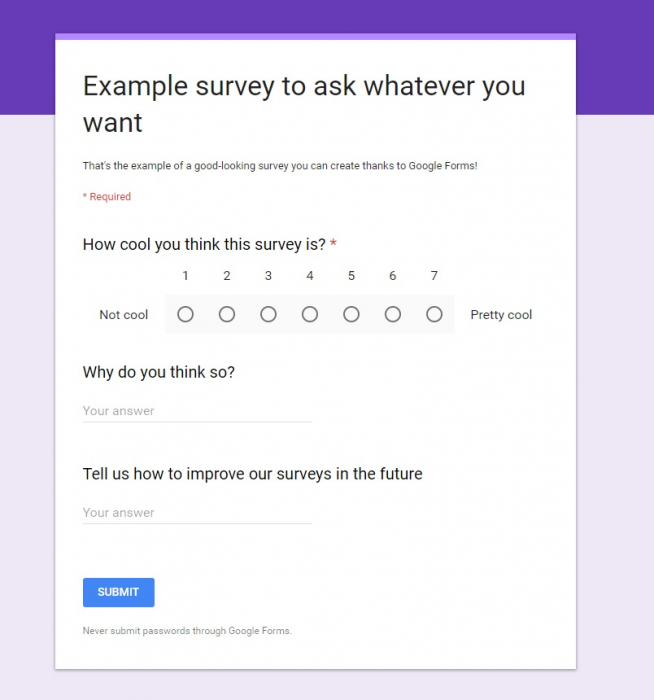 After collecting the data, you can check out the summary of all the answers or take a look at individual surveys.
Or if you're aiming for more advanced analytics – export the data right to Google Spreadsheet.
4. Choose Timing To Send Satisfaction Survey
Timing is essential.
Depending on your goals, the satisfaction survey should be sent after a specific point of customer's interaction with your business:
Immediately after an interaction with your customer service. This approach allows you to measure customers' satisfaction with your customer support. It's important to capture this feedback right after the interaction took place, while it's still fresh. Otherwise, people may forget how they felt.
Some time after customer's purchase (the timing depends on the nature of your product or service). With this approach, you'll catch the feelings regarding your product or service after some time of usage. Why should you wait? It's simple – because customers need some time to fully familiarize themselves with a product or a service. This of course differs from industry to industry, but a good rule of thumb is to give your customers some time.
At different stages of the customer life cycle. This approach allows you to measure how the customer's satisfaction changes over time. The more touch points you'll examine, the more specific image of customer experience you'll get.
And remember not to survey your customers too often because it'll result in low response rates.
5. Gather Survey Feedback And Analyze the Data
No analyzing, no conclusion.
Analyzing helps you discover business' strengths and weaknesses. Gaining that knowledge is the first step to improve the weaker areas.
When analyzing business' flaws, ask yourself these questions:
at what customer touchpoint did the issues occur?
which area of your business is the issue related to?
what was the direct cause of the customer's score?
what are the easiest and most effective solutions you can implement?
After getting the answers, it's time to…
6. Look For The Solutions And Improve Customer Satisfaction
The most important thing in the process is to NAME the issue. After doing it, looking for solutions should be much easier.
It's difficult to provide specific tips – it all relies on industry and which area needs to be improved.
For example, if the issue is related to customer service, you could provide training to your customer service employees and work on their customer service skills by shortening response times.
Another great idea would be implementing live chat software to use it as a customer service channel. For 79% of companies that have deployed the chatting tool on their website, it resulted in increased customer loyalty, satisfaction, and revenue.
Back to the general – depending on the nature of the issue, here are some ideas on looking for solutions:
There are limitless possibilities when looking for answers. Choose the solutions that'll suit your industry and business best.
speak to your customer service or marketing department,
ask on Facebook Groups associating business owners from your industry,
Google it – there's a big chance that thousands of business' owners already had the same problem,
run an experiment, test, play with solutions,
understand and track your brand's funnel to know what makes your customers tick.
Conclusion
Measuring customer satisfaction is healthy for your business income because it tells you how loyal and satisfied your customers are. It also gives you valuable feedback on which areas you should improve.
Keeping customer satisfaction at a high level is important—loyal clients tend to spend more money, not to mention that acquiring new clients is much more expensive than keeping the present ones.
So what are you waiting for? Go out there and make your customers love you!