When you reach out to the company's customer support, the last thing you want to hear is a worn-out rep asking—
Have you tried switching it off and on again?
In 2021, customers' expectations towards customer support are totally different from what they were a decade or two ago.
Customers have gone from complaining and asking about products in-person to waiting on hold and needing to call back on another day, to sending emails, to instant messaging and Amazon's Alexa.
Read on to find out how to keep up with customers.
This article explains:
If it's not what you're looking for, check out these articles:
What is customer support today?
Customer support refers to all types of services to help customers take full advantage of a product in a cost-efficient way. It involves training customers and assisting them to set up, install, maintain, troubleshoot, upgrade, and dispose of a product.
Modern customer support has changed considerably from what it was in the past due to changing consumer behavior. It now hugely relies on allowing customers to solve simple issues themselves and technology advancements.
As many as 80% of customers now are happy to explore self-service options available to them, like knowledge bases, FAQ sections, chatbots, or even social media, before they engage the company's representatives.
Customers finding answers on their own reduces the number of tickets. This frees your customer support team from performing the same tasks day in and day out, which has obvious benefits:
The technical support team can focus on assisting customers with more complex problems
Agents' well-being increases and they are less likely to experience burnout
The team's productivity increases and the number of errors decreases
Nowadays, customers expect to access online customer support from the comfort of their homes 24/7. So companies leverage omnichannel communication to facilitate it.
But, with most customer interactions handled online, providing a personalized experience for clients is getting increasingly complex.
That's why the use of customer support software is crucial to ensure a consistent customer experience at every touchpoint.
Here's a summary of how customer assistance changed over the years.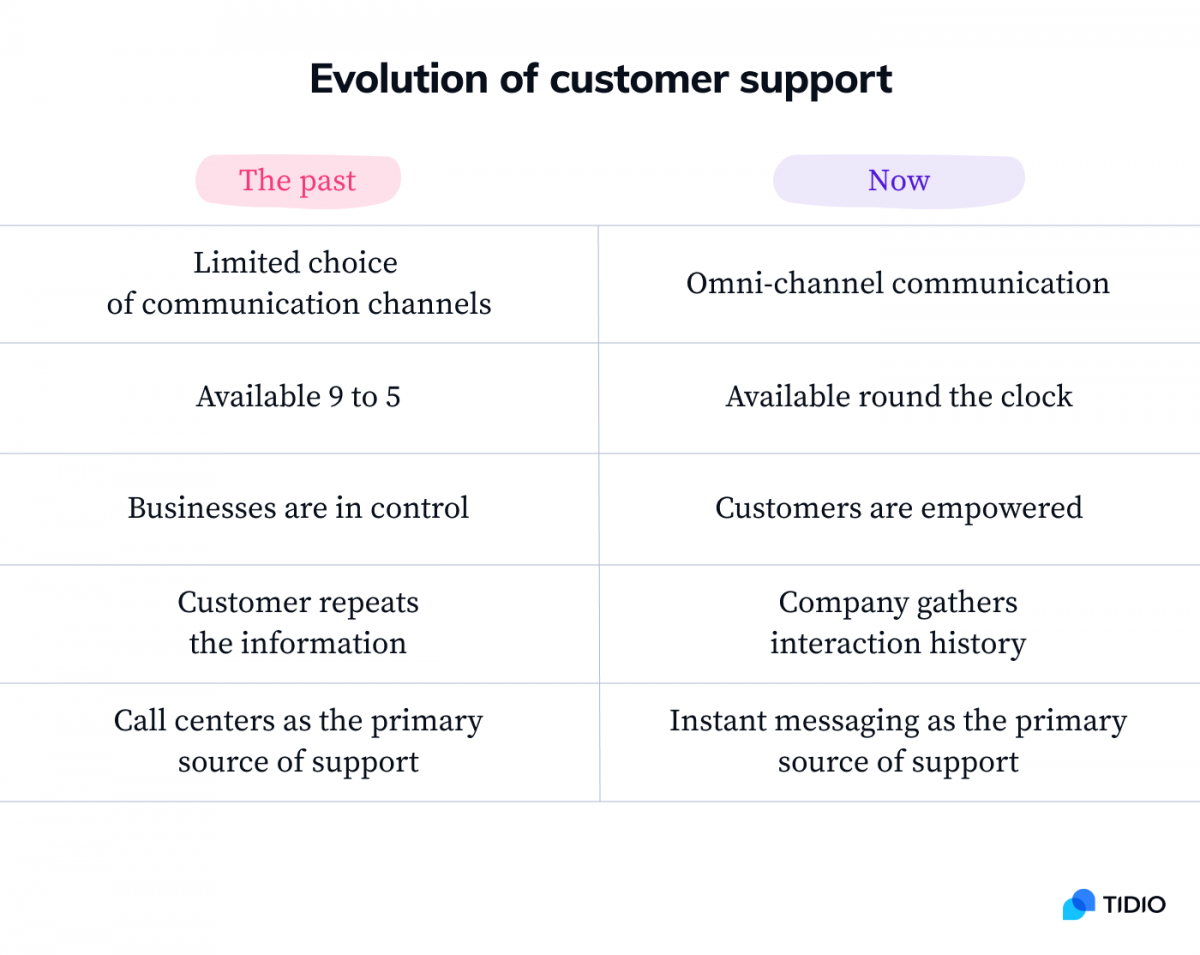 What role does customer support play?
The position of customer support within the company is gaining more and more recognition. It's because supporting customers has more impact on the business than before. It informs product and business development teams and contributes to building positive brand awareness.
To start with—
Customer support representatives are in the front lines of receiving customer feedback about products or services from users. The insights prove to be invaluable to product teams and business development.
For example:
What made a product launch fail?
What elements of the interface confuse users?
What default settings don't work for users? And more.
Mireille Pilloud, a senior product manager at TED Conferences, compares the shift to getting "a seat at the adult table."
There's more—
Satisfied customers are the best advocates of your business. They like to share examples of great customer support on social media. It effectively triggers word-of-mouth marketing and allows other people to hear about the great way the company assists its customers.
To maximize word-of-mouth marketing, don't forget to encourage customers to share their experiences. Remember to always include links to review sites in your communication with customers.
What is the difference between customer service and customer support?
If you want to define customer support, you need to understand what customer service is. The former supports customers in using the products and services, and the latter helps customers during and after the sale.
The main difference between the two is that not every business needs customer support agents. SaaS, IT, and eCommerce businesses usually need them most.
On the other hand, every type of industry needs customer service agents. They deal with the transactional side of the business, like upselling or upgrading the service.
Here's an example that illustrates the customer service vs. customer support difference—
A book store doesn't need a team of specialists to inform customers how to turn pages of a book, or what to do when a page rips.
Instead, it needs staff who can advise on the best non-fiction this summer or what books might interest a rebellious teen.
In the case of Saas companies, though, it's essential to educate customers on how to use the product and fix technical bugs. The aim is to retain them for as long as possible. It's a make-or-break situation for subscription-based businesses which rely on loyal customers.
At Tidio, we know it's true from our own experience.
So here's what happened when one of our customers reached out to our support team. He wanted to optimize workflows to better monitor the effectiveness of the campaigns. His request was passed to one of our developers who wrote a code that fixed the issue.
Yeah, that's how we roll.
It was a small piece of code for us, but a huge game-changer for the customer.
The result?
A satisfied customer.

And it didn't cost us anything extra. In fact, paid off.
Yes, there are salaries, and the cost of equipment and technology, but the benefits of providing a great customer experience outweigh the overheads.
You see, it's all about empowering employees to make customer-oriented decisions. We'll discuss it later in the article.
What exactly does a customer support representative do?
Customer support agents answer a lot of 'How to' technical questions. And besides that, they:
Create product (or service) documentation and helpful resources, e.g., knowledge bases, use cases
Solve customers' technical problems in real-time, e.g., assist in installing, upgrading, or customizing the product (or service)
Educate clients about the benefits of using the product (or service), e.g., create webinars
Collect product (or service) feedback address it
Because of this exposure, the customer support agents know the product inside-out. In some companies, customer support staff specialize in certain areas of the product.
It creates room for career development. Some agents find their way to become customer success managers or account managers.
How to build a good customer support team?
First of all, invest in the right people.
In customer support, people need a variety of skills. Focus on finding inquisitive people with the potential to quickly learn technical aspects of your product. Check if they can explain in simple words how it works to others.
But—
Apart from software proficiency, tech support agents need to have at least some of the most important customer service skills, like empathy, patience, or problem-solving. After all, you need people who are more satisfied than frustrated with helping others.
Check out what questions to ask at a customer service interview and the best answers.
Second of all, empower support agents.
In other words, let your support team do their job!
When dealing with customers, support agents need to think on their feet, so don't restrict them. You can, for example, write down a set of rules and procedures for reference.
But at the same time, encourage creative ways of resolving common technical support issues. It can lead support agents to think of ways to simplify support processes or even create a new product or feature.
Here's how to empower your customer support agents in 5 steps.
What is customer support software and how to use it?
Customer support software is a tool that unifies multiple channels to assist you in communication with customers. It also helps to organize and keep track of customer data to troubleshoot customer issues more effectively. It helps provide a better customer support experience.
Using customer support tools benefits the teams because they can get more things done, quicker. It also increases customer satisfaction and loyalty because agents can deliver timely and personalized service.
Email or phone support won't cut it anymore.
So here are the essential customer support solutions.
1. Self-service options
The majority of customers try to solve issues themselves before reaching out for live support. To empower them to find the solution they need, create a clear and easy-to-navigate knowledge base.
Include only essential navigation options, a search bar, and live chat support to connect with you when they hit a roadblock.
Customers can also chat with each other via forums and communities to solve common issues.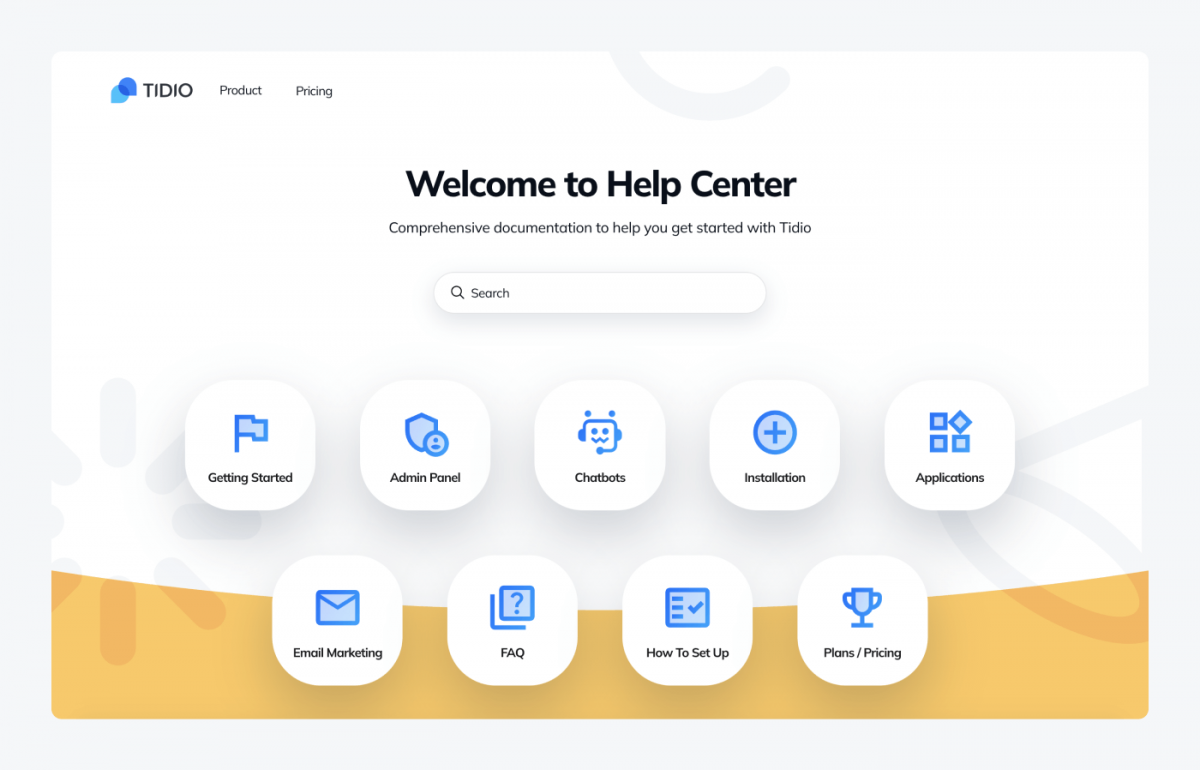 Here's how to implement self-service options for your customers and how to build a knowledge base.
2. Automated processes
Once you hire support staff with the right skills, don't let them become a live FAQ. Relieve them from answering the same simple routine questions over and over. It is challenging mentally and demotivating. Instead, use chatbots that can handle as many as 80% of standard questions.
Customer support teams are your most valuable resource, so save them for complex issues where delivering a personalized experience is needed the most.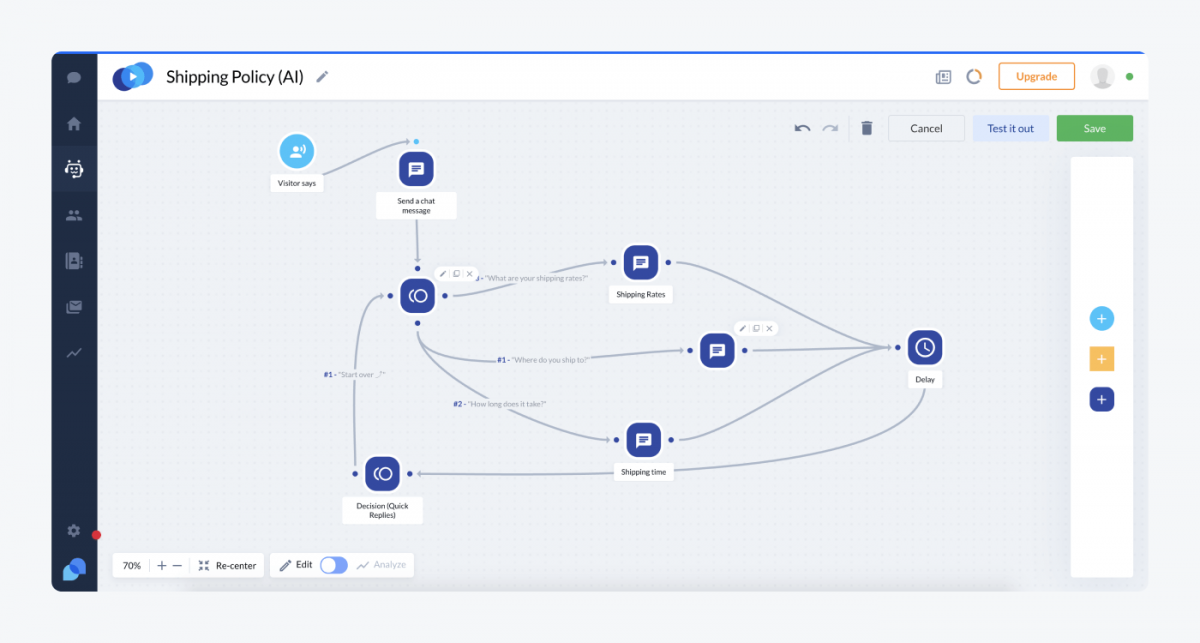 Check out ways to automate your customer support and why your business needs a chatbot.
3. Efficient Customer Relationship Management
The way you manage the tasks and resources can vary depending on the size of your business. But once your customer base and team grow, it's easier to streamline workflows with the CRM software.
It gets tickets assigned to the right person—based on this person's field of expertise or traffic trends. You can organize tickets based on their priority or assign them to an agent that has dealt with this particular customer before.
Read more: Check out this guide on customer relationships and explore the best strategies you can use to maintain strong connections with clients
4. Integrations
Make sure that the customer data is unified across all the tools you use. Look for flexible solutions that easily integrate with other apps. It will give you a complete picture of your customers and create an amazing customer experience.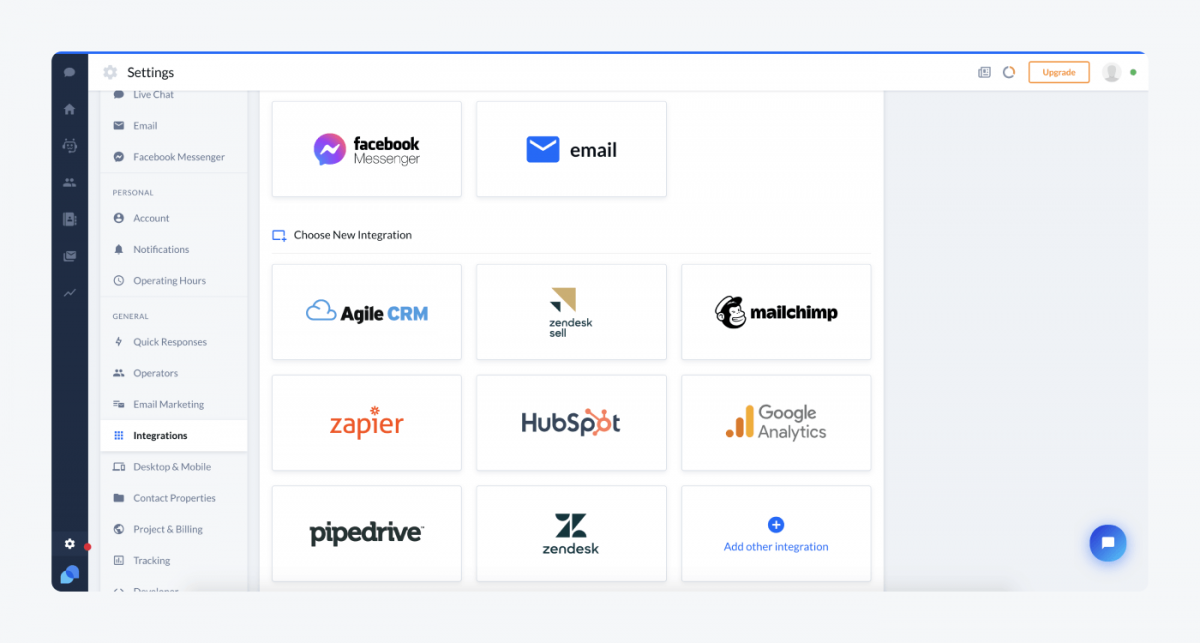 4. Feedback surveys
Collecting data for further analysis and optimization is a sign of our times. Create customer satisfaction surveys, check customer support chats, and frequently asked questions to take advantage of this information.
For example, optimize the onboarding process for new customers, include in-app tips, or add a how-to article to your knowledge base.
Check out the voice of customer methods of capturing and analyzing collected data.
Here's a list of the best customer support tools:
Help Scout—Email management software
HubSpot Service Hub—Automated ticketing and knowledge base builder
Facebook Messenger—Convenient messaging support on mobile devices all over the world
SurveyMonkey—Collect feedback and measure CSAT with minimal disruption
Slack—Get support from teammates in different departments
Tidio live chat and Tidio chatbot—Help customers in real-time, incl. real-time typing view, website monitoring, and proactive chat invitations
Read more: Top 10 Help Scout Alternatives [Ratings 2022]
Defining customer support: summary
Here's what customer support is in essence:
Customer support means delivering high-quality assistance about the company's products and services to customers who struggle to take full advantage of them.
There's a shift towards providing customer-centric support, meeting customers' needs and expectations. The approach proves to positively impact businesses' bottom line.
Customer assistance's gaining more importance within organizations that recognize the value of support teams' input into product development.
Customer service is an umbrella term for customer support.
The success of support teams depends on their skilled agents and the best customer software.
It's easy to see that providing customer support is the way to set the bridge between your product and the user. It's especially important in subscription-based businesses since the customer lifetime value heavily depends on it.