The year 2019 was great for the customer support field. We've seen the emergence of some trends that are slowly but surely becoming a must for e-commerce businesses.
To summarize the most important trends in customer support in 2019, we've decided to craft a quick customer support guide. There, you'll find answers to all the burning questions and much, much more.
Enjoy!
Table of Contents
Turn your website visitors into delighted customers.
Set up the Tidio live chat app in 5 minutes and watch your sales grow.
Learn About Live Chat
What Is Customer Support
Customer support (CS) is the technical assistance provided by the company's customer support to its clients who, after purchasing a product, either require further information (to get a better understanding of it) or need detailed instructions in case of error detection.
Customer Service vs Customer Support
Though they sound and look similar, the two terms – customer support and customer service – don't describe the same phenomenon. The confusion here might be ascribed to the fact that for a long time "customer support" has been considered another term for "customer service" and thus used interchangeably.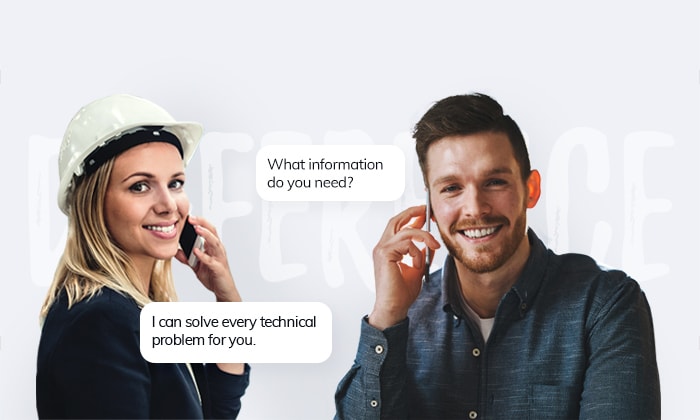 Difference Between Customer Service and Customer Support
The main difference between customer service and customer support, however, is the following:
Customer service provides store users with information necessary for a successful transaction completion whereas customer support focuses on solving technical problems that occur in the product.
Let's illustrate it.
Let's imagine the following: a washing machine leaked water all over white bathroom tiles. Instructions, however, were thrown away together with the appliance packaging and thus, there is no way of dismantling the machine and putting it back to the original state. Without guidelines, there is no damage repair.
Since throwing out the appliance isn't an option, one should contact the company and ask for help with repairing it. The assistance will be delivered by the customer support team – a group of specialists capable of providing remote step-by-step instructions on how to fix their company's products and improve user experience.
However, if the washing machine turns out to be faulty and it's on the manufacturer's side, you'll then have to contact the customer service and ask for a refund or product exchange. In this sense, customer service solves more of mundane issues that should aim at maintaining strong customer relations.
Customer service is about helping people, hearing their concerns and solving their issue. The ultimate goal is to provide customers with high-quality assisstance that would encourage repeat purchases.


What does customer service mean to you
It's worth remembering, though, that customer support is a part of customer service.
Customer Success vs Customer Support
Since we've already clarified what customer support is and isn't, now it's time to look closer at customer success.
Let's go back to our washing machine incident. Let's say, Mr. X (the owner of the washing machine), together with the help of the customer support team, managed to successfully locate and repair the problem. Support agents played their part. And now it's time for a follow-up.
Customer success representatives reach out and make contact with old clients to maintain the relationship that was initiated by a customer and continued by the support service. By asking about their overall experience (e.g. with the buying process) and informing about new product features, the CS team receives valuable feedback and creates up- and cross-selling opportunities.
In this sense, customer success fights for increased ROI and also higher lifetime value that come together with customer loyalty. 
Why Is Customer Support Important
Customer support is equally important to customer service as high-quality products aren't the only factor that contributes to high customer satisfaction, brand awareness and loyalty. It's the post-purchase phase that eventually becomes the determining factor whether a customer will continue doing business with a company or not.
By the post-purchase phase, I mean how well a company takes care of their clients, whether their service has ended together with a successful product purchase or on the contrary, they're willing to provide assistance after the transaction as well.
Staying on good terms with one-time buyers can increase customer loyalty and what follows, a steady income influx for many years to come. Research has shown that customers stay loyal to a brand (73%) and come back for product repurchase (93%) if customer service agents are friendly and empathetic.
The History of Customer Support (Infographic)
In the pre-Internet era, customers handled product problems in person. When a shoe-sole came off or the gloves were a size too small, the disappointed consumers filed verbal complaints to the shop owners after they've come back to the store where the transaction had taken place.
Back in time, business owners weren't too sympathetic about the prospective returns as having one of the few shops in town guaranteed high repurchase rate – it was the customers who needed products and not the other way around.
And then, the Industrialization happened. Technology evolved beyond anyone's expectations and revolutionized the customer support that we now know – from stationary phones to chatbots.
But, let's not get ahead of ourselves.

What's next? What does the future hold for customer support?
According to Gartner, 15% of all customer service interactions will be completely handled by AI by 2021 that will give users more leeway to address their problems on their own. In this sense, self-service will be highly dependent on voice-driven assistants, chatbots and AI that will, first and foremost, support customers with their queries.
Customer Support Communication Channels
Customer service and customer support can be delivered through seven different communication channels. And these include…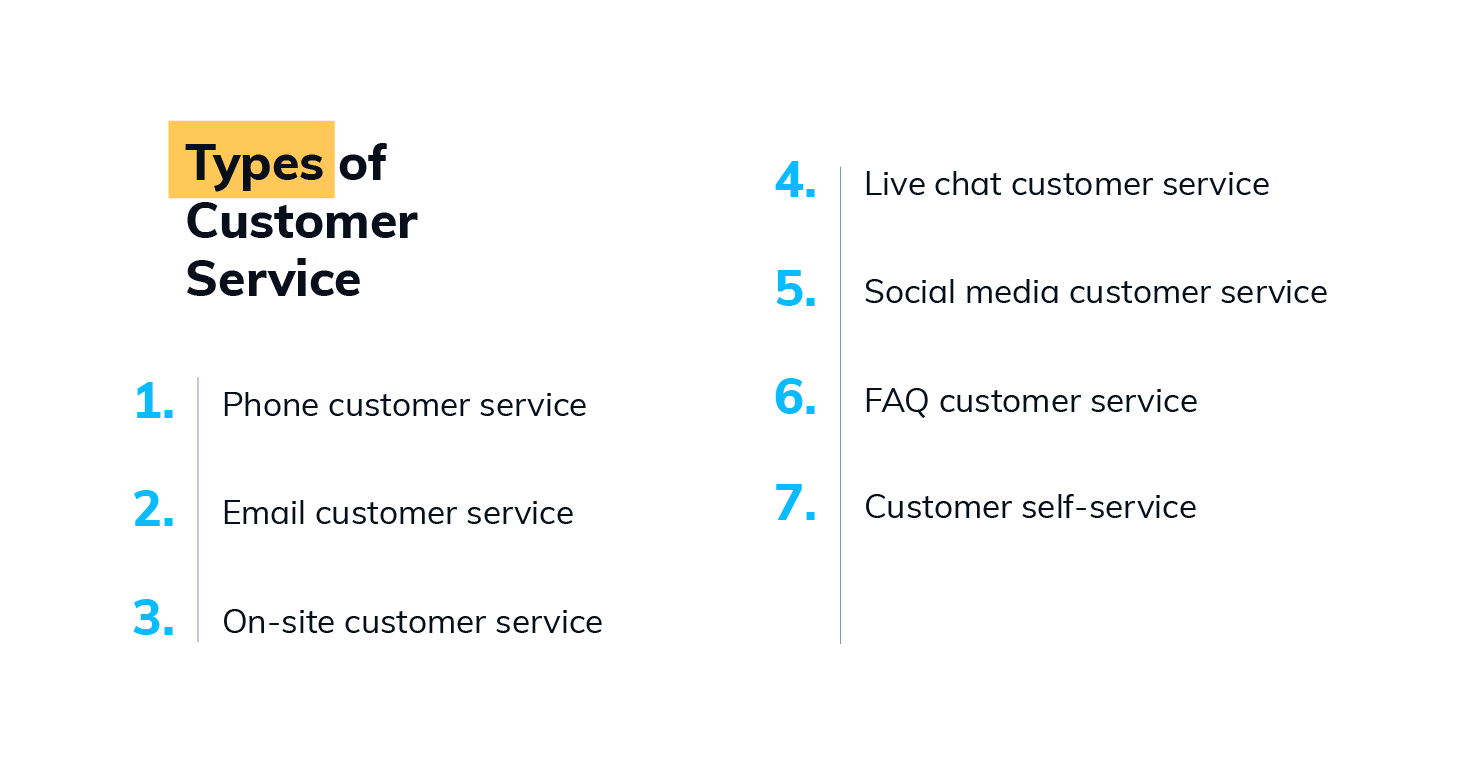 #1 Phone
Phone remains the most popular means of communication channel among all generations. Not only does it allow for a faster interaction but also preserves the human element enabling a more accurate emotional state identification. However, long call queues are still the reason why so many customers hang up after a four-minute call waiting.
#2 Email
Email is still a trending customer support type as it allows for messages to be delivered day and night for 365 days in a year and be preserved by both sides as records. Alas, it is incredibly time-consuming to read the whole message content and to be consistent in following up the never-ending email threads. Also, it's worth mentioning that the average reply time to client's emails is 12 hours and 10 seconds whereas consumers expect it to be 6 hours at most. That's simply too long…
#3 On-site
On-site CS is considered the most convenient service type since the assistance is provided to the customer's front door. And even though driving to client's house can take up a lot of time, on-site support allows them (clients) to directly communicate their needs that can be addressed immediately.
#4 Live Chat
Live chat is an online business tool that, first and foremost, is intended for eCommerce stores which want to address the customer's number one need – an immediate query response (the wait-time for live chat is 2 minutes and 40 seconds).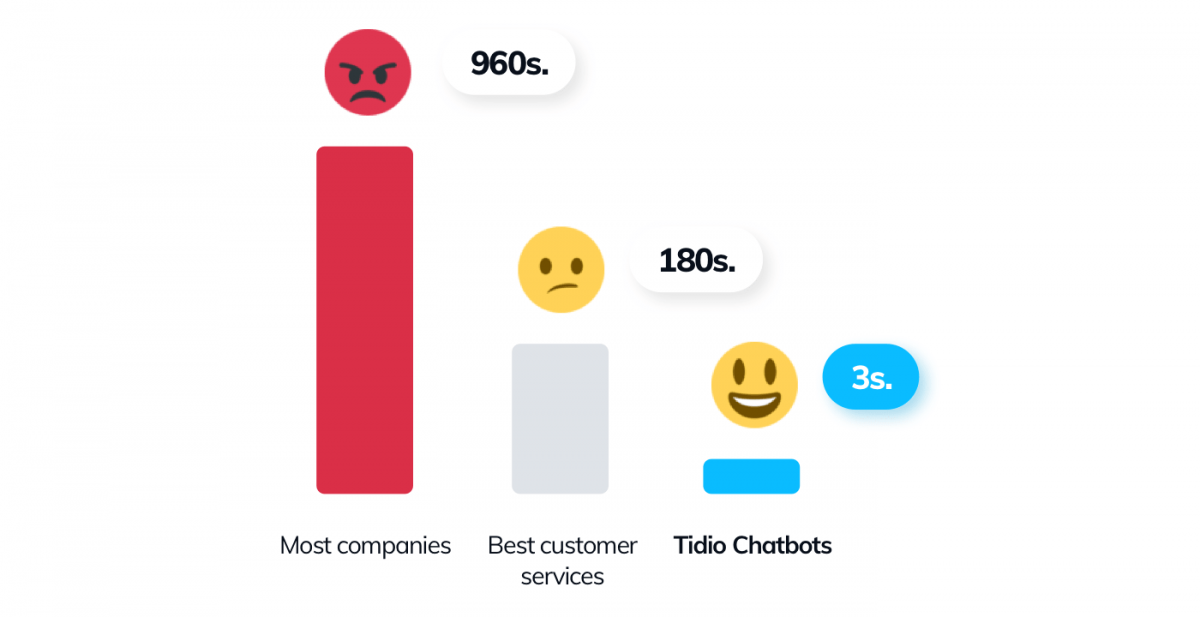 It is possible due to the fact that customer support operators can handle multiple queries simultaneously and thus serve more clients at the same time. Also, mundane and repetitive questions can be automated with chatbots.
If you're in the market for a live chat solution for your WordPress website, find out what the best chat plugin for WordPress has to offer.
Try Live Chat For Free
#5 Social Media
Customers can ask queries on dedicated Facebook groups which will be either responded by other group members or page's admins. If the users prefer more of a private way of handling the issue, they can send a private message and wait for their case to be addressed individually. In both cases, the history record is kept for future reference.
#6 FAQ
FAQ (Frequently Asked Questions) support takes the form of a fixed website section filled with responses to highly repetitive inquiries that have been sent by consumers on a large scale. Even though this solution significantly lowers the number of queries sent to other communication channels, the FAQ service only includes a limited portion of knowledge.
#7 Customer Self-service
Customer self-service offers a plethora of audio-visual materials that allow for quick training to track down the device problem and review the solution options. In this sense, customer support is treated as a last resort as tutorial videos or e-books are a great tool that can be reached out no matter the language barrier or a time zone.
4 Types of Customers that Reach Out to Customer Support
Everyday customer support specialists are flooded by thousands of inquiries that require a different set of resolutions and an individual approach to each and every client. Therefore, try to identify the customer's personality type before you start an interaction, and come up with lines of approach that would help to adopt the right conversational and behavioral methods.
Personalization, then, is the key factor that drives customer appreciation.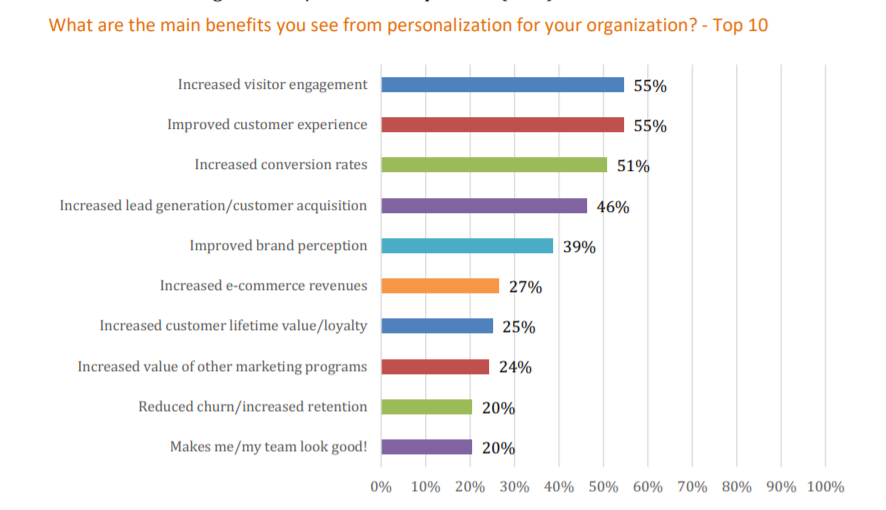 So, what are the four types of customers that you will have the pleasure to meet during a professional career as a customer support specialist?
Meet the First One. The Driver
Drivers are usually those customers who work as team leaders or occupy managing job positions as their dynamic personality gives in the need of controlling other people. Because they're usually responsible for supervising investments or managing business projects, they're more goal-oriented players who don't mind the details. As top professionals, they value time and hate people who dare to waste it.
The Second Type Is the Analyst
The Analyst is obsessed with carrying out measurements, analyzing the risk and determining the probability of events before they make a final decision. Their biggest strength, and weakness at the same time, is that they pay attention to the smallest details which, on the one hand, make them overthink the whole situation and on the other, help to make the right decision.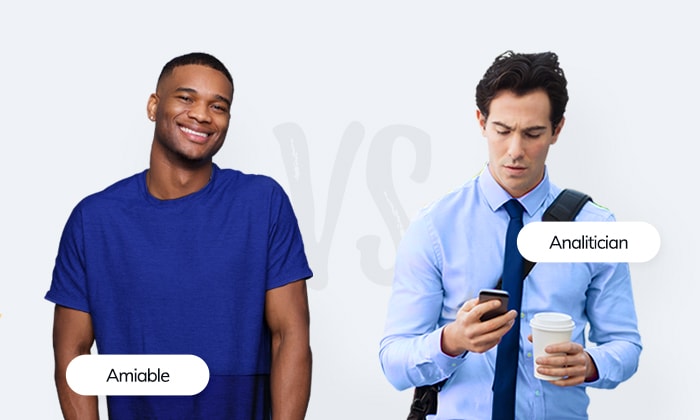 Later, We Have the Amiable Type
The Amiable type is the easiest to connect and get along with. A conversation with Amiables is a sheer pleasure as their great listening skills allow for an easy communication and a quick problem-solving process.
And the Last One Is the Expressive
The Expressive is the most positive type that loves to laugh, joke and cut the small talk. They always actively participate in a conversation though some things they say can be perceived as quite chaotic. Going further, the Expressives get easily distracted and zone out unless someone quickly brings them back to reality.
Best Customer Support Specialist Skills
In customer support, you need the two types of skill sets – the soft and hard ones. Being a technical IT expert is not enough if you lack the interpersonal abilities of empathy and communication. A customer support agent, then, should combine soft customer service skills with technical ones.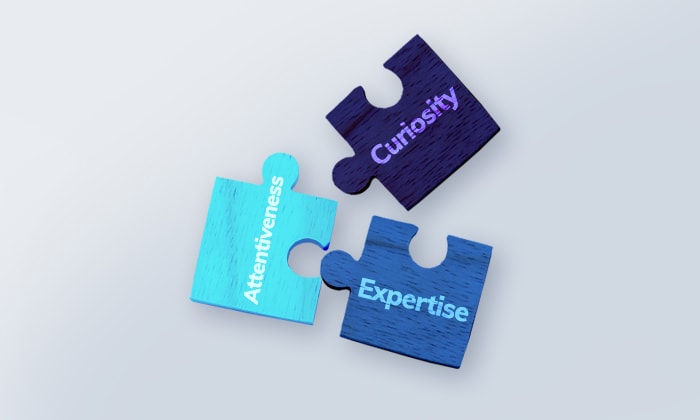 #1 Be Curious to Get to the Bottom of the Problem
Curiosity leads to discovery. As a customer support specialist, always run a thorough analysis and diagnose the problem so that the first-aid solution doesn't require further professional treatment.
Nip the bug in the bud by troubleshooting the issue and going through a list of "what went wrong" kind of questions. The more you ask, the bigger angle on the case you'll receive. Remember that.
#2 Be Attentive and Hear Customer's Concerns
Listening is the communication skill that helps to understand customer's intentions and address their needs. If you don't listen, how can you hear anyone's concerns? You can't.
When communicating with customers, you need to devote your full attention – the devil always lies in the details. Failing to memorize or catch small pieces of information will take away precious time that could have been devoted to solving another client's issues.
#3 Have Subject Matter Expertise to Solve Issues
To even consider working for an IT-related business, you need to make sure that reading instructions, operating software programs and looking for system glitches do excite you as these are the kind of operations that the customer support job is about.
The support team, first and foremost, aims at troubleshooting and solving issues. But, to do so, a CS agent has to gain expertise in relevant technical domain first.
Best Customer Support Practices
There are some best practices for customer service worth following if you consider working in the CS department. But if you're more intrigued by the idea of delivering technical support, you should consider the following ones.
#1 Respond To Customers' Queries Immediately
In general, 60% of customers expect an immediate query response (under 10 minutes) and if they don't get, they'll find a company that will offer one.
Of course, the response time will strongly depend on a type of communication channel offered by the company you work in. However, when operating or choosing one, you need to always remember that the longer the customer queues to receive a query answer, the lower the chance they won't hang up.
By deploying chatbots on your website, you don' have to worry about your customers leaving the site without getting a response. In fact, 69% of consumers value chatbots for the speed in addressing their doubts.
Try Tidio's 16+ custom templates and never leave a customer without an answer ever again.
#2 Use Simple Wording and Uncomplicated Sentence Structures
When customers reach out to a customer support team, they expect an in-depth analysis and information that would provide them with ready-to-go solutions.
Agent's job, then, is to provide these solutions through simple and uncomplicated language which incorporates more of everyday vocabulary and not a technical jargon. If you, however, need to use a few specialist terms, make sure you explain them in a comprehensible way.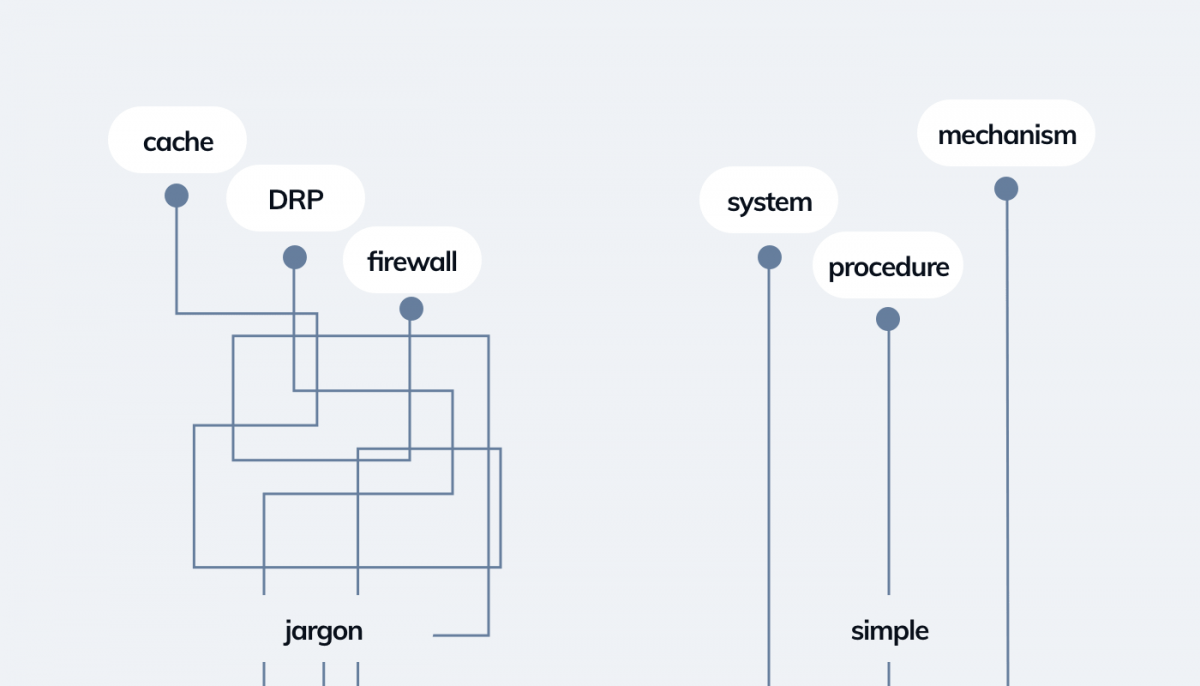 #3 Be Open To New Ideas
Don't panic when technophiles reach out and contact your IT help desk. They might have a hard time to come up with a solution on their own, but it doesn't mean you can't brainstorm new ideas together. Instead, open yourself to the idea of cooperation and show off your expert skills.
Customer Support FAQ
There are many recurring customer support questions that keep popping up in Google. Today, they will receive answers.
What Is Customer Support System?
Customer support systems are programs deployed by eCommerce businesses to help support team members to handle customer interactions in a more effective way by: handling multichannel queries, keeping the record of previously conducted conversations, 
tracking and measuring support team's overall performance. 

What Is The Customer Support Job Description?
As mentioned above, a customer support specialist's job is to provide clients with technical knowledge about a product (or service) they purchased at the store, deliver necessary information (e.g. about system functionality and product design) or simply check and repair errors. 
What Are The Responsibilities Of A Customer Support Executive?
Customer support executives perform tasks ascribed to a "regular" customer support specialist (like resolving product-related issues), deal with those more challenging ones to which their lower-level colleagues aren't qualified (e.g. re-explaining company policies to distressed customers) and of course they supervise their co-workers.  
What's next?
For now, I think we've covered all of the trending issues. But nobody knows what customer support will look like in ten or twenty years. Customers' expectations are constantly changing and with them, the help provided.
For now, try Tidio Live Chat and talk to our specialists from Customer Support.
Try Chatbots For Free