The Coronavirus outbreak has rapidly spread around the world leaving people worried about their jobs and lives. Customer-facing workers were hit the hardest. Many were let go as they could no longer safely perform their duties.
New headlines such as "Florence call center temporarily closed after three Citi employees test positive for COVID-19" and "Charlotte call center operation closing, laying off nearly 400 workers" appear every day.
It is a challenging time. The companies must not forget about their customers. They need to show empathy and offer support. It is time to strengthen current relationships and build new ones. And to show the customers and employees the true strength of your brand.
During the pandemic, support is what's needed the most. Retailers, schools, medical centers, and everyone in-between have a lot on their plates. But they can still continue delivering exceptional support.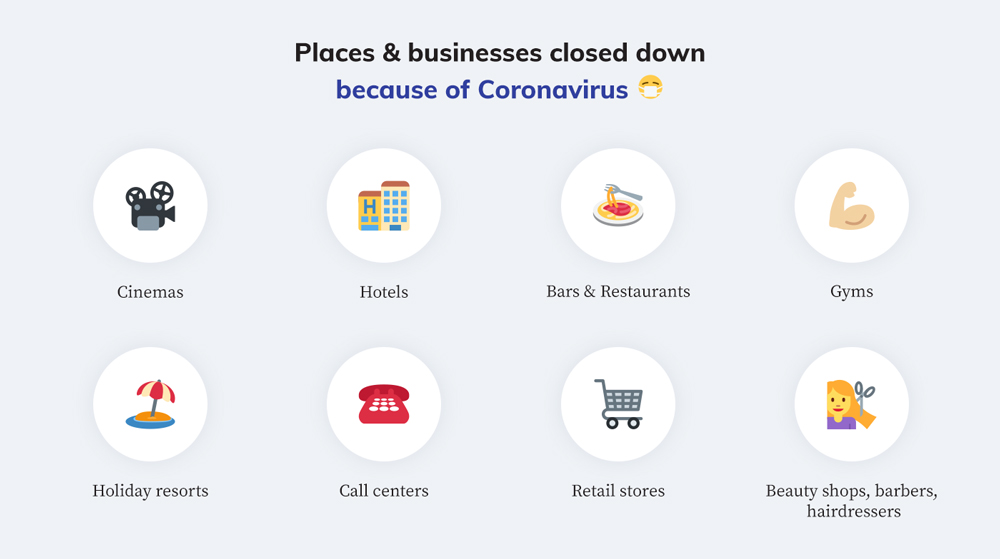 You just need to move your interactions with your customers to the Coronavirus-safe space. Such safety can be found in the virtual realm.
What Is Virtual Customer Service?
The virtual customer service (or digital customer service) connects goods or service providers with their customers, students, patients, and applicants. The interaction takes place through the various digital channels such as:
email
live chat
video chat
social media
website
Even the most sophisticated technical solution will not replace face-to-face communication. But some of them come pretty close. Given the current situation, they are more than enough to help your customers.
🚀 Read: Types of Customer Service
Virtual Customer Service Benefits
There are many benefits of switching to digital customer service. Keeping your customers and employees safe is just one of them. The others include: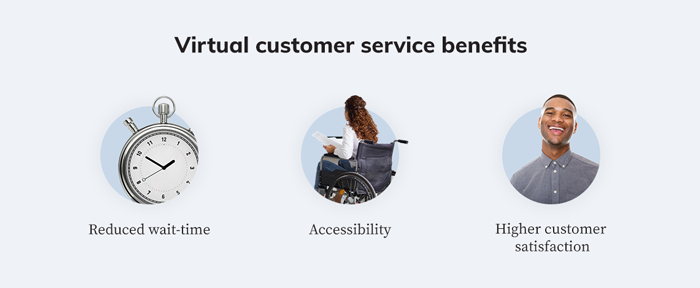 Reduced wait-time. Digital channels often reduce the time the customer needs to spend waiting to receive a response.
Accessibility. People who cannot or don't want to visit physical locations can self-service their own queries. They can use FAQ or a chatbot). They can also contact a virtual agent via the channel of their choice.
Higher customer satisfaction. Customers enjoy reduced wait-time, accessibility regardless of the location and time zone. They value many communication channels to choose from, simplicity, and one-click solutions.
Let's now take a closer look at how different types of businesses and institutions can address the issue of offline customer service.
3 Solutions That Will Help You to Take Care of Your Customers During the Outbreak
During the Coronavirus crisis, a home-based office for your customer service team members is the best and safest choice. While normally it would be perfectly OK to use a co-working space or a regular office, right now it is vital to keep your distance from others.
We'll show you:
How you can switch your offline support to the online one
How you can solve the problem of a large volume of queries
What technological solutions you will need
Turn Your Regular Call Center Into a Virtual Call Center
The size of the telemarketing and call center market in 2020 is $25.1bn in the United States alone. It is one of the most frequently outsourced jobs in the world with many call centers operating in India and other Asian countries.
What is the worldwide call center market size? Its estimated value is approximately 200-250 billion dollars. According to Global Industry Analysts, the call center industry was expected to reach $407.1 billion by the end of 2022.
But these expectations didn't take into account one thing – the Coronavirus outbreak.
[bctt cta_name="coronavirus call center- 1″ tweet="Pandemic forced many call centers to close down. If you want to keep your customer communication channels operating, try creating a virtual call center (VCC). And diversify channels that you have been using so far." nofollow="yes"]
What Is a Virtual Call Center
Unusual times require unusual measures but the idea of a call center that is geographically decentralized is not new. There are many virtual call centers right now. Their phone operators and agents work remotely and from different locations (often their homes).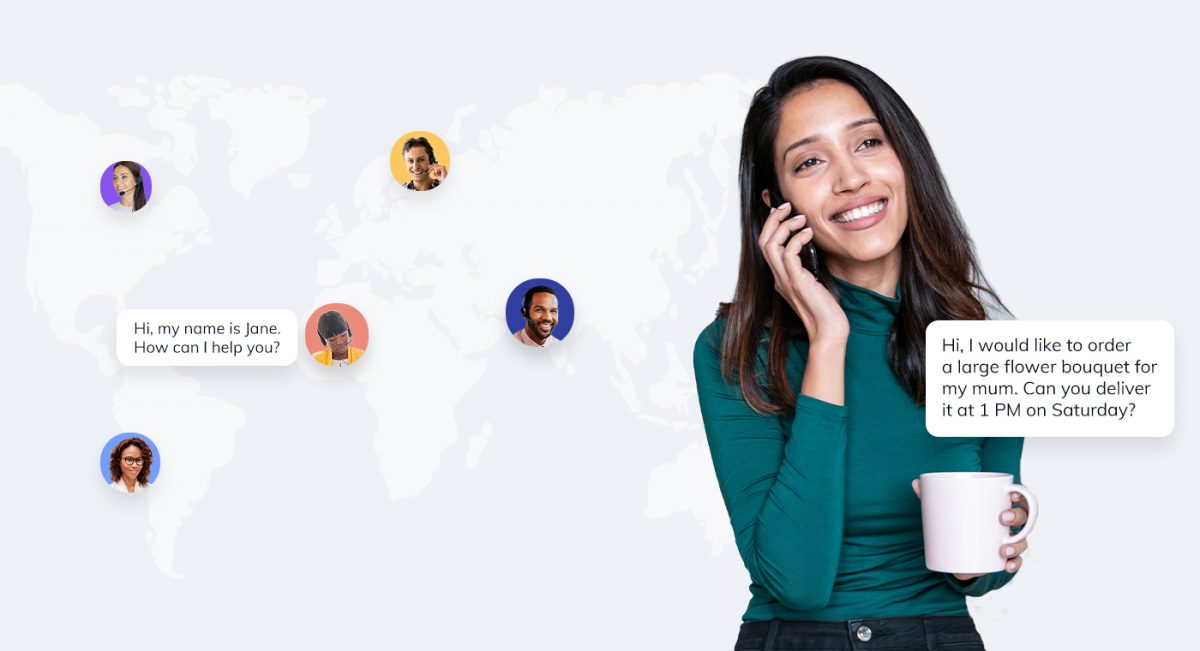 This type of call center usually requires the agents to have a computer with access to a high-speed Internet and a headset.
How Virtual Call Centers Work
Digital call centers deliver customer service over the Internet using cloud-based solutions. They use:
The calling software (Voice over Internet Protocol, or VoIP)
Management modules such as CRM tools to keep track of conversation routing, ticketing, and other activities
Backend communication servers
The infrastructure is not hosted by any of the call center agents. Employees can log into the software using a PC or laptop that has access to the Internet.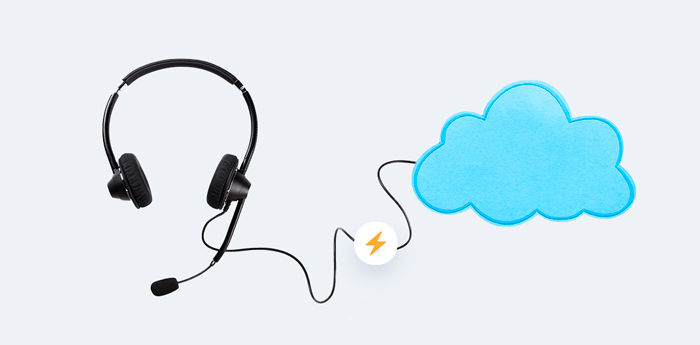 Most remote or hybrid working solutions for virtual call centers have the following features included:
ACD (Automatic Call Distribution)
Inbound and outbound communication channels
Co-browsing and screen-share
Sending SMS messages
Automatic routing
How to Start a (Versatile) Virtual Call Center
First, choose a VCC solution. There are many service providers available on the market, so all you need to do is to find one that matches your needs and budget.
Secondly, if you are transforming your business because of the Coronavirus outbreak and moving your normal call center online, think about choosing a set of tools your agents are going to use.
[bctt cta_name="coronavirus call center – 2″ tweet="In the case of virtual call centers and customer support teams, it is vital to use spot-on conversation routing. This task can be automated with chatbots that can ask screening questions before the right phone support (or live chat) agent joins." nofollow="yes"]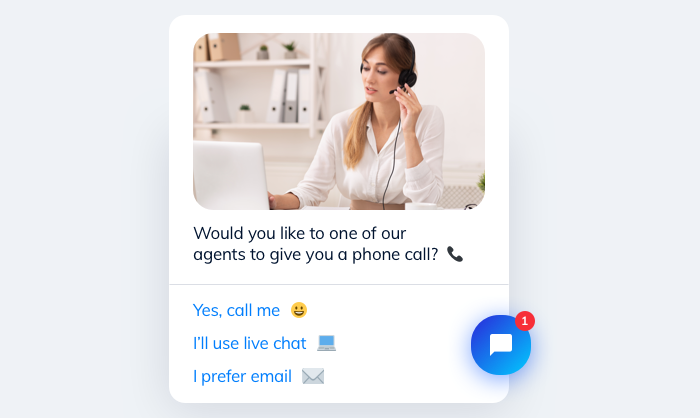 The logic behind the screening chatbot is the same as it is in the case of an FAQ bot (more in the following sections). The chatbot can, for instance, ask the customer about the nature of their issue (e.g. billing, delivery), or offer alternative communication channels (e.g. email, live chat).
If you want to offer your customers an option to order a phone call via the live chat, you can create and Order a Phone Call bot from scratch or use one of free chatbot templates.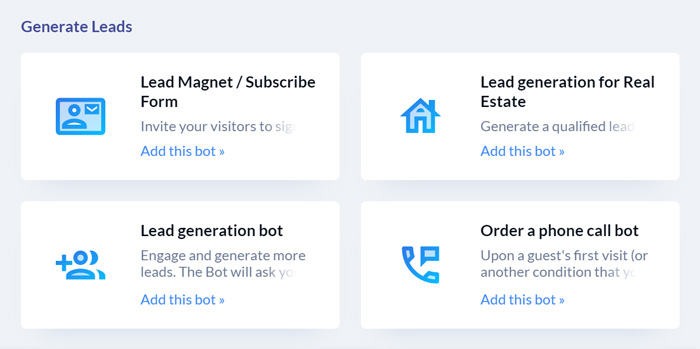 If you are using many tools that you need to "glue" together, consider using Zapier. It can exchange information between your VCC software and other apps. For example, your Order a Phone Call bot can send a zap to your VoIP solution to let you know that the customer is waiting for your call.
🚀 Read: How to Integrate Tidio with Zapier
In regular circumstances, if none of your agents is available to pick up the incoming phone call, the customer is put on hold. Give them the choice between ordering a call and picking alternative communication channels. Thanks to this, you will:
Mitigate the frustration connected with the wait-time
Improve the customer experience
Self-Service With Chatbots
Not all questions from your customers need help from the customer service agent. They are often sets of repetitive queries. There are many questions related to your business that customers can resolve themselves. With the help of chatbots, it's very easy.
Chatbots are non-human virtual assistants that can not only support customers 24/7 but also imitate the human language. Such conversational self-service is customer-friendly and feels more natural.
🚀 Read: The Best Innovative Chatbot Examples by Industry
Below, a few examples of how chatbots can be used to address customers' concerns in a swift and accessible manner.
Coronavirus Risk Test
Given the current environment, it is only natural that people seek trustworthy sources of information. For instance, they want to find out if they are infected or not. Unfortunately, access to medical help is currently limited.
Indonesian medical companies such as Alodokter and Halodoc understand it perfectly. To address their patients' concerns, they have launched Corona check websites (chat pages) that can be accessed anytime for free.
On that page, users need to answer several questions. They are about their current well-being and travel history. The chatbot leads them to the diagnosis of whether they are healthy or not.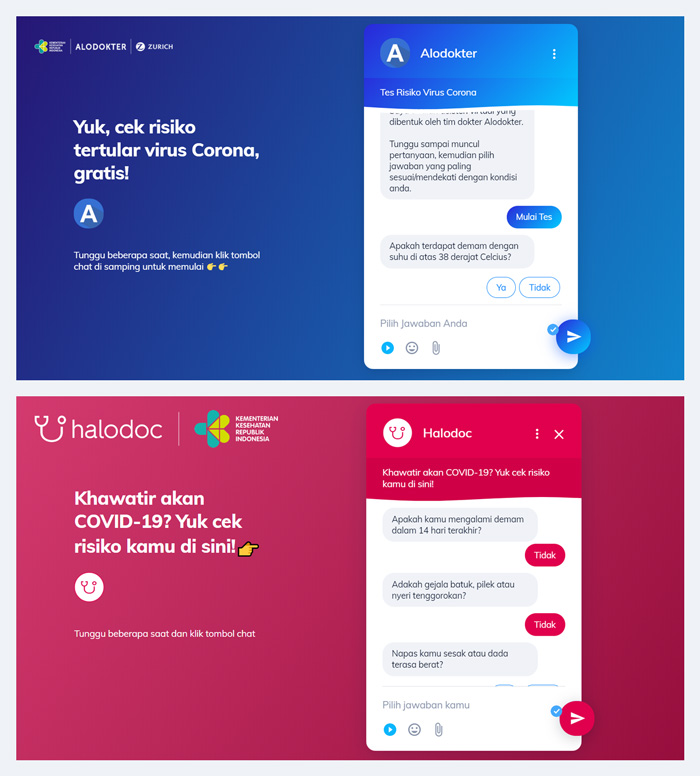 The whole medical interview is handled by a chatbot and it is the user ("patient") who selects the most fitting answers. This way, the individual feedback they receive is solely based on their honest answers, similarly as if they had consulted a physician.
What's also crucial in delivering such service is that chatbots can interview any volume of users simultaneously. The patients do not need to wait to take the test.
FAQ bot and automated customer service
Government safety policies have forced many businesses to change the way they operate. This affected shipping methods and deadlines in eCommerce. Or contact means for official institutions such as schools, banks, administration, or libraries.
Despite that, customers still need or want to use the services or purchase certain goods, so it's crucial that they easily find the information they need. And this is where the automated customer service can help a lot.
🚀 Read: How to Create an FAQ Bot
A chatbot can answer frequently asked questions conversationally, help to find a product, offer a discount, or recommend a service. Similarly to the Coronavirus medical interview, the chatbot acts on the basis of the visitor's answers.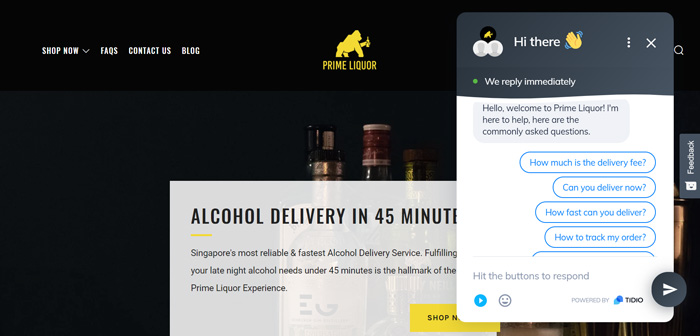 Depending on the type of your business or your customers' needs, FAQ questions you want your chatbot to answer could be about any aspect of your daily operations.
In the example above, the visitor is welcomed with a set of common questions related to the delivery. The chatbot below is oriented toward automatic customer service. It can help with a discount, find a specific product, or order a phone call.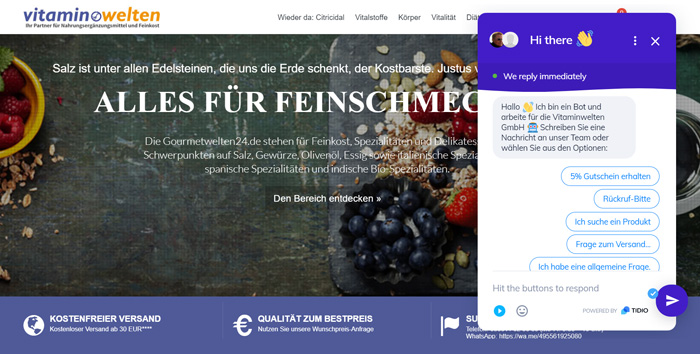 You can also use chatbots to inform your customers upfront about major changes that took place in response to the Coronavirus situation. One automatic message is enough to let your audience know what has changed and how they can reach you.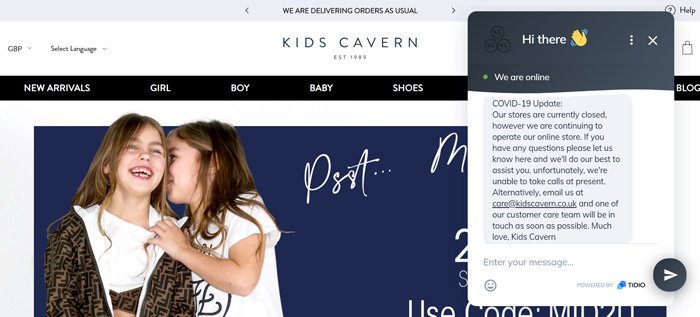 Chatbots can be customized to fit any type of business. They are not a fad but a valuable addition to regular customer service when human representatives are overwhelmed by a sheer number of queries, or they simply cannot be online at all times.
Frictionless Support via Live Chat
Many private and public sector workers were sent home where they cannot provide customer support via the phone. It doesn't mean though that they cannot help their customers in real-time.
They can. Thanks to a live chat.
🚀 Read: 10 Best WordPress Chat Plugins for Your Website in 2020
[bctt cta_name="Virtual Customer Service – Corona" tweet="Live chat is a great alternative for businesses that want to stay connected with their audience without compromising the quality of the service. " nofollow="yes"]
And there are solid reasons for that.
Easy installation. No sophisticated equipment is needed
Live chat app is installed on the website which means that neither the visitor to the page nor the live chat operator needs to have anything installed on their side.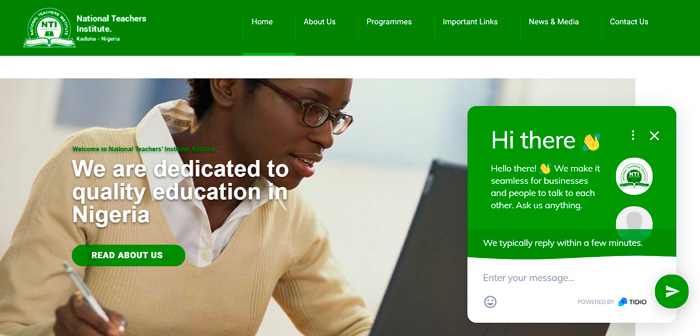 As you can see in the example above, the website visitor only needs to type in their message/question to begin the conversation. The live chat widget is present in the lower corner so the visitor can access it anytime without leaving the website to switch to another communication channel (i.e., email, phone).
Live chat was built for fast communication
Customer service agents can use numerous built-in features to handle online conversations quickly and efficiently. If the queries are not too complex or demanding, one live chat operator can handle two or even three conversations simultaneously.
🚀 Read: Handling Live Chat With Canned Responses
Seamless transfer to another support agent
If needed, the online conversation can be seamlessly transferred to another agent (the customer will not even know until the new operator informs them about it). The operators do not need to be located in the same office to join the conversation.
Easy integration with email and Messenger
Digital support also entails emails. Conveniently, live chat can be integrated with email. This way, customer service agents do not need to switch back and forth between the live chat admin panel and email inbox to respond to the mail.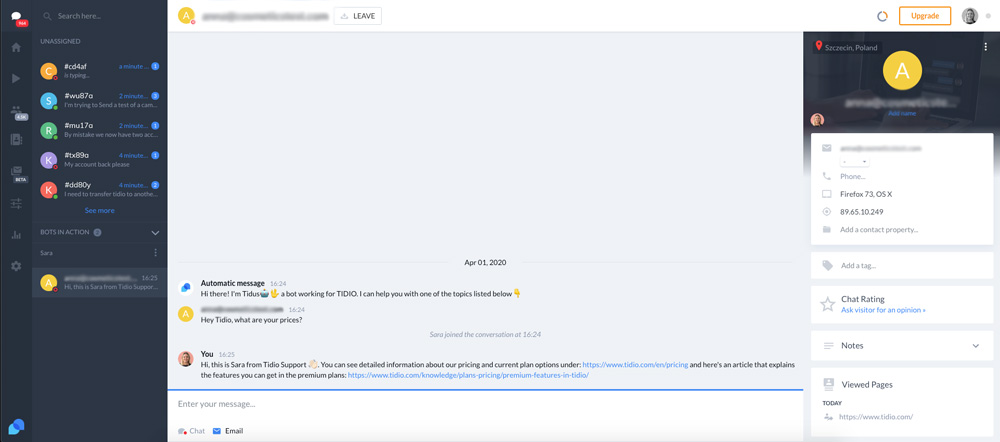 Moreover, live chat can also be integrated with Facebook Messenger. So, if your audience uses this communication channel to contact you, or you are active on social media and run Facebook fan page, you may find connecting live chat to the Messenger convenient as well.
Virtual Customer Service: Final Thoughts
Amidst unpredictable times, businesses simply cannot afford not to be online. Nowadays, we are observing an influx of new communication channels. What is important to remember about, however, is not to keep those channels in isolation.
[bctt cta_name="coronavirus call center – 3″ tweet="Virtual customer service is not just about a single channel. It's about meeting customers on various touchpoints." nofollow="yes"]
It's about truly wanting to help them by offering them multiple communication channels, so they can get the information they need. And getting the right information, especially nowadays, is crucial.
That's why, to make the most of this type of support, companies should start moving towards omnichannel customer service. It means that even call centers that went online can benefit from expanding their contact channels with message-based solutions such as live chat and chatbots.