You are running an online store or other online business.
Someone just made their first purchase—you have a new customer.
Congratulations.
But what can you do to get them to buy from you again? Will they tell their friends "I ordered it online" or "I ordered it from [your company name]"? Will they remember you or just the product?
There is an easy way to build relationships with customers fast and increase their loyalty.
Write a thank-you note or attach a "thanks for your order" card!
In this article:
How to thank your customers and show gratitude
Should you write "thank you for your business?"
21 thank you message templates
Tips on writing an effective thank you note
To learn more about Tidio's chatbot features and benefits, visit our page dedicated to chatbots.
[Tidio] is easy to integrate on any website [. . .] Its chatbots can [. . .] welcome site visitors, reply to their questions, and encourage them to take some actions.

Ultimate live chat and chatbot system for any website

G2 Tidio Review by Nabin P.
If you want to learn how to communicate with your customers, you can also read:
Different types of thank you messages for online stores
Showing gratitude can be awkward and difficult. Some businesses prefer to keep things impersonal.
But studies show that expressing gratitude is one of the most undervalued aspects of connecting with customers. About 77% of customers like it when brands say thank you.

And you don't have to start by writing lengthy "love" letters.
There are several ways to deliver it to your customers. Attaching a purchase note to their order is just one of the solutions.
How to thank a client for their business?
Here are some things you can do to say thank you to your customers:
Direct them to a thank you page
Send a thank you for shopping with us chatbot message
Send them a thank you email
Attach a thank you for your purchase card
Add a handwritten thank you note
Throw in a small thank you gift ,a gift card or a personalized photo calendar
Thank you page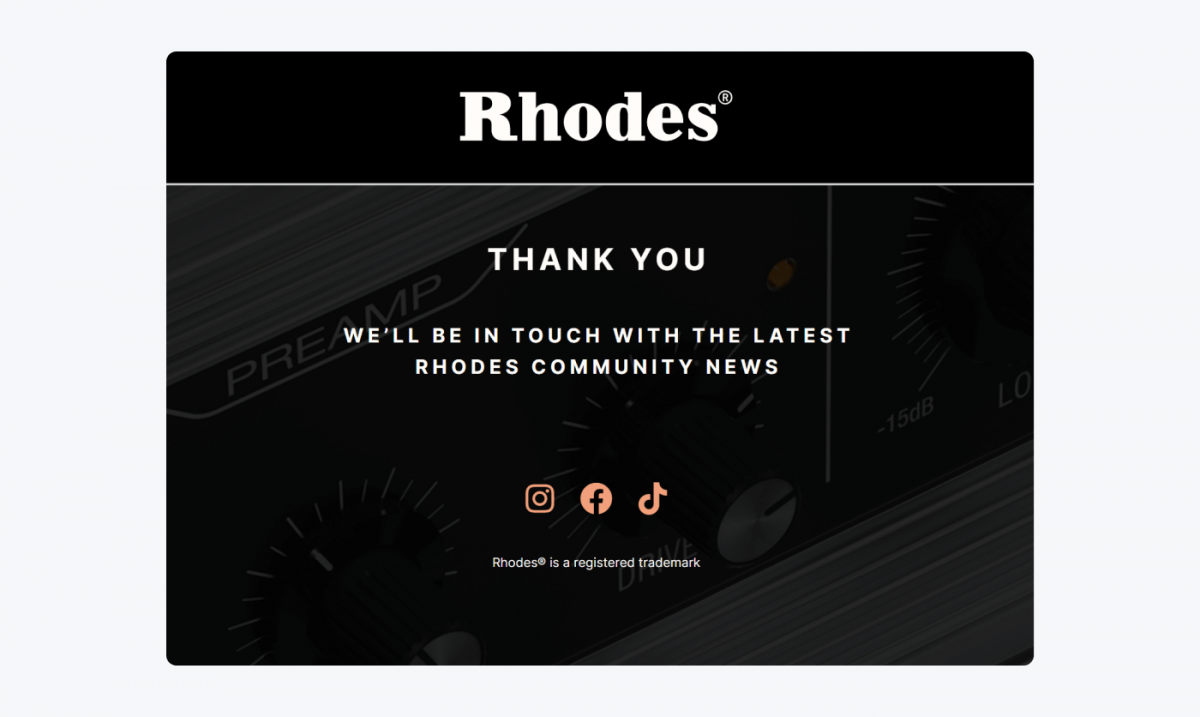 A thank you page is a great place to encourage customers to leave reviews or follow your social media. It feels very natural and blends into all kinds of shopping flows.
If you want to create a dedicated landing page to say thanks for purchases, it is best to design it from scratch. But, if you are using Shopify or BigCommerce, you can set up thank you pages based on ready-made templates.
Check out the thank you pages below to find more tips and ideas:
Chatbot message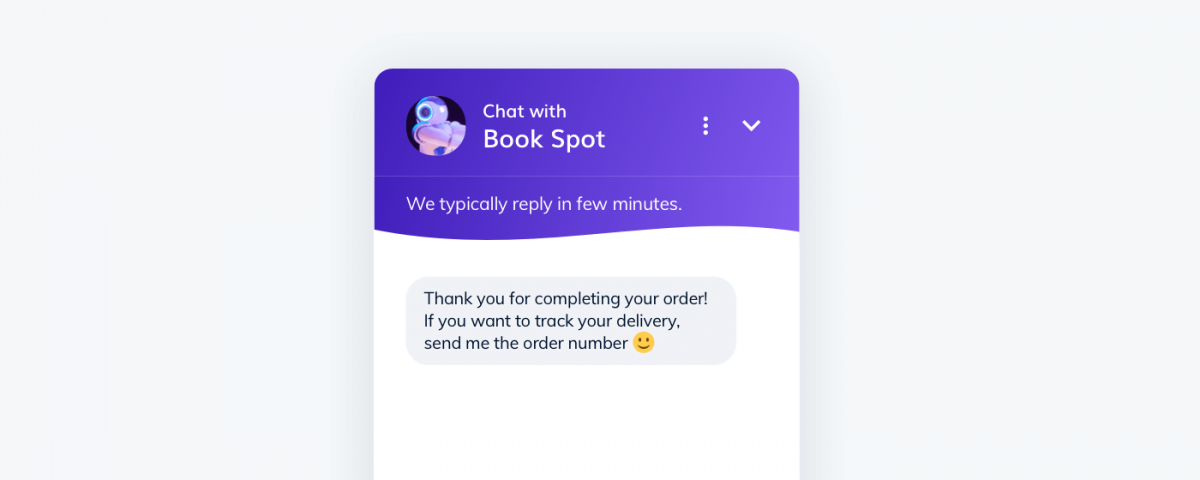 It would be nice to send a personalized thank you message every time a customer buys something. But this sounds like a full-time job. It would be nice to have a person whose sole responsibility is to see who your customers are and message them.
Well—
You can actually make it happen. But instead of a human agent, use an AI chatbot. They can work 24/7 and you can try them out for free. It is like having an additional customer service agent. And you can delegate them even to the most repetitive tasks. They won't mind it at all.
Post-purchase email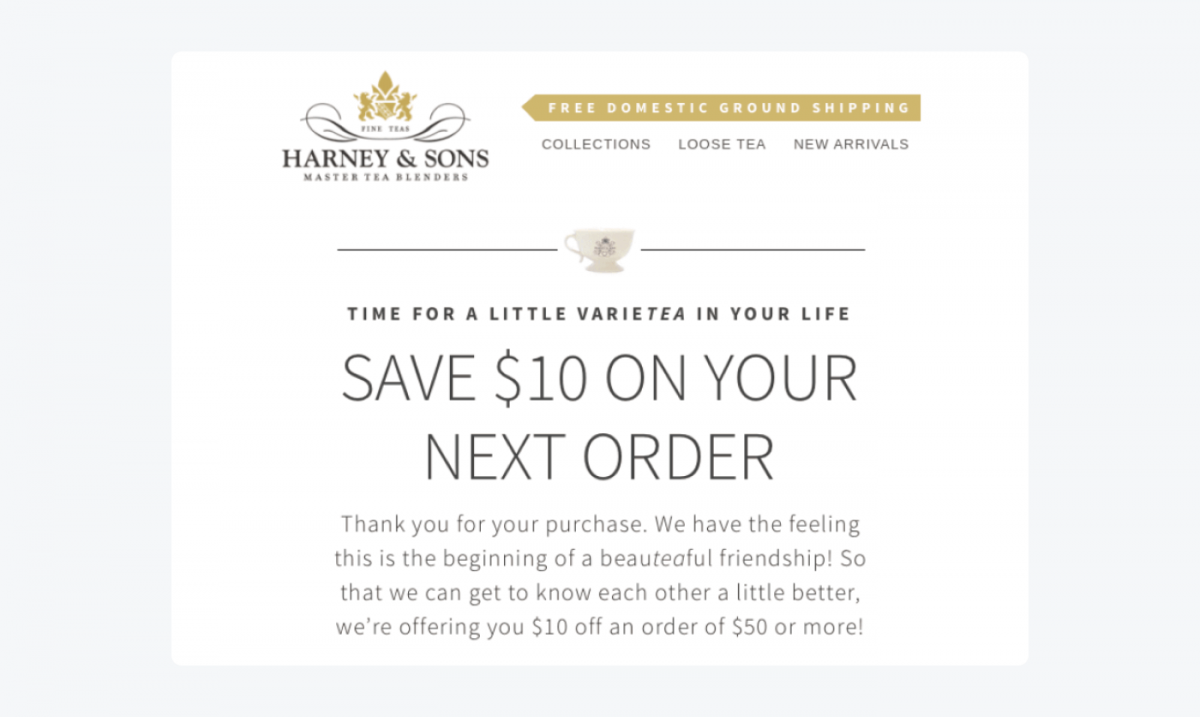 Emails sent right after purchases enjoy very high click-through and open rates. Their 62% average open rate is more than 4 times higher than regular email campaigns. You should use this opportunity for building relationships with customers.
You can use emails to thank your customers and send discounts or ask for feedback. They are more likely to complete a survey about their customer experience.
Thank you card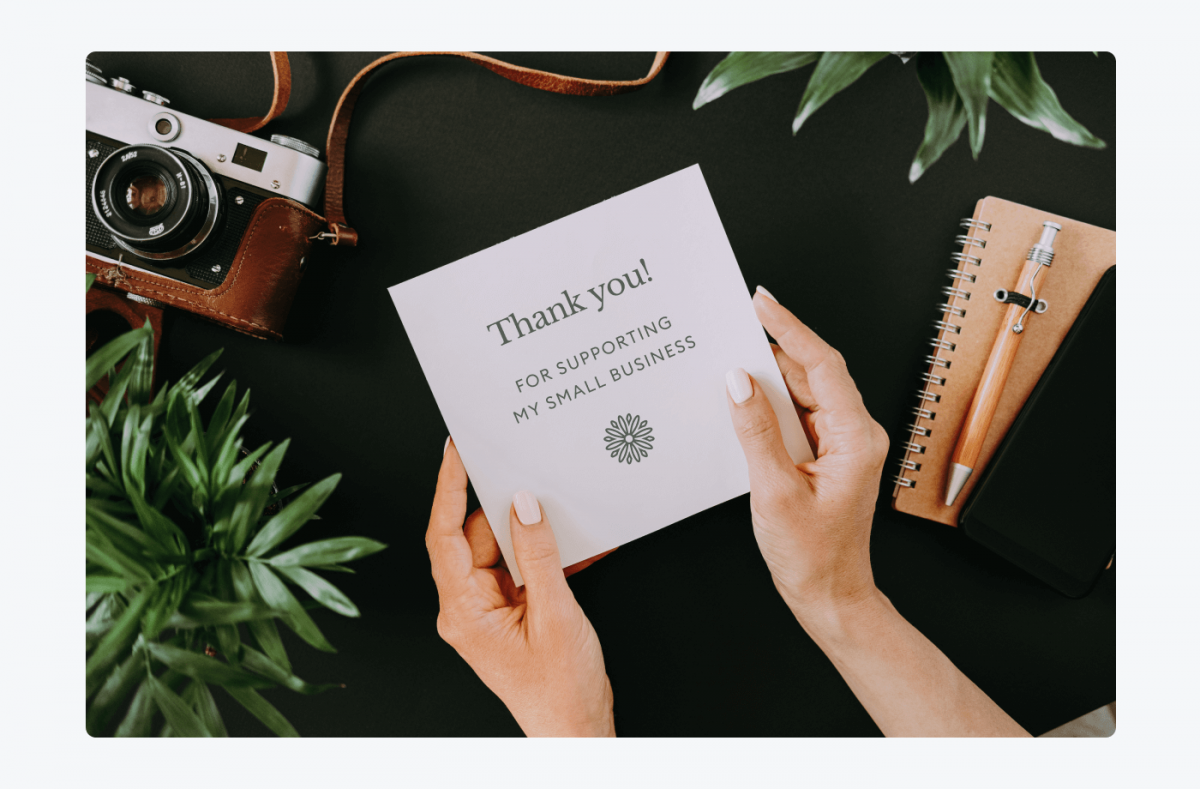 A thank-you message for customers does not have to be very long. It is not an essay and if you make it too elaborate, nobody will read it anyway.
Sometimes, it's best to stick to the simplest solutions. An elegant, well-designed card that says "Thank you for your order" can make a great impression. People like minimalism. Your card should be a nice touch that doesn't steal the whole show.
You can find some inspirational thank you card design ideas here:
It may also be a good idea to add a QR code to your thank you card. You can link a thank you video or a product recommendation. It is a cool way to spark curiosity.
Written thank you note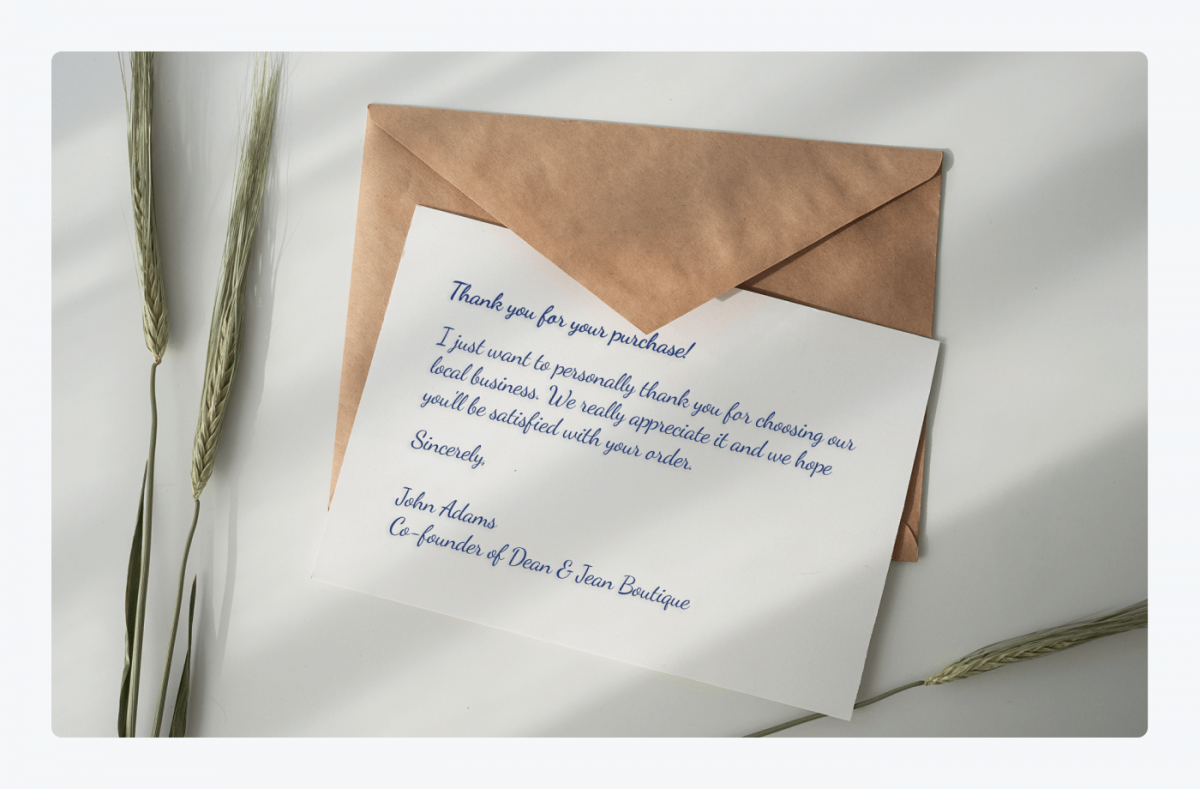 Handwritten thank you letters are a little bit old-fashioned. A study by TD Bank shows that only 7% percent of millennials like written thank-you notes from brands.
However, they still enjoy it twice as much as receiving emails. It means that you have nothing to lose. And you can make some of them smile and hit the spot. Just make sure that your handwriting is easy to read and doesn't look like it was written by a 5-year-old. Your thank you for your business note should match your brand's feel.
Freebies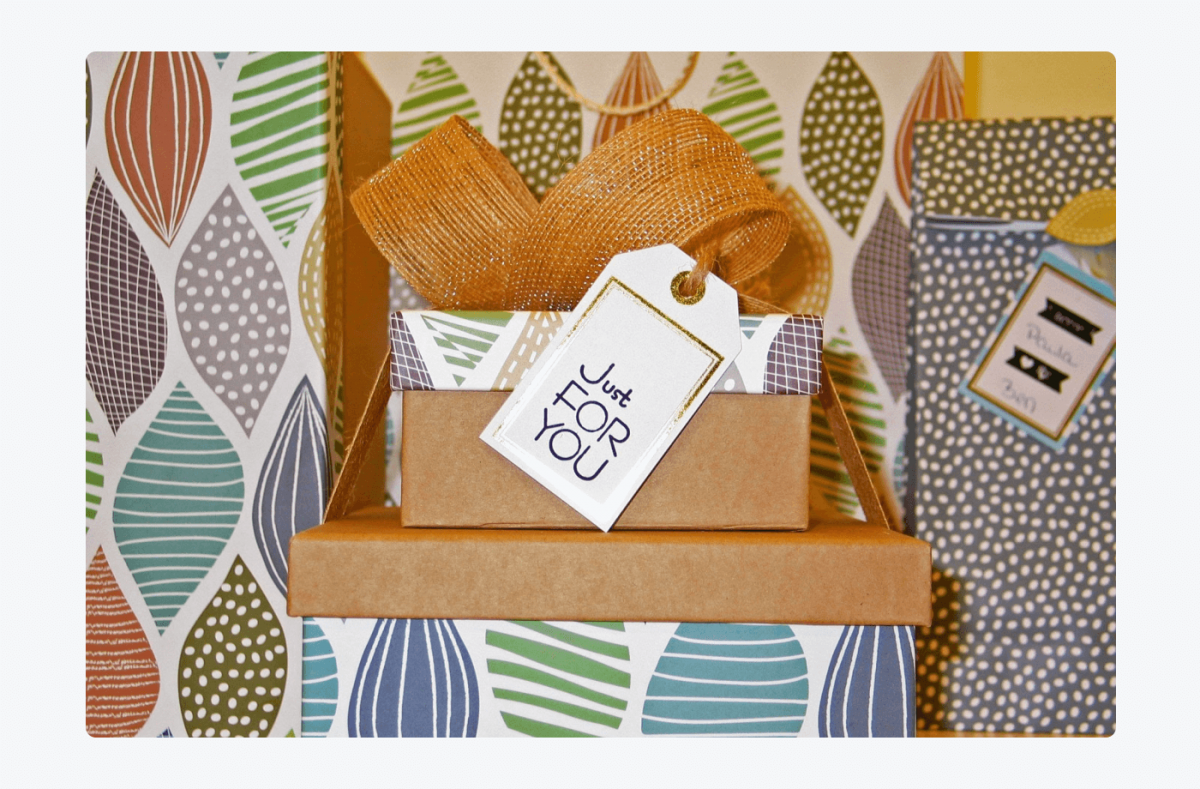 Nothing says thank you like a little gift. If somebody orders a premium travel bag for cats, you can add a small cat toy. This is what Whisker Bag does to increase customer satisfaction. And it works like a charm! After they started adding freebies, the number of positive reviews increased significantly.
Looking for other ways to improve customer experience? Here are some other good thank you message ideas and tips:
Write a thank you note on something that your customers can use, like a bookmark, stickers, or a calendar (with your company logo and website address)
Add a short PS about a discount coupon code that customers can use during their next order
Send information about new products related to their recent purchase
Create branded stationary and write short, personal thank you notes by hand
Print thank you for your purchase cards that can be customized
Ask customers to join your loyalty program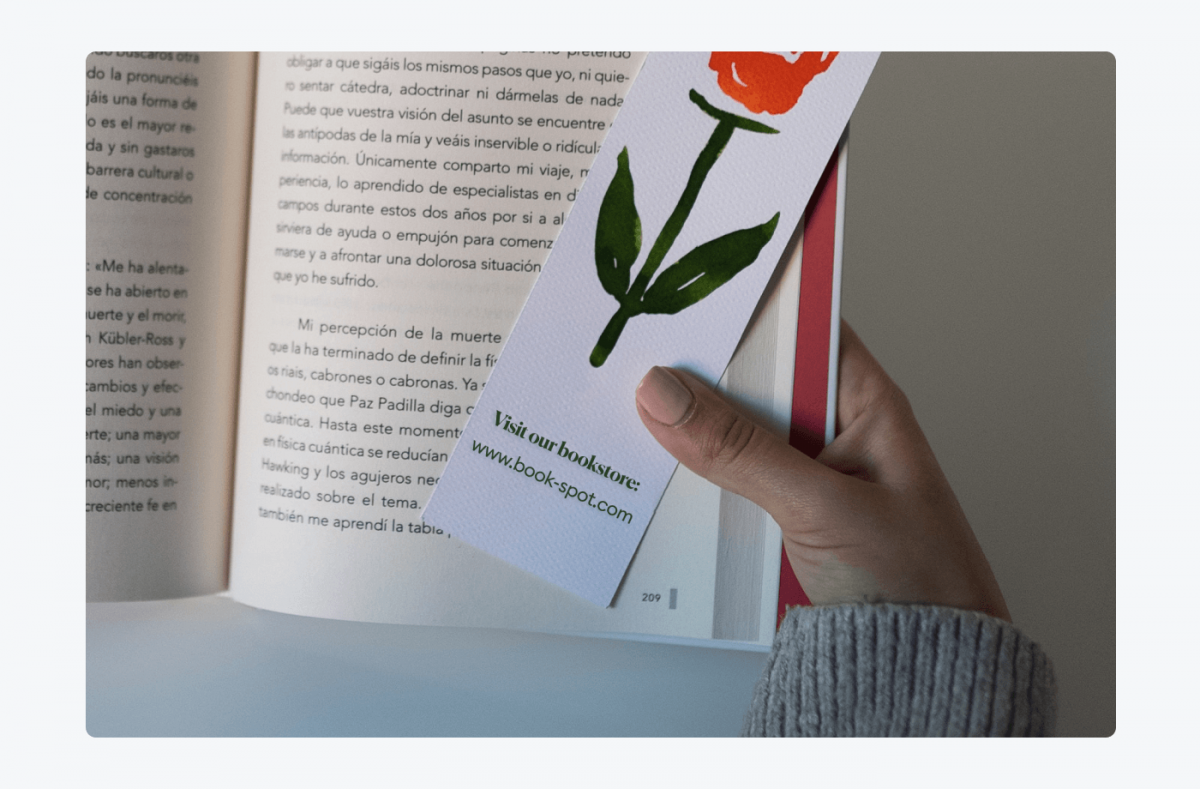 Thank you note wording—dos and don'ts
Don't say thank you for your business or we appreciate your business.
It sounds too impersonal and generic.
When you do it, you communicate to your customers that for you they are just business.
But you can simply change the thank you note wording a little bit and you get:
Thank you for choosing us! We appreciate it.
Thank you for supporting our local family store.
Thank you for supporting my small business.
Thank you for shopping with us.
All of a sudden it's not about business but about making a connection. Your customers are supporting your business—you should convince them that they can feel good about it.
The same rules apply to ecommerce. Making it based on good customer service and communication increases customer loyalty. And loyal customers directly translate to sales.
21 best thank you for your order templates
We've compiled some of the best thank you templates below. Feel free to use them.
Words of appreciation:
Thanks so much for your order! I hope you enjoy your new purchase! Please reach out to me at [email address] if you need anything.
Thank you for shopping with us! Hope you love the [product].
Thank you for your purchase. Here's your [product]. Make sure to [a helpful bit of advice about the product].
Thank you for being our valued customer. We hope our product will meet your expectations. Let us know if you have any questions.
Thank you for choosing our product. We appreciate your trust and we'll do our best to meet your expectations.
Thank you for your order. Enjoy your free [surprise gift].
Dear [name], Thanks for supporting my shop! I'm so glad [item] found a new home.
Thank you for shopping. If you want to receive a 20% discount off your next purchase, leave a review on our website.
Thanks for choosing [company name]. We hope to see you again in the future.
Thank you for your purchase. We are honored to have customers like you.
Thank you for supporting our small business. It's thanks to customers like you that we can keep crafting our quality [product].
Thank you for shopping at [company name]. We hope that it's exactly what you were looking for. Let us know how you like it.
Thank you for your support. You're the best!
Thank you for choosing [company name]. Your support means a lot to us!
Thank you for being a superhero! [The pandemic/the recession] has been a challenging time for our business and we appreciate your support so much.
Thankful and grateful to have you as a customer.
Thank you for your patronage! By shopping with us you support local businesses.
Thank you for choosing us… again! We really appreciate our repeat customers. There is a little gift waiting for you. Log into your account to see it.
Your order has been confirmed and it will arrive soon! Here's a small gift to get you started. [This example works great with high-ticket dropshipping when your customers have to wait for the main delivery]
Dear [name], Thank you so much for your continuous support and for being our customer. Happy [occasion].
Thanks! We look forward to seeing you again at [company name].
If you still want more examples, here is a handy thank you message generator:
How to write a thank you email, card, or note
The rules of writing messages like the ones above are very straightforward:
Be positive. You should avoid heavy subjects or words that evoke negative associations. For example, if your company is going through hard times, it may be better to not mention it. Focus on showing gratitude but don't let customers in on the details.
Keep the message short and sweet. Brevity is the soul of wit. And of good customer communication. Your messages should be to the point and not exceed 30 words.
Write like a human and don't be too formal. It is ok to write a personal message that is not too formulaic. We appreciate your business sounds more impersonal than simple thank you.
Use appropriate tone. Try to use a neutral tone that is enthusiastic but not imposing. Your thank you messages should always show respect.
Personalize your note by referring to an item they purchased. Some thank you for your order cards look like they came right off the assembly line. Try to mention your customer's purchased item. It reassures them that the message is not auto-generated.
Make sure that it is clear and readable. Simple solutions are the best. Try to keep your sentences short and avoid complex vocabulary. You may want to use tools like the Hemingway App to improve your messages' clarity.
Show your customer appreciation. Everybody likes to feel useful. Convince your customers that their choices matter and are important to your business.
Additionally, you should avoid common grammar mistakes. Some customers may find them very irritating. Unless you are doing it on purpose and it is a part of your marketing strategy.
More resources about writing thank you notes:
Key Takeaway
Business thank you notes increase customer satisfaction and improve your word-of-mouth marketing. If your thank you for your order card is well-written and looks nice, customers may even share it on their social media.
Try out different formats and ways of saying thank you. There is nothing wrong with using several channels for that. You can use Tidio to prepare beautiful thank you emails and chatbots.
Care to give it a try?