What do a website live chat and a transatlantic telegraph cable have in common?
Two minutes.
The telegraph slashed the time it took a message to cross the Atlantic from 10 days down to two minutes. The live chat did the same for customer service average response time—from 17 hours to two minutes.
And you're about to learn how to add a live chat to your website… in two minutes tops!
In this guide:
Is it worth adding live chat to a website in the first place?
How to integrate a chat into a website in four easy steps.
Guides to embedding live chat on popular website platforms.
Turn your website visitors into delighted customers.
Set up the Tidio live chat app in 5 minutes and watch your sales grow.
Learn About Live Chat
If you need more information on the live chat functionality, have a look at our other guides:
First things first—
If you're still asking yourself "Do I need a live chat for my website?" the answer is simple:
It depends.
If you care about fast customer service, high customer satisfaction rates, and boosting your sales, you should embed chat in your website. Here's a couple of good reasons:
Over 85% of customers admit their waiting time is "appropriate" when using a chat service.
About 83% of customers are satisfied with live chat when communicating with businesses.
Conversion rates can increase by 9% for retailers that add a chat box to their business websites.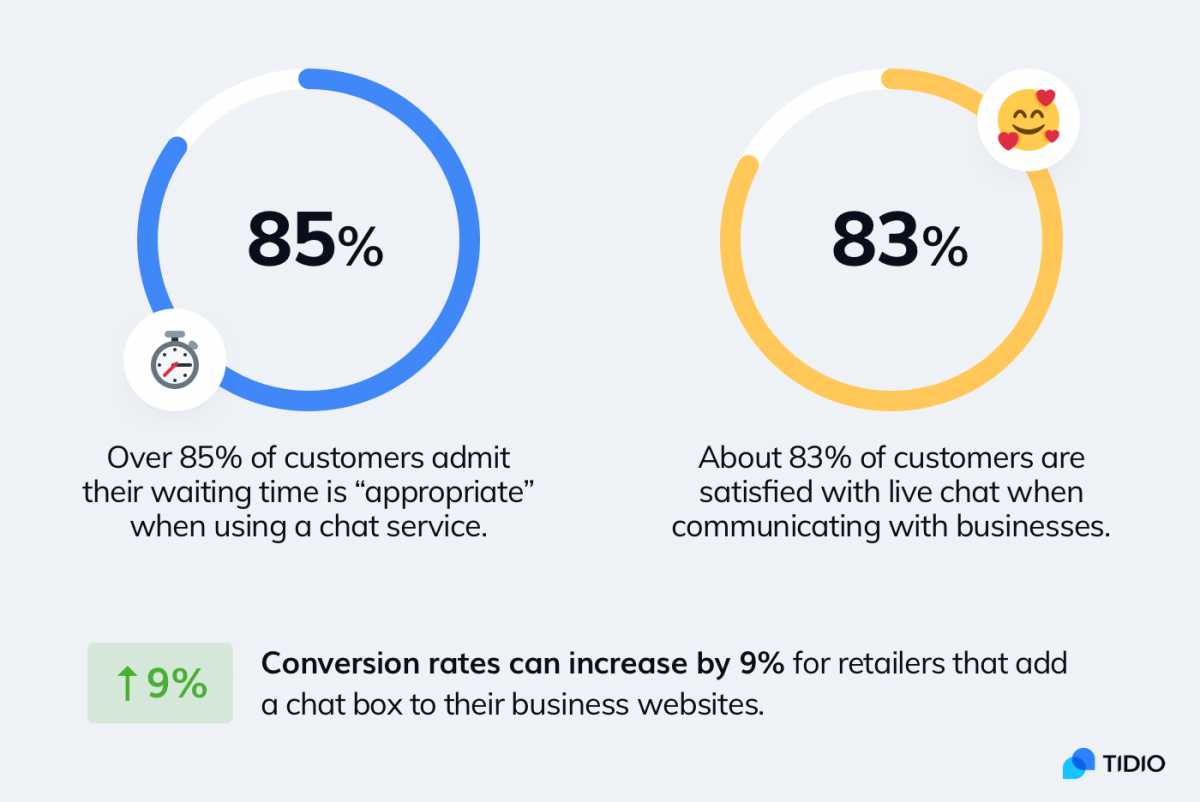 But remember—
Achieving such results requires commitment. Live chat won't magically turn your customers into superfans overnight. Unless you get Lionel Richie as a live chat support agent. You know, Hello, is it me you're looking for? 😉
With that in mind, let's move on to adding a chat to your website.
1. Get a Free Tidio Account
To add a chat to a website, well… you need help from an app.
We'll illustrate all the steps using our own free app. After all, it's the ease of use and simplicity of installation that earned us a 4.8 rating (out of 5) on G2, among others.
So—
To add a live chat to your website for free, go to the registration page.
Tidio offers several registration options: via email, Facebook, Shopify, and Wix.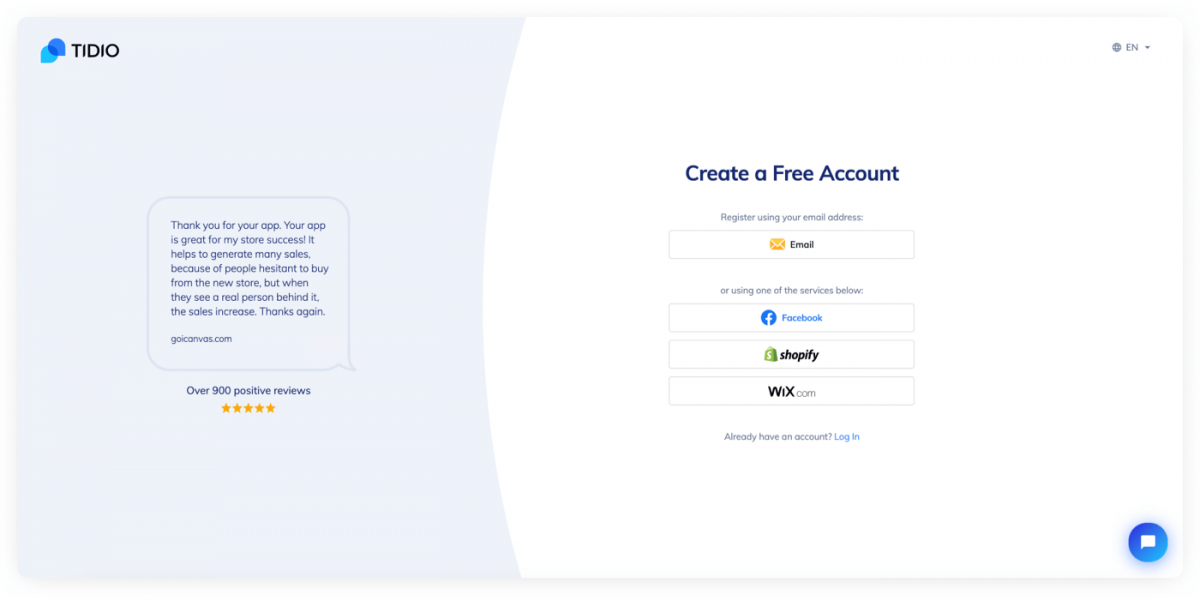 Once you make a choice, you can create login details and add your website in this window.
Note: The registration doesn't automatically add a live chat feature to your website. Tidio will offer you to customize the chat box first.
2. Personalize Your Live Chat Widget
Once you enter the login and website details, Tidio will walk you through a series of quick customization steps.
This is to make sure the live chat widget matches the style of your business website and the user experience is consistent.
First, choose a name and your widget color. Click Continue once you're done.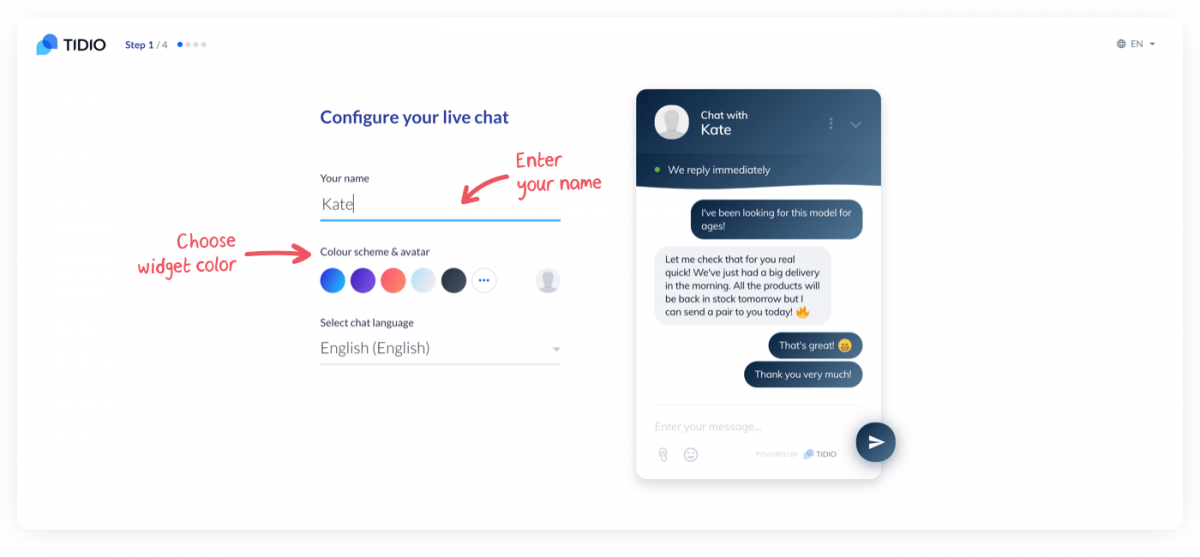 Next, add the company info, choose your country and industry. Your answers will help the app make relevant suggestions for live chat options.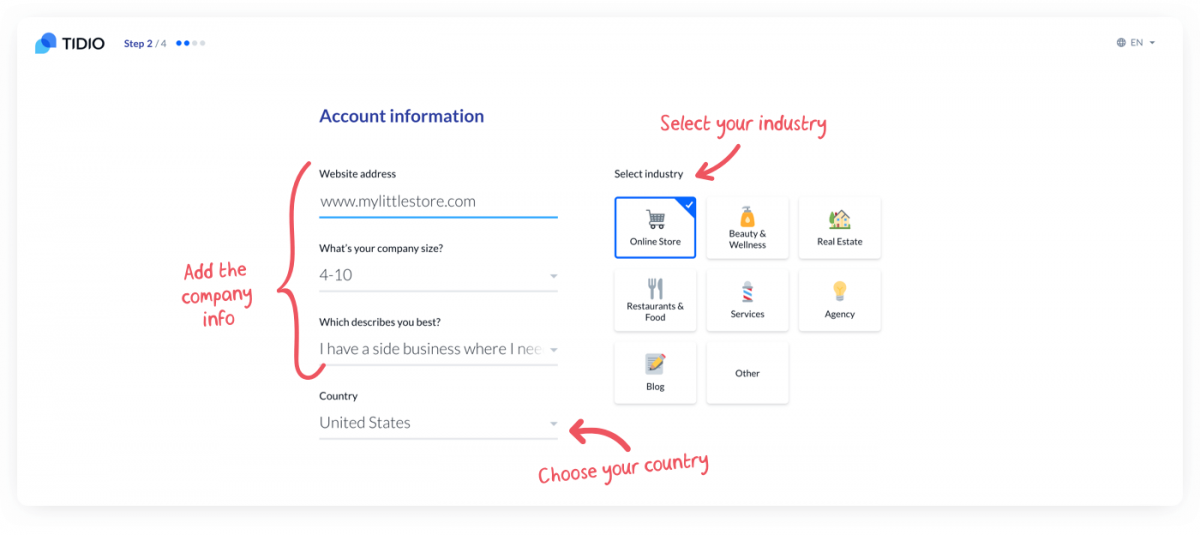 Then, set up the welcome message for your website visitors.
It's an automatic message that the live chat chatbot displays to new visitors. So, your potential customers will see this message when they go to your website.
The setup wizard offers two options for starters: a discount code and a greeting.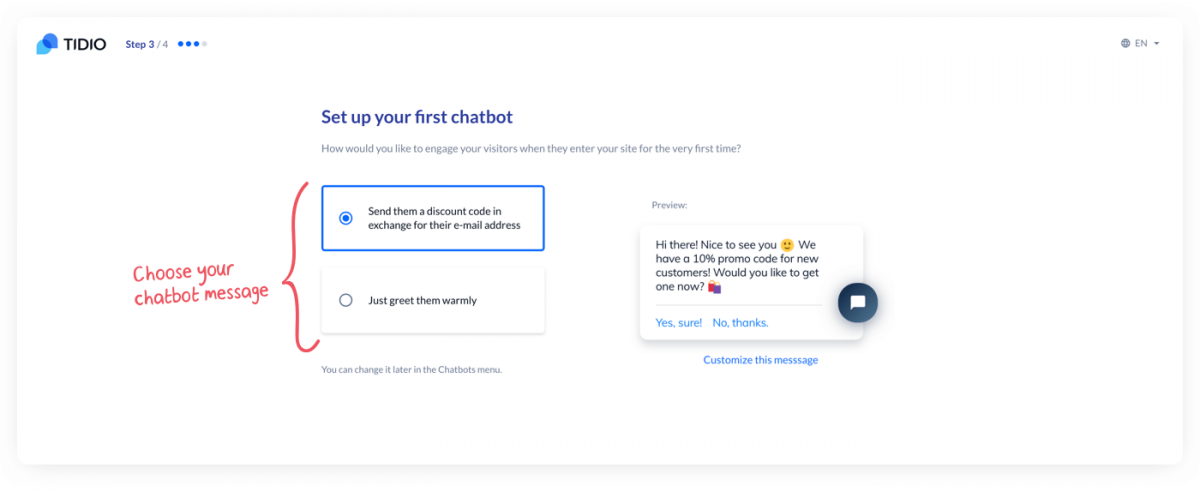 Choose whatever you like here—you can later on personalize it or change it entirely.
If you're running an online store, consider using the discount message. Retail studies show that 67% of customers make purchases just because they found a discount. So, many customers visiting your business might also decide to take advantage of that.
3. Integrate Chat Into Your Website
The final step boils down to adding a JavaScript code snippet to an HTML website.
There are two ways to integrate a chat into a website with a simple HTML code snippet. You can:
Do it yourself if you have access to source code
Send instructions to your developer to do it for you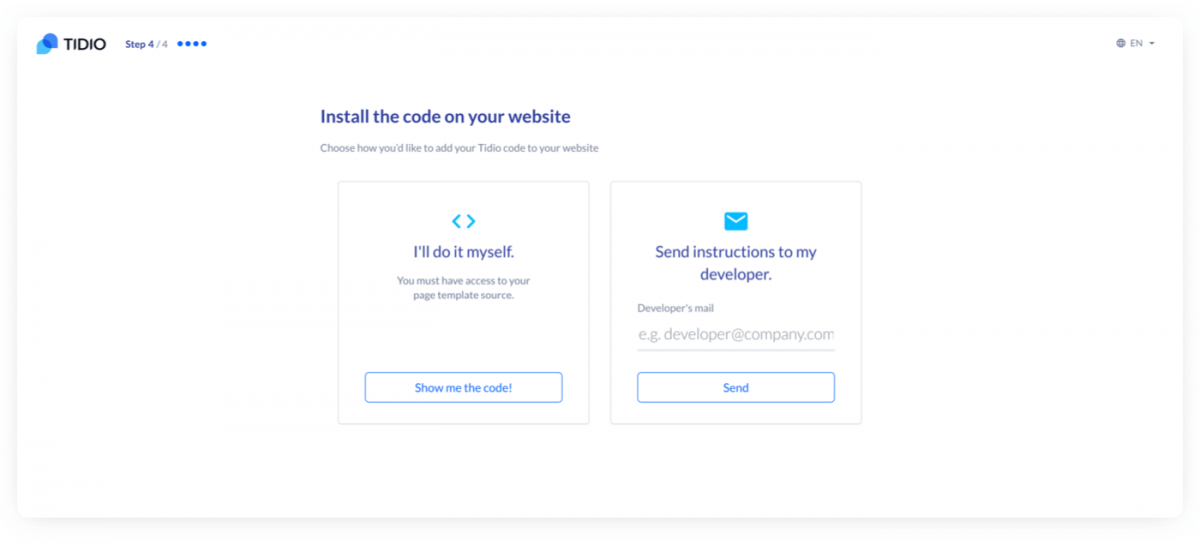 If you decide to do it yourself, click the "Show me the code!" button to view instructions, and Tidio will show you a list of website platforms.
Choose the platform your website is built on. For example, if you're using Shopify, the instructions for adding the code will look like this: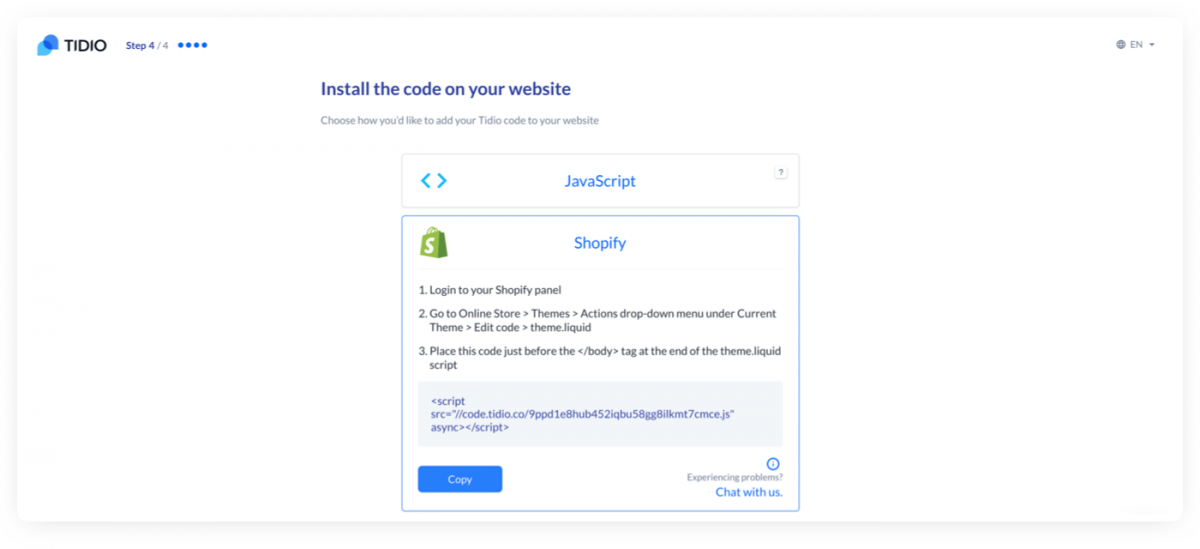 Now copy the code and follow the instructions.
All you need to do is log in to your panel, go to Themes, and edit code in theme.liquid file. Here's how adding the code inside that file looks like.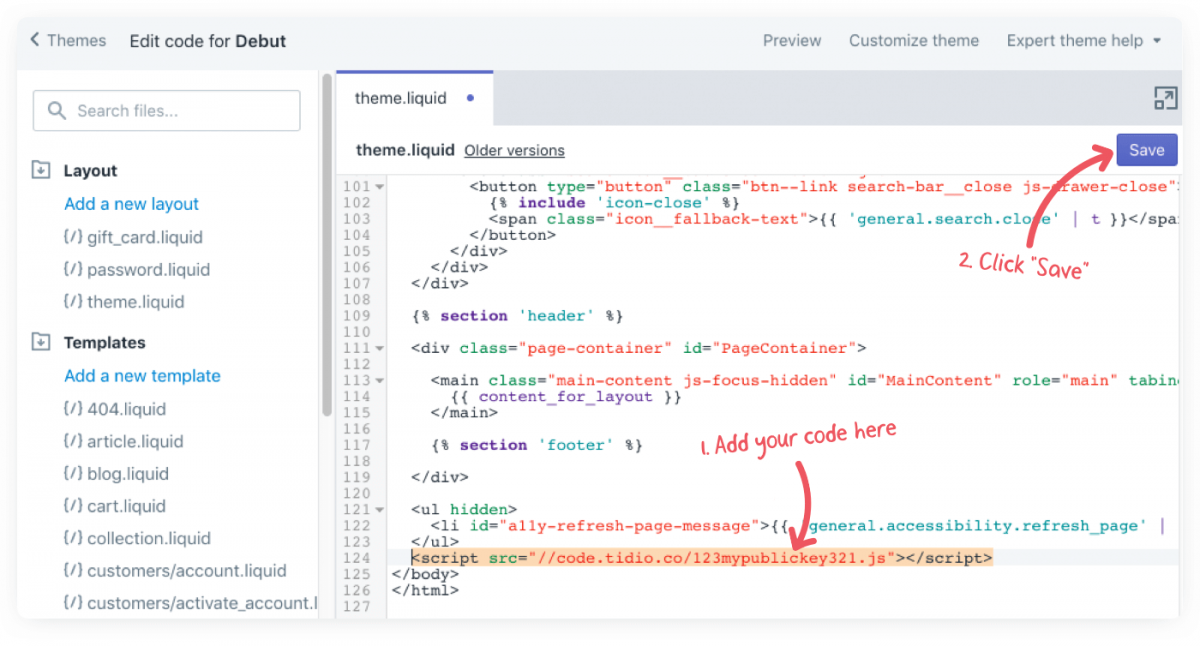 But hey—
If you're not ready to add the code yet, no worries.
You can embed the free live chat later because the code will always be available inside Tidio's dashboard. So, just log in to Tidio whenever you need to view it (or contact [email protected] if you need any help).
This detailed knowledge base article on adding live chat will also be helpful for new live chat users.
4. Learn How to Make the Most of Your Website Live Chat
At the very end of the installation process, you'll end up in the dashboard. It's where you can chat with website visitors, provide support, generate leads, or explore analytics data.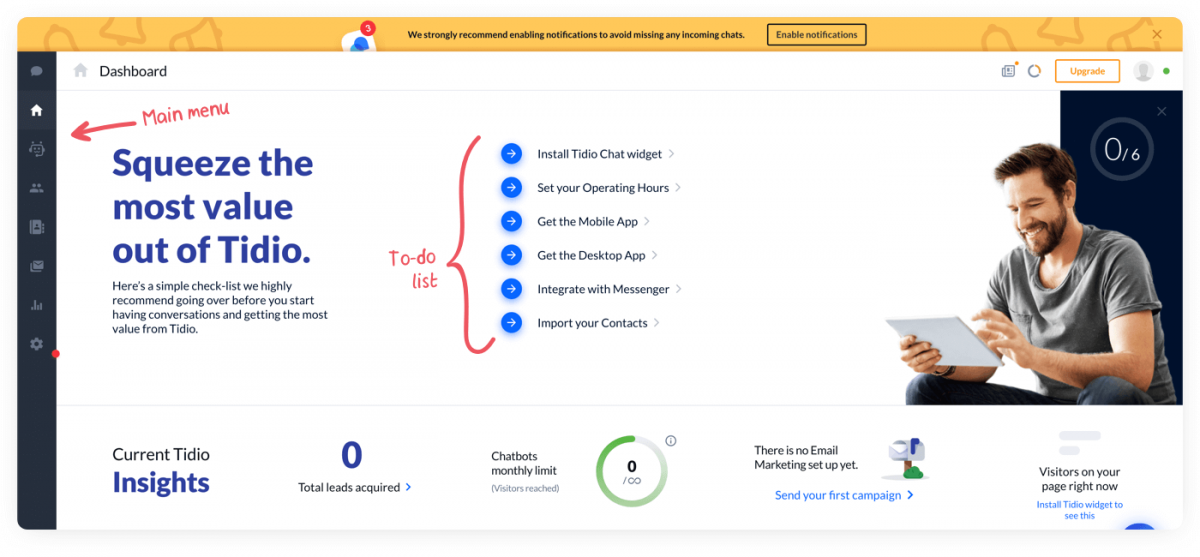 The vertical dark stripe on the left is the main menu. Click around to explore all the live chat tools at your disposal. Get this: one of them will even show the visitors on your web page in real time, so you can try messaging them proactively!
Also, check out the blue bullet points at the very center of the dashboard. It's a handy to-do list with tasks to make sure you don't miss any customer requests. Complete that, and you'll be ready to provide support and help with everything live chat has to offer.
If you install the live chat mobile app, you'll get notifications about conversation requests or visitors. The best live chat software apps have free mobile apps to allow you to respond to more customer requests even on the go.
Ok, at this point, there's only one thing left to say—
Congratulations!
You've joined the club of eCommerce businesses whose customer response times are super fast in comparison to email and social media. Now's the time for that live chat support commitment to make a difference.
Adding Live Chat to Different Website Platforms
You can easily add live chat to your website regardless of the platform you're using. Tidio's free chat integrates with a variety of platforms.
We've got you covered if you're a Shopify store owner looking to add a chat box for the support team or if you have a Wix- or WordPress-powered web design agency website. And anything in between.
Have a look at our step-by-step tutorials about adding chat to common website platforms for free:
Key Points
Live chat isn't just a new thing in online business. It's also a major competitive advantage you can put to use quickly. Yet, many websites and small businesses don't know how to use this free customer communication tool. It means one thing: there's a huge opportunity there!
Here's how you can quickly add a live chat to your website for free:
Get a free Tidio live chat account.
Customize the look of your live chat widget.
Paste the live chat code snippet into your website.
And learn how to use live chat to the fullest. Give it a go, and you'll see the incredible difference between live chat and other customer support tools immediately.
Try Live Chat For Free