Live Chat
How to Add Live Chat to Your Website: 3 Easy Ways
A few simple step-by-step methods of adding a chat to a website. You will learn how to install a free live chat app fast and connect with your website visitors.
What's the best way to add chat to the website?
The one that is fast and easy. And that principle should apply to any website. Whether it was built on a platform like WordPress or Shopify, or developed independently.
Go ahead, and follow the steps we have prepared for you. In a matter of minutes, you will be able to support your visitors in real-time, build relationships with them, and drive more sales.
Want to turn your website visitors into delighted customers? Set up the Tidio live chat app in 5 minutes and watch your sales grow by 300%! Talk to users in real-time and deliver exceptional customer service.
Try Free Live Chat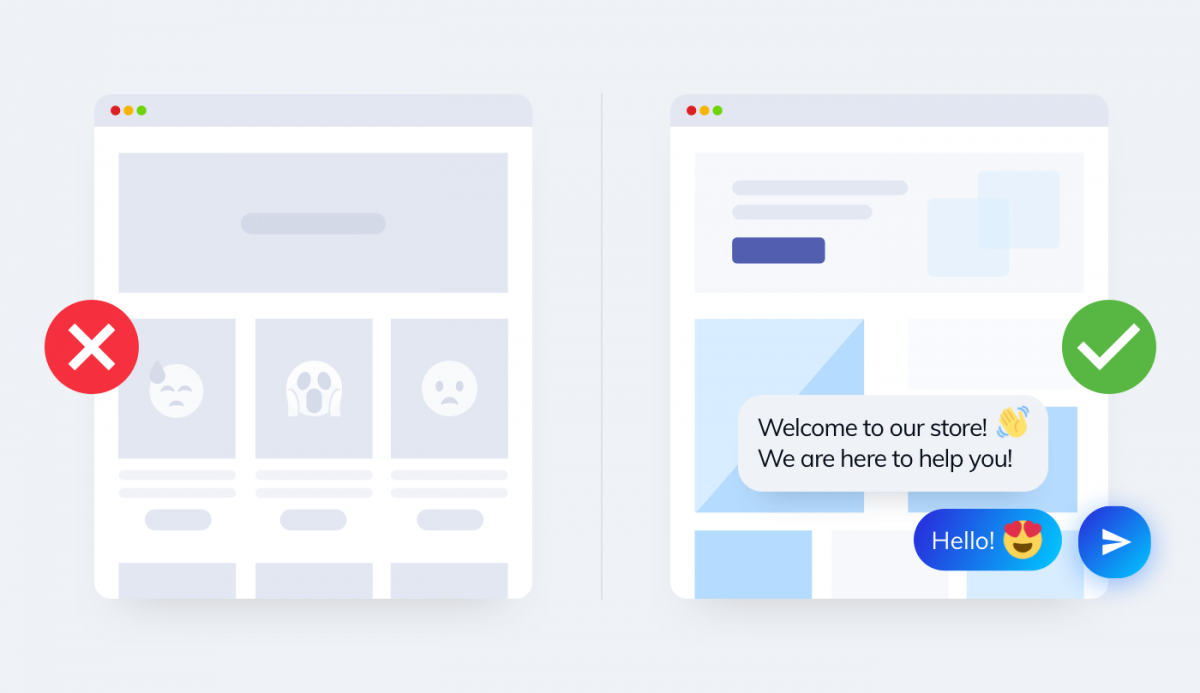 Sample use cases—See how people use live chat on their websites here.
One of our users, Vivian, had this to say:
One of the best business decisions I have made. Many customers complete purchases right after we answer their inquiries via live chat.
What you are going to learn:
How to Add Live Chat to Website
To add a chat to a website, you can choose from two methods: via a code snippet or plugin. A diagram below sums them up.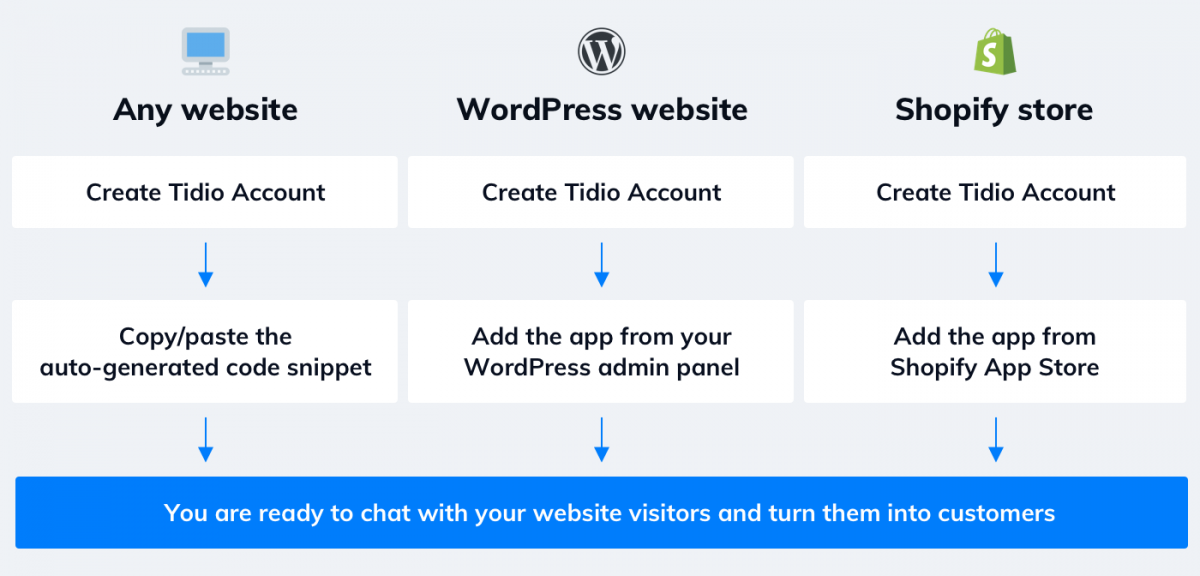 There is also a third method. Very flexible and works for all websites (and not only websites!). But we'll get to it in a moment.
#1 Adding Chat Widget to Any Website
This method works for all websites. To install a live chat, you need to add one line of code to your website code.
Let's do this step by step:
Step 1: Go to Tidio registration site to create your free account.
👉 Click Here to Go to Tidio Registration Page Now 👈
Step 2: Complete the initial setup tour:
configure your live chat
add account information
choose your first chatbot
You can change all the settings from the tour later. So don't worry too much about being perfect in this step.
Step 3: Integrate live chat into your website
add the code snippet to your website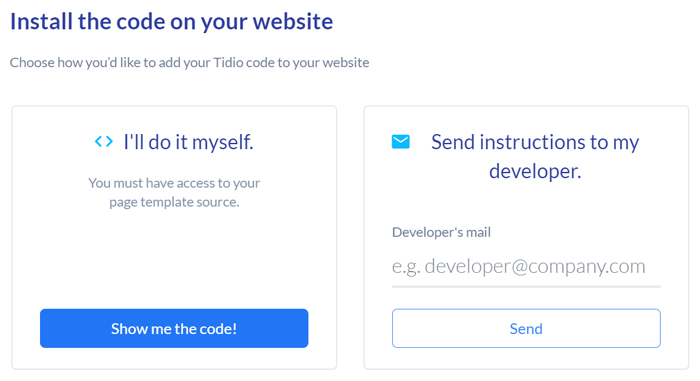 Add the code snippet above the closing </body> tag of your website's source code. Remember to save the changes! Or, send this piece of code to someone who can add chat to a website for you.
Pro-Tip #1: Not ready to fiddle with the code part yet? No problem! The snippet will be always available inside your admin panel. So you can add live chat to your website whenever you want.
Look for the snippet in CHANNELS > Live Chat > Integration.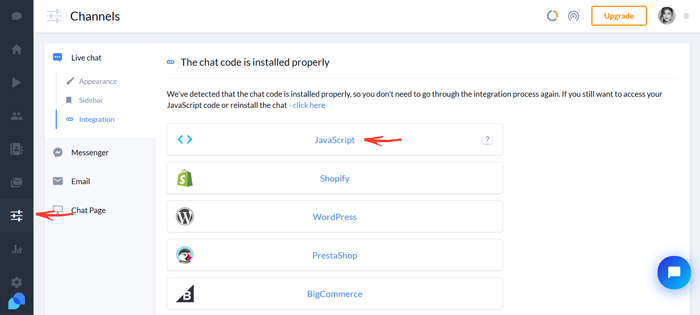 And as far as the installation goes… That's it! If you want to learn about two other two methods, read on. Otherwise, skip to the chat widget customization part.
#2 Adding Chat Widget: Plugin Method
Have you built your website with Shopify or WordPress? Then you can use a dedicated chat plugin.
If you go to the Integration section, you'll see, among others, options for WP and Shopify.

Click "Shopify" or "WordPress" and follow the instructions. You can also read our tutorials if you need detailed guidance.

🚀 Read: WordPress installation guide
🚀 Read: Shopify installation guide

Pro-Tip #2: Are you using a different platform? Take a look at our integration list to find the right guide.
You can also find Tidio Shopify Live Chat and Tidio Chat Plugin for WordPress in the official app stores.
We prepared a simple guide that shows you how to set up a Shopify chat app in a few simple steps.
If you're on the lookout for the best live chat for your business, have a look at our comparison of the best live chat software solutions.
How to Customize Your Live Chat Widget
Live chat is part of your website. It is important that the look of the chat box matches your website. So go ahead and tweak its look the way you want!
Go to CHANNELS > Live chat > Appearance. Here, you can play with:
the Background Color (solid or gradient) or Text Color (dark or light)
the Widget Position (left or right)
the Offline Message (the message your visitors will see when you go offline)
Pro-Tip #3: You can test all the visual changes by using the widget on the right. Click the Preview button below the chat box to select the option you want to test.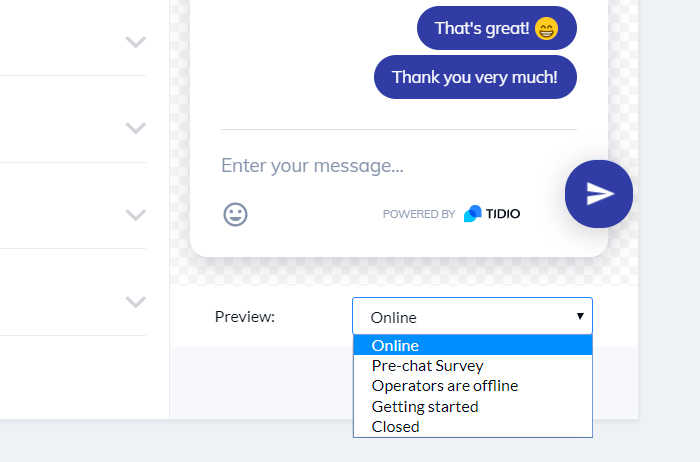 Test all the options to get the results you would be happy with. If you find some features not clear, please check out our tutorial: How to Customize Your Chat Widget.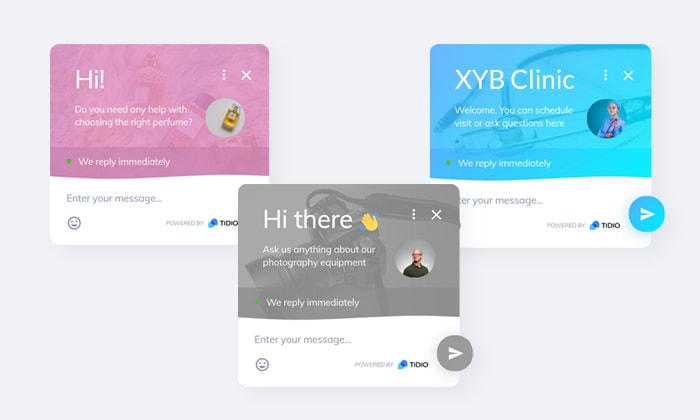 Now, we're going to show you a very interesting way in which you can add chat to your website. It's not an installation, but still a great way of having a live chat!
How to Add Embedded Chat Box on Website
Let's start by explaining what a chat page is. As the name suggests, it's a page where the chat box is located. It's a separate page with its own URL address.
What's so useful about it? You can add a chat page URL anywhere you want!
You can add it to the email footer as a link or button.
Link it on any page or pages, e.g. on "Contact Us."
This way, your customers can open it and start chatting with you immediately. Even if they are not present on your company website.
Take a look at the screenshot. This is what the chat page looks like.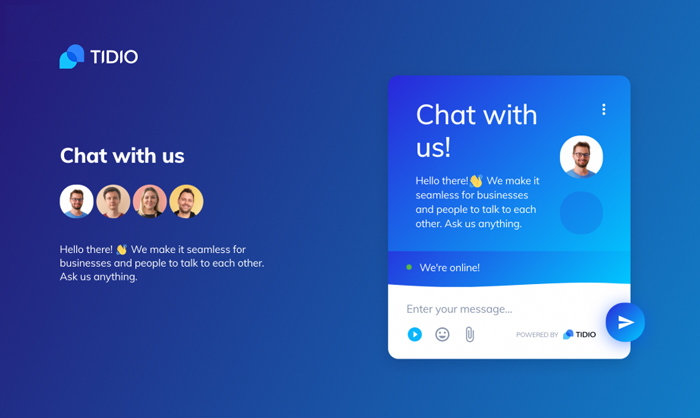 You already know that you can customize the look of a chat widget. Similarly, you can customize the look of a chat page, too.
Choose the background color, add your company logo and URL.
Personalize the header and welcome message.
Write some good meta title and meta description for SEO.
To get your unique chat page URL, go to CHANNELS > Chat Page.

Finally, you can add Facebook live chat to your website. And here's the kicker: you won't be using FB Messenger on your website at all!
How Do I Add Facebook Live Chat to My Website?
Do you have a business page on Facebook? If you do, then you might want to integrate live chat with Messenger. This way, you will be able to chat with your FB visitors via a live chat.
Go to CHANNELS > Messenger.
Click Connect your Facebook account.
A popup window will appear. Enter your FB login details.
Next, choose the business page you want to connect with live chat
Please keep in mind, that you can connect one FB business page with one Tidio project.
Leave all permissions switched on.
Click Done.
Go back to CHANNELS > Messenger and click the Save changes button.

From now on, you can reply to all the messages from Messenger from the live chat admin panel.
Why You Should Add Live Chat to Your Website
The technical part is over. If you completed it, then you have a beautiful chat widget on your website. But what is more important, you and your customers can chat with each other.
With live chat, you will cut your customers' wait times – by a lot. Faster response times will improve customer experience and satisfaction.
You will also be able to see who's browsing your website and what pages your customers are on. This gives you an opportunity to start chats with potential buyers.
▶Check Live Chat HERE or tap the image below to see how Vivian from NOTIQ uses live chat on her website to talk with visitors and sell more 👇

You can also use live chat to generate leads. It works when you are online or offline.
Remember, that when you are away, you can put chatbots on duty. They will continue helping your customers or collect valuable data.
This, and more, can be yours. For free. Register today and discover all the live chat features yourself.
Try Live Chat For Free