There are dozens of chat widgets providers out there, and all of them say how great they are.
But are they really?
Well, going through all their offerings takes a little longer than a while.
But don't worry. We did this for you and hand-picked the ten best chat widgets to save your precious time.
Here's some basic info about each chat widget we tested. To learn more about each, get to know the pricing details, and see what they look like in practice, scroll down and read full reviews.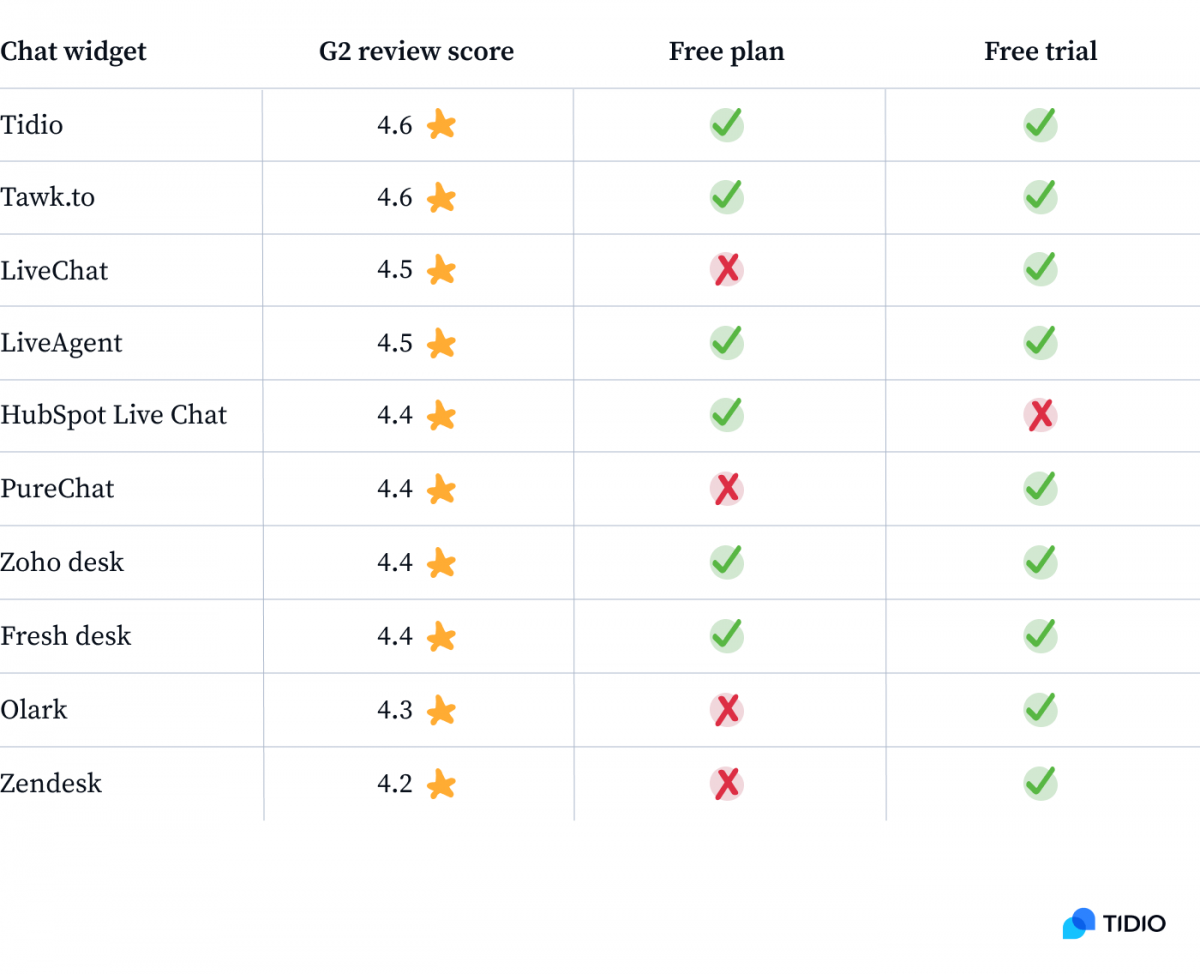 Chat widgets are not what you were looking for? If you're interested in live chat software and chatbots, check out these articles:
What is a chat widget?
First things first, though. Let's establish what kind of widget we're looking at and why you should even bother.
A chat widget for a website is a piece of software that allows you to chat with visitors to your webpage. It sends a welcome message to people and provides support when they need help. Most of the time, you will find it in the corner of the screen.
Once clicked, a chat widget pops up, and the website visitor is all set to talk with a customer support agent or chatbot.
Why do you need a chat widget on your website?
The average attention span for an adult is about 8 seconds. So you need to get your customers where they want to be fast, or they will leave your page. Chat widgets help with that. They provide answers to your customer's questions there and then.
Chat room widgets positively affect sales, and customers are happier to buy from companies that offer chat widgets.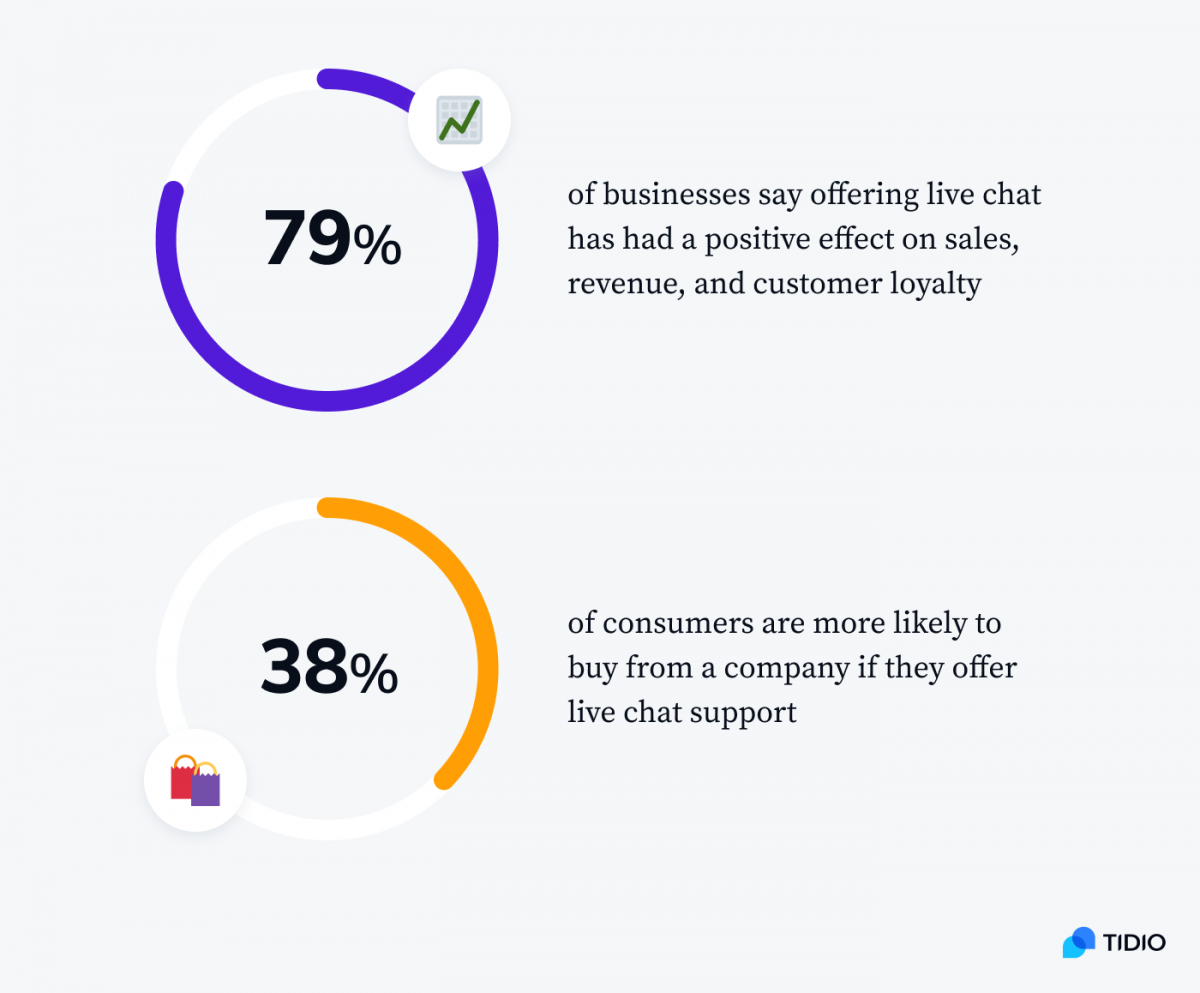 A SuperOffice study has shown that an embedded chat widget is also a preferred communication method for customers.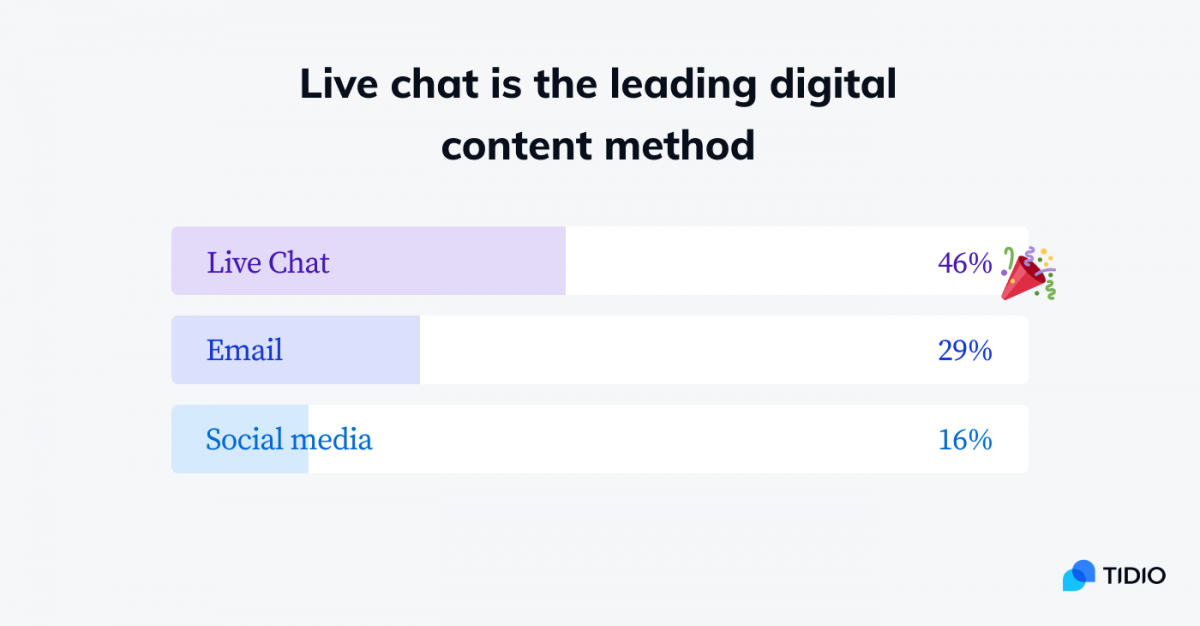 Overall, chat widgets online are a great way to improve your company's relationship with your customers. They can increase conversion rates and enhance customer experience.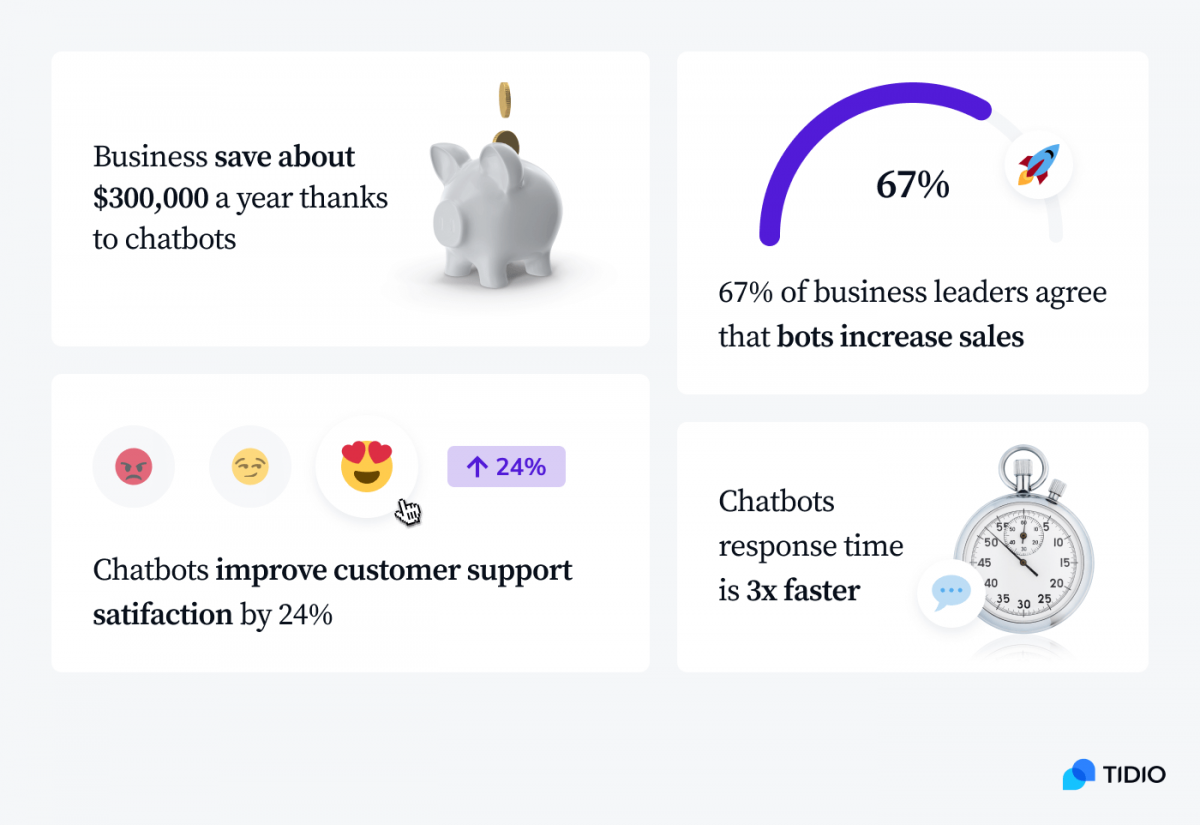 Other than communication, you can use chat widgets for marketing automation. You can program your website chat window to collect emails by showing people newsletter signup forms or increase sales by encouraging the customer to click on your SALE item.
Your embedded chat box can also collect data about your customer. This includes what they were doing on your website and any additional information they gave you, like a phone number or their email address. This can help you provide a more personalized experience for your returning clients.
If you want to know more about chat widget statistics, check out this article with 11 Amazing Chatbot Statistics.
Moving on to the greatest of the great—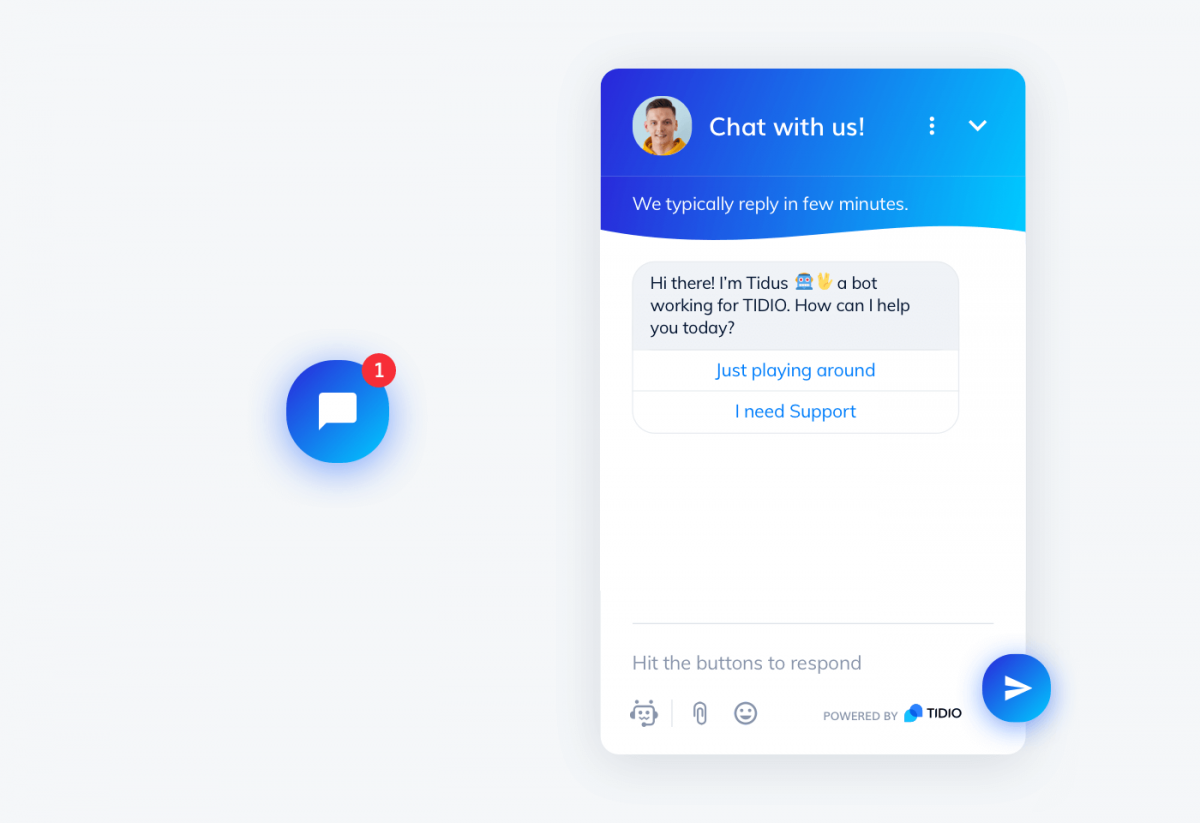 You're not here to listen to us bragging about how great we are and that we're "the best chat widget for a website." Check out some Tidio reviews and register for free to test our website chat widget yourself.
Let's keep it short and sweet then—
Tidio is a multi-channel support product. It keeps all your communication with customers in one place. Our platform is best for small to medium businesses.
G2 Review: 4.6/5 stars
Expect:
AI chatbot, live chat. You get them both, and they're fully customizable. You can make your chat widget online and just the way you want it.
Easy installation. Tidio is easy to install and you can find Tidio on WordPress, get Tidio for Shopify, and many other platforms.
Searchable transcripts. This is a great feature in case you need to go back to any of the chats. You can use this to remove recurring issues and monitor what service your customers receive.
…and much more
Plans:
Free plan available
Starter $39/mo
Team $79/mo
Scale $399/mo
(free chat widget for website 14-day trial available)
Tawk.to is a free chat widget. You can use it on your phone as a mobile app and on your computer screen. It allows you to monitor your website visitors' activity and chat with them.
G2 Review score: 4.6/5 stars
Pros:
Multilingual. This is a chat tool for websites that have an international outreach. It translates messages into 45+ languages to get even closer with your customers.
Fully customizable widget design. Customize the appearance and functionality the way you want your clients to see.
You can also review chat history and check your performance in analytics. Tawk.to allows you to see your website visitors in real-time and how often they visit your site. This enables you to see your customer's entire buying journey.
Easy integration. This is one of the WordPress chat widgets, as well as Shopify and other platforms.
Cons:
Some reviewers say that the notifications about messages are inconsistent.
Plans: There are no plans. This is a free chat widget for your website.
LiveChat lets you connect multiple communication channels so you can manage customer interactions in one place. That means you can have your website, app, Facebook messages, and emails in one place. There is also an app for your phone to answer customer questions on the go.
G2 Review score: 4.5/5 stars
Pros:
Integrates with other products. This useful chat widget for a website integrates some CRM software, email marketing services, and Google Analytics. You can monitor your team's performance in reaching customer service goals.
Many features. E.g., one handy feature is an integrated help desk for when a chat box can't solve a customer's request.
View customer typing live. You can see what customers are typing before they send the message. This can help you prepare an appropriate response.
You can fully customize your widget design and get mobile apps to stay available for your customers on the go.
Cons:
Reviewers say there are missing functions and features. They listed no spell check within the widget, inability to embed links into specific words, and inability to set up automatic messages.
More expensive than some of the competitors.
Plans:
Starter ($19/mo)
Team ($39/mo)
Business ($59/mo)
Enterprise (plan on request)
(free chat widget for website 14-day trial available)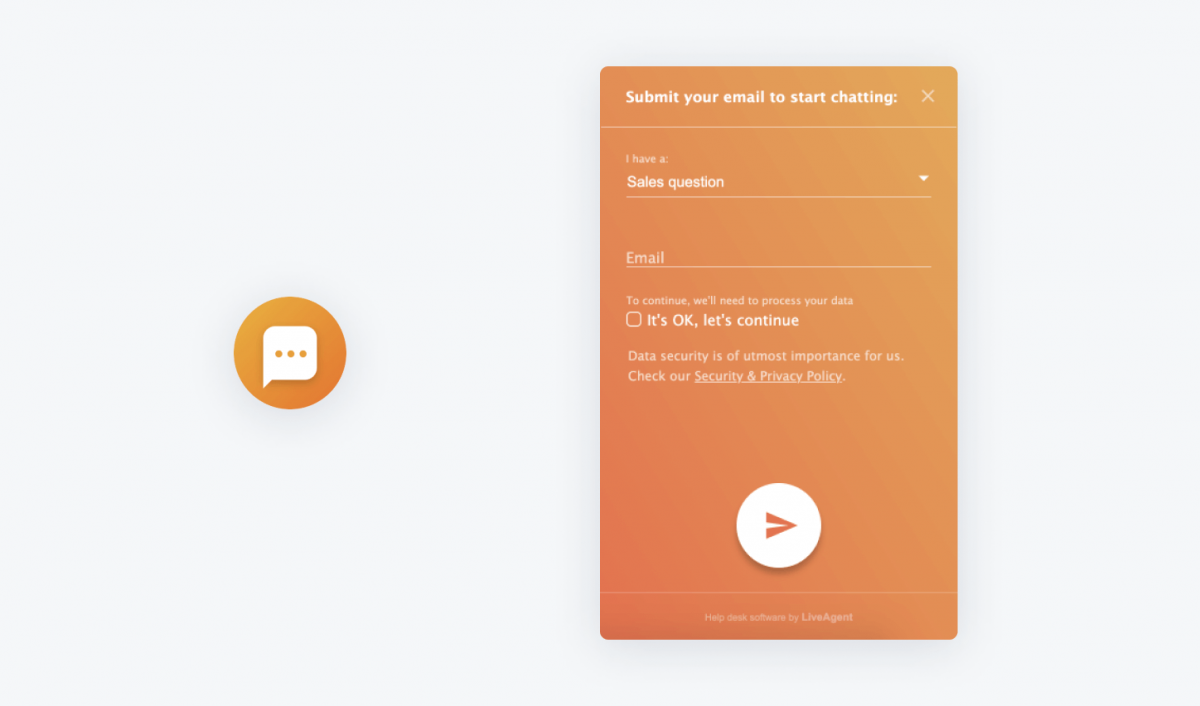 This chat widget is for those who look for chat functions and help desk systems. Its core is the help desk, and chat is an addition to it. So, when you have LiveAgent's embedded chat widget, you'll get access to both. 😉
G2 Review score: 4.5/5 stars
Pros:
Video chat is one of their features. If you're looking to embed a video chat tool on your website, then this one's for you.
Multilingual. LiveAgent also supports 43 languages if your company happens to have an international customer base.
You can create canned responses for frequently asked questions automatically and collect customer feedback with surveys.
LiveAgent integrates with WordPress, other website builders, and services for an easy installation process.
Cons:
Reviewers say that the user interface is a bit hard to use, and the design feels outdated.
Some people had issues with integration and the setup of this chat widget online and its features.
One reviewer had issues with LiveAgent's policy which made you log in to your account every month. If you don't log in for 8 weeks consecutively, they will delete your account.
Plans:
Free
Ticket ($15/mo)
Ticket+Chat ($29/mo)
All-inclusive ($39/mo)
(free chat widget for website 14-day trial available)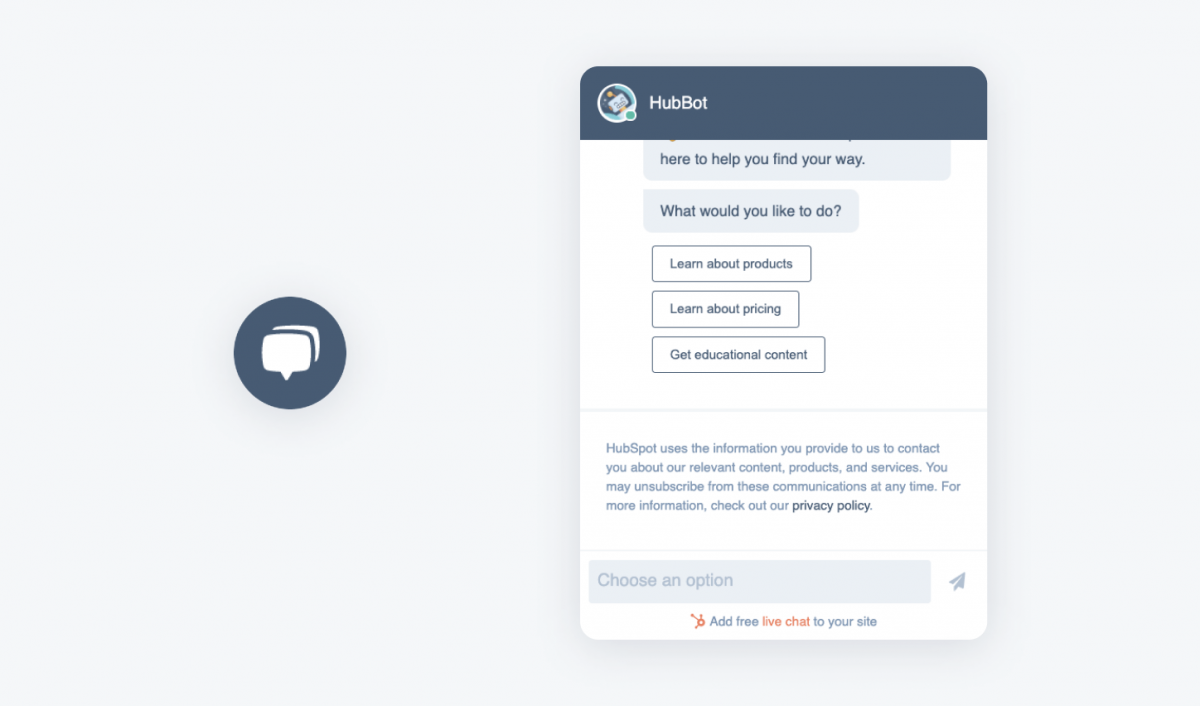 HubSpot offers to bring all your customer service channels together. It helps you with automation and self-service to scale your support efforts.
G2 Review score: 4.4/5 stars
Pros:
Stored conversations. This chat widget stores your chats in an inbox so that you can go back to it anytime and review the conversation. You can easily follow up on users and provide your repeated customers with a more personalized experience. This is because you can collect information they share with you.
You can create AI bots online to answer all the common questions and do some basic tasks. There is an integrated AI assistance builder on their website. And it doesn't require any coding skills!
Cons:
Some reviewers had difficulties connecting with outside apps.
Other reviewers said that it was too slow for their website.
There are inadequate reporting tools.
You can't create categorization for tickets.
Plans:
Free:
Starter ($50/mo)
Professional ($400/mo)
Enterprise ($1,200/mo)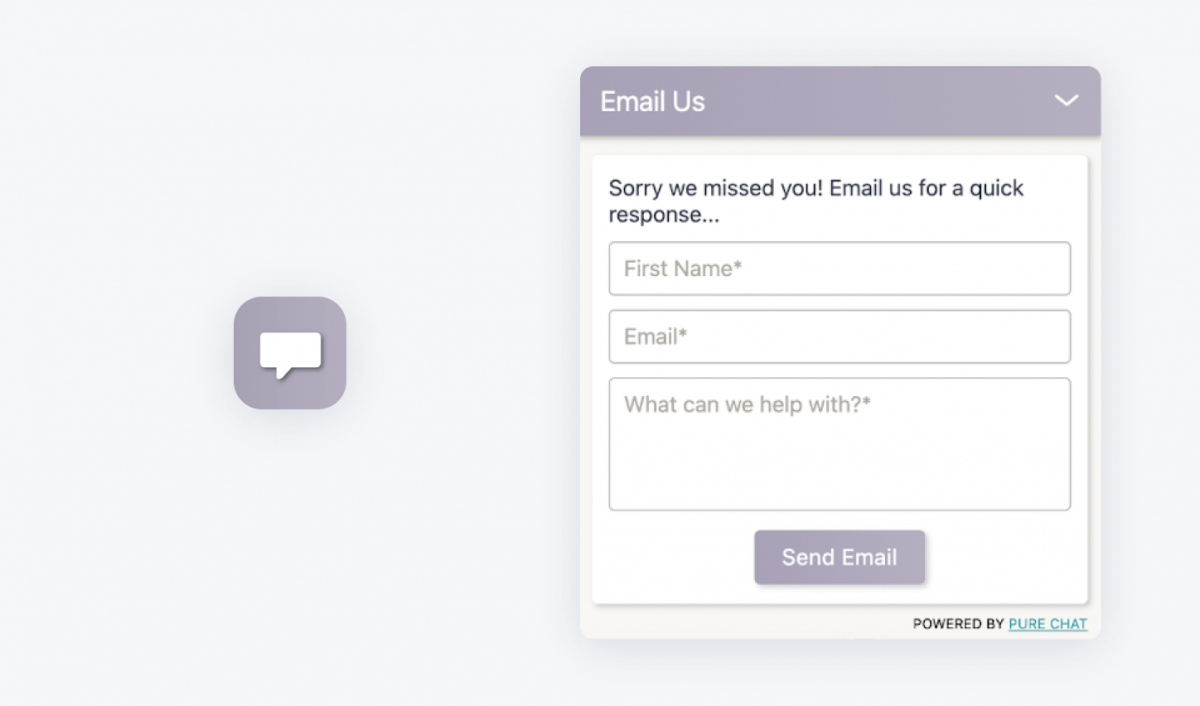 PureChat is a useful chat widget for your website. Integrate it with ease to your website and control all aspects of your support service from backstage.
G2 Review score: 4.4/5 stars
Pros:
Over 1,000 integrations. If you want to join other apps for more functions, then you'll definitely find something for yourself.
Fully customizable website chat widget. You get complete control over your chat widget's look and its functionality.
Real-time visitor analytics. You can see what people are doing on your website and maybe even spot any issues that could prevent them from completing a sale. Make sure you make the most of this analytics use of chat widgets.
Transcripts of all your conversations are available for review and analysis.
Cons:
Reviewers say they can't connect email platforms to this chat widget.
Price:
Growth ($49/mo)
Pro ($79/mo)
Additional User/ Operator ($15/mo)
(free chat widget for website 30-day trial available)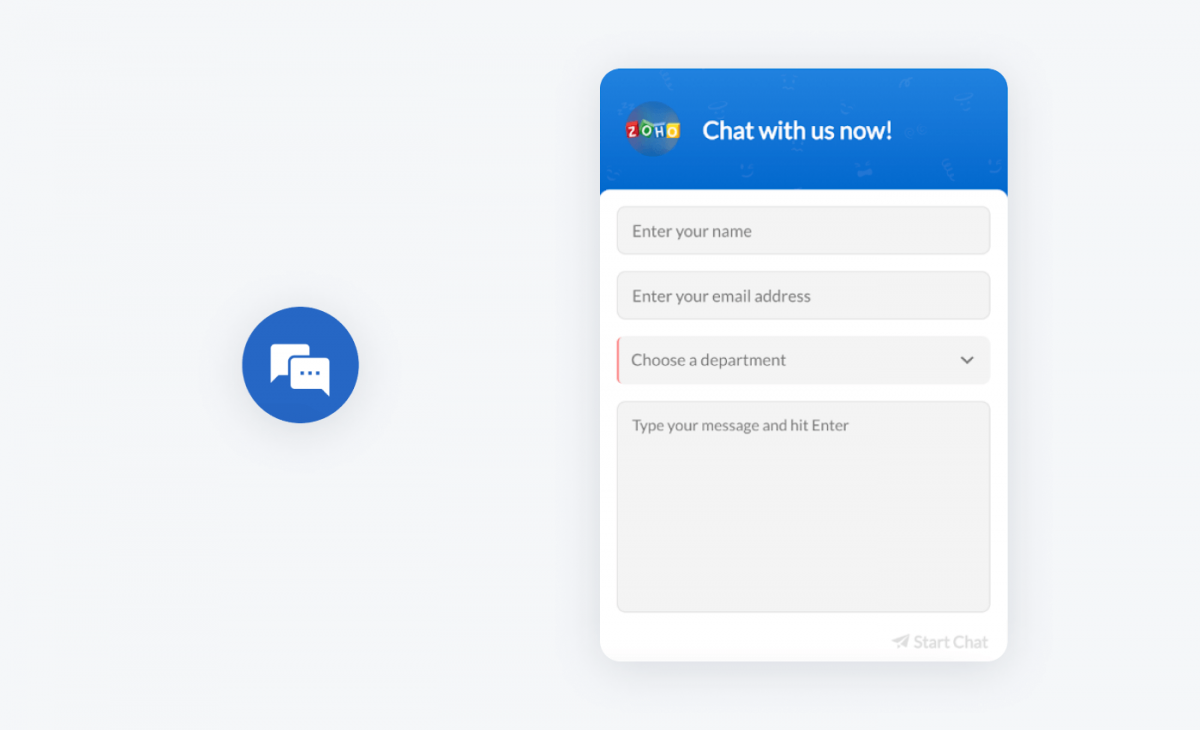 It is a context-aware online chat widget. Zoho Desk is a cloud-based software with contextual AI built into it. It helps you to provide a great support experience for your customers.
G2 Review score: 4.4/5 stars
Pros:
Automation. Automate repetitive activities, make sure tickets are automatically assigned to the right team member, and manage your help desk's essentials.
Work Modes system. Automatically organizes open tickets to increase your chat agents' productivity.
"Light agent" seat count. This is a solution for you if you have professionals who work on tickets to offer solutions but are not in the customer support team. It does not count them into the seat count, which can reduce the final cost.
Cons:
Some reviewers say the software is "clunky," with standard hotkeys changing the page settings.
Reviewers had some troubles with setting up the software. It takes quite a while to get to know and find out how to use it to its full potential.
Plans:
Free
Standard ($14/mo)
Professional ($23/mo)
Enterprise ($40/mo)
(free chat widget for website 30-day trial available)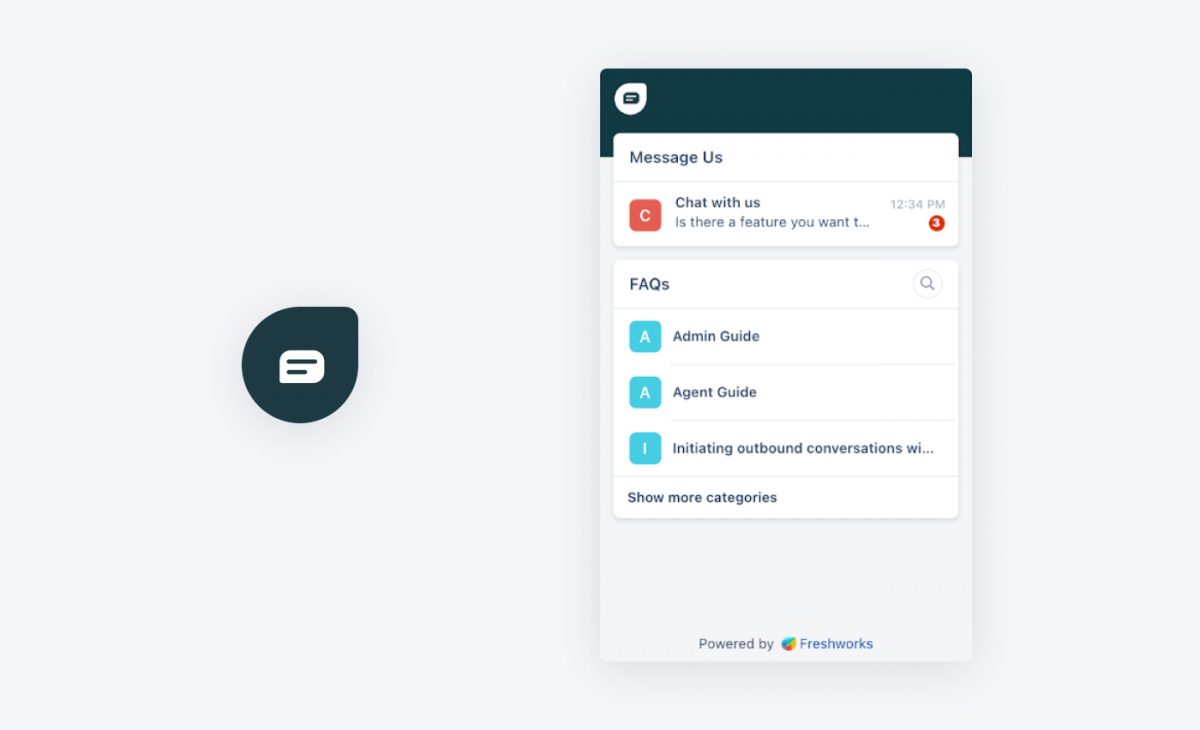 Freshdesk is a cloud-based chat widget. It provides a good integration between different channels and social media so you can have all your communication in one place.
G2 Review score: 4.4/5 stars
Pros:
Categorize tickets. You can prioritize, assign and categorize chats with your customers.
Canned responses. You can create pre-typed replies to common questions, so your customers get their questions answered quickly.
Manage multiple channels on one platform. You can unify all of your support communication channels from Freshdesk.
Cons:
Some reviewers are not happy with the recent changes Freshdesk made to their product. They have some troubles with the software hiding most of the conversation in the ticketing feature.
The tool is a bit clumsy with time-based triggers, and automation is difficult to use.
Slow support and team representatives not being able to help fully.
Plans:
Sprout (free)
Blossom ($19/mo)
Garden ($45/mo)
Estate ($69/mo)
Forest ($125/mo)
(free chat widget for website 21-day trial available)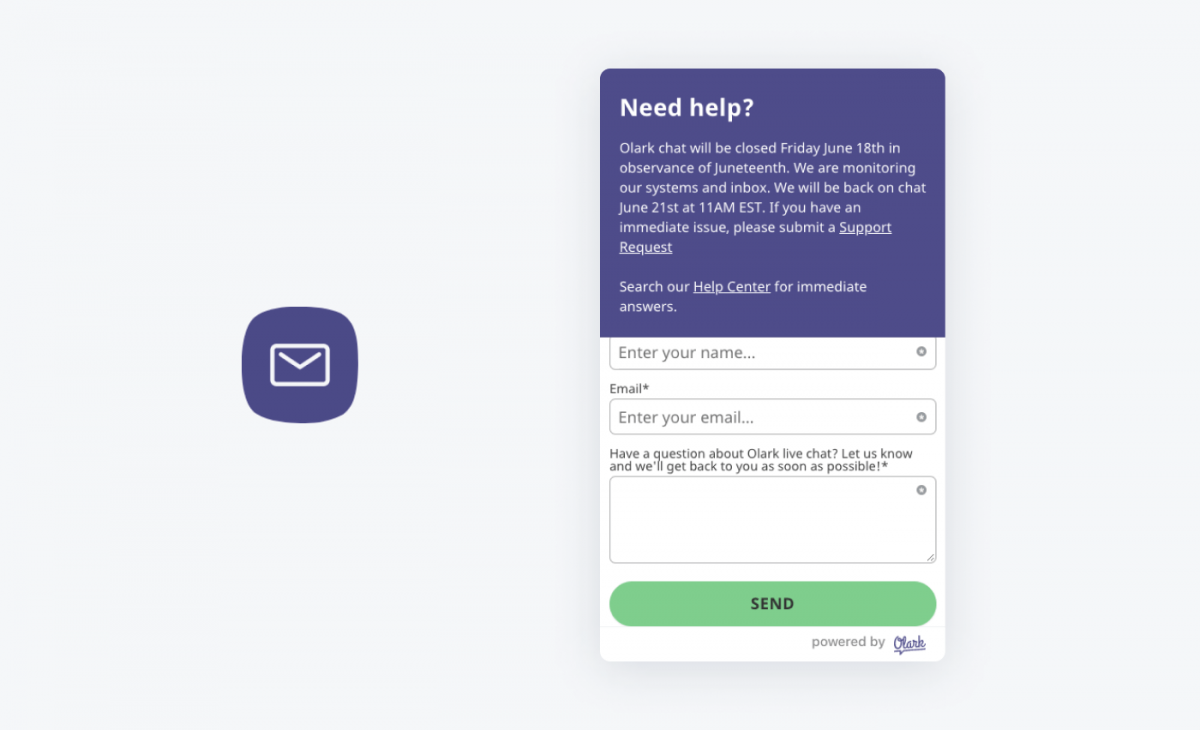 Olark is a chat widget that offers targeted chat, monitoring, and analytics of your support services.
G2 Review score: 4.3/5 stars
Pros:
Customizable chatbox. Change colors, the position of your chat widget on the page, and its shape. You can also add a welcome message and customer support agent's photo to make it a bit more personal.
Olark gives you automatic live reports and analytics. You can see the number of chats, customer satisfaction score, and more.
Integrations with CRM software, automation tools, and email services. This proves useful when you want to provide email marketing for your customers.
Cons:
There is a limited number of recent reviews. And because of that, there isn't enough evidence to accurately tell you the cons of this product.
Plans:
Live chat ($19/mo)
Pro (on request)
(free chat widget for website 14-day trial available)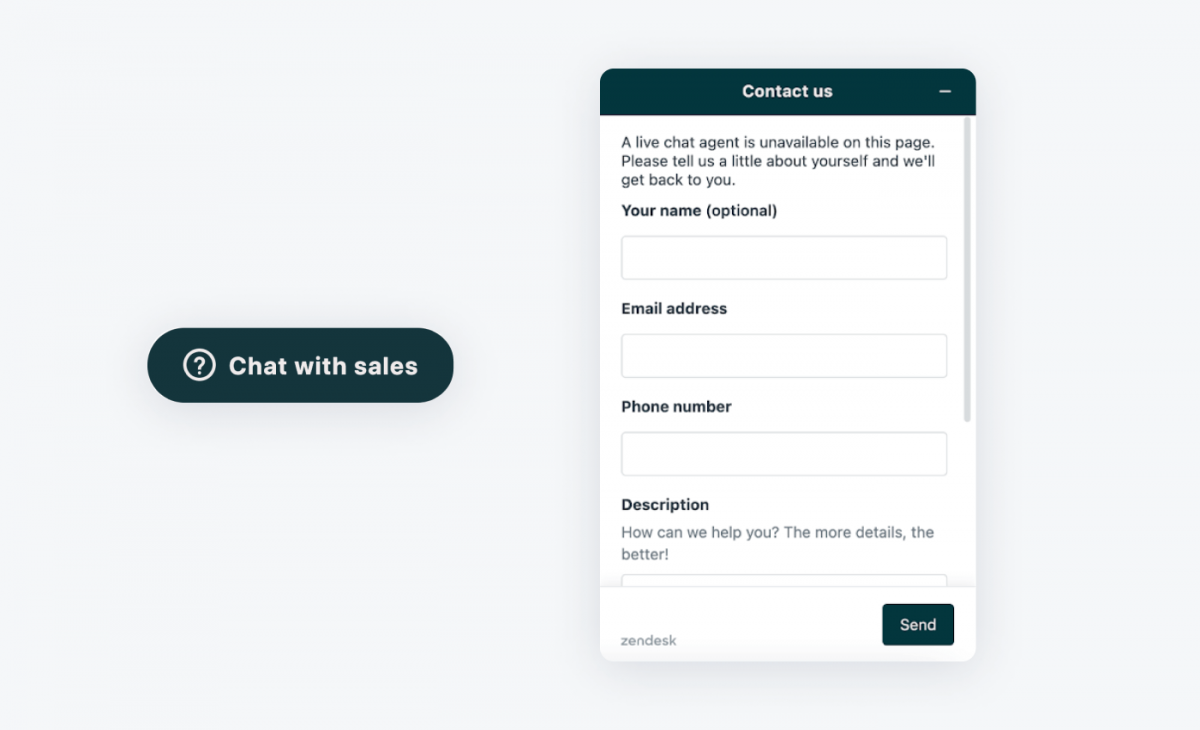 This chat widget allows you to send files and ask for customer reviews. Those can help improve your customer support and a better customer experience on your site.
G2 Review score: 4.2/5 stars
Pros:
Zendesk allows you to analyze all the data from chats that took place on your platforms.
You can also create your chat solution online with the functions you most seek for. This could be collecting email addresses or simply responding to customers.
You can customize your chat widget, so it fits with your website and branding. You can pop your logo on it, change the colors and fonts. It also offers a JavaScript API so that if you want to change or add any feature manually, you can.
Cons:
Expensive compared to competitors
Poor support desk. By far, the most negative reviews are about long response time from the support team and not enough knowledge about the product.
Difficult to track through closed tickets.
Plans:
Suite Team ($49/mo)
Suite Growth ($79/mo)
Suite Professional ($99/mo)
Suite Enterprise ($150/mo)
(free chat widget for website 30-day trial available)
Features to look out for
Most of the chat solutions for the website listed above have a great number of features. But what's important is choosing the website chat widget that provides the right features, not the biggest amount of them.
Don't be swayed by the quantity. Focus on the quality, and let's go through the features you will need for your business to grow successfully.
Integrations
Some chat widgets have a live chat feature, others provide chatbots, and some offer both. Check out these two articles to find out:
After you read through them, you'll have a better idea of which one you need for your website. Some providers, like Tidio, will offer both as a package.
Searchable transcripts
You don't want to have an unpleasant experience of seeing a negative review about your customer service and not knowing what happened. We don't want that either.
That's why you should look for the searchable transcript feature when you're looking for your brand new, best online chat widget on the net.
This will allow you to search all your customers' conversations on your website, look for issues and reoccurring complaints. With this tool, you'll be able to fix the problems and improve your customers' experience.
Happy customers = Loyal customers.
Customer reviews
You want to tick all the essential boxes for your customer!
There is an option for your chat to send a customer review question straight after they finish a conversation. It's a good idea to check if it's available and use it!
This feature gets your customers' reviews when the experience is still hot in their memory. This is the best time to check up on them and ask how it was, just like in a restaurant. A waitress asks how everything was when you just finished your food. It would be silly if they asked about your experience when you're already back home.
Customizable design
Your chat widget needs to fit in with your site. It needs to be the way you want it to be and do what you want it to do.
That's why it's important to check if the provider of your chat box has customization options for the design and functionality of your chat widget.
Mobile apps
Check if you can use your chat solution on your mobile devices.
This is important because you want to be there for your website visitors at all times. You never know when you'll get a customer messaging you with a burning question.
Having a chat tool on your mobile device lets you talk to your clients even when you're on the go. Improve the customer experience of your website visitors by always having their back.
How to install a chat widget on your website?
It depends on what website you want to embed a chat widget. You will learn how to install a WordPress chat widget below, and we have some tutorials linked for other platforms underneath.
Search for a chat widget on your WordPress plugins. There will be a variety of options for you to choose from.
Once you've decided, click the Install Now button.
3. After it's finished installing, the button will change to Activate.
4. Click on it and create an account for your WordPress chat widget.
If you need more information, check out these resources:
If you want more WordPress chat widgets, check out this article on the 10 best chat widgets for WordPress.
Summary
That's it for now! You know the best chat widgets and what features you should look out for when taking your pick.
Once more, here's our list of top ten chat widgets:
Explore your options and choose the right one for your business.
Good luck and enjoy the process!