It's getting late, you're tired and really need a vacation.
Instead of planning one, you're putting together ideas on how to increase sales online fast. When you launched your eCommerce business not so long ago, you thought that orders would be pouring in like crazy. But they're not.
It's time to turn things around very quickly. Otherwise, you'll be forced to close your business down in a couple of months.
If your online store's conversion rate is very low, you have to find more effective ways to sell that work right away. That's going to be a bit tough, but if you know what you're doing, there's a good chance that you can increase online sales.
"I already sell great products but nobody is buying them…"
That's okay, we're going to find better ways to get your message across. It's quite possible that your marketing isn't good enough to reach the right people. You need to start using some high-impact conversion rate optimization techniques.
"Sound good, can we start NOW?"
Yes.
If we're helping you get more customers, let's do it right.
Your business is on the line.
Table of Contents:
What is a good eCommerce conversion rate?
The answer to this question depends on your industry and company.
Let's start by defining the conversion rate and move on to find out the good rate.
The conversion rate is the ratio between the number of people who performed the desired action (purchase) and the total number of visitors.
Here's a visual representation of a typical eCommerce sales funnel with the conversion rate at the bottom.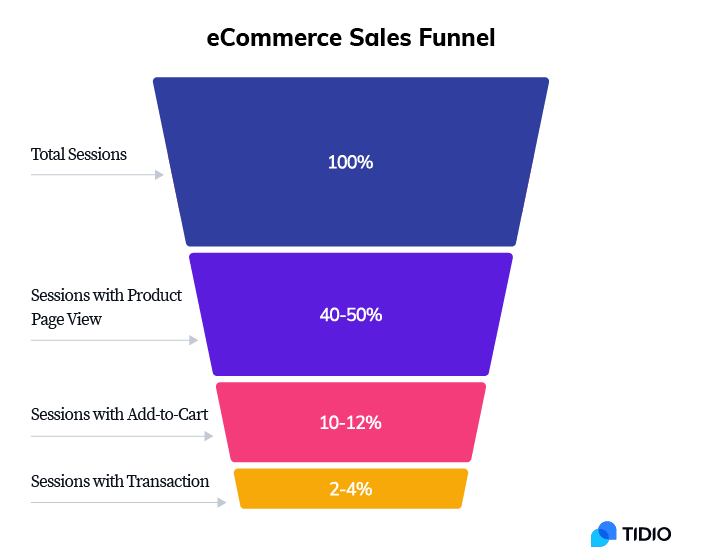 Note how the percentage drops as the funnel moves lower, closer to the act of conversion. It's just 2-4% at the bottom!
This means that only a tiny percent of customers who visited the store have made a decision to buy.
But that seems like a painfully low figure, right?
Yes, but it's also totally okay.
According to monetate.com reports, the global eCommerce conversion rate is getting lower. On the other hand, in 2019 the average order value rose by 9% on desktop devices and by 14% on mobile devices compared to 2018.
There's the reason why the average conversion rates have dropped: competition.
But, once your online store visitors decide to buy and convert, they spend more money.
The rating percentage represents the entire volume of sales. For example, if you increase your conversion rate from 1% to 3%, you triple your sales.
What is the percentage of potential customers who visit your site who actually buy something?
If we take a look at the global eCommerce conversion rate, we'll find it hovering around 2.58 % across all devices.
It's even lower on mobile devices: 1.82%.
When we consider the conversion rate for eCommerce sites by industry, we'll see that it varies significantly.
Here are eCommerce website conversion rates by types of products: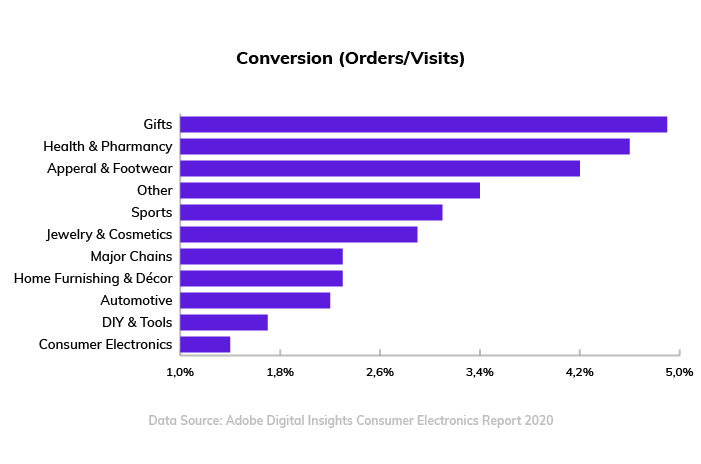 These rates change all the time.
If we want to improve eCommerce conversions, first you need to take care of the top of the sales funnel.
Here's why.
If you're a new business and/or your sales are low, you need to apply extra effort to attract people and make them buy from you.
This is really important for customer conversion, so let's break it down once more.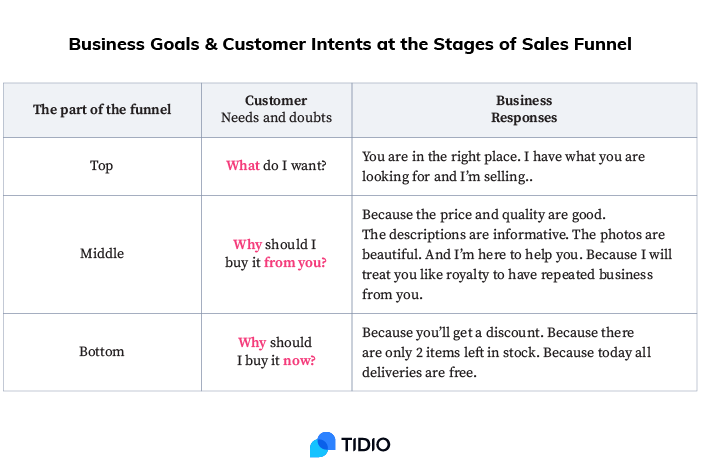 "Okay, I need to take care of the top of the sales funnel because my business is new."
Well, no.
If your sales are low – let alone there's a chance of closing the business – you need to optimize your sales funnel at all stages.
Optimization techniques for the top of the eCommerce sales funnel:
Fit to the market – focus on attracting more qualified leads to your website
Customer segmentation – monitor and segment your website visitors to personalize their shopping experience
Conversational marketing – generate more leads with website chatbots and email marketing campaigns
Proactive communication – communicate more with website visitors and customers with live chat
Optimization techniques for the bottom of the eCommerce sales funnel:
Discounts – give away discounts and introduce a sense of urgency to your offers
Shopping cart recovery – encourage leads to complete purchases with emails and chatbots
Simplify checkout – provide easier checkout options.
Conversion Rate Optimization (CRO) is the process of improving the conversion rate of a business. CRO techniques are linked with all of the operations relevant to increasing sales – marketing, sales, and customer service.
These are essential, high-impact techniques for improving sales that you can try today.
Read more: See how you can use Tidio to maximize your ecommerce growth strategy
Now, let's start taking care of your sales funnel by learning all these techniques. It is time to place you in a better position to increase eCommerce conversions.
7 Tricks to Increase eCommerce Conversion Rate
These are low-effort, high-impact conversion techniques to help you sell more today.
CRO Idea #1: Improve the Quality of Your Website Traffic
One important reason why your eCommerce conversion rate is very low is that your store visitors don't actually want to buy anything. 
Here are the reasons why.
Many eCommerce website visitors aren't customers, so they won't buy anything.
They could be:
other online store owners looking to research competitors
marketing agencies searching for new B2B clients
researchers looking to get some information about eCommerce websites.
Even if they are looking to buy something, you still should make them actually "want" it.
So, even if you get decent traffic, a low conversion rate means that many visitors aren't interested in buying because they're not actual customers.
You need to attract the right people to your store. One effective and fast way to do so is with paid advertising campaigns.
According to this SEO study, 45% of small businesses invest in PPC (Pay Per Click) advertising. It's a common method to drive quality traffic.
Paid advertising for eCommerce stores can help with driving high-quality leads to your website. Smart Insights says that shopping ads account for almost 75% of clicks from non-branded product searches.
That's huge.
If you want to improve your eCommerce conversion rate quickly, you need to conduct PPC campaigns to drive quality traffic.
To get a good start, you need to target cheaper keywords – the ones with the lowest CPC (Cost per click) values.
For example, if you were researching a campaign to advertise leather shoes, your list of keywords may look like this.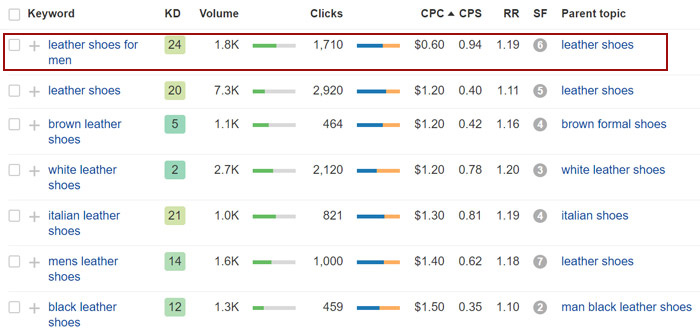 The keyword phrase with the lowest CPC value, $0.60, is "leather shoes for men," so it has the best value.
Try running paid campaigns with Google Ads and target such keywords in your market. To find out if they are working, always monitor paid traffic to your website, and analyze their behavior (the pages they visit, etc.).
Bonus Tip
To test the performance of your Facebook PPC campaigns, put your website visitors into segments. Doing so helps with understanding their behavior and intents on your website.
Tracking your website visitors who came from paid advertisement campaigns is easy with Tidio.
Create a dedicated landing page for your new campaign. To segment visitors, you need to set up Contact Property ("Facebook visitor" etc.) and include Facebook ad ID.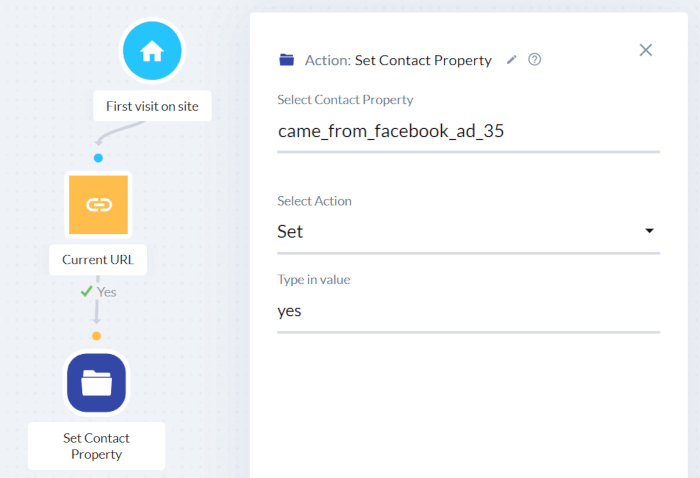 As a result, you'll be able to segment your visitors from the moment they click on the ad and arrive at your store.
This data can help to create more effective advertising and understand what your visitors look for in your store.
2. CRO Idea #2: Track Your Customers and Use Segmentation to Personalize their Shopping Experience
Another reason for customer segmentation is the personalization of the shopping experience. The appeal for personalization is quite high and has great potential for increasing your sales.
One recent study found that 63% of consumers expect personalization as "a standard of service."
If you're not collecting data to personalize your offers, discounts, and recommendations, then you're missing out on an opportunity to increase eCommerce conversions.
So how to collect this data for every visitor?
A fast and cost-effective way is with chatbots.
If you assign a property to every website visitor, you can segment them into groups. Here are some common examples of the tags you can use.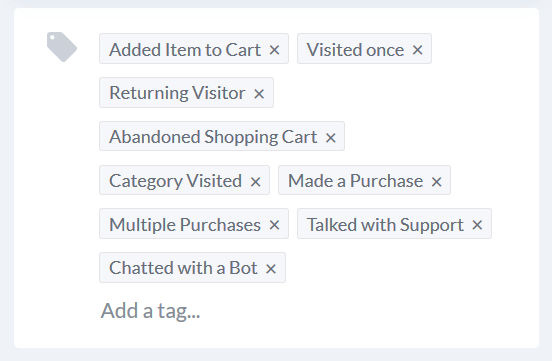 Assigning properties to website visitors with Tidio is easy. For example, here's the process of creating a segment for people who visited a specific page more than once.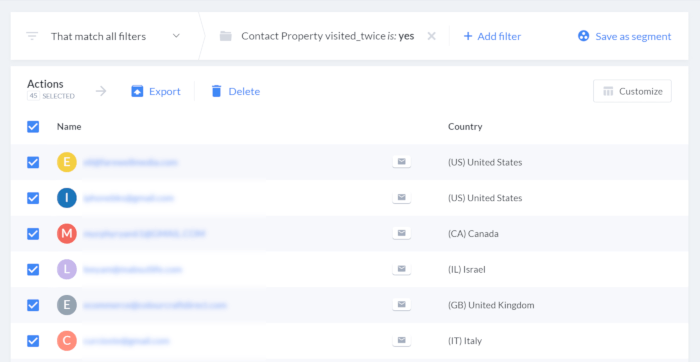 By assigning this particular tag, you can define visitors who might be interested in buying. You might notice that someone has visited a product page multiple times, which suggests that they're actually considering making the purchase of that item.
There are, of course, other tools to track visitors. For example, here's the view of the audience tracking window in Google Analytics. It shows the number of active visitors on the site, their locations, and page views per minute.

Google Analytics is a great tool for tracking website stats, obviously, but setting up real-time audience monitoring could be difficult.
That's why you shouldn't choose advanced analytics tools that require you to configure everything from scratch, often with help of analytics experts or developers. For example, creating a tracking funnel in an advanced tool is costly and time-consuming.
On the other hand, an all-in-one tool like Tidio is much easier to use right away.
Here's Tidio dashboard showing the list of active users on the website. Note that you can start chatting with each of them (offering a discount for the product they're viewing is a good way to lead them to purchase.)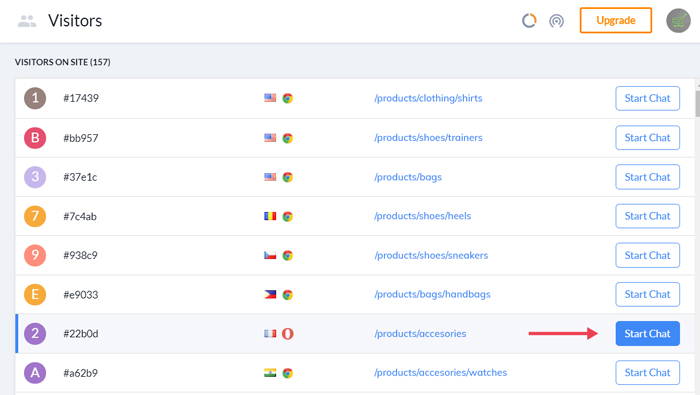 All you need to do to track visitors on your online store is create chatbots, which is easy.
Here's a very simple bot that sends a notification to a visitor when they land on a page with premium products.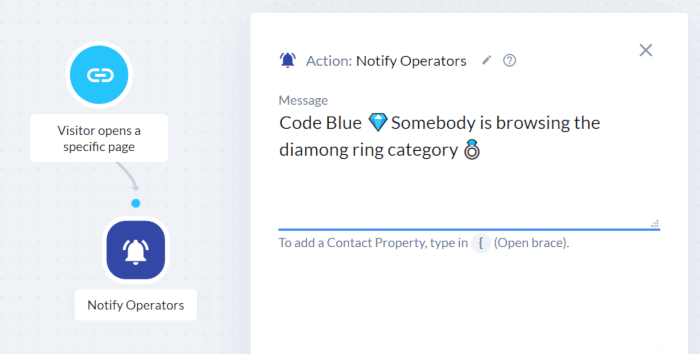 Here's a notification that you'll receive:
So, by building bots that tag store visitors, you can create a database, which will help you to understand the behavior of people on your website.
In turn, this helps with creating more personalized website experiences for users. For example, by identifying behavioral patterns in visitors (e.g. viewing specific product categories), you can:
See your most visited product/product category pages
Analyze the behavior of visitors who visited your store/product page more than once
See product page abandonment
Analyze the behavior of users who went beyond the home page
Having this knowledge is a big advantage because you can start personalizing visitor experience and improving eCommerce conversion rate.
For example, if you see that someone visits a specific product page multiple times, then you can set up a chatbot to offer them a discount. Also, you can give a promo code to all new customers when they visit your store for the first time.
Customer segmentation is a must for increasing conversion rate in eCommerce, and using a simple tool like Tidio to set it up is a quick and easy-to-implement way to start achieving that.
Dive Deeper:
3. CRO Idea #3: Generate Leads with Chatbots and Create Email Marketing Campaigns
Many customers who visit your online store will leave without interacting with it. You can fix that by:
having them quickly interact with a chatbot first
capturing their email addresses with a chatbot,
contacting them via email with an offer later.
Let's show how chatbots and emails can help with the lead generation with sales funnel. Online businesses used to consider the following simple funnel: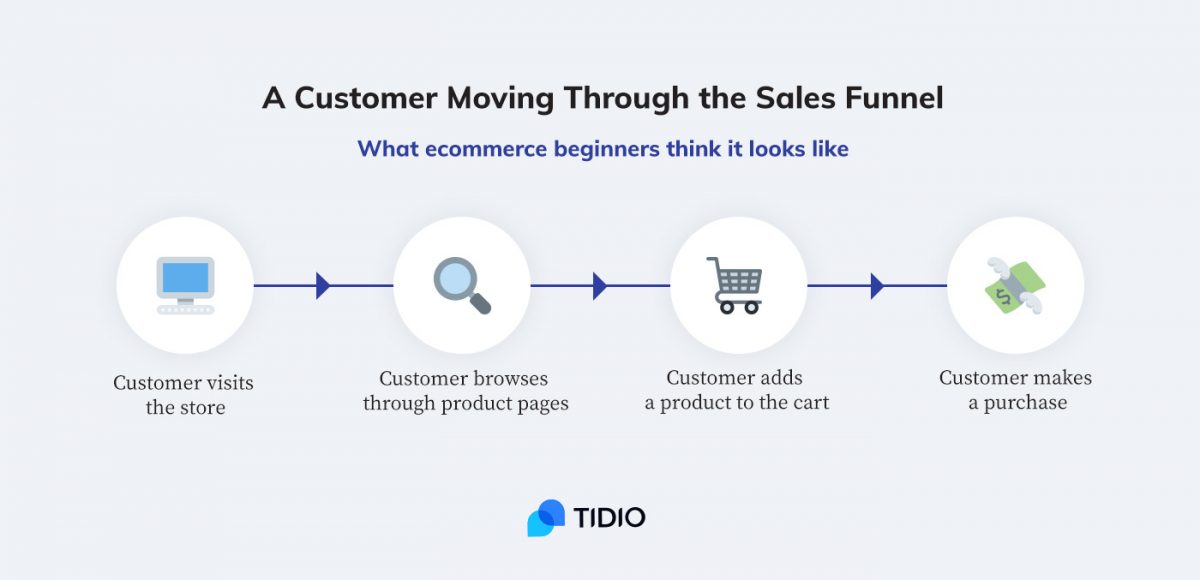 However, creating your eCommerce strategy on such a perfect scenario is simply unreasonable. Not every customer will engage, let alone buy every time they pay a visit.
So, instead of expecting perfect scenarios, let's consider more real ones. In this case, the funnel won't be as simple.
This is how it will look like: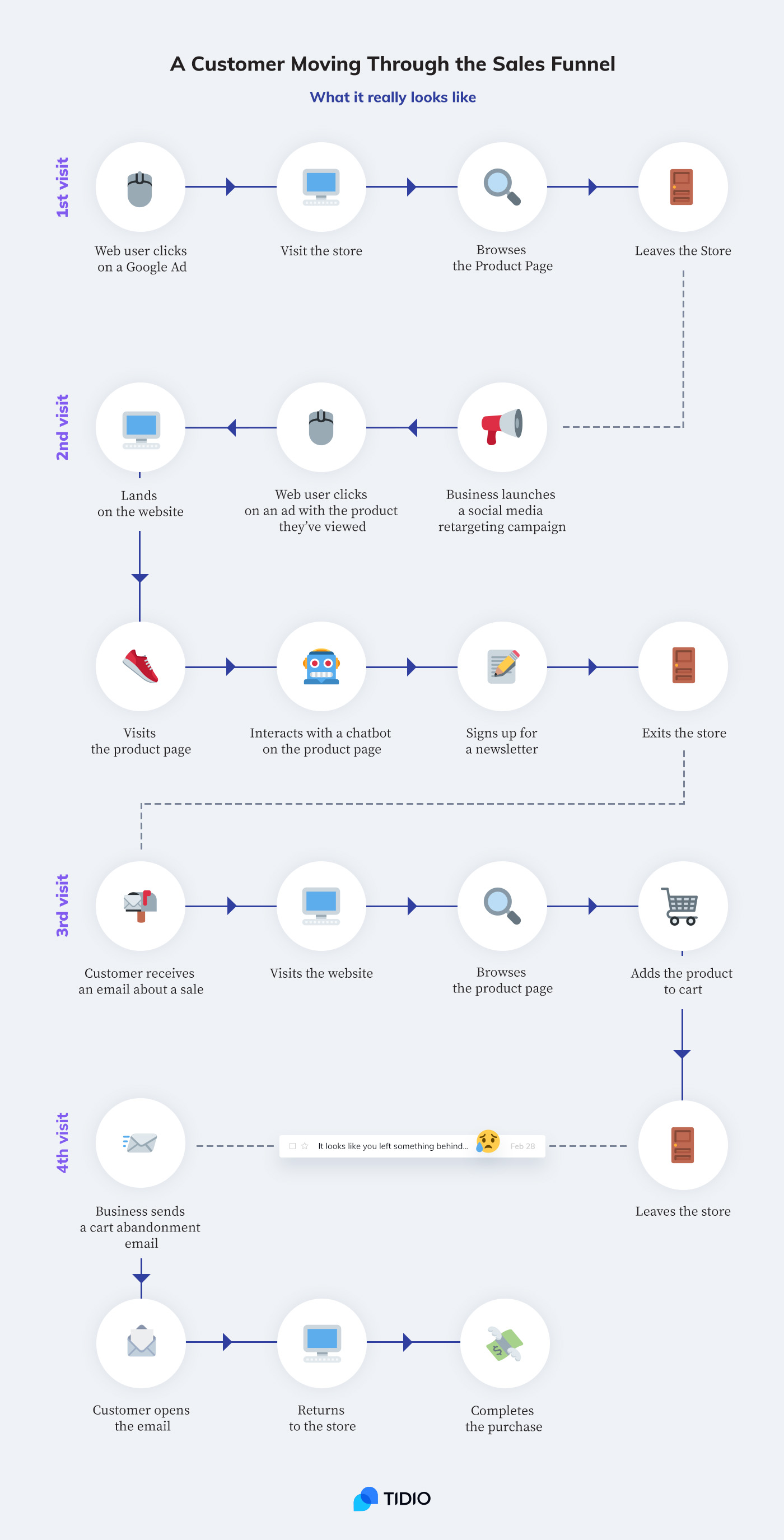 In this scenario, the customer leaves the store multiple times after browsing a few pages. The important point comes when a chatbot engages them and captures their email address.
With Tidio, you can see how many visitors you reached and monitor how many leads you generated.

The interaction between a chatbot and a customer can eventually lead to a sale. Once you are able to send email campaigns and abandoned cart emails, you'll immediately notice a positive change in your conversion rates.
With Tidio chatbots, you can send personalized email campaigns based on the browsing history of the customer. Here's how to create a chatbot that sends an email when a customer leaves the store without finishing the purchase.
One great way to start the conversation and capture their emails is to offer a discount for new customers.
Here's how Gaspari Nutrition, a sports nutrition seller, uses Tidio chatbot to collect visitor emails.
When the visitor clicks on "Yes," the response prompts the chatbot to ask them for the email address to send the promo code to.
Tip: There are many other chatbot welcome messages for lead generation that eCommerce businesses use to interact with visitors and convert them. Sign up here for a free account to see free eCommerce chatbot templates.
Dive Deeper:
4. CRO Idea #4: Use Live Chat to Engage Customers and Drive Sales
Let's continue to convince more customers to buy from you. Next stop: live chat.
This is one of the best ways to increase eCommerce conversion rate because 48% of online shoppers prefer live chat for contacting online companies to other communication methods.
However, only 14% of online companies have a live chat option on their website.
Only 6% of 1,000,000+ Shopify stores and 8% and 750,000 WooCommerce stores use a live chat widget (based on data from www.builtwith.com). Many businesses still don't take full advantage of this great opportunity to increase online store sales.
How to Increase eCommerce Conversion with Live Chat
Does live chat increase sales?
Yes.
According to the findings of our 2020 eCommerce survey, 76% of online businesses were able to increase their conversion rate after trying a live chat widget on their website.
Here are the most important ways how live chat increases eCommerce conversion.
Improve Customer Satisfaction
Customer satisfaction rate after using live chat is as high as 83%. There's a good reason for that:
By using a readily available live chat, your customers can contact businesses right away without switching to other communication channels (social media, email, etc.)
But having a live chat widget on your site isn't enough to keep customer experience on your website high. You need to respond to their queries as soon as possible.
To help customer support agents address the questions of visitors quickly, Tidio provides quick responses.
They are pre-made answers to the most common questions that live chat users can send to a customer without typing them every time.
For example, to avoid typing "Welcome to our store! How can I help you today?" multiple times throughout the day, you can do it once and save the message as a template.
To use this template to engage a visitor, simply type "/" and provide the few first words, e.g. "Welc."
This way, in just a few seconds, you can send welcome messages and respond to common requests of visitors.
Knowing the pages that a potential customer visited on your site also helps with providing better assistance and making personalized offers.
In Tidio, for example, you can view the list of the pages visited by a potential customer in the conversation panel.

Knowing the pages viewed by the customer helps with understanding their requests and following the conversation better.
If a customer contacts your support via live chat with a question where they don't mention any specifics, you still can resolve their request.
Customer: I like this item, but can I choose a different color?
Support Agent: Yes! There is a button for changing colors next to the product photo.
Customer: Great, I see it now! Thanks!

Drive Upsells and Cross-Sells
Live chat creates new opportunities for upselling and cross-selling by initiating more conversations with website visitors.
Let's consider this example.
A visitor is interested in an item at your store, but they'd like to know if there's a chance they can get it in a different color. They use the live chat button to ask the support agents about it.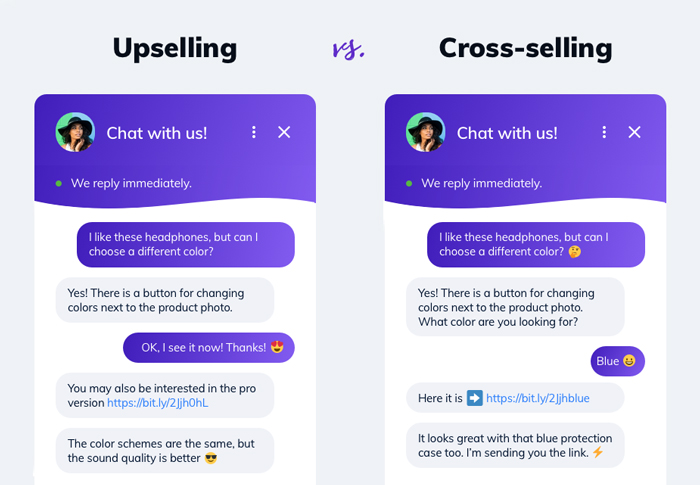 The customer likes the other version better and eventually decides to buy it. The skill of identifying and acting upon upsell and cross-sell opportunities plays the deciding role in increasing eCommerce conversions.
Provide Proactive Customer Support
Not every visitor who has a question will reach out to you for answers because there are many other stores to check out.
With live chat, you can make that first move and engage potential customers before they leave. By doing so, you can catch and resolve questions and issues before they escalate.
As a result, you can improve customer satisfaction and prevent many of them from leaving your store for competitors.
Tidio live chat adds another feature to help customer support communicate with customers even more proactively: Live typing.
It lets customer support agents see what people are typing in real-time, so they can start working on resolving their queries even faster.
Tidio live chat software is very easy to install and you can start using it without any previous experience. After setting it up on your website, you can use templates to communicate with customers right away. And it's free.
Try Tidio
Collect Customer Feedback
Live chat is an easy and quick way to collect customer feedback. Every session is an opportunity to learn more about their preferences, needs, and goals, which is incredibly valuable for you.
You can ask your visitors and customers about the overall website experience, the effectiveness of customer support, anything that might be useful for you to win their trust and loyalty.
Dive deeper:
5. CRO Idea #5: Give Discounts and Create a Sense of Urgency
With this hack, you can show your customers that buying from your eCommerce store will save them money and get a great product while it's still available.
Giving discounts and creating a sense of urgency are common ways to grow eCommerce conversion rate, so let's see how you can apply them.
Let's begin with discounts.
Offer Discounts
They are a must for increasing eCommerce sales fast because (source):
Over 64% of online shoppers admit waiting to buy products until they go for sale
59% search for promo codes before buying
62% of female shoppers and 57% of male shoppers say they "pay attention" to discounts and promotions.
There are three popular ways to give discounts to customers in eCommerce: pop-up windows, emails, and chatbots.
First, pop-ups. Even though they have a high view rate, there are some important risks involved:
They undermine the image of a confident, professional, and credible website
They are interfering with the customer's website experience
70% of Americans say pop-ups annoy them.
That's why we recommend giving discounts with chatbots and emails.
Unlike a pop-up window, a chatbot is non-intrusive and can be set up to engage with a customer at multiple touchpoints.
One of them is the homepage.
When a customer visits the homepage of an eCommerce store, a chatbot can welcome them by a message like this one below (courtesy of Luxe Bouquet, Tidio bot).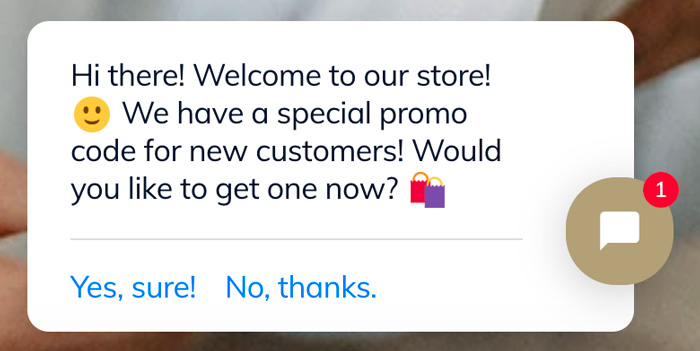 According to our data, chatbots generate 73% more leads than regular live chat conversations. The discount bot is the most popular of them.
The message appears at the right bottom of the screen (the placement of Tidio chatbots is configurable, however), so it doesn't interfere with the visitor's experience.
If it's a repeat customer who visits the store, a chatbot could be set to receive a personalized greeting. It is a great way to improve their experience and increase sales.
Giving away discounts should be a carefully planned strategy: you don't want to provide them too frequently to lose that extra revenue.
Here are some ideas:
Give coupons that work when the shopping cart value reaches a certain value, e.g. $50
Volume-based discounts/free shipping. If a customer buys 2 products or the exceeds the order value of $50, they can get 15% off or free shipping
Limited-time sales. Encourage buying specific items before the price increases, e.g. "20% off this product for the next 24 hours, using this promo code."
Let your visitors know about these discount opportunities with a chatbot to get more orders.
Induce a Sense of Urgency
No matter what your eCommerce store sells, urgency can work well if combined with other promotional deals.
There are two types of urgency you should try to increase your sales: quantity-based and time-based.
You can create both types in two ways: with email marketing and website messaging.
First, you can send an email sequence to remind customers about time-based deals. For example, if you're having a 2-day sale, you can send one email announcing the start of the sale.
Here's an email from the NFL shop announcing the Spring Sale.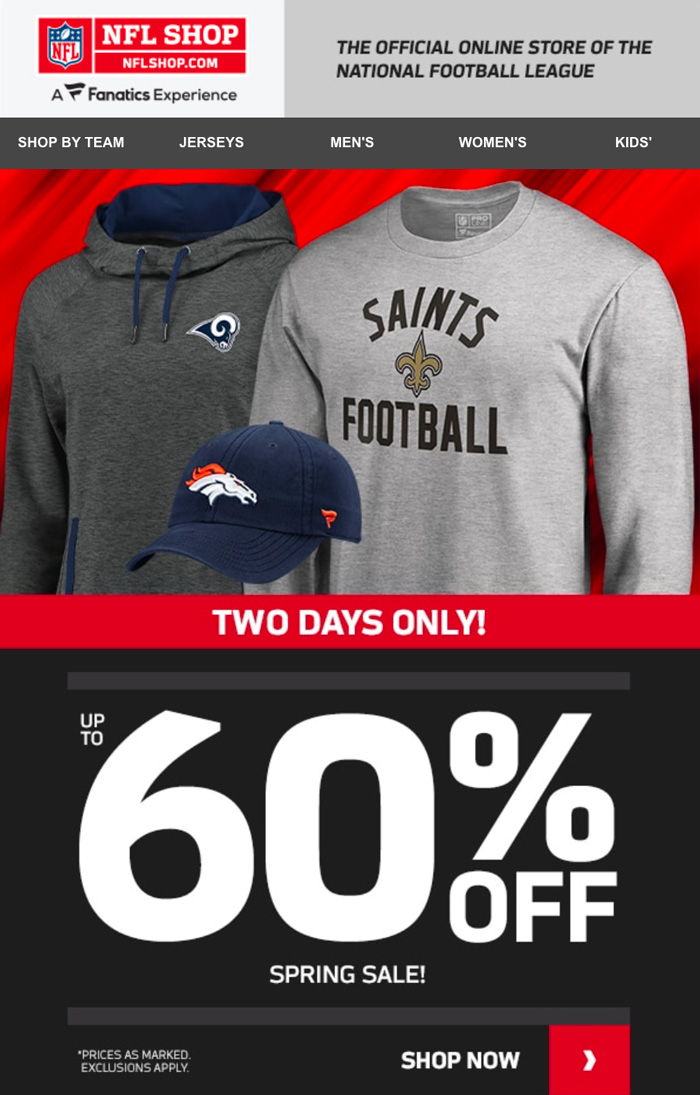 This email lets the recipient know that the sale lasts only 2 days, so they have to hurry to take advantage of lower prices.
The second email in the sequence arrives on the day the sale ends, letting the buyer know that they're close to missing on a great opportunity to save.
Here's the second email from the NFL Shop, announcing that the 2-day sale ends at midnight.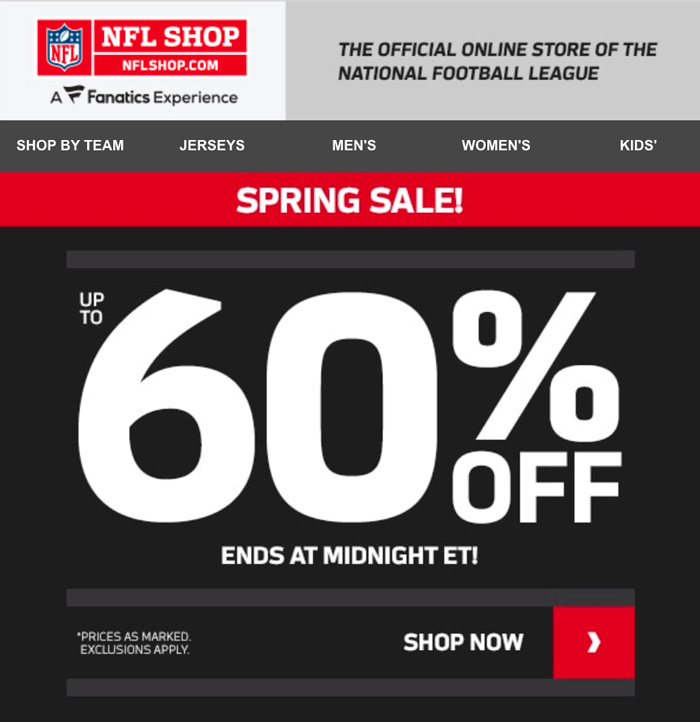 By sending these emails, you can keep your subscribers aware of sales and other special deals so they have a good reason to visit your website.
Next, website messaging to create a sense of urgency. By using them on home pages, product pages, etc. or sharing the news via chatbots, you can raise awareness of both time-based and quantity-based sales.
Here are the types of messages you should consider:
"Order now and get it by." Encourage customers to buy quickly to get the advantage of a fast delivery
A short-time sale, e.g. "10% off products in the Home category, valid for the next two hours!"
"Only X left in stock." You can list how many products you've got left on product pages to entice people to act
Using these website messages is a good idea to place your website in a better position to increase eCommerce conversion rate.
Dive deeper:
6. CRO Idea #6: Rescue Abandoned Shopping Carts
Abandoned shopping carts are a major problem in eCommerce. According to studies, nearly three-quarters of online shoppers leave their shopping carts, depriving online stores of millions of dollars in revenues.
Unfortunately, you can't prevent people from leaving products in shopping carts and leaving your store, but you should definitely try to get them back.
Often, eCommerce businesses limit the cart recovery effort by applying only one strategy. Most of the time, it's the automatic emails sent to customers after they've left the store without buying anything.
To give you the best chance to increase customer conversion rate by recovering more abandoned carts, we're going to use not one, but three strategies.
Use a Real-Time, Exit Intent Chatbot
The goal here is to catch a visitor as they start moving the mouse up the page towards the Close button (indicating that they're about to leave the website).
You can set up a chatbot to give a message to the visitor at this very moment:
"Hey, would you like to save your shopping cart before you leave?"
This exit intent message can only be triggered once, so it won't annoy the visitor like pop-ups.
Display Cart Reminder Message during the Next Customer Visit with a Chatbot
Even if the customer sees the exit intent chatbot message and still leaves the store without finishing the purchase, you can remind them the next time they return.
When they do, you can remind them about the product in the cart with another non-intrusive chatbot message like this one.
"Hey, nice to see you again. You've left some products in your cart, would you like to take a look at them?"
You can also try to add some sense of urgency to this message. This works in case the customer has used a discount or you're running low on the product they have in the cart.
Here's how you can address them with a chatbot:
"Your promo code expires today at 11 pm. Finish your purchase to save."
Or
"We're running low on one of the products you still have in your cart. Would you like to buy it while it's still available?"
The messages give you more opportunities to interact with the customer and encourage them to complete the purchase.
Send Abandoned Cart Emails
Email campaigns are a common technique to recover abandoned carts in eCommerce. They're especially useful when customers don't return to the site after placing a product in a cart.
Online stores typically send them multiple times to remind customers about the products and encourage them to return (often, with perks like discounts).
Since it's a direct way to reach the customer and a perfect opportunity to personalize offers, you should try it to increase online sales conversions.
Okay, so here's the recipe for a great abandoned cart email:
An enticing subject line. Make it an attention-grabber to increase the chance that the customer opens the email (check out this ultimate guide to writing the best subject lines for abandoned cart emails)
A high-quality image of the product with a concise message describing the purpose of the email
Upsell and cross-sell opportunities where appropriate. Around 80% of customers find product recommendations in shopping cart recover emails useful (Source: Uplers)
A straightforward CTA button that takes the customer directly to the shopping cart
Send multiple emails (first: within an hour after cart abandonment; second: in a couple of days; third: a few days after the abandonment)
Optional: discount or free shipping offer to entice the customer to take the offer (typically reserved for the second or third email).
Here's an example for you. This abandoned cart recovery email from Nike shows the product first, then tries some upsell and cross-sell opportunities, and has a nice contrasting CTA button.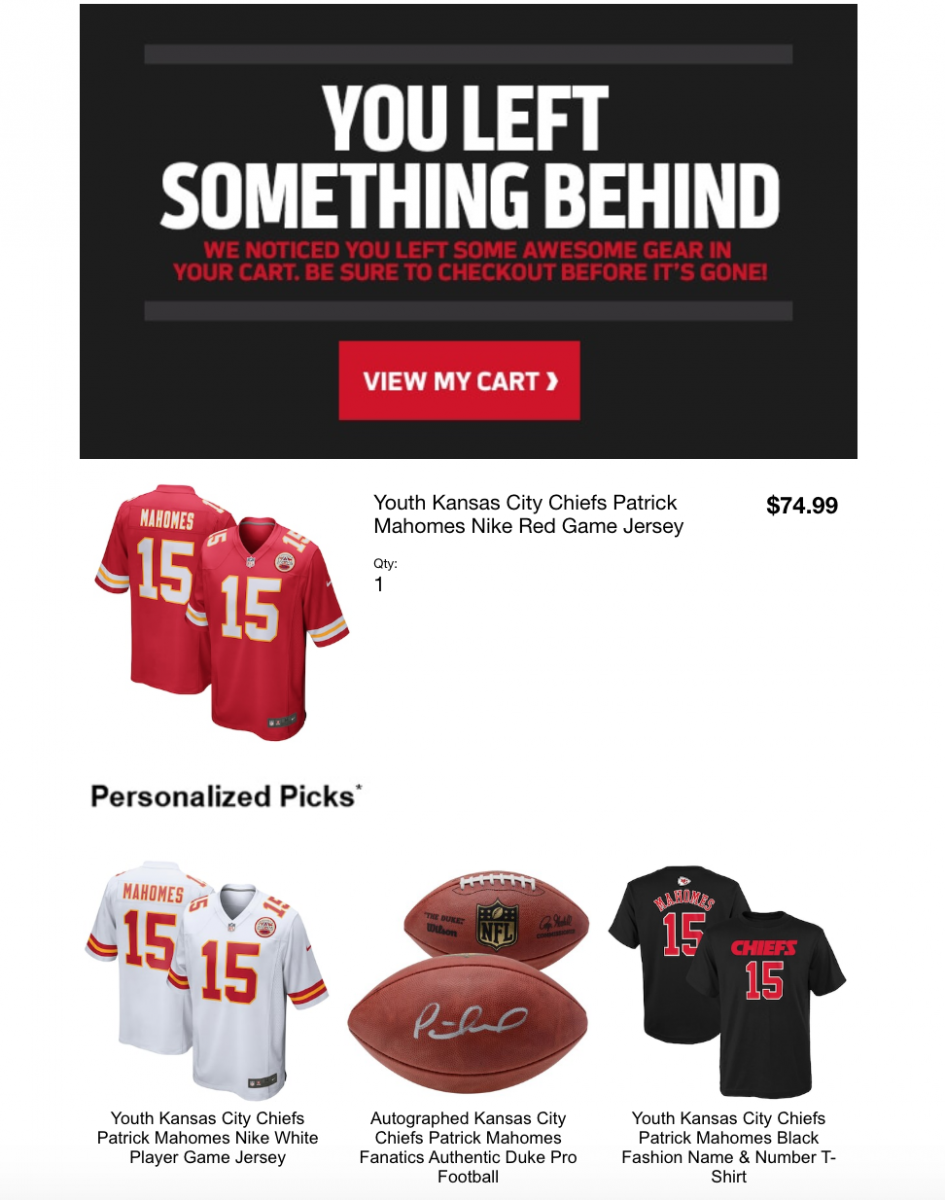 According to reports, automated eCommerce cart recovery emails like this generate $5.81 in revenues per recipient on average. Depending on the number of abandoned carts and sizes of orders, this value could be much higher for your business.
Dive deeper:
7. CRO Idea #7: Let Customers Finalize Transactions Without Creating an Account (As Guests) and Optimize Your Checkout Process
A complicated checkout process – including a mandatory account creation – puts off 54% of eCommerce customers, says this Baymard Institute survey.
According to customers, it's the biggest problem they face when buying online. For you as an eCommerce business, it means that you might be losing a share of the customers who have agreed to buy and went all the way to the checkout page.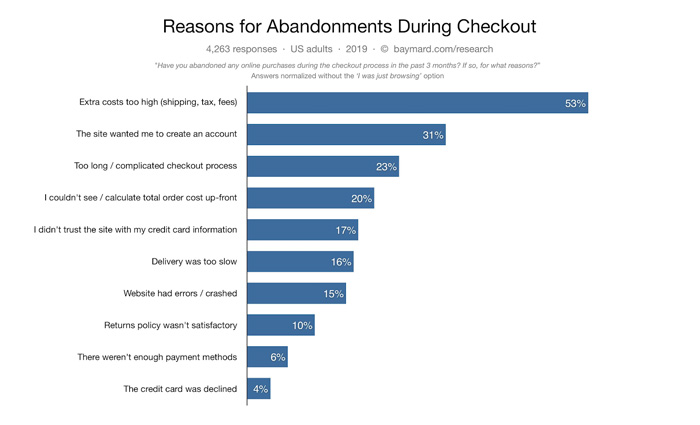 To start recovering those customers and increasing your eCommerce rate, you need to simplify your checkout process.
To do it right:
introduce guest checkout
let customers know about all order-related costs beforehand
provide multiple shipping options
add more payment methods
allow logging in with social media.
Introduce Guest Checkout
According to the above-mentioned Baymard survey, 31% of online shoppers choose to leave an online store because of the mandatory requirement to create an account.
To make it easy for these people to shop, you need to have a guest checkout. It's an option to buy that doesn't require being logged in and saving information like usernames and passwords.
For consumers, it has one simple yet powerful benefit: it takes less time.
To give your own store visitors this option, add a guest checkout option so they can buy faster.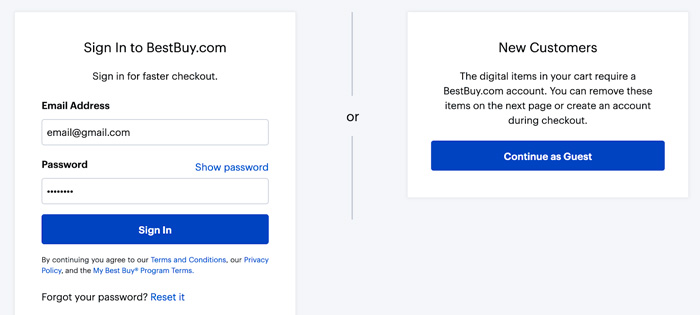 Having such an option removes this barrier to increasing eCommerce rate and retains more customers.
List all Order-Related Costs on the Product Page
Now, high unexpected costs are the number one reason why people leave eCommerce checkout. For them, it's a major source of frustration.
Show all costs that go into the customer's order on the product page because 64% of online shoppers look for them there before deciding whether to buy. This ensures that they know them before they reach the checkout page.
This form on the product page lists two other costs that make the final order price: shipping and taxes.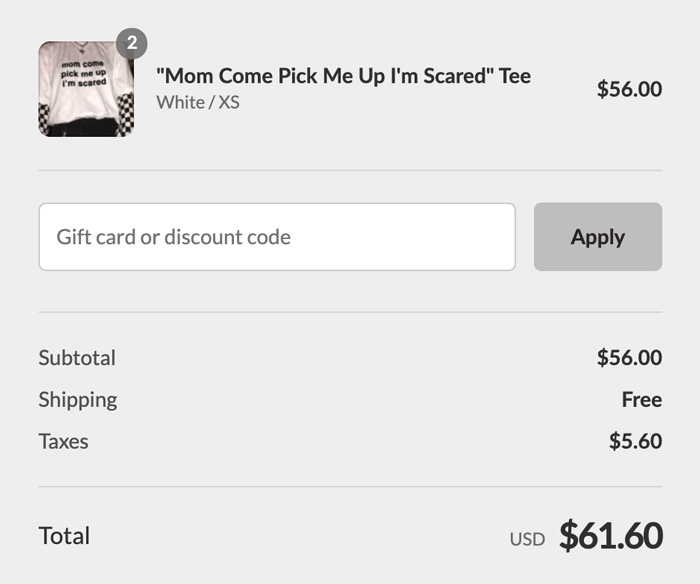 To avoid making your customers wait until the start of the checkout process to see the real cost of their order, display it on the product page.
Provide Multiple Shipping Options
The main goal here is to help customers reduce the total cost of their order. Some customers don't really mind a bit of a wait because they want the cheapest option available.
That's why your eCommerce store should have multiple shipping options ready for customers.

This form, for example, provides two options for shopping and even allows choosing "A Later Date" to reduce the cost even further.
By doing so, they're driving the focus away from the price and evoke the feeling of being in charge of delivery dates.
Others like their shipping free, even if the price of the product is slightly higher. You can use this psychological trick to your advantage.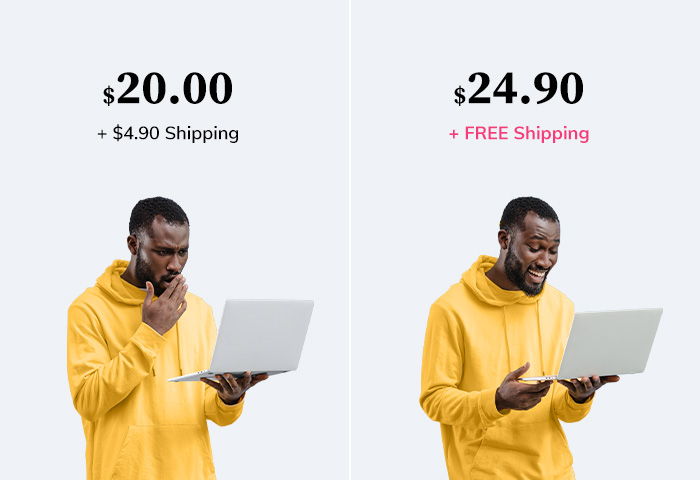 Add More Payment Methods
Limited payment methods are another limit that might be preventing you from increasing your customer conversion rate.
Accepting more payment methods makes tons of sense for increasing sales, so make sure to explore more options to include in your eCommerce store.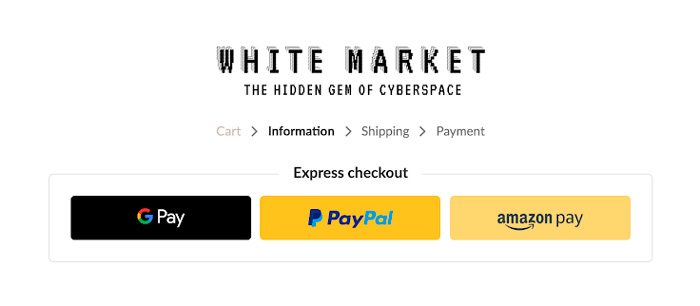 Here are more options to add in addition to the traditional ones like credit cards:
Amazon Pay
Stripe
Google Pay
PayPal
Apple Pay
American Express
2Checkout.
As you can see, you have many options, and making as many of them available to your customers as possible can make a difference for your sales.
Introduce One-Click Login with Social Media Accounts
Another solution for a faster checkout, social login allows customers to create eCommerce accounts using their social media profiles.
It's simple, fast, and requires only one or two clicks from the customer.
Here's a great example from MeUndies.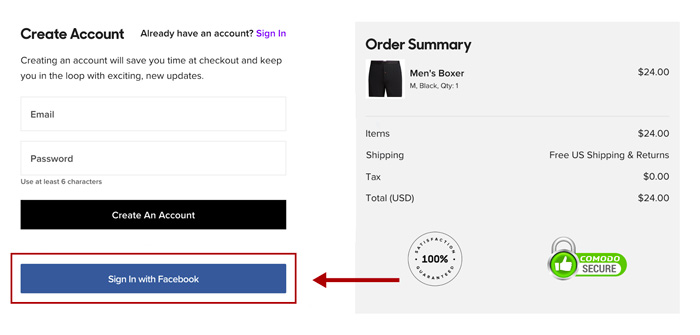 When a customer clicks on Sign In with Facebook button, they launch the social login feature that requires only one click to complete the process and return to the checkout page.
How to Increase Online Sales Conversion Rate: Key Takeaways
We made it.
As you can see, there are many reasons why your conversion rate is low. A more important thing is that you know how to improve it.
Now that you know the best ways to increase eCommerce conversion rates, the only thing left is to give one final checklist of action points so you know when you're ready to start making a difference.
Go through this list and make sure to understand what you need to increase eCommerce conversion rate:
I know where to focus my effort to optimize my sales funnel
I know how to attract high-quality leads with targeted ads
I know how to collect customer data and track my visitors with chatbots
I know how to generate leads with chatbots and email marketing campaigns
I know how to use live chat to engage my store visitors and make sales
I know how to convince customers to buy from you with discounts, time-based, and quantity-based deals
I know how to recover abandoned shopping carts with chatbots and email campaigns
I know how to simplify the checkout process and make it easier for my customers to buy
Hopefully, these tips will help you to increase both traffic and conversions on your eCommerce website.
If you'd like to know more about how to grow your eCommerce company, be sure to take a look at Business Growth guides at Tidio Blog.