If you have a store on Shopify, you have already made an excellent choice. The whole world stands before you and the possibilities are endless. There are over 6,000 Shopify apps you can install today.
But—
Doesn't it feel like too much of a good thing?
What is your next step? How do you want to expand your store and what techniques will you use to increase sales?
…
Am I hearing crickets?
Don't worry. We have compiled a curated list of the very best Shopify apps for you.
In this article:
What is a Shopify app?
Free Shopify apps to improve your online store
Best alternatives to popular apps developed by Shopify
Extra tips related to popular Shopify plugins
If you are looking for something more specific, you can also check out:
Now—
What is the best marketing app for Shopify? Which one can improve your customer service?
Let's cut to the chase and find out.
Here are the best and most popular Shopify apps:
When choosing our must-have Shopify apps, we were guided by factors such as user ratings and the number of installations. Here are the most popular and best rated plugins according to the official Shopify app store and third-party services such as Capterra and G2.
Read on to find out why we picked these Shopify store apps above over other solutions.
1. Tidio—Live Chat & Chatbots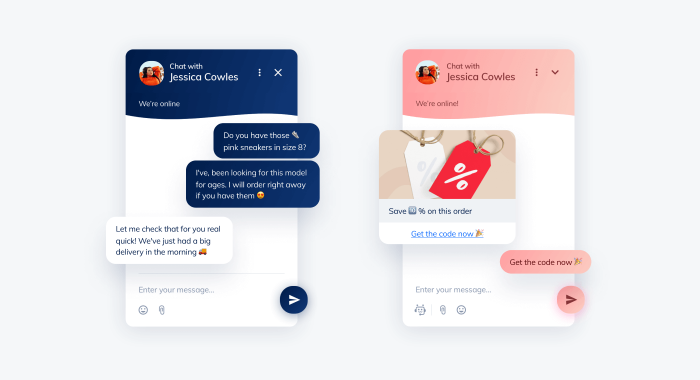 Rating: ⭐ 4.8 (Shopify App Store) / ⭐ 4.8 (G2 reviews) / ⭐ 4.8 (Capterra reviews)
We can't really brag about ourselves, can we? But we can mention some interesting numbers. Tidio happens to be the most popular live chat app for Shopify. In 2021 the widget was added to 170,000+ Shopify stores. Some of our users claim that Tidio is the ultimate customer service and marketing automation solution for ecommerce.
No list of the best free apps for Shopify can be complete without Tidio. You can use it for real-time conversations with your website visitors, lead generation, rescuing abandoned shopping carts, and much more.
Main features:
Visitor notifications and monitoring
Automatic messages and canned responses
AI chatbots with intent recognition
Lead generation and cart abandonment templates
Advanced free chatbot builder
Connects with popular CRM solutions
Facebook Messenger/Instagram integration
Mobile app push notifications for agents
Pricing plans:
Forever free plan: Unlimited conversations and chat history
Starter plan: Premium features and additional agent seats starting from $19 per month
Chatbots plan available for $49 a month
2. Omnisend – Email & SMS Marketing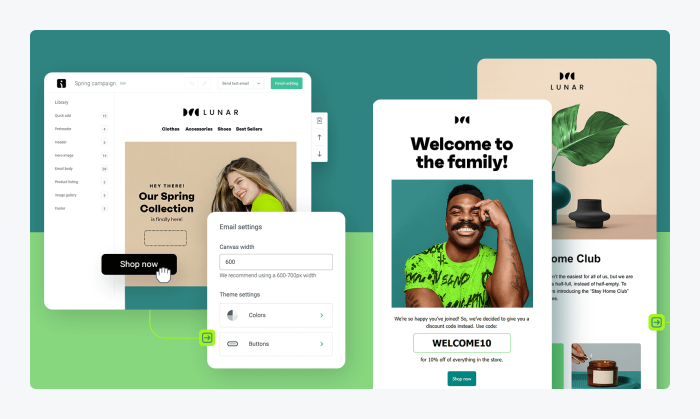 Rating: ⭐️ 4.7 (Shopify Apps Store) / ⭐️ 4.6 (G2 reviews) / ⭐️ 4.7 (Capterra reviews)
Omnisend is an email & SMS marketing automation platform that's dedicated to helping ecommerce stores build customer loyalty and generate sales. It offers features that are focused on getting more sales. This Shopify app also helps stores build brand loyalty through automation, segmentation, and personalization using email, SMS and push notifications.
Main features:
Library of ready-made email and form templates
Pre-built segment rules and automation workflows
Variety of integrations including Shopify, BigCommerce, and WooCommerce
A/B testing for email content and workflow splits
Customer support available 24/7
Automatic branding pulled from your store into emails
Pricing plans:
Omnisend is free for up to 250 contacts and 500 monthly emails
The Standard paid plan starts from $16 per month
The Pro plan starts at $
3. Growave – Loyalty & Wishlist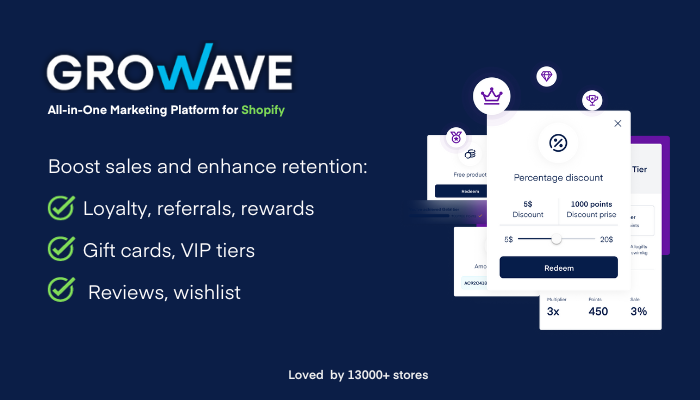 Rating: ⭐️ 4.8 (Shopify App Store) / ⭐️ 4.5 (G2 reviews) / ⭐️ 4.9 (Capterra reviews)
Growave is an all-in-one marketing solution for Shopify. It combines loyalty, referrals, rewards, gift cards, VIP tiers, reviews, and wishlists in a single app. This platform is built exclusively for Shopify, and all the features work seamlessly together to effectively grow your business. On top of that, you can connect your social media and let customers shop directly via the post.
Main features:
Loyalty programs, VIP tiers, and rewards to boost repeat purchases
Implemented wishlists and email triggers including on sale and back in stock
Referral programs to acquire more customers organically
Easy-to-use app with a single dashboard, no coding required
Multi-language for cross-border selling24/7 world-class email and phone support
Real-time analytics and reports dashboards
Pricing plans:
Free Plan Available
Medium plan: $49/month, up to 500 monthly orders
Growth plan: $149/month, up to 1000 monthly orders
Premium plan: $349/month, up to 3000 monthly orders
4. Privy – Pop Ups, Email, & SMS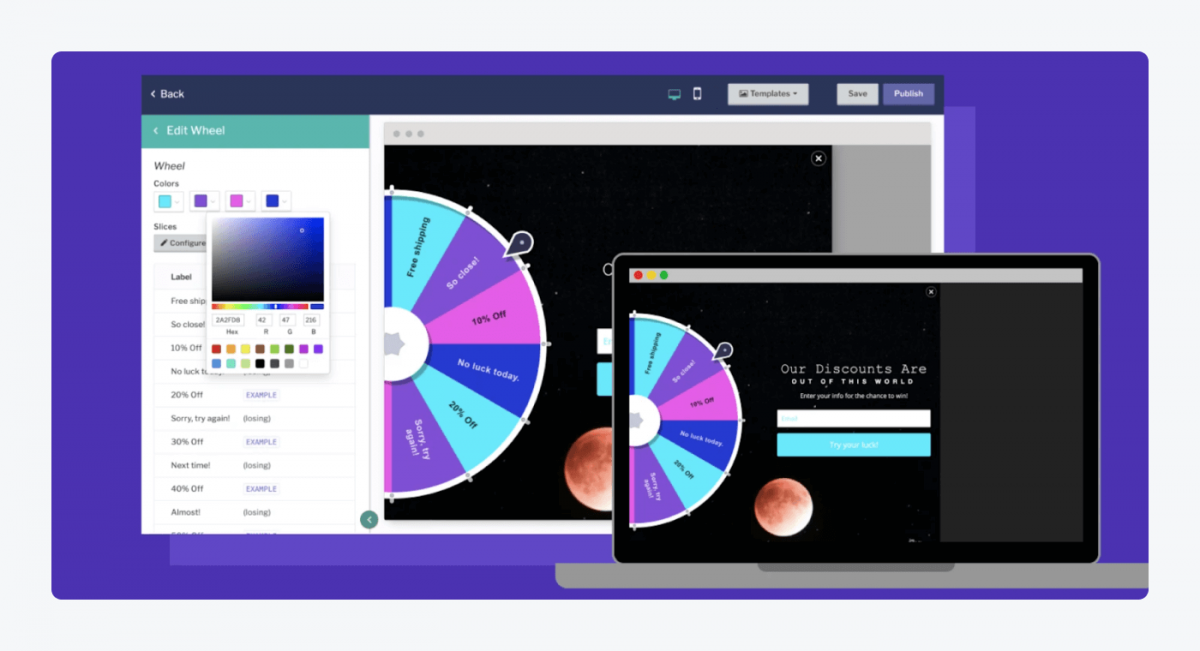 Rating: ⭐ 4.6 (Shopify Apps Store) / ⭐ 4.5 (G2 reviews) / ⭐ 4.5 (Capterra reviews)
Privy is one of the best Shopify apps for marketing. It offers a set of cool tools that can significantly improve your conversion rates. You can add spin-to-win wheels, banners, and exit-intent signup pop ups to collect contact information.
Once you create your own customer database, you can reach your clients with marketing emails and text messages. The second option works like a charm and is extremely effective! SMS open rates happen to be almost 5 times higher than average email open rates.
Main features:
Customizable pop ups, banners, and wheels
Good email marketing templates for different situations
A/B tests and conversion optimization tools
Abandoned cart email workflows for ecommerce businesses
Advanced customer segmentation options
Checkout pop ups for cross-selling and upselling
Pricing plans:
Free plan for up to 100 contacts
Bigger email lists and cart recovery starting at $15 for 1,000 contacts
Other plans available
5. Judge.me—Product Reviews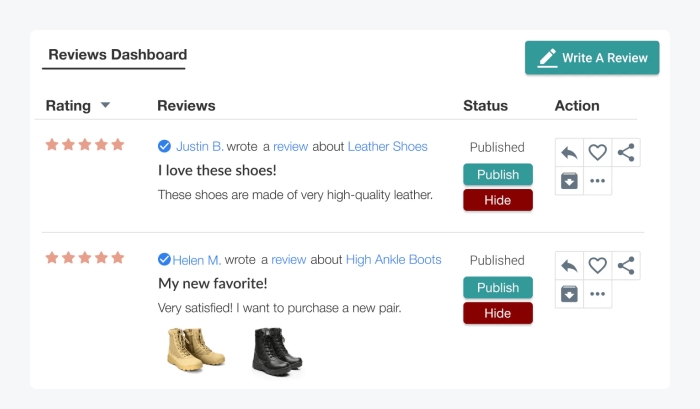 Rating: ⭐ 5.0 (Shopify App Store) / ⭐ N/A (G2 reviews) / ⭐ 5.0 (Capterra reviews)
Judge.me is among the most popular Shopify apps in the customer reviews category. It is the best alternative to Product Reviews, the official review app developed by Shopify.
Why would you get Judge.me if Product Reviews are the most frequently installed solution? It becomes clear, once you compare the ratings of both apps. Judge.me managed to beat Shopify at their own game (in a similar way that Tidio is a more popular plugin than Shopify Inbox).
Main features:
Free product page reviews with photos and videos
Optimized for search engine featured snippets
Sharing reviews on social media such as Facebook
Review pages, floating tabs, and review carousels
Coupons and other tools for incentivized review campaigns
Integration with PushOwl for push notifications
Pricing plans:
Forever free plan: Unlimited product reviews and review management available in the free plan
Awesome plan: Site reviews, custom forms, and coupons start at $15 per month
Business owners install all kinds of apps to their Shopify landing page to increase sales. But in ecommerce, you boost your revenue by primarily improving your reputation. Adding customer reviews next to your products is one of the best ways to build trust. About 87% of online shoppers read product reviews and make their decisions based on them.
6. PageFly—Landing Page Builder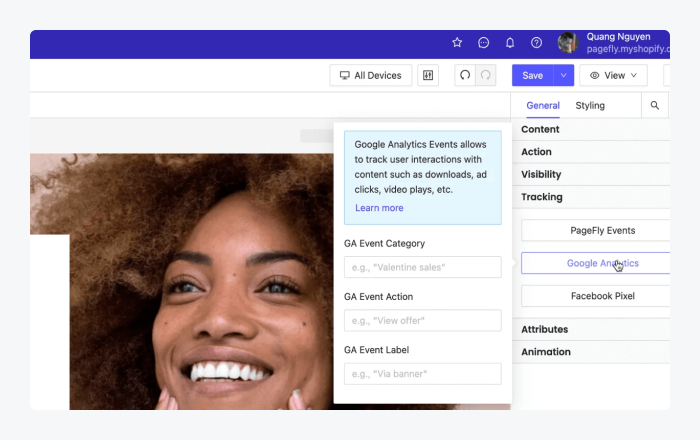 Rating: ⭐ 4.9 (Shopify App Store) / ⭐ N/A (G2 reviews) / ⭐ N/A (Capterra)
Sometimes, every store owner has a need that goes beyond the standard functionalities offered by their ecommerce platform. PageFly Landing Page Builder is one of those Shopify apps that do exactly what it says on the box. You can use it to build custom landing pages with some interesting features such as countdown timers or personalized free shipping bars.
Main features:
Sales and product landing page templates
Interactive content display elements such as slideshows
Landing pages for Facebook Ads and other paid marketing campaigns
Back in stock, low-in-stock, and coming soon pages
FAQ pages for better customer support
Pricing plans:
Free plan with a limit of 1 page per page type
You can increase the limits with Silver, Gold, and Platinum pricing plans, starting at $19 per month
7. Smile—Rewards & Loyalty
Rating: ⭐ 4.8 (Shopify App Store) / ⭐ 3.9 (G2 reviews) / ⭐ N/A (Capterra)
Smile will help you build a loyalty program for your customers. With this Shopify app, you'll be able to use pop ups and other tools to encourage your customers to grab offers and earn points. According to Built With reports on popular apps Shopify-based websites use, Smile is one of the most-installed software when it comes to the top 1 million pages on the Internet.
Incentives for loyal customers are an effective strategy to increase conversions, average order value, and customer retention. If you want to have more repeat sales, you should take Smile into consideration.
Main features:
Setting up custom rewards for actions such as placing orders
Ready-made abandoned car flows with point reminders
Customers can redeem their reward points at the checkout
Customizable reward panels and buttons that match your Shopify store
One-click integrations with Loox, Mailchimp, Judge.me, and many more
Extra referral program and social proof features
Pricing plans:
Forever free plan: Comes with default emails and basic analytics
Starter plan: Costs $49 a month and gives you more flexibility
Growth plan: On-site pop ups and time-limited points for $199/month
Pro: For $599 per month you get access to VIP programs and additional features for Shopify Plus
8. Printful—Print on Demand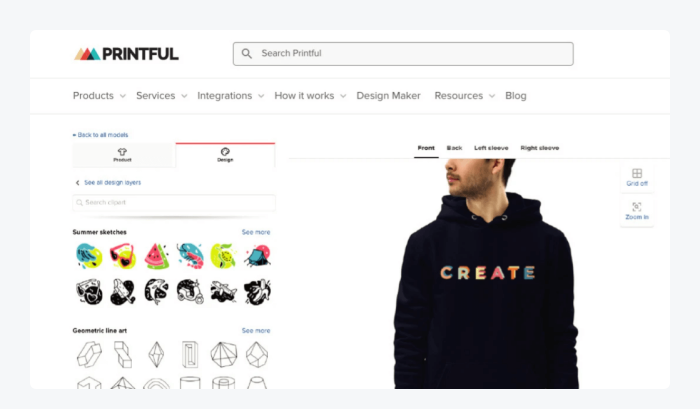 Rating: ⭐ 4.4 (Shopify App Store) / ⭐ 4.0 (G2 reviews) / ⭐ 4.6 (Capterra reviews)
Have you ever thought about starting an online boutique? It may come as a surprise, but you can sell good quality clothing with custom designs without stocking them or dealing with the printing process.
Printful is one of the best Shopify apps that allow you to add a whole range of products that will be prepared once someone has bought them. It is a great solution!
Main features:
No upfront or hidden costs—you pay a fee only when customers order something
A wide selection of premium products you can print your designs on
User-friendly tools for mockups, visualizations, and product packaging designs
Warehousing, shipping, and fulfillment taken care of by Printful
Connects directly with your Shopify store with no additional apps needed
It integrates with eBay, Etsy, or Amazon
Pricing plans:
Printful is completely free to use and there are no subscription fees. You only pay for what you sell.
Even if clothing or gadgets aren't your core product line, Printful can help your business. You can use their print-on-demand service to sell your brand merch, such as t-shirts or mugs. Check out some good logo design examples that would look great on merchandise.
9. Oberlo—Shopify App for Dropshipping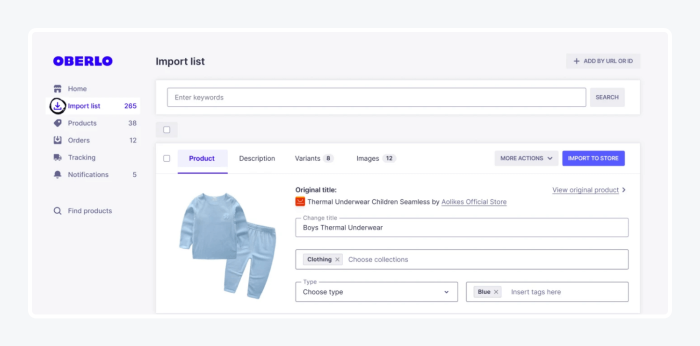 Rating: ⭐ 4.3 (Shopify App Store) / ⭐ 4.4 (G2 reviews) / ⭐ 4.7 (Capterra reviews)
Oberlo, right next to Printful, is the second of the must have apps for Shopify dropshipping. The idea is very simple. This plugin allows you to add selected products from AliExpress inventory to your store on Shopify.
You can import products from any category. The packages will reach your customers in packages with your own branding. It is an extremely easy way to start earning money when you are running your store on a shoestring budget.
Main features:
Tracking orders in real time
Automatic price and inventory updates
Customizable titles, photos, and product descriptions
Item recommendations based on trending products to sell
Chrome extension for adding AliExpress items with several clicks
Bulk order and fulfilling automations
Pricing plans:
The free plan has a limit of 500 products
If you need more and get some additional features such as the shipment tracking and CAPTCHA solver, go with the Boss Plan ($29 per month)
10. ReferralCandy—Launch a Referral Program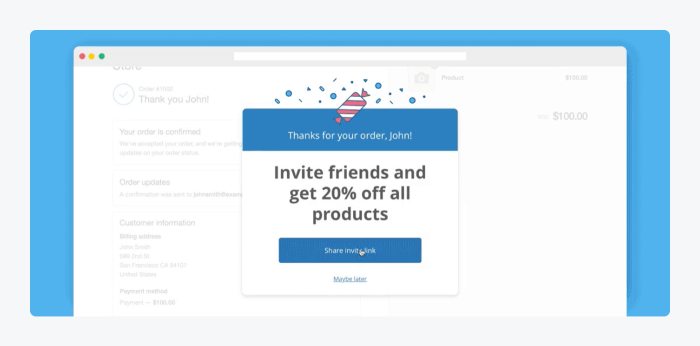 Rating: ⭐ 4.8 (Shopify App Store) / ⭐ 4.3 (G2 reviews) / ⭐ 4.5 (Capterra reviews)
ReferralCandy is everything you need to get your own referral program up and running. Instead of diversifying your sales channels, you can give better incentives to your existing customers and make them bring their friends.
It is among the very best Shopify marketing apps. With Referral Candy you can set up different types of rewards and make the referral link generation process fast and easy. It is like stealing candy from a baby.
Main features:
Emails and post-purchase pop ups to enroll existing customers
Branded customer experience with custom landing pages
Multi-language versions of your referral marketing campaigns
Automatic detection of suspicious activities with (Fraud Center)
Integrates with other Shopify marketing apps and Google Analytics
Pricing plans:
There is no free plan available, but you can try this solution for 30 days free of charge
ReferralCandy costs $49 per month and there are small commissions on successful sales
Read more: Learn how you can benefit from using partner referrals.
11. Klaviyo—Email Marketing & SMS
Rating: ⭐ 4.2 (Shopify App Store) / ⭐ 4.6 (G2 reviews) / ⭐ 4.7 (Capterra reviews)
Klaviyo is the king of Shopify email marketing apps. It comes with a variety of out-of-the box email automations and offers some of the best tools for ecommerce. Over 265,000 stores worldwide use Klaviyo as their primary solution for retargeting and email campaigns.
Main features:
Pre-built forms and 175+ email templates
Email template designer and tools for personalization
Automations crafted for Shopify ecommerce
Integrates with Aftership, Facebook, Zendesk, and other apps
Marketing analytics with essential customer success metrics
Dynamic forms and A/B testing
Pricing plans:
Klaviyo is free for up to 250 contacts
The premium paid plans start at $20 per month
Additional SMS features will cost you $5 per month
If you don't want to install more apps than necessary, there is an alternative to Klaviyo. Read more here: How to Get the Most Out of the Tidio Mailing Editor
12. AVADA SEO—Image Optimizer
Rating: ⭐ 4.9 (Shopify App Store) / ⭐ N/A (G2 reviews) / ⭐ N/A (Capterra)
Organic online visibility is extremely important. No matter what you sell, your store should be optimized for search engines and Google Shopping.
One of the easiest things you can do is install a Shopify app that will reduce the size of your photos without losing quality. Faster page loading means better customer experience and better rankings.
Main features:
Free Image optimization for up to 50 products per month
Automatic optimization of your meta tags and rules
Alt-text management with no hard cap
SEO audit tools and issue analysis
Pricing plans:
Free: The free plan has a limit of 50 products
Pro: You can unlock unlimited image/alt optimization for $29/month
Shopify is a unique ecosystem of its own. You shouldn't be discouraged if an app is not very popular outside of the Shopify community. It is perfectly normal that some of the applications featured in our article work exclusively as Shopify add-ons.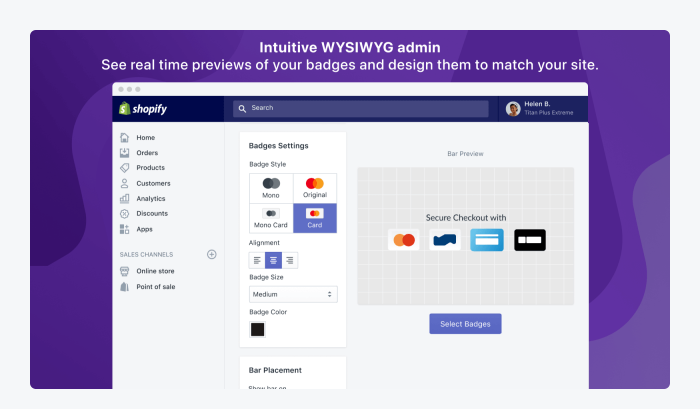 Rating: ⭐ 5.0 (Shopify App Store) / ⭐ N/A (G2 reviews) /⭐ N/A (Capterra)
Some time ago, we conducted our own survey and asked respondents what makes websites trustworthy or not. The lack of multiple payment options and recognizable trust seals were mentioned time and time again.
Ultimate Trust Badges developed by Conversion Bear make your store less suspicious and more user-friendly. In our opinion, it is one of the best free Shopify apps, and it does exactly what it is meant to do.
Main features:
Hundreds of badges based on banks, credit card providers and currencies
Intuitive design settings that change the size and layout of your trust badges
Mobile-friendly and easy to place anywhere on your pages without coding
Pricing plans:
This app is completely free. It is one of those little cool shopify apps that are supposed to promote the companies that developed them.
14. Instafeed—Instagram Feed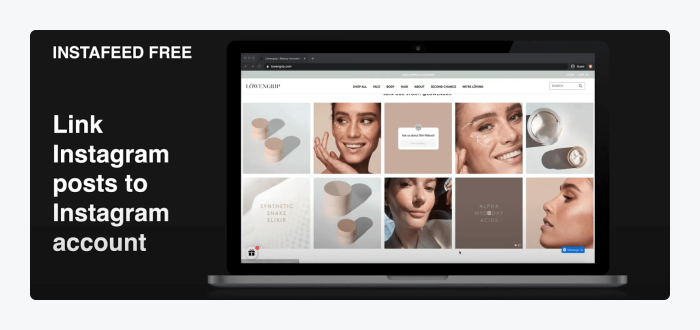 Rating: ⭐ 4.9 (Shopify App Store) / ⭐ N/A (G2 reviews) / ⭐ N/A (Capterra)
Instafeed by Mintt Studio is one of the coolest Shopify apps that let you use your social media for marketing and social proof. You can use it to place your Instagram feed anywhere on your website and adjust its layout.
Getting Instafeed is one of the easiest ways to make your store more alive and updated with real-time content. You can turn your Instagram account into a whole marketing platform.
Main features:
Compatible with all Shopify themes
Supports both image and video-based Instagram posts
Lightweight, customizable, and fully responsive
Grid or slider layout and multiple feeds
It can show the number of likes and comments
You can filter the content by hashtags
Pricing plans:
Free: The forever free plan offers limited customization options
Pro: More control over your feed for $4.99/month
Plus: Unlimited feeds and control by hashtags for $19.99/month
About 85% of online marketing experts believe that short-form videos were the most effective type of social media marketing in 2021. Embedding them on your website can be a game changer for your business.
15. Vajro—Mobile App Builder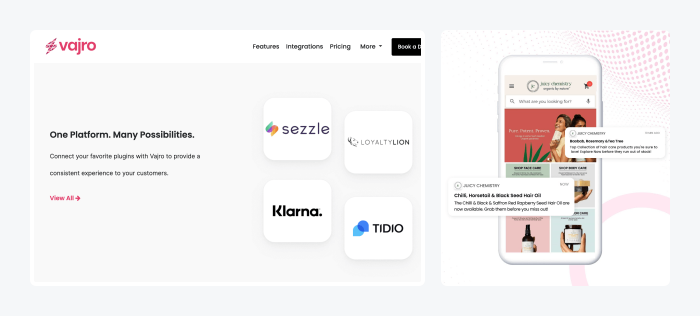 Rating: ⭐ 5.0 (Shopify App Store) / ⭐ N/A (G2 reviews) / ⭐ 4.8 (Capterra reviews)
If a store has its own app, it's a sign that they mean serious business. The cost of developing an ecommerce app alone is so high that only the biggest players in the industry can afford it.
Well, unless you use Vajro and convert your Shopify store into a ready-to-use app automatically. It sounds mind-blowing, it is mind-blowing: a Shopify store app that turns your Shopify store into an app. And lets you keep additional apps like Tidio still fully operational!
Main features:
No-coding app design tools
4 pre-built themes that you can customize
Push notifications triggered by customer behavior
Detailed reports on sales and marketing performance
Facebook Pages integration
Friendly support team
Pricing plans:
Free trial: There is a 60-day free trial and if configuring your app takes you longer than an hour, you get an extra month for free
Startup plan: Allows you to create a native iOS and Android app costs $99 per month
Growth plan: Unlimited push notifications, Google, and Facebook ad integration for $199 a month
Power premium plan: Multi-language, multi-currency, and premium integrations for $399/month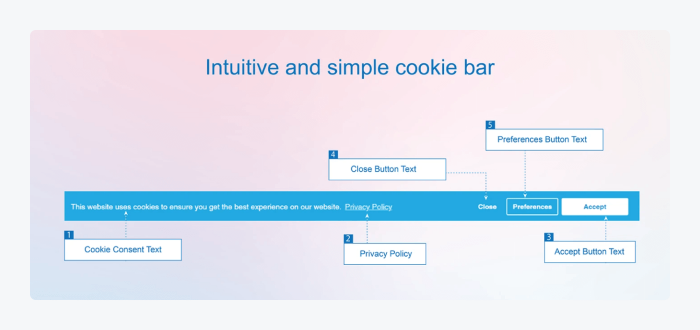 Rating: ⭐ 4.9 (Shopify App Store) / ⭐ N/A (G2 reviews) / ⭐ N/A (Capterra)
Nobody likes privacy policies, accepting cookies, and ticking off dozens of form fields. But in some countries this is strictly regulated and there is no way around it. Do you want to get things done quickly, painlessly, and create the least disruptive user experience for your customers?
Just use one of the apps available in the Shopify app store. GDPR/CCPA + Cookie Management by iSenseLabs is one of the best-rated and most installed options.
Main features:
Cookie consent bar with a link to your website's policy
Personalized bars for visitors from different countries
Trackable policy requests and acceptances
Managing GDPR/CCPA requests and customer information
Pricing plans:
The free version will work for up to 10,000 visitors per month
If you need to increase this number and get additional features, get one of the premium plans that start at $4.99/month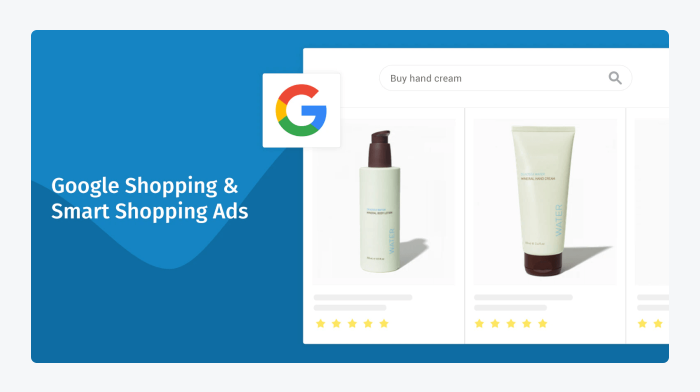 Rating: ⭐️ 4.2 (Shopify App Store) / ⭐️ 4.4 (G2 reviews) / ⭐️N/A (Capterra)
If you're looking to scale your online business, then paid traffic is a great way to do so. Traffic Booster automates Google Ads, Google Shopping, Pmax, Search ads, Display ads, YouTube ads, and Facebook and Instagram Ads using AI technology.
This Shopify app modifies your product feed to match Google shopping best practices and ensures you get the right customers at the right time for the right cost.
Main features:
An automatic bid optimizer that is set to gain conversions at the lowest cost possible
Optimizer for your product feed for Google Shopping
Real-time optimization of Google ads according to the set keywords
The AI uses advertising methods that best fit your store's niche
Pricing plans:
Basic plan includes advertising budget, Google customized search ads, AI optimization and starts at $120/month
Standard plan from $335/month adds Google Shopping and feed optimization, Google Pmax, and Google Remarketing ads
Pro plan starts from $1,000/month and adds YouTube and Facebook ads to the offering
Best apps for Shopify stores: conclusion
It is entirely up to you to decide which Shopify apps you need. However, the ones featured in this article are crème de la crème. They are the top Shopify apps—safe bets trusted by tens of thousands Shopify stores.
Here's our selection of top Shopify apps once again:
Remember: there is no single best Shopify app to increase sales, because the process is too complex. You should deliver A-class customer support, run great marketing campaigns, and make your store engaging and attractive. The solutions and platforms mentioned above cover all of these grounds, and you can treat them as the ultimate set of must-have Shopify apps.
Don't know which one you should get first? Here is something that should work just right for you.