For many Shopify store owners, the meaning of Shopify bots is as clear as mud.
Some say that bots violate retail terms and conditions while others claim bots help them sell.
What Shopify store owners might not realize, though, is that—
Shopify bots come in two types.
One includes the so-called sneaker copping bots for auto-checkout. The other consists of chatbots designed to help Shopify store owners to automate marketing and customer support processes.
In this article:
Shopify bot definition
5 examples of sneaker copping bots
Are Shopify sneaker bots legal?
5 Shopify chatbots for store owners
Looking for other info on chatbots? Check out these helpful guides:
Let a Shopify bot help you run your store
It can welcome your store visitors, answer their questions, help them find what they're looking for… and much more!
Explore Tidio Chatbots
The support team is amazing and responds really fast. If you're looking for chatbot automation, look no further!

Tidio for Shopify Review from The Paw Champ
Let's begin.
What Are Shopify Bots?
A Shopify bot is software designed to automate processes on Shopify sites. Using different kinds of Shopify bots, you can share marketing messages, answer questions from customers, and even do shoe copping.
There are actually two main types of Shopify bots:
Sneaker bots. These bots support auto-checkout and auto-shopping to "cop" limited sneakers from Shopify stores. This way you can get your hands on limited editions of Adidas, Nike, Supreme, or other brands of hype sneakers.
Chatbots for lead generation, marketing, and customer service. Designed to help Shopify online store owners automate marketing campaigns, build an email list, and answer simple questions from customers.
Let's take a closer look at the sneaker Shopify bots next.
Five Examples of Top Shopify Bots (Sneaker Copping Bots)
A sneaker bot is a computer program that automatically looks for and purchases limited-edition and popular sneakers from online stores. In some cases, bots also have an option to buy other streetwear. A typical sneaker bot is an app for Windows and Mac.
Such people as shoe collectors, resellers, and "sneakerheads" use these Shopify bots to reserve and buy shoes before others have a chance to. Bots search and make purchases in milliseconds, so they are the fastest way to get limited items during sneaker releases.
The top Shopify sneaker bots are:
Since an automatic Shopify checkout bot buys products within seconds, it prevents human shoppers from getting them. The technology is advanced, so bots even have the best proxies to present themselves as customers with real residential IP addresses.
This unfair advantage leads to one logical question:
"Are Shopify bots even legal?"
The answer for this one is a bit complicated. Here's what you need to know.
Shopify Sneaker Bots—Are They Legal?
The answer is yes.
But—
Automatic order placement with Shopify bots is a service that frustrates business owners and concerns authorities.
In fact, similar technology in other industries is already getting strong resistance.
Take ticket bots, for example. They do essentially the same thing as Shopify bots, but instead of sneakers, they buy concert tickets.
The Federal Trade Commission (FDA) now has a legal tool against them: The Better Online Ticket Sales (BOTS) Act. The first case under BOTS started in January 2021 against brokers who got thousands of event tickets with ticket bots.
So, it's not unreasonable to suggest that the FDA will try to regulate Shopify auto-checkout bots at some point. There are no legal restrictions now, of course, but many retailers aren't exactly happy with them.
Store owners, from small Shopify businesses to large retailers like Kith, don't appreciate bots because they buy all products in seconds. This leads to frustrated customers who have to wait for a restock, which rarely happens for unique streetwear releases (think Yeezy Supply products).
That's why businesses are looking for ways to protect their Shopify websites from botting. Shopify Plus, for example, has a built-in bot protection tool.
But—
Shopify bots aren't just robots for copping sneakers from sites in record time.
As mentioned before, there's a second type:
Shopify chatbots for customer service and marketing automation.
These bots—also called Shopify chatbots—are totally different from auto-checkout sneaker bots. They work for store owners, not collectors, and help to run their businesses by automating repetitive tasks.
Let's see how adding a Shopify chatbot can help your business.
Jano, the founder of Whisker Bag, had little experience with Shopify chatbots when he added one to his new store. The results: Jano is adding new leads to his list 4 times faster than before. The full story: How We Turned Cat Travel Bag Idea Into a $100K/year Side Business
Five Shopify Bots (Chatbots for Businesses)
Here are the five best Shopify chatbot apps. Unlike checkout bots, this kind of bots supports Shopify business owners and helps them generate leads, provide customer support, and enhance the shopping experience.
Tidio
Gobot
Tobi
Reporty
Toucan AI Sales Bot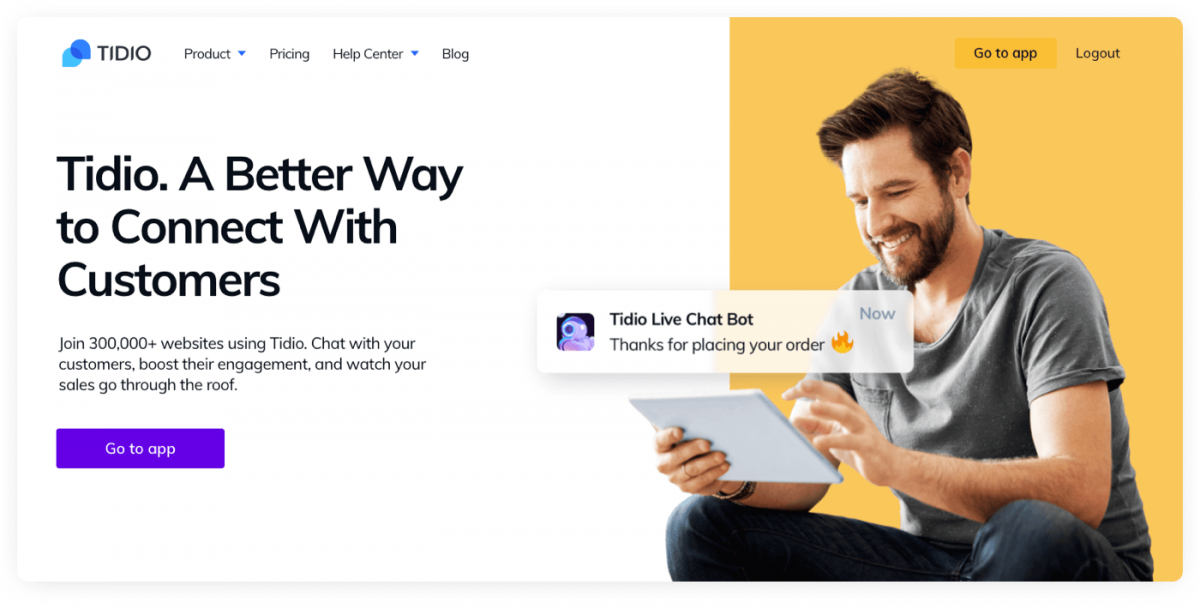 Tidio is the best Shopify chatbot for lead generation and customer support. It's an all-in-one solution…
Whoa!
Let me stop right there. We're a bit over the line here, promoting our business this way. So, instead of sticking to the "Tidio is the best Shopify bot" narrative, let's look at some facts:
Tidio Shopify app has a 4.8 rating based on the opinions of 1,052 store owners
Tidio's average rating on the G2 review platform is 4.6 [only 4+ reviews]
Tidio has a forever-free version with all chatbot features you need to generate leads and provide customers with amazing support.
How can this Shopify chatbot help you run your business?
Welcome new store visitors with a custom message
Answer the most common customer service questions 24/7
Generate leads automatically with promotions like discounts and newsletter sign-ups
Remind customers about abandoned carts before they leave
Pricing:
Free plan—Easy-to-use, customizable Shopify chatbots for lead generation, customer service, and marketing
Chatbots plan—$18/mo. Build and use as many Shopify chatbots as you want, save time with business-specific chatbot templates, and import contacts automatically with Zapier.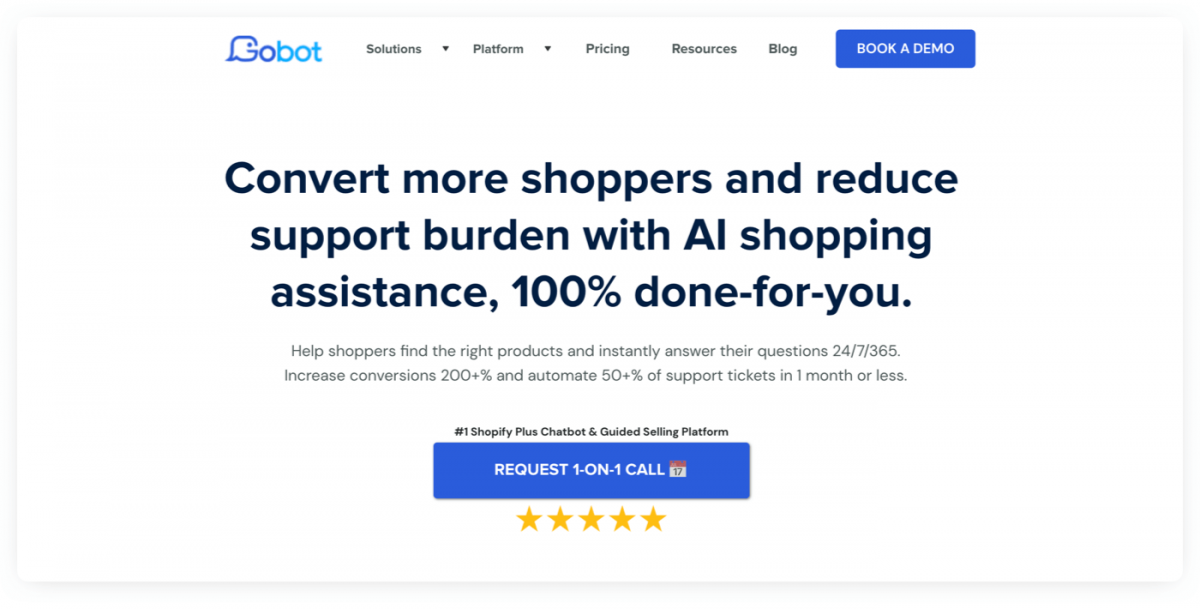 Why take a look at Gobot? Shopping quizzes. This Shopify chatbot comes with pre-built quizzes to help customers choose the best products. Thanks to some AI magic, Gobot is able to make good product recommendations and collect customer feedback.
How can this Shopify bot help you run your business?
Engage more store visitors in real-time with chatbots that ask questions about customer needs and product preferences
Automate order status, returns, cancellations, and other repetitive customer support tasks
Pricing:
Gobot offers the first 5,000 customer engagements for free. The company hasn't disclosed pricing for the premium plan.
"Is every Shopify chatbot for business free? Can I integrate it with the apps I'm using on my Shopify store?"
Find answers to these questions are here: Chatbot for Business—How They Work & What They Do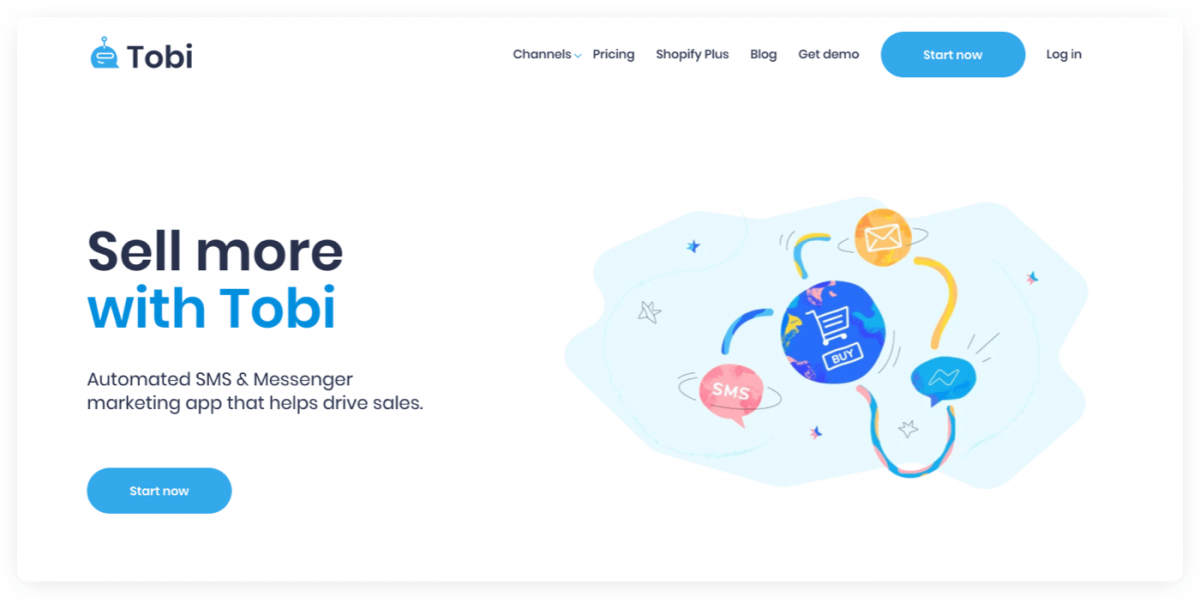 Studies say 57% of customers follow brands on social media to learn about new products. So, if people message your store's Facebook page, then you might want to use a Shopify Facebook Messenger bot like Tobi.
You can send welcome messages, abandoned shopping cart reminders, and re-engagement notifications through Messenger. There's an SMS marketing service for Shopify stores, too, if you're interested.
How can this Shopify chatbot help you run your business?
Send promotional messages through Facebook Messenger
Keep customers informed about orders with automatic Messenger updates
Request reviews from customers after they've made a purchase at your store
Pricing:
$29/mo for $1,000 in sales made with Tobi. The monthly payment increases with the amount of sales.
If you're wondering what is a Facebook chatbot and if you can use it: Facebook Chatbot: A Definitive Guide for Businesses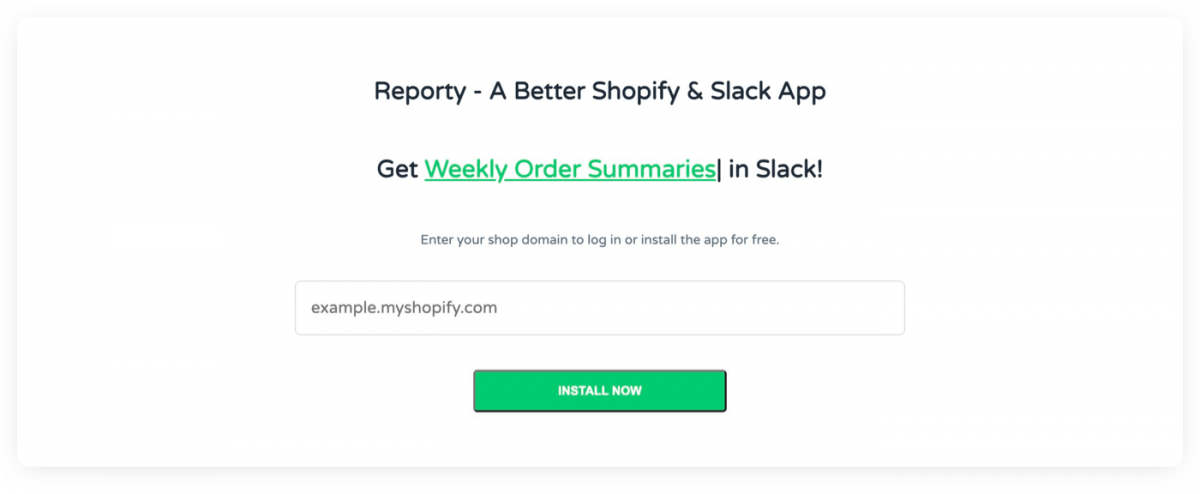 Reporty is a unique bot for Shopify that acts as a virtual assistant.
This bot integrates with Slack and sends sales reports and notifications to Shopify store owners (you can choose among 30 report types). Reporty can create daily/weekly/monthly order summaries, notify of new orders, and conveniently deliver them to Slack.
How can this Shopify bot help you run your business?
Save time on the creation of regular sales reports for business analysis
Get you helpful notifications and reports about the performance of your Shopify store directly to a computer or smartphone
Pricing:
The basic version with two notification types and Slack commands is free. Premium plans with all reports start at $10/mo.
Business reports can help check how your strategy performs. If you need tips to improve it, here are marketing strategies for every Shopify store owner: 8 Effective Tactics to Improve Your Shopify Marketing Strategy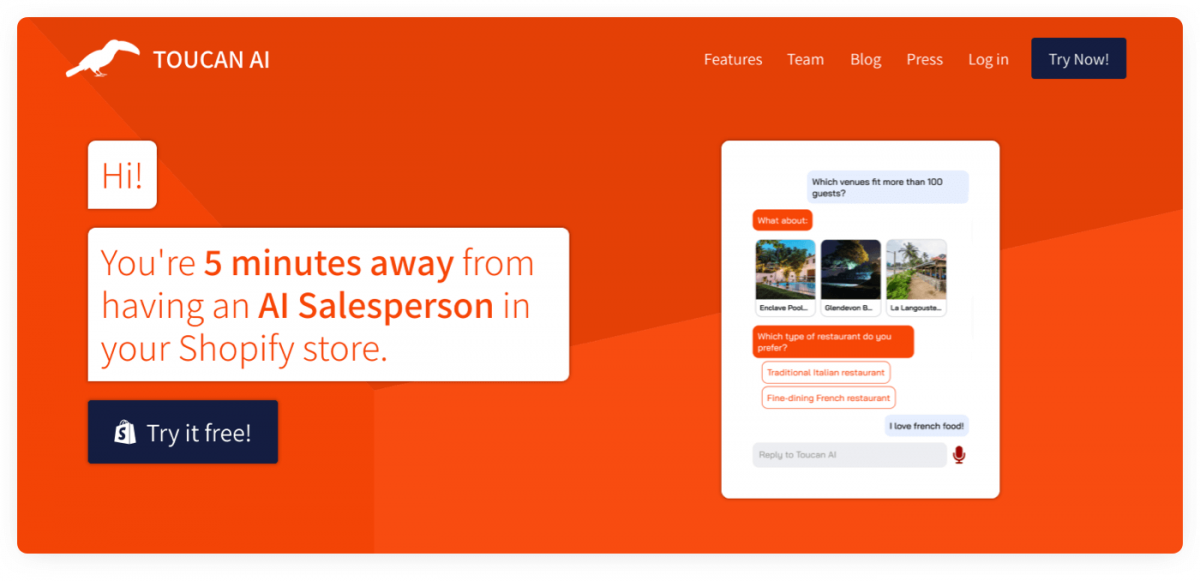 Toucan is a Shopify chatbot that talks with customers. This automation bot syncs with product catalogs and chooses personalized recommendations and answers. That's why Toucan is called a "fully-automated AI salesperson" that handles conversations without human assistance.
How can this Shopify chatbot help you run your business?
Engage more Shopify store visitors through a chatbot widget
Help customers find products with personalized recommendations based on their answers
Pricing:
Free plan for one-month analytics and one-day conversation history. Paid plans begin at $14.99/mo.
Shopify Bots: Summary
Now we know that both customers and store owners can benefit from Shopify bots.
Bots make auto checkout to get sneakers to resell at a higher price or keep in a private collection. The best Shopify bots for that are:
Nike Shoe Bot
AIO Bot
Supercop Bot
KickMoji
Easycop
Shopify store owners can get help with lead generation, customer support, and marketing. The best Shopify bots in this category are:
Tidio
Gobot
Tobi
Reporty
Toucan AI Sales bot
Provide 24/7 customer service even when you sleep.
Create unlimited chatbots for your website without coding to engage more visitors.
Learn About Chatbots