Chatbots
7 Best Shopify Bot Apps [Including Shopify Chatbot & Other Free Apps]
Do you run an online store and think about automating repetitive tasks? Try bots. We've reviewed seven Shopify bot apps so go ahead and find out what they can do for you.
Serious online business is not a hobby. It's a full-time job. It means that you will need to spend a great deal of time and work to keep it profitable and running.
But don't worry. Shopify has hundreds of apps in its App Store to help you with your work. With the right apps, you can automate repetitive tasks and save valuable time. This way you can focus on growing your business.
Let's take Shopify chatbot apps as an example. They can help you sell anything, from clothing to pet products. They answer questions 24/7, generate leads, collect customer behavior data, to name a few.
What's more, chatbots are easy to create and you don't need any coding skills.
Want to generate leads and provide 24/7 customer service even when you sleep? Create unlimited chatbots for your website without coding to engage more visitors or recover abandoned carts.
Try Chatbots Here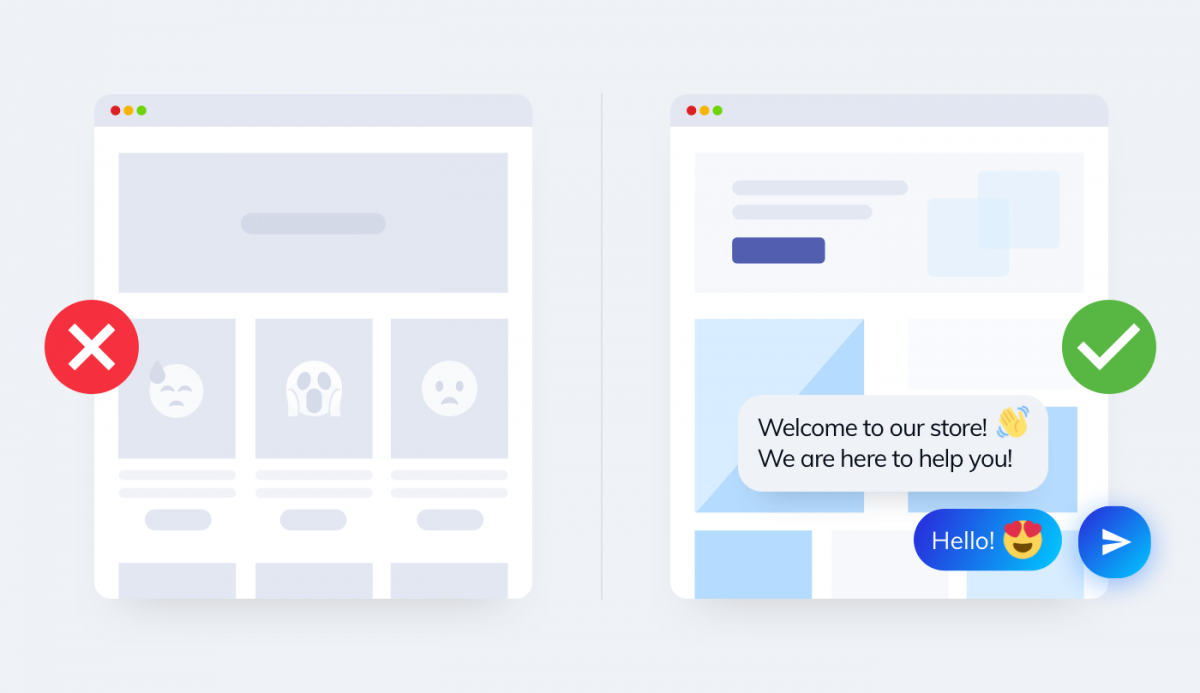 Explore chatbots now—Test the easiest visual chatbot builder for free.
One of our users, Michael, had this to say:
We could set up a simple chatbot in minutes because the drag-and-drop bot builder was really easy to use. Also, the support team was very helpful and answered all our questions
Tidio, a leading free Shopify chatbot app, allows you to build chatbots in minutes. You can create simple and complex custom bots on your own.
Chat automation is one example of what bots can do for your business. There are many more Shopify bots waiting for you.
How to make a Shopify bot
To create a custom Shopify bot without coding, go for an all-in-one chatbot solution
So let's go ahead and explore them in more detail. We're going to start with Tidio chatbots.
How to Make the Most of a Chatbot —Shopify Store Examples
The main purpose of chatbots is to automate conversations. But that's not all. They can do so much more for your store.
And Tidio chatbots are the best example of that. They come with several features made for Shopify merchants.
Shopify Chatbots Can Offer Discounts
Discounts can work well in a few cases. For instance, when you want to:
bring visitors back to the checkout (by saving an abandoned checkout on Shopify)
keep the visitors viewing your site longer
collect leads
increase your average order value
A Shopify bot can engage a new or returning visitor and offer them a discount. If the visitor accepts the offer, the chatbot will ask for an email address to send the discount code.
If there is a visitor who left checkout without paying, the chatbot will notice it as well. In such a situation, it can also offer a discount as an incentive to complete the shopping.
This way, you increase your chances for a sale and generate a lead at the same time. So even if the visitor does not redeem a code, you earn a prospect to nurture.
Shopify bot templates
Building chatbots from scratch is not for you? No problem. Use chatbot templates. Tidio has many free bots that are ready to work in different eCommerce scenarios.
Shopify Product Carousel Inside a Chatbot Conversation
Tidio chatbots for Shopify can send messages that will present one or several products. Those messages are chatbot cards (or carousels). They let you add more detailed information to your product images. For example, title, URL, and description.
This eCommerce feature is like website carousels. It attracts attention and showcases your products.
Chatbot Product Carousel
Step 1: Use your Shopify chatbots to display products during conversations.
Step 2: Track how many users visit your product pages after talking with a chatbot.
Step 3: Optimize your Shopify store performance with advanced chat analytics.
Use it now
But there's one significant difference. Chatbots for Shopify are able to answer any questions your visitor might have about the product. This is possible thanks to the decision buttons that you can add under the product description.
Provide Shopify Order Status With a Chatbot
What's the most question your customers ask you? Is it about the prices? Shipping? Return policy? Or is it about the order status?
You most likely receive a bunch of other different repetitive questions. Good news! Shopify chatbots can answer them all.
There are quite a few ways you can build your bot to answer frequent questions. Not only that. Tidio Shopify bots have three action nodes that work only for Shopify shops.
They are:
Check Order Status
Shipping Zones
Product Availability
So whenever your customer asks you about your product or their order, your bot will know what to say.
Stores That Use Tidio Shopify Chatbots
There are over 300,000 online businesses that chose Tidio. Around 35,000 of them are Shopify store owners. Some of them use chatbots, others rely more on Shopify live chat app solutions.
Let's take a look at how they use them.
Gardeners Corner
Gardeners Corner specializes in hydroponics. (In case you are curious, hydroponics is about growing plants without soil). What is quite unique about this shop is their blog. There aren't many stores that share their knowledge via blog posts.
Gardeners Corner uses Tidio Shopify chatbots to turn new visitors into customers. They set up a chatbot to offer a 10 percent discount.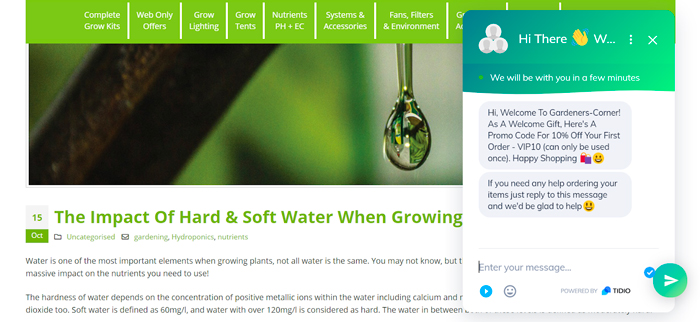 Lit Accs
Lit Accs sells Pokémon Go accounts. Quite original, isn't it?
Their chatbot for Shopify welcomes new visitors and addresses frequent problems upfront. A Pikachu avatar is a nice touch and makes a clear reference to what the business is about.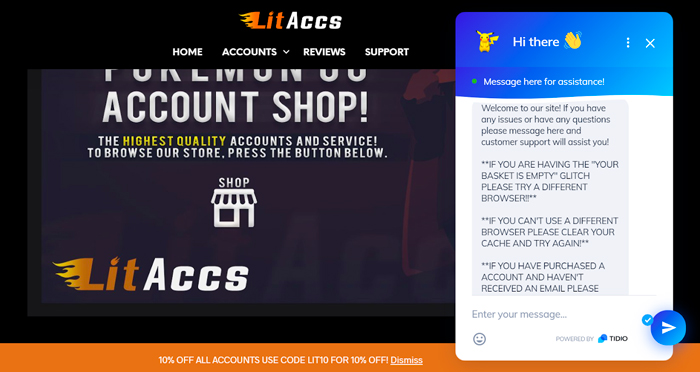 Big Girls Don't Cry Anymore
BGDCA sells bras for fuller busted, plus size and curvy women.
Their website design is full of pink colors. The store owners remembered about customizing chatbot look, too. As a result, the Shopify chatbot doesn't stand out too much and looks like a natural part of the website.
The bot pops up when it sees new visitors and gives them important information. Upfront. So that customers don't try to log in to their inactive accounts.
Shopify bot prevention
Fight fire with fire. If you are not sure if your visitors are bots or not, you can check how they interact with your own Shopify chatbot.
🚀 Read: Rescue abandoned carts with chatbots
🚀 Read: Automate lead generation
What Is the Best Chatbot for Shopify?
The best chatbot for Shopify is the one that supports eCommerce owners in many ways. A Shopify chatbot that is popular among online sellers. A bot that doesn't cost a fortune and has all the important features.
Customer support is extremely important, too. You don't want to spend your time on some bot only to find out that there is hardly anyone to help you.
Verdict? Tidio.
This Shopify bot is a top-rated app (its rating stands at 4.8/5 stars, based on 899 reviews).
It comes with action nodes dedicated to Shopify stores.
The features that are often sold as premium by competition Tidio offers for free.
World-class customer support. If you have a problem, you can be sure that someone will get back to you.
Many integration options.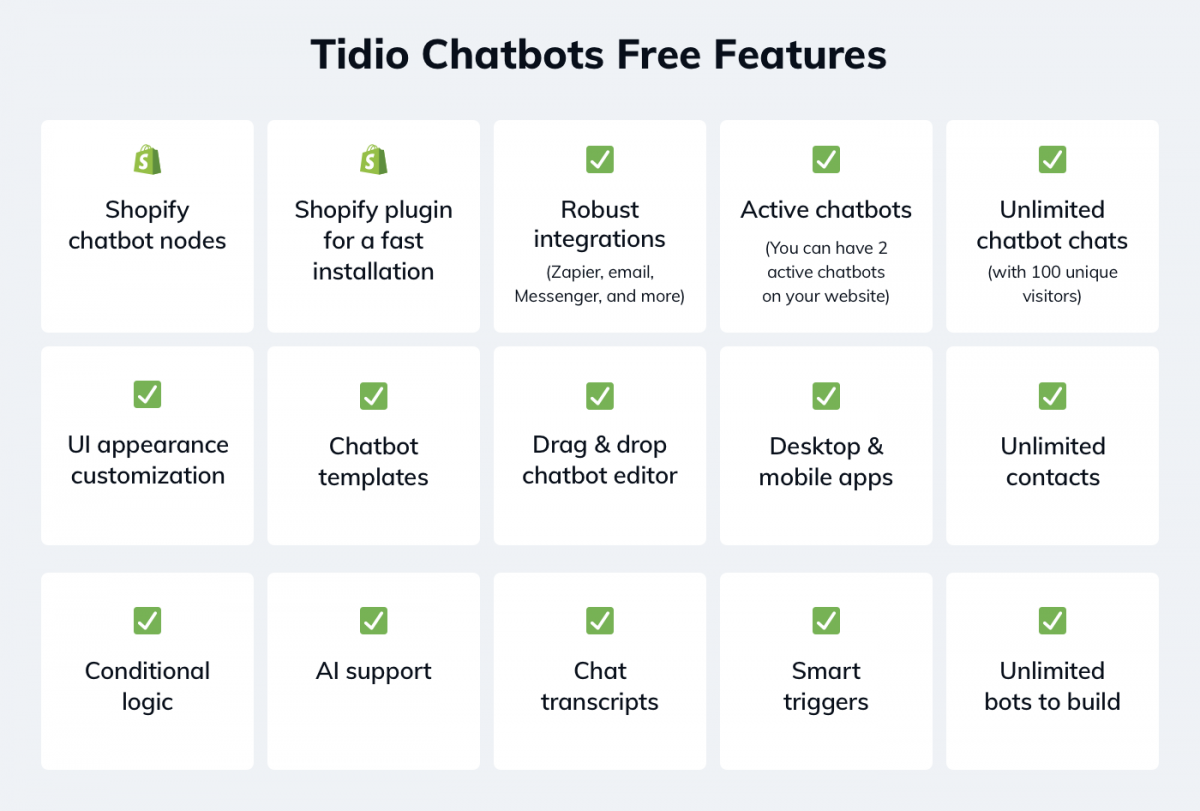 Best Shopify Bots & Chatbots
So what else bot apps can do for you? Apart from chat automation, Shopify bots are useful in many other situations. They can be your virtual assistants in marketing, finances, order & shipping.
And that's exactly what the following apps do.
Tidio

Price: Free. Extra chatbot triggers from $18. Custom plan available.
Tidio is one of the most popular lead generation and customer service apps in the Shopify App Store. It has more than 20 chatbot templates suitable for eCommerce businesses.
You can use Shopify chatbots powered by Tidio to automate your store. Basically, it will run on autopilot. Chatbots can give discounts, rescue abandoned shopping carts, answer questions, and much more.
Users value Tidio for being the ultimate one-in-all business communication app for Shopify. It has chatbots, a dedicated live chat widget, and email marketing tools.
🚀 Read more: How to Create a Chatbot With Tidio and Add It to Your Website
Gobot

Price: Free. Enterprise plan available.
Gobot's primary focus is on increasing sales, conversion rate, and average order value. You can use Gobot to guide your customers to the product they look for.
It will come also useful if you want to address any doubts that hold your visitors back from buying. This Shopify chatbot will also answer frequent questions, collect emails, and offer discounts.
Generally, Gobot received good reviews from Shopify users (4.7/5). But some of them complained about customer service. While others reported the app to be too complicated.
Tobi

Price: Free to install. $8.99 for premium plan (currently at 69% COVID-19 discount). 7-day free trial. The price scales with extra sales you make through this bot.
Tobi's main goal is to drive traffic to online stores. It does it by sending promo offers via SMS and Messenger to the customers. It can also send them their order updates. And if they abandon their shopping cart, they'll get the reminder.
There are many other messages you can send to your customers. For instance, discount codes, review requests, and order receipts.
In essence, this bot works on only these two channels (SMS and Facebook Messenger). So you need to get your audience contact details first to make this Shopify bot worthwhile.
Kit

Price: Free.
Kit is an official Facebook Marketing Partner for small businesses. It will help you with marketing your store. It will recommend the marketing activities that are most likely to drive sales.
With a few quick messages to Kit using Shopify Ping or SMS, you can create a discount code and promote it. Or, start a retargeting campaign to bring visitors back to your store. You can also send thank you emails to customers, and more.
This Shopify bot is a good choice if you lack knowledge and experience in online marketing. You may also find it useful in case you have no budget to hire a marketing expert.
SWA (Shop Workflow Automation)

Price: Free. Premium plans start at $9.99/mo.
This Shopify bot is a great virtual assistant that will automate your daily routine. You can ask SWA to track any events and respond to them with proper actions.
You may find SWA bot useful when it comes to managing your stock. Let's say that some product is out of stock. SWA will hide it and email you the details. This bot can also check your products every day and publish the restocked ones.
It will also help you with communication with your dropshipping suppliers. When you need to order some products from your suppliers, SWA will notify them via email.
SWA Shopify bot is very popular among the merchants. They are happy with how the bot took daily operations off their shoulders.
Shoppy

Price: Free. Premium plans start at $15/mo.
Shoppy names itself as a better Slack bot. What it does is to connect Shopify store with Slack app. This way, you can receive order notifications and summaries on Slack. You can set up the frequency of notifications. You can have them on daily, weekly, or monthly basis.
With Shoppy chatbot for Shopify, you can track many order statuses. For example, you can receive notifications on new, canceled, or paid orders.
You can also integrate Shoppy with Google Analytics to receive more customized reports.
AIO Bot (v2)

Price: $325 (single fee).
With AIO bot, you can get all the limited edition sneakers before they are gone.
How does it work? In a nutshell, AIO Shopify bot looks through the store inventory and clicks "buy" to secure the item when it finds it. If the store crashes, AIO bot will keep on trying to checkout the item.
This bot targets dozens of stores so you can scour pretty much the whole globe to find the sneaker deals. It supports Shopify and Mesh sites, Adidas, Supreme, and many more foot stores.
As soon as the bot buys the item for you, you will receive an SMS confirmation.
Conclusion
Shopify bots are great not only because they automate tasks for you. But also because they are much faster than humans. They don't need to sleep, either.
Their sole purpose is to save you time. Since they work fast and 24/7, they are able to drive the sales you otherwise would have missed.
Because bots are so specialized, they do their job very well. Be it handling stock, doing Messenger marketing, or chatting with customers.
Shopify Bots by Tidio
Step 1: Add a chat plugin to your Shopify store to connect with your visitors.
Step 2: Use FAQ chatbots and AI to help your customers 24/7.
Step 3: Close more sales and track how bots help your business.
Try Free Shopify Bot
Out of all Shopify bots, chatbots are the most versatile. And Tidio Shopify chatbots come out on top. They can not only help with customer service but also many other tasks. They will track and segment your customers, and then send data through Zapier (if you need it). 
They can also send you notifications based on your settings. E.g.: whenever a customer lands on some specific store page. If chatting is not enough, you can use them to generate leads or save abandoned carts.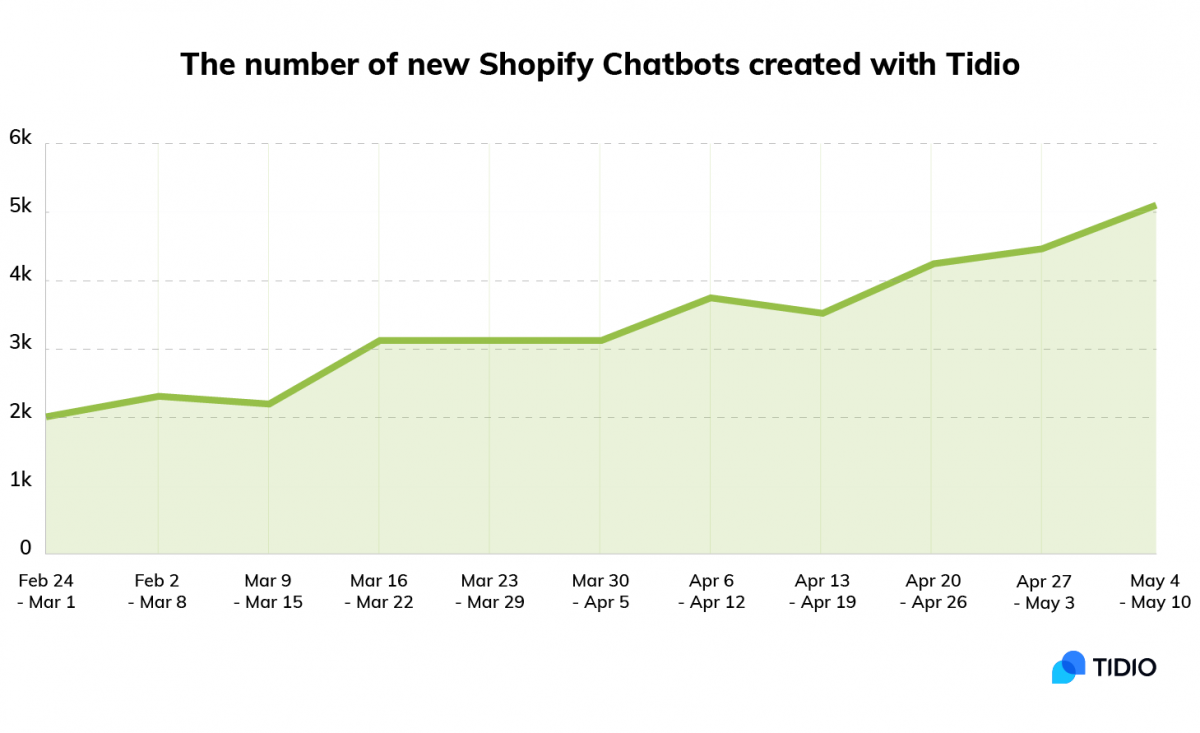 This, and much more, makes Tidio Shopify chatbots the no. 1 choice for online merchants. Each month, 4.5k new Shopify stores choose Tidio bots to improve their business.
Join them and increase your Shopify sales with chatbots.
Try Chatbots For Free