Chatbots
Top 7 Shopify Bot Apps to Automate Your Business Activities
Bots can free you from many repetitive tasks - chats, data analysis, sales reports, and more. Discover a collection of Shopify bots that can do some of the business work for you.
"Build your business. You've got the will. We've got the way" says Shopify's motto. And indeed, if you are an eager entrepreneur wanting to establish their own online business but lack the necessary tools to get you started, Shopify provides everything you need.
Shopify is home to over 820 000 e-stores – and that number keeps growing! Shopify online stores vary in their size, target clientele, and products sold. After all, according to Shopify, "every business is unique." Therefore, it's impossible to make a platform that suits all.
That's why, for the business owners who would love to use in their stores some features that the platform is missing, Shopify runs a dedicated app store that offers 2500+ apps.
Shopify bots (apps powered by bots) can, for instance, automate repetitive tasks, increase sales, improve the store's design, track your productivity, or issue summaries and reports.
The particular type of apps this article covers are bots.
What is a Bot?
Bot, short for a robot, is a software application that automates a specific repetitive task and does it much faster than humans. Depending on their function, they are often seen as virtual assistants that may have learning capacity. Bots are types of apps.
Shopify Bot Guide
In this article, we will be looking at the following apps with bots:
Each of these bots specializes in a different task and based on the reviews, they were found useful by many Shopify store owners. We hope that this list will help you to choose a Shopify bot suitable to your business needs.
Tidio

Shopify Category: Communication, Customer Service
Product: Live chat & chatbots, marketing automation.
Bot Description: The 10th most popular marketing automation tool and 5th most popular live chat app in the world. Tidio live chat can be boosted with chatbots to automate conversations with customers.
Why users love Tidio bot app?
Easy and quick to set up
Can be integrated with many third-party apps (including Messenger), as well as email
Mobile app available
Chatbots available
Highly customizable
Free plan available
Where to get it? Tidio website
Try Chatbots
AIO Bot

Shopify Category: All In One, Sneaker Bot.
Product: Item copping.
Bot Description: An add to cart program that attempts to secure items from all target Shopify websites (and many others) before the items of interest are sold out.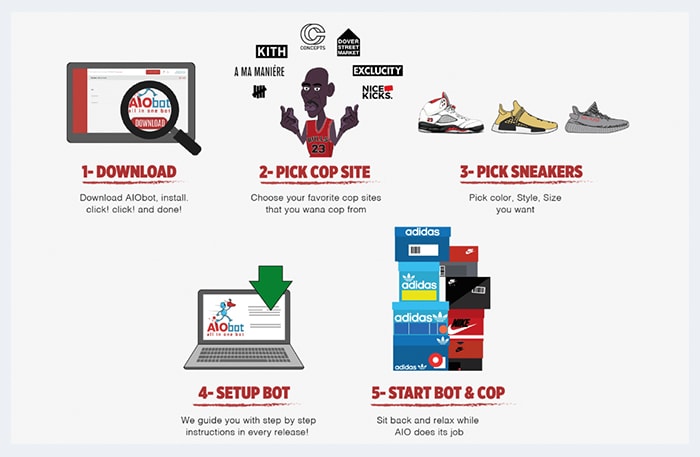 Why users love AIO bot app?
Many cop sites supported
Regular bots updates
The bot will keep trying to checkout the item even when the website crashes
SMS notification in the event of a successful purchase
Where to get it? AIO Bot website
Shoppy Bot

Shopify Category: Finances, Reporting.
Product: Data analysis, automated reports.
Bot Description: A "concierge data analyst" that sends automated custom reports to Slack.

Why users love Shoppy bot app?
Easy and quick to set up
Highly customizable reports
Supports many types of reports that can be automated
Easy to understand reports format
Supports stores with up to 10k products
Slack integration
Free
Where to get it? Shoppy Bot website
Shoppy: A Better Slack Bot

Shopify Category: Productivity, Reporting
Product: Order notifications, sales reports
Bot Description: Sends order notifications and summaries from the Shopify store to Slack. It can be integrated with Google Analytics to receive more customized reports
Why users love Shoppy: a better slack bot app?
Easy and quick to set up
Highly customizable reports
Supports many types of reports that can be automated
Custom reports based on tags, UTM and discount codes
Free plan available
Where to get it? Shopify App Store
Tobi
Shopify Category: Sales and Conversion Optimization, Customer Support

Product: Marketing automation, SMS/Email/ Messenger messages
Bot Description: Sends out promotional offers, order updates and abandoned cart reminders through SMS, email and Messenger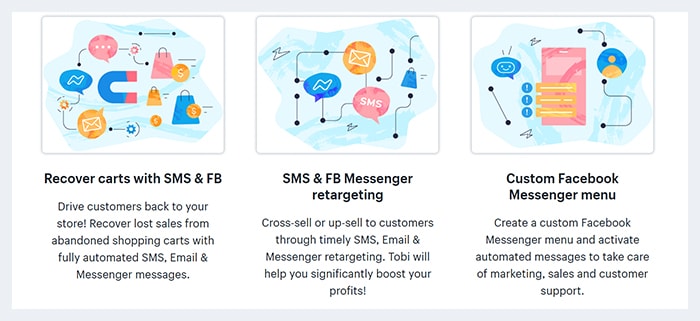 Why users love Tobi bot?
Easy and quick to set up
Abandoned carts recovery
Cross-sell and up-sell tool
Email, Messenger and SMS messages automation
Several reports available
Order delivery updates
Countdown bar
Free
Where to get it? Tobi website
SWA: Shop Workflow Automation

Shopify Category: Order and Shipping, Productivity
Product: Workflow automation
Bot Description: A virtual assistant that monitors any events and responds with proper actions. It automates repetitive tasks based on set criteria.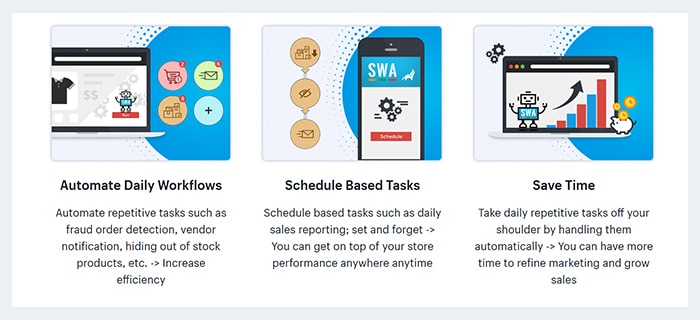 Why users love SWA?
Fraud order detection
Hide items out of stock
Restocked items publishing
Notifications to dropshipping suppliers
Email integration
Free plan available
Where to get it? Shopify App Store
Kit
Shopify Category: Marketing, Productivity

Product: Facebook ads automation
Bot Description: A virtual assistant that recommends and sets up ads to promote the store, generate marketing reports, and build audiences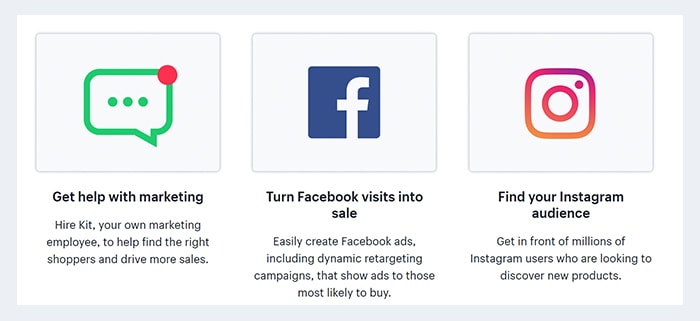 Why users love Kit?
Official Facebook Marketing partner
Helps to manage Facebook ads, email marketing, and social posts
Quick marketing insights reports
Sends personalized "Thank You" emails
Creates promo codes
Posts Facebook updates
Can be integrated with other Shopify apps
Free
Where to get it? Shopify App Store
Shopify Bot: Conclusion
There are many amazing bots that automate routine tasks so you can focus on other activities better. As you can conclude from the list given above, bots' skillset is quite wide. They can take a variety of tasks off your shoulders – customer support, save abandoned cart, marketing automation, notifications, or financial reports to name a few.
If you are curious how a notable group of bots called chatbots can help you with your business, take a look at our article: Tidio for Shopify: Live Chat & Chatbots That Grow Your Sales – it's a great overview of the powerful features of live chat and chatbots.
Most of the apps and bots listed in the App Store were designed with small business owners (or beginning entrepreneurs) in mind so you can expect a lot of them to be either free or have a decent price tag attached.
Tidio's basic plan includes live chat and free bots for business – forever!
So what are you waiting for?
Sign up now and let the bots do some work for you.
Try Chatbots For Free