It's great to watch your business grow.
But, at some point, the number of queries related to your products or services can become overwhelming for your customer service representatives.
The same applies to your sales and lead generation teams. Without automating some tasks, the process of acquiring new clients can significantly slow down.
Luckily, there is a solution to this problem—
It's called chatbot automation.
Automated bots can help reshape customer service, boost productivity, and enhance user experiences across various industries.
Want to find out more?
Let's dive right in!
In this article:
To learn more about chatbot technology, its numerous capabilities, and use cases, be sure to check out these articles:
Let's start by answering the question—
What is chatbot automation?
Chatbot automation involves the use of computer programs or AI-driven systems to interact with users. This happens through text or voice-based conversations without requiring direct human intervention.
Overall, automated chatbots can be great allies in answering queries about products, services, sales support, or questions about customer self-service. Thanks to their ability to deal with numerous user queries at once, they can solve your clients' problems without any interference from the support reps.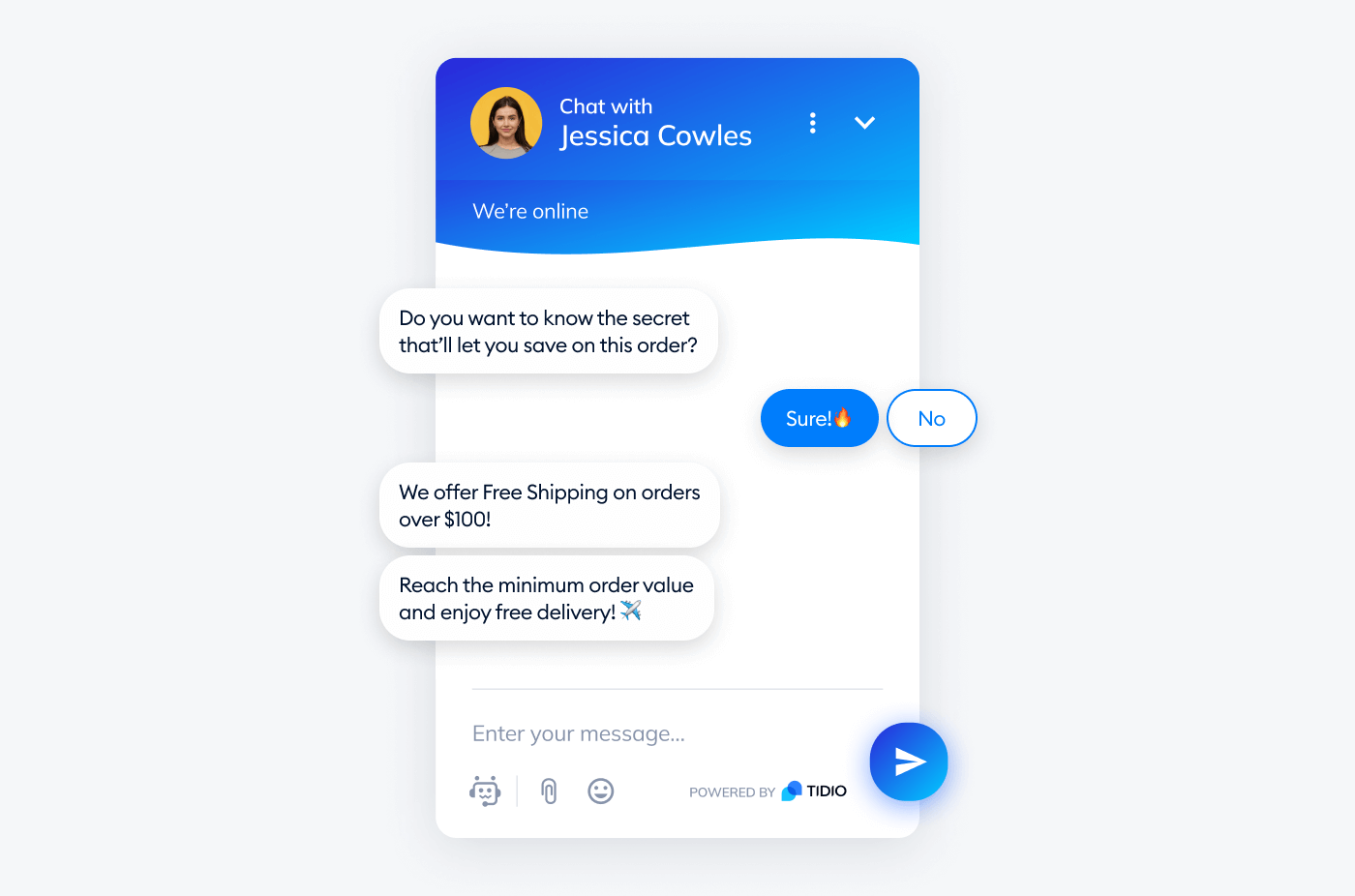 These bots can also be helpful in generating revenue and gathering valuable information about your customers. Moreover, this data will be useful for your sales team to lead the prospects further down the sales funnel.
As a result, an automated chatbot can help companies in many areas, including customer support, sales department, and marketing, just to name a few.
Read more: If you're looking for more knowledge about chatbots in particular, be sure to read our in-depth guide on what is a chatbot.
As automated chatbots can play many roles in different strategies, it's worth mentioning that there are also a few types of them, like customer service bots, social media bots, FAQ chatbots, etc.
Read more: Learn more about different chatbot types and find out how they can help your business.
Before we continue, let's address another important question—
How does chatbot automation work?
Chatbot automation leverages technologies like NLP and machine learning to understand and respond to user queries and address their pain points.
Here's how it typically works: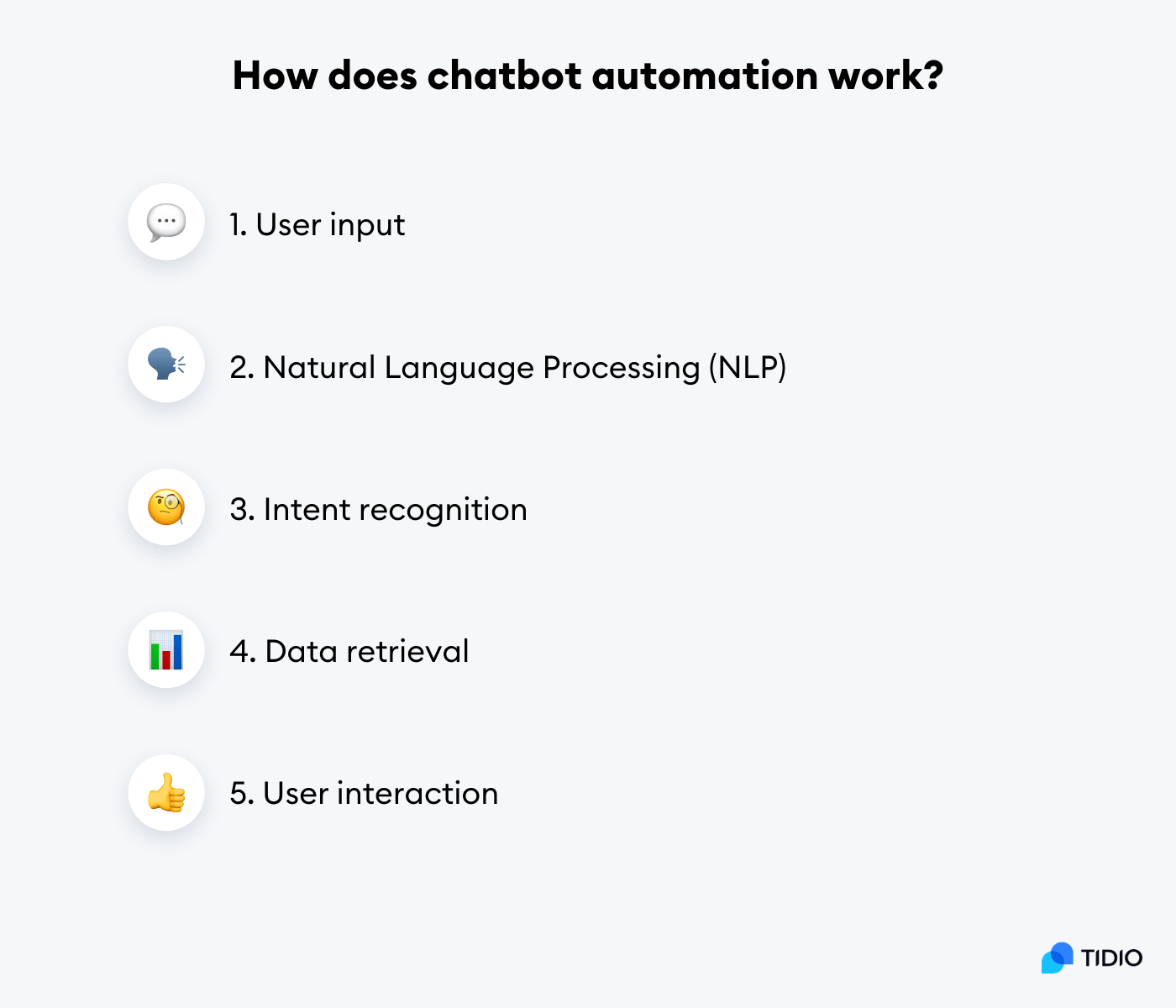 User input—the process begins when a visitor interacts with a chatbot, either on a website, mobile app, or messaging platform
Natural Language Processing (NLP)— the chatbot uses NLP algorithms to understand the user's intent
Intent recognition—the bot identifies the user's intent
Data retrieval—the chatbot accesses external data sources or databases to gather information relevant to the user's request
User interaction—the bot responds to queries and follow-up questions
Now that you know what chatbot automation is and how it works, let's discover how businesses can benefit from this solution.
Benefits of using an automated chatbot for a website
So—
Conversational AI automation can increase clients' satisfaction, improve and streamline customer onboarding processes, and boost your sales. Their greatest advantage over human reps is that they do it fast and are free of human errors.
But is that all?
Of course not.
Let's dive into the details of what automated chat can bring to your company.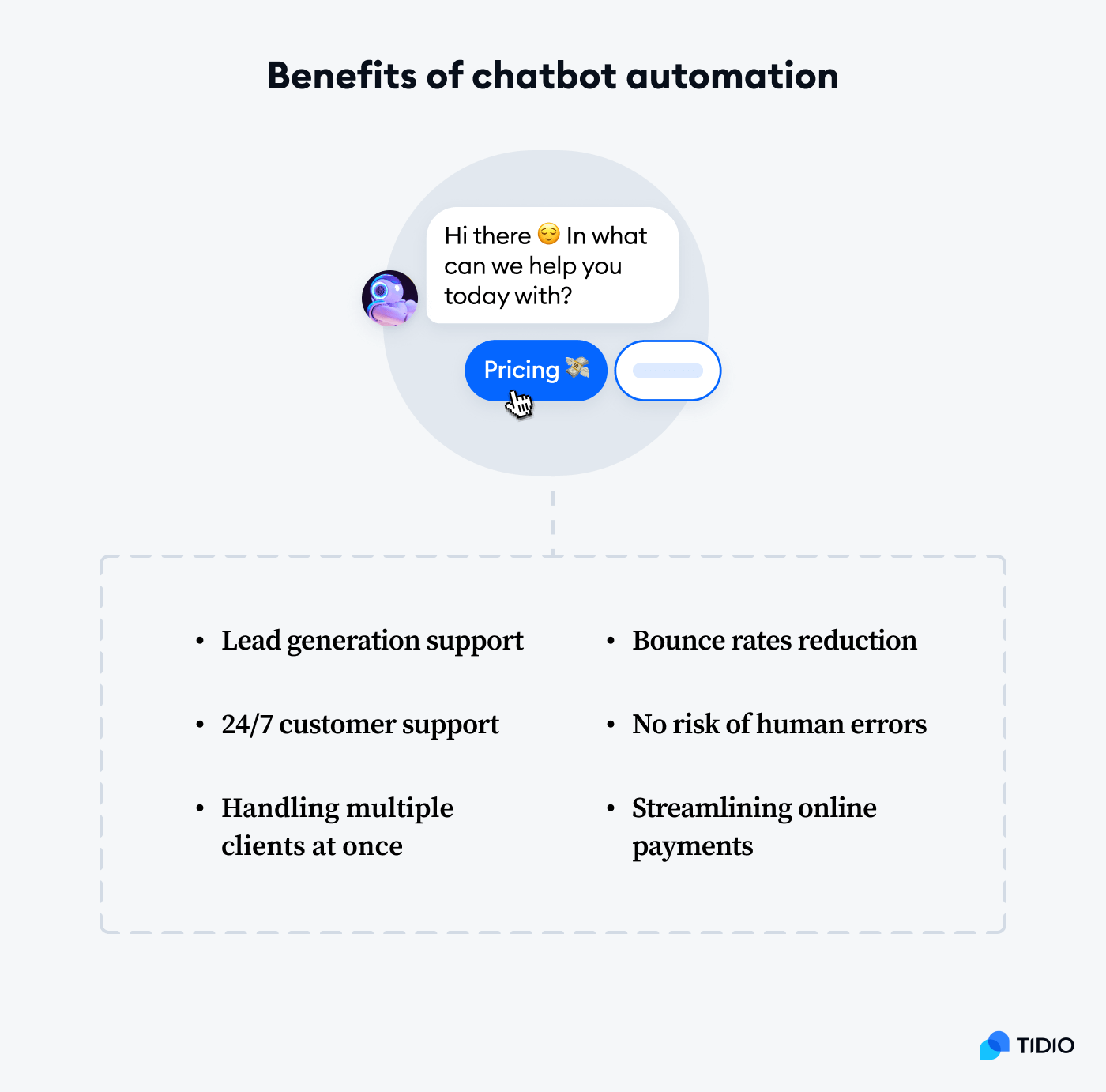 Lead generation support
Chatbots can increase top-of-the-funnel conversions. You can use an automated chatbot to collect contact details, ask qualifying questions, or set up appointments with sales reps.
What's more, if your company is using an omnichannel marketing model, you can send customized messages to your potential clients. By doing so, not only will you get the opportunity to increase brand awareness, but also to promote your products and services.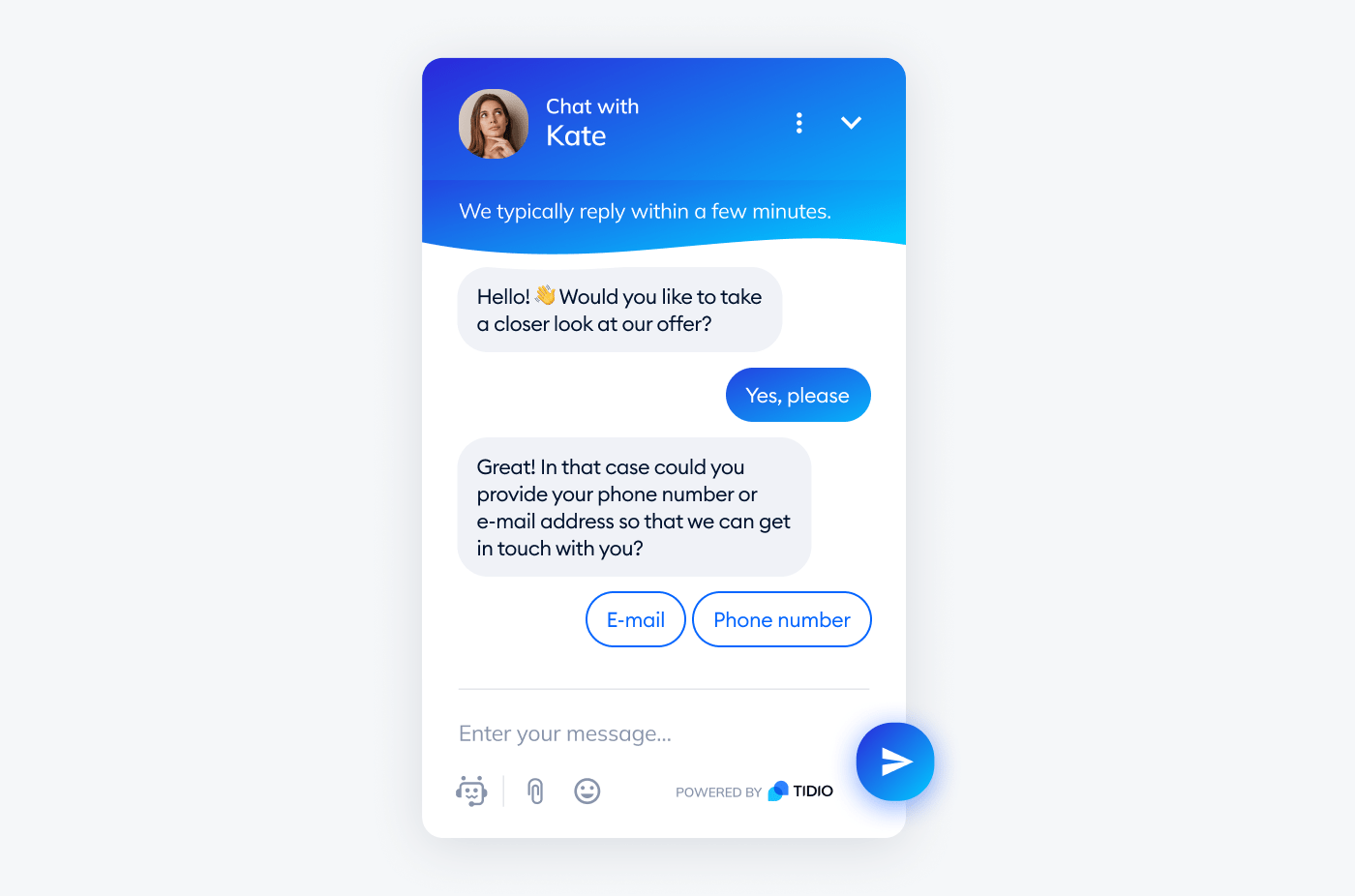 And thanks to ready-to-use chatbot templates offered by most providers, sending such messages adjusted to your potential customer needs is easier than ever.
24/7 customer support
Chatbots, unlike humans, don't get tired or sick and don't need to rest. Once designed and launched, they will work for your clients 24/7, 365 days a year, with no breaks. They will support your visitors every step of their customer journey to make the buying experience easy, fast, and smooth.
In fact, a whopping 70% of customers think the same day is the most acceptable response time. So, it's easy to see how automated chatbots can make a difference when it comes to enhancing customer engagement. 
Read more: Learn how Suitor used Tidio to automate its customer service and provide support 24/7.
Handling multiple client inquiries simultaneously
As your business grows, the number of customer questions will inevitably grow with it. Not to mention that, according to some reports, 55% of buyers want quick answers to their questions. And no matter how fast and well organized your customer support team is, it will have its limitations.
What makes the case more complicated is the fact that, if you want to provide a great customer experience, the wait times for your response to queries should be as short as possible. Sounds difficult, doesn't it?
But thanks to chatbot automation, you can handle this situation with ease. Once designed, chatbot conversational workflows can address multiple queries at once, with minimal (or even zero) wait times.
Bounce rate reduction
One of the main reasons for high bounce rates is the content that doesn't meet your website visitors' expectations. But you can get rid of this problem.
How?
Chatbot automation tools are able to gather and store a database of your visitors' concerns and frequently asked questions about your products or services. And based on that knowledge, you can create the content people are looking for, which will help you increase conversion rates and minimize bounce rates.
Streamlining of online payment services
It can come as quite a surprise, but chatbots are also able to support money transactions. As an example, let's take WeChat. They implemented a functionality that allows people to pay through the app in selected restaurants and shops.
Another big name, PayPal, is also following this trend. Their chatbot allows companies to chat with clients about a product and offers the possibility to make payments directly via the chat window.
Read more: If you are wondering about handling online payments via bots, be sure to check out the best finance bots for your chatbot automation services.
No risk of human error
Everyone makes mistakes—it's written in human nature. And sometimes these mistakes can cost your business more than just money.
But chatbots aren't humans.
If you design your chatbot according to your customer needs, the risk of human error drops close to zero. Well-programmed, automated bots will collect valuable customer information or lead them to relevant helpdesk materials. Simply put, if designed well, they guarantee accuracy.
Since you know the advantages this software offers to your company, let's discover which industries can benefit the most from implementing chatbot automation into their daily operations.
Which industries can benefit the most from chatbot automation?
Chatbot automation is growing in popularity in many different industries as it brings a great change in the process of building customer relationships. It saves human agents a lot of time and effort while being a cost-effective solution to speed up numerous sales and marketing processes.
Let's go through a few branches that can benefit the most from using automation bots.
Ecommerce
The ecommerce platforms sector is huge. According to SkyQquest Technology Consulting, the global ecommerce market is expected to reach nearly $59 trillion by 2028.
But, to succeed in that field, companies need to put special emphasis on various elements like:
Short response time
Reduced length of sales cycles
Quick lead capture and qualification
And chatbot technology can help you optimize all of the above-mentioned elements.
How?
Thanks to the ability to offer immediate responses to your shoppers' queries, you'll not only improve the quality of your customer service but also reduce the length of the sales cycles. Simply put, chatbots will help you serve your clients faster and more efficiently.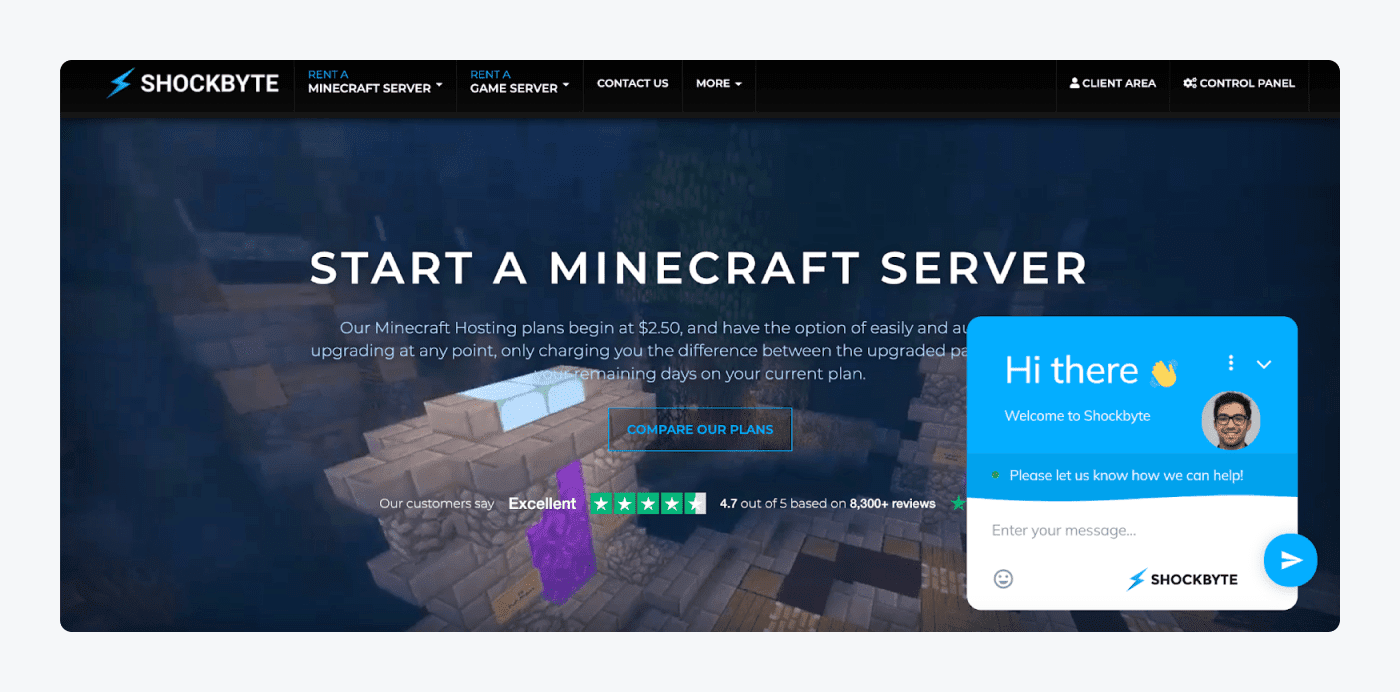 Read more: Be sure to check out our case study on how Shockbyte, a game server provider, improved customer experience using Tidio chatbots.
Healthcare
In the healthcare industry, chatbots are used to help patients, doctors, and other staff to better communicate with each other and to increase the overall quality of medical services. Also, automated bots can help with time-consuming paperwork and take care of administration-related tasks.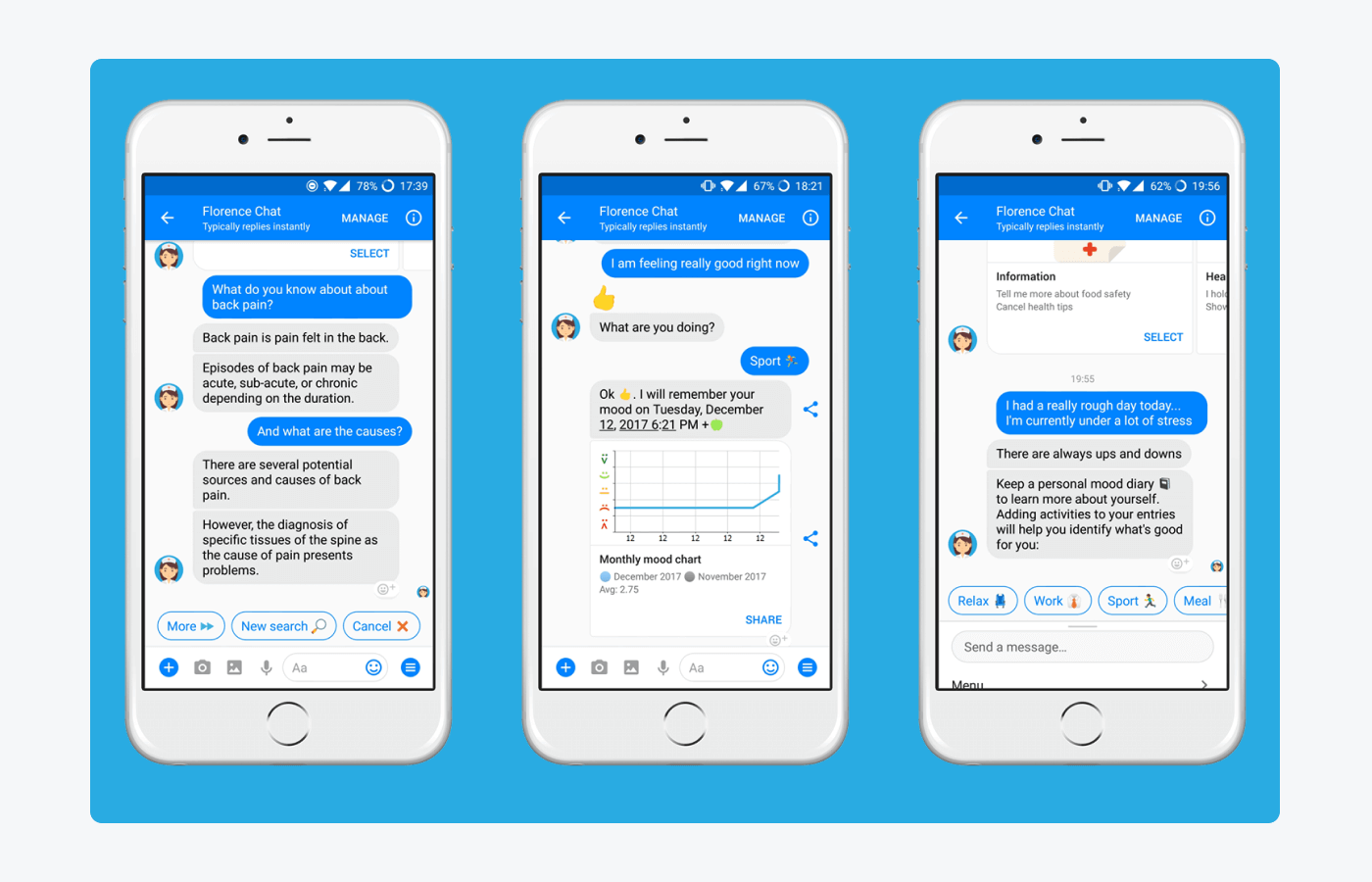 Here are other ways in which chatbots can help contribute to the healthcare business:
Assessing symptoms—before scheduling a visit, chatbots can ask patients about their symptoms to find the best specialist for them
Taking care of coverage and claims—chatbots can guide the patients through the paperwork regarding treatment coverage or help them fulfill the forms for claims
Locating healthcare services—besides assessing symptoms and scheduling appointments, bots can help patients find medical services in their near vicinity
Providing mental health support—chatbots can also offer 24/7 mental health assistance, including self-help tips, meditation and relaxation exercises, etc.
Setting vaccination reminders—bots can alert patients about the time of their vaccination and inform them on the vaccines required if they're visiting another country
Requesting prescription refills—healthcare bots can also help patients get their prescriptions restocked without leaving their homes.
Read more: Discover top real-life chatbot use cases that work for businesses all around the world.
Real estate
The real estate business is based on building trust between agencies and their clients. And one of the best ways to establish such trust is to deliver excellent customer service. But, despite the great job done by the agents and marketing teams, all their efforts may go in vain because of human errors.
The mistakes that can cost agencies a lot of money include anything from long response times to forgetting to make an appointment with potential clients.
Similarly to healthcare services providers, real estate agencies can easily move the administrative responsibility from people to chatbots. Without having all these repetitive tasks in mind, they'll be able to focus on delivering the best possible customer service, which leads to increased revenue.
Need proof?
Some reports indicate that 68% of consumers are willing to pay more for products and services from a brand known to offer a good customer service experience.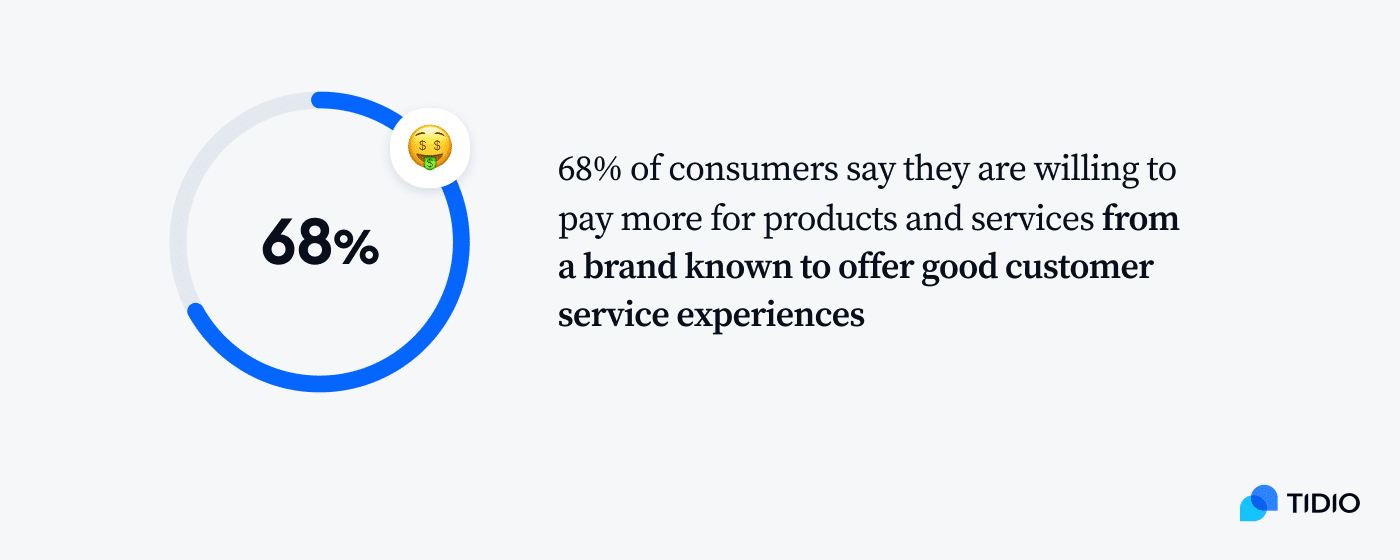 Read more: If you're running a real estate agency, check out the best real estate chatbots and learn how to use them.
So, it's evident that chatbots are versatile tools that can help you optimize many different processes in a wide range of industries.
That being said, you do need to choose the proper chatbot platform to make the most out of its functionality. So, let's discover what you should look for when choosing the right automation software for your company.
What features to look for in automated chatbot software?
There are many chatbot software providers on the market, so choosing the right one can be a tricky task. To make things easier, we've prepared some must-have features that will allow you to fully benefit from the chat automation.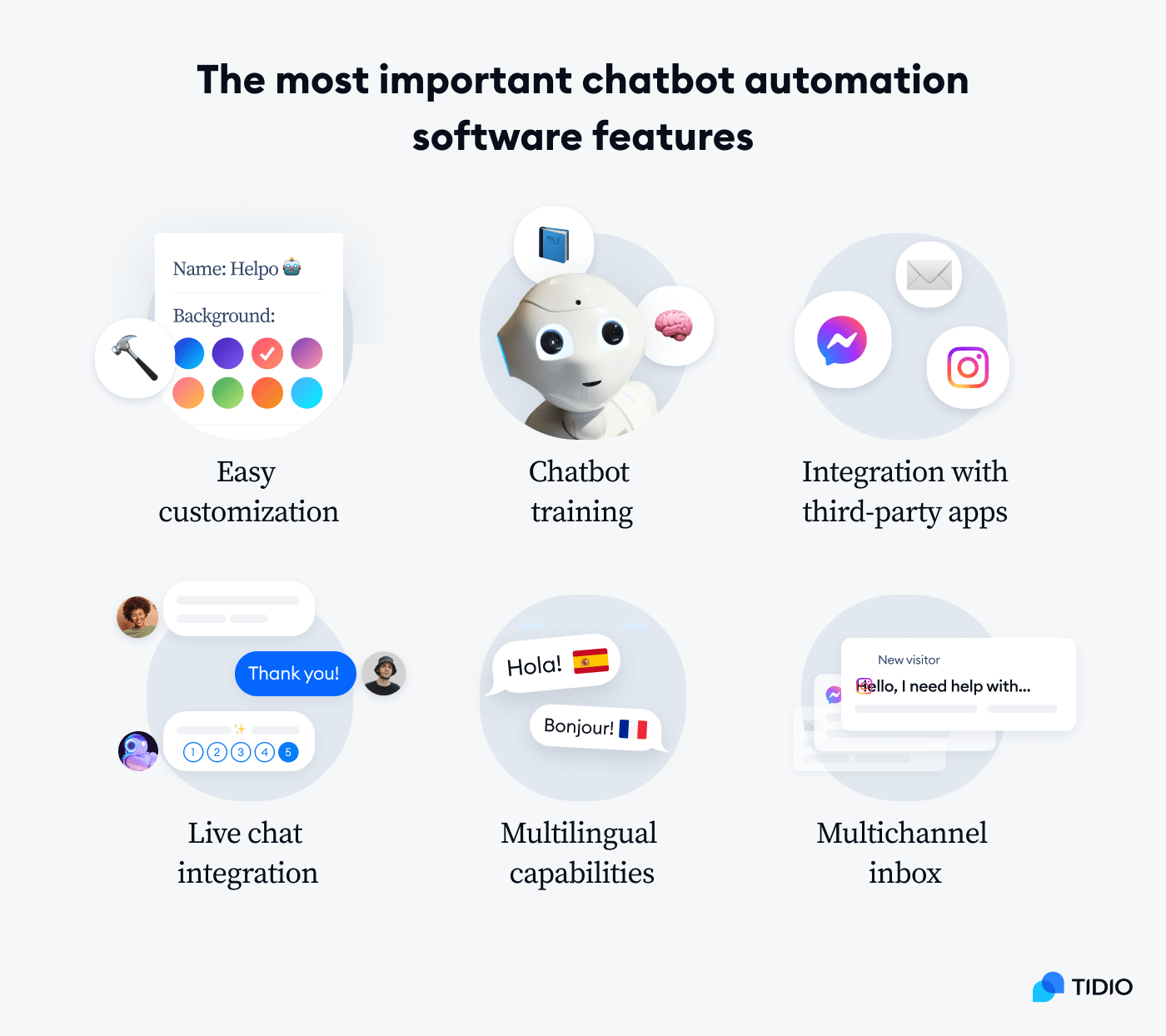 Easy customization
Chatbots were designed to make our lives easier. So, when choosing your automated bot software, make sure that the provider offers rich customization options, including:
The ability to adjust the visual layout of a chatbot to your brandbook
No coding skills required to create a chatbot for a website
Numerous ready-to-use chatbot templates
This will enable you to match the tool to your ecommerce or business website and provide a great user experience to all the visitors.
Self-learning capabilities
Chatbots are evolving at a fast pace. Thanks to machine learning and artificial intelligence, they are able to improve based on the recently handled conversations. These bots, just like people, can learn from their experiences, analyze customers' behavior, and adjust to them.
What's more, with time, automated chat becomes increasingly self-reliant when dealing with more complex issues without human intervention. Sounds like science fiction?
No, it's the future happening before our eyes!
Read more: If you want to stay on top of your competitors, you should keep an eye out for the latest AI trends.
Integration with third-party apps
Chatbots can give you a lot of valuable insights about your shoppers. These can include customer expectations toward your brand, their buying habits, or feedback about your products/services, just to name a few.
But, to be able to make full use of this information, you'll need some third-party apps like:
CRM tools—to gather all the customer data in one, well-organized place
Sales management tool—to qualify new leads and manage relationships with your prospects
Google Sheets—to prepare data analysis
Live chat integration
Sometimes your clients require the help of support agents. This could be because their inquiry is too complex for a bot, or because of the simple personal preferences of the customer.
In these cases, it's important to give them the possibility to contact a human agent with ease. This will ensure that shoppers receive a great customer experience, as well as make them feel understood and valued.
Read more: Take a look at the essential live chat statistics to find out how your business can benefit from this solution.
Multilingual capabilities
If you plan to expand your business in new, foreign markets, you have to ensure that your bots are able to serve people in their language. This ability will help you create valuable customer relationships and show them that you truly care about them.
Multilingual chatbots will also help you conquer foreign markets and connect with clients from different countries. In turn, you'll be able to increase your revenue and expand your business.
Multichannel inbox
Your clients can reach out to you via many different communication channels. These include Facebook Messenger, DM on Instagram, and email, just to name a few. But managing all these inboxes separately can be a huge challenge, especially if you're dealing with a large number of queries.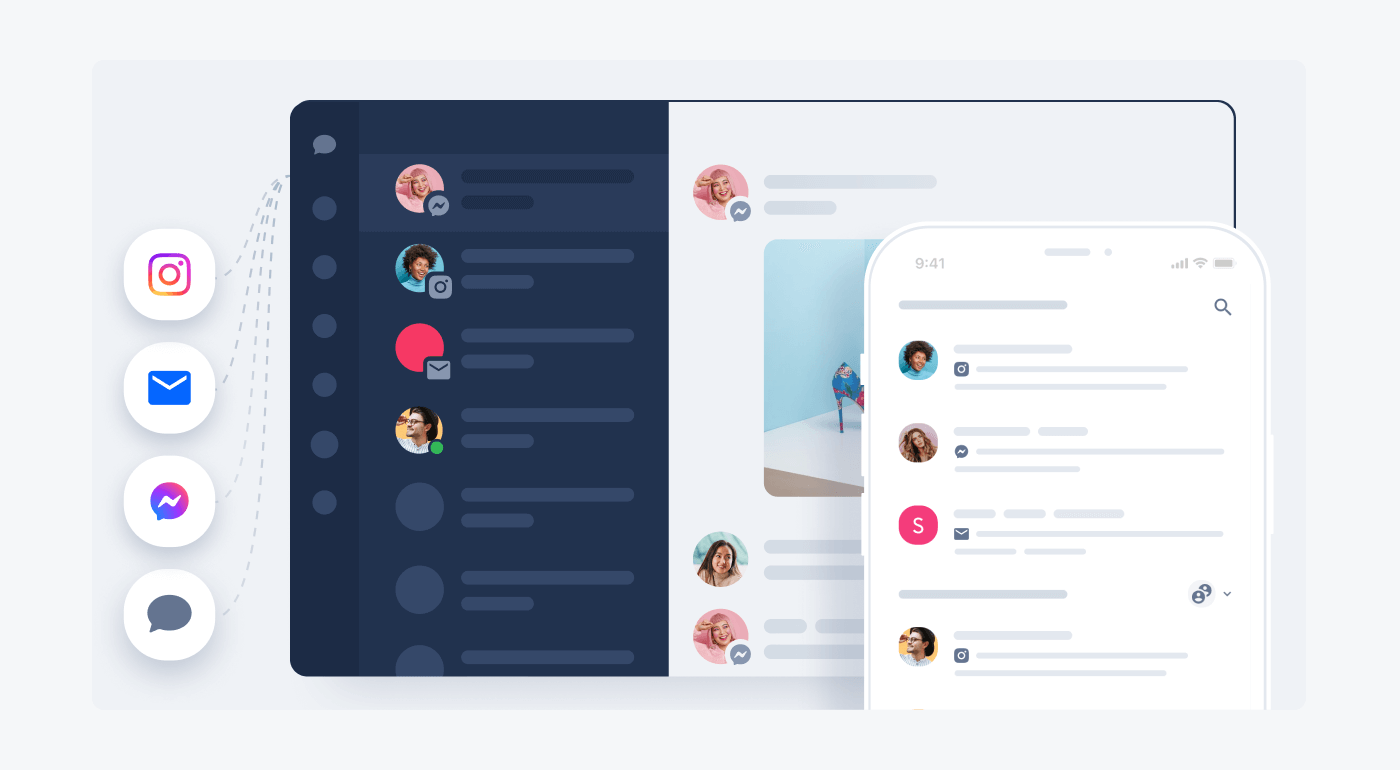 Make sure that the chatbot provider you want to use offers a multichannel inbox. By doing so, you'll be able to manage all customer communications in one place, which makes the whole process much easier and more time-efficient.
Now, with the core features of automated chatbots out of the way, let's take a look at the best tools for implementing this solution.
Best automated chatbot solutions
We've made sure to list the three best chatbot automation tools that fully cover the above-mentioned requirements. These providers also have years of experience in the market and a huge amount of satisfied clients.
Let's take a look at each one: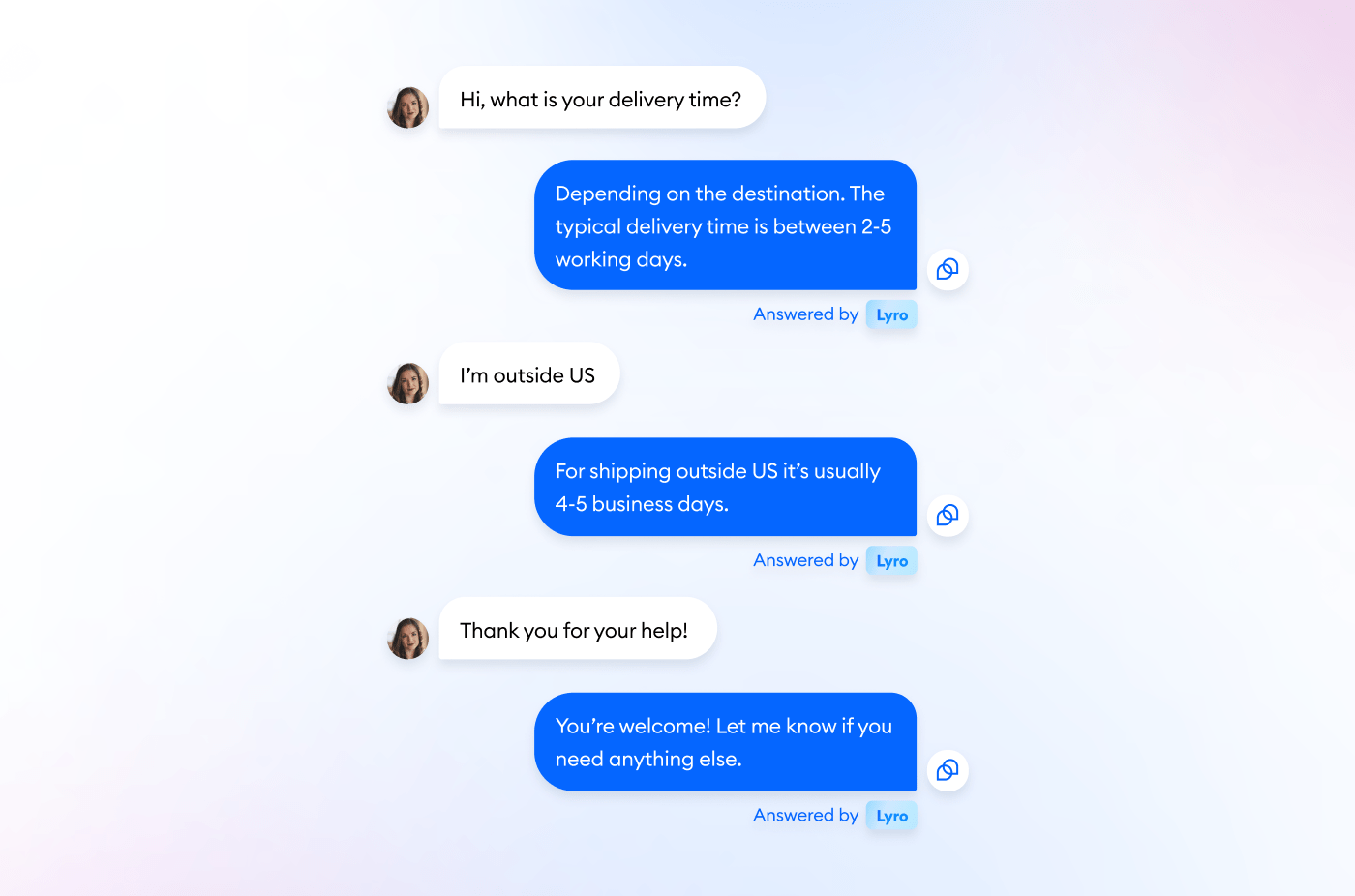 Developed by Tidio, Lyro is one of the most advanced chatbot automation services out there. It's powered by deep learning and AI technologies to enhance customer support and boost sales. This intelligent AI chatbot engages visitors on your website, seamlessly continuing the conversation in a natural manner.
The best part? You don't need to spend time training it. The bot automatically learns how to answer up to 70% of customer problems, expanding your capacity without incurring additional hiring costs. It also remains available to your customers 24/7, ensuring you never miss out on any sales opportunities.
However, don't just take our word for it. Try it out for yourself!
Main features:
Natural Language Processing (NLP) chatbots
The ability to train itself using the company information
The understanding of the context and intent of messages
Conversational bot templates available
The ability to understand the context and intent of messages
Various chat triggers for bots
Free plan available
Starter ($29/mo)
Communicator ($25/mo/operator)
Chatbots ($29/mo)
Chatbots + Communicator ($54/mo)
Lyro add-on (from $39/mo)
Tidio+ (from $394/mo)
Read more: Check out our knowledge base and learn how to create a good FAQ for Lyro in Tidio to get the most out of our tool.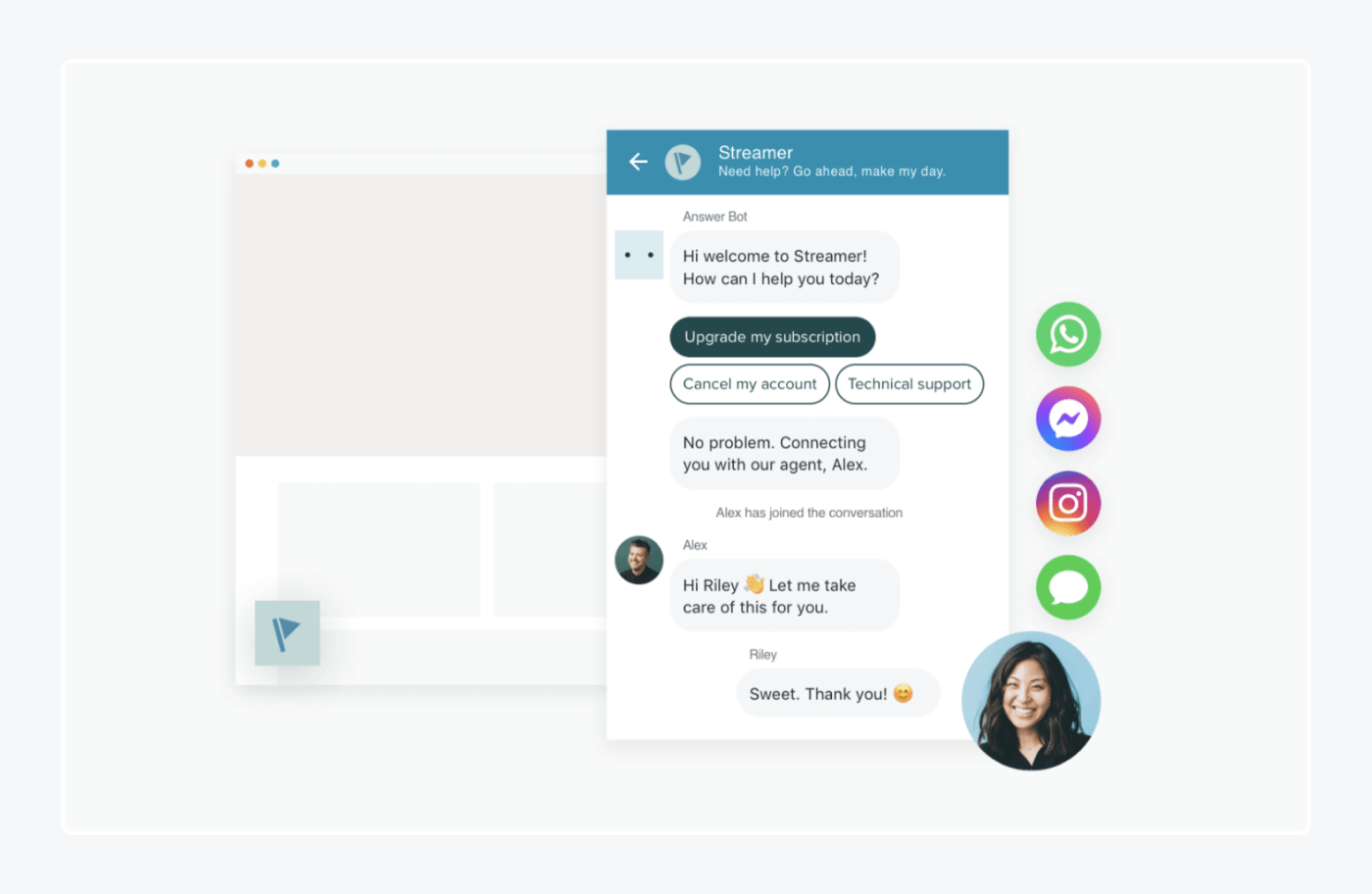 Rating: 4.3/5 ⭐️(5,730+ reviews)
This software allows you to monitor, manage, and respond to website visitors while on the go. Zendesk is used by companies of all sizes to personalize the shopping experience and increase customer satisfaction.
It also includes a ticketing system, custom forms, automated workflows, and auto-responder functionality to reduce your response times to a minimum.
Pros:
Cross-channel support, including mobile apps, social channels, and website
AI tools that suggest responses and recognize user intent
Reporting and analytics to enhance the customer experience
Cons:
Steep learning curve
Some users reported bugs while using the software
Free 30-day trial available
Suite Team ($55/mo/agent)
Suite Growth ($89/mo/agent)
Suite Professional ($115/mo/agent)
Suite Enterprise –> Contact sales
Rating: 4.4/5 ⭐️(1,030+ reviews)
This automated chat platform can provide excellent assistance to your customer success and sales reps. With AI-powered chatbots on board, Drift can be your great ally in offering a personalized user experience to your shoppers.
In addition, it also comes with an email automation functionality that can help you onboard new clients and expand your marketing campaigns. Moreover, Drift allows you to measure the NPS (Net Promoter Score) thanks to surveys sent to your website visitors.
Pros:
Multiple integrations, including Zapier, HubSpot, and MailChimp
Real-time insights into website visitors' needs
A mobile app for Android and iOS available
Cons:
Client support available only via chat
Some reviewers had issues with the reporting features
Premium ($2,500/mo)
Advanced and Custom plans –> Contact sales
Chatbot automation: key takeaway
Chatbot automation can help your business grow in many areas. These include boosting your sales processes, improving your customer service, and maintaining your sales and marketing consistency.
Thanks to artificial intelligence and natural language processing, automated chatbots can handle multiple users at once, answer their questions 24/7, and analyze previous customer interactions to better serve your clients in the future. You can also use these virtual assistants to collect information about potential customers or set up appointments with sales reps. By doing so, you'll automate your client acquisition process and help reduce the workload of your sales team.
So, if you plan to automate your sales, marketing, or customer support efforts, be sure to check out what chatbots can do. Who knows—maybe this is the missing piece of the puzzle that would help your business reach new heights.