Your business is growing!
That's a great reason to celebrate 🥳
But after the champagne stops flowing, you realize that the number of orders, emails, and other processes is becoming too much for you to handle.
And instead of focusing on scaling your business, you get stuck in the loop of doing repetitive tasks.
It's time to stop that and start using ecommerce automation.
Automated ecommerce can help you save valuable time and be able to fully focus on what really matters—growing your business.
Stick around to find out all you need to know about online business automation.
In this article:
Check out these articles to learn about more ways to improve your ecommerce website:
First things first—
What is ecommerce automation?
Ecommerce automation is a process of using software to automate repetitive tasks that would otherwise have to be done manually. This helps businesses focus their resources on growth when they scale up instead of dull tasks.
Automation works best for repetitive and smaller tasks performed in a consistent way. It can help businesses with task management, lead generation, and sales automation. This way, you can do more with less (or at least with what you already have.)
You can automate your emails to thank customers for their orders, answer FAQs, and process packages. You can also set up auto-responses to customer queries and other custom automation flows. Automations allow you to send consumer data between different apps, track your user actions, and trigger events on your online store like popups, and emails.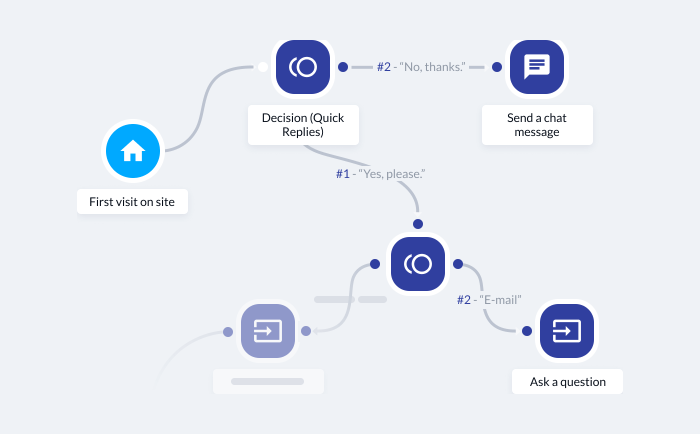 Let's put it this way—
As your company scales, the demands and repetitive tasks will grow as well. This way, some of the processes that used to work become inefficient and unmanageable. Eventually, you'll get overwhelmed by hundreds or even thousands of emails about order status, messages with support inquiries, and staying on top of your inventory. As a consequence, you might start spending more time putting out fires than growing your business.
But you have a choice here. You can ignore the problem for as long as you like. Or you can start using automation to help you and your staff run your online store efficiently towards your goals.
How does automated ecommerce work?
Automated ecommerce works through a variety of software that you can add to your business website. These additional systems mimic human actions in performing a task. They can also use machine leaning technology to adjust to the actions, input, and feedback of the users.
You can think of machine learning as a way for AI to learn and improve by gaining new information during interactions with humans. This helps the AI become more efficient and better personalize the experience for the users.
An example of ecommerce automation is an action performed by users triggering an automation task. Just like completing a purchase triggers an automatic email with the order confirmation message.
But why bother setting up automation in the first place? What benefits can it have for your online store?
Let's find out more about that.
Benefits of ecommerce automations
It's great to have some tasks taken off your hands when you're running a growing business. This way, you can fully focus on scaling your business without spending your days on the repetitive tasks. So, here are some of the biggest benefits of ecommerce automation.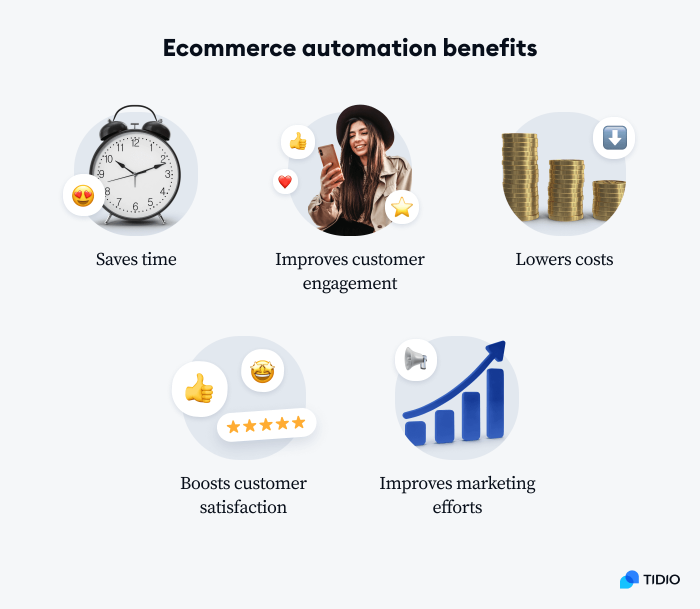 When you get rid of the repetitive tasks, you'll free your time to take care of more important processes. Some of the repetitive processes include scheduling the social media posts and email marketing campaigns to go live, automating the fulfillment process for your clients' orders, and tracking your customer success metrics. The more you choose to automate, the more will get done without your involvement.
We already know that the main reason about 74% of marketers use automation tools is to save time. It's a proven way to do more in less time while being able to focus your full attention and efforts on tasks related to business growth.
Some of the ways ecommerce automation can influence customer engagement include providing needed information quicker, giving them more autonomy in performing tasks, and eliminating fractions in the purchasing process. In fact, a study shows that purchase and engagement rates increase by a booming 250% when a company starts using omnichannel automation.
On top of that, your employees will be thankful if you take the data entries off their shoulders and let them focus on the tasks they came on board for. These include growing in their area of expertise and strategic thinking.
Automating your ecommerce decreases the cost of acquiring new customers and saves on hiring more employees. You can close more deals and generate more leads without your staff's involvement. This can also help you lower administration time and costs, so you can spend more on additional elements that will help you grow your business.
On top of boosting productivity within your company by about 15%, ecommerce task automation also brings down marketing costs by over 12%.
Boosts customer satisfaction
When you satisfy shoppers, customer loyalty towards your brand grows. And acquiring new buyers can cost you up to 25 times more than retaining an existing client. The problem lies in the fact that staying engaged with your customers becomes increasingly difficult when a handful turns into hundreds.
However, ecommerce automation helps to keep shoppers happy while you're scaling your business to reach a wider audience. Automation in ecommerce can improve the customer experience in your online store and provide them with assistance even when you're not available. This is important as over 89% of customers say they're more likely to make a repeat purchase if they have a positive experience with the company.
Improves marketing efforts
Using ecommerce marketing automation software can help your team improve the campaigns and save more abandoned carts. This is due to the 24/7 real-time data collection and being able to send your mails at the right time to the right audience. Information gathered by the tool includes email performance, click-through rates, and engagement.
You can use this data to optimize your follow-up emails and improve results from your campaigns. Some ecommerce automation systems will even give you actionable next steps and present all the data collected on a single dashboard for an easier view.
Ecommerce automation examples
What can you use automation in ecommerce for? Well—almost any repetitive and manual task can be automated. Some of the most common processes online stores automate include marketing, order fulfillment, customer service, and onboarding. Let's have a closer look at them.
Thanks to marketing automation tools, you can automatically manage the marketing processes and campaigns across multiple platforms and channels. This ecommerce task automation can send messages according to a set of instructions from your website, email, and social media. These include pop-ups, chat window messages, emails, and more.
For example, ecommerce email marketing automation software can help your marketing and sales team increase revenue as well as boost efficiency. One of the online stores that use this ecommerce automation is Paint Your Life website. This business website uses automatic pop-ups giving visitors a discount in exchange for their email address:
Automating your order fulfillment process is all about implementing technology and resources to manage orders and their dispatch automatically. Ecommerce fulfillment automation can help you speed up the activity, reduce human error, and remove friction from the online shopping experience. You'll be able to increase the efficiency of your order processing and allow customers to receive their new products quicker.
For example, a warehouse management system can eliminate manual data processing and enable you to scale faster in the long run.
Customer service automation
Automating ecommerce customer service allows your shoppers to resolve their queries without interacting with your human representatives. It can handle simple, repetitive questions and direct difficult inquiries to the appropriate departments.
It also reduces human involvement and frees up your agents to focus on complex issues and scaling your business. Typically, customer service automation includes a self-service help center, chatbots, and FAQs. This customer help, unlike human representatives, is available 24/7, 365 days a year, which speeds up your response time and improves customer satisfaction.
An automated online business that uses this technology is Valyou. It implements a customer service chat on its business website, providing support straight from their pages.
Read more: Learn how to automate conversations and reduce your team's workload with Tidio.
This automation takes care of tasks related to onboarding new employees to your business. It provides your new hires with the applications they need, schedules orientation meetings, organizes documents, and sends welcoming packages. Some of the benefits include minimizing security risks and human errors, giving a competitive edge, and improving employee retention.
You can also automate the onboarding of your customers. This includes providing them with virtual tours and guides explaining your products and services. It's also a good way to answer questions right when the new user comes across any problems. Onboarding automation can help new customers familiarize themselves with your product and use it to its full potential.
All that sounds great, but how can you automate your online store efficiently? Let's find out!
How to automate your ecommerce website?
You can start by listing all the processes that take you a long time to do manually. These are all the tasks that you would like to take off your shoulders to be able to focus on your business growth. So, what are some of them?
1. Welcome visitors
Think of it this way—when you walk into a physical store, you are welcomed by a store assistant that sets a positive tone right from the start. Unfortunately, this is not the case for online stores.
However, you can send automated welcome messages to your visitors and use a virtual shopping assistant to improve their experience on your site. For this function, you can use chatbots that greet potential customers and ask if they have any questions. Just like this one: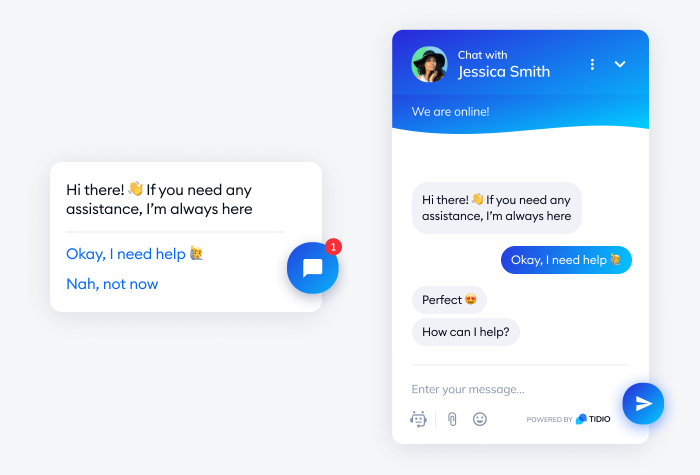 2. Improve marketing
Okay, in this case, you want to streamline the process of pushing the visitor to complete their first purchase with you.
How to do that with marketing automation for ecommerce?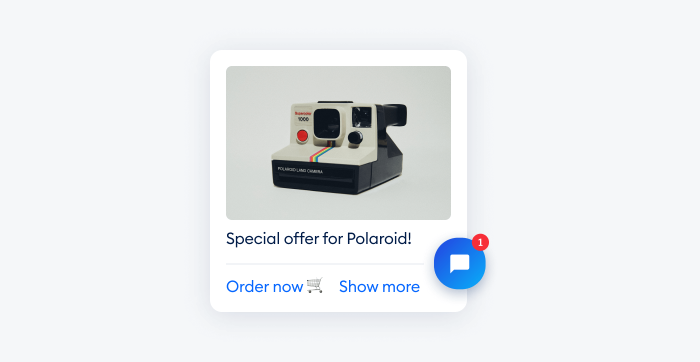 You can get pop-ups and messages that will be sent to your website visitors to encourage them to complete a purchase. These include personalized recommendations, discount codes, and advertising current offers.
You can also use social media automation and Instagram bots to reach your clients on their social platforms. Moreover, you can generate more leads and use automated email marketing to increase sales and gain more repeat customers.
3. Prevent fraud
This is a real issue for ecommerce market as the global losses related to payment fraud have increase from $9.84 billion in 2011 to $32.39 billion in 2020. And customers are the number one perpetrators of fraud.
Thankfully, you can minimize this risk for your brand. And instead of manually verifying the legitimacy of every order, you can use software that detects and cancels fraudulent orders for you. This way, your store will be safe, and you won't have to spend hours every day focused on detecting fraudulent transactions.
4. Segment customers into groups
Segmenting your buyers can help you get to your them better, improve your marketing strategy, and personalize the communication. This is a good way to send the right messages to the right clients.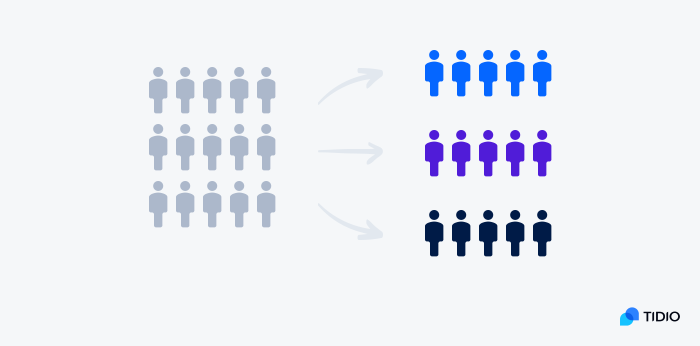 Bad news is that segmenting your audience can be a bit of a daunting and time-consuming task. Fortunately, you can implement tools that will organize your contacts into segments that you have previously set. These customer groups can be based on the age, location, interest, or any other criteria relevant to your marketing and communication.
5. Improve customer relationships
Ecommerce automation can help you build as well as nurture your relationships with shoppers. You can automate the customer communication at night and during the weekends so that your brand is always on for your clients, even when your representative are not available. This communication includes self-service for common questions, automatic Thank you for your order emails, and personalized offers.
This way, your buyers will feel supported and welcomed by your business at any time they shop with you. In turn, this will improve your relationships with customers and boost your sales.
6. Retarget website visitors
Once someone leaves your site without purchasing any of your products, you can retarget the visitor on different websites to convince them to come back to your store. Think about it—they visited your ecommerce site for a reason. Now, you can bring back the customer and show them that you can fulfill their needs.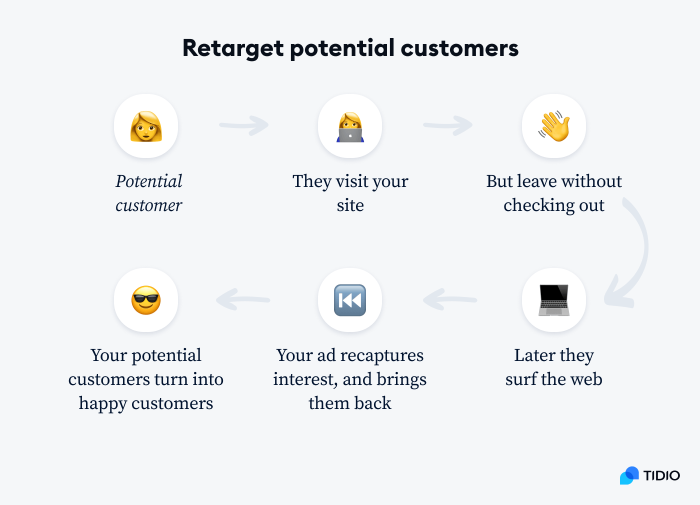 You can do this by setting automations that will show targeted ads to people who left your store without completing a purchase. You can set different rules, for example, if a visitor looked at a specific product or put something in their cart but hasn't gone through with completing their order.

Speaking of customers abandoning their shopping basket—
7. Save abandoned shopping carts
Before the potential customer leaves your site without completing their order, you can convince them to stay. Some of the automations you can use to save abandoned carts include pop-ups and chat messages offering a discount or presenting a special offer.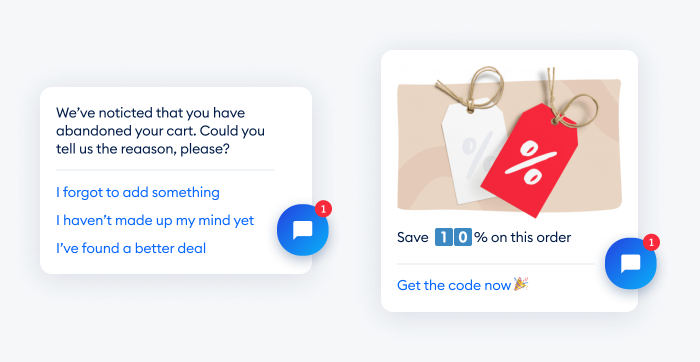 This is a good way to complete sales that would otherwise be lost. On top of that, it can help you with lead generation by collecting email addresses from shoppers that want to get the discount code for your ecommerce store.
8. Manage inventory
Inventory management is another time-consuming task that ecommerce brands struggle with. You need to keep track of your stock, create sales forecasts with order value, and items based on those forecasts. These tasks take a good while, and you need to ensure they're done right to keep your store running smoothly.
The good thing is that you can put most of your inventory management processes on autopilot. These include updating information when you're low on stock and re-ordering popular items. This can help you stay on top of your stock and never run out of products that a shopper is looking forward to buying.
Now—
What tools can you use to automate some of the tasks mentioned above?
Ecommerce automation software
Unless you are willing to spend thousands of dollars and months on creating your own automations, you'll need to implement the software into your online store to streamline it. There are plenty of choices out there, so you can look through the Shopify App Store and G2 to decide which ones are the right match for your business.
We'll keep the list short and sweet. Seven of the best ecommerce automation tools are:
1. Tidio: ecommerce customer service automation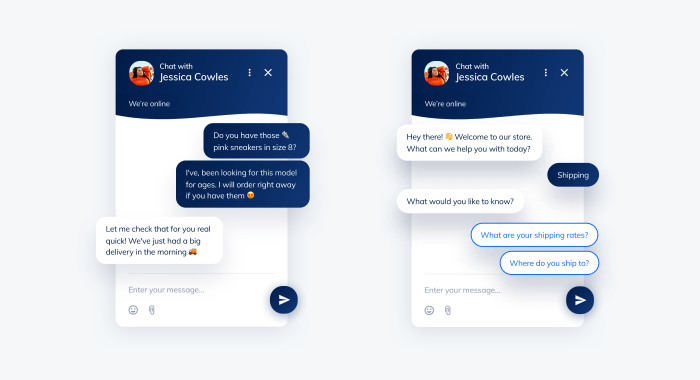 Ratings: 4.7/5 ⭐️ (1,200+ reviews)
Yes, this is our software, and we know that a blog post isn't the place to advertise ourselves. So, all you need to know is that—
Tidio is a customer service automation platform that uses chatbots and live chat to help businesses communicate with shoppers. It also offers detailed analytics and chat surveys for you to learn more about your website visitors. No more manually answering each and every repetitive question that your buyers ask.
Check out the reviews of our users and take our customer service automation for a test drive free of charge.
Main features:
Customizable chat widget
Pre-chat surveys and customer satisfaction surveys
Canned responses
AI chatbots operating on NLP
Email, Instagram, and Facebook integration
Desktop and mobile app for iOS and Android
Various integrations with CRM platforms, Shopify, BigCommerce, and social media
Free plan available
Communicator ($19/mo/agent)
Chatbots ($39/mo)
2. Rivo: ecommerce marketing automation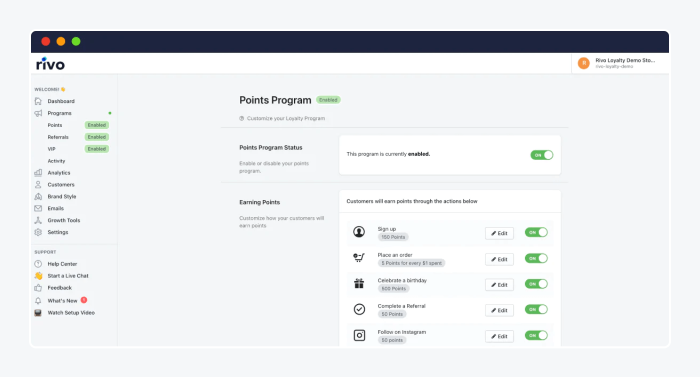 Ratings: 5/5 ⭐️ (185+ reviews)
Rivo.io is one of the best retail automation solutions for Shopify. Your marketing team can send emails, SMS messages, and target users with push notifications to improve your marketing efforts and increase checkouts from the shopping carts on your business website.
It can also help to turn high-risk orders from abandoned carts into successful purchases. This software offers tools to cross-sell your products and track your progress with reports to make better business decisions in the future.
Main features:
SMS, email, and push notifications
Reports and analytics available
Easy to use
Free version available
Request demo for pricing
3. Monday.com: ecommerce task automation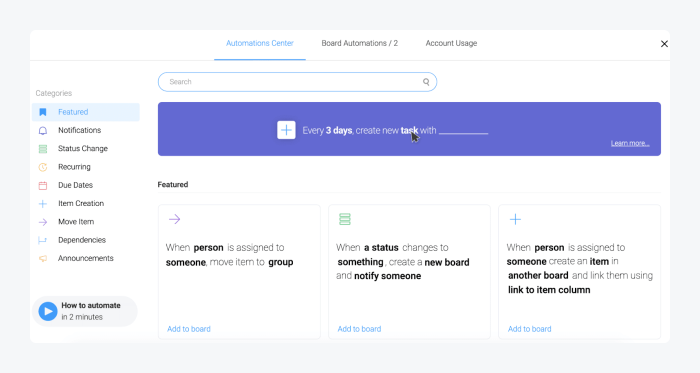 Ratings: 4.7/5 ⭐️ (5,850+ reviews)
This workflow automation in ecommerce consists of building blocks for customer management and tracking your inventory. This tool automatically creates QR codes to track your items. You can scan inventory with your phone and update statuses while on-the-go. Monday.com also offers customizable dashboards for an overview of your results, finished projects, and what's still in the pipeline.
Main features:
Automated reminders
Notes available
Multiple boards for projects
Individual (free)
Basic ($10/seat/mo)
Standard ($12/seat/mo)
Pro ($20seat/mo)
Enterprise → contact sales
4. Klaviyo: ecommerce email automation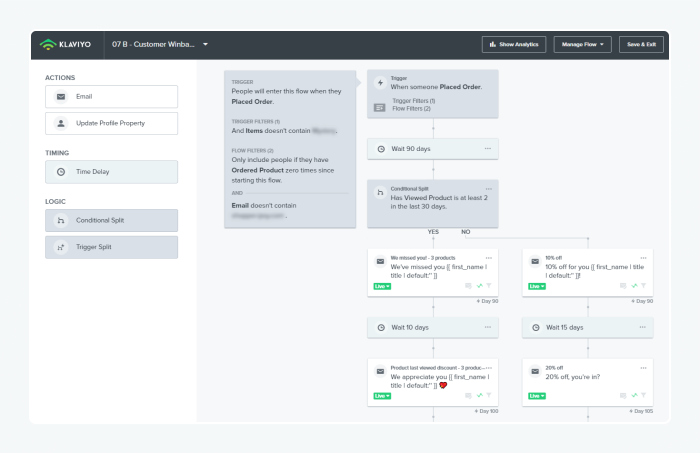 Ratings: 4.6/5 ⭐️ (720+ reviews)
This platform focuses on email automation for ecommerce to personalize customer communication and help you with client engagement. You can send out email marketing campaigns for specific segments of your audience. Klaviyo is one of the best ecommerce email automation that gives you full ownership of customer data and interactions including metrics, events, location, date, and other information.
Main features:
Email campaign design modules
Variety of customizable automation including price drop alerts and welcome emails
Advanced customer segmentation
Free plan available
Email ($45/mo)
Email and SMS ($60/mo)
5. Trustmary: ecommerce automation reviews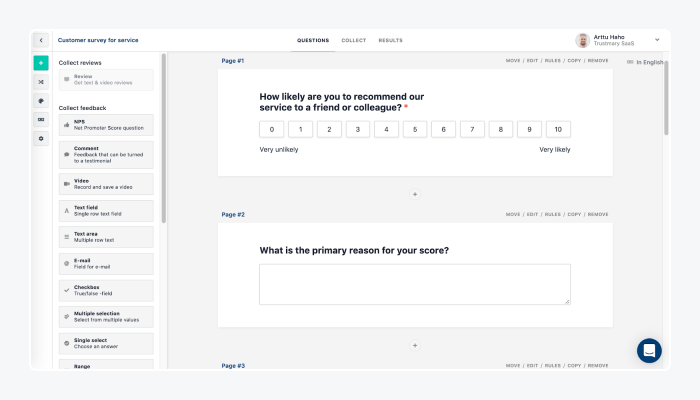 Ratings: 4.6/5 ⭐️ (10+ reviews)
Building trust is one of the most important processes for growing a business—and testimonials can add a layer of credibility to your ecommerce website. Trustmary is a testimonial platform that lets you collect and display customer reviews. It provides many templates to turn website visitors into leads and gather customer feedback from existing clients. Your customers can give their reviews in text and video form using this online business automation.
Main features:
Variety of testimonial templates
Pop-ups available
Social proof and testimonial widgets
Solo (free)
Business ($99/mo)
Pro ($299/mo)
Enterprise (starting from $499/mo)
6. ShipStation: ecommerce shipping automation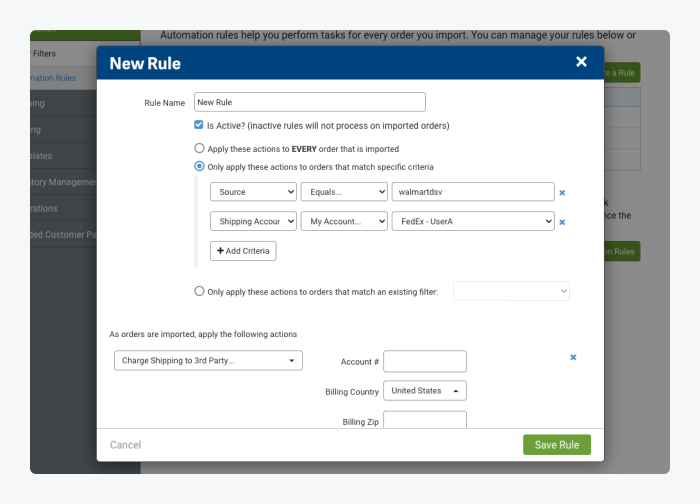 Ratings: 4.3/5 ⭐️ (170+ reviews)
This ecommerce automation software lets you import and create orders automatically to save time. It also offers a customizable return portal that is easy to use for your clients. ShipStation provides over 200 integrations with a variety of channels. You can customize the packing slips, thank you for your order messages, and tracking pages to match your brand's aesthetics. This platform will help you speed up order fulfillment and make the delivery process smoother.
Main features:
Import, manage, and fulfill orders automatically
Track shipment to send updates to customers
Email return labels and notifications
Starter ($9.99/mo)
Bronze ($29.99/mo)
Silver ($49.99/mo)
Gold ($69.99/mo)
Platinum ($99.99/mo)
Enterprise ($159.99/mo)
7. Brightpearl: ecommerce order automation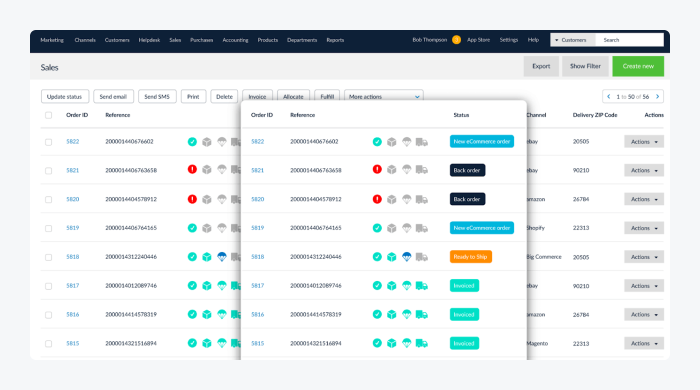 Ratings: 4.4/5 ⭐️ (60+ reviews)
Brightpearl is an operating system for retailers to record key trading data that integrates with multiple selling channels as well as the retail tech ecosystem. It helps with inventory management, order management, and accounting to eliminate errors and save staff hours. This is one of the ecommerce automation tools that help you make better future business decisions and increase profits with the use of advanced reporting.
Main features:
Inventory management
Advanced analytics and reporting
Variety of integrations including Amazon and Shopify
Tips on automating your online store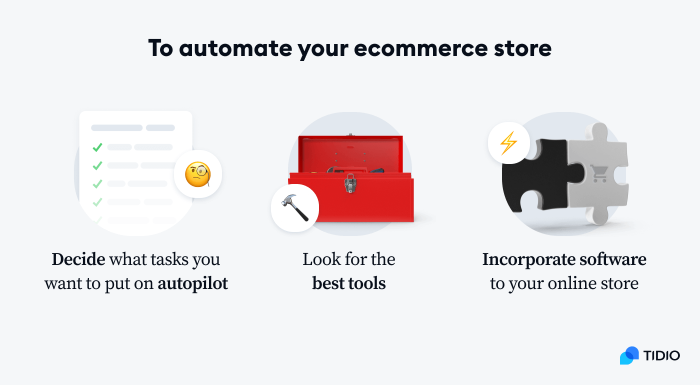 You can automate an online store's website with a few simple steps. Here's how—
Decide which parts of your business you want to automate
Depending on your needs, you'll want to automate different business processes. Some companies choose to streamline their order fulfillment process, others their customer service. You can also use ecommerce automation in a variety of areas simultaneously and monitor them instead of performing the tasks manually.
Search for the best tools to automate these processes
One provider's software is not equal to its competitors. So, look for the ecommerce automation tools that will have all the required features, good customer support, and that match your budget. If you search through the available platforms, you'll discover that some of them offer much more for the same or even lower price.
Incorporate the software into your ecommerce store
Make sure the software matches the code and style of your ecommerce platform. This will ensure that the tools blend in perfectly and provide a unique experience for your customers. You should look at the design of the software as well as its back-end to make sure it incorporates with your digital environment.
Key takeaway
So, that's all the necessary information you need to start automating your ecommerce business. Here's a very quick recap.
Ecommerce automation lets you put repetitive processes on autopilot so you and your employees can focus on more important tasks that contribute to your business growth.
Some of the tasks you can automate in your ecommerce business include welcoming visitors, marketing, customer service, fraud prevention, and inventory management. These are only a few processes that you can use ecommerce automation for.
Remember to use software to make your automation in ecommerce effective. Look for the tools that have the right features, are within your budget, and match your existing technology.
You're prepared to start automating your online store. Good luck!
Frequently asked questions
What is automation in ecommerce?
Ecommerce automation is the action of setting up tools to complete various tasks automatically. It works best for repetitive tasks and those that are always performed in the same order or according to the same criteria.
Why is ecommerce automation important?
Ecommerce automation is important because it saves time, increases employee engagement, lowers costs, boosts customer satisfaction, and improves your marketing efforts. And most importantly, it takes tasks off your shoulders, so you can focus on growing your business more efficiently.
What kinds of ecommerce automation software are there?
There are multiple kinds of ecommerce automation that take care of different tasks for your business. These include workflow automation, marketing automation, customer service automation, and shipping automation, among others.
What are the best tools for ecommerce automation?
The best ecommerce automation software depends on your specific needs and circumstances. You need first to decide which areas of your business you'd like to automate, and then look for tools that can help you with that. Some of the software that would benefit any business include Klaviyo, Tidio, and Shipstation.
How to start using ecommerce automation?
To start using automation in ecommerce you should make a list of processes you would like to put on autopilot. Then, search for the best tools to take care of these tasks for you. Integrate the software with your website, set it up, and focus on the business-growth tasks. Remember to check up on your software at least once a week in the beginning and once a month thereafter to make sure everything is running smoothly.
What should I automate in ecommerce?
Which parts of your business to automate completely depends on your needs. A few areas of your company that you can streamline include customer service, marketing, inventory, order management and fulfillment.
Can dropshipping be automated?
Yes. To automate your dropshipping business search for the right tools, streamline order processing, automate updates to your inventory, and implement automatic order tracking. You can use tools, such as Oberlo or DSer.