Let's face it, in the 21st century anyone can build an eCommerce website.
Is it a good thing?
For you, surely!
Why?
Because you're about to learn how to make one that will crush your competition into dust.
In this guide, you'll see:
Not exactly what's you're looking for? Check out:
What is an eCommerce Website?
In short, an eCommerce website is a website that lets you sell products and services online.
It often features such elements as a product catalog or shopping cart to enable online transactions. Any site where you can buy products or services is considered an eCommerce website.
eCommerce websites may represent a small business, a large retailer, or a marketplace.
Types of eCommerce Websites
There are three types of eCommerce websites:
Single-brand
Online retailer
Marketplace
Which of these you choose depends on your business model and the money they're willing to spend on creating yours. Keep reading to find out which one's right for you.
1. Single-Brand Website
A single brand website sells products and services exclusively from one business or entrepreneur.
If you're looking to build an eCommerce website for your business, chances are it's going to be an "individual brand" type.
Timberland is a typical example of a single brand website—you'll only find Timberland products there.
This website's design looks excellent and packs a bunch of products. Does that mean creating such a great website is prohibitively expensive for small businesses?
Nope.
Anyone can use an eCommerce website platform (we'll talk more about them in the next section) or use a template to create a good-looking store.
Starfall, a small California-based eCommerce store for women, is a good example.
The product selection isn't as extensive as Timberland's, but that's not the point. The point is: the company built a simple eCommerce website that sells, and that didn't cost them an arm and a leg.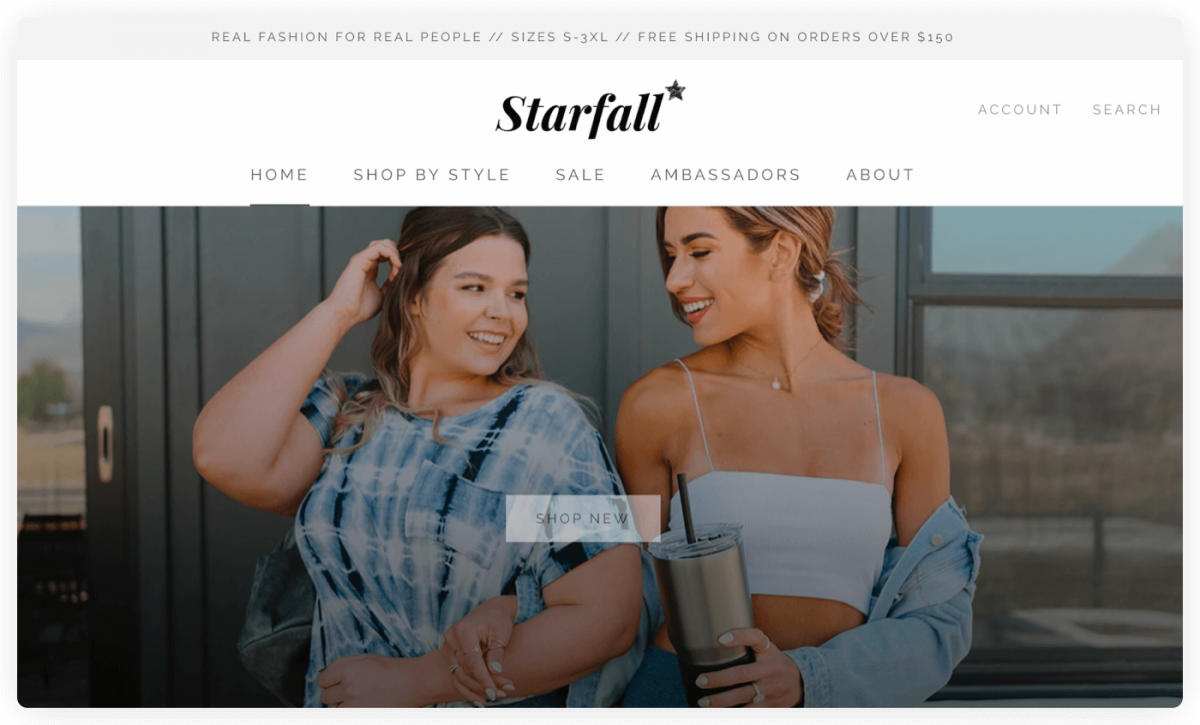 To sum up, an individual brand eCommerce store is the best option to sell your own unique products.
Plus, such websites are totally customizable, meaning it's easy to create unique menus, product pages, and everything else.
2. Online Retailer
An online retailer is an eCommerce website that offers products from different sellers.
In other words, you get many brands in a single location. Selling on such a website is another way for brands to distribute products.
Zappos is a good example of an online retailer. Just have a look, you can buy Timberland products there: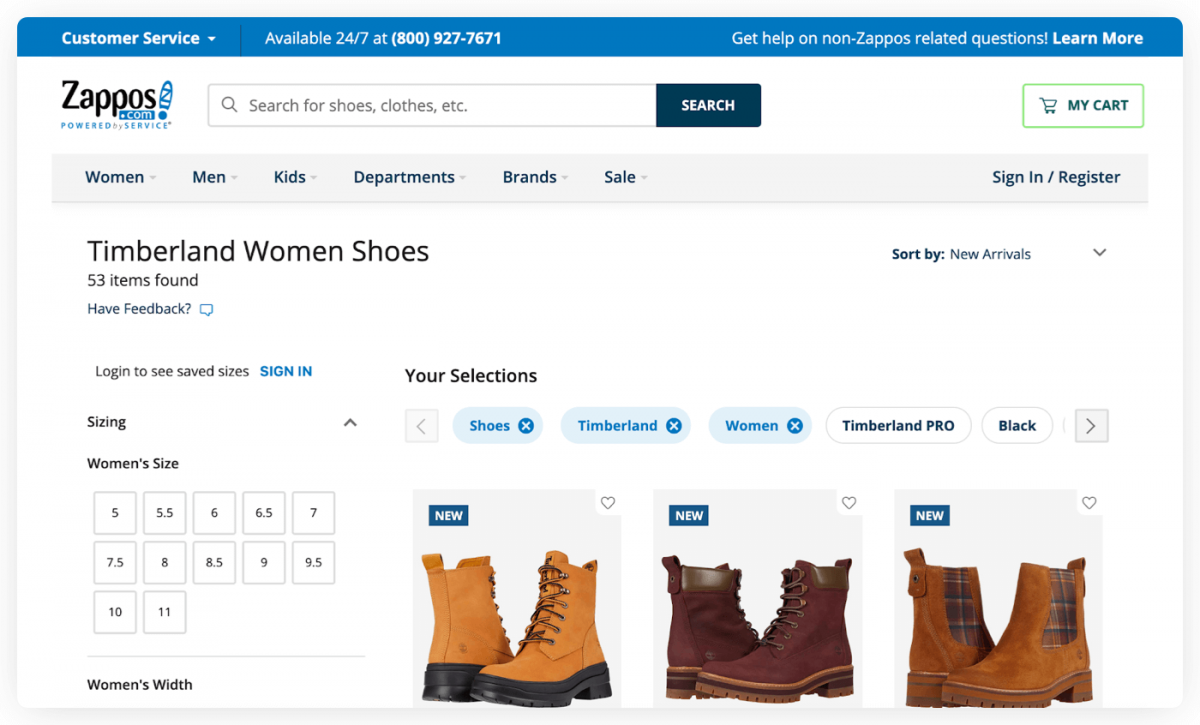 Obviously, Zappos doesn't produce these goods.
So, how come they sell them?
What they do is buy them in bulk from Timberland and sell them at a competitive retail price.
This business strategy is a win-win. Timberland gets more opportunities to sell via a retail eCommerce website while getting rid of their own stock. Zappos doesn't spend anything on manufacturing and faces lower advertising costs.
3. Marketplace
A marketplace is an eCommerce website selling products from individual businesses.
Vendors can register, set up an account, and start selling. The marketplace manager imposes charges on product listing and fees for every sale.
eBay is an example of a marketplace.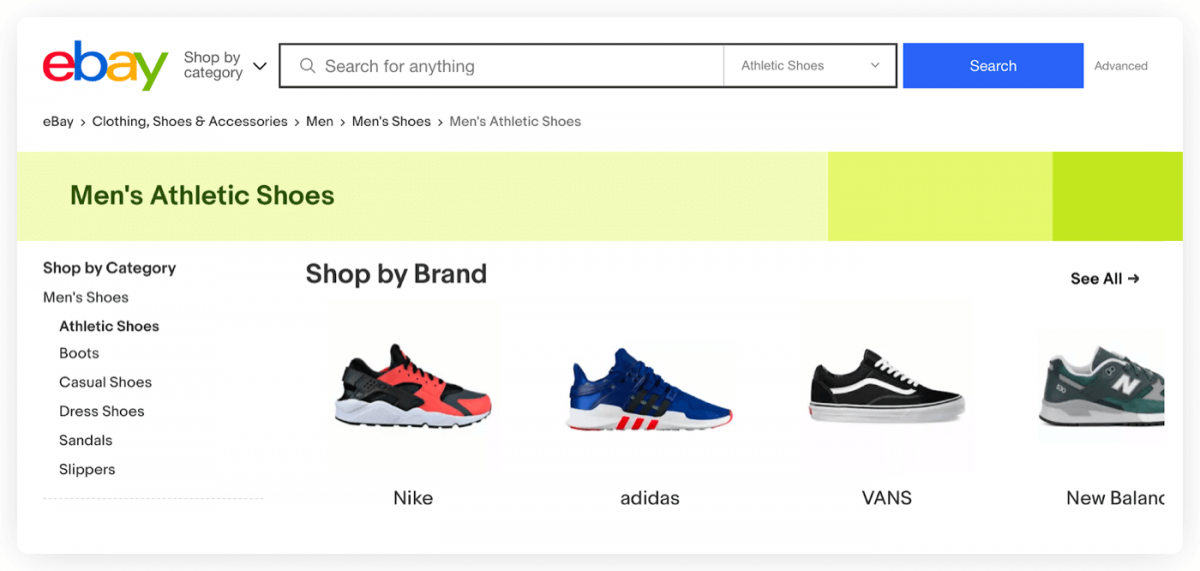 Selling on marketplaces means no need to build an eCommerce website. So, you can save time and money. But remember that vendors face extreme competition and fees from marketplace owners.
5 Best eCommerce Platforms
Now that we know online store types, it's time to answer the question: "How to build an eCommerce website from scratch?"
Your safest bet is to use an eCommerce platform, i.e. online-based software created specifically for building online stores.
Here are the best eCommerce platforms:
BigCommerce
Shopify
WooCommerce
Magento
3D Cart
The best website builders for eCommerce offer customizable templates that let you create a fully functional website in a matter of minutes. Alternatively, you can create a unique eCommerce store design from scratch by simply dragging and dropping website elements in a visual editor.
BigCommerce is an eCommerce website builder with an excellent reputation. Business owners trust BigCommerce because it gives:
Fast website loading speed
Technical SEO optimization
Built-in blog
Drag-and-drop page editor for custom designs
Sales reports
Customer incentives (discounts, etc.)
The Standard plan has the essentials but lacks goodies like an abandoned cart saver or customer segmentation. For one, customer segmentation is an effective way to increase sales by personalizing offers.
BigCommerce Pricing
Standard plan (best for small businesses on a budget): $29.95 per month
Plus plan (essentials + conversion optimization tools): $79.95 per month
Pro plan (best for scaling down a growing business): $299.95 per month.
15-day free trial available.
Who Is BigCommerce Right For?
Medium-sized businesses and retail brands.
With a comprehensive Pro plan, they can achieve their sales targets. It's packed with conversion optimization tools, so it's a good bet to boost online sales. Check out the best apps for BigCommerce and how to find the right ones for your store
Shopify is super simple and user-friendly. Simply sign up, choose a domain and theme, add products and prices—and you're ready to sell. Shopify takes care of the technical aspects, so you can start your business and focus on sales.
You get everything to start selling in your eCommerce store in the basic Shopify plan:
Discounts and gift cards
Abandoned cart recovery
Unlimited products
Online payment protection
Drag-and-drop website builder+templates
Also, there's an app store full of Shopify apps to help you with sales.
There are some disadvantages to be aware of, though.
For example, there are transaction fees for third-party payment gateways (between 0.5% and 2%). Also, you might end up having to buy a paid plugin.
Shopify Pricing
Basic Shopify (for a new store): $29.00 per month
Shopify plan (for a growing store): $79.00 per month
Advanced Shopify (for scaling a business): $299.00 per month
You can try Shopify for 14 days for free (no credit card required).
Who Is Shopify Right For?
Small and medium-sized businesses.
It's easy to start a Shopify store and manage order fulfillment, even for several people. The initial investments are also low. That's why Shopify is the best eCommerce website maker for small businesses especially.
Pro tip: Want a straightforward guide to creating a Shopify store? Check out How to Start Selling On Shopify: Beginner's Guide to Building a Shopify Store from Scratch. Step-by-step instructions, perfect for beginners.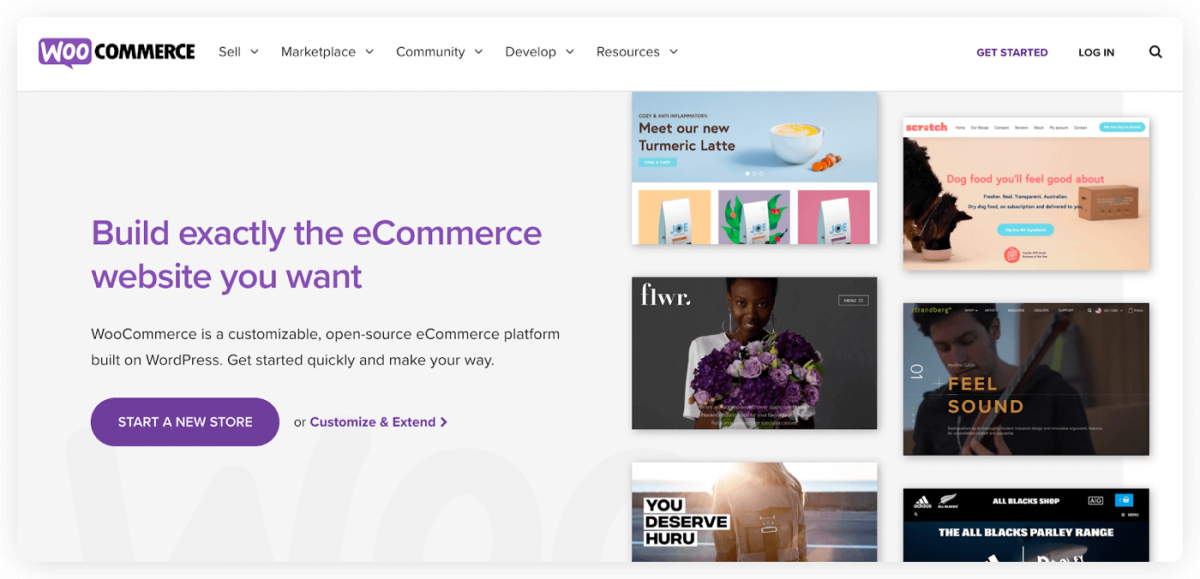 WooCommerce is the best free eCommerce website builder, used by 31 percent of the Top 1 Million Websites. Here's why WooCommerce is thought to be one of the best eCommerce website builders:
Easy to manage and customize
Budget-friendly—the WooCommerce plugin is free
Self-hosted—no need for maintenance & updates
Tons of plugins to help with sales, inventory, social media, maintenance, and SEO optimization
Enables selling on marketplaces like Amazon and eBay
Those with WordPress dashboard experience will find their way around WooCommerce very quickly and configure store features in minutes. Besides, you can customize literally everything and get a unique, free eCommerce store.
As for the disadvantages, if you opt for free themes and plugins, watch out. Some might have security loopholes that can compromise your store.
Then, there's the cost. With WooCommerce, you can create a free eCommerce website, but hosting and premium plugins are paid. The costs can go up fast if you don't pay attention.
Pro tip: What WooCommerce plugins do you need? Here are the ones with the best reviews from businesses:12 Best WooCommerce Plugins & Extensions [Top Free Included]
WooCommerce Pricing
The WooCommerce plugin itself is free.
Domain and hosting costs that can bring the cost of running a WordPress eCommerce website up to anywhere between $80 and $200.
For one, paid themes cost from $20 annually. There are many free options, so WooCommerce is still a way to get a cheap eCommerce website. As you grow, you can invest in premium features.
Who Is WooCommerce Right For?
All kinds of businesses + retailers.
Users appreciate WooCommerce for simplicity. Besides, if WordPress is your preference, then WooCommerce is practically "the default" choice. Plus, small businesses prefer this eCommerce platform because of its low starting costs.
Pro tip: Want to see how others designed their WooCommerce stores?10 Awesome WP eCommerce Examples [WordPress Store List]

Magento is a dedicated, open-source eCommerce platform. You get everything you need to run a successful store, including custom integrations with third parties (suppliers, etc.) of your choice.
Here's a breakdown of Magento features:
Drag-and-drop web page builder
Customer segmentation
Analytics and reporting tools (sales, taxes, orders, customer behavior, etc.)
Conversion and marketing tools (discounts, coupons, cross-sell, etc.)
Sell products through any sales channel or marketplace
With Magento, you get a truly unique store, ready for international sales thanks to powerful localization features.
Disadvantages?
Complexity and cost. Adding features could be a bit hard unless you know what you're doing. You'd probably need at least a mid-range Magento developer to help, which increases the total eCommerce website cost.
Magento Pricing
Magento is a free, open-source eCommerce platform.
The cost of a functional store, however, can be anywhere between $10,000 and $30,000. It depends on the functionality that developers would need to build.
Who Is Magento Right For?
Medium-sized, large brands, enterprises, and marketplaces.
Magento is highly customizable, and you can develop unique integrations with your partners, etc. Customization makes it suitable for sellers in need of complex solutions.
Read more: Discover the best Magento live chat solutions for your online store.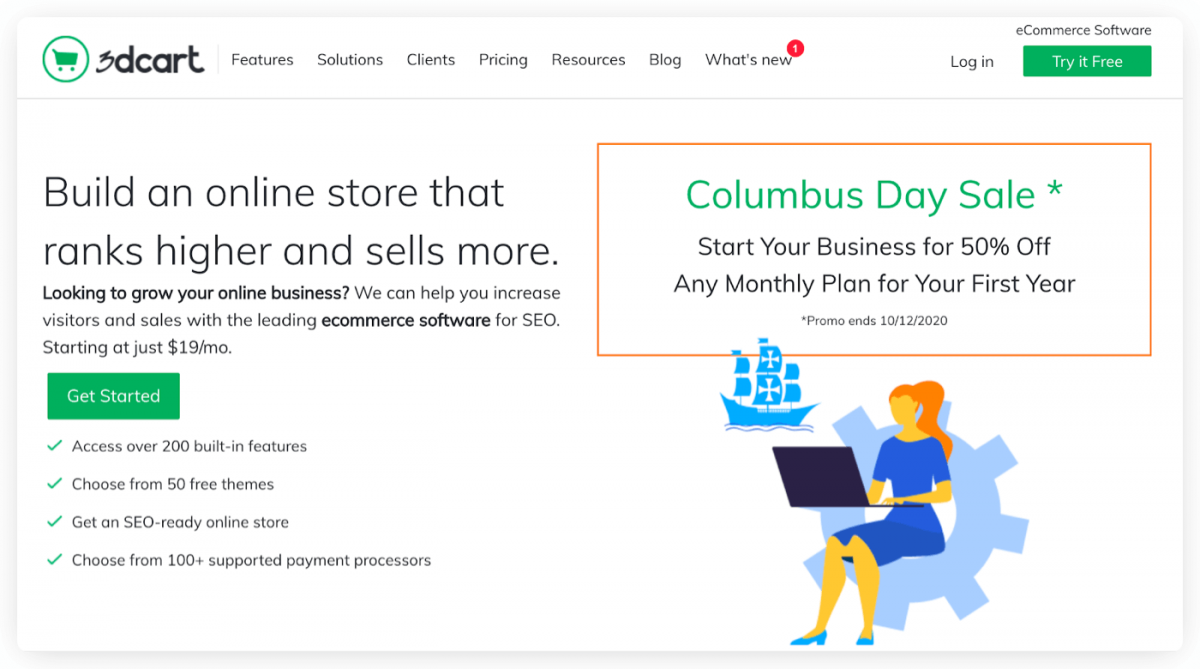 3DCart users prefer this platform because it has everything to create a custom eCommerce website design. Also, it doesn't limit the sellers in ways the others do—for one, there are no sales caps.
A lack of a sales cap means you can make sales for thousands of dollars on the cheapest plan, and the platform won't force upgrades. Then again, as your eCommerce store grows, you will need more features. Still, the choice is entirely yours.
This eCommerce website builder has:
No transaction fees + unlimited orders
Easy to use and build a store
Built-in blog
Coupons and discounts on all plans
200+ products on the starter plan
Disadvantages?
Compared to the other eCommerce platforms, 3DCart has fewer themes and plugins to offer. Not critical at the beginning, but can become an issue in the long-term.
3DCart Pricing
Here are 3DCart plans:
Startup Store: $19 per month
Basic Store: $29 per month
Plus Store: $79 per month
Power Store: $129 per month
Pro Store: $229 per month
Who Is 3DCart Right For?
Small and medium-sized businesses.
It's easy to start selling online on a budget + there's a ton of built-in functionalities to provide customers with a positive shopping experience.
10+ Best eCommerce Website Examples
Here are the best eCommerce stores made with the five common platforms. For every example, we'll highlight top features and takeaways for you as a future business owner.
Easy-to-navigate store design that uses live chat—an effective sales strategy for small online stores.
Simple design
Uses brand storytelling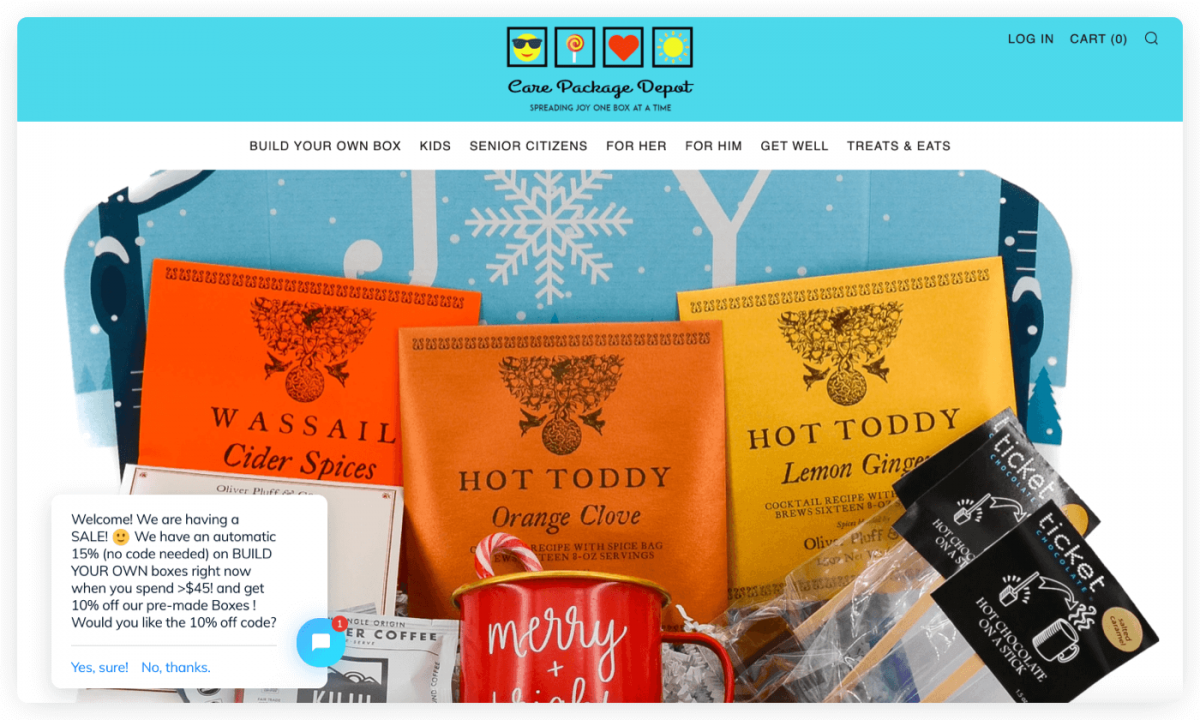 Care Package Depot is a Shopify-based store offering custom and curated care packages and gift boxes. This eCommerce website's focus is simplicity and user-friendliness. It's easy to find every product from the home page thanks to a simple menu.
Note a live chat widget in the bottom right corner. Having a Shopify live chat app has been a major help for Care Package Depot. In fact, they grew from dozens of orders and 2,000 customer conversations to hundreds of orders and 10,000+ conversations.
Kelly Clinton, the owner of Care Package Depot: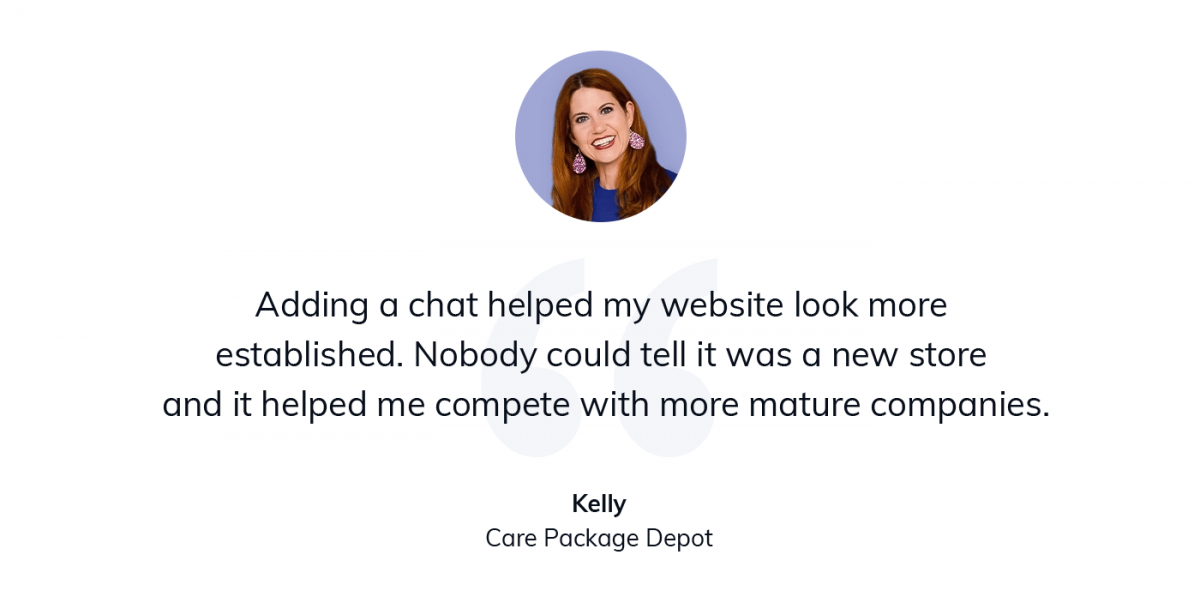 Want to know the story of Kelly's success? The full case study: How I Built a Successful Personalized Items Business During COVID-19
An example of an eCommerce store using Magento to build an online marketplace and community.
Modern, elegant design
Organizes collections from 100+ artmakers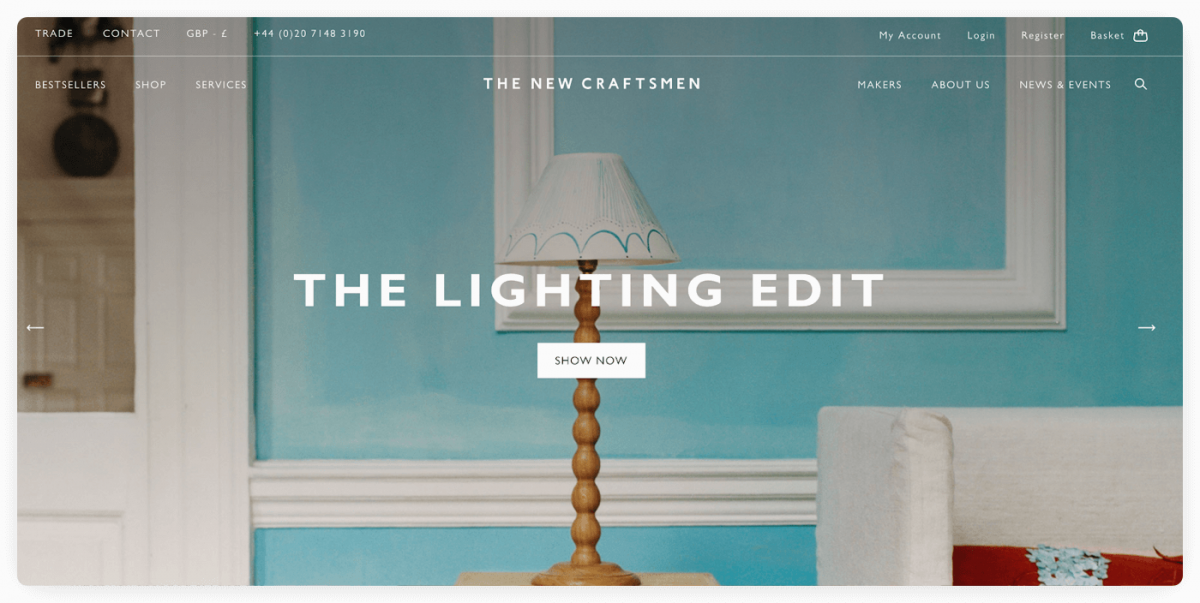 The New Craftsmen represents a large network of makers working with jewelry, ceramics, textiles, and other materials. This eCommerce site easily and efficiently accommodates hundreds of products, individual maker bios, services descriptions, and other pages.
Despite having a huge number of pages, The New Craftsmen's menu is small and navigation feels effortless. The overall design is very elegant and artistic, which complements the site's purpose.
Unique branding and customer-first options (customer reviews, chatbots) help this store sell and build a strong brand.
Unique, strong branding
Easy product research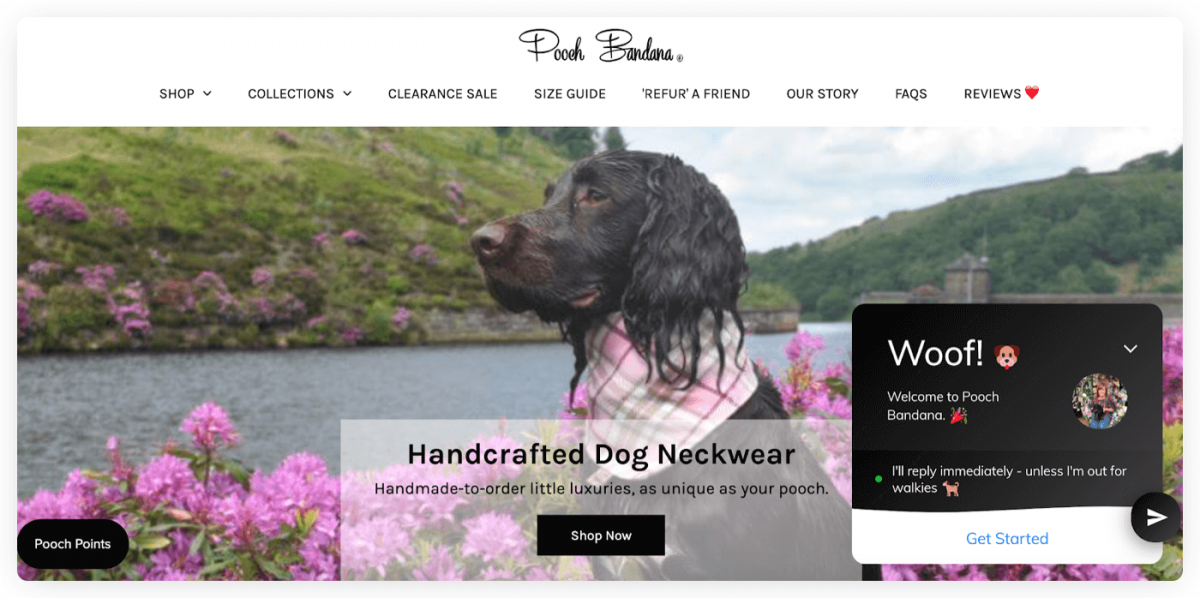 Pooch Bandana is a seller of handmade dog neckwear that also chose Shopify for their eCommerce website. The clean design takes visitors through product details, reviews, and related products.
Site visitors get the feeling of the brand's style immediately. Dark colors, compelling visuals, and a consistent palette show a good understanding of how to create a unique brand voice and style.
As a customer-first business, Pooch Bandana's website has the reviews functionality as well as a chatbot. Both of these help owners, Amy and Jeremy, build a good reputation by answering customer questions.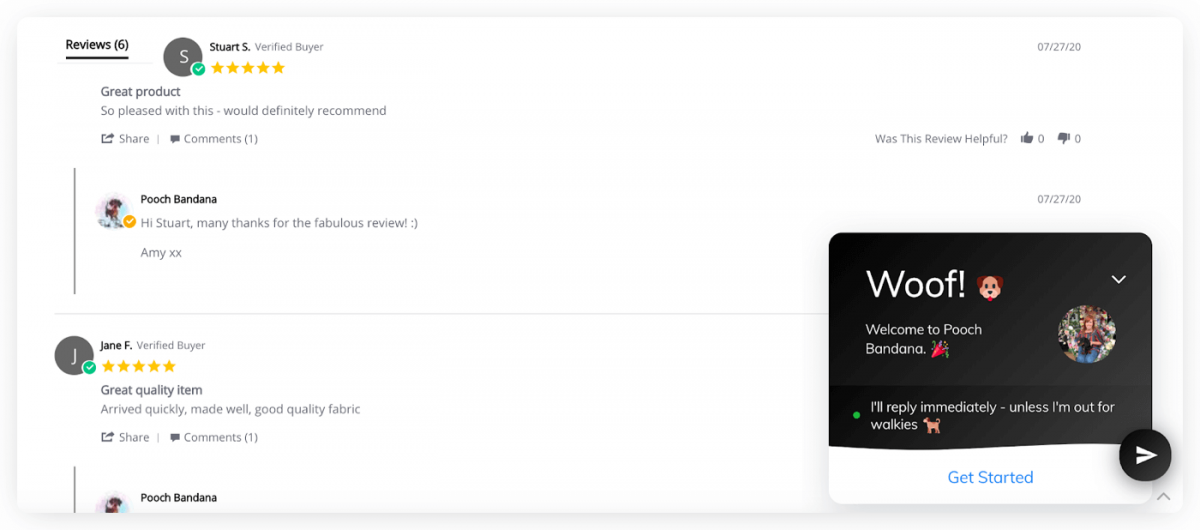 Have a product that's as unique as handmade dog neckwear? Read a case study to know how Pooch Bandana double revenues with chatbots. How My Dog Accessories Store Doubled Sales with Chatbots in 7 Days
This example shows how WooCommerce's product filter plugins help customers find products easier. Also, see how adding a WordPress chatbot or live chat is a way to answer questions from customers.
Personalized buying experience
Easy product search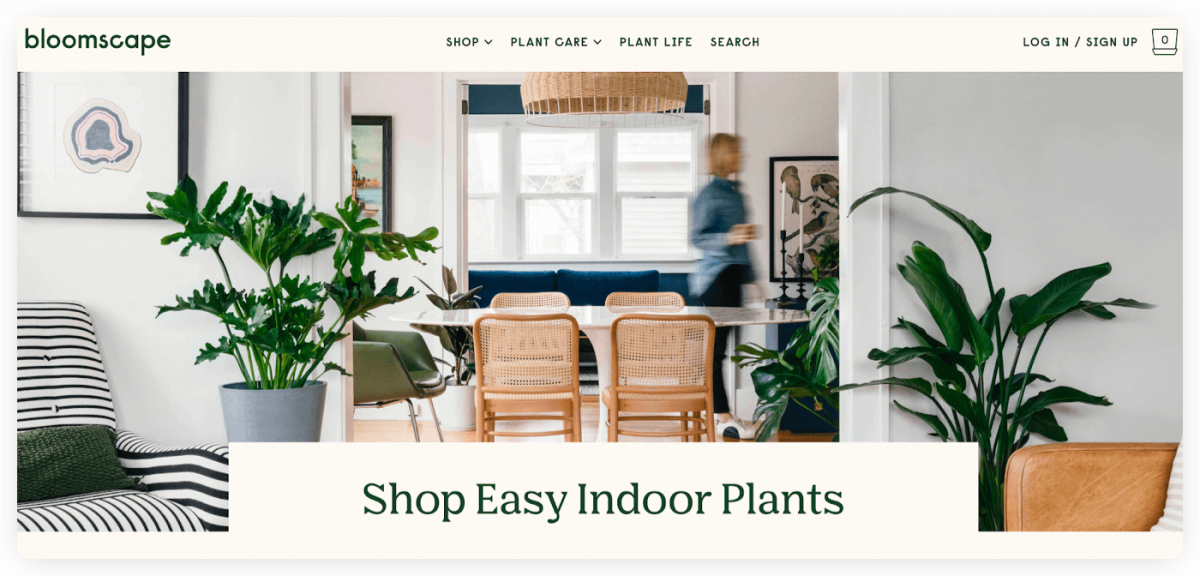 Bloomscape is a Detroit-based house plant seller. This eCommerce website is a great example of how to create a great shopping experience with WooCommerce. Product search filters help visitors find plants easier (size, pet-friendliness, light needs, size, etc.).
Other notable things are a user-friendly menu and a powerful product search. Every product is categorized for the visitor's convenience, along with good-looking preview pictures.

One functionality missing from Bloomscape is a chatbot. The company has extensive blog and plant care guides, suggesting a lot of customer interest. Having a FAQ chatbot to provide links to guides and answers would go a long way in helping the support team.
There's plenty of WordPress live chat apps for WooCommerce. These are the best for businesses: 10 Best WordPress Chat Plugins for Your Website [2020 Update]
5. Notiq (Shopify)
This eCommerce store shows how to use WooCommerce to create a consistent shopping experience for a luxury brand.
Elegant and sleek design
Combines luxurious products with a sense of clean modernity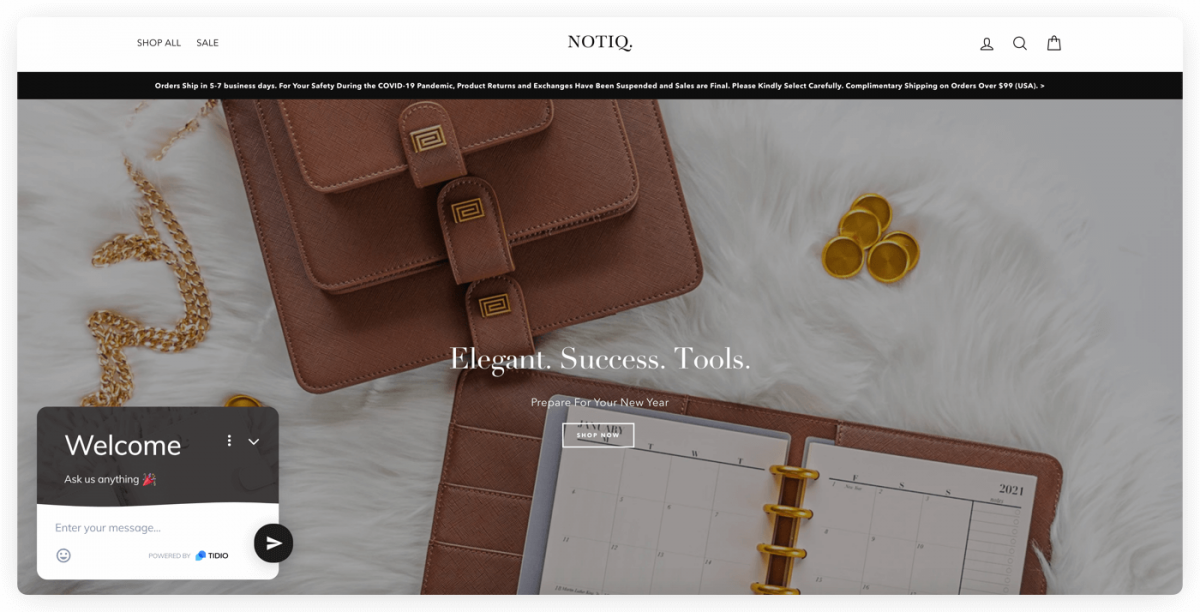 Notiq, a seller of luxury planners, has a stunning website that'll make you want a planner right away. The store has a light and elegant appearance, which also is a huge part of their branding.
Browsing the products is also easy thanks to the fantastic use of white space. While browsing, the visitors will also notice small bits of animations. They give this eCommerce store a unique vibe.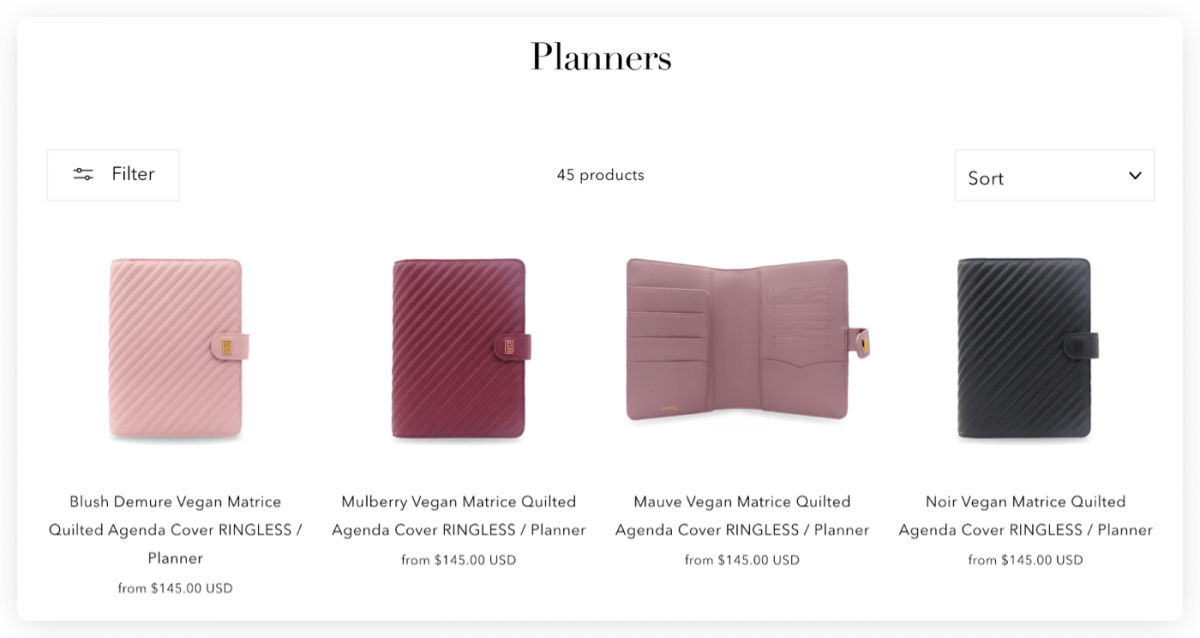 Like other customer-first businesses, Notiq also uses live chat to connect with visitors. They can use it to message Vivian, the business owner, from almost any page.
Here's what Vivian had to say about talking to customers with Shopify live chat: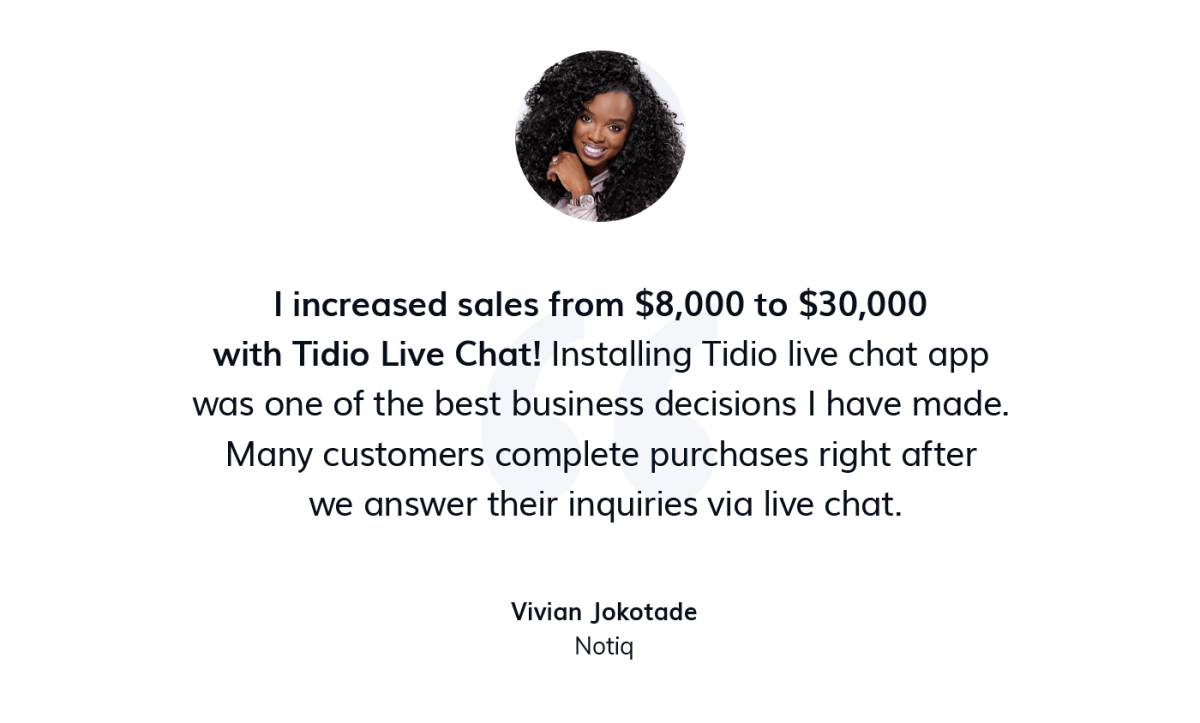 A "classy design" website with powerful conversion optimization and an extensive product range.
Shows 3Dcart's conversion features: discounts, coupons, etc.
Brand storytelling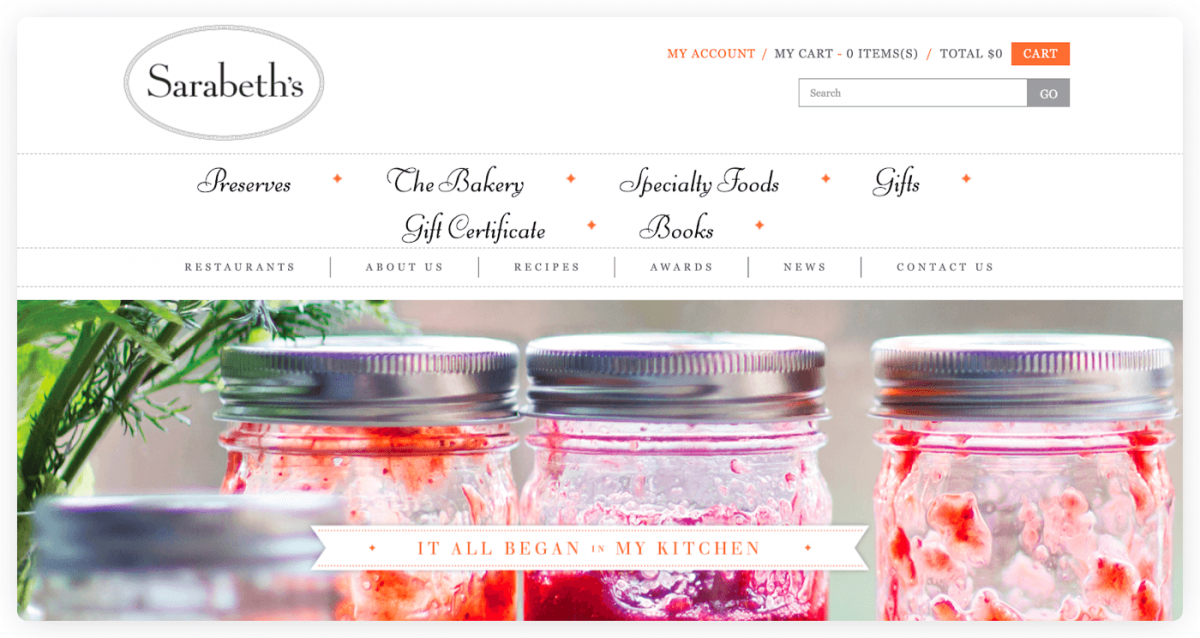 Sarabeth's is a New York-based bakery serving cookies, scones, muffins, and other desserts. Their eCommerce store uses 3DCart to list their extensive online catalog in a classy way. This is relevant: Sarabeth's sells "classic" desserts + has been serving the NYC area since the 1980s.
Another thing to note is that Sarabeth's design creates conversion opportunities. Besides product pages, there are corporate gifts, promotions, gift certificates, gift baskets, and other ways to make orders.
Learning to sell online? Here's are beginner-friendly ways to convert visitors: 7 Effective Ideas to Increase eCommerce Conversion Rate That You Can Try Today
7. Fronks (BigCommerce)
An eCommerce website design in the minimalistic style that focuses attention on products because of a limited product range.
Clean and modern design
Unique home page
Heavy emphasis on products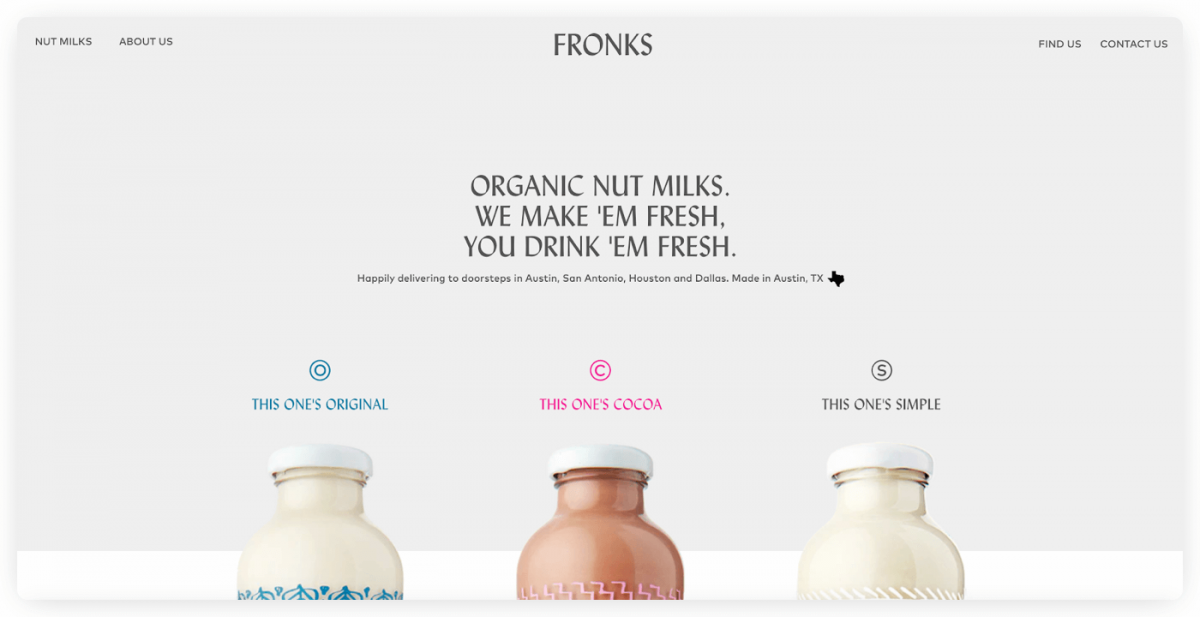 Fronks, a Texas-based seller of organic milk, has a BigCommerce store that delivers a unique experience. The home page focuses on three items—the entire product range. Such an eCommerce website layout promotes clicking on them.
Product pages are super simple. There's an image of a bottle, a description, and a CTA, with lots of white space to make them stand out. Scrolling down makes the bottle change into another type. This way, visitors can learn about all products on one page.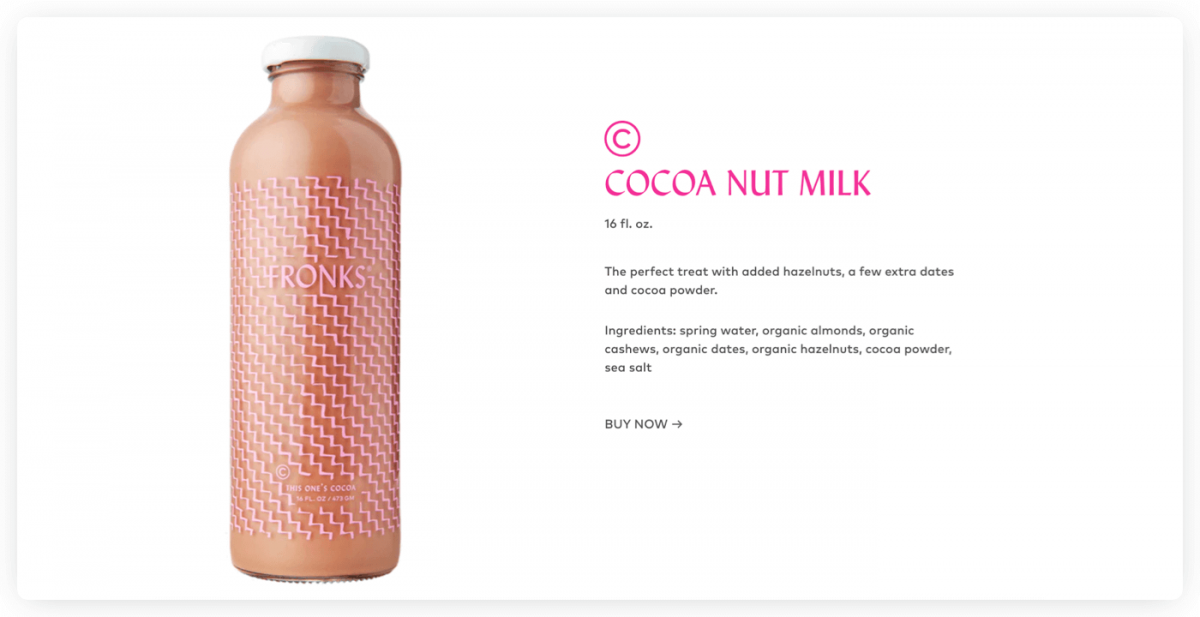 This eCommerce store shows how to make a website with BigCommerce on a low budget. In this case, it's a blog that earns with affiliate links and a built-in store.
Budget-friendly
Strong color palette
Stunning, attractive imagery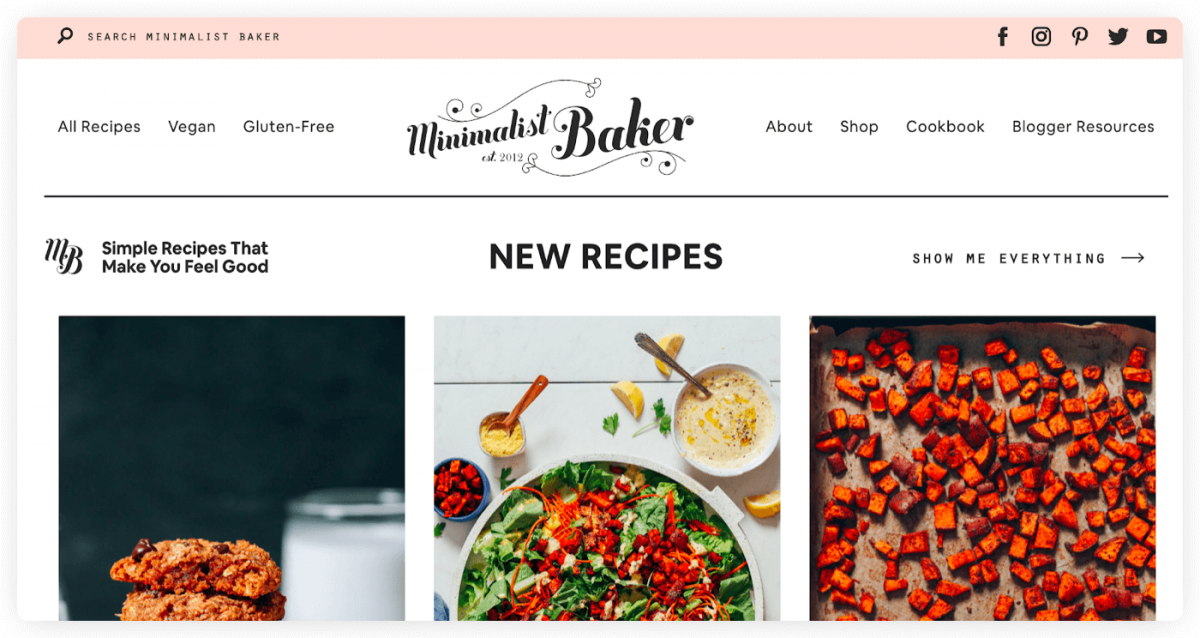 Minimalist Baker is a cooking blog with recipes for every season, diet, and main ingredients. What strikes the most on the home page is vivid imagery and nicely categorized recipe menus. Also, the smart use of white space makes the food photography stand out.
To help visitors find recipes, this eCommerce website has a powerful search functionality. If your WooCommerce store has a blog, consider implementing similar functionality to guide visitors to the content.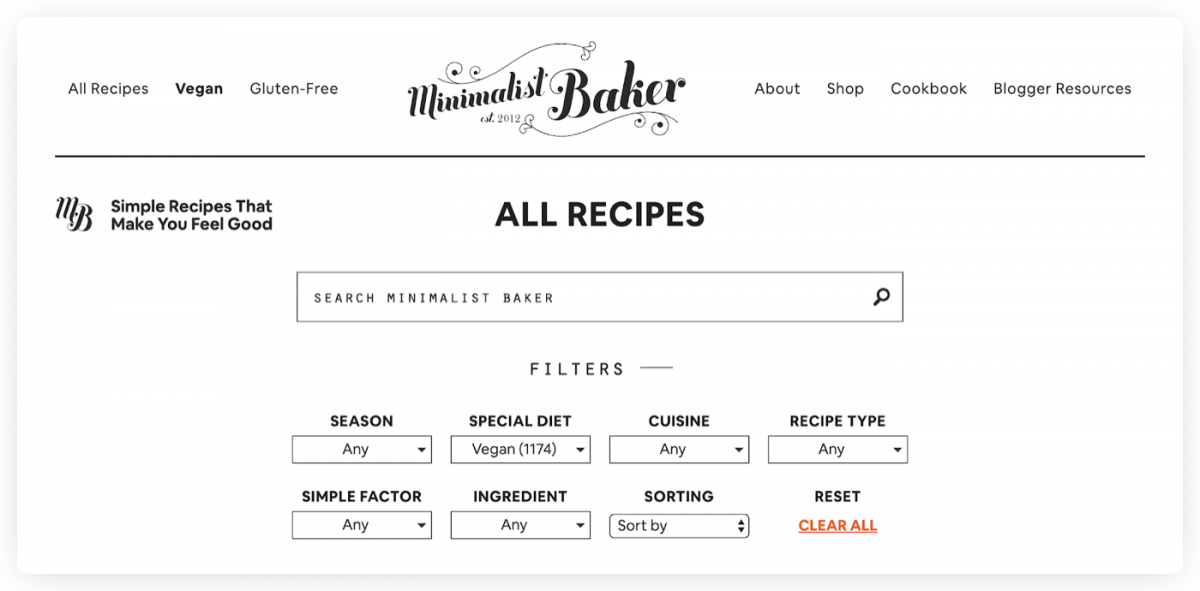 Interesting fact: Dana Shultz, the blogger and owner of Minimalist Baker, claims to have built this website for $500 without eCommerce website designers. In the article How to Create a $5,000 Website for $500, she explains the process.
An example of a custom-made Magento eCommerce store with a product search engine that helps to find products quickly regardless of the range.
Powerful product search engine
Easy navigation
Excellent Magento customization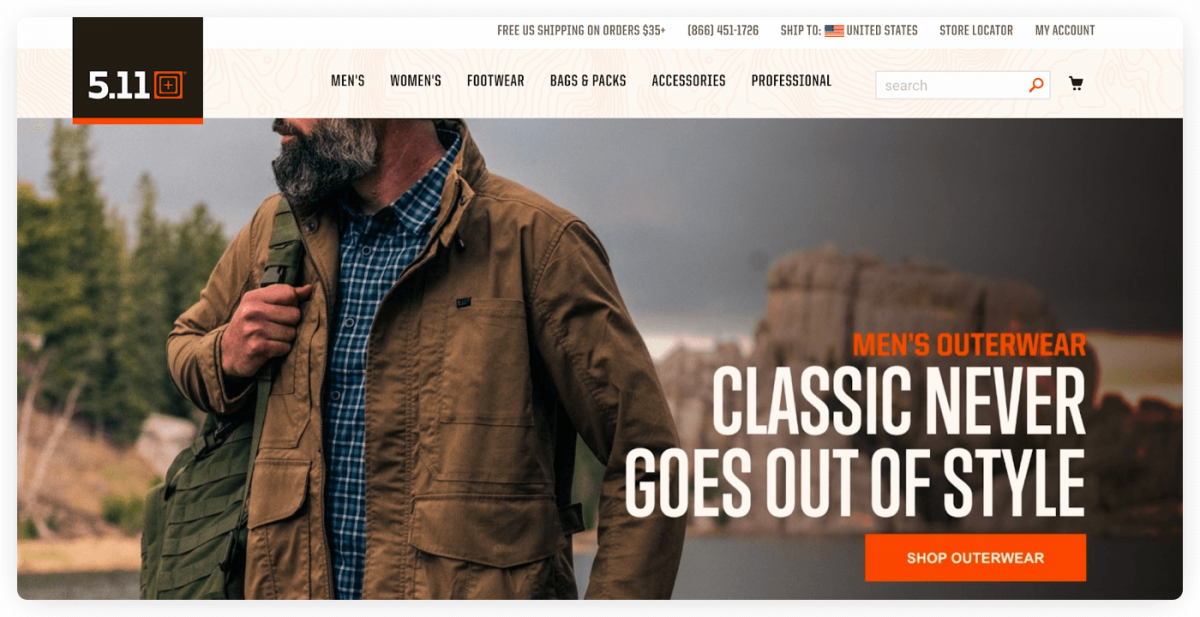 511 Tactical is a California-based provider of military and tactical clothing and gear. Magento's product engine really shines on this sales website. If the customer wants to find a product, all they have to do is start typing in the search bar.
No matter what page they were on, the website immediately switches into a "search engine" mode. The results change in real-time as you type, showing products that match the keywords. Besides, there's a product filter menu on the left for even better results.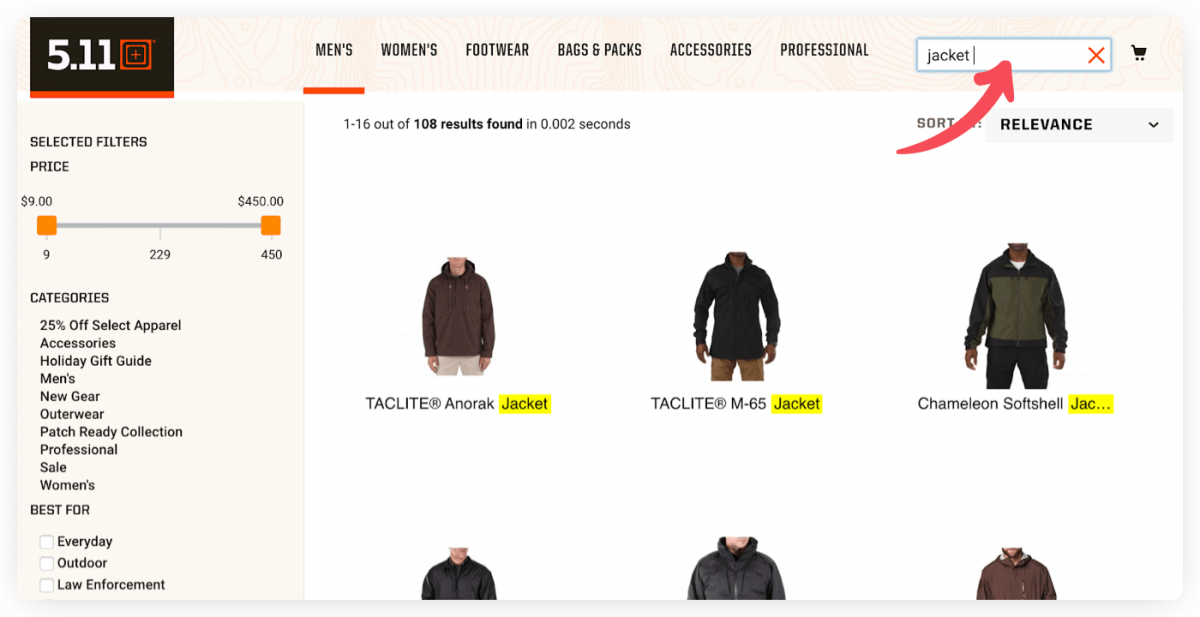 Thinking about starting a dropshipping business with an extensive product range? Here's how to start:How to Start a Dropshipping Business [Ultimate Guide + Examples]
Shows 3DCart's product customization options for personalization and a positive shopping experience.
Product customization editor
Consistent and unique color palette
Easy product search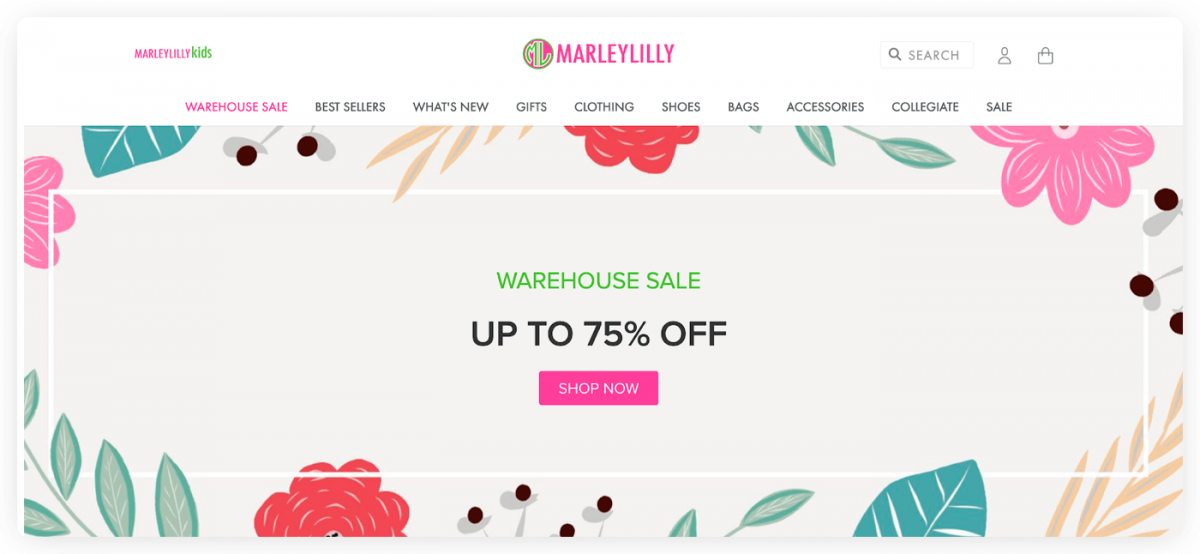 Marleylilly sells unique, monogrammed gifts, clothing, jewelry, and accessories. The product range is extensive, yet the presentation is orderly thanks to 3DCart. The menu offers both traditional and image-based (representing the use of a product) categories.
Product customization is another thing to note. Marleylilly eCommerce website sells monogrammed products, so customers can actually personalize items with name initials, colors, and designs with a built-in product editor.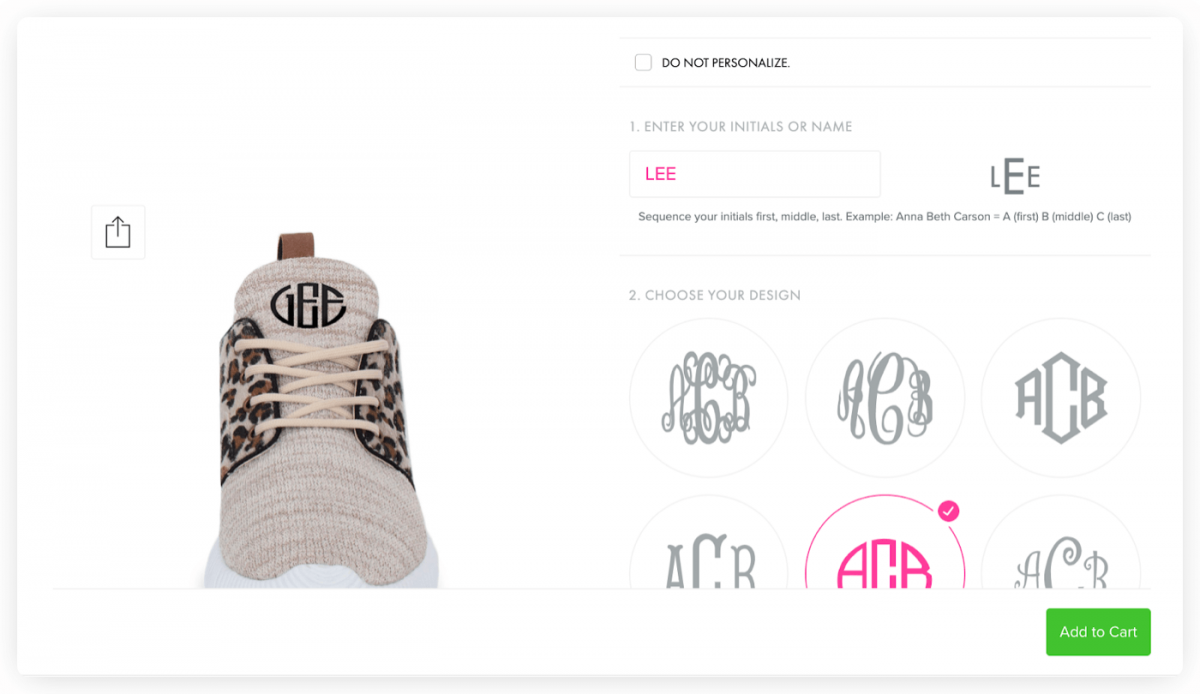 Such personalization functionality makes 3DCart a good option for clothing, jewelry, and other sellers who offer custom products.
A Shopify eCommerce website that uses video background to show a product in action and cross-sell plugins for more sales opportunities.
Value proposition-drive home page
Cross-sell for every order
Video-based homepage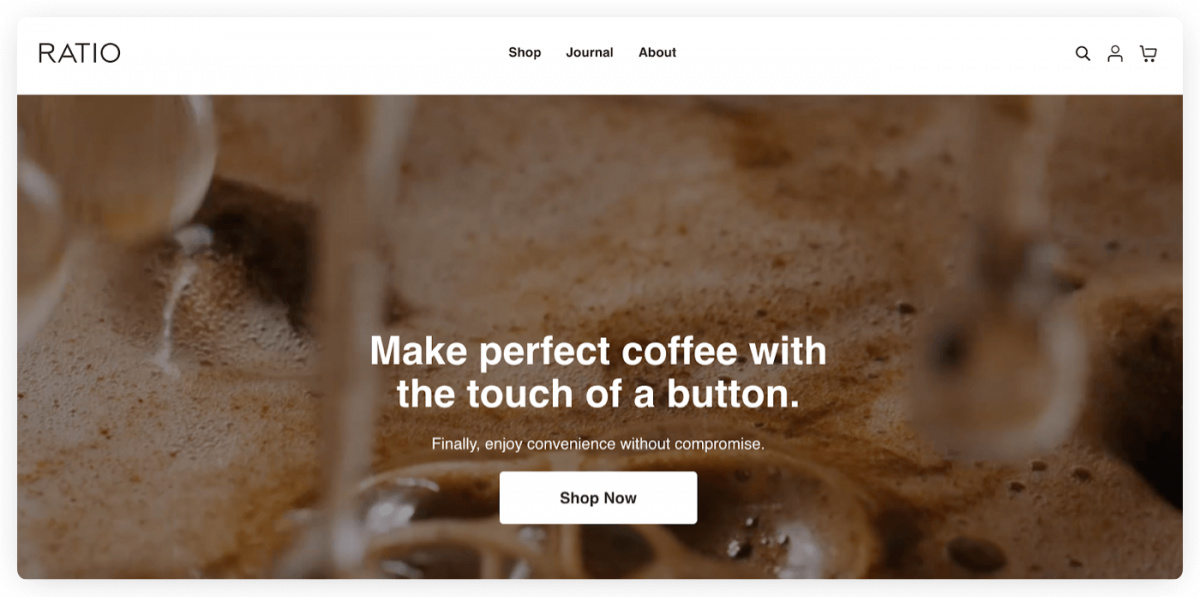 Ratio Coffee is a Portland-based brand that sells coffee machines. The home page delivers the value proposition—"Make perfect coffee just with the touch of a button." To reinforce this message, there's a video background showing a coffee maker in action.
The eCommerce store uses Shopify's cross-sell opportunities. When a customer adds a product to a cart, the website generates a window with related products. Indeed, relevant recommendations for a coffee fan.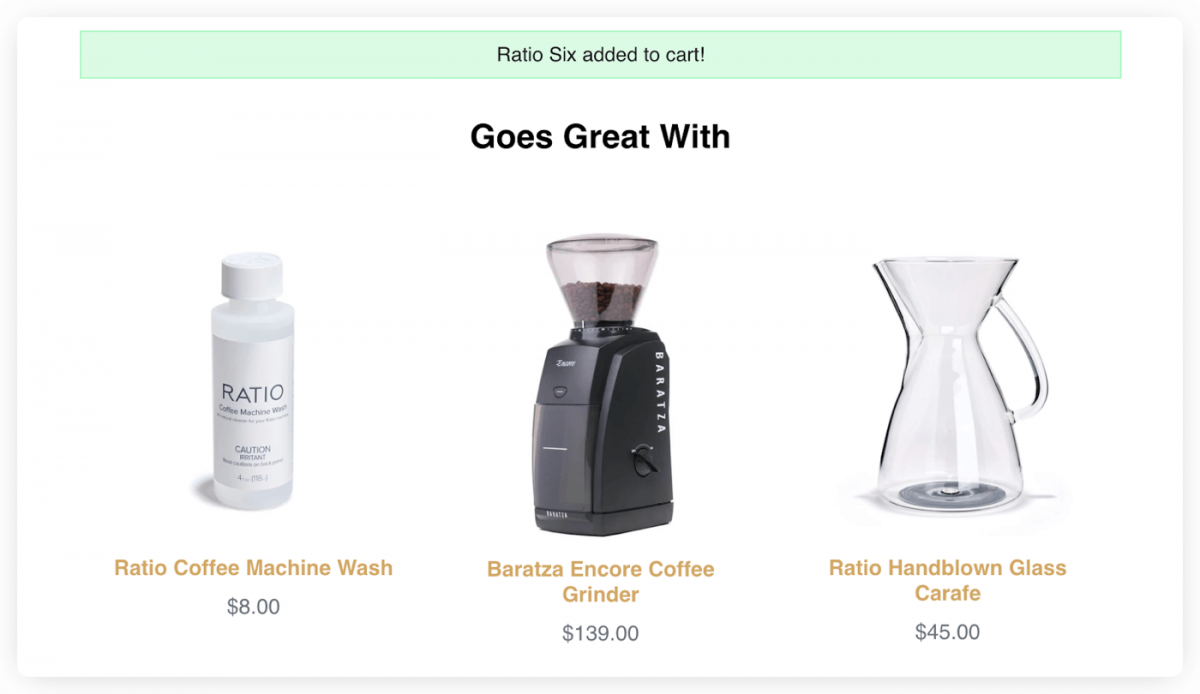 Just like that, the website creates more sales opportunities. The related products are useful for coffee preparation and machine maintenance.
How to Build an eCommerce Website: Summary
Each eCommerce platform has some peculiarities, but the general process comes down to these steps:
Get a domain.
Choose an eCommerce website platform.
Choose a store theme and customize it.
Add product information and content.
Set up payments & policies.
Go live and sell.
That's basically it. Over to you now, fingers crossed for your success!