Business Growth
12 Best WooCommerce Plugins & Extensions [Top Free Included]
Need help with choosing the best WooCommerce plugins? Below, we'll cover the top-rated, affordable, and beginner-friendly options for store owners to grow their business.
Want your store to sell more?
You need the best WooCommerce plugins. To be more specific, you need the right mix of plugins to handle customer service, lead generation, sales, and other processes.
We've done all the work finding the right plugins for you. Below, find 12 best WooCommerce plugins to help do your work more efficiently. They are all-in-one solutions, e.g., help with multiple tasks.
Want to turn your website visitors into delighted customers? Set up the Tidio live chat app in 5 minutes and watch your sales grow by 300%! Talk to users in real-time and deliver exceptional customer service.
Try Free Live Chat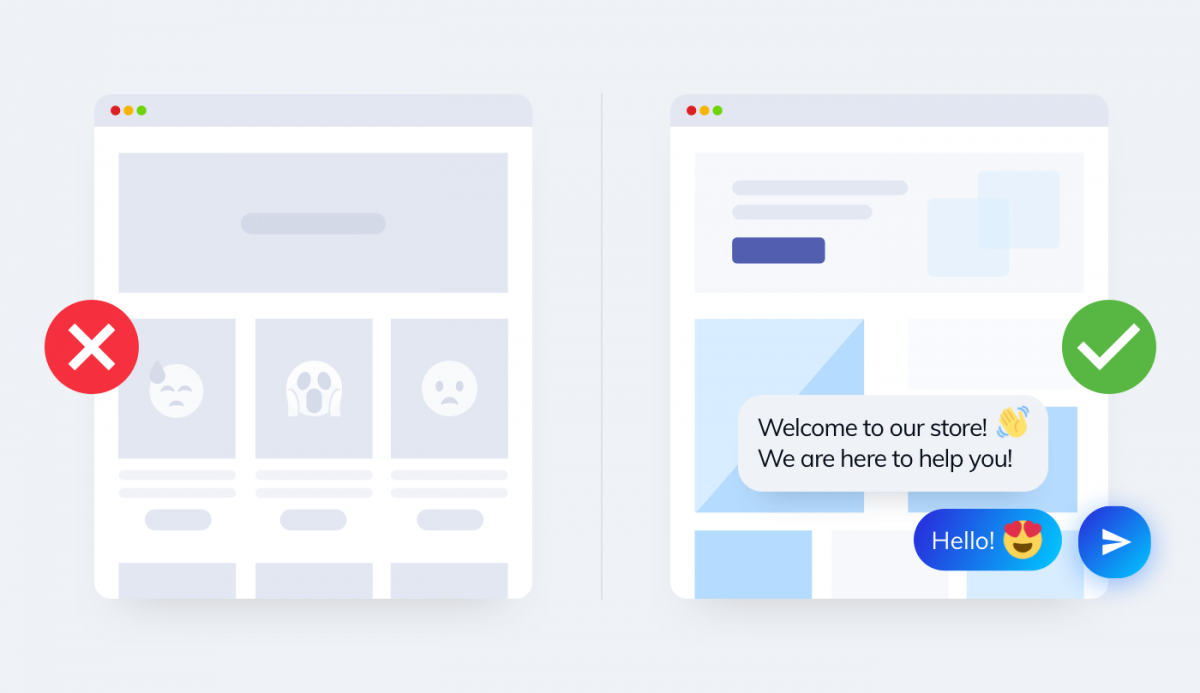 Sample use cases—See how people use live chat on their websites here.
One of our users, Vivian, had this to say:
One of the best business decisions I have made. Many customers complete purchases right after we answer their inquiries via live chat.
Here's a little preview of all top WooCommerce plugins we'll talk about.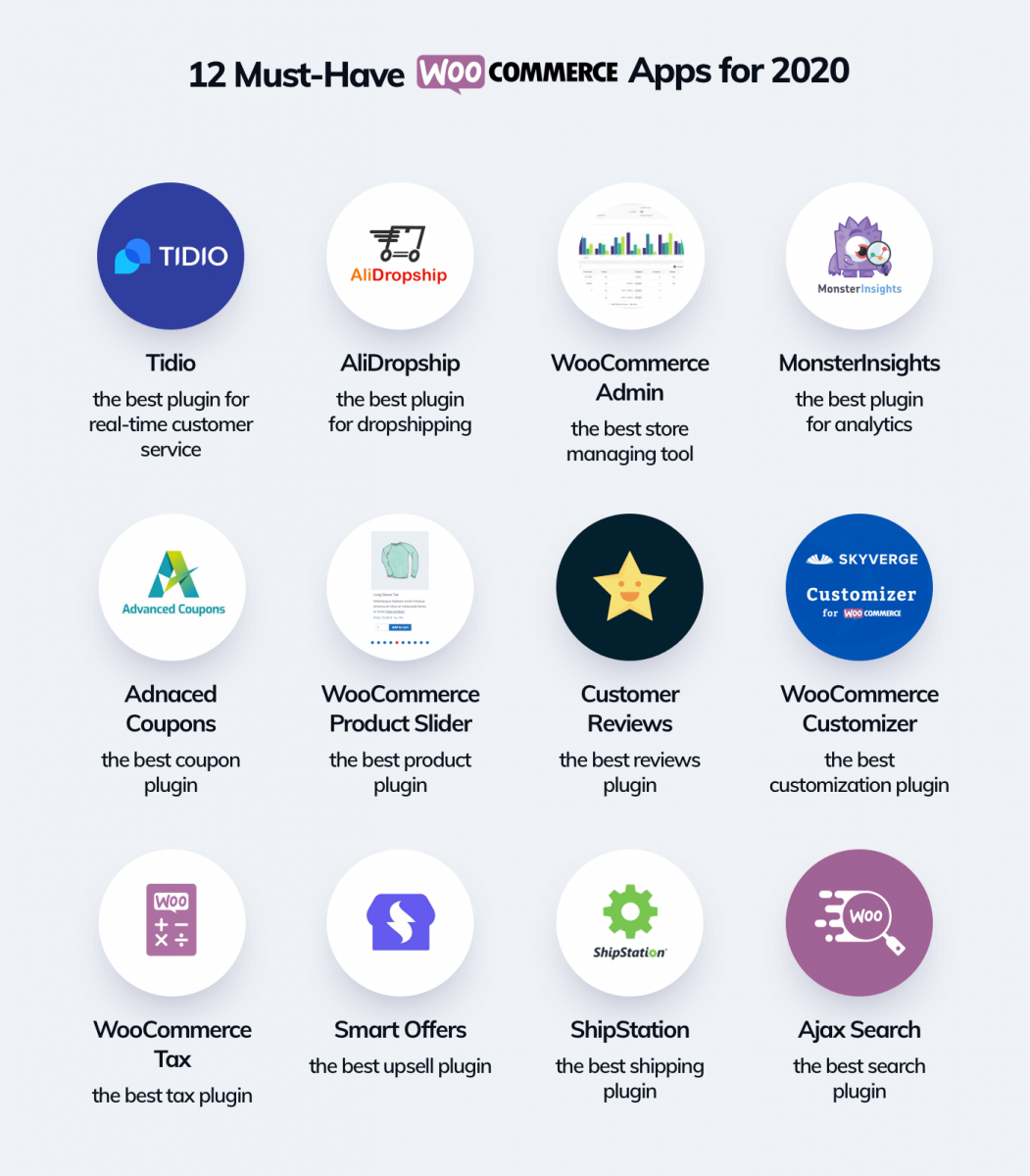 WooCommerce Plugins vs. WooCommerce Extensions
Are "plugins" and "extensions" the same thing?
Most "WooCommerce plugins" are actually WordPress plugins compatible with WooCommerce stores. "WooCommerce extensions" are official WooCommerce add-ons for their online stores.
In this article, you'll find the best of the best.
Top 12 Must-Have WooCommerce Plugins
There's no shortage of great WooCommerce plugins for business owners like you. To save you hours of looking and trying them, here are the ones worth your attention.
… keep reading to know how they work and to increase sales with each!
1. Tidio

Category: live chat/chatbots/customer service/marketing automation
What it does:
Tidio is the best WooCommerce plugin for customer service and marketing because… Because… Well, let's stop for a second. "All about me" kind of talk isn't really a good way to go here, is it?
So, we won't tell you how quickly you can generate leads with our chatbots. Also, we won't say a thing about how easy it is to chat with potential customers in real-time and how beneficial it can be for your business. No, we won't tell you that.
What we're going to do, though, is recommend you install the plugin and play around with it to see for yourself! It's totally free, by the way.
Why it is a must-have WooCommerce plugin:
Tidio is an all-in-one app for customer service with live chat, chatbots, and email marketing.
Pricing: Forever-free plan; paid plans from $18/mo.
Free plan: Yes
You can use live chat, chatbots, and email marketing features for small WooCommerce businesses, for free.
Not sure what live chat is? Head straight to our piece "What Is Live Chat" and learn how it can benefit your online business.
If you're looking for a live chat solution for your website, have a look at our comparison of WordPress live chat plugin solutions.
2. AliDropship

Category: dropshipping
What it does:
AirDropship is a dropshipping WooCommerce plugin that instantly pulls AliExpress products into a WooCommerce store. This makes it a great option for those looking to build a custom dropshipping store and import products and reviews easily.
The plugin has many built-in add-ons for marketing, store customization, price automation, and a product image editor. For example, you can create custom coupons for customers and automate pricing based on your pre-set rules.
Why it is a must-have WooCommerce plugin:
AirDropship makes it easier to create a fully-functioning dropshipping store. So, it's a great option for entrepreneurs looking to start a new business fast, without worrying about development work and promotional tools.
Pricing: One-time $89 fee for the plugin (there's a limit of 50 products). More premium plans for large stores available.
Free plan: No
Do you like the sound of it? Dropshipping. Great! Now, head straight to our piece on how to start a dropshipping business to double-check if you've got everything right.
3. WooCommerce Tax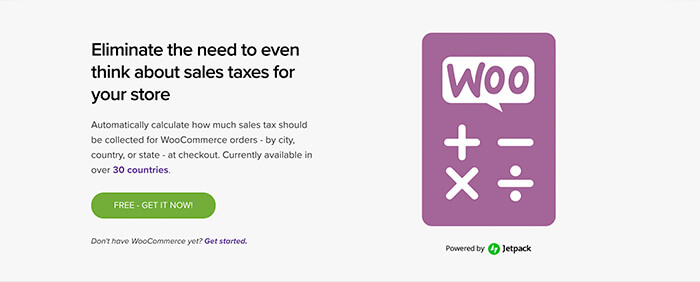 Category: tax calculation
What it does:
WooCommerce Tax is an add-on that automatically calculates taxes for orders made on your WooCommerce store.
The calculation is available in over 30 countries and also includes tax rates set by cities and states. When activated, this WooCommerce extension allows your store to collect tax payments on the checkout based on your pre-defined settings.
Why it is a must-have WooCommerce plugin:
With WooCommerce Tax, you can get your store up and running quickly. The extension takes care of tax calculation and payment processing so you don't have to. The rates are generated automatically based on the latest regulations, so there's no need to enter them manually.
WooCommerce Tax also generates a sales tax report for you automatically. So, you'll be able to download the report and use it for accounting purposes.
Note that WooCommerce Tax comes as a part of the official WooCommerce plugin. There are also helpful extensions there, such as EU VAT Number for EU-based businesses.
Pricing: Free
Free plan: Yes
WooCommerce Tax is included as a free add-on to the WooCommerce plugin.
Not so much worried about taxes yet as growing your sales? Not to worry! Read our guide on how to sell online and let your sales go through the roof.
4. MonsterInsights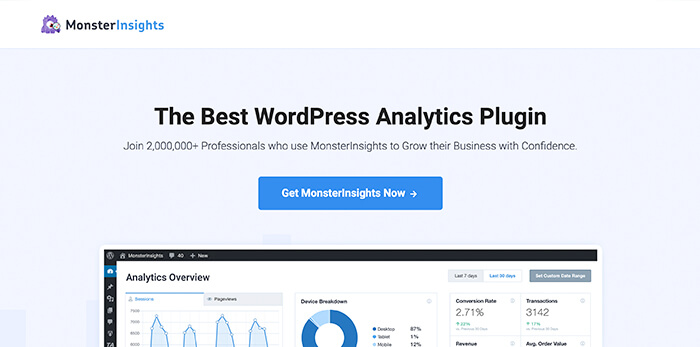 Category: store analytics
What it does:
MonsterInsights is one of the best WooCommerce plugins when it comes to getting actionable analytics for your store. It presents data such as traffic sources, the most popular pages, conversion goals, ads tracking KPIs, and more.
A major advantage of MonsterInsights is that it's very easy to install and use. You don't have to add code to your store, plus the dashboard is very intuitive. This makes it one of the top WooCommerce plugins for entrepreneurs who are not that analytics-savvy yet.
Why it is a must-have WooCommerce plugin:
MonsterInsights is a top WooCommerce plugin for monitoring the performance of your store and optimizing it for conversions. With testing, you can see the performance of your ads, lead capture forms, conversions, and file downloads. This allows you to find better ways to market your products and sell more.
Pricing: Plans start from $99. 14-day free trial available
Free plan: No
One of the most worrying statistics for online store owners is the abandoned cart rate. You can fix it by implementing a good abandoned cart email strategy.
5. Advanced Coupons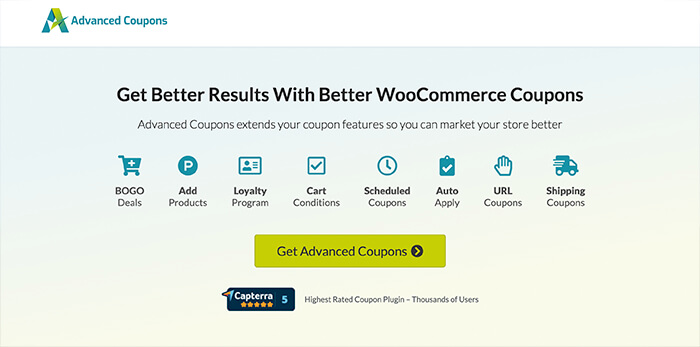 Category: marketing automation
What it does:
Advanced Coupons is a WooCommerce coupon plugin for creating custom deals on your store. There are many options to choose from to create attractive deals for customers. For example, you can generate sales by scheduling coupons ahead of time, creating easy-to-use URL coupons, and auto-apply coupons.
Advanced Coupons is a great choice for stores offering a lot of deals. One way you can get more sales by testing which coupons work best and then using them in email marketing campaigns. Also, you can start a customer loyalty program and encourage more orders by giving coupons for repeat purchases.
Why it is a must-have WooCommerce plugin:
While WooCommerce has a built-in coupon functionality, it's very basic. Advanced Coupons gives more conversion opportunities with more sophisticated features like bulk coupon generation, gift cards, scheduling, and BOGO (Buy One, Get One) deals.
The plugin is based on the native WooCommmerce coupon feature, so you won't lose any coupon workflows you already have.
Pricing: Premium plans start at $39.50.
Free plan: Yes
The free plan allows sending coupons to a limited range of conditions.
Offering coupons is just one way of boosting your sales. If you want to max out your store's potential learn how to increase the conversion rate, and sell more than ever.
6. WooCommerce Products Slider

Category: product slider/store optimization
What it does:
Customize product sliders on your store with WooCommerce Products Slider. Just choose the slider that looks best on your store and apply. Thanks to this WooCommerce plugin, you can share more products on a single page, which might help with increasing sales.
Thanks to numerous customization options, you can create a unique product carousel. For example, you can define the speed, timeout, slider column number, display, navigation, and other options. And the best news is that there's no coding knowledge required.
Why it is a must-have WooCommerce plugin:
WooCommerce Products Slider is one of the essential WooCommerce plugins because it makes product searches easier for customers. On top of that, it helps with sharing specific products you'd like to highlight on your store.
For example, the customer doesn't have to scroll down the entire page to find a product thanks to the carousel. Also, you can highlight the featured, discounted, related, or the most popular products to draw the attention of customers to them.
Pricing: Premium plans start at $29. There's a 7-days money-back guarantee available on all plans.
Free plan: Yes
The WooCommerce Products Slider's free version offers enough customization options to make a unique carousel (style, navigation, speed, etc.).
7. Customer Reviews for WooCommerce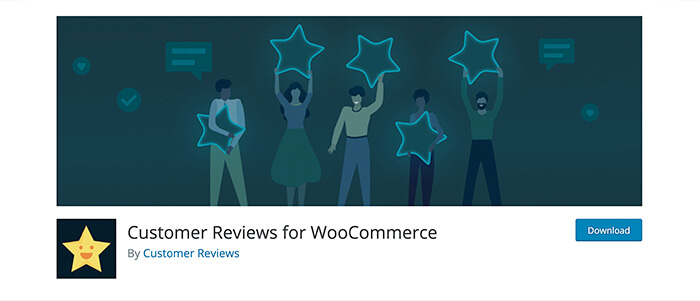 Category: social proof
What it does:
Customer Reviews for WooCommerce is one of the top WooCommerce plugins because it makes it easy to collect reviews. It sets up automatic email reminders for customers who completed purchases on your store, inviting them to rate their experience.
In addition to textual testimonials, this eCommerce review plugin's reminders ask to submit some visuals from customers. They include photos and videos of the product to make a complete and helpful review for other customers.
Why it is a must-have WooCommerce plugin:
Online reviews impact buying decisions. Period. Your WooCommerce store needs to take advantage of them to get more orders and establish a reputation of a reliable seller. So, you need to have a reliable plugin to be able to collect as many reviews as possible.
Customer Reviews for WooCommerce is a great option because it's an easy plugin to manage social proof. Most processes are done automatically, so you can work on building trust and credibility while focusing on other things.
Pricing: From $7.99/mo
Free plan: Yes
The free version provides essential features: review collection, editing, and publishing.
Customer reviews are crucial to your online store's success. Check out some tried and tested ways of attracting customers to leave positive reviews.
8. Ajax Search for WooCommerce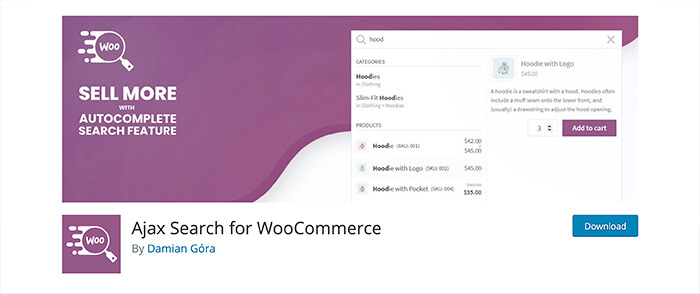 Category: product search
What it does:
Ajax Search for WooCommerce provides live search suggestions to customers using the search feature on your store. The suggestions are instant and display product titles, short descriptions, images, prices, and categories.
Having this WooCommerce plugin on your store makes product searches much more efficient for customers. It makes essential product information available to them right away. So, the feature inspires product discovery and research on the site, thus increasing customer engagement.
Why it is a must-have WooCommerce plugin:
Research says that 96 percent of major eCommerce stores have the search suggestions feature. It's a major part of a positive WooCommerce customer store experience that helps them discover products quickly.
Ajax Search for WooCommerce has all features to provide that experience. It allows displaying all product information customers need to search fast and find the item they need. The "add to cart" button also helps with increasing conversions.
Pricing: Premium plans start at $49. 14-day unconditional money-back guarantee.
Free plan: Yes
Essential product live search suggestions: titles, descriptions, images, categories, and more.
9. WooCommerce Admin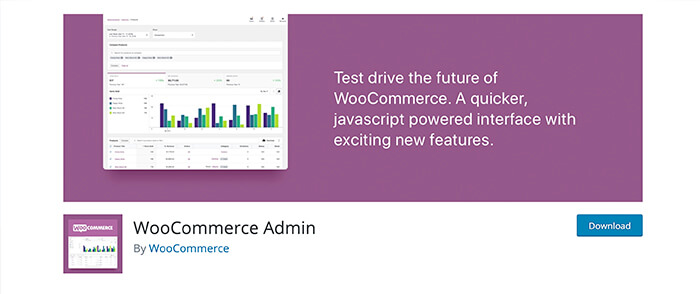 Category: store management
What it does:
WooCommerce Admin helps with managing WooCommerce stores by generating reports with key metrics. They include reports on revenue, taxes, products, categories, stock, coupons, downloads, and customers. All reports are customizable with filters, so you can choose to review performance within specific timeframes and focus on particular indicators.
This information can help store owners to focus on improving their business and driving revenue. Thanks to a customizable dashboard that allows choosing performance indicators, they can monitor how their store operates.
Why it is a must-have WooCommerce plugin:
This is one of the best free WooCommerce plugins because it provides key performance measurements. It doesn't require any coding or analytics experience from users, which makes it a great choice for beginners.
The reports generated by the plugin are nicely structured and easy to analyze, even for business owners who are new to analytics. Thanks to JavaScript, the plugin integrates with your store's dashboard seamlessly. So, the user can monitor the performance of their store right in the dashboard.
Pricing: Free
Free plan: Yes
10. Smart Offers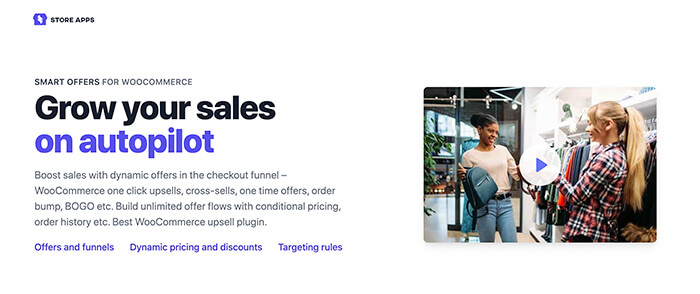 Smart Offers is a WooCommerce upsell plugin with numerous features to help increase sales. Upsell is one of the best ways to increase conversion rate in eCommerce, so business owners use it to find more opportunities to sell.
The plugin provides features like cross-sell, one-time offers, giveaways, order bumps, upsell, BOGO (buy one, get one), free shipping, and bundle proposals. You can choose these features to run campaigns and find the ones that bring in the most revenue.
Why it is a must-have WooCommerce plugin:
Smart Offers gives you one more effective way to increase the conversion rate in your store. You can experiment with different upsell & cross-sell offers and products to identify what drives the most revenue.
Thanks to a wide range of features, you'll be able to run numerous tests to increase conversions. This means you'll make a lot of different, more attractive offers to improve sales. The plugin makes it possible to place offers anywhere on the site. This can help with increasing customer engagement.
Pricing: Plans start from $99. A free, on-demand demo is available. Free plan: No
You can reach out to your customers in a number of ways. For example, by building an email list.
11. ShipStation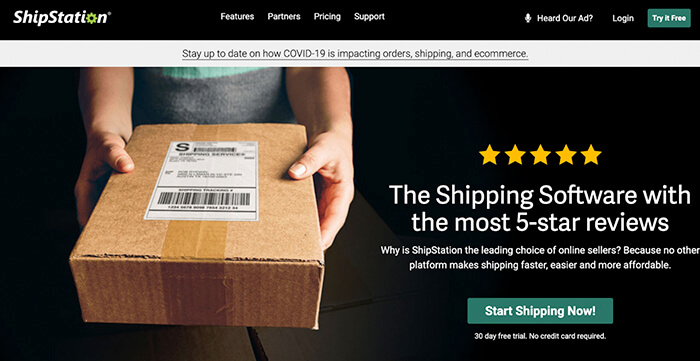 Category: shipping & order fulfillment automation
What it does:
ShipStation is a plugin for making shipping and fulfillment easier for WooCommerce stores. For multi-channel sellers, it provides useful features to manage and ship orders and returns effectively. The integration with marketplaces like eBay and Amazon is flawless, so you'll be able to set up your shipping services wherever needed.
A store with ShipStation has a dashboard where the merchant can import goods from 150 popular marketplaces. You can create orders, calculate shipping costs automatically, and streamline the order fulfillment process by setting your own conditions.
Why it is a must-have WooCommerce plugin:
Provide positive shipping experience to your customers with ShipStation. Having a dashboard where you can set up everything shipping and order fulfillment-related process will help to ship orders quickly. You can also use order confirmation, tracking, and other ShipStation emails to keep customers updated.
This plugin is perfect for merchants looking to sell internationally. Not only it provides access to local popular marketplaces and delivery services but also ensures a simplified international shipping process. With ShipStation, for example, you can get rid of customs documentation and even provide 2-day delivery to major worldwide cities.
Pricing: Premium plans from $9/mo (50 monthly shipments, one user). Free 30-day trial available.
Free plan: No
12. WooCommerce Customizer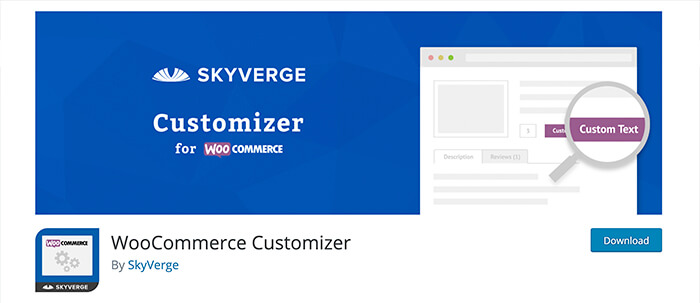 Category: store customization
What it does:
WooCommerce Customizer allows making changes to store templates without the need to write code. You can modify texts on CTA buttons, tax labels, headings, checkout page coupon promotions, and choose how many products to show per page.
Adding customizations and saving them is quick and easy. You do not need to make any code changes because the plugin comes with a dedicated setting page. There, in one place, you can customize your store and try different copies to increase conversions.
Why it is a must-have WooCommerce plugin:
Being able to change texts on product and checkout pages helps with testing. For example, you can test which checkout page coupon description works better to attract more orders.
By testing different versions of texts on various pages on your store, you'll be able to find the versions that customers find more compelling. All that, without the need to write a single line of code.
Pricing: Free
Free plan: Yes
Essential WooCommerce Plugins: Summary
Here you go, 12 best WooCommerce plugins to help your store sell more. To enhance the functionality and automate important repetitive processes, you need to equip your store with useful plugins.
Keep in mind that all these options help with tackling multiple tasks. So, they'll help you save a lot of time and allow you to focus on making more important decisions.
If improving customer communication, lead generation, and sales is on your priority list now, try Tidio. It's a top-rated all-in-one plugin to sell with live chat, chatbots, and email marketing.
Try Tidio For Free