How does our list of WooCommerce plugins differ from all the others?
Well—
We've installed and checked every single one that made the list.
Plus, we didn't want to swamp you with 100+ free WooCommerce extensions of questionable value. So, we narrowed our selection down to those that will help you turn your store into an efficient money-making machine.
You're welcome.
The best WooCommerce plugins to improve your store's functionality:
Don't overspend on WooCommerce plugins
Tidio live chat is forever free. You can use it on your WordPress website for customer service.
Learn about Tidio live chat
Looking for something else?
What are WooCommerce plugins for WordPress for?
WooCommerce is one of the most customizable ecommerce platforms built on WordPress. Thanks to plugins, also called extensions or add-ons, you can create all sorts of websites, from marketplaces to membership websites, to directories. Each type of business will have different needs and will require different integrations.
The best WooCommerce plugins allow website owners to add new features that improve customer experience in the front-end, like a 360º view of your products. They also add extra functionalities to the back-end to make the everyday running of your business smoother, e.g., automated invoices, live chat, or analytics plugins.
WordPress plugin library is enormous and you'll find there all the necessary extensions to configure your online shop just as you want it.
But some of them are better than others—
Sometimes you'll get WooCommerce plugins that mess up your website, don't offer the best value for money, or plugins that aren't updated often enough. To avoid rotten eggs, check out the list of some of the best WooCommerce extensions in terms of their features and price.
Use plugins other users recommend
Tidio live chat has 100,000+ active installations on WordPress and 100% positive reviews
Learn about Tidio live chat
If you still haven't decided whether to go with WooCommerce for WordPress to build an ecommerce store, check out WooCommerce vs. Shopify comparison.
If you're looking for WooCommerce product add-ons, you can start with this lightweight and yet efficient plugin. It's the best way to add extra product options.
It's useful if you need to gather extra information from your customers, like date of birth or additional notes. Or when you offer product personalization—printing or engraving custom text.
WordPress rating: 5/5 stars
Active installations: 30,000+
Top features:
22+ form elements (e.g., drop-down lists, multiple-choice, etc.)
Easy to use drag-and-drop form builder
Many configuration options
Conditional logic and file upload in the premium version
Pricing:
Free plugin available with no limit to creating custom fields and forms
Premium versions for a single site start at $39 a year and up to 5 sites at $79 a year.
Special prices for lifetime updates
30-day money-back guarantee

This is probably one of the best WooCommerce plugins to customize product, account, and shop pages without overriding WooCommerce templates. It was previously known as WooCommerce Customizer,
It's a must-have WooCommerce shop page plugin to improve user experience thanks to extra layout elements and design options to better display product features and benefits.
WordPress rating: 5/5 stars
Active installations: 30,000+
Top features:
Add or remove design elements and ecommerce buttons on all WooCommerce pages
Edit settings and text on the product price, sale banner, and 'Add to cart' button visually
Product sales statistics on site for admins
Lightweight and only requires adding the code on the pages you need
Pricing:
Free version with all the necessary features
Pro plans with extra functionalities starting at $49/year
14-day money-back guarantee on new purchases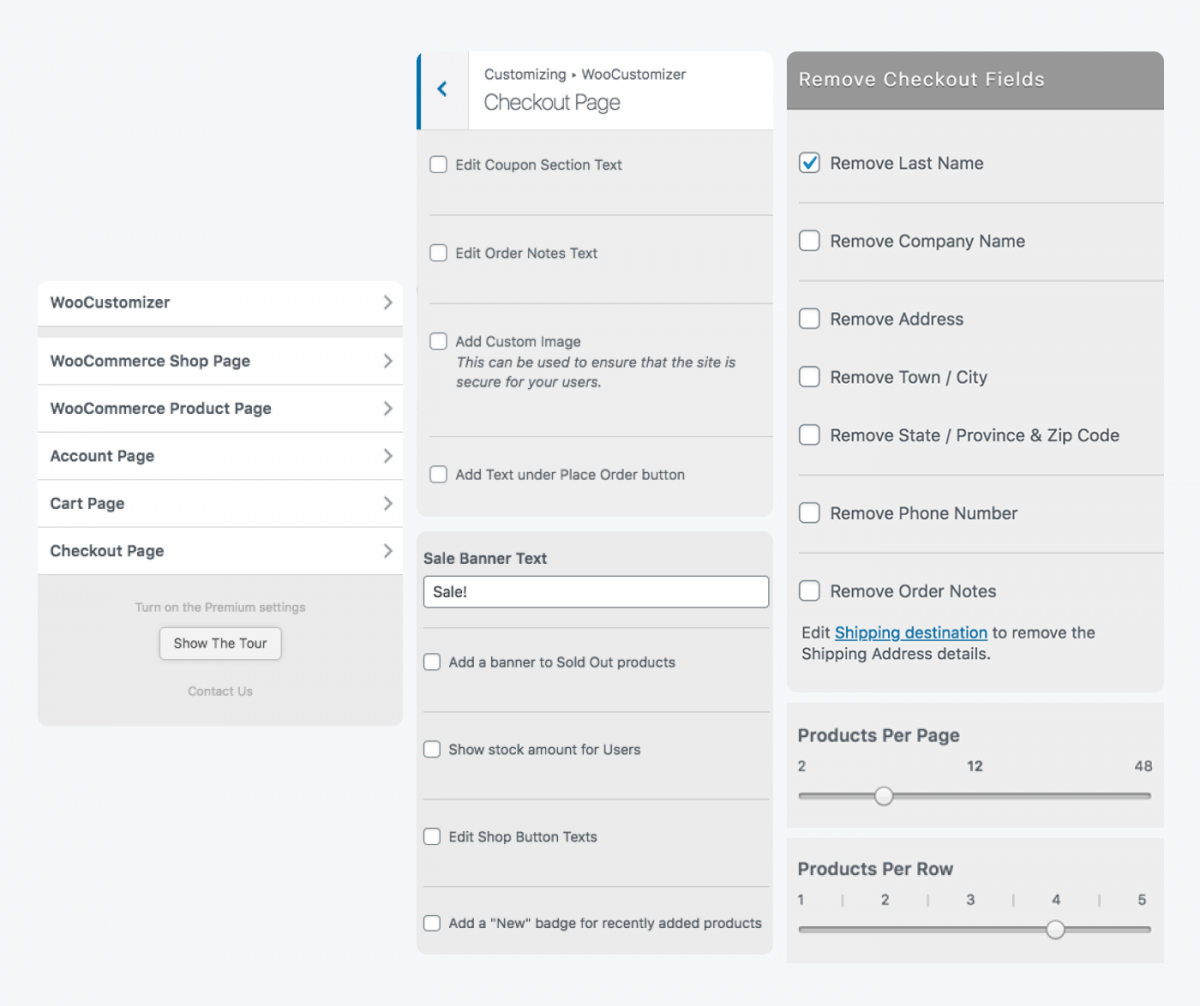 This WordPress shipping plugin will suit any size of business thanks to advanced customization options. And if you own a busy ecommerce store, adding it is essential because of its automation features that speed up order fulfillment.
It makes the delivery process smooth for you and your customers. And it's so far the only shipping plugin for WooCommerce that has free iOS and Android mobile apps (ShipStation Mobile).
Capterra rating: 4.7/5
Active installations: 50,000+
Top features:
Automatically import, manage, and fulfill orders
Print and create individual or batch labels
Email customers their return labels and notifications
Track all orders and shipments and send updates to customers
Tip! This WooCommerce plugin does NOT provide real-time shipping rates to use at checkout—you will need additional WooCommerce extensions that integrate your store with popular shipping providers, e.g. a free ELEX WooCommerce USPS Shipping Plugin
Pricing:
Prices start at $9 a month per 50 shipments and branded labels
Customized labels start at $49 a month (the plan includes 1,500 shipments)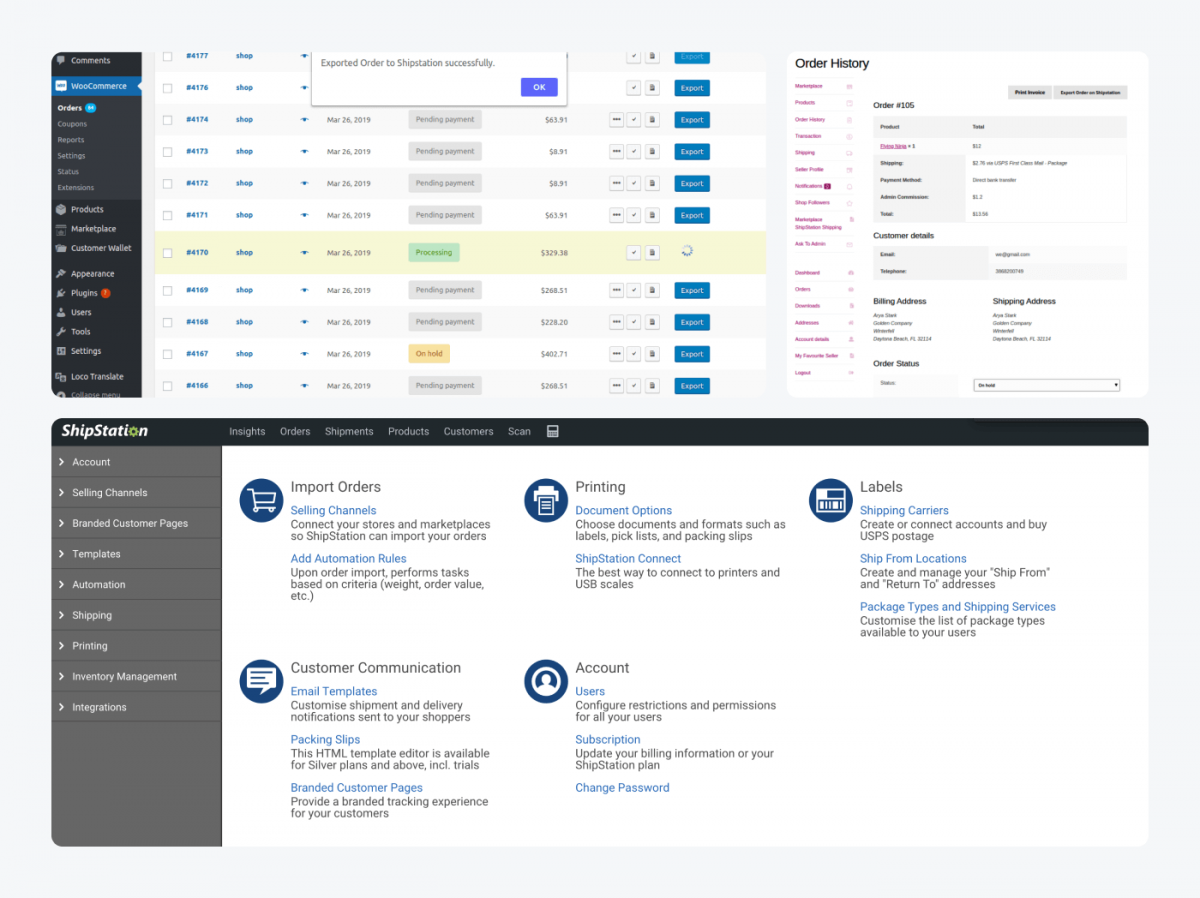 If you're looking for a free table rate shipping plugin for WooCommerce, Flexible Shipping seems to be the most advanced in terms of logistics. It lets you calculate the shipping costs based on weight and/or cart total.
The plugin's features let you create rules and shipping zones to help you optimize shipping costs.
WordPress rating: 5/5 stars
Active installations: 100,000+
Top features:
Calculate the shipping cost based on weight, totals, and product count
Override calculations to offer free shipping at a certain order total
Exclude shipping methods at the checkout page based on rules
Import ready-made shipping scenarios based on real use cases
Pricing:
Free subscription available
Pro version available for $89 per single site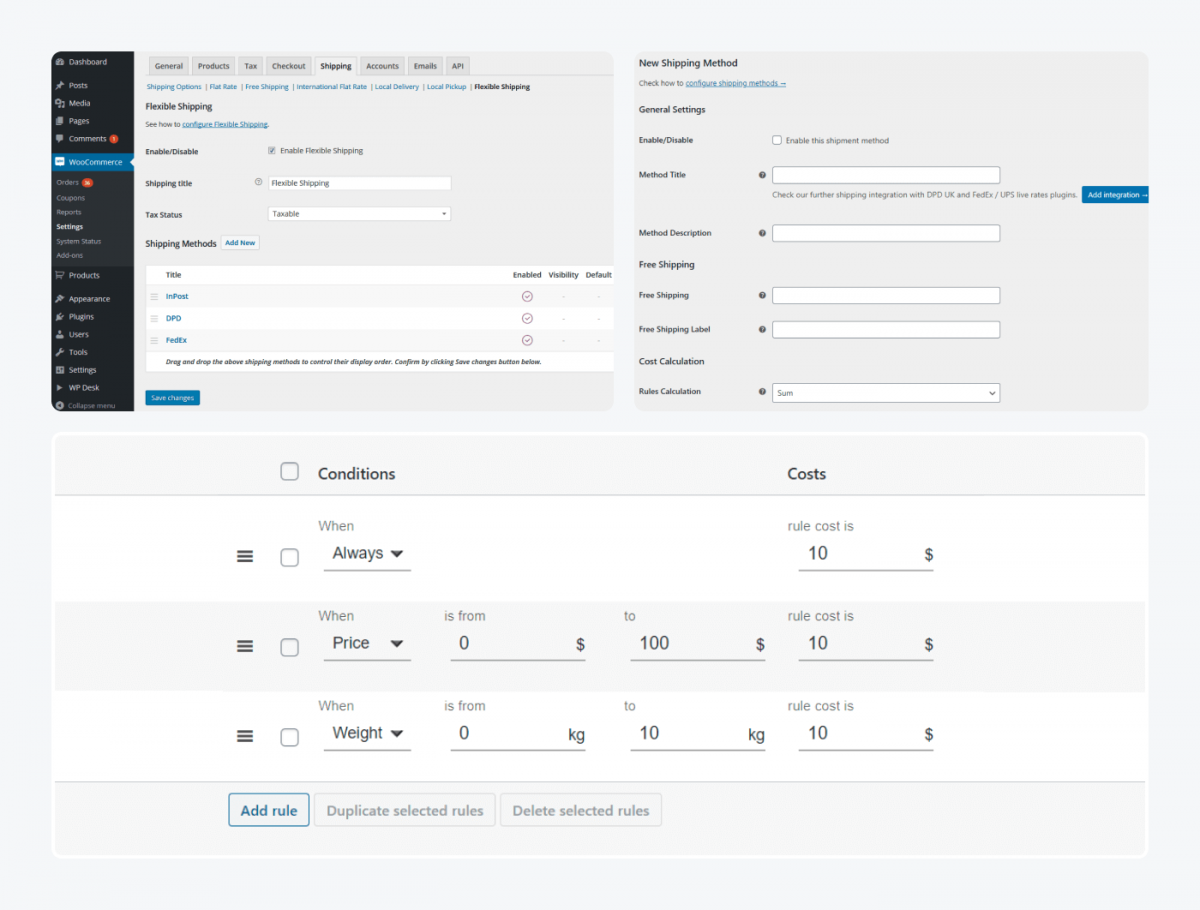 This is a WooCommerce cart plugin with a flexible shopping cart widget. It follows the user on different pages and is easy to collapse or expand.
It lets customers quickly access products added to their cart and dramatically decreases checkout process time.
WordPress rating: 4/5 stars
Active installations: 9,000+
Top features:
Customize the cart widget and inner elements of the plugin without coding
Cross-sell and upsell related products and add a box for coupons
Integrate PayPal Payments directly into the menu
No reloads and increased plugin responsiveness thanks to Ajax technology
Pricing:
$29 billed annually
30-day money-back guarantee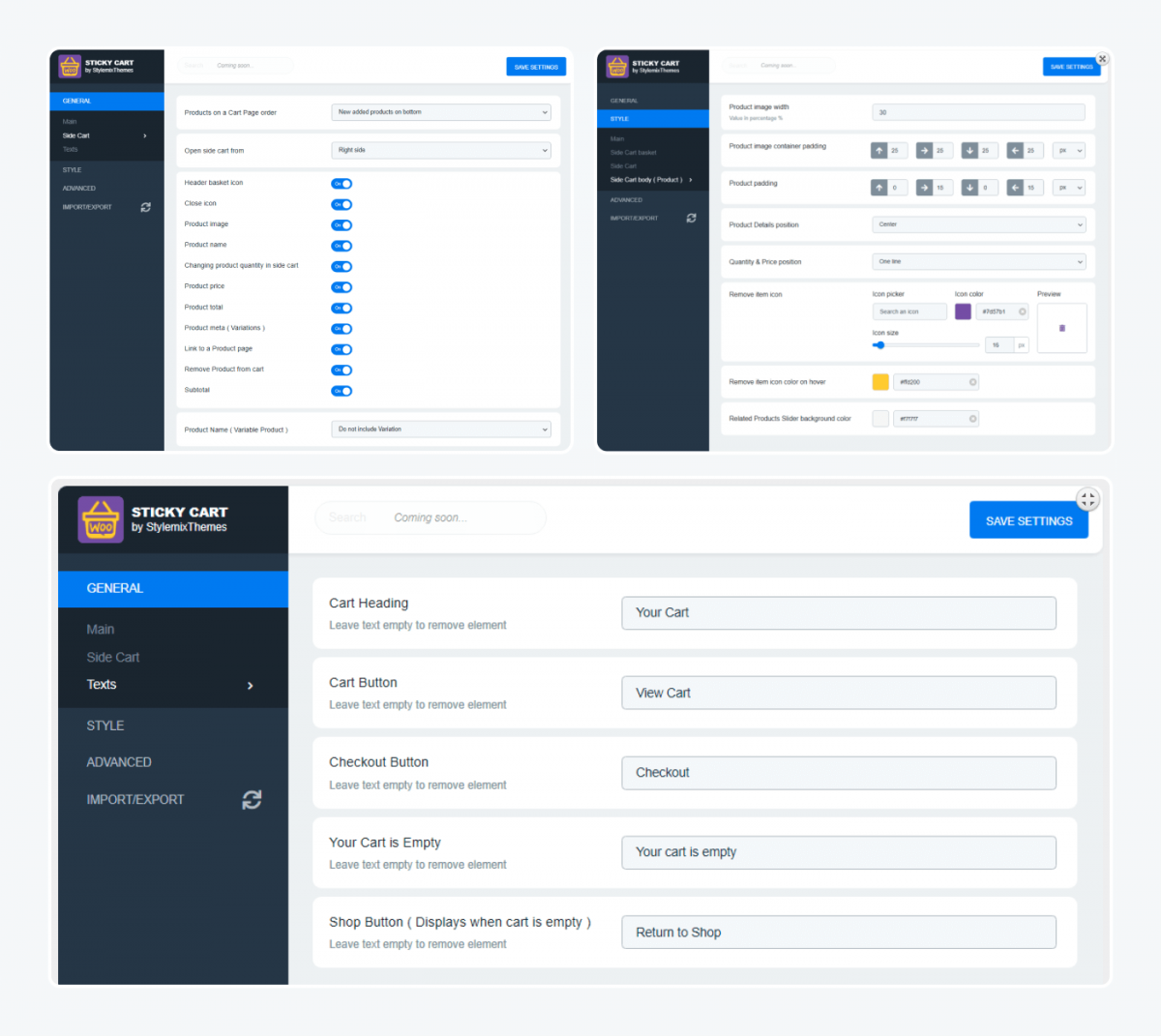 This is one of the best marketing automation WooCommerce plugins that lets you create auto sales workflows with triggers and rules to perform certain actions, like sending a coupon after a customer spends over $100.
It can even automate customer communication with follow-up or abandoned cart emails to help you grow and retain your customer base.
Capterra rating: 4/5 stars
Active installations: Unavailable
Top features:
Send targeted, multi-step email campaigns and offer incentives
Track open rate, click, and conversion
Capture guest emails from any form on your website
Send booking confirmations or competitions
Pricing:
$99 billed annually
Unlimited number of emails sent
30-day money-back guarantee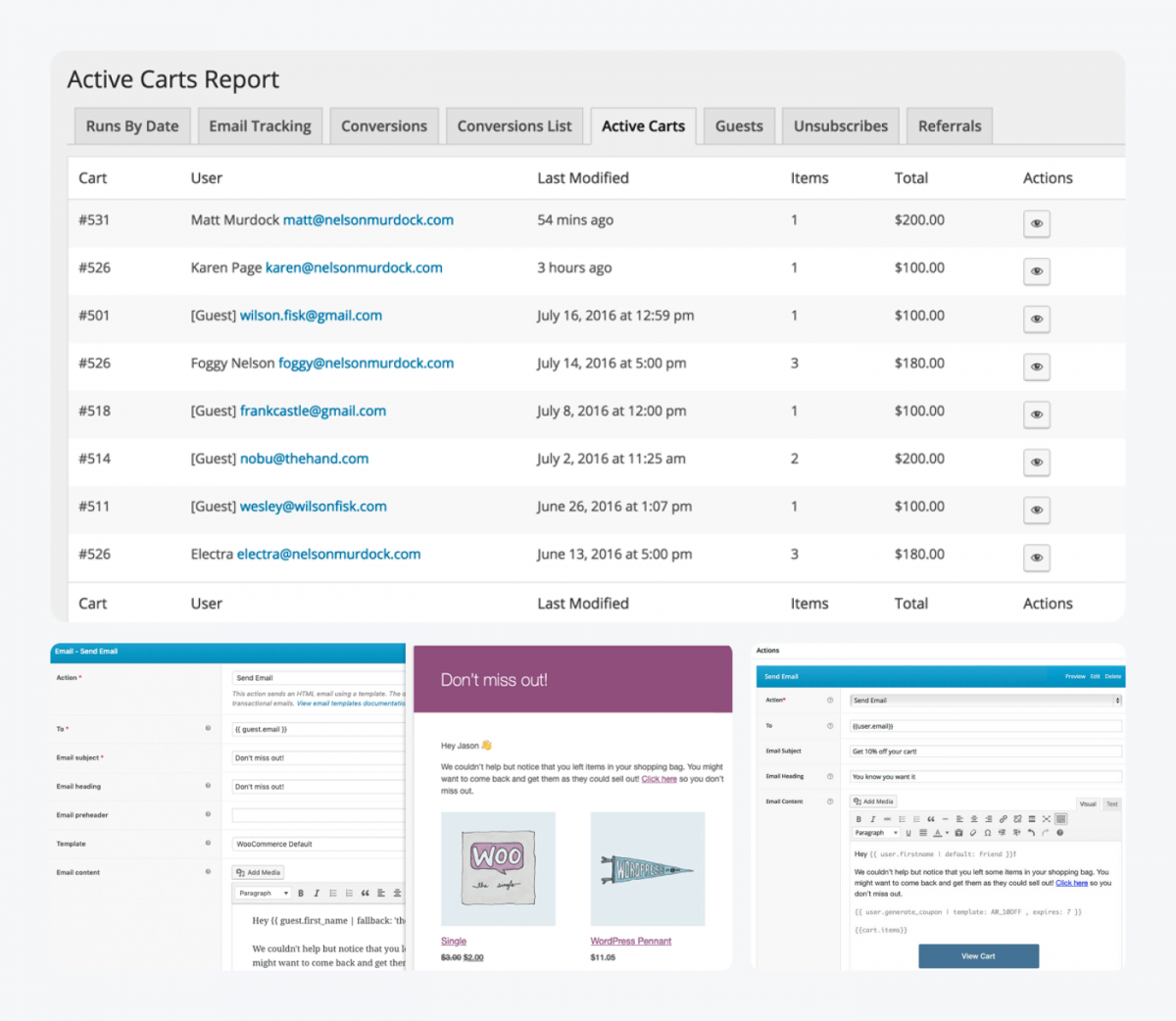 It's one of the YITH plugins that allow your ecommerce customers to compare two or more products on your site. There's a long list of attributes that you can set to display the differences.
When products are displayed side by side, clients can quickly find the product that suits their needs and improve their user experience.
WordPress rating: 4/5 stars
Active installations: 300,000+
Top features:
Customize the compare table template
Choose which fields are displayed in the table
Order the fields in the compare table
Pricing:
Freemium version with basic features
$69.99 billed annually
30-day money-back guarantee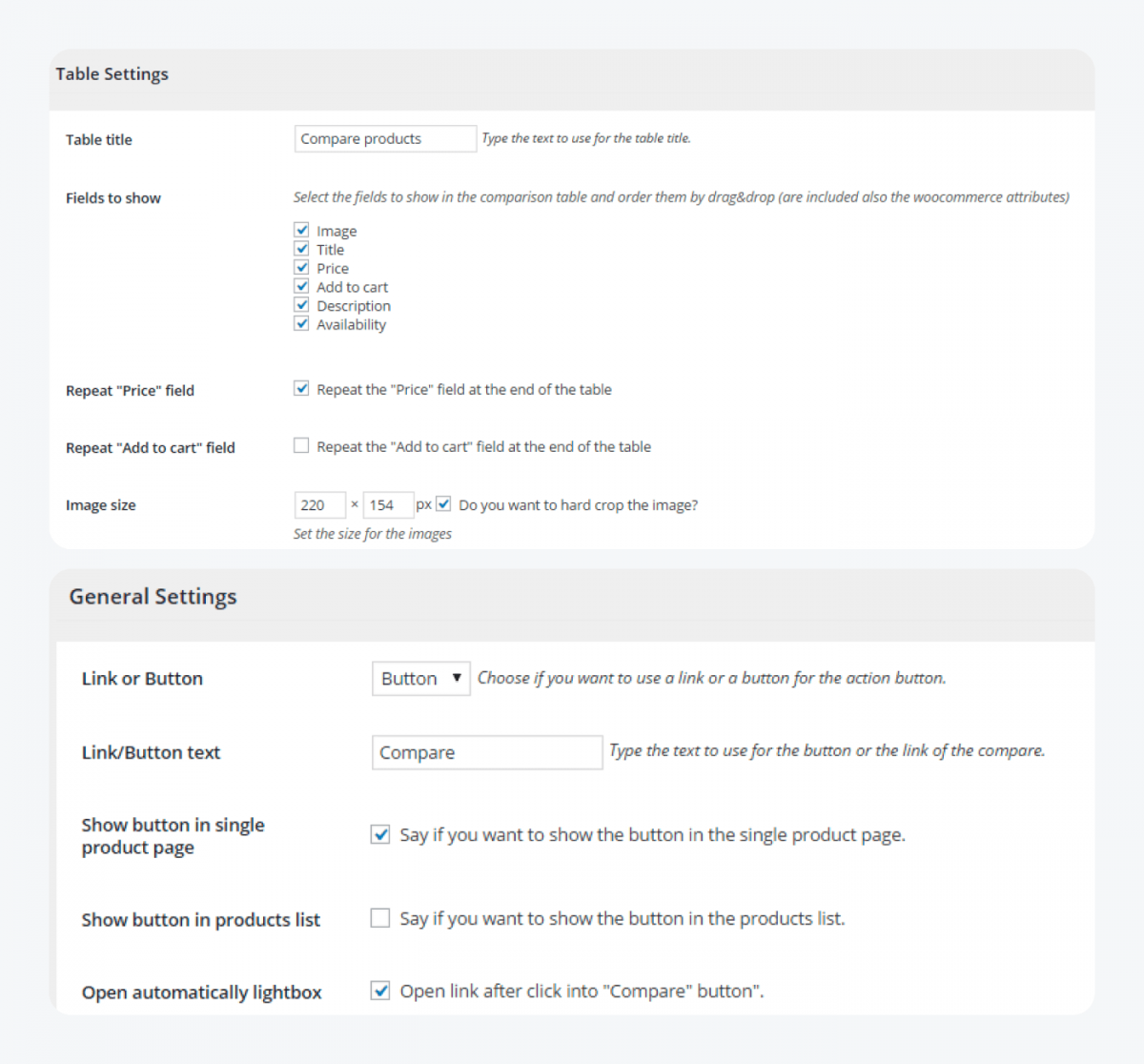 This YITH plugin is another must-have if you have a busy WooCommerce shop. It lets you create digital and printable gift cards of any amount on a beautiful layout.
Gift cards can boost conversions and customer retention, especially if you can customize them to reflect popular occasions, like Christmas or birthdays.
WordPress rating: 4/5 stars
Active installations: 9,000+
Top features:
Configure an image gallery with unlimited design categories to quickly create gift cards
Custom uploader for customers to personalize gift cards by uploading their own images
Multiple recipients and scheduling delivery date via email
Advanced management options, like expiry date, discounts, or checking remaining balance
Pricing:
Freemium version with basic features
$129.99 billed annually
30-day money-back guarantee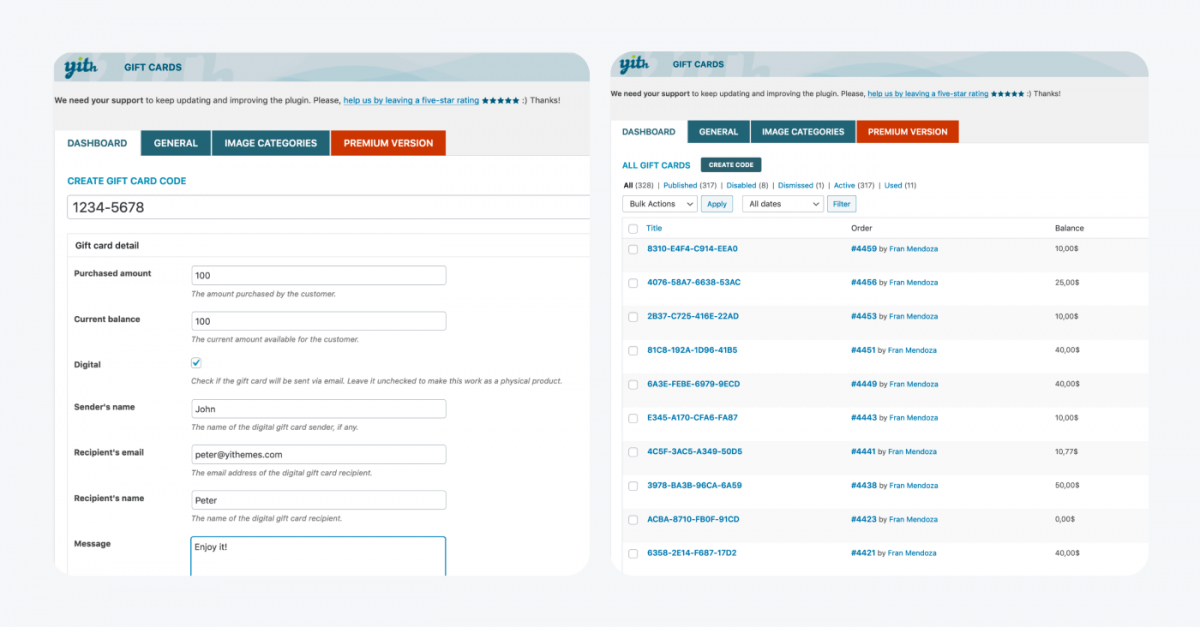 This WooCommerce extension is designed to support your customers in real-time. It's an all-in-one add-on for two types of customer service—live chat and chatbots.
Live chat is great for increasing customer satisfaction and chatbots are the best for generating leads and preventing cart abandonment. If you have a busy website, you'll benefit from desktop and mobile apps to support customers on the go.
WordPress rating: 5/5 stars
Active installations: 100,000+
Top features:
Pricing:
Forever free live chat with an unlimited number of chats and up to 3 operators
Communicator plan at $15 a month per operator
Chatbots plan with unlimited unique reachable visitors and chatbot templates at $39/mo
7-day free trial for chatbots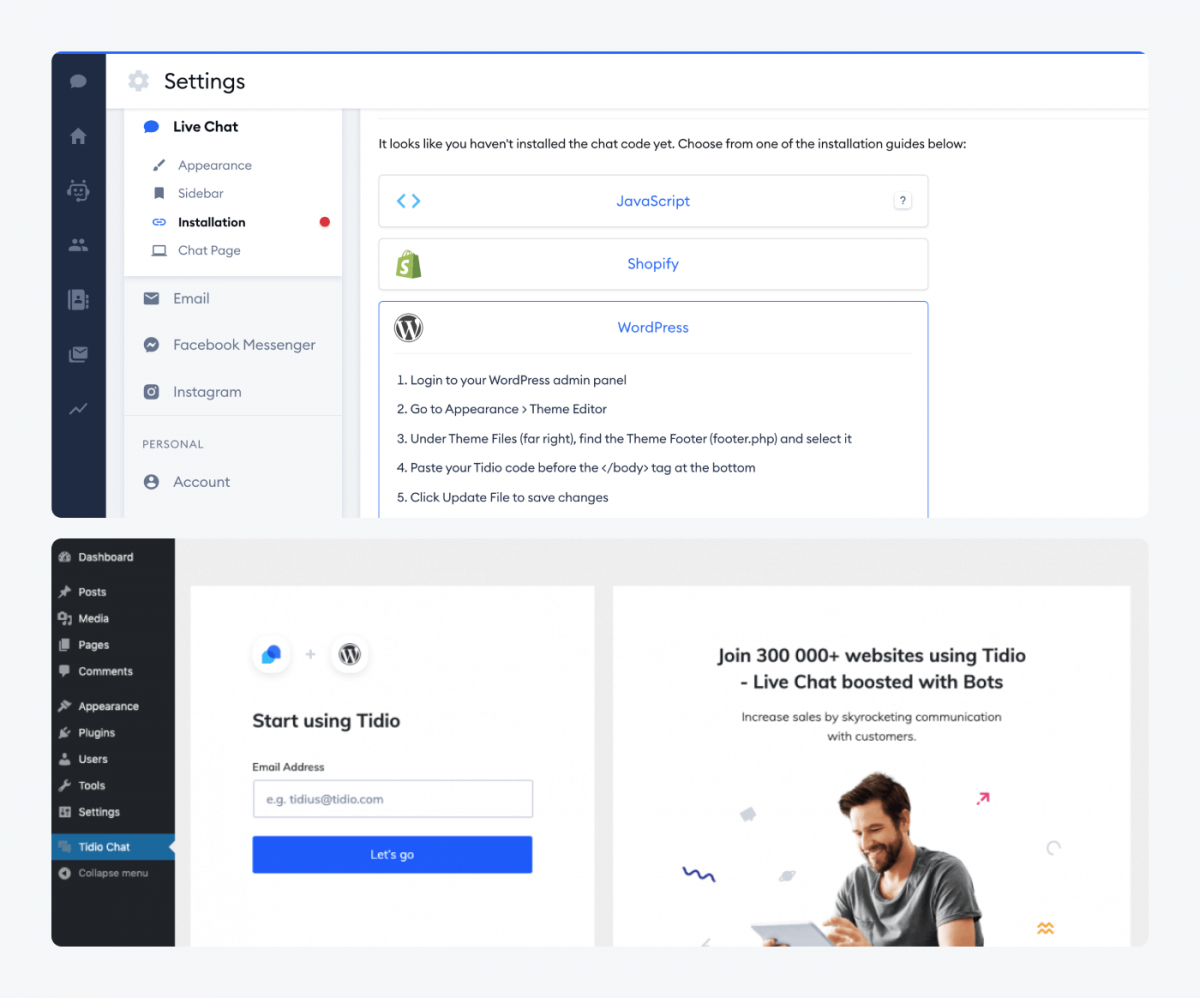 It's an ultimate WooCommerce checkout add-on that is also mobile-friendly. You can add new fields into the billing, shipping, and additional sections on your checkout page.
It has a friendly interface and intuitive default features. For example, the plugin changes the address format depending on the country. Don't worry, though, you can still override default settings.
WordPress rating: 5/5 stars
Active installations: 400,000+
Top features:
Add, edit, and disable custom checkout fields
Drag-and-drop fields to display them at different locations
Validate the checkout fields before customers leave the page
Add a custom CSS class to style your checkout page
Pricing:
Freemium option available
The single site is $49 a year
Up to 5 sites are $99 a year
Up to 25 sites are $199 a year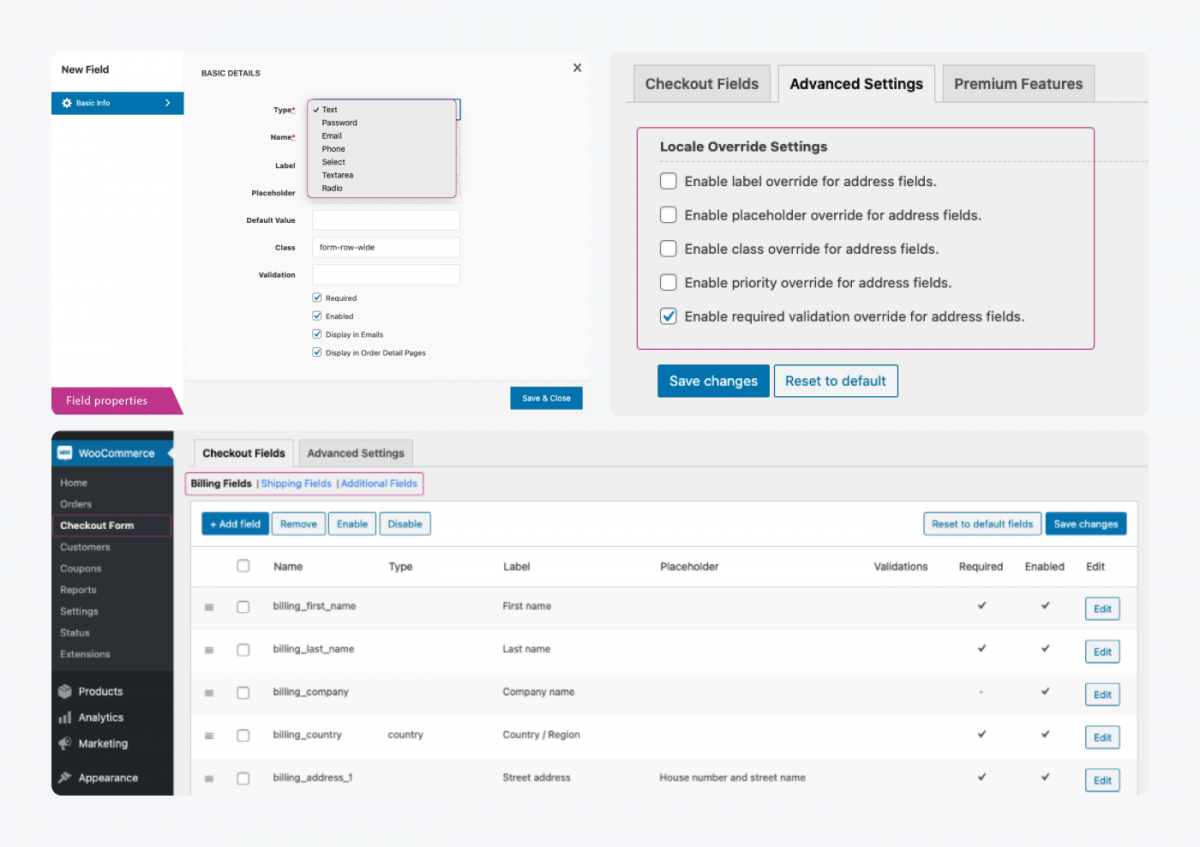 It's one of the few WooCommerce plugins that let you accept online and app payments. But Mollie integrates major credit cards as well as European and local payment methods which guarantees more conversions.
It also means you won't have to install multiple WooCommerce extensions to process different types of payments. It has a simple but powerful API.
WordPress rating: 4/5 stars
Active installations: 100,000+
Top features:
Support for multiple payment methods
Compatibility with WooCommerce Subscriptions for recurring payments
Edit the order, title, and description of every payments method in the checkout
Configure payouts (daily, weekly, monthly)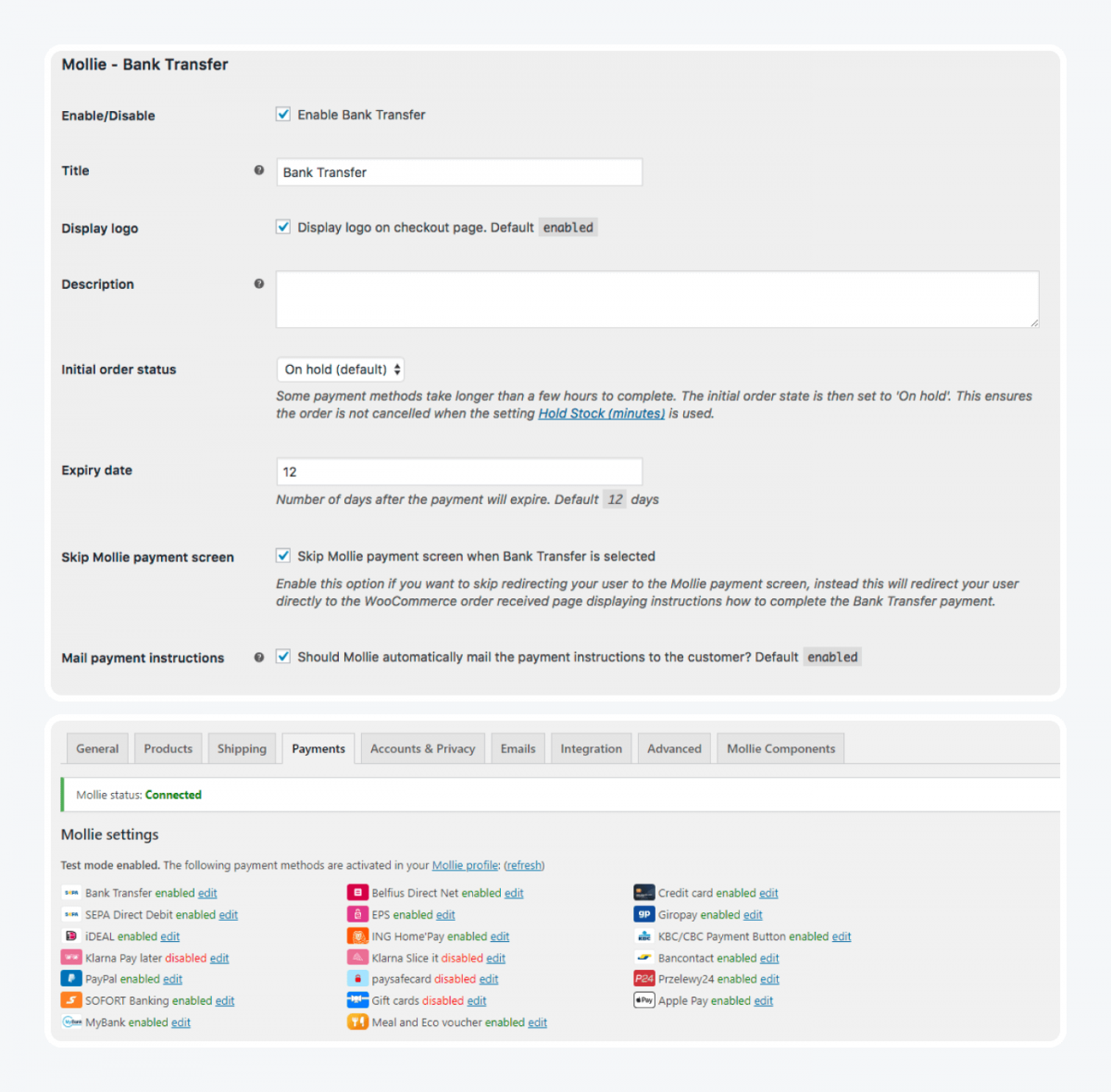 Mollie Payments pricing:
Pay for successful transactions only
Fees depend on the payment method
Volume pricing for enterprises upon request
Cryptocurrencies are taking a massive part in online payments. If you're eyeing WooCommerce plugins to accept Bitcoin payments on your blog, try GoUrl WooCommerce.
If you're looking for a marketing automation tool and WooCommerce reports plugin, HubSpot is an all-in-one extension that answers your needs. It's also easy to use contact management (CRM) so that the data captured on your website visitors is properly stored and benefits you.
The combination of useful features lets you optimize conversion rates and increase customer lifetime value.
WordPress rating: 5/5 stars
Active installations: 200,000+
Top features:
Get data-driven reports on customer behavior
Manage and segment contact database
Build email newsletters and automated campaigns
Create forms and pop-ups—a sense of urgency works well with some types of customers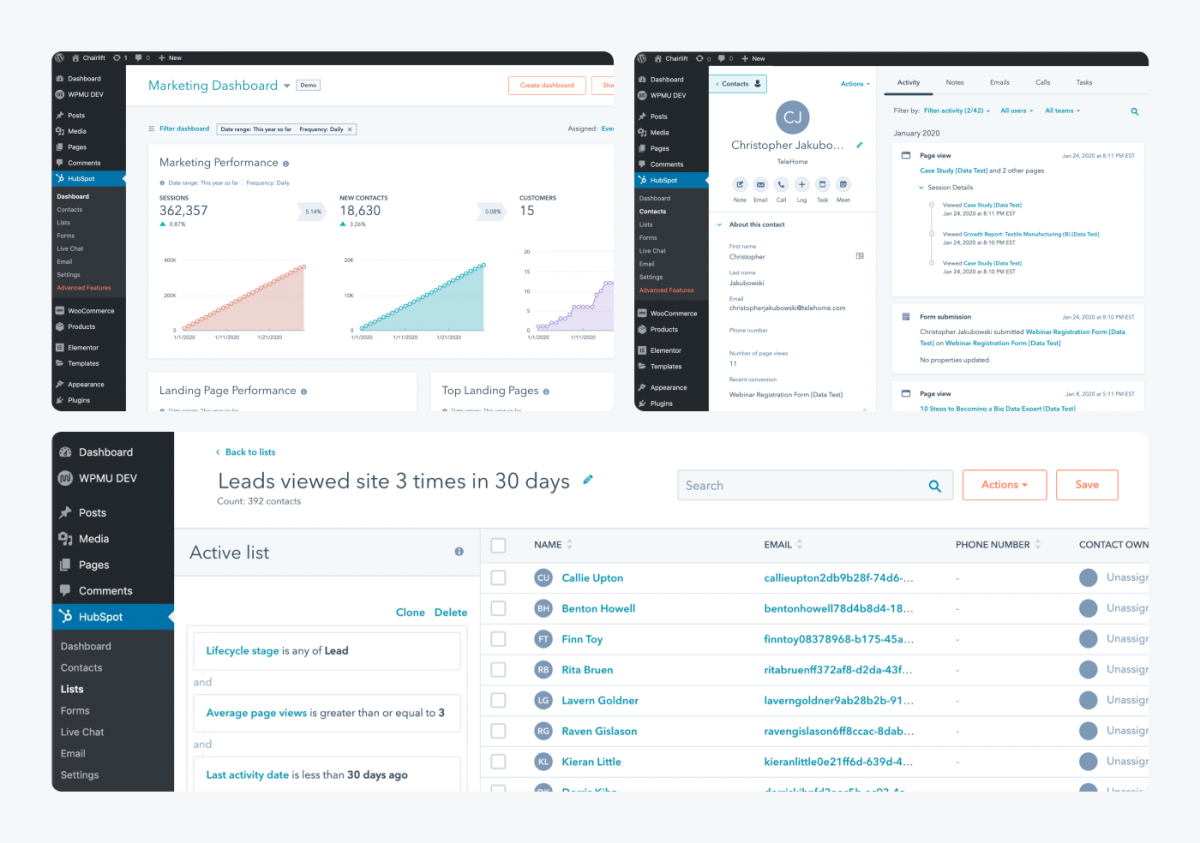 Pricing:
Forever version with CRM
Paid tiers starting at $45 a month
Smush Pro is one of the free WooCommerce plugins on this list. It's a great WooCommerce product image plugin that lets you optimize, resize, and compress images while turning on the lazy load.
It's the easiest way to load your site faster without compromising image quality. And you can speed up the process by compressing up to 50 images with one click.
WordPress rating: 5/5 stars
Active installations: 1+ million
Top features:
Optimize any image in any directory by lossless compression
Enable lazy loading by deferring offscreen images
Detect incorrect size images that slow down the page
Use configuration settings to automate image optimization
Pricing:
Freemium version available
Plans start at $6 a month for image optimization and $9 a month for site speed optimization on one site
Annual subscription discounts

This is another great WooCommerce plugin for displaying images. It gives shoppers a 360º view of your products and an opportunity to fully explore all their features.
You'll have to take between 12-36 photos from even angles. It's useful to put your product on a rotation platform or disc to make it easier.
It gets positive reviews on online forums for its advanced features.
Active installations: Unavailable
Top features:
Customers can rotate an item to look at it from all angles
View product image in a full-screen mode
Mobile-friendly and responsive
Pricing:
$49 billed annually
30-day money-back guarantee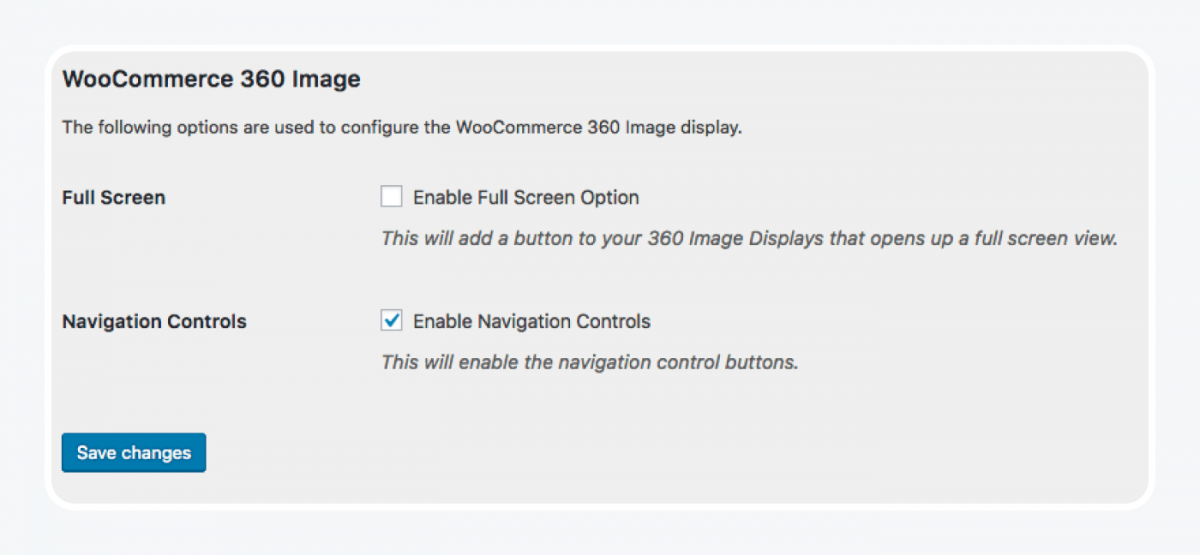 ALD is a must-have WooCommerce ecommerce extension for your dropshipping businesses.
It allows you to import products from AliExpress to your WooCommerce store. It then automates the processing and fulfillment of the orders.
The plugin saves a lot of time on routine tasks so that business owners can focus on other aspects of running a business.
WordPress rating: 5/5 stars
Active installations: 10,000+
Top features:
Import an unlimited number of products and their default descriptions to multiple stores at a time
Set product rules for imported products, like catalog visibility, product status, attributes
Set up price rules for all products and currency exchange rate
Manage and track sold orders
Pricing:
Free version with essential features available
The Pro version of this WooCommerce plugin is available at $16 for a license
If you're still deciding if WooCommerce is right for starting a dropshipping business, compare it with Shopify dropshipping automation.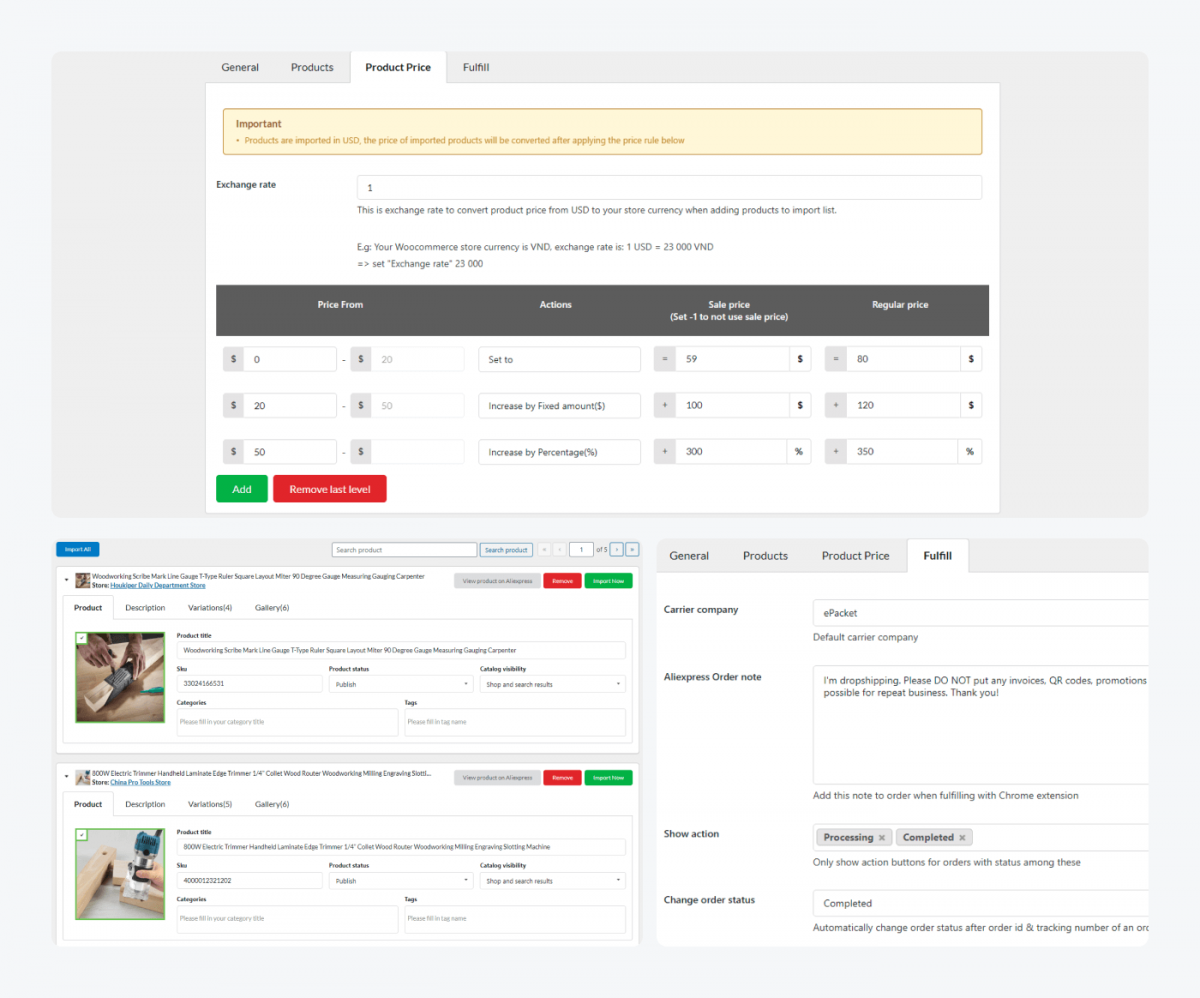 This WooCommerce add-on automatically adds a PDF invoice when you send out order confirmation emails to customers. You can also download or print invoices and packing slips.
The invoices are numbered sequentially and have multilingual versions so that nothing gets lost and you can serve customers from different parts of the world.
WordPress rating: 5/5 stars
Active installations: 300,000+
Top features:
Automatically attach PDF invoices to the emails you choose
Generate PDF invoices and packing slips in bulk
Use a basic HTML/CSS invoice template or create your own templates
Create other types of sales documents, like credit notes and more stylish templates
Pricing:
Freemium option available
1 site license at €59
3 site licenses at €119
25 site licenses at €249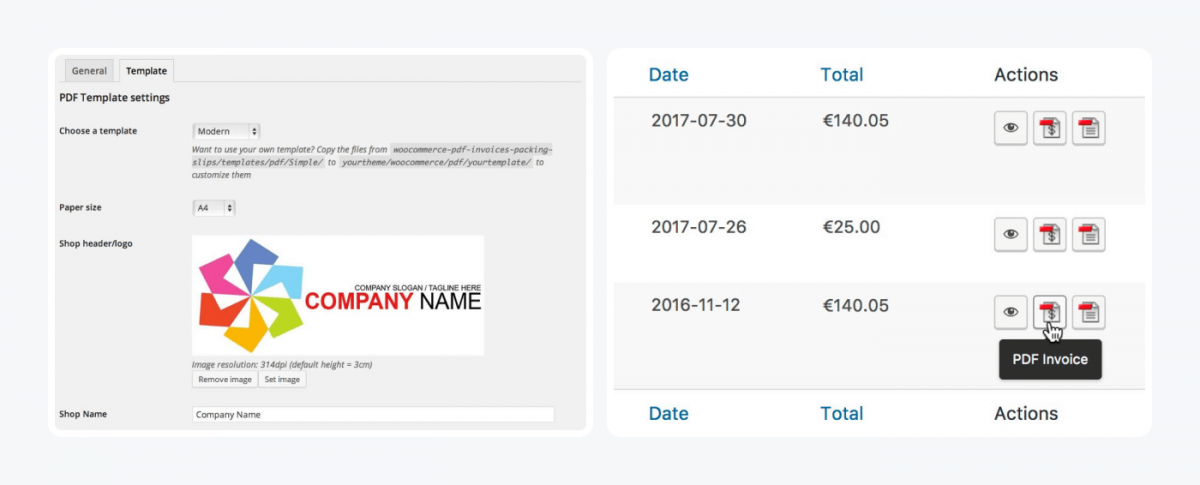 If you're looking to increase customer engagement on social media and worth-of-mouth marketing, this is one of the best WooCommerce extensions you'll find.
Thanks to its features you can create giveaways and contests that work on mobile devices and desktops. It can also help you grow your email list and website traffic in the long run.
WordPress rating: 4/5 stars
Active installations: 10,000+
Top features:
Drag-and-drop elements to build a giveaway or use pre-built templates
Eliminate fraudulent entries to keep the contest fair
Integrate it with social media and works well on mobile devices
Integrate it with email marketing services and CRMs
Pricing:
There are 3 plans available costing between $49 and $199 per year
A lifetime offer for $449
Special introductory offers (but all renewals are at full price)
14-day money-back guarantee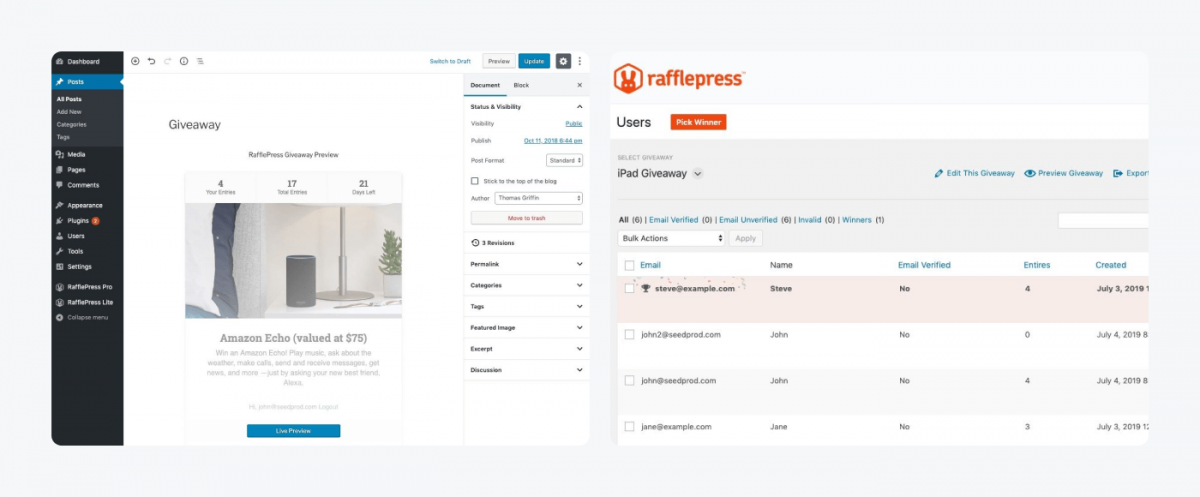 Embed Getting Started with RafflePress
This is one of the most advanced free WooCommerce plugins available in the WordPress library. It's a must-have for shops offering large volumes of products and an extensive customer base.
This WooCommerce addon helps you control all aspects of a busy store and avoid product overstocking and outages. A well managed inventory helps you meet customer needs.
WordPress rating: 5/5 stars
Active installations: 10,000+
Top features:
Fully control the stock of your WooCommerce site and quickly edit product details
Keep an eye on your products and suppliers with advanced search and filters
Intuitive dashboard with statistics
Quick-view links to support and tutorials
Pricing:
Essential features are free
Premium plan with multi-inventory options, starting at $54 a year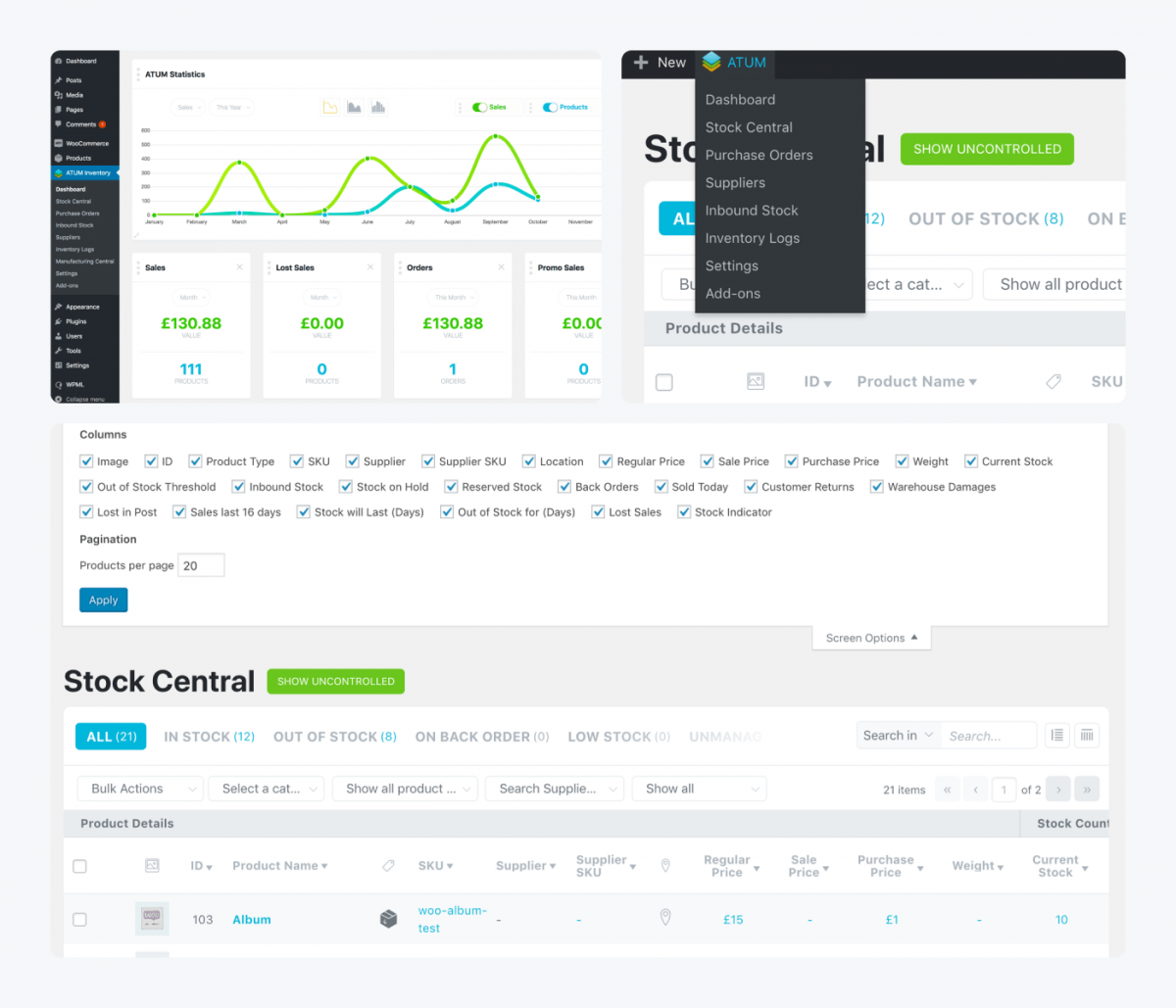 Check out this WooCommerce extension if you're looking for a wishlist plugin for a WordPress website. It's one of the most popular ecommerce plugins. As always with YITH WooCommerce plugins, you can try it out for a month.
It will help you increase sales and turn visitors into loyal customers with a bunch of useful features like no other WooCommerce plugin.
WordPress rating: 5/5 stars
Active installations: 10,000+
Top features:
Select a page for inserting the wishlist decide where to put the 'Add to wishlist' button
Include the 'Remove from wishlist' button
Customize columns displayed in the wishlist table
Customers can share the wishlist with their friends and family members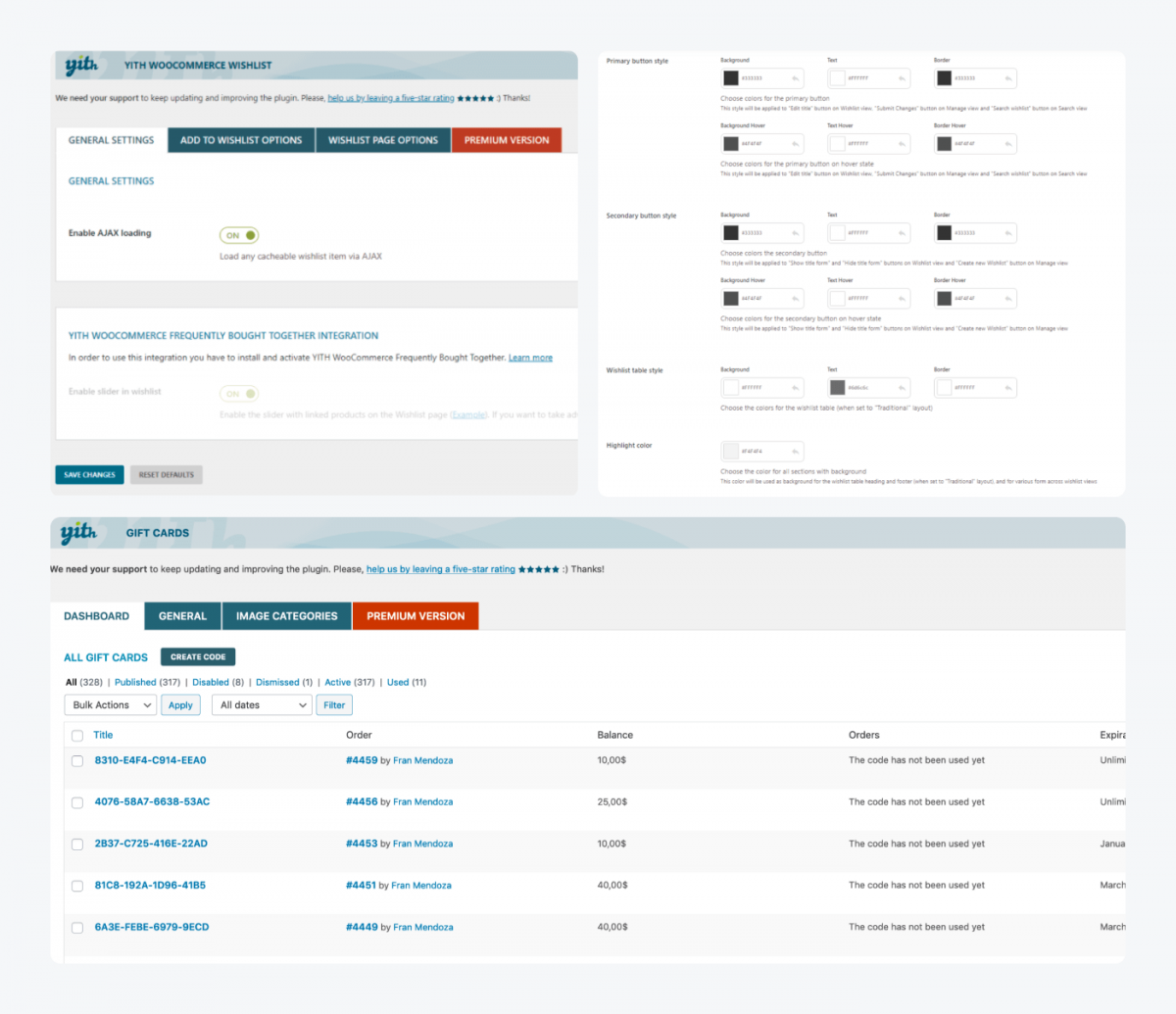 Pricing:
Freemium version with basic features
$94.99 billed annually
30-day money-back guarantee
Another YITH plugin for WooCommerce allows customers to see product details by hovering their mouse cursor over a 'Quick View' button, directly on the product's page.
This feature reduces the number of clicks and enhances the user experience on your website.
WordPress rating: 4/5 stars
Active installations: 100,000+
Top features:
Add a button in the product loop to open a modal window with the product summary
Customize the layout and style of the modal window
AJAX technology
Pricing:
Free version with basic features
Premium features cost $59.99 a year
30-day money-back guarantee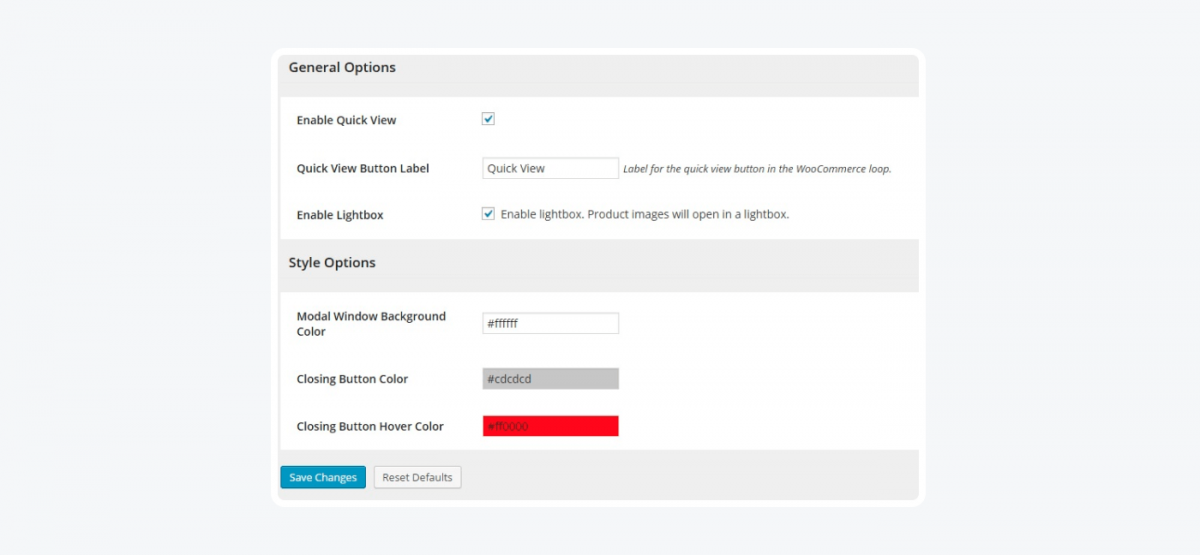 Shortcodes help you display custom content on your WordPress site. The plugin converts code snippets into shortcodes so that you can use them in your posts and pages.
You can make your own custom shortcodes instead of using separate shortcode plugins to have ready-to-use elements on your site.
WordPress rating: 5/5 stars
Active installations: 90,000+
Top features:
Create shortcodes on your WooCommerce store from HTML, CSS, and JavaScript code snippets
Insert WordPress specific and custom parameters in the shortcode
Support for code, visual, and text modes editors
Disable shortcodes when you don't need them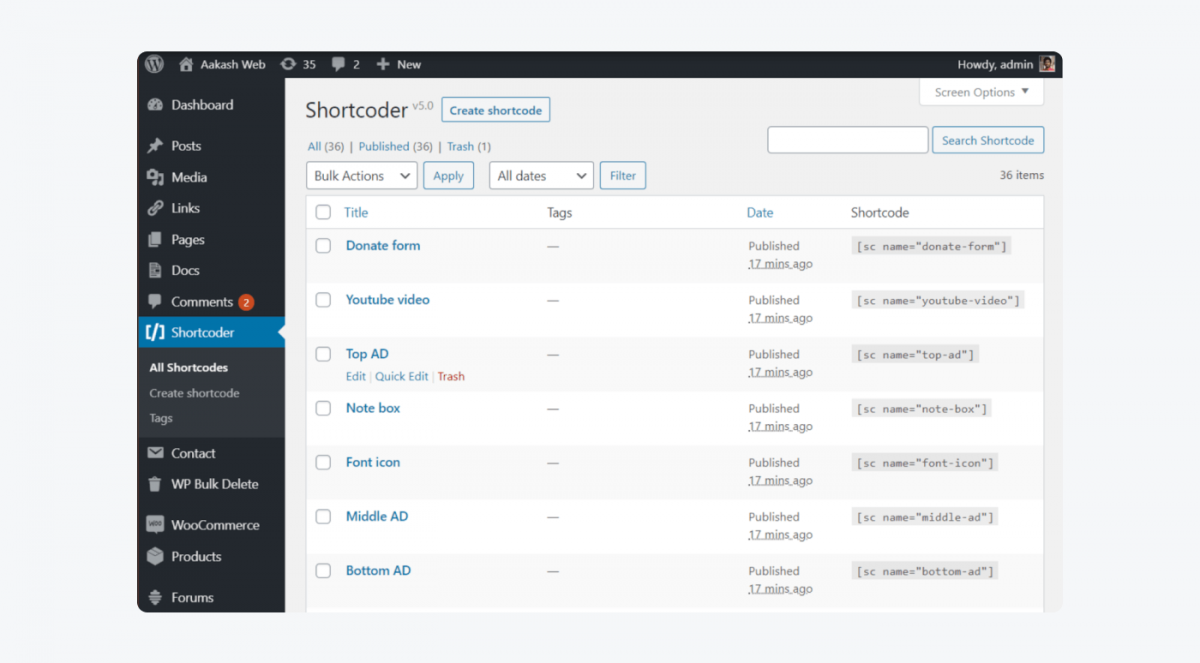 Shortcoder pricing:
Key things to remember about WooCommerce plugins
Before you go into the ecommerce business using WordPress, consider if this is the right platform for your needs. It can be hard to back out from your decision if it turns out to be a wrong choice.
The next step is the choice of WooCommerce extensions to create your storefront. Make sure it's user-friendly and satisfies customer needs.
The choice of backend plugins is rich and it will depend on the type of your website and your business.
Before you install any addons, make a list of the site features you want to have on your website. You can also peek at your competitors' websites to see what works well.
It's easy to be overwhelmed with all the available options. But as long as you spend time considering your needs and your consumers' behavior, you'll find the best WooCommerce plugins.