Dropshipping is easy, they say. You can get rich fast, they say.
You can, sure.
But that means doing a lot of things right because your competitors are trying to do the same thing. Besides, now, with fewer customers buying online – global retail sales are to fall by almost 10 percent – you need the best dropshipping guide to generating sales.
No worries, though, you just found it. This guide will walk you through the process of starting a dropshipping business the right way.
Or read on to find out how to start your own dropshipping store.
Table of Contents:
Part 1: Learn What Dropshipping Is
Before you dive into your dropshipping business adventure, find out what it is and what pros and cons it entails.
Dropshipping is a method of selling products online without having any inventory.
Instead of buying or producing something, you partner up with a supplier, collect orders online, and send them to your partner for fulfillment.
Here are the most important advantages and disadvantages of this method to keep in mind.
The Pros of Dropshipping
First, let's have a look at what benefits dropshipping gives you.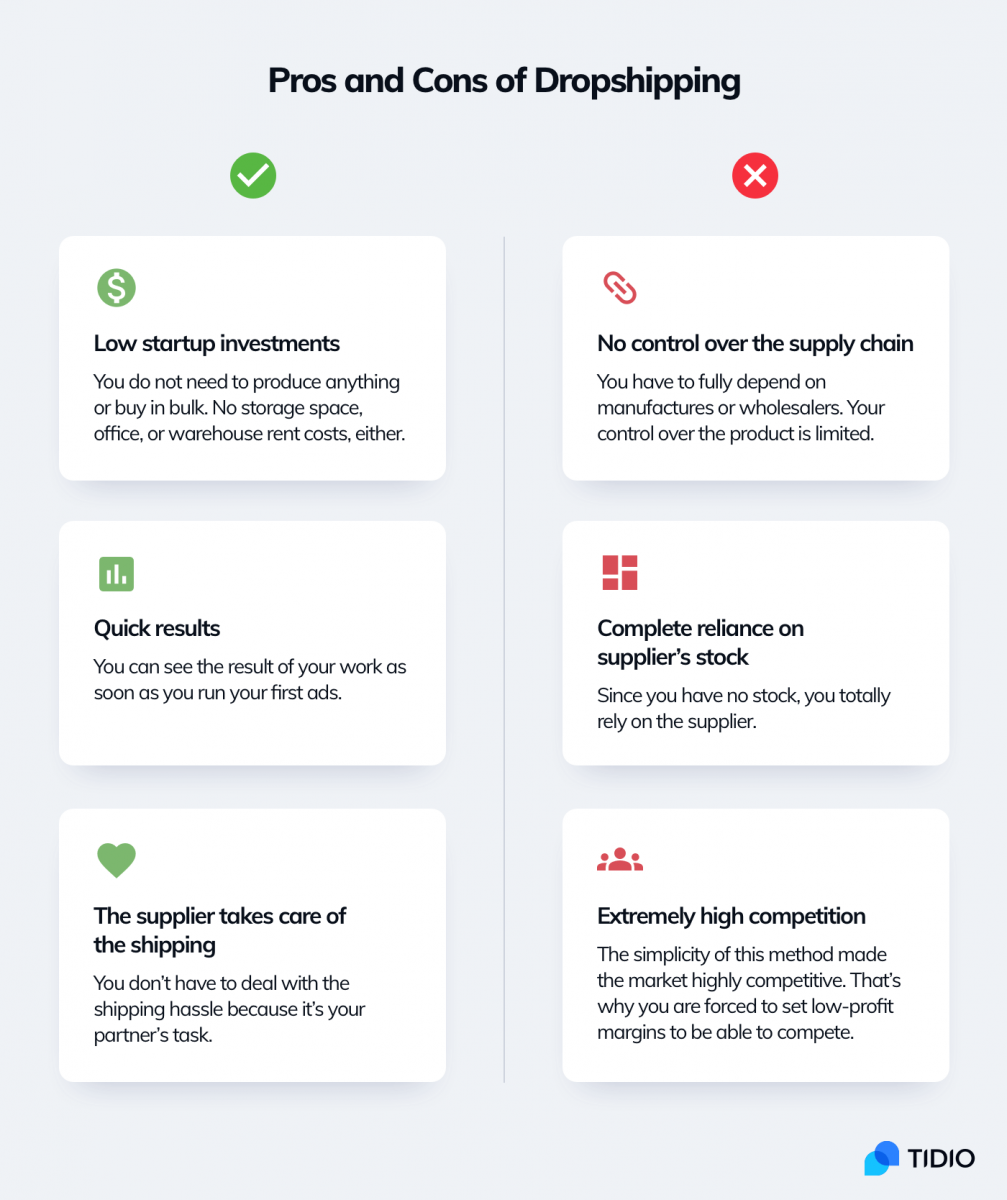 1. Low startup investments
You do not need to produce anything or buy in bulk. No storage space, office, or warehouse rent costs, either. You can start by having just $100 in your pocket.
This is the main advantage of dropshipping that attracts many people to this business method.
2. Quick results
You can see the result of your work as soon as you run your first ads. It is easy to test products, business ideas, and marketing efforts.
3. The supplier takes care of the shipping
You don't have to deal with the shipping hassle because it's your partner's task.
They're responsible for storing products and shipping them to the customer, so you can focus on making sales.
The Cons of Dropshipping
As usual, there's a flip side too.
1. Extremely high competition
The simplicity of this method made the market highly competitive.
That's why you are forced to set low-profit margins to be able to compete. But with the right approach – which you're about to learn in this post – you can still fit in the market and grab your piece of the pie.
2. No control over the supply chain
Since you rely on the manufacturer or wholesaler, you have limited control over the product quality and shipping.
To minimize potential issues, you need to find dependable partners that offer fast order fulfillment and high product quality.
3. Complete Reliance on Supplier's Stock
Since you have no stock, you totally rely on the supplier.
If someone makes an order but the supplier turns it down because they don't have it available, there's pretty much nothing you can do.
Ready to accept the risks and glean the benefits? Great, here's what you need to do next.
Part 2: Find The Best Dropshipping Products
To kick start your shop, you need a dropshipping business plan. Your first step is to decide what to sell.
This is the stage of pure market research. Having a specific niche helps to establish authority and connect to a certain group of buyers.
Here is an algorithm to follow:
1. Look for ideas
Start by Googling "best products to dropship" or visiting Amazon and AliExpress bestsellers pages.
Amazon, for example, updates the best-selling product list hourly, and you can also filter them by category.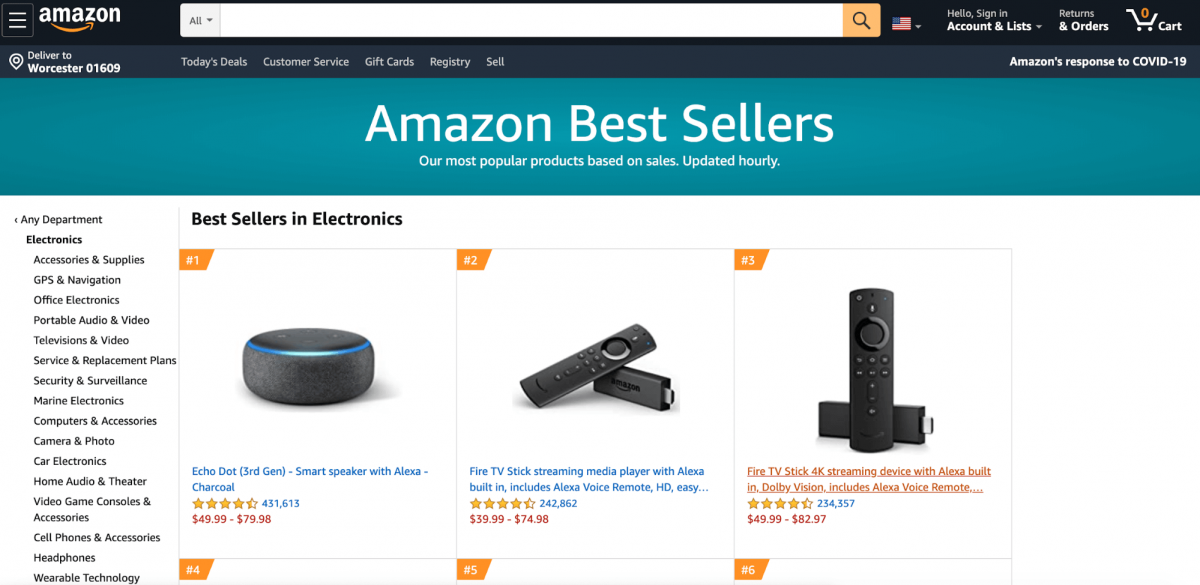 Amazon Best Sellers page
For more creative insights, browse websites like Trend Hunter or Buzzsumo.
For example, you may notice that fandom merch is a big thing now, especially mashups, or that indoor gardening, cooking and board games are becoming a massive hobby during the quarantine.
2. Check the trends
You need something with a permanent and growing demand, while many products have only seasonal or short-lived popularity. Use Google Trends or Buzzsumo to validate your dropshipping ideas.
For example, if you check the interest for kitchen tools in Google Trends, you'll see it's stable, with a rise over the past few months (see below image). Same, though smaller, for baking tools.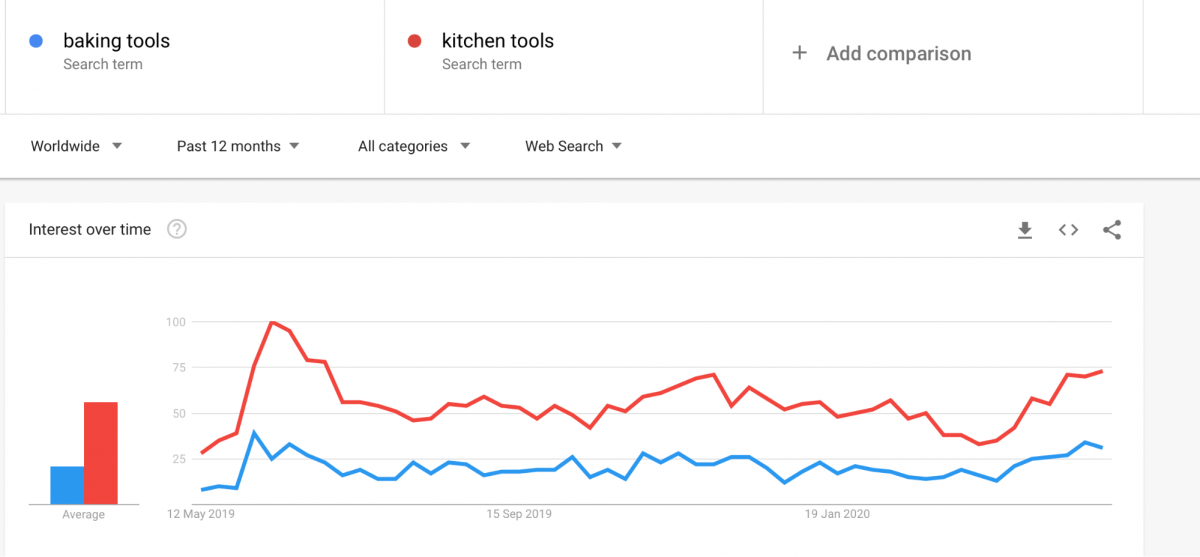 People will always love to cook, this is the type of trend curve you are looking for. Buzzsumo will also give you insights about possible ads costs and competition. Investing in a Google Trends API service can even provide you with location-specific keyword trends, related topics and queries, and much more.
Check out more trends here: Trending Products to Sell Online [Best Product Ideas for eCommerce]
3. Trigger impulse buyers
You do not want to sell something people have to buy every day. They use local stores for that.
You need a product that can be advertised with emotions. Something that people are not looking for, but still want to have.
For example, some novelty kitchen tools that make life easier. You can promote them by saying what kind of awesome dishes the customers can prepare and delight their family.
4. Define the audience
You want it to be specific, yet big enough to guarantee your profit. Use Facebook Audience Insights tool to check how many people are interested in your product, what demographics are they and what else do they love.
Here, we choose people who like food and cooking. As you can see, there are 100-150M of those in the U.S. only.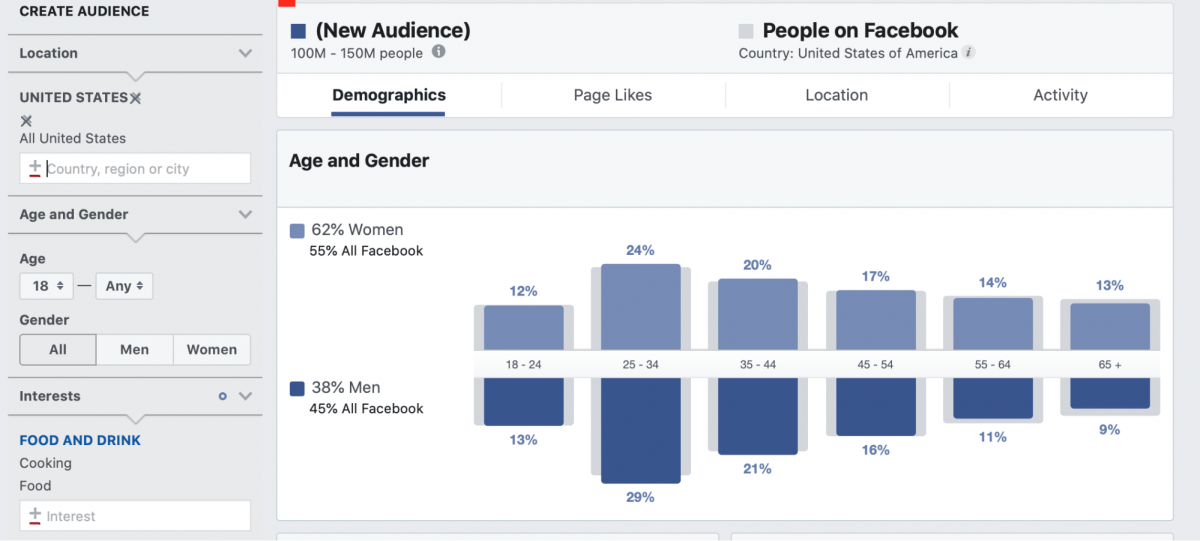 Use Audience Insights to define your target audience and their interests. It'll help you to understand the motivations behind purchasing decisions.
5. Use keyword research tools
Validate the search volume and the competition in your niche. Two free instruments that could be very helpful are Ubersuggest and Google Keyword Planner.
They give you SEO and paid advertisement difficulty, the average cost per click, and provide some other useful insights and ideas. A great niche to consider is the one that has a lot of interest and medium to low bids.
Below, you can see Google Keyword Planner shows that for kitchen tools, the market volume ("avg. monthly searches" column) is great but the competition is very high.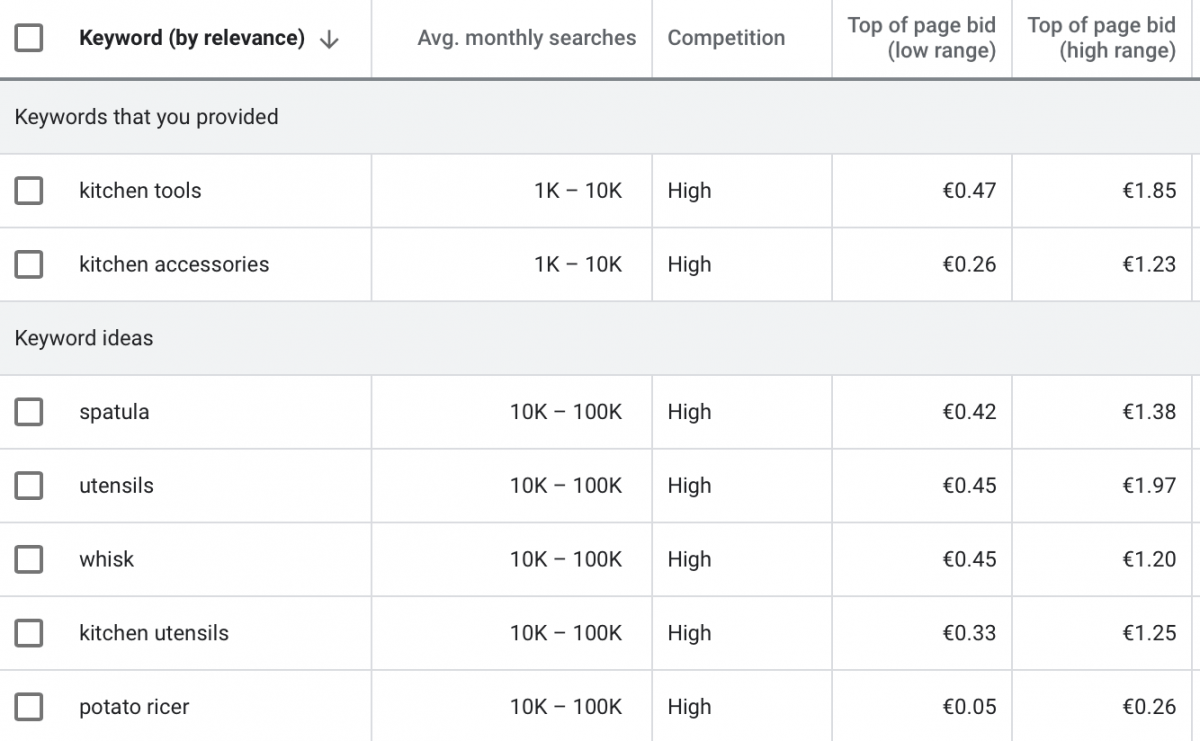 6. Decide on the price and package size
For starters, think about something not bigger than a shoebox, priced between 25 and 50 dollars.
This is to minimize shipping costs and risks while you are testing your ideas. And the medium price allows you to play with the margins and earn some profit.
7. Avoid sensitive products
We recommend you to choose products that are unlikely to offend people, cause allergic reactions, or be returned.
Think about starting in the lifestyle, tech, or fashion sectors. Some nice dropshipping business ideas in these categories are:
dog toys
funny mugs
tote bags or t-shirts
Wi-Fi 6 devices
fitness trackers
360-degree cameras
indoor gardening
fitness equipment at home and so on
Keep in mind that you do not need to commit to one product forever. You can experiment with niches and find what's trending.
8. Find a reliable supplier
As you already know, the product quality and supply chain are out of your hands. So, your dropshipping business is very much dependent on a reliable wholesaler or manufacturer. This is important also for those operating a dropshipping business in UAE, where finding trustworthy suppliers can be challenging.
There are two ways you can work with suppliers:
pick them in a marketplace
find direct contacts.
For a beginner, the first option would be much easier and less risky. That's because dropshipping providers, or marketplaces, verify their suppliers. They check product quality and shipping practices.
Consider these services:
They have millions of products and thousands of suppliers to work with. Moreover, they have simple plug-and-play connectivity. The drawback is, tons of dropshipping businesses use the same suppliers and sell their products.
If you choose to find the supplier yourself, you'll need to verify them and connect their product database to your shop. But you will also be able to have higher margins and more exclusive goods to sell.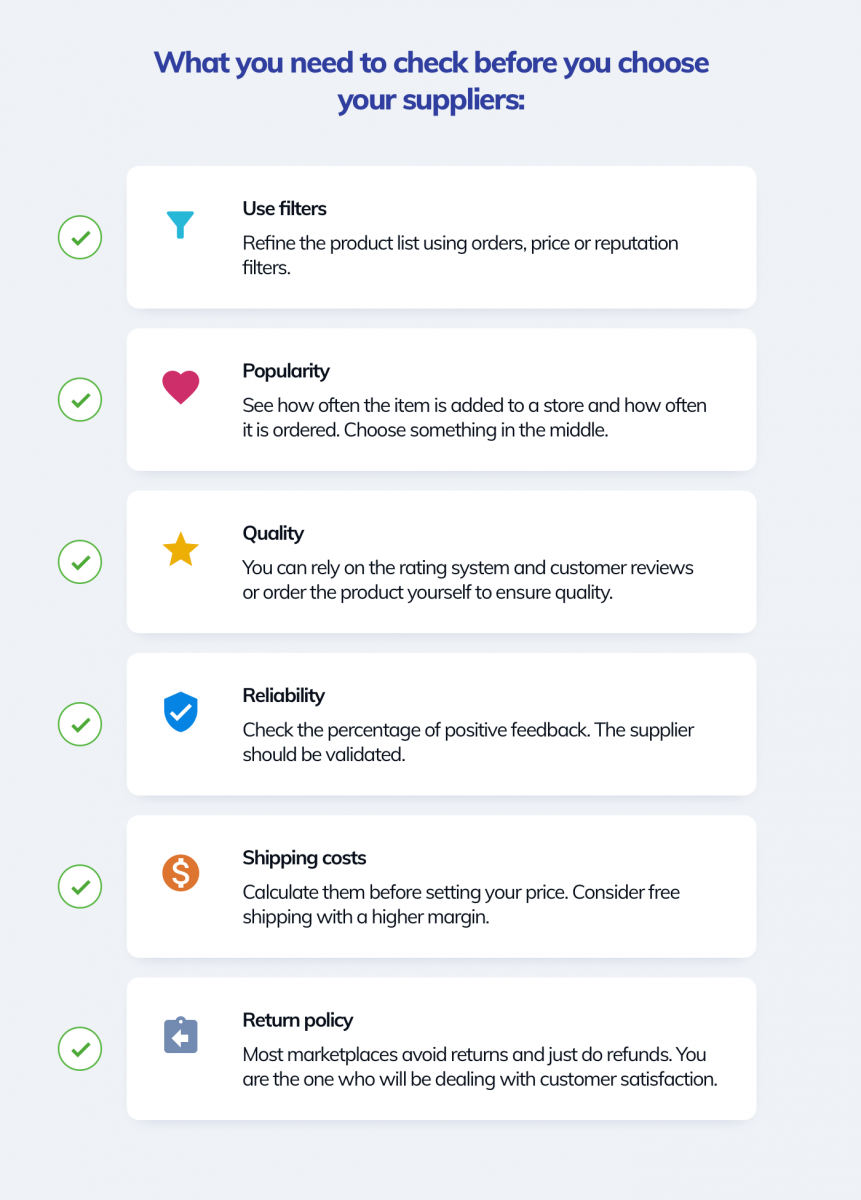 Oberlo + Shopify pair is probably the most popular one, so let's take them as an example.
Register at Oberlo, connect it with your Shopify dropshipping store and start browsing products.

Part 3: Create Your Online Dropshipping Store
You do not own the product, but the online store is fully in your control. So build it with care and attention.
1. Choose the Platform
First, you need to select a platform to build your online store. There are plenty of them to choose from, but the most popular solutions are:
WordPress + WooCommerce
WordPress is a flexible CMS, you can build pretty much everything on it. It works well with content-focused sites, where you also sell products.
It is free to start, plans that allow having a custom domain start with $4 a month. eCommerce plan costs $45/month, billed yearly.
Shopify
The most popular and easy to use platform for online stores, especially product-focused ones. It offers integration with many subsidiary services like marketplaces for vendors and chatbots.
The basic package costs $29/month plus transaction fees.
2. Register domain name
It's pretty easy, and your dropshipping store will look super professional.
Register with Shopify
Use your email to register and do dropshipping with Shopify. The first two weeks are free.
Buy a domain name
You do not want your store to be found at ISellStuff.myshopify.com. This is unprofessional and will repel users.
Choose your domain name wisely if you are up to building a long-term brand. It should contain a niche keyword to be easily found on Google. Also, try to get a .com domain to appear more reliable.
You can buy the domain name from Shopify for about $14 USD per year. Or you can connect an existing domain. If you are not using Shopify, you also need to pay for hosting, a place for your information on a server.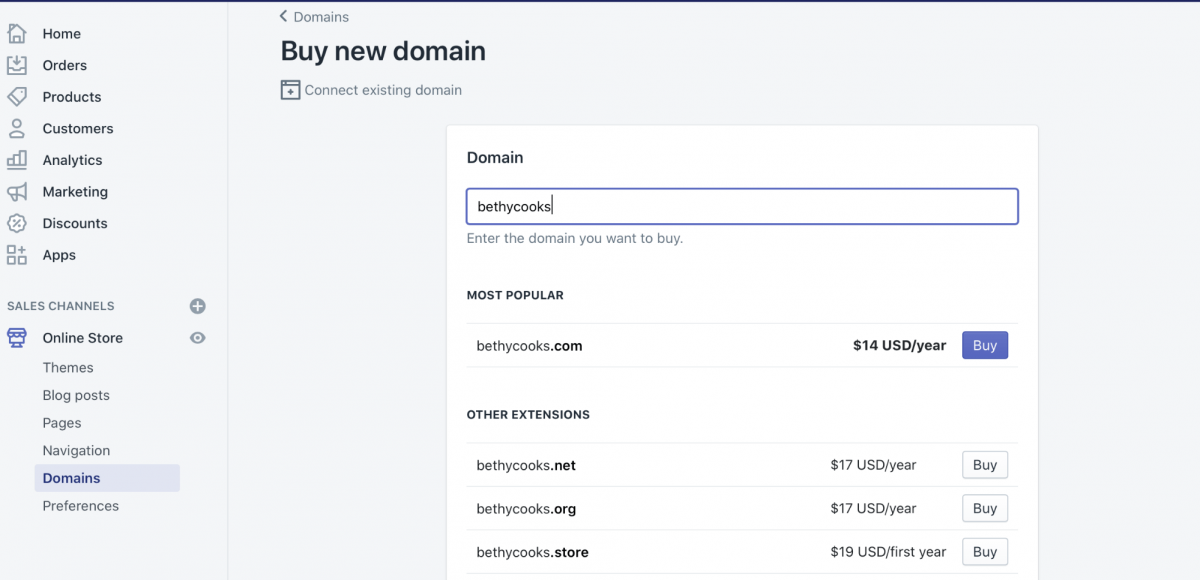 3. Configure your store settings
All it takes are three simple steps.
Step 1: Payment information
In this step, you should decide on your dropshipping business structure.
The legal issues and taxes will depend on the country. In the U.S., for example, most common entities are sole proprietorship or Limited Liability Company (LLC)., however, it's important to review your options before setting up an LLC because regulations and fees vary in each state.
After you registered the business, you need to get the finances in order. Decide how much you are going to invest in your company and open a separate bank account for it.
Choose a payment system to receive money from your customers.
Shopify, for example, has a detailed guide about how you get paid. So go to the settings (in the left bottom corner) and choose the card payment providers you are going to use. It may vary depending on your country.


PayPal is often a default option since it is one of the easiest to set up. Also, keep in mind that you need a merchant account, not a personal one.
Step 2: Store Policies
You need to set up the legal pages before you open the store. We mean privacy policy, the refund policy, and terms and conditions.
Though people rarely read them, they protect you from liability. If you do not know what to write there, Shopify has templates and a free policy generator. Make sure your refund and ecommerce return policy reflect your care for the customer.
Policy generator from Shopify
Step 3: Shipping Rates
Your dropshipping business also needs a separate "Shipping" page with clear rates and delivery terms. Write how long it takes to get the product and how much it costs. It is common to offer free shipping (and include the supplier's rate in your price).
Other pages that will make your store look perfectly legitimate are "About Us," "Contact" and "FAQs." Spend some time writing a short and nice copy.
You can also use FAQ chatbots to answer common questions from customers. They will display the FAQs so the customers can click and get answers in seconds.
4. Design Your Store
In this step, you need some creativity. Choose a theme, make a logo, and banners, add design touches and product categories.
As for the themes, we suggest you use a free one for starters. Paid themes cost $150-180 and they are customizable. But you can easily change themes later.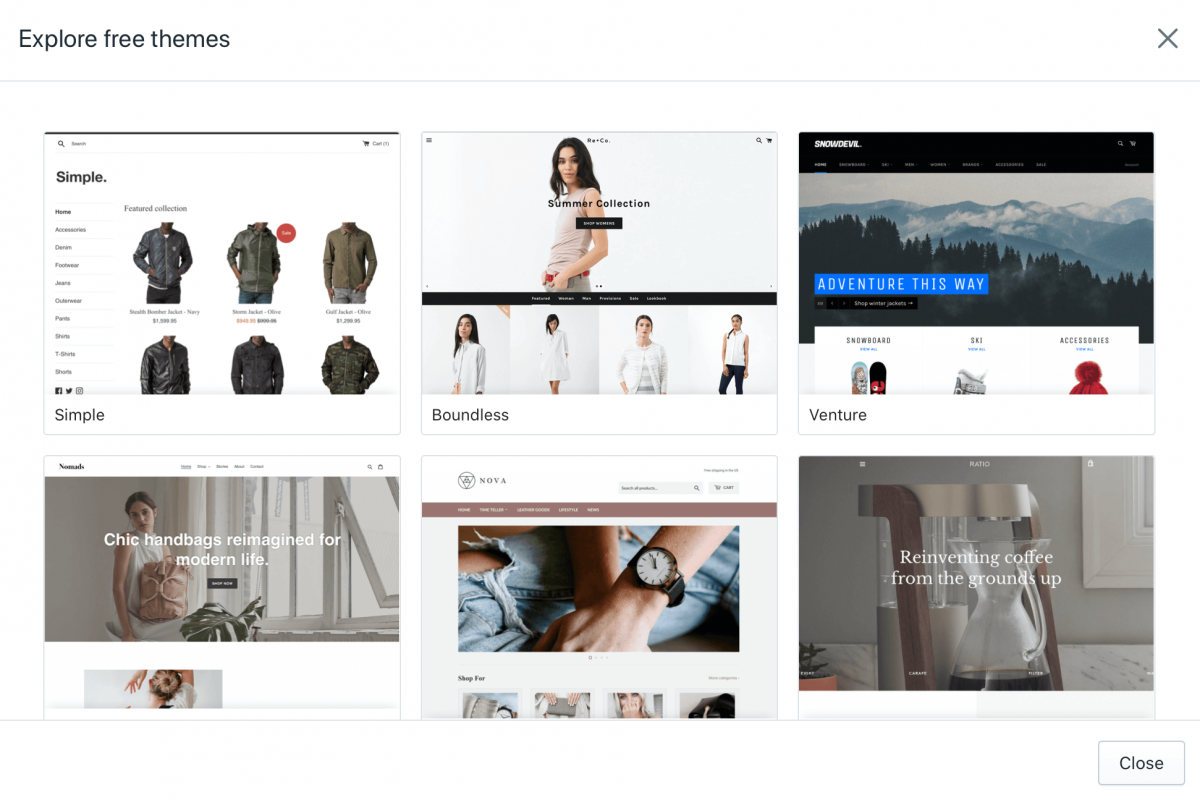 A logo is essential to help customers remember your store and come back again.
Use a simple online logo maker tool or hire a freelance designer on Fiverr.
Think about your store branding and functionality. Good UX matters even more than pleasant appearance. Set up the menu, product categories, and layout for different pages.
5. Add Important Apps
Select 'Apps' in the dashboard and then click on the 'Visit Shopify App Store.' You might be overwhelmed at first, there are a lot of apps available.
No worries, you need only a few for now.


Shopify app store
Here are the best Shopify apps for sales that new stores need. Also, consider Shopify abandoned cart apps to re-engage customers who left the store without finishing the checkout.
Install dropshipping supplier
To do that in the Shopify Apps store, go in categories, and check out "finding products."
Or just search for Oberlo and connect it to your shop. Now, you can add products to your shop. You can also add other dropshipping suppliers apps like Sprocket or Printful, offered for Amazon dropshipping and other platforms. 
Add a customer support app
Customer satisfaction can make or break your shop. You need to respond to their requests asap, which is possible with live chat.
To deliver that, install Tidio, a Shopify live chat app. It's an all-in-one customer support tool with live chat, chatbots, and email marketing.
With Tidio, you can add a live chat widget to your store that customers will use to ask your questions about your products. Since the app notifies you about them, you'll be able to improve your response speed.
If you want to learn more about live chat extensions for WordPress-based web stores, explore the chat plugin for WordPress functionalities offered by the best apps.
Choose an SEO tool
Plug-in SEO is the most popular app in this category. It is a tool that fixes your SEO store issues and helps to drive more organic traffic. Also, You can add an image optimizer for SEO.
Important! Do not try to install everything at once. First, not all apps are equally useful, second, too many of them can slow down your store. Try to master those mentioned here first and then explore what else is there.
6. Start Adding Products
Once your dropshipping store is all set up, start browsing Oberlo (or other provider's catalog), import products to your Shopify store, or create product pages manually. Start with 10-25 goods and display them properly. This means:
Write a unique SEO-friendly title and description.
Upload optimized images.
Add links to Return Policy and Shipping pages.

7. Make a Test Purchase
You want everything to go smoothly, right? So, check the customer's experience from their perspective before launching your store and powering up the marketing.
Add a product to a cart, proceed to checkout, pay, and wait for delivery. Check if there is anything that can hinder a client from completing the purchase. Make the changes before the launch if you find any issues.
8. Launch
Now it's time to go public. To make your store available for everyone, go to Store Preferences, and mark your shop as not protected with a password.
Part 4. Market Your Products
This is probably the most crucial part of the dropshipping business.
You need traffic and a reputation to sell. The topic is HUGE, so in this guide, we will only cover the essentials. Basically, you need to use simple and low-cost tools to spread the word at the beginning.
1. Set up a professional email account
First, you need a professional email address to connect with your customers. For example, one that looks like contact@yourdomain.com.
Shopify does not offer email hosting, but you can set up email forwarding to your domain. Besides, you can use G-Suite or Zoho Mail.
Email marketing is one of the most important tools to engage with customers.
Shopify will help you to build the list quickly, collecting buyers' emails. So the next step is to write templates and create layouts for your campaigns.
2. Set up social media accounts
This includes a Facebook page to run the ads, as well as Twitter, Instagram, and Pinterest accounts. Social media are powerful tools to attract buyers and drive traffic to your store, as soon as you use it properly.
Connect your store's live chat with Messenger to be able to receive and respond to customers' queries from Facebook (which you'll definitely have).
What about likes and comments? You can start by inviting your friends to like the page. Then, share your products and blog articles there to attract new followers.
3. Install Facebook Pixel and Google Analytics
Shopify has detailed instructions on both these tools. Basically, you need Facebook pixel to retarget your audience and Google Analytics — to analyze your marketing efforts.

Both of them collect customer data you can use to improve your strategy.
Read more: 8 Effective Tactics to Improve Your Shopify Marketing Strategy
4. Promote Your Products
This is the stage that probably requires the biggest investment. Think about spending $300-500 on experimenting with paid traffic.
Run Facebook Ads
Be careful not to spend all your investment money at once. Start with $10-20 campaigns (you can compare your campaign budget with the price of the product you are advertising).
Create several low-budget ads to figure out which of them is converting better, which targeting works better, or which products.
Post on a blog
Not only content marketing helps customers to know your product better, but it is also a powerful SEO tool to drive organic traffic.
There are two must-do things when it comes to content marketing for Shopify.
First: consistency. Try adding new content on a regular basis to establish yourself as a reliable provider of good advice and tips.
Second: value. Ensure that the advice you're giving is actually helpful to your customers.
Collaborate with influencers
Do not try to reach Kim Kardashian, you don't have that budget (yet?)
But you can research niche bloggers and local celebrities, who might agree to collaborate on barter terms or for an affiliate commission. You can also ask for interviews, quote them in your blog, and ask to share the post.
Get media coverage
You can register at HARO to receive daily emails where reporters are looking for sources to get their stories done. Read them carefully and try pitching your products or expertise.
While paid traffic can be obtained pretty quickly, most of your marketing efforts are long run. Most likely, you will not become an overnight success. So get ready to work and experiment. Eventually, your patience and diligence will pay.
5. Test and Optimize
Over time, you will see that some of your activities produce hugely successful results, while others – teach you a lesson.
Continue adding new products and testing them with low-budget ads.
Analyze all the data you can collect at least once a month, adopt best practices, and advertise best-selling products.
Key Takeaways
Dropshipping business is easy to start, but not so easy to keep alive.
Do not give up if your first efforts were unsuccessful: this is the path of trials and errors. If you do want to make money, be consistent, and provide good customer support.
The earlier you start, the better position on the market you can get. So do not put it off until tomorrow. Next year's market promises to be even more competitive.