Live chat enables online visitors to instantly connect with you from a desktop or mobile device. This particular communication channel can be found on websites, online stores, and social media platforms.
By opening a live chat customer service channel, you open a door to a wider range of customers.
Similarly, the impact of social media on business can be huge. By running a business page on Facebook, you expose your products and services to millions of users from all around the world.
On the one hand, you gain more attention and tap into another pool of potential customers, on the other, you add yet another communication channel to your workload.
Let's remove phone call customer service from the equation (considering that you offer such support in the first place) and sum up the remaining channels you very likely maintain. The result is:
Email account + live chat on your website + Facebook live chat (Messenger) = separate login procedures and admin panels to focus on
Switching between three different channels is inefficient and can sometimes be confusing. Is there a remedy for this situation?
Turn your website visitors into delighted customers.
Set up the Tidio live chat app in 5 minutes and watch your sales grow.
Learn About Live Chat
Answer Facebook Chat Messages With Tidio Live Chat
Absolutely!
You can answer all the customers' queries coming from all three channels from one admin panel.
Yes, you read it correctly – one admin panel to send and receive messages from your email inbox, live chat, and Messenger.
With Tidio Live Chat you can integrate all three services into one.
It means logging once and focusing on one panel where all the messages are delivered.
In this article, I will show you how to integrate Tidio with a Facebook business page. This way you can conveniently chat with your visitors and customers who came across your business on Facebook.
Prerequisites:
You will also need a Facebook business page (often referred to as a Facebook fan page).
Not sure which live chat solution is best for you? Have a look at 14 of the best customer service chat software tools we've hand-picked for you. And if you also have a WordPress website, find out which WordPress chat extension is right for you!
Connect Your Facebook Account
Log in to your Tidio account.
Next, select Channels tab (all the tabs are located along the vertical bar on the left side of the screen).
Select Messenger from the list.
Click the Connect Your Facebook account button: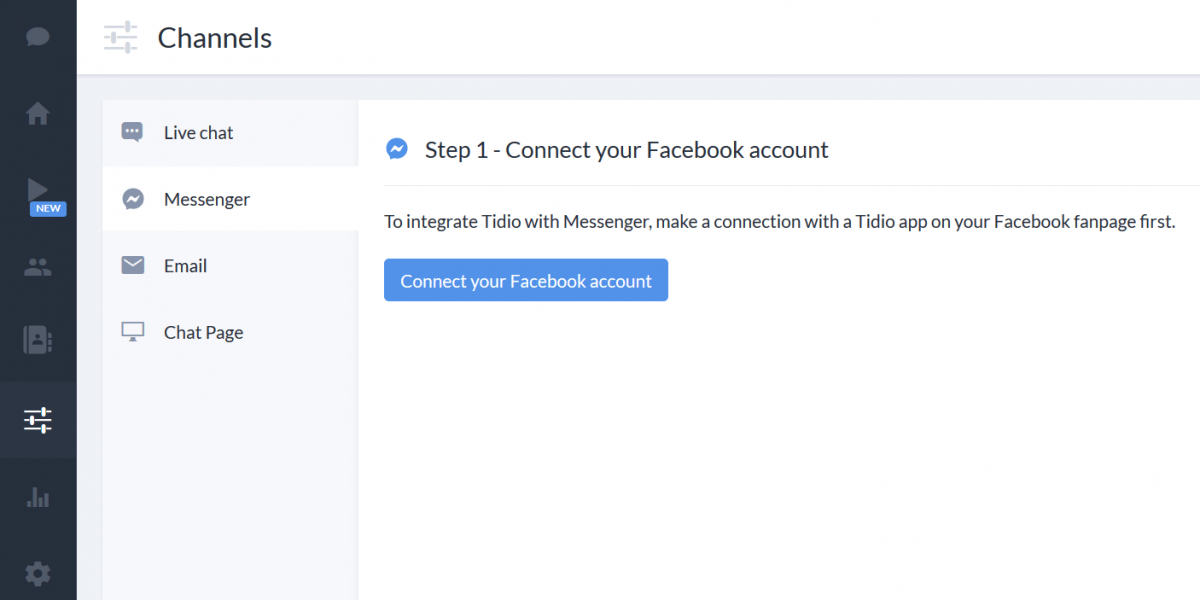 Complete The Tour
1. A new window will pop up asking you to enter your login details.
2. Enter the login details and hit the Log In button: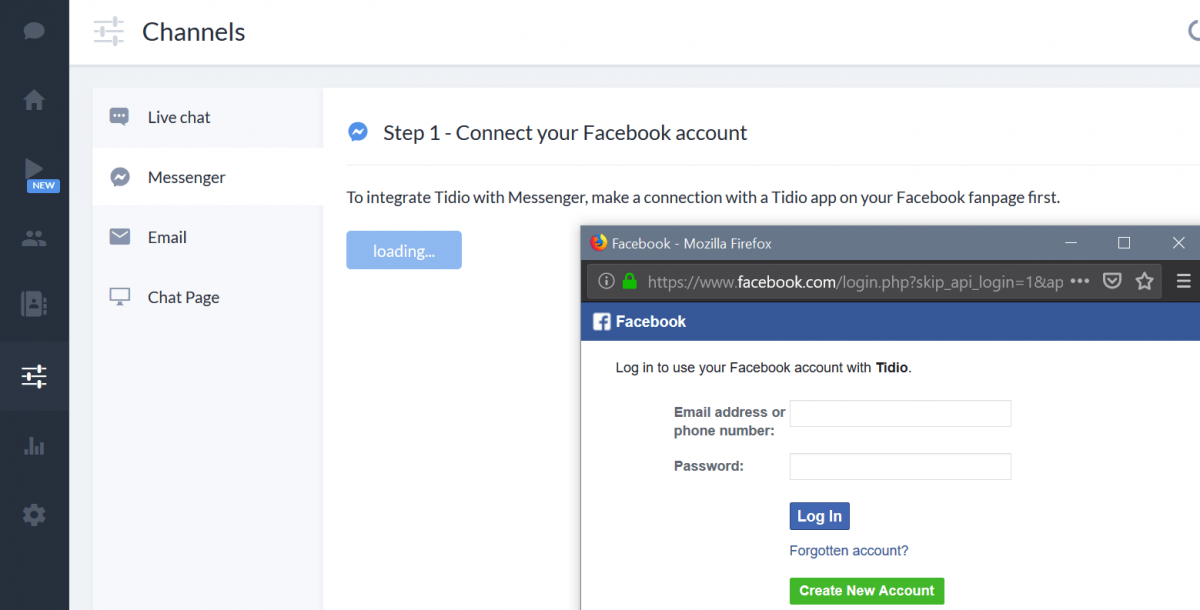 3. A new window will pop up asking you to confirm the login credentials.
Click Continue as <account name>:
4. On the next screen, you will be asked to choose the business page(s) for integration. Select the page(s) and click Next: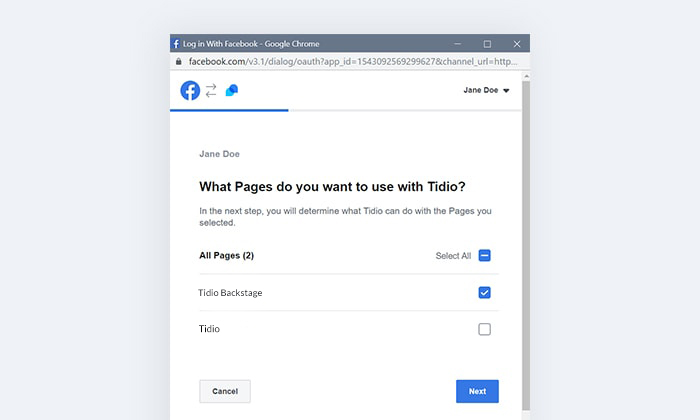 Important!
Although you can connect Tidio to several Facebook fan pages, only one page can be finally integrated with your current project If you would like to integrate more fan pages with Tidio, you will need to add more projects to your Tidio account.
5. In the final window, leave all the permissions enabled to ensure Tidio's proper functionality. Click the Done button to finish this step: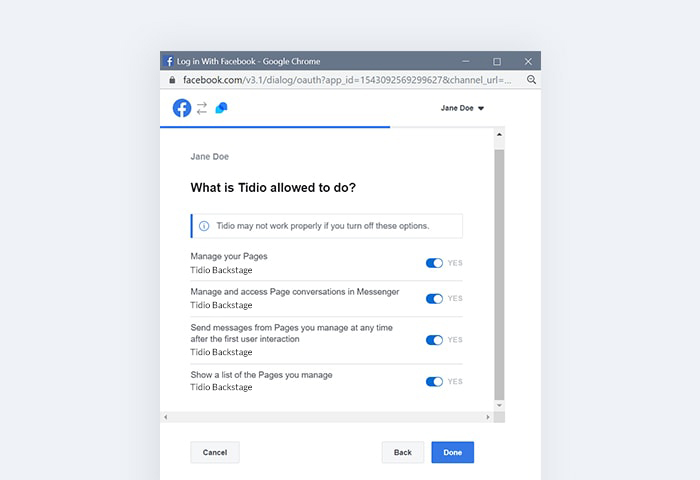 Review the permissions and click Done
6. A new pop-up window will inform you that this step of the integration process is complete. A direct link will be provided for you to double-check with Facebook Business Integrations whether Tidio was indeed successfully added: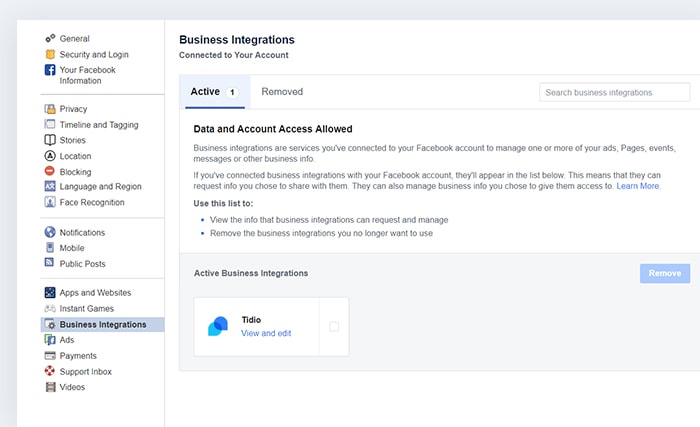 Tidio is now on board. We are still left with one tiny step to complete the whole process.
Select And Save
Go back to Tidio Admin Panel > Channels > Messenger. You will notice that the page we selected in the previous step is now listed: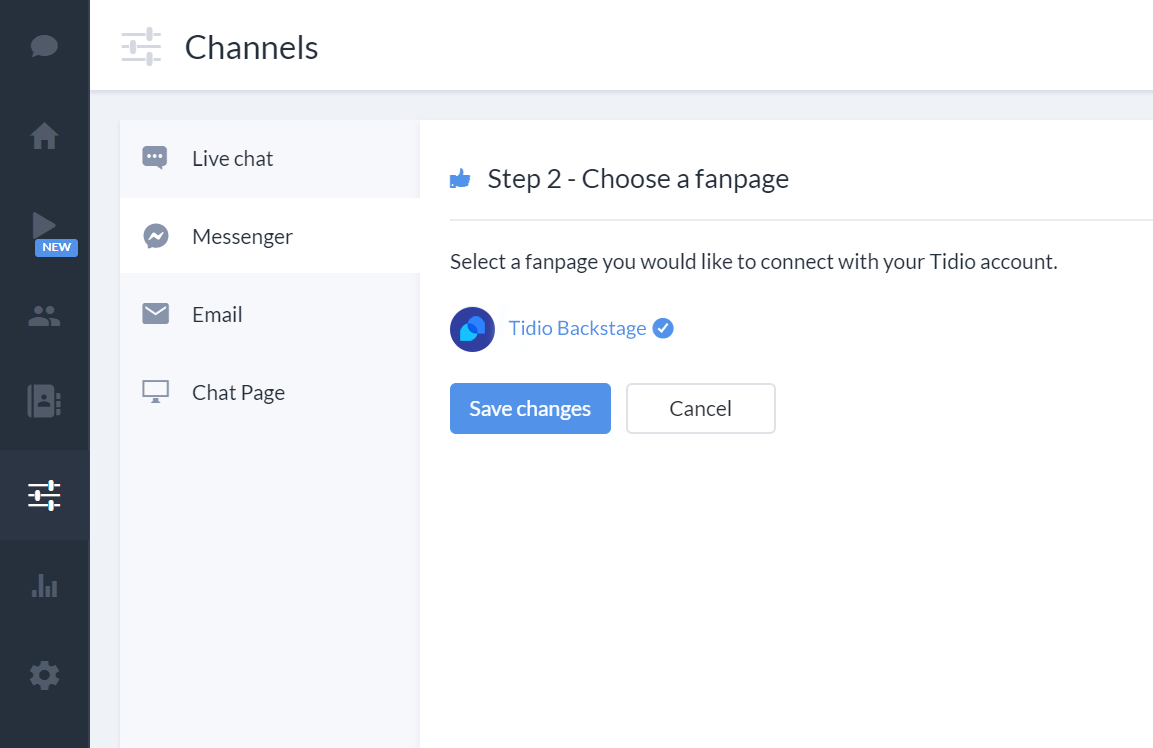 2. Final but very important step: click Save changes.
In case you have chosen more than one fan page for integration in the previous step, select one page and then save.

Good job! Tidio is now integrated with Facebook live chat. From now on, all the messages sent via Facebook Messenger will be fetched by Tidio and displayed in the Admin Panel > Conversations tab. Similarly, the responses you send through Tidio will be received by the customers on their Messenger.
If you want, you run a small test. Log into your Facebook account (or open the Messenger app) and send a message to yourself. View it in the Conversations tab and send a reply. The reply should be immediately seen on the Messenger.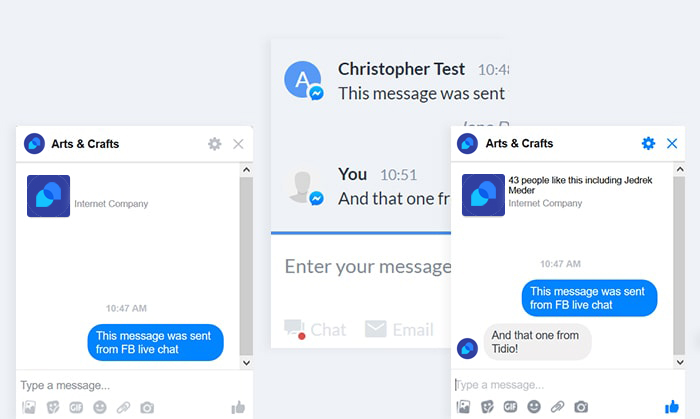 Optional Step: Integrate More Facebook Fan Pages
If you run two or more pages and your Facebook reach is quite big, then you probably want to be up to date with all the messages sent to you.
To integrate another fan page with Tidio live chat you will need to create a separate project for it.
Click on your avatar located in the right upper corner. Your profile card will appear: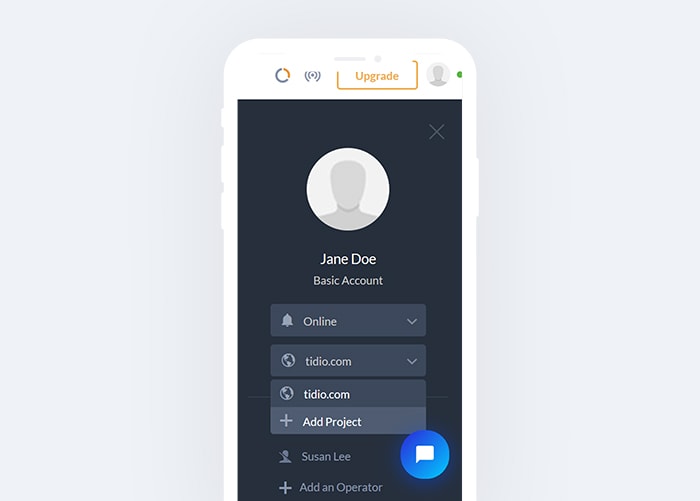 2. Click the button with your project name (as you can see on the screenshot, my current project is called "tidio.com").
3. From the drop-down menu choose Add Project.
4. In the pop-up window enter your website address. Confirm with the Add button.
5. You are now in the initial setup process which you should remember from when you registered your project for the first time. Fiddle with live chat appearance, select your business, and choose your first bot.
6. When you are done, your new project will be an active one.
Important!
Your new project must be customized from scratch – the same way you did with your first project! It means that the appearance, welcome messages, integrations, DND hours, operators, etc. can (and should be!) tweaked to fit your new project needs.
You can easily switch between projects by clicking the project name you want to go to.
Many projects can be stored under one account but each project is subject to a separate payment plan. In other words, each project is treated as an individual instance that does not inherit settings or share a payment plan with any other project.
For example, one of your projects is on the Operator plan, so the other can be on a basic (free) one.
Now, go ahead and integrate Tidio live chat with your Facebook business page and discover how fast and convenient chatting with your followers can be 🙂
Turn your website visitors into delighted customers.
Set up the Tidio live chat app in 5 minutes and watch your sales grow.
Learn About Live Chat