Tidio is powerful yet easy to use, just like you need it
Add Tidio to your website within minutes. Build solid customer relationships across all communication channels. Boost your sales like never before.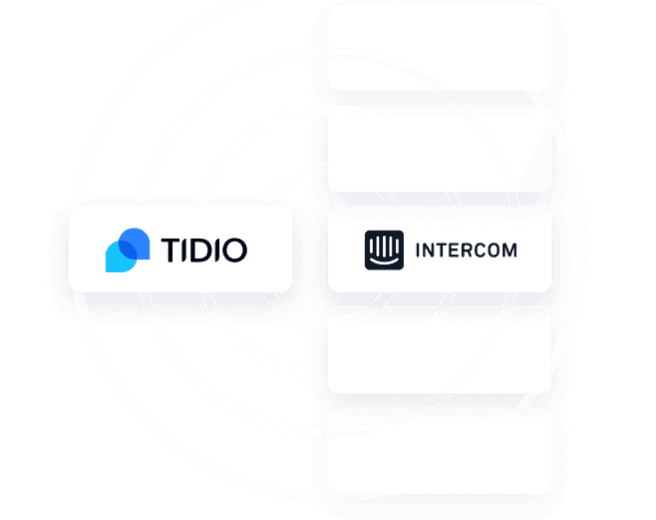 What does Tidio do better than Intercom?
Easy-to-use interface
Get an all-powerful tool, but made easy
Looking for an advanced customer service solution with a simple interface? Tidio has all the best features available in a single panel. Your team will love how easy it is to use.   Why spend weeks learning how something works, when you can improve your sales tactics from day one? And if you ever need further assistance, our team is on standby.
Sales Chatbots
Sell more by engaging visitors with chatbots
Use automations to jumpstart your sales process, instantly. Recommend products, offer unique discounts, and resolve issues 24/7, even when you're not there.   You will also love our brilliant self-learning AI Response Bots, which can handle up to 47% of your customer queries. Without creating a single ticket!
Transparent pricing
Start free, upgrade as you grow, no pressure
Tidio's pricing is transparent from the get-go, and you don't have to contact us just to find out how much our plans will cost you.   Unlike Intercom, we don't expect you to know what you want right away. Test every feature, see what you like, and only then choose your plan. Scale up when you're ready, we got you.
World-class support
Get a business partner, not just another vendor
No more sitting on hold when you need assistance. At Tidio, we take customer support seriously. With our Tidio+ plan, you get a dedicated customer success manager, personalized training sessions, and more.   All alongside the standard support through the 24/5 live chat, email, and FAQ chatbot.
Estimate your online store performance with Tidio sales chatbots
Fill the form
to see extra monthly revenue brought by Tidio chatbots
Current performance:
No. of orders per month:
NaN
Monthly revenue [USD]:
undefined
Expected results with Tidio chatbots:
Conversion rate:
NaN% - NaN%
No. of orders per month:
NaN - NaN
Monthly revenue [USD]:
NaN - NaN
Don't take our word for it, check how Tidio helps users grow their business
Get more leads
GET THIS PROGRAM - it has already boosted my sales leads by 34% in a matter of hours. Don't waste your time, searching - Tidio does it all. I am very pleased how they helped get me started too.
Review on G2
Increase conversion rate
My conversion rate went from 1.4 to 4.8! This is amazing and makes me a lot of money automatically!
Review on Shopify
Generate more sales
Tidio helped me make over 60k in sales in just a few months. Customer retention rate is a lot higher and a benefit is the sales!
Review on G2
Increase satisfaction rate
Since having Tidio integrated into our website we have seen sales nearly double and positive reviews triple.
Review on G2
Get Tidio for free until your Intercom contract runs out
Already bought an Intercom subscription but want to switch to Tidio? That's not a problem! We will match your existing subscription, and you will pay nothing until your Intercom plan ends. No strings attached.
Let's talk
Compare Tidio with Intercom
Don't settle for another tool that's just like all the others. Get a tailor-made customer service solution instead.
Let's talk about your business Book a call and see Tidio in action
300,000+ businesses grow with Tidio. Now's your turn