Chatbots
5 Best Chatbot Platforms for Small Businesses You Can Try for Free!
Looking for the best chatbot platforms that could be added to your website right away? Seek no further! We've compiled a list of the best free chatbot apps in town.
Since 2016, chatbots have been increasingly used by companies of all sizes as a channel for selling, marketing, and advertising their products. It didn't take long for business owners to experience firsthand the value of chatbots, and for consumers to see that there is no difference in interactions managed by human and virtual assistants.
According to Salesforce, customers' expectations about companies have changed due to emerging technologies (such as chatbots), and 71% of consumers will more willingly use messaging apps for customer service.
So, why wait and preclude the possibility of making major sales and considerable revenue when you can start making profit with Tidio chatbots right now.
As you can see, chatbots are a new business trend that you can't afford missing if your company is to prosper well.
Below, you'll find a review of the best free chatbot platforms (and their features) that will supercharge mid-sized companies with conversational marketing with the least possible effort and maximal efficacy.
Table of contents
#1 Tidio

Tidio is an online business communicator dedicated to small and medium eCommerce businesses that enables store owners to communicate with their customers in real-time. Hailed as the fourth most popular live chat solution in the world, the application has already helped 300 000+ companies to connect with their clients.
Tidio is the top-rated Shopify bot-building platform that can be deployed in less than three minutes on multiple popular platforms including Shopify, WordPress, and Woocommerce. Without a doubt, Tidio has become a competitive player for serious chatbot messaging platforms including widely known Intercom.
Try Chatbots
Tidio's free features:
100 chatbot triggers/unlimited number of interactions
With the live chat feature, you can communicate with customers in real-time and start addressing their problems almost immediately. Being at one's disposal 24/7 will definitely up your game significantly.
Email and Messenger Integration
By integrating your email and Messenger accounts, you can read and send messages from one panel to both platforms.
Set up a pre-chat survey and gather additional information about your visitors (name, phone number, email address, or GDPR consent), create detailed customer cards and see how many times a visitor talked with a chatbot.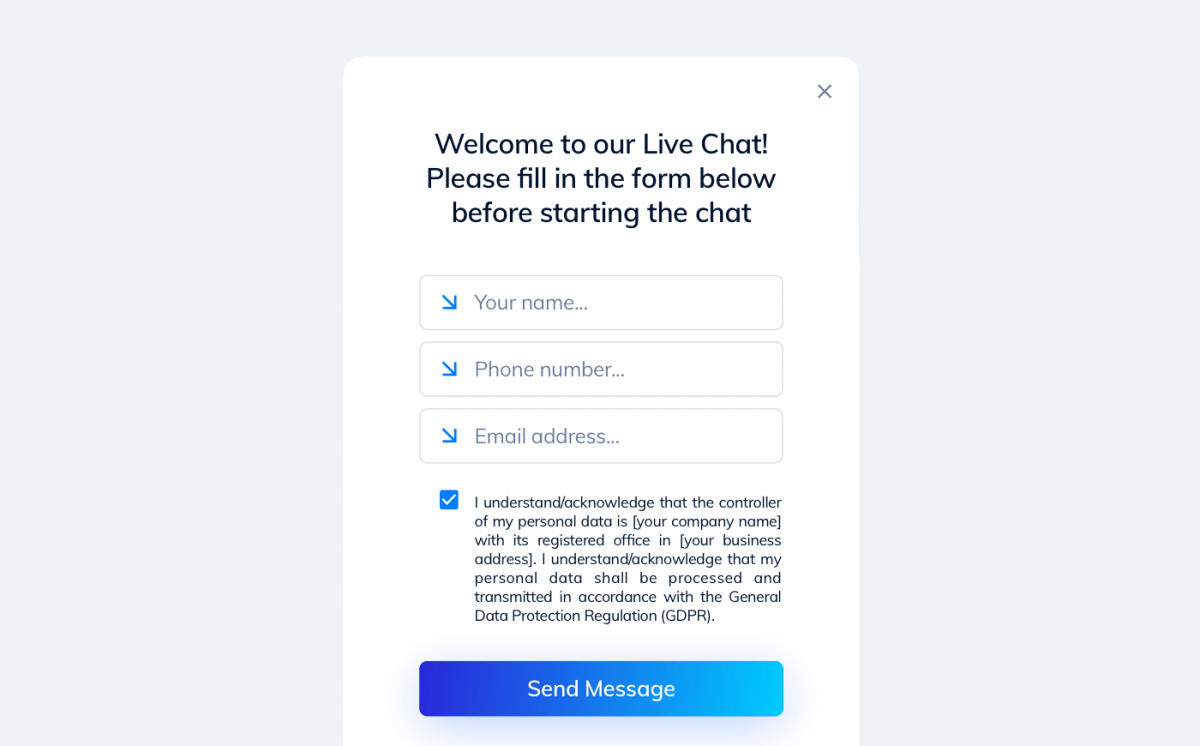 Tidio offers dedicated desktop and mobile apps for Windows, Android, and iOS. Now, your customers can reach out to you no matter what device they're currently using.
With an easy drag-and-drop builder, you can either set up your own custom-made chat flow by simply connecting nodes, or use one of the ready-made chatbot templates to boost sales, generate leads, and enhance communication with clients. Some of the free bot templates you'll find in the dashboard include saving abandoned carts, greeting customers with a welcome message, offering discounts, and automating FAQs.
Did you know?
Chatbots can help companies reduce 30% of customer service costs by responding to the most repetitive queires. Get your own ebook copy and learn how to boost your sales with 22 different chatbot automations.

Download free ebook
Customize the look of your widget to match your website's design and display the chat in visitors' local language (based on one's browser language).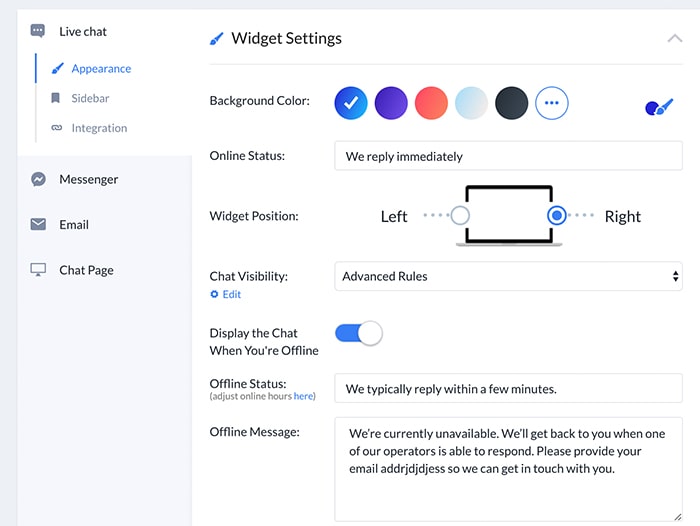 #2 ManyChat

ManyChat is a great chatbot platform if you're looking for a chatting tool that could be easily integrated with Facebook. In today's era, there is no better way to bring higher engagement to a website than by deploying a chatbot on Messenger – one of the top messaging apps with over one billion active users. Messenger has turned into a real-life lead magnet that with an appropriate chatbot tool can turn lead into gold.
ManyChat's features:
Unlimited number of chatbots/interactions
Basic Quick Start Templates
Access templates for several different business sectors (restaurant, eCommerce, professional services, automotive, real estate, coffee shop) and set up chat flows that suit your company's needs best (e.g. sending a welcome message to onboard new visitors or introducing your company with an "about us" message).
Thanks to a Messenger bot sequence, you can send two sets of automated workflows that will hit customers' Facebook inboxes at the previously scheduled time.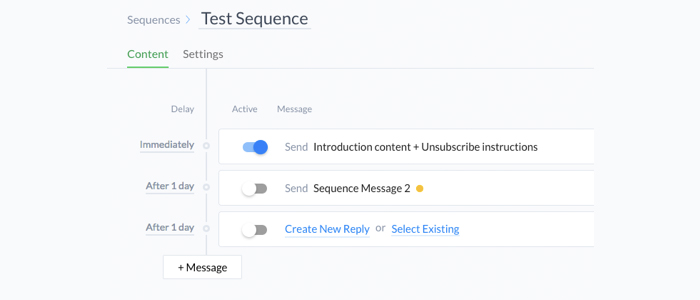 Based on the buying behavior, segment and send custom-made messages to the audience members and increase their engagement.
Use ManyChat embeddable widgets (e.g. in the form of a button, bar, modal or a box) to redirect new prospects to your Facebook page and turn them into subscribers.
Create a chatbot by adding and connecting building blocks one at a time with an easy drag-and-drop creator, and then A/B test the flow to see which chat messages performed better. Thanks to a recent upgrade in the editor, users can see the entire sequence of messages being created in less than two minutes. No coding skills required.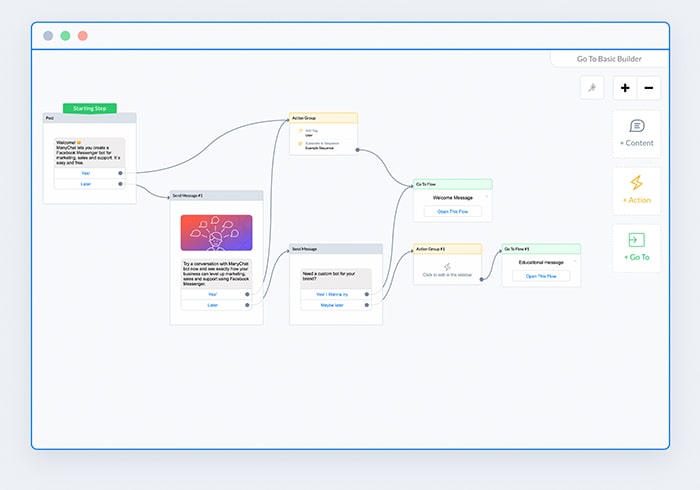 #3 Flow XO

Flow XO is an AI online chatbot platform for small companies that allows us to create fully automated bots and deploy them on Messenger, Slack, Twilio SMS, and Telegram, or to connect as a stand-alone messaging app to a web page. With Flow XO's visual designer, constructing conversational workflows has never been easier or quicker – you don't have to be a tech-savvy to start building chatbots with the app.
Flow XO's free features:
5 bots/500 interactions
Templates and Workflows
Set up flows for 10+ use cases (booking a room, service, ticket, table, etc.) and alternate them on the go. As you become more confident and skilled with time, you can start building your own workflows by connecting interactive blocks and filling them with custom-made text messages.
Once chatbots are incapable of executing certain tasks, they can seamlessly transfer your customers to a live chat agent.
Chatbots can gather information in a far more pleasant way. Rather than scrolling through a page-long web form, chatbots ask only relevant questions and collect valuable feedback.
Chatbots will help you automate the most repetitive questions by sending quick responses (e.g. informing about the store's opening hours).
When a chatbot sees that a customer is ready with their purchase, it will request payment and generate a safe link for customers to complete the transaction.
The conversations between chatbots and customers are recorded in a written form and kept for two weeks.
#4 SnatchBot

SnatchBot is another chatbot platform that has been created in a way to be accessible to every user, regardless of their level of programming skills. What they get in return is the ability to build free AI chatbots that conduct simple conversational interactions and perform daunting tasks within a short period of time.
SnatchBot's free features:
Unlimited number of chatbots/interactions
Save time by sending bulk messages to your audience members categorized on the following basis: name, date of the last conversation, channel, attribute values (custom tags, e.g. shoe size). Free plan, however, allows only two drip campaigns to be sent.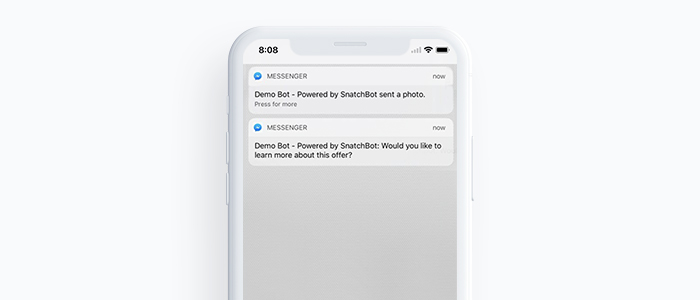 SnatchBot gives you plenty of scopes to train your own NLP chatbot capable of solving problems central to your business. If, however, you feel like building an AI bot single-handedly goes beyond your abilities, you can always use one of the pre-trained NLP models that can recognize human emotions and respond to them accordingly.
Voice recognition (or text-to-speech) feature allows listening to chatbots' audio file responses that have been recorded in over 60 languages and 10 different male and female tones. The feature can be particularly useful for visually impaired customers.
Redirect customers to a human live chat operator at any point during the conversation with a "Live Chat" quick reply card. With this option, more demanding queries won't be left unanswered and visitors will receive the professional assistance they need and deserve.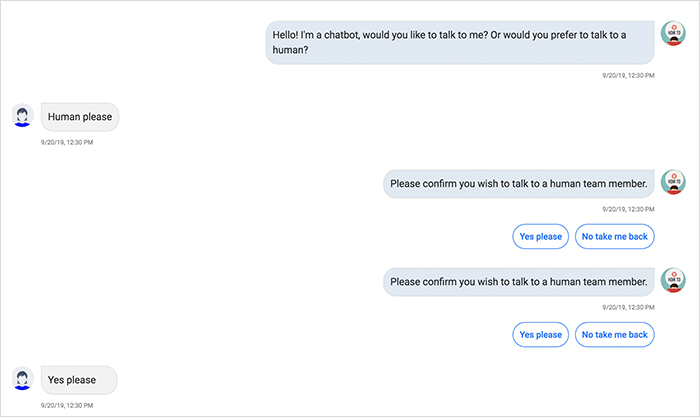 First, collect customers' personal information (e.g. credit card number, email address), orders, enquiries, and feedback. Then, export them through Zapier to more than 75 available platforms including Google Sheets, MailChimp, CRM programs, etc.
In the SnatchBot Store, you'll find over 50 free and ready-for-use chatbot templates applicable to several different business sectors (inter alia banking, customer service, online store, business, marketing).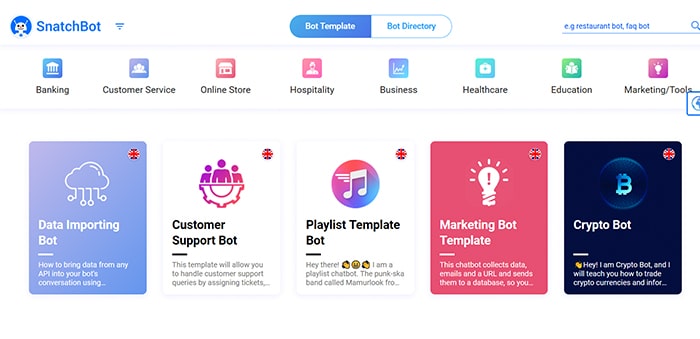 #5 Engati

Engati is yet another free bot-building software providing the necessary tools to develop intelligent bots without any programming skills. In less than 10 minutes, you can activate and deploy chatbots across twelve popular messaging platforms, automate marketing processes that you're currently working on and bring relief to the overworked customer support team.
Free features:
Enagti harnesses the power of Machine Learning (ML) and Natural Language Processing (NLP) to design bots capable of handling customers' queries without the need for human assistance. By automating FAQs (frequently asked questions) with both properties, chatbots will match and formulate the query responses in an adequate, natural, and human manner.
Engage more website visitors by sending them carefully selected broadcast campaigns.
The Analytics feature is one of Engati's stronger points as it provides a detailed overview of the effectiveness of chatbots' overall performance. Some of the real-time metrics monitored by the software include:
the total number of interactions,
the average number of interactions per user,
the average conversation duration,
the average number of messages per conversation,
the number of selected users' interactions with a bot,
the list of most common words,
cohort analysis
Engati chatbot can be deployed on numerous popular messaging platforms including Facebook's Messenger, Kik, Telegram, Line, Skype, Slack, Webchat, WhatsApp, Twitter, Viber, Skype for Business. Also, you can now embed a bot into your own website and reach out to a new audience.
The Best 2020 Chatbot Apps: Final Thoughts
The decision of choosing a chatbot to deploy on a store's website should be made individually as all businesses fight their own battles and set personal goals. Though we've listed five best chatbots in each specific category, you have to remember about your objectives and target audience and then make a final decision.
For your convenience, here is a quick summary of the best chatbot platforms, their use cases, and deployment:
Use Tidio for a quick, convenient and real-time user conversation. The bot set-up takes no longer than three minutes and doesn't require technical skills. With the forever-free plan, you can enjoy a hundred chatbot triggers every month.
Use ManyChat to drastically increase customer engagement in your Facebook store. Now, you have unlimited access to reach out to potential clients and turn them in regulars almost immediately.
Use Flow XO to revolutionize your customer service by being in constant touch with users, answering their burning questions, gathering information about them and assisting the sales processes.
Use SnatchBot to build powerful AI chatbots with a drag-and-drop builder without any technical knowledge. The software provides you with all the necessary tools to operate an unlimited number of chatbots and convey endless interactions every month.
Use Engati to all customers regardless of the platform they're using. With the chatbot platform, you can target users on twelve different messaging platforms and convey a thousand interactions with them.
Have you made up your mind yet? If not..test Tidius for free and then decide.
Try Chatbots For Free