Chatbots
7 Best Chatbot Platforms for Companies [Incl. Free AI Software]
What's the best chatbot platform to create bots for free? Take a look at seven bot development platforms to see how they compare and what they've got to offer.
So, you know that quality customer support is essential for your company to grow.
Great.
One way to ensure this is by adding a chatbot app to the website. With a chatbot, you'll be able to quickly answer the customers' questions as well as generate leads and boost sales.
The problem?
The selection of chatbot platforms out there is… intimidating. Especially for someone who's about to dip their toe in the chatbot water.
Steady on.
We've compared the best chatbot platforms on the web, and narrowed down the selection to the choicest few. The best part? All of them are free to try and perfectly suited for small businesses.
Don't have the time to read the whole list? Try free Tidio chatbots for your website. They are easy and ready-to-go templates used by more than 300,000 websites.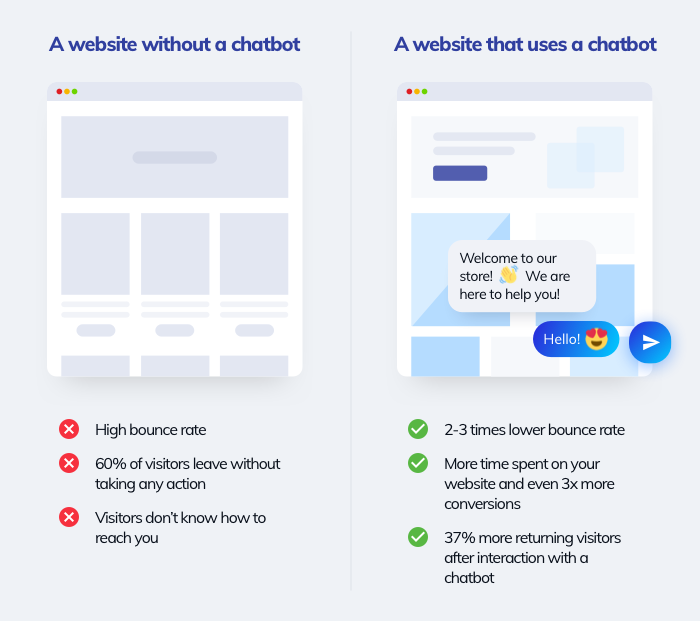 So let's go through the top chatbot platforms and see what they've got to offer.
Wait, what is a chatbot platform exactly?
A chatbot is a piece of software based on algorithms/artificial intelligence (AI) able to have a "conversation" with a human via text or voice input. Most chatbot platforms let you develop chatbots suited for your customer base, and give you the tools to customize them.
The Best Chatbot Platform List
Here's our selection of the best chatbot platforms. All of them include a free chatbot option, so you can try before you buy.
The table below presents the scores that all chatbot platforms from our comparison earned in independent user ratings.
To learn more about how the offerings from these chatbot companies differ in terms of features and prices, read on!
If you are looking for a chatbot that you can integrate with WordPress, Shopify, or Facebook, read the following rankings:
Tidio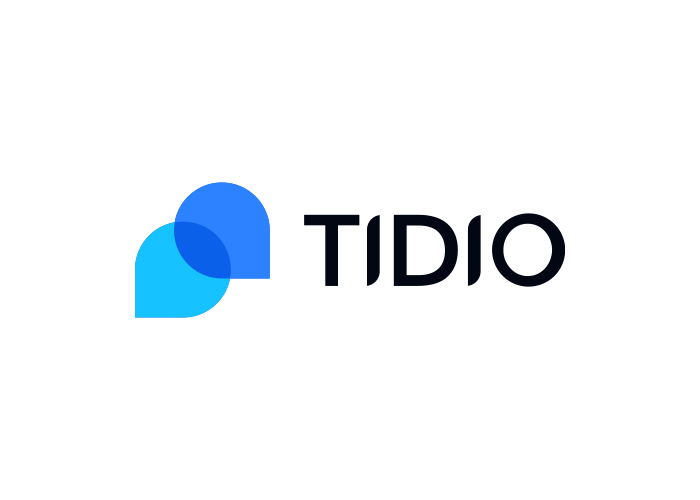 3-in-1 platform for automated messaging and marketing.
Who can use it: eCommerce, SMBs, non-profits, schools/colleges, travel, real estate, hospitality, blog.
Price: Free/$18 for premium features.
Description: A popular B2C live chat and chatbot app.
The main description: A convenient solution for small and medium businesses. It offers three main products: live chat, chatbot platform, and mailing. You can use all three products forever-free or subscribe to a paid plan.
You can integrate Tidio with many apps and platforms. E.g.: with email, Messenger, Zapier. Integrations will allow you to reply to emails and Messenger chats from a single inbox. Tidio also offers dedicated plugins to Shopify and WordPress sites. This way you can install this chatbot software in minutes.
With Tidio chatbot builder, you can create complex chatbots with an easy visual editor. You will also find free chatbot templates for different occasions. E.g.: for lead generation, to welcome visitors, or to answer FAQ. Tidio bots will help you automate customer service and marketing. They can track and segment your customers, too.
| | |
| --- | --- |
| Pros: Mobile and desktop apps. Many integration options. WP and Shopify plugins. | Cons: AI bots are available but their usage is still limited. |
---
Chatfuel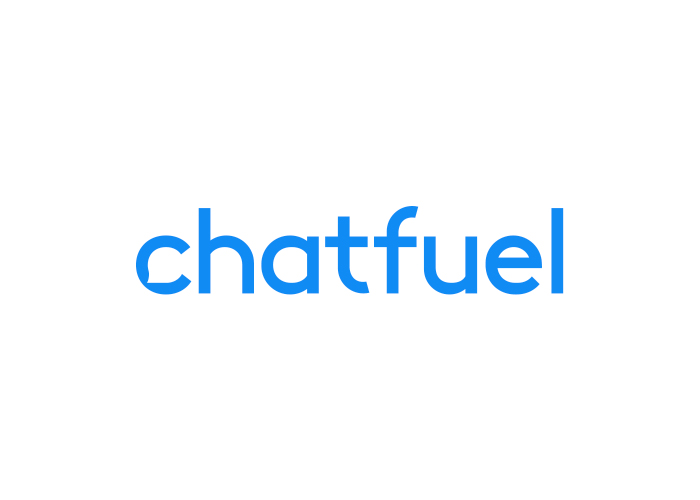 Chatbot platform for Facebook Messenger.
Who can use it: Brick-and-mortar businesses, eCommerce retailers, nonprofits.
Price: Free/$15 for premium features.
Description: A chatbot platform for making bots for FB Messenger.
The main description: If you use Messenger Plugin on your website, Chatfuel is an option for you. Their chatbot creator offers A/B testing, video and audio playing, or RSS import functionalities.
You can also use a live chat plugin that is a part of the conversation flow. It pauses the bot and allows the users to talk to human agents.
All chats take place inside Messenger. Because of that, visitors who do not have FB/Messenger account, will not be able to chat with you (or your bots).
| | |
| --- | --- |
| Pros: Extra features and plugins to add to chatbots. | Cons: Chatbots work only in Messenger. |
---
MobileMonkey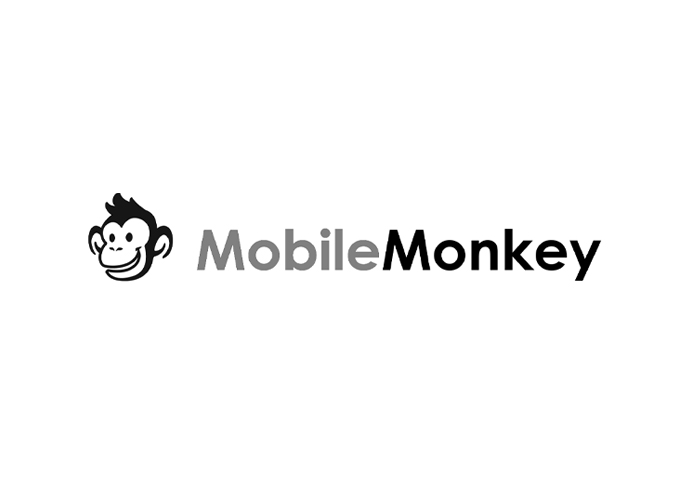 Automated Facebook messaging and marketing tool.
Who can use it: Online stores, B2C SMBs, digital agencies.
Price: Free/$19 for premium features.
Description: Chatbot platform for SMS, Messenger, and native web chats.
The main description: With this chatbot platform, you build bots once and use them on different channels. MobileMonkey works best with Facebook. So if you have a strong presence on Facebook, this solution might be for you.
And as far as marketing goes, you will find several templates for Messenger marketing. They work for specific business sectors. E.g.: automotive services, coffee shop, dentist, and gym.
MobileMonkey chatbot software does not come with a dedicated live chat app. If you do not have any chat on your website, you will need to stick to Messenger or get another app.
| | |
| --- | --- |
| Pros: Many integration options. Mobile apps. Scheduled sequences. | Cons: No dedicated live chat app. Bots will not work if you do not use Messenger or native web chat. |
---
ManyChat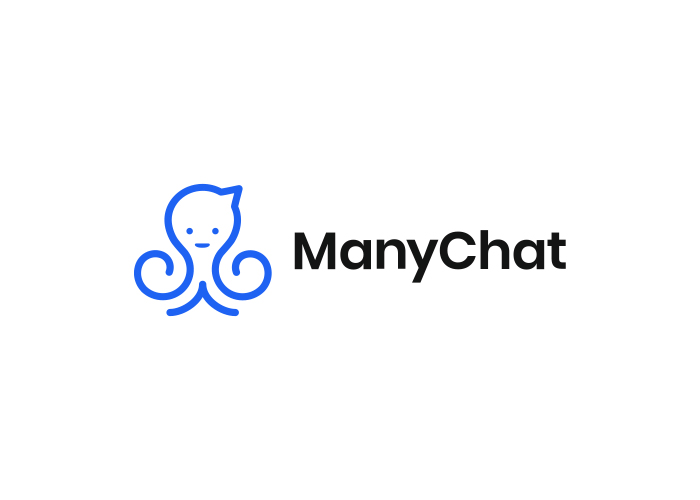 Messenger chatbot platform for sales and marketing.
Who can use it: Online stores, SMBs.
Price: Free/$18 for premium features.
Description: Easily create automated Messenger and SMS messages.
The main description:
You will need a Facebook page to get started with this chatbot platform. But your customers do not need to be on your FB page to chat with your bots. They can click a link, button, or QR code to launch a chatbot.
ManyChat prepared several video courses for those users who are new to chatbots. They explain how to build and use them to get maximum results. You will find marketing courses, too.
This bot platform offers several integrations with other apps. E.g.: Zapier, Shopify, GoogleSheets, PayPal. Keep in mind though that ManyChat does not have its own live chat. What it means is that the customers who do not have a Facebook account will not be able to chat with your bots.
| | |
| --- | --- |
| Pros: Many integration options and growth tools. Video courses. | Cons: Bots work only in Messenger. Not as intuitive as other platforms. |
---
SnatchBot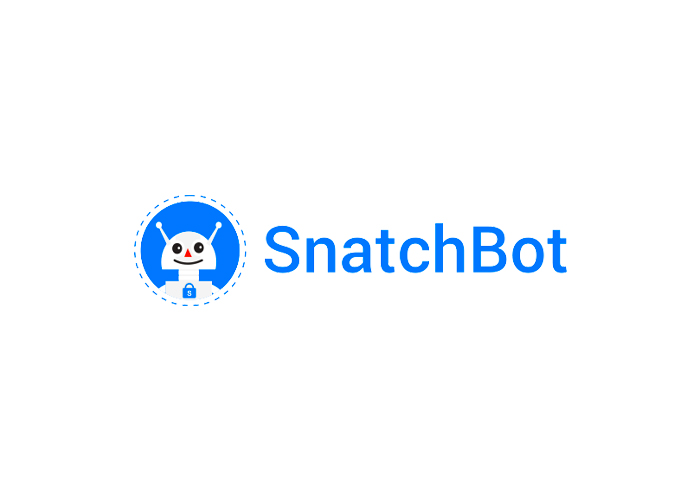 Chatbot platform for multi-channel messaging.
Who can use it: Online stores, medium businesses.
Price: Free/$30 for 1000 messages.
Description: Create smart chatbots that work on many channels.
The main description: With this AI bot platform, you can build bots employing AI. They are smart enough to handle a simple chat and perform mundane tasks.
SnatchBot chatbot software can send bulk messages to a specific audience. You can group your targets by different values. E.g.: by their name, channel, last conversation date, custom tags added. Freemium users can send two bulk campaigns per month.
SnatchBot also offers a "live chat" option. Similarly to Chatfuel, it is not a standalone app but part of the automatic conversation flow.
In the Bot Store, you'll find free templates for several business sectors. E.g., banking, customer service, online store, marketing, etc.
| | |
| --- | --- |
| Pros: AI chatbots. Bulk messages. Rich template collection. Supports multiple channels. | Cons: No desktop app. Complicated interface. Price tag not for small businesses/startups. |
---
Engati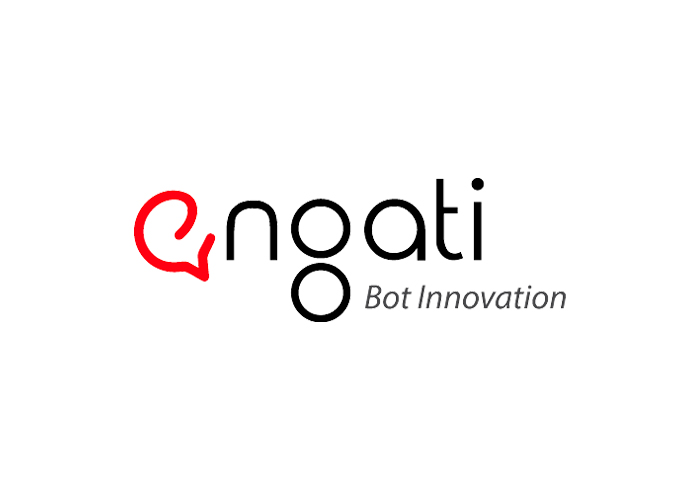 Multichannel bot platform for CS, HR, sales & marketing.
Who can use it: Online stores, medium businesses.
Price: Free/$21 for premium features.
Description:
The main description: Engati claims that you can build chatbots and activate them in less than 10 minutes. Once you create them, you can deploy them on 12 different channels. For example, on Skype, Viber, Twitter, or kik.
Engati bot platform can handle customer service, marketing, and sales. The bots will come handy if you also need to automate some HR tasks. You could, for example, add them to Slack to onboard your employees.
Since the bot usage is so distributed, you will need to look after messages coming from many sources. If you don't mind it and have the capacity to do that, try Engati.
| | |
| --- | --- |
| Pros: Massive template collection. Video tutorials. Supports multiple channels. | Cons: A lot of manual bot training. Expensive for small businesses. No desktop app. |
---
Flow XO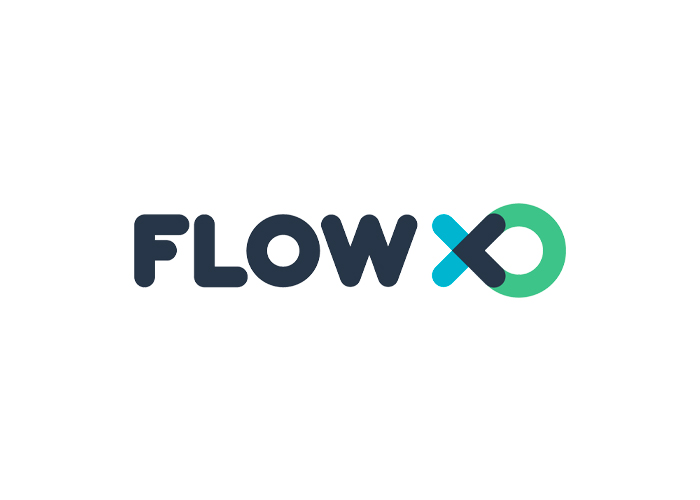 Cross-platform chatbot software.
Who can use it: Online stores, SMBs.
Price: Free/$19 for premium features.
Description: Cross-platform bots for welcoming visitors, taking payments, or answering simple questions.
The main description: With Flow XO for Chat you can build cross-platform bots. They will run on Messenger, Slack, Twilio SMS, and Telegram. They will work on your native web chat, too.
Your customers can chat with you on either channel. And then, continue on another. For example, they may start chatting with you via a chatbot for a website and continue using Messenger.
Flow XO's chatbots flow system limits the functionality of your chatbots. That's because you need to integrate your bots with other apps to build anything complex. What other chatbot platforms offer as default, in Flow XO it comes as an integration.
Another downside is the live chat. Flow XO chatbots do not send notifications to your live chat agents whenever they need to step in. This means that your agents need to watch the conversation and manually join the chat. Such a design defeats the main benefits of using chatbots in general.
| | |
| --- | --- |
| Pros: Many integration options. Bots can request payments. | Cons: Very limited chatbot design options. No customer tagging or segmentation. No chat operator notifications. No desktop app. |
---
So far, we've presented prices, review rates, as well as main features for each chatbot company. However, popularity is yet another factor to consider when choosing the right chatbot platform for yourself.
Top Chatbot Companies
Thousands of businesses are already using chatbots in their daily activities. Be it in inbound marketing or customer service.
General chatbot usage increases day by day. But some chatbot companies are more popular than others.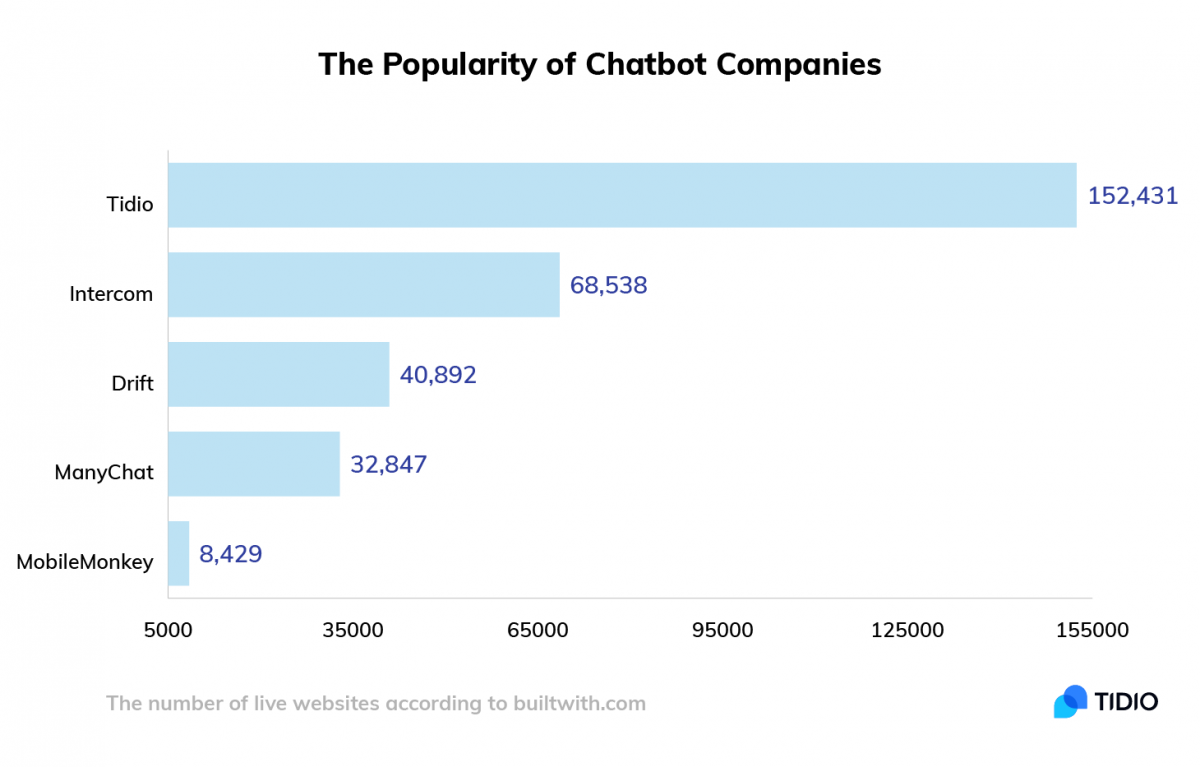 Tidio offers the right balance between the features and the price. The app is lightweight and easy to use. You do not need to install extra plugins to have a full-fledged bot. Those who don't want to build their bots can start with templates. No surprise that Tidio is the most popular choice among SMBs for building chatbots.
If you are looking for something more than a chatbot platform—an all-in-one marketing and customer service solution—check out: The Comparison of Popular Intercom Alternatives (Intercom vs Zendesk vs Drift)
Paid vs Free Chatbot
Tidio freemium users can build complex and functional bots with no limitations. They are not restricted by design or a lack of any feature.
In case your website or store receives a lot of traffic, you may want to consider paid features. As a paid user, you can have as many active bots on your websites as you need. Your bots are also allowed to engage more visitors.
The table below shows the difference between the free and paid chatbot plans.
| | |
| --- | --- |
| Free Chatbot Plan | Paid Chatbot (Premium) Plan |
| Unlimited chatbot messages | You can reach more users (from 5000 to Unlimited) |
| You can reach 100 users per month | Unlimited active chatbots |
| 2 active chatbots (unlimited inactive chatbots) | Premium chatbot templates |
| Free chatbot templates | Custom bots designed by experts (Professional Plan) |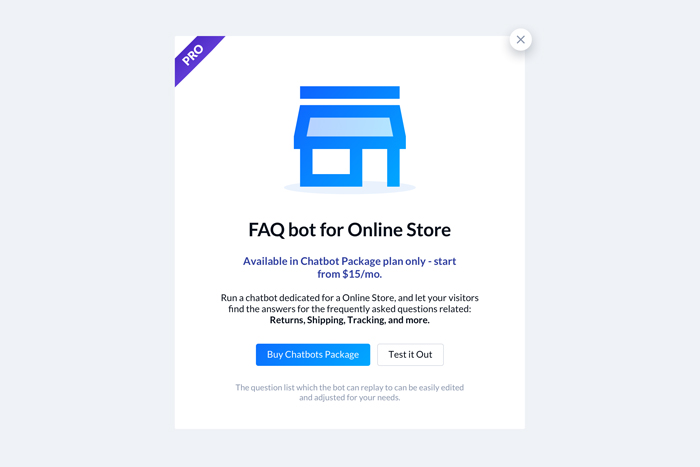 Which Chatbot Platform Should I Choose? Final Thoughts
The choice of a chatbot platform depends on your business goals. It could be about making your customer service faster. Or you might need to automate some marketing tasks.
Keep in mind your target audience, too. Some customers don't use certain communication channels. So launching chatbots on less popular messaging apps might be pointless.
The complexity level is important, too. After all, you most likely want to build functional chatbots fast.
Here is a quick summary of the best chatbot software we've discussed.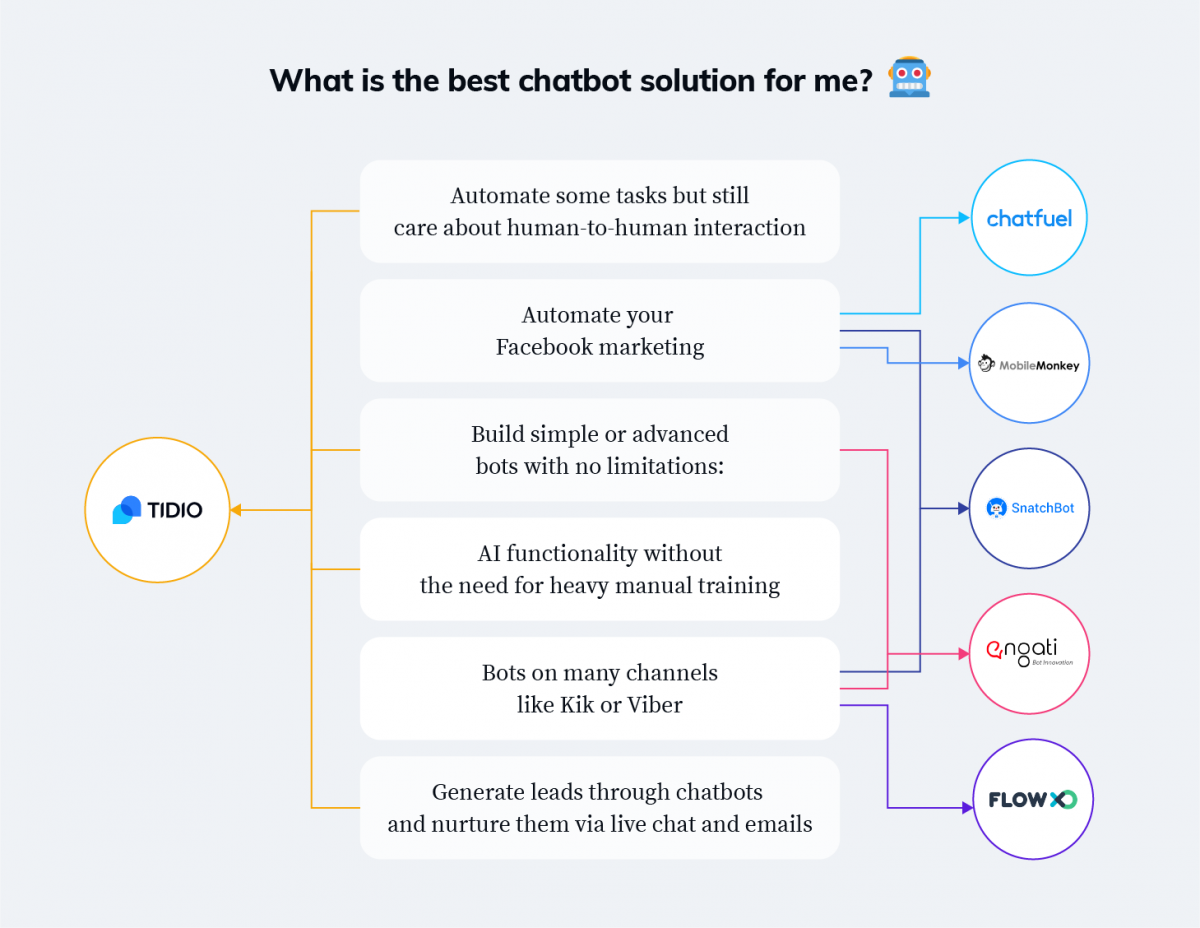 Or, simply, if you want to try the most affordable and popular chatbot platform among SMBs – get Tidio app today!
Try Chatbots For Free