A chatbot is computer software that uses special algorithms or artificial intelligence (AI) to conduct conversations with people via text or voice input. Most chatbot platforms offer tools for developing and customizing chatbots suited for a specific customer base.
The challenge?
The selection of chatbot platforms out there is… intimidating. Especially for someone who's only about to dip their toe in the chatbot water.
Steady on.
We've compared the best chatbot platforms on the web, and narrowed down the selection to the choicest few. The best part? Most of them are free to try and perfectly suited for small businesses.
Here are the best AI chatbot development platforms to build a bot for your business:
If you want to jump straight to our detailed reviews, click on the platform you're interested in on the list above. Scroll down to see a quick comparison of key features in a handy table and learn about the advantages of using a chatbot.
Explore Tidio's chatbot features and benefits—take a look at our page dedicated to chatbots.
To learn more about chatbots, check out these articles:
Chatbot platforms: key feature overview table
Installing an AI chatbot on your website is a small step for you, but a giant leap for your customers.
The bot setup is easy and takes only a few minutes. And according to a Capgemini survey of more than 12,000 consumers, 74% of them use chatbot platforms for various tasks, like researching or buying products and services online. That's not a bad deal, is it?
Contrary to popular belief, AI chatbot technology doesn't only help big brands.
Chatbot platforms can help small businesses that are often short of customer support staff. Bots can handle up to 80% of simple queries around the clock. Some can even solve customer complaints.
In addition to providing quick answers to your website visitors, chatbot platforms can be used for engaging customers with a welcome message, booking appointments, offering discounts, or even gauging customer satisfaction.
Not to mention that some chatbot platforms provide web analytics to help you understand patterns in consumer behavior.
The hype surrounding AI chatbot platforms is very real.
It's predicted that 95% of customer interactions will be powered by chatbots by 2025. So get a head start and go through the top chatbot platforms to see what they've got to offer.
Without further ado—
Here's the list of the 14 best AI chatbot platforms for your business:
Tidio offers a live chat solution with chatbots to help you improve customer support. It also provides a live view feature to let you see who's currently on your website so you can provide proactive customer service.
This chatbot platform provides a conversational AI chatbot and NLP (Natural Language Processing) to help you with customer experience. You can also use a visual builder interface and Tidio chatbot templates when building your bot to see it grow with every input you make.
But let's not brag about how great we are. You can check out Tidio reviews and test our product for free to judge the quality for yourself.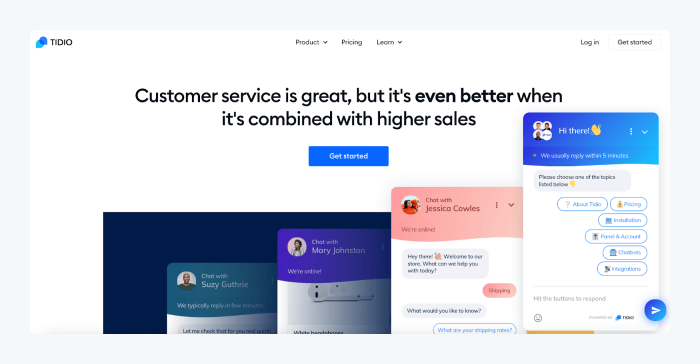 Ratings: 4.8/5 (599 reviews)
Main features:
Easy installation under 5 minutes
Visual builder interface
16 different triggers for Tidio bots
Free live chat on a mobile phone for reaching your customers on the go
NLP chatbots available
NLP (Natural Language Processing) technology
Variety of integrations (MailChimp, Zapier, etc.)
Pricing:
Free plan available
Communicator $19/mo
Chatbots $49/mo
Learn how to install Tidio on your website in just a few minutes, and check out how a dog accessories store doubled its sales with Tidio chatbots.
This chatbot provider is an omnichannel platform that lets you integrate SMS messaging, Instagram, Facebook, and Webchat for better customer service.
It is the best chatbot platform that is designed to help businesses stay in touch with their customers and attract new leads from social media. It lets you automate follow-ups to improve customer care.
You can export existing contacts to this bot platform effortlessly. You can also contact leads, conduct drip campaigns, share links, and schedule messages. This way, campaigns become convenient, and you can send them in batches of SMS in advance.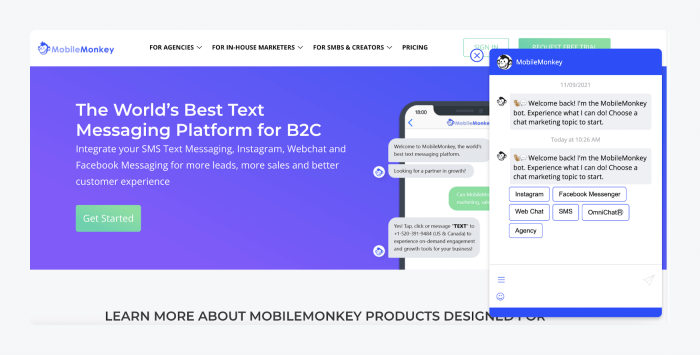 Ratings: 4.9/5 (129 reviews)
Pros:
Multi-platform chatbot builder
Keyword recognition
Visual campaign builder
Cons:
Cannot use conditions in chatbot flows
Not possible to use AI
No ecommerce integration
Pricing:
Free plan available
InstaChamp Platinum $19/mo
MobileMonkey Startup Edition $119/mo
MobileMonkey Growth Edition → contact sales team
If you need an easy-to-use bot for your Facebook Messenger and Instagram customer support, then this chatbot provider is just for you.
You get plenty of documentation and step-by-step instructions for building your chatbots. It has a straightforward interface, so even beginners can easily make and deploy bots. You can use the content blocks, which are sections of content for an even quicker building of your bot.
This conversational chatbot platform offers seamless third-party integration with Shopify, Zapier, etc. So your bot is and does exactly what your business needs.
Ratings: 4.6/5 (30 reviews)
Pros:
Good analytics
Straight-forward interface
Many third-party integrations, such as Zapier, Shopify, etc
Cons:
No AI available
Only available on Facebook Messenger and Instagram
Pricing:
Free plan available
Pro $15/mo
Premium & Agency → contact sales team
This is one of the top chatbot platforms for your social media business account. These are rule-based chatbots that you can use to capture contact information, interact with customers, or pause the automation feature to transfer the communication to the agent.
ManyChat is a cloud-based chatbot solution for chat marketing campaigns through social media platforms and text messaging. You can segment your audience to better target each group of customers. There are also many integrations available, such as Google Sheets, Shopify, MailChimp, Facebook Ad Campaign, etc.
This is one of the top chatbot companies and it comes with a drag-and-drop interface. It can help you design your chatbots just the way you need them. You can also use predefined templates, like 'thank you for your order' for a quicker setup.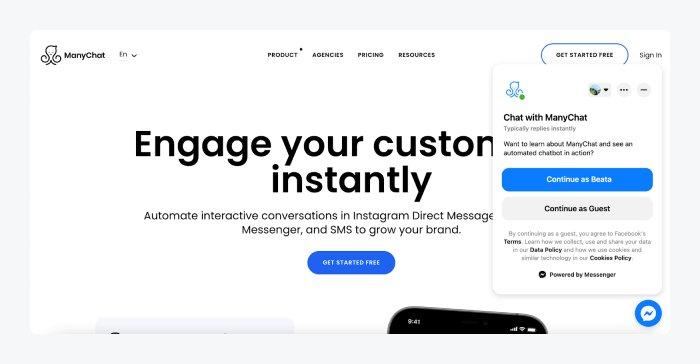 Ratings: 4.6/5 (119 reviews)
Pros:
Payments on the chatbot using PayPal/Stripe available
Great customer onboarding content & tutorials available
Audience segmentation available
Cons:
No advanced analytics
Lacks integrations with a website, Slack, WhatsApp, etc.
Not possible to transfer chatbots from one Instagram account onto another
Pricing:
Free plan available
Pro plan $15/mo
Discover the top alternatives to ManyChat available on the market.
This AI chatbots platform comes with NLP (Natural Language Processing), and Machine Learning technologies. Design the conversations however you like, they can be simple, multiple-choice, or based on action buttons.
You can use conditions in your chatbot flows and send broadcasts to clients. You can also embed your bot on 10 different channels, such as Facebook Messenger, Line, Telegram, Skype, etc. 
This bot platform lets you create two versions of chatbots: bots and bot/human hybrids. It might look a little complicated at the beginning but once you go into detail, everything becomes clear and easy to use.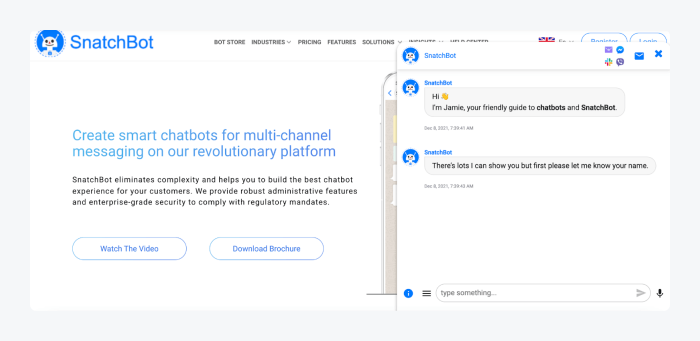 Ratings: 4.7/5 (32 reviews)
Pros:
Unlimited number of bots available
Natural Language Processing
Notifications for incoming messages
Cons:
Hard to use interface
Minimal analytics
Limited marketing possibilities
Pricing:
Free plan available
Pro plan $30/mo – $999/mo
Enterprise → contact sales team
Aivo is one of the best AI platforms that offers multilingual bots for your business. It also lets you personalize the bots just the way you want them.
You can visualize statistics on several dashboards that facilitate the interpretation of the data. It can help you analyze your customers' responses and improve the bot's replies in the future.
This chatbot platform offers a unified experience across many channels. You can answer questions coming from web chats, mobile apps, WhatsApp, and Facebook Messenger from one platform. And your AI bot will adapt answers automatically across all the channels for instantaneous and seamless service.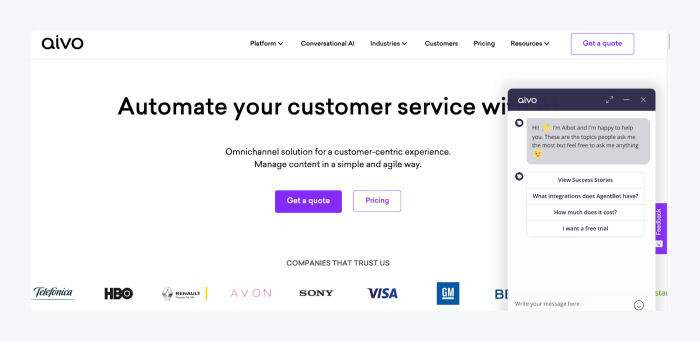 Ratings: 4.5/5 (92 reviews)
Pros:
Video content available
Predictive analytics
Interactive content available
Cons:
Difficult to manage the users' message intents by different team members
Pricing:
Free 30-day trial available
Starter $99/mo
Advanced $449/mo
Business & Enterprise → contact sales team
This is a Google AI chatbot platform that uses NLP to create conversational interfaces for websites, apps, IoT devices, and messaging platforms. It is also optimized for Google Assistant for a better user experience.
We don't recommend using Dialogflow on its own because it is quite difficult to build your bot on it. Instead, you can use other chatbot software to build the bot and then, integrate Dialogflow with it. This will enhance your app by understanding the user intent with Google's AI.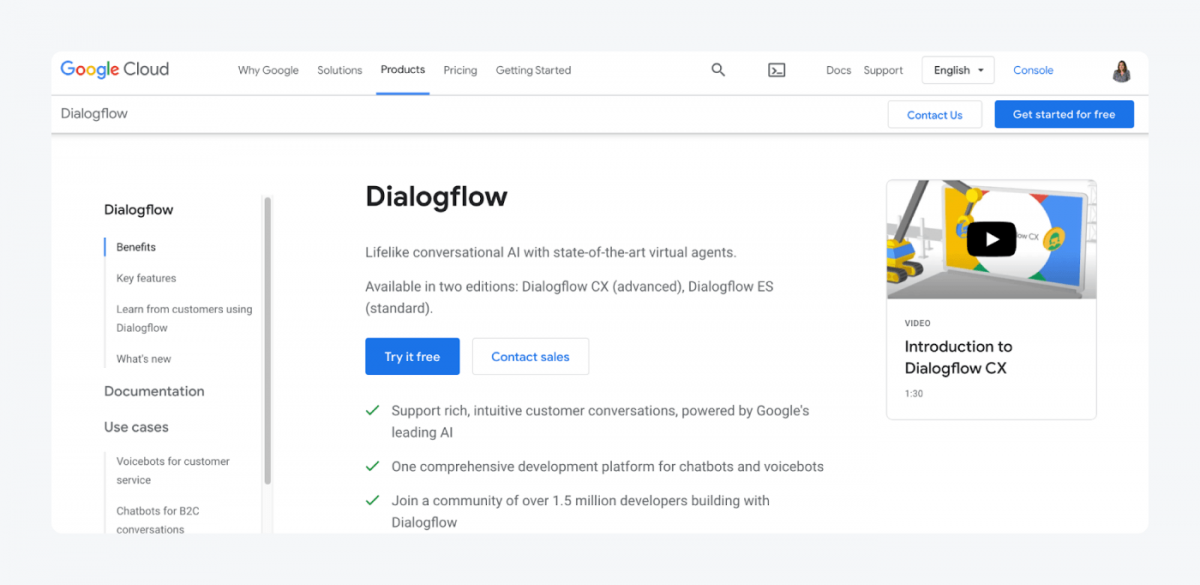 Ratings: 4.3/5 (43 reviews)
Pros:
Google AI
Voice discussions
Prebuilt agents for online shopping, food delivery, FAQs, etc.
Cons:
Difficult to use
Not a stand-alone product
Some features still in the beta phase, like customizable environments and multiple versions of agents
Pricing:
Free trial available
Text request $0.007/request
Audio input/output $0.06/min
Read more: Discover what the best finance chatbots are for the financial sector.
This chatbot vendor is the winner of the 2021 CODiE Award. It supports analytics, uses machine learning, and integrates with third-party tools for CRM, marketing, and more.
You can build your bot and then publish it across 15 channels (WhatsApp, Kik, Twitter, etc.). It also offers 50+ languages, so you don't have to worry about anything if your business is international. Your customers are most likely going to be able to communicate with your chatbot.
Engati is a conversational chatbot platform with pre-existing templates. It's straightforward to use so you can customize your bot to your website's needs. You can design pre-configured workflows, business FAQs, and other conversation paths quickly with no programming knowledge.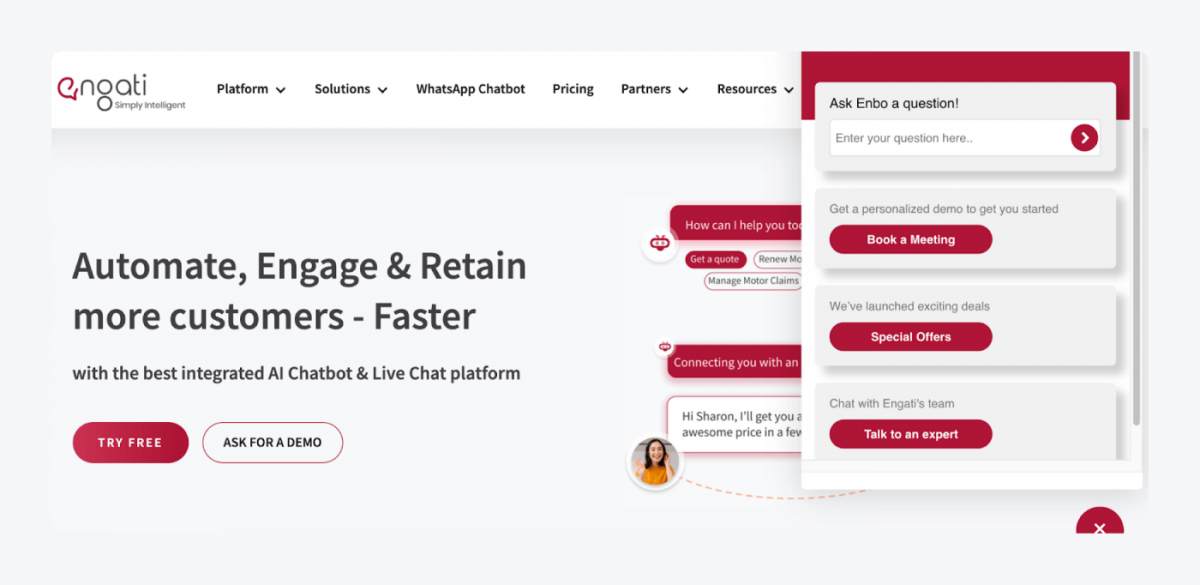 Ratings: 4.3/5 (43 reviews)
Pros:
50+ languages
Available on 15 platforms (WhatsApp, Kik, Viber, Skype, etc.)
Visual flow builder
Cons:
Some types of questions not fully customizable
Limited marketing tools
Pricing:
Free plan available
Professional $78/mo
Business $249/mo
Enterprise → contact sales team
Do you want to drive conversion and improve customer relations with your business? If the answer is yes, then this chatbot platform is for you. It will help you engage clients with your company, but it isn't the best option when you're looking for a customer support panel.
While this chatbot platform can significantly enhance customer engagement and drive conversions, it might not be the optimal choice for managing customer support inquiries, especially when compared to more robust external drives.
It supports text, audio, video, VR, and AR. This can help you create unique experiences for the client and achieve their goals.
You can also use the advanced analytics dashboard for real-life insights to improve the bot's performance and your company's services. It is one of the best chatbot platforms that monitors the bot's performance and customizes it based on user behavior.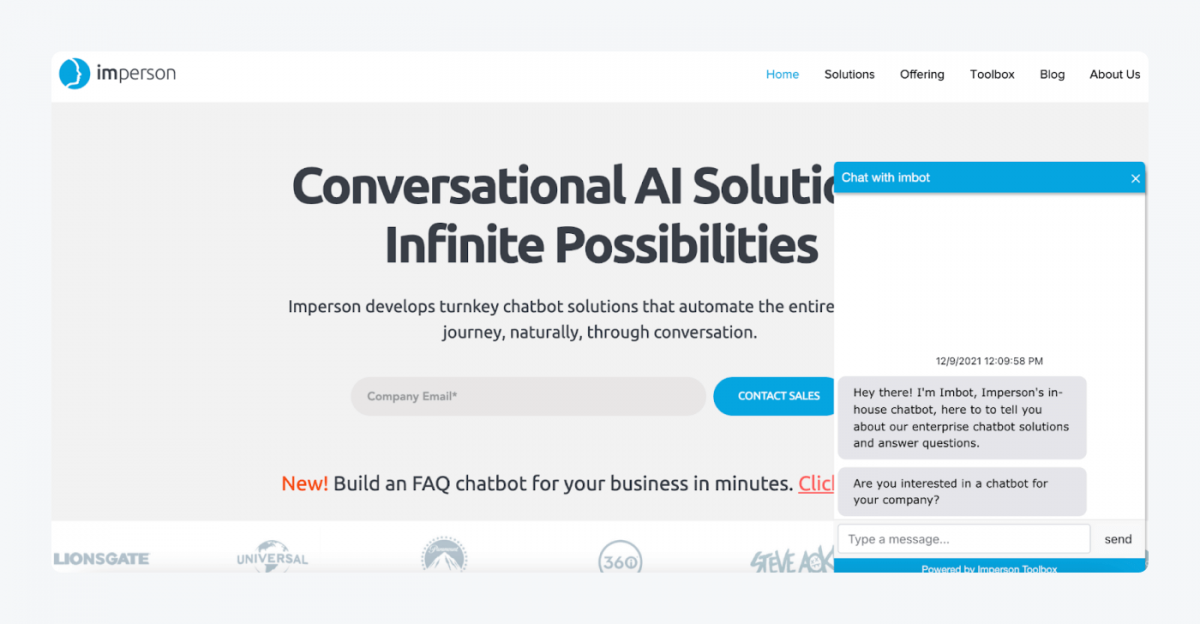 Ratings: no ratings available
Pros:
Supports text, audio, video, AR, and VR
Advanced analytics dashboard
Deep dialogue context technology
Cons:
Not designed for general customer service or administrative communication
Not suitable for smaller to medium businesses
Pricing:
Price determined individually for each business
Its Product Recommendation Quiz is used by Shopify on the official Shopify Hardware store. It is also GDPR & CCPA compliant to ensure you provide visitors with choice on their data collection.
Octane AI ecommerce software offers branded, customizable quizzes for Shopify that collect contact information and recommend a set of products or content for customers. This can help you power deeper personalization, improve marketing, and increase conversion rates.
You can include an "Add to cart" button to the pop-up for increased sales. This product is also a great way to power Messenger marketing campaigns for abandoned carts. You can keep track of your performance with detailed analytics available on this AI chatbot platform.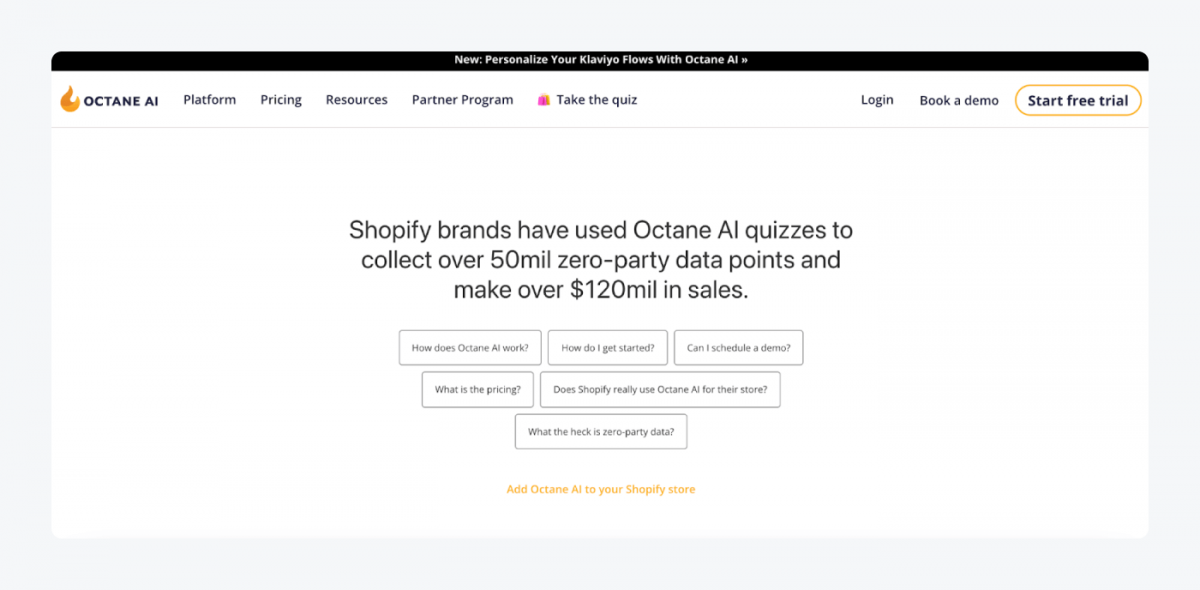 Ratings: 4.8/5 (151 reviews)
Pros:
Scheduled messaging
Survey/poll management
"Add to cart" button on the pop-up
Cons:
No custom flows available
Pricing:
Free 14-day trial available
Pricing depends on the number of monthly active people on Messenger and the number of text messages sent
Basic starts from $9
Pro starts from $209
Enterprise → contact sales team
11. Genesys DX (formerly Bold360)
This is one of the best AI chatbot platforms that assists the sales and customer support teams. It will give you insights into your customers, their past interactions, orders, etc., so you can make better-informed decisions. The bot also pinpoints areas for improvement and optimization.
You can use the mobile invitations to create mobile-specific rules, customize design, and features. The chatbot platform comes with an SDK tool to put chats on iOS and Android apps.
Genesys DX comes with a dynamic search bar, resource management, knowledge base, and smart routing. This can help you use it to its full potential when making, deploying, and utilizing the bot.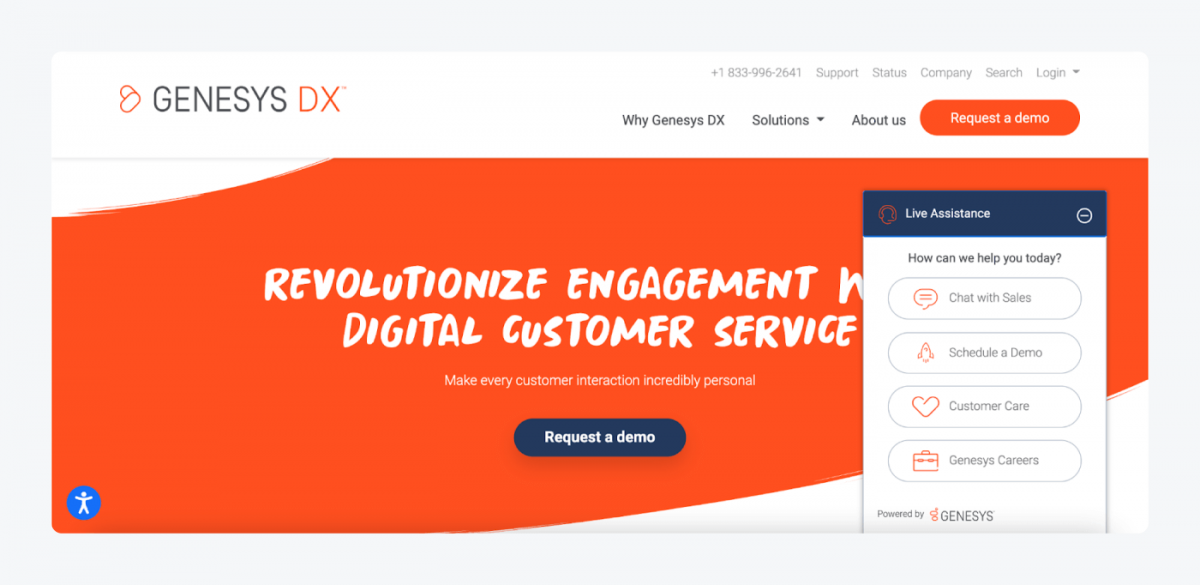 Ratings: 3.8/5 (59 reviews)
Pros:
Agent productivity management
SDK tool to embed chats in iOS and Android apps
Smart routing
Cons:
You'll need to hire a developer to maintain the platform and build out functionalities for your teams
No real-time analytics on the dashboard
You can't make group changes
Pricing:
Drift is the best AI platform for B2B businesses that can engage customers by conversational marketing.
It offers a live chat, chatbots, and email marketing solution, as well as a video communication tool. You can create multiple inboxes, add internal notes to conversations, and use saved replies for frequently asked questions.
This no-code chatbot platform helps you with qualified lead generation by deploying a bot, asking questions, and automatically passing the lead to the sales team for a follow-up.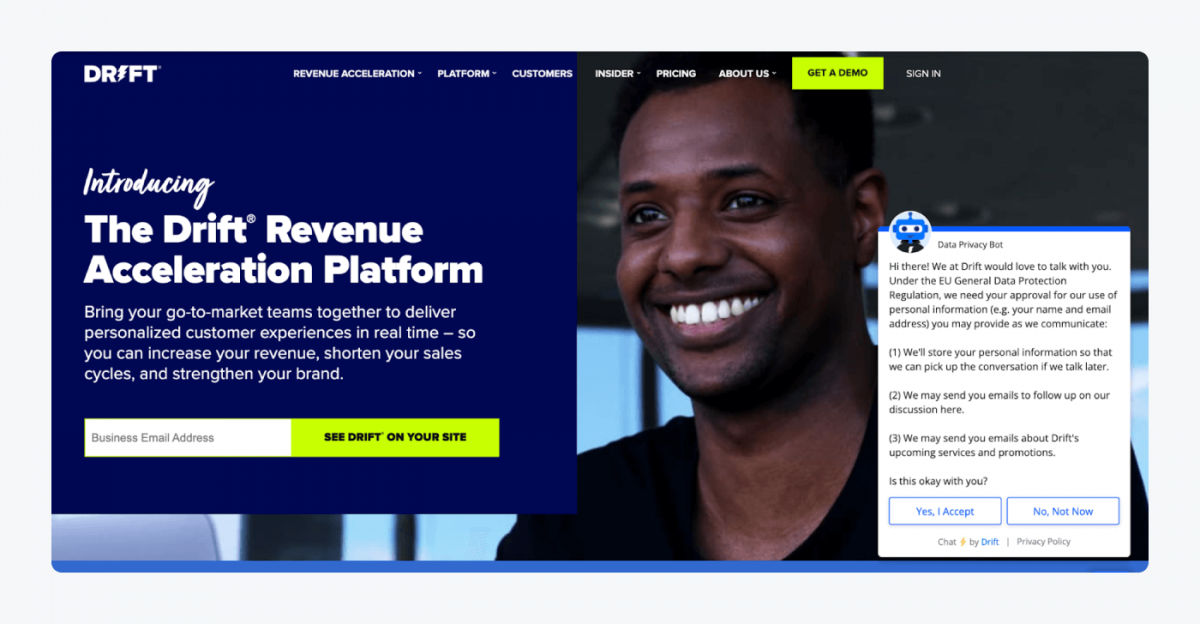 Ratings: 4.4/5 (547 reviews)
Pros:
Intuitive UI
Drag-and-drop bot builder
Account-based marketing (ABM) feature
Cons:
Pricing:
Free plan available
Paid plans: Premium, Advanced, Enterprise → contact sales team for prices
This free chatbot platform offers great AI-powered bots for your business. But, you need to be able to code in AIML to create a good chatbot flow.
You can publish your bot on the web and on mobile apps. You can also publish it on messaging channels, such as LINE, Slack, WhatsApp, and Telegram. So, you can add it to your preferred portal to communicate with clients effectively.
The is one of the top chatbot platforms that was awarded the Loebner Prize five times, more than any other program. So your chatbot is sure to have a human feeling to it.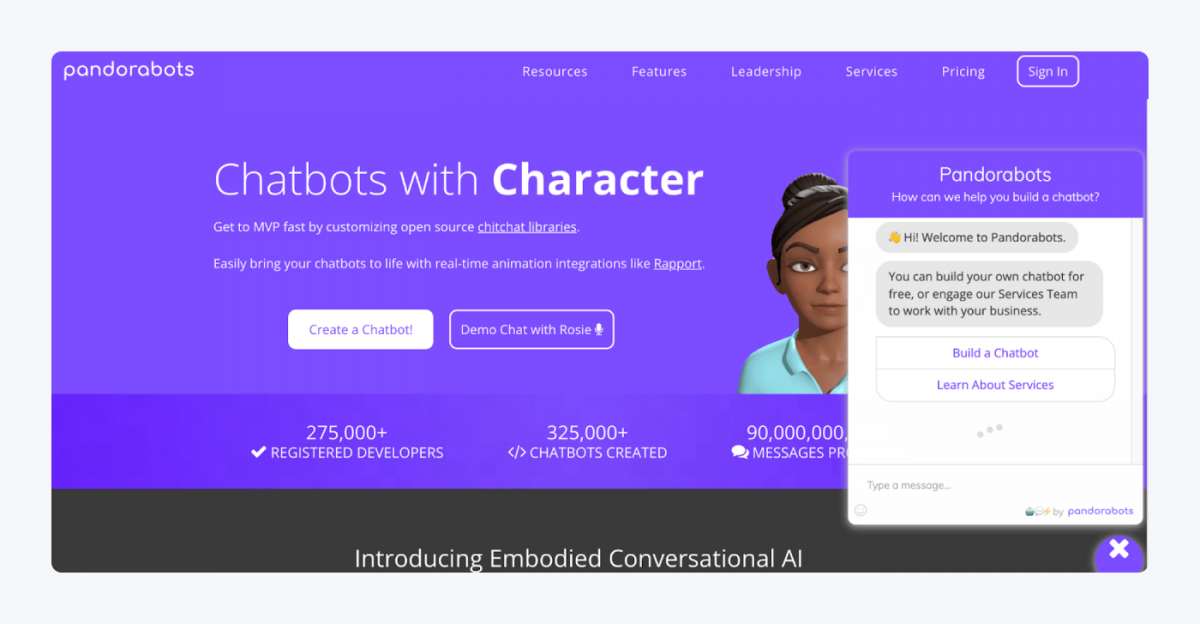 Ratings: 5/5 (1 review)
Pros:
AIML (Artificial Intelligence Markup Language) used
Responsive interface
Cons:
No machine learning tools
Need to use code for a good chatbot flow
Not possible to automatically pass the conversation to a human operator
Pricing:
Free plan available
Developer $19/mo
Pro $199/mo
Enterprise → contact sales team
This chatbot development platform is open source, and you can use it for much more than bot creation. You can use Wit.ai on any app or device to take natural language input from users and turn it into a command.
Wit.ai learns human language from every interaction it has. But this chatbot vendor is primarily designed for developers who can create bots using code.
You can leverage the community to learn more and improve your chatbot functionality. Knowledge is shared and what chatbots learn is transferable to other bots. This empowers developers to create, test, and deploy natural language experiences.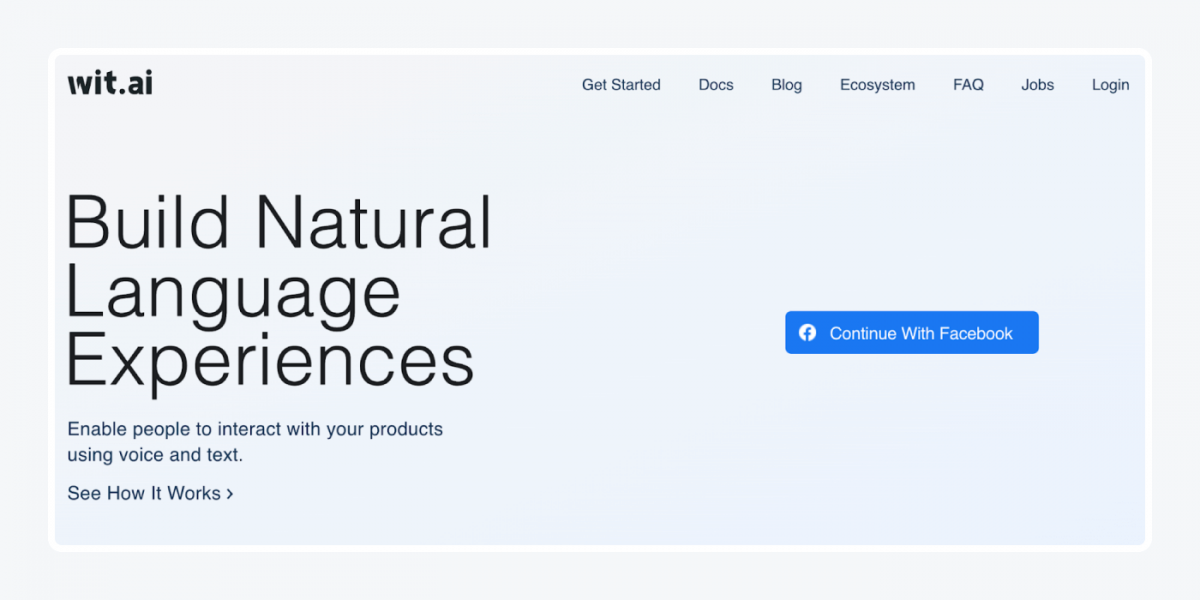 Ratings: 4/5 (1 review)
Pros:
Voice chatbot available
Multimodal interaction available
Natural language processing technology
Cons:
For developers only
Not primarily for chatbot building
Difficult to use
Pricing:
How to choose a chatbot platform?
Choosing a chatbot platform can be overwhelming. After all, you've got to wrap your head around not only chatbot apps or builders but also social messaging platforms, chatbot analytics, and Natural Language Processing (NLP) or Machine Learning (ML).
Here's a cheat sheet you can use to weed through your options.
Identify your business needs and capabilities
Before choosing the best chatbot platform, take the time to assess your business needs and technical capabilities. Ask yourself what goals you want to achieve with the platform and what technical demands you can handle. For example:
Do I want to use a chatbot to increase sales or automate customer service?
Do I need advanced AI, ML or will a simple rule-based bot be enough?
Do I need a bot embedded on a website, mobile app, or social media?
Does my bot need to integrate with other tools I'm using, e.g., customer retention software?
Do I have enough technical knowledge and understanding to handle complex platforms?
Determine your budget
Once you've got the answers to these questions, compare chatbot platform prices and estimate your budget. Take into account what return on investment you're looking for. Now, you can simply get rid of the options that don't fit in it.
Chatbot agencies that develop custom bots for businesses usually drive up your budget, so it might not be a good value for money for smaller businesses.
Consider the pros and cons of your options
Generally speaking, visual UI chatbot builders are the best chatbot platforms for those with no coding skills. Some of them are more intuitive than others, though. Despite usually being low-cost and often free, they can achieve desired outcomes for many businesses.
Bots with advanced functionality can usually deliver ambitious goals. And at the same time, you get complete control over their performance. But highly developed bots require more technical programming skills.
Pick the chatbot provider you can trust
One of the best ways to find a company you can trust is by asking friends for recommendations. The same goes for chatbot providers but instead of asking friends, you can read user reviews. Websites like G2 or Capterra collect software ratings from millions of users. They give you a pretty good understanding of how the company deals with complaints and functionality issues.
Read more: Learn how Lyro successfully handled 70% of support queries and slashed first response times while still in its early stages.
Key takeaways
This is the list of 14 powerful chatbot platforms to make a bot for your business:
Tidio
MobileMonkey
Chatfuel
ManyChat
Snatchbot
Aivo
Dialogflow
Engati
Imperson
Octane AI
Genesys DX
Drift chatbot
Pandorabots
Wit.ai
Each of the chatbot platforms discussed above is unique and can help you achieve your desired outcomes. But before selecting one there are a couple of points to consider:
Your business goals—draft the key use case(s) for your bot so that it aligns with your customer needs.
Customer intent—knowing your customer behavior helps design the bot flow and deliver better customer experience.
Customer journey—identifying key touchpoints helps you decide which are the right channels to deploy your chatbot.
Automation—it's good to know which parts of the customer journey you want to automate, e.g., FAQ, lead generation, support, etc.
Once you know which platform is best for you, remember to follow the best bot design practices to increase its performance and satisfy customers.
FAQ