Never miss another message from your customers
Connect your Instagram, Messenger, Live chat, and email inboxes to the Tidio multichannel tool and manage all conversations from one place
Get started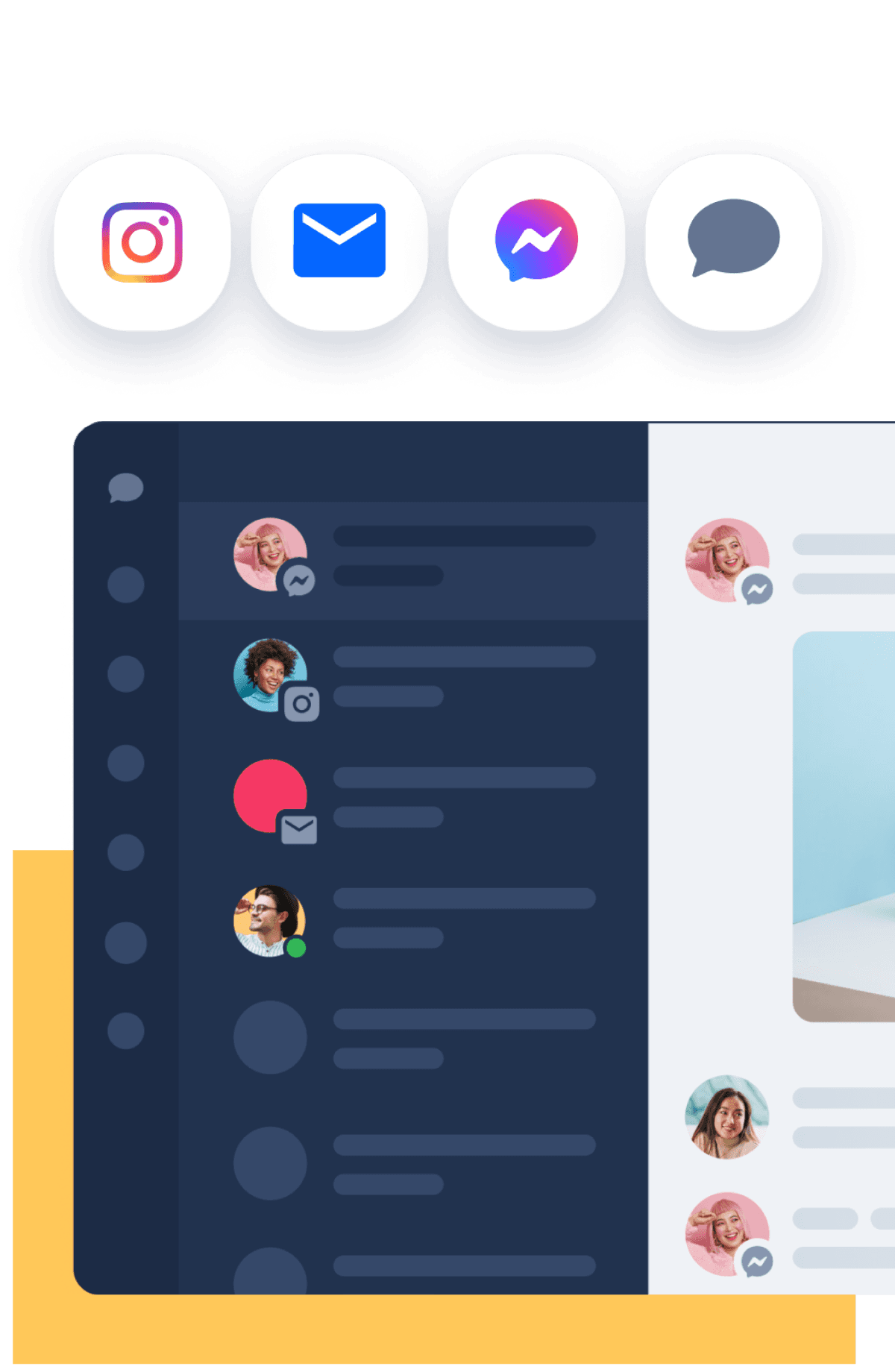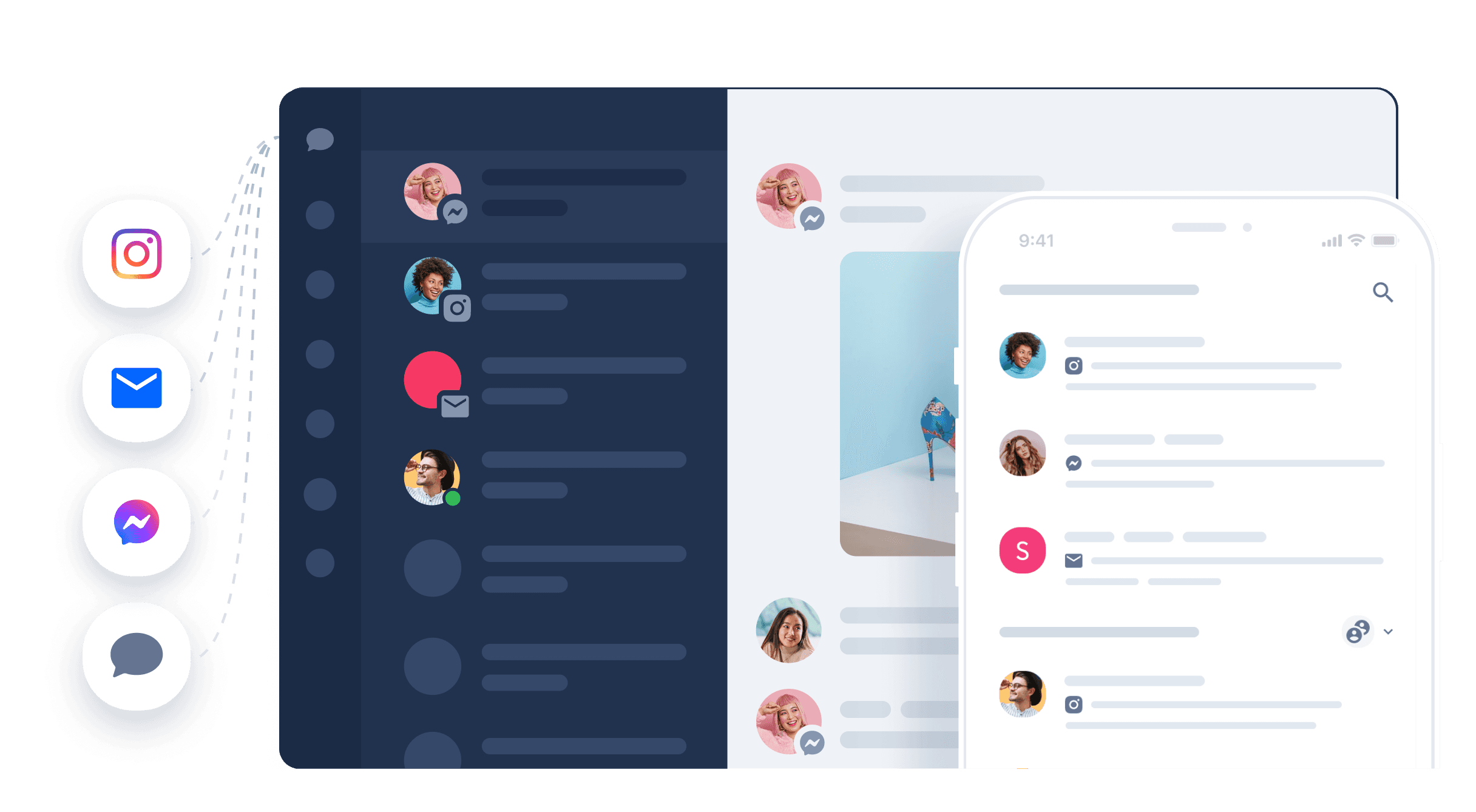 Answer all Instagram messages in an instant
Use chatbots to help customers on the spot without involving your team
Automate answers to all your DMs
Answer all your Instagram messages on autopilot, without the help of live agents. Tidio enables you to easily set up IG chatbots that reply to the most repetitive questions for you.
Discover Tidio for Instagram
Generate more sales on Instagram
Activate IG chatbots to take orders from your customers directly in the conversation, and collect their contact details.
Discover Tidio for Instagram
Boost Messenger sales
Respond to all inquiries within seconds and generate new leads for your business
Automate your Facebook sales
Create Messenger chatbots that will gather your prospects' details and automatically qualify leads.
Discover Tidio for Messenger
Offer great customer service
Use a Messenger bot that will recognize inquiries and answer questions about shipping, orders, and returns.
Discover Tidio for Messenger
Manage all your email inboxes from one place
Handle conversations with ease and never miss an opportunity to connect with your customers
Handle all emails in one place
Connect all your email inboxes to the Tidio multichannel tool and manage all emails in one place.
Discover Tidio shared inbox
Collaborate with your team
Manage all email conversations in sync with your team, assign emails to your operators, and easily access customer information.
Discover Tidio shared inbox
Turn visitors into loyal customers with Tidio live chat
Deliver tailor-made communication and build trust with spot-on live assistance
Provide instant customer service
Allow your visitors to contact you directly via a beautifully designed live chat widget.
Discover Tidio live chat
Automate 70% of your conversations
Combine live chat with chatbots to automatically answer questions about order status, shipping policy, and discount codes.
Discover Tidio live chat
Stop switching between multiple channels. Never miss a message from a customer
With the Tidio multichannel tool, you'll never risk missing a single message again, even if a customer contacts you on a channel that you rarely use
All communication channels in one place
Thanks to the Tidio multichannel tool, you can easily manage messages from Instagram, Messenger, live chat, and email in one place.
Faster response time
No more unnecessary app-switching. Our multichannel tool allows you to see messages from all channels straight away, so you can respond faster.
Real-time team collaboration
Assign and unassign conversations, transfer chats to other operators and manage all messages along with your team, fully in sync.
All devices
Tidio's multichannel tool is available on every device: mobile, tablet, and desktop.
See how Tidio helps over 300k businesses
Start using Tidio's multichannel tool today
Free plan available. No credit card required.
Tidio's multichannel tool in numbers
Numbers don't lie — It's time to reach your customers where they are
90%
90% of customers expect consistent interactions across channels
72%
72% of consumers say they would rather connect with brands and businesses through multichannel interactions
86%
86% of shoppers are regularly channel-hopping across at least two channels
Sources: Invespro, Autopilot HQ, CommerceHub
FAQ
Tidio's multichannel tool: Frequently Asked Questions
What is the Tidio multichannel tool?
Tidio's multichannel tool lets you connect all your communication channels to one panel. This eliminates the necessity to switch between different channels. It also reduces the workload and costs.
Is the Tidio multichannel tool free?
Yes, the multichannel tool is free for everyone. It means you can use it no matter your current plan.
What communication channels can I connect to the Tidio multichannel tool?
Currently, you can connect your Instagram, Facebook Messenger, email, and live chat to the multichannel tool. On top of that, you can use chatbots within every channel to accelerate the response time and generate more sales.
How many people can access the Tidio multichannel tool?
Three people can access the multichannel tool and answer customers' questions by default. If you need a bigger team, you can always choose one of the premium plans and add as many operators as you need.
How can I access the Tidio multichannel tool?
You can easily access the multichannel tool by logging into Tidio and clicking on a message bubble icon in the upper left corner.
Join 300k+ businesses who use the Tidio multichannel tool