Live chat support provides an instant way for customers to communicate with businesses. It can increase customer satisfaction and reduce customer service costs.
The fact that you decided to offer live chat for your customers is a smart move.
But—
With so many good live chat apps to choose from, it can be hard to know which one is the best for your business.
Don't worry.
We will compare some of the most popular support chat solutions and help you decide which one is right for you.
In this article:
If you are interested in free live chat apps or plugins developed for specific platforms, you can also check:
Live chat apps: an overview
There are over 400 live chat software products available online. But several of the most popular options get the majority of users. Tawk.to, followed by Zendesk Chat, LiveChat, and Tidio are the leading live chat applications on the market.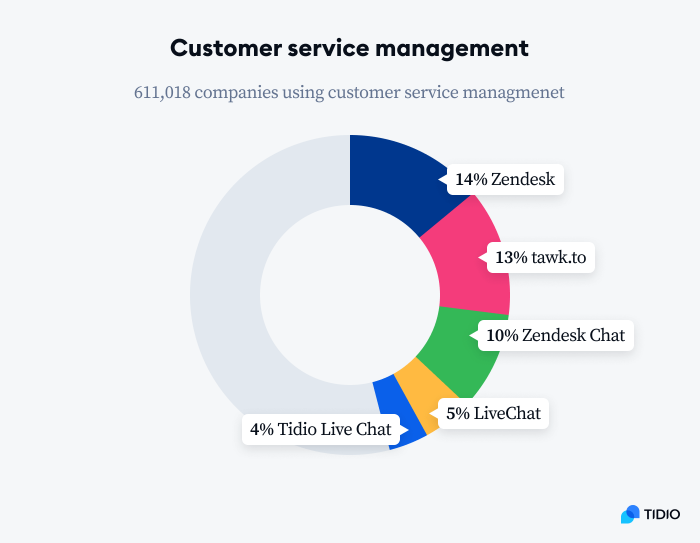 Live chat apps are normally offered alongside other customer service tools, such as support chatbots. These solutions are provided by companies operating in the customer service management segment.
Users can customize their chat widgets, whether on the front end (visually), or the back end (rules, operating hours, and notifications). For example, Tidio comes with automated reminders to reduce shopping cart abandonment. The app uses special surveys that ensure customers' email and phone numbers are collected.
Many live chat apps are designed for omnichannel communication. Consumers are often active on several social media platforms (and they still use their good old emails too), so it makes sense to have a single tool to communicate through all mediums.
But why should live chat become your main channel of communication?
Live chat services have the highest satisfaction rate (75%) of all customer service communication tools. By the end of 2022, an expected 85% of companies will offer some form of live chat support. This shows us that it's the undisputed champion of online customer service.
Live chat service has only grown more important over time, and it's something your competition is already leveraging. So, let's look at the chat platforms that enable you to leverage it as well!
Best live chat app comparison
Choosing the right live chat app for your business can be tricky. It's important to take a look at the main features the app provides, the pricing, and the overall user experience to see which one is right for you.
Some of the most important features to consider are how much customer support you need, how many chats you can handle at once, and whether you need features like chatbots or video calling.
Let's go through our list of the best live chat apps one by one.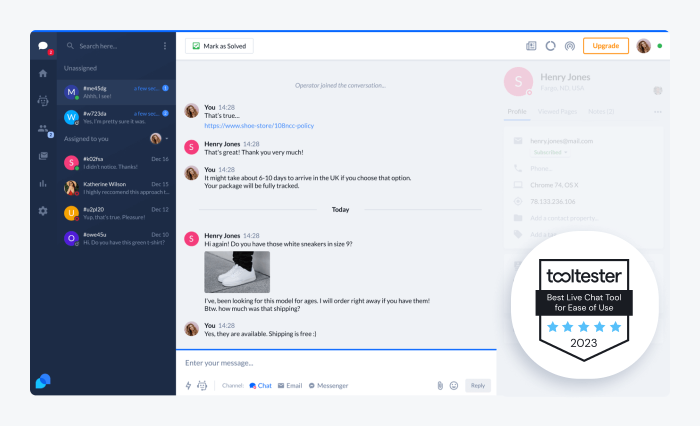 Ratings: 4.8/5 ⭐(based on 1,000+ ratings)
Tidio is a complete customer service solution, offering several features centered around engaging customers and offering real-time support. The live chat function is easy to implement and allows you to get chatting with your customers in no time. This seamless live chat integration is part of what makes Tidio such a popular choice. And it comes with an open JavaScript API which unlocks unlimited possibilities for customization.
Tidio has a powerful live chat app for iOS and Android, so you can connect with your customers on the go. You can also send auto-replies and canned responses. And the best part is that you can use it for free for as long as you want. It is easily the most powerful free live chat app for websites and social media available right now.
Main features:
Unlimited chat conversations and chat history available in the freemium plan
Customizable live chat interface with templates and design options
Visitor insights with locations, browsing history, and message sneak peeks
Real-time chat monitoring to assess agent-customer communication
Ecommerce integrations with Shopify, WooCommerce, and other platforms
Easy integration with CRM and email marketing tools
Proactive messages and a ticketing system
Live chat app for Android, iOS, and desktop
Canned responses and chatbot templates for answering common questions
Helpful resources such as Tidio's Knowledge Base
Free. Up to 3 support agents and a limited number of automations
Communicator ($19). Advanced live chat functionalities and permissions
Chatbots ($49). Unlimited chatbots and message triggers
Read more: How to Download and Install Tidio Mobile App on Your iOS and Android Devices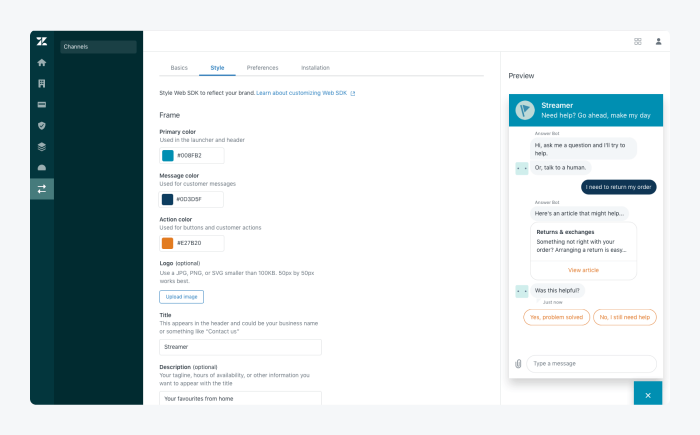 Ratings: 4.3/5 ⭐(based on 15+ ratings)
Zendesk is the largest customer service management company, by market share. Among their broader customer service management infrastructure, they offer a live chat app. The app can also be integrated with their support suite.
Zendesk's live chat app is a multichannel communication platform. You can use it to automatically connect with customers through Facebook Messenger, Twitter DMs, WhatsApp, and SMS (text messages). Furthermore, you can set up an AI chatbot to send replies to your customers on whichever of popular messaging channels they prefer.
Pros:
Multichannel communication for uniform customer experience across your pages
Self-service, support tickets, and knowledge base tools
"Answer Bot" is good at answering customer queries
Cons:
A few complaints of crashes when running multiple chats
Reports of chat messages occasionally disappearing
The basic Zendesk Chat features are free to download and use. However, for a more comprehensive service, you will need to subscribe to one of Zendesk's support suites.
The Zendesk Chat packages are:
Lite (Free). Just one agent, one concurrent chat
Team ($14/year). Unlimited agents, unlimited concurrent chats
Professional ($29/year). Advanced settings, chat routing
Enterprise ($59/year). Roles and permissions, all chat features unlocked
3. HubSpot Chat (Part of HubSpot CRM)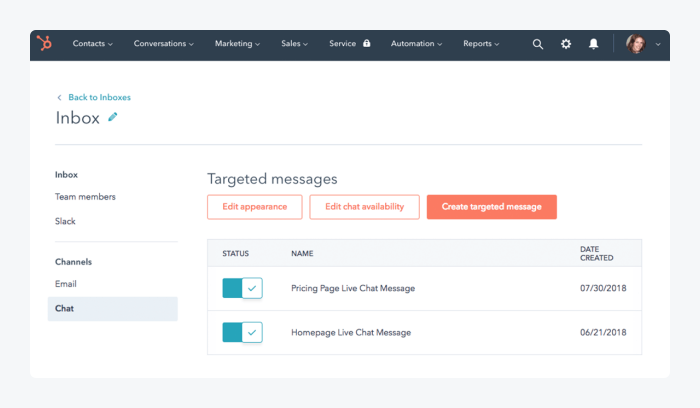 Ratings: 4.5/5 ⭐(based on 1,700+ ratings)
HubSpot offers free live chat software as a part of the HubSpot CRM suite. This is quite convenient because you can synchronize your customer data across different modules offered by HubSpot. The live chat widget is larger and a bit more intrusive than some of the options we've looked at. However, it's fairly responsive, which is great considering the "forever free" offer of HubSpot CRM. Overall, it's a good alternative to Zendesk.
The HubSpot live chat app displays relevant contact information and works with a few other channels. You can integrate it with Slack, which is especially helpful if you need to keep track of many follow-up messages. In terms of analytics, there are some useful automatic reporting tools. They allow users to review customer satisfaction ratings, number of conversations, conversation lengths, etc.
Pros:
Many features for improving conversion rates and setting up custom workflows
Small businesses can start with the "forever free" option and scale up later
Calendar booking is highly responsive
Cons:
The webpage live chat window is large and intrusive (taking up more screen real estate than necessary and can be distracting to visitors)
Notifications for new conversations are too subtle (most alternatives make it extremely clear when a new conversation is initiated)
Free sales tools. Offers live chat service as well as other features
Starter ($45/month). Meeting scheduling, and other features
Professional ($450/month). A range of professional features such as help desk automation and ticket routing
Enterprise ($1,200/month). Custom goals, field-level permissions, and single sign-on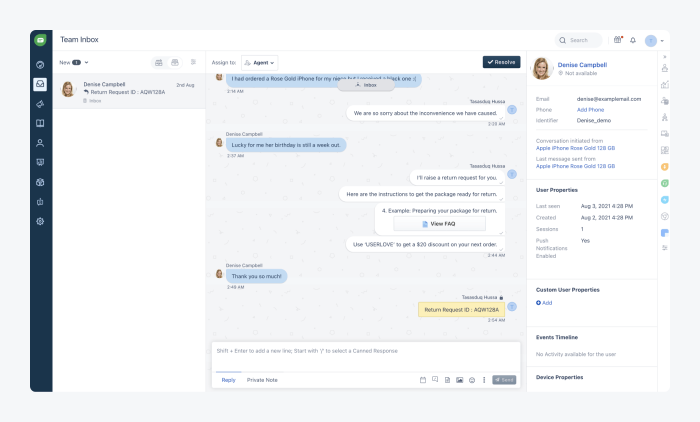 Ratings: 4.3/5 ⭐(based on 200+ ratings)
Freshchat is a live chat app provided by Freshworks. The software is available through the web, mobile apps, and social media. The app was designed for "sales and customer engagement teams" and focuses on converting leads. Its main selling point is ease of use and an aesthetically pleasing conversational UI.
Freshchat offers more multichannel functionality than many alternatives. You (or your bot) can communicate with customers through WhatsApp, Facebook Messenger chat integration, Apple Business Chat, Line Messenger, on your website, or through the Freshdesk Messaging App. Wherever you are, you can connect with customers directly, or review the activity of the automated chat. These many integrations are seamless, an aspect many customers appreciate.
Pros:
Easy to use messaging and integrations
Customer metrics
High level of customization
Cons:
Subscription tiers are numerous and confusing (make sure you review them carefully)
Some complaints of subpar customer service
Free. User properties and conversation labels
Growth ($15/month). User segmentation, canned responses, and notes
Pro ($39/month). Live message translations and advanced chat automation
Enterprise ($69/month): User authentication and additional bot sessions
Read more: Discover some of the most effective chat script examples you can implement in your customer service strategy.
5. Birdeye (App includes live chat)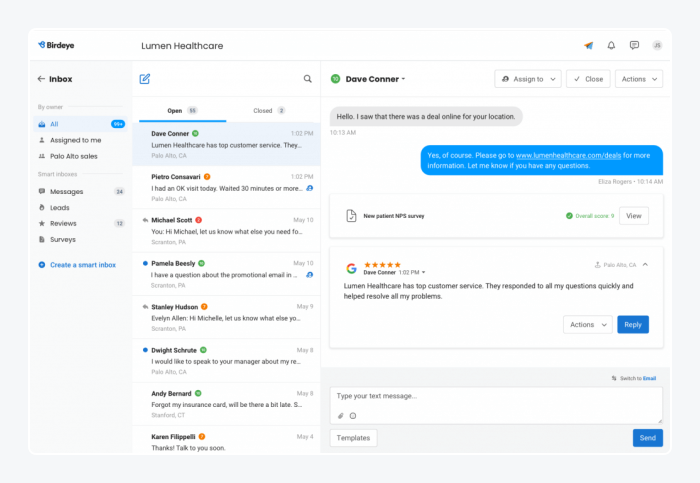 Ratings: 4.8/5 ⭐(based on 1,400+ ratings)
Birdeye is a customer relationship management platform focusing on sales enablement. They include a live chat feature in their app that is specifically designed to help sales teams. You can use it to hold customers' hands through their whole buyer's journey. The webchat widget can be installed on any website and used to nurture leads.
Birdeye's live chat feature focuses on closing the sale, more than most alternative products do. Each new conversation opens with an agent's name and phone number. This provides accountability and a personal touch to your customers, making them feel more comfortable in using your live chat service.
Pros:
In-chatbox voice messaging and SMS
Great customer support
Consolidation of reviews from different platforms (also functions as a review plugin)
Cons:
Very expensive in comparison to similar live chat providers
Customers complain of complex functionalities requiring more manual work
Birdeye pricing is entirely custom. They offer standard, professional, and premium plans, though each one will come at a different price depending on your business needs.
Ratings: 4.5/5 ⭐(based on 700+ ratings)
Perhaps the most aptly and simply named app on this list, LiveChat provides exactly what you'd expect: a live chat app. The app offers plenty of UI customization for the widget itself through themes, colors, and positioning.
The team at LiveChat has made sure to make your experience using their app as stress-free as possible through the means of effective UX design and great customer service. This is a reasonably priced live chat solution, especially if you wish to use their starter plan.
LiveChat is undeniably great for large businesses due to its in-depth customization and flexible pricing through the means of their enterprise plan.
Pros
It can be integrated with many modules and apps provided by the same company
Applicable to all sizes of business from very small to large enterprise
Inexpensive starting price compared to competitors
Cons
The mobile live chat apps are poorly rated by customers (mainly due to poor functionality)
14-day free trial, but no free version
Starter ($16/month/per agent). Meant for small/home office
Team ($33/month/per agent). Meant for full-time support teams
Business ($50/month/per agent). Meant for customer service departments
Enterprise (Custom quote). Meant for fortune 500 companies
Read more: Best LiveChat Alternatives in 2023 [Comparison]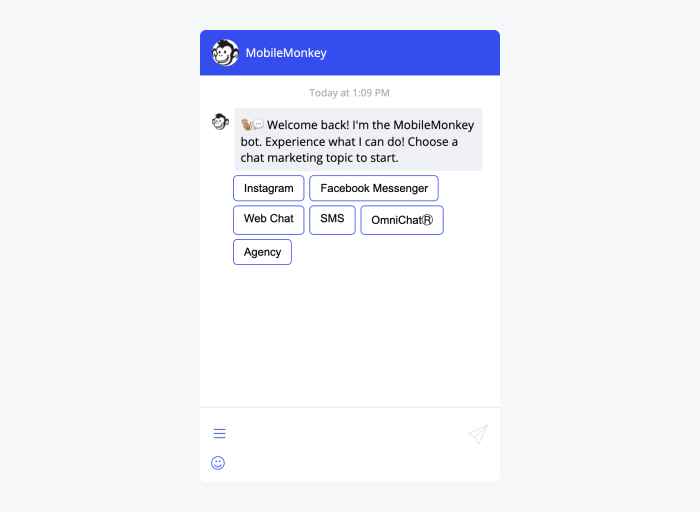 Ratings: 4.9/5 ⭐(based on 250+ ratings)
MobileMonkey is a multichannel communication platform that comes with one of the best live chat apps. The MobileMonkey Chat app connects Facebook Messenger and Instagram bots, native website bots, and SMS marketing. All these channels are brought together in a single platform, so companies can communicate with customers and improve their sales.
MobileMonkeys chat widget is both highly customizable and easy to use and implement. It provides a simple, effective way for your website visitors to ask questions about your business or products.
Pros
Omnichannel tools for connecting to customers on different platforms
A web-based chatbot builder
Influencer tools for social media
Cons
Complaints of slow chat response times of the support team
Reports are not very detailed and lack some chat performance statistics
Startup edition ($119/month). A multichannel marketing automation platform for SMS, webchat, Instagram, and Facebook Messenger
Growth edition (Custom pricing). Chat for customer support and marketing teams with high volume and multiple users
Read more: Check out the latest mobile commerce statistics and trends.
How do you add live chat apps to your website?
For a comprehensive, full guide, read our article on How to Add Live Chat to Your Website for Free [4 Easy Steps].
Step 2. Use the customization options available to you
Step 3. Integrate the chat into your website (you will need to copy and paste code into your site's HTML or add a plugin)
Step 4. Set up operating hours and any advanced settings that the live chat app includes
Step 5 (Optional). Download and connect your account on the mobile live chat app for on-the-go usage
Adding a live chat on a website can be a great way to connect with customers and provide support. But live chat applications can also be used for gathering customer feedback and getting fresh ideas from your clients. This is especially true for small businesses that may not have the resources for taking care of focus groups or surveys.
Key Takeaways
Live chat widgets are a useful tool for communicating with customers in all industries. However, the apps range from free live chat apps to complex customer support and marketing software suites.
The best live chat applications that you can download and try out are:
Tidio
Zendesk Messaging
HubSpot Chat
Freshdesk Messaging
Birdeye
LiveChat
MobileMonkey Chat
Without tooting our own horn too much, we would definitely recommend Tidio, as it checks off all the relevant boxes for a live chat app for your website or mobile:
Reasonable pricing
Fast response times
Strong customization for customer experiences personalized to your brand
Great customer service
Analytics and reports that enable you can see the app's performance
The best way to find the right live chat app is to try a few out and see which one works for you. Start with the free options first—it may turn out that they offer more than enough to solve all your problems.