Ever had an issue with Wix and needed to sort it out then and there? The first thing that comes to mind is contacting Wix live chat—it's so convenient, right?
The same goes for your clients and website visitors.
Whether it's an issue with placing an order or a question about sizing, the majority of customers want an immediate answer. The conclusion is clear—a live chat app for your Wix website is a must, not a nice-to-have.
Fortunately, some third-party live chat plugins in the Wix app market offer pretty cool features.
In this article:
List of the best live chat apps for Wix:
And if you're looking for Wix.com customer care chat, you can contact them here after logging in to your Wix account.
Why do you need a live chat app for a Wix website?
When you set out to create an ecommerce website, you first think about its look and design that your visitors will find attractive. Next, you add products and make sure they satisfy your customer needs.
But what if you've made all that effort and noticed your site visitors scroll around without going to the checkout? You can spend hours customizing your Wix site. But, is poor design the reason why your visitors drop out?
In fact, having a live chat on your Wix website can increase the conversion rate by removing buying objections and adding credibility. People chatting with customer support agents spend 60% more per purchase, and 63% of them are likely to return to a website with a live chat.
Why is that so, you may wonder now—
According to Forrester's report, 44% of online customers want a live agent to answer their questions in the middle of making an online purchase. Microsoft's research goes even deeper—it reveals that 91% of consumers love co-browsing. It's when customers get real-time step-by-step assistance when completing a process.
If you've launched your Wix website, live chat can also help you build stronger relationships with customers, provide efficient customer service, and reduce website errors. These are important elements of building a long-term customer experience strategy.
Find out all about what live chat is, how it works, and how your business can benefit from using it.
The best Wix live chat apps
Some of the worst customer service stories involve extended wait times or the inability to reach customer support, according to a study by Consumer Reports. Wix live chat apps solve the root of the problem. Here's the best selection.
Best Wix live chat apps' pricing comparison table
Tidio
Tidio's our free live chat for Wix you can try for free. We encourage you to leave us a review to let us know what you think!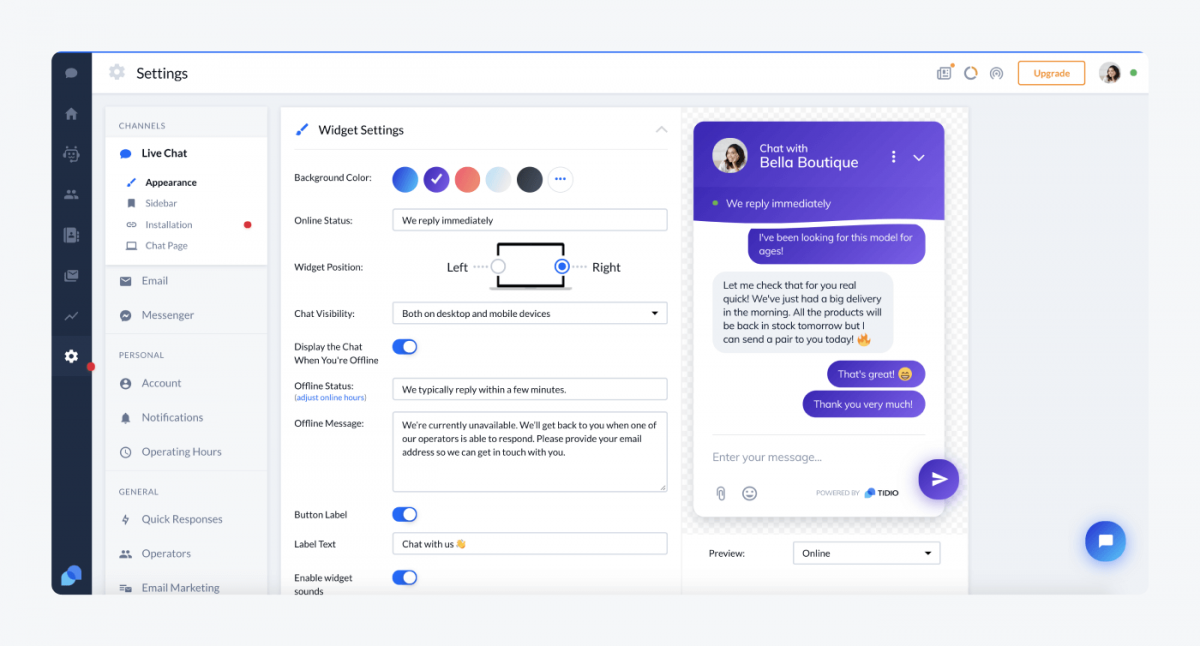 Tidio is a powerful live chat plugin for Wix to support all types of customers in small and medium businesses. It collects insights about consumer behavior and enables proactive customer service for free. It has plenty to offer to make your day-to-day customer service easier, like sending welcome messages in offline mode or using canned responses.
Wix users score: 4.5 based on 493 reviews
Main features:
Tidio live chat pricing for Wix:
Free unlimited chats and three operators
Premium plan—$15.80 per month for extra features and unlimited operators
7-day trial period
As many as 50% of online shoppers abandon their purchase if they don't find a quick answer to their query. You can read how installing Tidio software helped a US company Mometrix slash their cart abandonment rate by 25%.
Wix Chat
This first-party live chat integration for Wix websites plays to its advantage. It promises seamless integration and no compatibility issues. Wix Chat app works well on mobile. It sends you notifications when you make a sale, get a message, or when customers visit your store. It's ideal if you want to ensure the best customer care experience.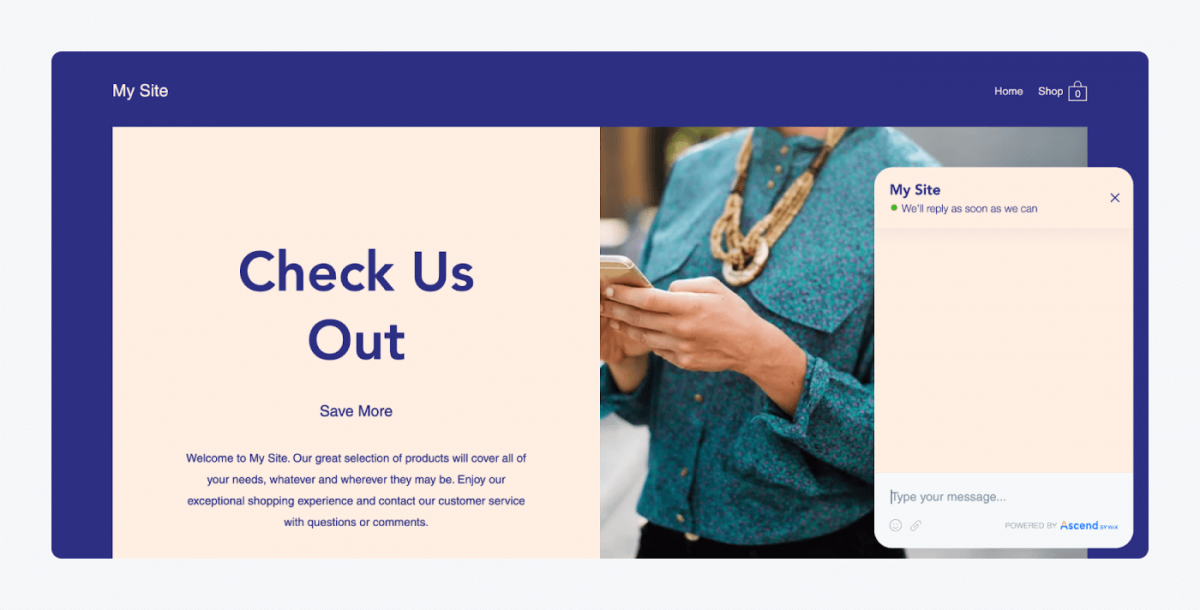 Wix users score: 4.0 based on 3,312 reviews
Main features:
Auto-notifications triggered by different events
Auto-replies to greet site visitors and to respond to their first messages
Lead capture forms
Chat history management
Pricing:
Free plan available
Ascend Basic—$12/mo
Ascend Professional—$29/mo
Ascend Unlimited—$59/mo
Jivo
Jivo app offers omnichannel live messaging for Wix ecommerce sites. You can handle conversations coming from the chat widget, social media accounts, e-mails, and calls to your phone.
The paid plan offers CRM features that help you manage your customer base (e.g., recognize returning visitors). It facilitates customer engagement thanks to smart triggers.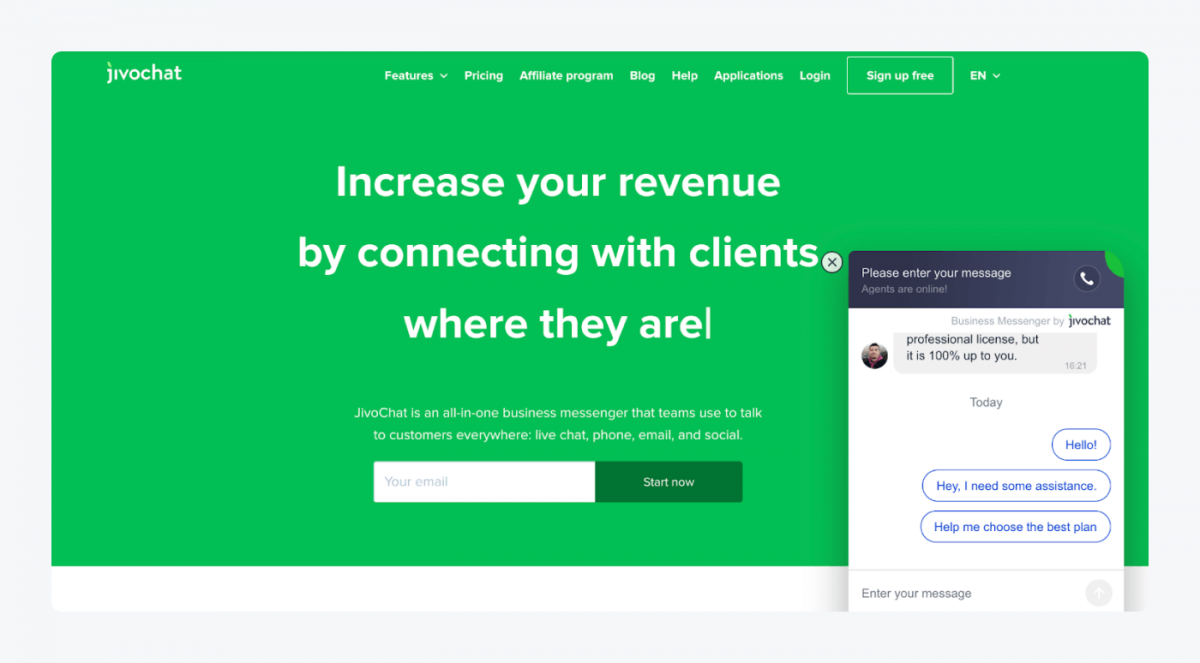 Wix users score: 4.7 based on 60 reviews
Main features:
Customizable chat box in 25 languages
Service quality ratings by customers
Send GIFs and emojis
Basic stats on chats and agents' activity
Pricing:
Free Basic version for the first 5 agents
Professional version—$29/mo per agent
14-day trial
LiveChat
This Wix live chat integration lets you provide instant customer service on your website, Messenger, Apple Business Chat, and so on. It has a ticketing system that customers can use when you're offline—it helps you handle customer complaints and issues efficiently. LiveChat's features can improve customer experience on your Wix site as long as you have the necessary budget—there's no free plan.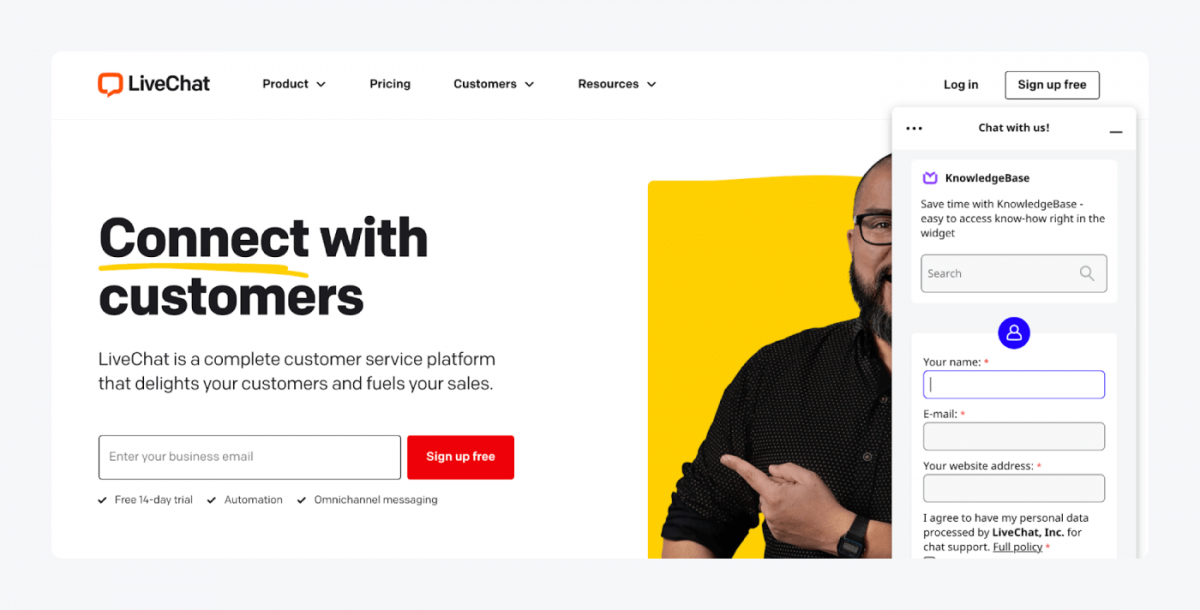 Wix users score: 3.9 based on 72 reviews
Main features:
Set specific chat messages based on the current page address
Send coupons, promo codes, and sales deals on all pages
Group agents (e.g., sales, support) for faster resolution
Share files with customers
Pricing:
Starter plan—$19/mo
Team plan—$39/mo
14-day free trial
Formilla
This Wix chat software combines live chat, email, and in-app messaging tools to boost your customer loyalty. You can use their email and social lead widgets to increase social following on Facebook and Twitter and the number of email subscribers.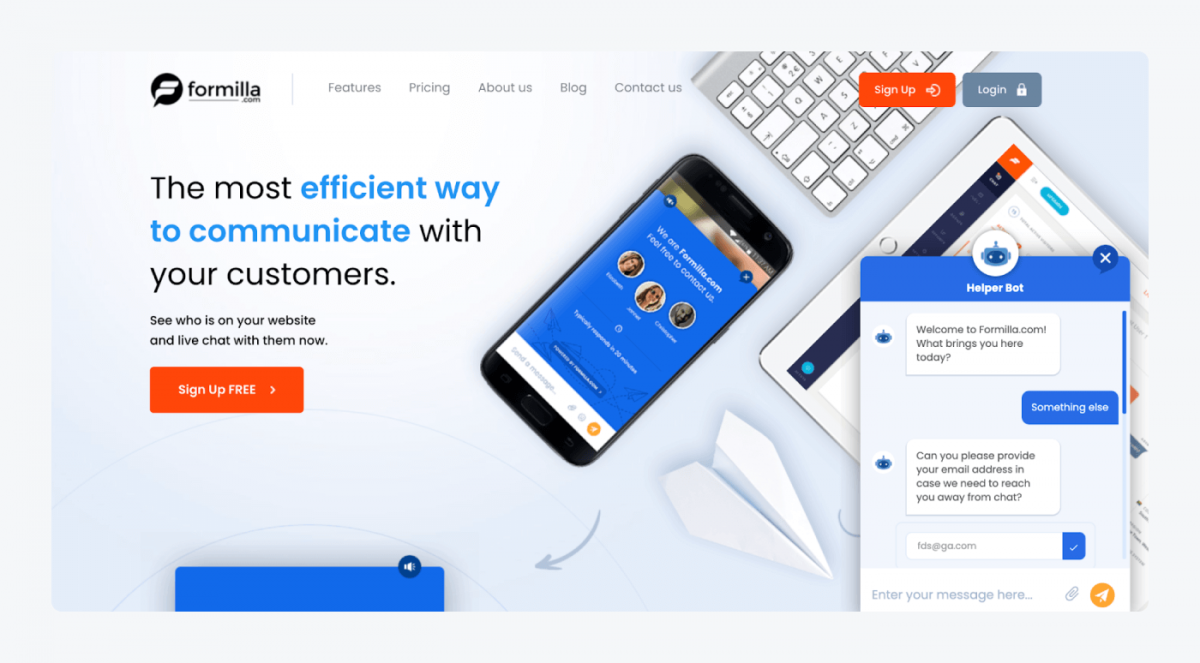 Wix users score: 4.4 based on 175 reviews
Main features:
Easy installation—live chat button appears on your Wix site instantly
Chat on the go with iPhone & Android mobile apps
Ban abusive visitors
See site visitors in real-time
Pricing:
Free plan with up to 30 chats/mo and 1 agent
Premium—$29.99/mo
Professional—$49.99/mo
Growth—$69.99/mo
15-day free trial
Find out what are the best chatbot providers for your Wix sites.
How to add a live chat widget on Wix?
We'll take you through a step-by-step process of installing a live chat on Wix.
1. Log in to your Wix dashboard and click Switch Editor.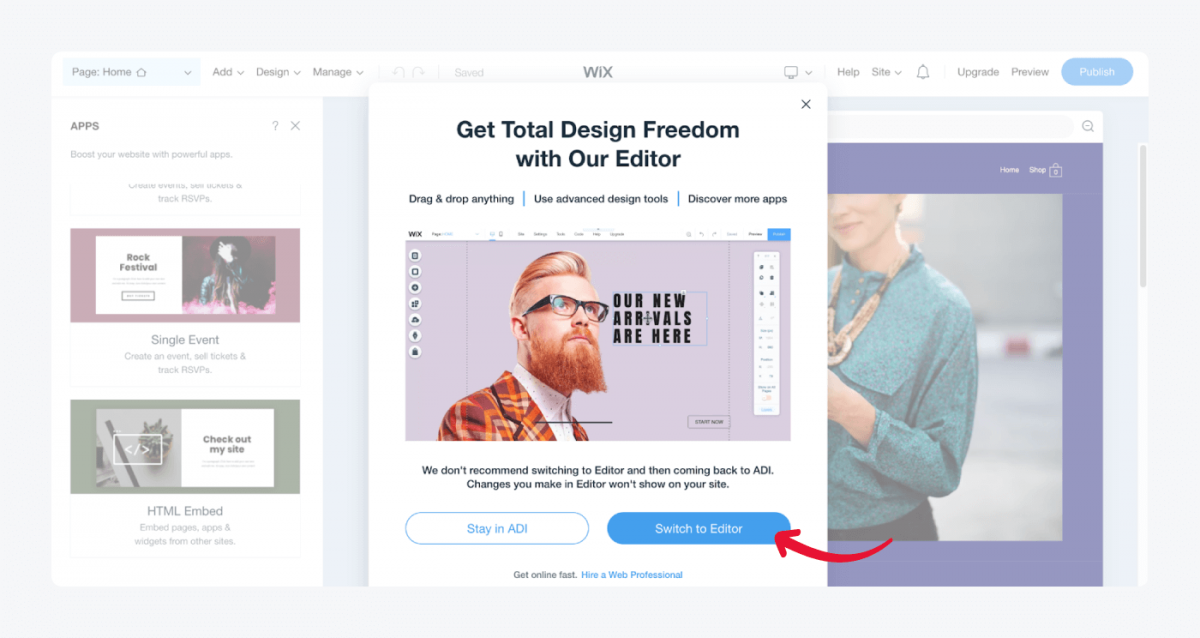 2. In the Wix Editor, select the Add Apps from the menu on the left.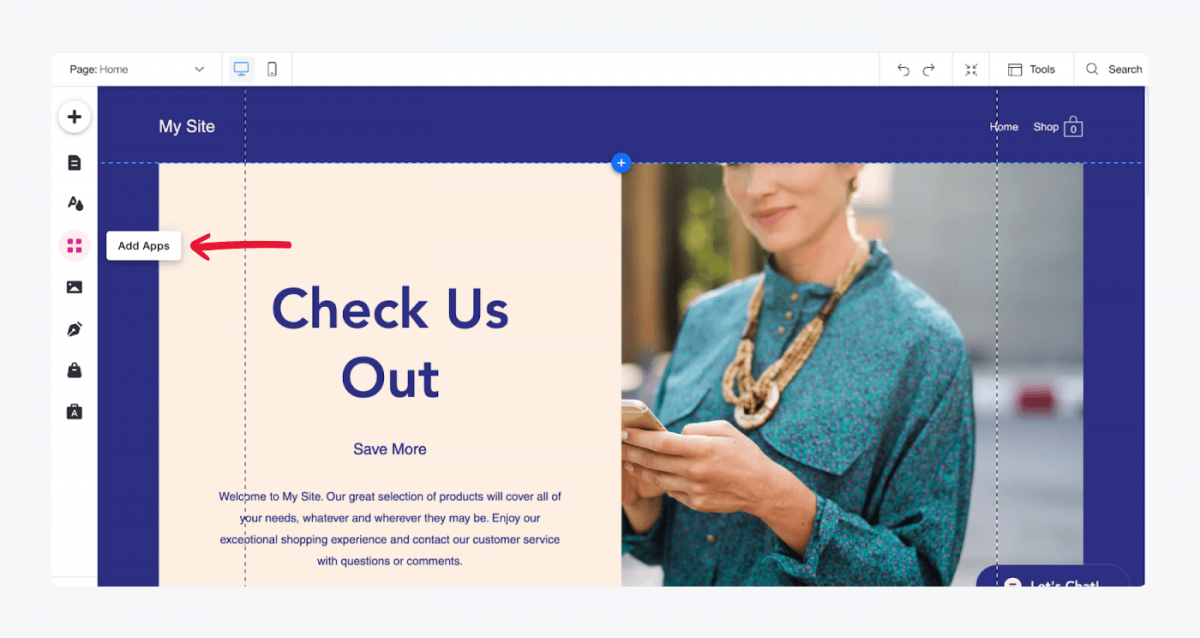 3. Search for a chat app, e.g., Tidio.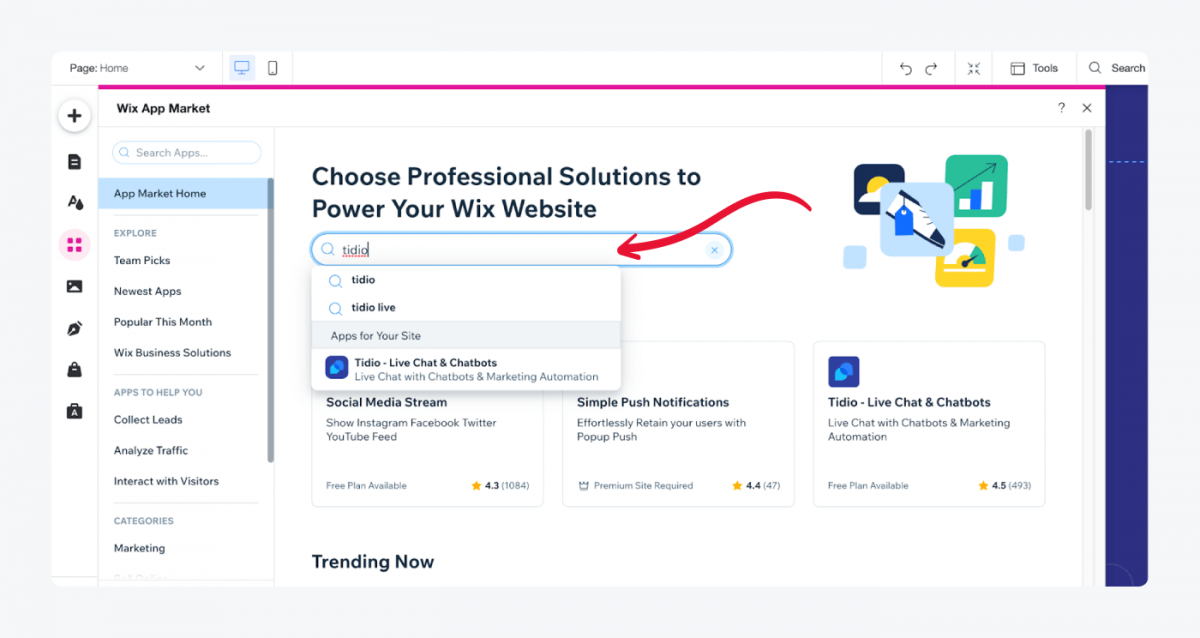 4. Click Add to Site button.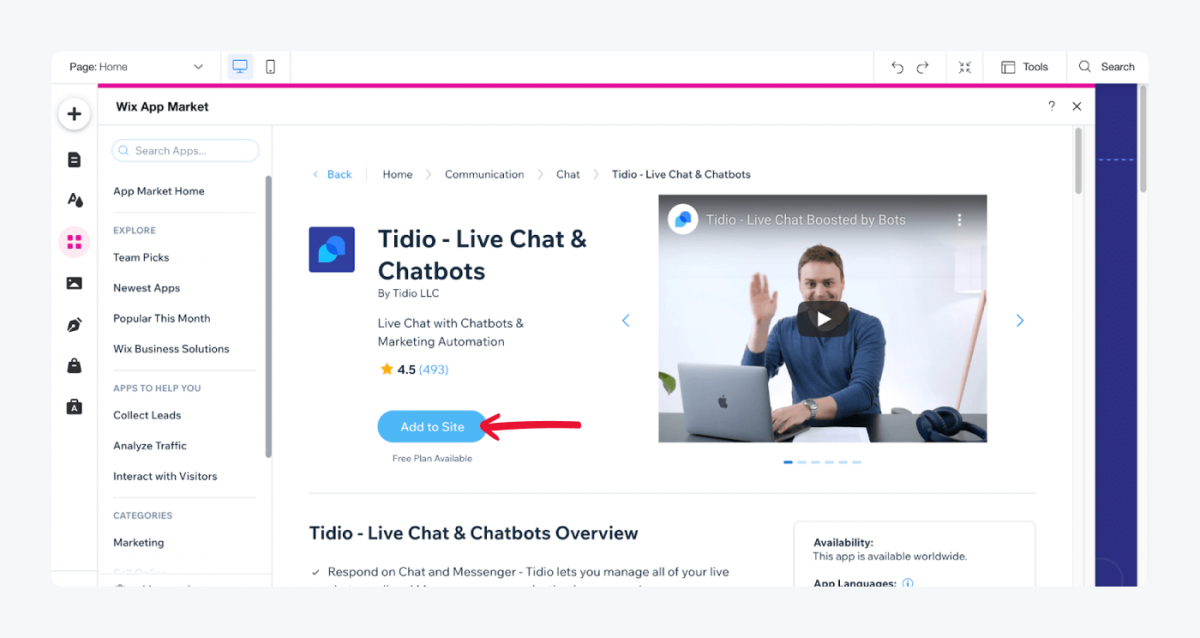 5. Select Add App in the next pop-up window.
6. Click Save Changes.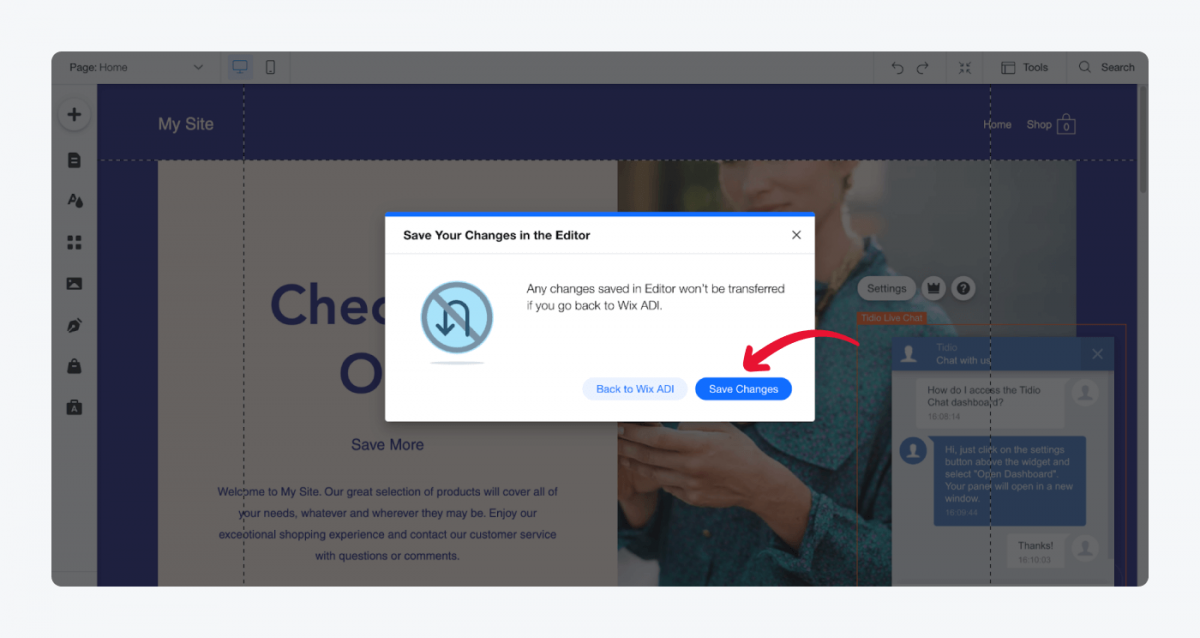 7. The Tidio Chat plugin for Wix will appear in the bottom right corner of your screen.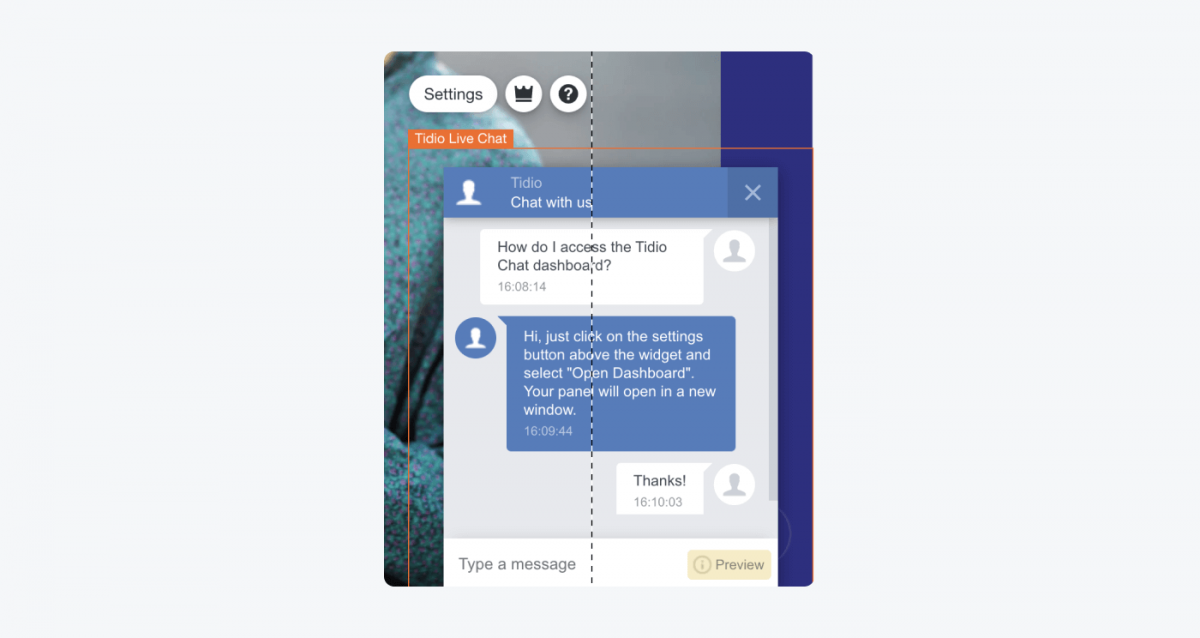 8. You can now customize your Wix live chat widget.
How to customize Tidio live chat app on Wix?
1. Select the Settings button above the app to open the app settings.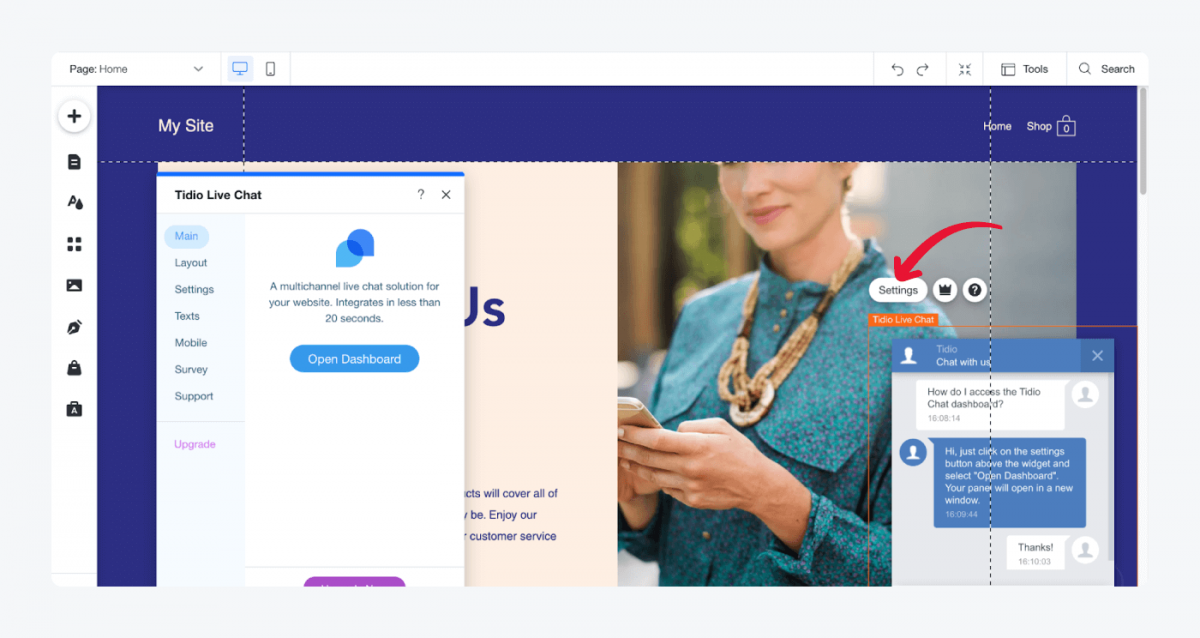 2. Use the menu on the left-hand side to edit your chatbox.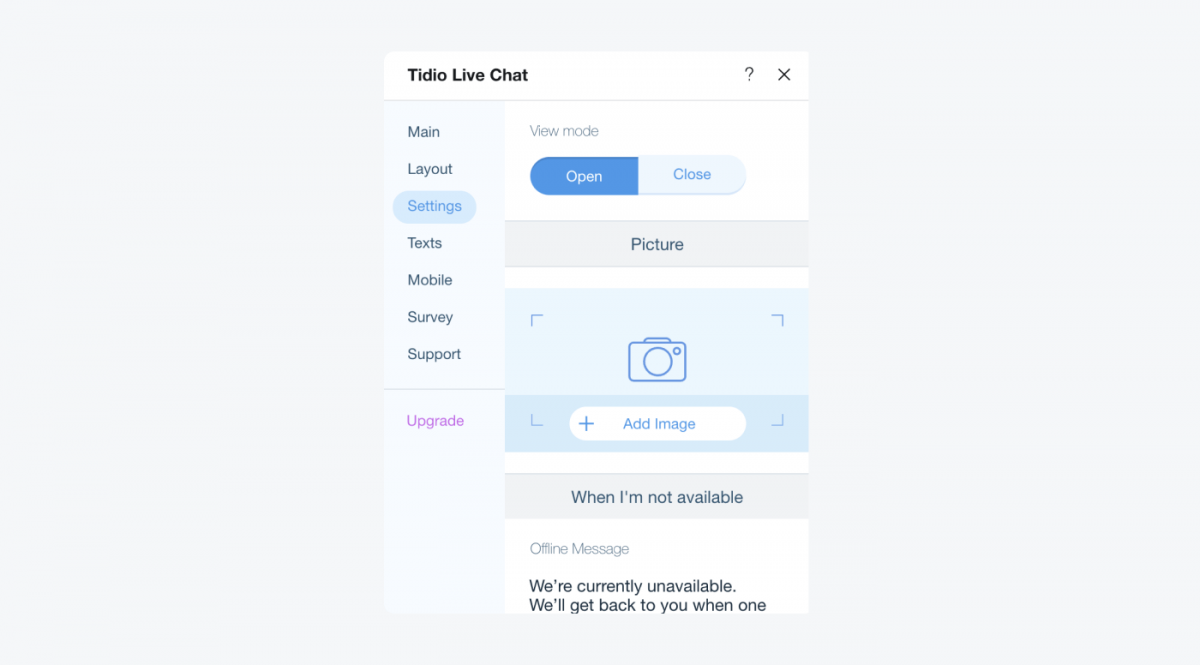 3. Click Open Dashboard to create an account with Tidio.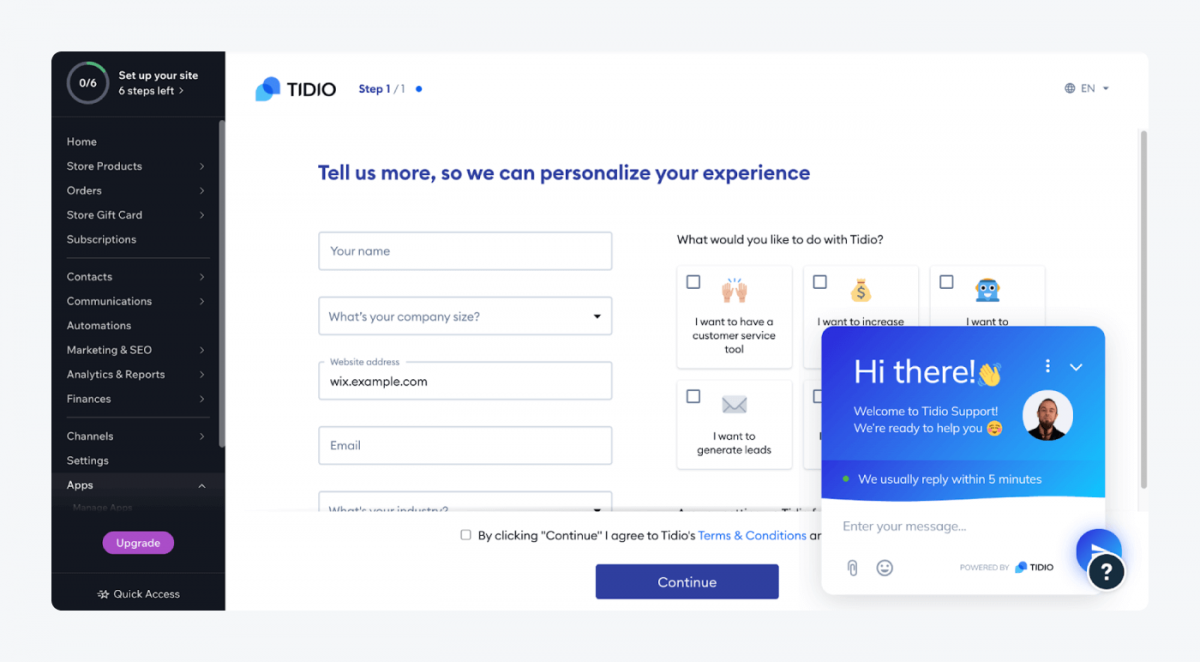 If you have a problem with the installation or need help troubleshooting Tidio chat, you can reach out to Tidio's amazing customer support team.
How to pick the best live chat provider for Wix?
Take a look at what chat plugins are available for Wix and choose one that seems most suitable for your needs. There are many free live chats for Wix, so you'll definitely find something within your budget.
Then, consider the pros and cons of your options and their functionalities. While some of their features may seem similar, user ratings will fill in all the gaps and help you tell them apart. Software review websites like G2 or Capterra collect opinions from millions of users.
You get a pretty good understanding of how each provider responds to complaints and functionality issues. You can also contact each company's customer support to see if their solution can help you meet your business goals.
Key takeaways
Once more, here's the list of top five Wix live chat options:
And here's a quick recap of everything you need to know when choosing your Wix live chat plugin:
The first-party free Wix Chat plugin is available but has limited functionality
You can discover third-party chat integrations, many of which are free or low cost
The installation process is usually easy and takes a couple of minutes
You can then customize the chat box appearance and choose where to place it on your live site
Some of the live chat apps for Wix are better suited for scaling your business; for example, Tidio offers a chatbot extension to automate customer service
When you choose your provider, remember to read user reviews and chat with customer support to make sure the chat app fits your bill
Are you ready to hear from your customers in real-time?