The WhatsApp messenger app has over two billion users.
And there's a big chance your customers are using it too.
So, why not utilize that for your business advantage and start connecting with your customers through the platform they're already using?
WhatsApp automation can help you cut costs, decrease first-time response rates, and improve customer satisfaction. And it's easy to use so you won't need any extra staff to handle it.
So, let's get into it.
In this article:
If you're interested in chatbot integrations with other platforms, check out these articles:
Here's the biggest question—
Can you automate WhatsApp messages?
Yes, you can. But first, let's find out what these automations are.
What is WhatsApp automation?
WhatsApp automation refers to the process of using software to automate messages and communication with clients. This helps businesses handle repetitive tasks, manage customer queries, and deliver quick and personalized responses on autopilot. WhatsApp automation saves business resources, improves response time, and boosts customer satisfaction.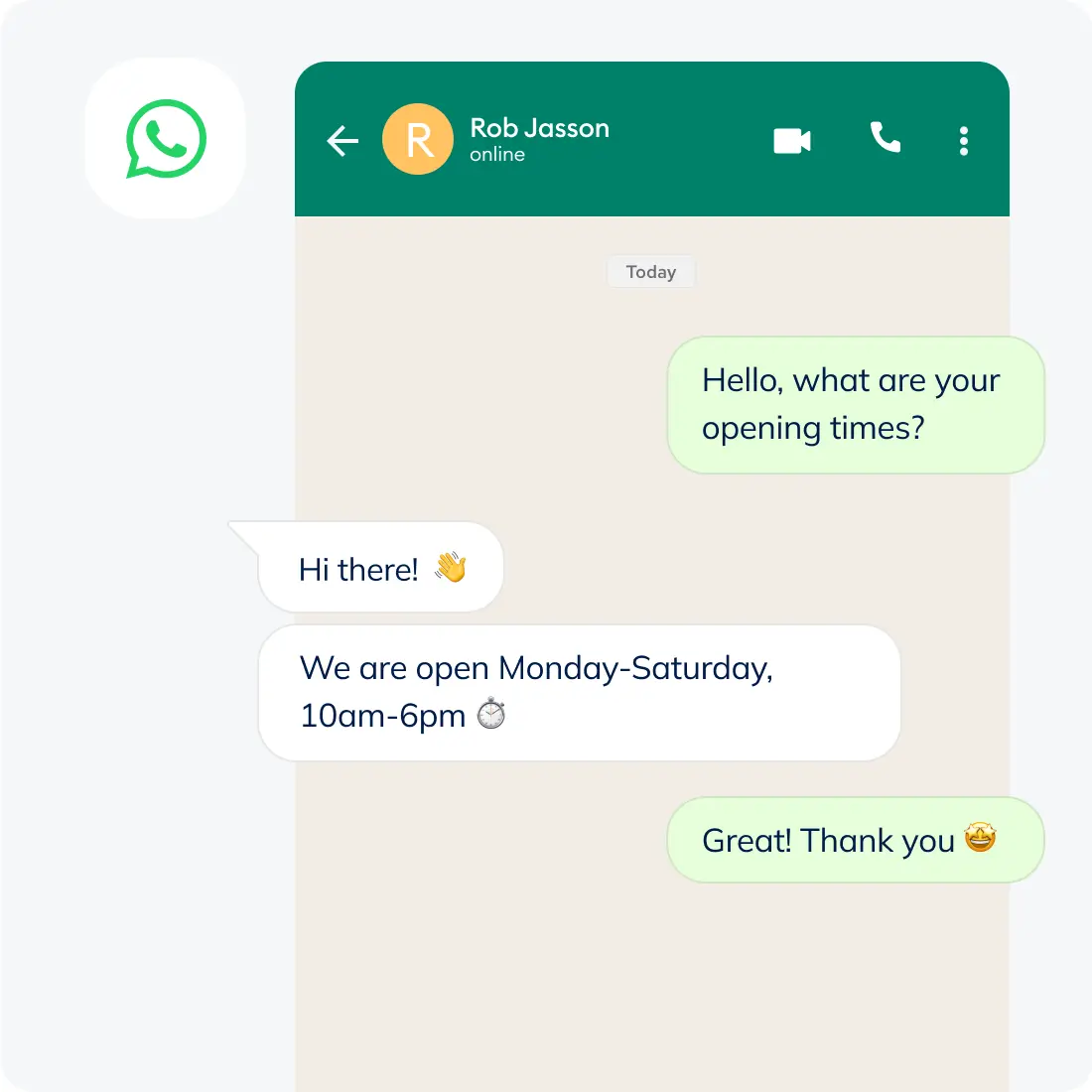 As a powerful communication channel, WhatsApp enables businesses to engage with clients more efficiently. This will ultimately enhance customer satisfaction and loyalty which in turn can translate into increased revenue. By automating various aspects of customer engagement and marketing processes, you can also save time, increase productivity, and provide a seamless and consistent user experience.
Let's take a closer look at how WhatsApp automation can benefit your business.
Benefits of WhatsApp automation
WhatsApp automation offers numerous benefits for businesses. It helps businesses streamline their sales process, enhance customer experiences, and achieve their marketing goals efficiently.
So, let's look at the four biggest benefits of WhatsApp for business automation: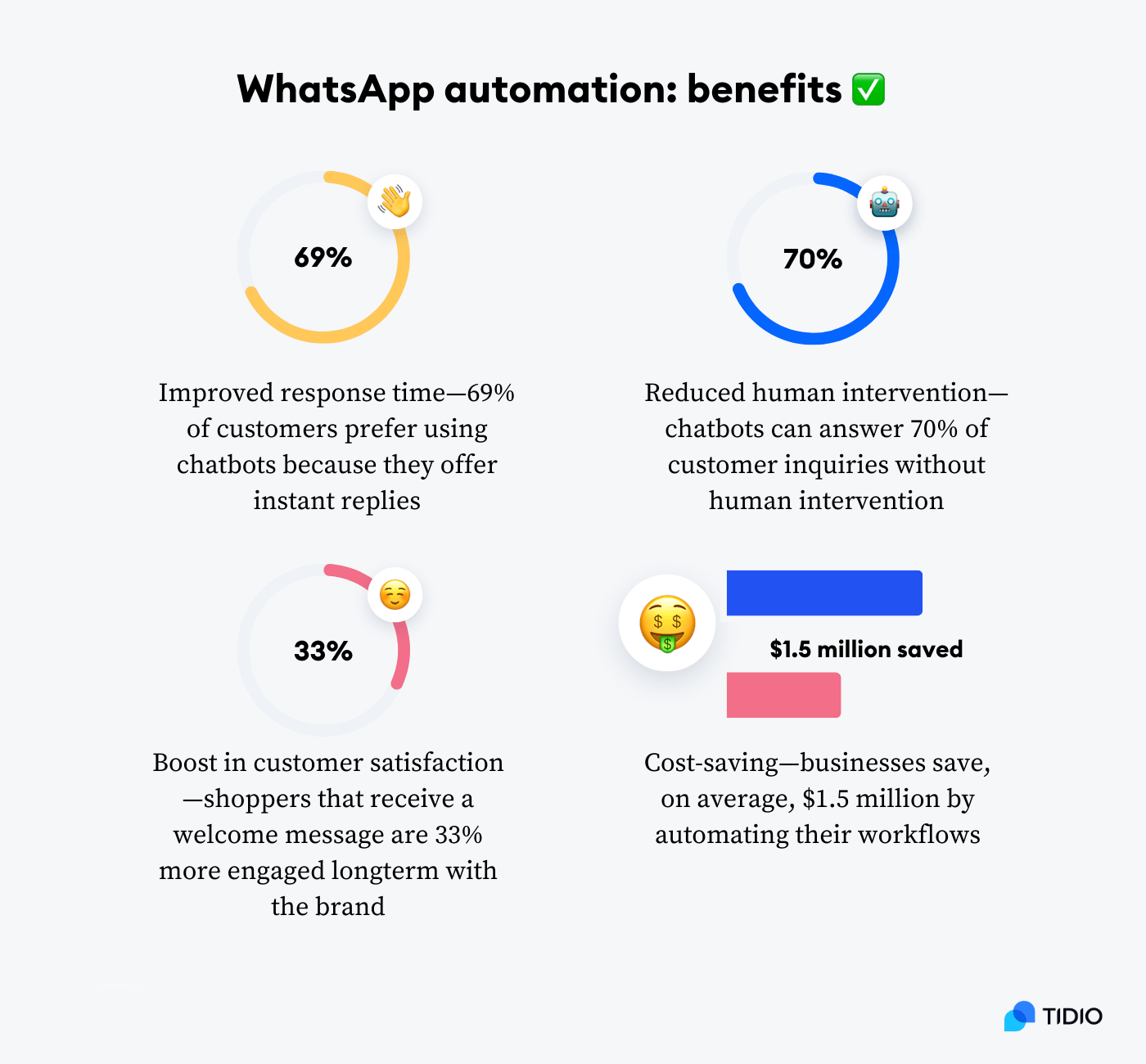 Improved response time
Providing quick and efficient responses to customer queries is essential. In fact, over 32% of people contacting a business expect a reply within 30 minutes. And about 69% of customers prefer using chatbots when interacting with a brand because of the instant responses provided.
By implementing WhatsApp automation, businesses can offer instant check-out options, delivery updates, appointment reminders, product details, and more. Moreover, you can use pre-set replies, message templates, and custom message flows to stay consistent when communicating with visitors.
Reduced human intervention and effort
WhatsApp automation significantly reduces representatives' effort in interactions with clients. WhatsApp automatic messages free up valuable time for your staff, allowing them to focus on more complex tasks.
In fact, our case study shows that chatbots can handle 70% of customer inquiries automatically. Moreover, research found that when employees use automations, they produce up to 40% higher quality results while completing tasks about 25% faster.
Reducing human effort through automation also improves the efficiency and productivity of the business. Automated responses can be provided instantly, 24/7, ensuring quick and consistent customer service. This reduces the chances of human error and improves the overall client communication.
Increased customer satisfaction
Did you know that a study found that people who receive a greeting message are about 33% more engaged with the brand in the long term? Acknowledging visitors and making the visitors feel welcome goes a long way.
And this is one of the key advantages of automated WhatsApp messages is the ability to instantly acknowledge and address customer inquiries, ensuring that no query goes unanswered. This real-time engagement helps build trust and enhances the overall customer experience.
Cost savings
A survey by UiPath found that businesses can save $1.5 million per year on average by automating processes.
In fact, with the help of WhatsApp automation software, businesses can reduce manual labor, eliminate the need for physical infrastructure, and optimize resource use. Furthermore, automation software allows you to handle a higher volume of messages without the need for additional staff.
Now that you know the benefits of automatic WhatsApp systems, let's look at some of their most popular use cases for inspiration.
Top 6 use cases of WhatsApp automation
Quick replies, opt-in messages, and automatic reminders are some of the most popular use cases when automating your WhatsApp Business app. Here are six more examples:
WhatsApp greeting messages
When automating WhatsApp messages, you can send welcome messages to the visitors who have provided you with their number, without the agent's interference. These simply serve the purpose of greeting customers, making them feel welcomed, and creating a real connection with them.
You can include essential information in these messages, as well as links and even discount codes for new clients. Just make sure your text is genuine, matches the brand voice, and feels friendly.
Here's an example of this message from Fresh & Hearty: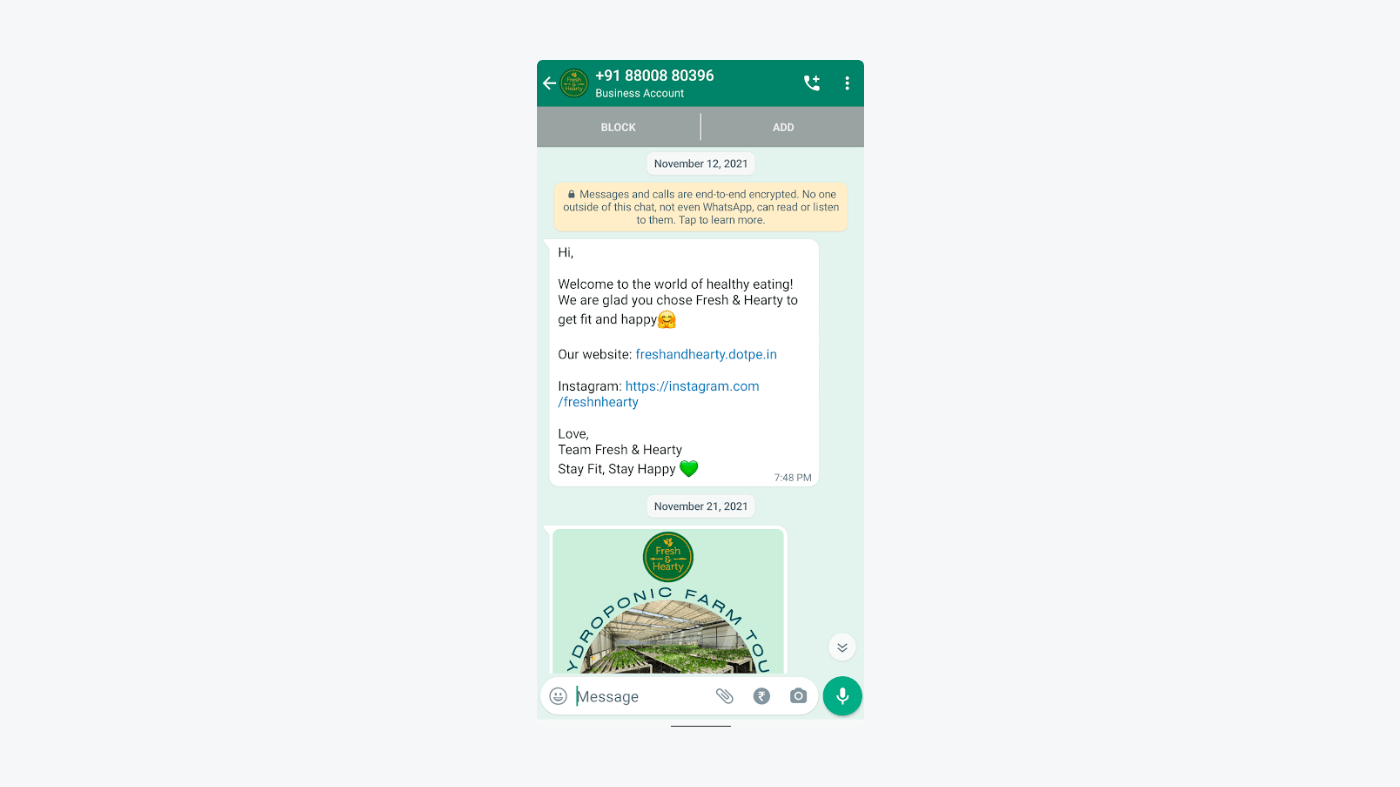 WhatsApp marketing automation
How about sending your promotions, deals, bestsellers, and new releases straight to your customers' phones?
Think about it. We use our phones for hours every day and when we get a notification, there's an urge to see what it's about. So, it's much easier to get shoppers to check out your marketing material when it's sent to their WhatsApp.
Here's how Deyga Organics uses WhatsApp automated messages to spread the word about their discount: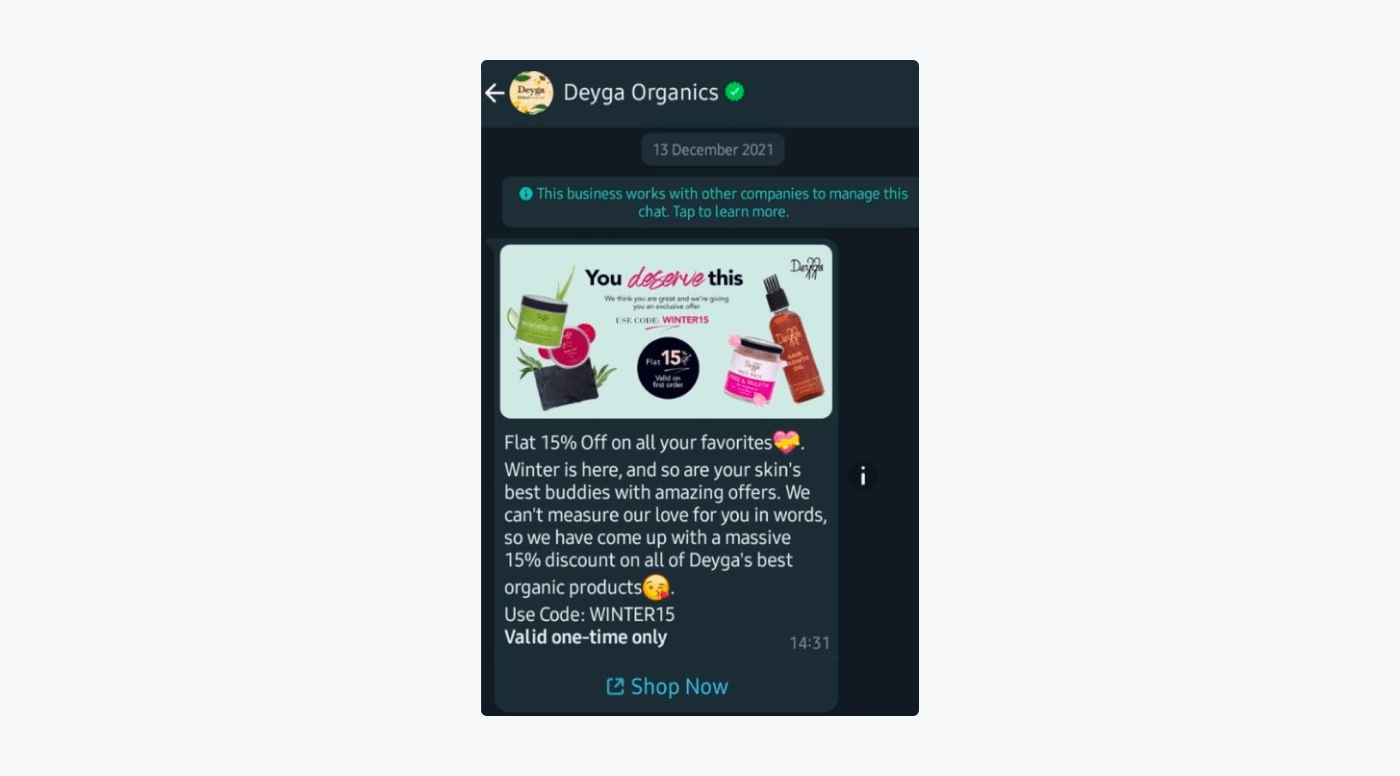 Instant checkouts
WhatsApp automation for checkout is becoming popular in an increasing amount of countries. It's convenient, fast, and easy for the users while boosting the revenue of the businesses. So, no wonder both sides like it.
Here's how it looks: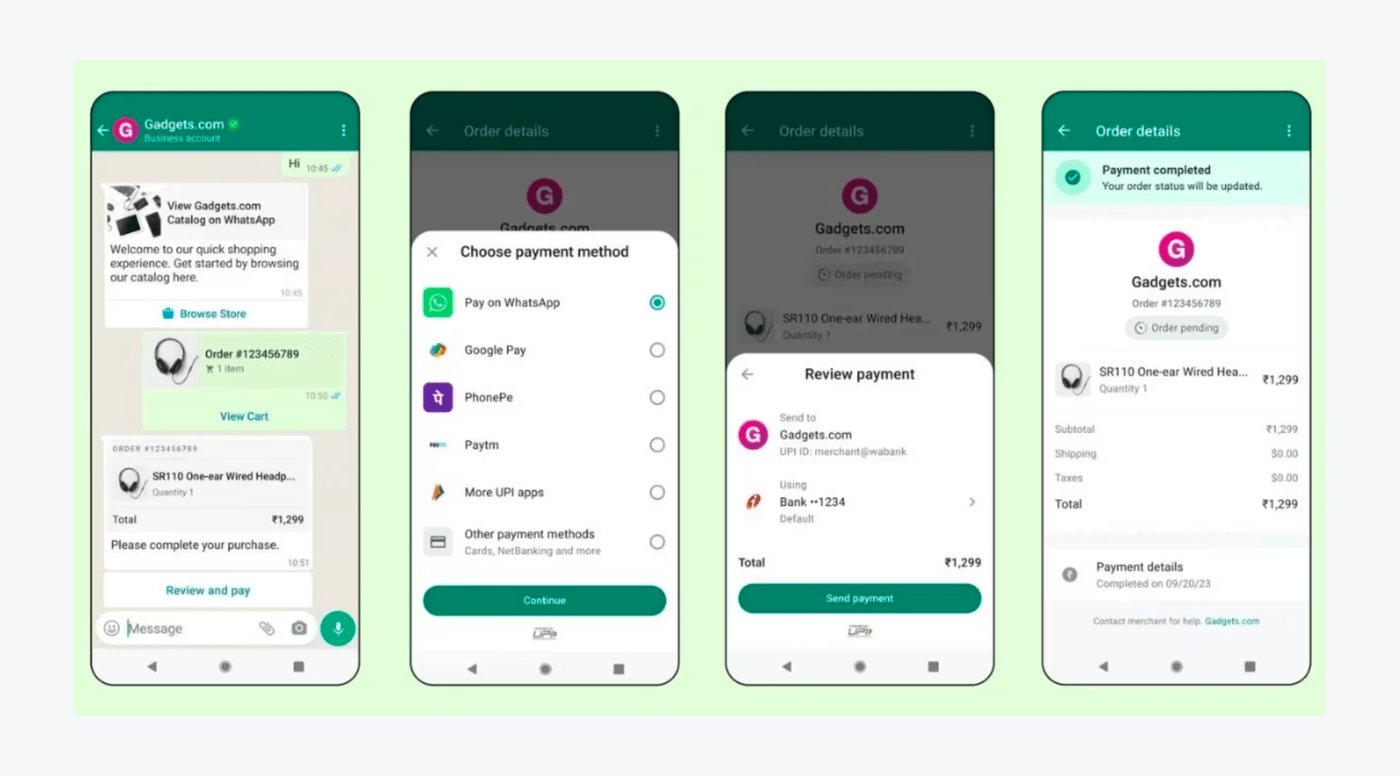 Appointment reminders
Send your clients a reminder about their appointment a day before, so they can remember about it or reschedule if they can't make it anymore. This way, you'll lower the number of people who didn't show up for an appointment and improve the experience of your clients.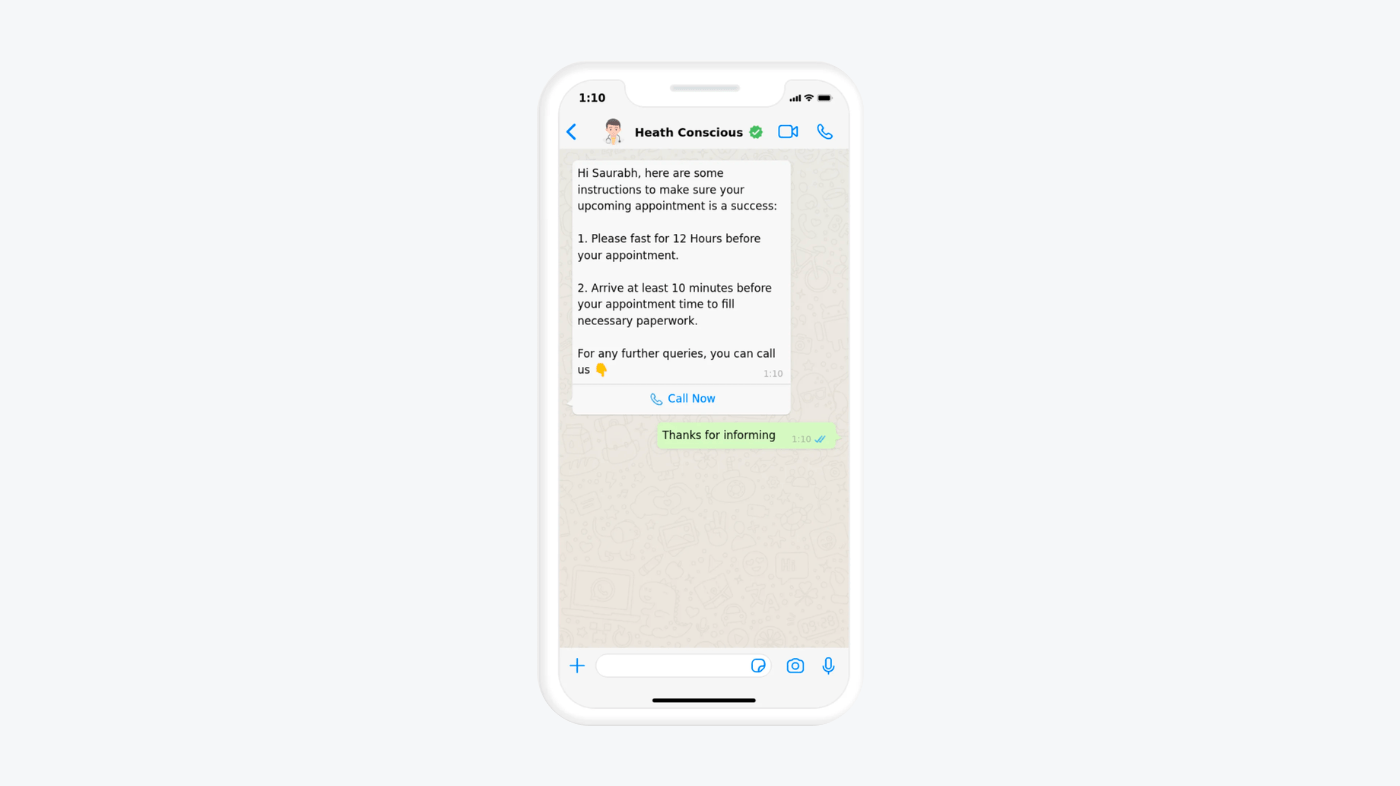 Meeting scheduling
You can let customers schedule their appointments straight through the automated message. WhatsApp automation is easy to use, so your clients will have no problems with setting up a booking with your business for a demo, a haircut, or a house consultation.
This can help you increase the number of your bookings, boost conversion rates, and ensure that everything is organized well.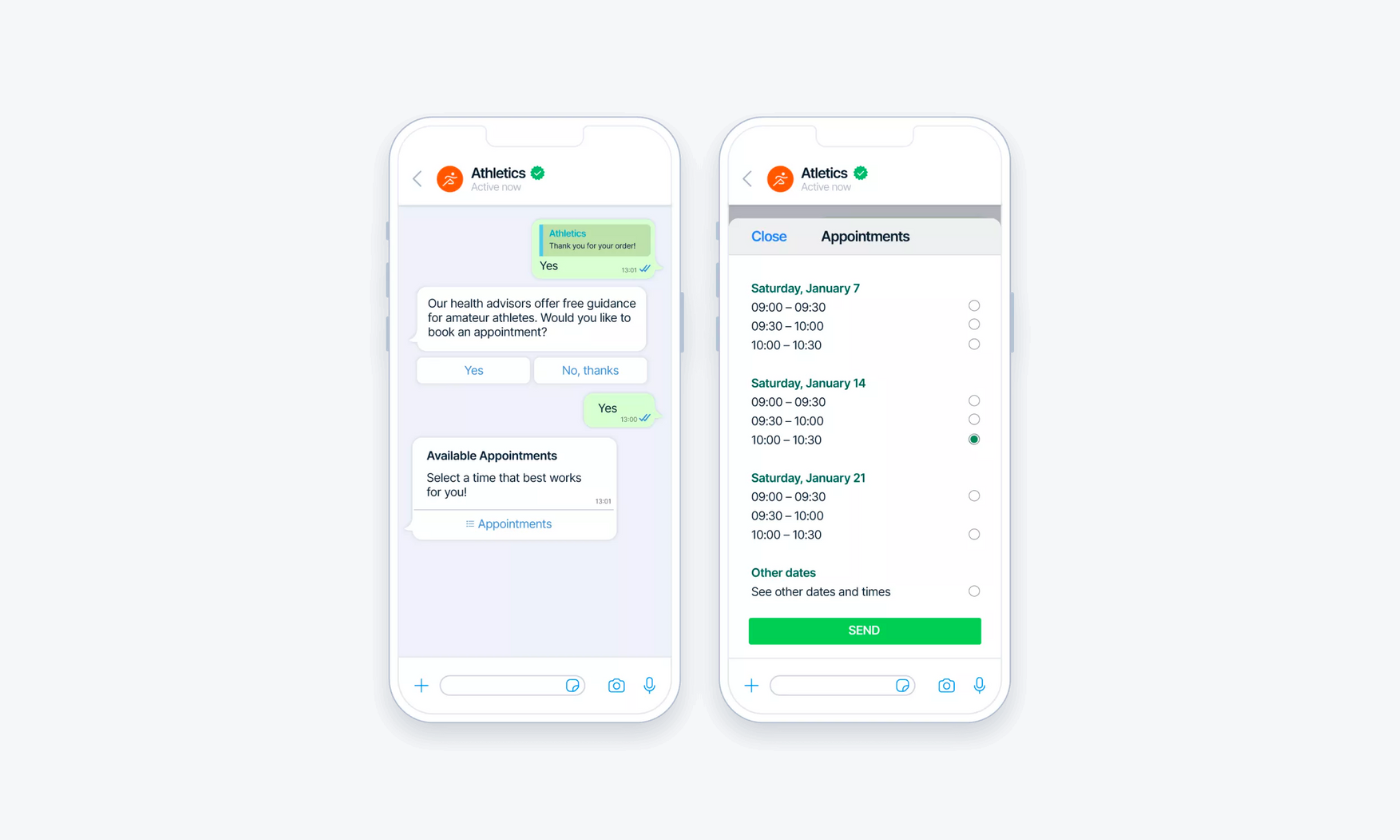 Support questions responder
Automated WhatsApp messages for business are very often used to handle commonly asked questions. This helps companies become more efficient at answering customer queries and delegate tasks of higher importance to human agents. Plus, it improves client engagement with your brand.
"By automating our WhatsApp communication, we are able to promptly respond to customer queries and provide personalized assistance, resulting in improved customer satisfaction and loyalty."
Check out how Freedom mobile uses these WhatsApp automatic messages: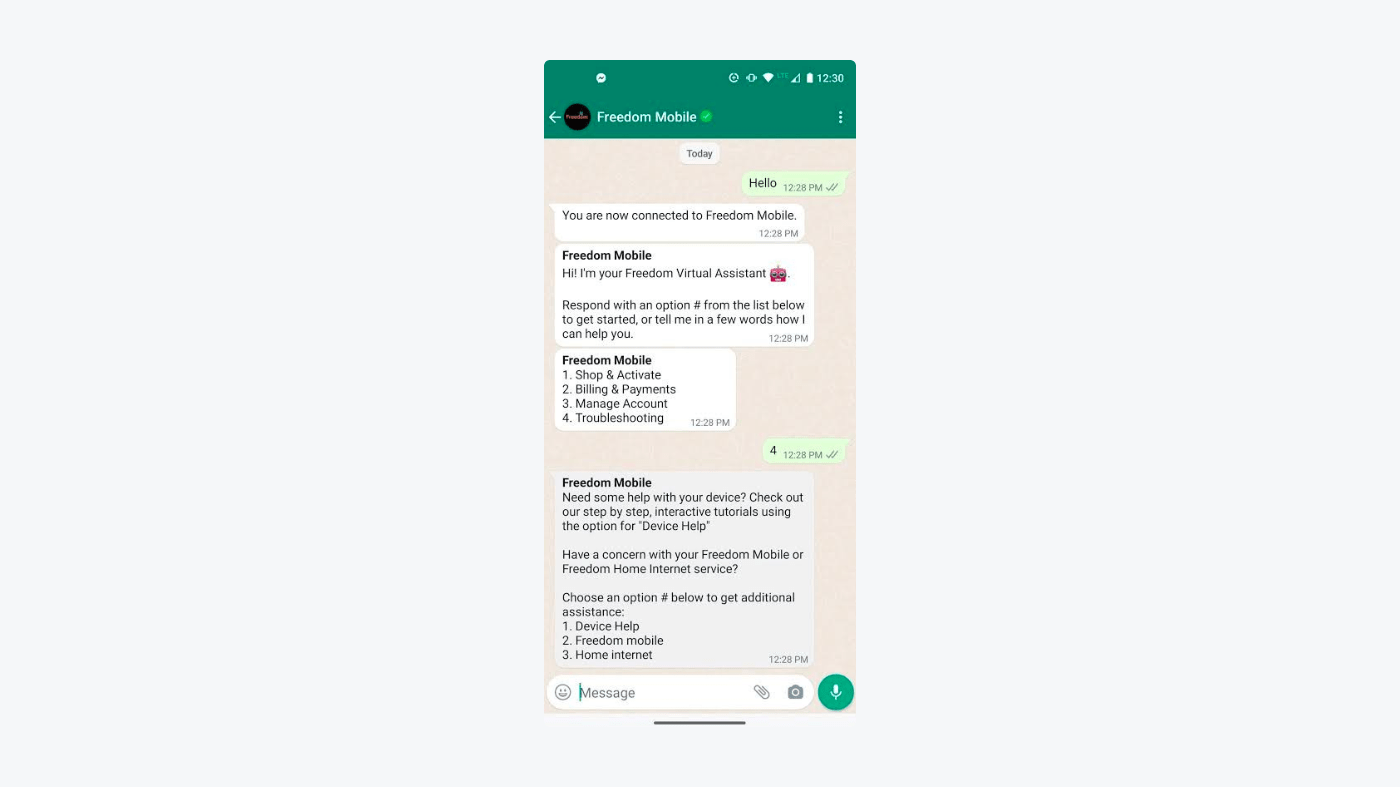 Okay—
But how to make this automatic WhatsApp messaging?
Let's find out.
How to create WhatsApp automation?
To automate WhatsApp for your small or larger ecommerce business, you should pick a tool that matches your needs. We'll use Tidio for this tutorial as it's straightforward and simple to use.
Just make sure to open a WhatsApp Business account before proceeding with the steps as this is one of the requirements for the setup of WhatsApp Business automation.
Set up a WhatsApp away message
You can set up your away message in 4 simple steps:
Go to your Settings
Click on the Appearance window and choose Widget Visibility
Customize the Offline Status and Offline Message
Click Save
That's it! Your offline WhatsApp automatic reply will be sent to anyone trying to contact you outside of your working hours.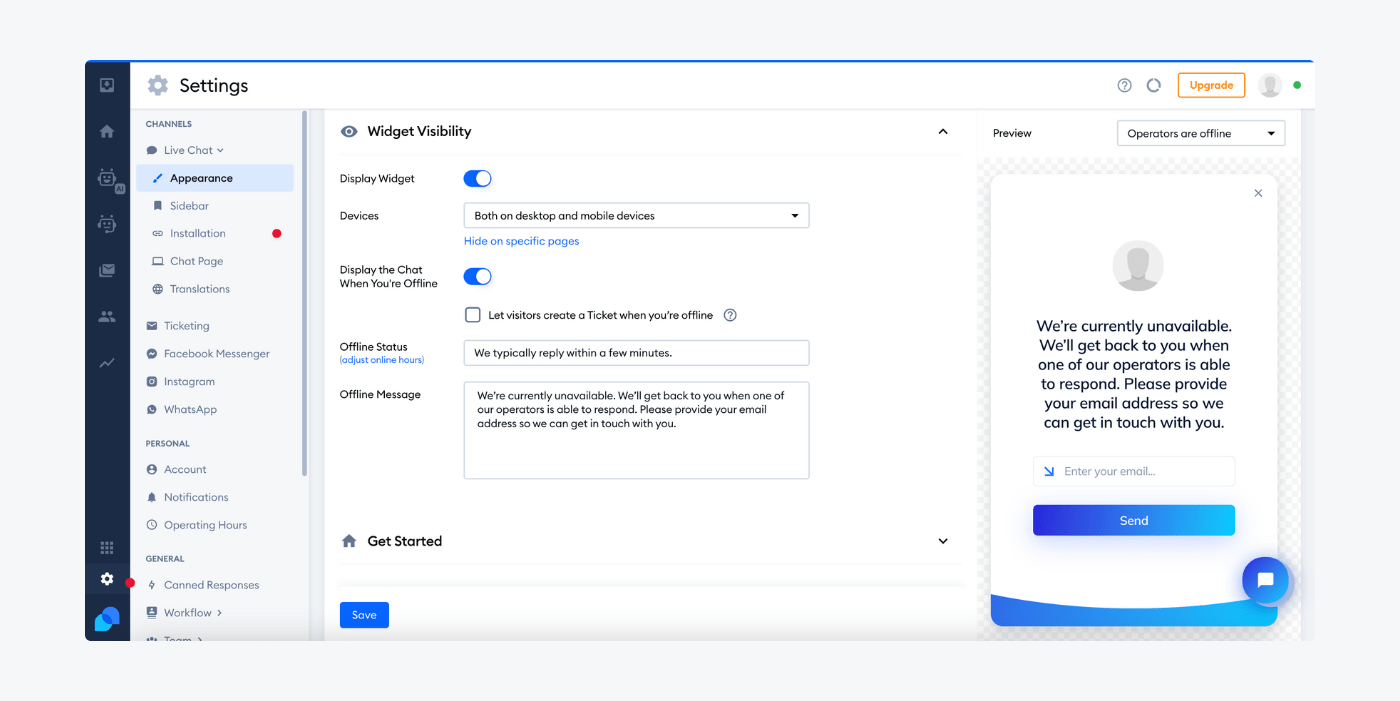 Automate WhatsApp marketing
You can show your customers your new deals or give them a discount code through an automated WhatsApp message. Here's how to set it up:
Go to the AI Responder template
Customize the Visitor Says trigger to recognize the client's query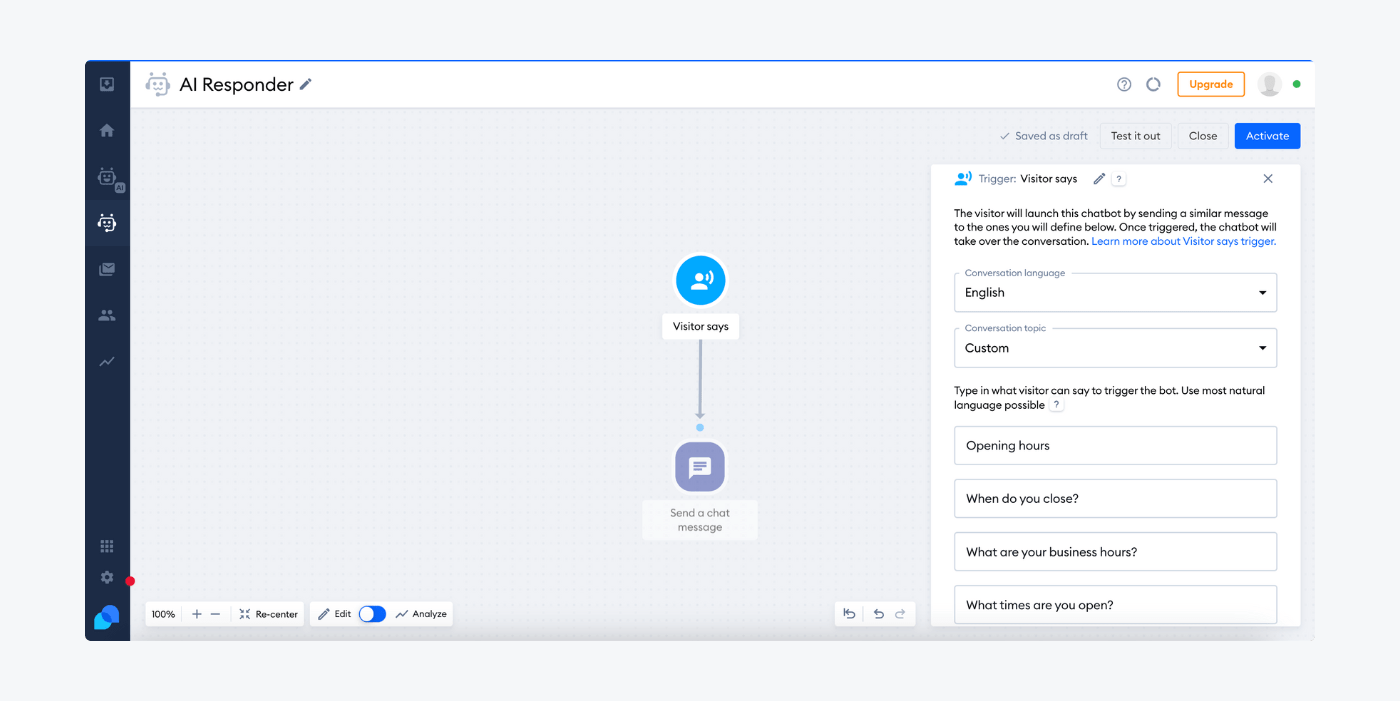 Edit the response to match your marketing goals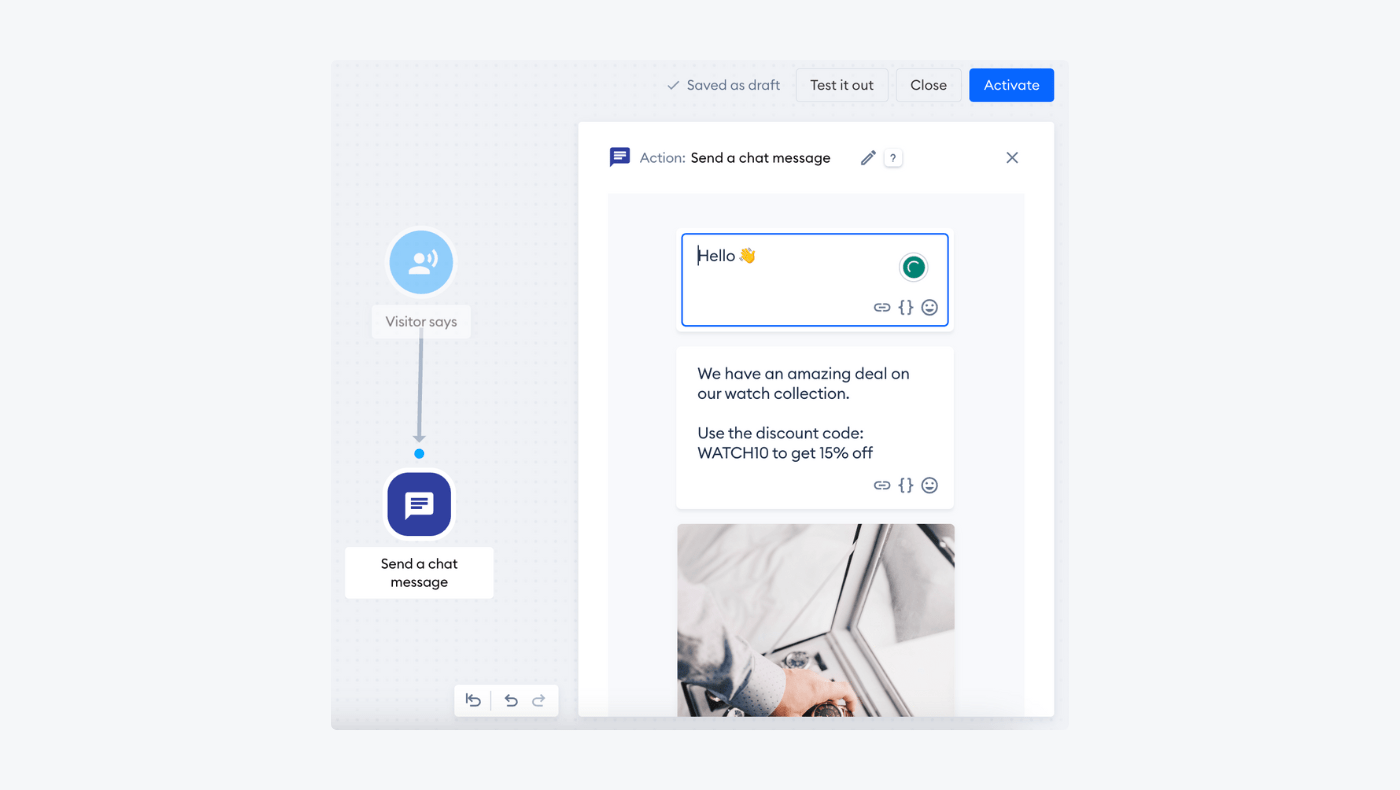 We went with a discount code, but you can also show the customer your new releases, best-selling products, and more.
Create WhatsApp automated response
Auto-replies are mostly used for customer support-related questions and FAQs. So, let's check how to send automated WhatsApp messages to answer these queries.
For this one, we'll use the AI Responder template again.
Edit the Visitor Says trigger with questions related to a specific user intent
For example, if you want to answer questions about your shipping policy, write down example queries related to it.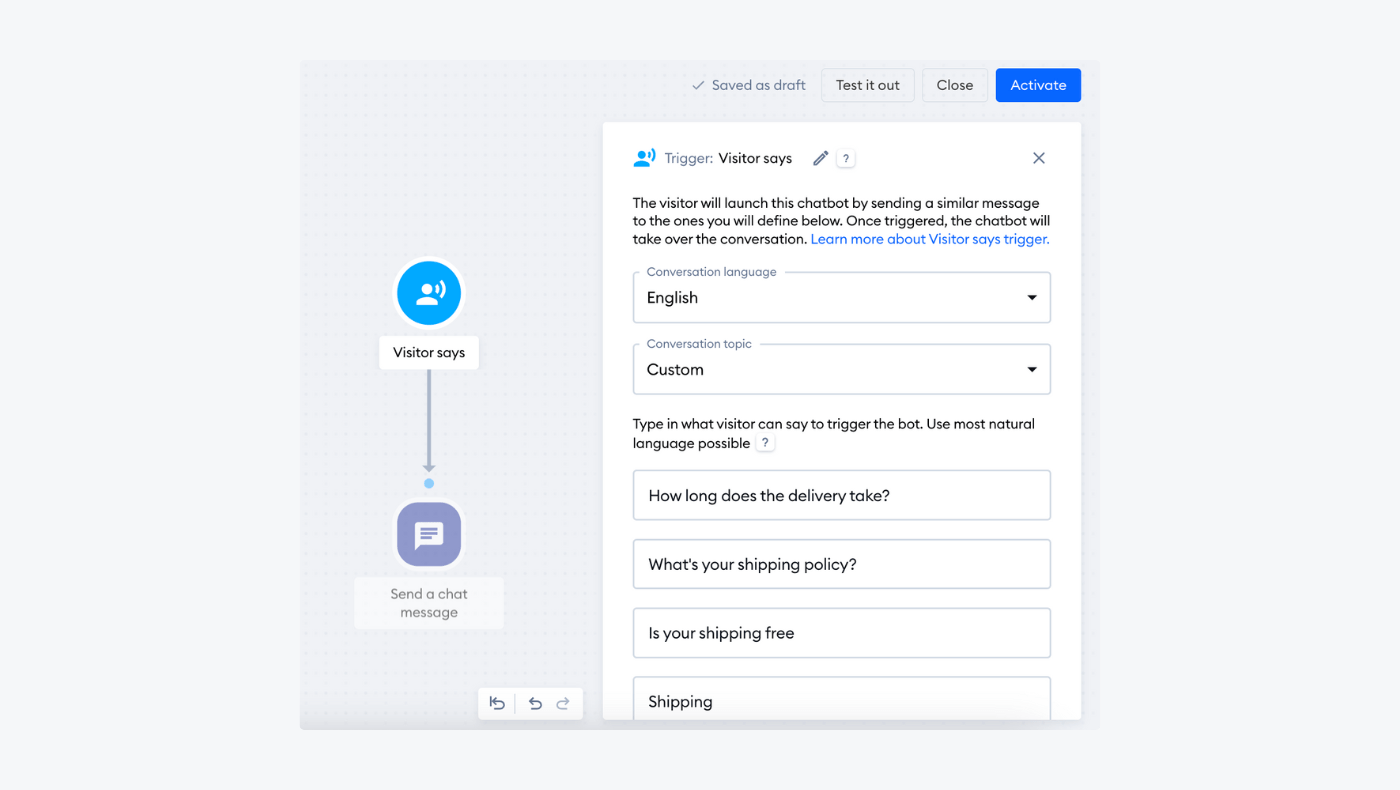 And remember that one chatbot = one intent. So, if you want to answer a question about your pricing as well, then you need to create another chatbot.
Customize the response text
Answer the question as precisely as possible and ensure the text is in accordance with your brand voice. Let's answer the shipping question as an example.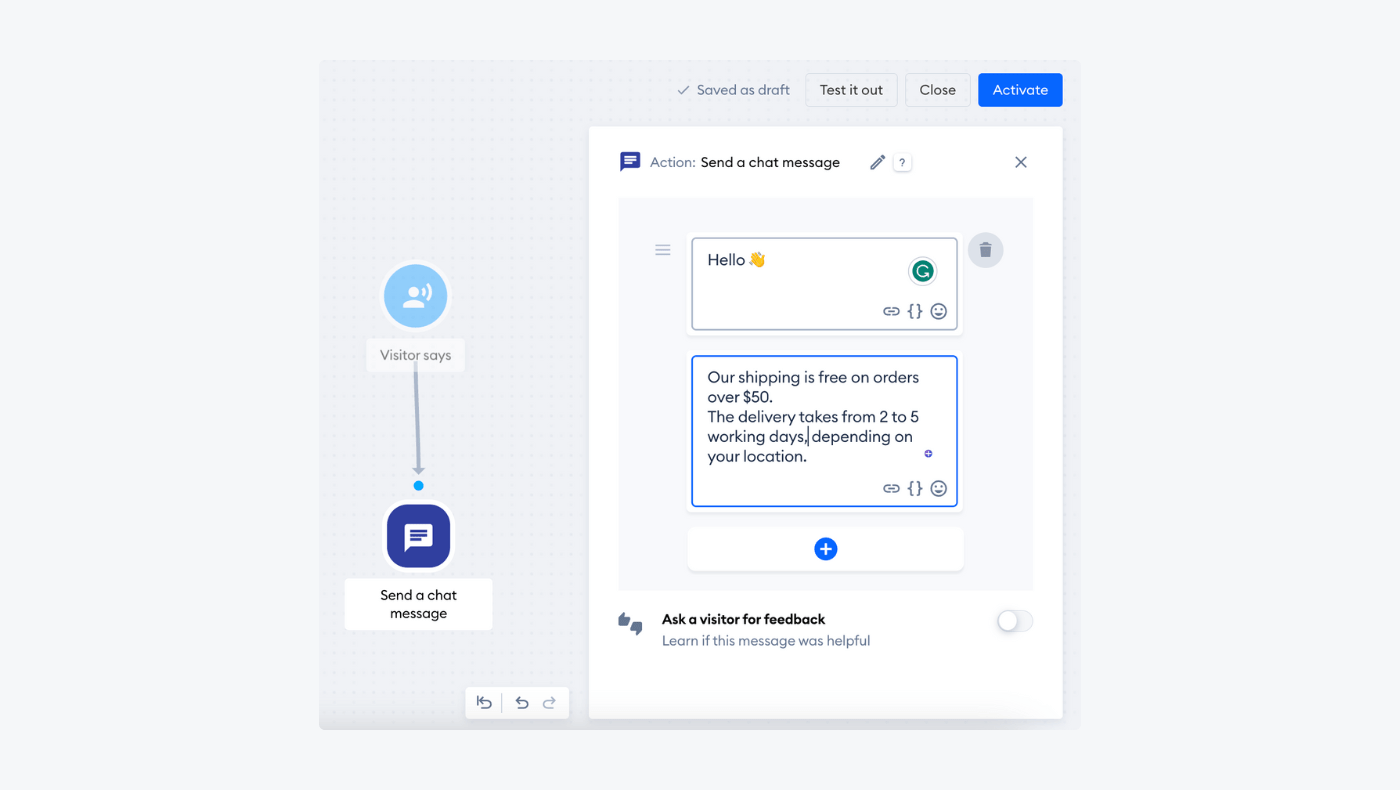 Read more: Check out how to integrate WhatsApp with Tidio and use bots on the app.
Now—
What are the top WhatsApp automation software that you can use for your business? Let's check them out.
Best WhatsApp automation tools
These tools can help you with WhatsApp marketing, business communication, follow-ups, and onboarding of new customers. You can also use WhatsApp automation to help your representatives push clients further down the sales funnel.
But to do all that, you need good software that matches your business needs. Here are our top three choices:
Let's check out each of these tools one by one.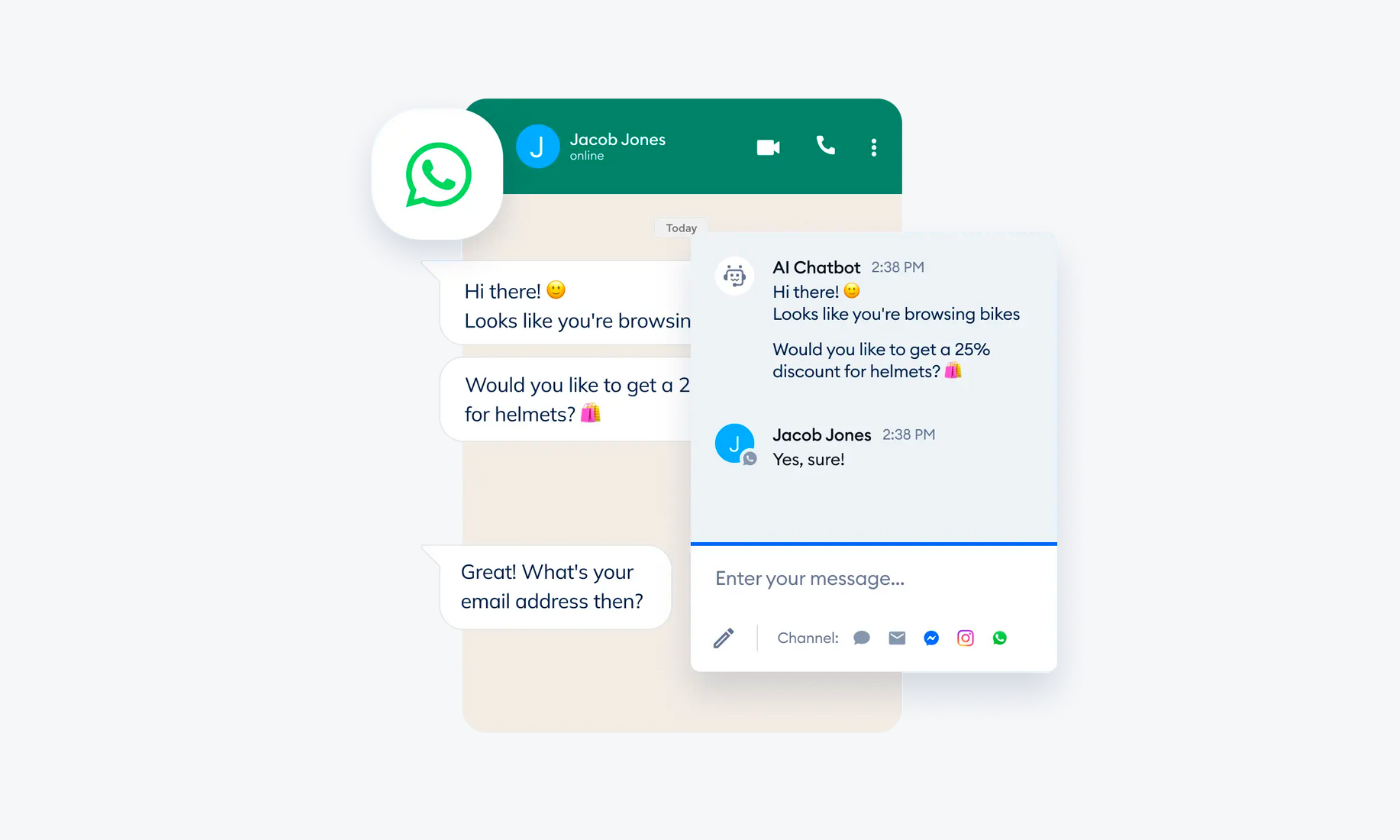 Ratings: 4.7/5 ⭐️ (1,410+ reviews)
Tidio is a customer experience platform that you can use on your website, WhatsApp, and other communication platforms. It offers a no-code chatbot builder with live chat software and an email marketing system integrated into one platform. You can customize your WhatsApp automation bot, send pre-chat surveys, gather customers' information, and much more.
But we'll quit talking about ourselves and let the reviews speak for themselves. You can also check out our tool free of charge to see if it works for you.
Main features:
Free version available
Starter (29/mo)
Communicator ($25/mo/seat)
Chatbots (Starting from 29/mo)
Bundled solution (Starting from $54/mo)
Tidio+ (Starting from $394/mo)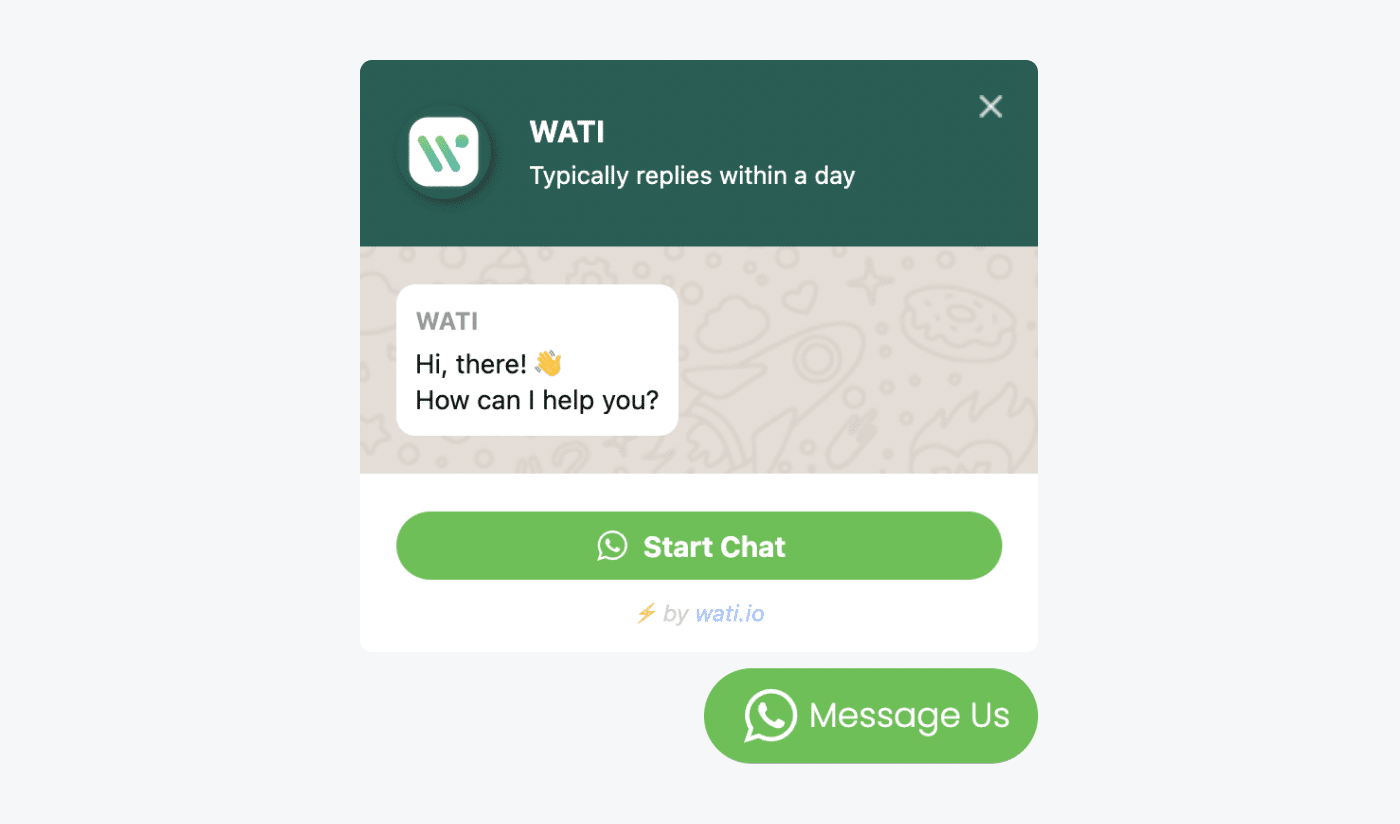 Ratings: 4.6/5 ⭐️ (200+ reviews)
This is an official partner of WhatsApp Business APIs which ensures the integration is seamless for all users. WATI helps you monitor the performance of your representatives and keep all of the customer communication on a single platform.
It provides a simple interface for a good user experience as well as a setup of availability hours, so your customers know when you're online. You can also use this WhatsApp automation tool to streamline some of your team's workflows with the help of AI.
Main features:
Official integration with WhatsApp Business API
Variety of integrations including Google Sheets, Shopify, and Zapier
One shared inbox for all customer messages
Notification preference set up for each agent
Performance monitoring available
7-day free trial
Growth ($49/mo/5 users)
Pro ($99/mo/5 users)
Business ($299/mo/5 users)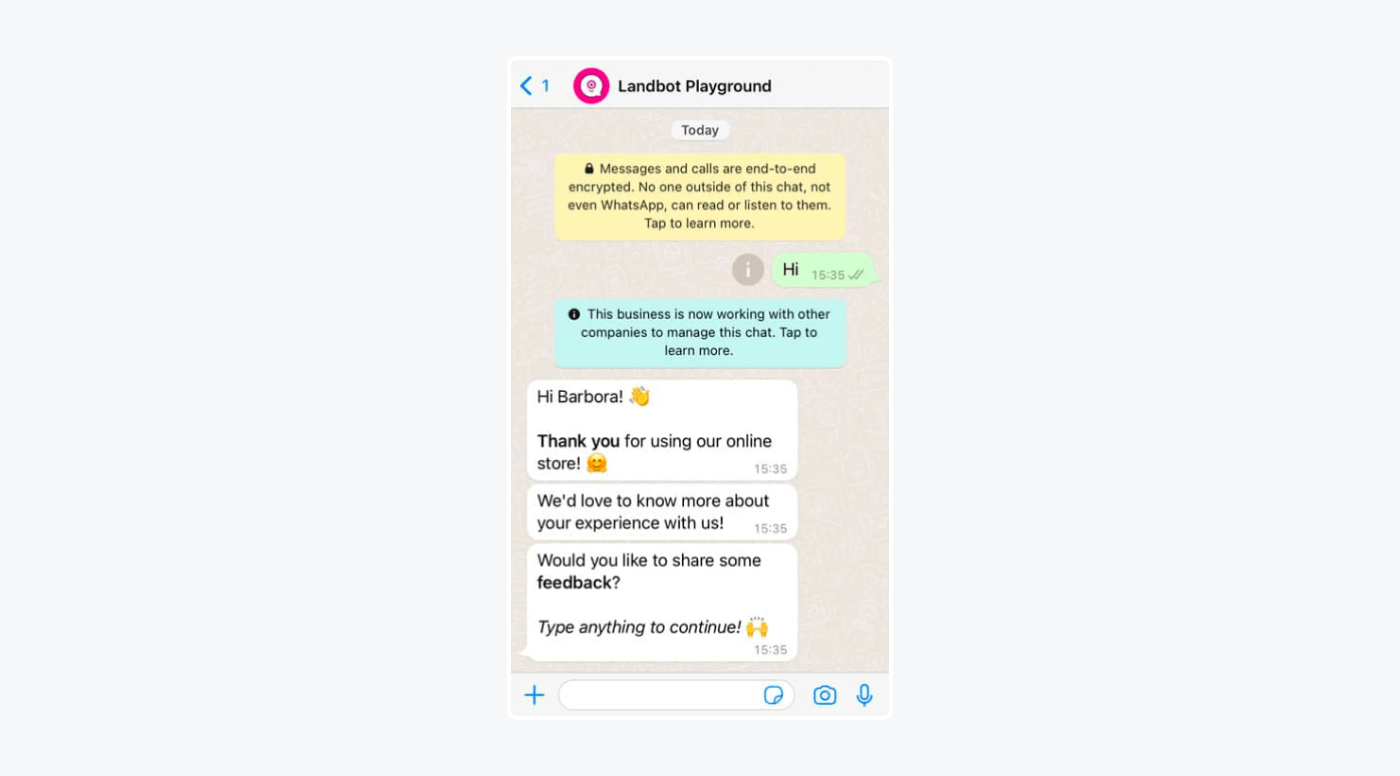 Ratings: 4.7/5 ⭐️ (280+ reviews)
This WhatsApp automation for business software is great for creating conversational landing pages and promoting your products or services. It helps you engage with clients using a variety of bots. There's a library of chatbot designs for easier setup and the ability to create your own from scratch if that's what you prefer. You can customize the WhatsApp chatbots to your brand's style and connect them to a number of platforms like Slack, HubSpot CRM, and more.
Main features:
Variety of chatbot types
Automation features for WhatsApp
Chat landing pages available
Analytics and reporting dashboards
Marketing campaign manager
Sandbox free version
Starter ($40/mo)
Pro ($200/mo)
Business (Starting from $400/mo)
WhatsApp automation: summary
WhatsApp Business automated messages help businesses improve response times, decrease the effort of their representatives, boost customer satisfaction, and cut costs. Overall, it makes the client communication processes more efficient.
Some of the real-life examples of WhatsApp automation are:
Welcome message
Marketing automation
Instant checkouts
Appointment reminders
Meeting scheduling
Support questions responder
To automate WhatsApp messages in your company you'll need an effective tool. The best ones on the market include Tidio, WATI, and Landbot. So, be sure to pick the one that first your needs as soon as today.