Email marketing today is still a force to be reckoned with
Why?
It's the ROI of 3,800%. As of 2020, 3.9 billion consumers use email. We ignore it at our peril, but how do you find the best email marketing software? This article digs into the numbers to see who takes the cake.
It's frustrating to research and compare a dozen email marketing services. It takes hours — if not days — and it's hard to compare features and benefits of one plan over another.
Thankfully, we did the deep research, with road-testing and a survey of over 85,000 online reviews by seasoned marketing pros. The result is a quick path to the best email marketing platforms on record, in black and white.
Want to send beautiful newsletters, email marketing campaigns, and abandoned cart emails? Try our free email marketing software to design your emails, segment your contacts, and track email analytics.
Design & Send Emails Now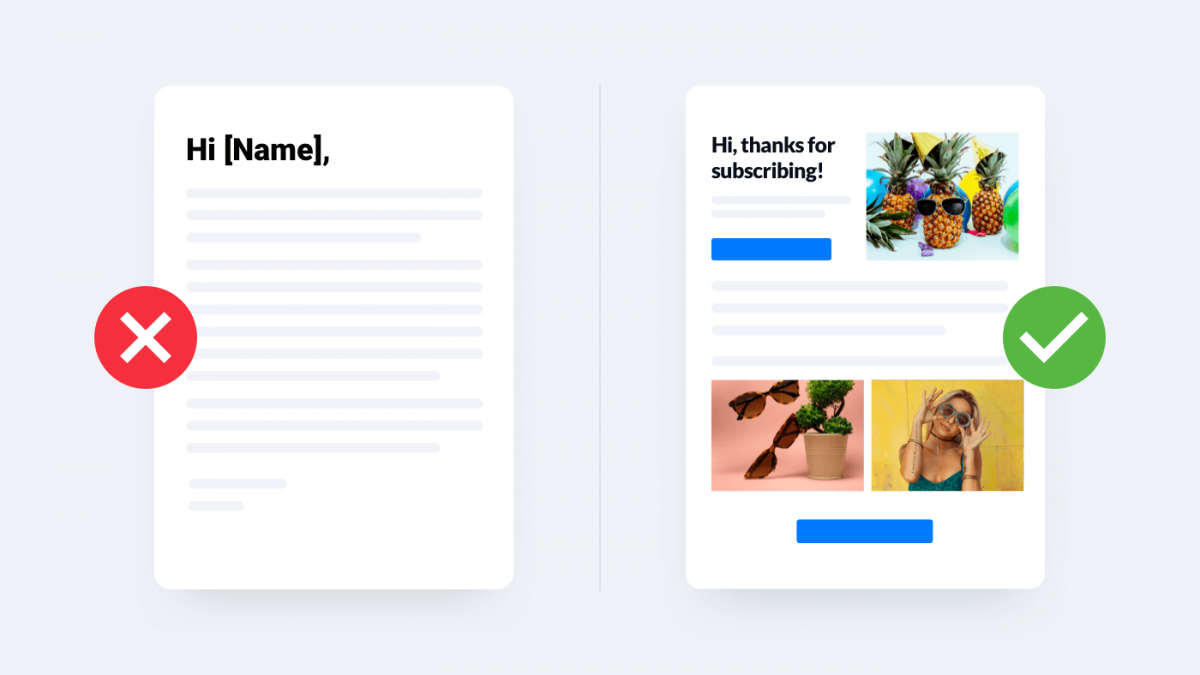 Discover 250+ templates—Design and automate your email campaigns.
One of our users, Kate, had this to say:
I'm not a technical person but I could use my contacts and send a bulk email campaign in no time.
What is email marketing software?
Email marketing software is an app-based platform that automates your email outreach efforts. The best email marketing services are Tidio and Omnisend. But while email outreach generates a staggering 3800% ROI, Tidio's integration of a conversion-boosting chatbot makes it the clear winner.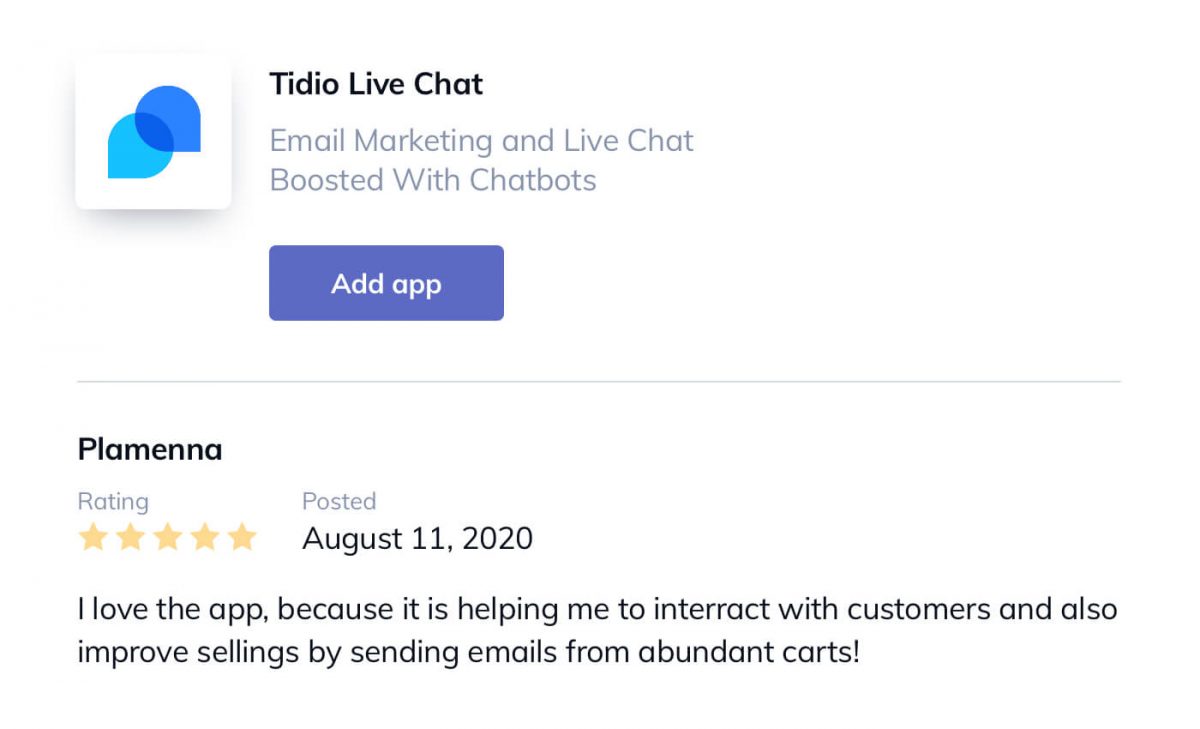 Why use it?
Email marketing platforms make it easy to reach a wider audience, drive revenue, and deliver messages that fit your client's needs. Unlike a website, an email marketing campaign can be all things to all people. The services in this list are low cost, easy to start, and will grow an engaged audience.
What makes a great email marketing service?
Email marketing software should be easy to use and easy to personalize, preferably with a drag-and-drop editor so you don't have to code. It should let you create engaging newsletters and bulk emails without hassle. Your service should also let you segment users, track performance, and dodge the dreaded spam folder.
Unlimited contacts
Email address validation
CAN-SPAM/GDPR compliance
Template library
Visual email builder
Contact segmentation
No daily limits
You'll spend $50 to $250 a month for full-featured plans with most of the services below, but at least one (Tidio) costs only $10 per month and has a free forever plan.
The best news?
There are an awful lot of excellent, popular, and highly-rated email marketing platforms on the web. There are also a lot of awful ones, but — this guide sifts the wheat from the chaff. We used the wisdom of the crowd, plus road-testing, to rank these 10 great apps from best to worst.
Without any more fanfare, let's look at the best email marketing services on offer.
1. Tidio

With 4.7 stars for 2,724 ratings, Tidio is the best of the email marketing software, especially when you add in a free conversion-boosting chatbot. It's super easy to use, with a drag-and-drop editor that makes your email campaigns as fast and simple as that Staples "that was easy" button.
The customer support team is world-class, with super reasonable pricing. (Take special note of the free forever plan.) Send emails to unlimited contacts, and validate email addresses first to avoid annoying bouncebacks.
The free forever chatbot integration is a conversion-boosting super-perk. The average marketing email converts at just 24.79%. Live chat can boost that by 20%, according to the American Marketing Association.
Additional features:
4.7 stars for 2724 ratings
CAN-SPAM/GDPR compliance
Extensive template library
Drag & drop email builder
Contact segmentation
No daily limits
Integrates seamlessly with Tidio chatbot
Free forever plan with 500 emails/mo (full paid plan is just $10)
Chatbot, app, and API integration
Want to put your conversion rate through the roof? Choose email marketing software with an integrated chatbot: How to Make a Chatbot In Less Than 15 Minutes | Free & No Coding
2. Omnisend

Technically, Omnisend should be higher up our list of email marketing services, with the same 4.7-star rating as Tidio, but more ratings overall. But — with no free chatbot added on to take your email campaigns to the next conversion level, we'll call it a draw.
Omnisend is very easy to use, and lets you build shoppable emails with zero coding knowledge. Tailored to eCommerce, this email marketing app can pull products right from your store, and even adds an automatic discount code generator.
Additional features:
4.7 stars for 5934 ratings
Template library
Interactive elements to boost clickthrough
Segment customers into groups
Re-send with a different subject line to people who don't open
Choose between email, push notification, and SMS
Comprehensive analytics
Plans at $16 to $99/mo
Free trial
3. ActiveCampaign

Next on our list of the best email marketing software, ActiveCampaign packs a full raft of features into a popular package. Its interface can be cluttered (thanks to all the features), but once you get past that, its deep list of third-party integrations and ease of use will wow you.
Their online support is legendary, though their phone support is lacking (you have to talk to their sales team). Set up autoresponders, segment customers, and send both broadcast and triggered emails (based on purchases). Add images and creative layouts, and use pre-made templates to get up and running in a snap. Overall, one of the few best email marketing platforms on offer.
Additional features:
4.6 stars for 7980 reviews
Schedule emails
Reporting and analytics
Integrates with Facebook, Woocommerce, and more
Member, M3AAWG
Multi-user editing
Revision history
Geotargeting
Free image hosting
Free trial
Plans from $9 to $229
4. AutoPilot

The next entry in our email marketing services roster has come a long, long way since it's deeply negative (2.5 star) review by PCMag in 2016. AutoPilot has added an easy-to-use drag-and-drop editor, over 170 speed-enhancing templates, and lets you choose to connect with emails, SMS, Facebook, and more.
The app is backed by 24-hour customer service and delivers handsome, responsive communications that morph to fit whatever screen your customers use. It integrates with Salesforce, Facebook, and more, and even offers a professional campaign review to keep you on the money.
Additional features:
4.6 stars for 1903 ratings
Segment leads and customers
Set goals and track progress with analytics
Fast
Scalable
API
Free trial
Plans from $49 to $249/mo
5. MailChimp
There's something to be said for email marketing software so good, everybody uses it. MailChimp is nothing if not popular. We found almost 40,000 customer ratings in the first 20 review pages. That's astounding, but even more so is its 4.4-star score despite that massive customer base.
This heavy hitter in the email game provides a full-featured marketing platform, with a website builder, hosting, and fan-favorite CRM features. Their design tools are excellent, letting you easily connect your store and even transform your emails into scheduled social media posts.
Additional features:
4.4 stars for 39,348 ratings
Drag-and-drop builder
Content storage online
Automated emails based on time after purchase
Real-time analytics (open rates, clicks, segment data)
Create, send, and track with mobile email marketing app
96% to 99% acceptance rate (less spam folder)
Triggered emails like signup confirmations and password recoveries
Massive template list
Dozens of integrations with Stripe, Zapier, and more
Free forever plan with up to 2,000 contacts
Plans from $0 to $299 a month
6. SendinBlue

SendInBlue is another of those first-rate email marketing services that's growing into a full-fledged marketing tool. It's got built-in CRM features and boasts impressive automation powers. Segment your customer lists, automate your emails, and send emails, SMS, and even chats.
This app lets you set up Facebook ads right from your account, and even optimize the times you send with a dedicated machine learning tool. They've got a free forever plan that lets you send up to 300 emails a day, too.
Additional features:
4.5 / 3606
Transaction emails
Create landing pages
Signup forms
Analytics
Email heat maps
A/B testing
API and plugin integrations
Pricing from $0 to $65 a month and custom "enterprise" plan
7. HubSpot

The world's most well-known CRM does emails, but it might surprise you to see it so far down the list. The numbers don't lie, but this app makes a good showing in the not-too-far-behind zone. Better still, it integrates with a wide range of conversion-adding features.
Unlike the other email marketing software on our list, this one has everything, from blogging tools to landing page creation, marketing automation, lead management, and more. You can also handle social media, SEO, make CTAs, ads, and so much more with HubSpot. One caveat: it can get pricey.
Additional features:
4.4 stars for 5,635 ratings
Drag and drop
Create professional-looking emails
Segment and tailor emails
A/B tests
Analytics
$40/mo to $3,200/mo and up
One of the most expensive email marketing platforms
Email marketing apps that integrate with a chatbot can take your sales to the next level. See our guide: Integration of chatbots and email marketing with Tidio
8. iContact

As email marketing services go, even iContact at #8 is excellent, with 4.4 stars from 3,264 marketing pros. It's very easy to use and oh boy is it powerful. Its anti-spam controls are useful, and its handy metrics are a boon to small-to-medium sized businesses.
Create targeted and triggered emails when someone doesn't open, opens, or clicks. Do A/B tests and manage contacts right inside the app. iContact does Salesforce integration too, and you can use multi-user access to let your team collaborate before you send.
Additional features:
4.4 stars for 3264 ratings
Automation
Drag and drop editor
A/B testing
Signup forms
API integration
Free trial
Plans at $50 to $100
9. Campaign Monitor

Ninth place is no shame on a list of excellent email marketing software like this. Campaign Monitor serves up a wide selection of beautiful templates in an easy to use drag-and-drop interface. Its analytics deliver solid insights, and its custom auto-responders will speed up your workflows.
The downside is the laggy online support. It can also be tricky to import contacts. That said, it integrates well with Shopify, Woocommerce, Salesforce, WordPress, and lots of other handy email marketing apps.
Additional features:
4.4 / 1925
Drag and drop
Countdown timer
Responsive
Segmentation
Signup forms
Transactional emails
Free trial
Plans from $9/mo through $149/mo
10. Moosend

We had to put Moosend on our list of the best email marketing services even though we only found 667 online reviews. Why? It's not so far from 1,000 ratings, and it gets a very healthy 4.8 stars. It's got everything you'd expect in a great platform, including a drag & drop editor and real-time analytics.
Moosend also dives deep with some great lead generation tools, like a handy landing page builder so your emails and your website can work hand-in-glove. Another great perk is a free forever plan with a generous list of 500 subscribers.
Additional features:
4.8 stars for 667 reviews
Automation
Templates (user onboarding, abandoned cart, lead scoring, VIP offer)
Triggered emails
Subscription forms tool
Templates
A/B testing
Segmentation
Plans from $0 to $390
Email marketing software we also reviewed
Just to satisfy your curiosity, here are the other email marketing services we looked at. Many of these aren't necessarily bad apps — it's just that they don't have enough ratings yet to make much of a judgement. But others have plenty of reviews (like GetResponse and Mailjet) but don't rank as high as our favorites.
The one big shocker here is Constant Contact. The highly popular email marketing platform gets only 4 stars from 8,873 ratings. Even throwing out its lowest batch of ratings as an outlier still only ekes it up to 4.2 stars.
MailerLite 4.3 stars for 1714 ratings
Drip 4.4 stars for 746 ratings
ConvertKit 4.4 stars for 258 ratings
SendX 4.6 stars for 135 reviews
Pabbly Email Marketing 4.3 stars for 121 ratings
AWeber 4.1 / 859
Ontraport 4.1 / 386
Mailify 4.1 / 52
Constant Contact 4 stars for 8,873 reviews. Even throwing out the low score it still only reaches 4.2 stars.
Mailjet 3.8 / 3737 (and there was a 4.7-star outlier with 817 votes that we left in)
GetResponse 3.8 / 1385
Methodology
To find the best email marketing software in all the land, we surveyed 85,617 online reviews by professional reviewers and customers alike. We looked at ratings from marketing professionals in sites like TrustRadius, Capterra, G2, GetApp, and Software Advice, as well as professional review sites like TechRadar, PC Mag, and Motley Fool.
We tallied up the review scores and numbers from the top 20 review sites for each platform. If we didn't find at least 1,000 reviews total, we added another 10 sites. We penalized platforms that had fewer than 1,000 ratings by subtracting 0.1. If an app had 7,000 or more ratings, we added 0.1 to the final score.
We also weighted professional reviews more heavily, granting them the clout of 10 user ratings.
The system isn't perfect because some of these apps are more than just email marketing services. That means their scores may reflect excellent performance in other (non-email) areas. That's why we also factored in features and ease of use.
The numbers are shocking, since most of the email marketing platforms everyone "knows" are the best actually don't fare as well as we'd expect in the court of public opinion.
Key Takeaway
You can't go wrong with any of the 10 best email marketing software on our list. These services all deliver segmentation, so you can send targeted emails to different customer groups. The platforms are highly rated by pro reviewers and marketing pros alike, and they've all got easy-to-use drag-and-drop editors to breeze you through your workflow.
Want a free forever email app? Check out Tidio's easy visual editor and start your email campaign right now.