Email marketing today is still one of the best ways to turn leads into loyal customers.
In fact, according to Campaign Monitor, its ROI can be as high as 4,400%—that's $44 for every dollar spent. So, when done right, email can bring you outstanding results.
But—
How to find the software to make the most out of this powerful strategy?
Thankfully, we did deep research and compared the features and benefits of various free and paid plans. The result is a quick path to the best email marketing services on the market.
So, buckle right in and read on!
In this article:
Interested in exploring the topic of email marketing even further? Check out these articles:
First things first—
What's an email marketing service?
An email marketing service is a software you can use to send campaigns, newsletters, and other data so customers can learn about your products and services. This kind of platform can help you segment your mailing list into specific groups in order to deliver more personalized messages and enhance client interactions.

Of course, having an attention-grabbing email design that resonates with your audience is key to customer engagement. Most email marketing services come with premade templates, so they can help speed up the email creation process and maintain brand consistency while keeping the customers interested.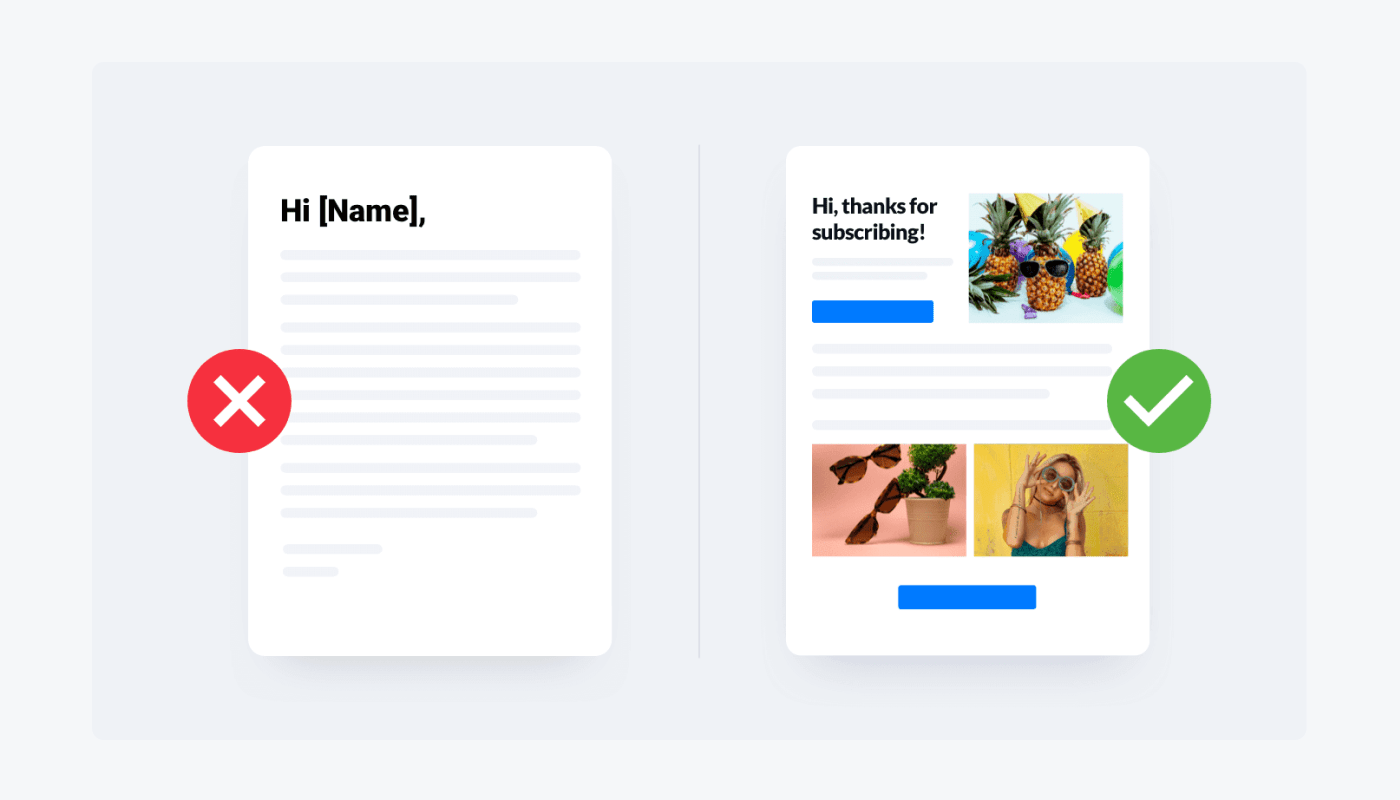 With that out of the way, let's answer another important question—
Why should you use an email marketing service?
Email marketing platforms make it easy to reach a wider audience and deliver messages that fit your clients' needs. That's just two of the advantages that make them some of the essential tools for growing a business.
Let's take a look at other key benefits of using an email marketing service: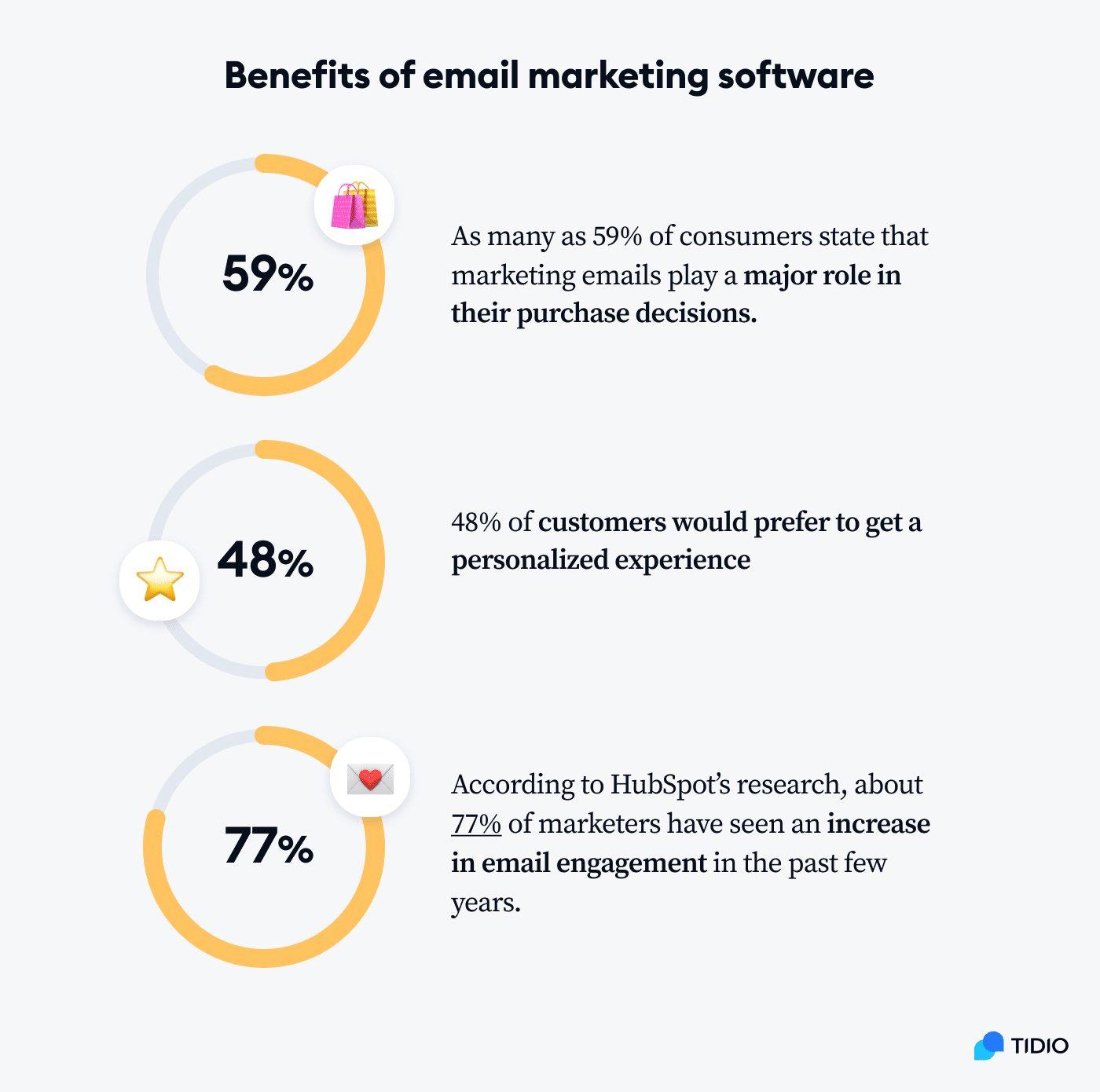 They help turn leads into buyers
As many as 59% of consumers state that marketing emails play a major role in their purchase decisions. And email marketing tools can help to push prospects down email marketing funnels and turn them into paying customers.
They enhance customer loyalty and retention
A whopping 74% of users dislike getting irrelevant content, while 48% would prefer to get a personalized experience. Email marketing tools make it easy to create personalized emails that cater to your audience's needs, which helps increase customer retention and brand loyalty.
They can help grow an engaged audience
According to HubSpot's research, about 77% of marketers have seen an increase in email engagement in the past few years. Email marketing software helps to engage your audience by delivering messages that fit their expectations. This, in the long run, can lead to more sales and revenue.
Read more: Learn how to bring customers back to your online store using the most effective abandoned cart email subject lines. In addition, make sure to check these essential email marketing statistics and trends.
Now you know the reasons why using email marketing software is mandatory, regardless of your business type.
But—
What makes a great email marketing service in the first place?
Let's find out.
What to look for in an email marketing platform?
First and foremost, your email marketing software should be easy to use and personalize, preferably with a drag-and-drop email editor, so you don't have to code. It should also let you create engaging newsletters and send emails in bulk without hassle.
Here are other key features your email marketing service provider should offer:
Strong security features— email addresses contain sensitive customer information, and it's on you to protect it by making sure your email marketing platform provides solid security
Customer segmentation—this feature will help you segment users into groups, so you can easily send messages to a specific number of subscribers
Email automation features—these will help you create an automated workflow and schedule the sending of your messages to make the most out of your email marketing campaigns
Third-party integrations—the ability to easily integrate with any other tools will be useful for handling your marketing tasks in an efficient manner
Email marketing analytics features—they will provide you access to the core metrics to help you keep track of your campaigns' performance at any time
Read more: Check out the leading ecommerce integrations for online businesses that can be found on the web.
Okay—
Now to the part you came here for.
What are the best email marketing services?
While there are many excellent and highly-rated email marketing platforms on the web, there are a lot of bad ones, as well. Thankfully, this guide sifts the wheat from the chaff.
We used the wisdom of the crowd and looked at the ratings and reviews of these 10 great apps. You will also find their key features, including pros, cons, and pricing info.
Here's an email marketing software comparison table for a quick look:
| Email marketing service | Rating | Free plan/trial | Best for |
| --- | --- | --- | --- |
| Tidio | 4.7/5 ⭐️ | ✅ | Small and medium-sized businesses |
| HubSpot | 4.4/5 ⭐️ | ✅ | Contact segmentation and campaign email templates |
| Brevo | 4.5/5 ⭐️ | ✅ | Drip campaigns |
| Omnisend | 4.5/5 ⭐️ | ✅ | Pre-built automation workflows |
| MailChimp | 4.4/5 ⭐️ | ✅ | Contact segmentation |
| Ortto | 4.5/5 ⭐️ | 14-day trial available | Triggered email campaigns |
| ActiveCampaign | 4.5/5 ⭐️ | 14-day trial available | Ecommerce businesses and agencies |
| Moosend | 4.7/5 ⭐️ | 30-day trial available | Startup businesses |
| ConvertKit | 4.7/5 ⭐️ | ✅ | Online creatives |
| Campaign Monitor | 4.5/5 ⭐️ | ✅ | Personalized email marketing tools |
Without further ado, let's look at the best email marketing solutions and services available in more detail.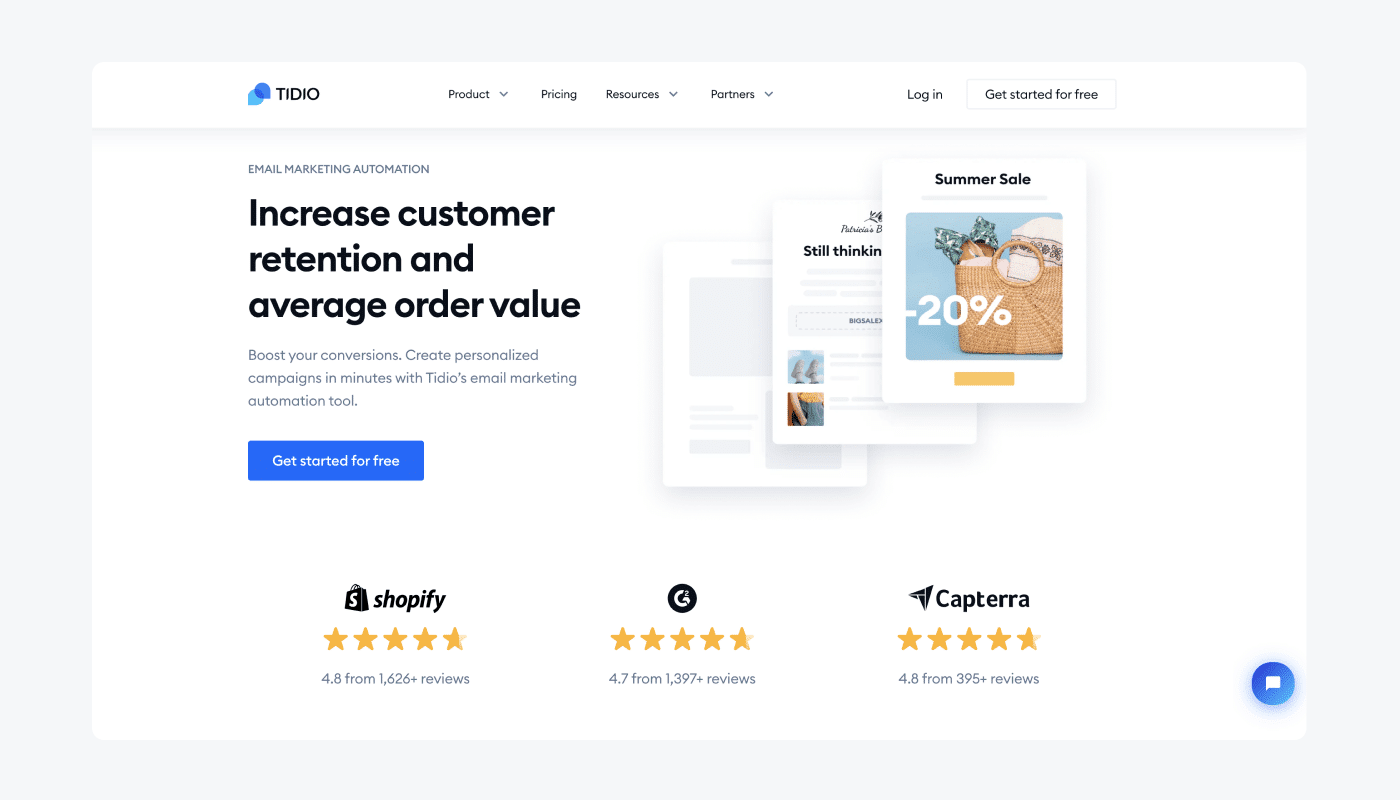 Rating: 4.7/5 ⭐️ (1,390+ reviews)
It's always tricky to talk about your own product, no matter how great you think it is. So, it's always better to check the users' impressions instead.
However, what we can definitely say is that Tidio is an easy-to-use email marketing software that also comes with a conversion-boosting chatbot. Its intuitive drag-and-drop editor makes creating your email campaigns fast and effortless. It's also easy to take care of all customer emails in one place and work together with your team.
In short, Tidio is an all-in-one customer experience solution that can help you make the most out of your client service and email marketing efforts.
Main features:
The ability to send emails to unlimited contacts
Extensive template library
Drag & drop email builder for quick message creation
Advanced segmentation to divide your subscribers into specific groups
An unlimited number of emails you can send daily
Seamless integration with an AI chatbot
Free version available
Starter ($29/mo)
Communicator ($19/mo)
Chatbots ($19/mo)
Chatbots + Communicator (starting from $38/mo)
Tidio+ (starting from $329/mo)
Read more: Learn how to easily make email marketing campaigns with the Tidio campaign editor. Also, find out how to create a chatbot that will help your conversion rate go through the roof.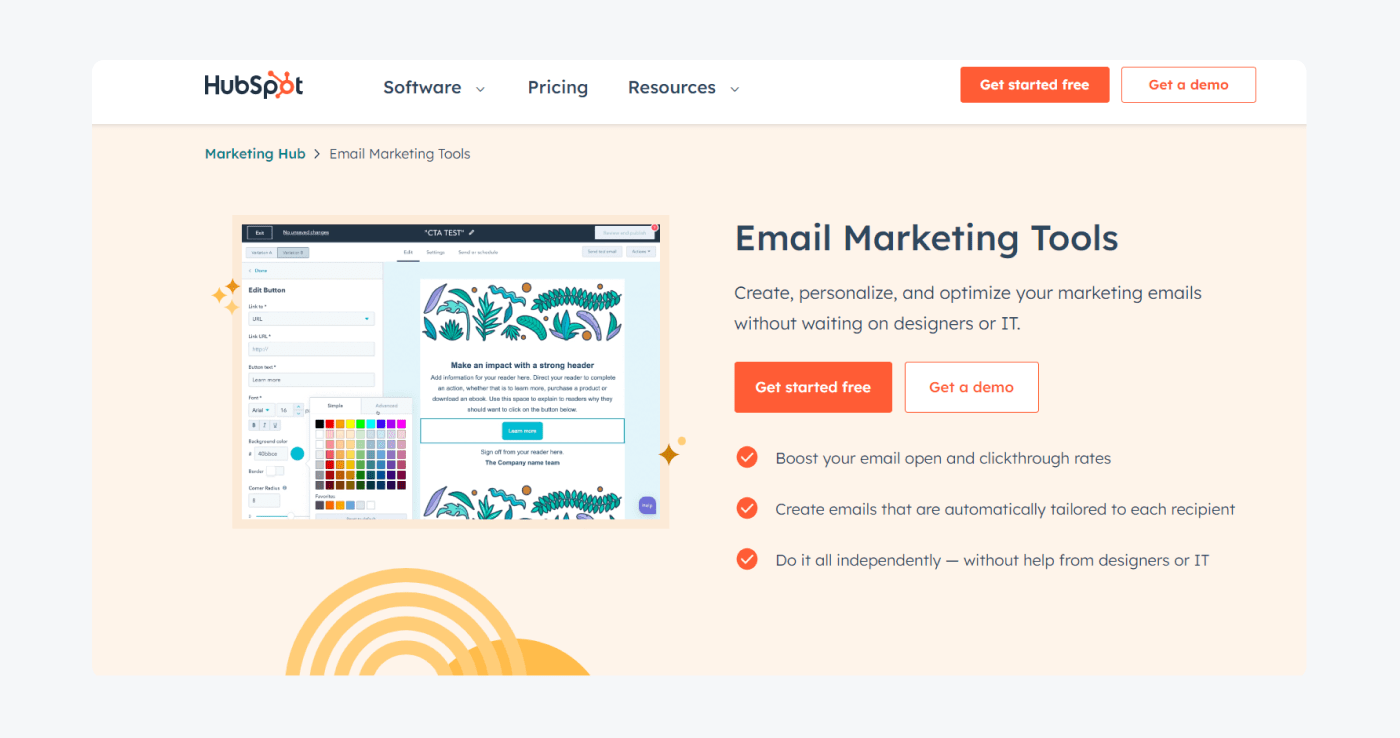 Rating: 4.4/5 ⭐️ (9,480+ reviews)
HubSpot is the world's most well-known CRM. It has everything from blogging tools and landing page creation to marketing automation and lead management features. With this email marketing software, you will be able to boost your click-through rates and opens in no time. You can also use this system to handle social media, SEO, make CTAs, ads, and so much more.
Pros:
Drag-and-drop functionality for smooth email creation
Sales templates to generate professional welcome emails, newsletters, etc.
Email segmentation and automation features
Built-in analytics to monitor your email-related metrics
Compatibility with email platforms like Gmail, Outlook, and more
Cons:
Paid marketing plan can get pricey depending on your needs
Email editor may be difficult to customize
Free plan available
Starter ($20/mo/1,000 marketing contacts)
Starter CRM Suite ($50/mo/1,000 contacts)
Professional ($890/mo/2,000 contacts)
Enterprise ($3,600/mo/10,000 contacts)
Read more: Check out the best free CRM software currently available on the market.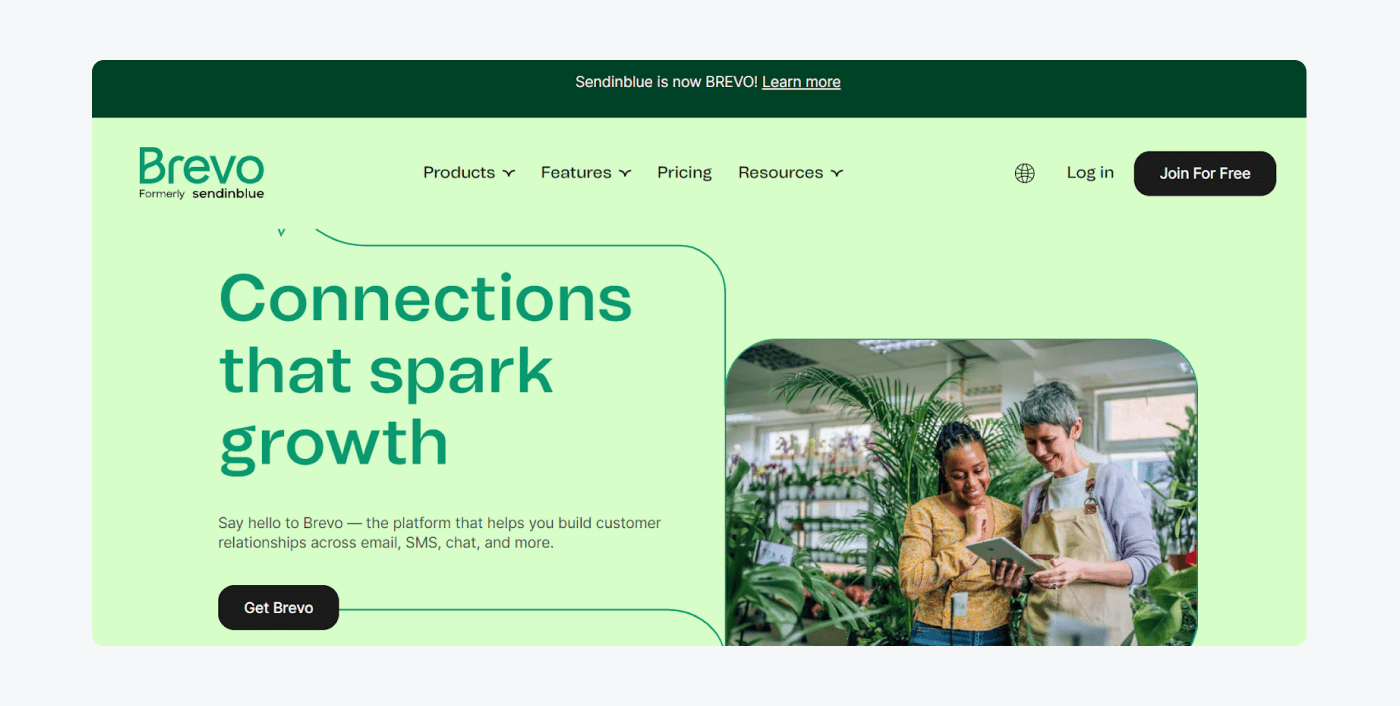 Rating: 4.5/5 ⭐️ (1,630+ reviews)
Formerly known as Sendinblue, Brevo is not only an email marketing service—it's a full-fledged marketing tool. It's got built-in CRM features and boasts impressive automation powers. You can use it to segment your customer lists and send your emails, SMS campaigns, and even chat messages. Also, thanks to Brevo's workflow editor, you will be able to create cross-channel campaigns within minutes.
Pros:
Transactional emails with top-notch deliverability rates
Email list segmentation to group your target audiences
Marketing automation to save time and boost performance
Custom sign-up forms to grow your contact list
Email heat maps to visualize how users engage with your emails
Cons:
Limited native integrations with other tools
Some users report a small delay in sending mailing campaigns
Free plan available (300 emails/day)
Starter ($25/mo/from 20,000 emails)
Business ($65/mo/from 20,000 emails)
Enterprise (custom price)
Read more: Learn how to integrate Tidio with Brevo quickly and effortlessly.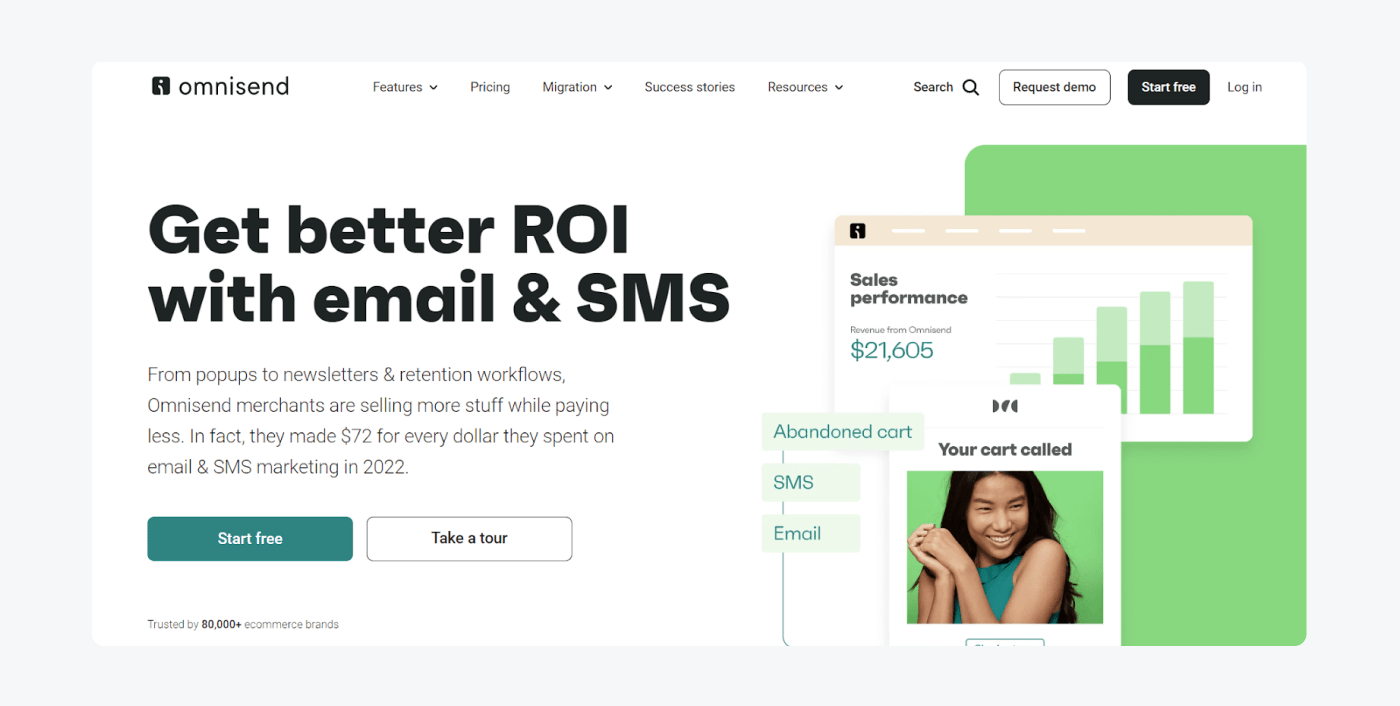 Rating: 4.5/5 ⭐️ (780+ reviews)
Omnisend is an easy-to-use email marketing app that lets you build engaging emails for your potential shoppers with zero coding knowledge. To do this, you can simply use one of the premade templates from the library and create professional emails within minutes. As this tool is tailored to ecommerce email marketing, it can also pull products right from your store and add an automatic discount code using a generator.
Pros:
Premade email marketing templates (product recommendations, product picker, etc.)
Interactive elements to boost your click-throughs
The ability to segment customers into specific groups
Campaign booster to resend unopened campaigns automatically
Email & SMS automation features for ecommerce
Cons:
Learning curve when setting things up
The ability to gather customer data is difficult at times
Free plan available (up to 500 emails/mo)
Standard ($16/mo/up to 6,000 emails)
Pro ($59/mo/unlimited emails)
Read more: Explore the best email newsletter templates suitable for small businesses and big ones alike.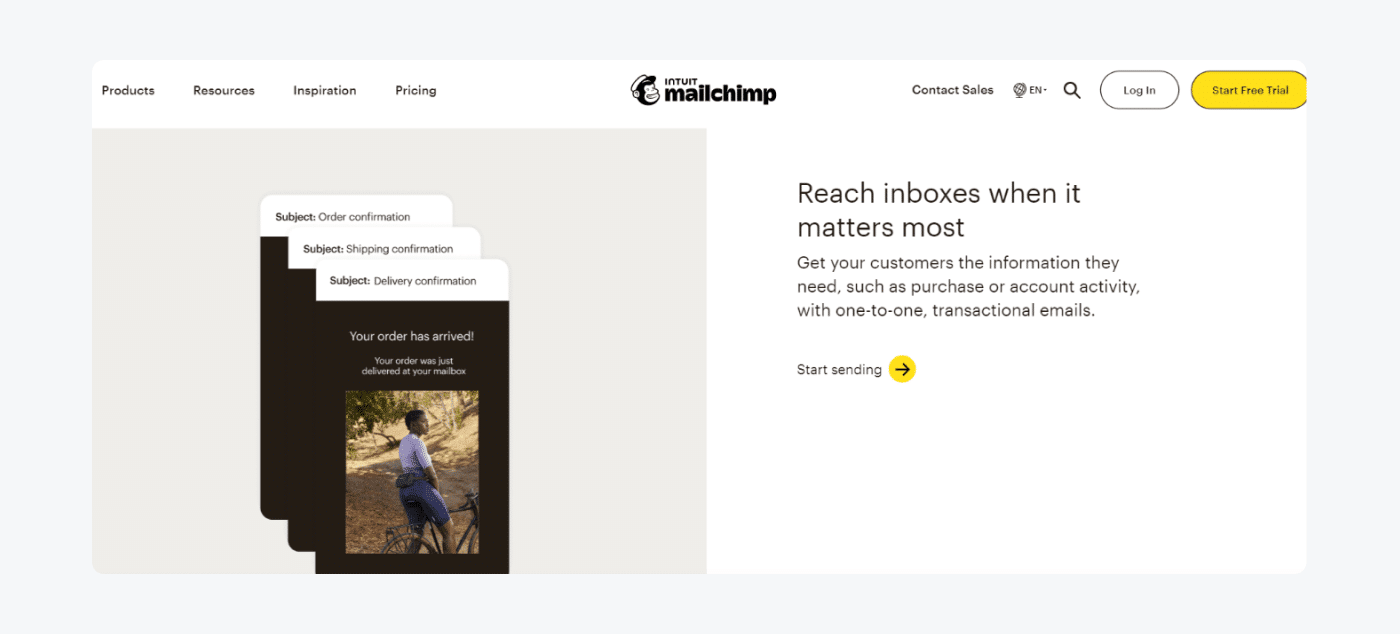 Rating: 4.4/5 ⭐️ (4,900+ reviews)
It wouldn't be an exaggeration to say that MailChimp is among the most popular email marketing services on the web. This heavy hitter in the email game provides a full-featured marketing platform that can work well for all business owners. It's accompanied by a website builder, hosting, and CRM features. Moreover, its design tools let you easily connect your store and transform your emails into scheduled social media posts.
Pros:
Segmentation features to target users based on their interests and behavior
Automation tools like customer journey builder, transactional emails, and retargeting ads
Real-time analytics (open rates, clicks, segment data)
Triggered emails like signup confirmations and password recoveries
Dozens of integrations with Stripe, Zapier, and more
Cons:
Advanced email automation features are not as robust as some competitors
Many users have reported slow responses to spam reports
Free plan available (1,000 emails/mo)
Essentials ($13/mo/5,000 emails)
Standard ($20/mo/6,000 emails)
Premium ($350/mo/150,000 emails)
Read more: Explore best practices that help you to create a professional email header design.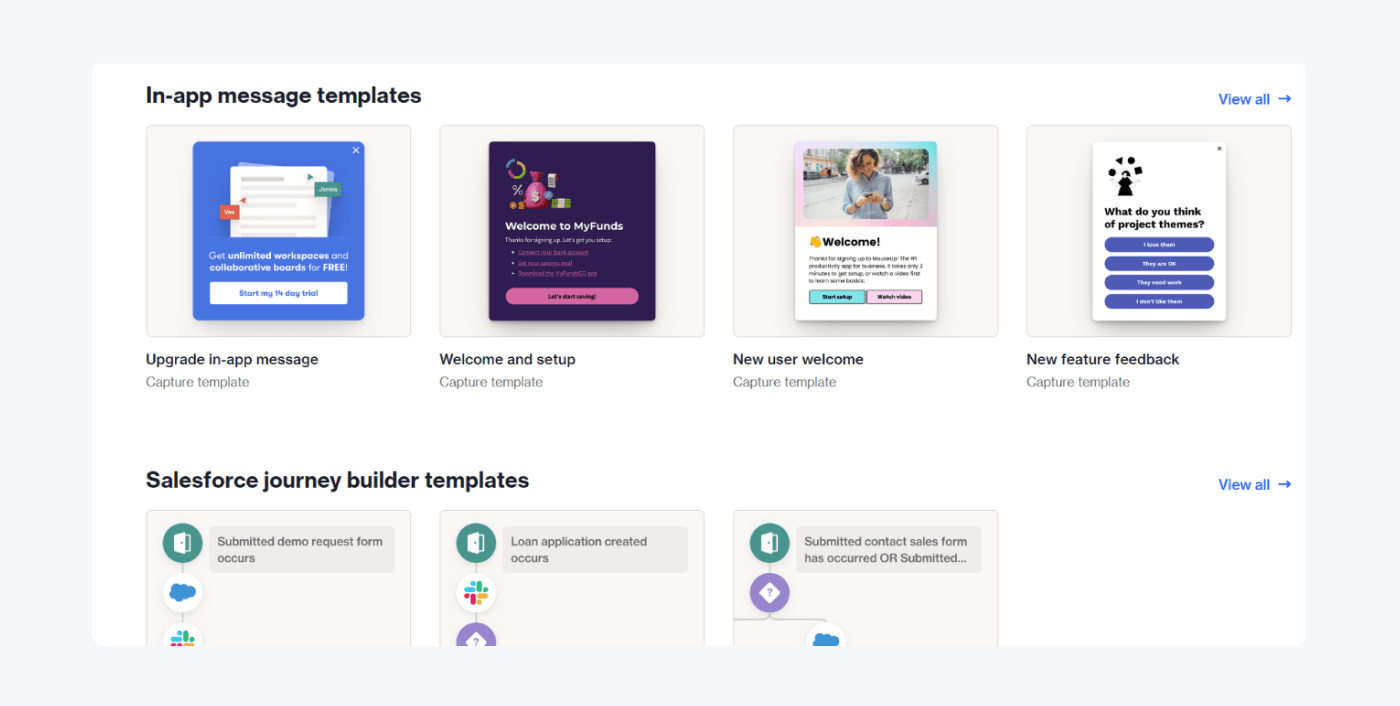 Rating: 4.5/5 (420+ reviews)
Previously known as Autopilot, Ortto is an all-in-one email marketing automation software and analytics platform that helps to increase revenue. It comes with an easy-to-use drag-and-drop builder and hundreds of speed-enhancing templates. Moreover, it offers a professional campaign review to keep you informed about the efficiency of your marketing efforts.
Pros:
Buyer journey builder to engage your audience across their customer lifecycle
Transactional emails you can send quickly and easily
Powerful audience segmentation features
Automated lead generation using chat surveys, pop-up ads, etc.
Integrations with SalesForce, Shopify, Facebook, and more
Cons:
Sometimes customer support takes a long time to respond
It may take a while to get familiar with the platform
Free 14-day trial available
Self-serve Professional ($99/mo/5,000 contacts)
Startup (from $199/mo)
NFP (from $199/mo)
Self-serve Business ($299/mo/20,000contacts)
Enterprise (talk to sales)
Read more: Learn how to create professional-looking email signatures and capture the attention of your subscribers.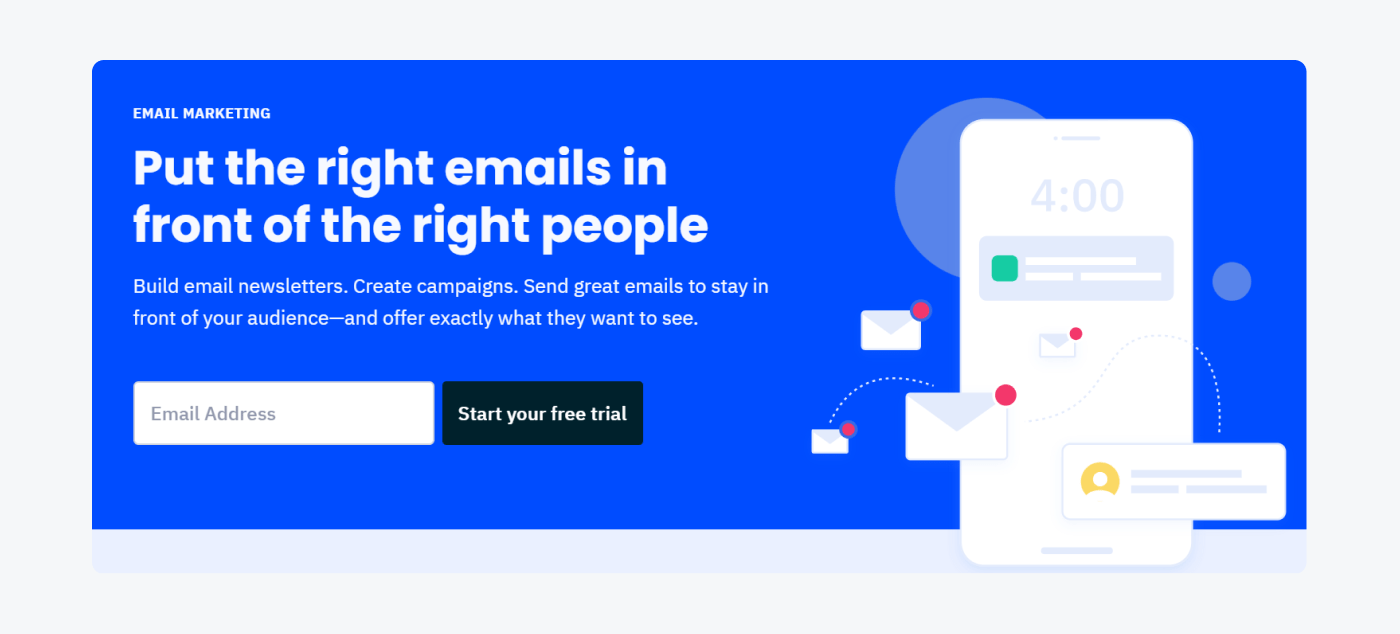 Rating: 4.5/5 ⭐️ (10,000+ reviews)
Next on our list of email marketing software is ActiveCampaign. This popular tool comes packed with a full raft of advanced features. You can use it to set up autoresponders, segment customers, and send broadcast emails (based on purchases). Also, its deep list of third-party integrations and ease of use is bound to impress you. Overall, this is one of the few top email marketing platforms on offer.
Pros:
Premade templates to get your campaigns up and running in a flash
Integrations with Facebook Ads, ecommerce platforms like WooCommerce, etc.
Conditional content to show different content to different users
Geotracking feature to automatically capture your contacts' location
Free image hosting to upload beautiful images for your campaigns
Cons:
The interface can feel a bit cluttered because of all the email marketing features
Their phone support is lacking (you have to talk to their sales team)
Free 14-day trial available
Lite ($29/mo)
Plus ($49/mo)
Professional ($149/mo)
Enterprise (talk to sales)
Read more: Check out the best customer service email templates you can use for the most common scenarios to maintain solid customer relationships.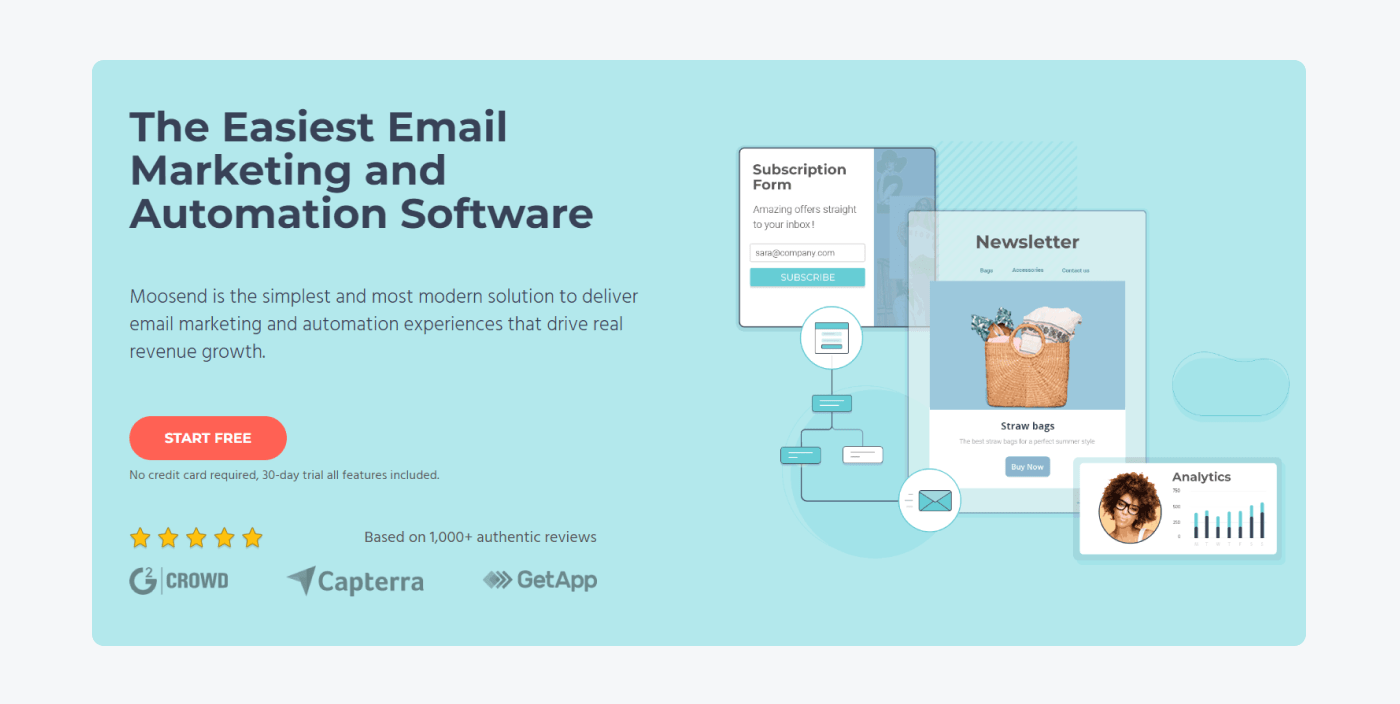 Rating: 4.7/5 ⭐️ (530+ reviews)
Moosend simply had to be included on this list. It's got everything you'd expect to find in a modern email marketing system. This includes a drag-and-drop editor, email marketing templates, and real-time analytics. You can use Moosend to create beautiful and engaging newsletters, automate your campaigns, and grow your email list with ease.
Pros:
Landing page builder to get your site and emails work hand-in-hand
Variety of templates (user onboarding, abandoned cart emails, lead scoring, VIP offer)
Multiple trigger conditions and the ability to send recurring emails
A/B testing of newsletters and email subject lines
In-depth marketing analytics to track user steps throughout their journey
Cons:
It can be tricky to add and resize images in an email
Email campaign settings aren't as intuitive as other platforms
Free 30-day trial available
Pro ($9/mo)
Enterprise (Contact sales)
Read more: Learn how to create newsletters in no time and stay on top of your email marketing strategy.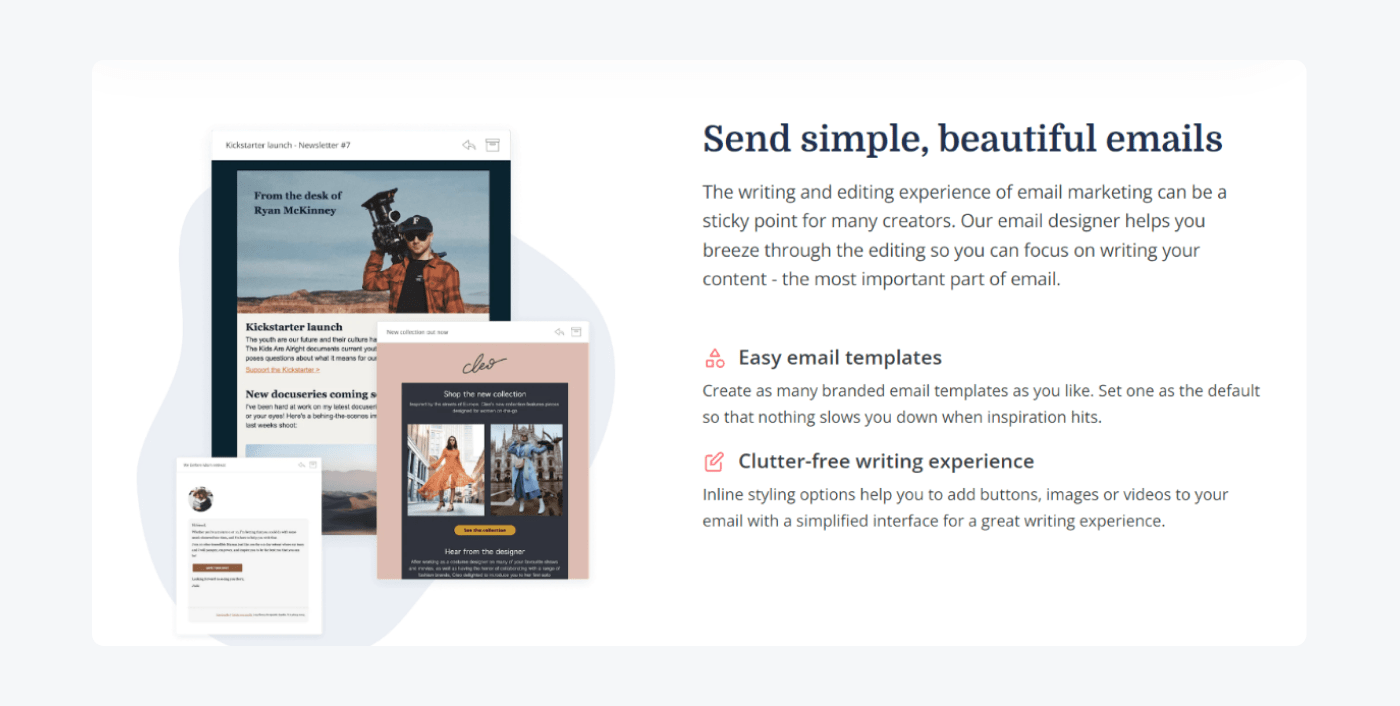 Rating: 4.7/5 ⭐️ (180+ reviews)
ConvertKit is an ideal email marketing platform for online creatives. It comes with all the essential features you may need. These include easy subscriber segmentation, subject line A/B testing, and autoresponders. Also, the platform's intuitive email editor will let you automate your campaigns and promote your products and services in a professional manner.
Pros:
Automated emails that send based on the stage of customers' journey
Email designer to create simple and beautiful emails
Filters to help you choose who to contact
Sign-up forms and landing pages to easily generate an email list
Subscriber graph and stats to understand your audience better
Cons:
Beginners can struggle with the software's learning curve
Reporting and A/B testing could be more advanced
Free plan available
Creator (from $15/mo)
Creator Pro (from $29/mo)
Read more: Check out our case study to learn how a leather goods brand successfully recreated its brick-and-mortar customer experience online using Tidio.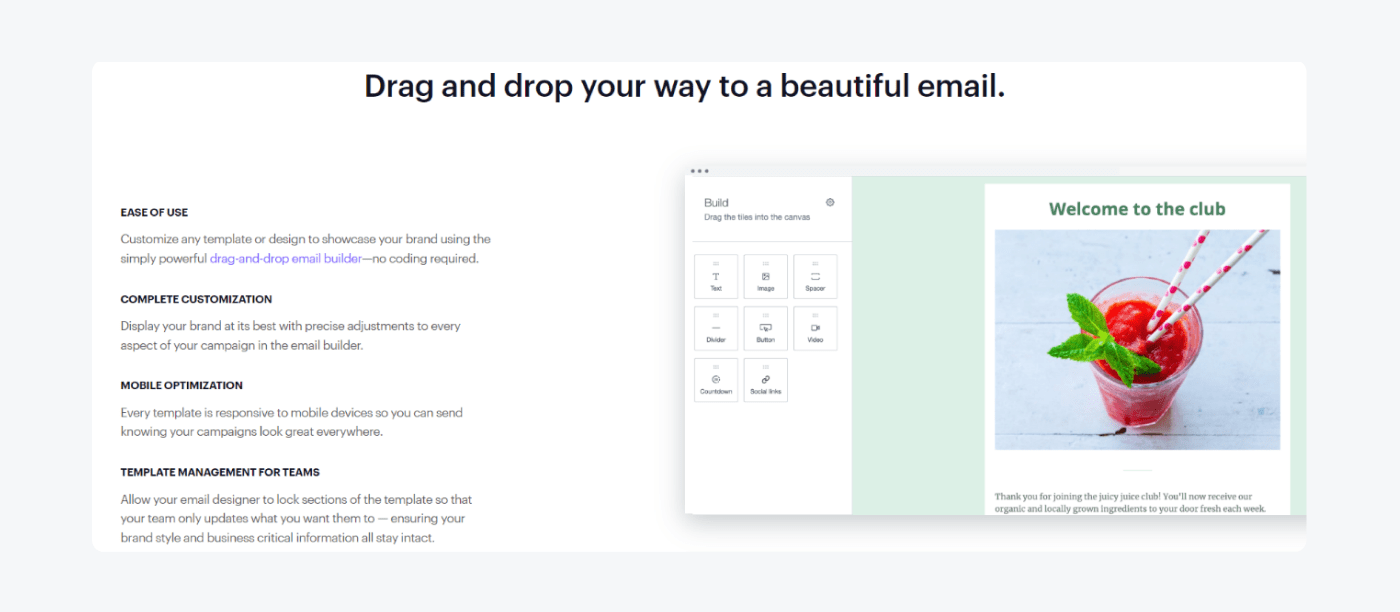 Rating: 4.5/5 ⭐️ (480+ reviews)
Campaign Monitor serves up a wide selection of beautiful templates in a user-friendly drag-and-drop interface. Its analytics deliver solid insights, and its custom autoresponders help to speed up your workflows. On top of that, the tool integrates well with Shopify, WooCommerce, SalesForce, WordPress, and lots of other handy email marketing systems.
Pros:
Email signup forms to grow an engaged list of subscribers
Countdown timer feature to introduce a sense of urgency in your campaigns
Smart segments you can use to send personalized emails
The ability to send transactional emails and deliver a consistent experience
SMS marketing features to build a stronger connection with your audience
Cons:
Online support can be a bit laggy
It can be tricky to import contacts
Free plan available (for up to 5 subscribers)
Basic ($9/mo)
Unlimited ($29/mo)
Premier ($149/mo)
Best email marketing software: summary
And that concludes our list of 10 best email marketing tools on the web. There are options that come with both free and premium plans, so you can comfortably decide on the one that best fits your budget.

Just for a quick recap, the benefits of using email marketing software include:
Helping turn leads into clients
Boosting customer loyalty and retention
Growing an engaged audience
In addition, all services on our list deliver segmentation, so you can send targeted emails to different customer groups. The platforms also come with useful automation features and offer easy-to-use drag-and-drop editors to breeze you through your workflow.
So, start using any of these platforms today and watch your email marketing campaigns soar!