According to the Content Marketing Institute research, 93% of B2B marketers prefer email channels to distribute content. Moreover, 40% of online marketers report that newsletters are an essential part of the email marketing strategy, as they help small businesses highlight new products, nurture their contacts, and share insights in their niche.
For a successful email campaign, it's crucial to monitor your progress, find out what's working well for you and what doesn't work at all. Using email and data analytics can help you fuel your campaigns and take the email marketing process to the next level.
Want to send beautiful newsletters, email marketing campaigns, and abandoned cart emails? Try our free email marketing software to design your emails, segment your contacts, and track email analytics.
Design & Send Emails Now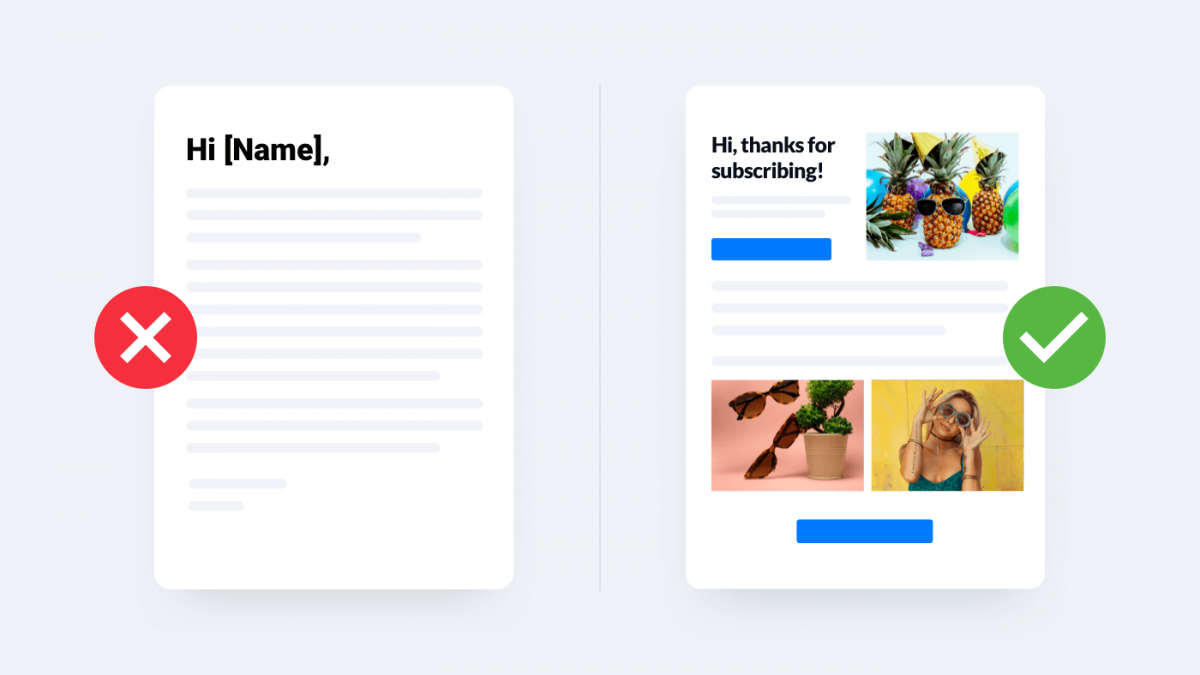 Discover 250+ templates—Design and automate your email campaigns.
One of our users, Kate, had this to say:
I'm not a technical person but I could use my contacts and send a bulk email campaign in no time.
The majority of business owners underestimate the importance of email analytics insights. At first, it may seem like a complicated task. But once you know how to get it right, it won't look difficult.
Why Does Email Analytics Matter?
According to the McKinsey report, email marketing is almost 40 times more effective than Facebook and Twitter combined in helping your website attract new customers and clients. Collecting email analytics data is extremely valuable as it helps you answer the following questions:
Where did customers hear about you?
Did subscribers receive your emails?
Do customers find your emails interesting enough to open?
What causes a high spike in unsubscriptions from your emails?
Did you miss anything in your emails (broken link, vague subject lines, etc.)?
Answering these questions will help your small business effectively understand hidden opportunities, increase efficiency, and make your customers happier. Once you find the bottlenecks and take action to resolve them, here's what you might expect:
Increased sales
Reduced costs
Optimized decision-making process
So let's dive in and learn the best tips and tricks for leveraging the power of email analytics for your business.
Tip: Some of the best email marketing services have in-built tools for analytics. They make tracking your email performance fast and easy.
6 Effective Tips to Use Data to Drive Your Email Marketing
Knowledge is power and here's how to use it for your advantage.
1. Use Chatbots to Gather Useful Consumer Data
Chatbots are relatively new and still gaining ground, but they have a significant impact on email marketing. Over the past 5 years, the number of customers who use live chat and chatbots has boosted from 38% to 58%.
They help online businesses address customers' concerns faster, generate qualified leads and smooth out the purchase process. Considering the fact that 45% of customer data is submitted through mobile devices, using a chatbot can make it easier for both you and your customers to go through the sales process.
Chatbots such as those made with Tidio serve as lead generators and can help with gathering better insights into customer behaviors, preferences, and pain points. If that wasn't enough, Tidio also allows users to segment website's visitors based on chosen tags, and send them personalized email campaigns. All that in just a few clicks.
Pretty cool, huh?
Here's how you can gather and segment website visitors' data using chatbots:
Create your Tidio account and install Tidio on your website:
Create a simple Tidio bot that tags your website visitors:

Filter your visitors with tags and create segments for your email marketing campaigns: 
Chatbots can also remind customers that there's an email for them with all the details to complete the checkout process. If there are any challenges chatbots can provide you with detailed information on what's working and what isn't, so that you can avoid them in the future.
Here's what Todd Lasky from Zavodnick, Zavodnick & Lasky, LLC says about chatbots:

2. Use UTM Codes for Campaign Tracking
Measuring the success of your work can be tricky without using the right tools. Let's say you know that your emails generate a certain amount of traffic to your website, but you don't know what kind of emails drive actual leads and customers to it.
You can find it out using special codes that you need to add to the end of your URLs. They are called UTM codes or UTM parameters. They help you see where the traffic to your website comes from when users click on a link leading to your URLs.
If you want to sink deeper into analytics, UTM tracking can be a good way to know what engages your customers on your website, what web pages and products they've visited, what works well for you and what doesn't work. Using these analytics can improve your long-term email marketing strategy.
It's really easy to use UTM codes with Finteza. This tool helps you build your unique URL in a few clicks and monitor the efficiency of advertising campaigns, banners, sites, keywords, and links in your emails. Finteza allows you to visualize and separate direct traffic from the total number of your email subscribers.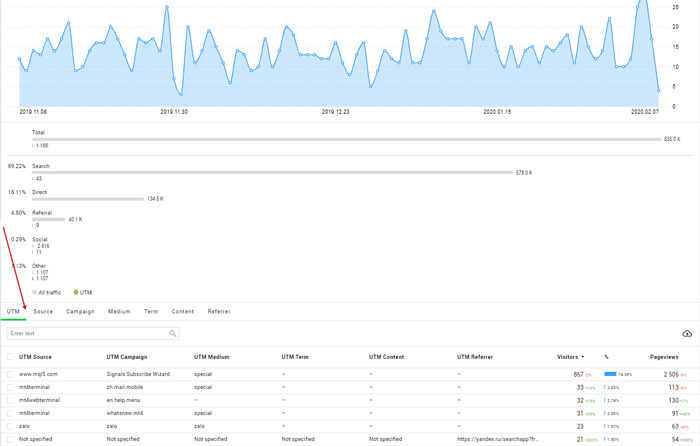 By using UTM parameters in your emails, beyond clicks and opens, you can track sources of traffic, traffic volumes, eCommerce, goal tracking, sessions, and many other things. Once you combine these codes with analytics, you can see exactly how much revenue your campaign is generating to evaluate your email marketing ROI.
3. Use the Right Email Marketing and Analytics Tools
Using email marketing and analytics tools can help you save time to manage your campaigns and provide in-depth insights.
Google Analytics is good at getting data for specific visitors. It provides an Advanced Segments option for email tracking. To create a custom Advanced segment, choose "Add Segment" in Audience Overview and set the medium to "Email."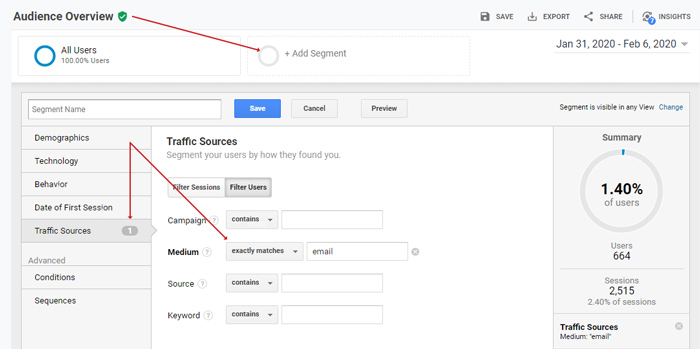 Once you customize email tracking in this way, you can isolate visitors from the email that allows you to better understand how they behave and convert. It's one of the simplest ways to track the success of your email marketing efforts.
Another great solution for tracking your website's visitors' behavior and launching personalized email campaigns is nothing else, but Tidio itself.
Surprised?
As mentioned above, by installing Tidio, you can:
Monitor the behavior of your website's visitors
Segment your audience using specific tags
Create automated email marketing campaigns
Here's how the brand new Tidio mailing feature looks like from inside of the app: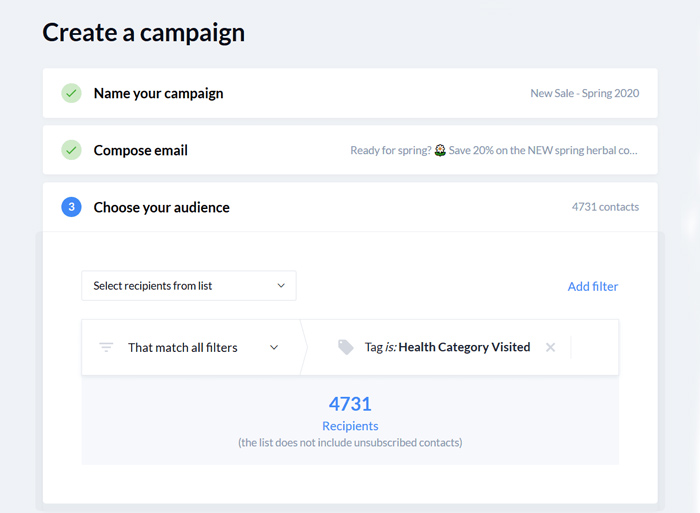 You can also use Finteza. This advanced web analytics tool helps you generate detailed statistics and fresh insights into your traffic sources and traffic quality. It easily analyzes conversion funnels and detects weak points of your email marketing campaigns.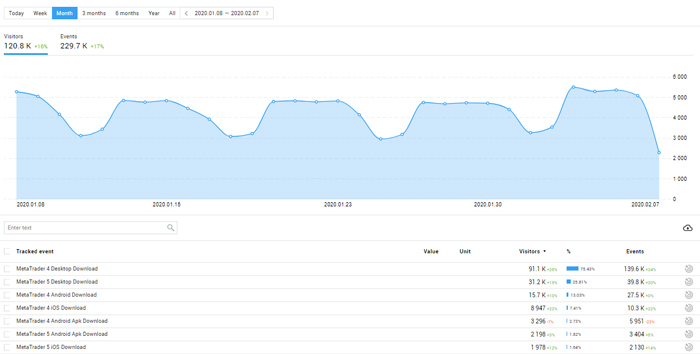 GetNotify is yet another free email marketing tool that allows you to track your emails. The tool sends you notifications every time a receiver opens your email. Beyond that, you can monitor your email links and see the receiver's browsers, locations, IP addresses, and other things.
4. Use Influencer Analytics to Get More Email Signups
Collaborating with influencers is a great way to make your email marketing more effective. When you take time to build long-term relationships with them, you can cultivate huge enthusiasm via influencer events, efforts and personalized gifts in your emails to show your brand's values and your company's culture.
Once you find the right influencers in your industry, make sure to check for analytics such as the level of engagement, interactions (shares, post views, reactions), the quality and amount of posts they published over the time.
The best way to find relevant influencers along with their statistics is to use BuzzSumo. Just enter a topic, keyword or the exact name of an influencer. The tool will generate a list of influencers with detailed information, including topics they write, what they share, their bio line, other people they interact, and other parameters.
Let's say you sell new baking dishes and you want to focus on selling these dishes with the help of food influencers. With the help of BuzzSumo, you can find them on Twitter, Facebook, Youtube or Instagram. You can also learn how many followers they have, their average retweets rate, page authority, reply ratio, and other useful information.

For example, the company called Pyrex has recently collaborated with the famous food influencer Adrianna Adarme. She published a great Lemon Berry Meringue Trifle recipe on her blog, sent the email newsletter and shared it via her social channels. This post got high engagement on Pinterest and Facebook and helped Pyrex increase sales of their baking dishes.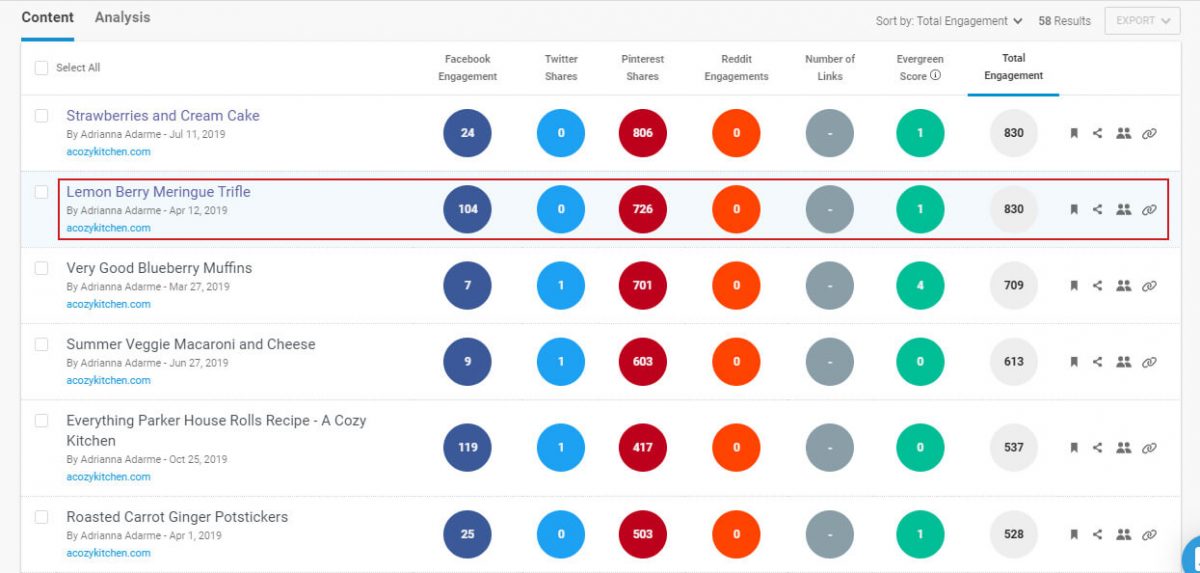 Wouldn't it be awesome to include a recommendation, testimonial, or a product review within your email? Once you start interacting with influencers, you can leverage the power of social proof and use it in your email marketing campaigns. Using this strategy can make more people interested in your brand and boost your sales as a result.
5. Take Advantage of Conversational Landing Pages
To increase your conversion rates over time, it's important to build a positive brand experience before customers join your email list. Their first impression usually comes down to how well they engage with your landing pages.
The more conversational your email landing page is, the more successful you will be sending new subscribers through your sales funnel. It is crucial to engage customers in conversation with the help of chatbots or live chat operators.
Conversational landing pages allow you to generate leads, personalize your products, gather newsletter subscription, share content, and collect analytics. You can easily design chatbot-driven landing pages using Tidio for each separate product.
A few benefits of conversational landing pages created with Tidio:
Personalized UX
Drives only qualified leads
Allows for 1:1 conversations with your audience
Requires no coding experience
Allows for customers' data segmentation
Here's how to create Tidio's conversational landing page:
Create your Tidio account
Connect Tidio with your website (WordPress/Shopify plugins or manual installation)
Enter the panel
Find your unique chat page URL in Channels > Chat Page > Chat Page URL
Use it as it is or embed it on your page with an iframe tag

Here's an example of what this kind of landing page looks like:
If you want to focus on lead generation, ensure to create content that requires viewers to fill out a lead generation form to access it. You can use SE Ranking Lead Generator that provides a web form for ordering a free on-page audit. Once you offer visitors filling out this form, they will get a detailed and branded report on how well their web pages are optimized for particular search queries. In exchange, you will get useful information about your potential clients.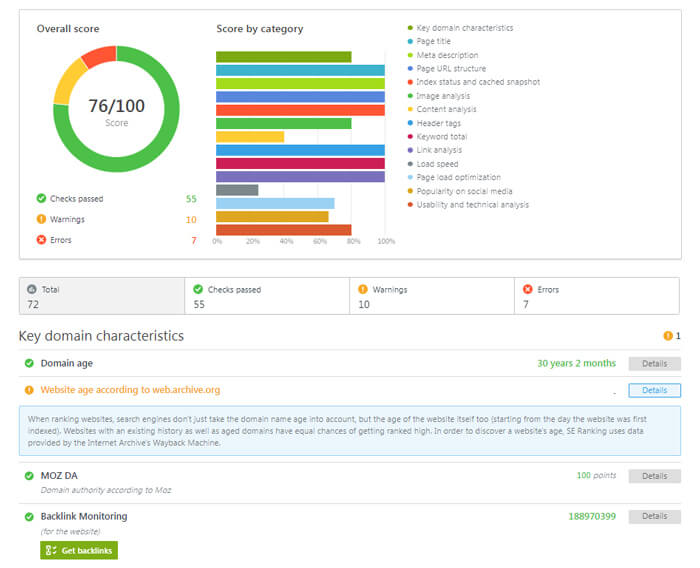 6. Use A/B testing to improve your emails
A MailChimp's research has shown that open rates vary from 18% to 28% depending on the niche concerned. It means that 75% of your emails are unopened. The best way to truly evaluate your email marketing campaign is to receive data directly from your customers.
Using A/B testing, you can better understand what customer likes the most, what works on your prospects, and how to address them. You can create two variants of your emails and experiment with CTAs, email content, subject lines, colors, and other things. Once you've sent both the variants of your email, you can analyze the results and choose the best version.
Here's the example of experimenting with the subject lines from Emma: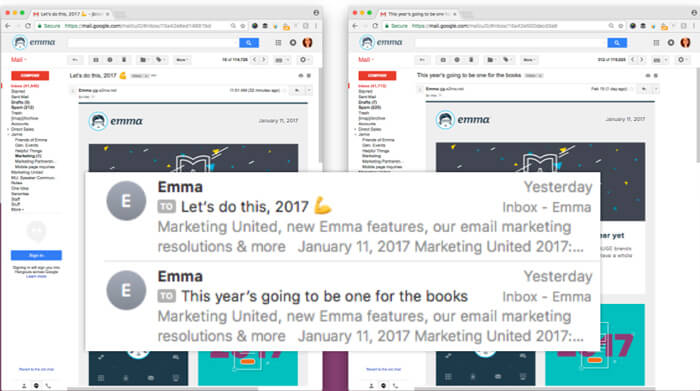 The first variant with the emoji won among customers. This subject line just stood out in a crowded inbox. Truth is, you never really know what customers like the most and that's why it's important to keep testing different things in email marketing.
Make sure to set clearly formulated goals while doing email A/B testing. So, if you want to boost the open rate, you should focus on your subject lines. If you want to increase the click-through rate, then test your CTAs, email copy, and visuals. By analyzing this data, you will eventually improve your emails.
Use Analytics to Boost Your Email Marketing: The Bottom Line
Email marketing is a marathon, not a sprint. It's a continuous process of improvement. Managing successful email marketing campaigns takes time and requires using analytics to better understand your customers and give them exactly what they want.
The data you use to ameliorate your email strategy can help you reach the results you desire. To do that, you should keep testing your emails, create UTM codes, use influencer marketing, lead generation forms, and chatbots. To save time and effort, you can use the right email analytics tools to find better insights.