Business Growth
Conversational Landing Pages: Boost Conversion Rates by Engaging Leads Directly
Conversational landing pages increase the engagement of your visitors. Learn how to master the art of creating conversational experiences for your website users.
Landing pages were the staple of lead generation campaigns.
That's where you wanted visitors from ads, email newsletters, or other channels to go, after all.
The landing page would tell those people more about the product or service. Its copy would convince them that it's the ideal solution to their needs and entice them to buy it or sign up.
But note that I said they were.
You see, traditional, static landing pages are not as useful as they'd once been. There are too many steps involved in the process of lead generation. Each of the steps has its drop off rate.
Today's customers prefer to engage with brands differently. They want instant engagement, connection, conversation.
They don't want to waste tons of time reading some lengthy product copy. Nor do they fancy filling out a form and waiting until your sales team gets back to them, eventually.
To engage those people, you need something else – A conversational landing page.
Create Your Conversational Bot
Instead of leaving your customers on their own, hire live chat agents or use chatbots to generate leads.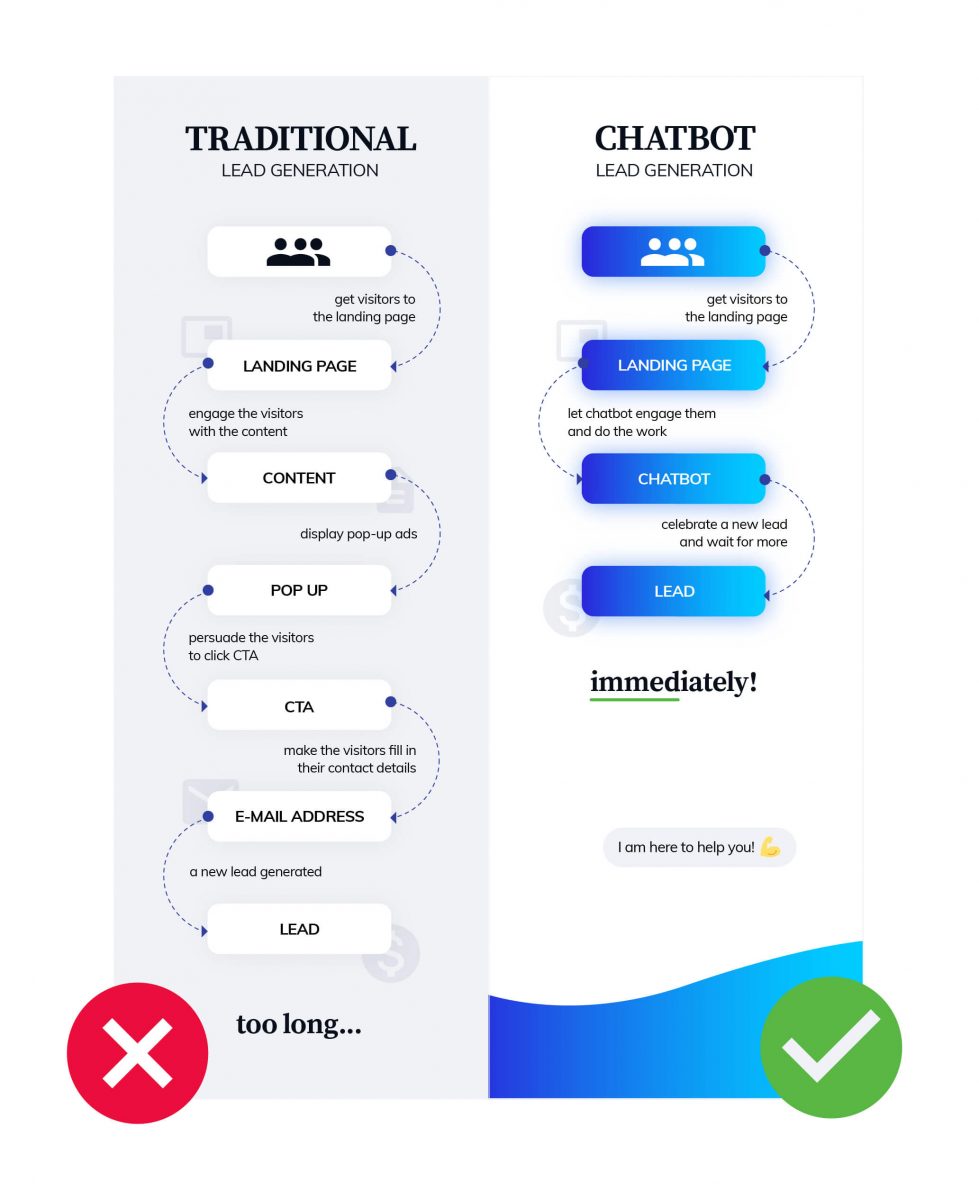 Conversational landing pages are exactly what we'll discuss in this post. We'll talk about what conversational landing pages are, how they help you convert more leads by moving them straight to the conversation, and how to use those pages to power your sales cycle.
Let's begin.
What is a conversational landing page?
A conversational landing page is used when your primary goal is to engage visitors in conversation with a live chat operator or a chatbot. Conversational landing pages are designed to draw visitors' attention to chat interface and to facilitate instant messaging. The browsing experience becomes conversation-driven.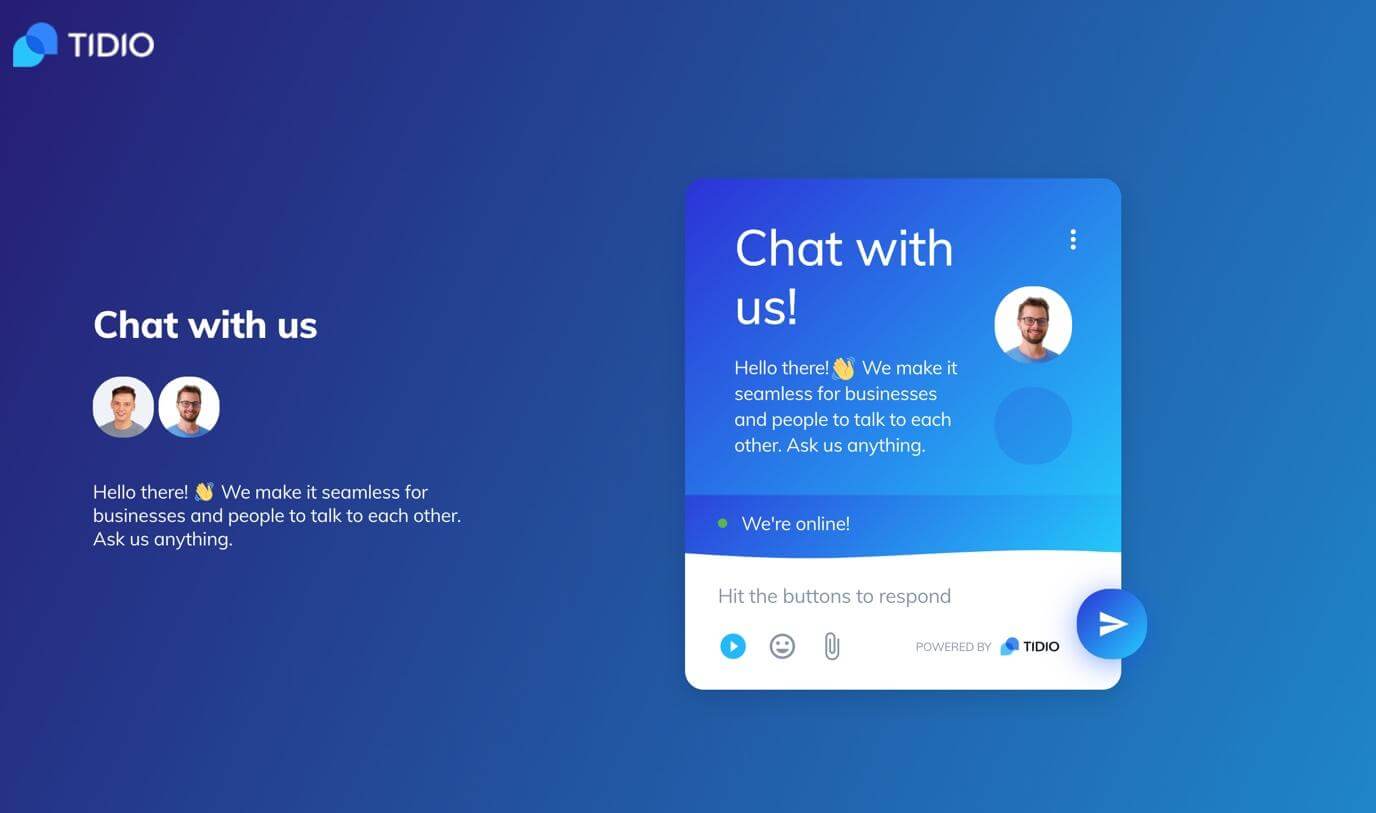 To really understand the term, we must look at the traditional, static landing pages first.
A traditional landing page is nothing but a static entity that aims to communicate a marketing message and convince the reader to take a specific action – Sign up, inquire with a company, hit the "buy" button, the options are many.
Most of these pages would feature amazing designs. Their copy is flawless too. Sure, it focuses on boosting the conversion rate by providing exactly the information that would compel a person to act, but that's always been the goal, right?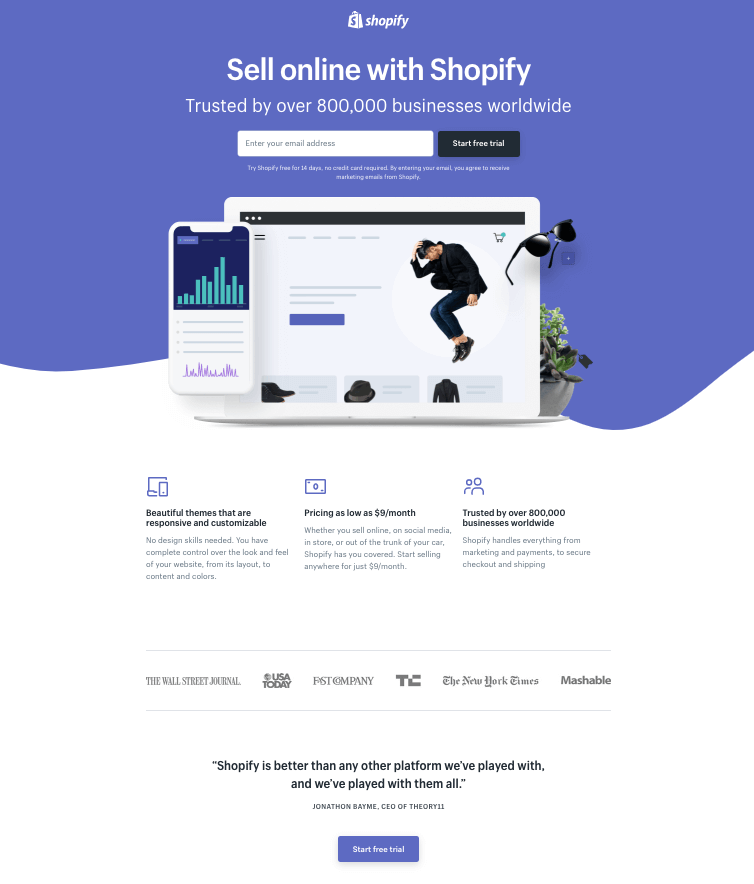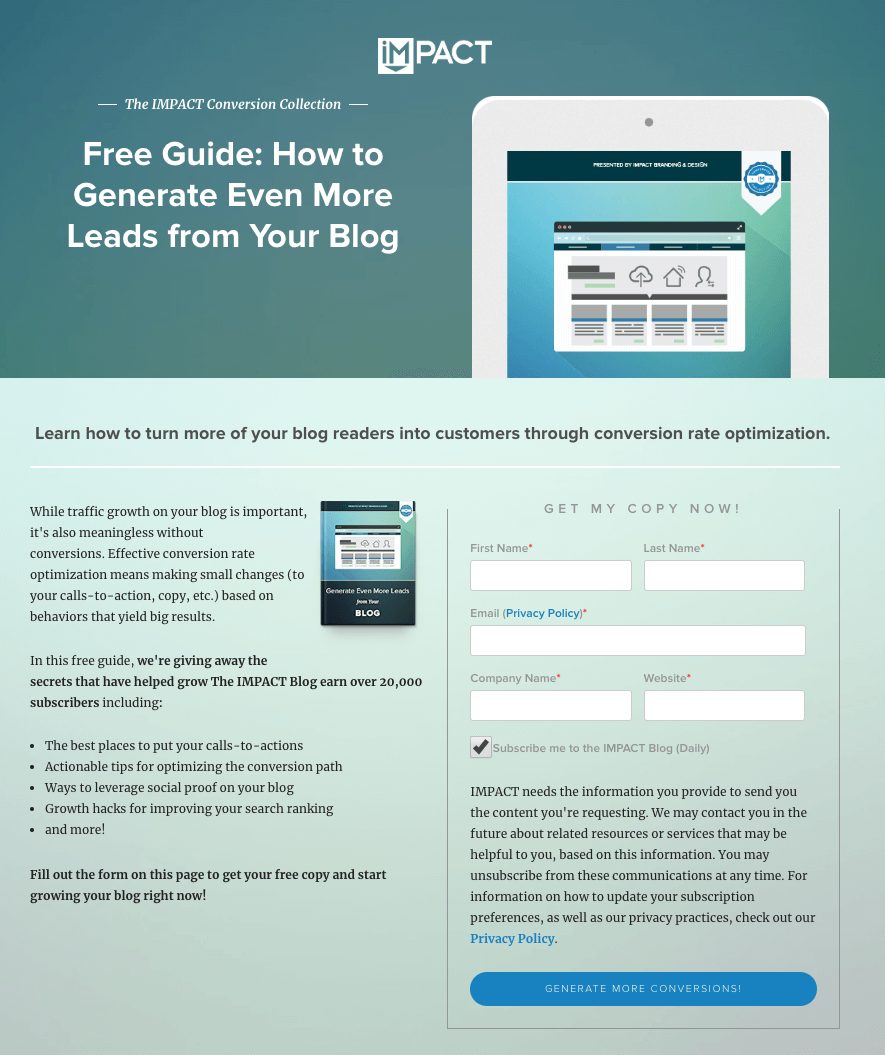 But when you look at such a landing page closely, you realize that its success relies on two factors:
One is its ability to connect with and engage a visitor through compelling copy. To drive conversions, the page has to be relevant to the person's needs, and that's hard to achieve if you have no interaction with the visitors at all.
The other is the person's willingness to consume the said content. The landing page would generate conversions and sales only if the visitor had absorbed its information and found it inspiring enough to take the desired action.
That's hardly a small feat, particularly if you rely on a static copy to achieve it.
Traditional landing pages served as a vehicle for conveying the marketing message only. Granted, many such pages are impressive to look at but they're nothing but static displays of information.
Which is exactly what modern customers DON'T want.
Consider how much customer expectations of service have changed in recent years, for one.
54% of customers have higher expectations for customer service than they had only a year ago, after all.
12% of customers rate speed as the key problem with getting any service or support.
67% of customers want a response from a brand within 24 hours. I'd imagine it's safe to assume that the majority would like to hear back or connect with brands instantly.
What's more, most customers exhibit what experts refer to as the digital-first mentality.
How the digital-first mentality affects customer service and lead generation
Today, much of the brand-customer interactions happen via digital touchpoints. Apps, live chat, chatbots, or social media allow customers to connect with brands directly, and at the time of their choosing at that.
As a result, modern customers have grown accustomed to such instant engagement. As you've seen from the stats above, they don't want to wait for a reply anymore.
If you want to convert more customers through ads, email, on the contact page, you must provide that level of instantaneous engagement.
Now, let me be clear; you still need a landing page for that.
Just a different kind, though.
Enter Conversational Landing Pages
Think about it; when someone clicks on an ad or a link in the email, they, most likely, want to connect with your brand. Your marketing message has captured their interest, and now, they want to know more.
You already know, that, in such a situation, a static landing page simply won't cut it. Your potential customers don't want to read lengthy copy anymore.
They want to talk to you instead and they prefer solutions which adhere to the principles of conversational design.
Enter the alternative to a traditional landing page – A conversational landing page (sometimes referred to as a landing chat page too.)
In the simplest terms, it's a landing page with a chatbot instead of an inquiry form, like this:
Granted, it could feature more copy too. It could talk more about the product or the service as well.
But since its goal isn't to reaffirm the marketing message from the ad, there isn't any need for more content there.
Instead, a conversational landing page aims to kickstart a meaningful conversation with a potential client.
Anyone you send to such page has one option only, to start chatting with your agents.
Here's why using those pages for conversational marketing works so well:
Timeliness. The best time to start a sales conversation is when your marketing message is fresh in the person's mind. That's exactly what happens on a landing chat page, you initiate a conversation with a person almost immediately after they've acted on your ad, email, or another campaign.
Usability. It's ridiculously easy to take action on the conversational page. A visitor doesn't have to consume any long copy. They don't have to make a decision about what you've told them. All they need to do is continue the conversation your ad or other touchpoint has commenced already.
Convenience. Finally, the landing chat page offers a clear pathway to engagement. That's precisely what most of the customers look for these days, after all.
When to Use a Conversational Landing Page
The role of a landing chat page is to initiate engagement with a potential customer. So, if your goal is to tell them more about a product, it wouldn't work.
But if you aim to engage with the person, then the landing chat page is ideal and here are the best scenarios to use it:
Lead Generation
Any campaigns that aim to generate sales-ready leads would benefit from conversational pages. Such pages would increase event registrations, webinar signups, demo requests, and many more by allowing potential leads to interact with the brand directly in real-time.
Email Newsletter Traffic
Landing chat pages help convert email subscribers into customers too. Sending this traffic to a conversational landing chat would allow the customer service team to engage and move those people further in the sales funnel.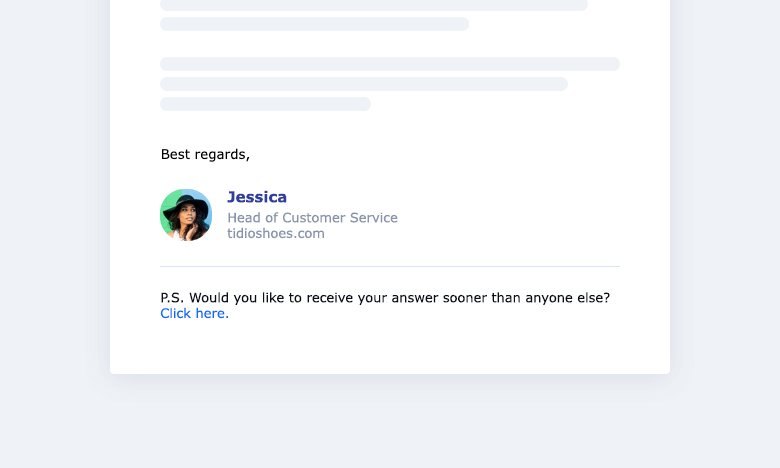 Customer Service
Finally, direct your service inquiries to a landing chat as well. Not only you'll be able to solve customer issues faster, but you'll also provide much faster support. Why, because there is absolutely no chance that a person will get confused about how to interact with your team there.
Key Takeaways
Lead generation landing page have lost their usefulness for lead generation. Today's customers don't want to consume lengthy copy or fill in forms. They want instant engagement, connection, and conversation.
Want to provide it? Well, then, you have to start using conversational landing pages that focus on kickstarting the conversation with a potential lead instantly.
Want to see how a conversational landing page would benefit your brand? Sign up for a demo and get started using them right away.
Try Live Chat For Free