If I showed you a screenshot of a small business website using Intercom, next to a screenshot of the same website several months later, do you know what would be the main difference?
The Intercom's chat widget would be missing from the second screenshot. It would be replaced by another chat provider.
Why?
By that time, that business would have figured out that Intercom isn't the perfect customer support option.
High cost and complexity are likely to be among the reasons.
That's why we've put together this comparison of Intercom alternatives.
In this guide:
Four reasons to use Intercom competitors
11 best Intercom alternatives for your business
Top features of each app for easy comparison
Try a free alternative. Maybe the free plan has all you need…
…or maybe you'll love our chatbot plan and choose to keep it? You won't know if you don't try! Plus, our customer service is amazing.
Learn About Live Chat
Are you here for something different rather than Intercom alternatives? We've got other useful materials for online businesses:
List of Top Intercom Alternatives
Here's a list of all the apps we reviewed with a brief summary of the main differences between a given app and Intercom. Scroll down for full reviews.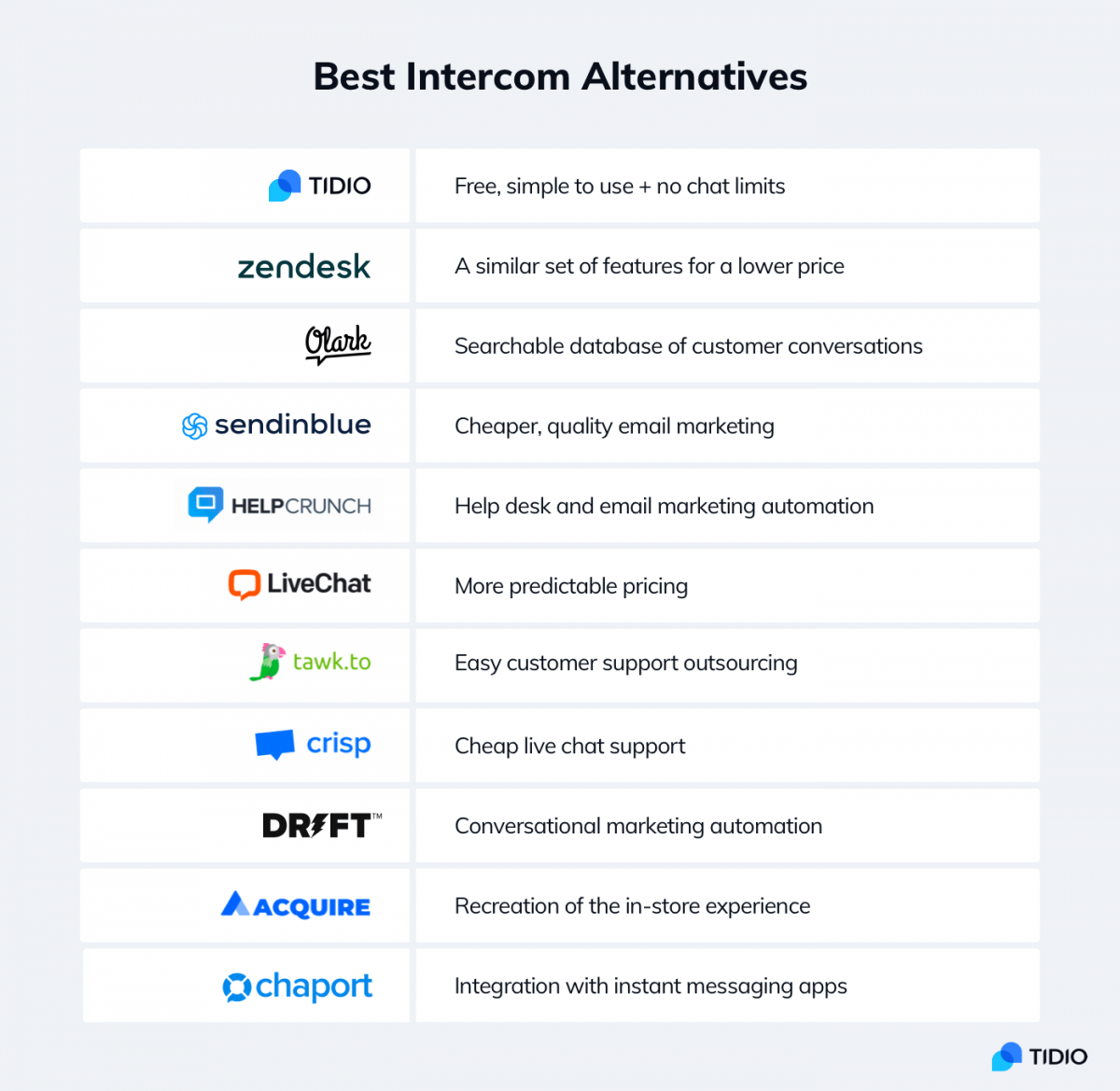 Why Use Intercom Alternatives?
For starters, let's consider why use Intercom in the first place.
Intercom calls itself a "conversational relationship platform." In practice, this means you'll get multiple features and apps for customer messaging. Not just one.
The question is—
Why would you need multiple features and apps?
For one thing, about 78% of customers say they choose different communication channels depending on the context. So, it's essential for businesses to let customers contact them via different channels (live chat, email, etc.).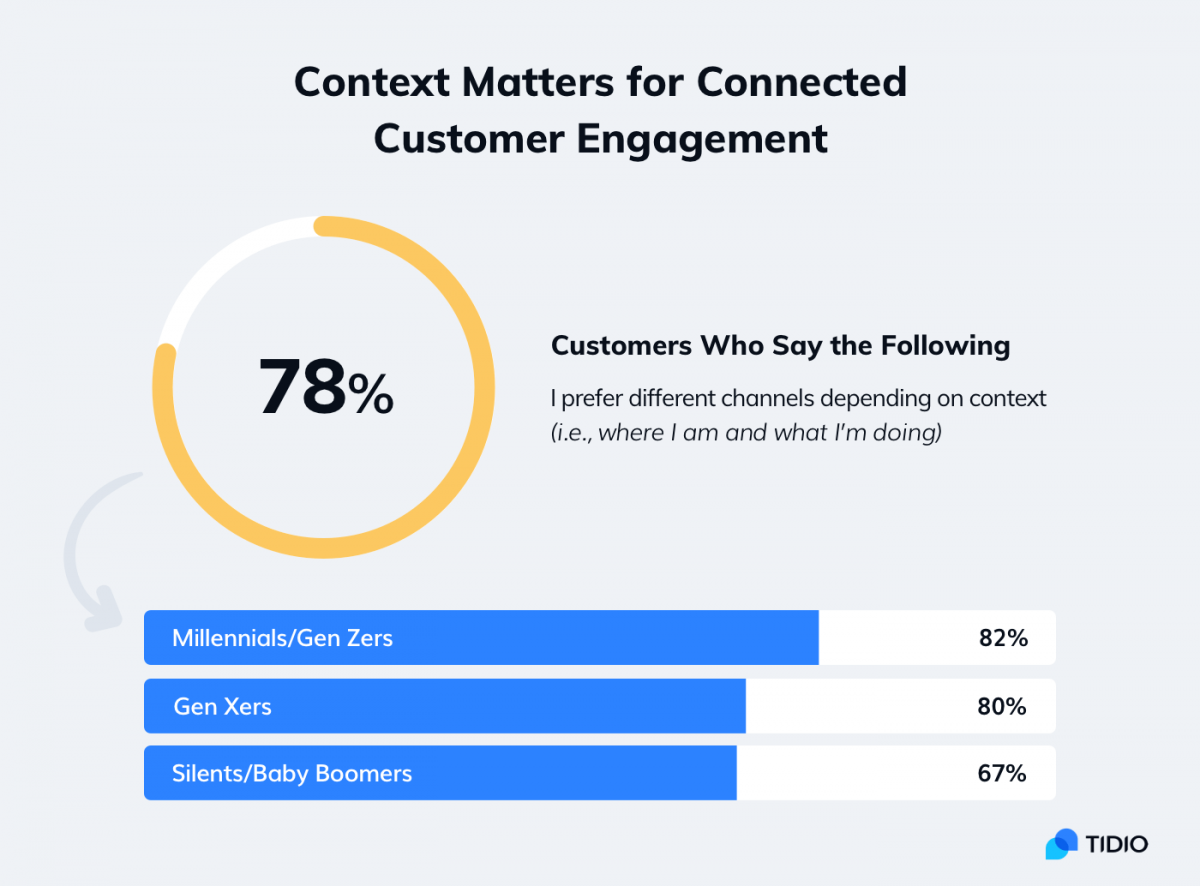 Now—
Intercom is quite popular with large companies. For example, Shopify and Udemy opt for the Intercom messaging platform as they need to handle hundreds (if not thousands) of daily customer requests.
Intercom comes pretty handy with such features as:
Live chat
Chatbots
Video product tours
Email support and marketing
Help Center
Knowledge base for self-service
Customer surveys
Still…
Many entrepreneurs such as yourself are looking for the best alternatives to Intercom.
Why?
Well, there seem to be at least several reasons:
No free plan—The cheapest Intercom price for small businesses starts at $59/mo
Unpredictable billing—There are no fixed plans, so the total cost grows with the number of conversations
Challenging to use—Intercom has 50+ modules and features, which can be overwhelming for a small support team
Customer service issues—Intercom's Trustpilot page has a mediocre 3.4 rating, with many reviews suggesting a lack of timely customer service
The apps we reviewed below will surely help you deal with all these issues. Let's dive in.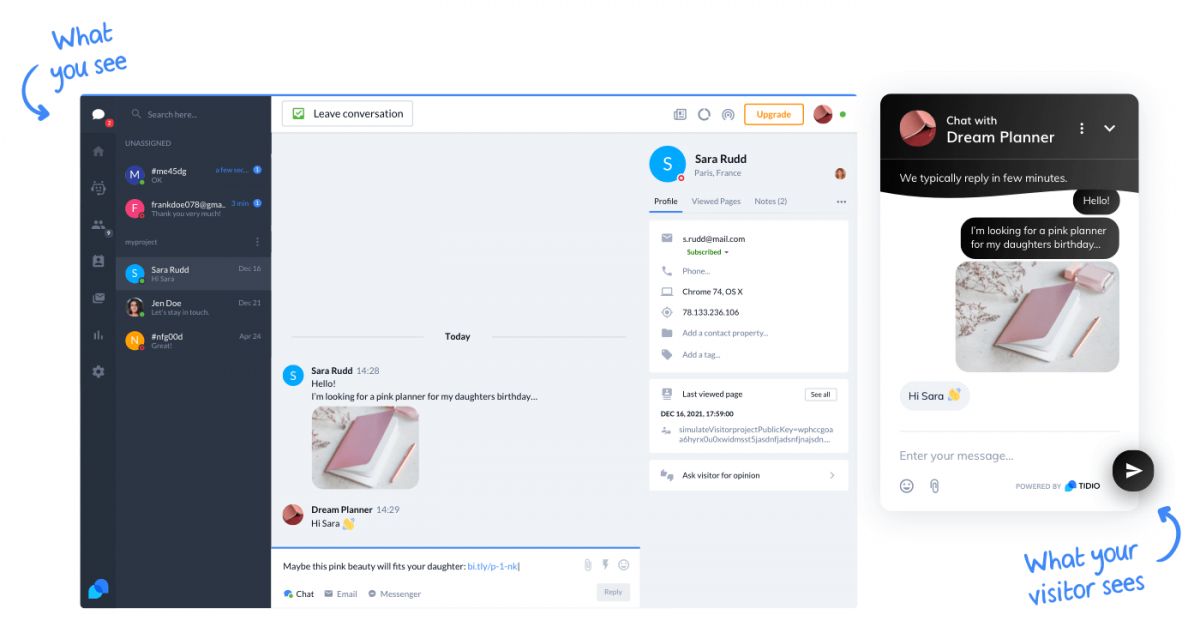 Tidio is the best Intercom alternative because it's so much easier to use and…
Um, no. Let's stop here.
As much we'd love to promote ourselves this way, we won't. Our own article doesn't seem to be the right place for a Tidio vs Intercom battle. Here's a bunch of facts instead:
We won't get any deeper into the Intercom vs Tidio comparison. Simply try our live chat, chatbot, and email marketing software for free, and leave us a review. We'd love to hear your opinion!
Pricing:
Free plan with essential live chat, chatbots, and email marketing features. Paid plans start at $18/mo
Why is Tidio a good Intercom alternative?
Simplicity. Tidio is easy to set up—you can start chatting with visitors in minutes. Also, you'll appreciate the forever-free plan without limits on conversations.
Jano launched his small business with $500 for marketing. So he installed live chat to speak to high-intent customers and chatbots to deal with FAQs automatically. Results: 4x more leads and sales within two months. Full story: How We Turned Cat Travel Bag Idea Into a $100K/year Side Business
Turn your website visitors into delighted customers.
Set up the Tidio live chat app in 5 minutes and watch your sales grow.
Learn About Live Chat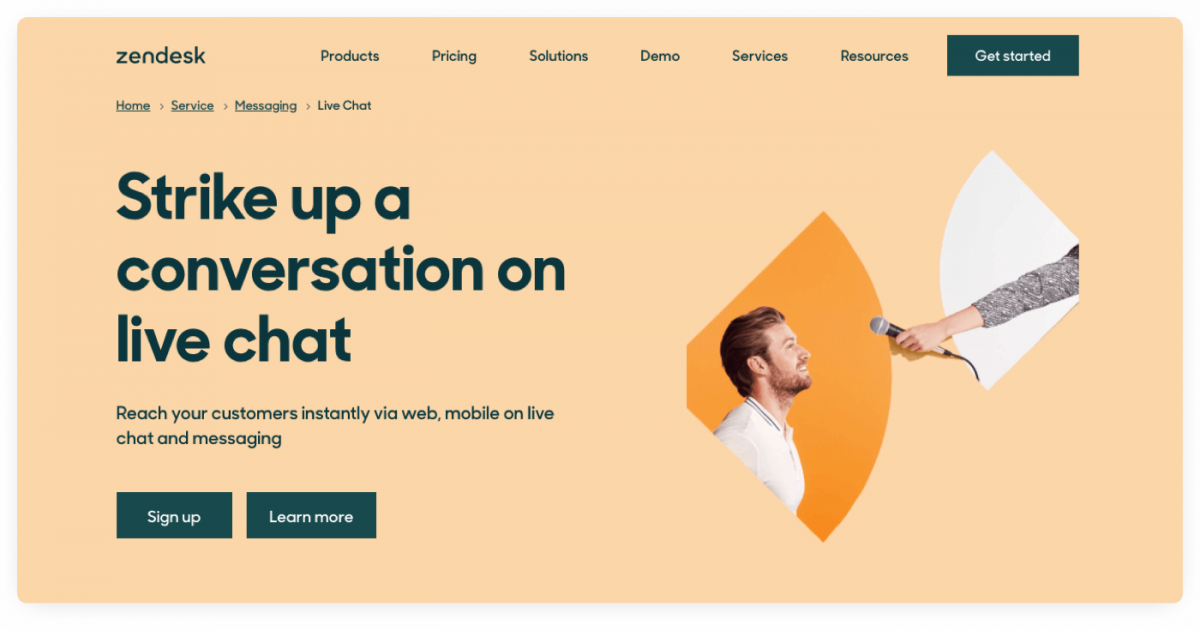 Oh, the "Intercom vs Zendesk" rivalry. The two customer messaging systems have comparable sets of features, but Zendesk is more customer support-oriented. Its live chat tool is rather an addition to a helpdesk suite with a ticketing system, SMS, phone, and email support.
The verdict? Zendesk is a good Intercom alternative for growing businesses with a dedicated customer support team. You'll get many customer support channels for a slightly lower cost, but still have to watch spending—adding new operators costs extra.
Pricing:
Paid plans start at $49/agent/mo. A free trial without credit card is available
Why is Zendesk a good Intercom alternative?
Price. Zendesk is a cheap Intercom alternative that offers advanced functionalities like a ticket system or customer help center.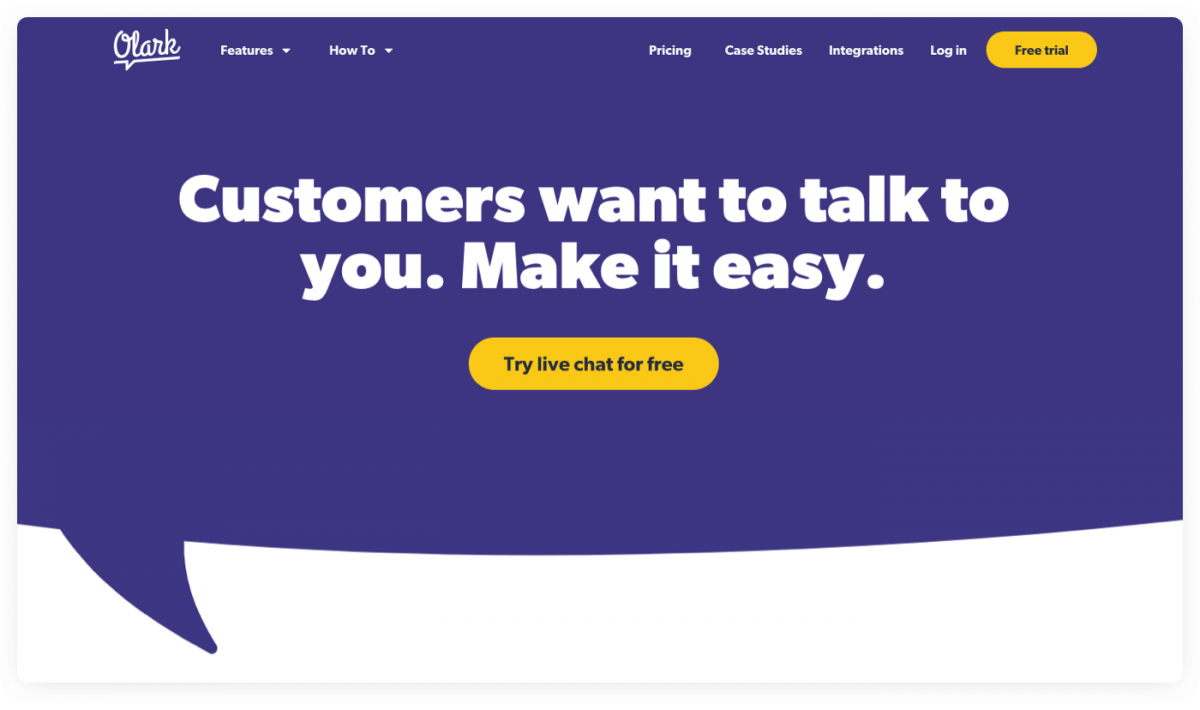 Olark is one of the simpler Intercom alternatives that focus on gathering, storing, and analyzing chat conversations with customers. This live chat app comes with a transcript archive and metrics to evaluate support team performance and customer satisfaction.
What you'll like about Olark is the simple and customizable live chat widget. Compared to Intercom, this one is much easier to use and has fewer extra features, which a small support team will appreciate.
Pricing:
There's a free plan, but it's limited to only 20 conversations per month. Paid subscription costs $19/agent/mo
Olark vs Intercom: what does Olark do better?
A searchable database of customer conversations. You can search for insights and feedback on your products and support team.
Olark, Tidio, and Zendesk are among the top live chat apps for customer support and sales in 2021. Here's how companies can use them: 17 Best Live Chat Software Apps Reviewed [2021 Update]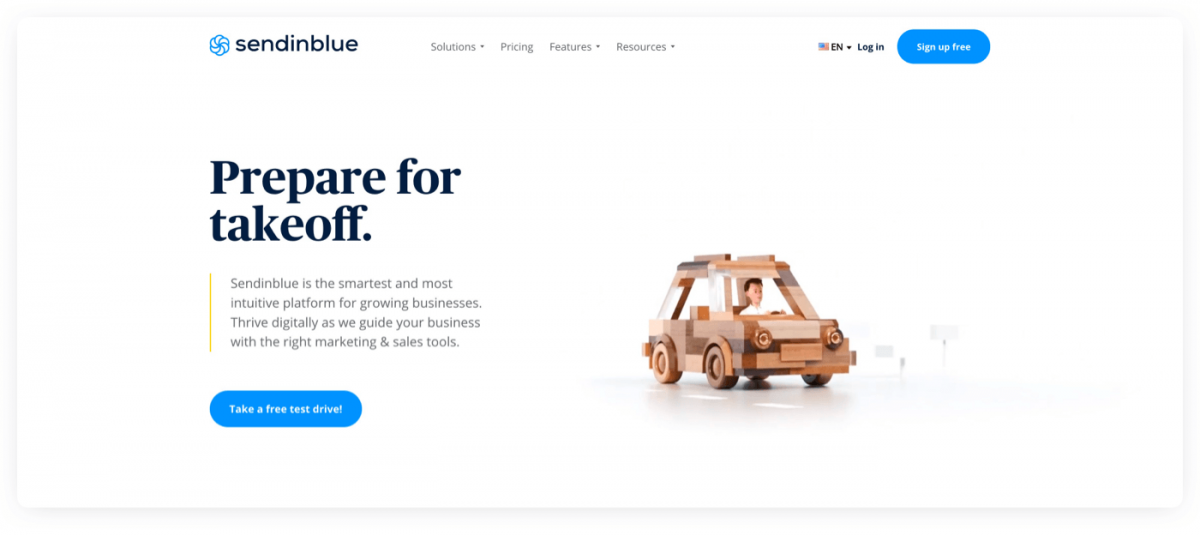 SendinBlue is a highly-rated Intercom alternative with email marketing, SMS marketing, and website chat. It's a good option for budding businesses with a growing number of customer requests that also want to explore new marketing channels like SMS.
SendinBlue also has a good reputation among SaaS businesses. Venture Studio, the biggest venture building company in the UK, describes in this post that it uses SendinBlue for transactional emails for new startups. The reasons: servers in North America and Europe + a 98% deliverability rate.
Pricing:
Free plan available with basic CRM, chat, and email templates (but there's a 300-email daily limit). Paid plans start at $25/mo (plus advanced features for an extra charge)
Why is SendinBlue a good Intercom alternative?
Cheaper, quality email marketing. If email support and marketing are your main goals, SendinBlue should be right + you get chat, SMS, and CRM features.
Do your emails get delivered to 98% of customers like Venture Harbour's? Read this guide How to Avoid Spam Filters And Improve Email Deliverability Rates to know more.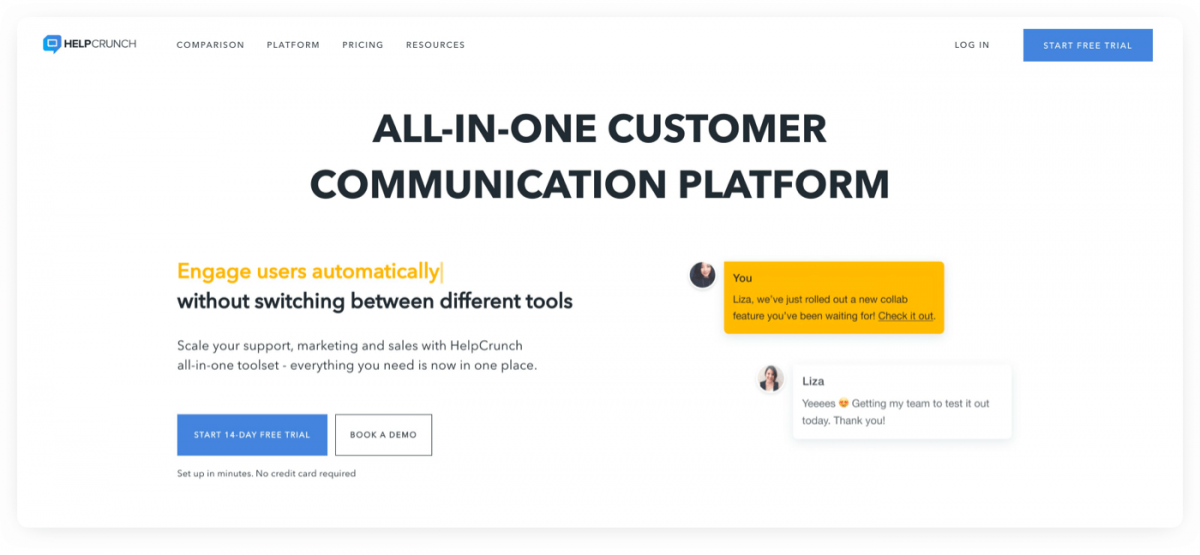 "Plenty of useful features!"—You've probably seen such Intercom reviews praising the platform's functionality. That's true, but hey, you can get basically the same suite of features for less. HelpCrunch is a good example of such an alternative to Intercom.
For just $15 per agent, you'll get legit help desk software with live chat solution, help desk, knowledge base, and even pop-ups.
Pricing:
Paid plans start at $15/agent/mo—a budget-friendly deal for budding SaaS businesses looking for more sales
Why is HelpCrunch a legit alternative to Intercom?
Help desk and email marketing automation. HelpCruch is one of the cheaper and quality Intercom competitors offering multiple support features.
Customer agents who switch between live chat, help desk, and other tools need impressive skills to maintain a good reputation for businesses. Find the full list of these skills here: 17 Key Customer Service Skills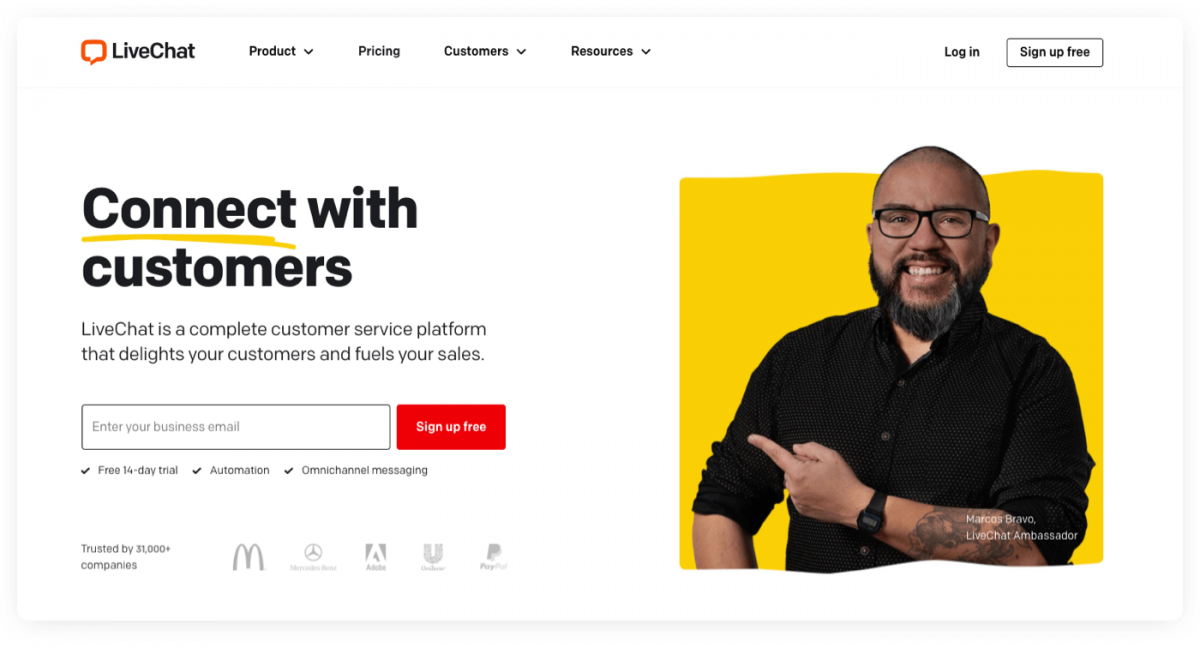 LiveChat prides itself in being the best alternative to intercom because of the clearer and lower pricing. Indeed, plans here cost a fraction of Intercom's, plus the price is based on the number of agents rather than conversations.
The cheapest plan has a ticketing system and real-time website chat. This could be enough for a small business. One agent can handle 21 tickets, so if this number is within your goals, then LiveChat's starter plan could be enough.
Pricing:
$19/agent/mo for the cheapest plan. Solutions for support agent teams start at $39/agent/mo
Why is LiveChat a good Intercom alternative?
More predictable pricing. Unlike intercom chat pricing that increases with the number of customer conversations, LiveChat's price is based on how many agents you have.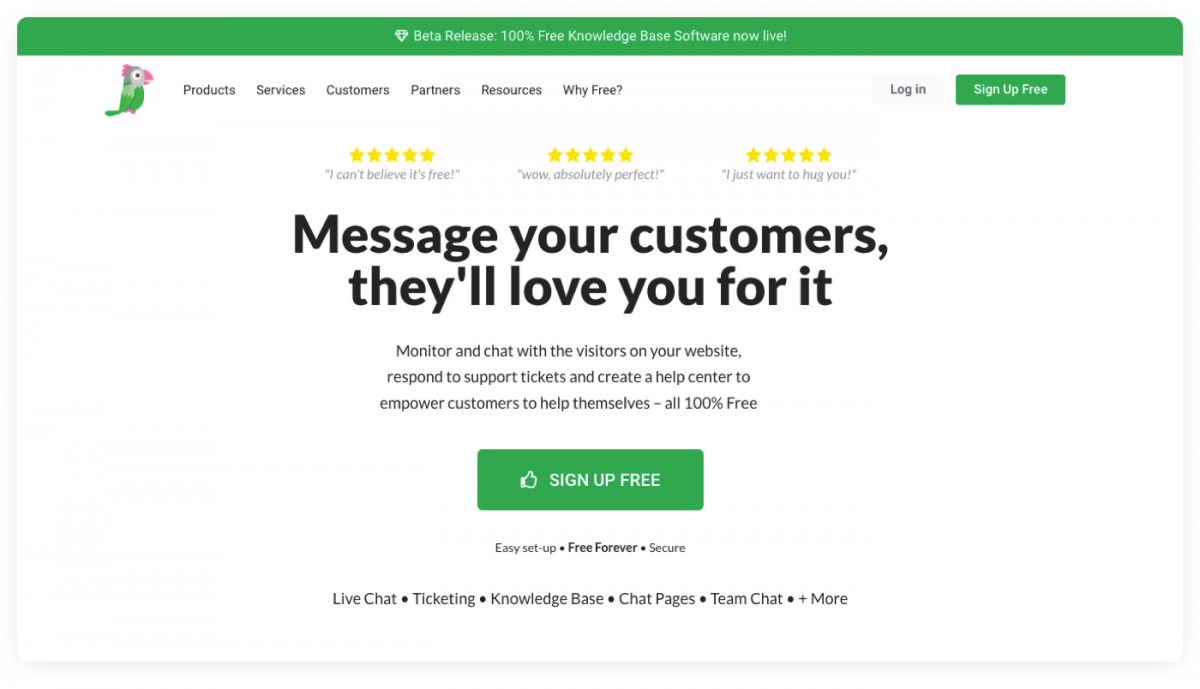 Tawk.to is one of the unique Intercom competitors because of two reasons. First: you can use the live chat for free. Second: the company offers hiring its own customer support agents. This business model makes Tawk.to stand out in every live chat software comparison.
Tawk.to's dashboard would be simple to people who worked in customer service. It's basically an agent management tool with performance stats and useful data on customer interactions.
Pricing:
The live chat app itself is free. The cost of hiring one customer support agent varies from $1/hour to $2.50/hour
Why is Tawk.to a good Intercom alternative?
Easy customer support outsourcing. If you'd like to hire a team to do customer support for your business, Tawk.to is a good Intercom alternative.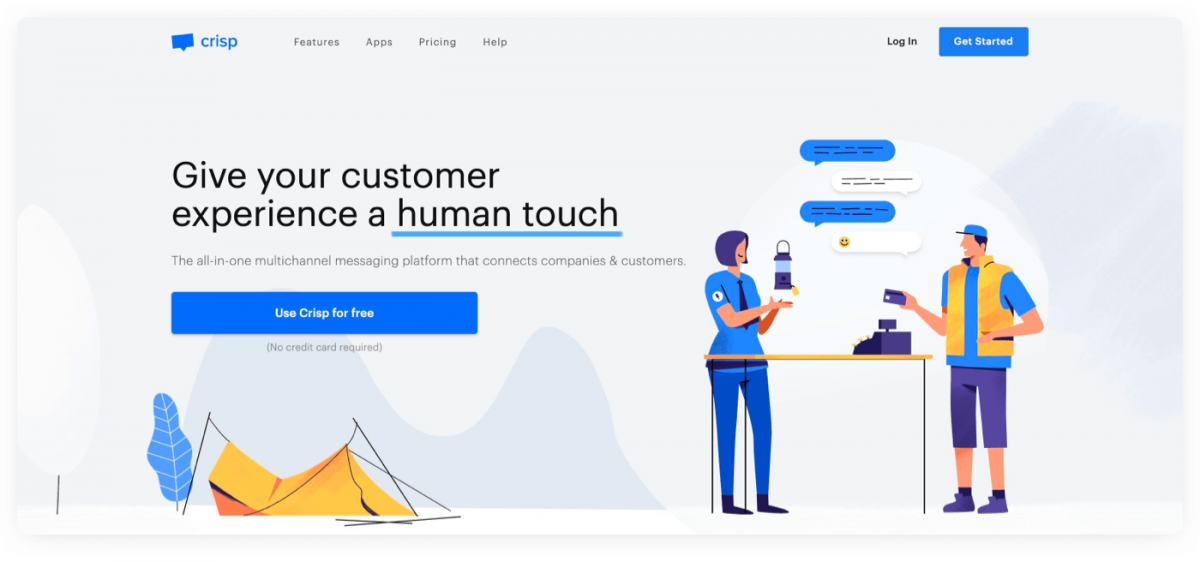 Crisp has a forever-free plan with basic live chat features—already an upgrade from Intercom. But there's a pleasant bonus—you can get notified about customer chat requests via a mobile app.
Based on the features, Crisp is a good Intercom alternative for startups and personal websites. For example, the Pro version allows to write customer replies directly from Slack—a nice perk for agents working in SaaS startups.
Pricing:
Free plan for two operators. Paid plans begin at $25/mo/website
What does Crisp.chat do better than Intercom?
Cheap live chat support. With this Intercom alternative, you get free, albeit very basic, live chat for a website.
Are you looking for an intercom alternative for a WordPress website? Check out this list: 10 Best WordPress Chat Plugins for Your Website [2021 Update]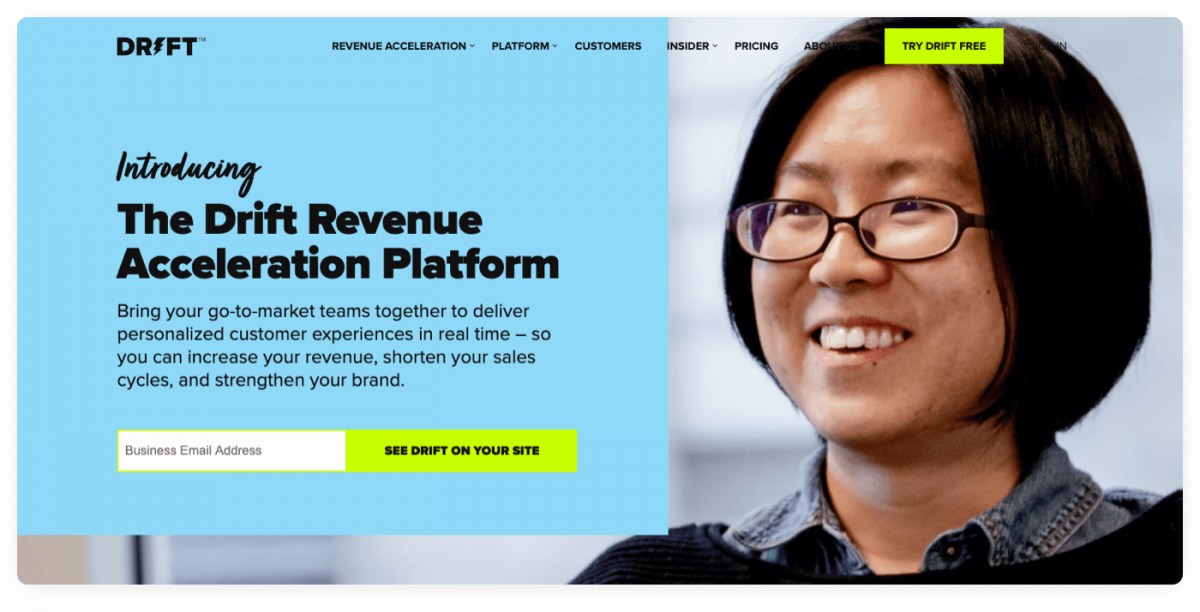 The best way to describe the "Intercom vs Drift" battle is a "tug-of-war" competition. Both web chats have comparable features and are designed for and mid-sized and large businesses.
Feature-wise, Drift is similar to Intercom, which makes it an all-in-one option for mid-sized companies looking to double or even triple revenues. Specifically, Drift is a platform that should help by providing live chat, chatbots, customer segmentation, automatic lead routing, and built-in Salesforce dashboards.
Pricing:
Drift doesn't reveal pricing but has a very limited free plan. Third-party reviews place the cheapest subscriptions at around $50/mo and advanced ones at $500/mo
Why is Drift a good Intercom alternative?
Conversational marketing automation. Features in Drift are designed to help businesses engage, generate, and qualify more leads with conversational marketing features like chatbots.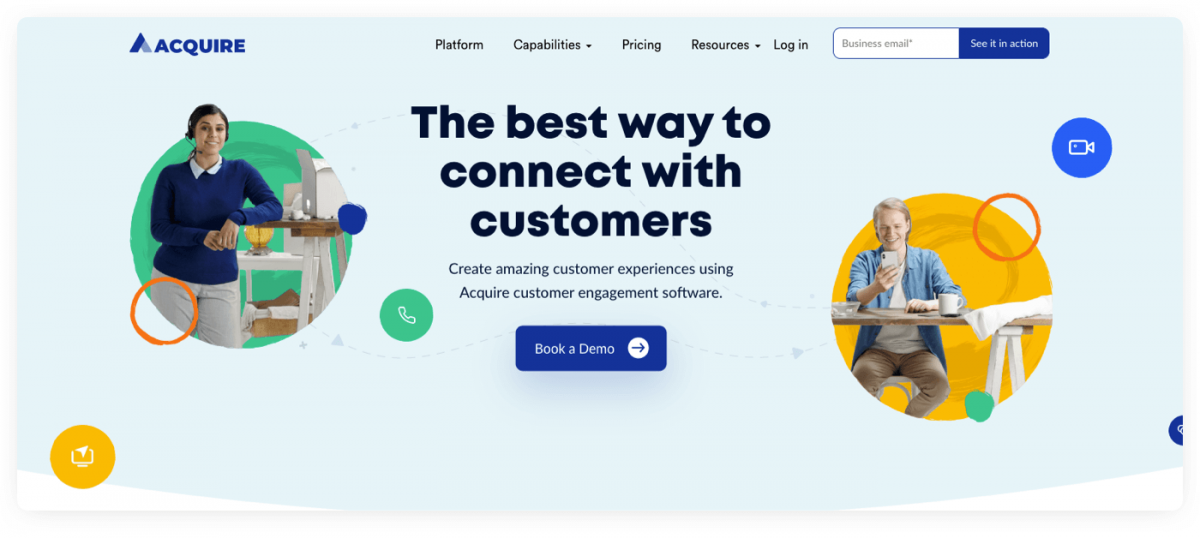 Acquire.io is a worthy Intercom software alternative for mid-sized businesses looking to recreate the in-store experience for online customers. Thanks to video and audio calls and co-browsing features, agents can help with complex issues.
Another reason to consider this Intercom alternative is the auto-translation of customer conversations. Businesses looking to engage international audiences can use this feature to serve more customers and increase sales.
Pricing:
Acquire.io doesn't list pricing on the official website. Trusted online sources suggest the monthly price of paid plans to be around $300/mo, which places this Intercom alternative beyond the reach of small businesses
Why is Acquire.io a good alternative to Intercom?
Recreation of the in-store level of customer experience. Acquire.io has audio and video calling, so customer support agents can even provide face-to-face assistance.
Alex, the founder of Small Wallets, used live chat to recreate the in-store experience after the pandemic hit. Results: extra £2,700 in sales and a new corporate client. Here's how he did it: How to Recreate In-Store Customer Experience Online and Boost Sales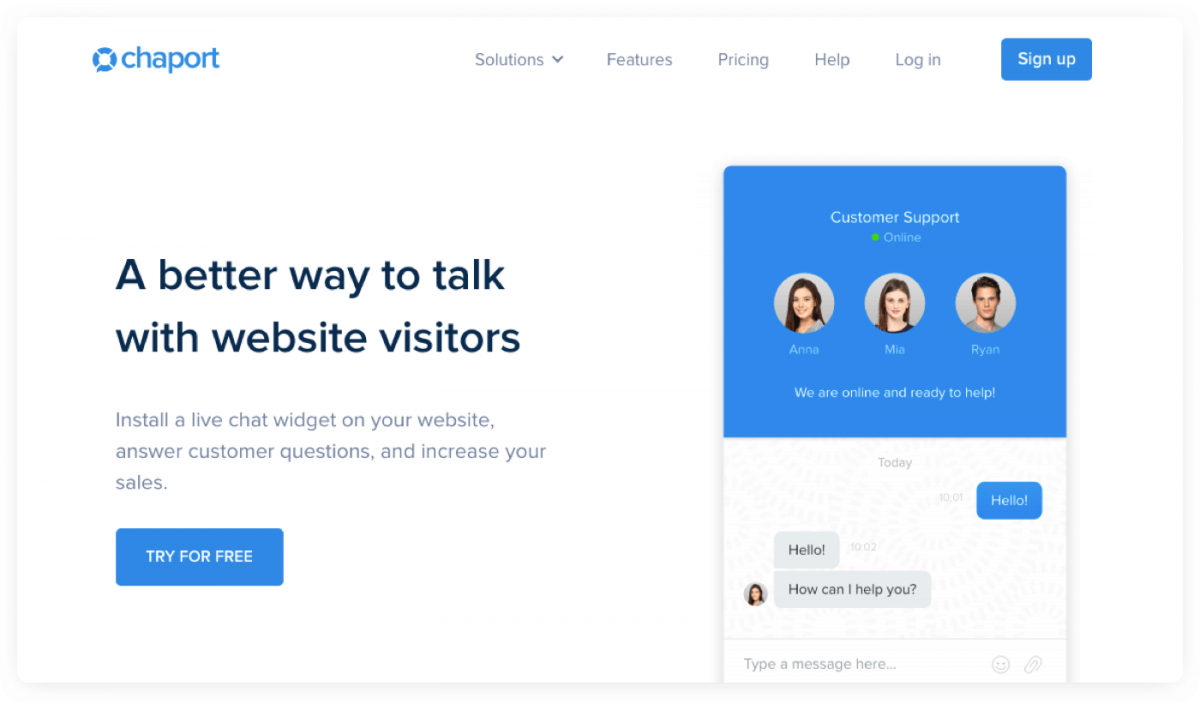 Chaport is a simple Intercom messaging alternative for eCommerce companies looking to chat with customers via instant messaging apps. There's a single inbox for website live chat and Facebook Messenger, Telegram, and Viber messages.
If social media customer engagement is a major part of your inbound marketing strategy, then this Intercom live chat alternative could be right.
Pricing:
Free plan for one operator. The premium plan with instant messaging integration costs $9.80/operator/month
Why is Chaport one of the best alternatives to Intercom?
Integration with instant messaging apps. You can use Chaport live chat to accept customer requests from Facebook, Telegram, or Viber.
Best Intercom Alternatives: Summary
Intercom is a huge name, but that doesn't mean it's right for your business. That's why many online companies switch to Intercom alternatives or choose them straight away.
We hope this customer support software comparison helped you understand your options better. Once again, the top Intercom competitors:
Tidio
Zendesk
Olark
SendinBlue
HelpCrunch
LiveChat
Tawk.to
Crisp.chat
Drift
Acquire.io
Chaport
Make sure to read reviews before choosing an Intercom alternative for your business. Entrepreneurs like you often share their experiences and useful details like monthly cost and which helps to handle specific goals better.
Turn your website visitors into delighted customers.
Set up the Tidio live chat app in 5 minutes and watch your sales grow.
Learn About Live Chat