Intercom is not just a chat widget for websites. It is a powerful set of tools that can be real life-savers for online businesses. It has a help desk ticketing system, customer management features, chatbots—you name it.
But is Intercom worth its price tag?
According to services such as Capterra, there are almost 400 other help desk and live chat apps. Could there, perhaps, be a cheaper and better platform to connect with your customers?
We have reviewed and tested several customer messaging solutions. And we had one goal in mind—finding the best alternative to Intercom.
In this article:
The most popular Intercom alternatives
Ratings, pricing plans, and feature comparison
How to choose the best option for your business
If you are interested in specific modules available in Intercom—live chat, chatbots, or ticketing management—you can also read: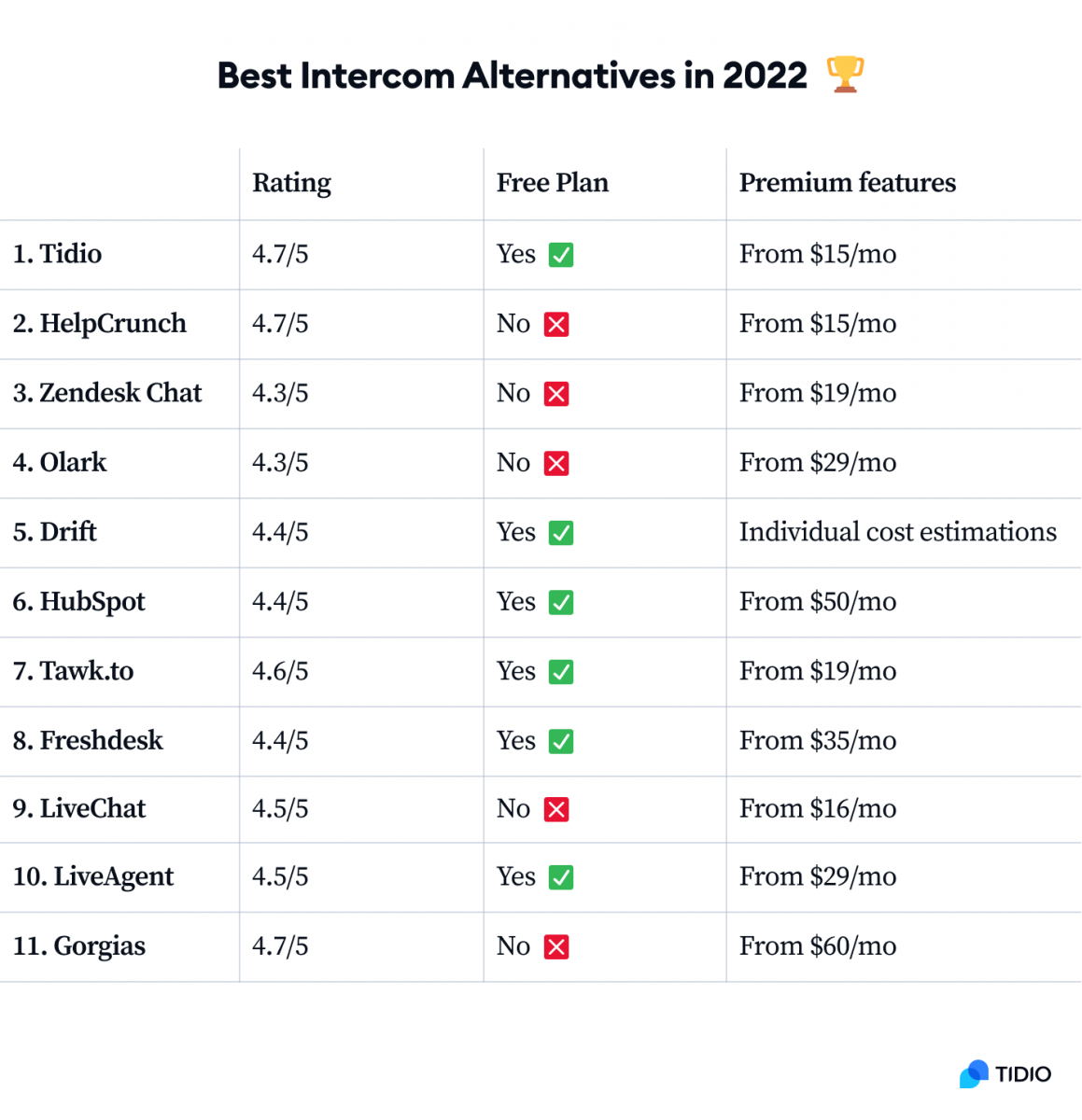 Intercom competitors: overview
Intercom was founded in 2011 and, over the years, they have earned a loyal base of users. Their solution targeted companies that wanted to build relationships with their customers through instant messaging. Businesses, ecommerce in particular, have recognized the value of this technology.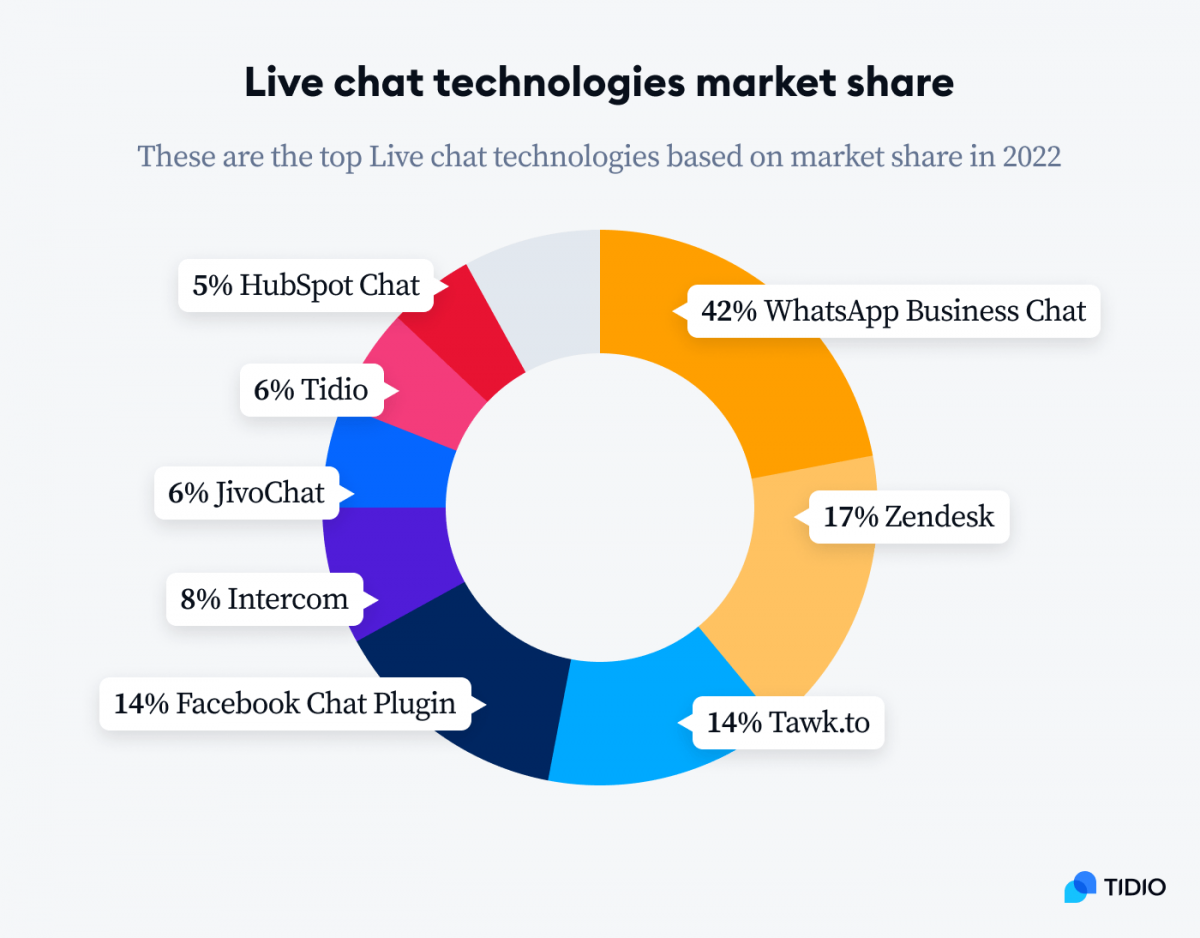 According to Wappalyzer, as of February 2022, there are more than 157,000 websites using Intercom. This translates into some 8% of the entire global live chat market.
However, some sources give much lower estimates. While Intercom may have been part of the tech stack of many companies, data from Hunter suggests there are only 18,000 active websites using Intercom on their radar.
Intercom can be used to:
Communicate with customers in real-time to improve customer satisfaction
Track customer interactions to improve the quality of their customer service
Collect customer feedback to improve their products and services
Create automated customer service and marketing workflows to offer help 24h/7
Some of the "we run on Intercom" companies include popular brands like Udemy, Loom, Unity, Zeplin, or Atlassian.
Clearly, there are many reasons behind the popularity of the tool. But are there any valid reasons to choose one of the Intercom live chat alternatives instead?
Why should you use an Intercom alternative?
When it comes to customer service software, it is difficult to find a one-size-fits-all solution. Intercom is no exception—it is not perfect for every single type of business.
The pricing can be prohibitive, and the costs could be difficult to estimate beforehand
It is hard to decide what features and which plan is suitable for your needs
Smaller companies may have trouble seeing their costs and efforts paid back
Some users claim that the chatbot building tools lack flexibility and are not intuitive
Setting Intercom up and figuring out everything on your own can be challenging
Ironically, it may be difficult to reach their customer service and get help if you are not a high-priority business partner
It all ultimately comes down to whether you get what you pay for. You can definitely get more bang for your buck with some cheaper alternatives to Intercom.
Who are Intercom's competitors?
There are dozens of tools that offer similar functionalities related to customer support, conversational AI, and CRM.
The 11 best Intercom alternatives are:
Now—
Some platforms are better for ecommerce and others are more suitable for SaaS companies and startups. There are many additional aspects to consider. For instance, do you plan to integrate your live chat tools with social media? Or maybe you need bots and email templates for marketing automation?
Let's review them one by one to find the best messaging platform or customer database software for your business.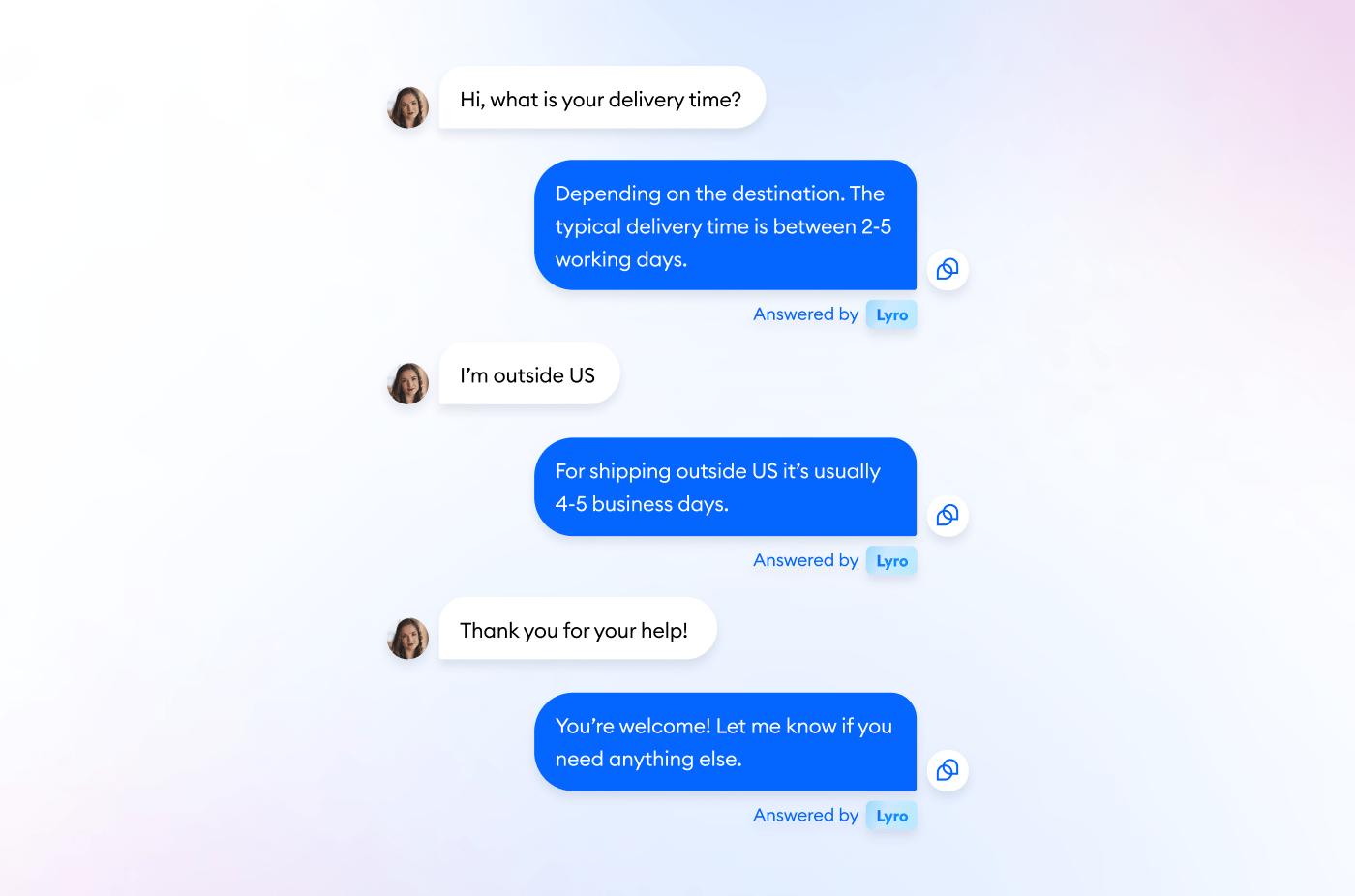 Ratings: 4.7/5 ⭐️(1,400+ ratings)
Lyro is brought to you by Tidio. It allows businesses to communicate with customers in a quick and efficient way to resolve any issues shoppers may have. This software also tags customers and records all chat conversations, so businesses can refer back to them if needed.
It's an affordable alternative to Intercom that offers an extensive set of features. Brands can use AI chatbots to improve customer satisfaction and level up their business. Lyro uses deep learning and natural language processing technologies to provide your visitors with the best experience on your website.
Main features:
Easy installation on any website
Unlimited conversations
Variety of integrations including Facebook Messenger, Instagram, Zapier, Google Analytics, or Slack
Visitor and incoming chat notifications on your mobile app
Shared inbox for omnichannel communication
Self-training software
Bot intent recognition 
Natural Language Processing (NLP) chatbots
Free plan available
Starter ($29/mo)
Communicator ($25/mo/operator)
Chatbots ($29/mo)
Lyro add-on ($39/mo)
Tidio+ (from $329/mo)
User rating: 4.7/5 ⭐ (163 reviews on G2)
HelpCrunch is a customer engagement platform that helps businesses to keep track of customer interactions, chat with customers, and measure customer engagement. It also offers a suite of tools to help businesses create and manage customer support tickets.
The best features available in HelpCrunch are its open API, chat widget, and ticketing system. They allow you to connect with your customers, provide customer support, and track customer behavior. HelpCrunch is also easy to set up which makes it one of the best Intercom alternatives.
Pros:
You can communicate with your customers through many different channels and manage them all in one place
HelpCrunch provides detailed reporting that lets you see how your support team is performing and how you can improve your customer support process
Cons:
The chatbot feature has not yet been fully developed and released
It can be difficult to customize some of the features to meet your specific needs
Some users have reported minor bugs such as message notifications not always working as they should
Pricing:
Basic Plan (starts at $15/month). Limited messages and email features
Pro Plan ($25 per month). Unlimited auto messages are available
Free 14-day trial. No credit card is required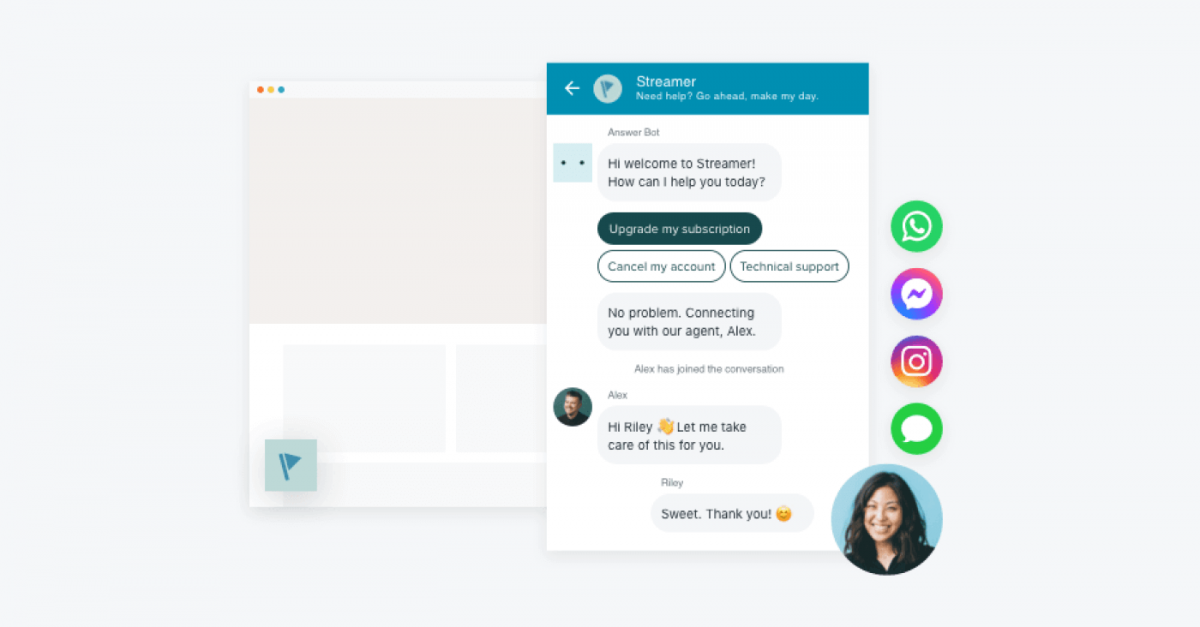 User rating: 4.3/5 ⭐ (3,520 reviews on G2)
Zendesk Chat, also known as Zopim, allows customer service reps to quickly and easily provide support to customers. It includes features like chat transcripts, canned replies, and team collaboration.
Just like Intercom, Zendesk offers a suite of customer service tools, including a help desk, chat, and several automation modules for marketing. You can decide which features you need and create your own setup within Zendesk Support Suite.
Pros:
You can quickly view new or pending requests, see the current workload for your team, and set a status on a ticket
You can add a chat option to any ticket instantly, and clicking on a chat bubble in your dashboard takes you right to that customer's conversation
A knowledge base for articles, bots, and FAQs to provide customer support and self-service options
Cons:
A steep learning curve if you want to use advanced features such as AI chatbots
If you intend to use several of the modules and tools available in the Zendesk environment, the final price of the plans and licenses can be high
Sometimes there are data transfer issues—customers cannot see attached files or exported reports are incomplete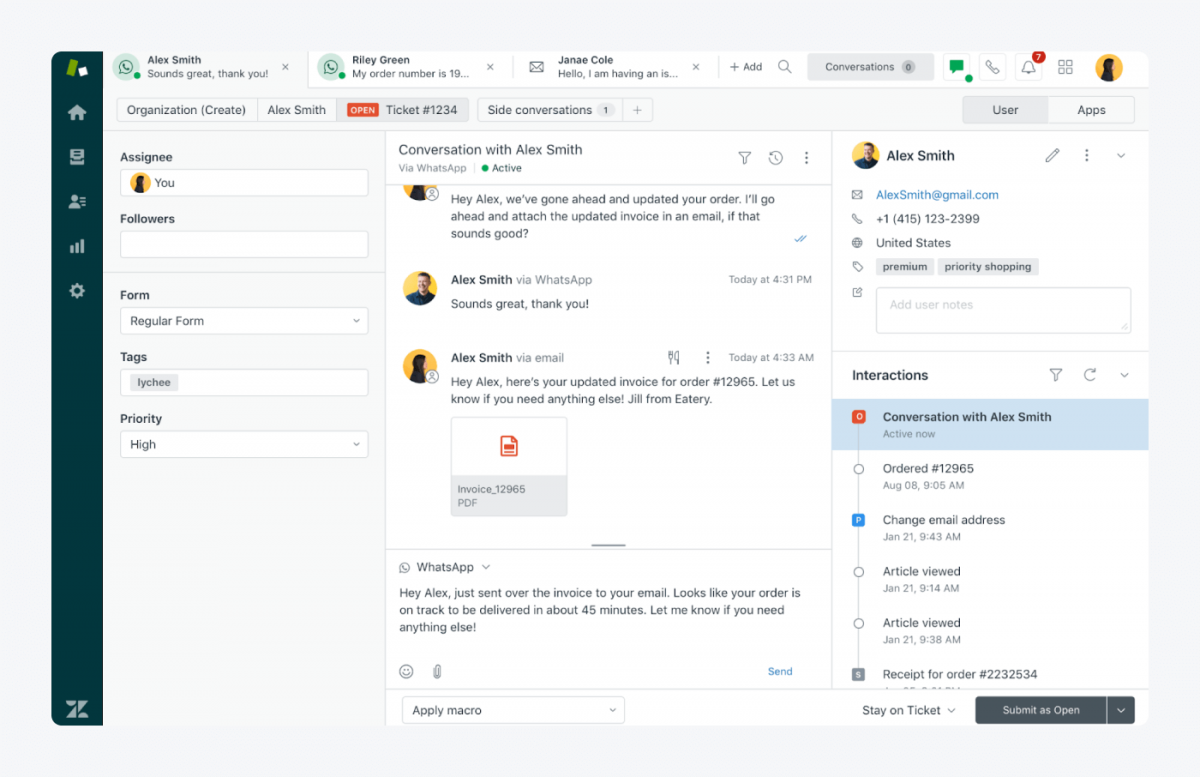 Pricing:
14-day free trial. No freemium plan available but you can test some premium features
Support Only (starts at $19 per month). The basic plan for foundational customer support
Zendesk Suite Team ($49 per month). Additional tools integrated with Zendesk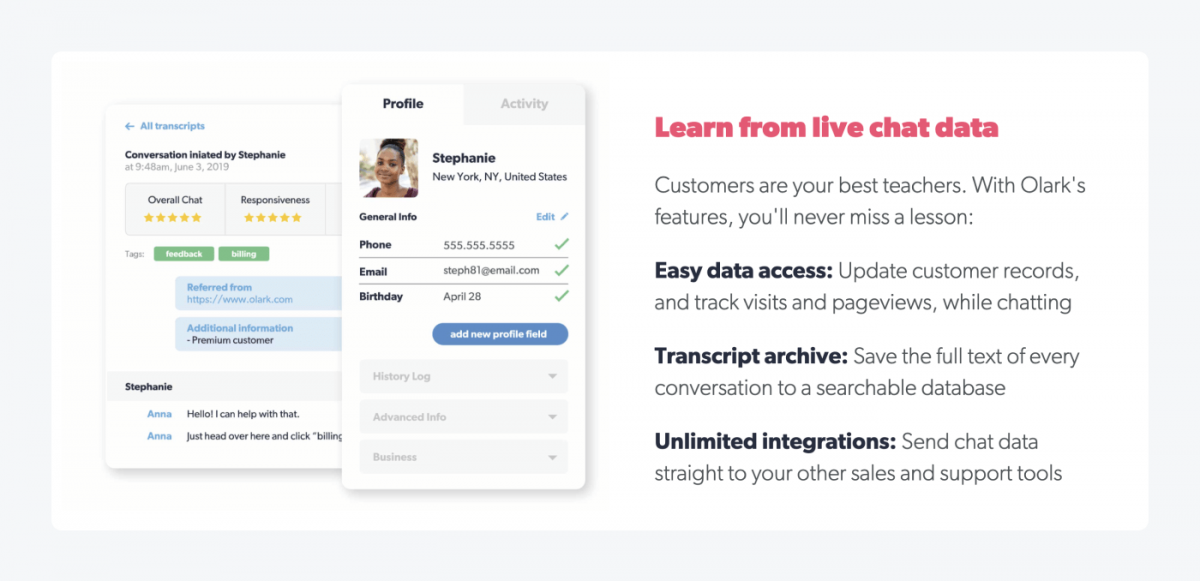 User rating: 4.3 /5 ⭐(220 reviews on G2)
Olark chat software is the perfect solution for small teams who want to take their customer engagement and support efforts up a notch. It has all the features that make it one of our top Intercom competitors for 2022, but without any extra bells or whistles.
This easy-to-use live chat app comes with customizable widgets and good reporting dashboards. You can monitor customer success metrics to evaluate team performance. It also allows you to archive chat transcripts, so you can search through conversations on previous interactions with customers with ease.
Pros:
The design of the widget is minimalistic and responsive—it looks very good on all sorts of devices and websites
The help desk software provided by Olark has a lot of features, such as automating messages, routing chats to the right people, and team collaboration
Works seamlessly with most popular CRM tools including Salesforce and Pipedrive
Cons:
Olark does not have an integrated email marketing panel, so you need to use third-party apps for your email marketing campaigns
Olark could improve its screen-sharing feature and reporting capabilities
The chatbot features are still under development and there is no fixed pricing
The free version does not allow you to set up a list of canned response suggestions in the chat panel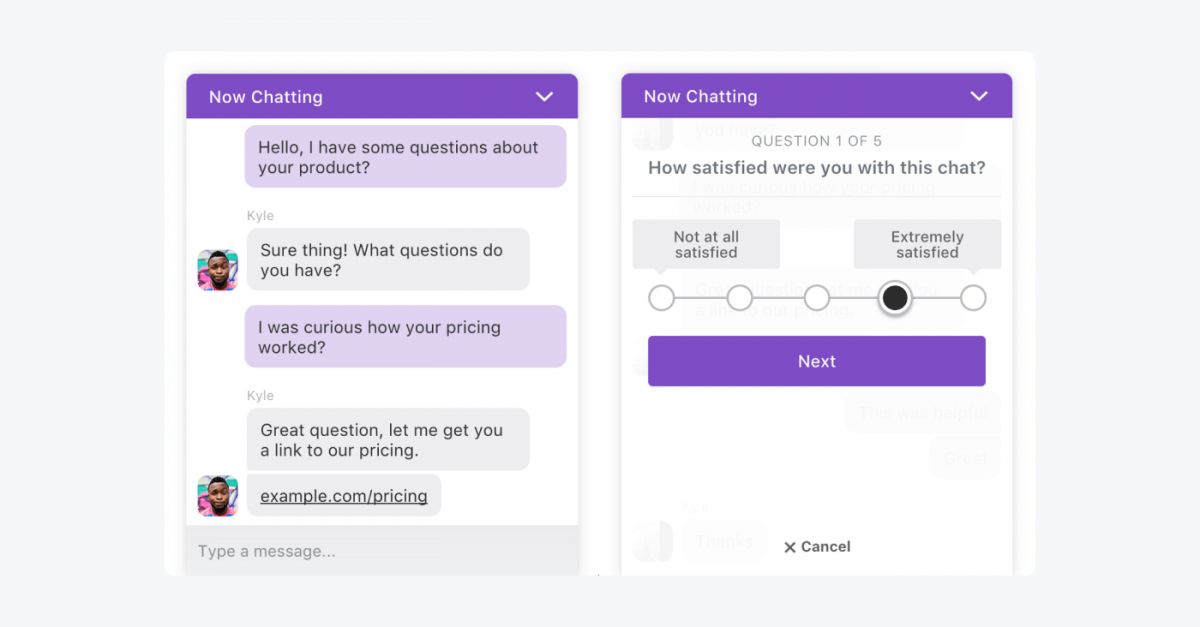 Pricing:
14-day free trial. No freemium plan
Basic ($29/month per seat). Standard features without AI bots
Pro version (individual pricing). Includes support automation and CoPilot chatbots (still in their beta phase)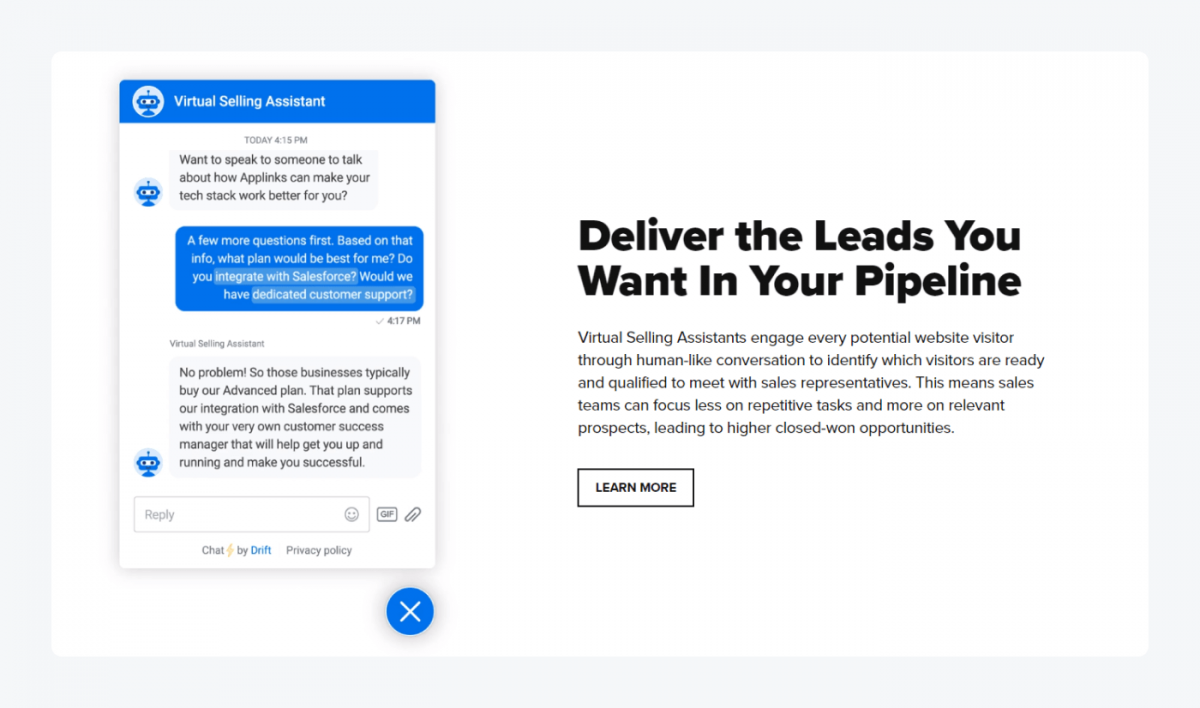 User rating: 4.4/5 ⭐ (556 reviews on G2)
Drift is one of the major players in the conversational AI market. It is designed to help your business grow revenue, shorten sales cycles, deliver excellent customer experiences, and strengthen brand loyalty. It does it all by focusing on the customer lifecycle with conversational marketing and conversational sales.
It also offers automated bots that can help you with various tasks, such as answering questions or providing customer support. You can integrate Drift with your website and other apps in order to offer personalized customer service and improve conversions.
Pros:
Drift allows you to create custom, branded bots that match your brand's look and feel
The platform integrates with other apps like HubSpot, Segment, MailChimp, and Pardot that can automate your customer support
The mobile version of the Drift app can be used on both iOS and Android devices
You can see your performance through visualizations of data points like conversion rates and revenue generation for individual communication channels
Cons:
Some customers have complained about somewhat confusing backend UI
The site provides FAQs and blog posts for frequently asked questions, but there isn't a very strong community to answer more specific or complex questions
Pricing:
Forever free. Some of the premium chatbot features are available during the free trial
Pro (individual pricing). The prices are not disclosed but the paid plans with custom chatbots, lead qualification, and chat support routing for a small team should cost about $400-$500 per month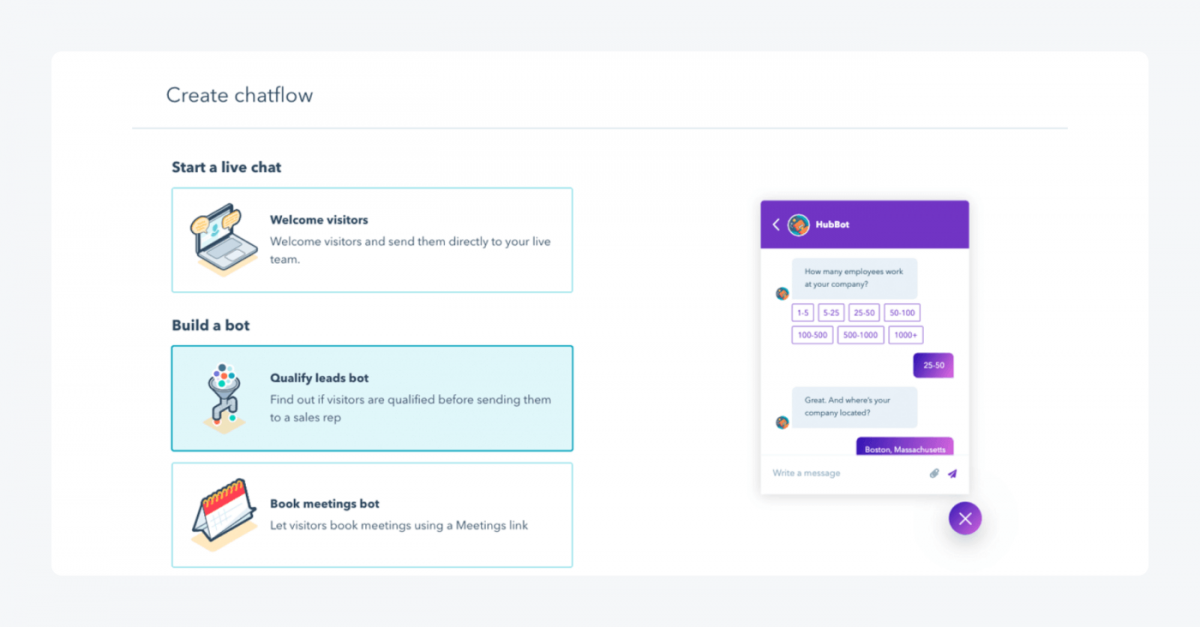 User rating: 4.4/5 ⭐ (892 reviews on G2)
HubSpot is a marketing and sales software company that helps businesses grow by attracting website visitors and converting them into customers. It offers a suite of tools to help businesses with inbound marketing, including a website builder, customer management, and marketing automation tools.
If you're looking for a suite of tools to help grow your business, HubSpot Service Hub is a great option. It's easy to use and built on top of HubSpot's leading CRM, so it includes everything you need to support customers and grow through their success. Plus, you can get started for free!
Pros:
It is easy to track website visitors, see where they come from, and identify the most effective marketing channels
The ability to create email marketing campaigns and identify the most effective subject lines, content, and call-to-action buttons
The pricing is quite reasonable, which makes HubSpot a good value for money for smaller businesses
It can be both a complete Intercom alternative or a mixed solution—you can, for example, connect Crisp live chat and get HubSpot as a help desk app, or use HubSpot live chat and set up Zoho as your customer database
The user interface is neatly organized and easy to navigate
Cons:
HubSpot is primarily a marketing and onboarding tool—great for creating landing pages and marketing emails, but less focused on live chat or chatbot functionalities
Some users claim that setting up your own knowledge base in HubSpot can be a bit tricky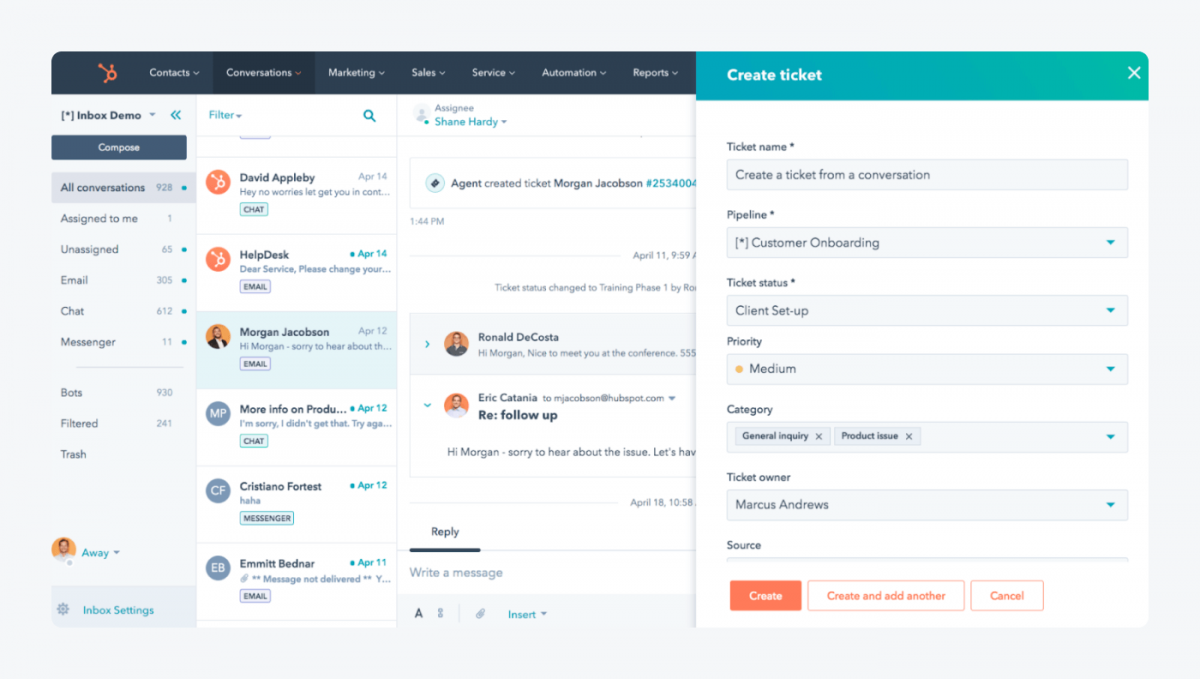 Pricing:
Forever free. You can get the basic HubSpot CRM for free along with a live chat widget and basic bots
Service Hub ($50 per month). Unlocks the most important premium features for customer service
Service Hub Professional Plan ($400 per month). Advanced features and marketing automation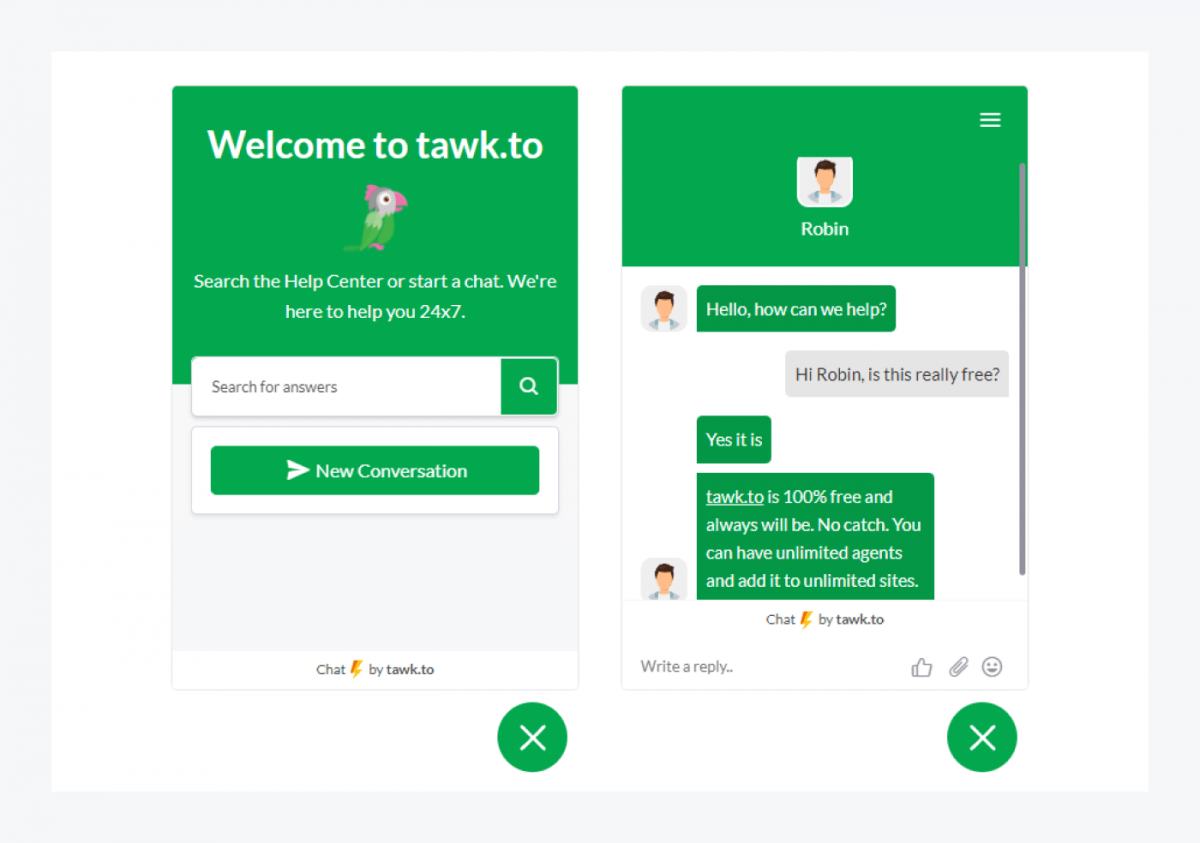 User rating: 4.6/5 ⭐ (146 reviews on G2)
Tawk.to has a very impressive user base and their live chat widget is available on almost 300,000 websites. What is their secret? This app has all features unlocked from the beginning. No premium plans other than removing the branding. They give you an advanced live chat for free and encourage you to hire live chat agents. Tawk.to's business model is slightly different than other Intercom alternatives on our list. But there are some consequences.
You can add unlimited agents and monitor their performance from the admin page. The dashboard provides an overview of website visitors and allows you to trigger engagements. Also, the conversation can be transcribed and sent to both the customer and admin email addresses.
Pros:
Features that are only in paid plans of other tools are available for free in Tawk.to
There are some great group messaging and advanced filtering options for customer conversations
This provider allows you to hire customer support agents through their platform, and it is part of the service
You can integrate it with Zapier and send SMS text messages
The setup is easy, and it is a popular option for WordPress websites
Cons:
It doesn't have chatbots or integrated email marketing tools
It is not a feature-rich platform when it comes to automation workflows because the company's goal is to encourage you to hire more live chat agents
There are many design options for the live chat icon but widget customization, on the other hand, is very limited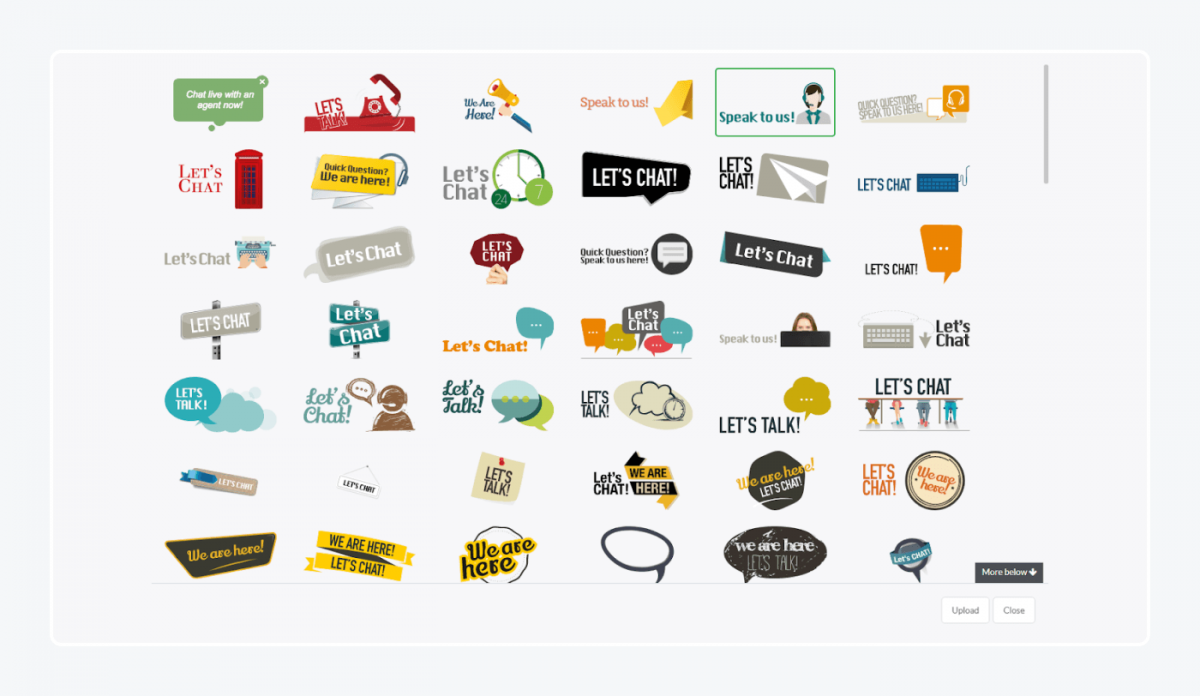 Pricing:
Forever free. The freemium plan has all options unlocked by default
No-branding option ($19/month). You can remove the Tawk.to branding
Hire Chat Agents (between $1/hour to $2.50/hour). Live chat agents with customer service training and native speaker language skills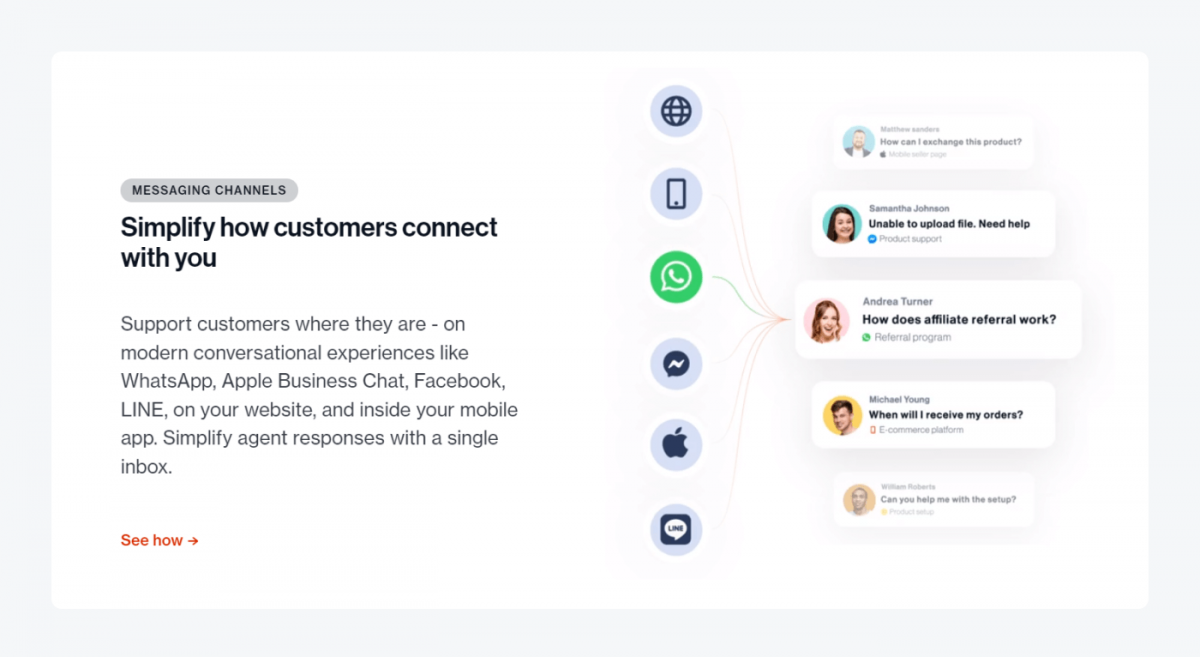 User rating: 4.4/5 ⭐ (2,553 reviews on G2)
If you're looking for a customer service platform that can grow with your business, Freshdesk is a great option. It offers features like knowledge bases, email management, chat, and social media monitoring tools.
As a live chat app messaging solution, is Freshdesk a good alternative to Intercom? It is designed for small businesses, while Intercom and HubSpot are more suited for larger companies. Freshdesk is also more affordable than Intercom, although both products offer a similar range of features.
Pros:
With the Freshdesk Omnichannel Suite, businesses can provide customer support through live chat, mobile chat, and contact center support
Freshdesk's pricing is based on per-agent cost, so you can adjust the number of agents as your business scales up
Cons:
There are some automation features available in the most expensive pricing plans, such as Freddy AI, but it is difficult to create custom chatbot flows and the solution is not very popular among users
Some users have reported data synchronization issues and complained about missing features related to transferring tickets between agents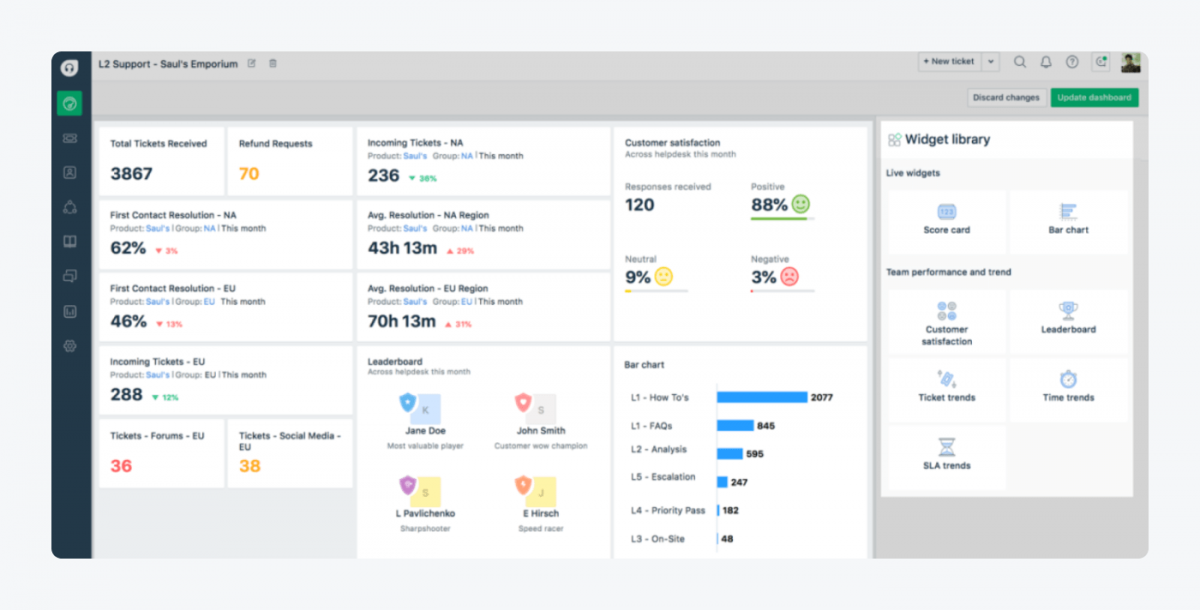 Pricing:
Free Support Desk. This plan comes with limited features, but it has unlimited agent seats
21-day free trial. Selected premium features unlocked
Growth Omnichannel ($35 per month billed for every agent). Help desk, chat, and CRM for multichannel customer support
Read more
Have a look at the best Freshdesk alternatives on the market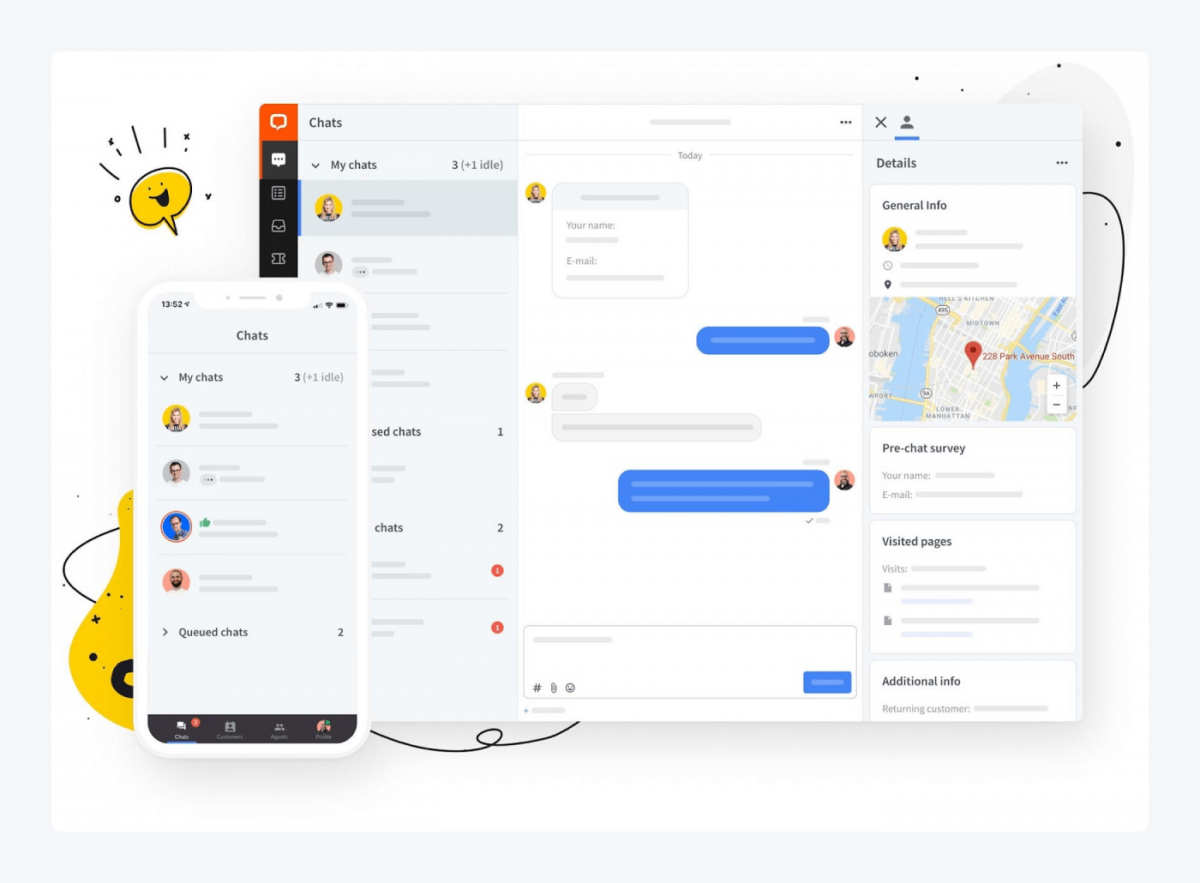 User rating: 4.5/5 ⭐ (722 reviews on G2)
LiveChat is one of the most popular help desk apps and, obviously, live chat solutions. Some features of LiveChat include advanced reporting and analytics, interactive pop-up chats that prompt user interactions, and conversation management features. If we consider all Intercom alternatives on our list, LiveChat is one of the best substitutes.
The company behind LiveChat provides a whole range of interconnected services such as ChatBot and HelpDesk. Yes, these are all proprietary names, in case you wonder. And the apps do exactly what it says on the box.
Pros:
Their pricing is more predictable than Intercom's, and it's based on the number of agents rather than conversations
LiveChat's cheapest plan has all the features you need for a small business
Cons:
It can be quite difficult to configure the live chat widget to be available only on selected pages
If you need additional features, they are available as separate modules—chatbots, for instance, are sold as a separate tool
No freemium option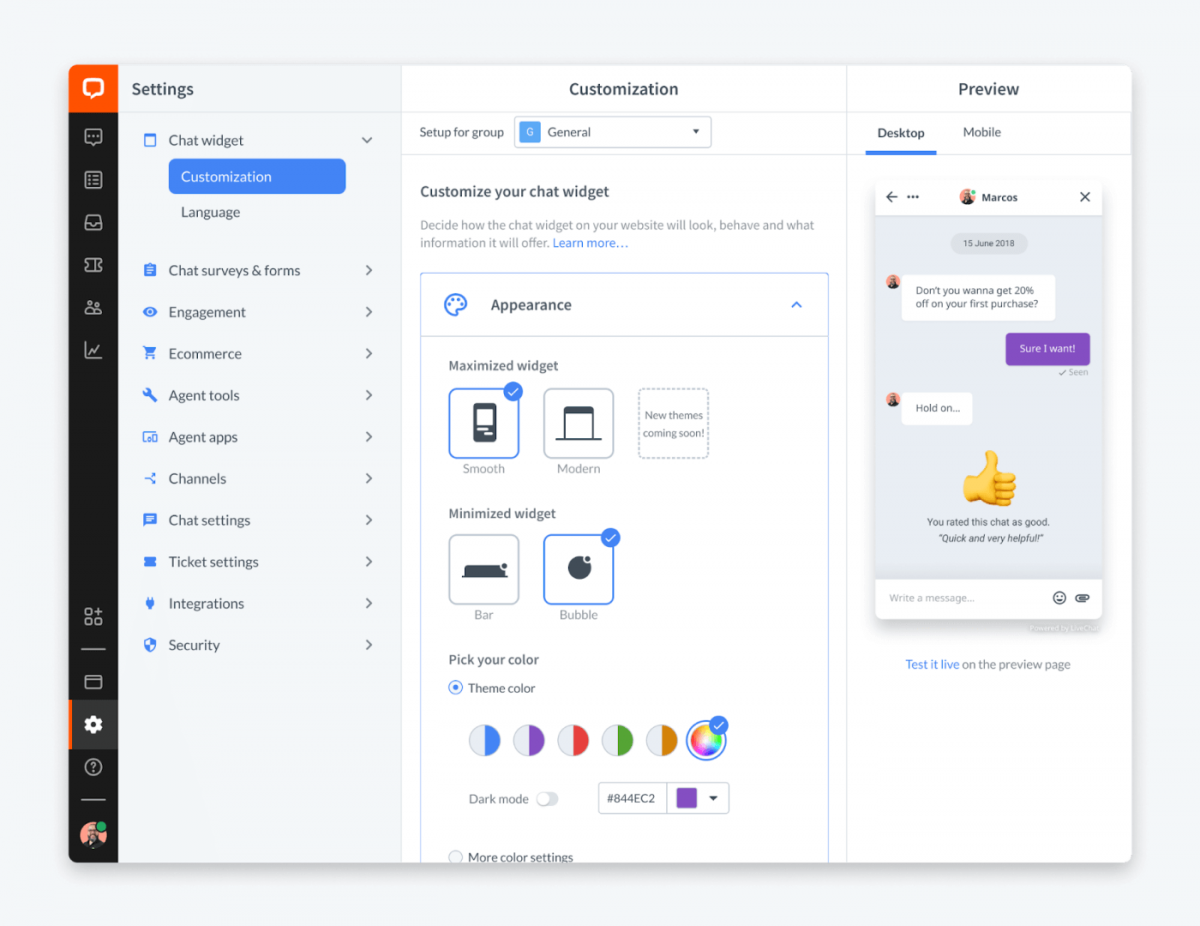 Pricing:
No free trial. There is no free trial available
Starter Plan ($16 per month billed per agent). Basic chat customization features and a ticketing system
Business Plan ($50/month per agent seat). The most popular option with unlimited chat history and advanced reporting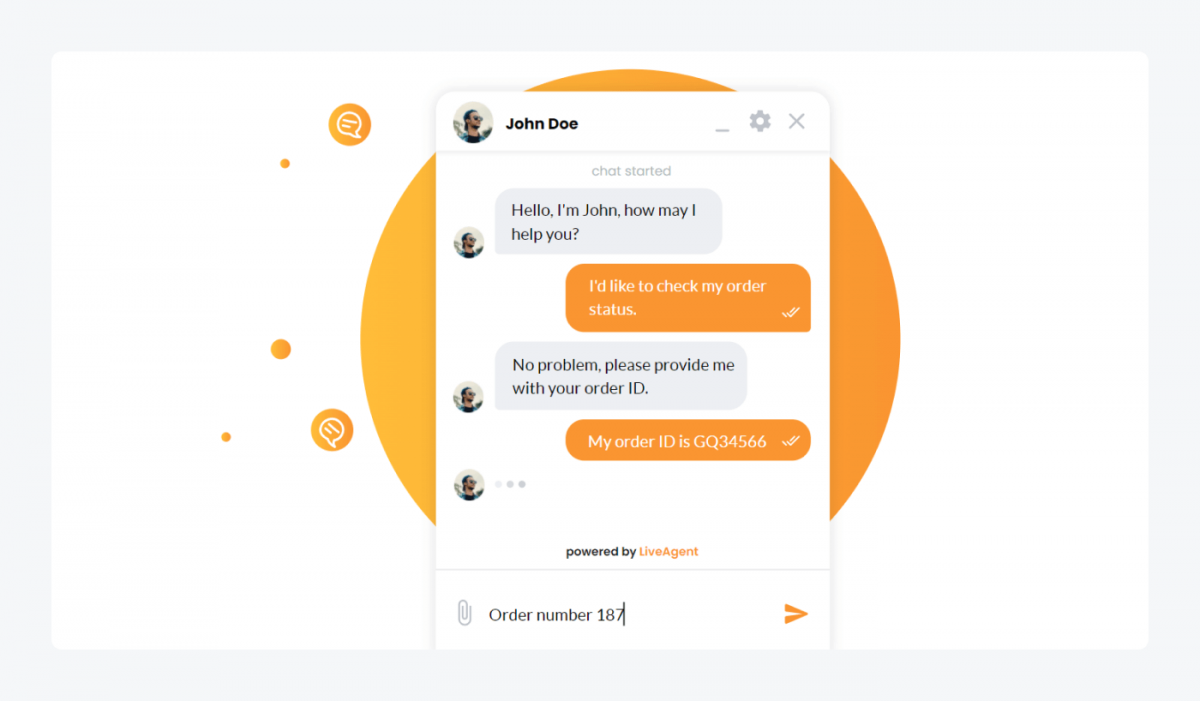 User rating: 4.5/5 ⭐ (1,360 reviews on G2)
LiveAgent is a very popular alternative to Intercom that works great with smaller support teams. Like Intercom, LiveAgent offers a ticketing system, chat engine, and customer profile features. It also integrates with a number of external applications, including Zendesk and Salesforce.
If you need a powerful support platform that can help you provide world-class customer service, LiveAgent is a good choice. With over 190 integrations and 175 features, this all-in-one help desk solution has everything you need to provide personalized support to your customers.
Pros:
Cons:
From the user's point of view, it is extremely easy to accidentally end the conversation and reset the chat history without seeing previous messages
One of the biggest downsides to LiveAgent is that it is not as widely used as Intercom, so there may be less community support available
Some users report that the app can log you out because of inactivity, which can be irritating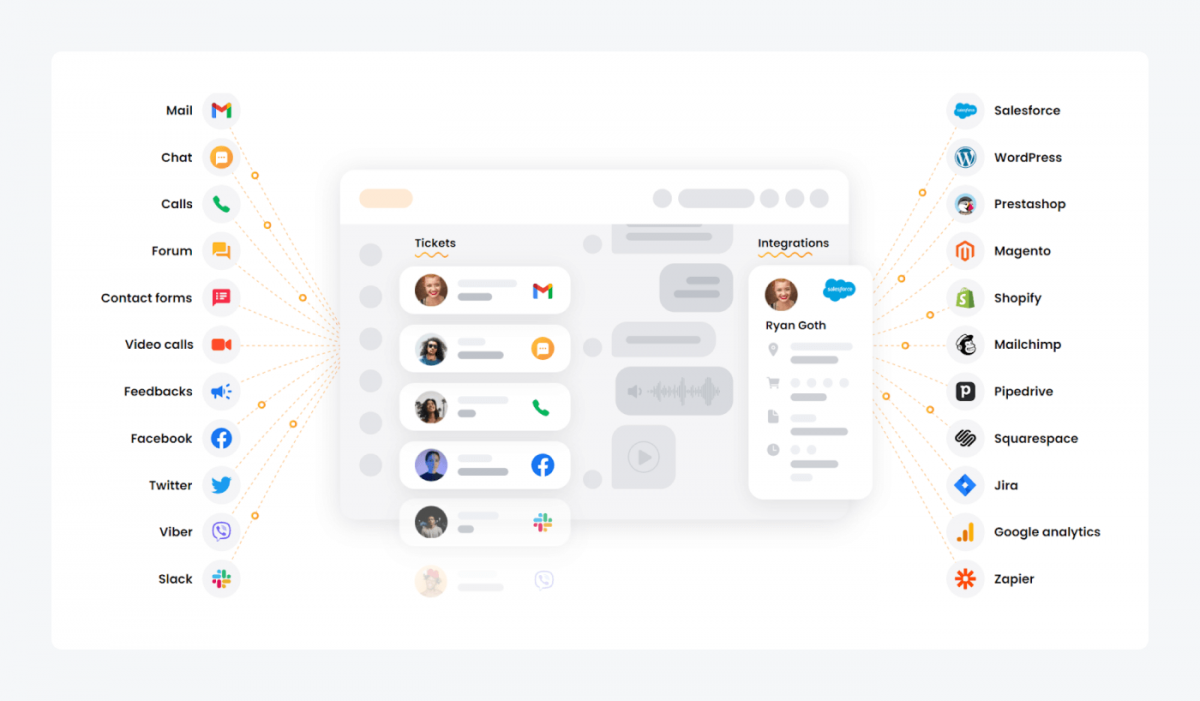 Pricing:
Forever free. You can use one chat button for free
Ticket + Chat ($29 per agent seat per month). Live chat and ticketing system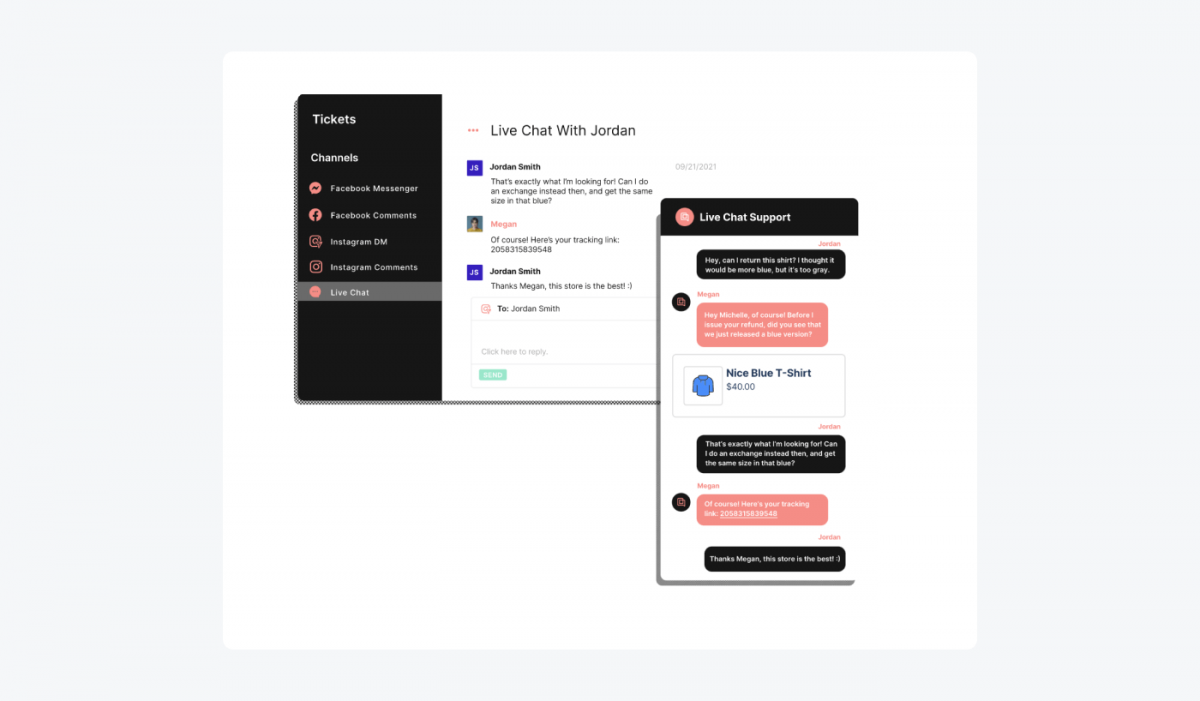 User rating: 4.7/5 ⭐ (68 reviews on G2)
If you're looking for an Intercom alternative specifically designed for ecommerce platforms such as Magento or Shopify, Gorgias is among the best Shopify chat apps. With Gorgias, you can connect with customers in real-time on your site or over social media.
Gorgias also allows you to set up automatic replies to common questions, set up order tracking bots, apply loyalty points, manage subscriptions, and more. It is one of the more chatbot-oriented solutions in our ranking, just like Tidio and Drift.
Pros:
You can use Gorgias to keep all your conversations—email, social media, live chat, and phone—in one place
This solution has a very modern and minimalistic design that fits all websites
Great chatbot templates for online stores with easy implementation
Cons:
Some users report that the updates are so frequent that they interfere with the use of the application
The ticketing system has some quirks and hiccups that some users find mildly frustrating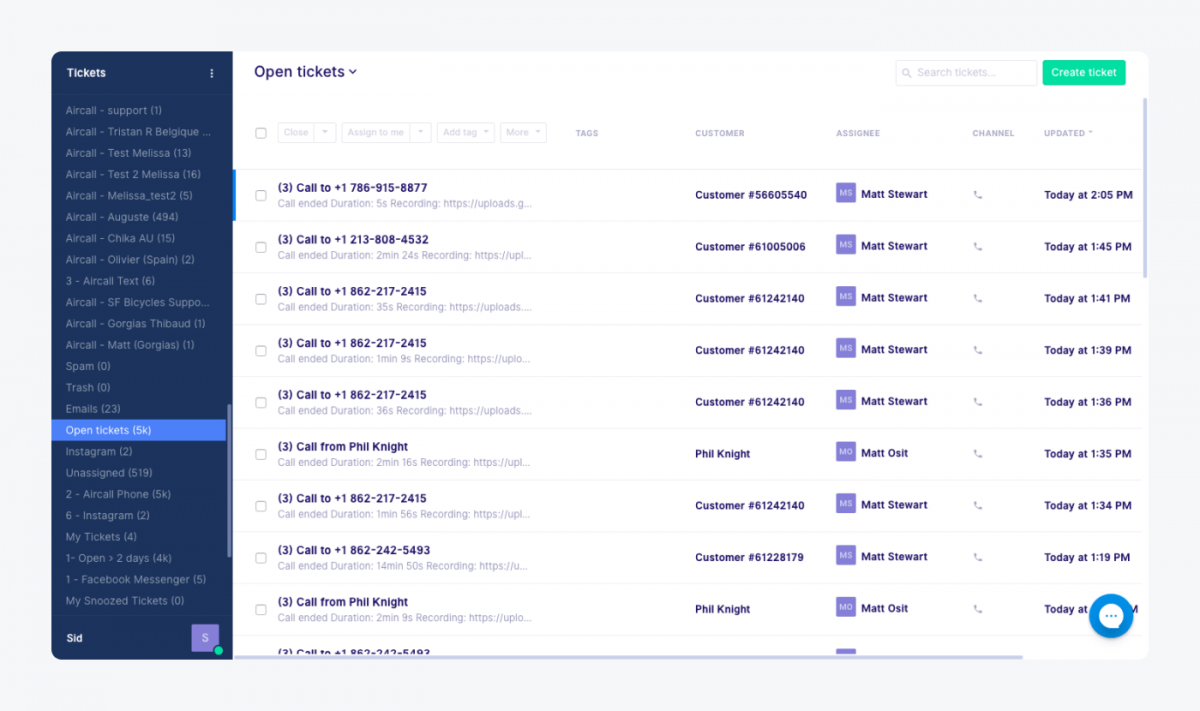 Pricing:
7-day free trial. No freemium plan available
The Basic Plan (starts at $60). Includes basic tools and support 350 tickets
You can increase your monthly quota—additional support tickets cost between $21-25 per 100 customers
Read more: Check out the best Magento live chat extensions for your website.
What are the best free Intercom alternatives for small businesses?
Intercom's pricing can be a bit steep for some businesses. And if you're running a small business, then you know that every penny counts.
What are the most important things to consider when choosing a cheap alternative to Intercom?
SMBs, especially from the ecommerce sector, should focus on features that allow for fast and convenient communication with customers. It should also be easy to track and manage all customer interactions in one app. From the customer's perspective, functionalities that help with order tracking and self-service are also essential.
Interestingly enough, many small businesses prefer instant messaging tools powered by Facebook. WhatsApp Business Chat and Facebook Live Chat Plugin are among the most frequently installed solutions for business massaging on a budget.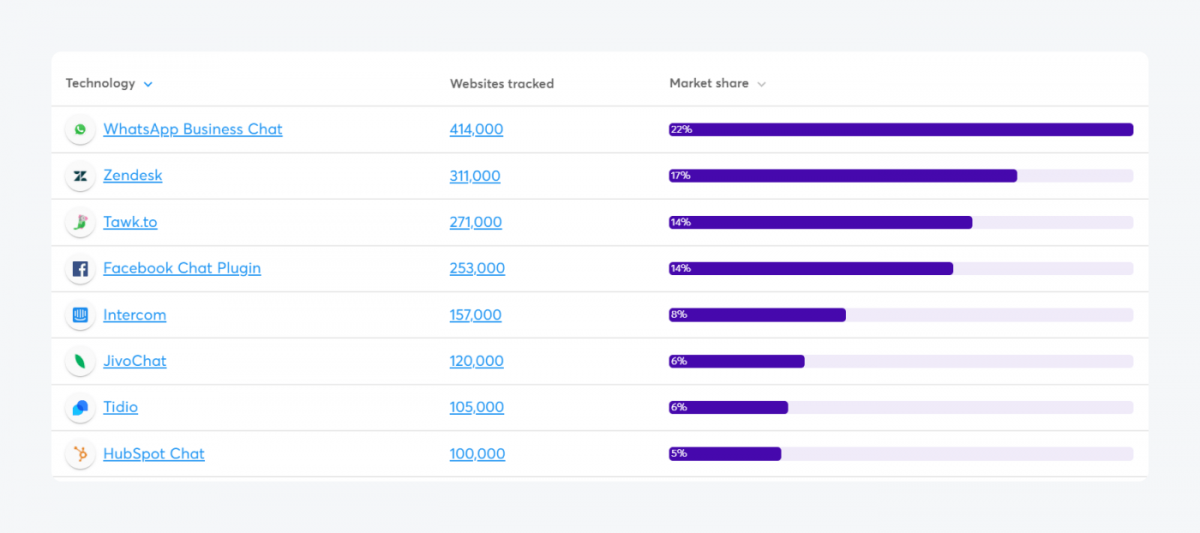 While these could work as a good temporary solution, it is better to consider an independent platform. Out of the more advanced ones—with CRM and bot automation features—Tidio is the most popular option for small businesses and online stores.
If you are primarily interested in the live chat feature and unlimited messaging:
Tidio. The best live chat with AI message automation and chatbots.
Tawk.to. The most popular live chat app in the world with agents for hire.
Olark. A good alternative to the other two.
For chatbots and lead generation choose:
Tidio. An easy-to-use visual bot builder to create chatbots for free.
Drift. It comes with a selection of some great chatbot templates.
Gorgias. Suitable for online stores and making Shopify bots.
If you need to integrate your messaging tools with social media:
Tidio. It offers omnichannel communication and integrates with Messenger, external mailboxes, and even Instagram direct messages.
WhatsApp Business Chat. WhatsApp is an extremely popular messaging app and the number of its users alone is a good argument for giving it a try.
Facebook Chat. The installation process of the widget on your website is quite easy and you probably use the Business Suite Inbox for communicating with your Facebook page visitors anyway.
For robust databases and customer relationship management:
Tidio. A great free CRM with filtering options and custom tags.
HelpCrunch. Best Intercom alternative when it comes to the help desk capabilities.
Freshdesk. Another good solution with affordable pricing plans.
Conclusion
It's important to find the right fit for your company, and we recommend you do some research of your own before settling on a live chat and help desk solution. Ask yourself—does it offer integrations I need? Is there an option for transferring chats if needed? How easy is the interface to use once I'm logged in?
No single software package can meet the needs of every business, which is why there are so many different options presented in this comparison. However, as you can see, Tidio is the most versatile platform. If you are interested in affordable alternatives to Intercom, it is your safest bet.