Customer Service
Best Intercom Alternatives for SMBs: Top Customer Messaging Platforms in 2021
Are you looking for a customer engagement platform you could use instead of Intercom? Look no further. Here is our list of the best Intercom alternatives.
Shorter support response time, 24/7 availability, easy to use…
You're here looking for affordable and simple customer support and messaging app to help you with those, right?
While Intercom comes as a heavily promoted option, something made you realize it's not the one you want to go for. Perhaps it is…
Too expensive?
Equipped with too many complex features you don't actually need?
Difficult to set up?
No worries. You are not alone in this. That's why we've put together a list of six awesome (and more affordable) Intercom alternatives for small businesses.
Want to turn your website visitors into delighted customers? Set up the Tidio live chat app in 5 minutes and watch your sales grow by 300%! Talk to users in real-time and deliver exceptional customer service.
Try Free Live Chat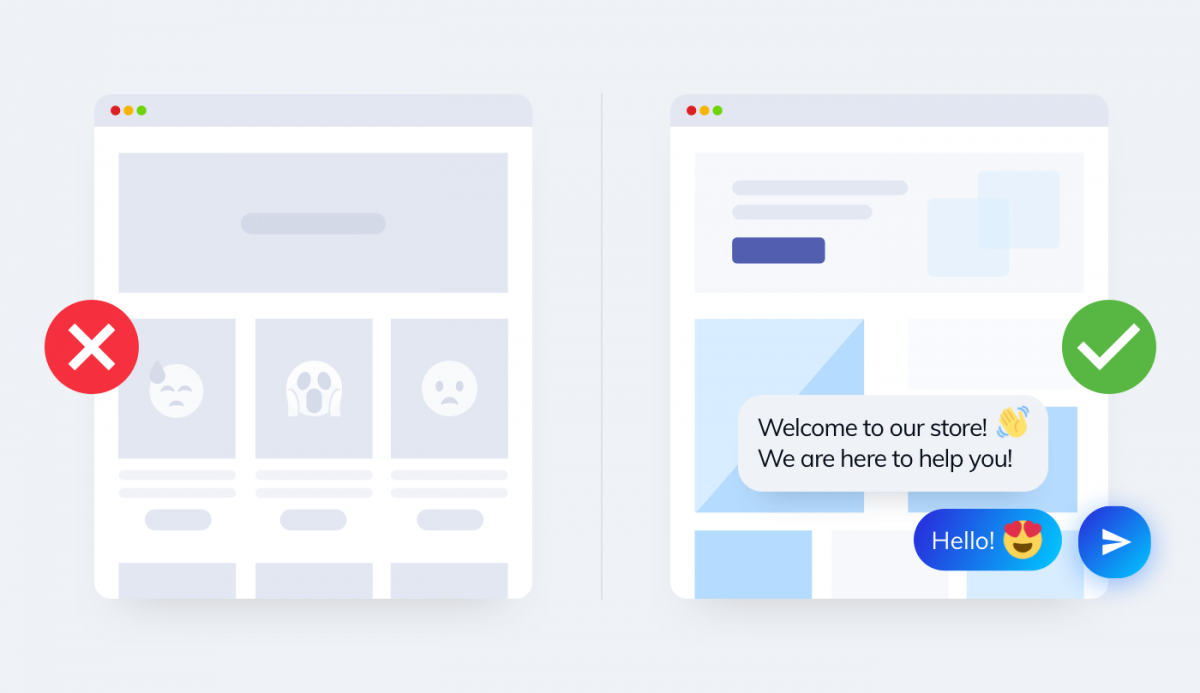 Sample use cases—See how people use live chat on their websites here.
One of our users, Vivian, had this to say:
One of the best business decisions I have made. Many customers complete purchases right after we answer their inquiries via live chat.
Read on to see the rest.
Intercom Alternatives Compared
Here is a summary of the similarities and differences between Intercom alternatives.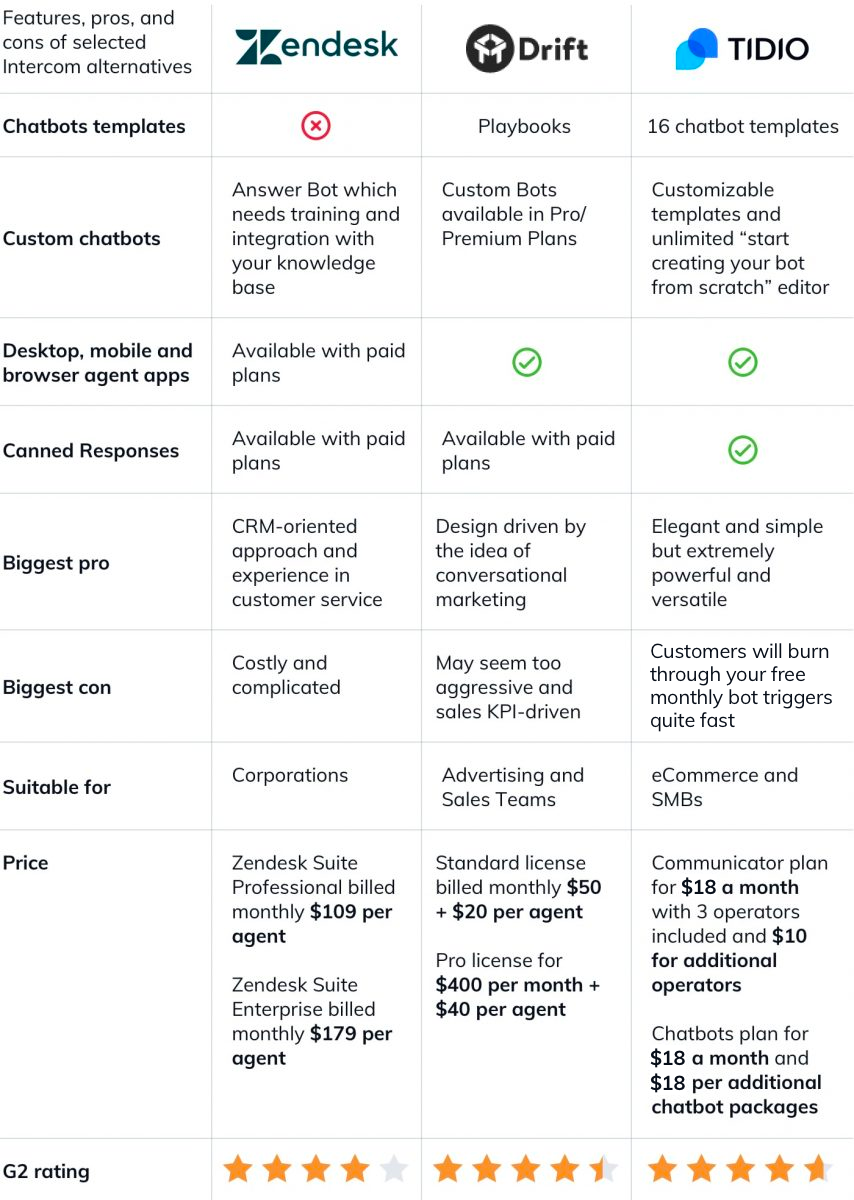 You may ask:
What's wrong with the real thing? Why use something else when I can have the real McCoy?
Well, let's take a look at why you should look for an alternative to Intercom to begin with.
Tip: Intercom is not very popular among WordPress users. The rating of Intercom's chat plugin for WordPress is quite low. If you are interested in WordPress-friendly solutions, you can check out the ranking of best WordPress chat plugins.
Why You Should Try Intercom Alternatives
There are many reasons why you may want to choose a different customer engagement solution than Intercom. Here are some of them:
There is no free Intercom plan available
The pricing is based on many factors and is estimated only for specific websites (there are no fixed plans)
Intercom has several modules and tools that can be overwhelming if your support team is small
You can't use trial without using your credit card
You can't receive information about real prices and limitations without providing contact details
Creating a self-service knowledge base connected with bot automations requires lots of traffic to provide a return on investment
Intercom is like an exclusive club and you can't walk in as a regular guy. Their clients include companies like Ahrefs and they don't mingle with lightweight entrepreneurs. Since their pricing is based on the number of business-2-customer interactions, the biggest websites are their perfect clients and their main source of income. That's why they focus on "quality" leads and that frequently means "size".
Tip: Intercom is a massive customer service platform with many modules. If your primary focus is to get a great live chat tool for your website, you can take a look at this comparison of the best live chat software for 2021.
In 2018, Intercom received $125,000 from Kleiner Perkins, one of Silicon Valley's most famous venture capital firms. It definitely helped to develop a business model that targets a very specific type of customers, especially within the SaaS niche.
What Are the Best Intercom Alternatives?
There are many platforms you can use instead of Intercom for customer engagement and messaging. The most popular and highest rated alternatives to Intercom are: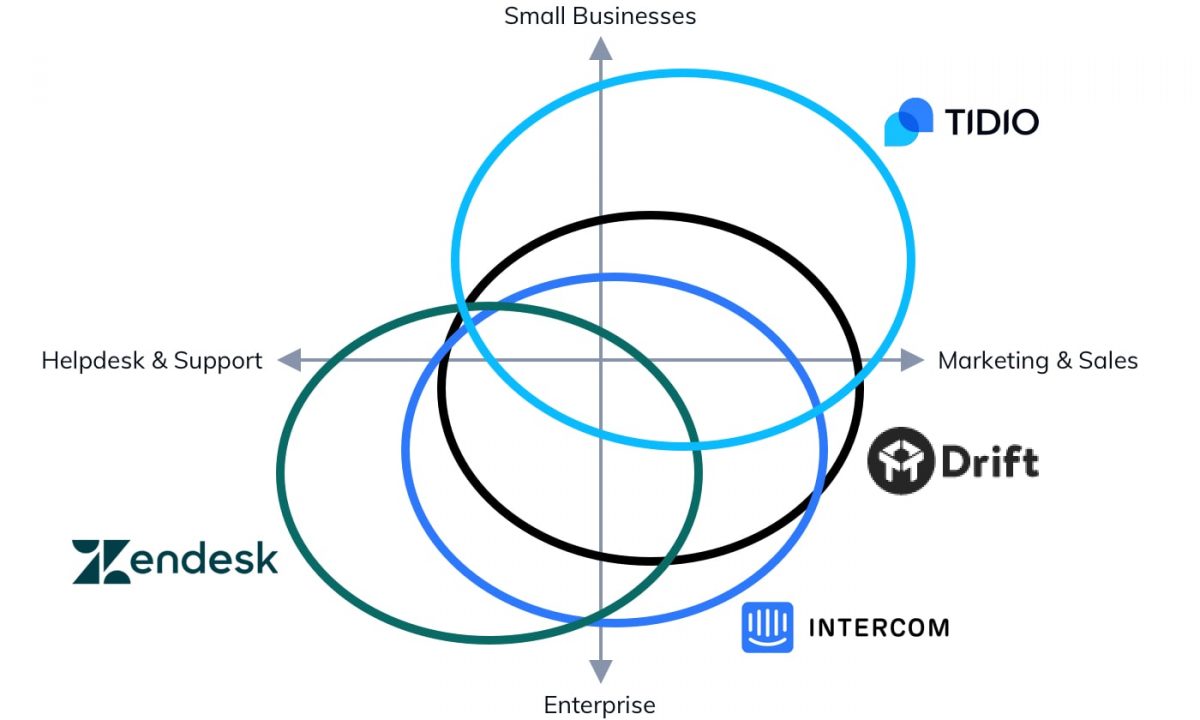 To choose between them you should take into account your main goals, the size of your company, and your budget. Sometimes the differences are quite subtle. Some of the tools lean more towards customer support and help desk solutions while others put more focus on conversational marketing, lead generation and sales.
Tip: There are three main competitors of Intercom – each of them targets a slightly different segment of the customer service software market. Zendesk is best for big companies, Drift is good for big/medium company marketing automation, and Tidio is best at medium/small business customer service, lead generation, and designing chatbots from scratch.
Intercom vs Tidio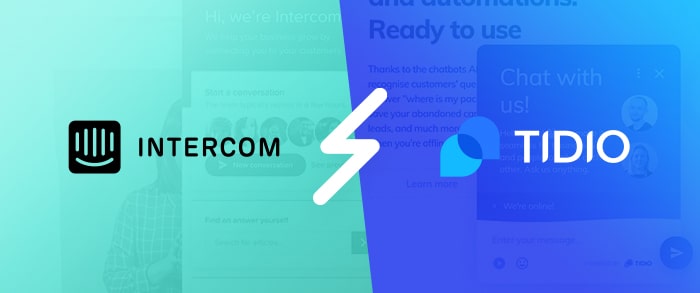 Tidio is the perfect Drift and Intercom alternative for startups, small businesses, and eCommerce. It is platform-independent, but it is known as a kind of "Intercom for Shopify". Tidio is also a great Intercom alternative for WordPress users (who don't like Intercom WordPress plugin that much).
Discover why Tidio is a 2x more popular alternative to Intercom:
Tidio Live Chat Features
Tidio has free chatbot templates that are similar to Drift's Playbooks and custom bot editor that uses NLP. It provides a live chat widget with 3 operator seats, unlimited conversations, and contacts. Canned responses and automation triggers are available in the basic version for free.
You can use Tidio and its Welcome Message or Subscription bot templates to capture leads, segment them with custom tags, send email campaigns, and create advanced customer service workflows.
What is the stance of Tidio when it comes to the great battle between conversational marketing and automated customer support?
In a way, Tidio chooses the best of both worlds. It is simpler than Intercom and meant to be used in different contexts.
Do you want to focus on customer service?
Intercom is all about creating a fully automated knowledge base and connecting it with an intelligent Answer Bot (billed separately) that analyses thousands of conversations to guess what is their intent and redirect users to relevant articles. It is great when you have hundreds of people asking similar questions every day – you can train your Answer Bot really well and with thousands of replies get your ROI eventually.
When your knowledge base is not that complicated, an FAQ bot available as one of the free templates in Tidio should be more than enough.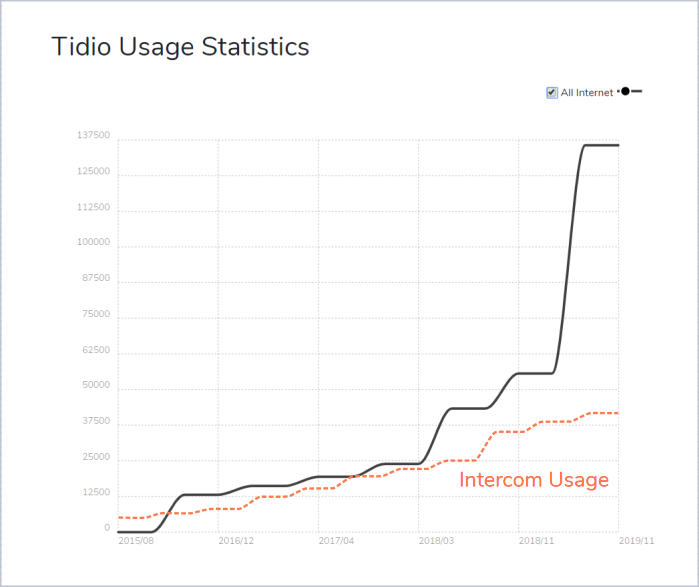 OK. So what about conversational marketing and sales?
You can use chatbot templates to send messages and surveys triggered when visitors perform specific actions or visit pages of your choice. Additionally, they can track your users' behavior, send notifications, and emails. The mailing feature is great for designing beautiful emails and sending them to your subscribers.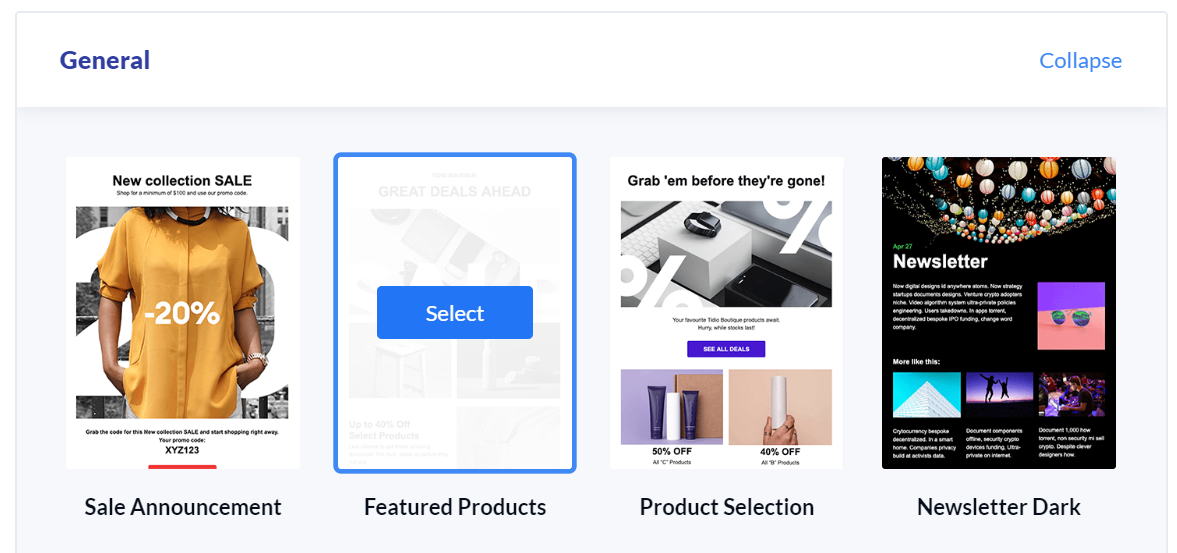 So, is Tidio about support or sales? It's your call. You can choose between the Communicator plan (for better customer service) and Chatbots plan (for better lead generation and sales).
You can also choose both.
Tidio is very close to its users and develops features based on their needs. It does not blindly follow trendy gimmicks and prefers a no-nonsense approach. When others try to keep up with the hottest tech trends, Tidio says: "Let's see what actually works and let's try to make it better for our customers." It is a platform that evolves naturally along with the changing needs and habits of small and medium online business owners.
When should you choose Tidio over Intercom?
You care about ready-out-of-the-box solution and results
You prefer guts to the glitz
You like simple all-in-one tools and don't want to bother with extra plugins and extensions
You are trying to introduce automated customer service and marketing to your business but don't know if it will work
You want to use free integrations with other tools such as Pipedrive
When you don't want to spend too much (compared to Intercom it costs next to nothing)
You want to learn to build custom chatbots (Tidio's bot editor is very powerful and easy to use)
Did You Know?
With 240,000+ pages and projects powered by Tidio Live Chat, Tidio is one of the most popular live chat platforms ever. Every year, it gets higher and higher in the ranking of the most popular live chat apps. By introducing chatbots and trying to create "the easiest chatbot editor in the world" the company managed to double their sales last year. Machine learning bots are one of Tidio's upcoming features.
Intercom vs Drift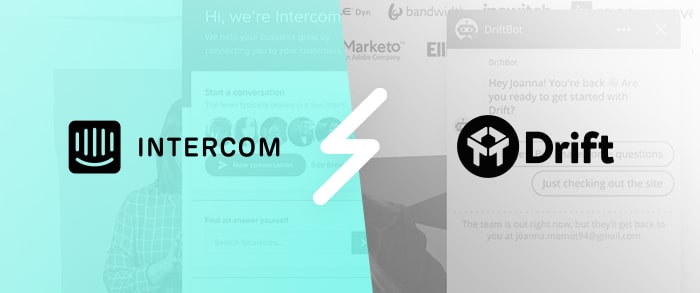 Drift seems to be the most obvious Intercom alternative. It offers plans which are suitable for medium businesses, and the Pro and Premium plans have very advanced features.
Both platforms – Intercom and Drift – can be used to similar effects. Both of them know it. Their fight for customers is quite fierce. You can find a Drift vs Intercom page on Drift's website and Intercom vs Drift on Intercom's website.

What's the gist of these comparisons?
Intercom's philosophy is to treat bot automations and self-service support as a way of creating a frictionless customer experience and providing reactive support.
Drift believes that interactions between customers and businesses should be used for conversational marketing – a more aggressive and proactive kind of customer engagement.
Drift says:
We know from working with thousands of sales and marketing teams that conversations are the fastest path to revenue. Intercom, however, was actually built to help you avoid conversations.

Drift.com
What is the reply from Intercom? Well, they don't name Drift here, but one of the core ideas of Intercom's approach was expressed clearly at one of their presentations:
They're built [chatbot automations] to juice some local KPIs like emails captured or leads created and they're creating some pretty crappy experiences for any customer who wants to do anything other than talk to sales. We deeply believe that using bots in this way will be the hallmark of a shitty brand.

Eoghan McCabe, CEO and Co-founder of Intercom
We can read between the lines.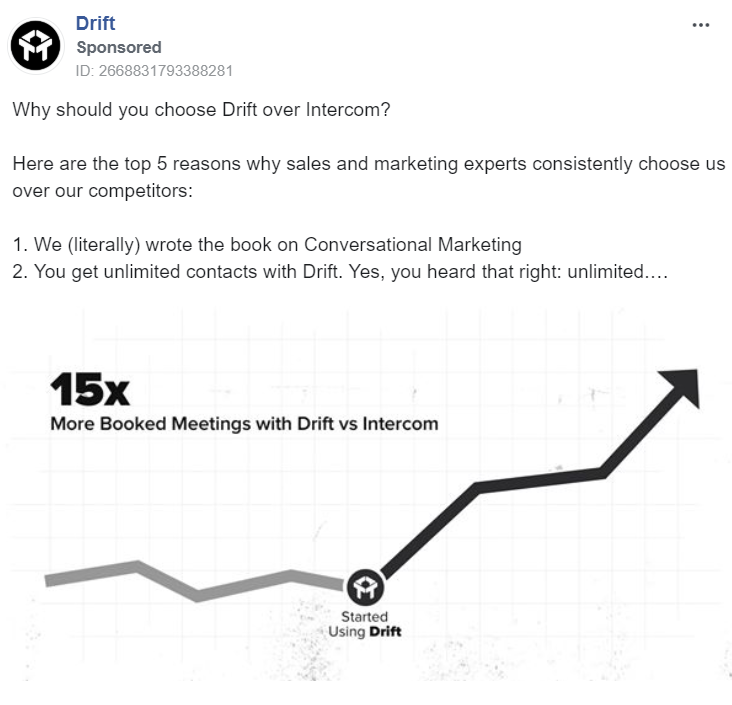 For Intercom, Drift seems to use low-blows and short term shortcuts instead of crafting long-term customer experiences. For the cool guys from Drift, Intercom is "just a support chat tool" – not a real conversational marketing platform.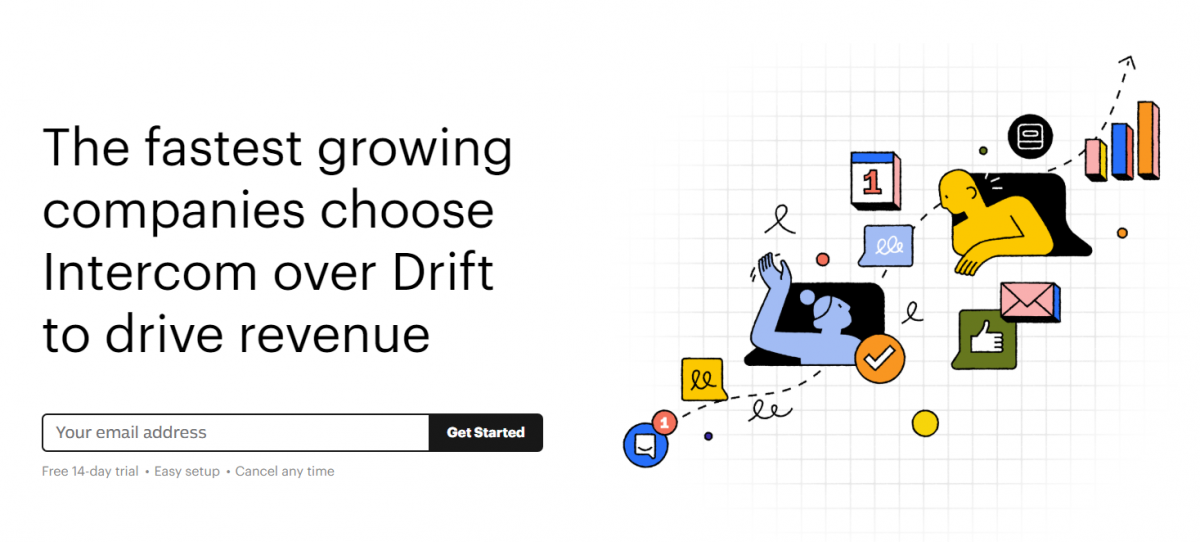 When should you choose Drift over Intercom?
You are sales and marketing-oriented and proactive
You don't mind some glitz and gimmicks that appeal to "marketing people" (and no one else)
You want to try a cheaper Intercom alternative with a flat subscription fee which "doesn't punish you for growing" (by charging more)
Did You Know?
Drift has recently bought Giant Otter Technologies – a small AI company that specializes in developing chatbots and conversational AI solutions. It uses machine learning to automatically analyze all of your customers' messages to recognize the most common intents. After the learning process is complete, questions can be phrased differently and still receive correct answers from your knowledge base. It sounds promising but still needs improvements.
Intercom vs Zendesk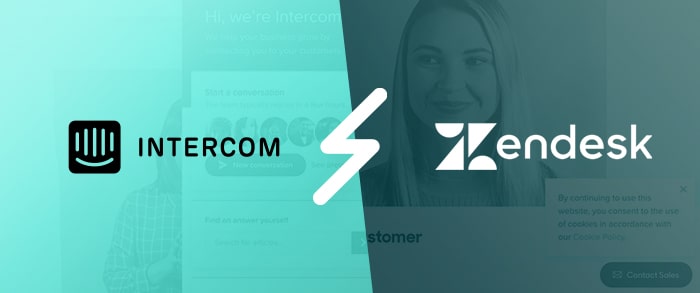 Just like Intercom, Zendesk is a true mammoth of an app. It is modular and it can be used for everything that is customer-related. It can be a smart knowledge base, a chat, a CRM system. It is for corporations and you can tell. Drift is more sales-oriented than Intercom, but even Intercom is more sales-oriented than Zendesk.
Zendesk Suite consists of four separate modules:
Zendesk Support (customer management)
Zendesk Guide (help desk)
Zendesk Chat (live chat)
Zendesk Talk (email platform)
The features overlap with tools provided by Intercom, but customer support is their main forte. Zendesk initially was only a help desk tool and all other modules and products evolved from that.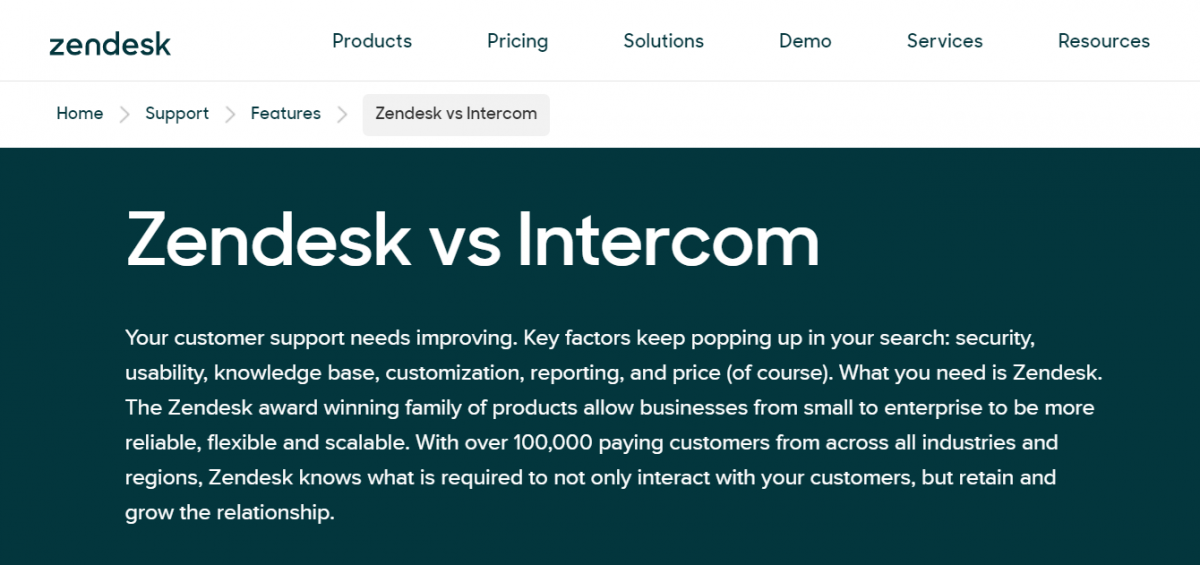 This next-level customer service comes at a price – both literally and metaphorically. Using all of these modules at once and navigating between them with comfort and ease takes some time. And Zendesk is not cheap.
Zendesk also has its own Answer Bot – although they bear the same name they are… only slightly different. Which is even more confusing. Nonetheless, both are AI-powered self-service tools that need training (and a database of messages from your customers).
Zendesk vs Intercom—When to Use Which?
You are a corporation in need of an enterprise-level solution
You want to use it only for customer support and have another tool for marketing automation
When you have money to spend and want a reliable, long-established platform
Intercom Alternative for Small Business Owners
While there are many tools that can be used as alternatives to Intercom, there is one platform that stands out and appears to be the most obvious choice for SMBs, eCommerce websites, and Shopify (or WordPress) based online stores.
Yes. You've guessed correctly. It's Tidio, because:
It offers the best value for money
It can be very sophisticated and highly customizable and if you still find it lacking, you can easily integrate it with external tools and platforms for free
It is the most advanced chatbot-building tool available without additional costs
It has 16+ bot automation templates and an email tool with custom email templates and designs
It was developed with small and medium companies in mind
It can be used both for conversational marketing and customer support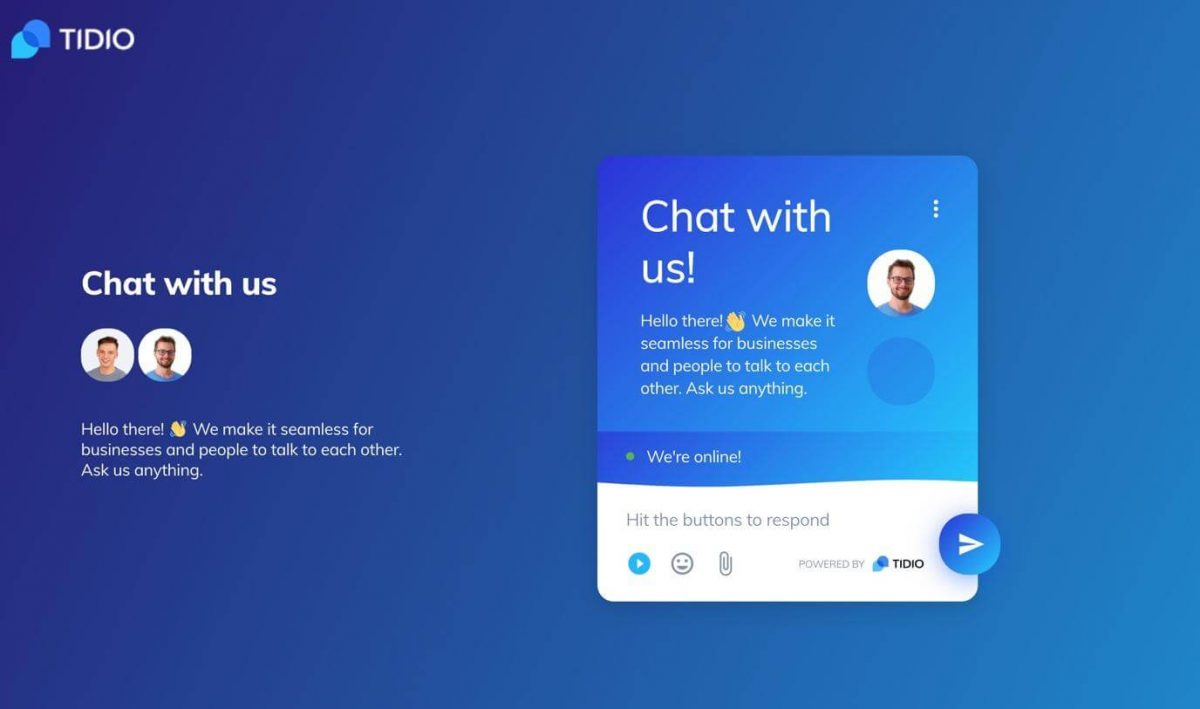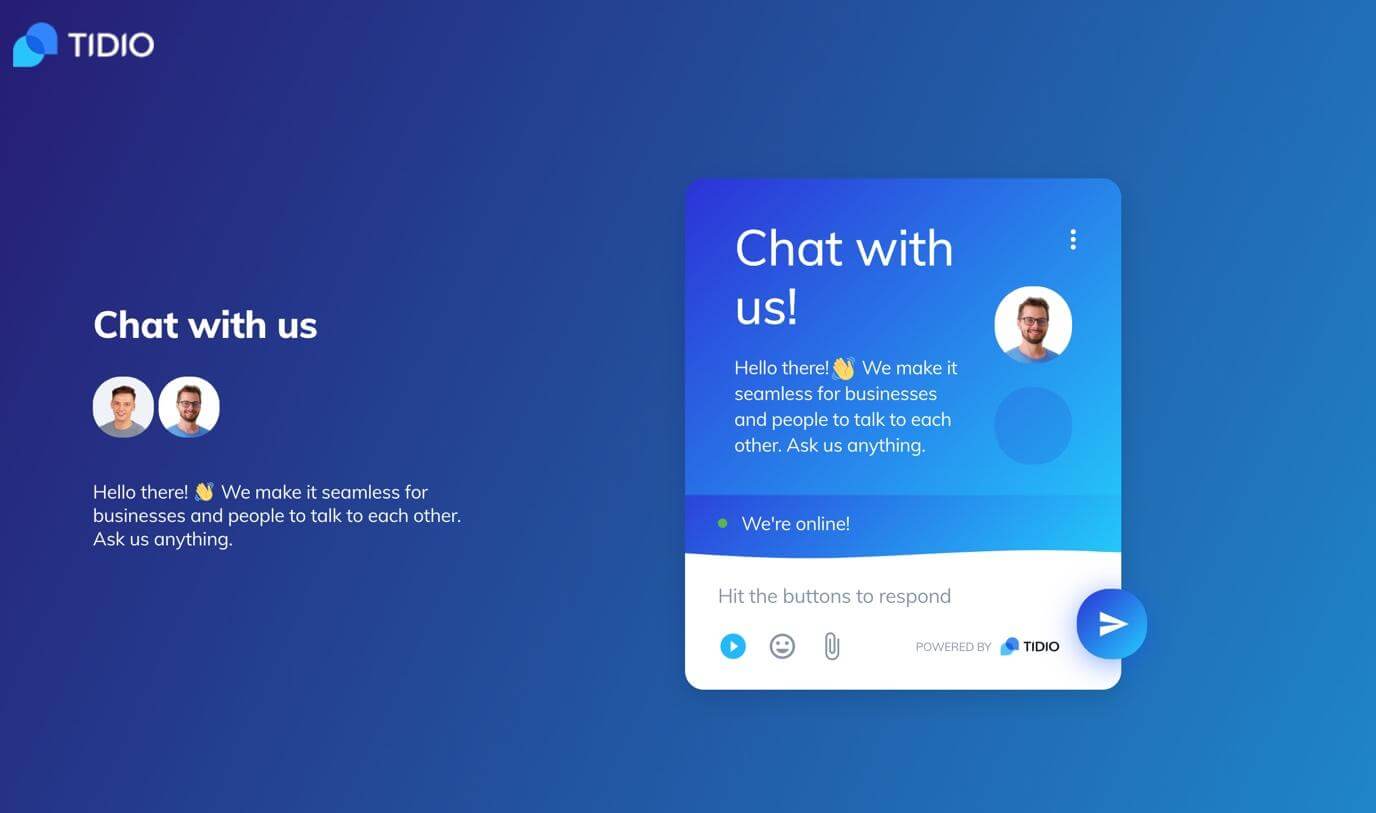 To wrap it up:
Choose Zendesk as the best Intercom alternative for big corporations
Choose Drift as the best alternative to Intercom for mid-level marketing agencies and advertising-oriented websites
Choose Tidio as the best Intercom alternative for eCommerce, startups, non-governmental organizations, and small companies who care about great customer support, but also look for easy ways to generate more leads and automate their workflow
Try Tidio For Free