Tawk.to is a popular customer service management and live chat software. In fact, it happens to be the most popular chat widget in the world.
What makes it so special?
It's easy to use and (sort of) free.
However—
While Tawk.to is a great app, it lacks automation and tries to make you dependent on hired chat agents. And some businesses need tools with better lead generation features or AI responses.
Fortunately, there are many great Tawk.to alternatives on the market. We checked them all to pick the best ones for you.
Top 10 alternatives to Tawk.to are:
If you're interested in other customer communication and online marketing solutions, you can also check out:
Now—
There are many factors worth considering if you're looking for the best Tawk.to alternative for your business. Let's take a closer look at what we should pay attention to.
Tawk.to competitors: overview
Tawk.to offers timely and professional chat support for customers. It's well-known for its powerful features and free services. It's a simple platform that allows small businesses to communicate with customers in real-time.
Tawk.to is one of the key live chat providers. In fact, it dominates the market with a 21.39% market share.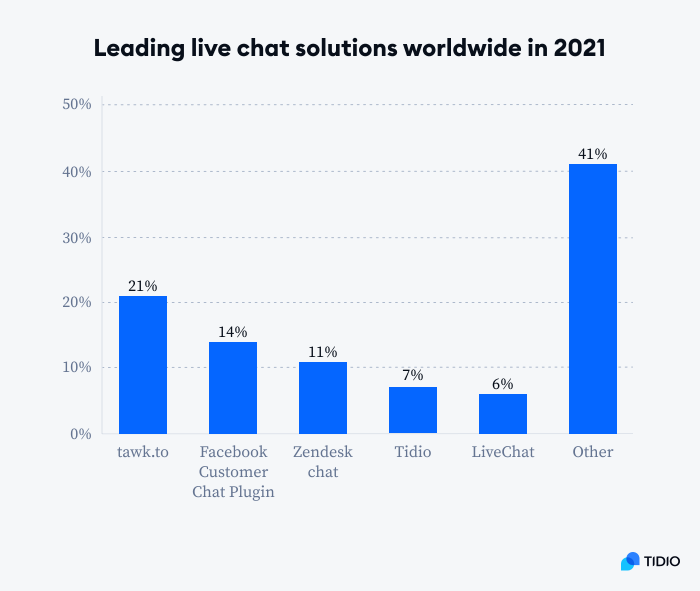 However, the live chat technology sector itself is huge and only continues to grow. There are dozens of amazing companies competing in this space—many of which offer unique functionalities or dedication to a particular kind of business. With about 73% of online shoppers choosing live chat as their favorite channel for communicating with businesses, it's not surprising.
You can find many alternatives to Tawk.to that are comparable or even better at the key customer service features they offer, such as:
With these things in mind, we've compiled the list of best Tawk.to alternatives worth your consideration. If you are interested in SaaS marketing platforms that focus on customer conversations, you can also check our guide to Drift alternatives.
The best Tawk.to alternatives
Let's take a closer look at each of the solutions and their features to help you find the right one.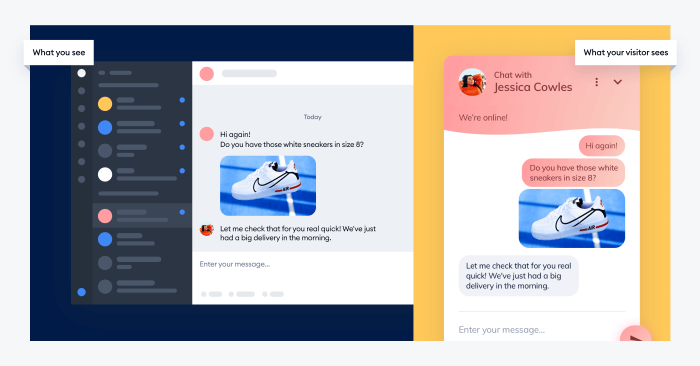 Rating: 4.7/5 ⭐ (based on 1,020+ reviews on G2)
Tidio is a customer service platform that functions as a complete alternative to Tawk.to. The tool is light and sleek, fitting into any business website. What it offers is a suite of customer service tools that improve customer satisfaction and lead to more sales.
Tidio's services include its flagship feature—the free live chat widget. You can automate the widget with chatbots to keep your customer support available to customers 24/7.
Tidio and Tawk.to both have free versions available. But Tidio has many professional service packages that are applicable to a wider range of businesses.
Key Features
API, integrations, and unlimited chats available in the free plan
Well-priced plans suitable for businesses of all sizes
Visitor insights and operator permissions
Facebook Messenger and Instagram integrations
Customizable chat widget and welcome messages
Ecommerce features for Shopify and WordPress stores
Built for scalability so you can grow your business with the tool
Chatbot templates for different industries
Desktop and mobile apps for Android and iOS
Beginner-friendly visual editor for auto-replies
24/7 chatbot support in many languages with Tidio NLP bots
Free version
Communicator ($19/month)
Chatbots ($49/month)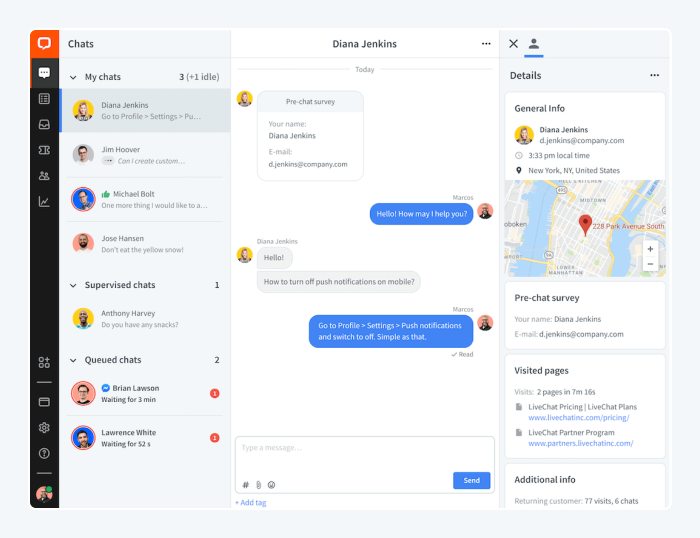 Rating: 4.5/5 ⭐ (based on 730+ reviews on G2)
LiveChat is a complete live chat and help desk software. It offers a live chat widget available in dozens of languages and in 150 countries.
Similar to Tawk.to, LiveChat is easy to use and integrates with your business websites. It has a wide range of service packages too. So, whether you're a solo professional with a single site, or a large business owner with multiple sites and hundreds of employees, LiveChat can accommodate your needs.
Pros
Easy to use with an adequate learning curve
Works with all sizes of business and in most industries
Great integrations with WordPress, Shopify, and other important platforms
Cons
Not as comprehensive or focused as some other Tawk.to alternatives
Cheapest options are very limited, even by small business standards
Starter package ($16/month)
Team package ($33/month)
Business package ($50/month)
Read more: Best LiveChat Alternatives Compared [2023]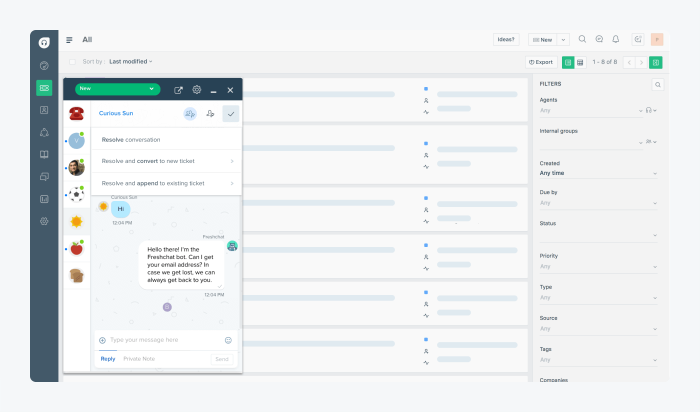 Rating: 4.4/5 ⭐ (based on 2,630+ reviews on G2)
Freshdesk is a cloud-based customer support software for improving customer communication. It's another adaptable alternative to Tawk.to, fitting in well with businesses of all sizes. But as a helpdesk, it actually goes a bit further than many other alternatives.
Some features offered by Freshdesk include automated workflows and field service management. It's also a metric-rich platform that provides useful reports. Of course, it offers live chat but also ticketing, email, and phone support. The AI-powered chatbot is well-regarded by customers, but some of its other features are even more widely appreciated.
Pros
Feature-rich, especially for advanced reporting
Well-rounded customer service suite includes most relevant channels
Support workflow tools
Cons
Some users complain of complexity in customization features like configuring apps
Technical difficulties, especially surrounding user experience (slow, feature functionality, etc.), are also reported
Free Plan
Growth ($15/month)
Pro ($49/month)
Enterprise ($79/month)
Read more: Best Freshdesk Alternatives & Competitors in 2023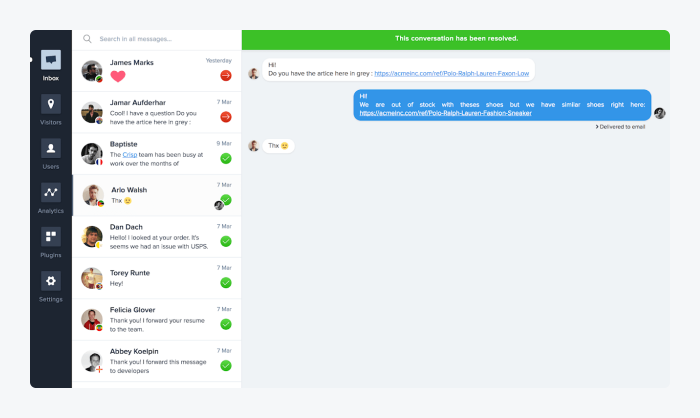 Rating: 4.4/5 ⭐ (based on 70+ reviews on G2)
Crisp is a multichannel customer support platform. It's a powerful Tawk.to alternative that is feature-rich and offers a great user experience. The platform includes live chat software and chatbots. But it also offers drip campaigns, CRM, and knowledge base software. Additionally, you get live chatbot translation so your website is open 24/7 to customers speaking the world's most popular languages.
Crisp's name seems to refer to the design of its chatbot interfaces. The popup chat is indeed very crisp, being the platform's most well-received feature. Many customers find the entire Crisp experience to be surprisingly straightforward.
Pros
Most users report excellent customer support
Well-designed chatbot interface
Full CRM software suite
Live translation for supported languages
Cons
Pricing can be higher than other alternatives
Customization features can be complex
Free version
Pro ($25/month)
Unlimited ($95/month)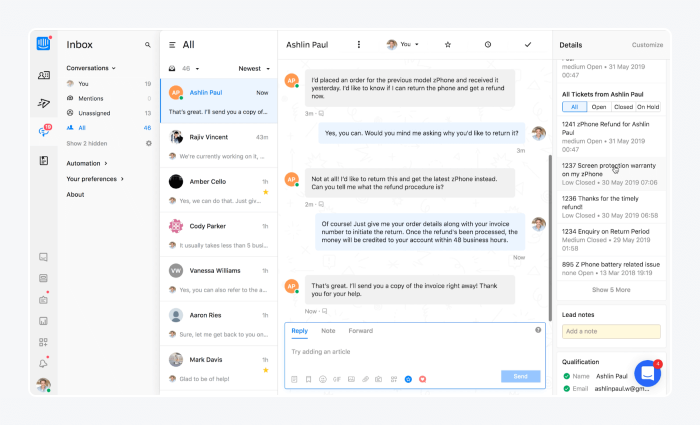 Rating: 4.4/5 ⭐ (based on 2,170+ reviews on G2)
Intercom is the Tawk.to alternative that is ideal for businesses looking for customer engagement features alongside traditional customer care.
Intercom features the regular tools a CRM/helpdesk software should have. This includes chatbots and helpdesk to track all customer queries. But Intercom has an added focus on lead qualification and nurturing. Their service packages help you sort your leads into categories while handling regular customer queries.
Pros
Sales-based services
Lead qualification features
Highly customizable
Cons
Higher cost than most other alternatives to Tawk.to
Can be challenging, with a steeper learning curve
Intercom's pricing structure is completely customized. There are no flat, universal rates.
You can get a quote by contacting Intercom directly. Just remember that their rates are known to be higher than those of other Tawk.to alternatives.
Read more: Best Free Alternatives to Intercom [2023 Comparison]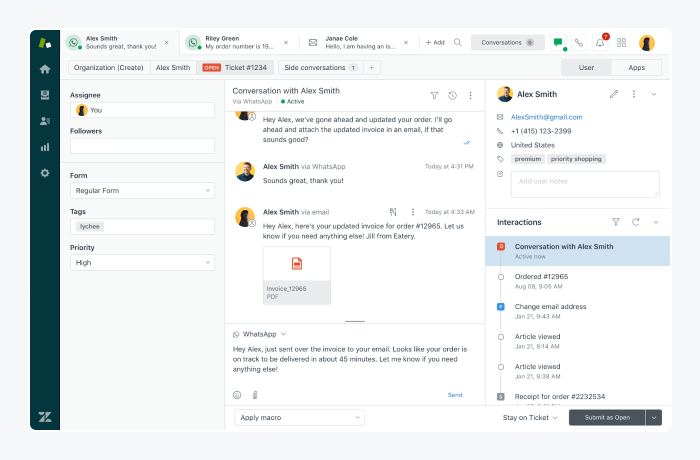 Rating: 4.3/5 ⭐ (based on 3,900+ reviews on G2)
After Tawk.to, Zendesk is the largest company in the live chat technology sector by market share. It also dominates niche, adjacent markets. The Danish company's popularity seems to stem from its well-rounded suite of services and features.
Zendesk is a multichannel communication CRM platform available in one of the widest selections of languages. The benefits to businesses are numerous, including a smooth management system and high-class customer experience.
Pros
Highly customizable
Reasonable pricing for feature-rich platform
Excellent escalation and conflict management system
Cons
Some of the tools and dashboards are not very intuitive
Not ideal for very small businesses with more basic needs
Suite Team ($49/month)
Suite Growth ($79/month)
Suite Professional ($99/month)
Read more: Best Zendesk Chat Alternatives for 2023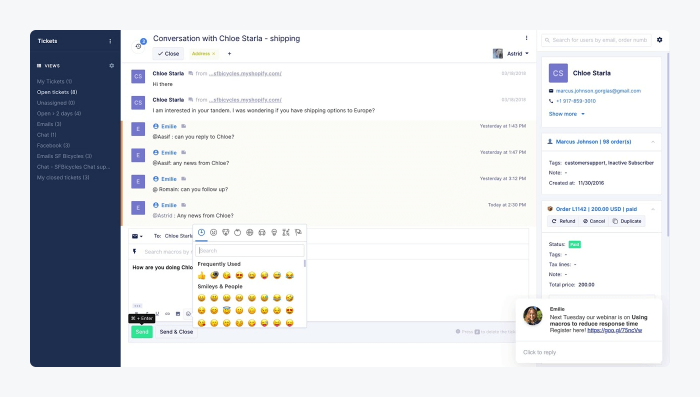 Rating: 4.6/5 ⭐ (based on 280+ reviews on G2)
When looking into Tawk.to alternatives, we must address the unique needs of the ecommerce sector. With its deep Shopify and Magento live chat integration, Gorgias can easily be one of the best and most dedicated to clients in the industry.
Gorgias is a Shopify live chat and a CRM that features several different analytical and lead qualification features meant to bolster customer relations. In addition, these features increase bottom lines directly with sales-oriented reporting dashboards.
Gorgias's laser focus is bolstered further by integrations with Magento, Shopify, and BigCommerce.
Pros
Ecommerce companies benefit most from service tailored to their specific needs
Integrations with largest ecommerce platforms
More analytical tools than Tawk.to (and other alternatives)
Conversational SMS support
Cons
Sometimes filtering out spam messages can be difficult
Relatively high costs based on the volume of customers
Basic plan ($60/month)
Pro plan ($360/month)
Advanced plan ($900/month)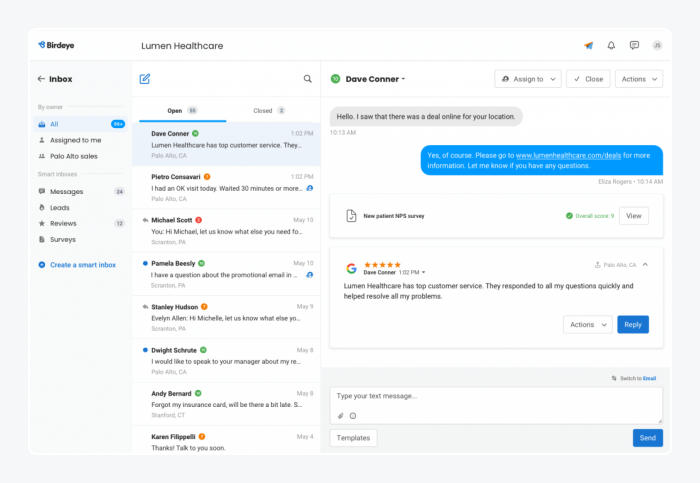 Rating: 4.8/5 ⭐ (based on 1,430+ G2 reviews)
Sticking to ecommerce for a moment, while Birdeye isn't strictly just for ecommerce, it offers sales tracking and similar features that many online stores will appreciate.
Overall, Birdeye's bird eye view is pointed at customer experiences. For this, the platform uses customer success metrics and KPIs connected with different steps of the buyer's journey. As a Tawk.to alternative, this makes it worth considering for a wider range of businesses, especially if you need help in sales enablement.
Birdeye is also a live chat tool with normal ticketing and automated chat features. It offers the same features you're likely looking for with Tawk.to, and also provides marketing insights, the creation of custom CSAT surveys, and more.
Pros
Rich suite of marketing/reporting tools
Focus on customer experience
Sales-based approach
Cons
Relatively high cost
Some users reported technical difficulties with key integrations
Single location ($299/month)
Professional plan ($399/month)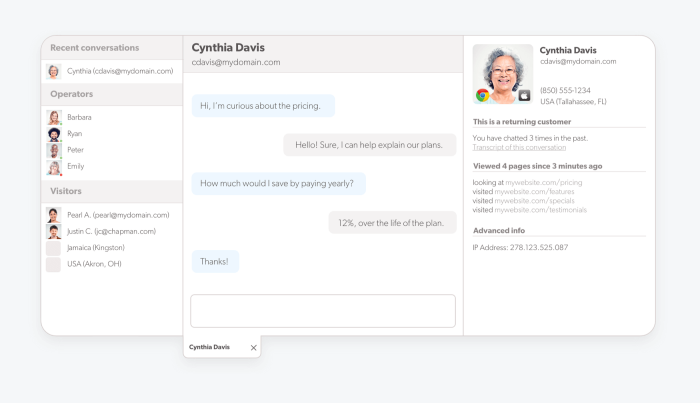 Rating: 4.3/5 ⭐ (based on 220+ reviews on G2)
Olark is a full customer relationship management (CRM) platform. Its primary features are live chat for sales and customer support. For the latter, they offer automated chat, organized customer data insights, and live chat analytics so you can track your performance. For example, you can monitor average live chat response times.
Olark is another solution useful for sales teams. Their analytics highlight the performance of each individual team member. It also comes with customization for the chat that can personalize its appearance to match your brand.
Pros
Supports a huge selection of languages
Offers extensive customization for appearances
Useful and easily sharable analytics
Cons
Some technical issues (such as difficulty messaging colleagues)
Many users complain that setting up workflows can be challanging
Free Plan
Full-featured Live Chat ($29/month)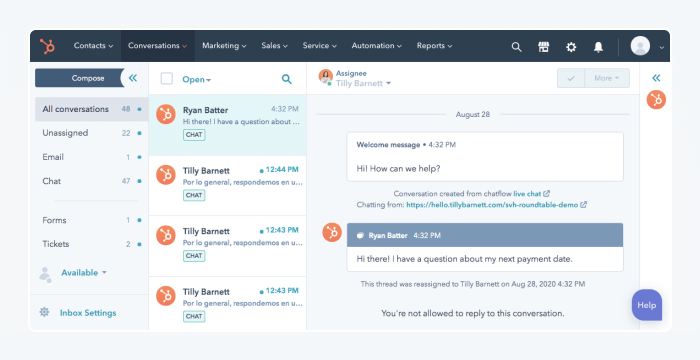 Rating: 4.5/5 ⭐ (based on 1,220+ reviews on G2)
Out of customer service and sales tools, Hubspot is one of the most widely used on the market. Their live chat solution is a part of a larger service and it integrates with other packages and products powered by HubSpot. You can even use it for customer service training, building knowledge bases or FAQs.
HubSpot's services are more comprehensive than much of their competition's, with their:
Sales Hub
Live chat and support software
Content management system
If you want to start with an inexpensive package and scale up later, the HubSpot starter package containing a free CRM and live chat is a great option.
Pros
Impressive list of seamless integrations (Slack, WhatsApp, Google Analytics)
Combines well with other HubSpot products
Very easy to use
Cons
Limited customer support with cheaper plans
Steep price increases
Free plan
Starter ($23/month)
Professional ($360/month)
Enterprise ($1,200/month)
As you can see, there are many Tawk.to alternatives available, and it can be tough to decide which one is right for you. Here are a few things to consider when choosing your live chat provider.
Summary: how to choose the best Tawk.to alternative?
Your visitors and customers need to get help and answers to their questions fast. Otherwise, they will leave your site and find a competitor who can give them what they want. That's why your support team should use live chat software.
About 50% of online shoppers abandon their carts if they don't get an instant reply to their question. With the right tools, you can answer all questions about your products or services in real-time. And keep customers on your website longer.
The best Tawk.to alternative for your business is the one that addresses the specific needs of your business. Depending on the type of business you run, some choices make more sense (like using an ecommerce-specific tool).
To make matters simple for you, here are a few suggestions for further research based on what customers say in reviews.
The best overall:
The best options for small businesses:
Zendesk. Minimal, easy to use, and inexpensive tool with CRM
Tidio. Inexpensive plans are good for small businesses and agents who work solo
JivoChat. It is inexpensive and the free plan suffices for small businesses
The best for ecommerce:
Intercom. Lead qualification is a helpful feature
Gorgias. The entire tool was designed for ecommerce
Birdeye. Good features for online stores
Tawk.to exists in an industry with many viable alternatives. While we don't want to tout our own horn, we really would recommend Tidio.
However, there are other Tawk.to alternatives and chat products with unique value propositions. Check them out to see if they may fit into your current workflows and industry. You can play around with the free trial options and get the feel of different apps before making your final choice.